Are you thinking of starting a restaurant and looking for good restaurant name ideas?
Then you have come to the right place.
In this article, I share 400+ great ideas for restaurant names to inspire and to help you brainstorm. The list of name ideas is divided into several categories like fast food, Italian, Mexican, seafood, diners, and many more.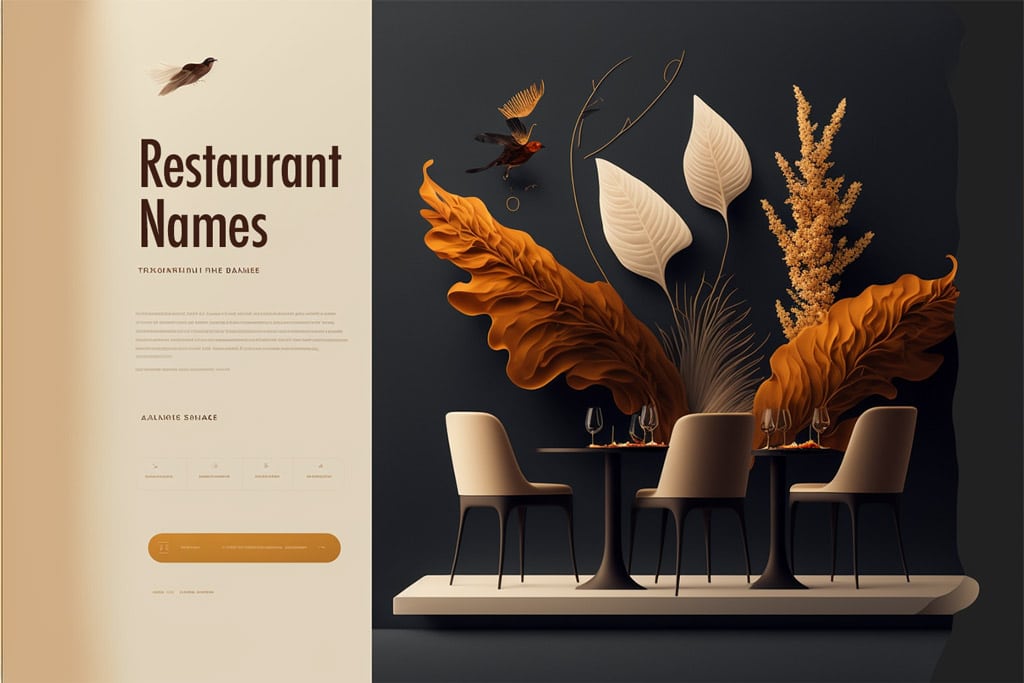 As a potential new business owner, you're faced with many important decisions. This includes writing your restaurant mission statement, developing your restaurant brand, designing a logo, website, and menu, and of course choosing a name.
A name is a brand's first impression. A good name embodies the spirit of the restaurant and will create a lasting impression on customers.
The name should stand out and be easily remembered, and it should also be able to carry a message or feeling to the customer. That's why I have also included 3 quick tips on how to name your restaurant at the end of the list.
Now let's get into it!
Creative & Unique Restaurant Names
The Gold Flute
Silver Swan Diner
Magic Pan
Naked Lunch
The Green Oasis
Plateau Dining
Eden City Dining
House of Falstaff
Restaurant Beaumont
Garamond
Vantage Point
Restaurant Aromatic
Havanna Lounge
House of Chefs
The Black Sheep
Rouge Ritz
Voltaire's Kitchen
Nefertiti Restaurant
The Golden Pudding
Big Flame
Koch Dining
Cantona Trattoria
Le Sauvage
Perfect Plate
Happy Table
Bistro La Mer
The Cuisine Diva
The Paragon
Vagabond
Hendrix Gastropub
Fresca Restaurant
Savory Botega
Olive Tree Restaurant
Oasis Soul Food
Golden Temptation
The Brisket & Barrel
Balsam Restaurant
Red Bay Diner
Restaurant Olympos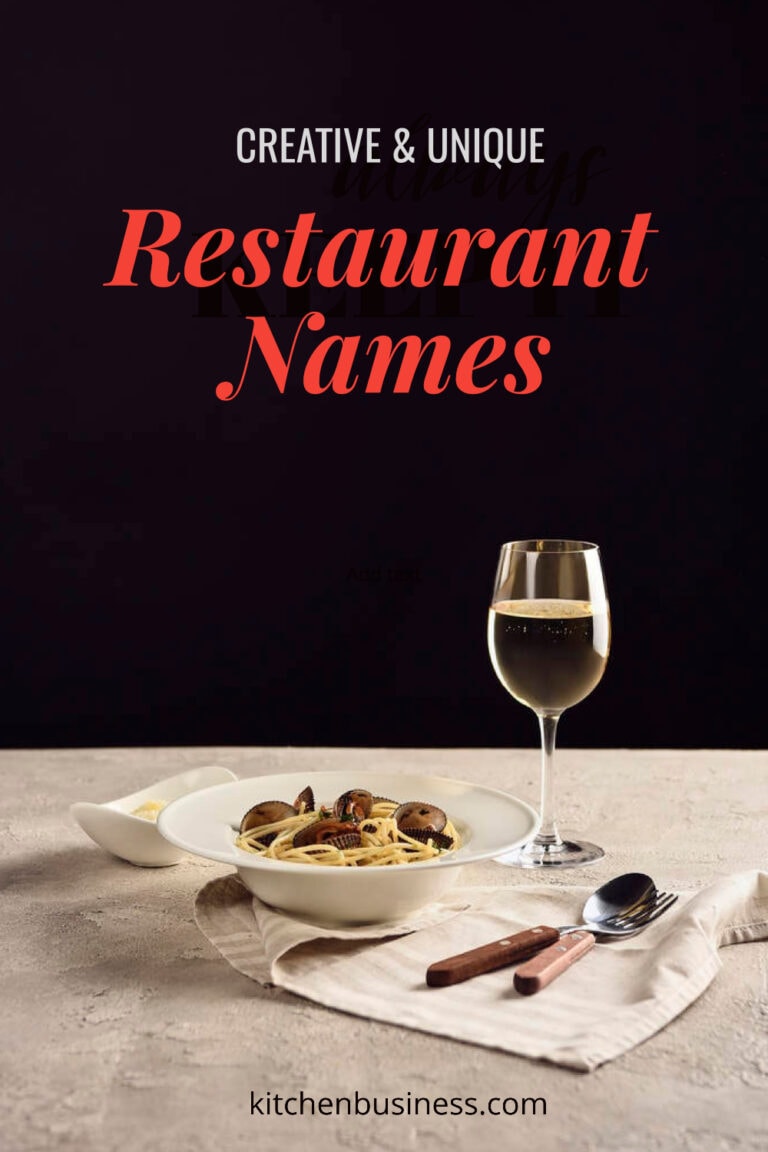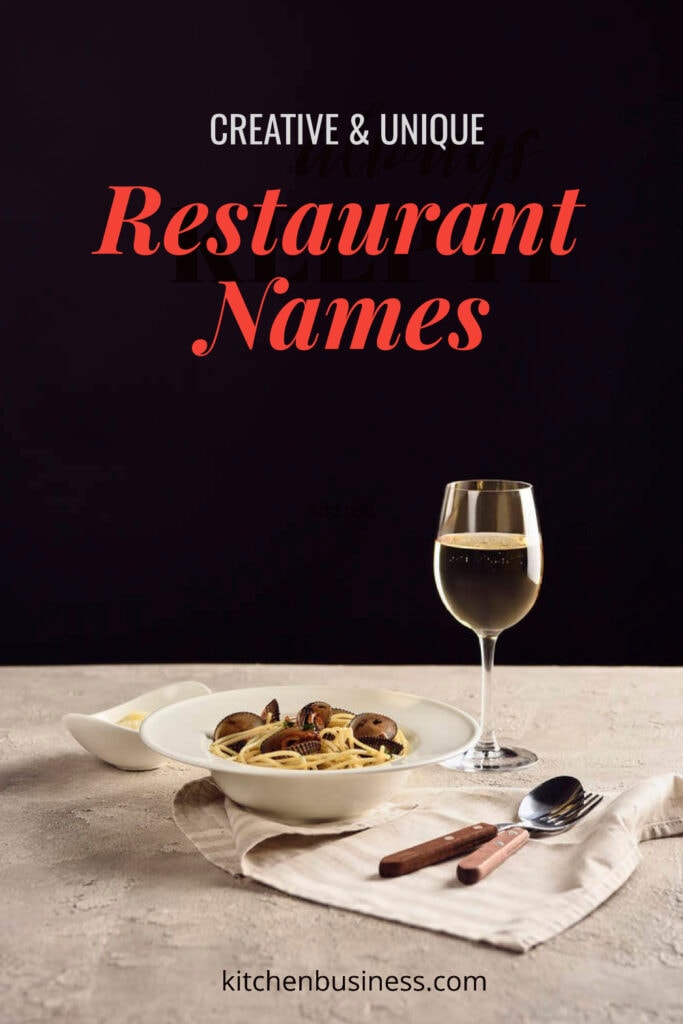 Cool Restaurant Name Ideas
La Château d'Olivier
The Goldfinch
Bonabite
The Fine Tuscan
Ginger
The Fancy Delight
Kaleidoscope Bistro
Pound & Fork
Wok Of Life
The Chili Fox
Brown Bear Inn
Pelican's Table
Tangerine Cafe
The Cobbler's Inn
Honeycomb Restaurant
Stray Cat Diner
Peach Restaurant
Parizia
Claire & Hugo
The Unicorn Grille
Salon de Veritas
Sidewinder
French Flame
Jolly Pudding
Gothic Oven
Smart Chow
Soulfish
Royal Orchid
The Imperial Kitchen
Bonanza Bistro
Château Montesquieu
Crazy Mo's
Atlas Restaurant
The Black Gold Queen
Vinci's Dining
Gourmet Food Bank
Spice & Tonic
The Epicurean Eatery
Paprika
The Farmer's Cut
Carte Blanche
The Dining Bell
Wunderbar
Pantheon Fusion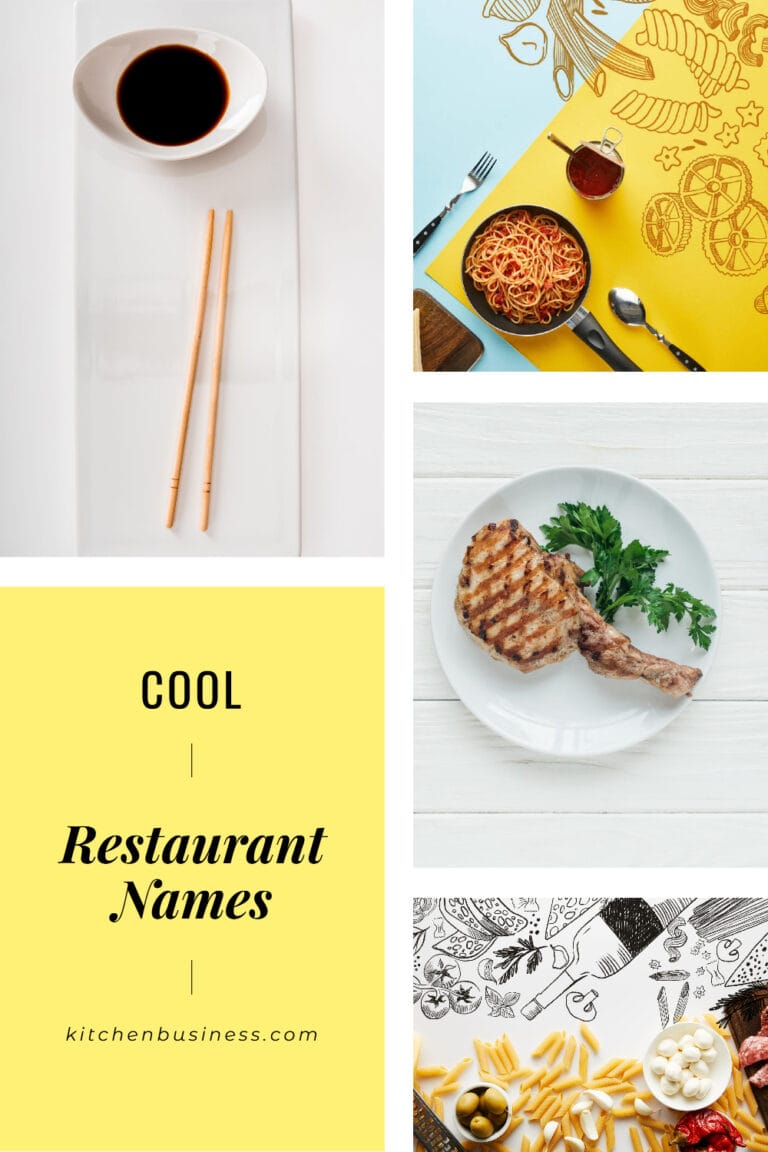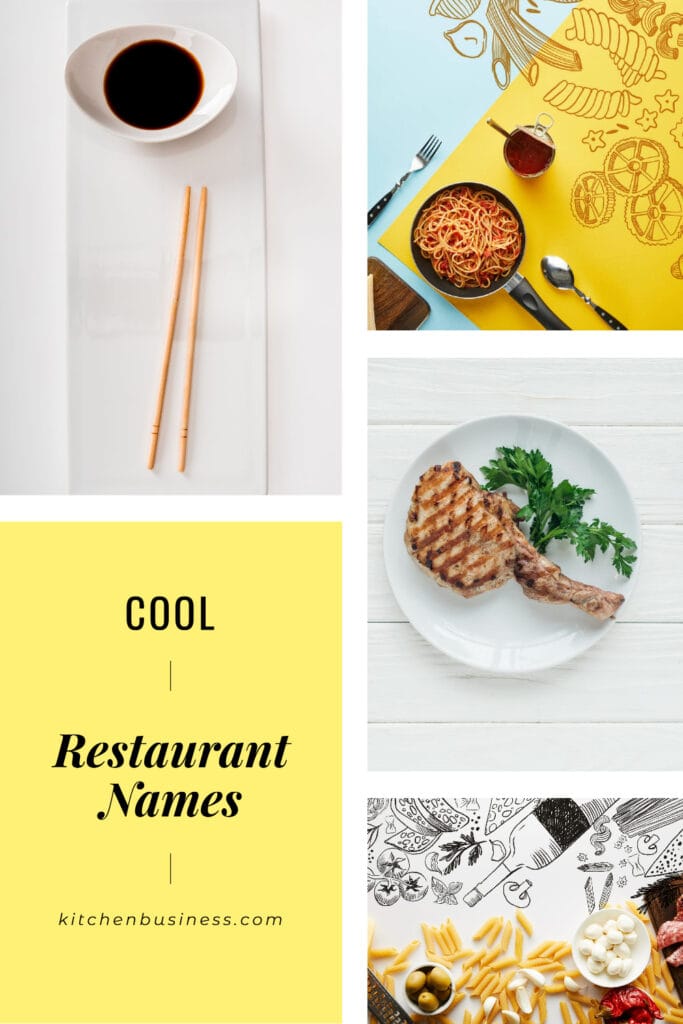 Asian Restaurant Name Inspiration
Pacific Garden
Neo Asian
Seoul Foodie Corner
Wok For Rice
Bamboo Brothers
Taste South Bali
Sally's Dao
Mang Chay Restaurant
Dragon Rooster
The Pearl Sutra
The Spicy Duck
Wokchoy
The Bamboo Morning
Harmony Saffron
Dragon Asian Cuisine
Noodle Room
Asian Sage
Pok Pok Noodle
Lunar Fusion
Buddha Buffet
Curry Temptation
Seoul Fortune
Happy Siam
Grand Orchid
Wok Hero
Pho Love
Himalayan Garden Inn
Chai & Peppers
Wok Hot Lips
The Asian Spoon
Empress Chai
Taste of Sumatra
Dumplings In The Sky
Sesame House
Phoenician Garden
Bamboo City Grill
South Seas Seafood
Enchanted Wok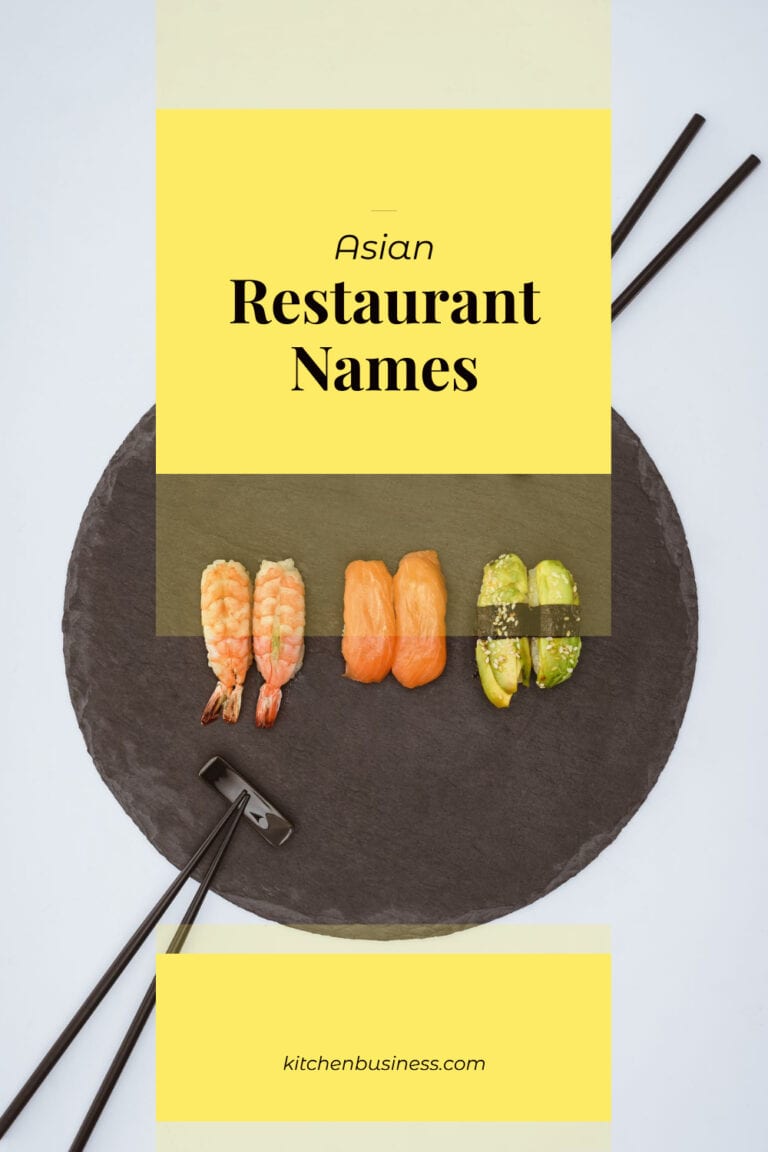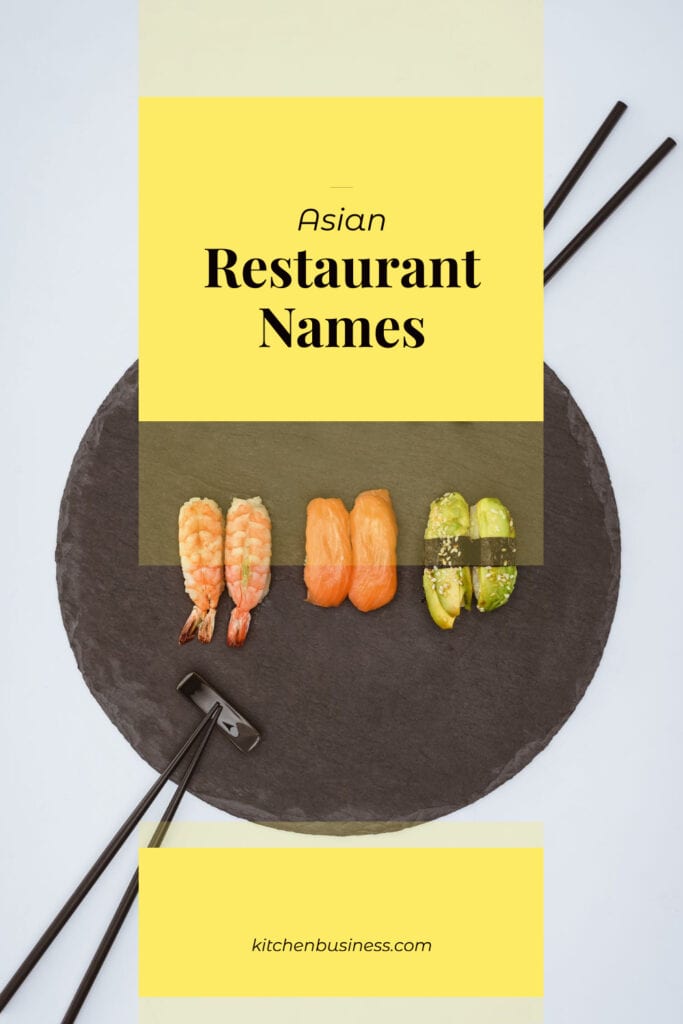 2 Essential Posts when Growing a Restaurant Business
As you are reading this article, also check out the two articles below!
Chinese Restaurant Name Ideas
The Peking Dragon
The Noodle Spot
Szechuan Grill
Canton Corner
New Shanghai Cuisine
Golden City Restaurant
Dragon Eatery
Jade Island
Golden Lotus
Chef Shanghai
Gold Dragon
Manchu Dream
The Blue Lotus
The Wok and Cup
Kung Fu Chai
Lotus Fountain
Taste of Dragon
Little Empress
Tender Panda
Ming Tung's
Panda Express
Great Moon Restaurant
East Village Restaurant
Panda Garden
King Ming
Imperial Gourmet
Fantasy Noodle
Peking Panda
Qing's Restaurant
See the full post of 330 Best Chinese Restaurant Names.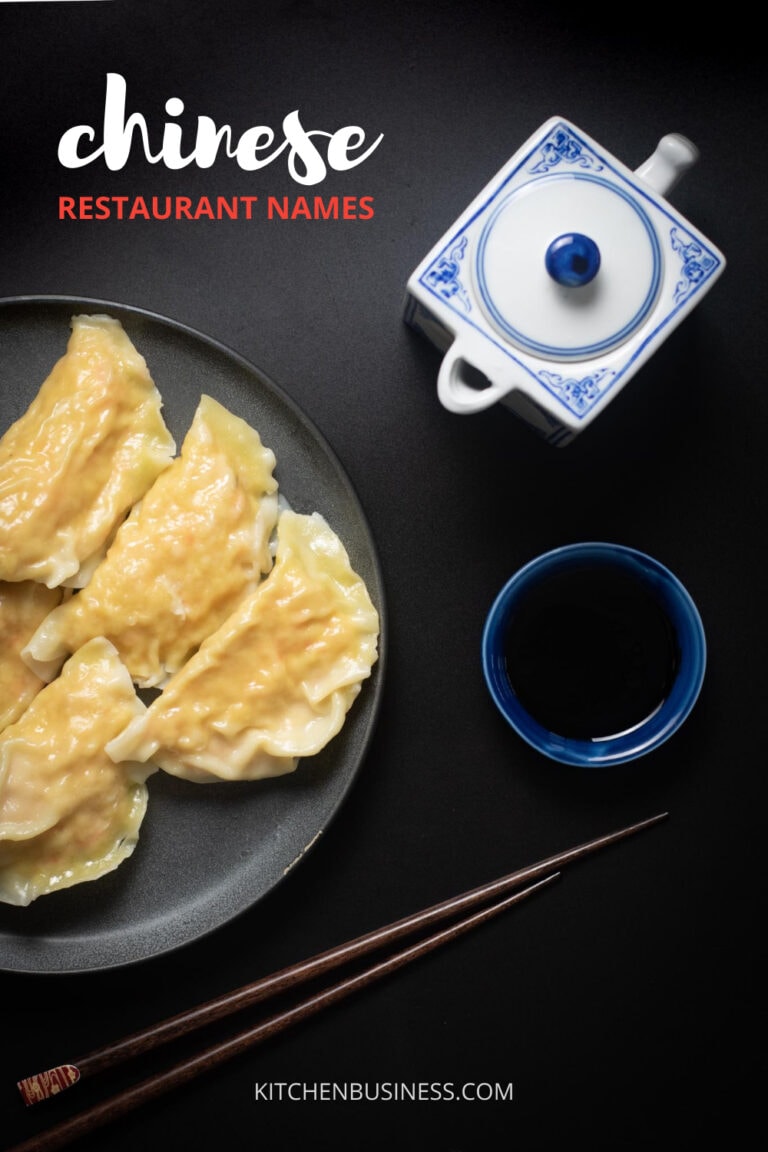 Diner Name Ideas
Diner On Sixth
The New York Diner
Cattleman's Diner
Red Robin Diner
Deja Vu Diner
Tangerine Diner
Verve Diner
Blue Note Diner
Delicato Diner
Diner On Main
Red Barn Diner
Spacewave Diner
Apollo Diner
Centennial Diner
Mexicana Diner
Aloha Diner
Patty & Co. Diner
Copper City Diner
Star Chief Diner
The Red Door Diner
Paradise Diner
Diner at the Edge
The Red Rock Diner
Rendezvous Diner
Central Diner
Gentle Diner
Luna Sky
The Diner Spot
Original Diner
The Milestone Diner
Bootleg Diner
Zizzie's Diner
B&K Retro Diner
The Good Egg Diner
Blueberry Hill Diner
See more ideas in the full post of 300+ Cool and Unique Diner Names.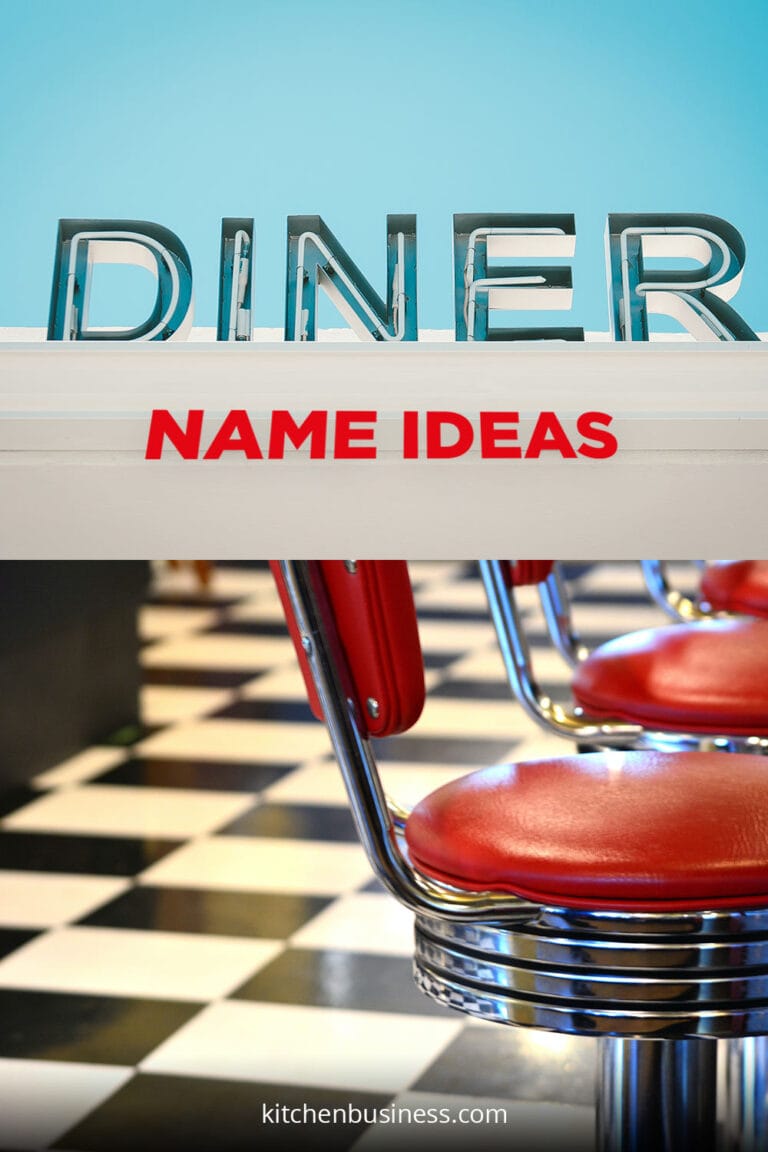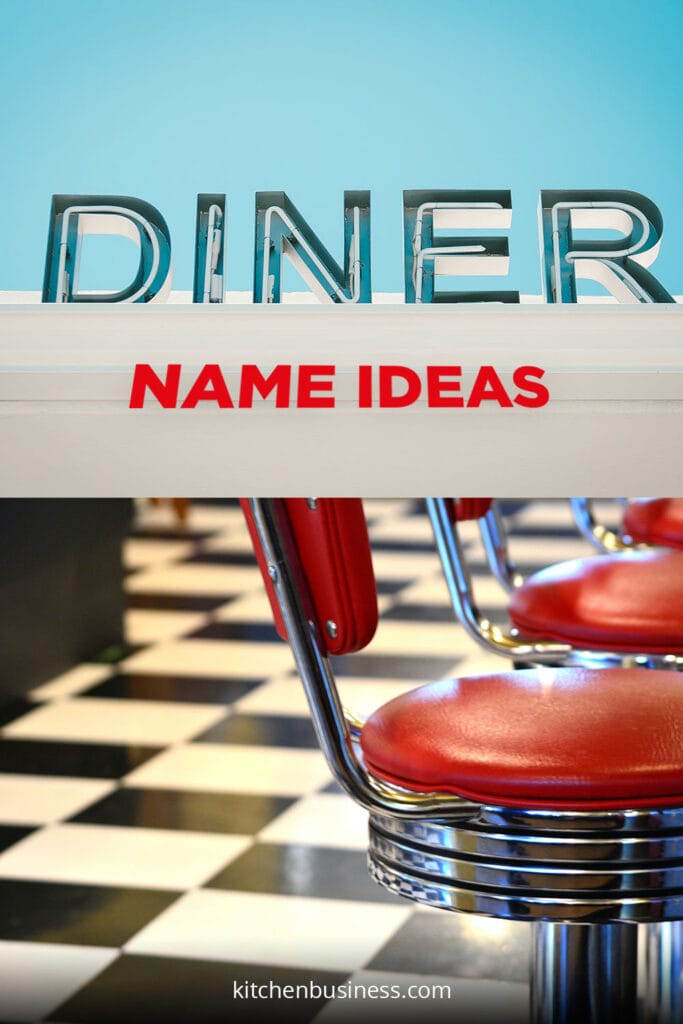 Fast Food Restaurant Name Ideas
Falafel Fiesta
Popcorn Pavilion
Soft Pretzel Emporium
Cotton Candy Cafe
Grab and Go
Wrap it Up
Roadside Dining
Carry-Out Cuisine
Dine and Dash
Chicken City
Taco Town
Sandwich Island
The Fry House
Grill World
Taco del Mar
Burrito Beach
Samurai Noodle Bar
Wok On Fire
The Fry Spot
Red Star Burgers
Pita Pit
Firehouse Subs
The Hot Dog House
Hamburger's Legend
Power Burger
TurboTaco
Mango Tango
Bio Burger
Chickpea Dreams
Fava Beans and Love
Hook & Fry
Papaya House
Chick Delights Express
Noodle Mania
See our full list of 200+ Fast Food Restaurant Names
Catchy Pizzeria Names
Pizza World
Rosso Pomodoro
Capo's Chicago Pizza
Magic Mushroom
Pizza Express
Carbone's Pizzeria
Pizza Palooza
Artisano Pizza Bar
Papa Pizza
Iron Heart Pizza
The Pizza Kings
Fiorella's Jackstack Pizza
Graziano's Coal Oven Pizza
Brick Oven Pizza Co.
Bianco Pizza
Bellini's Pizzeria
Bottega Pizzeria
Buona Sera Pizzeria
Carmine's Italian Pizza
Bravo Pizzeria & Deli
Pizza Patio
Park Pizza
Slicelandia
Big Pepperoni
Cheesy Heaven
Pizzaholics
Crazy Crust Pizza
Brooklyn Pie Company
Candela Pizzeria
Carbone
Crispo
Di Fara Pizza
See our full list of 275+ Pizza Restaurant Names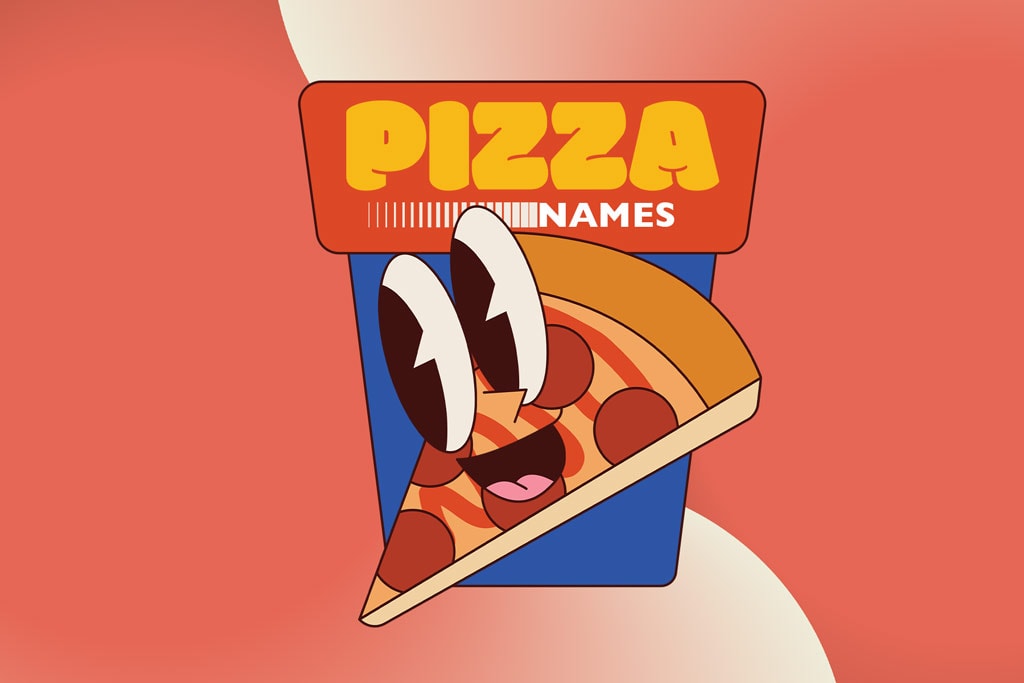 Juice Bar Name Inspiration
Urban Greens
The Pure Beet
The Green Machine Juice Co.
Nutri-Nation
The Healthy Juice Co.
JuiceLand
Radiance Juice
The Squeeze
The Juicing Jar
Juice Boxx
The Green Thumb
Nuts for Juice
Smoothie King
Orange Leaf
Cafe Gratitude
Life Juice
Beet It Up!
A Juice Odyssey
Pressed Juicery
The Blending Lab
Project Juice
Evolution Fresh
Nirvana Juice Bar
Prana House Juices
Garden of Eden
The Fruitful Life
Fruit Ninja
Planet Smoothie
Smoothie Explosion
Vita-Pure
Booster Juice
Pure Blends
Squeeze Smoothies
SuperShake
Smoothie Station
See our full list of 280+ Juice and Smoothie Bar Names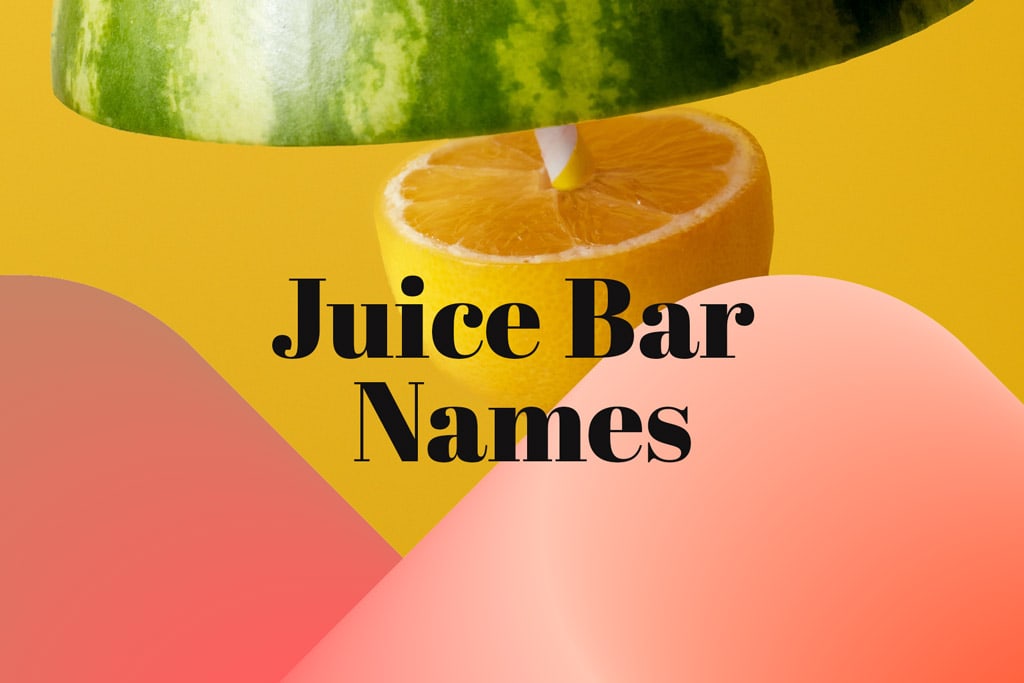 French Restaurant Name Examples
La Petite Pépite
Noisette
La Baguette
Parfait
Coque Rogue
Bistro Bonaparte
La Gourmée
Cafe Saint Laurent
Le Petit Flair
Saint-Brasseur
Restaurant Le Ritz
Coeur Rouge
Le Bistro Urbain
Bistrot de Madeleine
Quatre Femmes
Pantheon de Paris
Bon Appétit Paris
La Bouteille d'Or
Viscount Royal
Restaurant de Vinci
Maison Notre Dame
Bistro Nouvelle
Le Quatre Fleurs
Restaurant Caravane
Restaurant Quai
La Petite Maison
Brasserie l'Orléans
Château Belle
Chez Breton
Côté Jardin
La Lune
Bistro La Madeleine
Ma Frère
L'Orphéon
Les Arômes
Bistro Le Bouchon
Picnic France
Click here for 250+ More French Restaurant Names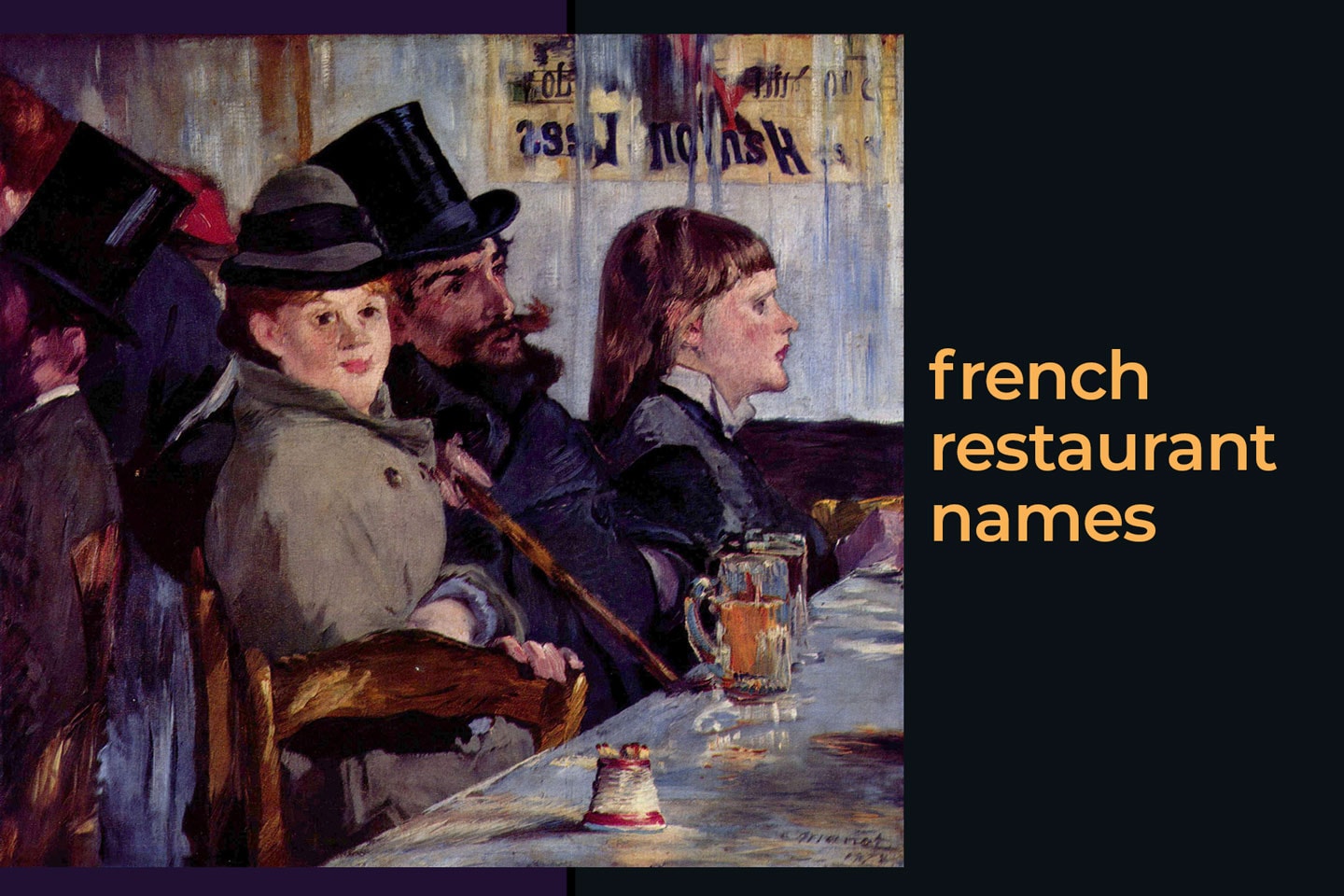 Italian Restaurant Names
Soprano Trattoria
Regina
Pranzo
Di Stagione
Roman Times Kitchen
Macchiato
Romeo & Monte's
Mia Bella Ristorante
The Venetian Deli
The Real Neapolitan
Rustico Mercanti
Chef Carbonari
Romagna Pizza
Little Bit of Italy
Familia Ristorante
Barrocco Restaurant
Fortuno Italian
Bravo Ristorante
Primavera
Restaurant Giacomo
Trattoria Panoramica
Il Giardino
Rialto
Tuscany Palace
La Gustosa
Mangia Tutto
The Italian Lion
Trattoria Vittorio
Click Picture for 250+ More Italian Restaurant Names
Indian Restaurant Names
Bombay Tiger
Karma Bhavan
New India Dining
The Marigold
The Saffron Guru
Curry Chai
Urban Turban
Canteen Punjab
The Mango Bar
Karma Dining
Swirl Of India
Golden India Eatery
The Tandoori Rose
Biryani + Kale
The Curry Life
Rajasthani Delights
Oh! Calcutta
Minted India
Chutney & Tandoori
Curry Pot India
Desi Palace
Kashmiri Delights
Masala Magic
The Green Chutney
Shambhala
Delicatessen Delhi
Spirit of India
Tandoori House
Golden Curry
Chai-Chai Express
The Punjabi Kitchen
Mangalore
Bombay Taste
Nirvana Flavors
Click Picture for 300 More Indian Restaurant Names
Japanese Restaurant Names
Shogun Club
Emperor's Sushi
House of Bamboo
Sakura Cafe
Osaka Bowl Express
Three Samurai
Suzuki Ramen
Oshima Oasis
The Joyful Sushi
Mr. Yokohama
Ichiban Sushi Fusion
Miso Me
Wasabi Garden
Nomi Lounge
Tokyo-Ichi Ramen
Tokyo Shogun
Sukiyaki Boy
Sushi Emporium
Sushi Dojo
Shogun Ramen & Roll
Samurai Street Grill
Rising Sun Ramen
Silver Lake Sushi
Miro Sushi
Click Picture for 180+ More Japanese Restaurant Names
Mexican Restaurant Name Ideas
Senor Corazon
Taqueria El Burracho
Sun Valley Burrito
Pepe Nero
El Toro
Salsa Champions
Caramba Grill House
Taquitos Factory
The Sirocco Palace
Navarro TexMex
Tortilla Brothers
Taqueria El Campo
Cantina D'Oro
The Taco Trucker
Tacolandia
Mexicata
El Patron Taco Shop
Tacos de Mexico
The Crunchy Taco
Gusto Mexican Grill
Como Rico Taco House
Taco De Mariachi
Amigos Eatery
The Spicy Tamale
Taqueria El Coyote
Burrito Villa
Buen Gusto Mexico
Casa Latina
The Taco Station
Taco Mama Texas
El Mirage
The Burrito Beat
Los Taco Boys
Taqueria El Mango
Tortilla Garden
El Tres Amigos
The Tasty Tortilla
Click Picture for 200+ More Mexican Restaurant Names
Seafood Restaurant Names
Poseidon – King of Seafood
Zardino
Atlantic Restaurant
Bait & Catch
Oceania
The Deep Anchor
Crazy Lobster
Captain Hook
The Fish King
The Baroque Oyster
Mosaic Seafood
Fishermans Green
Little Harbor
The Sea Line Express
Seawall Cookhouse
Ocean Eats
Hook Dining Club
Oceanside
Pier Three
Seaside Diner
Ocean's Oven
Chowder Queen
The Oyster Den
Shark Park Grill
Peixes
La Marine
Fellini Fish & Chips
The Whale's End
Oceans First Seafood
Dockside
Ocean Palace
The Blue Marlin
Oceans End Seafood
Click Picture for 175+ More Seafood Restaurant Names

Vegetarian & Vegan Restaurant Names
Emerald Juice
Coriander
The Green Stove
Holy Pickle
Delicious Planet
The Pomegranate Inn
Tantra Vegan
Greenspace Restaurant
The Vegan Parlour
Olive Grove
The Leafy Vegetarian
The Earthy Chef
Harmony Raw Food
The Kale & Kasha
Thyme
The Vegan Kettle
Second Sunrise
La Citronelle
The Pecan Blossom
The Kale & Pumpkin
Olive Taste
Juicy Date
Urban Barn
Cinnamon
Split Bean
The Rolling Beans
The Green Thumb Cafe
The Raw Veg Co.
Bean Cottage
Papaya Fusion
The Salad Warrior
Red Ribbon Kitchen
Raw Veg Studio
Nosh Sutra
Roses & Greens
Mint Leaf
See the full post of vegan and vegetarian restaurant names here.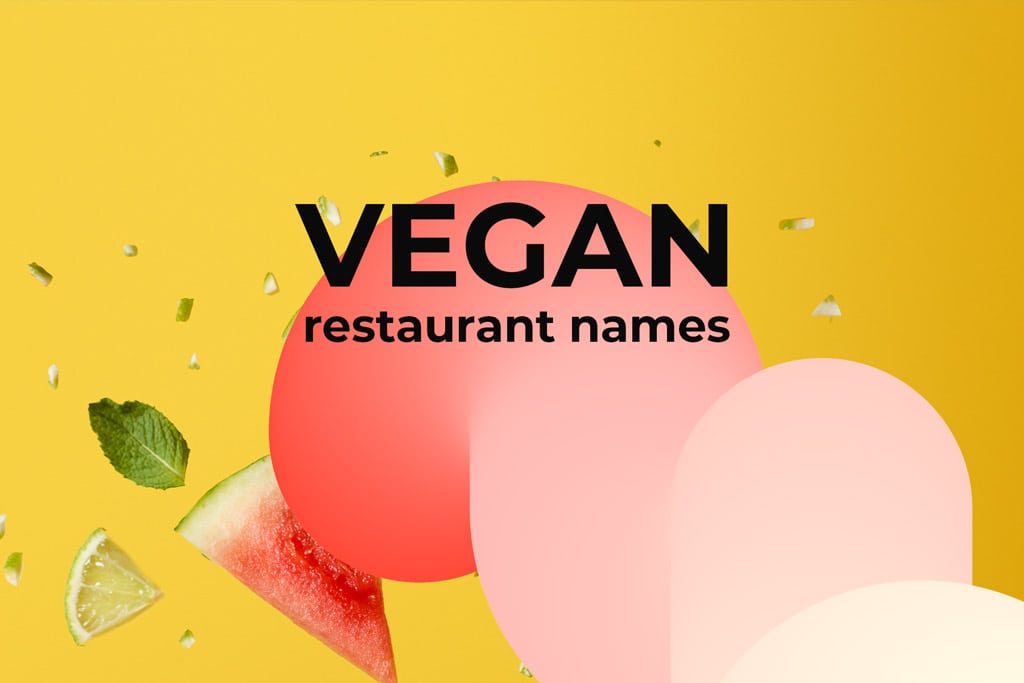 Want to see more Middle Eastern restaurant names? Check out: 250 Best Arabic & Middle Eastern Restaurant Names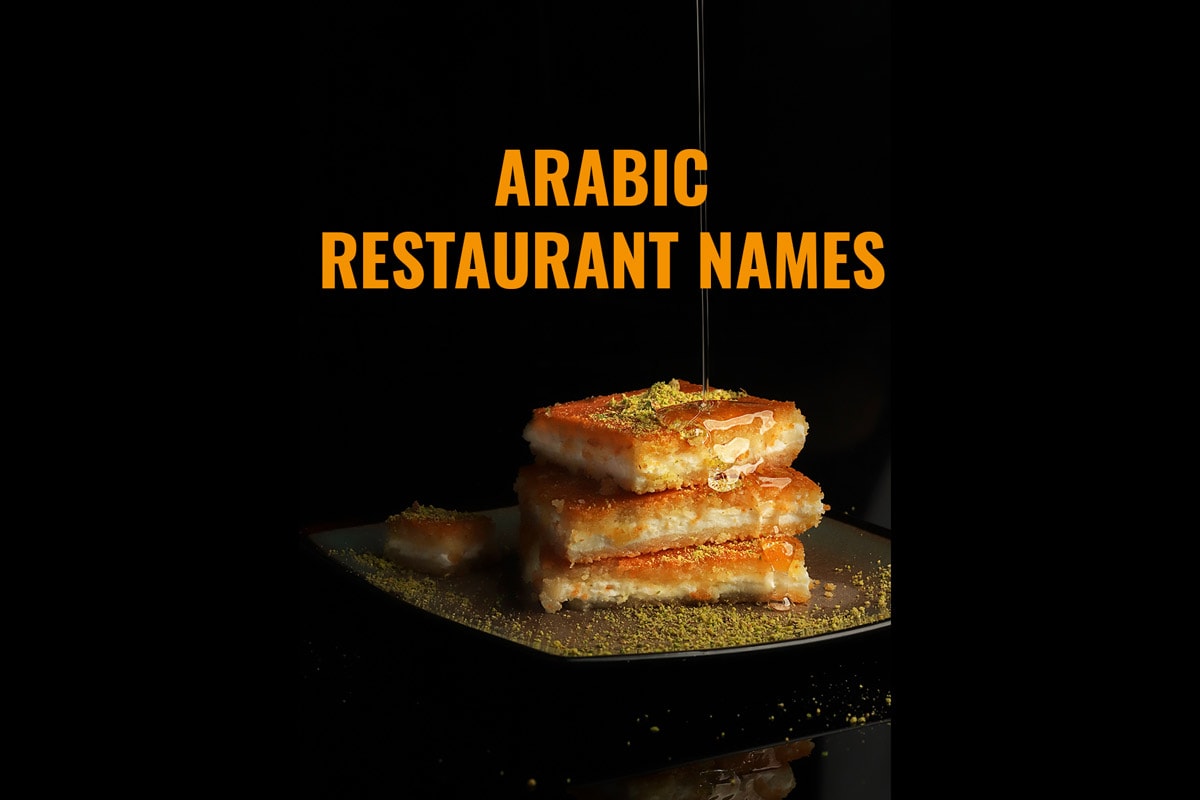 2 Essential Posts when Growing a Restaurant Business
As you are reading this article, also check out the two articles below!
3 Quick Tips for Naming Your Restaurant
The list of names above should hopefully have given you some good ideas and a start in the process of naming your restaurant.
You also have to figure out what your concept and overall brand are, and what you want your food or customer experience to be.
Next, use the following three tips to generate more name ideas:
1. Start with considering your offering and your customers:
What type of restaurant is it? Fine dining, gastropub, fast food, food truck, etc.
What type of cuisine do you serve? Italian, Japanese, Mexican, seafood, vegetarian, pizza, etc.
Which neighborhood or district is your cafe located in? Soho, Times Square, New York City, etc.
What type of customers are you looking for? Families, singles, office workers, millennials, etc.
2. What are your values and background:
Consider your restaurant's mission statement and values first. What story do you tell your customers with your name?
Effective marketing is based on articulating and extending a harmonious concept from the inside out. Communicating what defines your business is how to engage potential customers because it puts your story in context.
3. The best restaurant names often have a good story behind their name
See if you can find some interesting story or fact about the history of your building or the neighborhood and incorporate that into the name. This story can also be used when creating your restaurant slogan or tagline.
Conclusion
We hope this article will help you to come up with a clever name for your restaurant. Next, you might want to check out the following resources for restaurant owners: