Are you looking for a free POS system for your restaurant?
Then this review where I'll go over the pros and cons of Square for Restaurants will interest you.
Restaurant technology is evolving rapidly and a good POS system is perhaps the most essential tool for a restaurant today.
Restaurants have specific requirements when it comes to POS software. Powerful tools can help grow your business if you use a point of sale system that is specialized.
Point of sale systems allows restaurants to process credit and debit cards, make better business decisions, and simplify checkout.
Some of the changes facing the restaurant industry are increasing labor and food costs. To survive these changes, you need to take advantage of every opportunity to improve efficiency, marketing, customer service, reduce waste, and control costs.
The right restaurant POS system can help you make those things happen.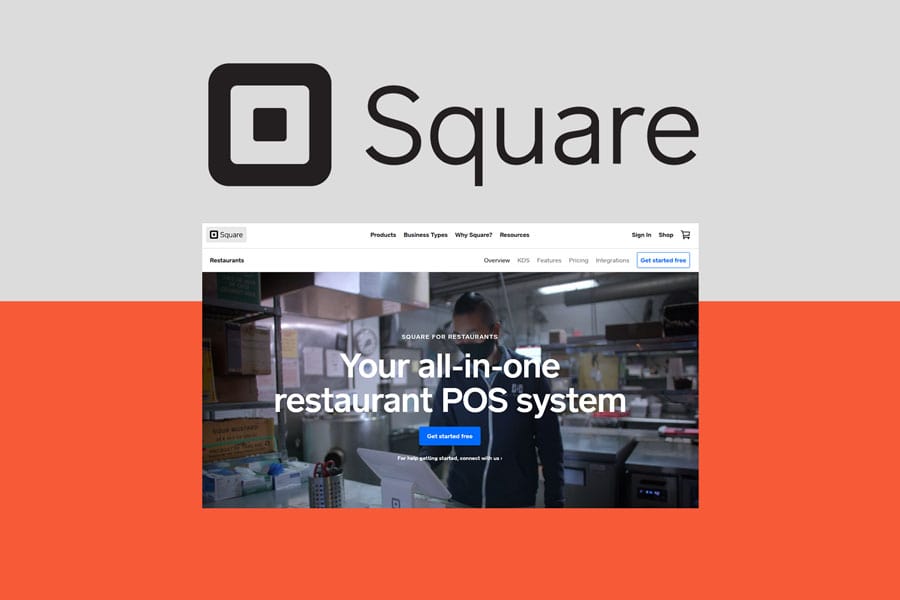 What is Square for Restaurants?
Square for Restaurants POS is an easy-to-use restaurant management and payment system that allows you to take orders from customers using their mobile phones or tablets. It can be used with any food service business, including restaurants, cafes, bars, bakeries, pizza parlors, coffee houses, ice cream stores, food trucks, etc.
I really like this app because it has a free plan and is intuitive and easy to use. The interface is clean and modern, making it look great on both iOS devices and Android smartphones and tablets.
We'll go over some of Square for Restaurants best features and give you our opinion on whether we think it's worth your time and money.
Square for Restaurants: Price Overview
Free plan: There's no monthly fee, but there is a transaction fee for each sale. 2.6% + 10¢ for swiped or tapped card transactions. 3.5% + 15¢ when the card number is keyed in.
Square for Restaurants Plus: $60/month for one device per location. +$40/month per added POS device.
Premium subscribers get everything in the Plus subscription and custom pricing for add-ons like Square Payroll, Square Marketing, and Square Loyalty.
(For optional hardware prices, see the section below).
Why use Square for Restaurants?
Square for Restaurants is a point-of-sale system designed specifically with small to medium-sized food service businesses in mind. This means it's not just another payment processing solution but rather a complete restaurant management toolkit. With Square for Restaurants, you can:
Accept credit cards on your iPhone, iPad, or Android device
Manage customers, orders, and table seating
Track customer loyalty programs
Send out promotional offers via email
Create custom menus
Integrate with existing systems such as QuickBooks
Manage online ordering, pickup, and delivery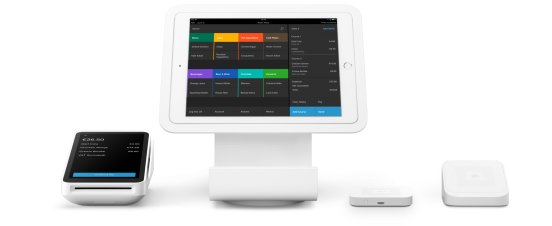 Square for Restaurants Hardware
There are five main types of hardware offered by Square: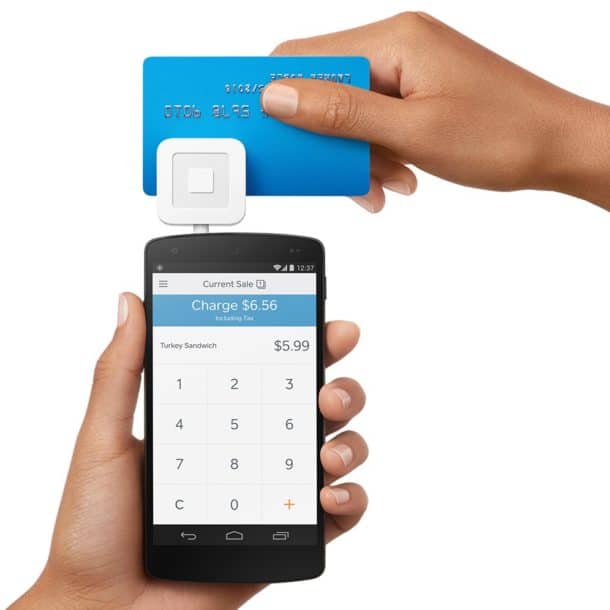 1. The Square magstripe card reader can be used for swiped card transactions. You can plug it into your phone or tablet. The first one is entirely free. Works with iOS and Android. The additional mobile card readers cost $10 each.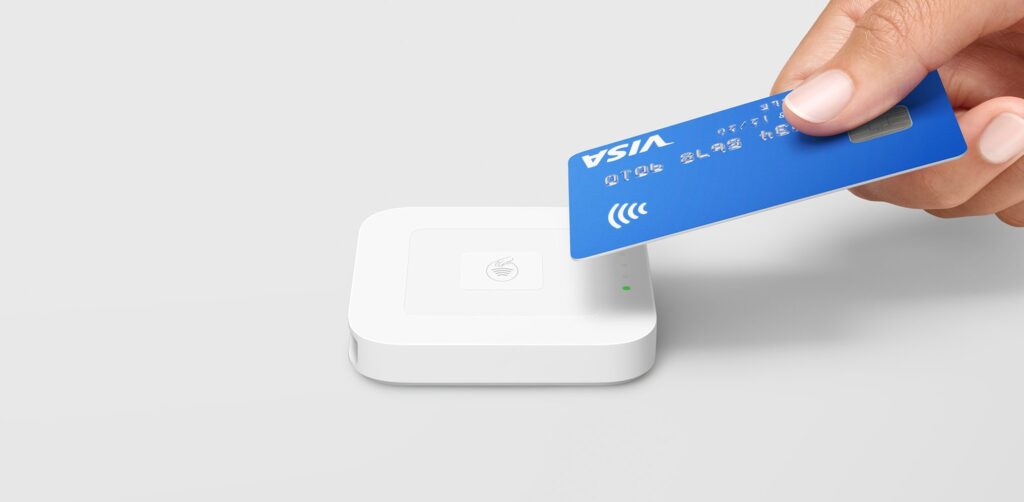 2. The Square contactless card reader accepts card payments with NFC (Near Field Communication). Works with iOS and Android. It costs $49 and comes with a Square magstripe reader.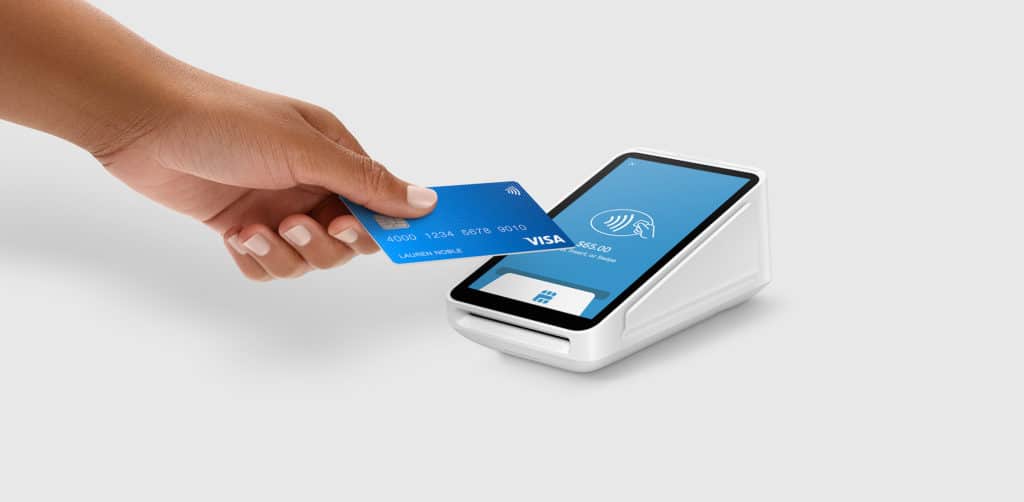 3. The Square Terminal can read all types of cards. You can use it for everything from taking payments to accessing your Square POS system to print receipts to use all the features of Square's app. The price for the terminal is $299.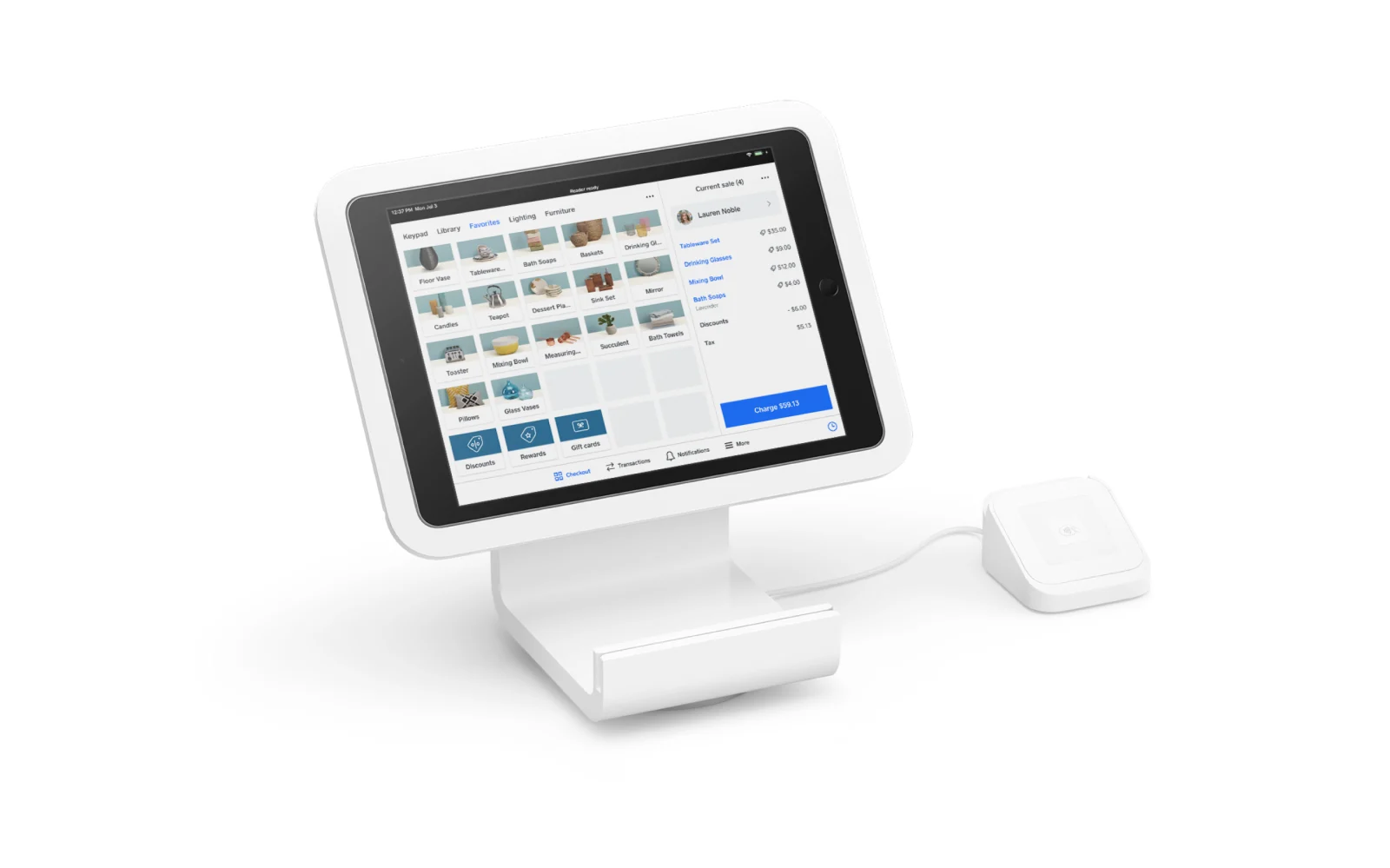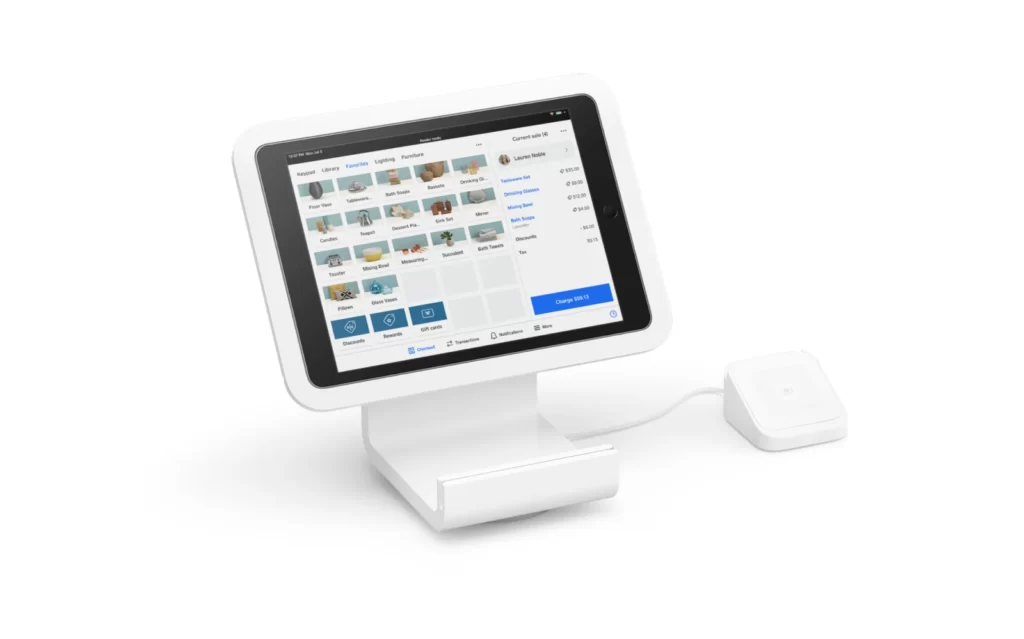 4. The Square Stand for contactless and chip payments. Makes an iPad into a point of sale and take every kind of payment. Only for iPad. $169.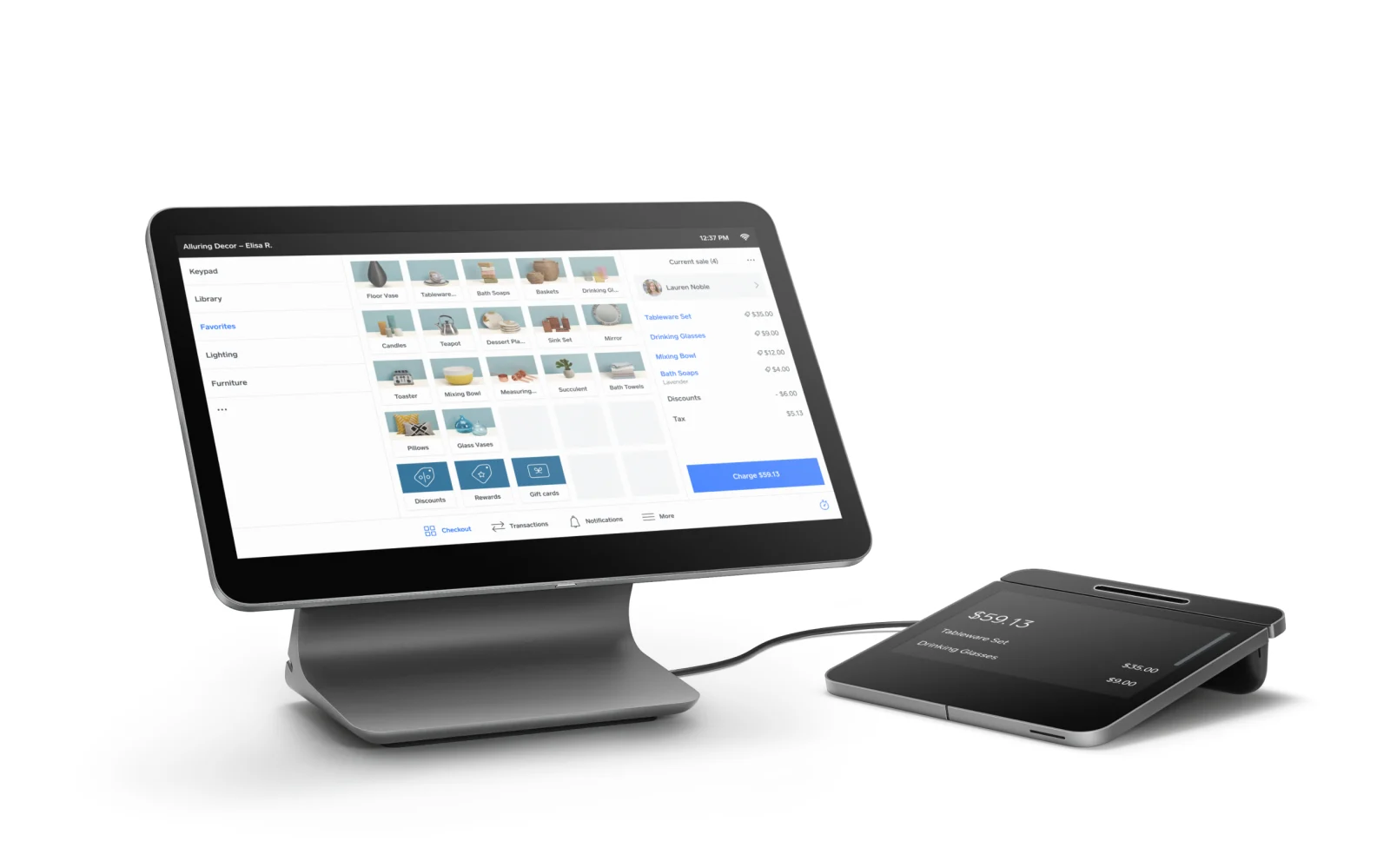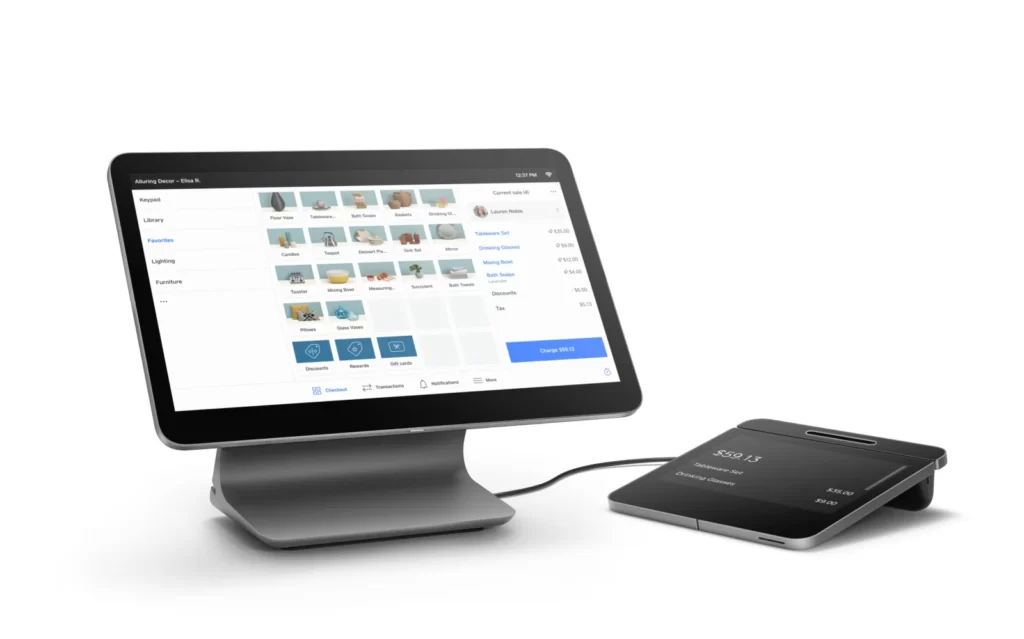 5. The Square Register is a cool countertop setup and a fully integrated point-of-sale system. No extra tablets or apps are required. Includes a touchscreen card terminal facing the customer. You just need WiFi. $799.
2 Essential Posts when Growing a Restaurant Business
As you are reading this article, also check out the two articles below!
Square for Restaurants: Features
Payment Processing
With Square, you can now accept payments via Apple Pay, Android Pay, Samsung Pay, and Google Wallet, as well as all major credit cards, including MasterCard, Visa, Discover, and American Express. You can also process contactless transactions and accept payments tableside with the Square Terminal.
However, Square requires you to use its platform, unlike many POS systems that let you choose your payment processor.
Square for Restaurants also accepts card payments in offline mode if you temporarily lose your internet connection. The Square system will save the payment information for 72 hours, and when reconnected to the internet, the payments will automatically complete.
I also like that Square lists the processing rates clearly on its website.
And for security, the payment methods are compliant with the Payment Card Industry's standards to protect customer data and reduce chargebacks.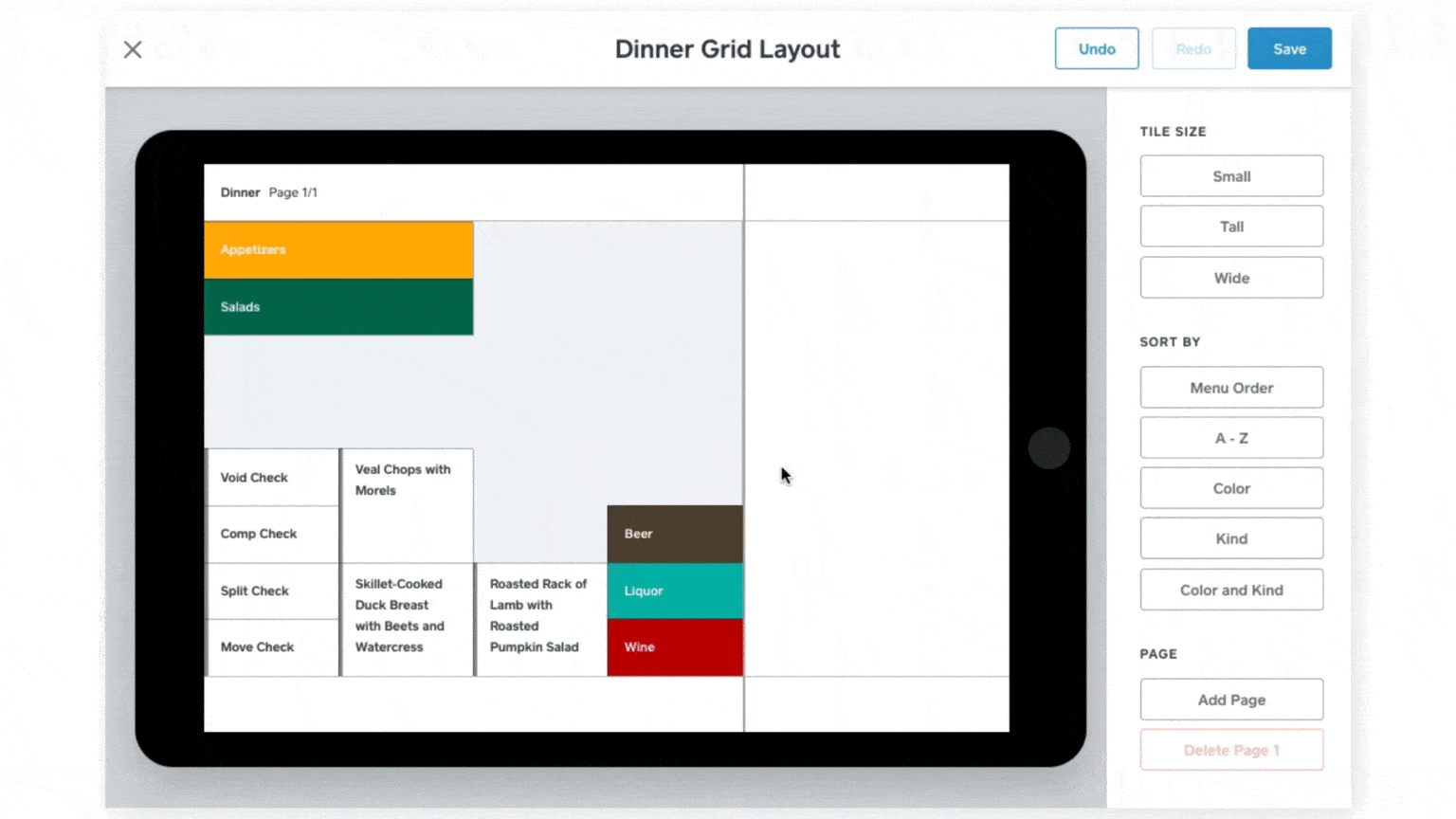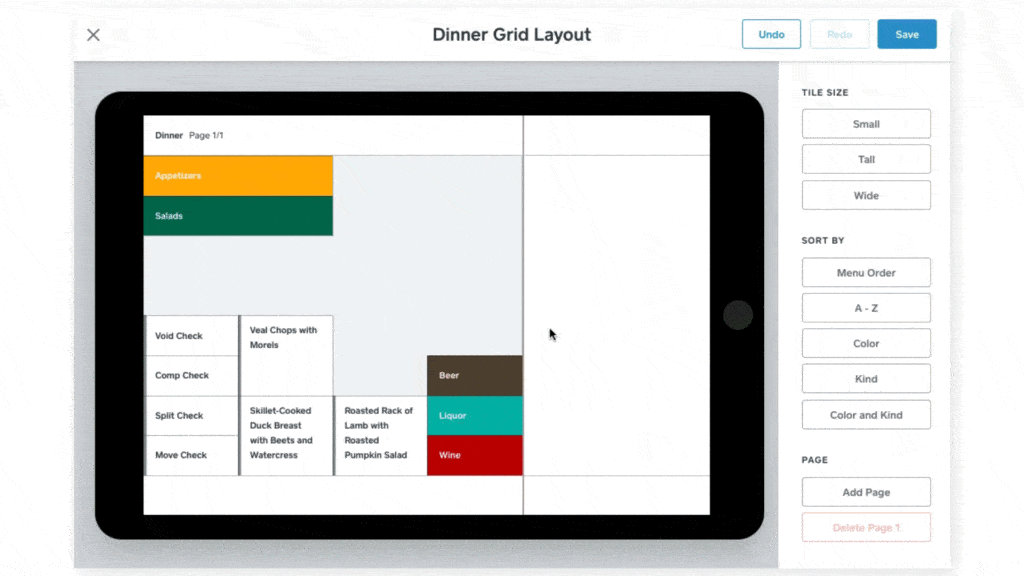 Menu Management
Square for Restaurants has a variety of menu management options. You can use the POS app to design your menus on your iPad or other mobile devices. It's possible to quickly create many different menus and manage them for particular meal times and seasons. Discounts can be applied to menu items, special events, and holidays.
Managing Customers & Orders
Square for Restaurants has several features for managing customers and orders. Here are some examples:
Table management: Create floor plans and organize your restaurant in the Square dashboard. You can adjust the plan and lay out tables to find the most optimal use of space.
Coursing is a feature on the Square POS dashboard to help manage the sequence in which the customer wants their meal. You can also check on the meal's status and track how long customers have been at the table.
Tableside ordering can reduce errors by letting servers enter orders directly at the table. The table-mapping feature in the app can also assign a server to a specific table, give orders to certain seats, and stay up to date on what tables are available.
Inventory Management
Restaurants can keep track of their supplies in real-time with the help of the Square POS system. The menu can be updated if an item runs out, and out-of-stock items can't be ordered.
Employee management
The tools provided by Square for Restaurants can help you manage your staff more efficiently. Employees can access parts of the POS according to their rank and role. Every staff member at your company can have a password assigned to them to log in and out of the POS at work. Individual employees can be given checks to report their sales.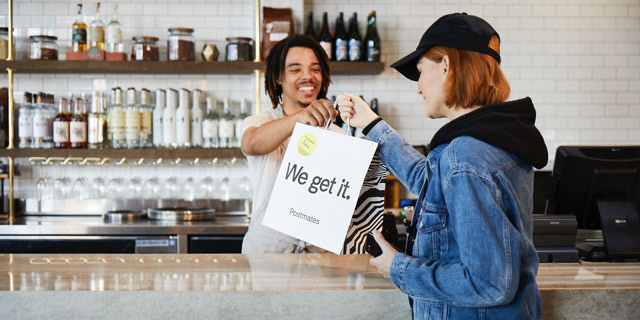 Online Ordering, Delivery, and Takeout
Square for Restaurants offers several options for managing online ordering and delivery:
Use Square Online to create an online ordering website for free
Online ordering and delivery with direct integration between Postmates and Square
Third-party integration with platforms like DoorDash, Grubhub, and others
Drivers on-demand: Send orders with third-party drivers for a flat fee
Delivery through your own in-house drivers for $0.50 per order
Square does not charge a fee for these integrations, but the third-party apps usually have their own fees.
Restaurants Reporting
Square for Restaurants comes with a variety of reports that can provide insight into your restaurant's performance. You can use the POS to track the number of customers visiting your restaurant by day, week, and month. You can also see how the different shifts perform and understand if your discount programs increase your sales. Tracking specific metrics can be done with custom reports.
Integrations & Add-Ons
With your Square account, you also get access to over 100 integrations on the Square App Marketplace. Here you can find apps to integrate with that you might already be using, like QuickBooks or Xero for accounting. Other options include apps for marketing, scheduling, CRM, payroll, and much more.
Restaurant owners can also use Square's free online store for eCommerce or integrate WooCommerce, Wix, and other eCommerce platforms.
Square also offers several add-ons you can use with your POS for an additional monthly fee.
Square Payroll uses the POS time clock to keep track of employee hours worked. Square Payroll can handle both payroll and tax forms. This service costs from $40 per month.
Square Marketing & Square Loyalty Add-Ons
Square Marketing is an email marketing tool that lets you create special event emails or custom messages and send them to your customers. Restaurants can set up automated messages or send coupon and discount codes directly in the emails. The add-on starts at $15 per month.
Square Loyalty is a digital rewards program. Customers are asked to enroll at check out and tracked by phone number. There are no rewards to remember, cards to hand out, or apps to download. Customers can then receive rewards based on how much they spend or visit. The loyalty data is automatically uploaded to your sales reports. Pricing from $45 a month.
Additional features include:
Use Square's pre-built templates and add your restaurant branding to create promotions for Facebook and Instagram.
Send confirmation text messages to customer phones.
KDS: Kitchen Display System (Included in the Plus Plan):
This is a separate useful feature for your kitchen, which you can get with Square for Restaurants Plus Subscription. The KDS receives orders in real-time so you can organize them quickly.
Customer Service & Support
Square provides 24/7 support via phone, email, and live chat.
The Square website also has a good getting started guide and instructional videos, and an active customer community forum.
Square experts can visit a restaurant to install and Configure their POS system for an additional fee. Once the system is installed, it is possible to train your staff on how to use it.
Pros
Free plan
Built for the restaurant industry
Offline mode
Easy-to-use interface
Online ordering and delivery features included
Easy to create a website for your restaurant
Integrates with QuickBooks
No long-term contracts
Cons
Limited reporting features
Occasional fund holds
Inconsistent live customer support
Square for Restaurants User Reviews
General user reviews of Square for Restaurants are mainly very positive, with users higlighting the ease of use and set up and how much they like it as an all-in-one solution. Several reviews also like how easy it is to create a website for your restaurant with Square Online.
Capterra: 4.3 stars out of 5.
G2: 4 stars out of 5.
Software Advice: 4.27 out of 5
A few negative reviews mention less than stellar support and a wish for more integrations with food delivery companies.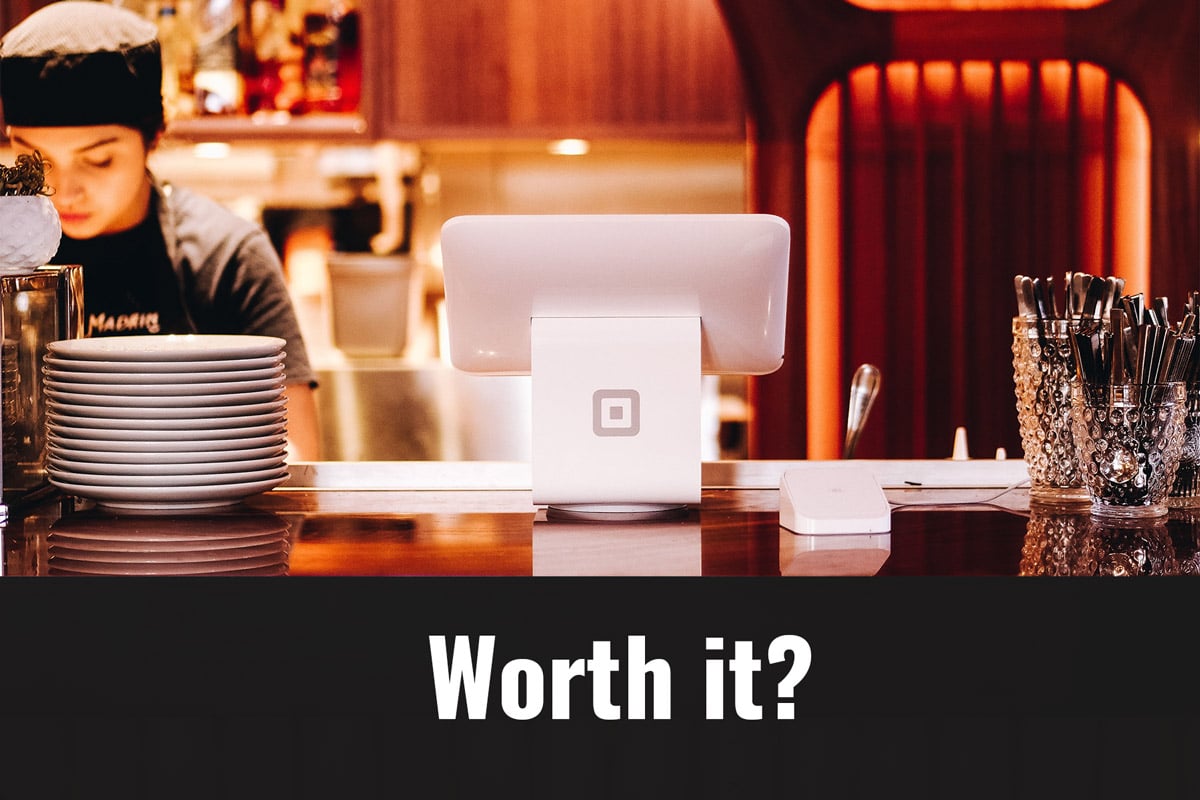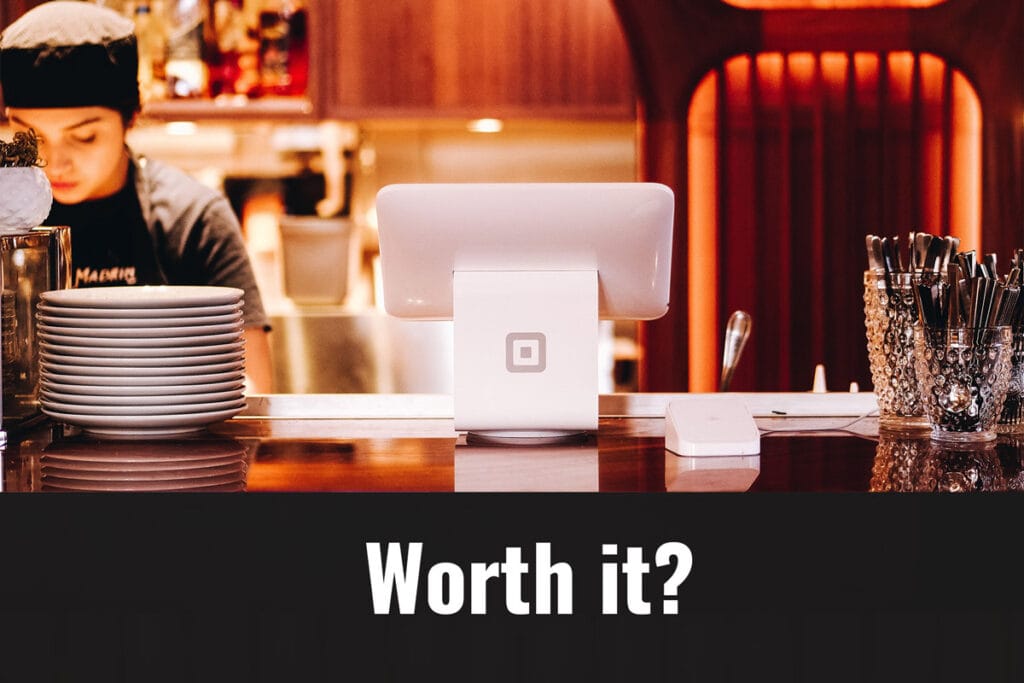 Our Verdict & the 3 Main Reasons to Use Square for Restaurants
There are many reasons why you should consider using Square for Restaurants instead of other solutions available today. Here are three big ones:
1) Ease of use. You don't need to learn anything new – Square's platform was built by people who understand how consumers interact with technology and want to make sure everything looks good and feels right. That's why Square uses intuitive and beautiful design elements throughout the entire application.
2) No monthly fees and long-term contract. No other restaurant POS can beat Square for Restaurants on the free plan. It is best suited for a new or smaller restaurant that needs a POS system while being a low-risk investment due to the absence of a long-term contract.
The Plus subscription is a significant affordable upgrade for full-service restaurants that need seat and course management, marketing and loyalty apps, and KDS software and team management. Pricing for the plus plan is still affordable at $60 per month.
3) Easy integrations – Square for Restaurants POS works within the Square ecosystem with integration with over 100 third-party tools.
2 Essential Posts when Growing a Restaurant Business
As you are reading this article, also check out the two articles below!
Conclusion
Different restaurant POS systems have their own strengths in the following three criteria: easy-to-use, low-cost, and high functionality. You can usually find a solution that meets two of the requirements, but rarely all of them.
I find that Square for Restaurants is the POS system that best fulfills these three criteria for small and medium-sized restaurants.
Square offers much more than a POS system. Square for Restaurants is just one of the many products in the Square family. They have a great website builder, the best payment processor, an eCommerce platform, and many marketing tools designed to help restaurants, food trucks, and coffee shops grow.
Even if Square is all you need, they also have a marketplace with integrations so that you can make it compatible with your existing systems, including accounting solutions like QuickBooks.
I recommend Square if you want a feature-rich, easy-to-use, and free system to support your restaurant business.
I hope you found this Square for Restaurants review helpful and that you've been able to decide if this POS system is suitable for your business or not.
Why not start a free Square account and try it out.
You might also like this review: Toast POS Review: The Complete Restaurant System?