If you're looking for an affordable restaurant POS system, check out this detailed review of Square for Restaurants POS. It's a comprehensive guide that will help you make an informed decision.
Ranked among the best cloud-based restaurant POS solutions available today, Square for Restaurants has extensive features designed to streamline your dining establishment's operations.
In this review, I'll cover Square for Restaurants key features, strengths, and potential drawbacks, providing you with a well-rounded understanding to help you determine if it's the ideal POS system for your unique business needs.
Now, let's jump right into this review.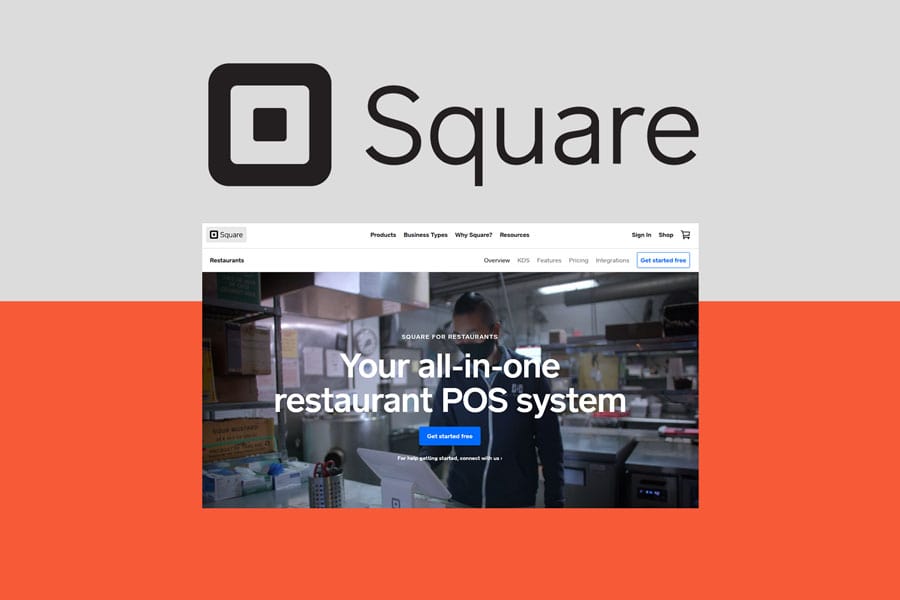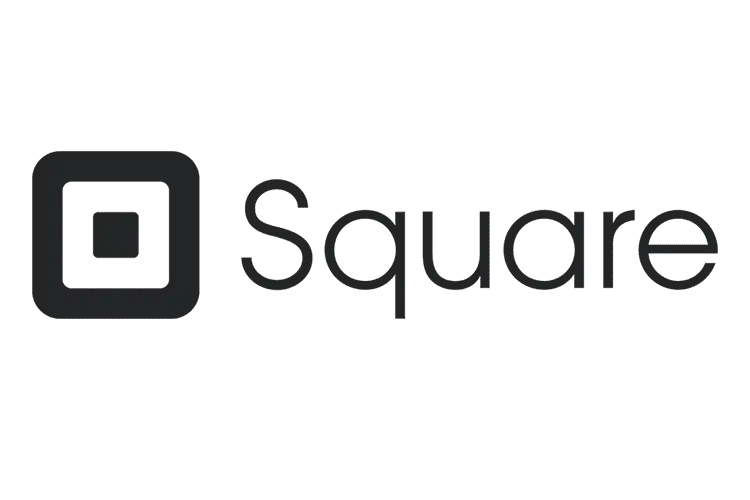 Square for Restaurants
Includes free plan. Plus plan starts at $60/month
Best for small restaurants and coffee shops
A small business POS for eateries that need a subscription-free plan, smooth transactions and easy-to-operate retail features.
Pros:
Subscription free plan

No long term contracts

Integrates with the Square ecosystem
Cons:
Lacks some advanced features

No on-site support
Try Now
Square for Restaurants Overview: The Ideal Solution for Small Restaurants
Square for Restaurants POS is an easy-to-use restaurant management and payment system that allows you to take orders from customers using their mobile phones or tablets. It can be used with any food service business, including restaurants, cafes, bars, bakeries, pizza parlors, and food trucks.
Square is also designed to streamline your order management, marketing, inventory control, and customer data tracking, ultimately driving efficiency and enhancing your customer's satisfaction.
I really like this system because it has a free plan, great marketing features, and is intuitive and easy to use. The interface is clean and modern, making it look great on iOS and Android smartphones and tablets and the hardware devices are solid. (Square Register, Square Stand, Square Terminal)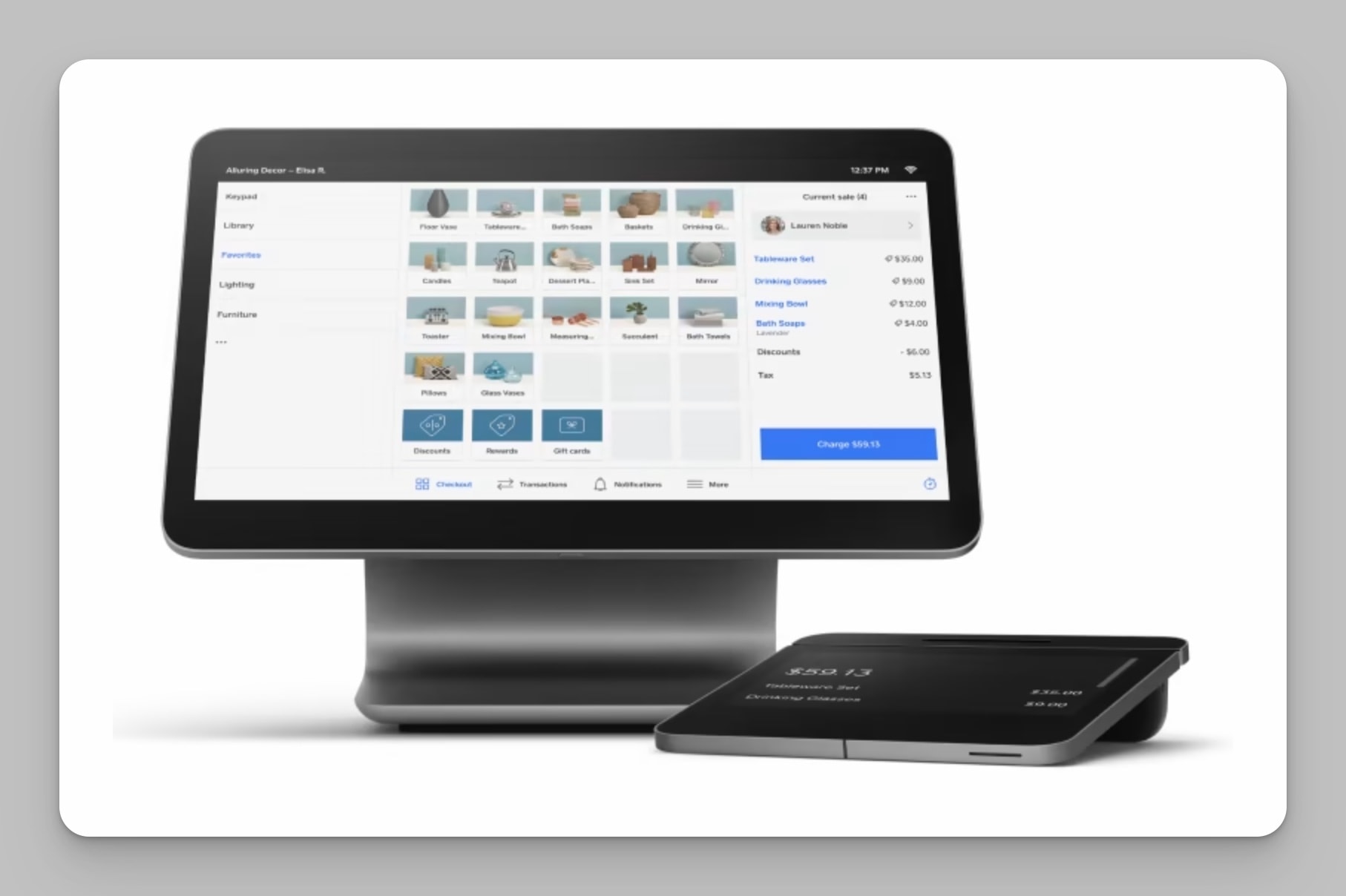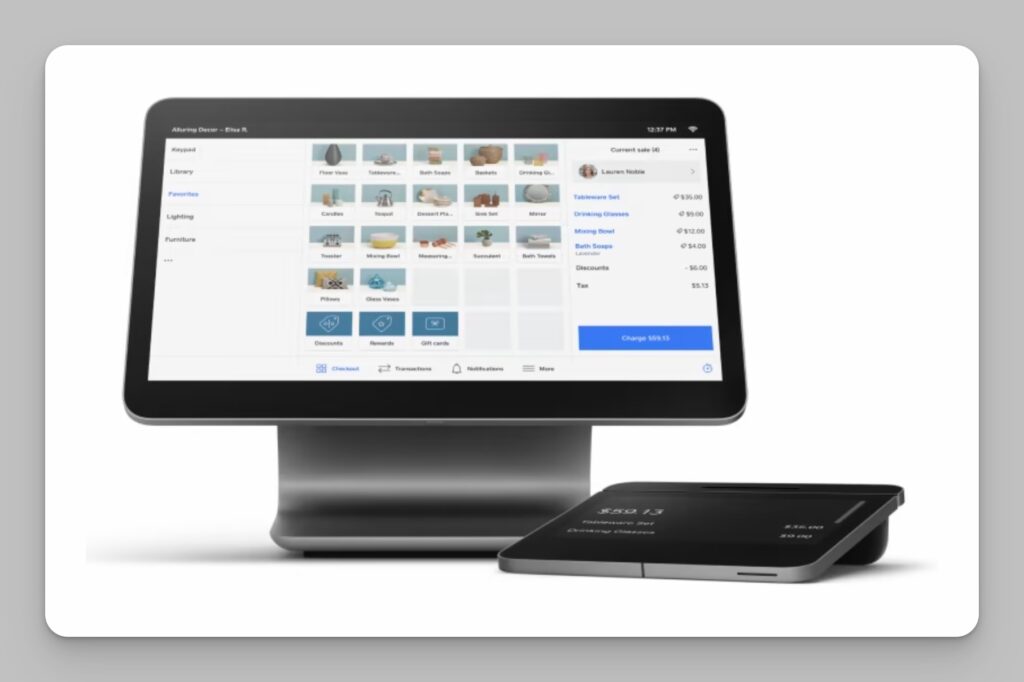 Where Square Stands Out
Ease of Use: Square has a modern and familiar user interface design that simplifies learning and operation. The system is easy to set up and doesn't require much training. This means your staff can focus on guests rather than learning the system.
Affordable Pricing: The Free plan includes fundamental services, such as online ordering and POS. The Plus plan costs $60 per month and includes advanced features like coursing as well as 24/7 support. For in-person payments, all plans include a processing rate of 2.6% plus 10 cents.
No long-term contract: Getting started with Square for Restaurants is simple because there are no installation fees or long-term commitments required. Additionally, you have the flexibility to upgrade, downgrade, or terminate your plan whenever necessary.
Comprehensive CRM Capabilities: The system has CRM features that allow for customer profiles, order history tracking, and integration with Square Loyalty and Marketing. This creates a complete solution for managing customers.
Square Online is a free add-on that allows restaurants to build and design their own websites for online ordering. Square Online integrates with Order with Google so when a customer searches for the restaurant on Google Search or Maps, they will see an ordering button on the search result that they can select to choose an ordering channel. Square Online also has e-commerce capabilities for restaurants that want to sell products online.
Integration with the Square Ecosystem: Square for Restaurants is part of a larger ecosystem of Square products, which means it can integrate with other Square services. This includes Square Payroll and Team Management for handling permissions, schedules, timecards, and tips, and Square KDS.
Where Square Can Improve
Limited Advanced Features: Square for Restaurants may lack some advanced features offered by other POS systems, such as in-depth inventory management and comprehensive reporting tools
Complex Reporting: The reporting features are causing concerns because they lack sufficient detail and are complex, making it difficult to search for specific information. Additionally, the process of reconciling sales to receivables is lengthy.
Lack of On-Site Support: Square for Restaurants does not provide on-site support, which may not be suitable for businesses that rely on in-person assistance.
Limited Support for Complex Menus: For restaurants with frequently changing or complex menus, Square for Restaurants might not be the best choice. Making changes to the menu can be slower than other systems.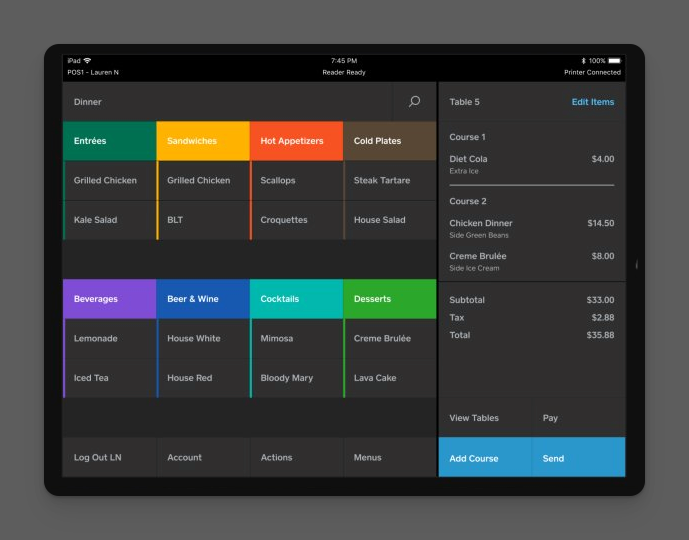 Why use Square for Restaurants?
Square for Restaurants is a point-of-sale system designed specifically with small to medium-sized food service businesses in mind. This means it's not just another payment processing solution but rather a complete restaurant management toolkit. With Square for Restaurants, you can:
Accept credit cards on your iPhone, iPad, or Android device
Manage customers, orders, and table seating
Track customer loyalty programs
Send out promotional offers via email
Create custom menus
Integrate with existing systems such as QuickBooks
Manage online ordering, pickup, and delivery
Square for Restaurants Hardware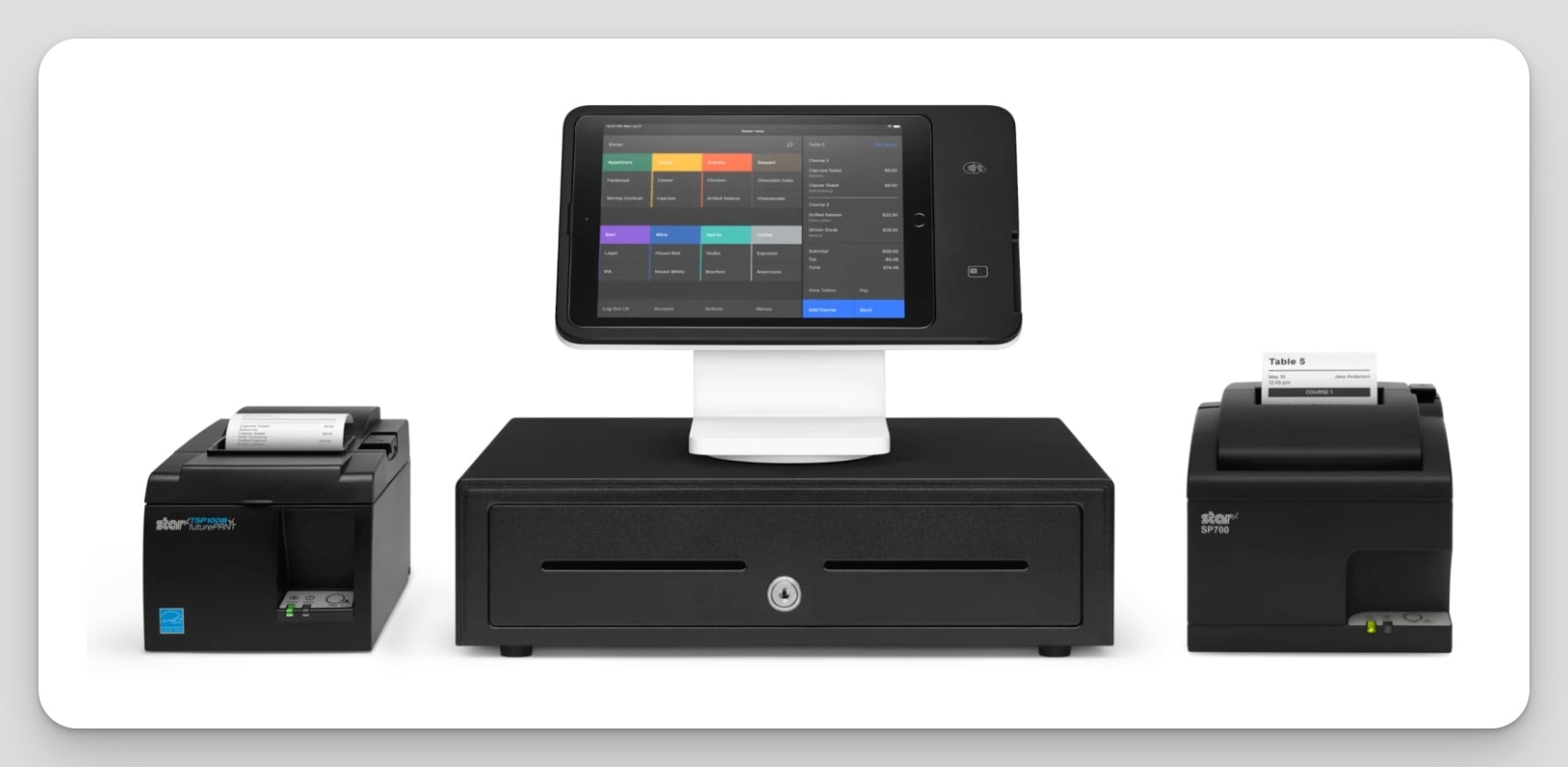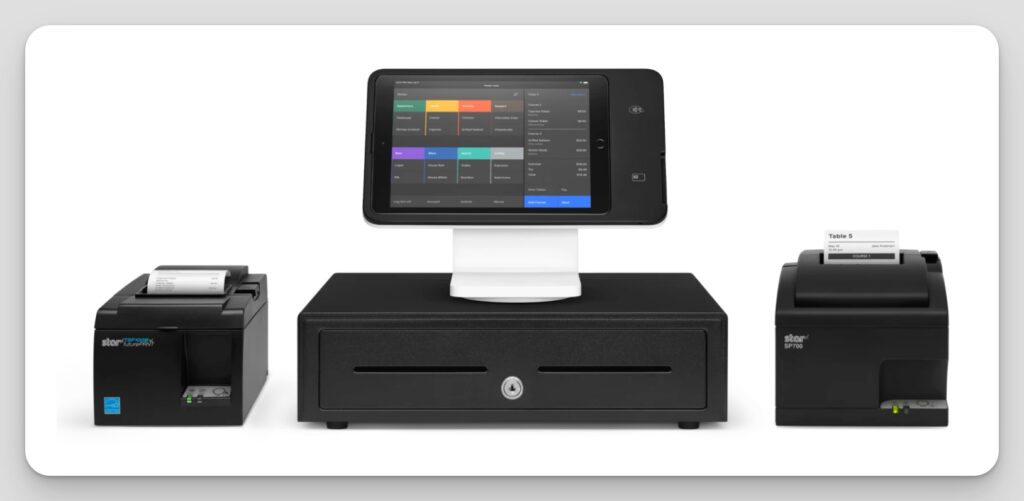 Square Stand Restaurant Station with cash drawer, receipt printer, and kitchen printer.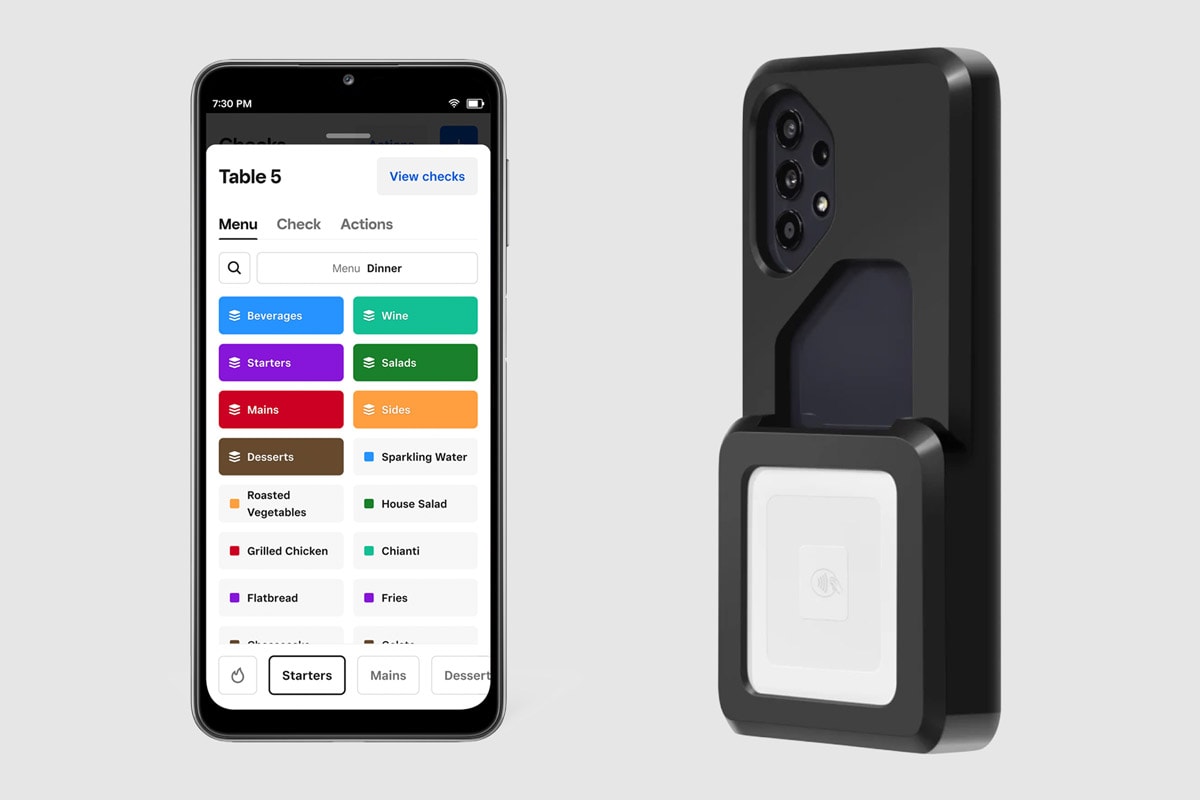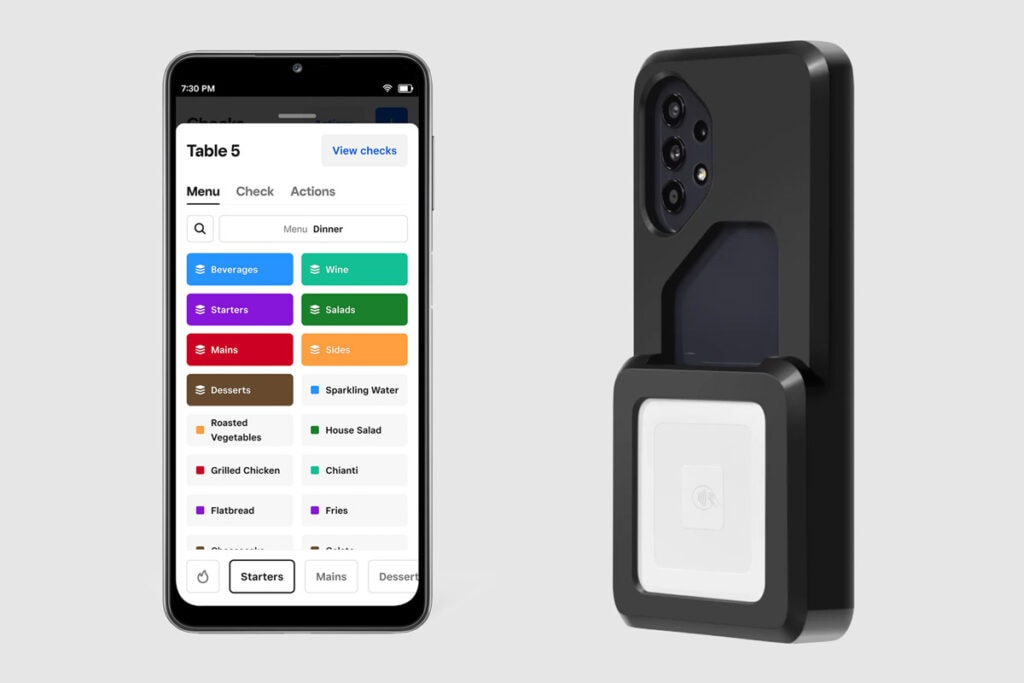 Restaurant Mobile POS Kit for Square for Restaurants. Includes a Square Reader for contactless and chip (2nd generation), a phone case, and a Samsung Galaxy A32.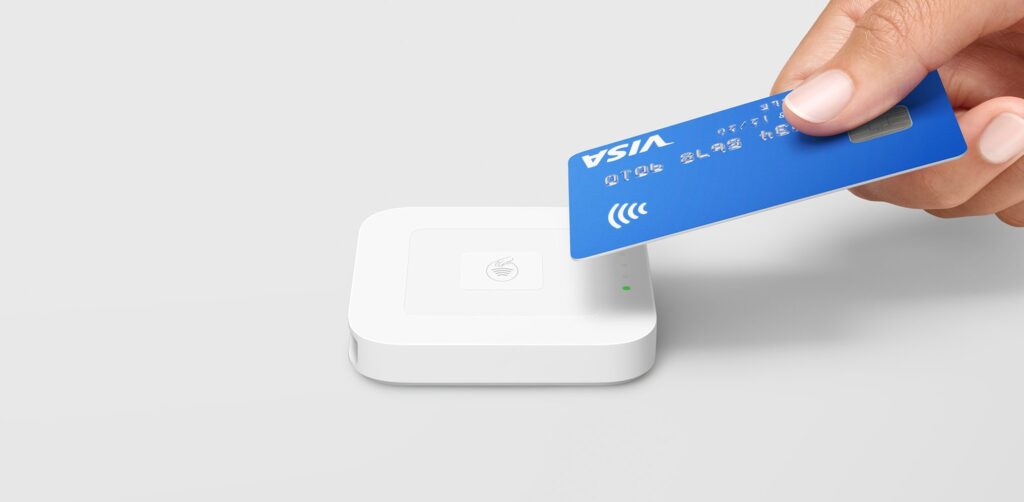 Square Reader for Contactless and Chip: Restaurants can now process payments more easily with the new Square Reader, which has improved Bluetooth connectivity, enhanced security, and longer battery life.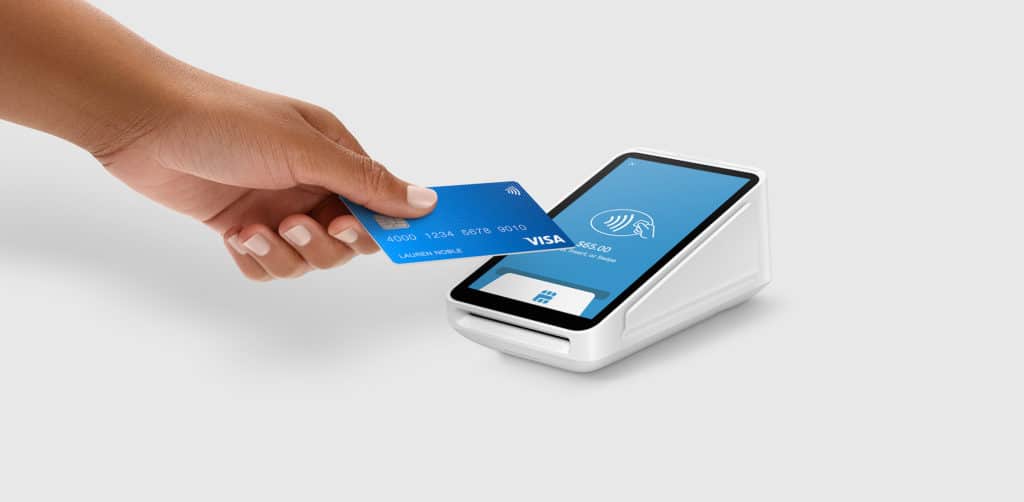 The Square Terminal can read all types of cards. You can use it for everything from taking payments to accessing your Square POS system to printing receipts to using all the features of Square's app. The price for the terminal is $299.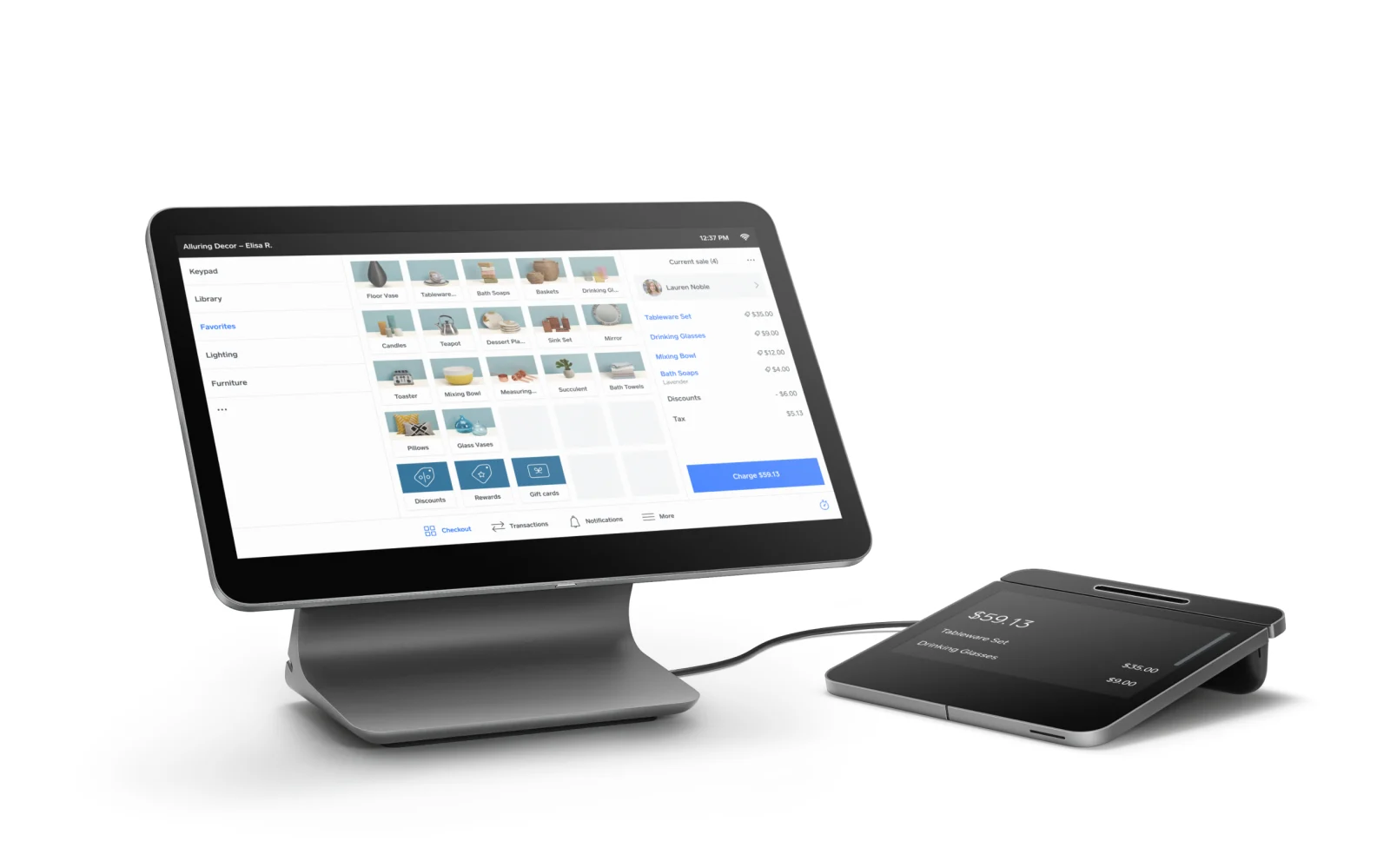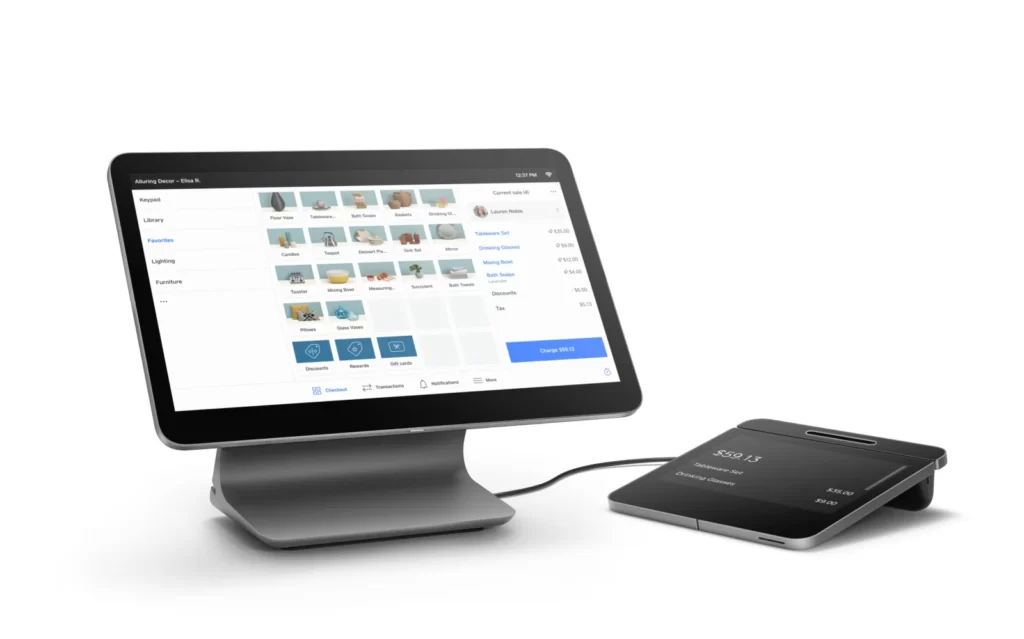 The Square Register is a cool countertop setup and a fully integrated point-of-sale system. No extra tablets or apps are required. Includes a touchscreen card terminal facing the customer and a built-in card reader. You just need WiFi. $799.
Key Features of Square for Restaurants POS
Payment Processing
With Square, you can now accept payments via Apple Pay, Android Pay, Samsung Pay, and Google Wallet, as well as all major credit and debit cards, including MasterCard, Visa, Discover, and American Express. You can also process contactless transactions and accept payments tableside with the Square Terminal.
However, Square requires you to use its platform, unlike some POS systems that let you choose your payment processor.
Square for Restaurants also accepts card payments in offline mode if you temporarily lose your internet connection. The Square system will save the payment information for 72 hours, and when reconnected to the internet, the payments will automatically complete.
I also like that Square lists the processing rates clearly on its website.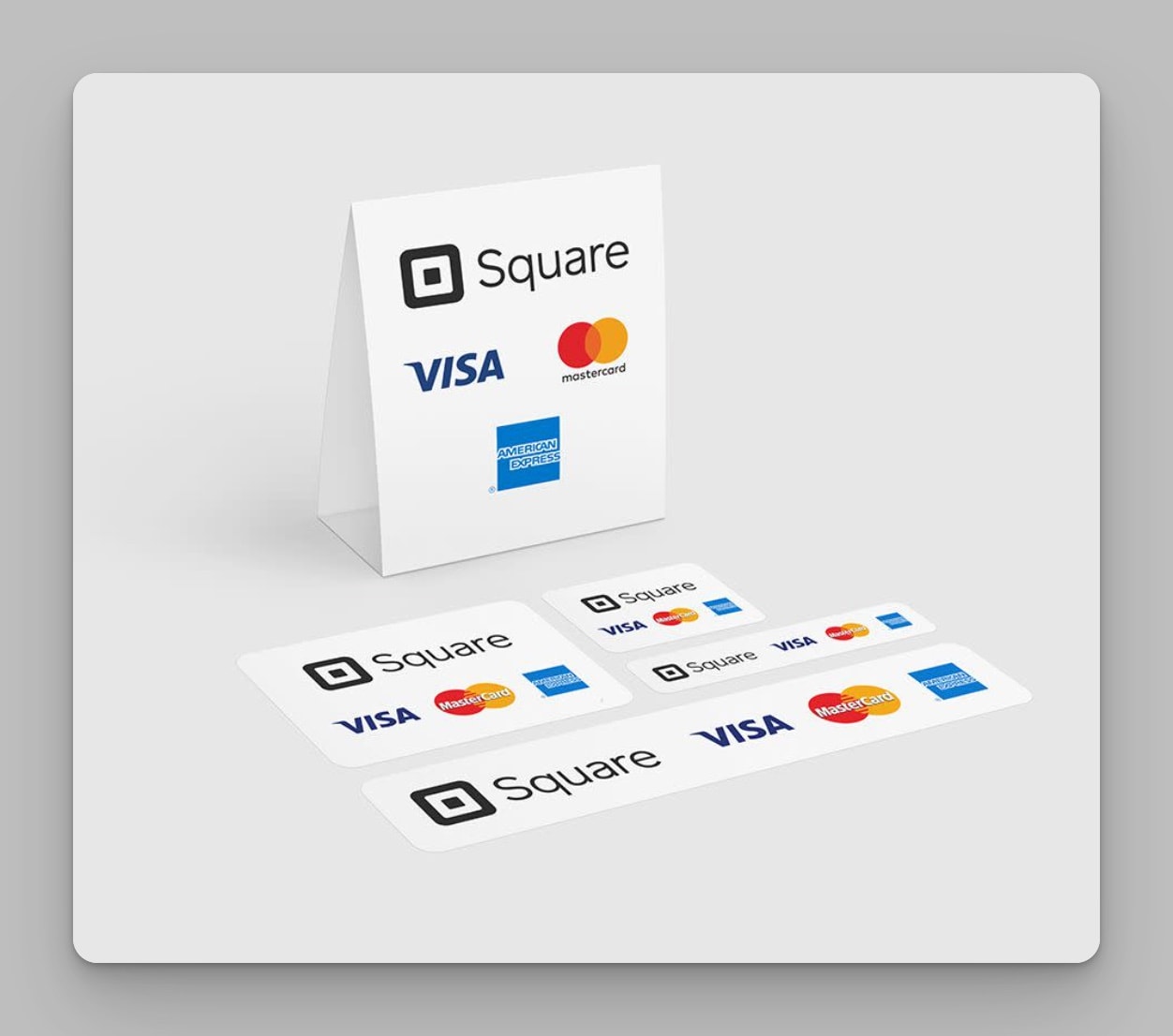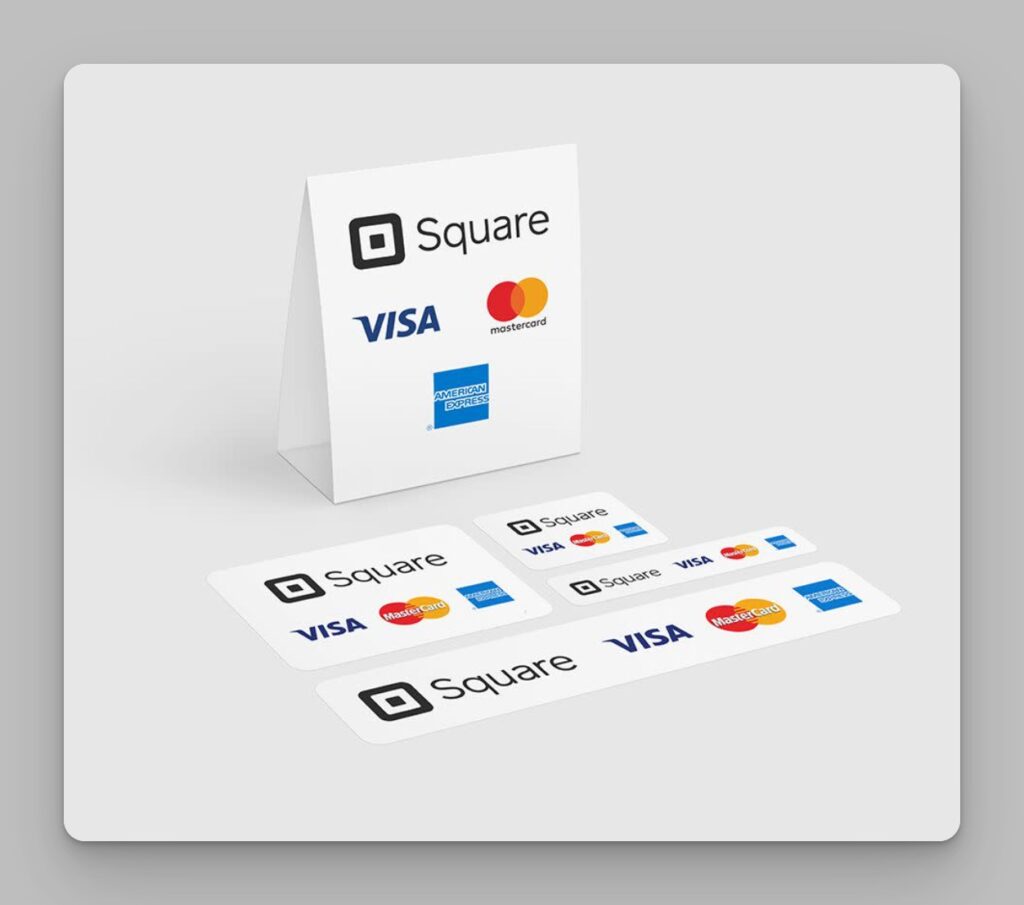 For security, the payment methods are compliant with the Payment Card Industry's standards to protect customer data and reduce chargebacks.
Some of the benefits of using Square payments compared to its competitors are:
User-friendly Interface: Square has a user-friendly interface that is easy to use and navigate.
Affordable Payment Processing: Square has an affordable payment processing fee structure, with no hidden fees and a flat rate of 2.6% + $0.10 per transaction.
Strong Omnichannel Support: Square supports multiple channels of payment processing, including in-person, online, and mobile payments, and is a great option for businesses looking to process payments across multiple channels.
Supports both Android and iOS devices.
Menu & Table Management
Square for Restaurants has a versatile menu management system, enabling you to handle menu items, inventory, and pricing. You can create and tailor menu items, incorporate modifiers, and assign individual prices for each offering.
Square also lets you create distinct menus for various times of day, including breakfast, lunch, and dinner, as well as the customization of menus for special events and promotions. This functionality empowers restaurants to swiftly adjust their menus according to their needs.
There is also an inventory management component, allowing restaurant owners to monitor their inventory levels in real-time. As menu items are sold, the system automatically updates inventory levels, assisting restaurants in avoiding out-of-stock situations.
And, Square lets you establish modifiers for their menu items. For example, when a customer orders a pizza, they can personalize it by choosing their preferred toppings from a list of modifiers.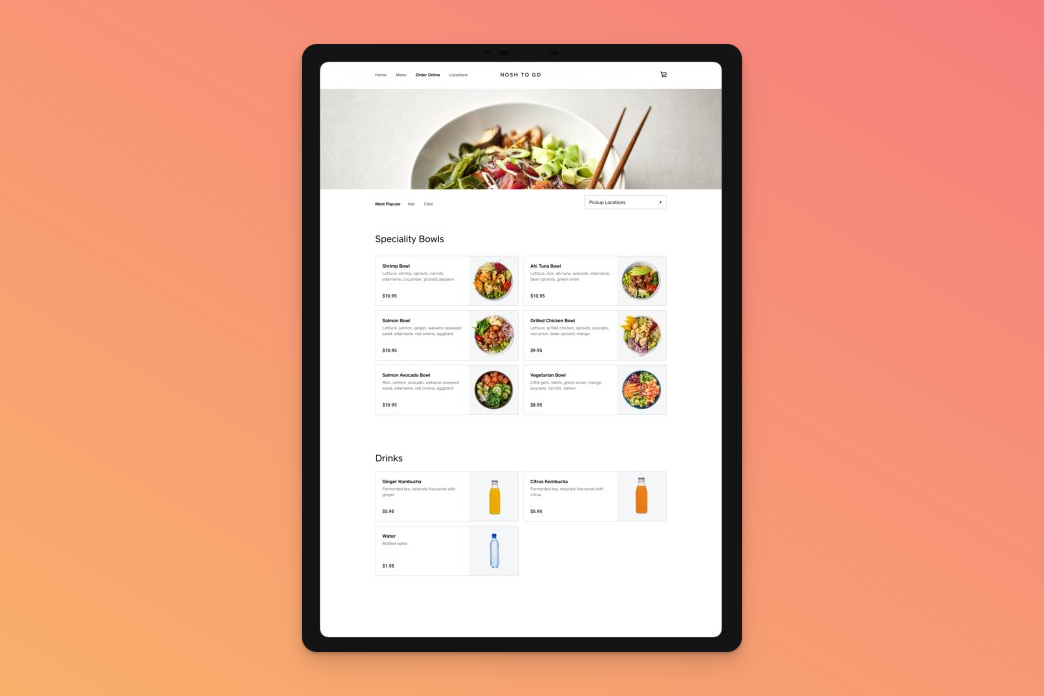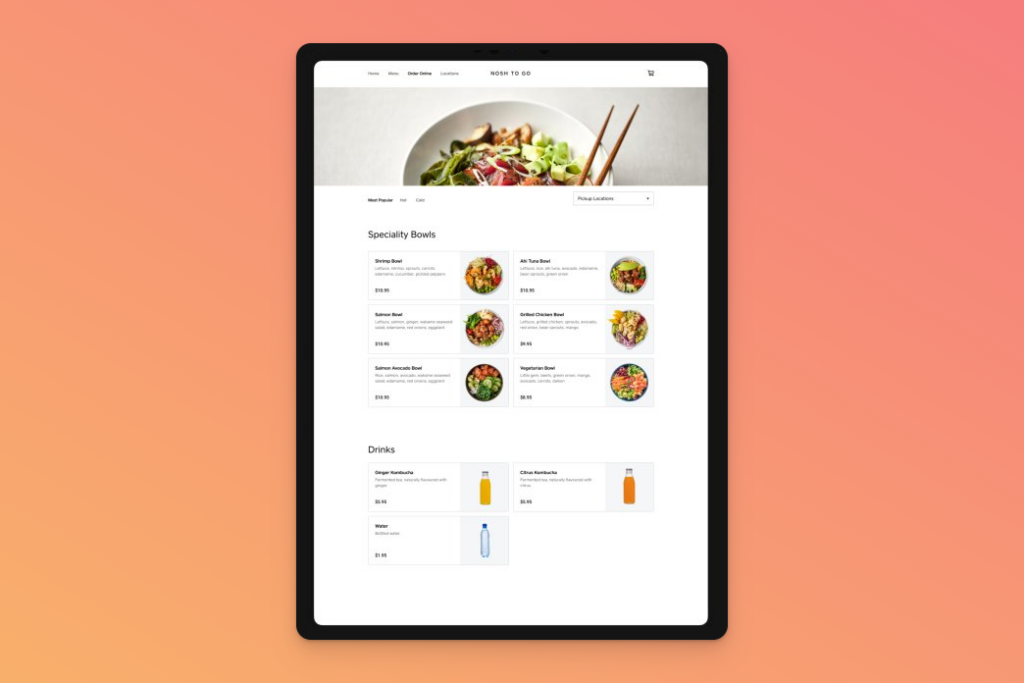 Table management
With Square's table management feature, you can create floor plans and efficiently organize your layout within the Square dashboard. This enables you to optimize your space by adjusting the layout and arrangement of tables.
A notable restaurant feature within the Square POS dashboard is "coursing," which assists in managing the sequence in which customers prefer their meals. And, the dashboard allows you to monitor the meal status and track the duration of customer occupancy at the table.
The tableside ordering function within Square's system helps minimize errors by enabling servers to directly input orders at the table. Moreover, the table-mapping feature in the app assigns servers to specific tables, allocates orders to designated seats, and keeps track of available tables.
A new feature for 2023 is the OpenTable and Square for Restaurants integration. Now, you can improve turn times and seat more guests with real-time table status alerts.
You can also provide personalized service using reservation data like allergies and table preferences. In addition, hosts and servers have full access to floor plans and coursing information that is synced between OpenTable and the POS system.
Inventory Management
Effective inventory management is vital in the restaurant industry, as it directly impacts food costs, waste reduction, and overall profitability.
The Square inventory management feature allows you to track essential information such as stock levels, cost of goods sold, and item variances. This helps maintain an accurate record of the inventory, enabling you to make informed decisions on purchasing and menu pricing.
The benefits of using the inventory feature include waste reduction, improved accuracy in stock tracking, and time-saving through automated processes.
Examples of using the inventory management feature include setting up low stock alerts to receive notifications when stock levels are low, conducting regular inventory audits to maintain accuracy, and using the "Adjust Inventory" feature to account for any discrepancies.
Square Team Management & Payroll
The employee management feature handles scheduling, managing, and paying employees from your Square POS.
With this feature, you can set schedules, manage time off or shift trade requests, and customize access for your team. In addition, the software provides real-time reports that make it simple to see the numbers, including consolidated views of staff sales and costs, which can help you create a plan to improve efficiency, reduce overtime, and optimize labor vs. sales.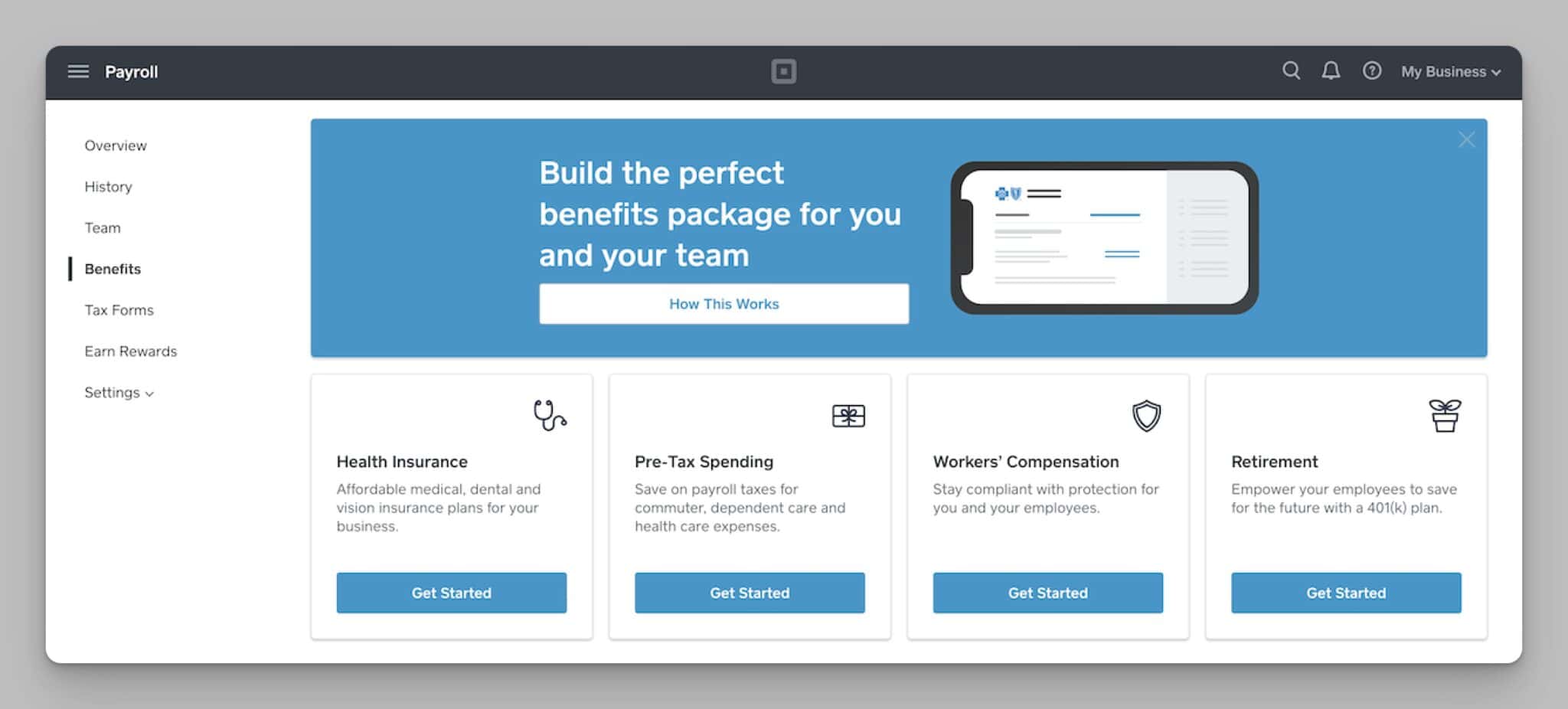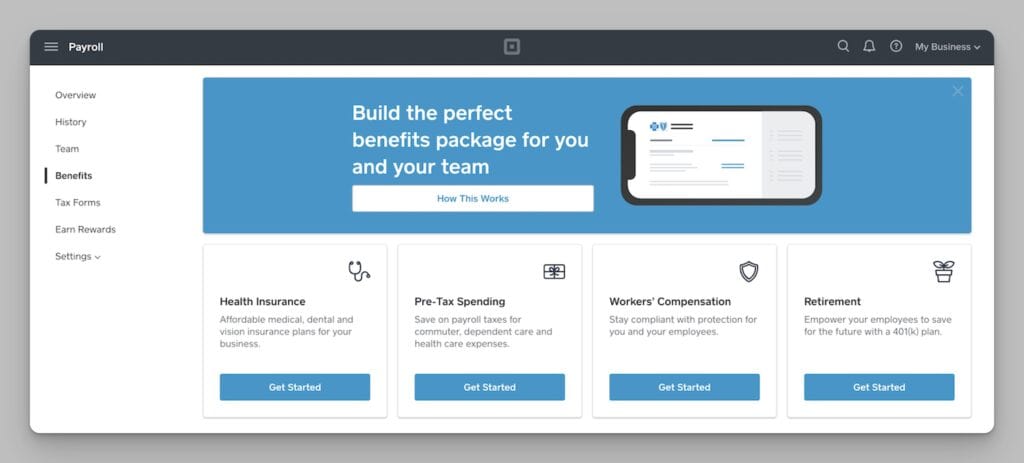 The Square employee management feature is integrated with Square Payroll, which automates tip and commission calculations and allows for quick payment of employees.
Square Payroll is a full-service payroll software that offers automated tax filings, employee benefits, and customizable pay schedules.
It is designed to work with small businesses like restaurants and offers features such as automatic payroll, multiple pay rates, and online accounts for your team.
Square Payroll also offers accounting integration with QuickBooks and access to the Square dashboard for full integration with other Square products.
Online ordering with Square Online
Square Online is a free add-on that allows businesses to build and design their own mobile-optimized websites for online ordering.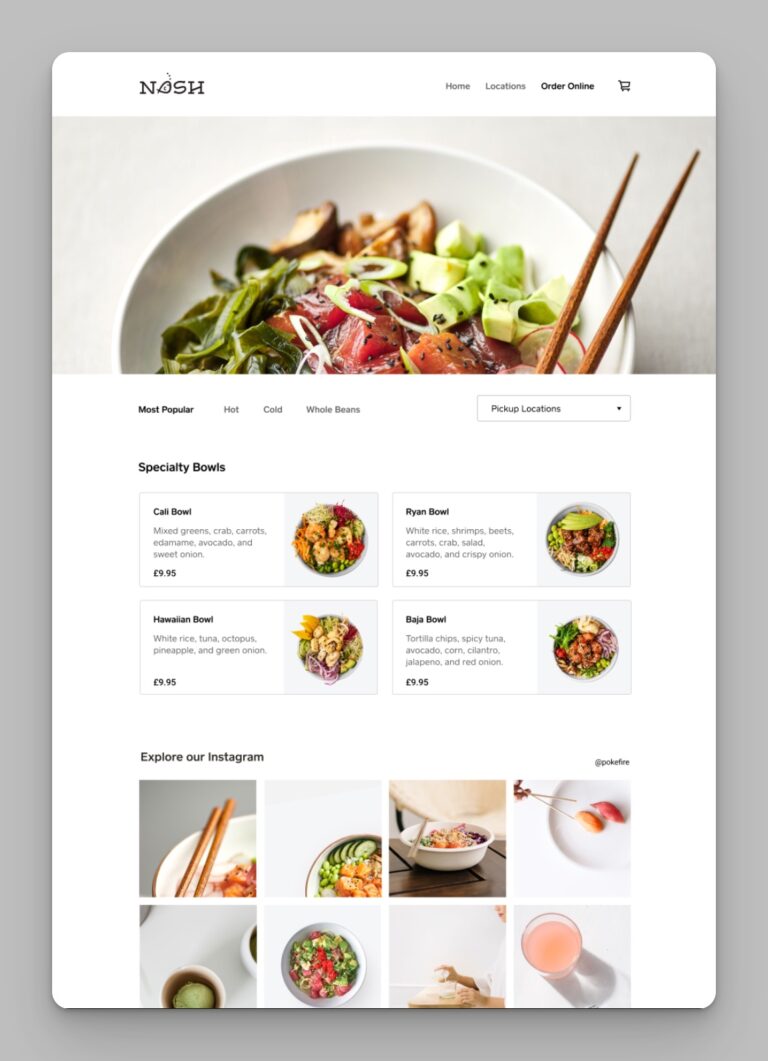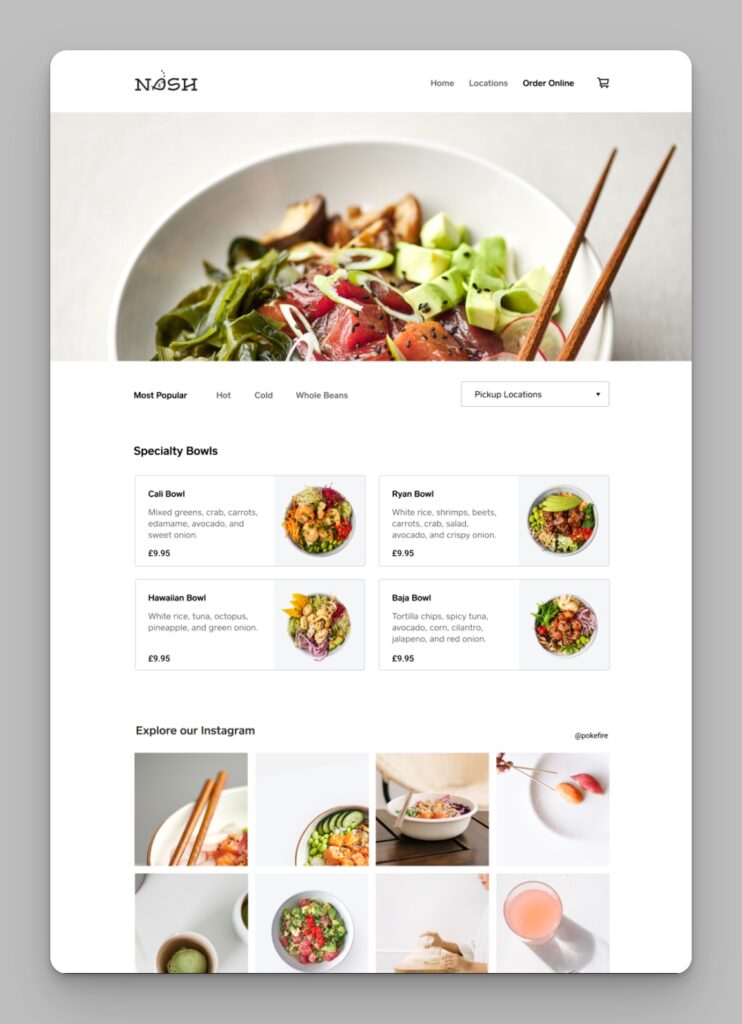 You can either build an entire website or just a sales page and integrate it with your existing site to start taking orders. Once you set up your online ordering program, orders will appear on both your Square POS and either the kitchen printer or the Kitchen Display System.
You can eliminate the cost of commissions by giving customers options such as curbside pickup, staff delivery, or courier delivery. By encouraging them to order from your Square Online page, you can keep more of the money they spend with your business and build customer loyalty.
In addition to online ordering, Square offers several delivery options. When a delivery order comes in, on-demand DoorDash or Uber couriers are automatically dispatched, and you won't have to pay any marketplace commissions.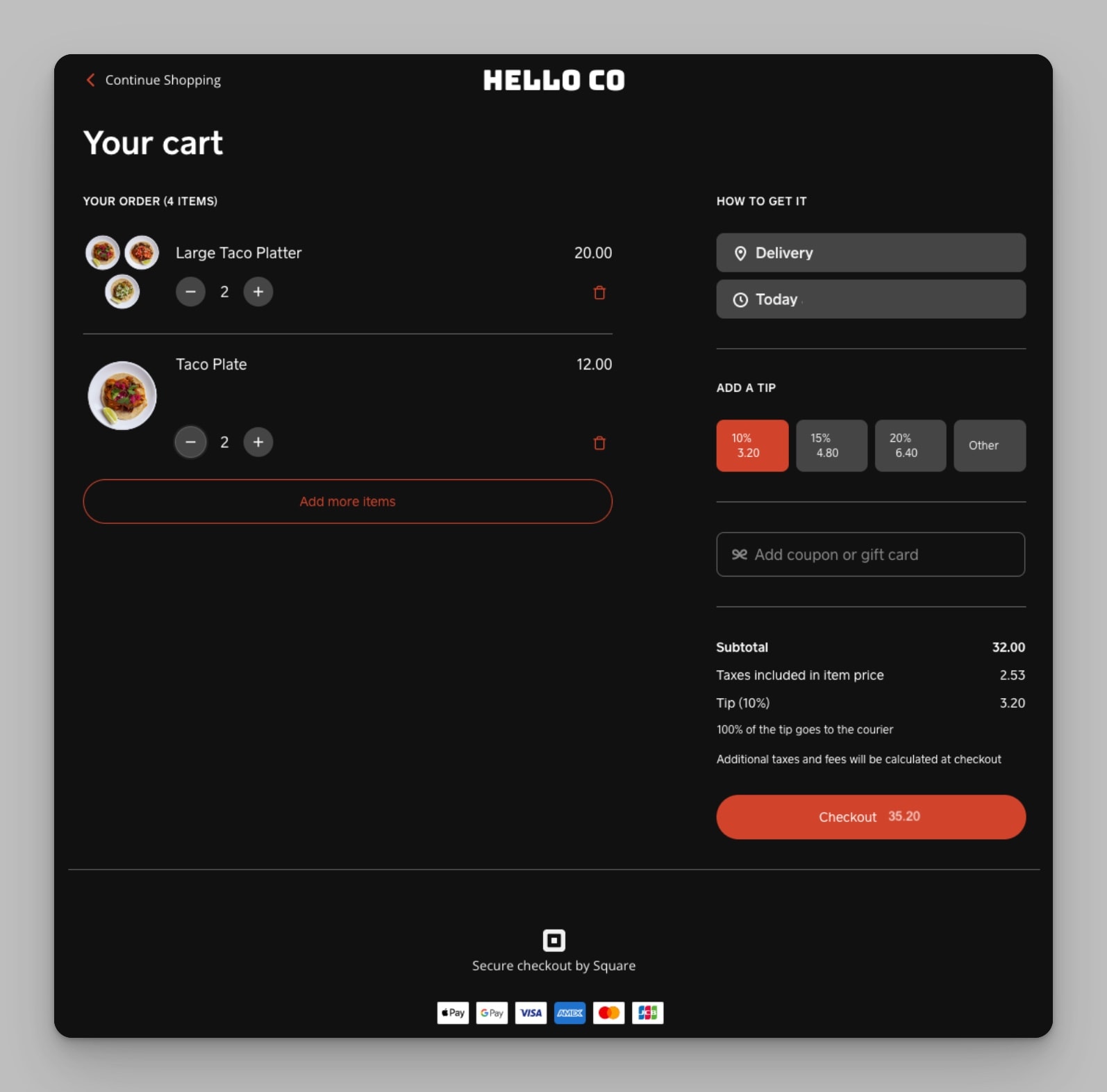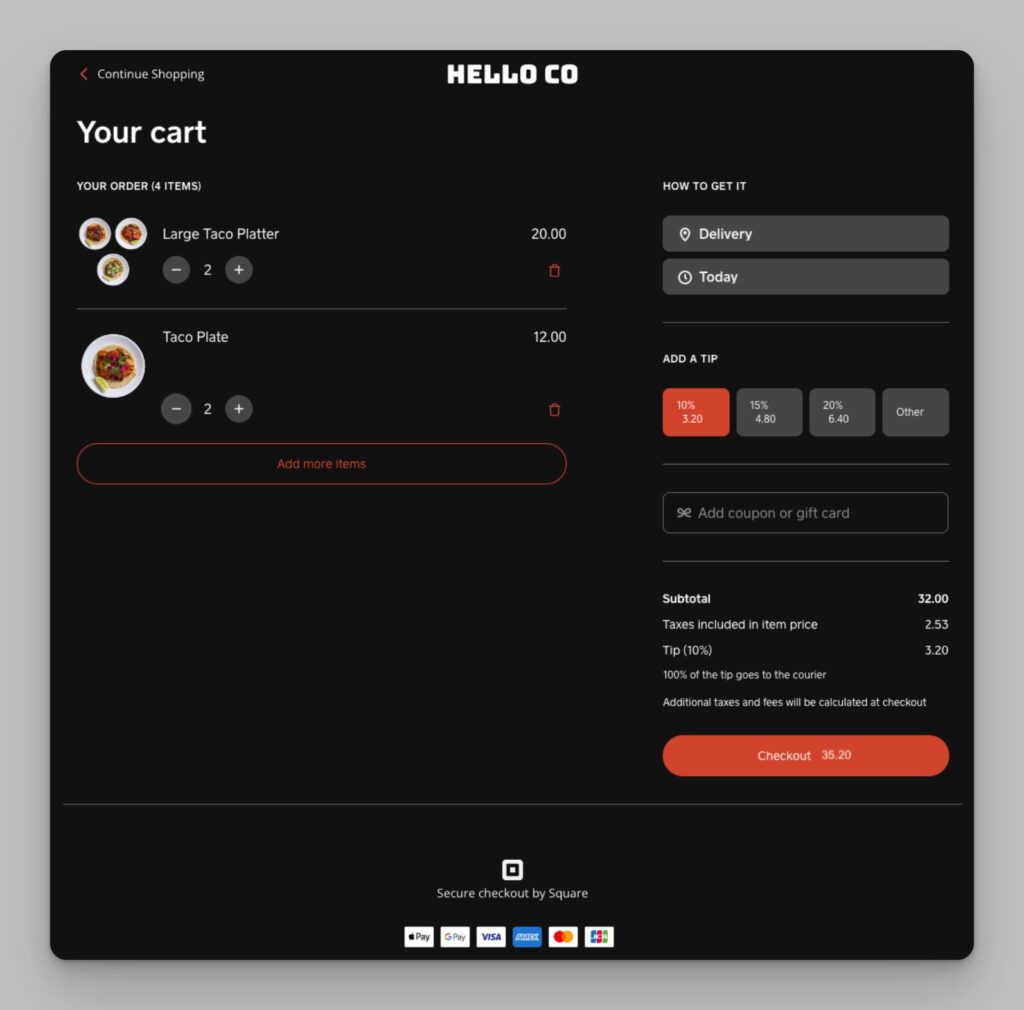 If you prefer, your staff can also handle deliveries. Square's flexible settings for fulfillment windows, order schedules, and cut-off times help keep your kitchen running smoothly. Plus, you can offer customers the option to pick up their orders in person, even curbside, at no extra cost.
Additional features include multi-location support, order tipping, and a variety of payment options, including Apple Pay, Google Pay, Square Pay, Cash App Pay, and major credit cards.
To help boost your online presence, you can connect your Square Online page to social media platforms like Instagram, Facebook, and Google Food Ordering.
Order with Google with Square Online
Restaurants can increase food orders on Square Online using Order with Google by enabling the feature for their Square Online ordering page.
Customers can easily discover and order directly from the restaurant's Square Online ordering page using Google Search and Maps. When a customer searches for the restaurant on Google Search or Maps, they will see an ordering button on the search result that they can select to choose an ordering channel.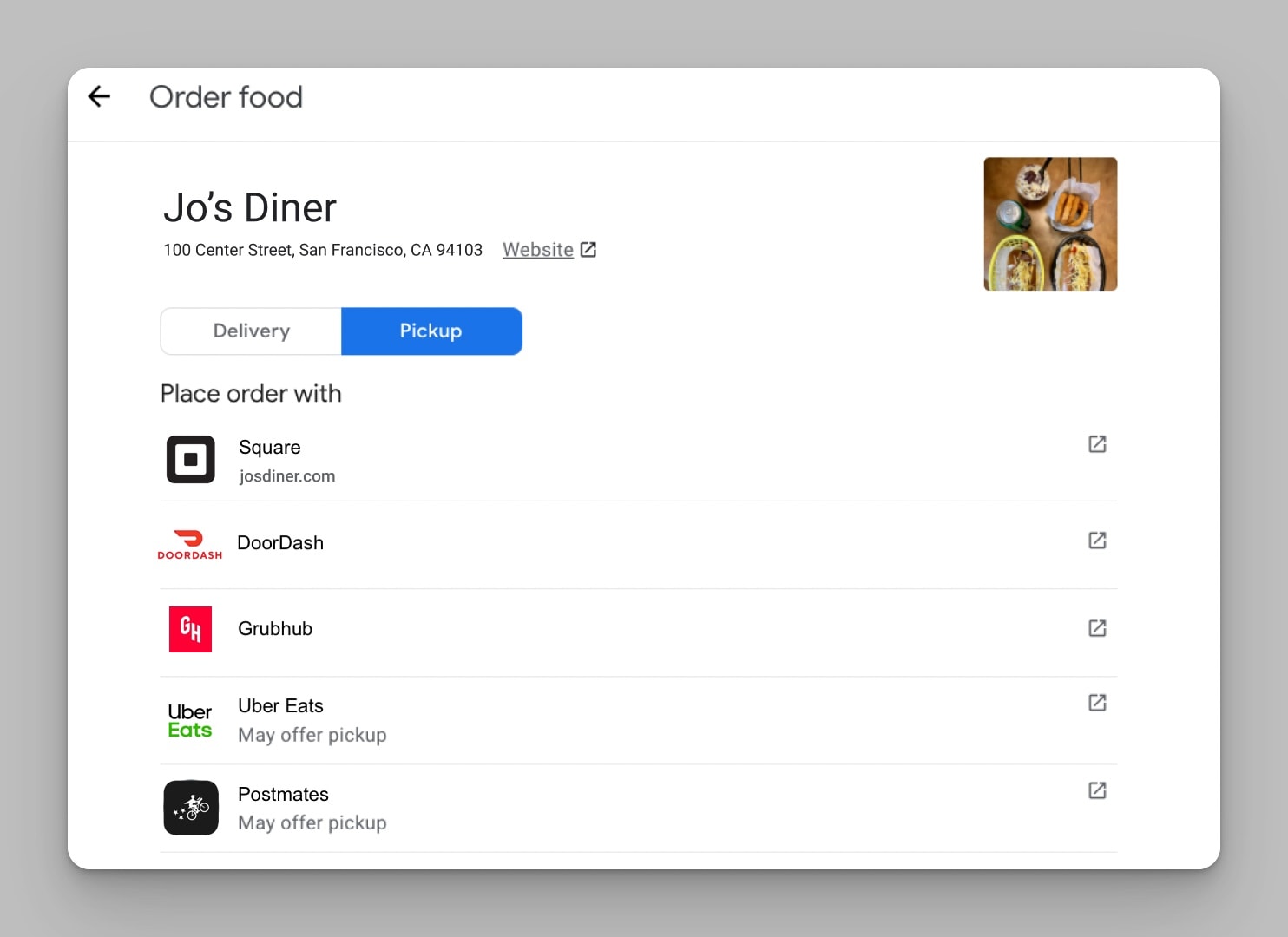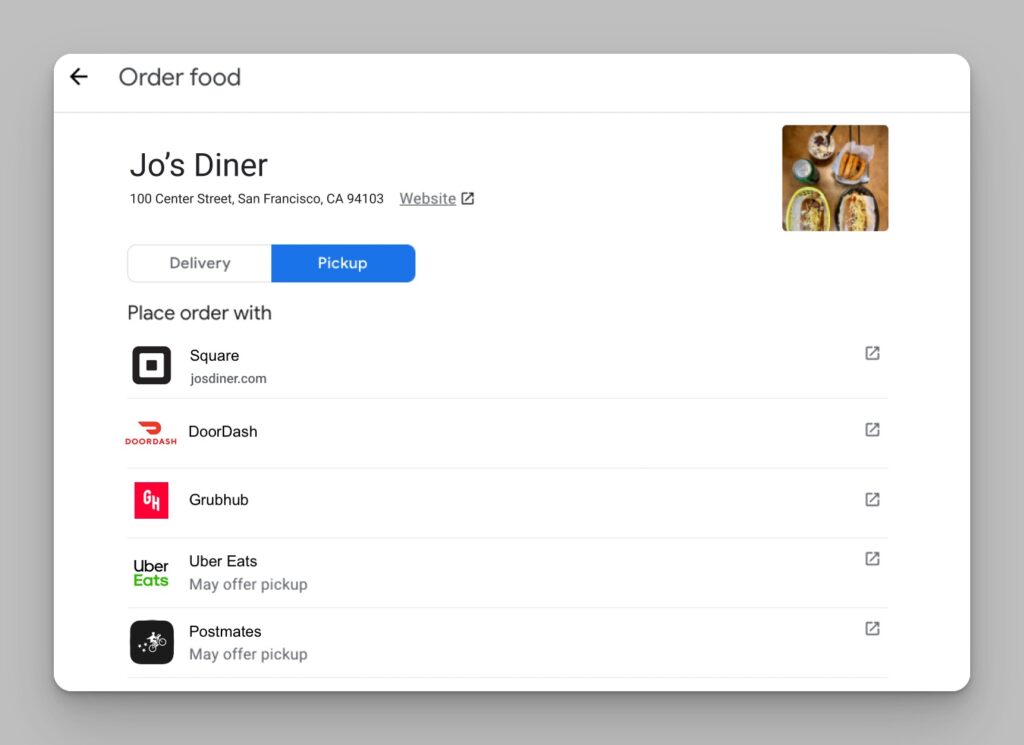 They can then choose to order directly from the restaurant's website by selecting the Square option, which will take them directly to the restaurant's Square Online site's ordering page. By pointing customers directly to the restaurant's site instead of a third-party marketplace, restaurants can cut down on commission fees and preserve higher margins on every order.
Additionally, restaurants can gain valuable customer data that they can use to send marketing campaigns and encourage repeat purchases.
Pros and cons of using Square Online to build your restaurant website
Pros
Integration with Square POS: Square Online seamlessly integrates with Square POS, making it easy to manage your restaurant's online and offline sales, inventory, and customer data in one place.
Ease of Use: Square Online offers a user-friendly experience with customizable templates, making it easy for restaurant owners with limited technical expertise to create and manage their websites.
Online Ordering and Reservations: The platform provides built-in features for online ordering, reservations, and curbside pickup, making it simple for customers to engage with your restaurant digitally.
Mobile Responsiveness: Square Online ensures your website is mobile-friendly, which is crucial given that many customers search for restaurants and place orders using their smartphones.
Cons
Limited Customization: While Square Online offers a range of customization options, it may not provide the same level of design flexibility as some other website builders, which could be a drawback for restaurants looking for a unique online presence.
Pricing: Although Square Online offers a free plan, it may not be sufficient for restaurants that require more advanced features. Upgrading to a paid plan can increase costs, especially for small businesses with tight budgets.
Having a restaurant website is an essential tool for marketing your restaurant. Square Online offers a range of benefits for restaurants, including seamless integration with Square POS and user-friendly templates. However, it's essential to weigh the pros and cons to determine if Square Online is the best website builder for your restaurant's needs.
Square and Wix Strengthen Integration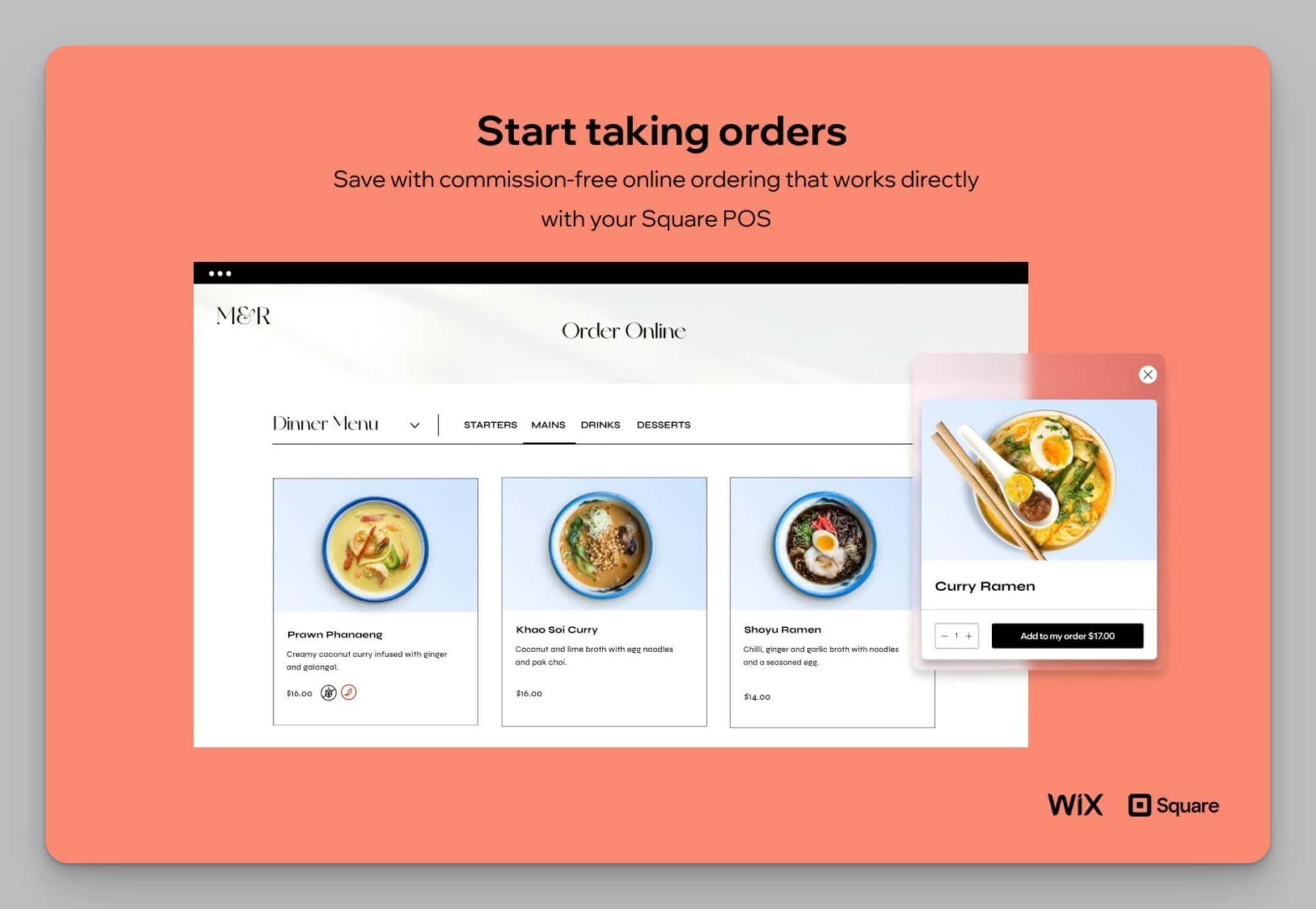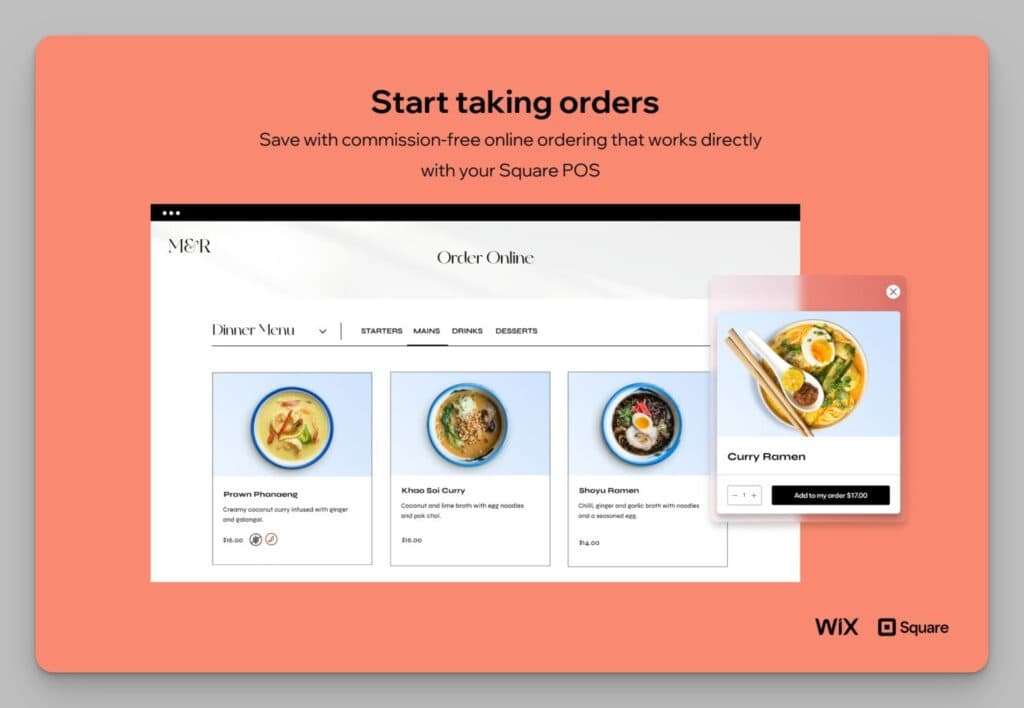 Square Marketing & Loyalty
Square Marketing is an add-on that allows you to manage your restaurant's marketing, sales, and customer service activities. It offers a variety of features that can help you increase sales while saving time and money.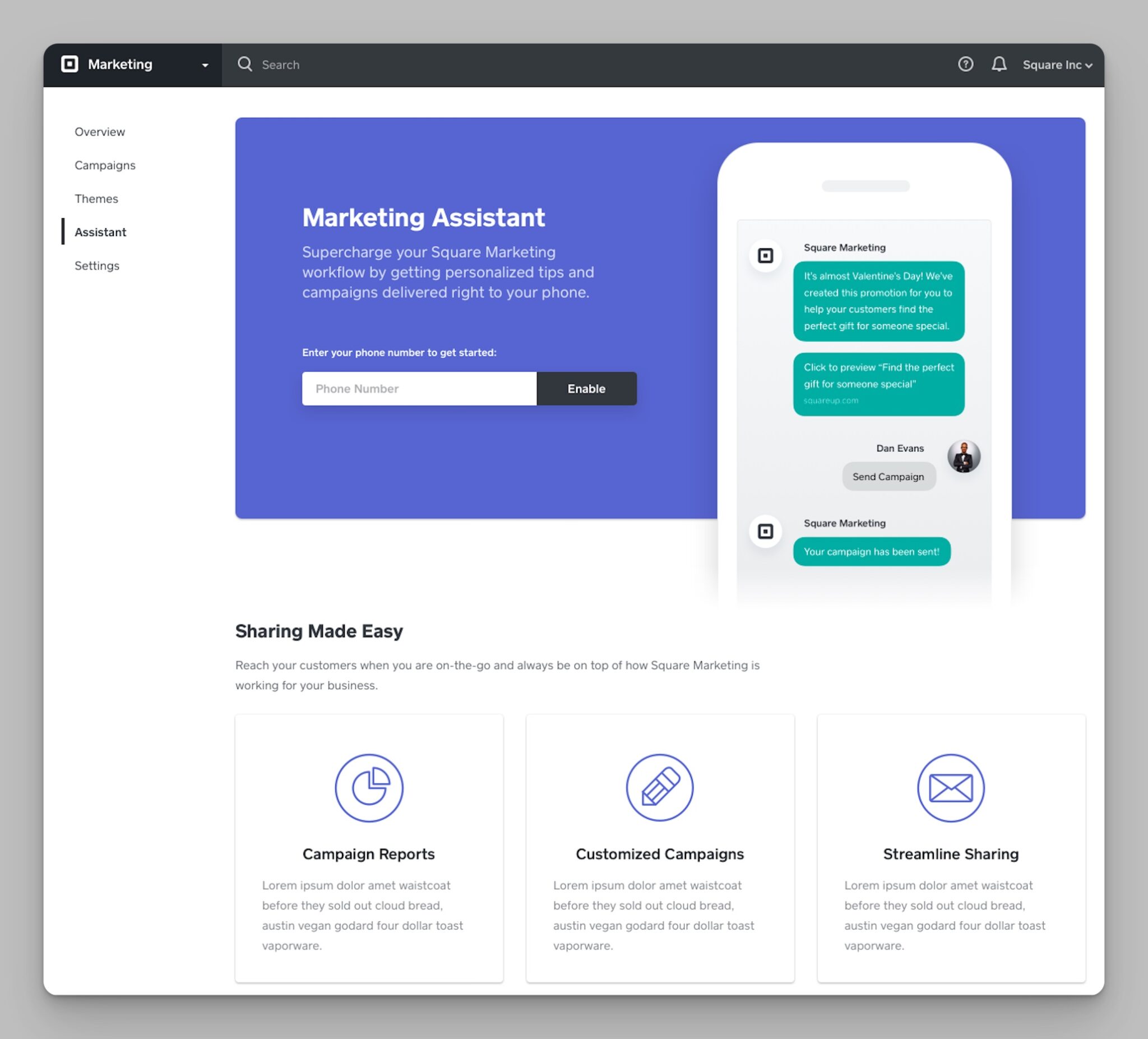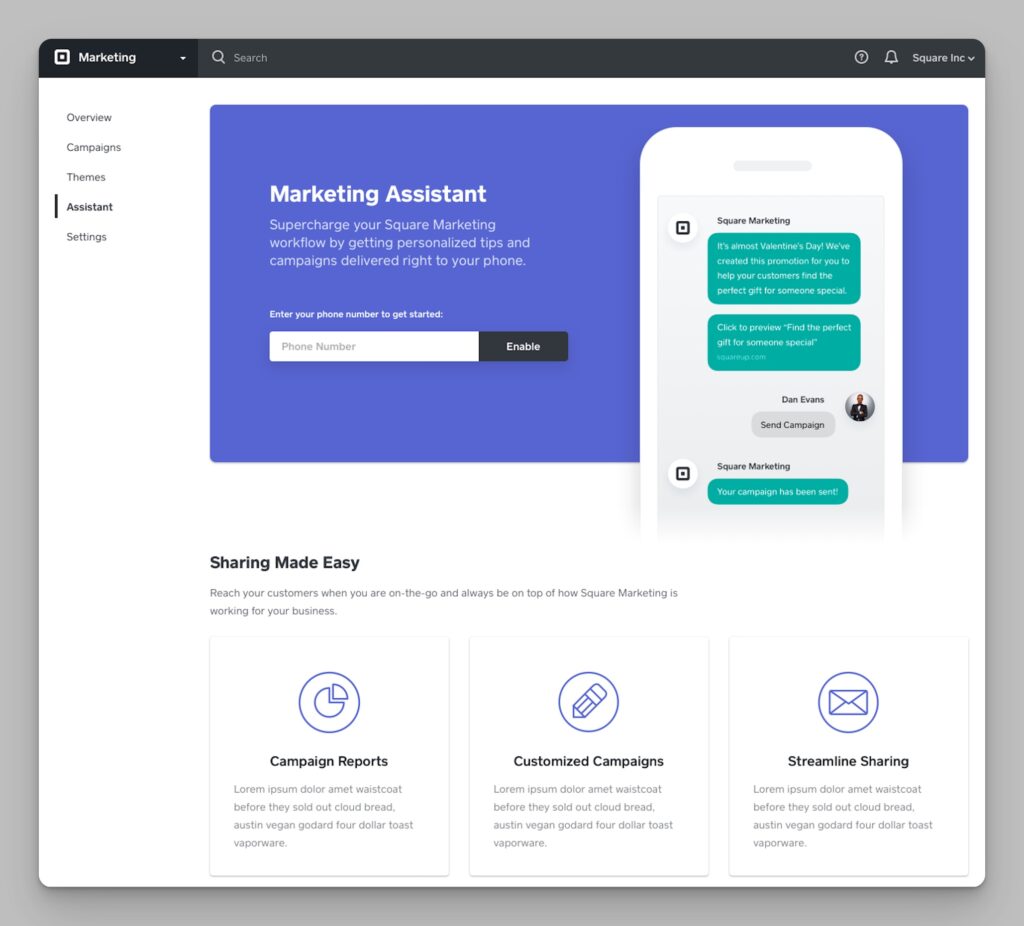 Square Marketing is easy to use and affordable. The platform is designed for non-technical users like restaurant owners who may not have had any experience with digital marketing tools. The monthly fee for this tool is less than $10 per month, which means it won't cost you much money if you choose this option as opposed to hiring an agency.
By using the features and capabilities of Square Marketing, you can enjoy several specific benefits, including increased customer engagement, more repeat business, and improved brand awareness.
Increased Customer Engagement: Square Marketing provides restaurants with the ability to create personalized email and text campaigns, which can be targeted to specific customer segments based on their preferences and behavior. Furthermore, the platform's integration with social media platforms enables restaurants to connect with their audience on multiple channels, encouraging more interaction and building stronger relationships with customers.
More Repeat Business: With Square Marketing's automated campaigns and loyalty program features, you can incentivize customers to keep coming back for more. For example, by setting up automated follow-up emails or texts to customers after a visit, restaurants can offer personalized discounts or promote new menu items that encourage customers to return. Thereby creating a sense of exclusivity and fostering long-term relationships.
Improved Brand Awareness: By collecting customer reviews through automated email campaigns, restaurants can improve their online reputation and attract more potential customers. Moreover, the platform's social media integration allows for the seamless sharing of promotional content, images, and videos, further enhancing brand visibility and awareness.
Square Loyalty
Use the Square Loyalty add-on to thank your regular customers by offering rewards or gift cards for repeat visits.
Enroll customers in the program at the checkout by having them enter their phone numbers; they'll receive automated text messages when earning points or rewards.
Reward customers directly through your point of sale or online website checkout and manage their loyalty information right from your POS.
Track sales and measure the program's impact in one place, including the total number of loyalty customers, loyalty rewards, and top loyalty customers.
Customize reward levels and run automated text message campaigns to promote the program to customers.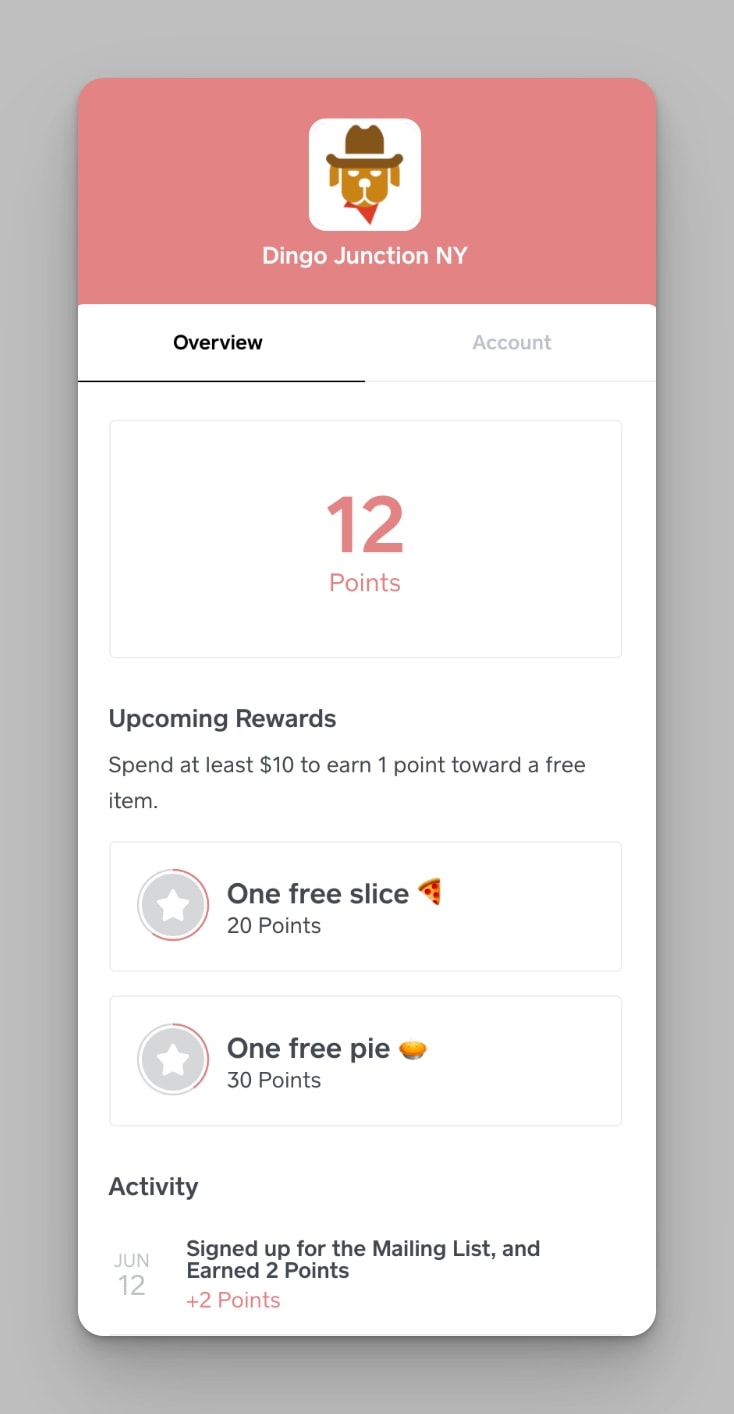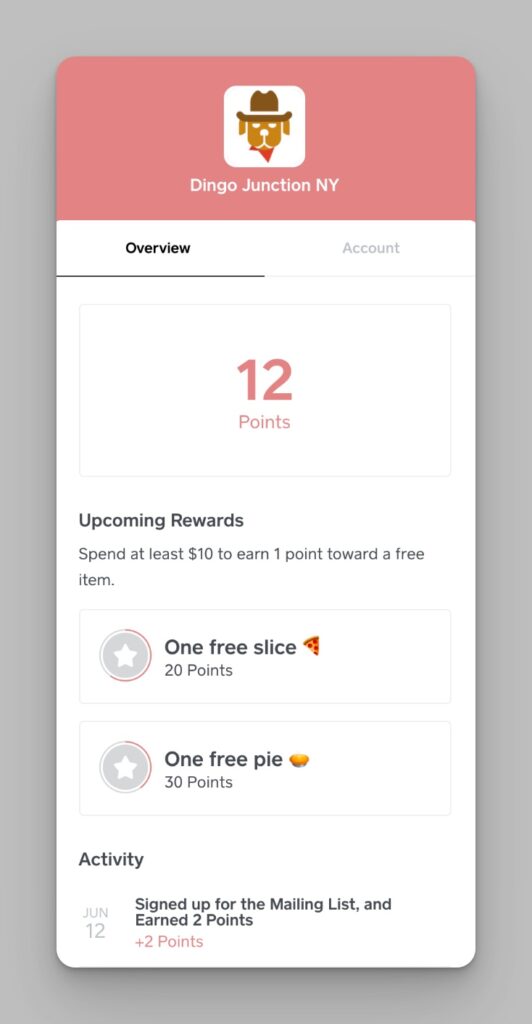 According to Square, on average, 30% of U.S. customers enroll in Square Loyalty, and sellers who use the program see a 40% increase in customer visit frequency.
Reporting & analytics
Restaurants can use the reporting and analytics feature of Square to track their best-selling items, employee sales, and overall business performance in real-time.
The majority of the reporting lives in the Square Dashboard under the Reports tab, but the app also provides access to Live Sales, shift reports, sales reports, cash drawer reports, and close-of-day reports.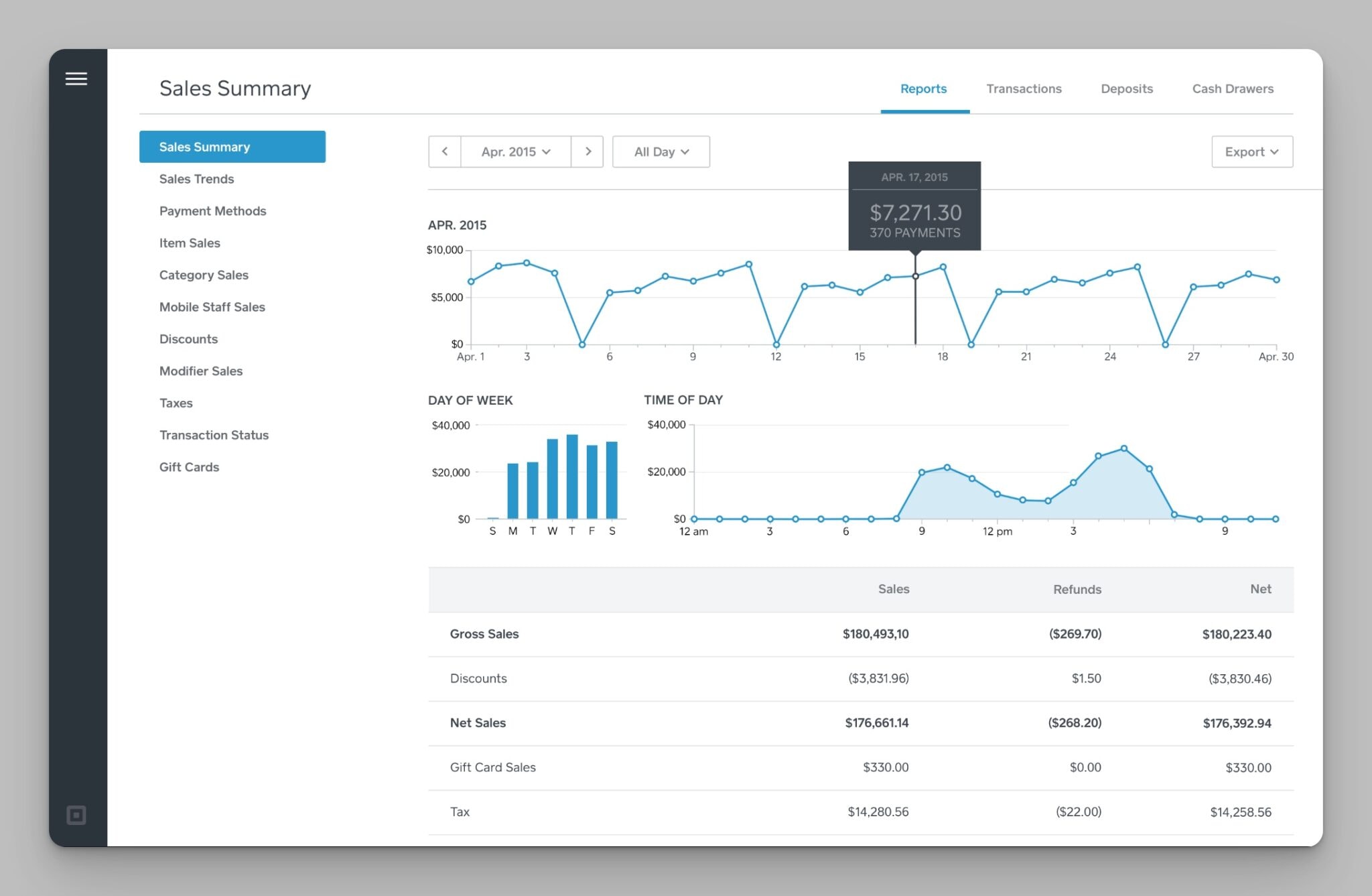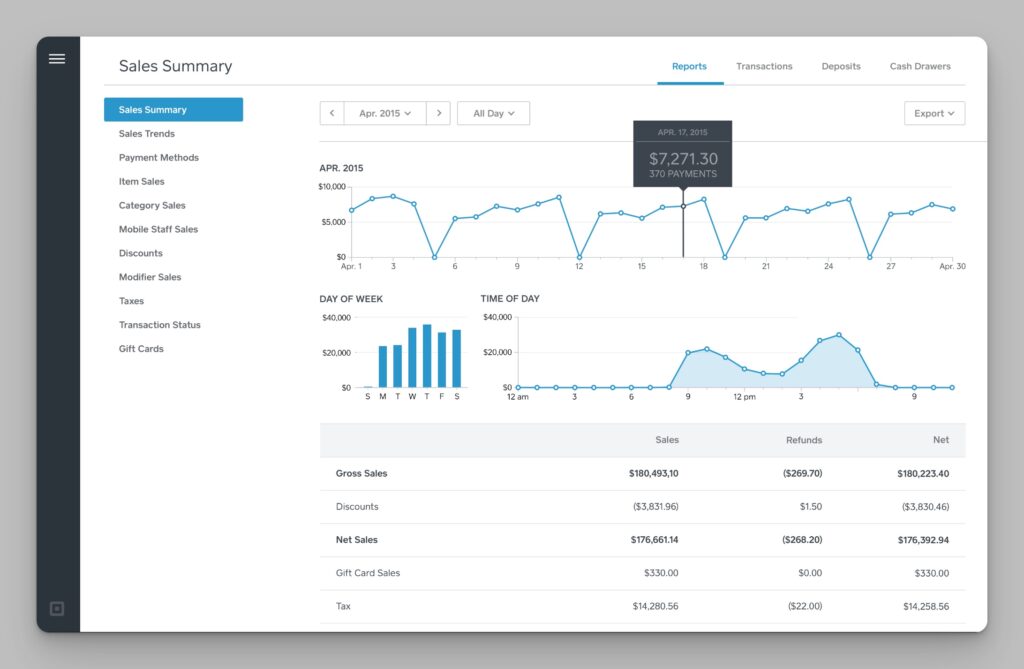 You can create Category Rollups to group and view sales for several categories at once, and filter transaction history or reports by source to track sales by ordering partner. Square also allows you to export custom reports in CSV format directly to your desktop or send reports to connected accounting software.
This powerful tool enables you to make data-driven decisions, optimize operations, and ultimately boost your bottom line.
Here's how:
Identify Top-Selling Items: The reporting feature provides insights into the best-selling dishes and menu items. Restaurants can use this information to promote popular items, make adjustments to their menu, or create special offers around these top sellers.
Track Sales Trends: Square analytics enables restaurants to track sales trends over time, helping them identify peak hours, days, or seasons. This information can be used to adjust staffing, optimize opening hours, and plan promotions during slow periods.
Monitor Employee Performance: Square's employee sales reports feature allows you to assess the performance of individual employees, such as servers and bartenders. This can help in identifying top performers, providing additional training, or reallocating staff to the areas where they are most effective.
Optimize Inventory Management: Square's analytics can help restaurants monitor inventory levels and identify trends in ingredient usage. This can help in reducing waste, managing costs effectively, and ensuring the timely ordering of supplies.
Square Kitchen Display System (KDS)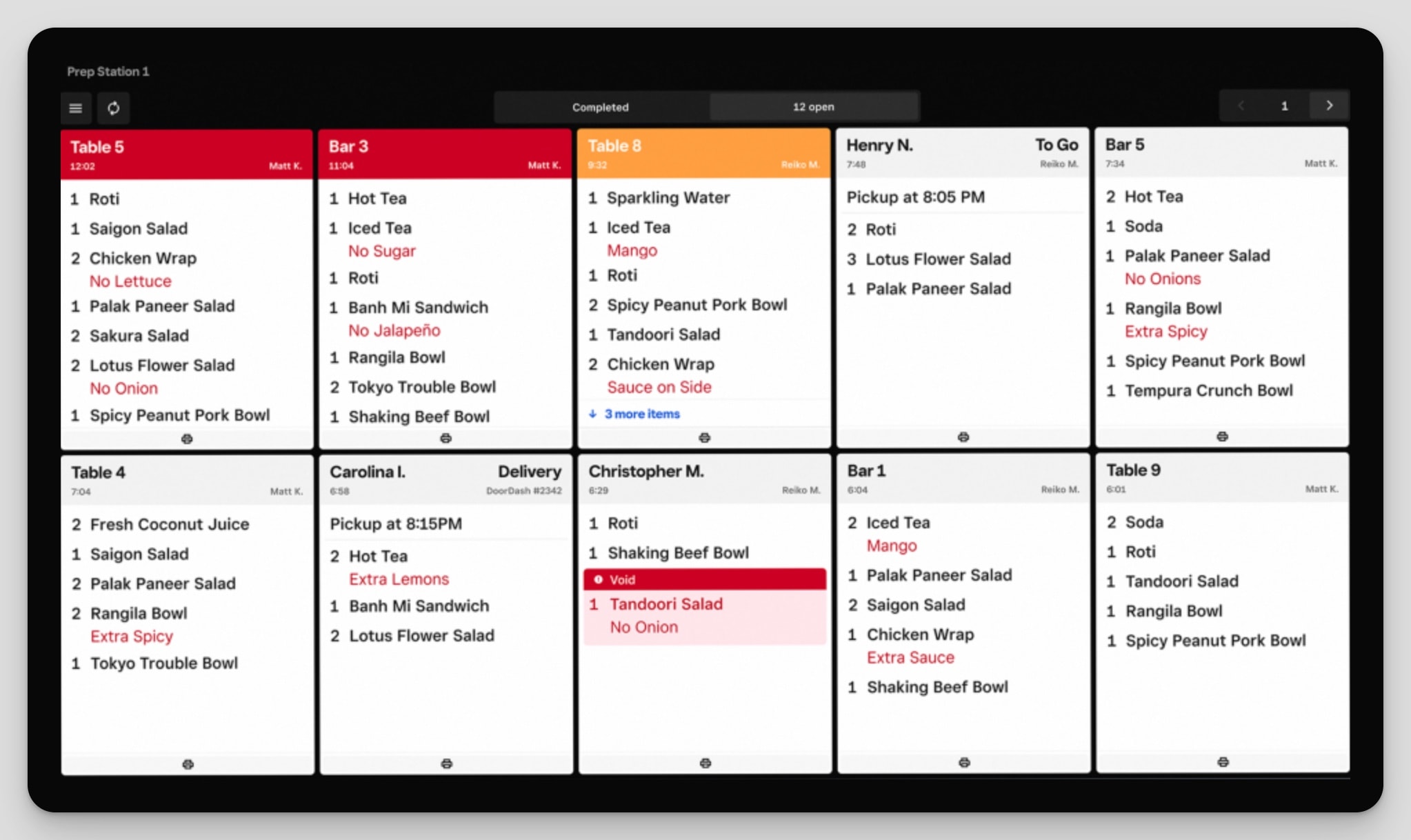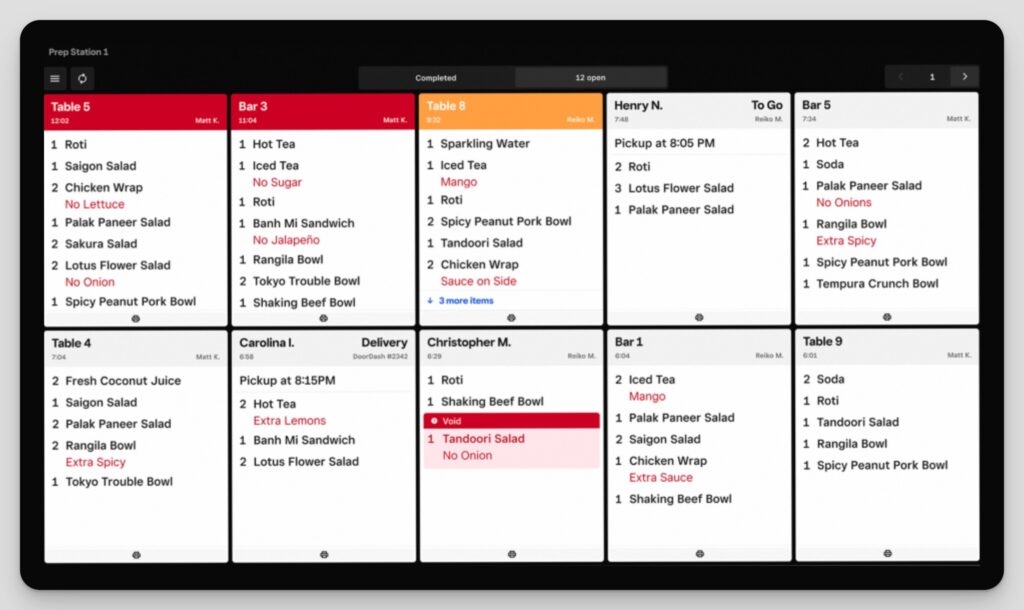 Square finally gets a KDS!
As a restaurant owner, you know how critical efficient kitchen operations are to delivering great guest experiences. Square KDS is designed to optimize your back-of-house workflows. Here's how it can benefit your restaurant:
Real-time order sync between front and back of house prevents confusion and delays in the kitchen.
Customizable ticket layouts, timers, and alerts let you tailor the system to your unique needs.
Reporting provides insights into prep times so you can identify and improve operational bottlenecks.
Consolidated order views from multiple sources (POS, online, delivery apps) facilitate organized fulfillment.
Features like prep station routing and expeditor mode improve order accuracy and speed.
Flexible configuration adapts to your specific kitchen setup and ordering channels.
And, with subscriptions starting at just $20/month per device, Square KDS makes streamlined kitchen operations affordable.
Square for Franchises
As a franchise owner, you need tools to maintain brand consistency while empowering individual locations. Square for Franchises provides an integrated solution to streamline operations across all your stores.
Key Benefits:
Centralized management and reporting give you visibility into sales, menus, and more at every store.
Custom permissions enable you to control interactions while allowing local customization.
Easy onboarding and intuitive POS simplify store setup and management.
Loyalty programs, online ordering, and gift cards extend your brand experience.
Transparent, customized pricing ensures no hidden fees.
Robust support provides account management and priority assistance.
Flexible hardware like Square Stand and Terminal adapts to your needs.
With Square for Franchises, you can readily scale your business while delivering a consistent brand experience. Centralized data and permissions allow you to maintain quality control while empowering franchisees.
Square for Restaurants Feature Updates in 2023
Here are some of the updates that can benefit restaurants:
Waitlists: With this feature, sellers can create waitlists for appointment slots and services. This helps sellers to automatically increase booked appointments, so they don't miss any opportunities to keep their schedules full. Restaurants can use this feature to manage reservations effectively.
Square Subscriptions: A new beta feature is available that enables online shoppers to sign up for regular recurring purchases of items or services. This feature can provide dependable, predictable revenue streams for omnichannel sellers, such as restaurants that offer subscription-based services or products.
OpenTable and Square for Restaurants Integration: Restaurants can use this integration to accelerate their operations, streamline the management of their dining rooms, and gain insights into table turnaround times and diner reservation details.
Online Ordering Site Templates and Modifier Images: The new features help restaurants customize their menu layouts and add photos to menu modifiers to display available options to customers and increase the average order value.
Facebook Food Ordering: Restaurants can use this feature to increase sales by promoting their business on Facebook and Instagram.
Improvements to Shift Reports: These recent upgrades enable managers to report their cash tips even if they haven't clocked out, ensuring responsible behavior and precise bookkeeping at any hour.
Integration with Paytronix: Square POS users can now enhance their online ordering capabilities through integration with Paytronix. This feature enables businesses to effectively communicate with customers and encourage them to place additional orders, ultimately increasing sales. The ability to add Paytronix Loyalty will also be available soon.
Photo Studio App: The Photo Studio app from Square is interesting for restaurants because it allows them to take professional-looking photos of their food and beverage items to use for menus, online selling, and marketing.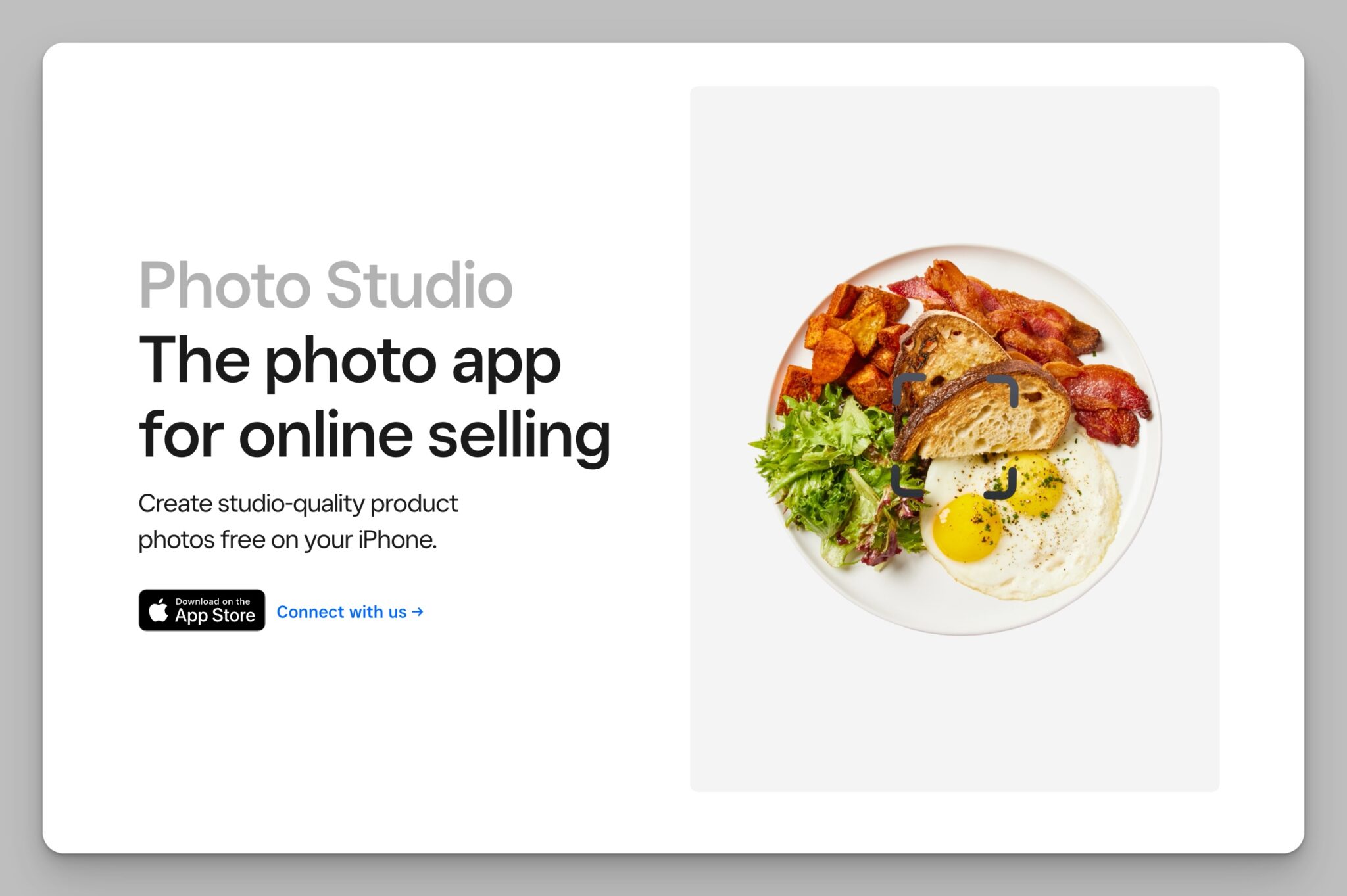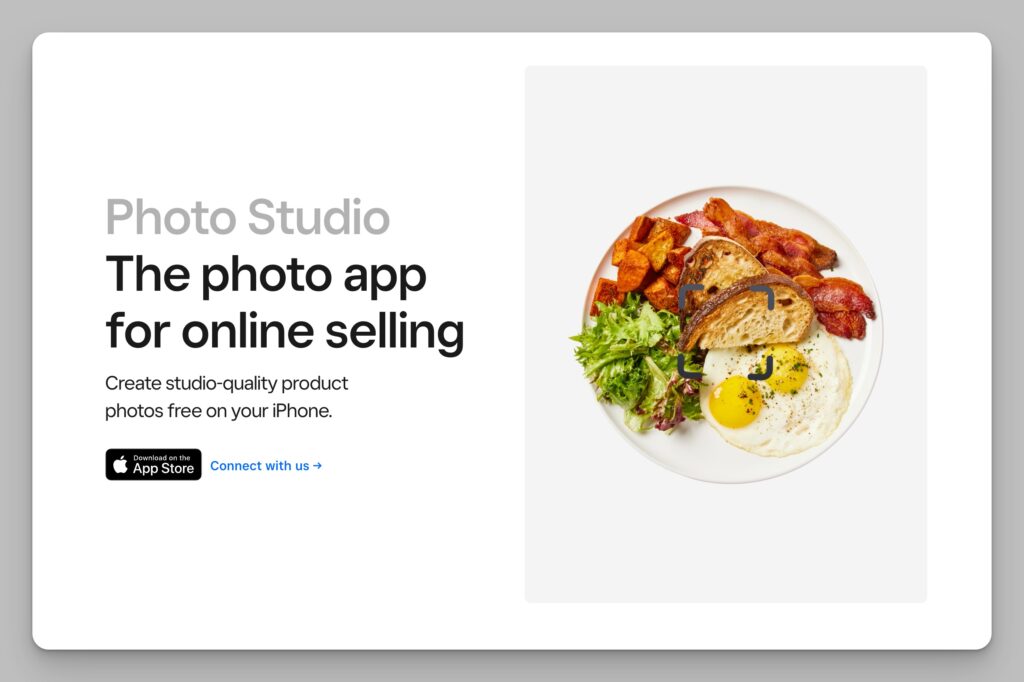 The app includes an artificial intelligence-powered background eraser, a one-touch image extractor, and easy-to-use styling tools that help make items more appealing to customers.
Photo Studio has a seamless sync with your restaurant's Square item catalog, allowing you to easily update existing items or create new ones directly from the app.
You can also customize the background color of your images, reinforcing your brand across all online marketing channels.
Alternatives to Square for Restaurants
This is a quick overview of three competing restaurant POS systems, Toast, TouchBistro, and Lightspeed Restaurant, that might be a better fit for some restaurants.
Toast POS
Strengths: Designed specifically for food service businesses, advanced table and order management, built-in online ordering, and loyalty program.
Weaknesses: Higher pricing compared to competitors, reliance on proprietary payments and hardware.
TouchBistro
Strengths: Robust features for full-service restaurants, strong inventory management, and streamlined table management.
Weaknesses: Limited third-party app integration, and higher upfront costs for hardware.
Lightspeed Restaurant
Strengths: Ease-of-use, retail features, reporting and analytics, customer support.
Weaknesses: Limited offline capability and customization options.
Description:

The most innovative POS system on the market

Best for restaurants that want to get started with a free basic plan with the option to upgrade to many advanced features and integrations.

Description:

Designed by restaurant industry veterans

Best for independent full-service restaurants looking for a well designed, feature-rich and secure cloud/server-based POS system.

Description:

Cleverly crafted POS with exceptional design

Best for upscale eateries seeking powerful data insights, retail features, and extensive integration possibilities.

Description:

Best for small restaurants and coffee shops

A small business POS for establishments that need a subscription-free plan, smooth transactions and easy-to-operate retail features.

Description:

Excellent hardware options and no long term contracts

All-in-one POS solution with modern restaurant-specific features for fine-dining, QSRs, bars, and food trucks.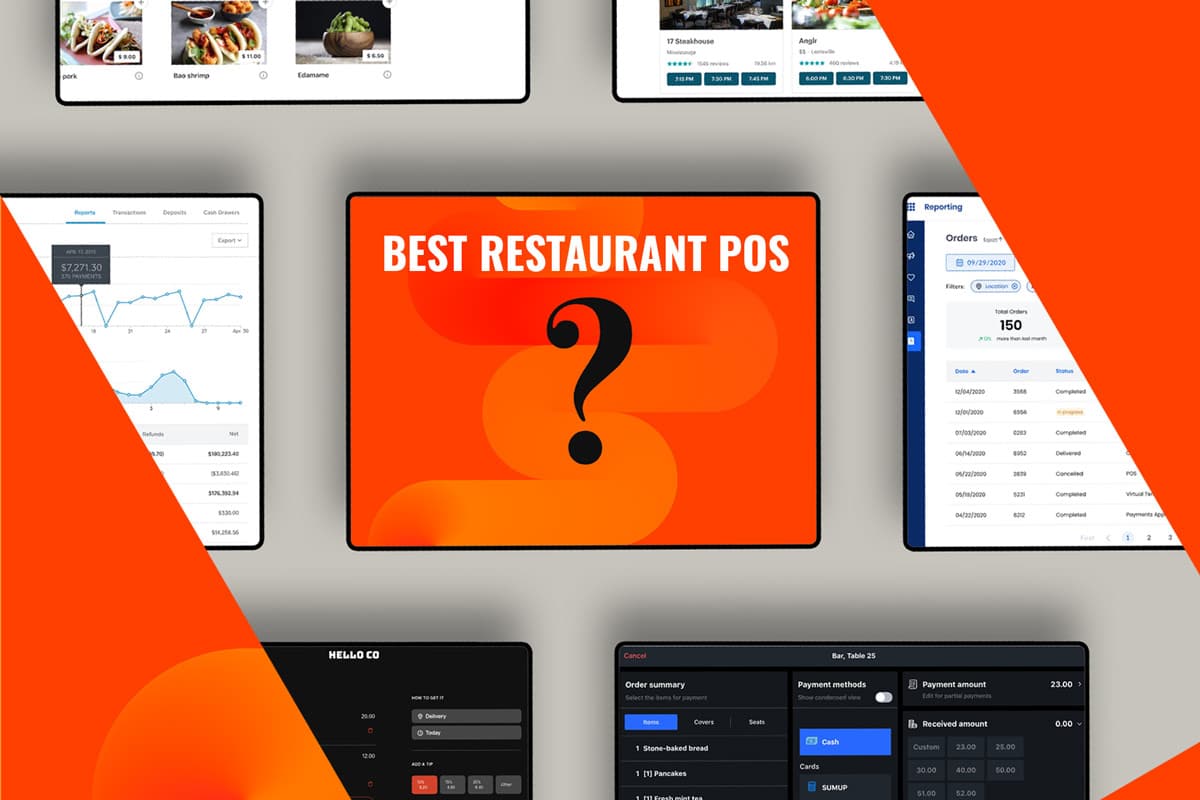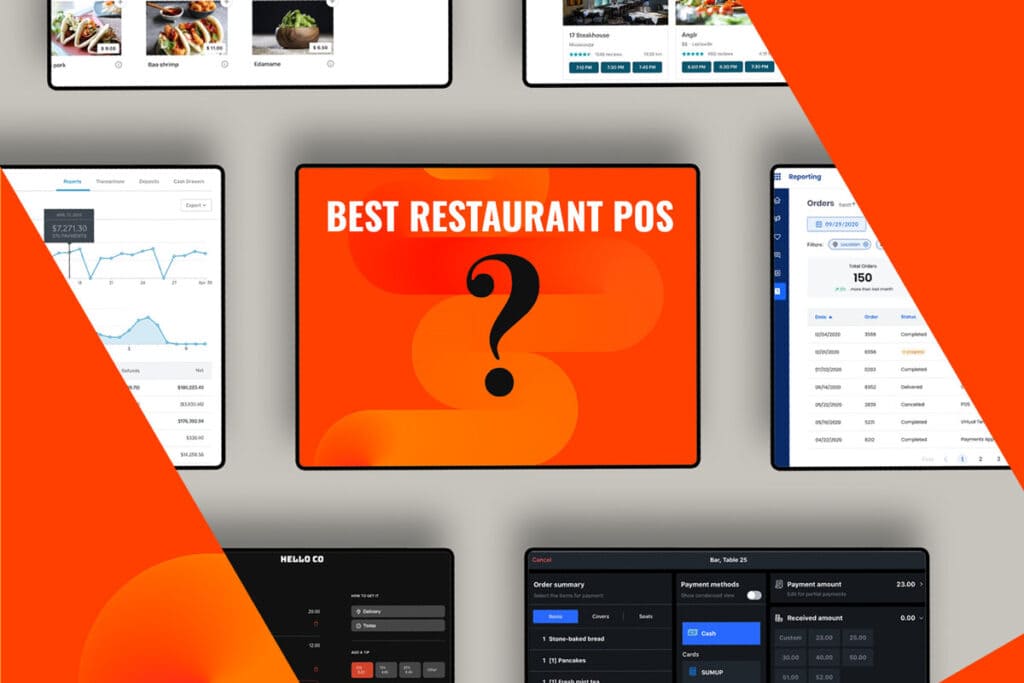 I also recommend that you read my in-depth comparison of the best restaurant POS systems.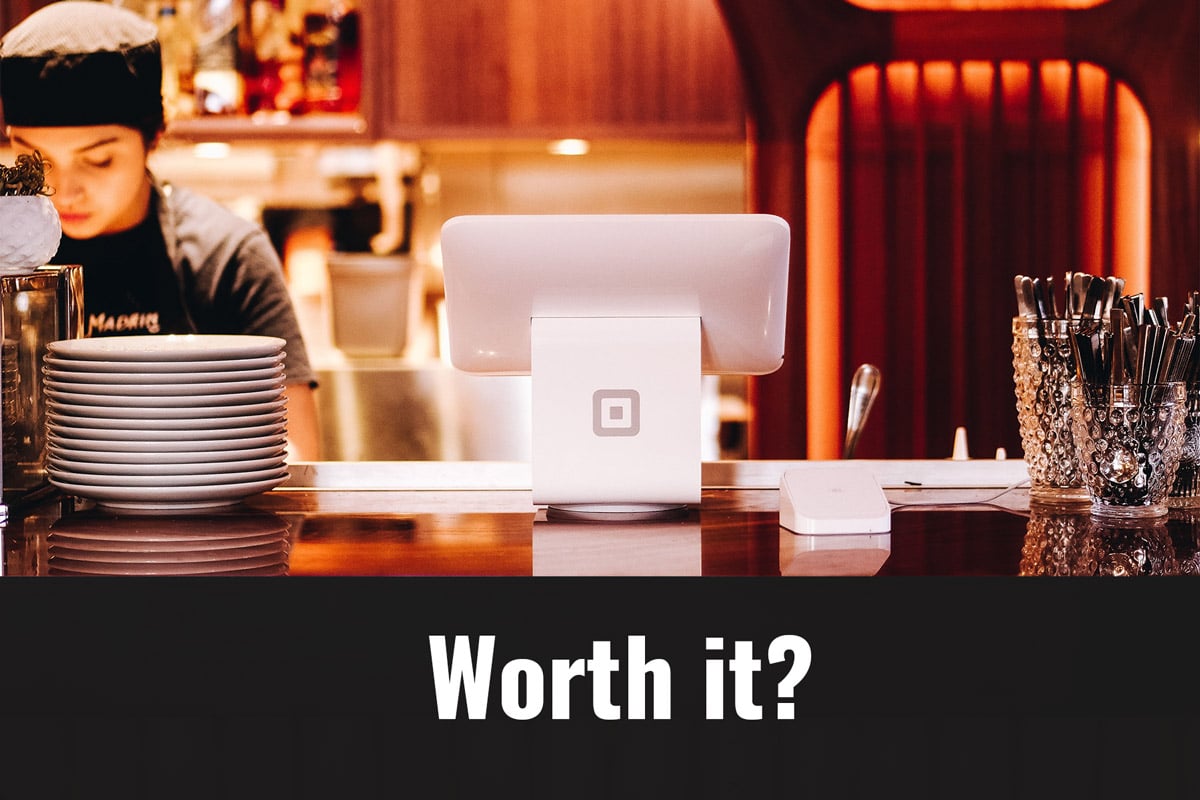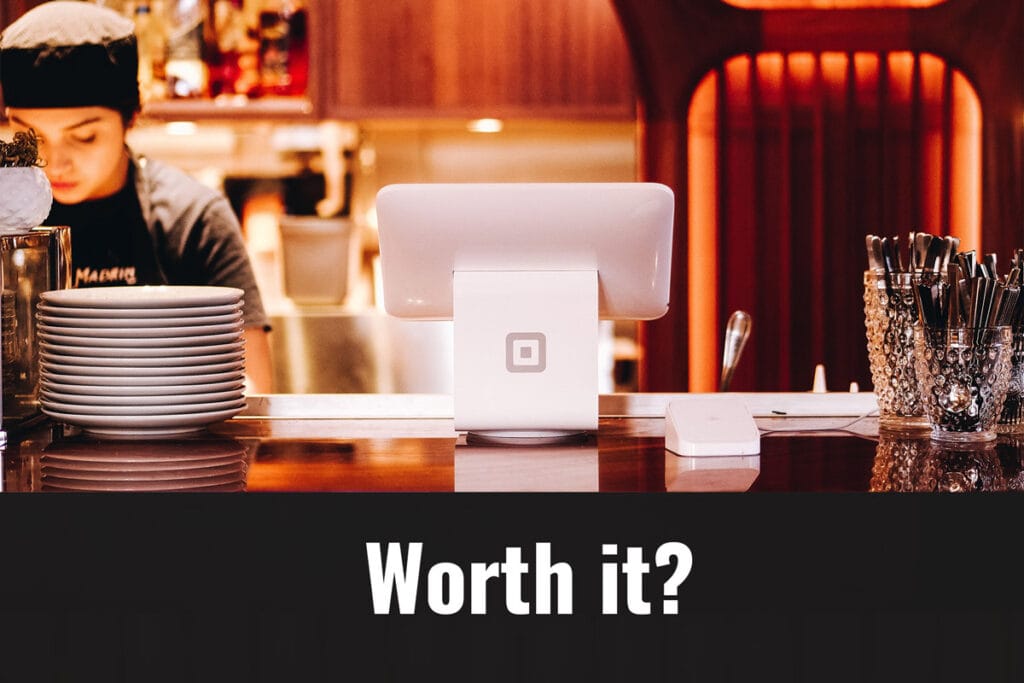 Our Verdict & the 3 Main Reasons to Use Square for Restaurants
There are many reasons why you should consider using Square for Restaurants instead of other solutions available today. Here are three big ones:
1) Ease of use. You don't need to learn anything new – Square's platform was built by people who understand how consumers interact with technology and want to make sure everything looks good and feels right. That's why Square uses intuitive and beautiful design elements throughout the entire application.
2) No monthly fees and long-term contract. No other restaurant POS can beat Square for Restaurants on the free plan. It is best suited for a new or smaller restaurant that needs a POS system while being a low-risk investment due to the absence of a long-term contract.
The Plus subscription is a significant affordable upgrade for full-service restaurants that need seat and course management, marketing and loyalty apps, and KDS software and team management. Pricing for the plus plan is still affordable at $60 per month.
3) Easy integrations – Square for Restaurants POS works within the Square ecosystem with integration with over 100 third-party tools.
Description:

Best for small restaurants and coffee shops

A small business POS for eateries that need a subscription-free plan, smooth transactions and easy-to-operate retail features.
Description:
Best for small restaurants and coffee shops
A small business POS for eateries that need a subscription-free plan, smooth transactions and easy-to-operate retail features.
Conclusion
Different restaurant POS systems have their own strengths in the following three criteria: easy-to-use, low-cost, and high functionality. You can usually find a solution that meets two of the requirements, but rarely all of them.
I find that Square for Restaurants is the POS system that best fulfills these three criteria for small and medium-sized restaurants.
Square offers much more than a POS system. Square for Restaurants is just one of the many products in the Square family. They have a great website builder, the best payment processor, an eCommerce platform, and many marketing tools designed to help restaurants, food trucks, and coffee shops grow.
Even if Square is all you need, they also have a marketplace with integrations so that you can make it compatible with your existing systems, including accounting solutions like QuickBooks.
I recommend Square if you want a feature-rich, easy-to-use, and free system to support your restaurant business.
I hope you found this Square for Restaurants review helpful and that you've been able to decide if this POS system is suitable for your business or not.
Why not start a free Square account and try it out.
Since you are reading this article you might also be interested in my comprehensive comparison post of the 5 best restaurant POS systems.
Additional Square for Restaurants Resources
Square for Restaurants User Reviews
Square for Restaurants Integrations
Square Customer Support and Resources
Square Training: A Guide to Getting Started
Security: How Square Keeps Your Data Safe
About Square Inc: History, Mission & Future
Square for Restaurants User Reviews
On Capterra, Square for Restaurants POS has an overall rating of 4.3 out of 5 based on 44 reviews as of April 2023.
I analyzed the user reviews for Square for Restaurants POS available on Capterra's website. Users consistently praised the ease of use of the Square for Restaurants POS system, with many noting that it was simple to set up and did not require extensive training. The system's customization options were also a major plus, allowing users to tailor the POS to their specific needs.
On the downside, some negative reviews reported occasional glitches with the system or difficulties with customer support. However, these complaints were outweighed by positive reviews.
Overall, Square for Restaurants POS received fairly high ratings and user satisfaction, with many users stating that it has helped streamline their business operations and increase revenue.
Some users find it to be a great addition to their business, while others have experienced significant issues with the software.
In terms of features and benefits, users have praised Square for its ease of use and its ability to handle basic restaurant functions such as processing orders and timekeeping. Additionally, Square offers a variety of built-in features such as HR, onboarding, benefits, payroll, and credit card processing, which many users find to be very convenient. Some users also appreciate the ability to customize the menus and substitutions, which can be done with just a few clicks.
However, users have also reported several drawbacks and limitations of the software. One major issue that has been reported is the lack of customer support, with some users stating that they have had difficulty getting assistance when they encounter problems. Additionally, some users have reported that the back-end reporting is lacking. Another limitation is that the software is not optimized enough for restaurants, and some users have reported that the reporting is unsatisfactory for day-to-day operations.
Square for Restaurants Integrations
With your Square account, you also get access to over 100 integrations on the Square App Marketplace.
Here you can find apps to integrate with that you might already be using, like QuickBooks or Xero for accounting. Other options include apps for marketing, scheduling, CRM, payroll, and much more.
Here are some of my favorite integrations in the Square Marketplace:
OpenTable is a reservation and guest management system that seamlessly integrates with Square POS. It allows restaurants to manage reservations, waitlists, and guest information in one place. With OpenTable, restaurants can also access valuable insights and analytics to improve their operations and customer experience.
PlateIQ is an automated accounts payable and invoice management system. It streamlines the invoice process, reduces errors, and saves you time. PlateIQ also provides real-time insights into purchasing trends and helps control costs.
7Shifts is a scheduling and labor management system that allows you to create schedules, manage time-off requests, and communicate with employees in real-time. 7Shifts also features labor cost insights and helps optimize staffing levels.
Peachworks is a restaurant recipe and inventory management tool. You can manage recipes, track inventory, and reduce waste, and its real-time inventory insights help control costs.
When I Work is a free scheduling and communication system. You can create schedules, manage time-off requests, communicate with employees in real-time, get labor cost insights, and optimize staffing levels.
Homebase is a free scheduling and time-tracking tool. It allows restaurant owners to create schedules, track hours worked, and manage their teams. Other features include labor cost insights for optimizing staffing levels.
Thanx is a customer engagement and loyalty program that integrates with Square POS. It allows restaurant owners to create personalized campaigns, track customer behavior, and reward loyal customers. Thanx also provides valuable insights and analytics to improve customer experience and retention.
QuickBooks Online is a powerful accounting software that integrates with Square POS. It allows restaurant owners to manage their finances, track income and expenses, and generate financial reports. With the Square and QuickBooks Online integration, restaurant owners can easily sync their transactions, making it easier to stay on top of their accounting and tax obligations.
Xero is another popular accounting software that integrates with Square POS. It provides an easy-to-use platform for managing finances, invoicing, and tracking expenses. The integration with Square ensures that sales data is automatically imported into Xero, simplifying the accounting process and ensuring accurate
Integrations are essential for managing restaurant operations efficiently and improving customer experience. Square's marketplace offers a wide range of integrations specifically designed for restaurants.
Square Customer Support and Resources
An Overview of Square's Customer Service
Multiple channels of support: Square offers customer support through various channels, including phone, email, live chat, and social media. This ensures that users can easily reach out to the support team through their preferred method of communication.
Dedicated support for different products: Square provides specialized support for each of its products, such as Square POS, Square for Restaurants, and Square for Retail. This ensures that users receive tailored assistance for their specific needs.
Extended support hours: Square's customer support team is available during extended hours, typically from 6 AM to 6 PM PT, Monday through Friday. This allows users to get the help they need when they need it.
Available Resources (Tutorials, Guides, Forums)
Square Support Center: The Square Support Center is a comprehensive online resource that features a vast collection of tutorials, guides, and FAQs. Users can search for answers to specific questions or browse through various topics to learn more about Square's products and services.
Video tutorials: Square offers a series of video tutorials on its official YouTube channel. These videos cover a wide range of topics, from setting up a Square account to using advanced features within the POS system.
User guides and manuals: Square provides detailed user guides and manuals for its hardware products, such as POS terminals and receipt printers. These documents offer step-by-step instructions to help users set up, troubleshoot, and maintain their devices.
Community forum: The Square Seller Community is an online forum where users can ask questions, share their experiences, and connect with other Square users. It's a valuable resource for getting advice and tips from fellow business owners.
User Community and Networking Opportunities
Square Seller Community: As mentioned earlier, the Square Seller Community is an online forum where users can interact with one another, exchange ideas, and share best practices. It's a great platform for networking and learning from the experiences of others in the industry.
Social media channels: Square maintains a strong presence on various social media platforms, such as Facebook, Twitter, and LinkedIn. Users can follow these channels for updates, news, and the opportunity to connect with other Square users.
Local events and meetups: Square occasionally hosts local events, workshops, and meetups in different cities. These events provide an excellent opportunity for users to network with other business owners, learn from industry experts, and stay informed about the latest Square offerings.
Webinars and online events: Square also organizes webinars and online events, covering topics such as business management, marketing, and industry trends. Users can participate in these events to gain valuable insights and connect with other professionals in their field.
Square Training: A Guide to Getting Started and Effective Adoption
I. Getting Started with Square Restaurant POS
Sign up for an account: To begin, visit the Square website and create a new account by providing your email address and basic business information.
Choose your hardware: Square offers a variety of hardware options, including countertop POS terminals, portable POS devices, and receipt printers. Assess your needs and budget to select the most suitable hardware for your restaurant.
Download the Square for Restaurants app: Once you have your hardware in place, download the Square for Restaurants app on your devices. This app will serve as your central hub for managing orders, payments, and more.
Configure your menu: Import your menu items into the Square for Restaurants app, including dishes, prices, and modifiers. This step is crucial for accurate order processing and inventory management.
Set up payment processing: Connect your Square account to your bank account to enable seamless payment processing. You can also set up online ordering and integrate with popular food delivery platforms to expand your reach.
II. Onboarding and Training
Train your staff: Before implementing Square Restaurant POS, it's essential to train your staff on how to use the system. Schedule training sessions to cover the basics, such as taking orders, processing payments, and managing tables.
Create user profiles: Set up individual profiles for your staff members within the Square for Restaurants app. This will allow you to track employee performance and grant specific permissions based on their role.
Familiarize yourself with the reporting features: Square Restaurant POS offers a variety of reports and analytics tools to help you make data-driven decisions. Spend time getting to know these features so you can optimize your operations.
Set up customer loyalty programs: Square offers built-in tools for creating and managing customer rewards programs. Use these features to encourage repeat business and build customer loyalty.
III. Effective Adoption
Monitor performance: Keep a close eye on key performance indicators (KPIs) to ensure that your restaurant is running smoothly with the new POS system. These may include average ticket size, table turnover rate, and employee productivity.
Gather feedback: Regularly solicit feedback from your staff and customers to identify areas for improvement. This will help you fine-tune your POS system and ensure it meets everyone's needs.
Continuously train your staff: As your restaurant grows and your POS system evolves, it's important to keep your staff up-to-date with new features and best practices. Schedule ongoing training sessions to ensure everyone is on the same page.
Leverage integrations: Square Restaurant POS can integrate with various third-party apps, such as accounting software, inventory management systems, and reservation platforms. Take advantage of these integrations to further streamline your operations and improve efficiency.
How Square Keeps Your Data Safe
Square POS is known to have various security measures to ensure that its customer's data is safe. To secure the system, Square uses end-to-end encryption, tokenization, and two-factor authentication.
End-to-end encryption ensures that data is encrypted from the time it is entered into the system until it is processed. Tokenization replaces sensitive data with unique symbols, making it difficult for hackers to gain access to the data.
Two-factor authentication adds an extra layer of security by requiring users to provide two forms of identification before accessing their accounts.
Square is Payment Card Industry Data Security Standard (PCI DSS) compliant, which means it has met the security standards set by the payment card industry to protect cardholder data.
Square's compliance certifications include PCI DSS Level 1 Certification, which is the highest level of security certification for a payment processor, and SOC 1 Type II and SOC 2 Type II certifications, which are external audits that test the effectiveness of Square's security controls.
User Privacy and Protection of Sensitive Information
Customer data is encrypted at rest and in transit using industry-standard encryption protocols.
Square's security practices are regularly audited and tested by independent third-party assessors to ensure compliance with industry standards.
Square's compliance certifications, such as PCI DSS Level 1 Certification, provide further assurance that customer data is secure while using the system.
About Square Inc.
Square's history
Square was founded in 2009 by Jack Dorsey and Jim McKelvey. The idea behind the company was to create a simple, easy-to-use credit card reader that could be used on any smartphone or tablet. The company launched its first product in 2010 and has since grown into one of the largest payment processors in the world, processing over $20 billion each year for small businesses around the globe.
Square's Core Values and Mission
We believe everyone should be able to participate and thrive in the economy. We make commerce easy. We believe the economy is better when everyone has access.
The Future of Square
In 2021, Square changed its name to Block to differentiate the Square brand, which was built for the Seller business. The name change reflects the company's focus on blockchain technology and its commitment to economic empowerment.
In a press release, Jack Dorsey, Square's CEO, said,
"Block is a new name, but our purpose of economic empowerment remains the same. No matter how we grow or change, we will continue to build tools to help increase access to the economy."[1]
According to a MakeUseOf article, Square has been investing in cryptocurrency and blockchain technology, and it also acquired a majority ownership stake in the music streaming service, Tidal. Furthermore, the company launched TBD, an open platform that creates a decentralized exchange for Bitcoin. The name change reflects the company's pivot to the blockchain and cryptocurrency space. [2]
At the moment Square and Block possess strong brand reputations, diverse product offerings, and a large user base.
However, they face challenges such as competition, regulatory hurdles, and reliance on third-party hardware. To maximize their potential, Square and Block should focus on international expansion, new product development, and strategic acquisitions.
By doing so, they can strengthen their position in the fintech and digital payments industries and secure long-term success.
Sources: