This review is about SpotOn, a relatively new restaurant POS system that has quickly become popular in the hospitality industry because of its modern features, excellent hardware devices, low credit card processing fees, and flexible no-contract setup.
The purpose of this review is to assess SpotOn's suitability for restaurants that want an economical, all-in-one, cloud-based POS system.
In this product review, I'll cover:
SpotOn's core and advanced features
The pros and cons of SpotOn
What types of restaurants SpotOn is best for
A summary of user reviews of SpotOn
A look at the SpotOn company background and values
Read on to discover if SpotOn POS is the right fit for your restaurant's needs.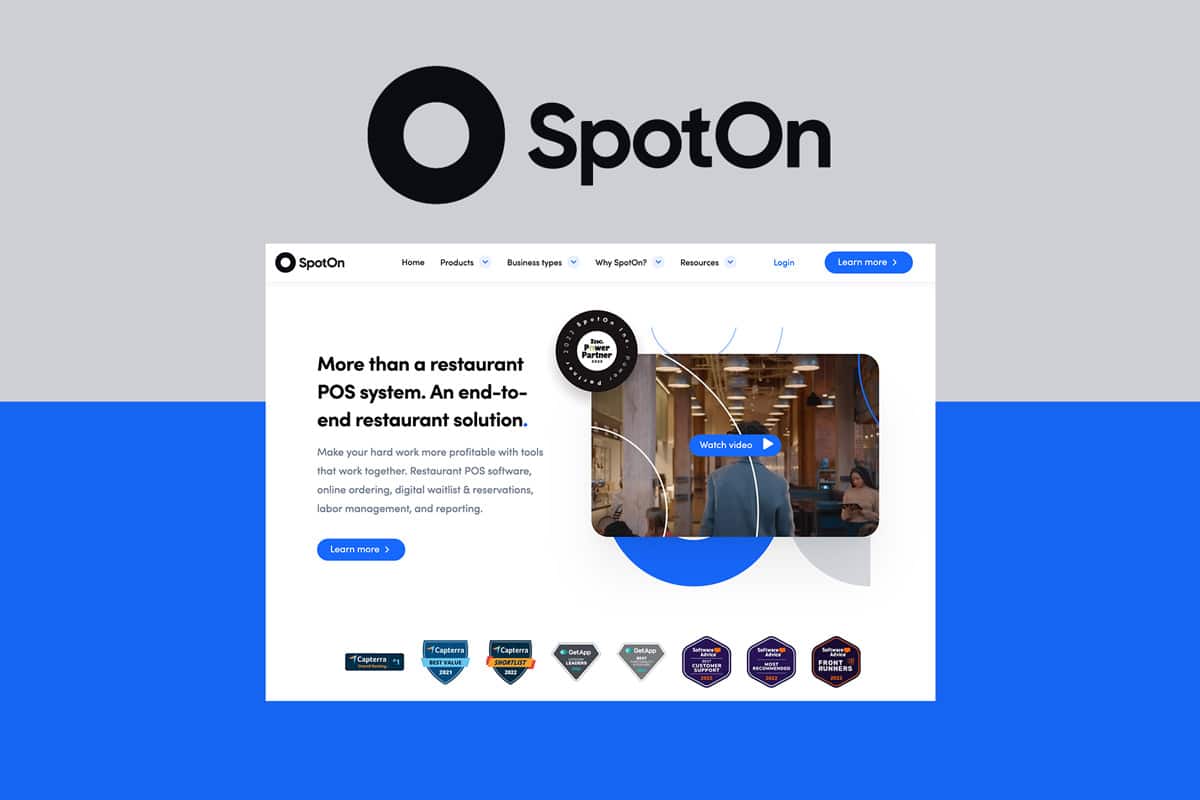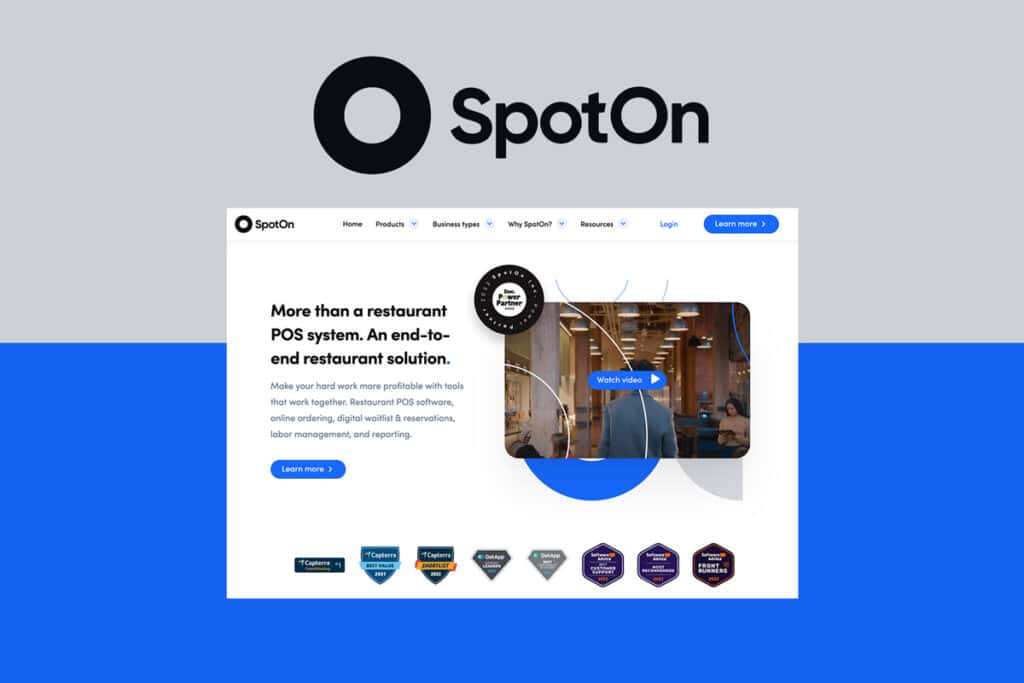 Description:

Excellent hardware options and no long term contracts

All-in-one POS solution with modern restaurant-specific features for fine-dining, QSRs, bars, and food trucks.

Pros:

Very feature rich

Robust hardware devices

Low credit-card processing fees*

Cons:

Limited offline functionality

Requires SpotOn devices

*Requires SpotOn Payment for low fees
Description:
Excellent hardware options and no long term contracts
All-in-one POS solution with modern restaurant-specific features for fine-dining, QSRs, bars, and food trucks.
Pros:
Very feature rich

Robust hardware devices

Low credit-card processing fees*
Cons:
Limited offline functionality

Requires SpotOn devices

*Requires SpotOn Payment for low fees
Overview of SpotOn
SpotOn is one of the leading cloud-based restaurant POS systems. The company was founded in 2017 and is headquartered in San Francisco.
SpotOn is a good fit for a variety of restaurants, especially fine-dining and casual restaurants, as well as quick-service restaurants, bars, and food trucks.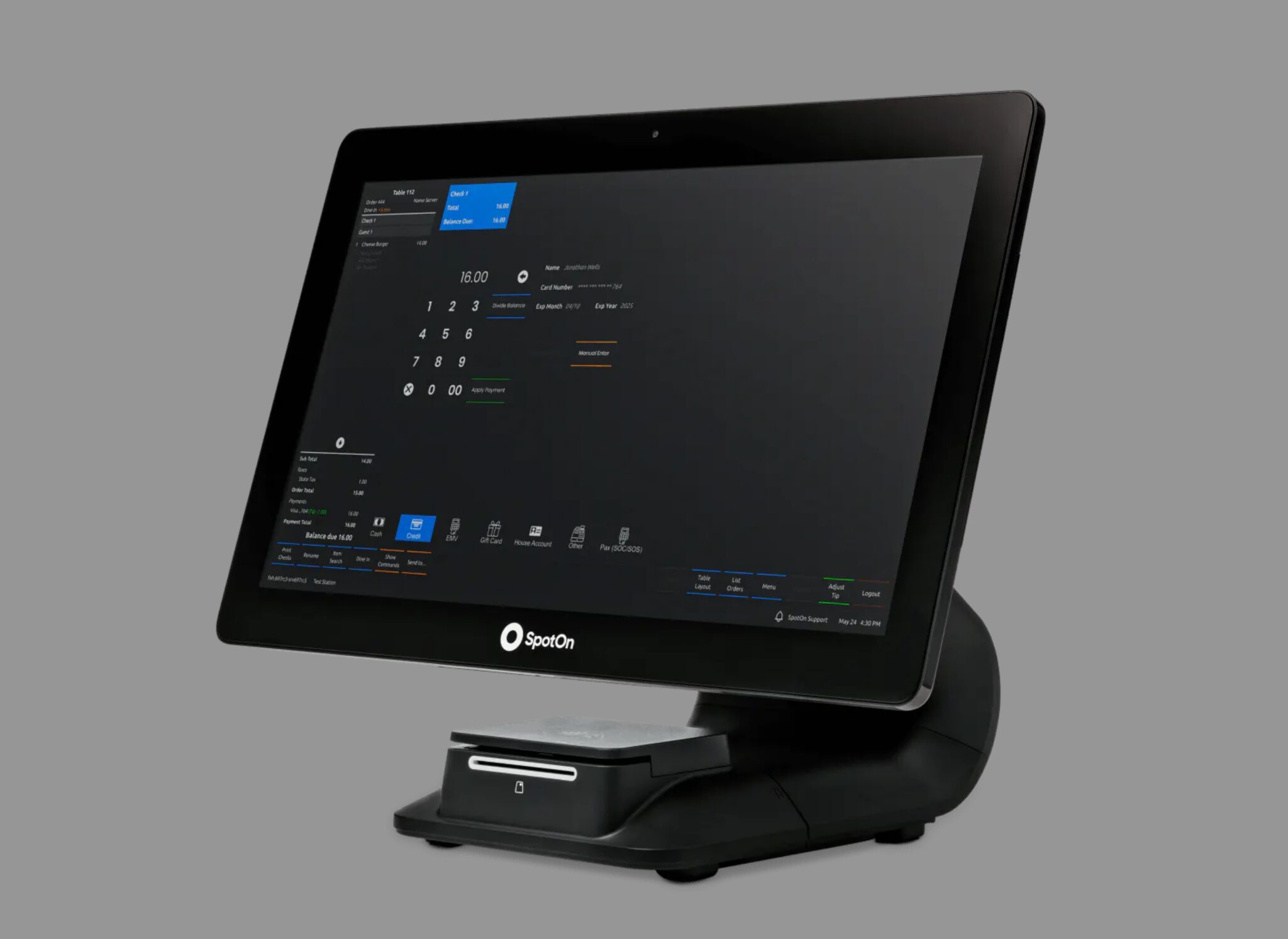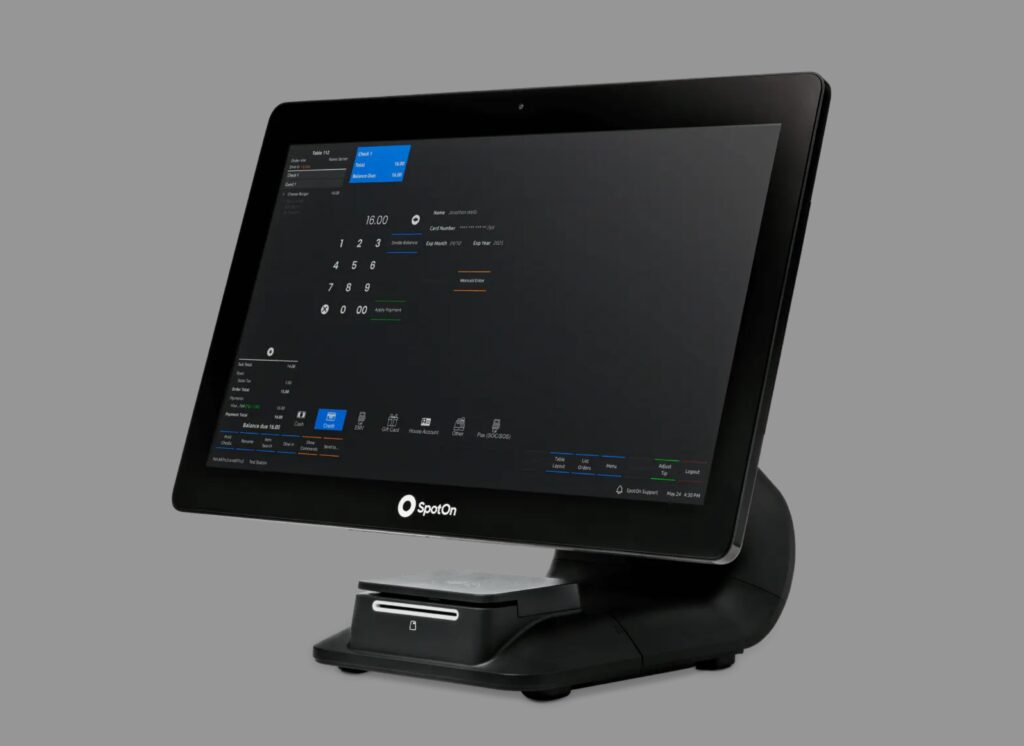 All the core restaurant POS features and hardware devices that you would expect are included as well as many advanced features and add-ons.
In fact, I think it's notable how many features and hardware choices SpotOn has considering it's a relative newcomer in the restaurant POS scene.
So how can we democratize technology so that the mom-and-pop taqueria, like my grandmother used to own, can compete and win against a national chain that's investing many millions in tech? How can we make tech approachable to encourage participation? Your local coffee shop isn't going to install a robot barista, but the operator can leverage technology to better understand the financial health of their business.

Bryan Solar, CPO at SpotOn (source)
SpotOn Pricing
Where SpotOn Stands Out
Later, I will discuss the core and advanced features of SpotOn. However, the following features set it apart from other competitors:
Excellent hospitality hardware options: SpotOn has a wide variety of hardware options to meet the needs of different types of restaurants. These options include touchscreen stations, handheld devices, customer-facing displays, self-service kiosks, and kitchen display systems. The hardware is designed to be robust and reliable in a restaurant environment.
Many modern restaurant-specific features: These features include online ordering, order with Google, digital waitlisting and reservations, labor management, and reporting. The system is also designed to integrate with other software and systems, making it easy for restaurants to work with the technology they already use.
No long-term contracts: SpotOn's POS system for restaurants is offered on a month-to-month basis, with no long-term contracts required. This gives restaurants the flexibility to try out the system without making a long-term commitment and to cancel if they are not satisfied.
Low credit card processing fees: SpotOn offers competitive credit card processing fees when using their own payment processing with rates as low as 1.99% + $0.25 per transaction.
Flat rate delivery cost: SpotOn's delivery service, powered by DoorDash, allows restaurants to offer delivery service without having to hire and manage their own drivers. The service is integrated with SpotOn's online ordering system and offers a flat rate delivery cost that is lower than the commissions charged by many third-party delivery apps.
Where SpotOn Falls Short
SpotOn has some limitations that may make it less attractive to specific businesses.
It only works with SpotOn's hardware, which could disadvantage businesses that have already invested in other POS hardware or prefer a different hardware provider.
Using payment processing services other than SpotOn's can be expensive. SpotOn charges a commission of 1.99% + $0.25 for regular transactions, which is quite low, but 2.99% + $0.25 for reward, corporate, international, and keyed-in card transactions.
The POS system of SpotOn is dependent on the cloud and the offline functionality is not as robust as for example that of TouchBistro
Ease of Use and the User Interface
Like many of its competitors, the SpotOn POS system is designed to be user-friendly and easy to use for restaurant businesses. One difference to note is that SpotOn runs on the Windows system so the interface has a different look and feel compared to Apple's iOS or Android that you may be used to.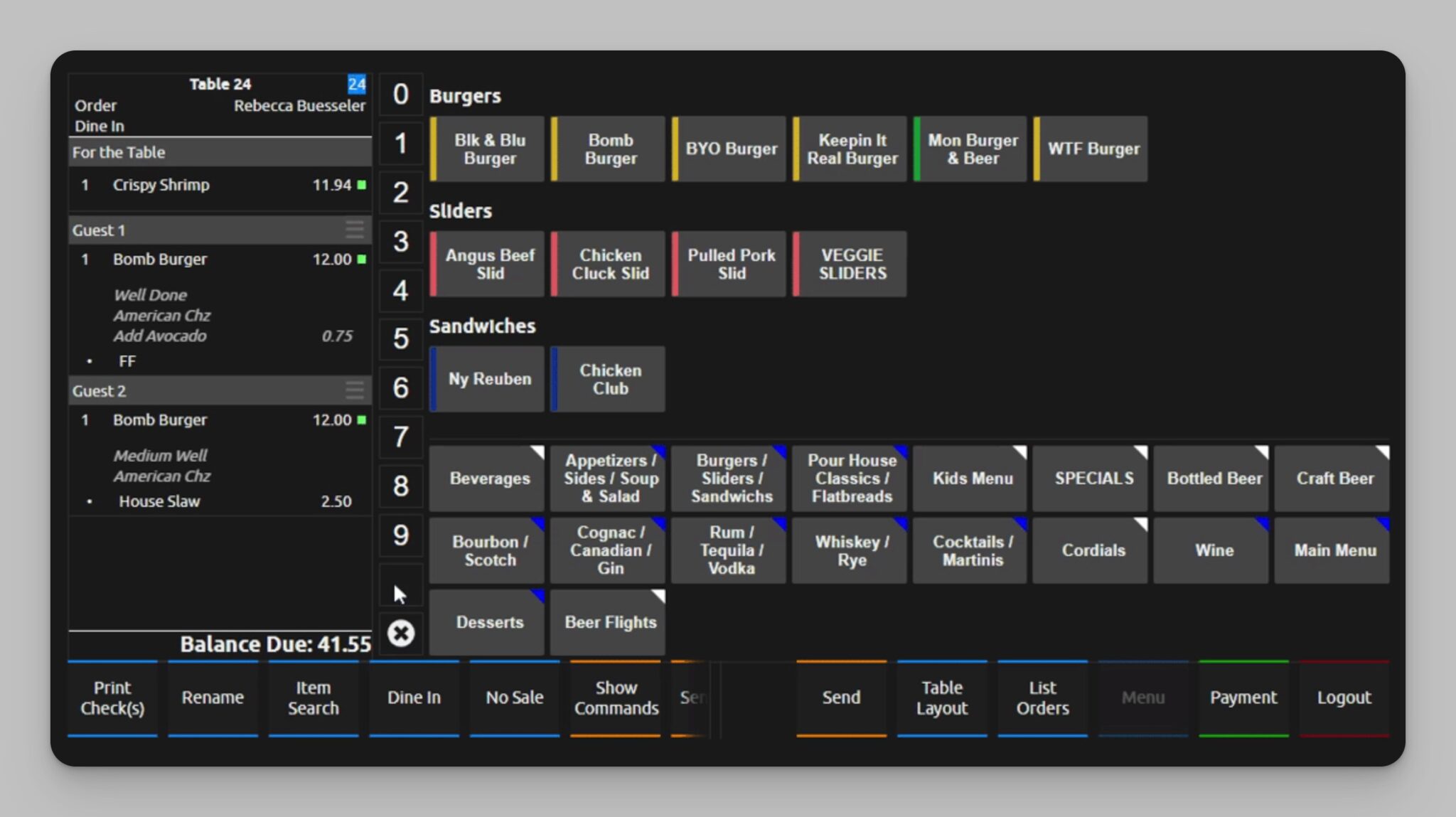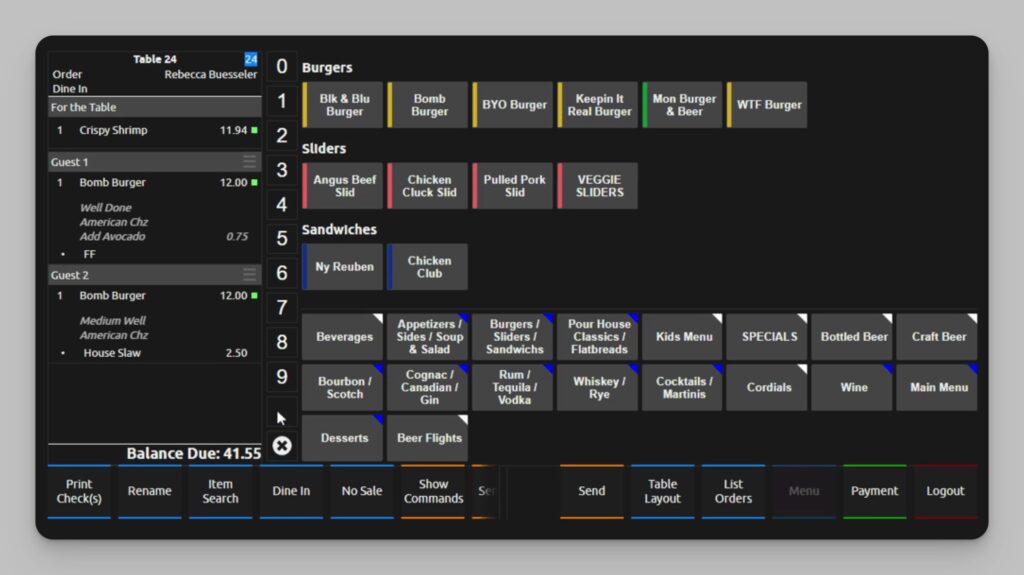 Here are some key aspects of its user interface and ease of use:
Customizable Interface. SpotOn allows for a custom menu build and table layouts, making it adaptable to the specific needs of your restaurant. The flexibility of the system allows you to customize it according to your operations, making it easier for your staff to use.
Integrated Features. The system has the ability to smoothly work with other software and systems, making it unnecessary for you to adjust to the technology.
Handheld Devices. SpotOn provides fast handheld devices that enhance efficiency by allowing staff to send orders to the kitchen and bar in real-time. These devices also offer pay-at-table services.
Core Features of SpotOn Restaurant
SpotOn Order Management
The SpotOn Order feature allows the staff to take orders from customers through various means such as in-person at the table or counter, or online ordering. Then, the orders are sent directly to the kitchen or bar. The feature supports modifiers like "no onions" or "extra cheese" and accommodates special requests.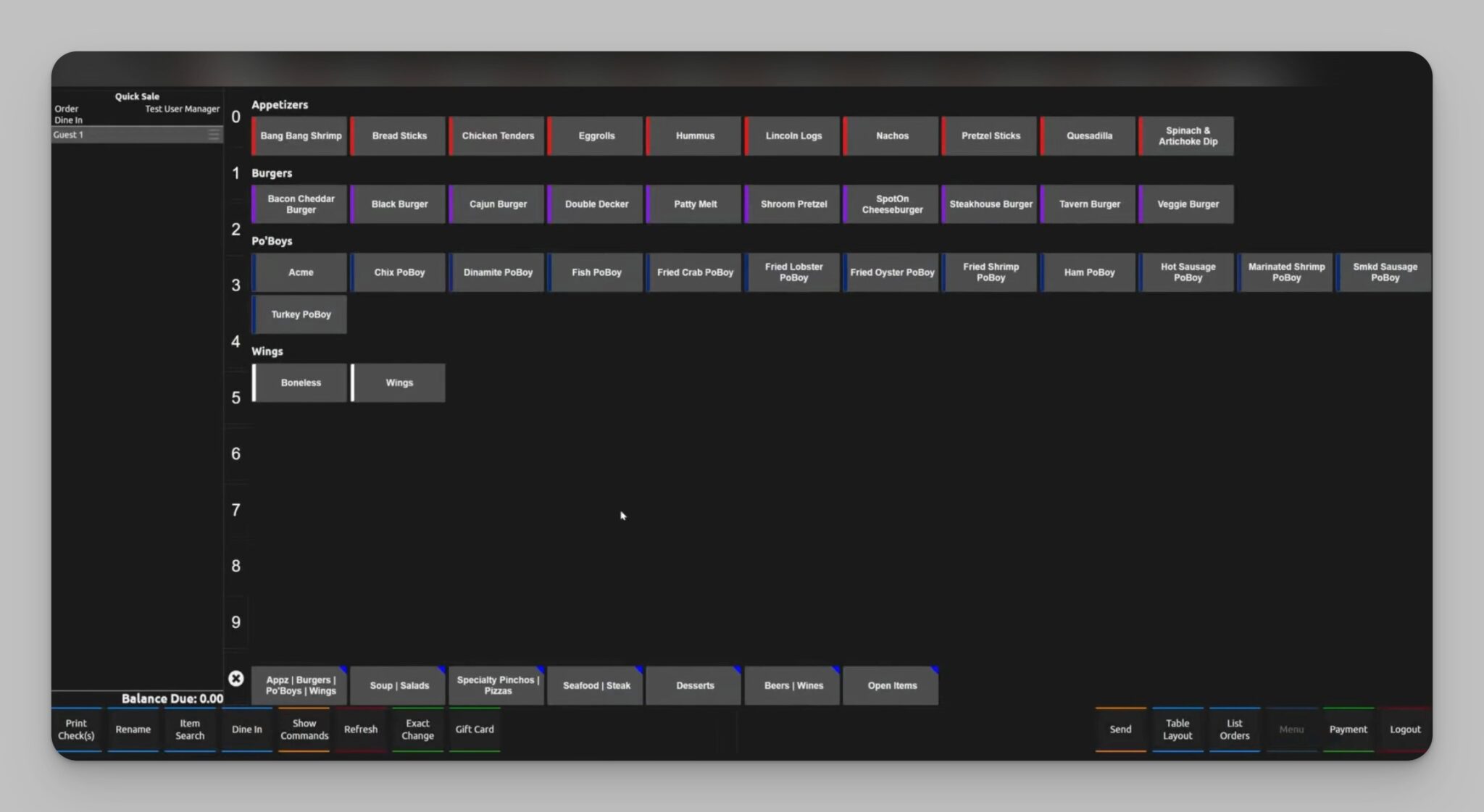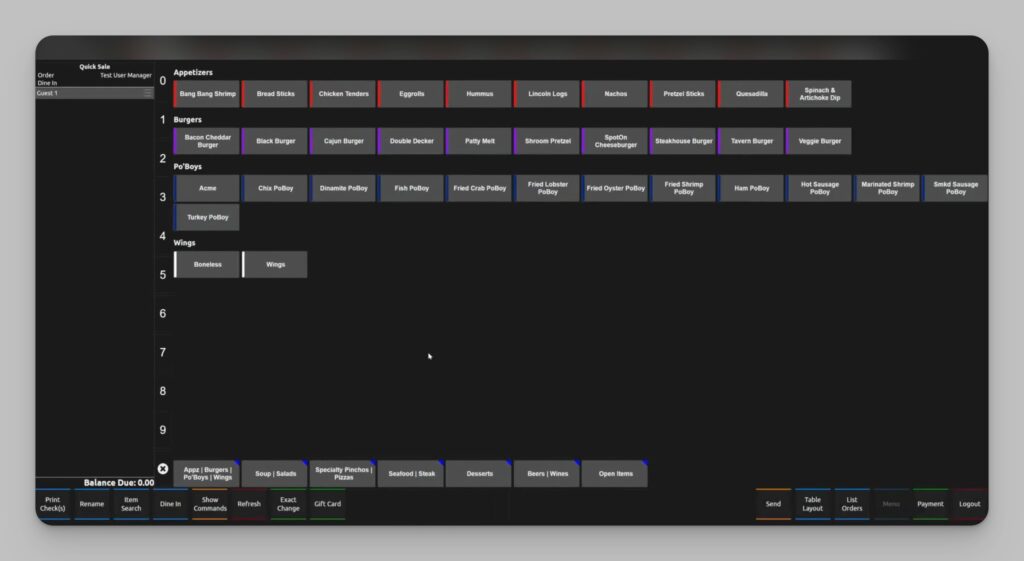 Key Features of SpotOn Order:
Direct Integration with the POS System. Use SpotOn Order to develop an online menu and set it up to transmit orders directly to your point-of-sale system. This also helps the pickup and delivery experience for your customers.
Take-Out and Delivery. With SpotOn Order, you can avoid costly third-party delivery services and manual order input by allowing customers to place orders directly from your website, Facebook page, and Google page. You can adjust the pacing of online orders, and it allows you to store guest information for targeted marketing and ensure repeat business.
With SpotOn Delivery you can leverage the DoorDash delivery network at a fraction of the cost while still owning your guest data.
QR Code Ordering and Payment. Your guests can either order and pay from their table, or they can use their device to scan a code on their receipt for contactless payment. Additionally, the feature of group ordering allows guests to order from their own devices and split the check by amount.
Integration with Order with Google. Your customers can easily find your restaurant on Google when searching for nearby restaurants, and then proceed to place an order from your Business Profile.
Payment Processing
Restaurant payment processing is one of the most important core features. Nowadays most POS providers offer their own integrated payment processing. In fact, that's how they make most of their money.
Many restaurants now prefer to use integrated payment solutions provided by their POS system because using a separate payment processor can be costlier.
If you choose not to use SpotOn's payment processing services, you will have to pay $195 per month to access the software instead of $25 per month.
However as I mentioned in the pricing overview above, SpotOn Payments has very competitive payment processing rates.
A point-of-sale system should be capable of accepting cash, credit/debit cards, and mobile payments and SpotOn Payments allows you to make payments using credit cards, debit cards, Apple Pay, Google Pay, Samsung Pay, cash, and gift cards.
Inventory Management
The feature that keeps track of ingredients and supplies will notify you when stocks are running low and may even place orders automatically. This can help minimize waste and avoid running out of necessary items.
SpotOn's inventory management system includes the following features:
Access your business data from any device with a centralized dashboard. The dashboard shows important details like the average size of orders, the total count of orders, the most frequently ordered items on the menu, the items that generate the most revenue, and the real-time sales for the current day.
Use hierarchical controls to manage your inventory either for an entire enterprise or for a particular location. With this feature, you can modify menu assignments, pricing, and permissions, and implement changes across devices or locations.
The real-time inventory control feature lets you manage your inventory from anywhere with updates, alerts, and front-of-house countdowns. This helps ensure that your staff never sells menu items that have run out.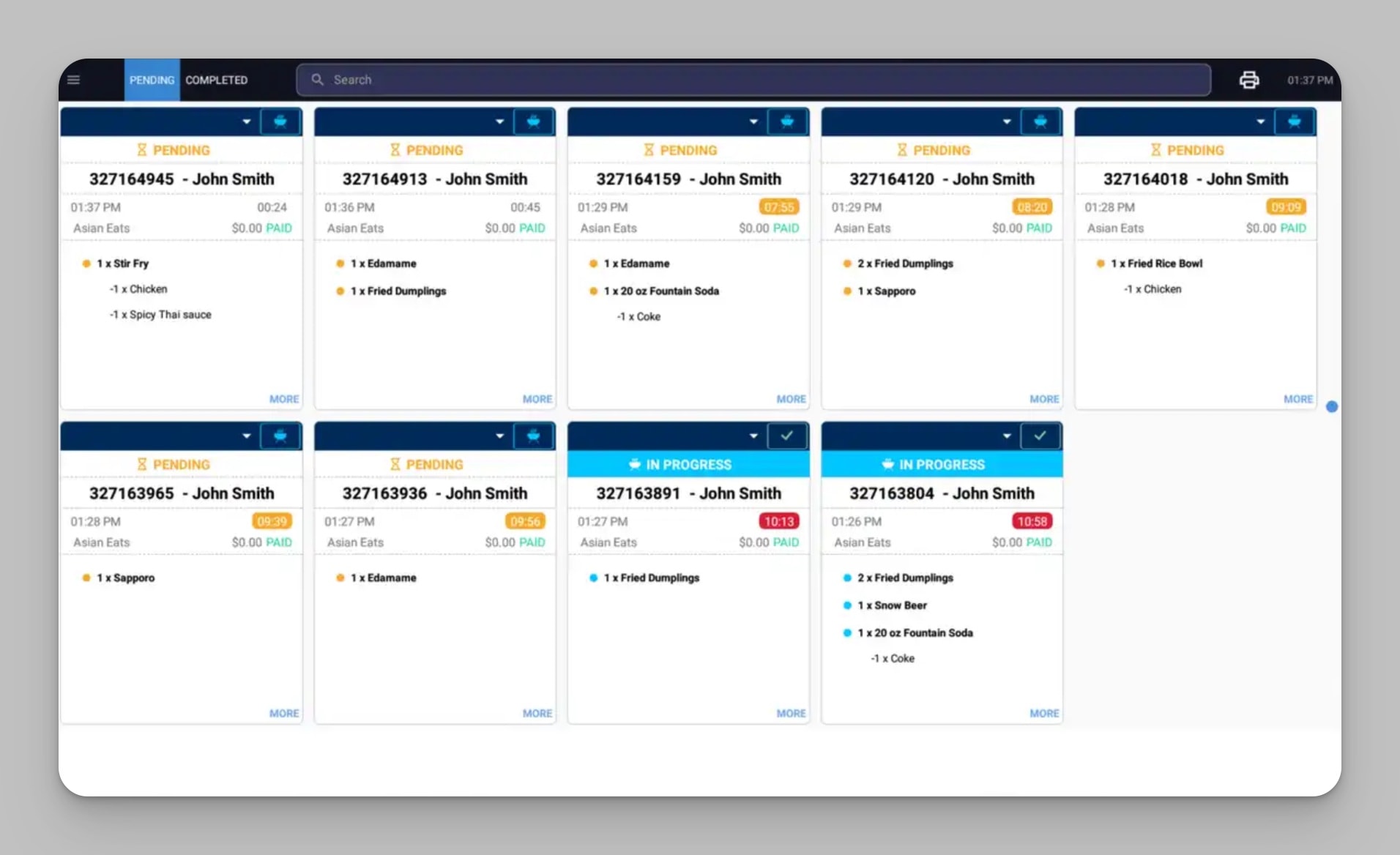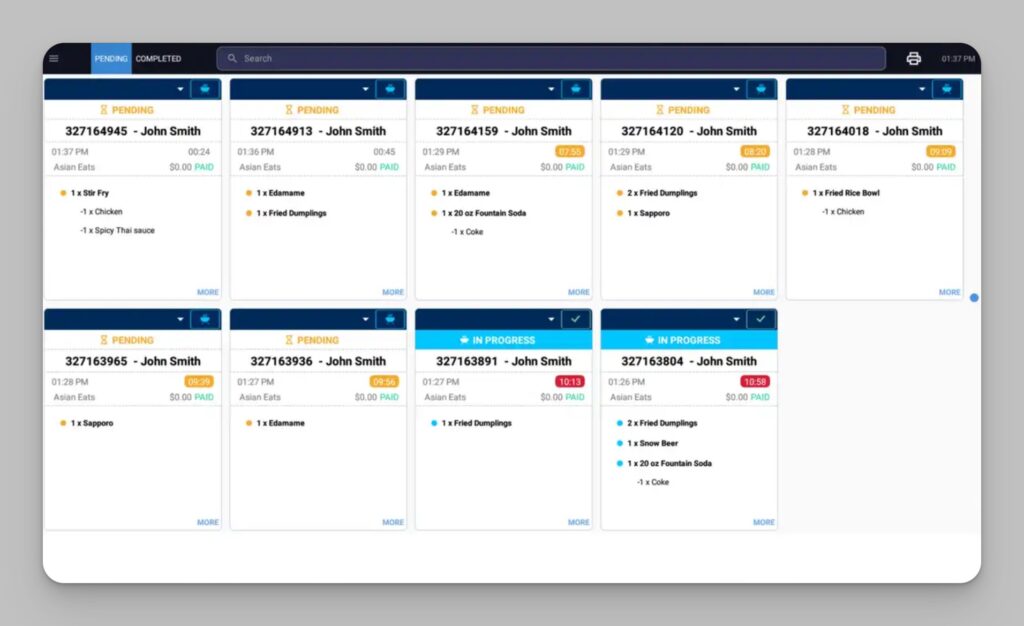 Connect your kitchen with the front-of-house, resulting in reduced spoilage and quicker order delivery. The Kitchen Display System (KDS) receives real-time order information from POS devices, providing a simplified overview of the orders for your back-of-house staff to work with.
In summary, I believe the inventory management feature of SpotOn is excellent, allowing you to keep track of your stock and ensure that your customers receive the best quality products. It also helps owners save money by avoiding waste and ensuring that their restaurant is operating as efficiently as possible.
Employee Management
This feature encompasses scheduling, time tracking, job roles, as well as payroll. It can effectively assist in managing labor costs.
With SpotOn Teamwork, you can:
Create schedules using drag-and-drop templates
Make data-driven schedules based on POS sales data
Review and approve paid time off, shift trades, and sick time requests
Integrate payroll management into your labor management system
Automate the distribution of tips
Ensure payroll information is accurate and up-to-date
Check and adjust the logged clock-ins and break times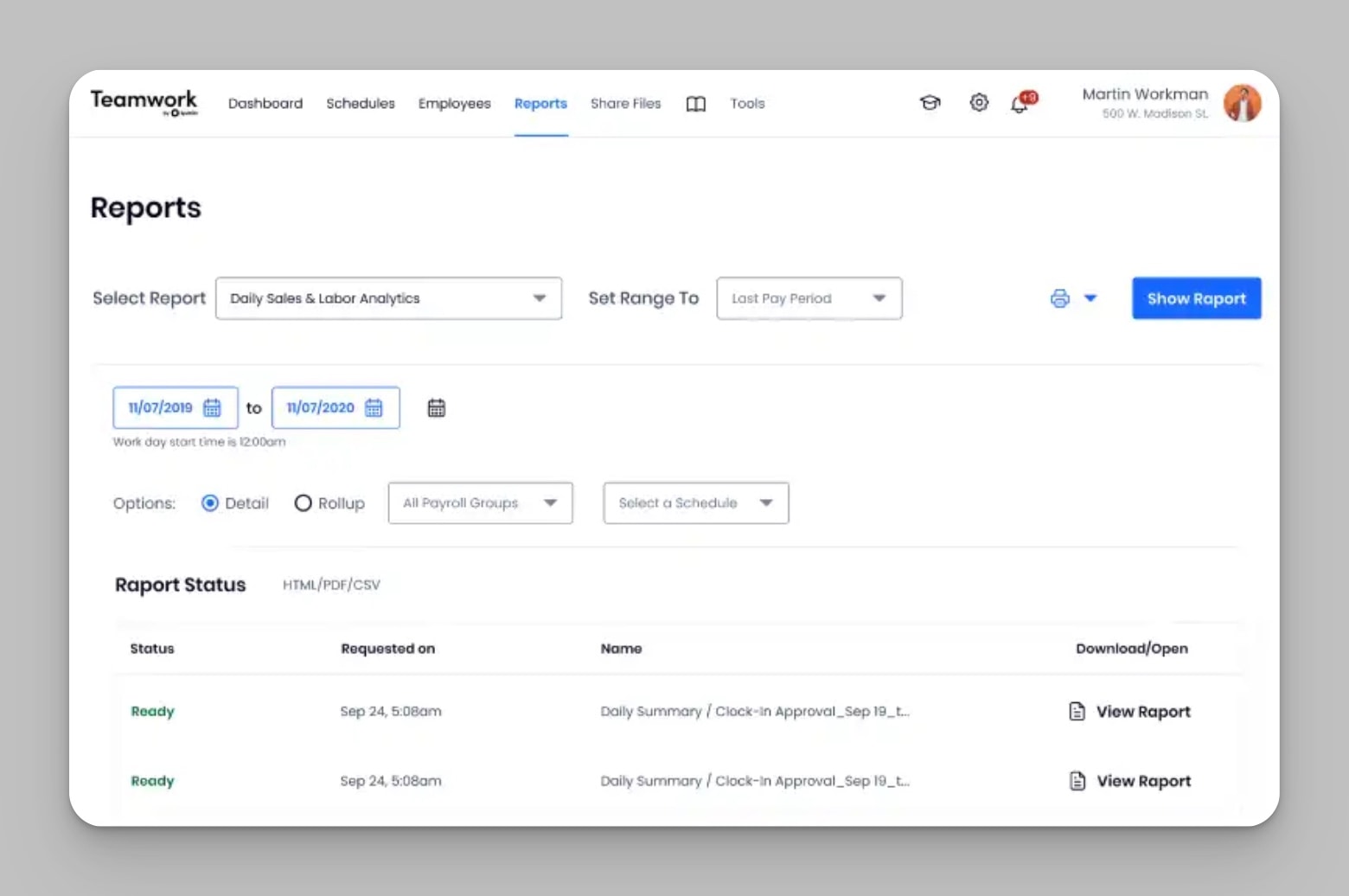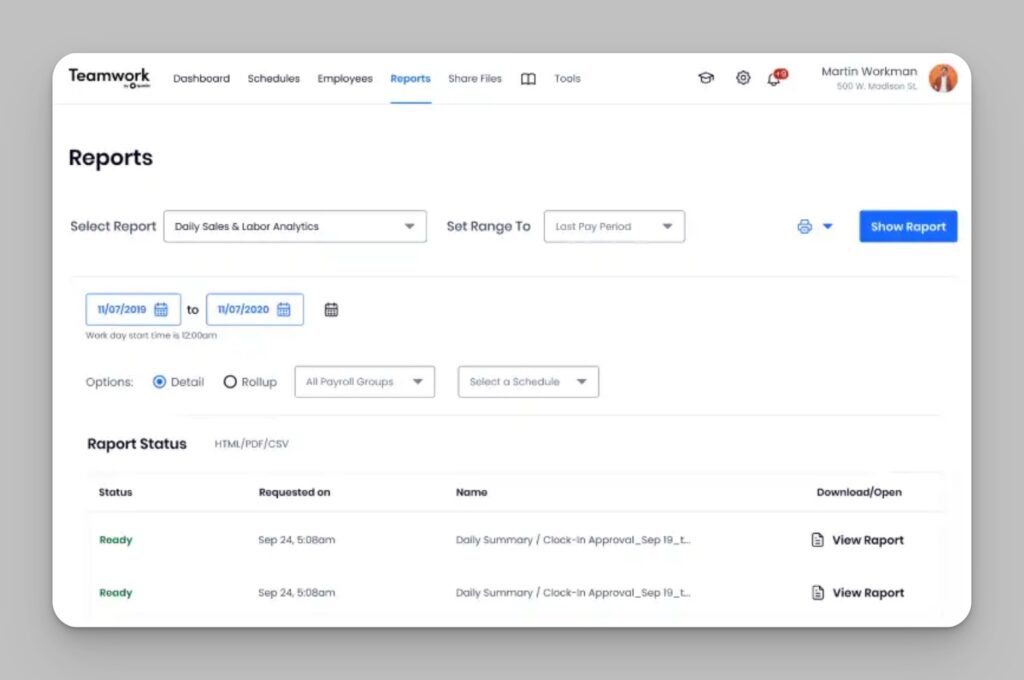 The SpotOn Teamwork App can improve employee engagement by providing a single platform for your staff to view and make changes to their schedules, access tips, and receive communications. Your staff can use the app to:
View their schedules for the week or any duration you set
Request to swap or pick up available shifts
Request to take time off for both PTO and sick leave
Receive direct or group messages
I think that using the Teamwork app is an effective method of building trust with your employees. Moreover, it empowers them to manage their schedules and daily tasks. In summary, this feature can result in smoother operations, decreased labor expenses, and increased staff contentment.
Reporting and Analytics
SpotOn's reporting feature is a tool that gives restaurant owners detailed insights into their business operations.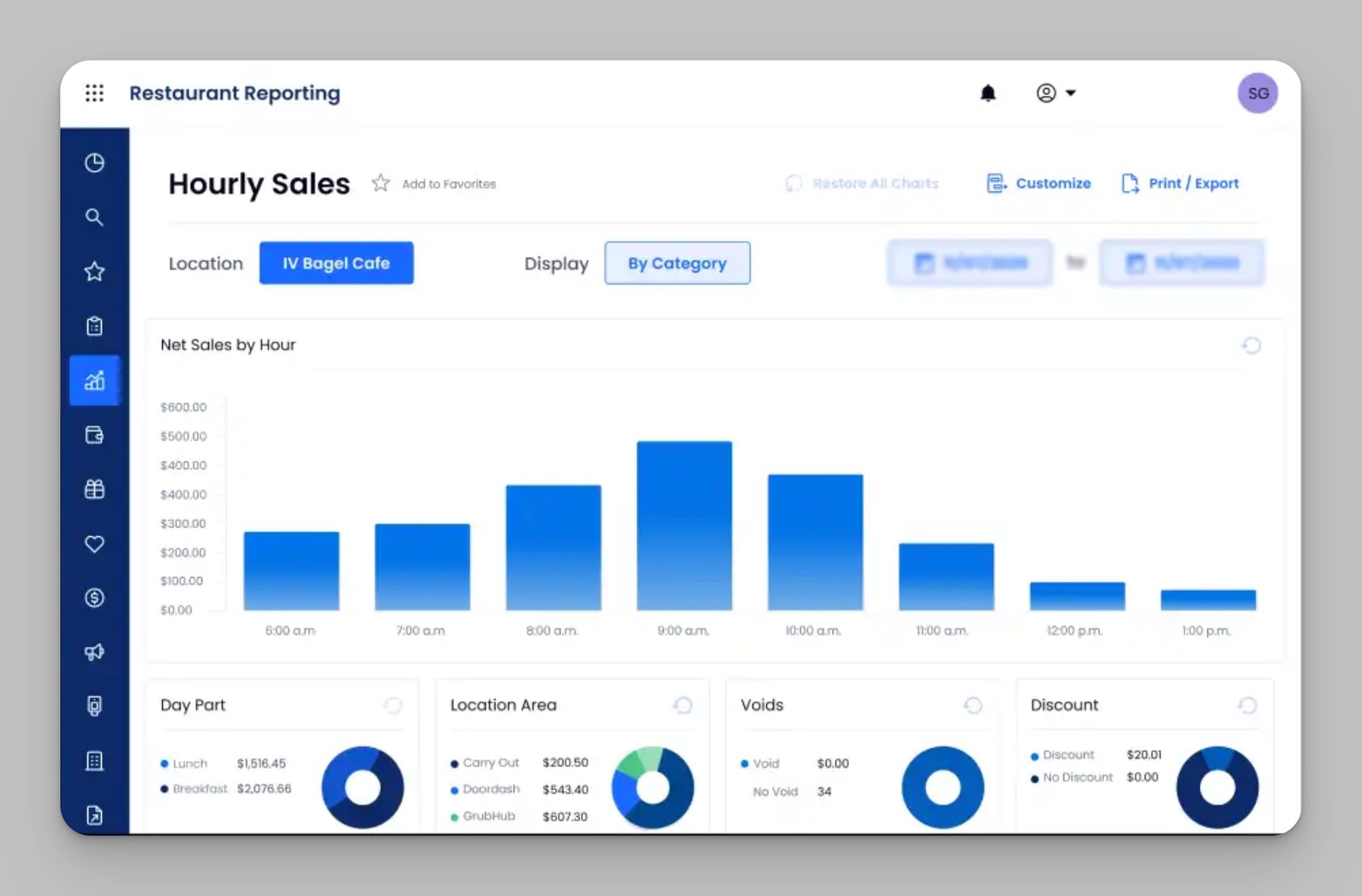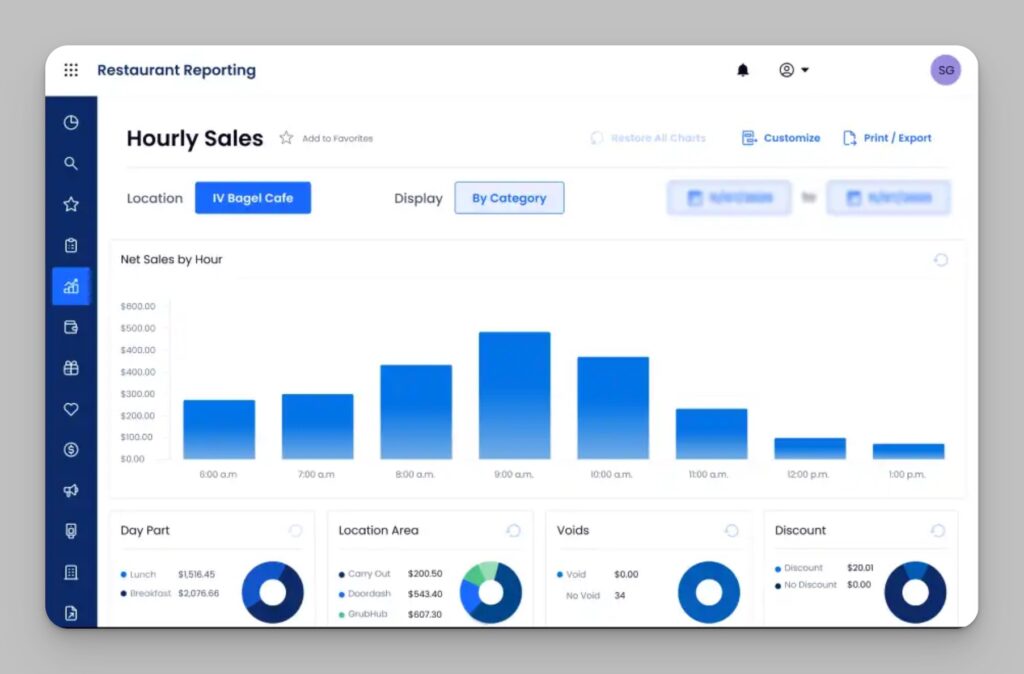 The system provides various types of reports for users, such as closeout and end-of-day reports, credit card transaction reports, and daily sales recap reports.
The reports contain comprehensive data regarding several aspects of the business such as sales patterns, financial transactions, staff payments, and customer credit.
SpotOn's reporting system has a notable feature that allows users to create custom alerts for specific events or metrics. This ensures that restaurant owners receive timely notifications about significant developments in their business.
The system's integration with QuickBooks makes accounting processes easier and ensures financial records are accurate and current.
Nevertheless, the system has limitations and some reports only provide short-term trends or insights.
Some features, such as deposit reconciliation, may need manual handling, which can take up significant time.
I believe that SpotOn's reporting feature is a highly effective tool for restaurant owners to manage and expand their businesses. It stands out for its extensive reporting features, adaptable alerts, and compatibility with accounting software.
Table Management
This feature helps staff manage seating arrangements by showing which tables are available or occupied and for how long they have been in use. It may also assist with making table reservations.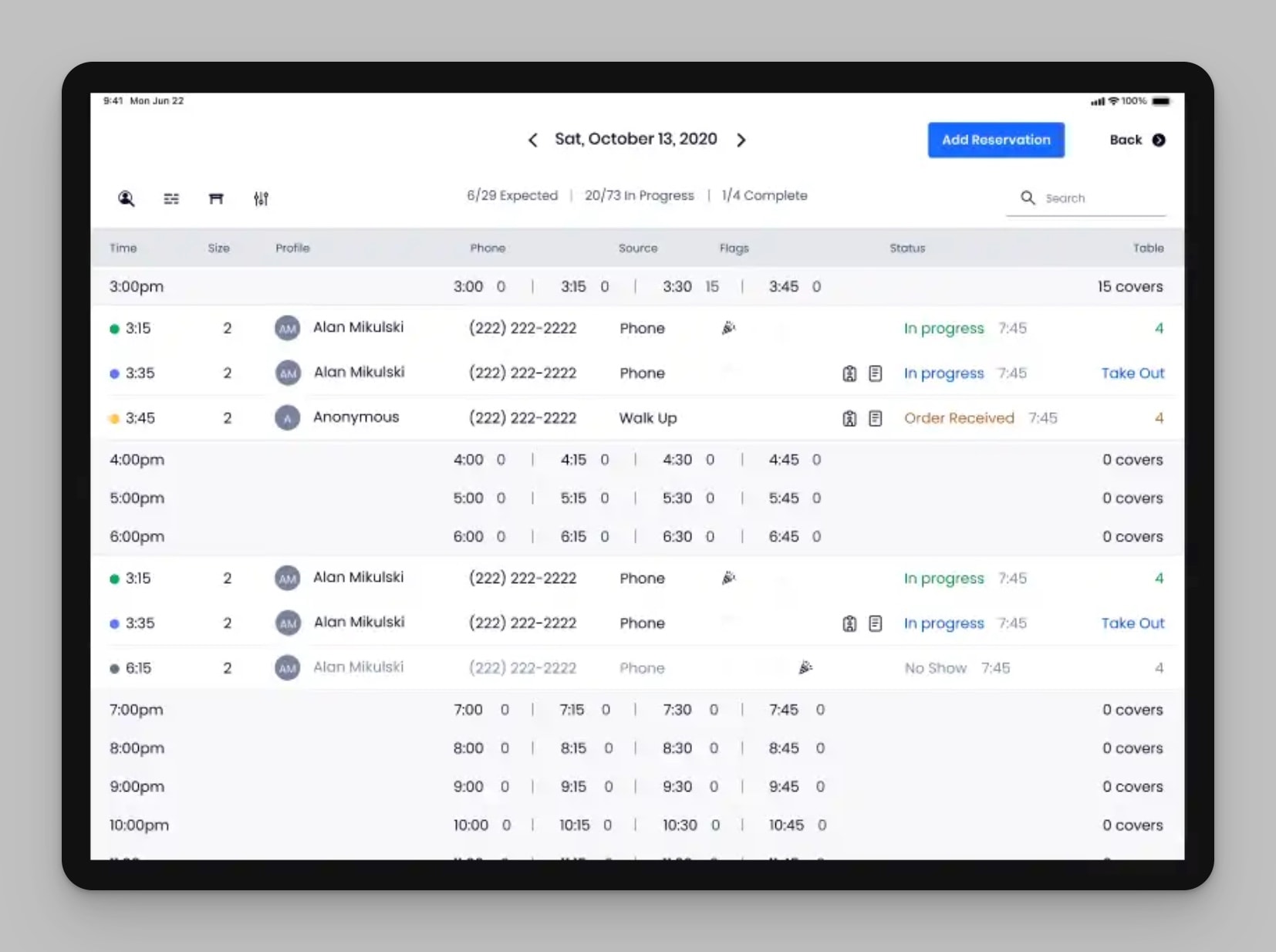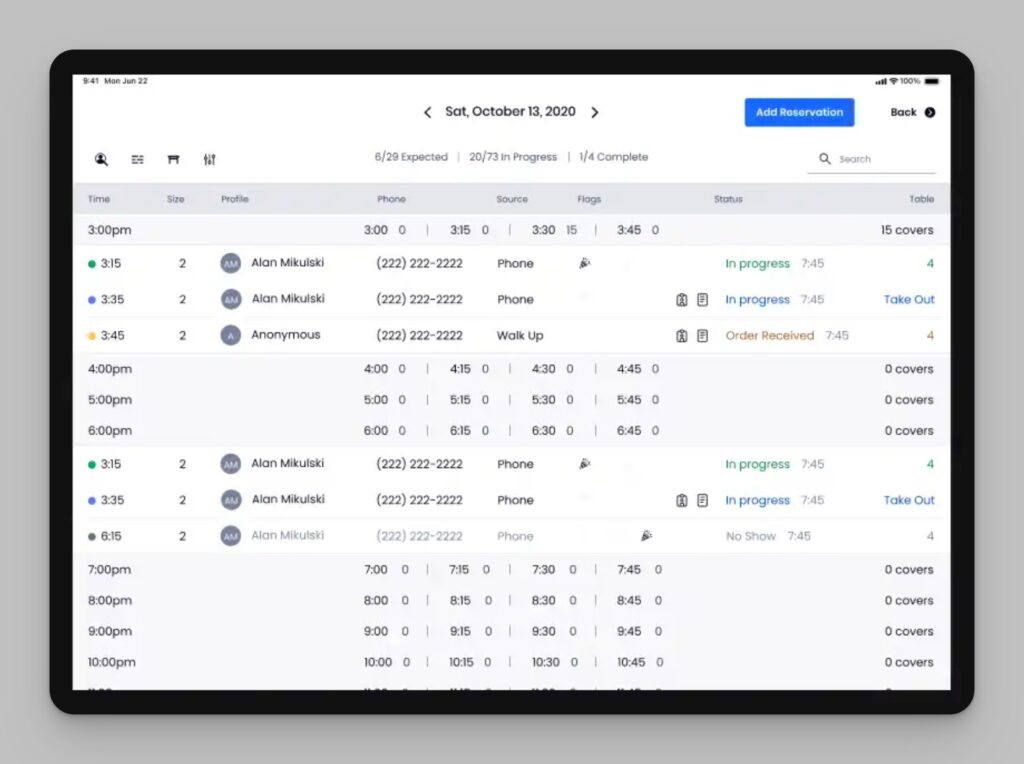 SpotOn's table management feature is a key component of its restaurant POS system. It includes custom table layouts, a handheld POS device called SpotOn Serve and integrates with a comprehensive front-of-house tool known as SpotOn Reserve.
Restaurant owners can use custom table layouts to create a virtual representation of their dining room. This feature can help to speed up service, improve seating arrangements, and increase overall efficiency.
The SpotOn Serve is a handheld device that allows staff to send orders to the kitchen and bar immediately. It also enables them to accept payments while at the table and collect information about guests.
In contrast, SpotOn Reserve is an add-on that offers a set of tools to facilitate online reservations, digital waitlisting, contact tracing, automated SMS confirmations, and two-way table-ready messaging. These tools can make the reservation process more efficient and enhance communication with guests.
SpotOn's table management feature is noteworthy for its seamless integration with the restaurant POS system's other features such as online ordering, e-gift cards, and website builder.
I find SpotOn's table management feature to be an intuitive and user-friendly tool that effectively addresses important aspects of restaurant management, such as table turnover and guest communication. It is a powerful and well-thought-out feature.
Menu Management
Accurately recording orders and managing dishes and their ingredients is crucial to restaurant success. The menu management feature of SpotOn makes it easy for you to manage your menus. It includes drag-and-drop menus and a user-friendly search function.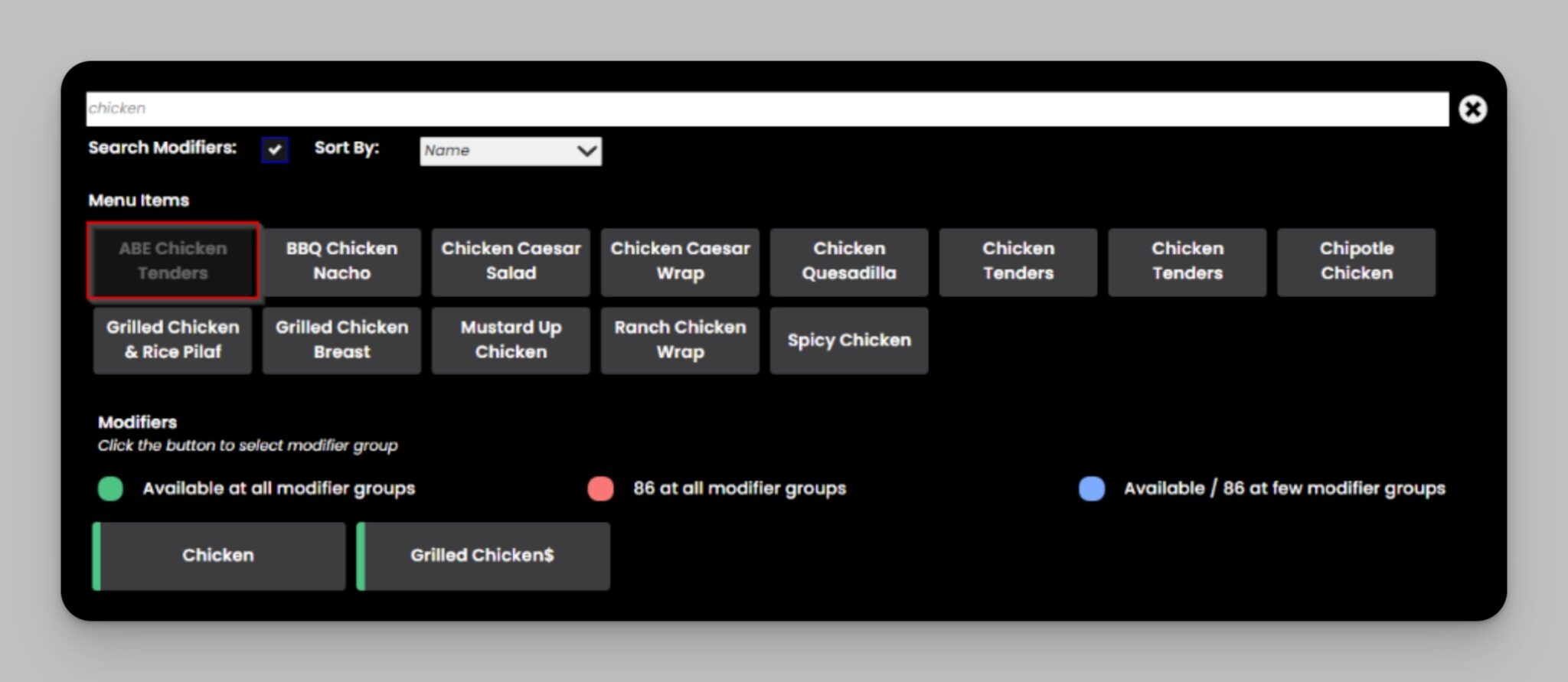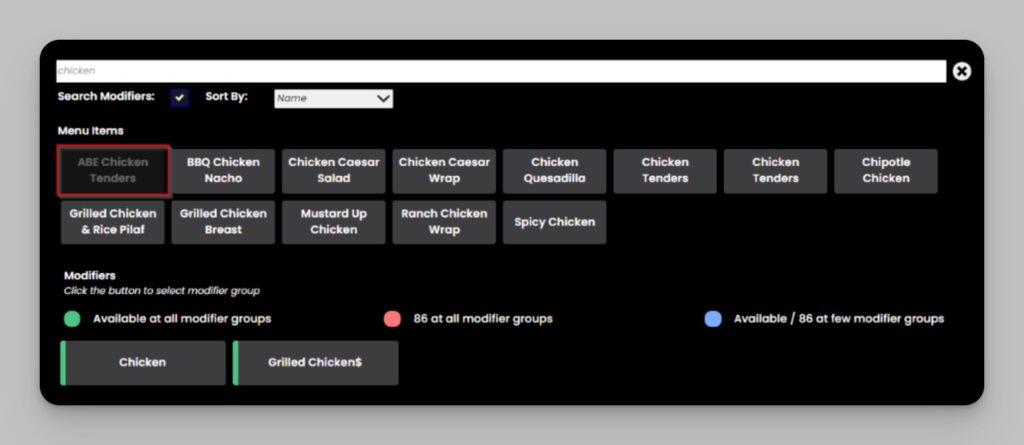 SpotOn's menu management provides a centralized platform for managing your menu. This feature allows you to easily update your menu items, descriptions, and pricing across all your sales channels, including your website, QR code menu, Google business profile, Google Maps, and Google Search results.
By having all your menu information in one place, you can ensure consistency and accuracy across all touchpoints.
I believe SpotOn's menu management feature is an excellent tool for restaurant owners. It covers essential aspects of restaurant management, such as menu creation, updates, and order processing.
The integration with other SpotOn features makes it even more efficient and effective. Despite the complexities of managing a restaurant menu, SpotOn's system simplifies the process, making it a valuable asset for any restaurant owner.
SpotOn Advanced Features
SpotOn offers a range of advanced features that can help restaurant owners improve their operations and better engage with customers.
Some of these features include marketing and customer relationship management, reservation and waitlist management, online ordering and delivery management, retail and e-commerce management, and integration with other systems.
Marketing and Customer Engagement
The marketing automation tools of SpotOn are designed to integrate smoothly with their restaurant POS system. This means that you can gather customer data and utilize it to generate focused marketing campaigns.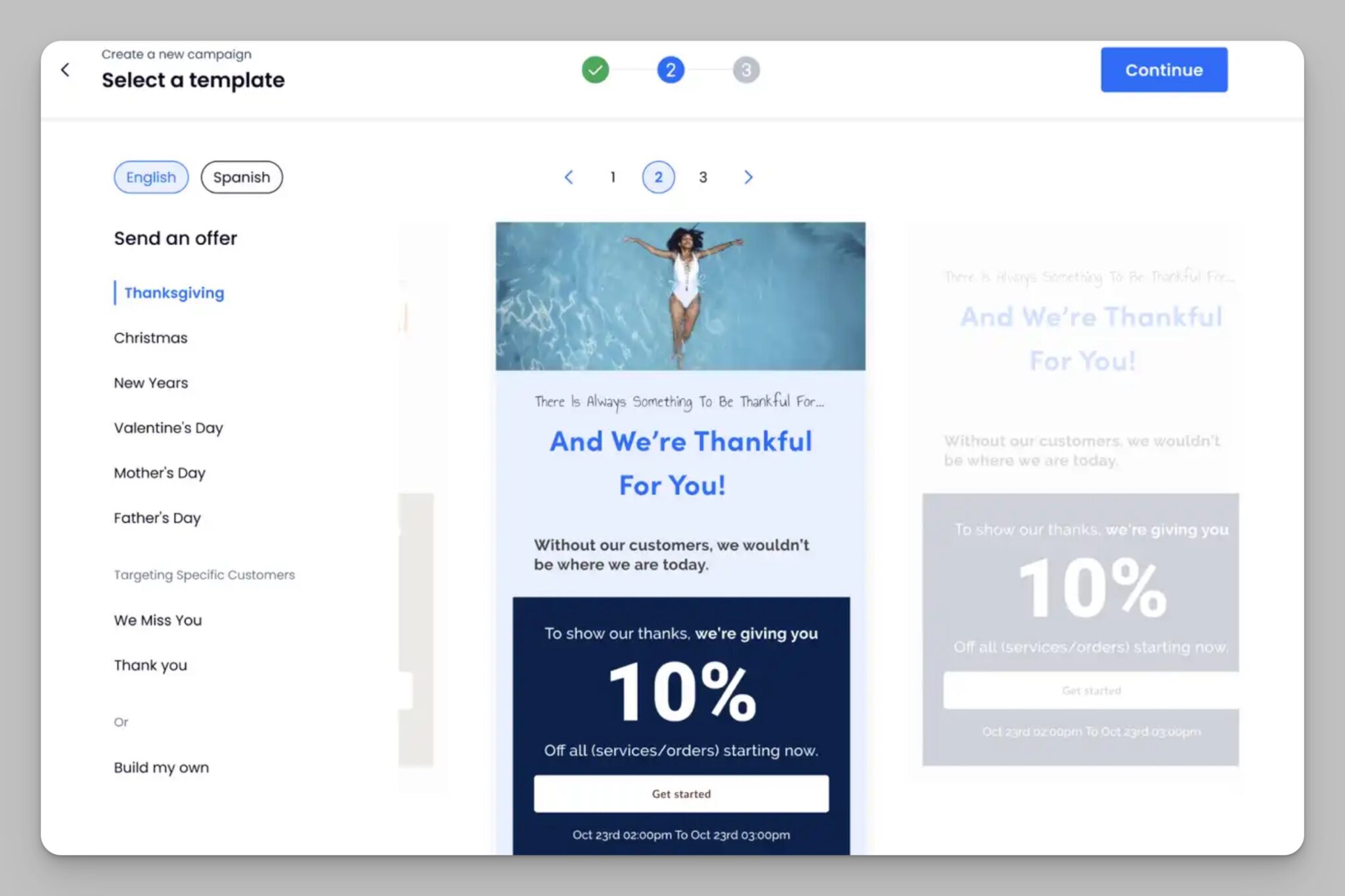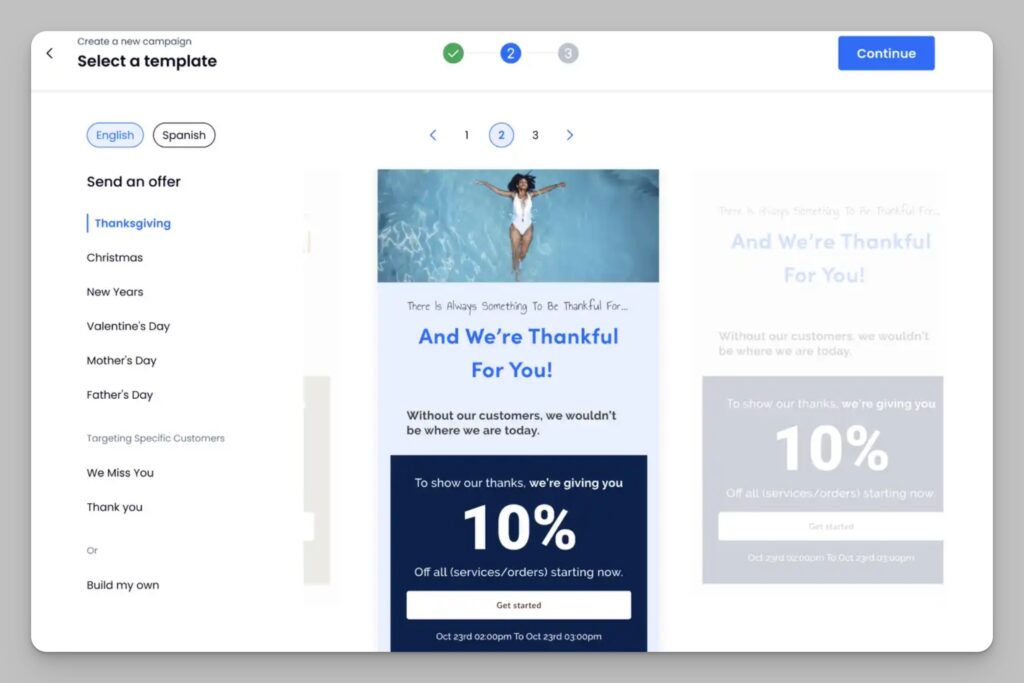 Here are some of the key features of SpotOn's marketing automation tools:
Email Marketing Campaigns. You can easily stay in touch with your customers and deliver personalized email content by gathering their contact information during checkout.
SMS Marketing. With this feature, you can send personalized text messages to your customers. This ensures that they receive promotions that are timely and relevant, straight to their mobile devices.
Social Media Integration. Templates are available for common social media platforms such as Facebook. This simplifies the process of creating campaigns and connecting with customers through various channels.
Customer Data Collection. SpotOn can help collect customer contact information during the checkout process. This is important for any marketing campaign because it allows businesses to build a database of potential customers to target in the future with promotions and other marketing efforts.
Segmentation. By applying different criteria such as purchase history, demographics, and preferences, you can group customers into segments.
Targeted Promotions. By creating targeted promotions for specific customer segments, you can offer personalized promotions, special offers, and updates on new services in your restaurant that are most relevant to them. This will increase the chances of repeat business.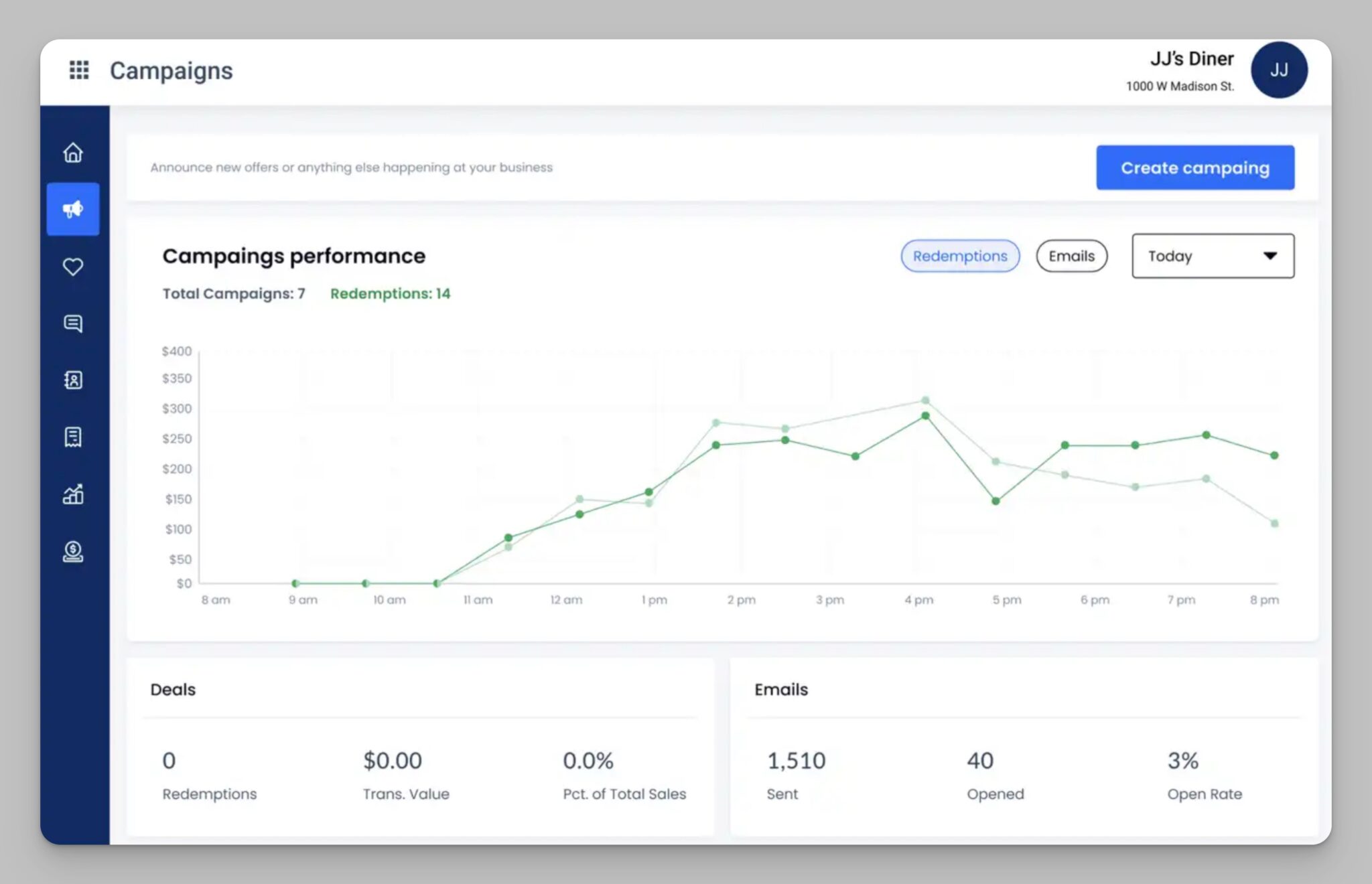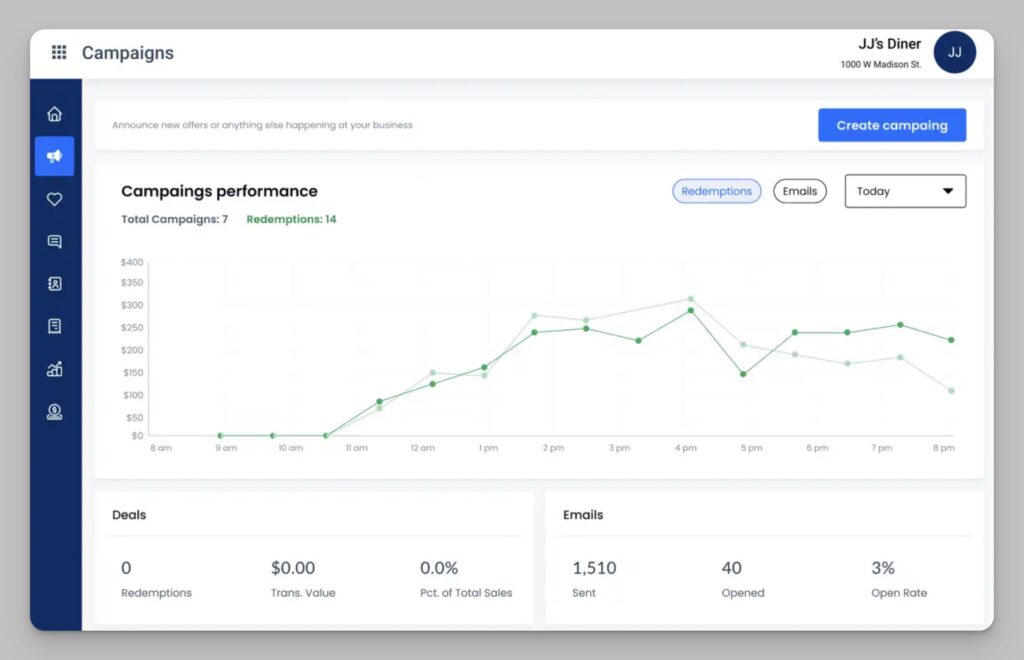 Marketing Analytics and Reporting. The marketing dashboard provides valuable information on customer behavior and campaign performance. It assists businesses in making well-informed decisions about their marketing strategies.
To sum up, I believe that SpotOn's marketing automation tools are an excellent solution for restaurants seeking to increase their customer base and encourage repeat business. The primary advantages include the ability to gather customer data, email marketing automation, and an easy-to-use digital marketing dashboard.
SpotOn Loyalty
Implementing a loyalty program at your restaurant can improve customer retention by offering rewards based on what they enjoy about your business. This can lead to more frequent visits and higher spending from loyal customers while also encouraging them to try new menu items.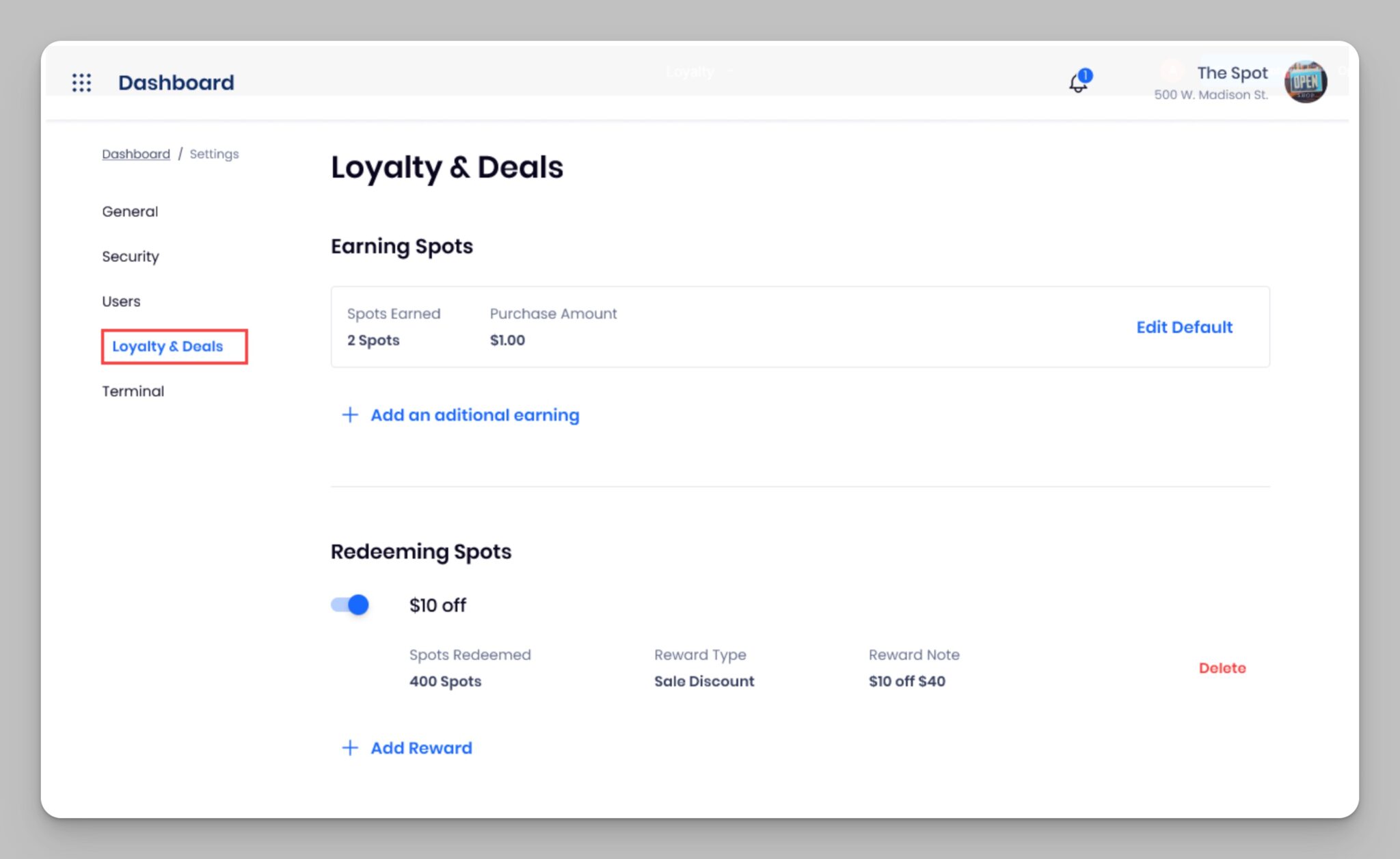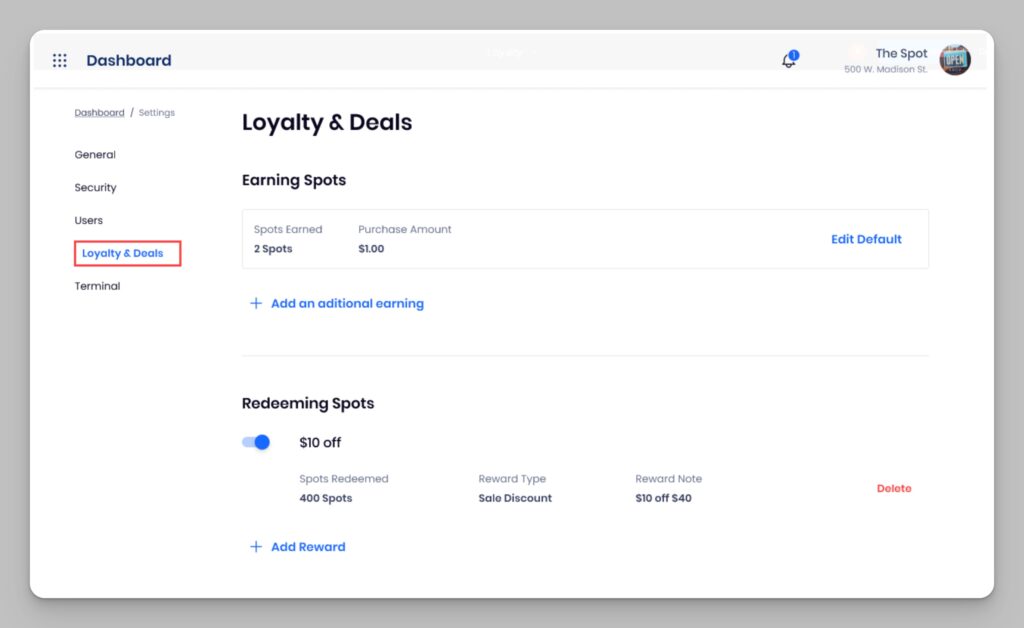 Here's an overview of the loyalty add-on of SpotOn and how it can benefit your restaurant business.
Easy Enrollment and Redemption Process. During the checkout process, customers can quickly and effortlessly sign up for your loyalty rewards program. Customers can earn Spots for each purchase after they enroll and can redeem them later for rewards.
To participate, customers can either enter their phone number, use the SpotOn mobile app to scan a code, or scan a traditional loyalty card.
Collect Valuable Customer Data. By having customers enroll in your loyalty program, you can obtain their contact information. This enables you to enhance customer loyalty and increase the likelihood of repeat visits.
Automated Campaigns. One way to improve customer retention is by implementing automated campaigns for customers who haven't visited in a while. Additionally, you can set up automatic rewards for customers on their birthdays and other special occasions.
Performance Analytics. To make informed decisions and improve your restaurant, examine the performance analytics of all campaigns and rewards.
I think SpotOn's marketing and loyalty program add-ons can help restaurants increase customer loyalty, retention, and revenue. Customers will appreciate the convenience of easy enrollment and redemption, while business owners benefit from valuable customer data and automated campaigns.
With SpotOn's Performance Analytics feature, businesses have access to performance metrics to make informed decisions about their loyalty programs.
SpotOn Website Builder
The Website Builder from SpotOn is tailored to meet the unique requirements of your restaurant. You can use it for various purposes, such as facilitating online reservations, enabling customers to order food online, or setting up an e-commerce website to sell products.
Customized Design. SpotOn's team of experts will develop a personalized website design that reflects your restaurant's unique brand and style. After building the website, you will have complete control over the dashboard and can quickly modify images, text, colors, and other elements.
Integrate online ordering. The Website Builder by SpotOn allows for easy connections with other SpotOn services, which can help expand your online presence.
For instance, the integrated online ordering system can save restaurants several thousand dollars a month compared to third-party delivery services. Additionally, the Online Reservation System permits customers to effortlessly reserve tables via your website.
The Dynamic Menu Display feature presents your menu items in an appealing and user-friendly format. Additionally, the website's design is responsive, ensuring that it looks great on any device.
Search Engine Optimization. In order to increase your restaurant's online visibility and attract more customers, it's important for your website to rank well on search engines.
The Website Builder can improve your website's Google ranking by using SEO strategies. This gives potential customers a better chance of finding your restaurant online.
Customer reviews on your restaurant's website can greatly influence its reputation and attract new customers. With SpotOn's Website Builder, you can easily display these reviews and testimonials.
To sum up, SpotOn Website Builder is a great option for restaurant owners who want to easily create an effective online presence. It comes with helpful features such as Dynamic Menu Display, Responsive Design, and SEO, and can be seamlessly integrated with other SpotOn services.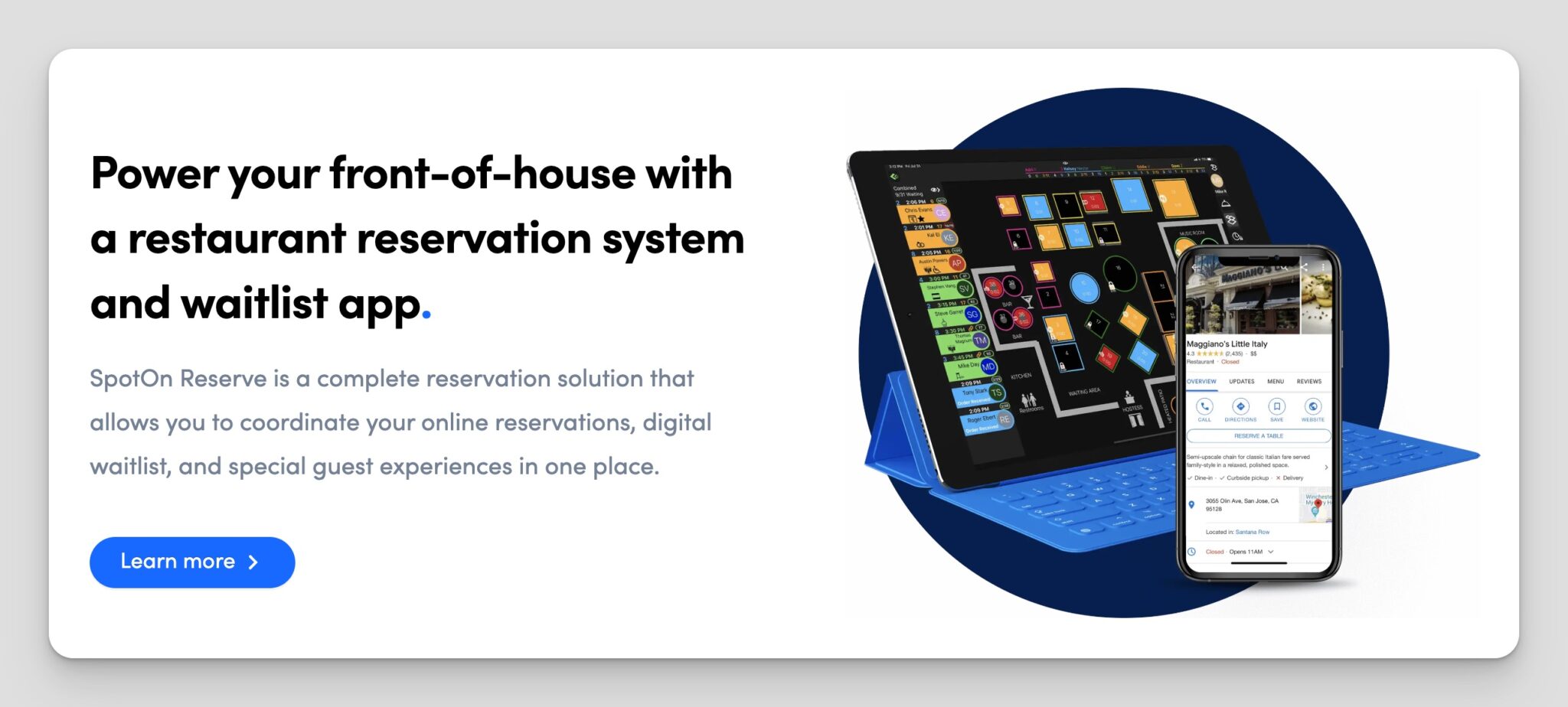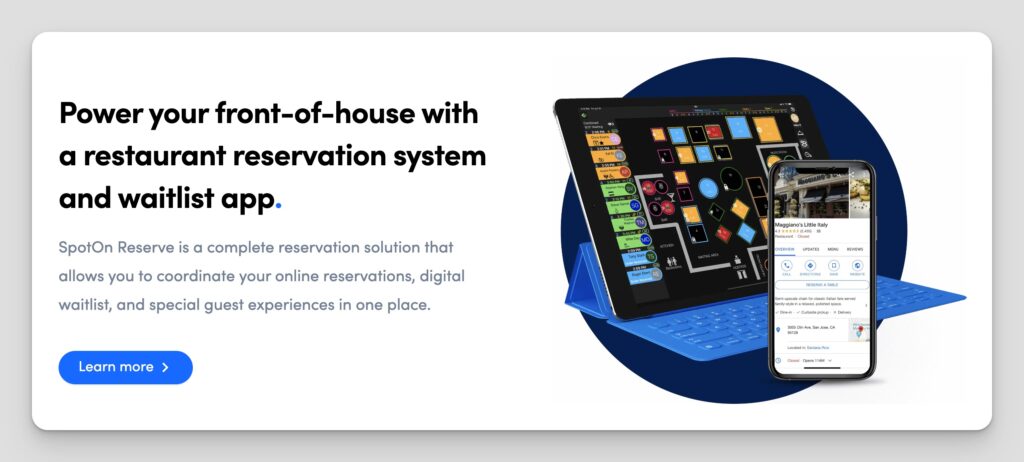 SpotOn Reserve – Reservation and Waitlist Management
SpotOn Reserve is a solution for restaurant reservations that includes the following features aimed at improving the guest experience and making front-of-house operations more efficient.
Online Reservations and Digital Waitlist. With SpotOn Reserve, you can handle your online reservations and digital waitlist in a single location. You won't have to pay third-party fees on each cover, and the system also decreases no-shows by permitting visitors to verify or cancel their reservations through two-way texting.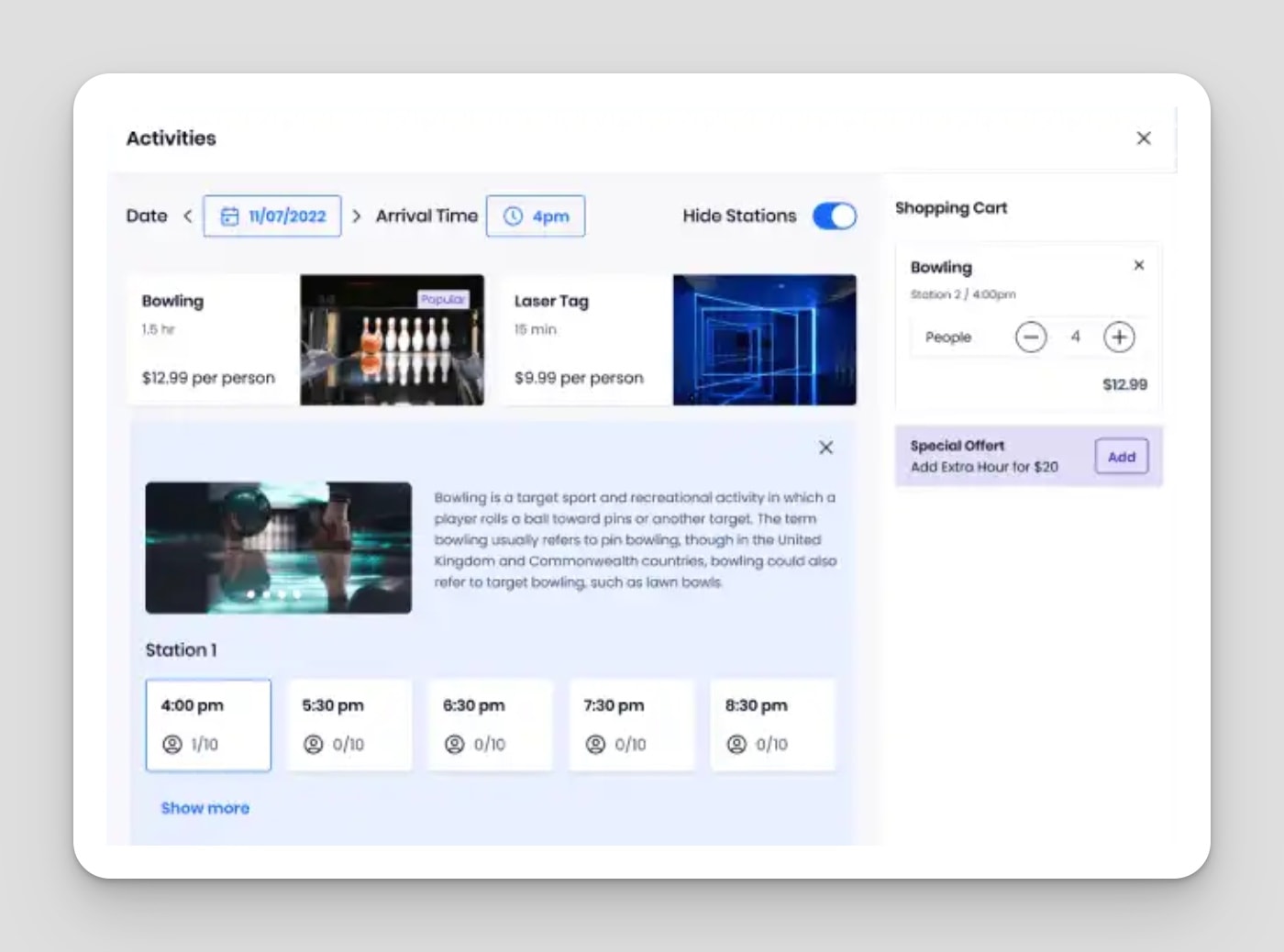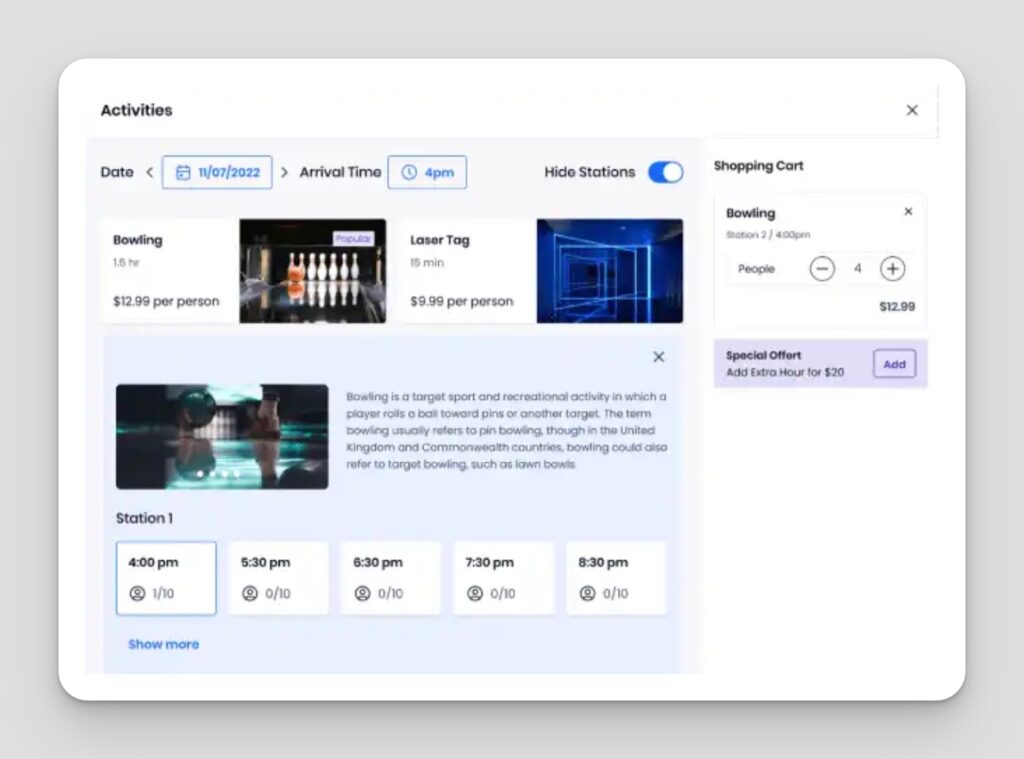 Special Guest Experiences. This feature lets you handle time-slot bookings for dining or entertainment events together with your online reservations and guest waitlist. You can also ask for deposits to reduce the number of no-shows and late cancellations.
Waitlist App. The waitlist app lets guests check in through your website or Google. It sends automatic wait time estimates based on your turn times and table status so guests know how long they'll wait. Guests can see their place in line from their phones. Once their table is ready, they are notified via two-way text.
Guests can also use the app to see where they are in line in real-time from their phones. Once their table is ready, guests are notified through two-way text messages.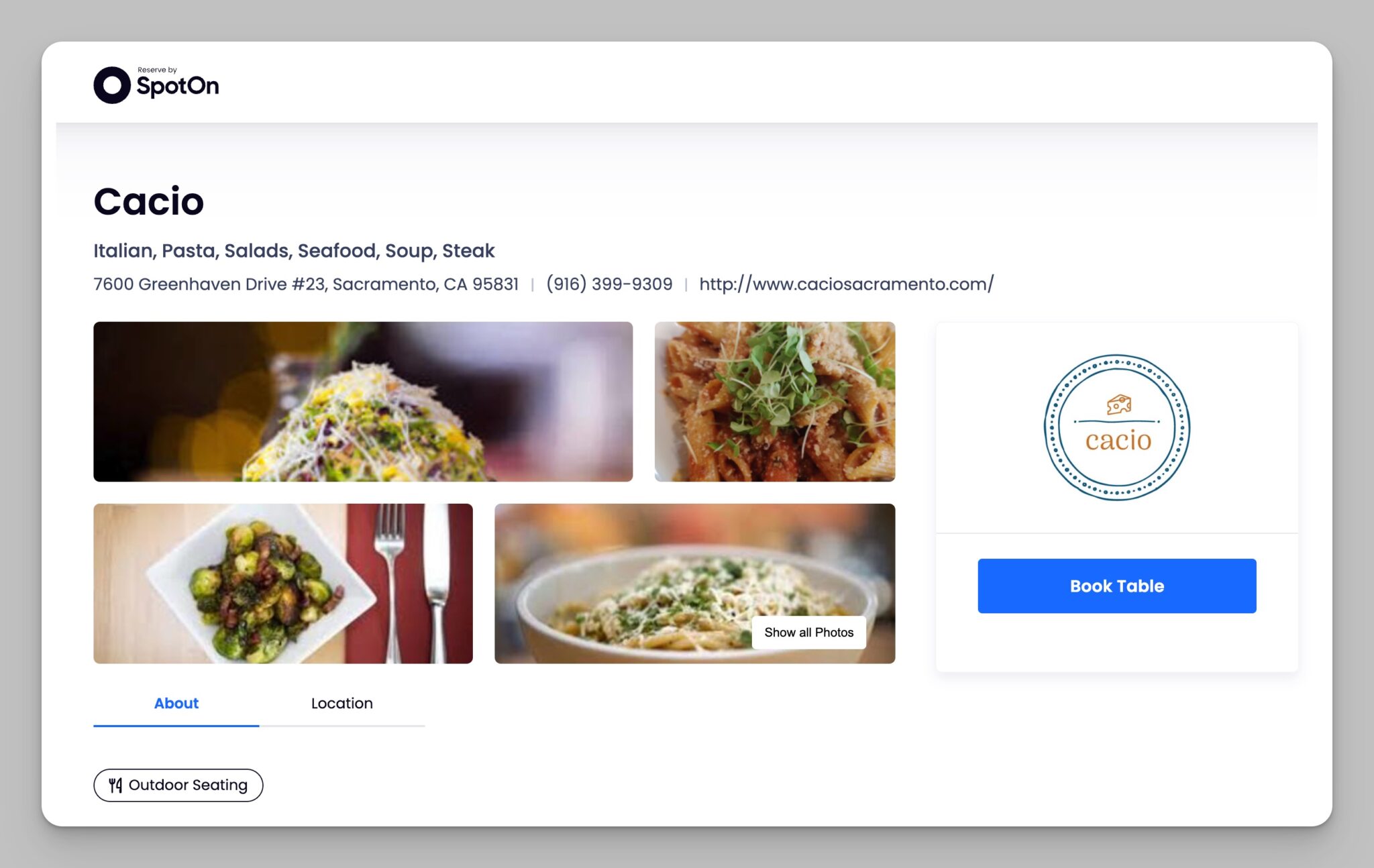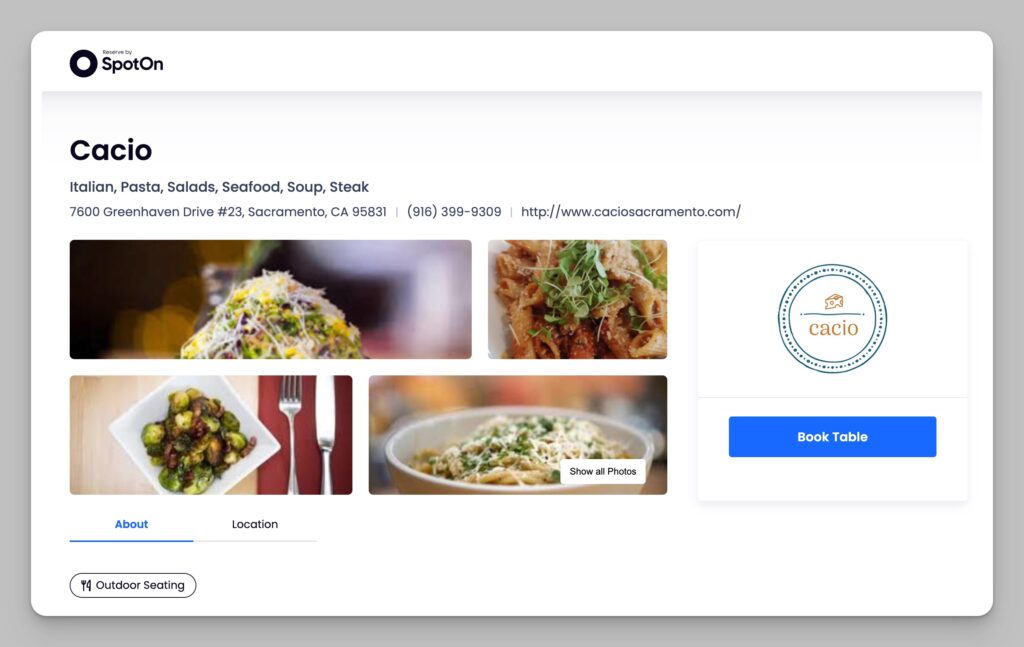 Integration with SpotOn Restaurant POS. SpotOn Reserve offers both standalone and integrated options with SpotOn Restaurant POS. By integrating with the POS system, the software provides extra front-of-house features such as table status flags which display the meal stages such as drinks, appetizer, main course, dessert, or check paid.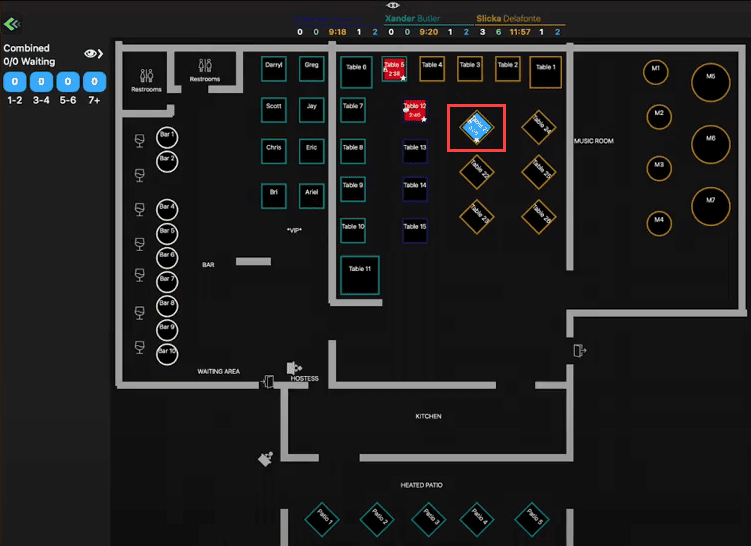 Additionally, this integration allows hosts to keep track of VIP arrivals, birthdays, drink preferences, and food allergies to notify servers.
Guest Relationship Building. SpotOn Reserve is a tool that helps you gather information about your guests from different sources. This information can then be used to create marketing campaigns that increase customer loyalty and encourage repeat visits.
The tool collects important guest details such as names, phone numbers, email addresses, food allergies, and preferences, which can help personalize future interactions and make check-ins more efficient.
SpotOn Seat & Send allows guests to pre-order food and drinks while waiting for seats. This provides faster service, enhances guest satisfaction, and improves efficiency.
Guests receive a digital ordering link to select items, customize orders, and indicate dietary needs.
Once seated, their order goes straight to the kitchen. Seat & Send can increase check averages as guests have more ordering time and servers can focus on service.
Read more: SpotOn Unveils Seat & Send: Is it The Future of Restaurant Waitlist Management?
In my opinion, SpotOn Reserve is a well-designed and robust tool. It addresses key aspects of restaurant management, from reservations and waitlist management to guest communication and marketing.
The integration with SpotOn Restaurant POS adds to its efficiency and effectiveness. Despite the complexities of managing a restaurant's reservations, SpotOn Reserve appears to simplify the process.
Online Ordering and Delivery Management
SpotOn Order is a comprehensive online ordering and delivery system for restaurants. Here are some of its key features:
Direct Online Ordering and Delivery System. You can bypass third-party apps and let customers order take-out and delivery directly from you. The system is designed to send orders directly to the POS, creating a smooth pickup and delivery experience for customers.
POS Integration and Pacing Controls. With this integration, there is no need for manual order entry. Moreover, the system has pacing controls specifically designed for online orders, which can improve the efficiency of kitchen operations and boost sales. Furthermore, the system retains your customer data, enabling you to easily re-engage customers and encourage them to come back.
SpotOn Delivery uses the DoorDash delivery network, which means you don't have to hire or manage your own drivers and can still maintain your delivery profits. Additionally, it provides built-in marketing tools that enable you to keep your customer data and retarget your audience.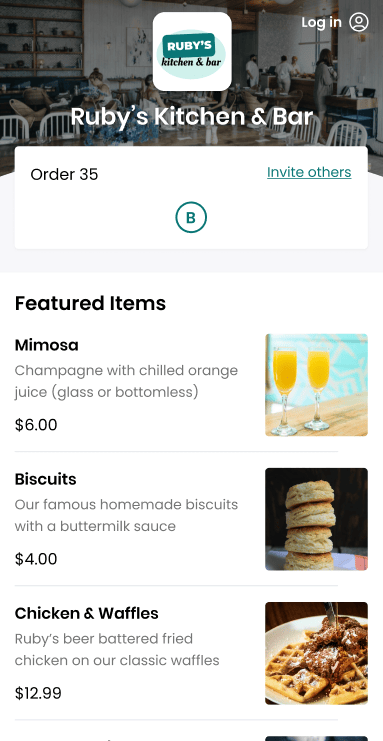 Order & Pay from the Table. SpotOn QR enables customers to place orders and pay for them right at their table without needing assistance from staff. This helps staff prioritize delivering a better guest experience. Additionally, it facilitates group orders by allowing customers to use their own devices and split the bill by the desired amount.
Integration with Google. The SpotOn Order platform is linked with Order with Google, allowing customers to easily locate a restaurant's Business Profile on Google and place their order straight from there.
I think it's clear that SpotOn's online order and delivery feature offers a robust and comprehensive solution for restaurants. It seems to address many of the challenges faced by restaurants in managing online orders and deliveries, and its integration with POS systems and Google could potentially make it a very effective tool for increasing sales and improving customer experiences.
SpotOn E-commerce
If you own a restaurant, you can increase revenue and bring in new customers by adding online sales. SpotOn has an E-Commerce platform that integrates with both your website and point-of-sale system, and handles both in-store and online transactions.
Let's explore the features and benefits of SpotOn's E-Commerce platform for restaurant owners.
Custom Online Store Creation. The SpotOn team collaborates with you to create an online store that includes a product catalog. This catalog can be utilized for both online purchases and in-store transactions on your SpotOn point-of-sale device.
SpotOn offers a custom online store creation service instead of using templated designs like other e-commerce solutions. This means that your online store will be unique and personalized to your specific needs and branding, making the shopping experience for your customers more tailored.
Integrated E-commerce Store. With SpotOn's e-commerce solution, you can sell your products and services together on a single platform. The platform has advanced search, filtering, and sorting features that can help customers find their desired product or service easily.
With SpotOn's e-commerce solution, you can sell both products and services in a single platform. This feature is beneficial, especially for restaurants that want to sell merchandise or packaged food products along with their usual menu items. Unlike other e-commerce platforms, SpotOn offers this level of integration.
Simplified Customer Experience. With SpotOn's e-commerce solution, your customers can easily select products and payment methods, as well as choose from multiple delivery options including in-store pickup, shipping, and local delivery. This provides your customers with flexibility and convenience when making purchases.
Omnichannel Catalog Management. SpotOn Retail's omnichannel catalog allows you to manage your in-store and online sales catalogs from a single location, which saves time and prevents duplicate work. This makes it easier to keep track of your inventory across various sales channels.
With SpotOn's omnichannel catalog, you can manage your in-store and online sales from one place. This is a significant advantage over many other e-commerce solutions, which often require separate systems for managing online and offline sales.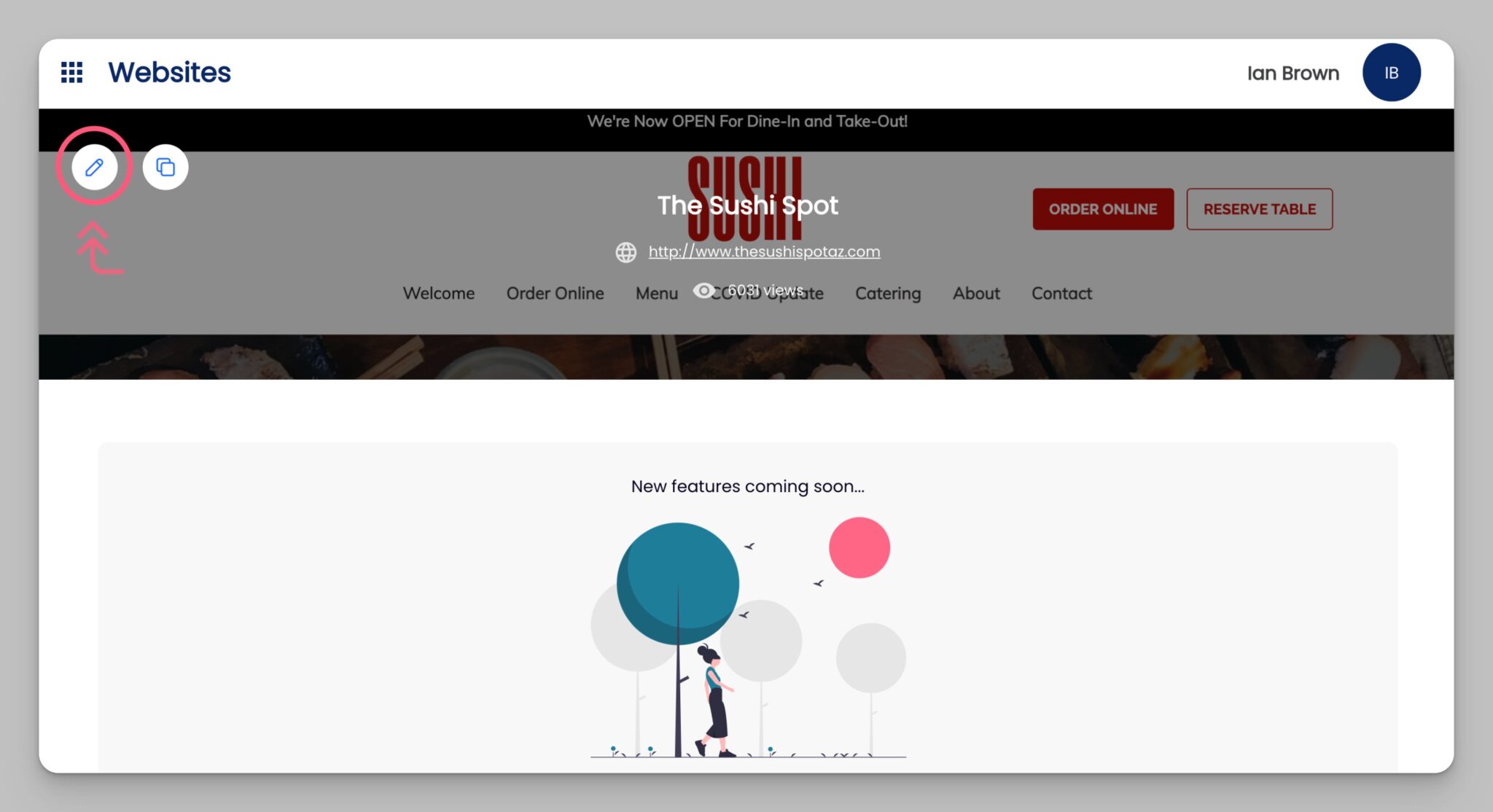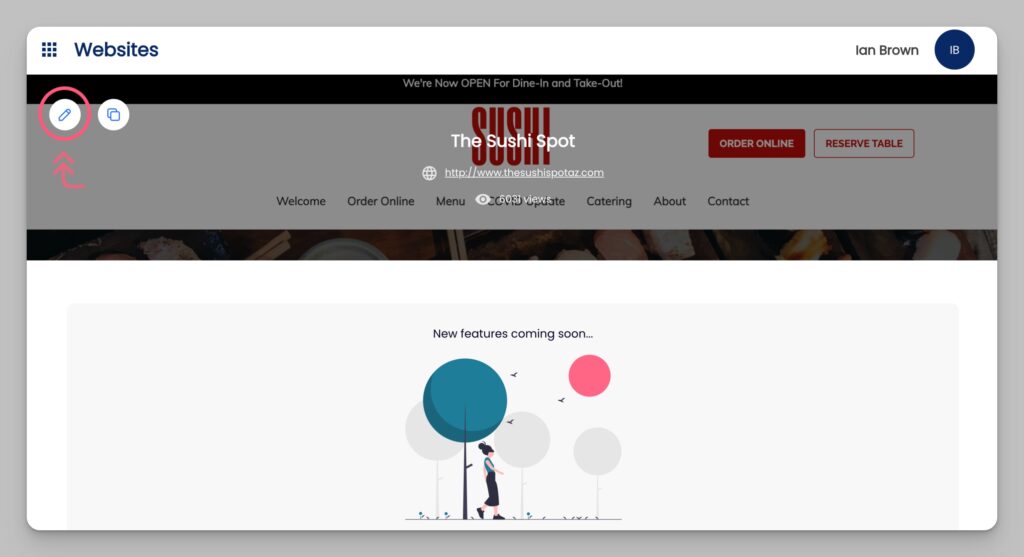 Professional Website Design. SpotOn can create a website for you that looks professionally designed, at a fraction of the cost. Having a great restaurant website can improve your chances of being found on Google and attract more customers. Plus, with access to your website dashboard, you can quickly make updates to images, text, colors, and other elements whenever you need to.
Integrated Marketing Tools. The e-commerce solution provided by SpotOn includes a dashboard that has features such as review management, reporting and invoicing, loyalty rewards program, email marketing, and Facebook campaigns, as well as online billing and payments.
To summarize, SpotOn has an e-commerce solution with features specifically designed for restaurants interested in expanding into retail. Although other e-commerce options may have comparable abilities, SpotOn stands out due to its emphasis on integration, customization, and marketing resources.
Integration with other systems
SpotOn provides several integrations to streamline operations and elevate the dining experience. Below are some of the integrations offered:
Food Delivery: DoorDash Drive. SpotOn has integrated with DoorDash Drive, which allows restaurants to extend their reach to customers, and reduce delivery costs through access to a fleet of drivers. This integration is linked directly to a SpotOn Online Ordering account.
Inventory Management: QSROnline. QSROnline is a software for restaurants that makes it easier to manage scheduling, inventory, and payroll. It uses SpotOn data to offer features like inventory, labor, and sales reporting.
Accounting: QuickBooks and RASI. QuickBooks Online is an accounting system that manages expenses and revenue. This integration allows you to manage expenses and revenue without manually entering accounting details, saving time and avoiding mistakes.
Labor Management: Dolce. With this integration, you and your employees can clock in and out directly from your POS, which helps improve labor management.
Inventory Management: MarginEdge. MarginEdge is a recipe cost-tracking and restaurant inventory management solution. This system integrates with SpotOn so you can better track actual vs. theoretical costs of food, easily manage inventory, and understand and fix inefficiencies in your food and beverage costs in real-time.
SpotOn offers integrations that cover a range of restaurant needs, such as food delivery, inventory management, accounting, and labor management, making its solution comprehensive. However, it has fewer integrations compared to some of its competitors.
Offline Functionality
The restaurant point-of-sale (POS) system by SpotOn has an offline feature that allows your business to keep operating even if the internet isn't working. This is an important feature because it guarantees that you can still serve your customers and process transactions without any disruption caused by internet outages.
SpotOn's POS system can accept cash payments and record transactions even when the internet connection is lost. When the connection is restored, the system will sync all offline transactions automatically with the server. This will ensure that your sales data remains accurate and up-to-date.
Please note that although the system has offline transaction processing capability, you may experience limitations in certain features without an internet connection. For instance, you may not be able to conduct credit card transactions or view real-time inventory data.
SpotOn's offline capability is useful for business survival during internet outages, although not as comprehensive as TouchBistro's offline feature.
SpotOn Hardware
SpotOn's hardware is a major selling point for the system because it offers a complete solution for many point-of-sale use cases.
Handhelds: SpotOn's handheld POS systems are fast and easy to use. They are available for both iOS and Android devices and come with peripheral support including barcode scanners, cases, and Bluetooth printers.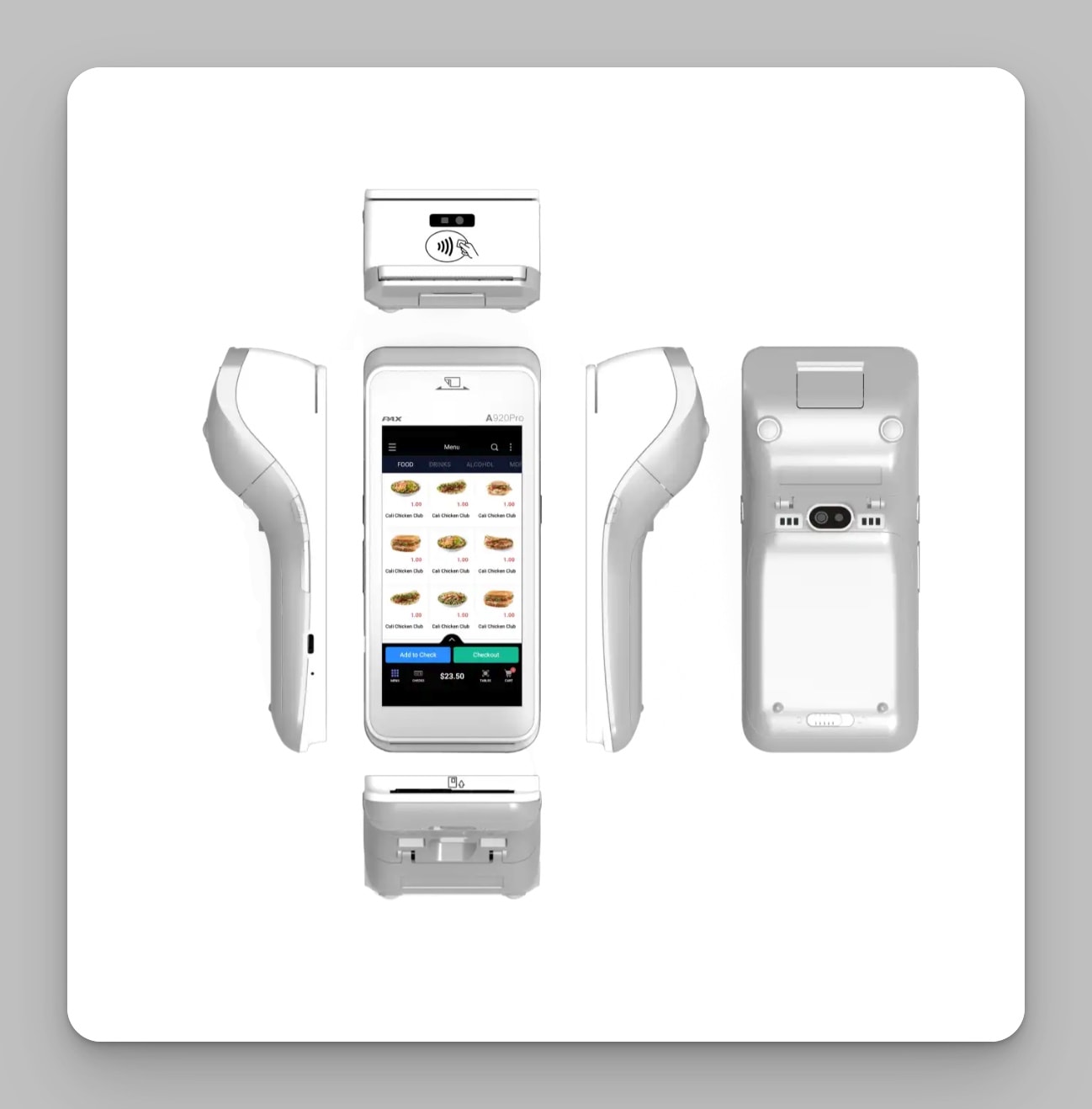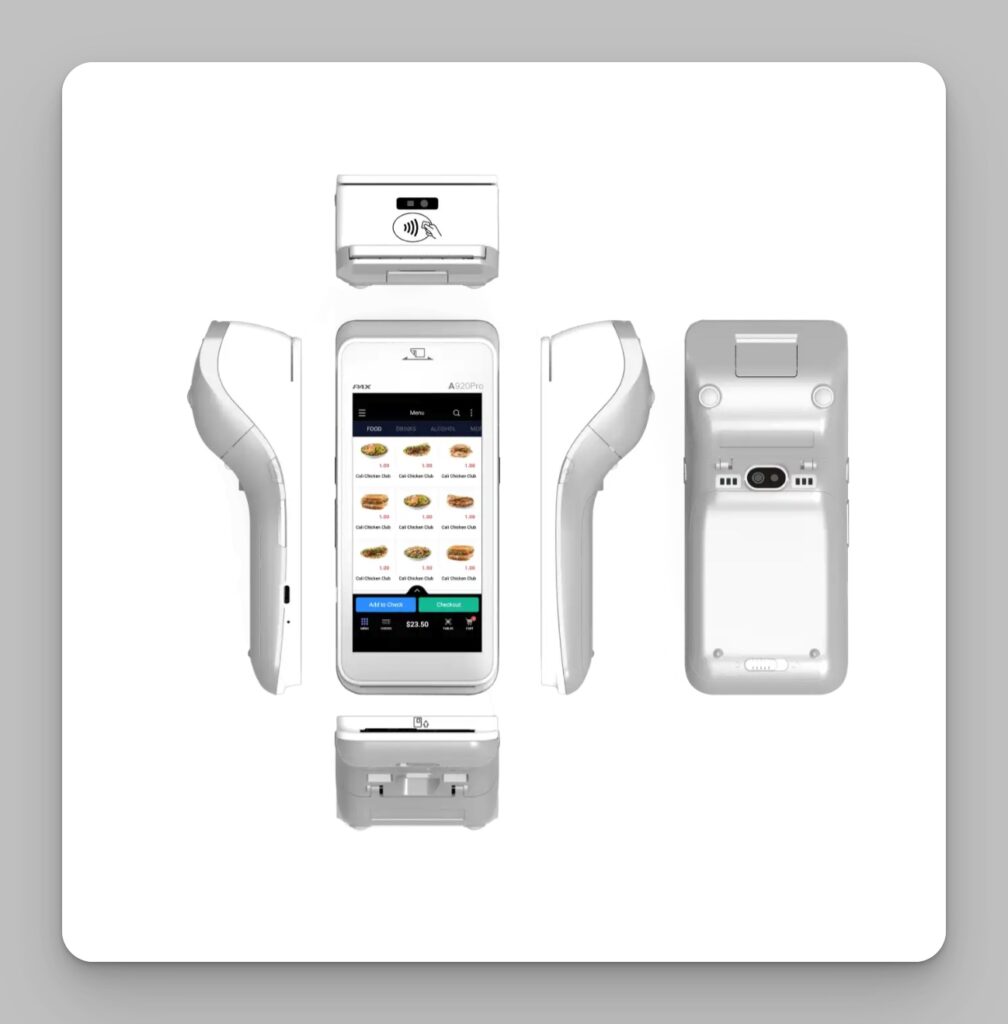 The handheld devices are available with either order-only or full payment options, allowing staff to check out guests quickly from anywhere. They come in various sizes with cases and enclosures, as well as hand straps and belt hooks.
Kiosks: The self-service kiosks from SpotOn aim to remove queues, cater to more customers and offer a personalized experience to patrons. The kiosks have features like quick add buttons, favorites, and an add-to-cart button that scrolls, which help guests order quickly and easily.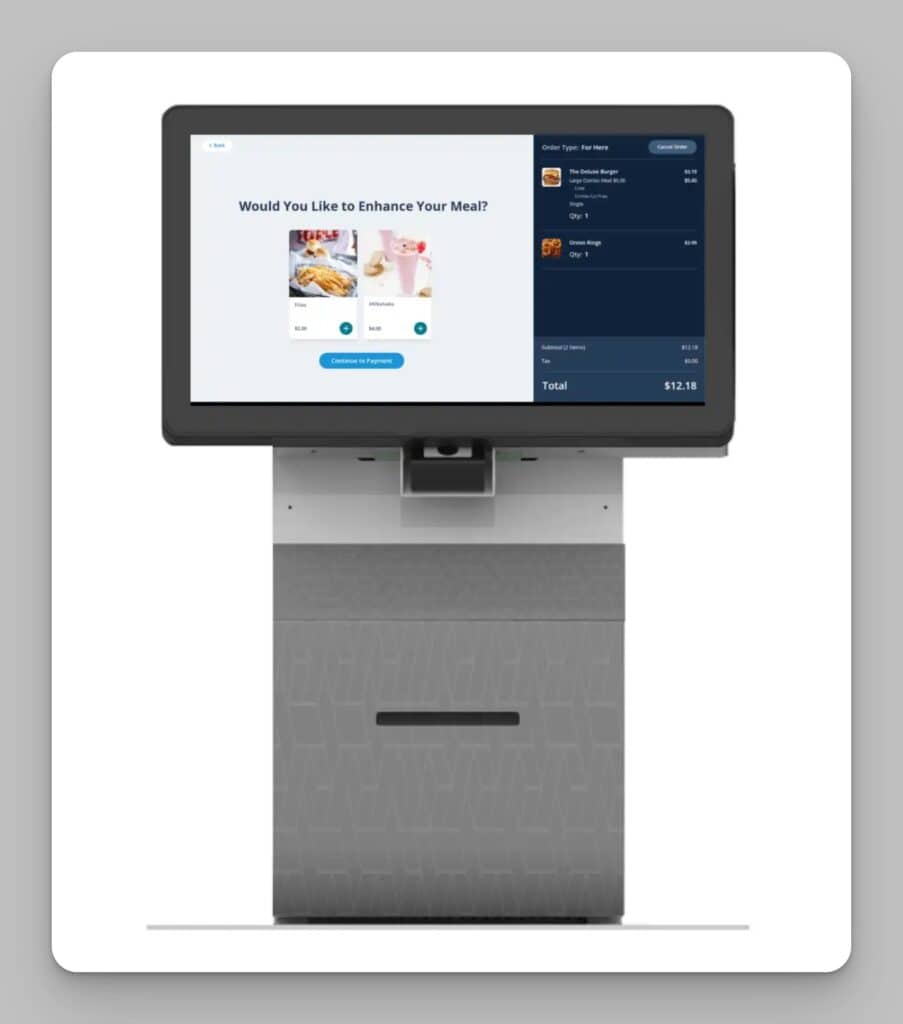 Additionally, the kiosks suggest combos, add-ons, and upsell items to boost revenue. You can choose from different models – countertop, freestanding, and outdoor – with screen size options of 15″ and 22″.
Kitchen Displays: SpotOn's Kitchen Display System (KDS) speeds up operations by providing real-time order tracking.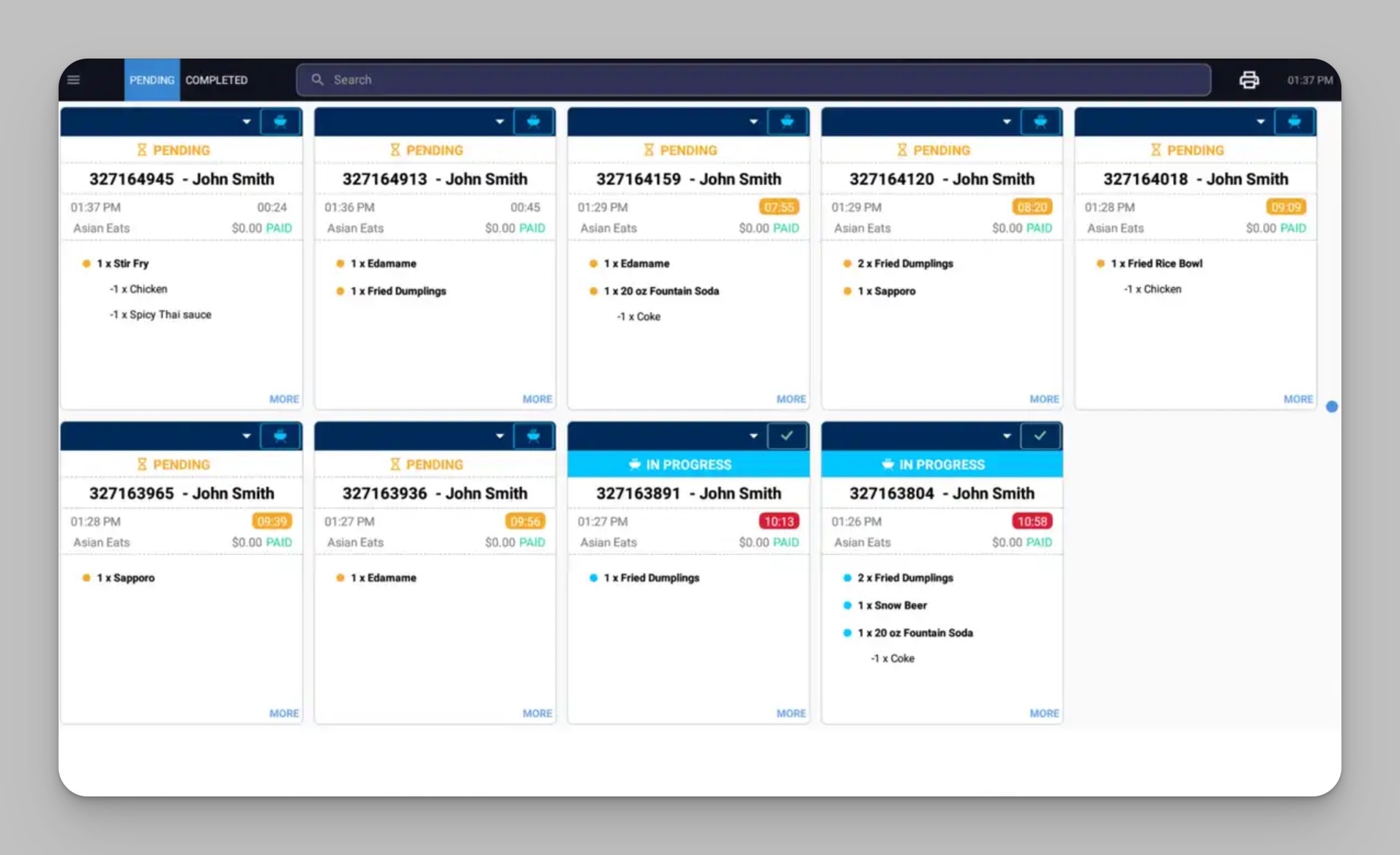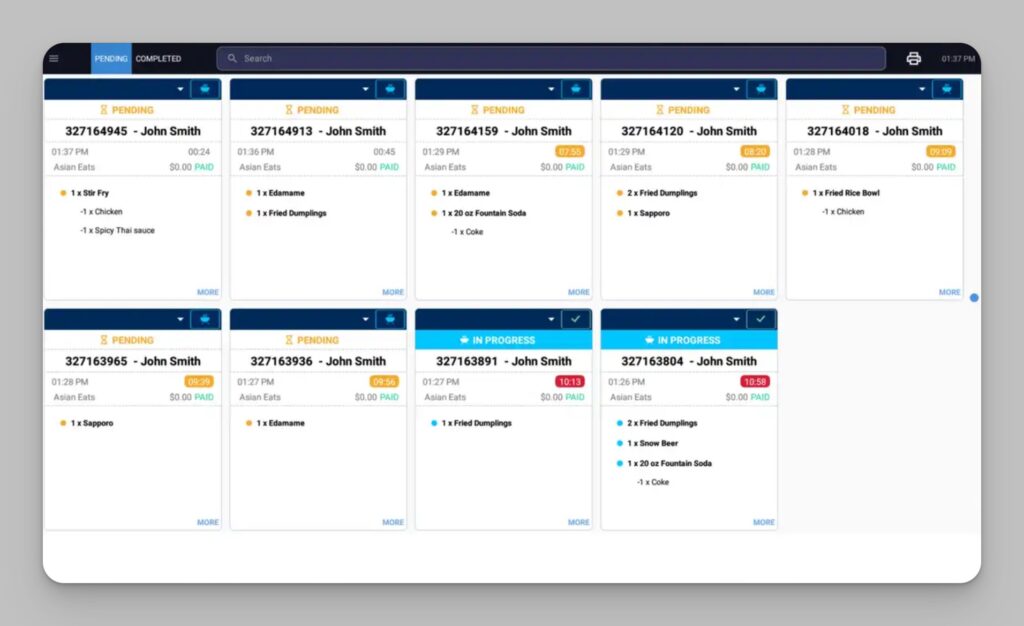 The system sends orders to the kitchen instantly, allowing for customization. It also efficiently routes orders or individual items to specific stations.
Payment Devices and Accessories: These devices have various accessory options, such as cash drawers, payment devices, barcode scanners, scales, and customer-facing displays, that can easily integrate with leading payment providers.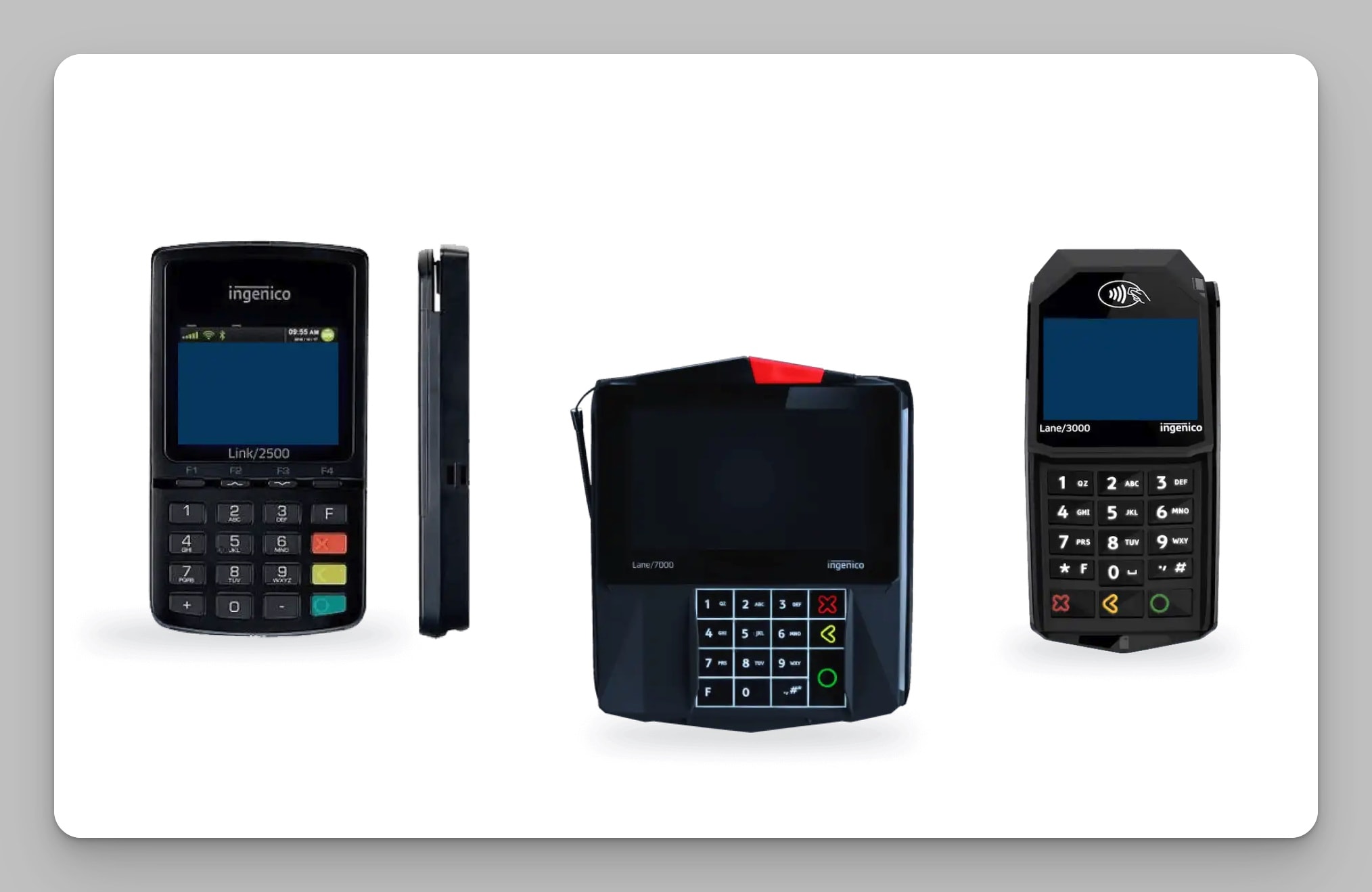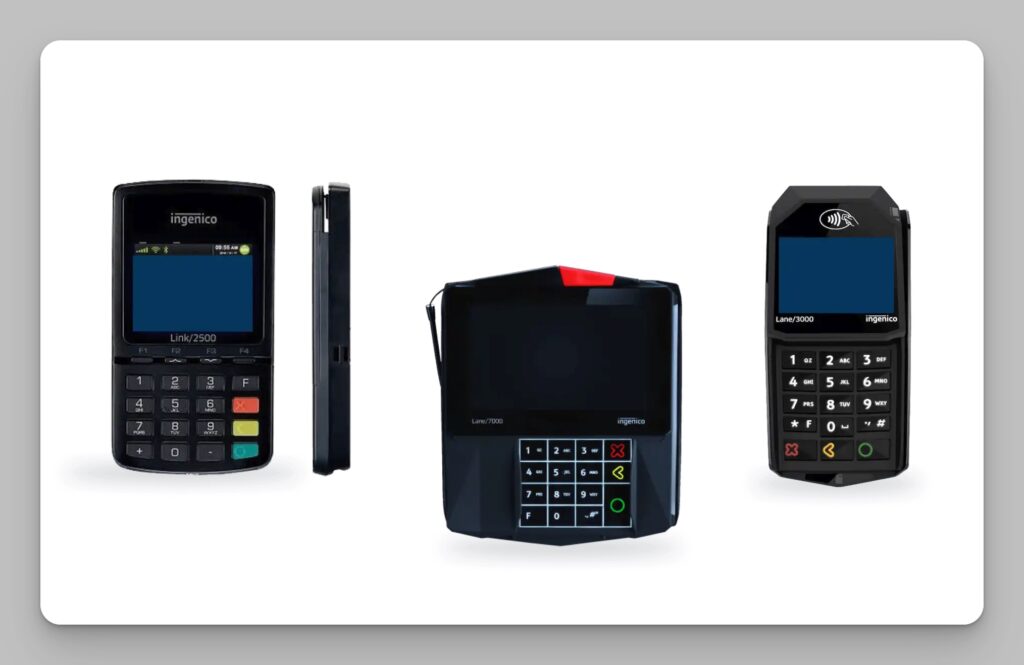 These are designed to fit seamlessly into existing workflows without the need to completely change current processes.
In conclusion, SpotOn's hardware devices offer a complete suite of options to cover different use cases in the restaurant industry. If you're looking for a comprehensive POS solution with hardware designed specifically for the food and beverage industry, SpotOn may be your go-to.
New SpotOn Hardware Devices for 2023
In May 2023 SpotOn announced a new range of restaurant point-of-sale (POS) hardware. The new devices include the 15.6" Station, the 10" Counter, and the 6.5" Handheld.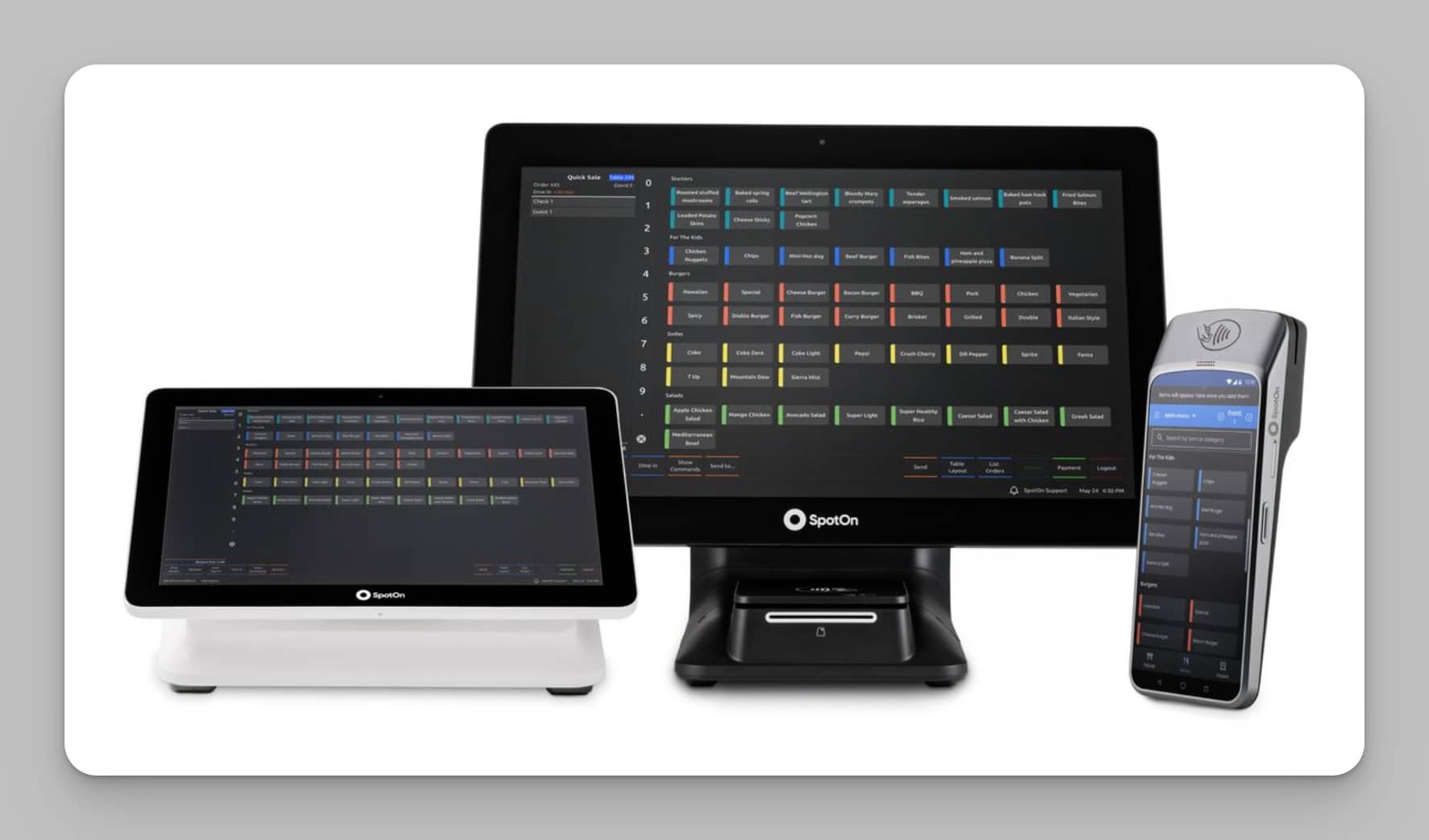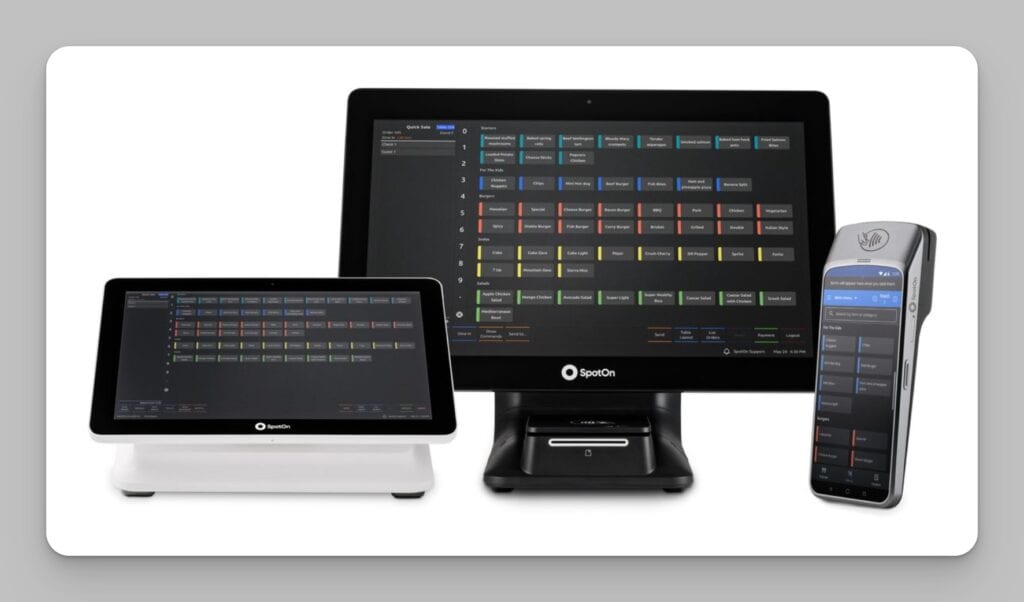 Ease of use is a crucial factor in the new devices, as the software design and larger screens on the Station and Handheld make it easier for staff to navigate complex menus and modifiers. The Handheld user interface has also been upgraded to group menu items for easier navigation, enable search, view floor plans, and check table statuses.
SpotOn's new hardware devices will strengthen the company in the restaurant POS markets as they are released later in 2023. Here's how and why:
Customization and Flexibility: The new devices provide various configurations to adapt to the dynamic needs of modern restaurants. The Station is available with options like an attached or detached guest-facing display, base payment reader, or side-mounted payment reader. This degree of customization enables restaurants to select the setup that suits their operations most appropriately.
Efficiency and Speed: The Handheld features an 18% larger touchscreen display and a leather hand strap for easy handling, enabling seamless tableside payment. The Counter, ideal for counter-service restaurants and cafes, offers contactless and dip payments technology and an optional guest-facing display to help improve speed and accuracy.
Durability and Reliability: The new devices are equipped with high-definition touch screens that are specifically designed for restaurant use. These touch screens have an IP54 rating, which means they are protected against dust and drink spills.
Enhanced Customer Experience: The devices are intended to enhance customer satisfaction. For instance, the Handheld's screen rotates to face the customer during payment, and the Station and Counter's displays facing the customer can increase order precision and expedite the checkout process.
Future-Proofing: SpotOn has partnered with FIS to become a payment facilitator for its clients, providing better control of payment processing. This will also enable tokenization, allowing SpotOn clients to gain insight into their customers' preferences and purchasing habits for a more personalized experience.
In summary, these new devices enhance SpotOn's already impressive hardware choices by offering greater customization, efficiency, durability, and customer experience. They also come with robust support and service, and are designed to adapt to future needs, making SpotOn's hardware choices even more competitive in the restaurant POS market.
SpotOn Customer Support
SpotOn has a reliable customer support system in place to help its clients when they need assistance. The following are the key features of their customer support services:
Local Account Executive: Each client of SpotOn is assigned a local account executive who serves as a dedicated contact. This person has a deep understanding of the client's business and can offer personalized assistance and advice.
Implementation Team: SpotOn assigns an implementation team to set up their products when a client decides to use them. This team's task is to ensure that the setup process runs smoothly and that the client comprehends how to use the new tools proficiently.
24/7/365 Support: SpotOn provides 24/7 support to its clients, which means that clients can contact SpotOn's support team anytime they encounter an issue. This kind of support is particularly important for restaurants that usually operate outside normal business hours.
Help Center: The Help Center provided by SpotOn is a helpful resource for clients who are looking to learn more about new products or have queries for the Sales team. This portal offers a self-service option where clients can find answers to frequently asked questions and explore SpotOn's products according to their convenience.
SpotOn Alternatives
Description:

The most innovative POS system on the market

Best for restaurants that want to get started with a free basic plan with the option to upgrade to many advanced features and integrations.

Description:

Designed by restaurant industry veterans

Best for independent full-service restaurants looking for a well designed, feature-rich and secure cloud/server-based POS system.

Description:

Cleverly crafted POS with exceptional design

Best for upscale eateries seeking powerful data insights, retail features, and extensive integration possibilities.

Description:

Best for small restaurants and coffee shops

A small business POS for establishments that need a subscription-free plan, smooth transactions and easy-to-operate retail features.

Description:

Excellent hardware options and no long term contracts

All-in-one POS solution with modern restaurant-specific features for fine-dining, QSRs, bars, and food trucks.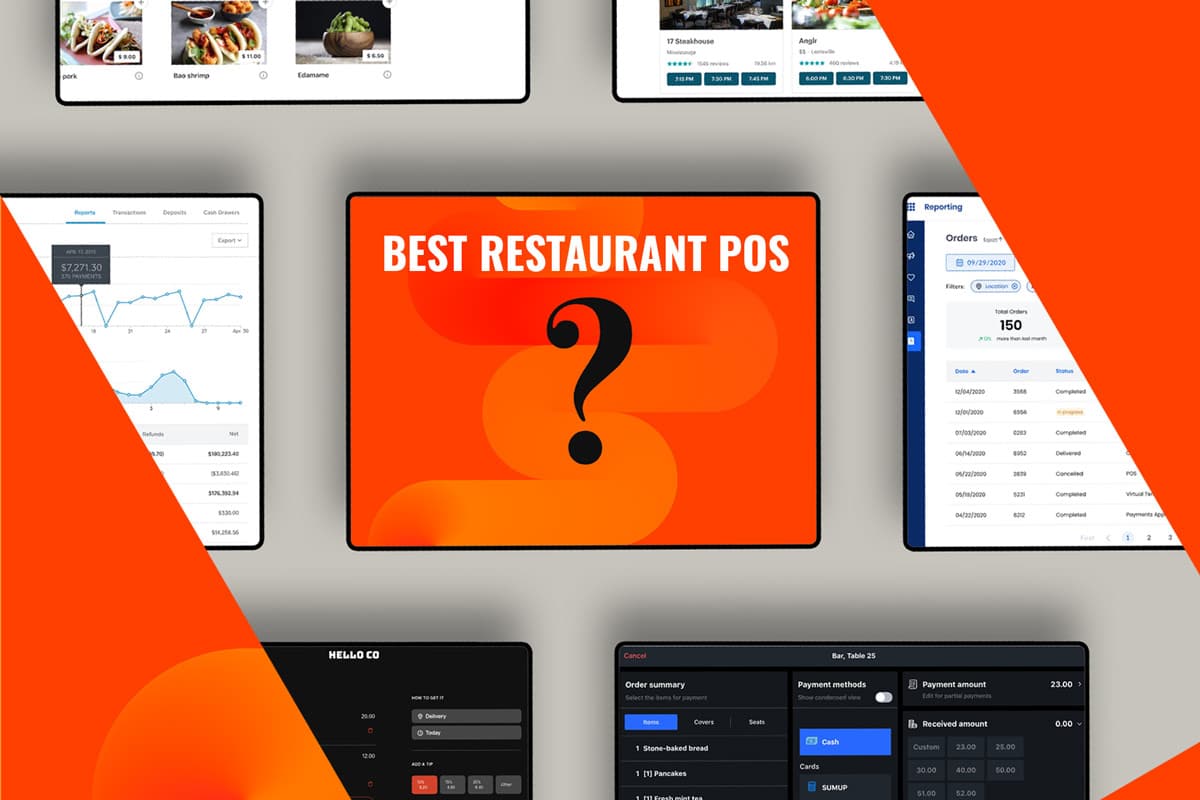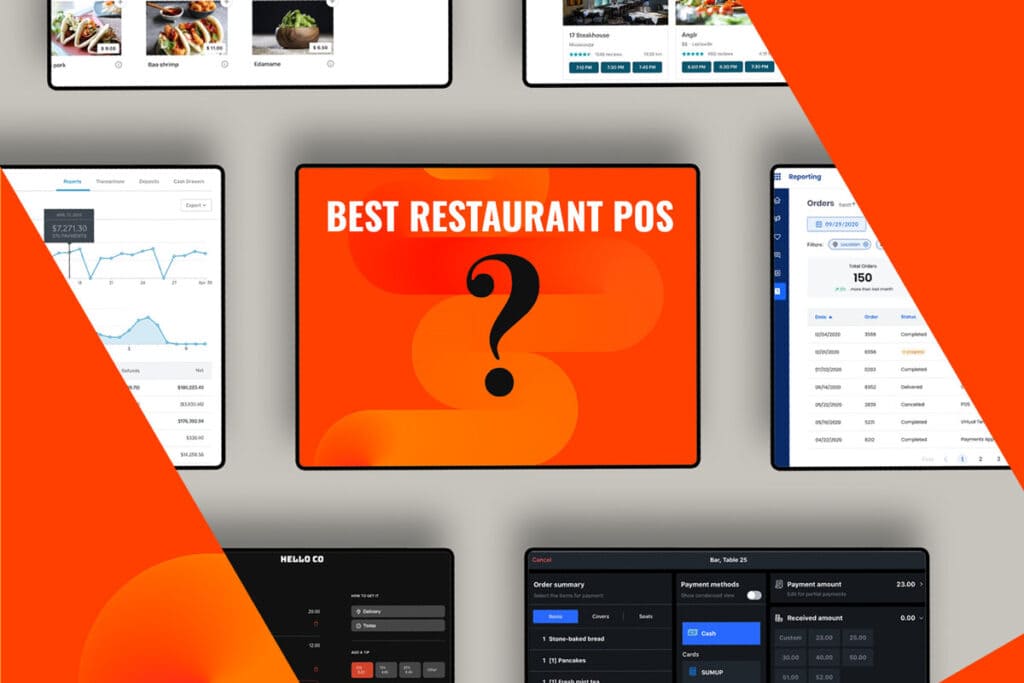 See my comparison review of the best restaurant POS systems.
Conclusion
SpotOn's Restaurant POS system is a comprehensive solution that successfully meets the needs of a broad range of restaurant types from fine dining and casual dining establishments to quick-service restaurants, bars, and food trucks.
The POS system provides excellent hardware options designed for the hospitality industry, along with specific features for restaurants. It also has flexible terms with no long-term contracts, making it stand out from competitors.
The company offers competitive fees for credit card processing and its delivery service has a low flat-rate cost, making it even more attractive. However, there are some things to keep in mind that may not make it suitable for everyone.
These include the fact that it relies on SpotOn's hardware and payment processing services, its offline capabilities aren't as strong as some other options, and optional features may increase costs.
Despite these limitations, SpotOn remains a highly versatile and user-friendly platform that can greatly enhance the operational efficiency of restaurants.
Remember to weigh the potential constraints against the benefits to make an informed decision that suits your specific needs. Also, read my comprehensive comparison post of the best restaurant POS systems.
Next, I recommend you read the following section before signing up with a POS provider.
SpotOn: A Business Evaluation for Restaurants
Alignment with Business Goals
SpotOn is a company that offers payment and software services mainly for restaurants and sports industries. Their system is adaptable and can be personalized to meet the specific requirements of each restaurant, supporting the business objectives of many restaurants.
SpotOn's business model is compatible with the restaurant industry because it offers flexibility and does not require any long-term contracts, which is beneficial for an industry that can be unpredictable and constantly changing.
Reliability and Trustworthiness
SpotOn is a reliable and trustworthy participant in the restaurant industry, competing with both newer companies such as Toast and Square, as well as legacy players like NCR and Oracle.
Since its founding in 2017, SpotOn has grown significantly, doubling its sales and service teams while maintaining a personal level of support for clients. The company's recent funding and valuation of $3.6 billion (source) further attest to its reliability and trustworthiness in the market.
Customer Support
SpotOn prides itself on its "old school" approach to customer support, offering on-site installation and training of its software and hands-on support when merchants encounter issues.
SpotOn's values, which are "Be the Client" and "Make it Personal", highlight the importance of customer service. They emphasize the significance of understanding and anticipating clients' needs and the value of building personal connections with and supporting clients.
Innovation and Future-Proofing
SpotOn's value of "Learn, Question, Transform, Repeat" encourages innovation and adaptation to changing business models, indicating a commitment to future-proofing their services.
The company's commitment to innovation is demonstrated by its acquisition of Emagine POS to enhance its restaurant POS offering. SpotOn has also made considerable investments and undergone funding rounds, indicating its potential for future growth and development.
Cultural Fit
SpotOn's values, such as "Think Big, Act Small" and "Celebrate Success", emphasize a culture that cherishes meticulousness, extraordinary client experiences, and acknowledging achievements.
The values mentioned align with the culture of numerous restaurants that prioritize outstanding customer service and acknowledge achievements such as receiving a positive customer review or having a bustling night of service.
Security and Compliance
Although there is no readily accessible information about SpotOn's security and compliance strategy, their substantial funding and high valuation suggest that they are capable of investing in strong security measures.
Moreover, their dedication to offering direct assistance to their clients implies that they are willing to help restaurants with any security or compliance concerns that may arise.
Customization and Scalability
The flexibility of SpotOn's system enables restaurants to personalize the software based on their requirements. The company's substantial growth and funding, along with this customization option, imply that the solutions offered are scalable and adjustable to accommodate a restaurant's expansion.
Moreover, the fact that SpotOn has ventured into the sports and entertainment industries, covering various arenas such as professional, college, and minor league stadiums, showcases its potential to adapt its services to different markets.
In conclusion, SpotOn's background, values, and commitment to innovation make it a strong contender for restaurants seeking a reliable, customer-focused, and innovative POS system.