Looking for some great restaurant website design inspiration? Then you have come to the right place.
We have analyzed many websites and selected 57 of the best examples from across a wide range of restaurant categories, from fine dining to fast food. This makes for some great inspiration for you as you consider your own restaurant website.
With online reservations and ordering essential in 2021, restaurants need to have a website that will appeal to potential customers. Some restaurants invest in custom designs; others opt for templates and choose to design their own. See my review of the best restaurant website builders.
No matter how you approach it, it's important to have a website that reflects your restaurant's brand.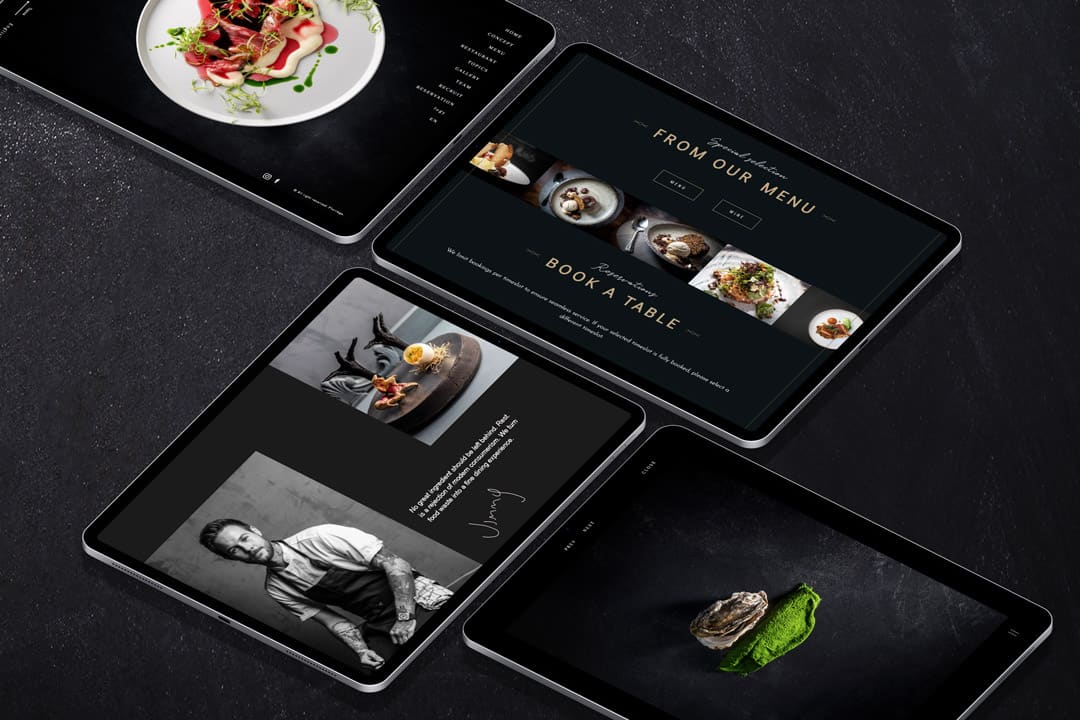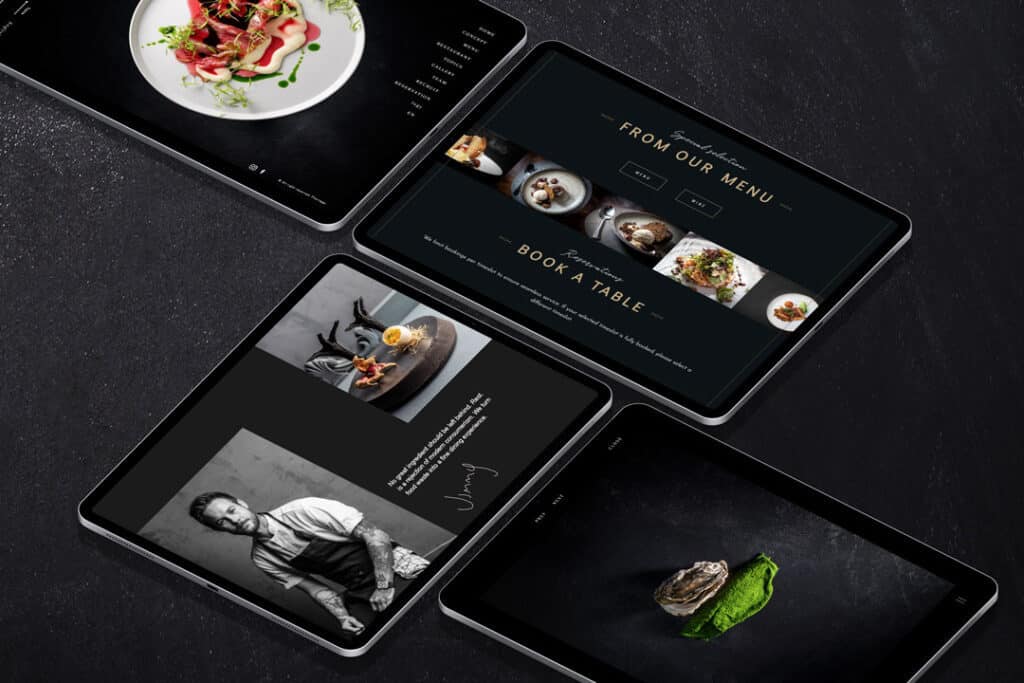 Here are the examples sorted into categories:

Cool & Creative Restaurant Websites
Fast Casual & Street Food
Fine Dining Website Design
Best Local & Sustainable (Eco) Restaurants
Beautiful Minimal Website Designs
Retro & Vintage Style Restaurants
Vegetarian Restaurant Examples
Virtual Restaurants & Cloud Kitchens
Asian Restaurant Website Design
Nordic Cuisine Website Inspiration
Cool & Creative Restaurant Websites
Meet The Greek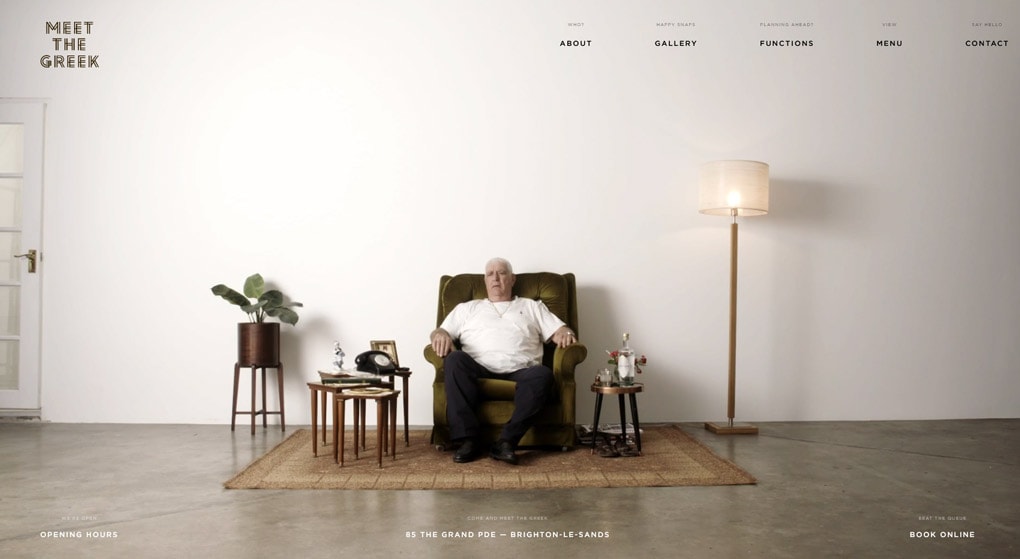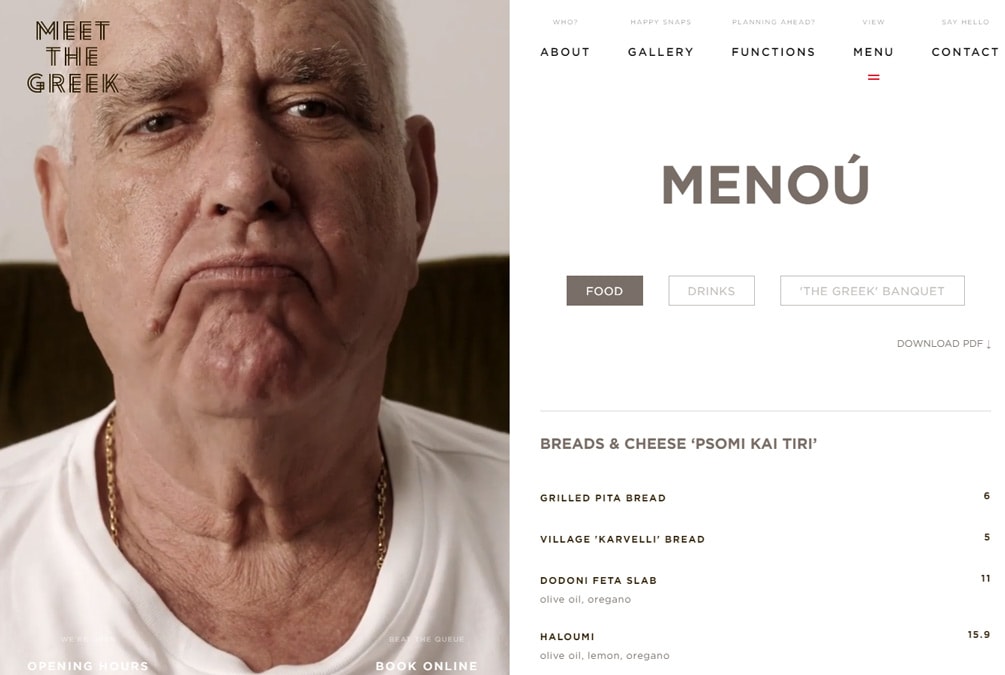 Meet the Greek is located in Australia. The Mougios family has created a welcoming restaurant that delivers good quality, simple food. It honors Greek tradition but is also experimenting with tasty innovations to its classic cuisine.
This is a very original and entertaining restaurant website design. The main attraction is the various funny videos that combine with the text in the various sections. Great use of typography throughout the site adds to the quality feel.
This is a must-see restaurant website.
Diner – South Williamsburg, Brooklyn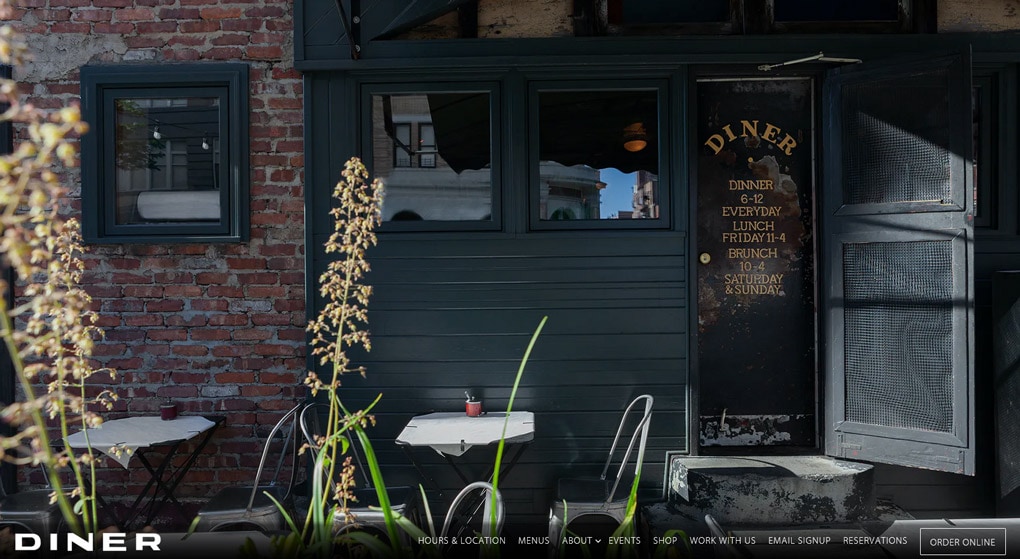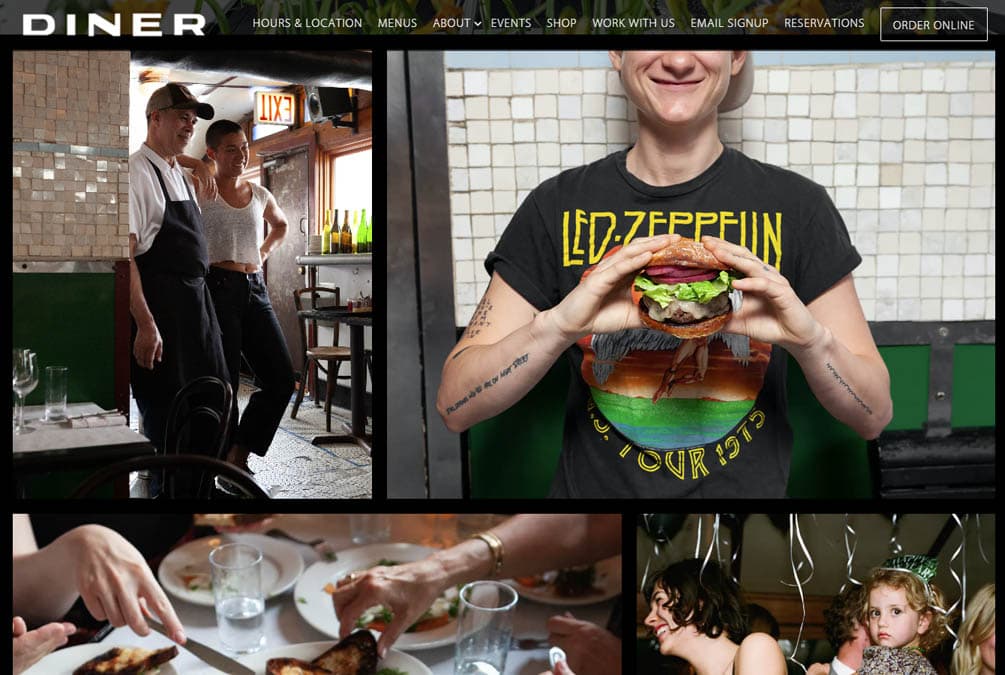 Diner is located on a historic corner of Brooklyn, NY. It's a cozy, charming space with incredible attention to detail, a farm-to-table commitment, and an extensive bar. Diner is also enjoying some serious buzz within the foodie community.
On the website's front page, Diner quickly tells the story of what they are about through several large pictures. Additional information such as the menu, reservations, and online ordering is readily available in the navigation bar.
Drury Buildings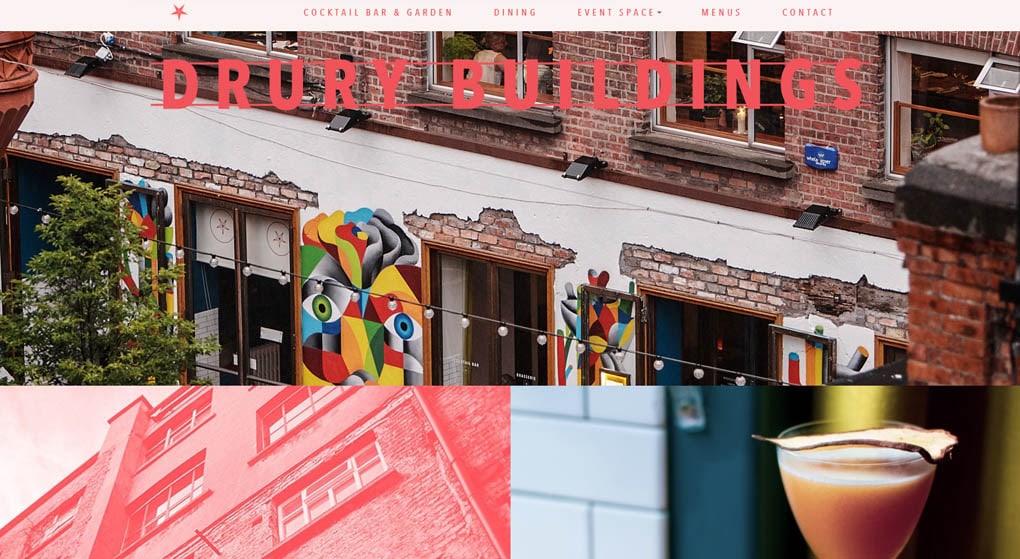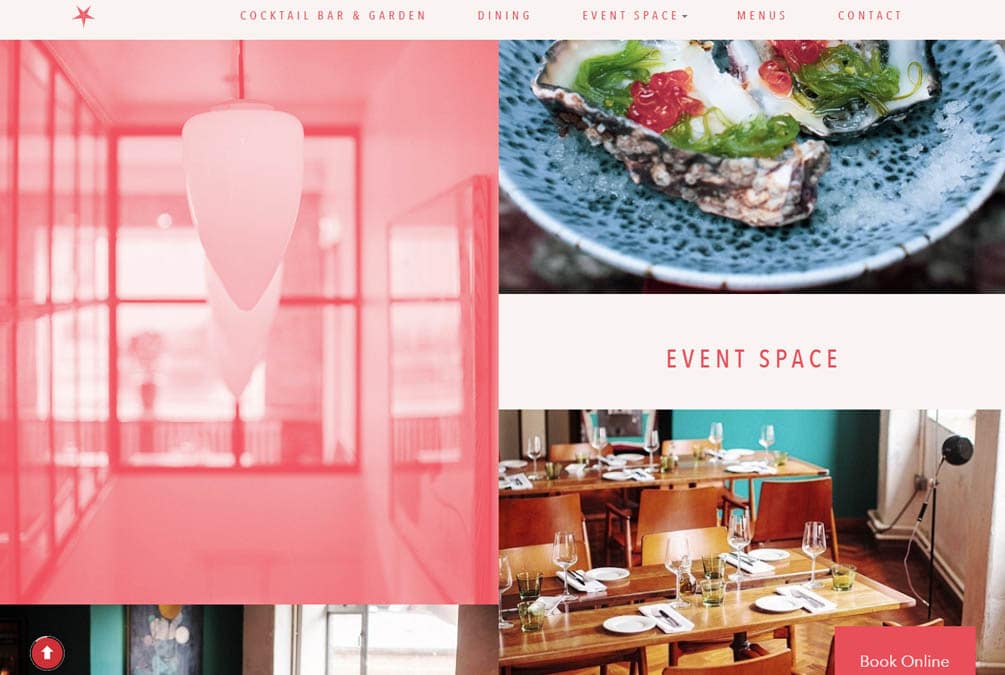 Drury Buildings is a Dublin restaurant, bar & event space, and entertainment venue that combines modern hospitality with diverse foodies, bartenders, and creatives. It also has one of the most exciting bars in town.
The website excellently combines images of the interesting building with food images and the original and unique dining and meeting rooms. The asymmetrical layout and color-toned photographs add to the feeling of a creative place.
Temper Steakhouse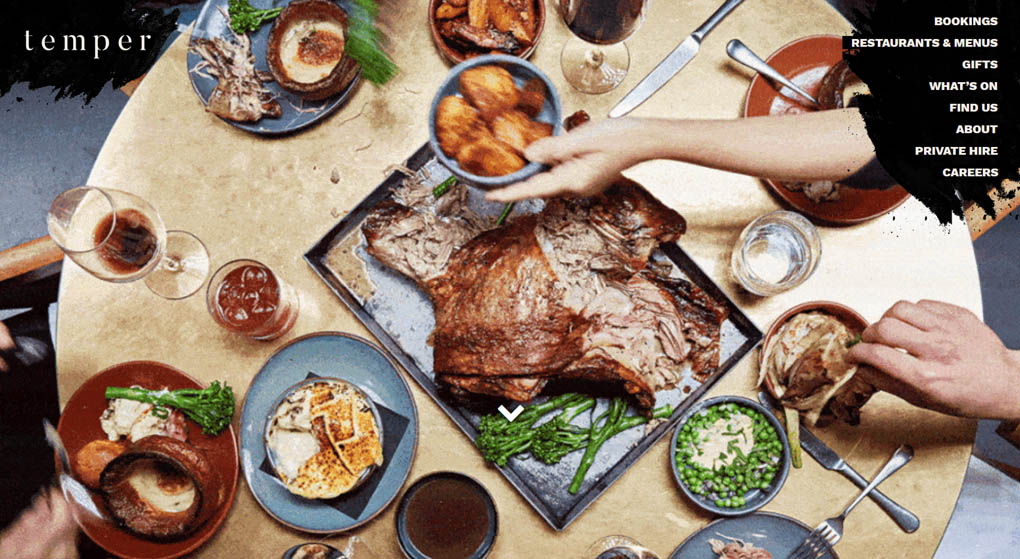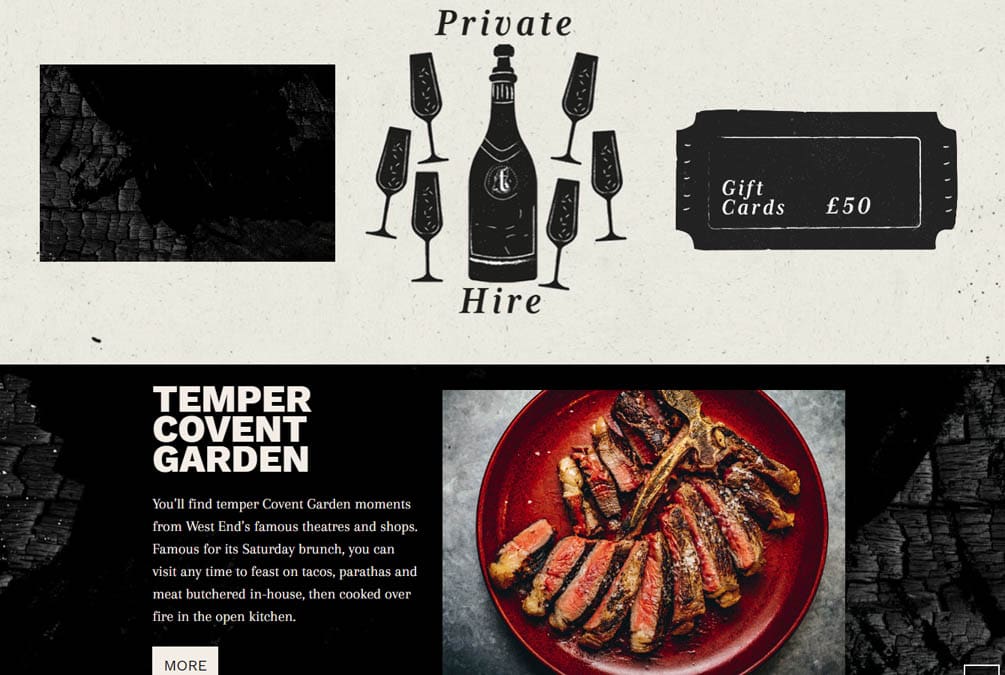 Temper is a barbecue and steakhouse restaurant located in London. At Temper, you can watch the chefs prepare your food over a blazing fire.
The rough feeling of a steakhouse is very well represented on the website. Orange, red, and yellow colors on black charcoal-like background combined with vintage style graphical elements contribute to this. A bonus is the seamless booking experience powered by Open Table.
Völlerei Restaurant & Bar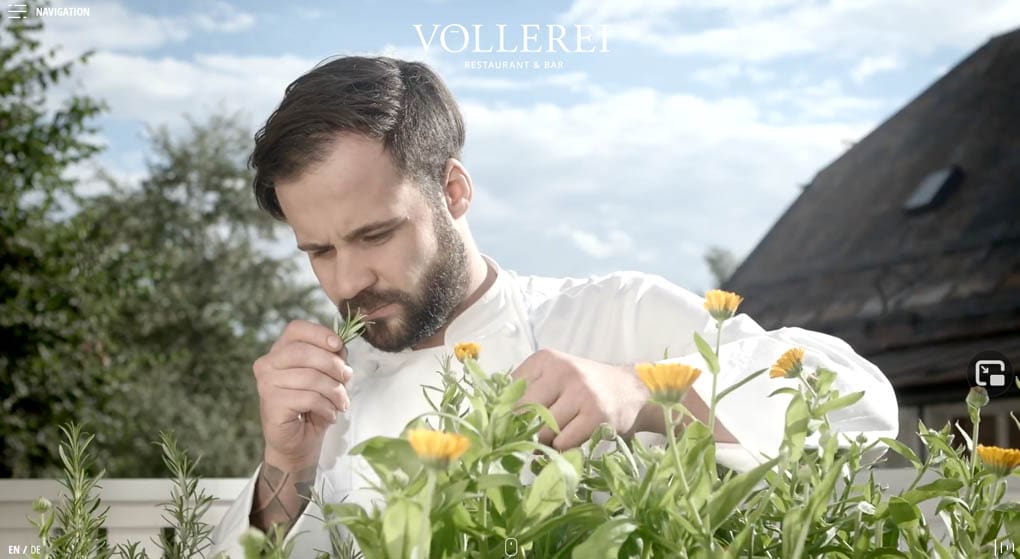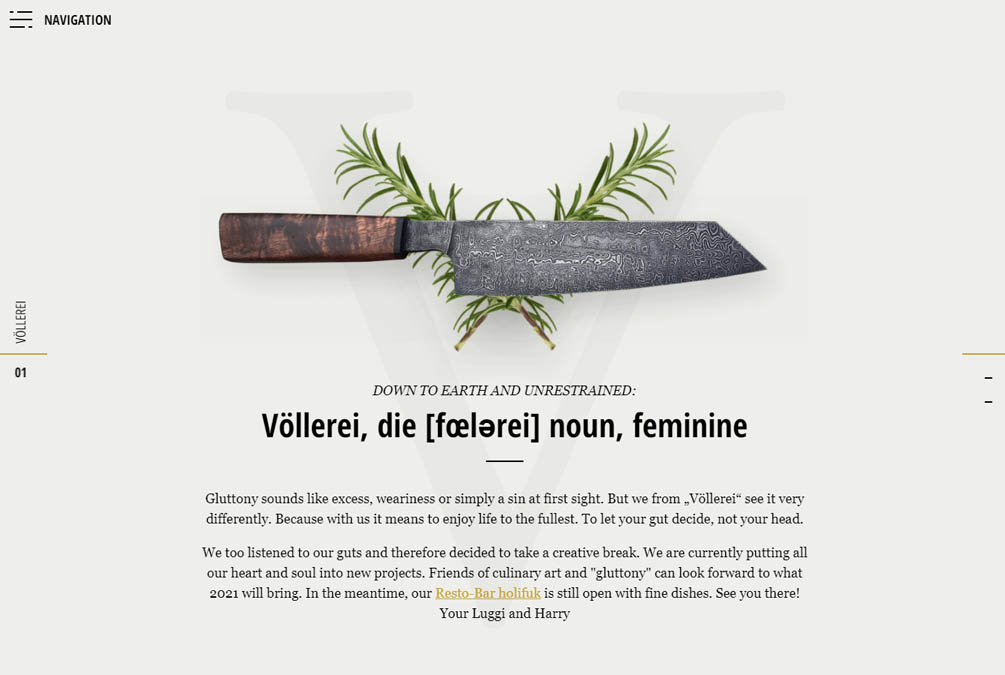 Völlerei is located in Austria at the old Hotel Hindenburg built in 1492. The idea is to present very traditional Austrian cuisine with modern twists and an original and delicious take on traditional Austrian cooking with local products.
This is a very creative and informative website with plenty of video and fantastic animated transitions in the navigation section. Everything from the design and typography to text, video, and photography is top-notch.
Fast Casual & Street Food
Corsa Pizza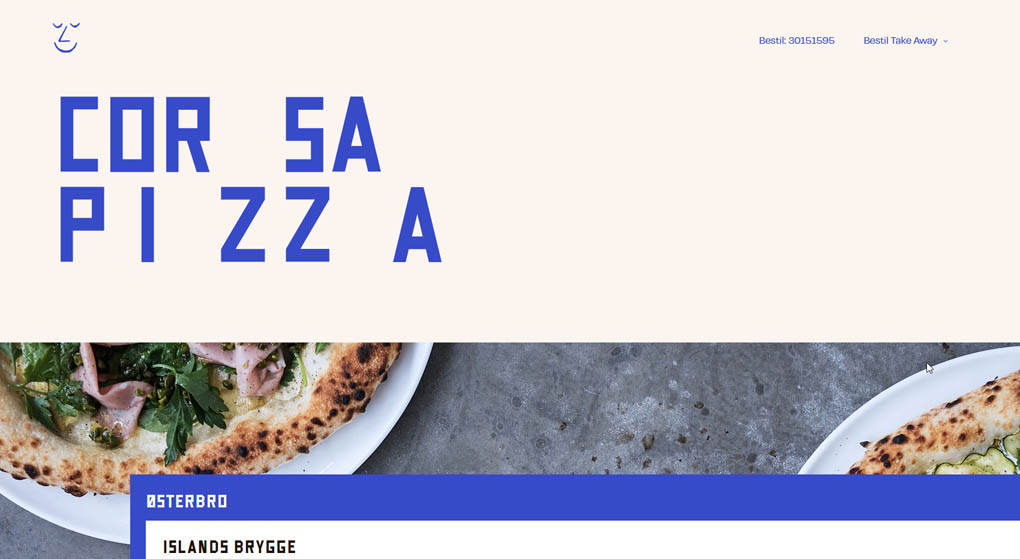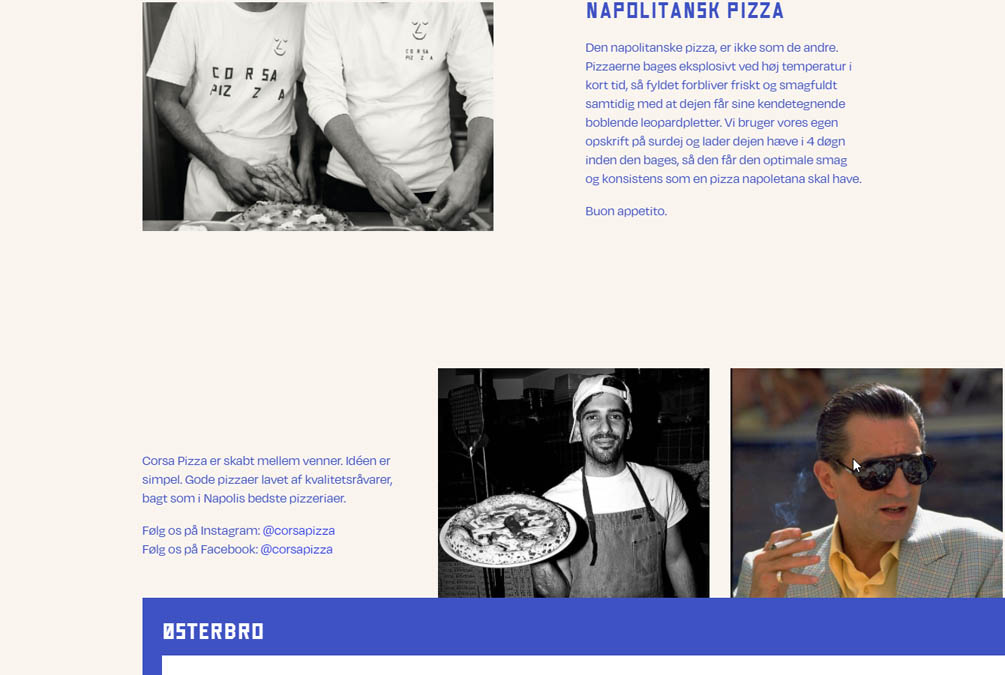 Corza Pizza in Copenhagen has a simple idea – good pizza is made with quality products and baked in the Napoli style in explosively hot ovens.
The website has a very modern look with bold shapes and large moving typography and video in the hero section. All the elements are in blue color, and the menu appears in a nice-looking block as the user scrolls down.
Disco Cheetah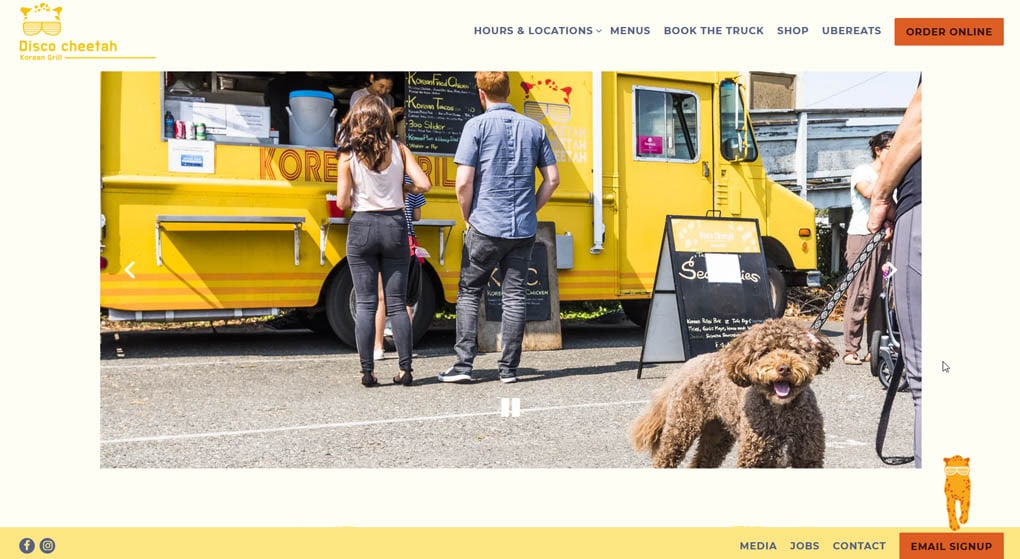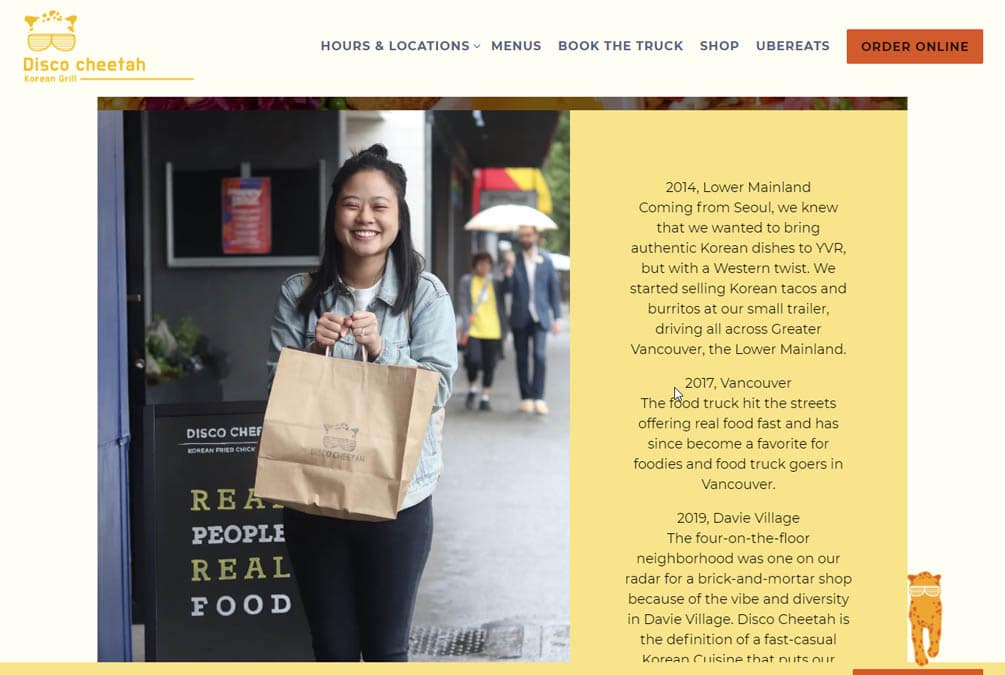 Since its opening in 2014, Disco Cheetah has become one of the most popular food trucks around Vancouver by combining authentic Korean dishes with a Western twist.
A catchy name, bright colors, a playful style, and a clean look makes this a simple but great food truck website.
Flippin´ Burgers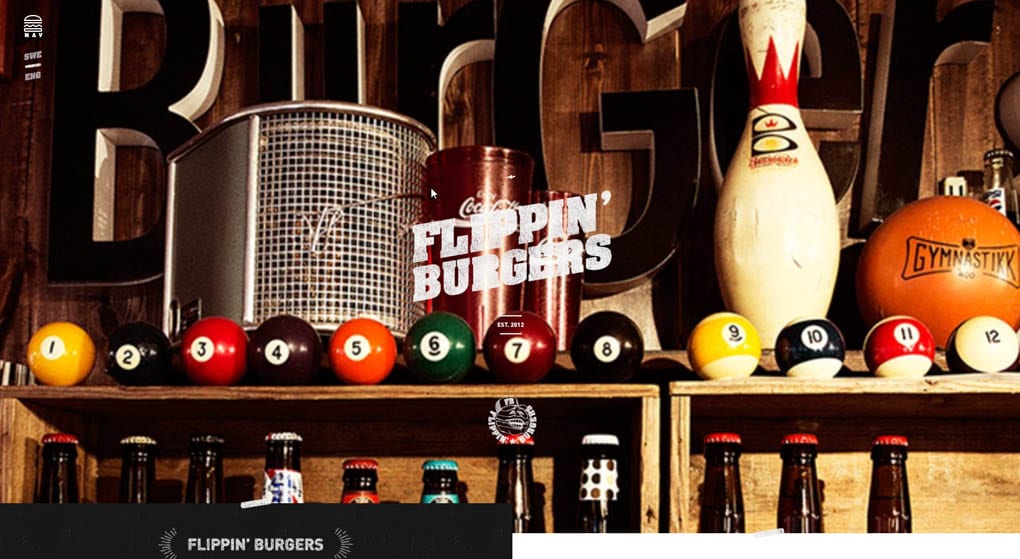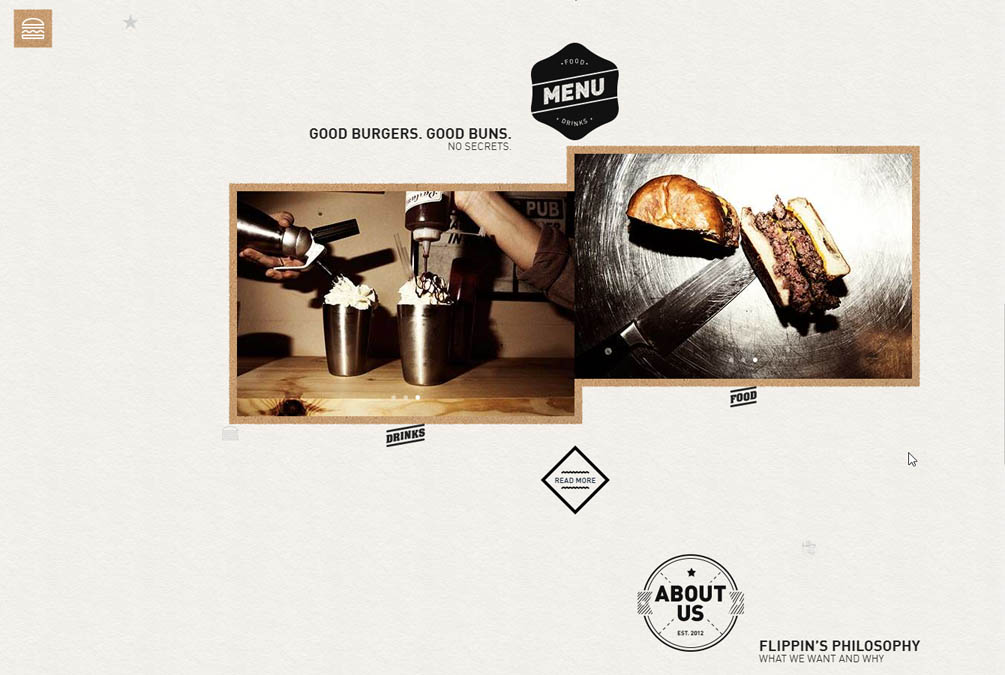 Flippin' Burgers in Stockholm makes simple, old-fashioned burgers. They only work with small meat producers who care about animal husbandry, and farm animals kept outdoors in summer and graze. This gives the meat its distinctive taste.
This is a great-looking website with warm brown tones, retro graphical elements, and bold photography representing the authentic values that they stand for.
Holy Smoke BBQ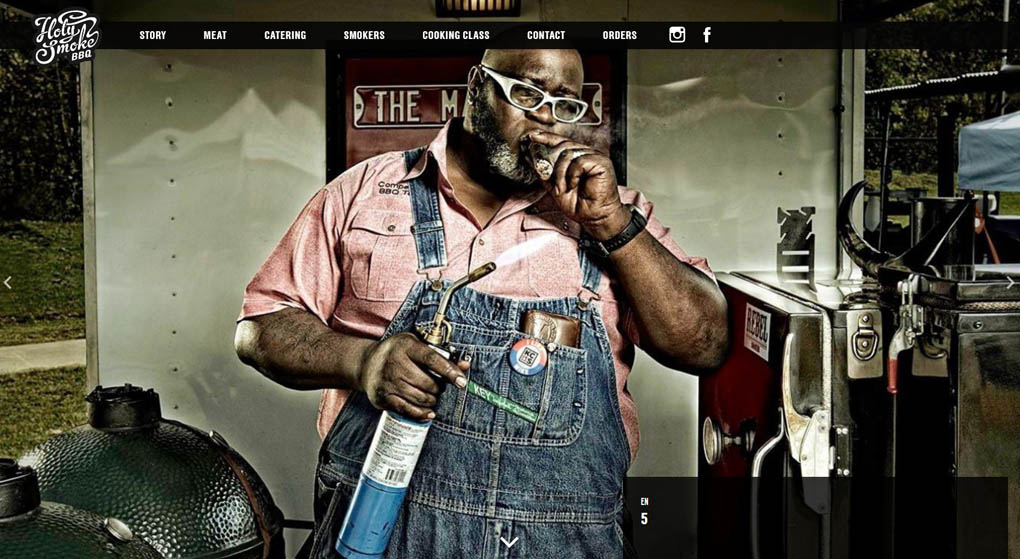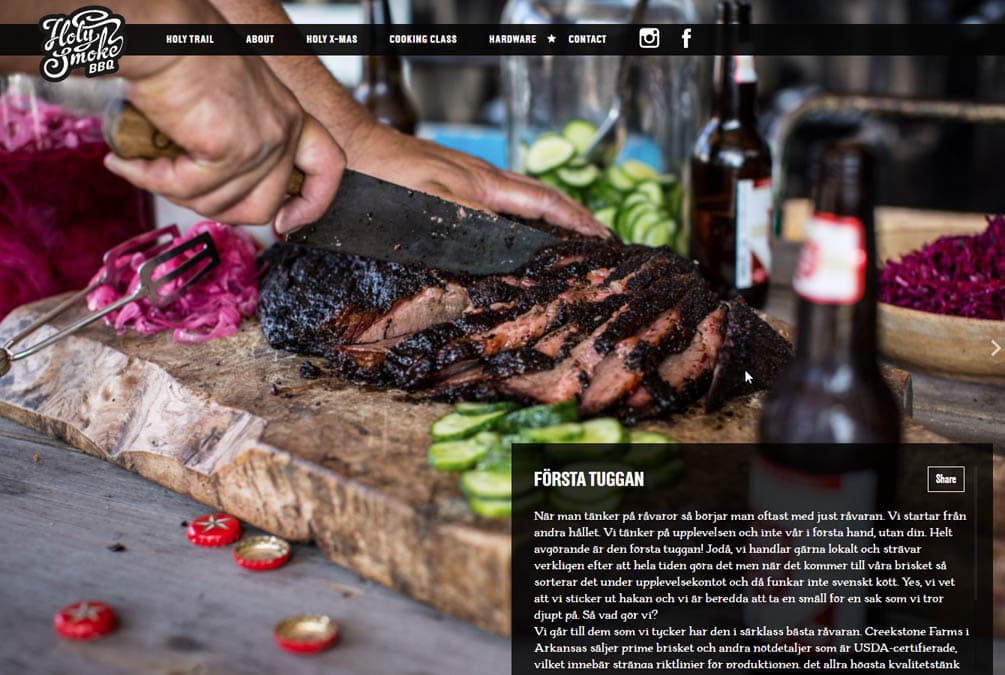 Holy Smoke BBQ is a restaurant in the south of Sweden born after a road trip seeking inspiration from barbecue shacks in Texas.
The website does a great job of conveying the smoky and fiery feeling of a BBQ shack. A lot is going on at the Holy Smoke BBQ; workshops, events, a general store, hardware, and online ordering and delivery.
M Creperie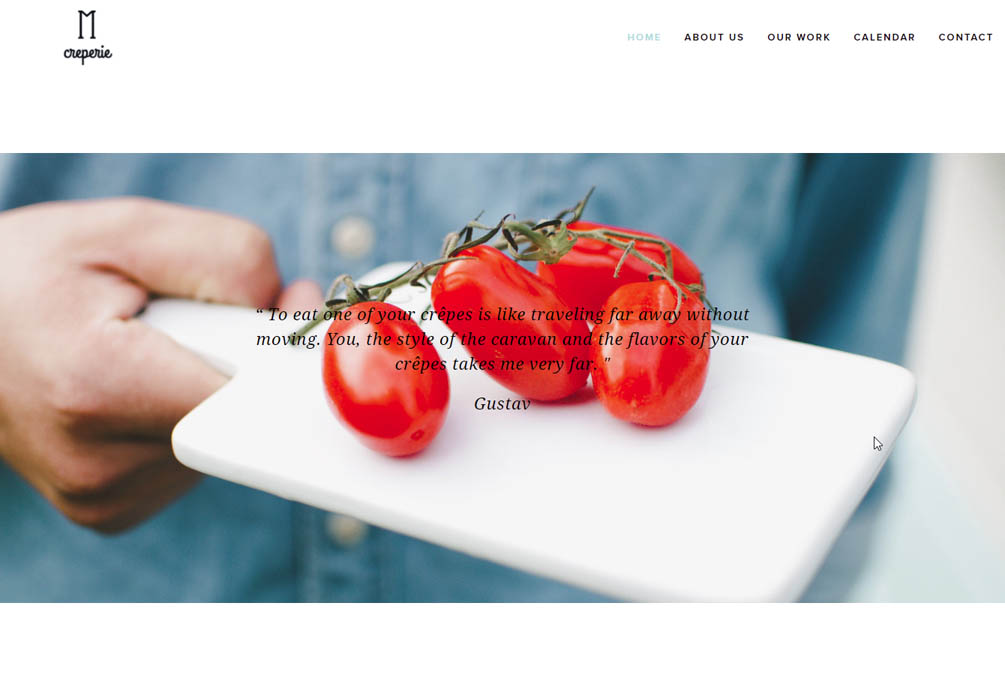 M Creperie is a street food project on wheels based in Stockholm. The food truck shows up at various events and is also available for catering. M Creperie uses local & organic ingredients and combines them with delicatessen products from Barcelona.
The website is beautiful and has a relaxed, airy summer feeling with plenty of information about their services and history.
Mellow Mushroom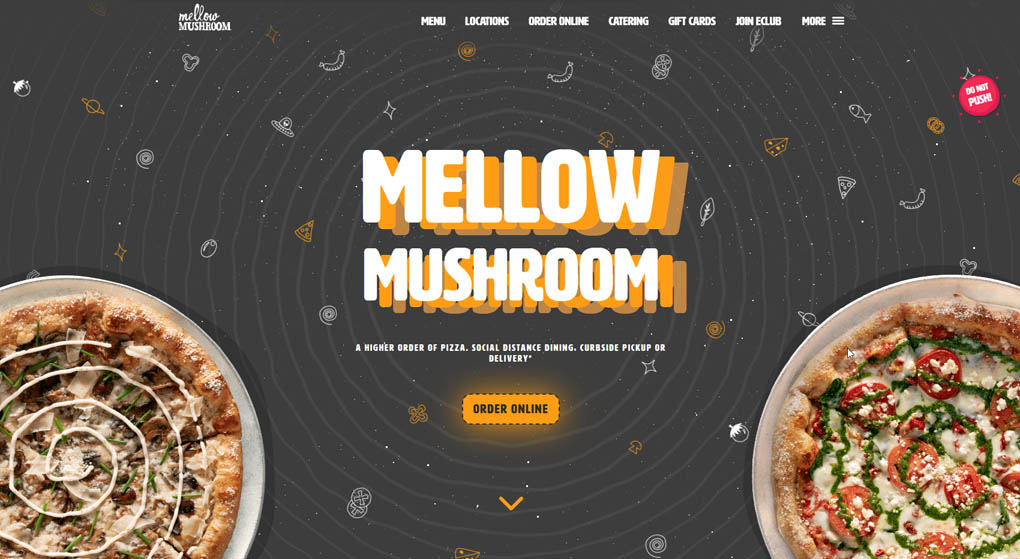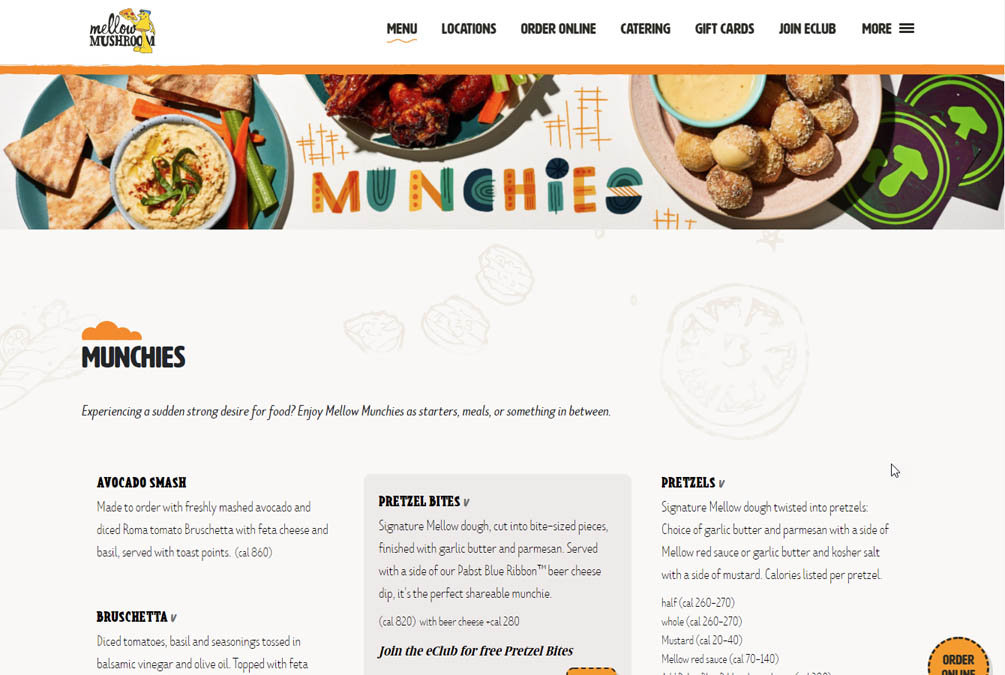 Mellow Mushroom Pizza Bakers are located in Atlanta, Georgia. Since 1974 they have served stone-baked pizzas in a creative environment filled with art.
The website is very good at showcasing the creative and artistic side of Mellow Mushroom without forgetting the business side of things with Online ordering and an e-commerce shop selling merch.
Tacoholics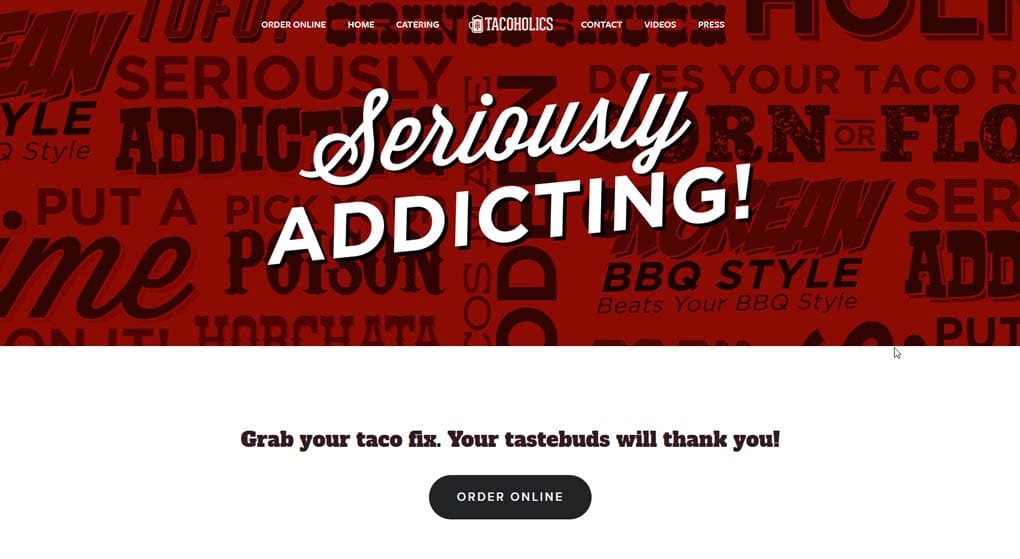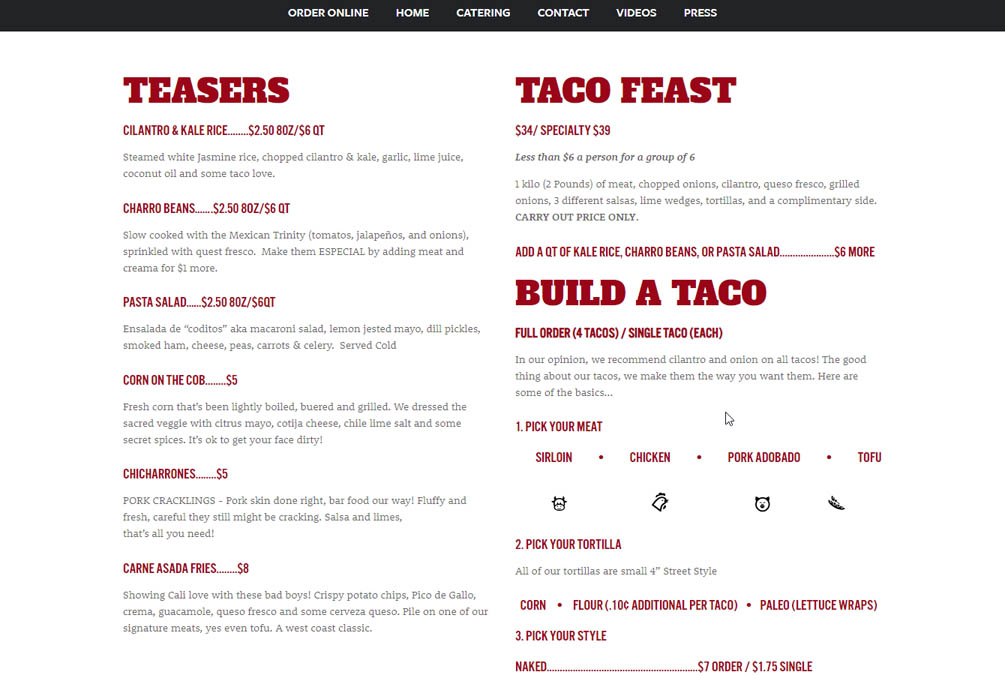 Located in El Paso, Texas. Tacoholics have transitioned from a food truck to a fast-casual dining space. Tacoholics' specialty is street tacos done with a modern twist.
This is a very cool and modern website with a touch of retro and nice layout and typography in the menu section. A bonus is the interesting page of documentary-style videos.
Fine Dining Website Design
Aska NYC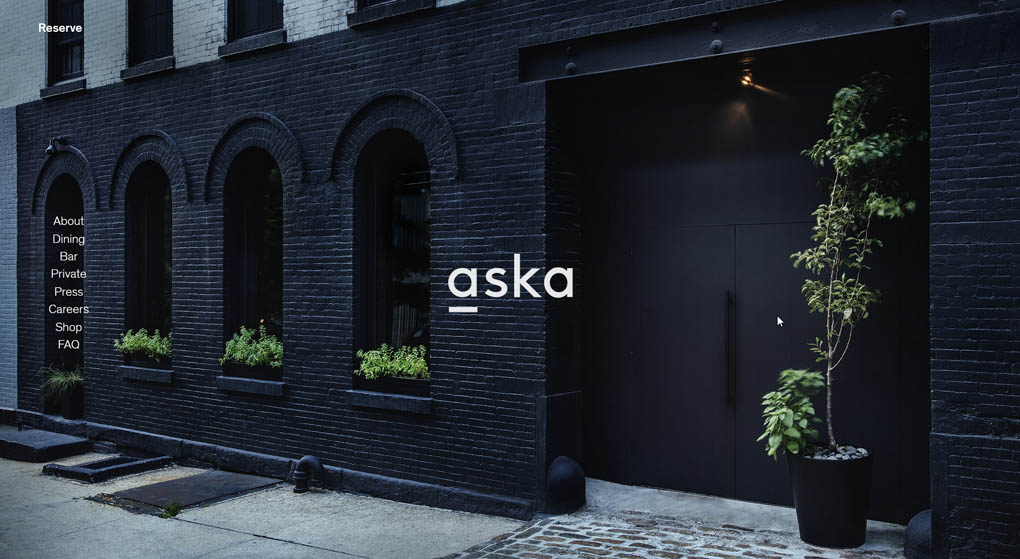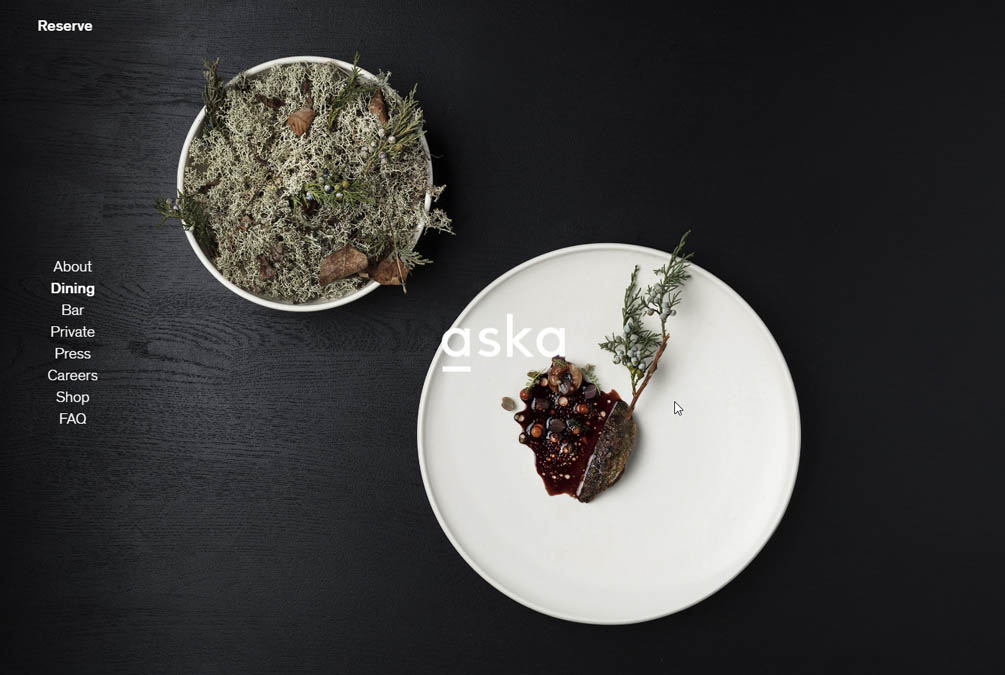 Aska is a two-star Michelin restaurant in Brooklyn that serves new Nordic cuisine. The glow of the open kitchen, which sits on one side of the room like a stage, gives the impression you are dining at a beautiful theater.
The word Aska means Ash in Swedish, and black is the main color in this elegant and well-designed website.
Il Buco Ristorante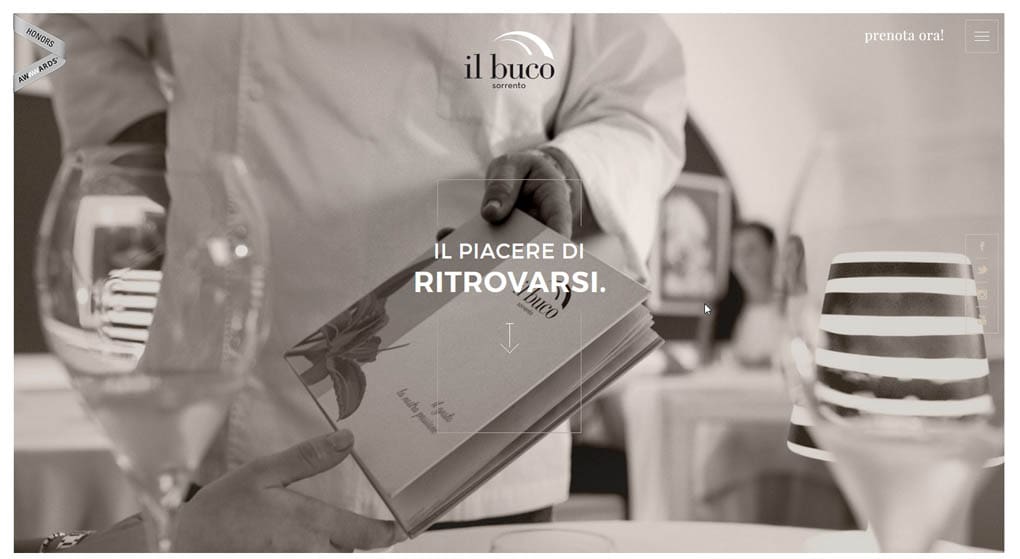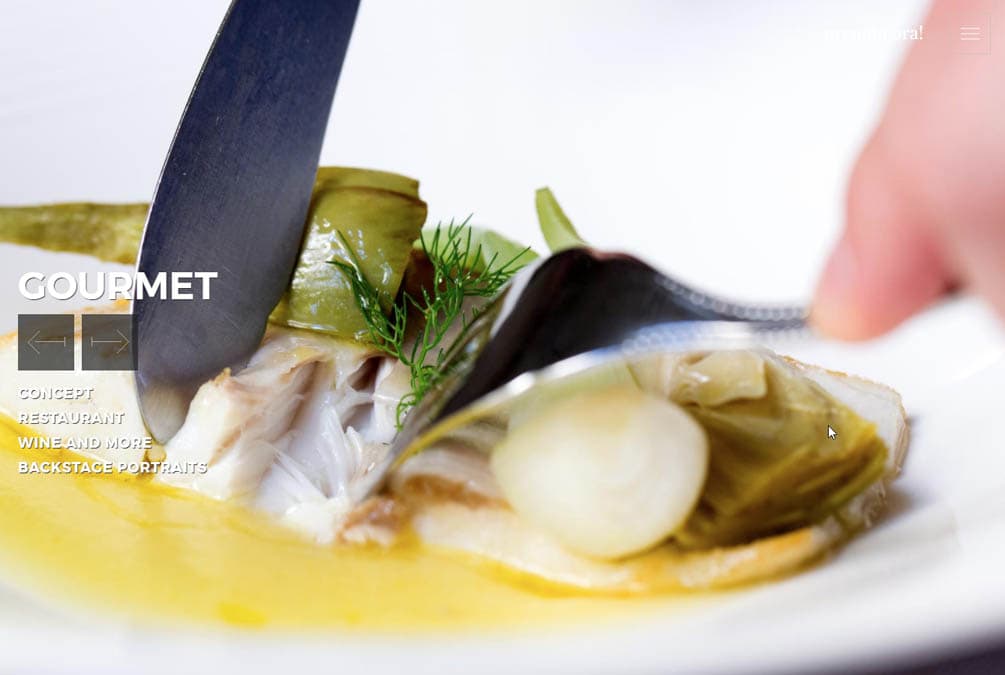 Il Buco is a one-star Michelin restaurant in Sorrento, Italy. Housed in the cellars of an old monastery Il Buco serves cuisine with traditional and modern influences.
The website also mixes modern and classical design with great pictures of the location and the staff.
The Lasai Restaurant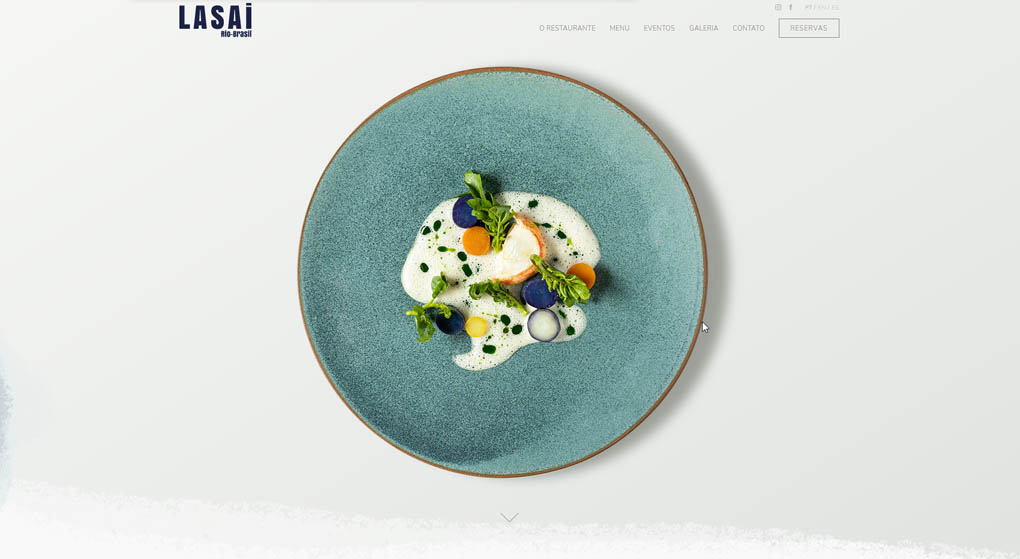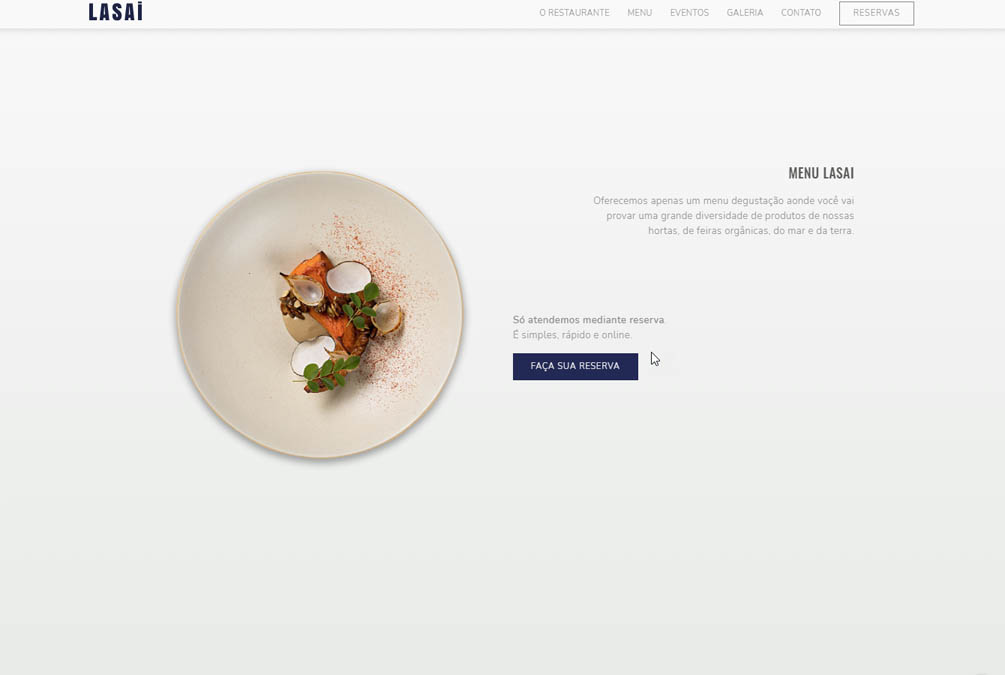 Lasai is a one-star Michelin restaurant in Rio de Janeiro. This is a unique restaurant on the cutting-edge of Brazilian cuisine. The kitchen is guided by the seasons and works with small producers who raise their own chickens and grow their own organic produce.
Lasai has a very nice website with a minimalist aesthetic and large beautiful pictures of their dishes that look like artistic creations.
Moxhe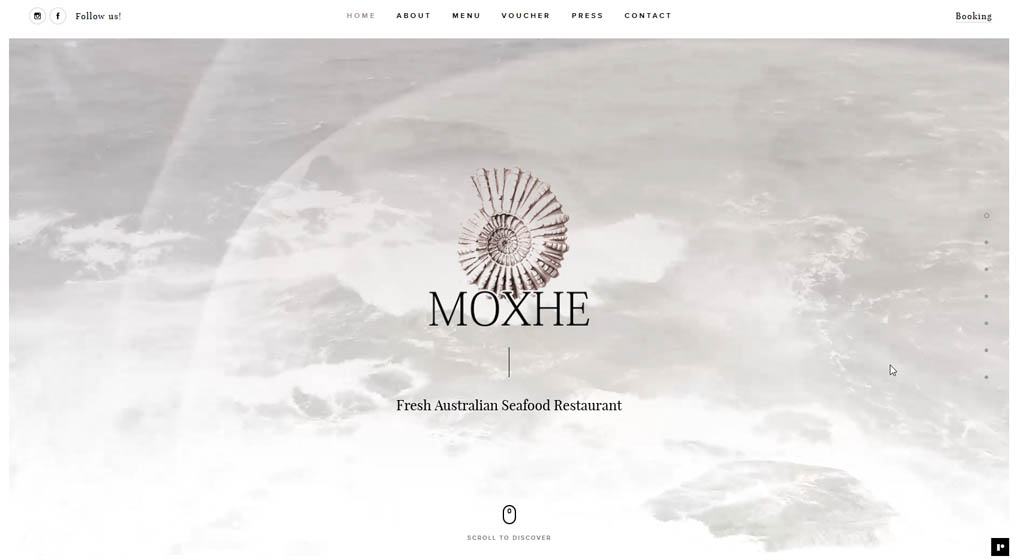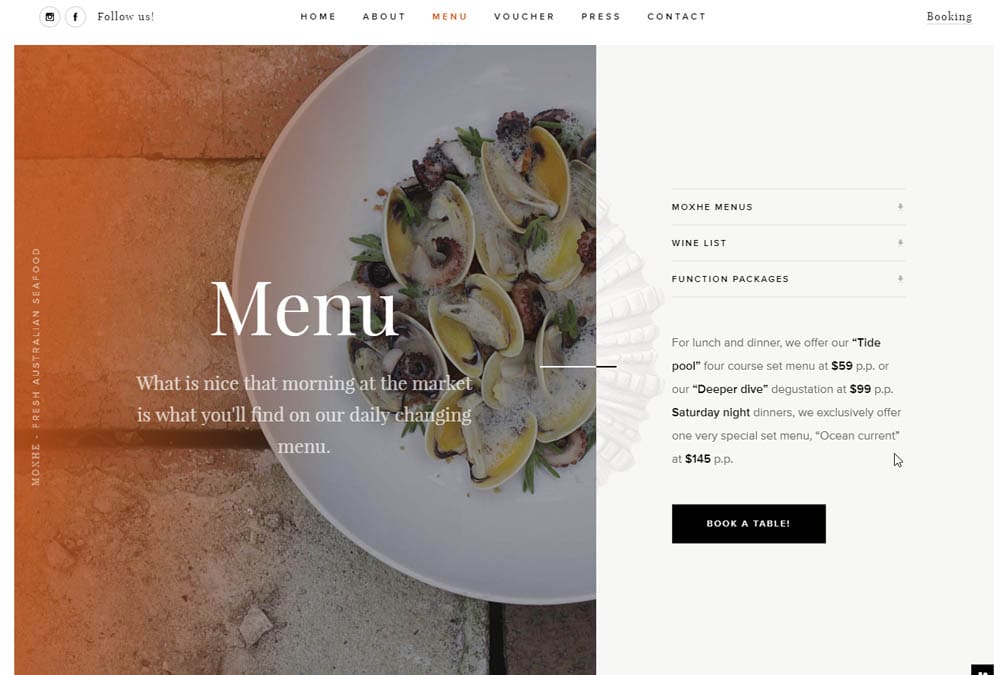 Moxhe specializes in fresh Australian seafood that they source sustainably, and line caught. You will be served nicely cooked oysters, fish, and amuse bouches.
This website has a modern fullscreen layout with some video and animated transitions. The main menu page is beautiful, and they also have a nicely branded booking form.
OTTO Ristorante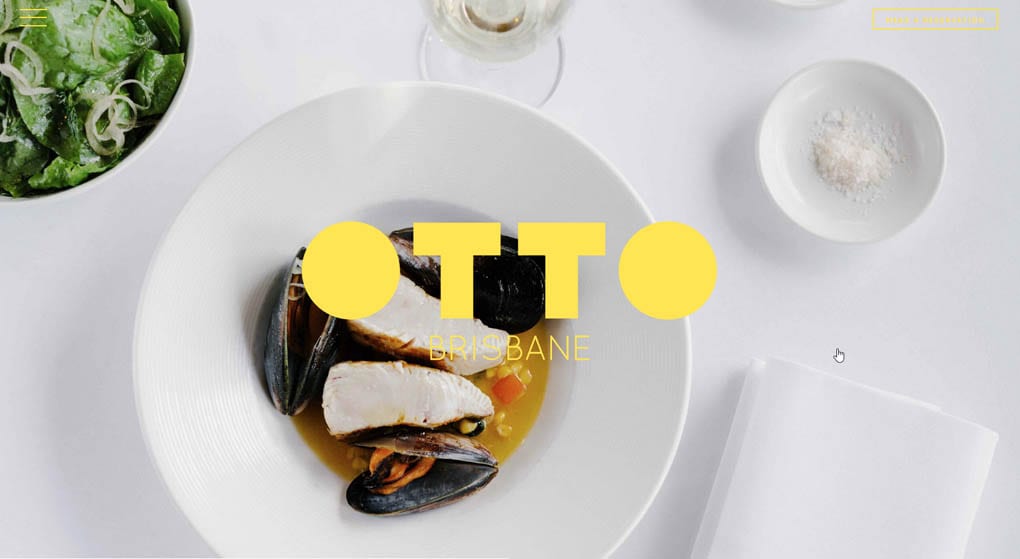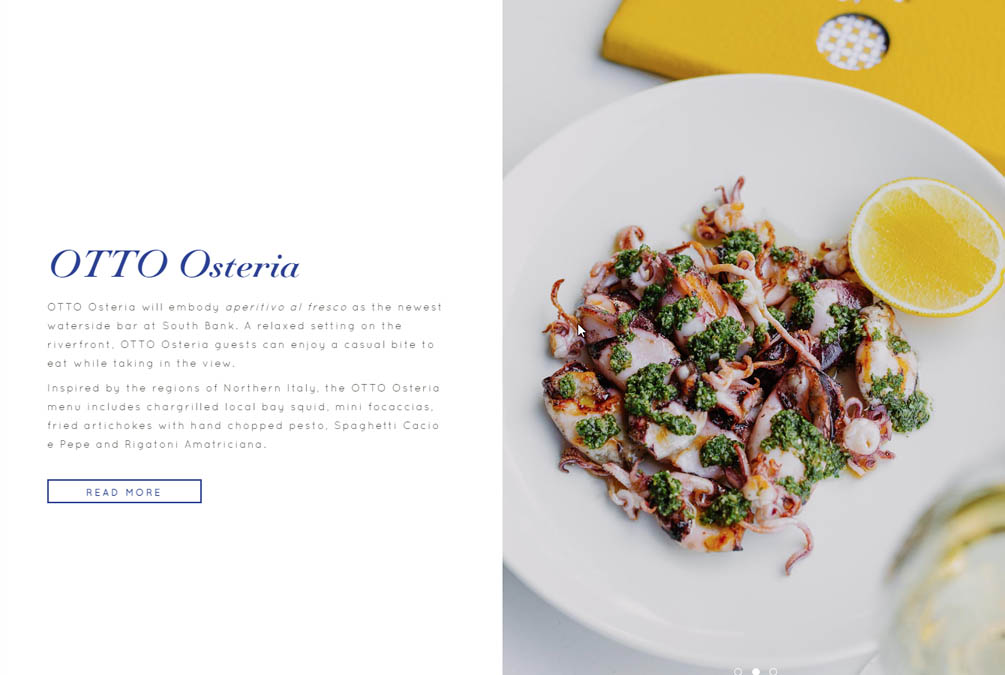 OTTO is located in Brisbane and has a reputation as one of the city´s finest dining establishments.
The guests are served modern Italian cuisine, alfresco dining, and spectacular waterside views. This is well showcased on OTTO´s website, which has a very contemporary style with large image blocks flanked by text-blocks with plenty of white space.
Reuben´s Restaurant & Bar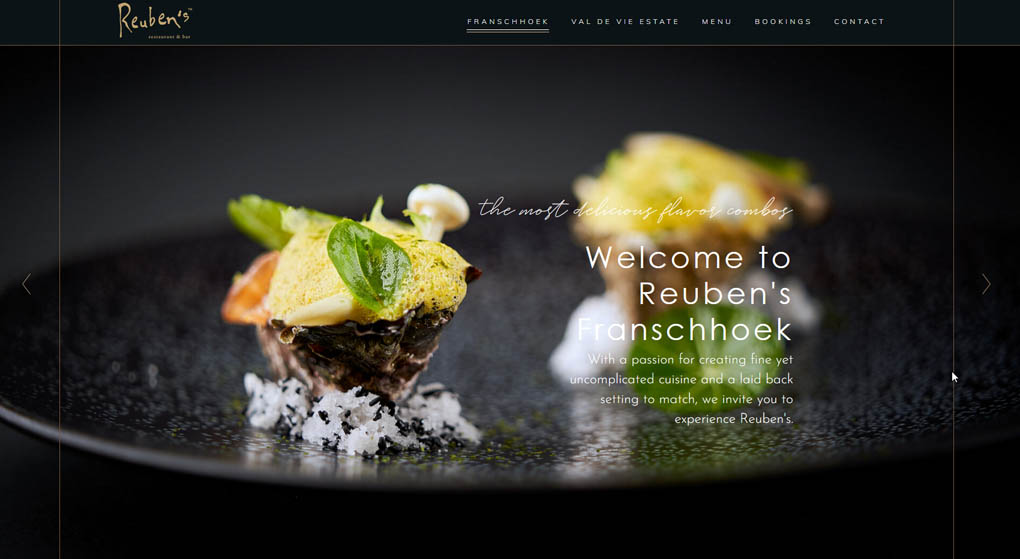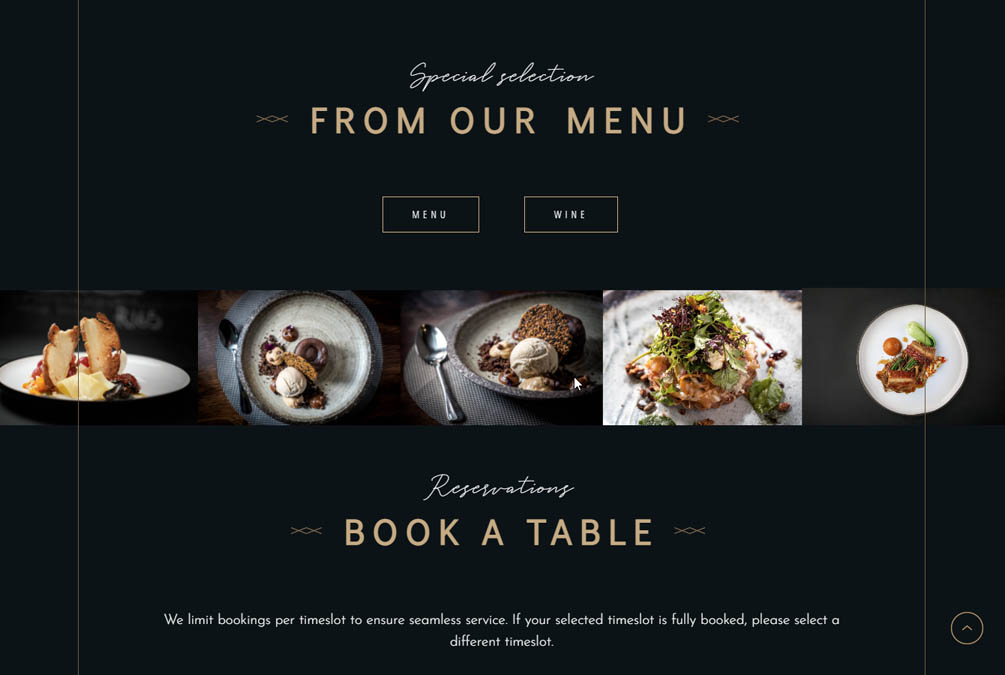 Reuben´s lies in the heart of South Africa's wine lands. Reuben´s is known for creating fine yet uncomplicated cuisine and a wine list that is the envy of any connoisseur.
This is a theatrical website with the main colors black and gold that evoke a wonderful dining establishment. This color scheme also makes the amazing food photos really stand out.
Best Local & Sustainable (Eco) Restaurants
Ask Restaurant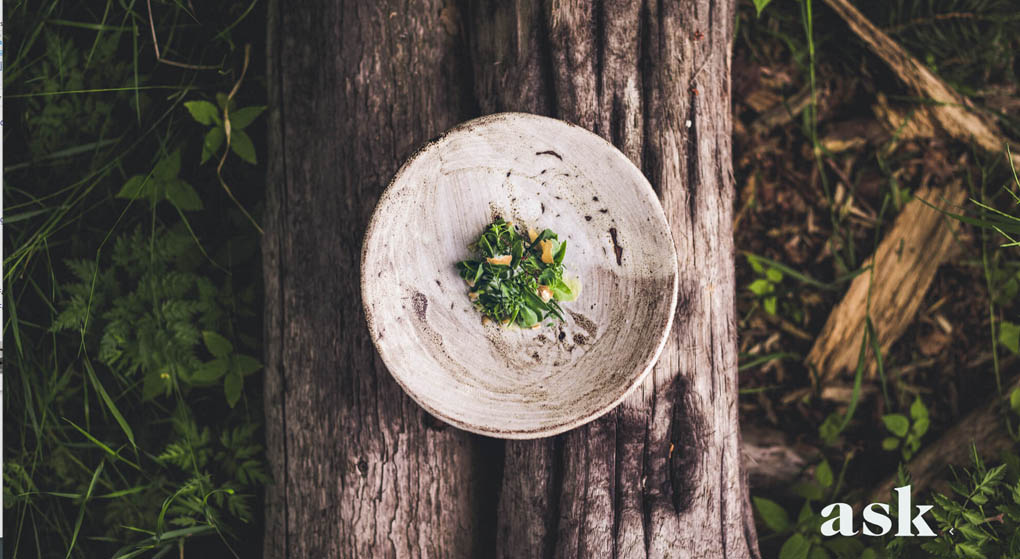 Ask is a restaurant in Helsinki, Finland. All produce comes from organic or biodynamic farming, except the game, wild fish, and other foraged products.
Ask has a wonderful minimal website with great photos that suits a restaurant offering local and sustainable food.
Restaurant Credo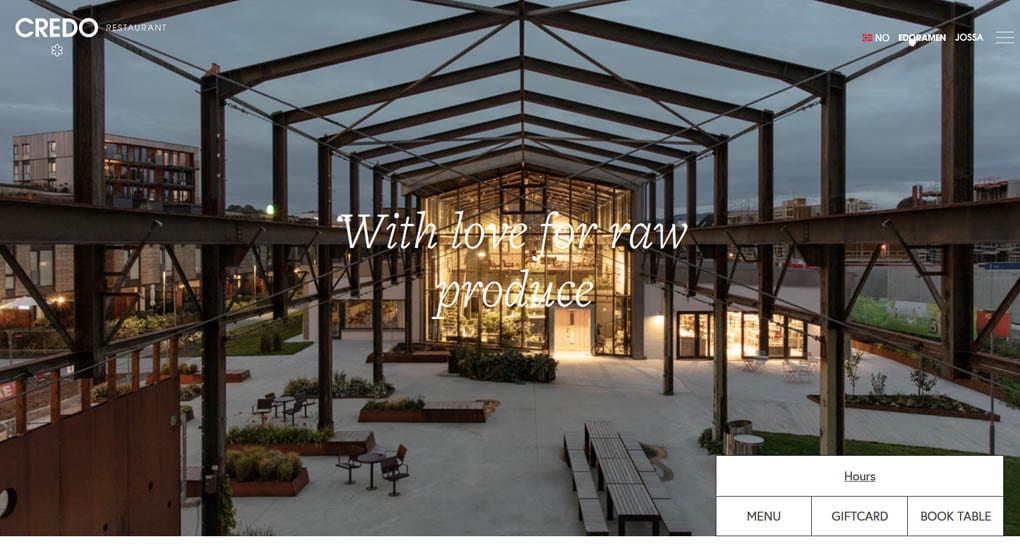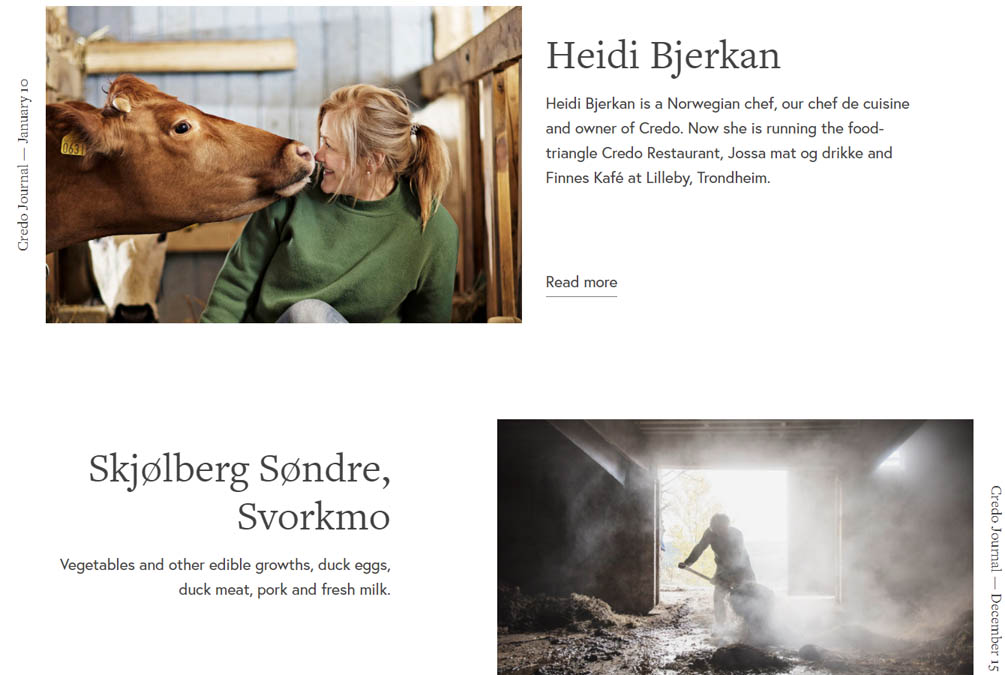 Credo is a restaurant in Trondheim in northern Norway. Credo is a one-star Michelin restaurant as well as a Michelin Green Star for gastronomy and sustainability. The produce of the local farms is the basis for the menu.
This is a great example of a restaurant with a focus on local produce and sustainability. Apart from the regular features of a modern website, they also feature on the front page several stories about the local farmers and their specialty products.
Restaurant Domestic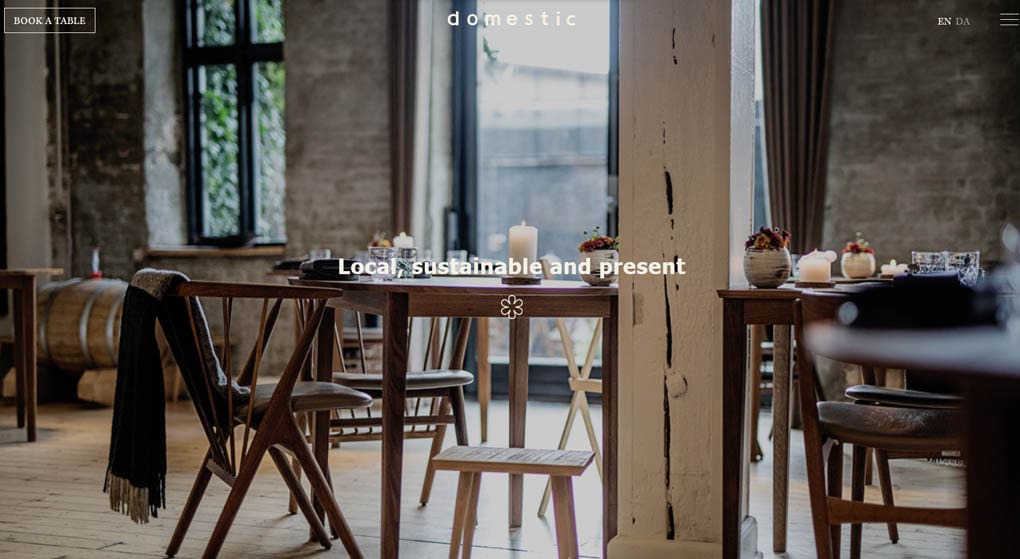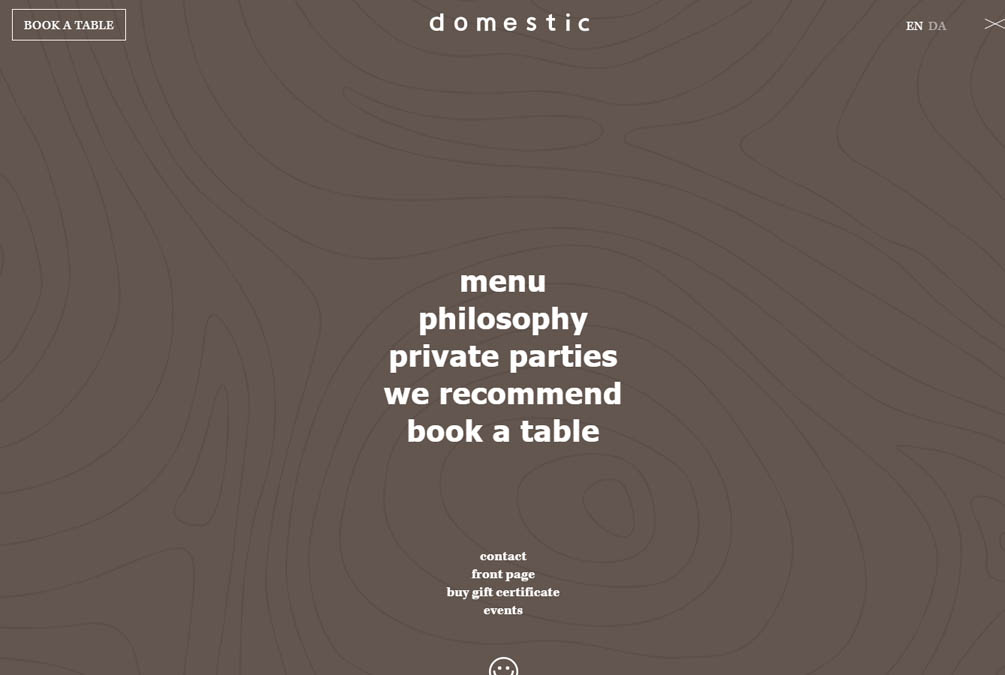 Domestic has a one-star rating in the Michelin Guide. Domestic only use 100 % locally sourced produce from small suppliers. The restaurant is housed in an old building that's been everything from a school to a dairy.
Domestic has the ambition to create a high-level gastronomic experience served in a low-key and homely environment. The visually appealing website certainly succeeds with this ambition by using a muted brown and cream-colored palette with a calm and spacious layout.
Restaurant Grön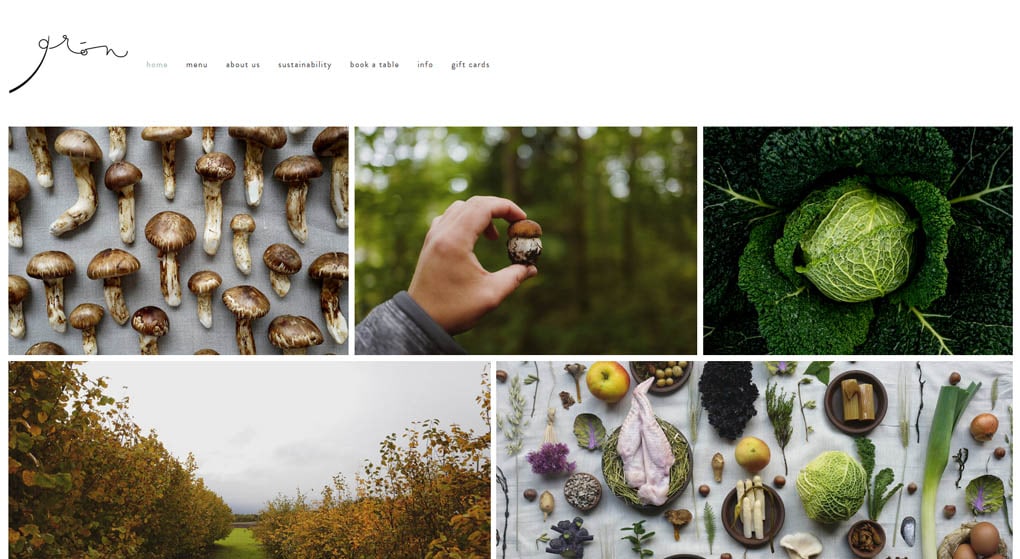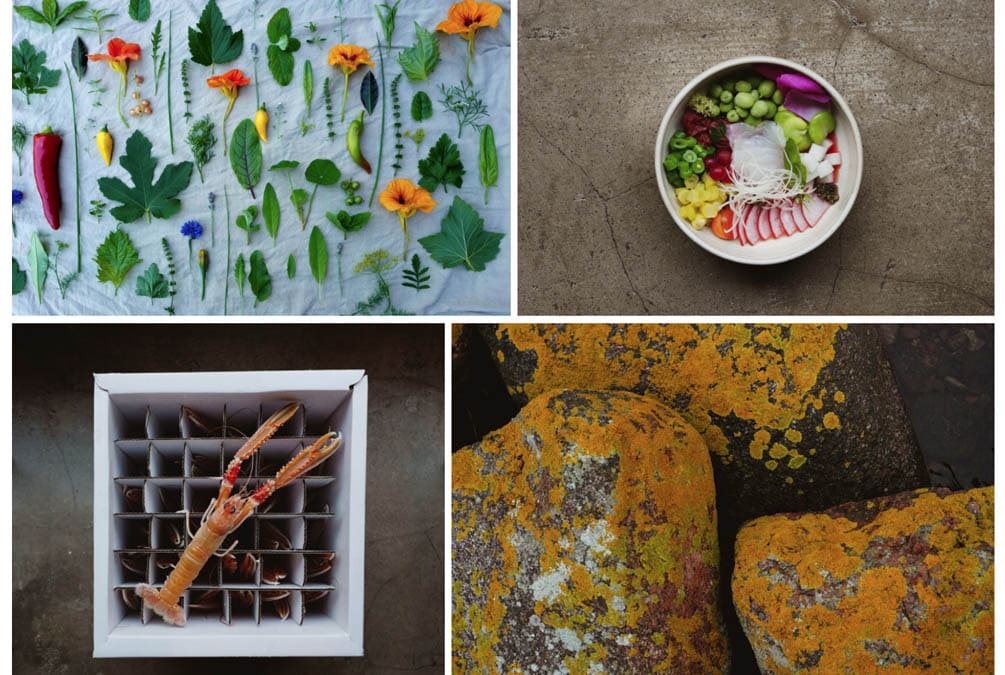 Grön is a restaurant in Helsinki, Finland. The food is based on seasonal, organic, and wild Scandinavian produce.
This website stands out on a large number of beautiful pictures of wild produce and the ambitious and detailed gastronomical Sustainability Plan 2021.
Koks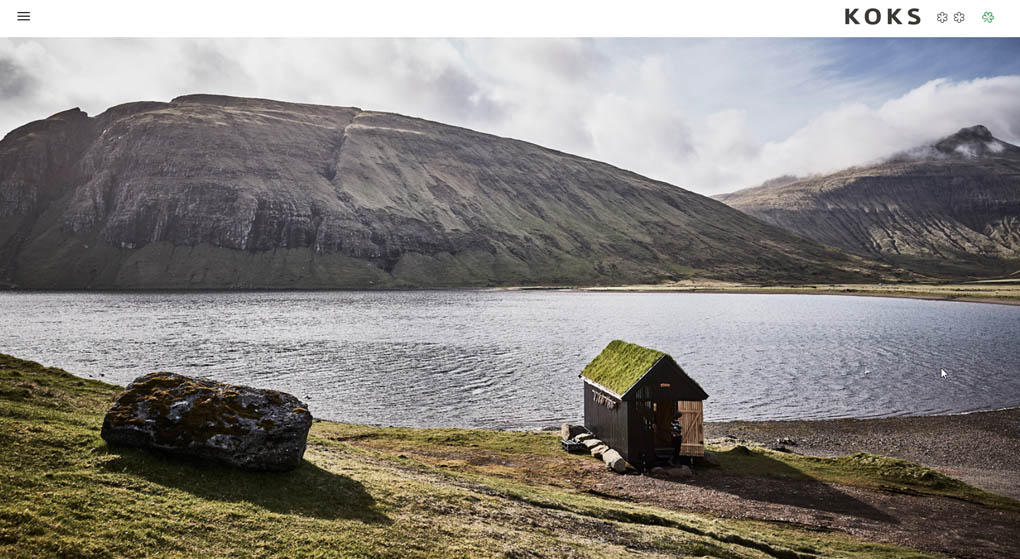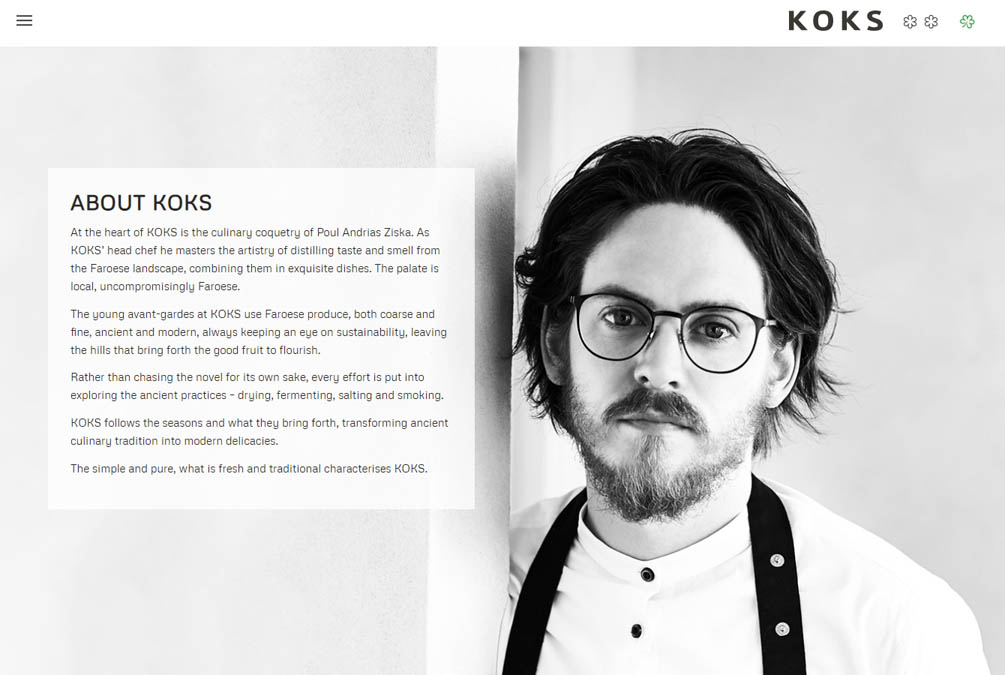 Koks is a restaurant on the Faroe Islands with two Michelin Guide stars and a Michelin green star for gastronomy and sustainability. Koks follows the seasons and transforms ancient culinary traditions of drying, fermenting, salting, and smoking into modern delicacies while always keeping an eye on sustainability.
This website has a fresh and simple look that goes well with the Faroe Islands' landscape and the food Koks serves.
Restaurant Jord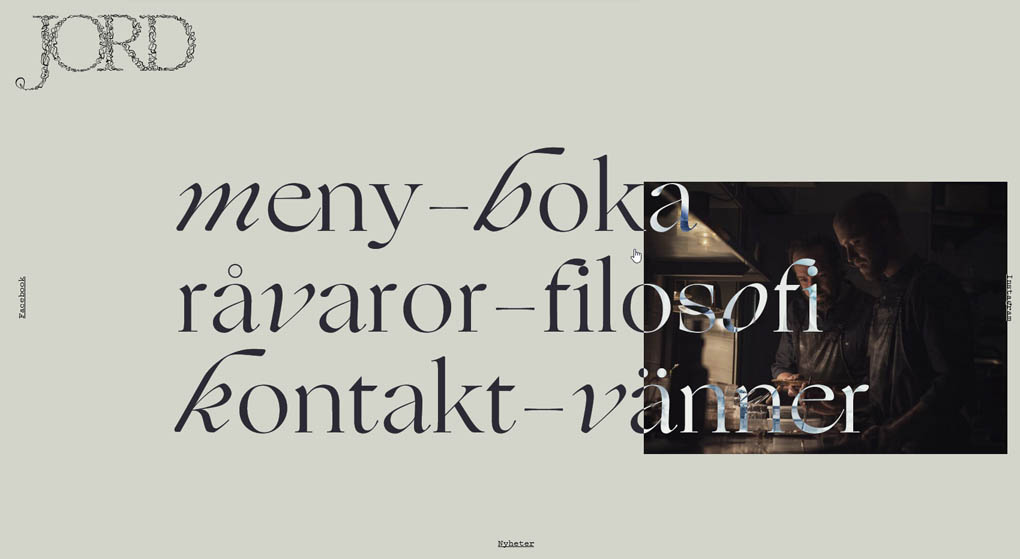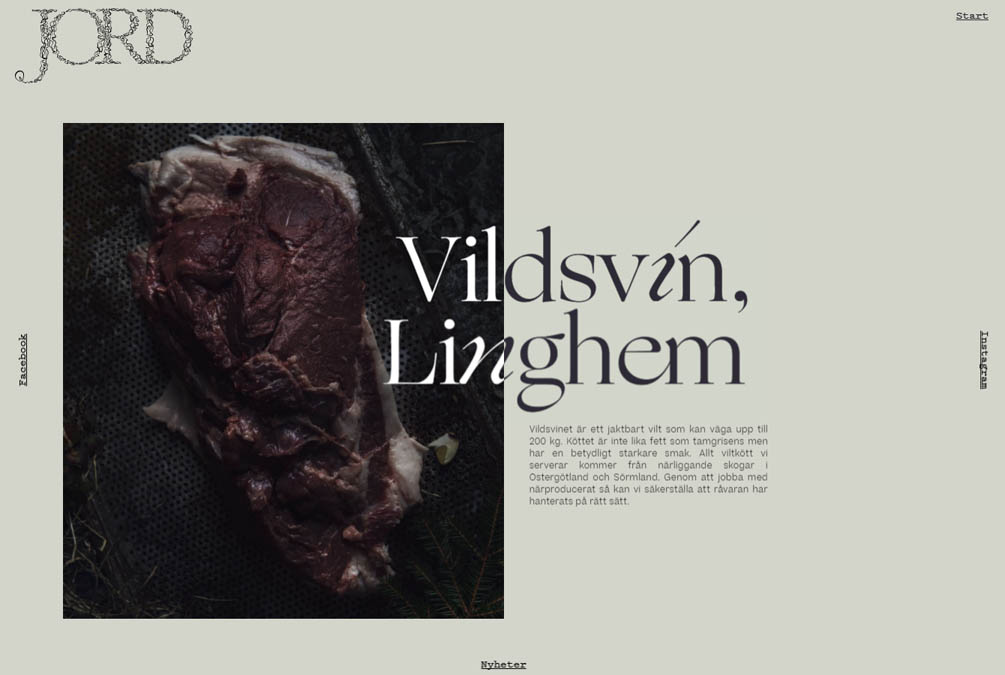 Jord (Earth) is a restaurant in Linköping, Sweden. The goal is to create a culinary experience where nature is always present, using produce from the sea to the forest and wild game to plant-based produce.
The striking website uses type and animated transitions to good effect. The fascinating photography is dark and moody, as if being in a dark forest.
Restaurant Rest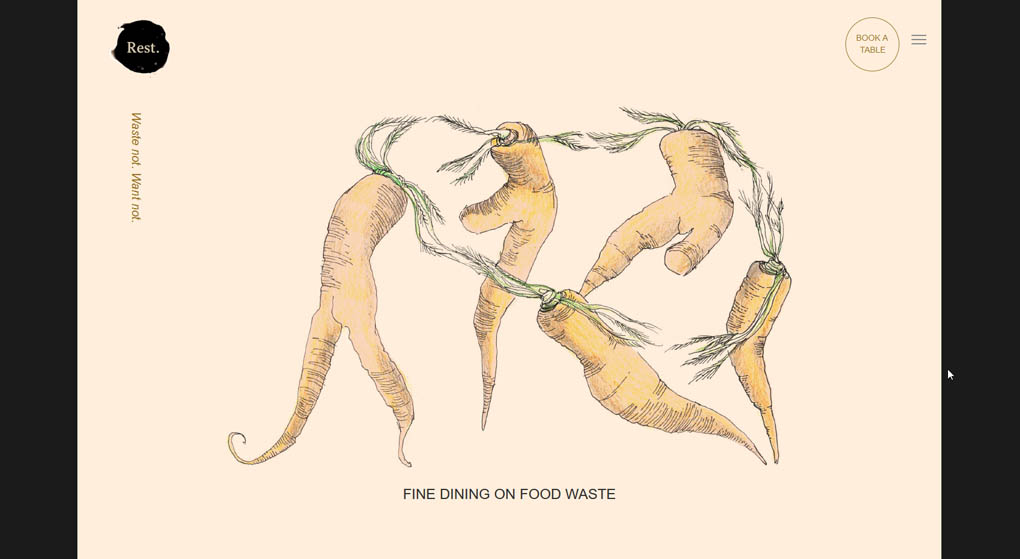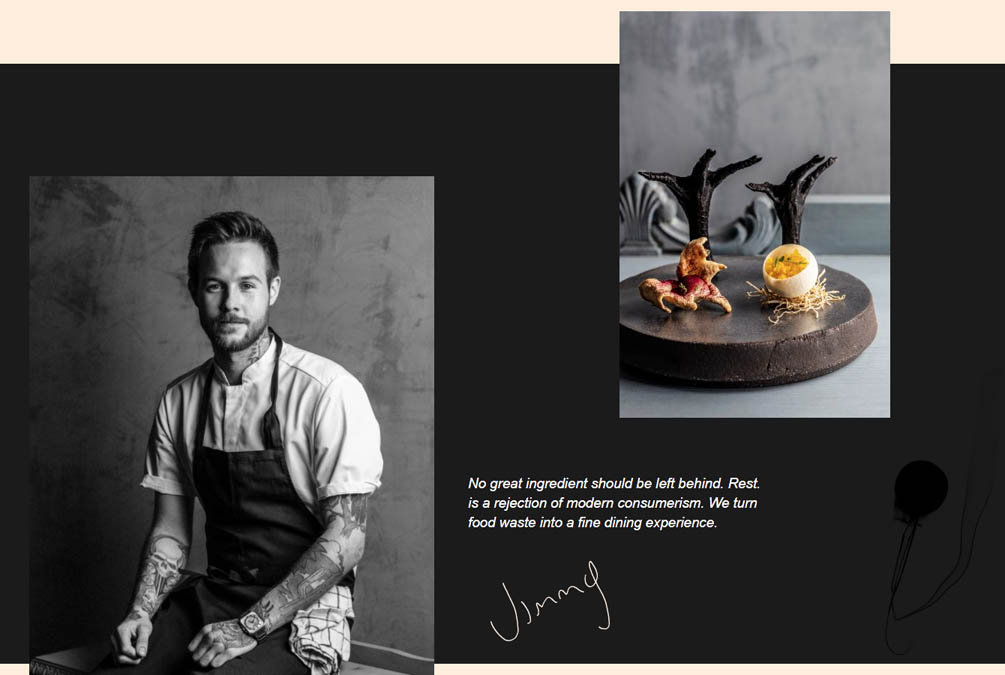 Fine dining on food waste is how Rest located in Oslo describes themselves.
No great ingredient should be left behind. Rest is a rejection of modern consumerism. We turn food waste into a fine dining experience.
This simple website mixes great photography with quirky drawings to complement the restaurant's philosophy on sustainability very well.
Beautiful Minimal Website Designs
Aira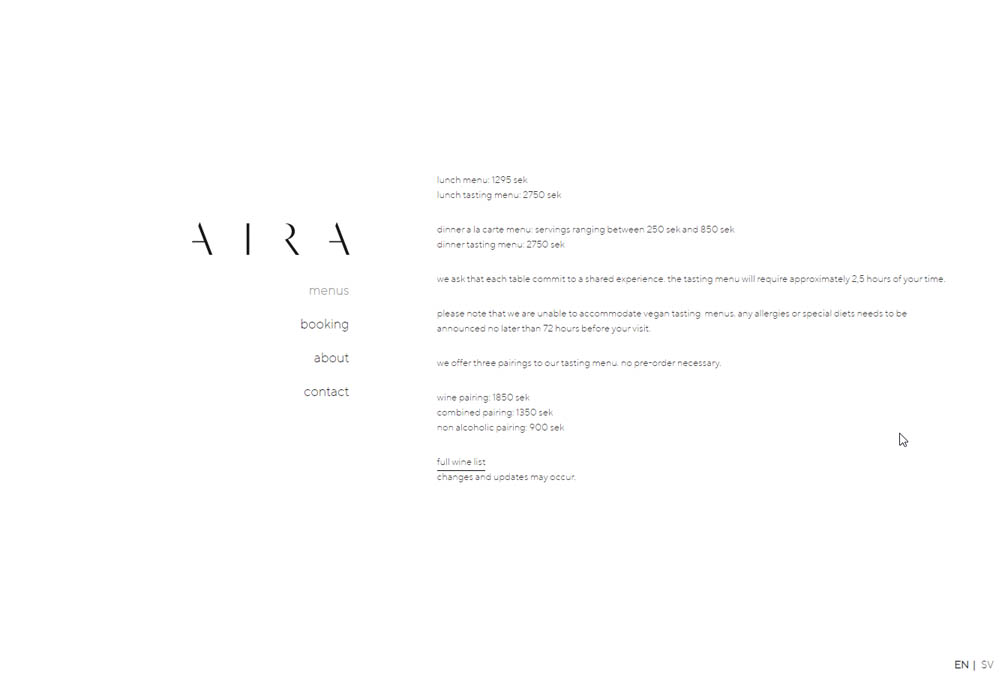 Aira is Chef Tommy Myllymäki's restaurant in Stockholm, focusing on clean Nordic cuisine and fresh ingredients. The main focus of the restaurant is on the seasonal produce of the Nordic countries.
This is a good example of a restaurant offering high-quality cooking using an ultra-minimal website with small type, no images, and lots of white space.
Cau Steakhouse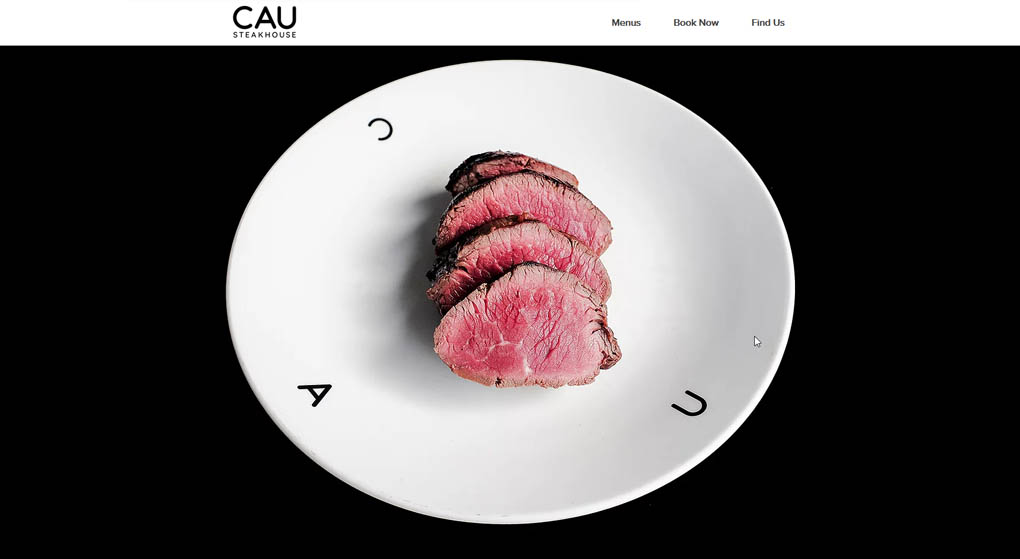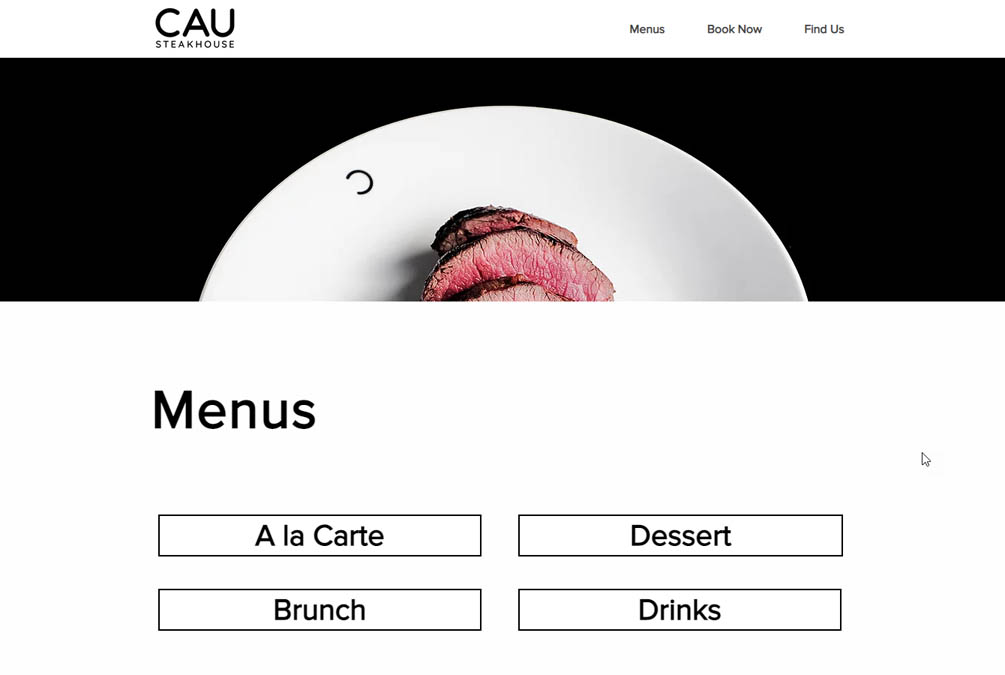 Cau is a restaurant in Amsterdam with the goal of becoming the ultimate Argentinian steakhouse.
This is a very attractive and simple website with great images and easy to navigate layout.
Destroyer LA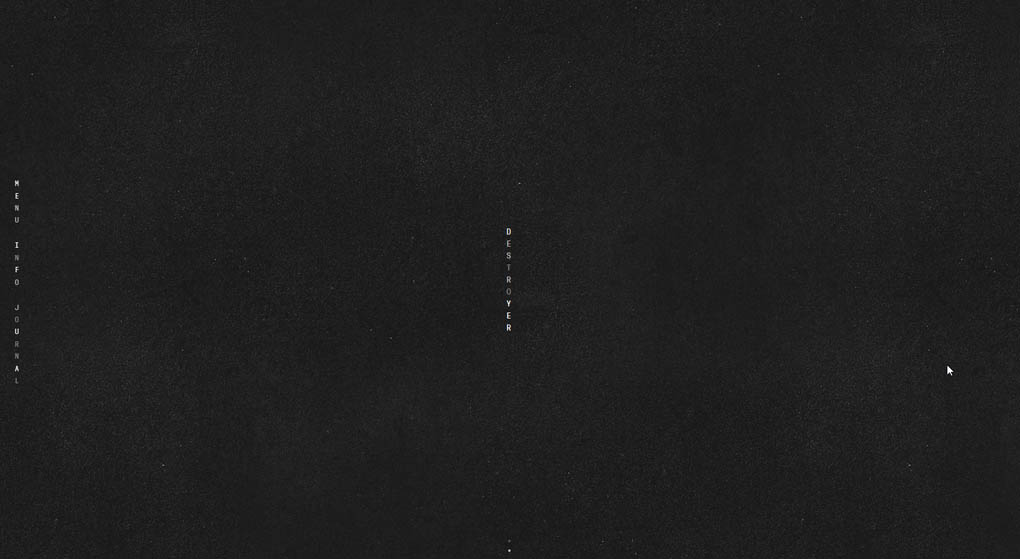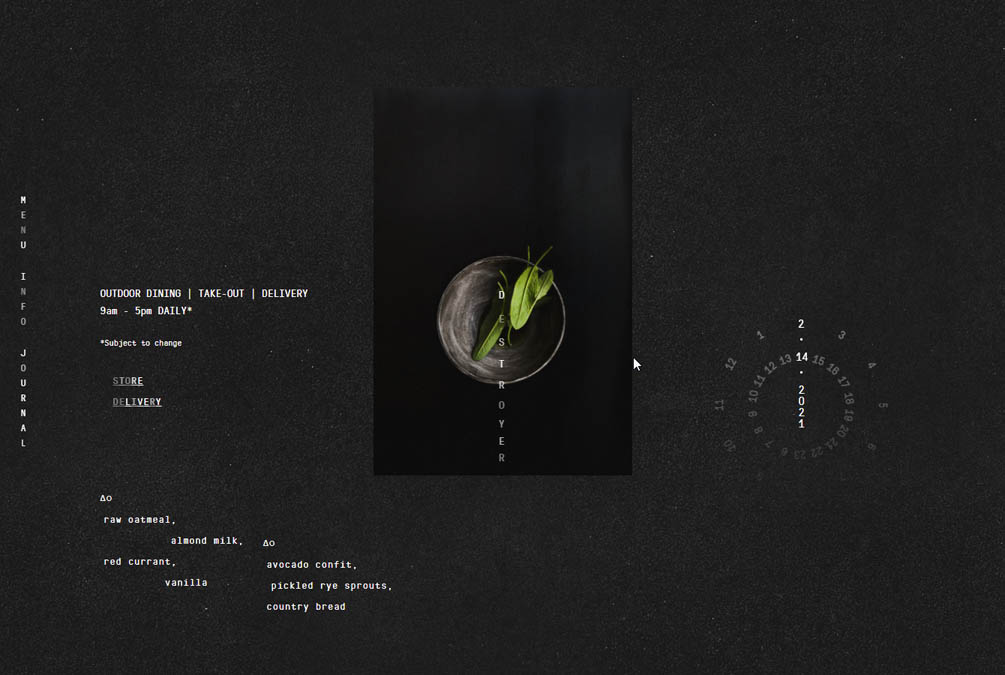 Destroyer is an adventurous restaurant in Los Angeles. The food looks and tastes like it belongs in a much pricier restaurant, but here you can have a casual lunch.
This is a fantastic one-page website with a very cool layout and animated effects. There is even a Destroyer game at the bottom of the page. They also have a good online store with a large menu and items to choose from.
Misshumashsu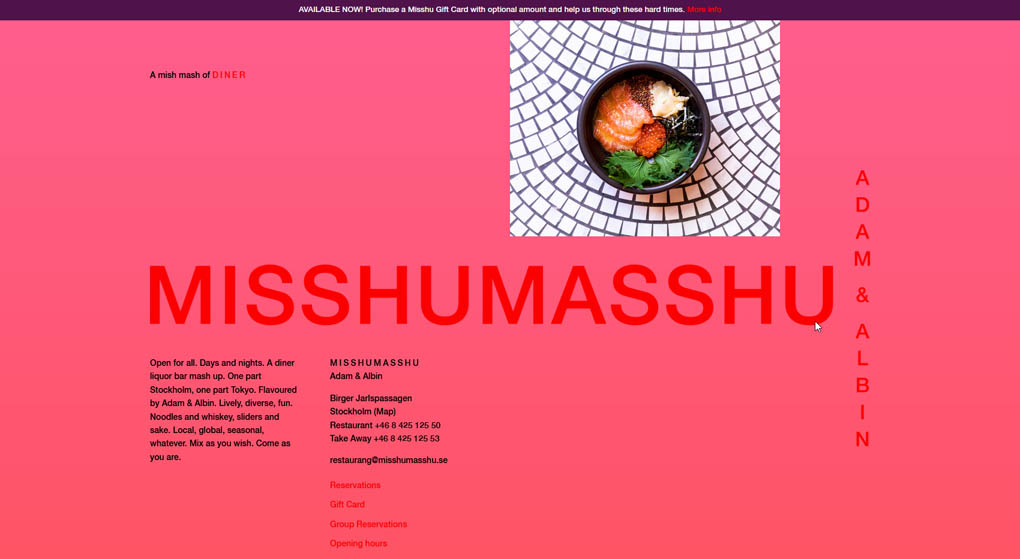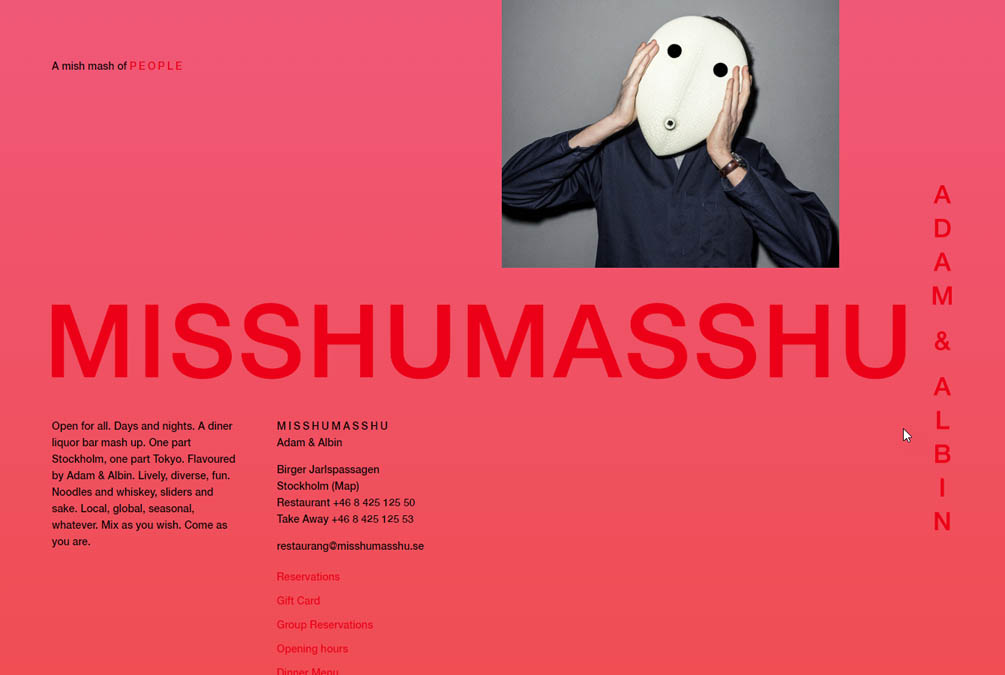 Misshumashsu is a diner and liquor bar mash-up in Stockholm. A mix of Stockholm and Tokyo by Adam & Albin.
This is a bright, colorful, and minimal website with animated color transitions
Västergatan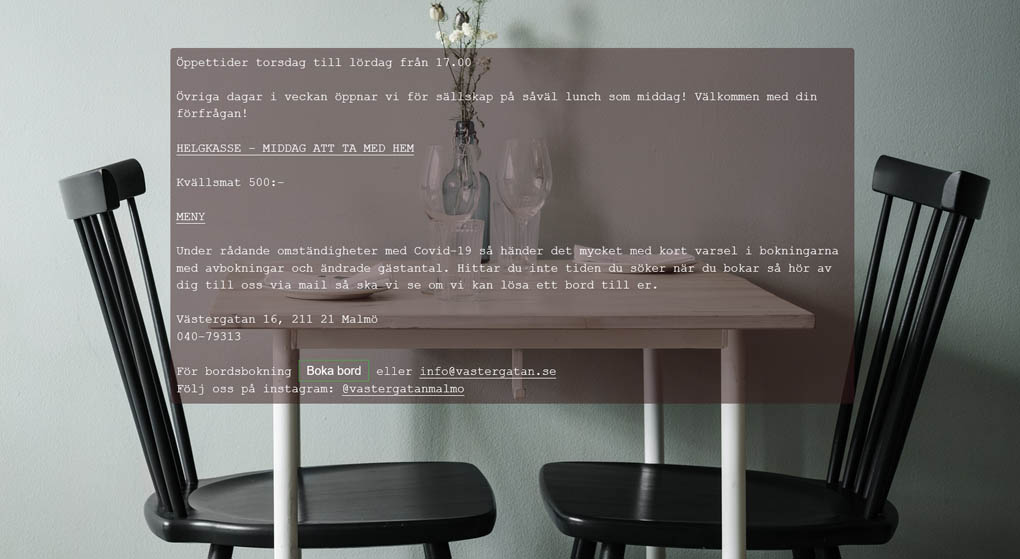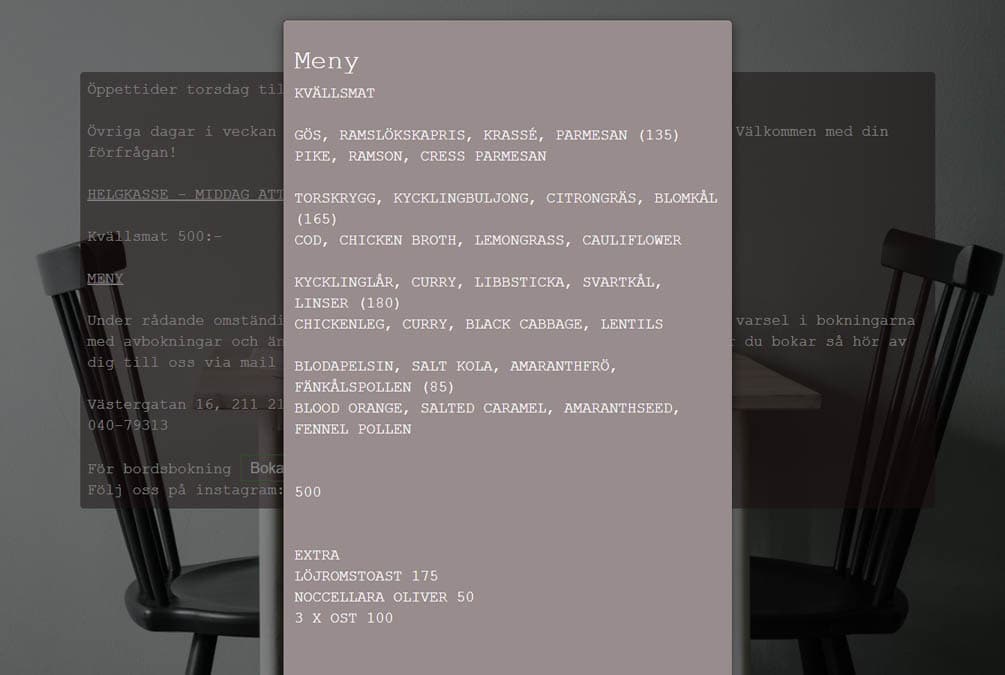 Västergatan is a restaurant in Malmö, Sweden. They serve dinner, Monday through Saturday from 17.00
How much more minimal can you get than this. Beautiful.
Retro & Vintage Style Restaurants
Cantilever Fish & Chips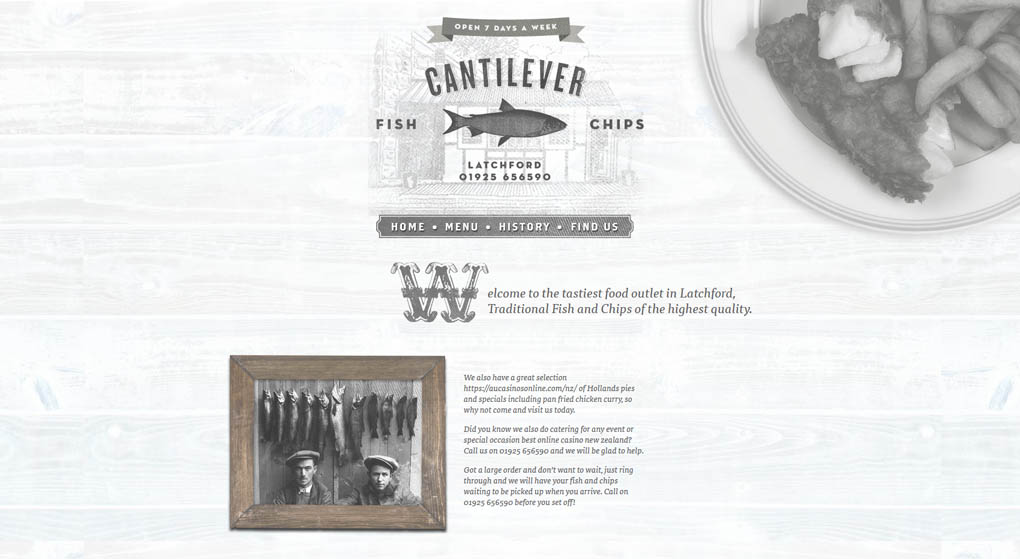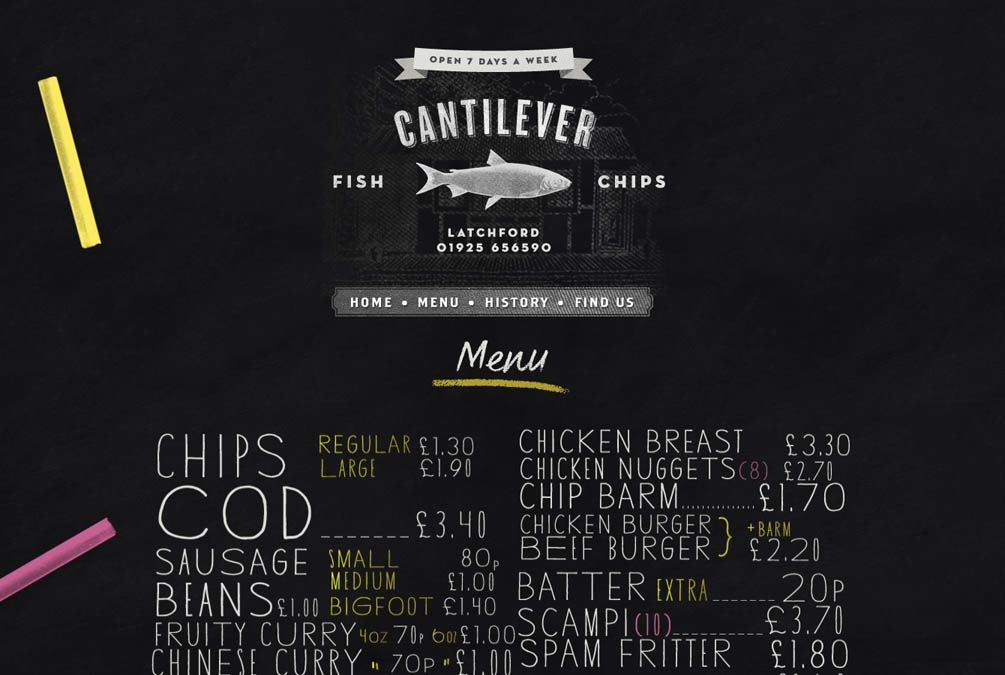 Cantilever is a traditional fish and chips shop in Latchford, UK.
This website uses a retro style to good effect. The menu is especially nice, but it´s made out of images and would be somewhat hard to change.

Catch Fish & Chips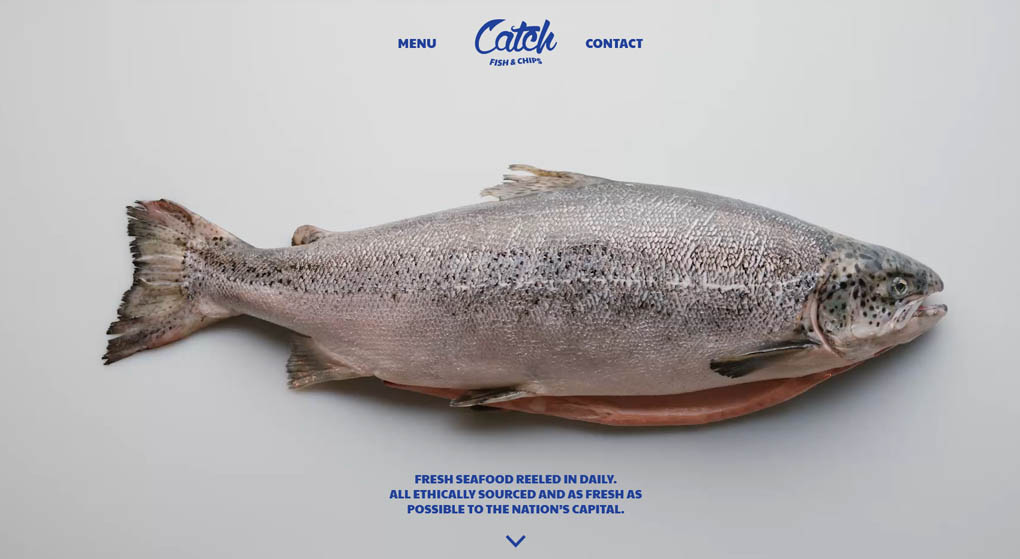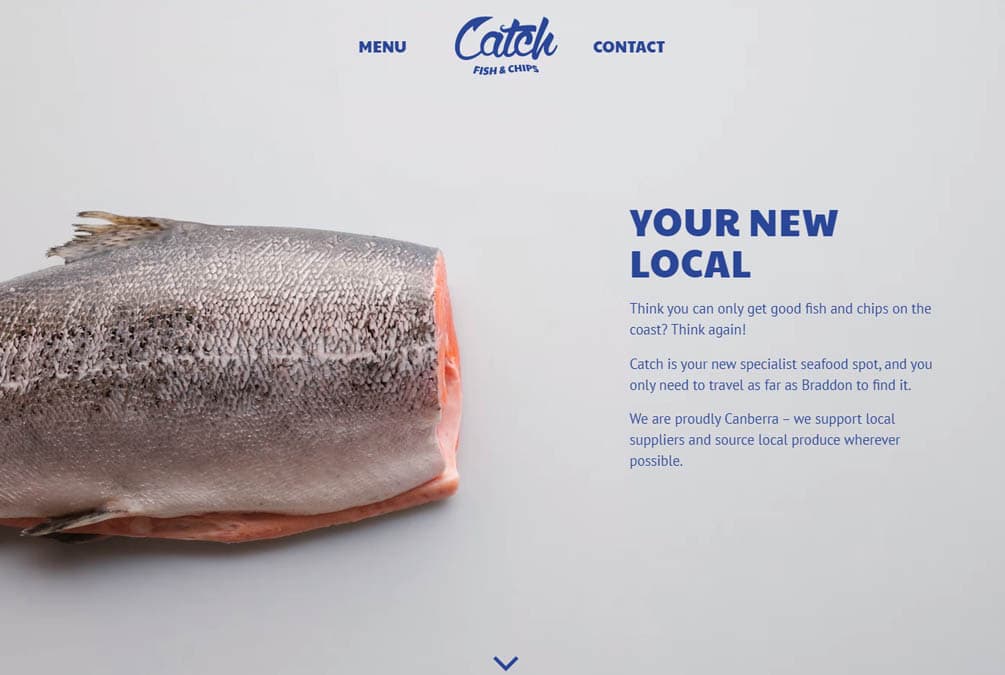 Catch is located in Canberra and is another fish & chips shop that uses a vintage-style website. A fantastic animated scene in the hero section and a nicely designed menu in retro style.

Cluny Bistro & Boulangerie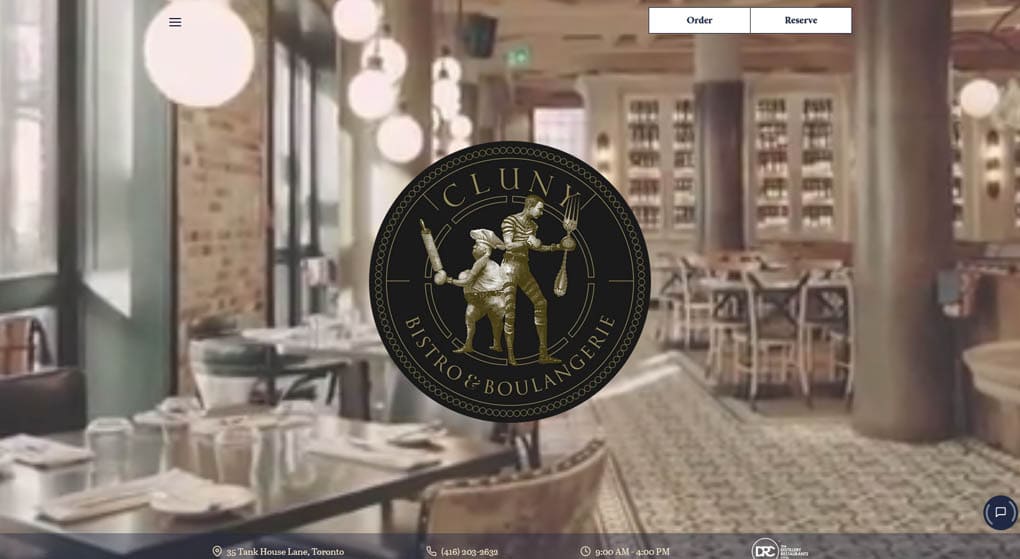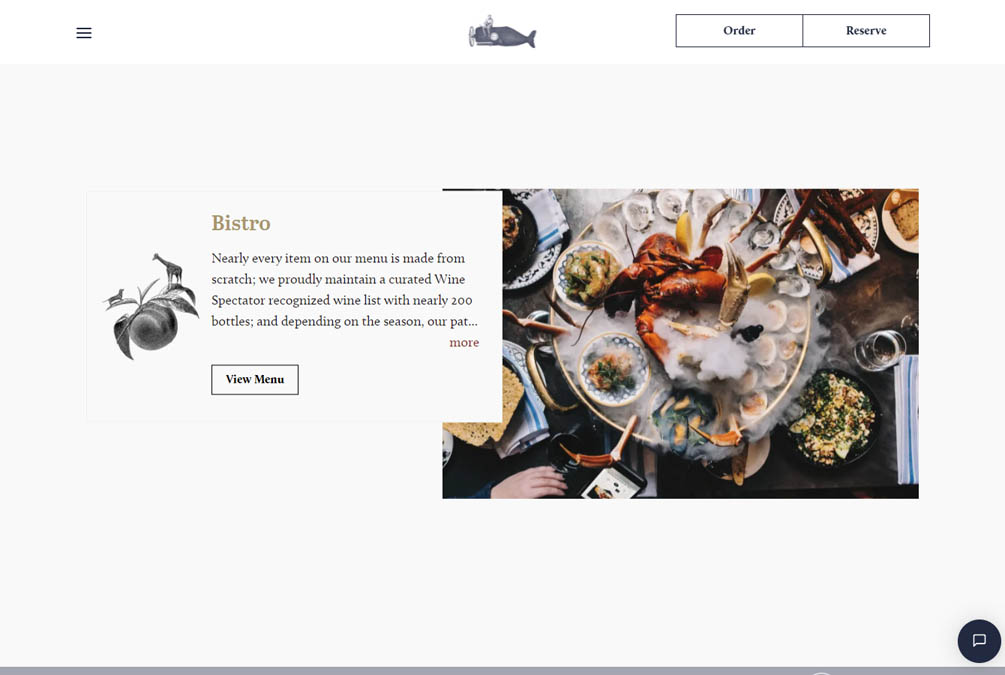 According to the media, Cluny is the best French restaurant in Toronto. France´s modern food movement inspires the menus.
This is an exciting and original website that uses videos of the nicely designed dining areas. Great vintage illustrations are used to good effect.

Punk Royale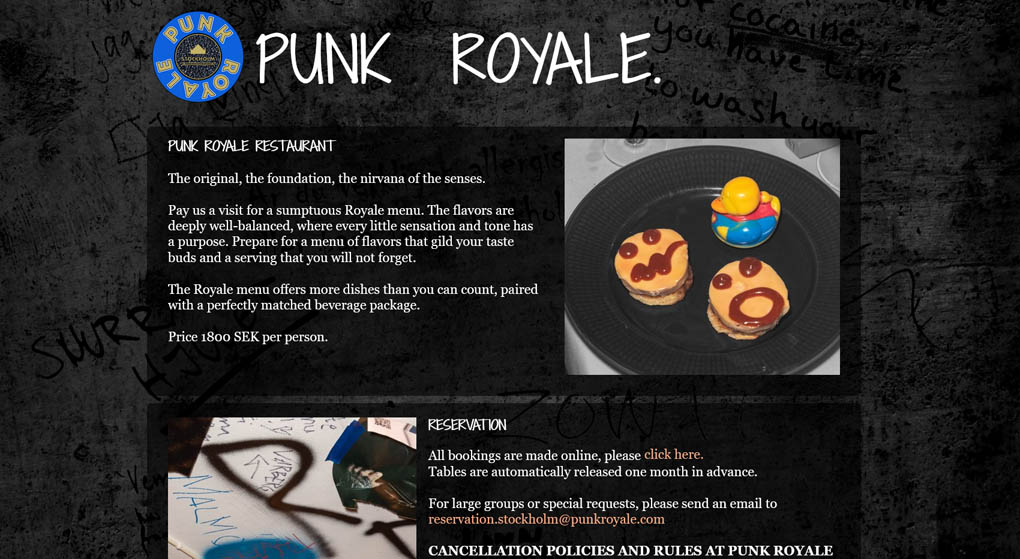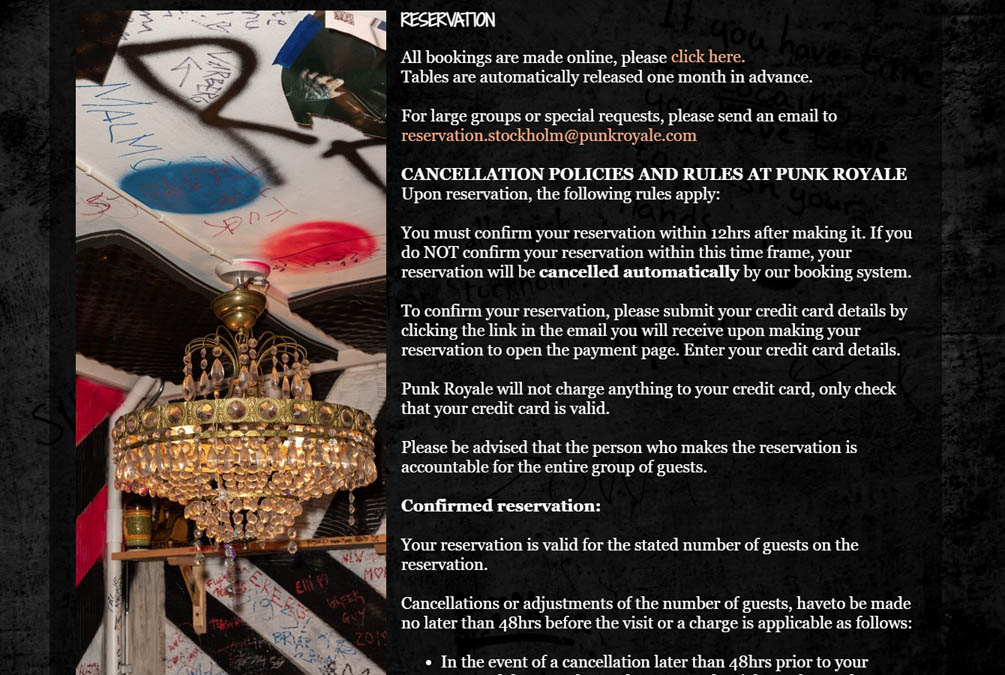 Punk Royale is a superhip unconventional luxury restaurant in Stockholm. The menu consists of expensive delicacies in creative combinations and outrageous style.
The website is designed in a classic DYI punky style.

Sea Harvest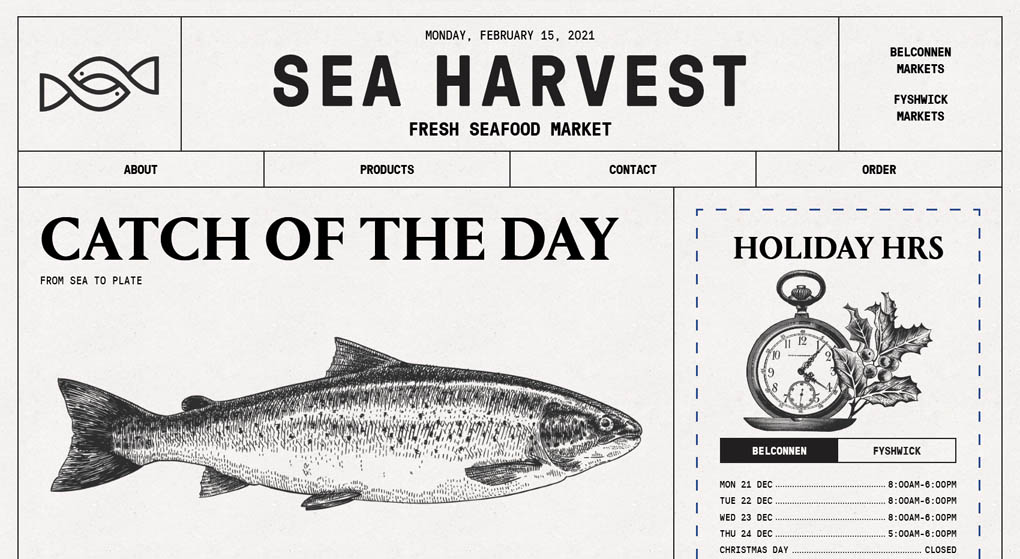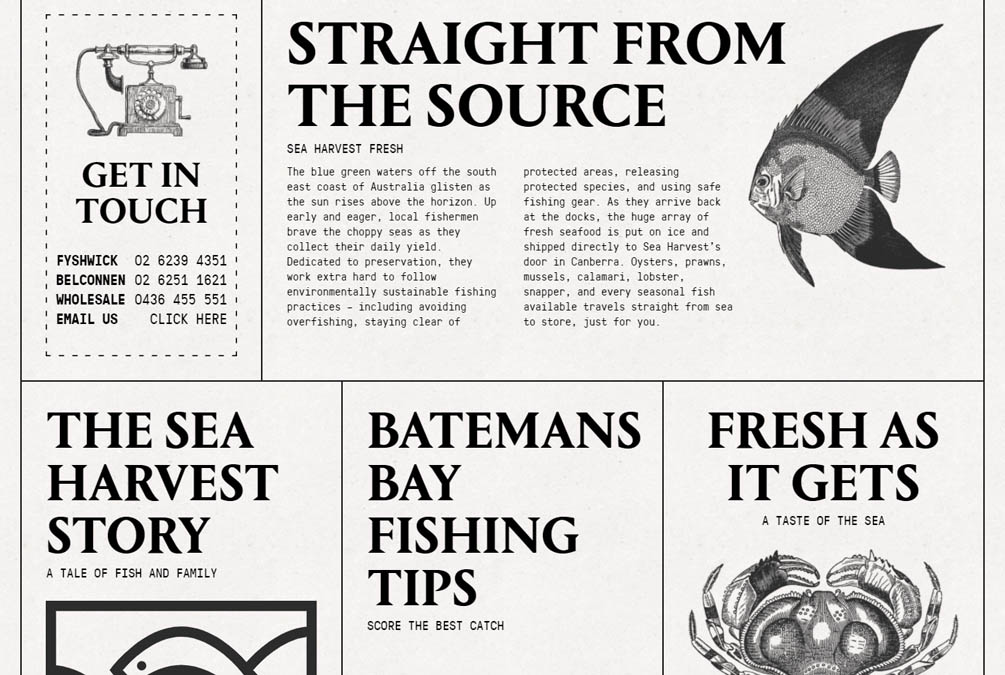 Sea Harvest is a local fresh seafood market in Canberra.
This is a cool retro-style website that still feels very modern and fresh.
Vegetarian Restaurant Examples
Cookies Cream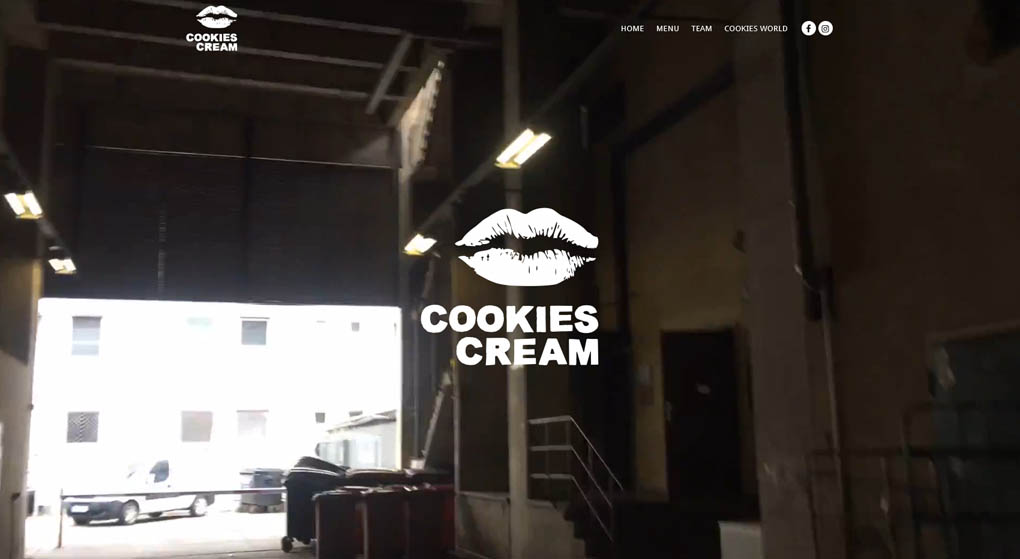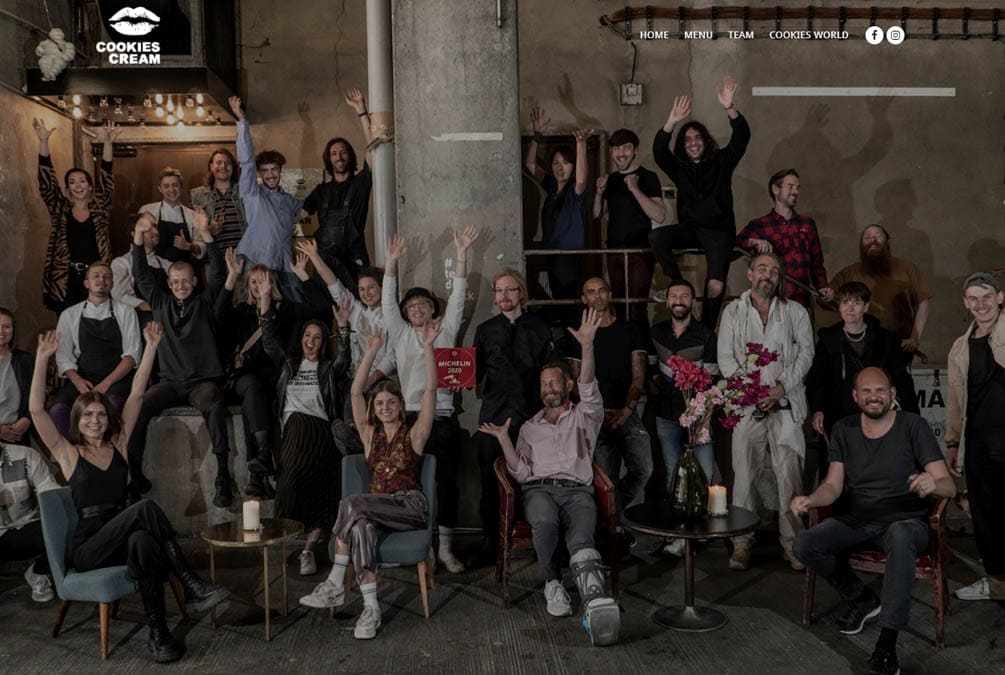 Cookies Cream is a one-star Michelin restaurant in Berlin. They have created their own vegetarian cuisine based on modern processing techniques and old traditions of ingredients.
The restaurant is located in an unassuming backyard, and the industrial character also shows in the design of this original website.
Crudo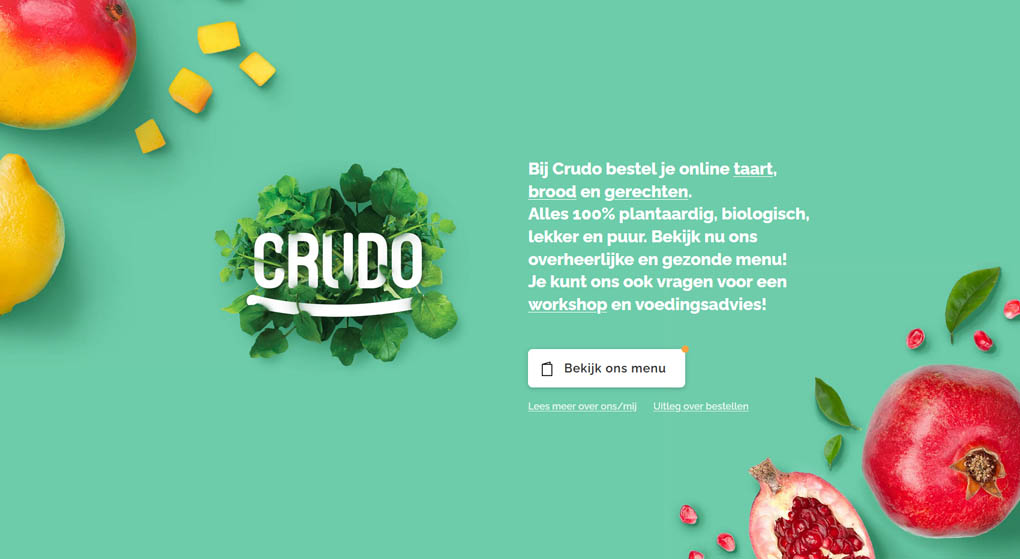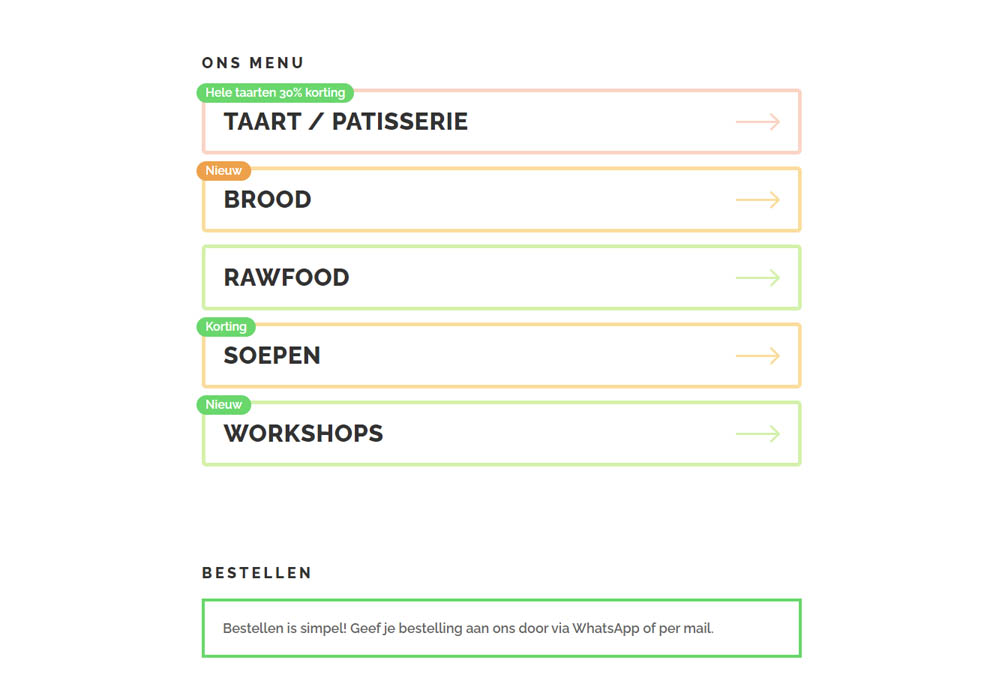 Crudo is an organic vegan food establishment in Nijmegen, Holland.
This is an attractive and simple website for health freaks.
Green Rebel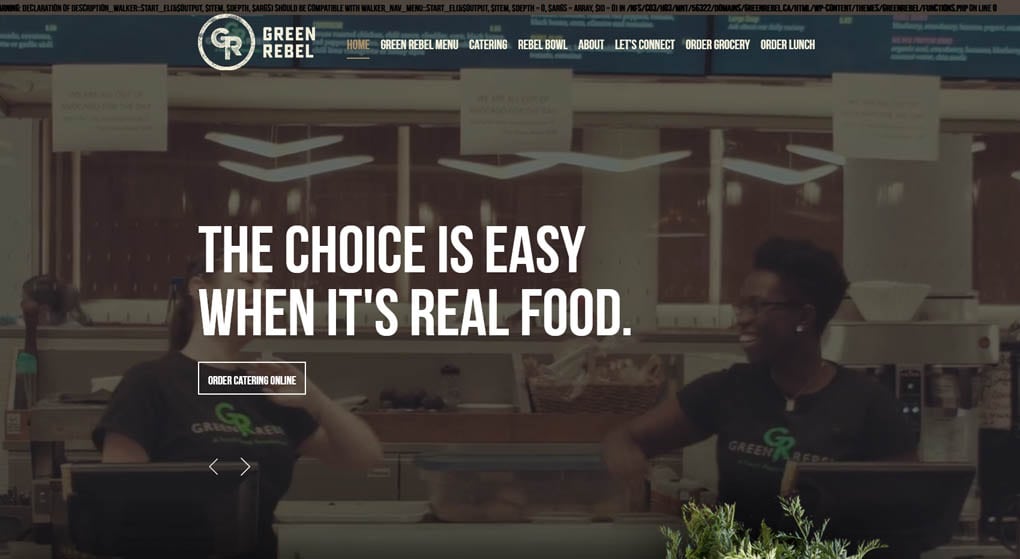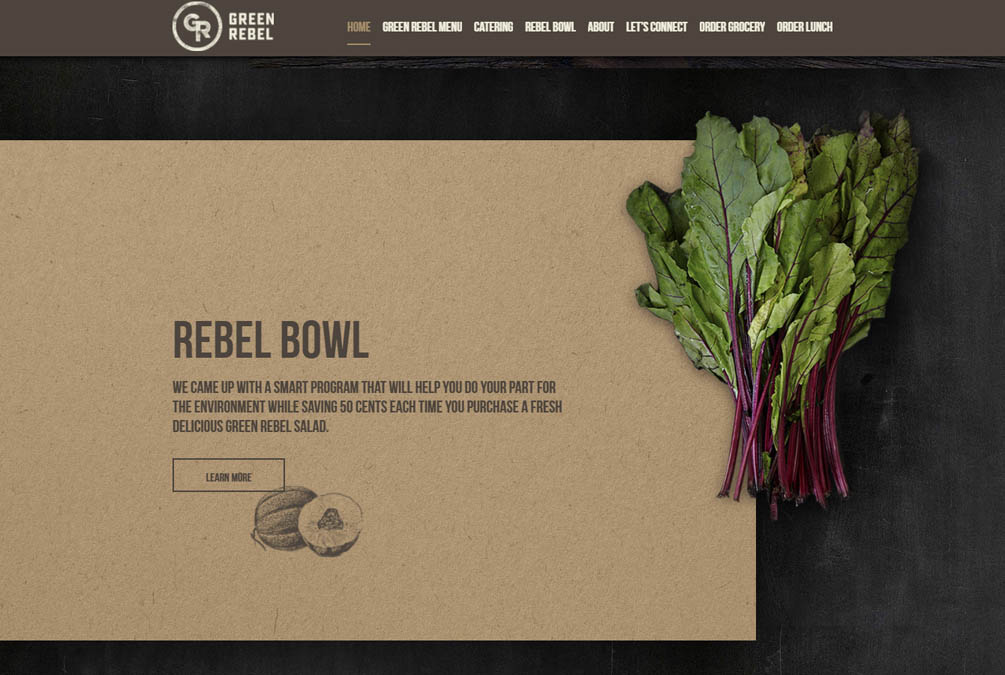 Green Rebel is a vegetarian restaurant chain in Ottawa, Canada.
This website really captures the beauty of colorful vegetables against a dark and muted background.
Rutabaga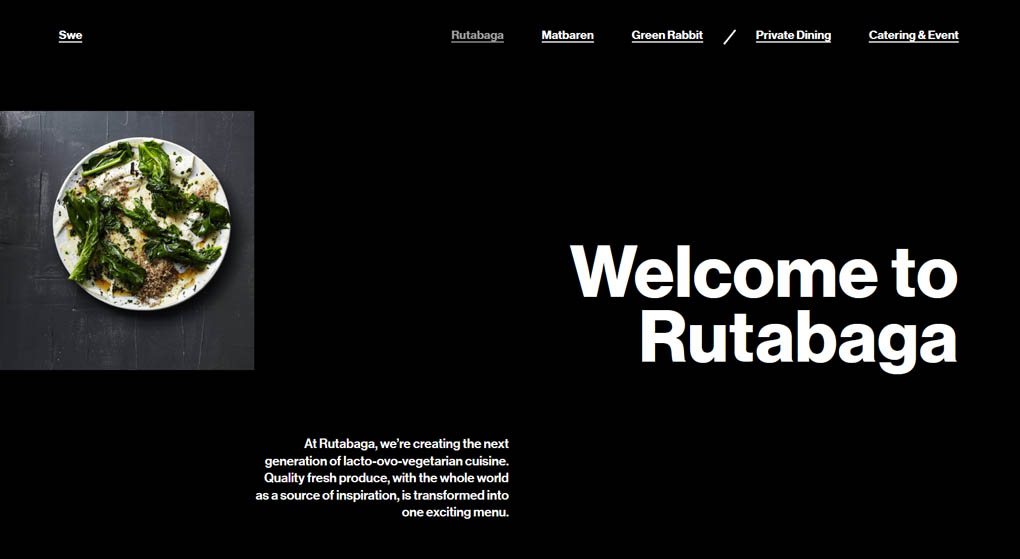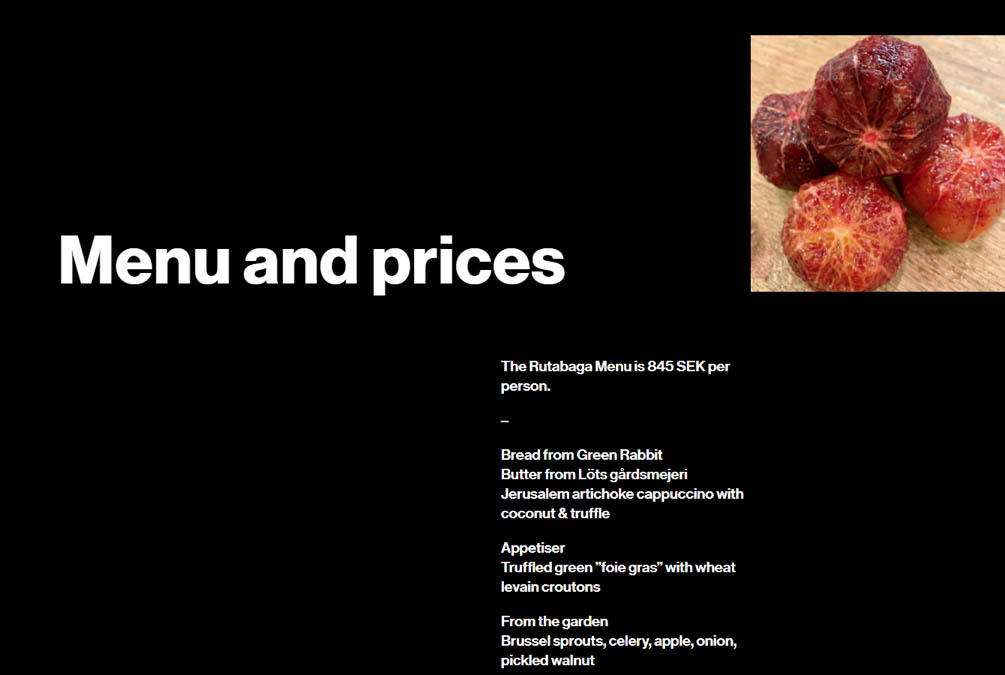 Rutabaga is a next-generation lacto-ovo-vegetarian cuisine in Stockholm. The Chef is Mathias Dahlgren, who won the culinary championship Bocuse d'Or in 1997.
This website has a very modern design with large type, plenty of black space, and fairly small photos arranged dynamically.
Sim Sim Falafel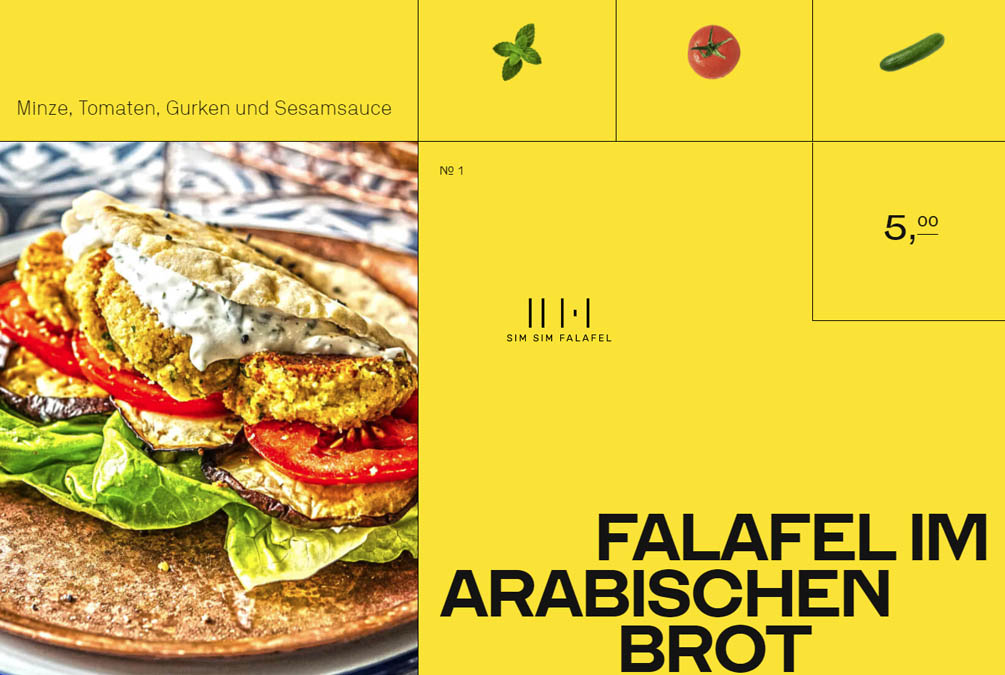 Sim Sim is a falafel shop in Munich with an all-vegetarian menu focusing on three dishes: falafel, hummus tahini, and baba ganoush.
This is a colorful and fun website with an eye-catching animation in the hero section and a nice-looking menu section.
Vækst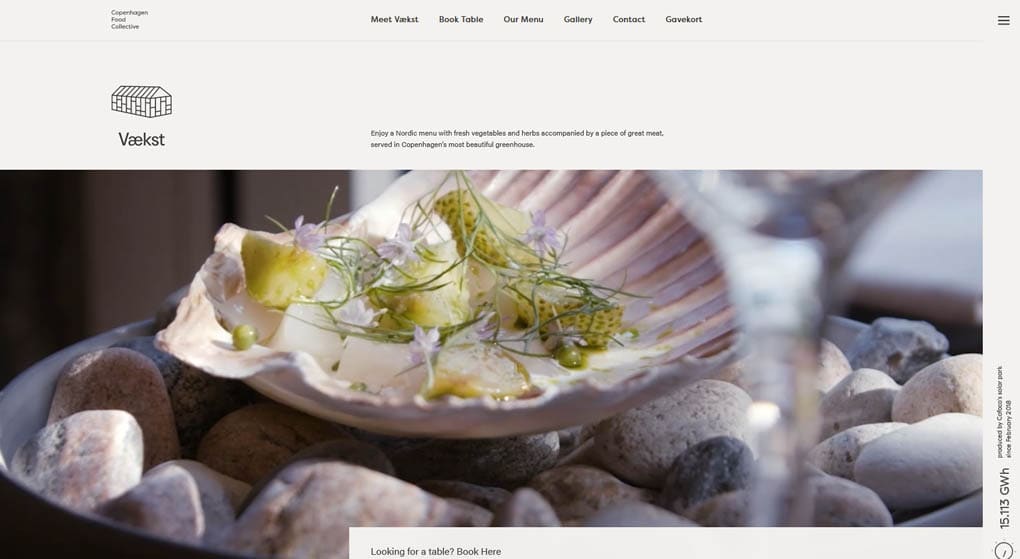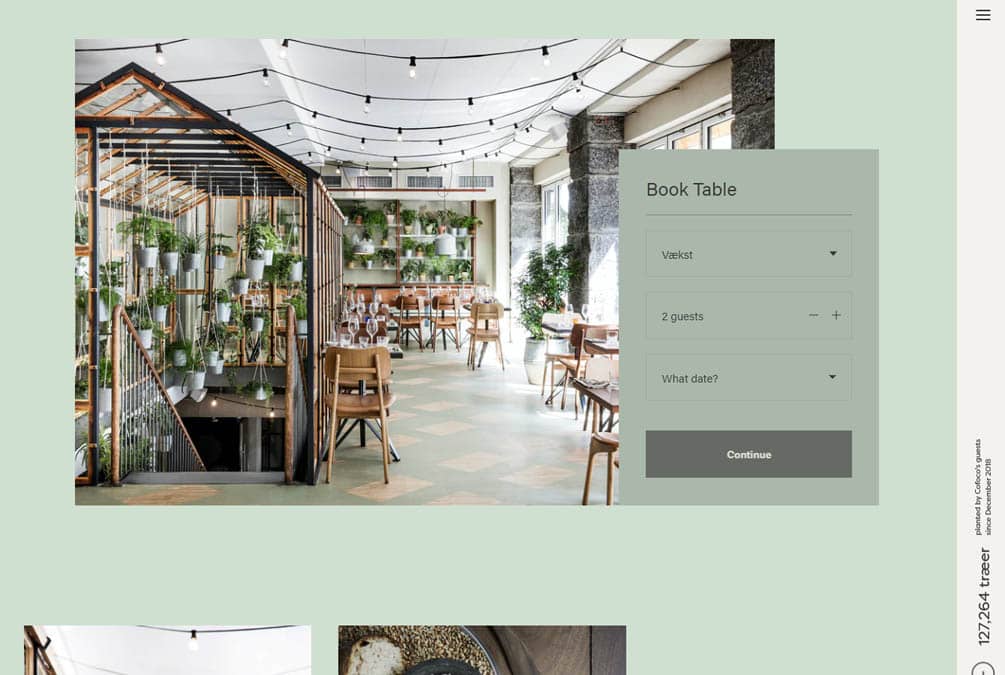 Vækst is a restaurant in Copenhagen's old Latin quarter. The interior is centered around a beautiful greenhouse, and the menu is based on fresh Scandinavian vegetables.
This is a very nice website with a great layout and color scheme. The photographs nicely show the light and plant-filled interior. The booking section and menus are also very well integrated into the home page.
Virtual Restaurants & Cloud Kitchens
TygaBites – Delivery Only Restaurant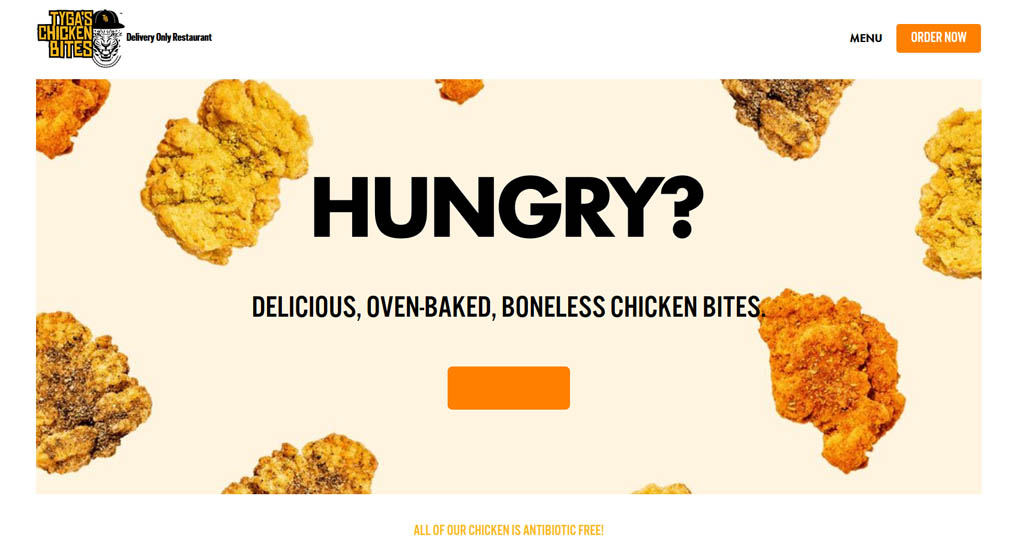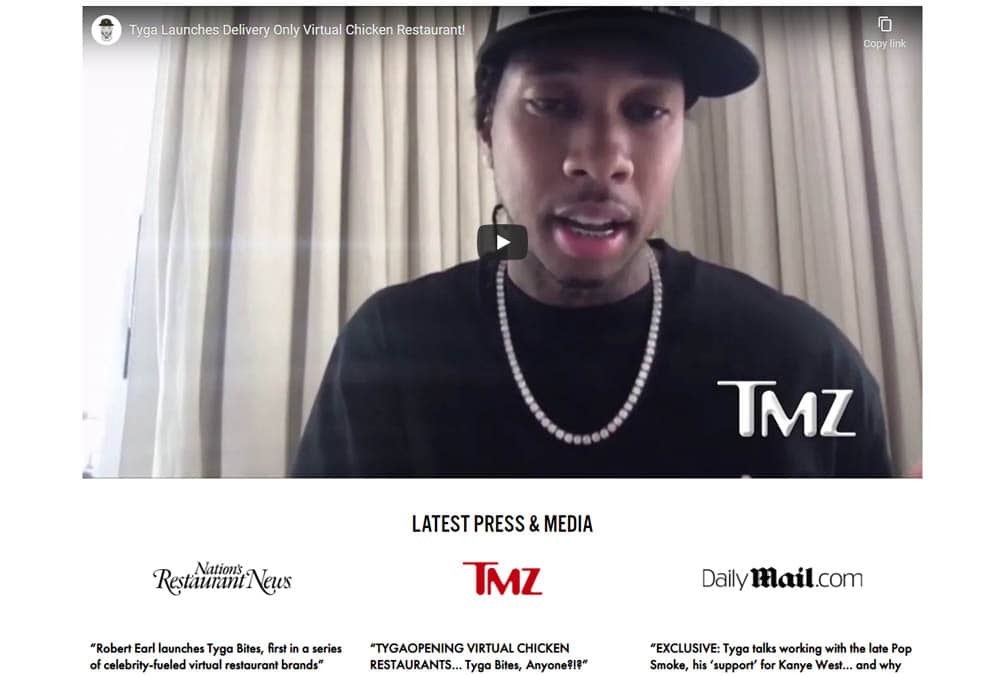 TygaBites is a "celebrity-owned virtual dining concept" by the rapper Tyga serving chicken nuggets by delivery only.
This is a nicely designed ghost kitchen website for a trending food service business model.
MrBeast Burger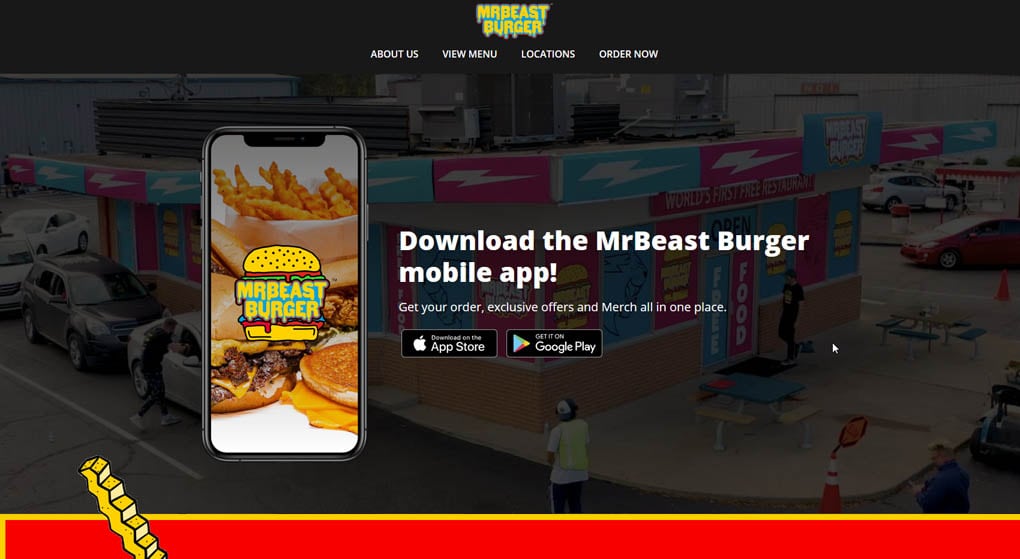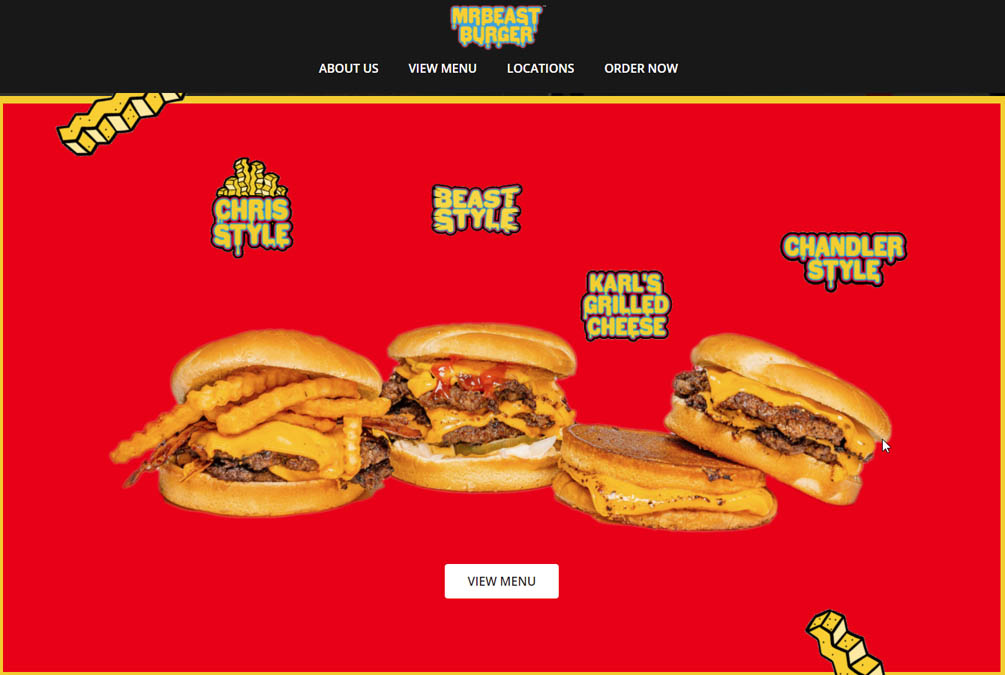 MrBeast Burger has teamed up with Virtual Dining Concepts to create a virtual restaurant brand. Virtual Dining Concepts is an on-demand food delivery service that operates out of existing restaurant kitchens.
The graphic, colorful, and bold design makes this website pop.
Chino – alt/grub/faction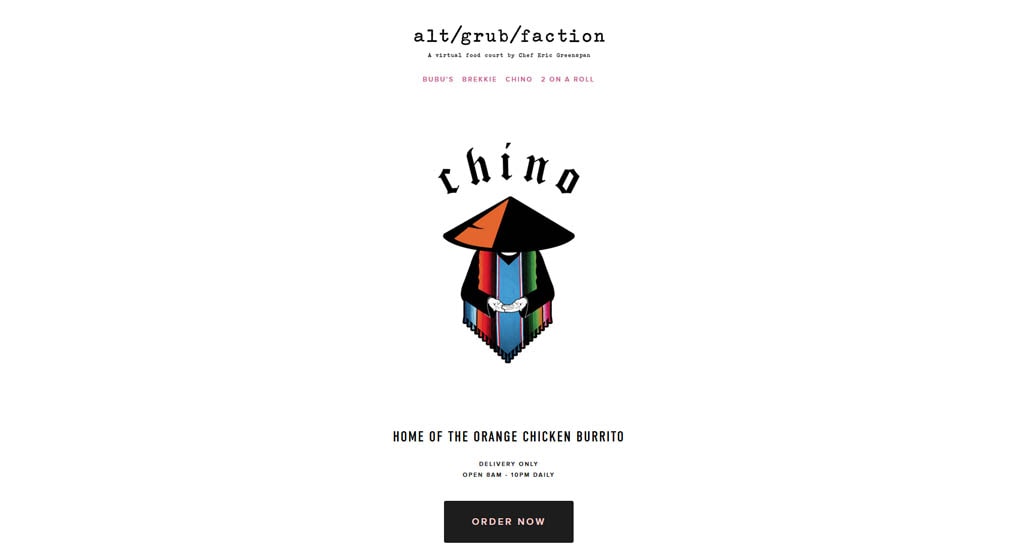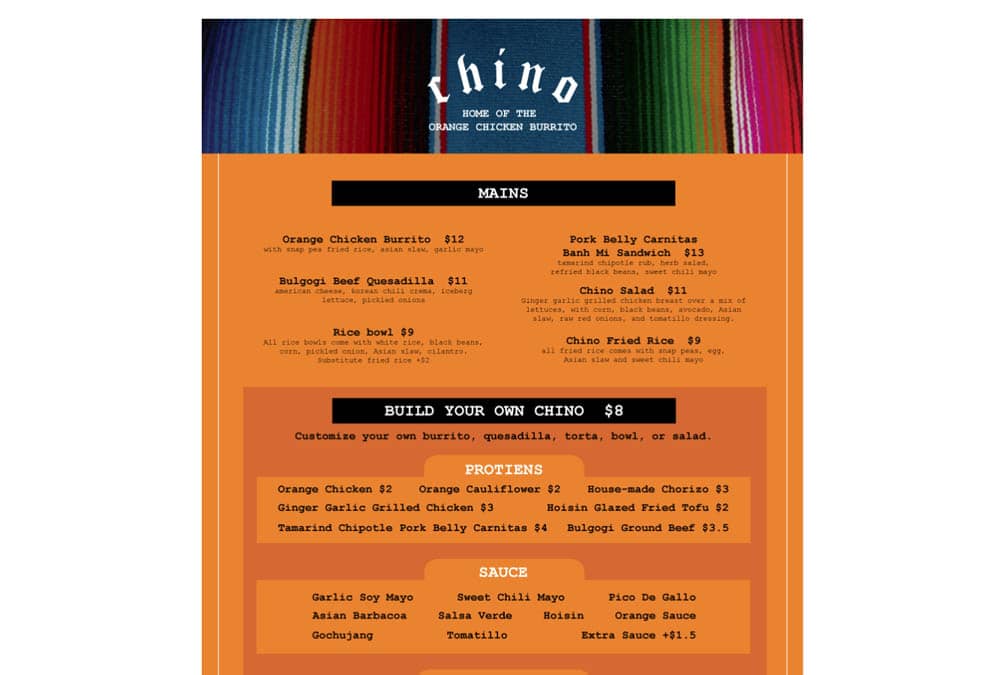 Chino by celebrity chef Eric Greenspan has launched several delivery-only virtual restaurants. As opposed to a ghost kitchen, virtual restaurants don't rent from third parties. They have their own established brick and mortar locations (or food trucks) and use their existing kitchens to create additional, delivery-exclusive menus.
This is a straightforward, functional, and good-looking virtual restaurant website.
Asian Restaurant Website Design
Restaurant Florilège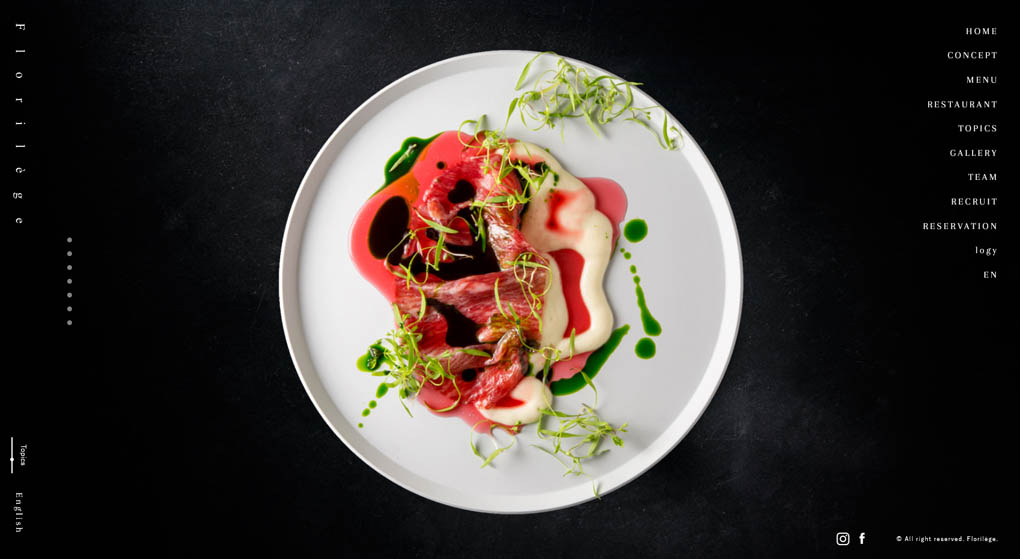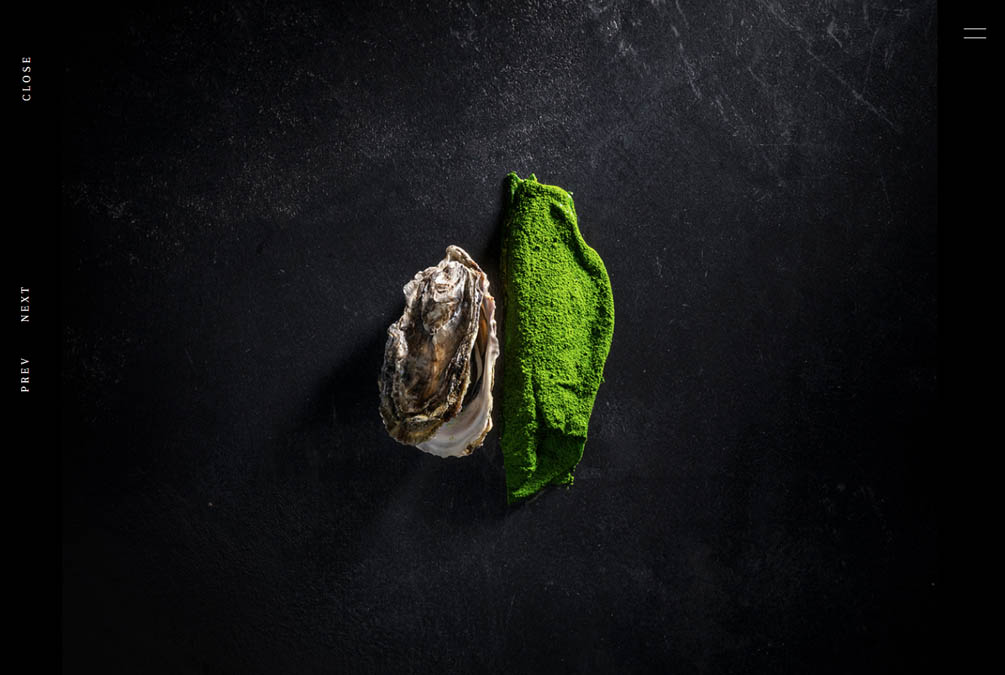 Florilège is a Japanese restaurant in Tokyo influenced by modernist french cooking. The restaurant is led by Chef Hiroyasu Kawate and has been awarded a two-star rating by the Michelin Guide.
The website is designed with a clean and elegant style highlighted by beautiful images of the food plates photographed on a black background. The website navigation is nicely integrated on the right side of the page giving the images centerstage.
JL Studio – Modern Singaporean Cuisine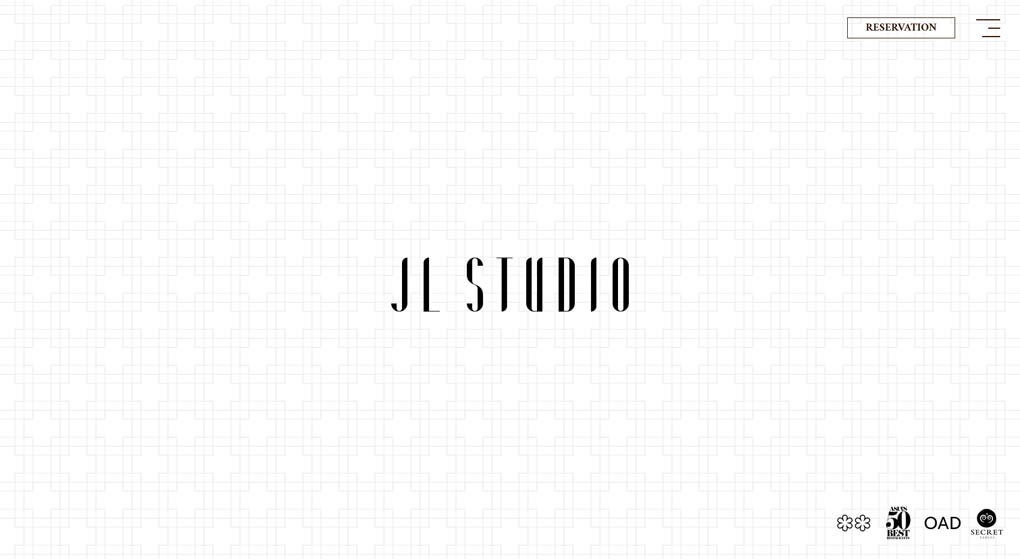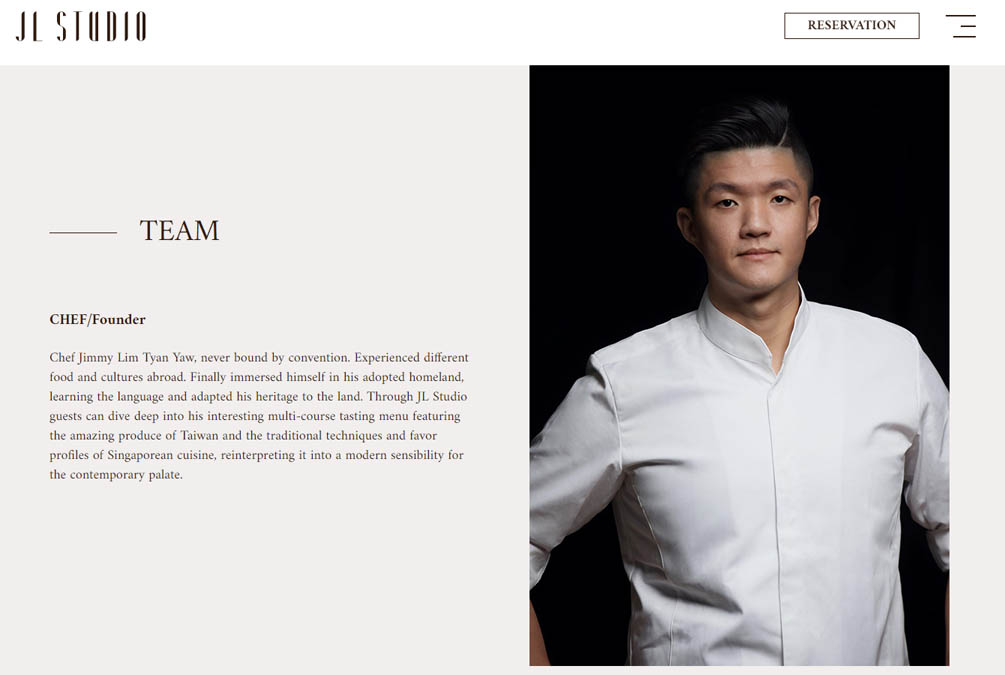 Chef Jimmy Lim is the head chef for JL Studio, a Michelin-starred restaurant in Singapore. He has earned a great deal of acclaim for his unique French cuisine style and the revitalization of Singaporean and Southeast Asian cuisine.
The website excels in the use of white space, which conveys the high class of the food being served. This is a good example of a one-page restaurant website that quickly gives the basic information while reinforcing the branding of a top-rated restaurant.
Neolokal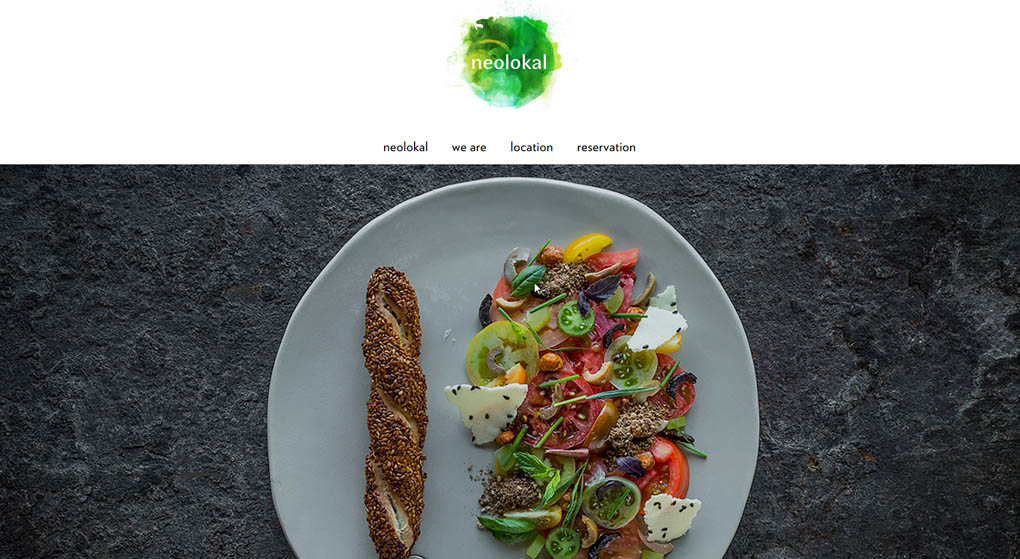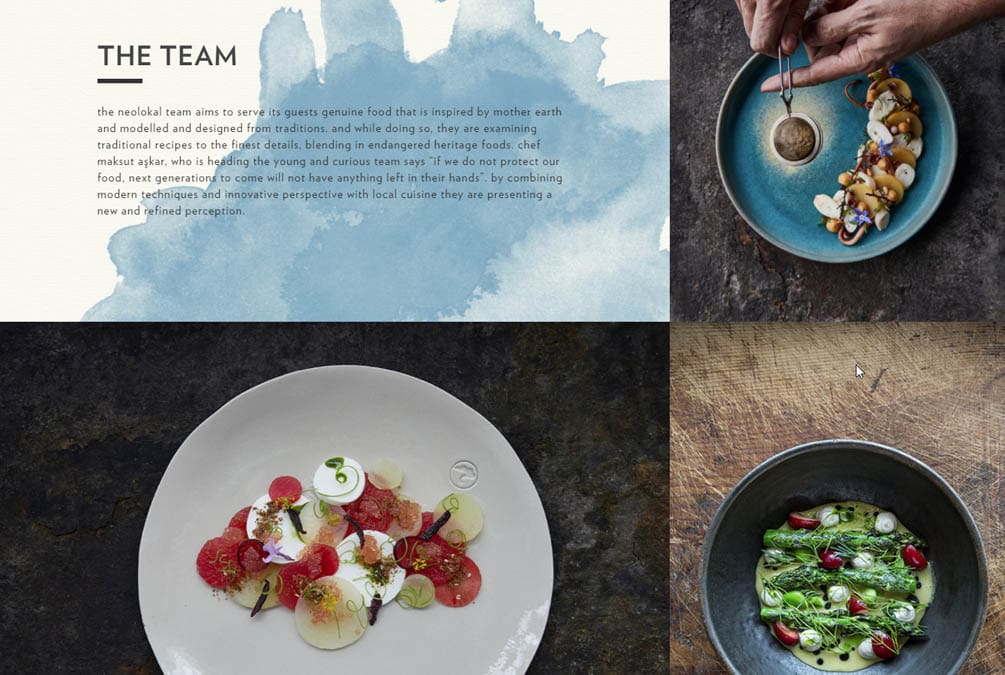 Turkish chef Maksut Aşkar transforms local and global classics with an emphasis on sustainable farming. Neolokal embodies Maksut's desire to preserve Turkish heritage produce while combining it with famous local recipes.
This is a good example of how gorgeous food photography and a beautiful location can make a good restaurant website great. All other information and reservation are easily accessible on one page.
Saké Restaurant – Contemporary Japanese Cuisine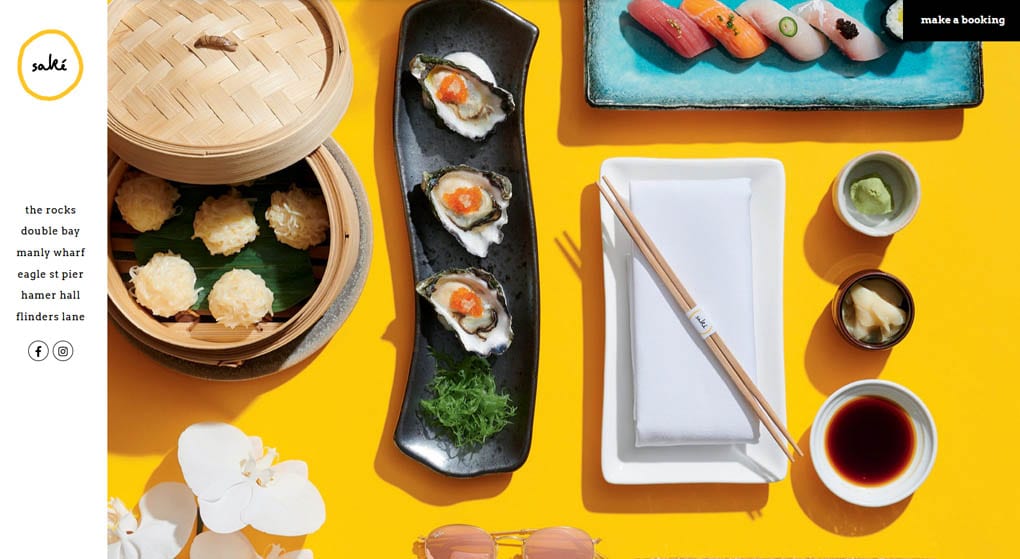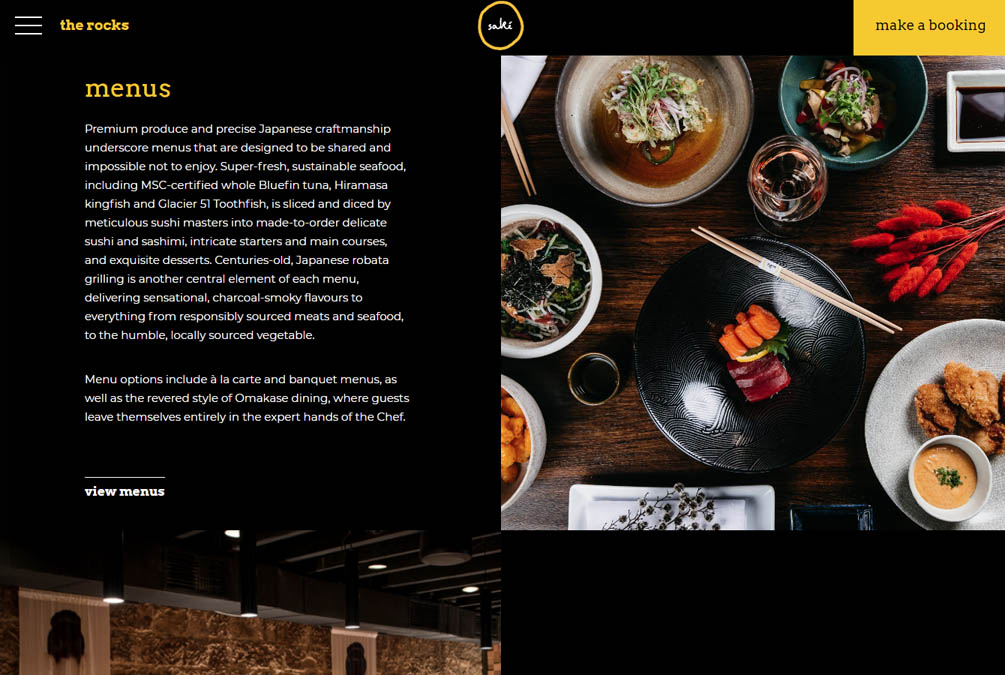 Saké Restaurant & Bar in Australia features contemporary Japanese cuisine created by sushi master Shimpei Hatanaka; he combines classic sushi and new-style cuisine elements.
This is a good example of creating a website for a restaurant that operates in several different locations. Each location uses the same template and visual style and shows plenty of original environment and food photography.
Shizuku Ramen Contemporary Japanese Restaurant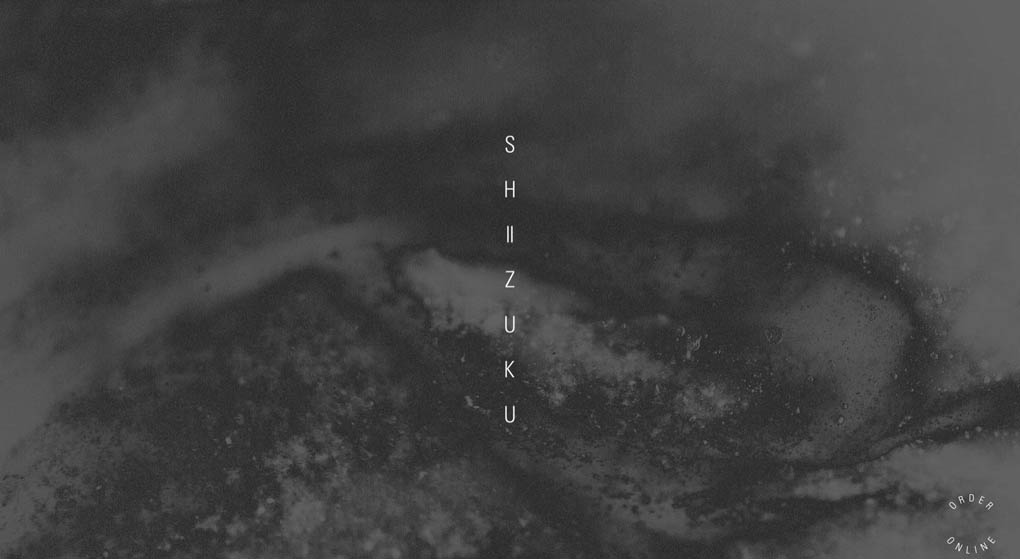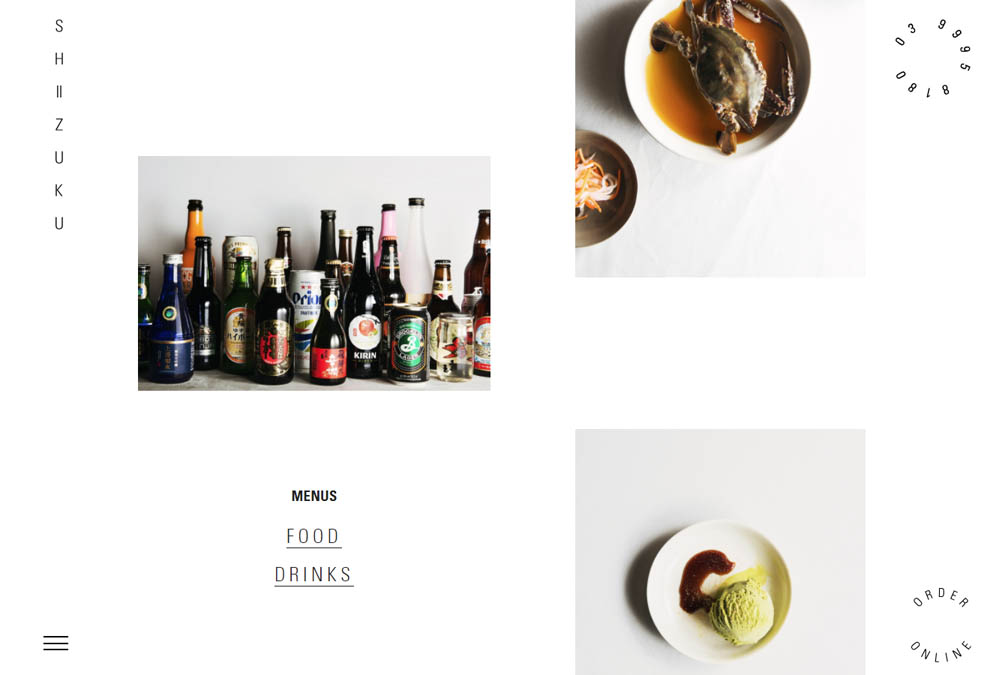 Shizuku is a popular Japanese restaurant in Melbourne that serves ramen and has an extensive craft beer menu.
This website is easy on the eye with just the right amount of information and an excellent online ordering system.
Nordic Cuisine Website Inspiration
Agrikultur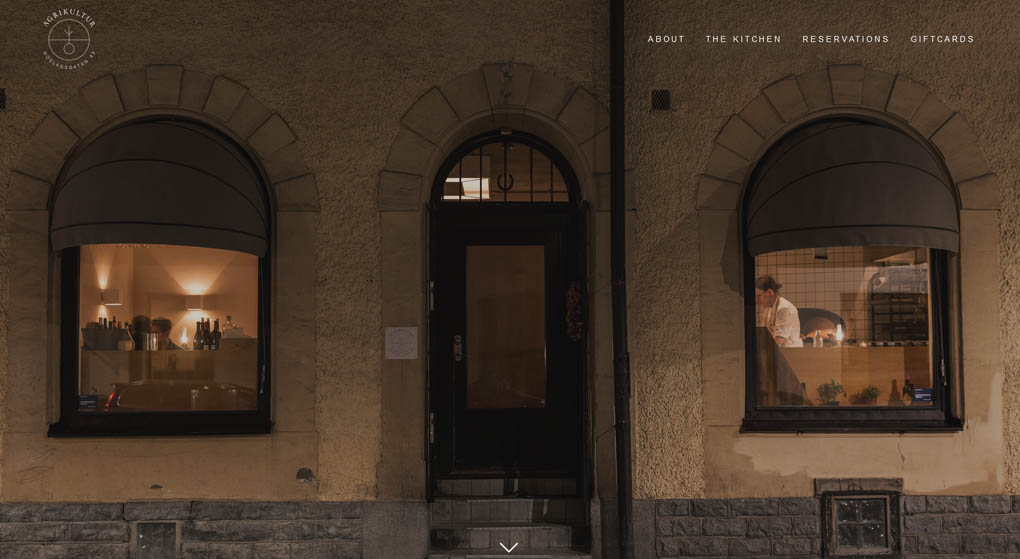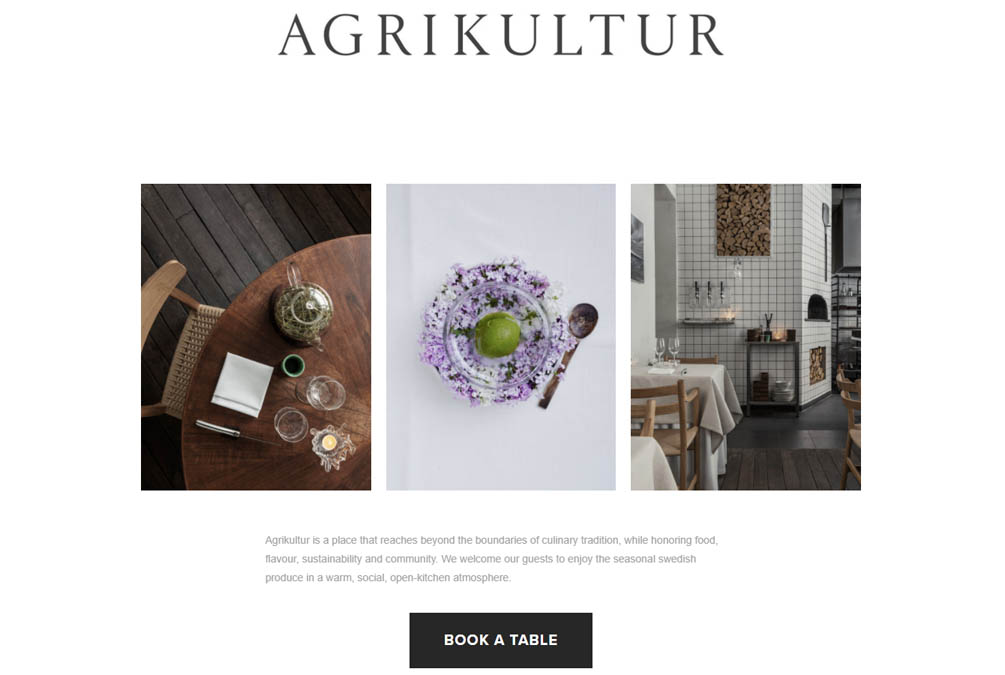 Agrikultur is a one Michelin star restaurant in Stockholm. A touch of the rustic in trendy Stockholm, with a smattering of nature in the open kitchen, where you'll find some of the best ingredients and flavors on the planet. The open kitchen brings you into the heart of the restaurant.
Muted brown colors and a simple classic design with great photography make this website elegant in an understated way.
Djuret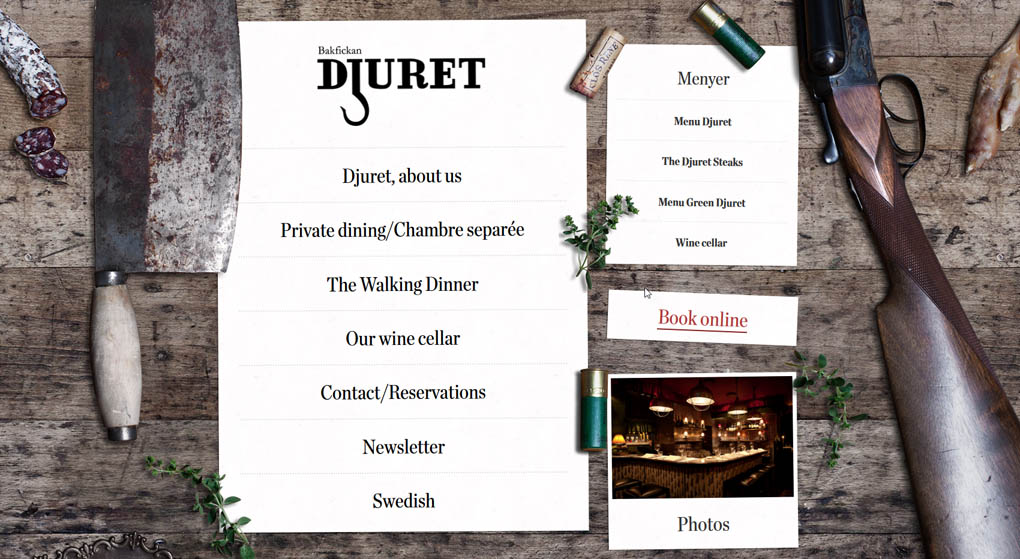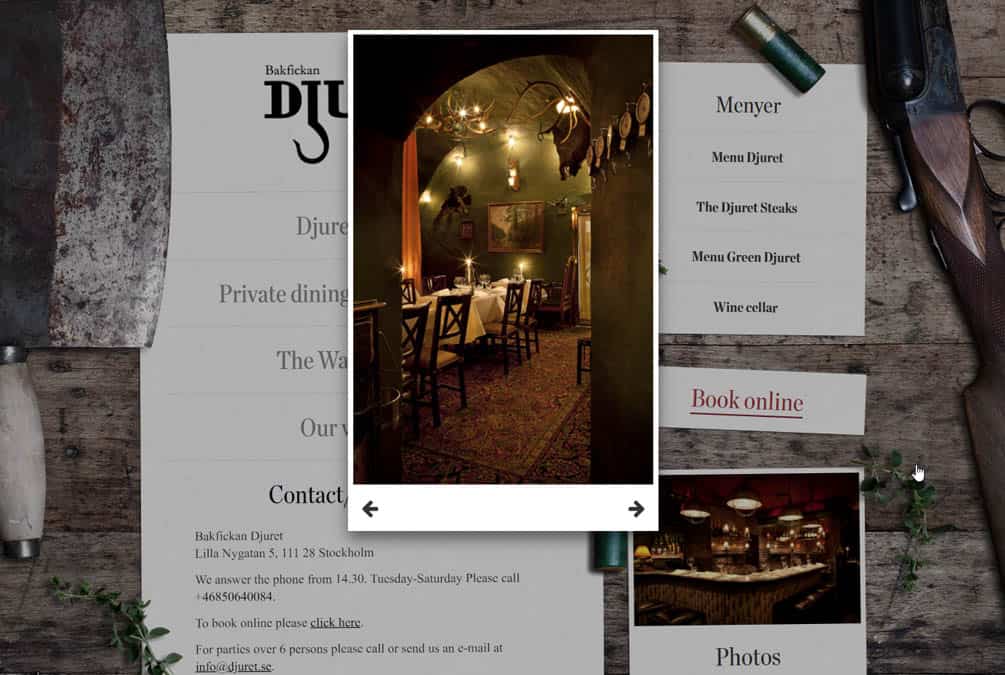 The restaurant Djuret (Animal) is located in the old town of Stockholm. Exceptional animals from land and sea are the base for their menus.
A great-looking website with an appropriate hunting atmosphere that quickly gives an overview of all the options available.
Herr Nilsson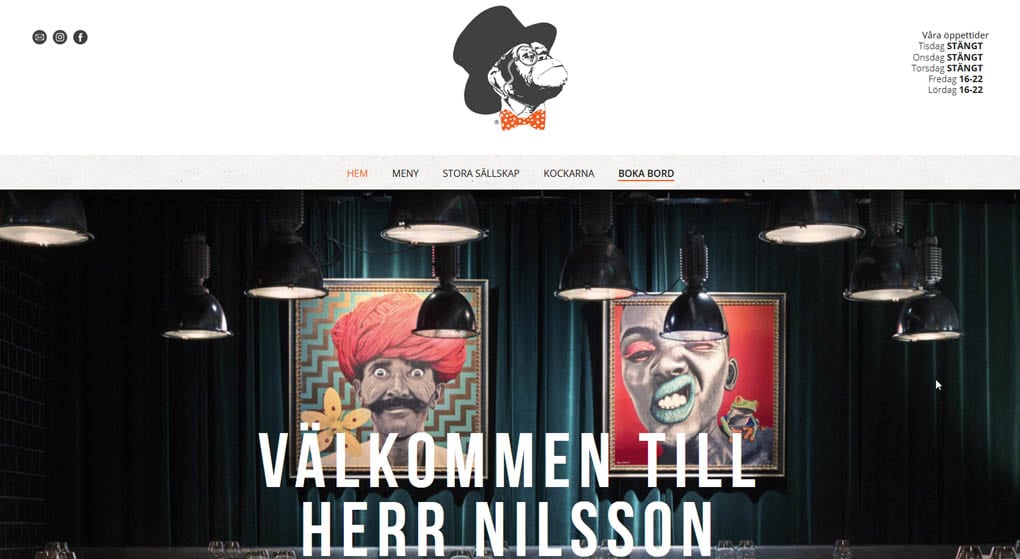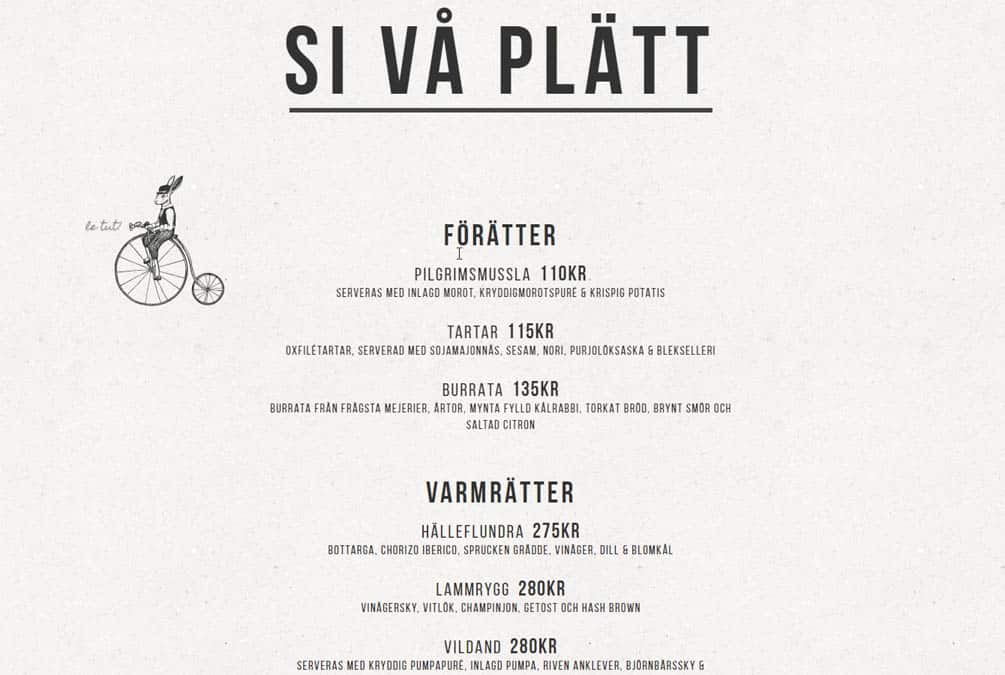 Herr Nilsson is a restaurant located in Sundsvall, Sweden. They serve mainly meat dishes but also vegetarian alternatives.
An interesting website that showcases their original dining room and quirky sense of style. Nice looking menu and a good presentation of the chefs.
Jacqueline´s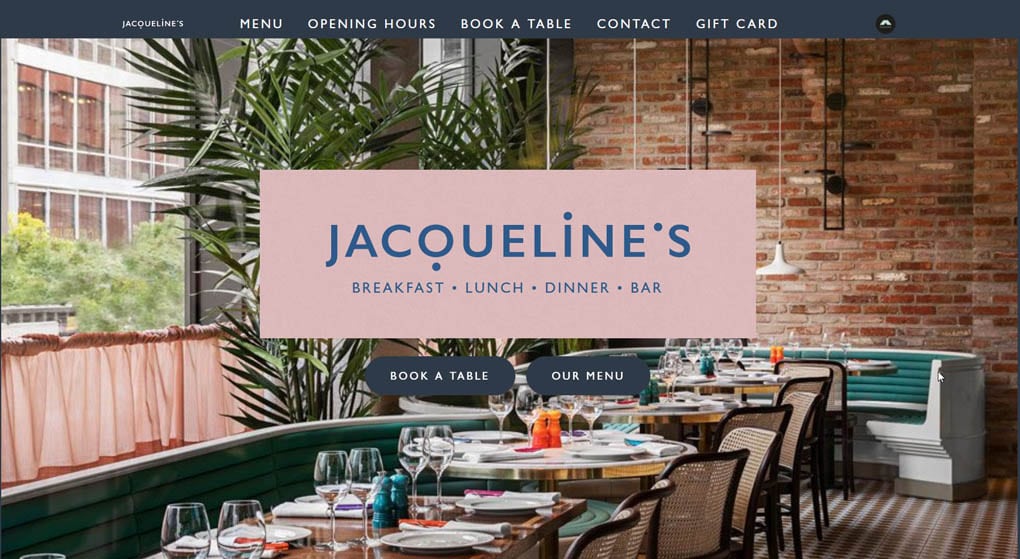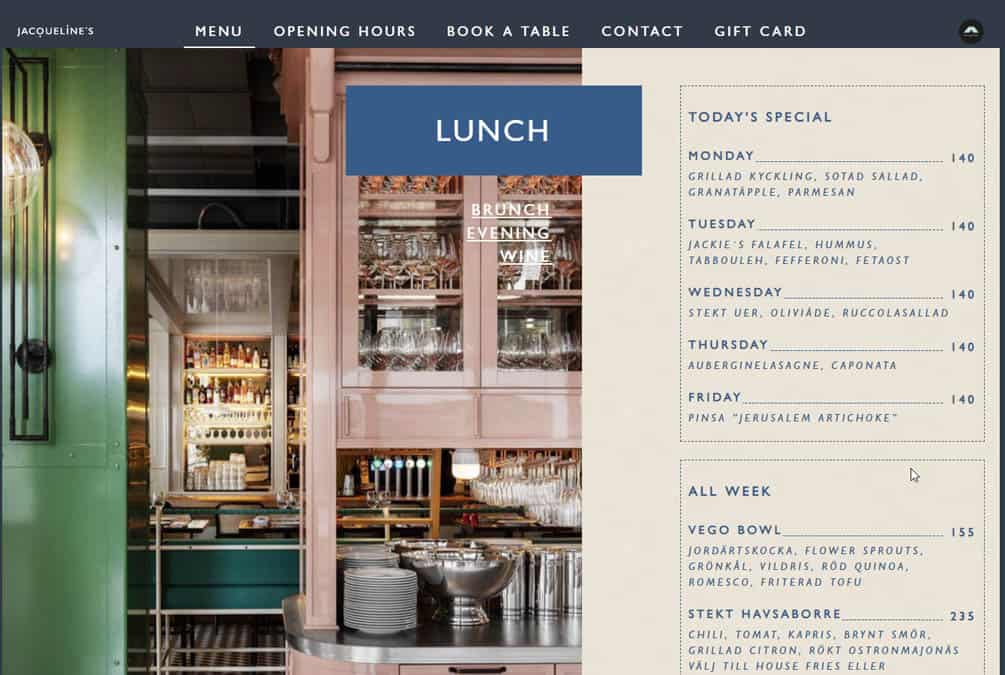 Jacqueline's is a contemporary diner located in Stockholm with influences from Brooklyn and Tel Aviv.
This website is mainly featured because of the attractive menus and how well they mix with photographs from the diner.
Restaurant Lyst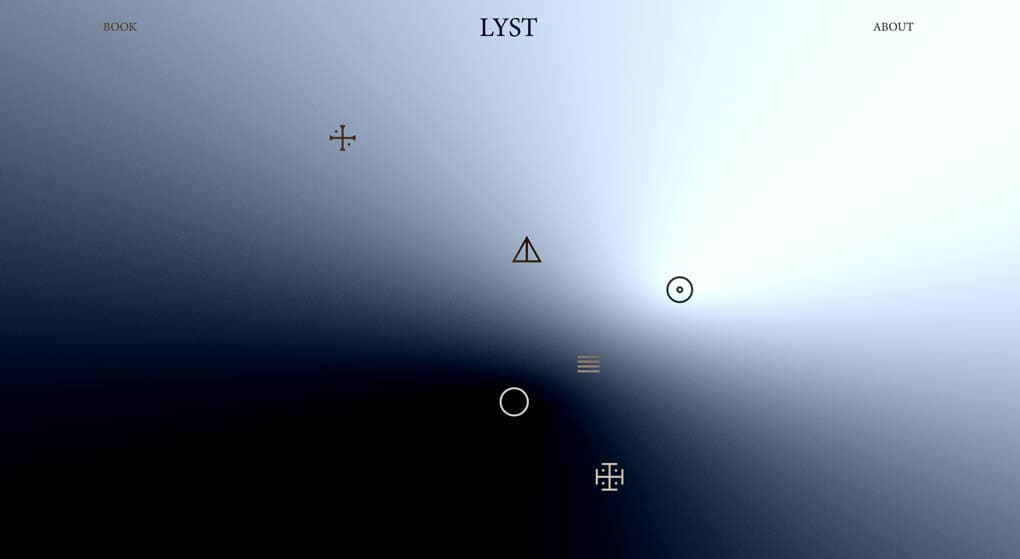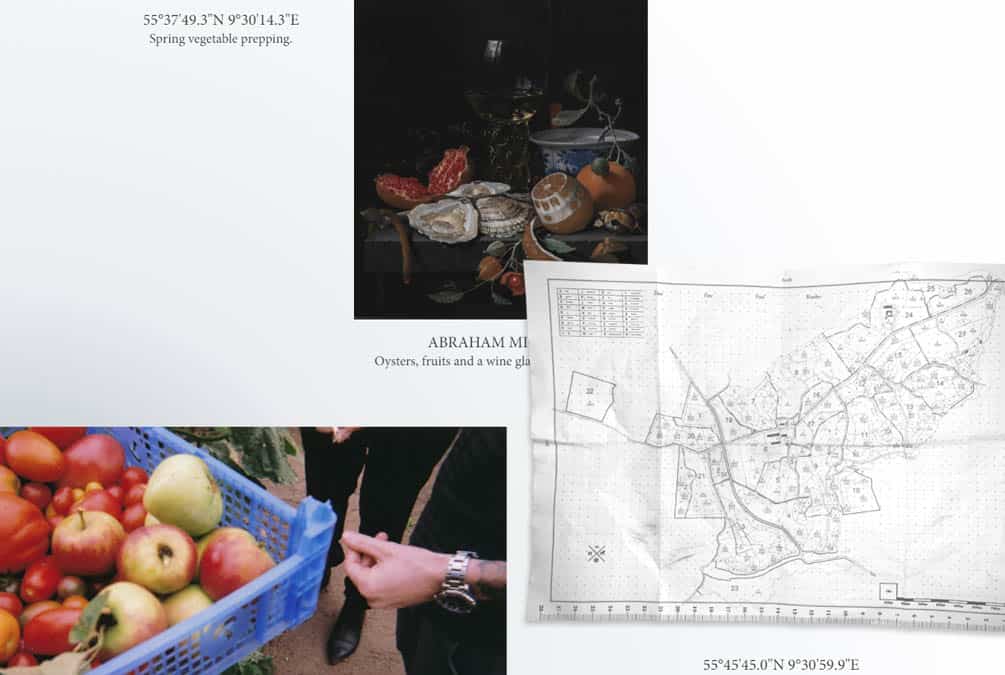 Lyst is a restaurant in Vejle, Denmark. It´s an immersive and magical dining experience in the iconic building Fjordenhus created by Olafur Eliasson.
The website uses the double meaning of the Danish word Lyst (which can mean light or lust) to give a glimpse of the unusual and exclusive experience that awaits their guests.
Petri Restaurant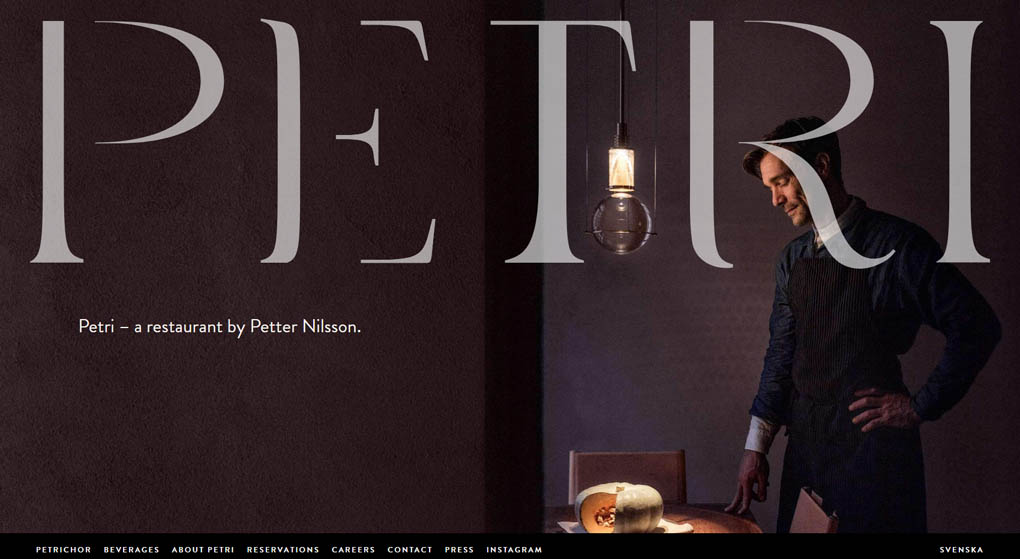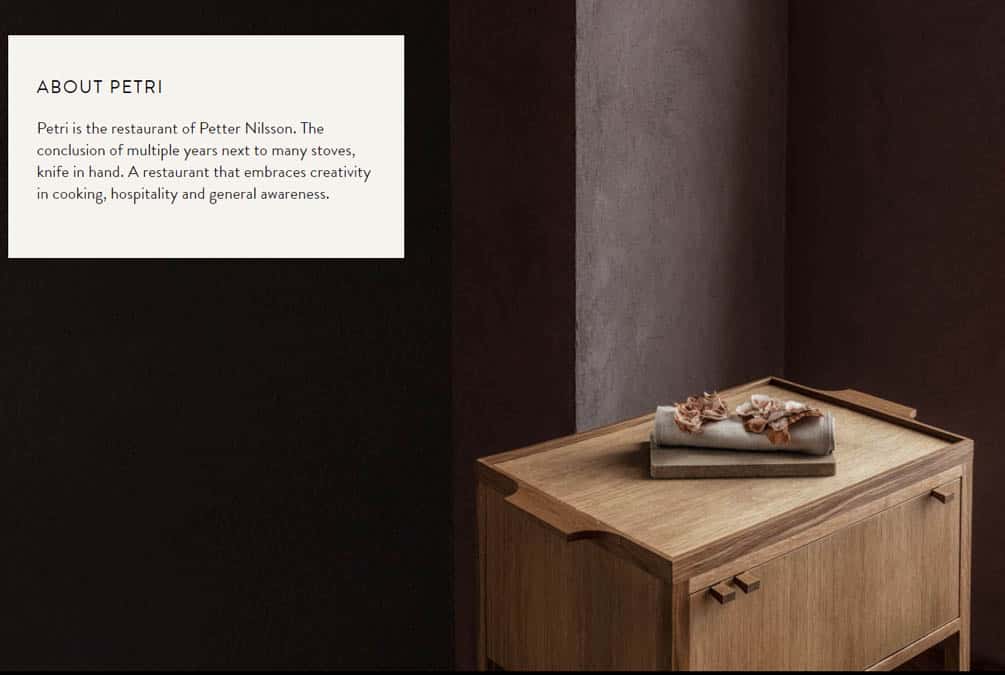 Petri is a restaurant in Stockholm run by chef Petter Nilsson. It describes itself as a restaurant that embraces creativity in cooking, hospitality, and general awareness.
Muted dark colors and gorgeous photography of the minimalistic interior make this website design look very stylish and classical.
Restaurant Jordnær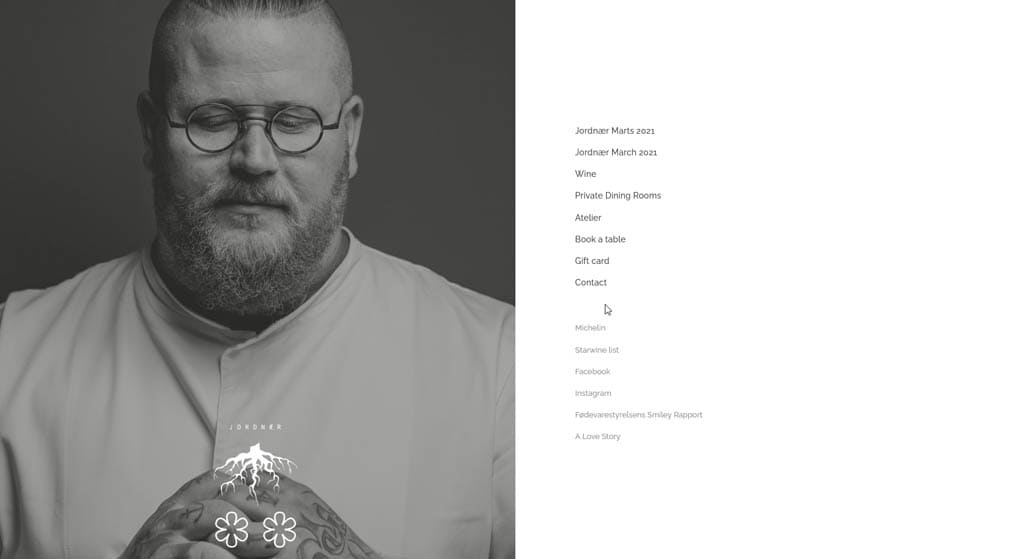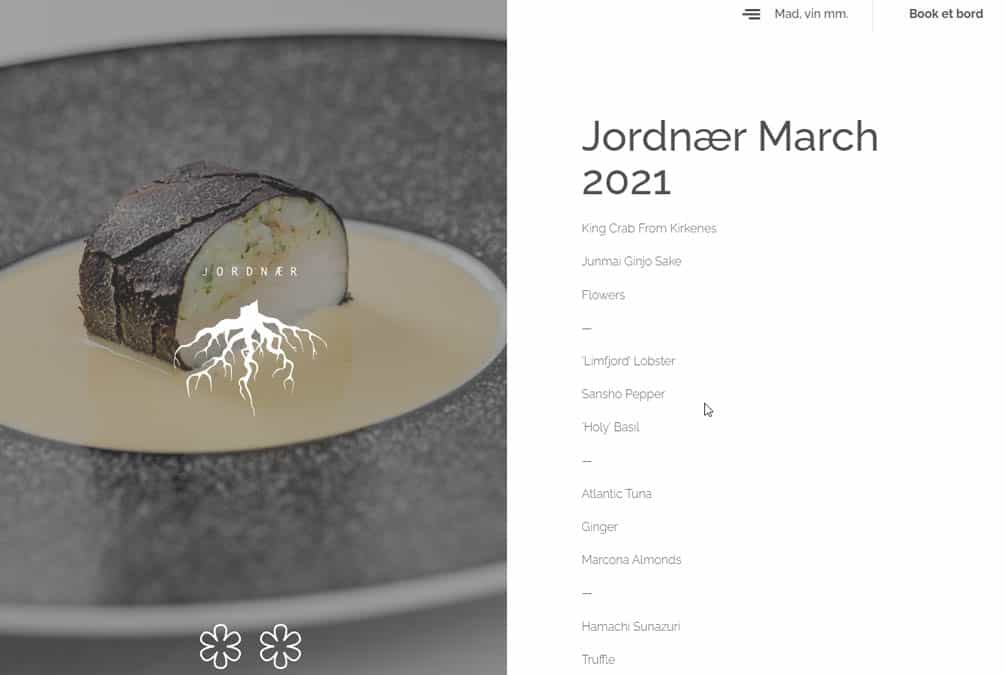 Jordnær is a two-star Michelin restaurant in Copenhagen. The exclusive restaurant, which in translation from Danish means 'Down to Earth', is run by passionate chef Eric Kragh Vildgaard. Cooking with all-natural ingredients, his beautifully crafted meals are filled with subtle, harmonious flavors.
The design and photography of this website are amazing and well deserved to represent a Michelin-starred restaurant.
Restaurant Under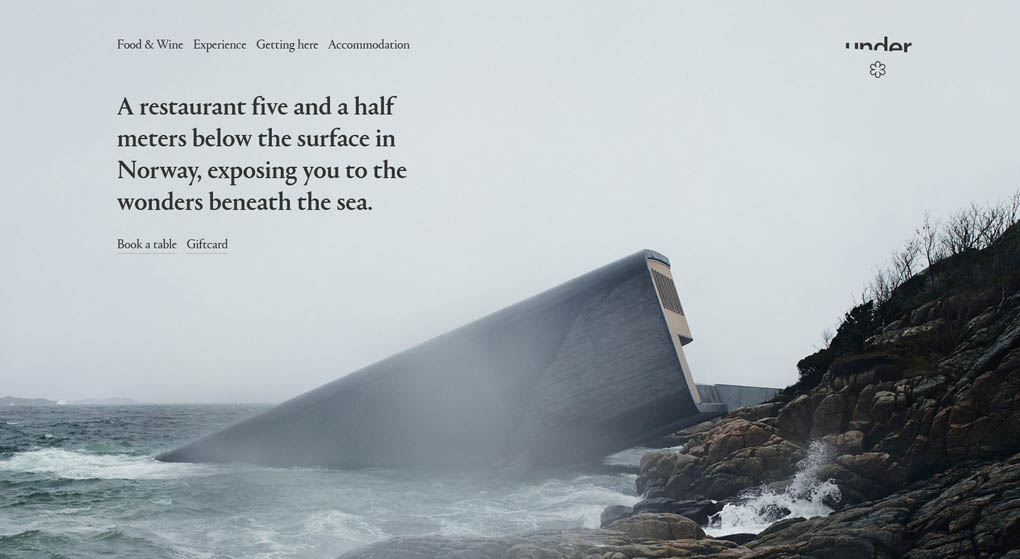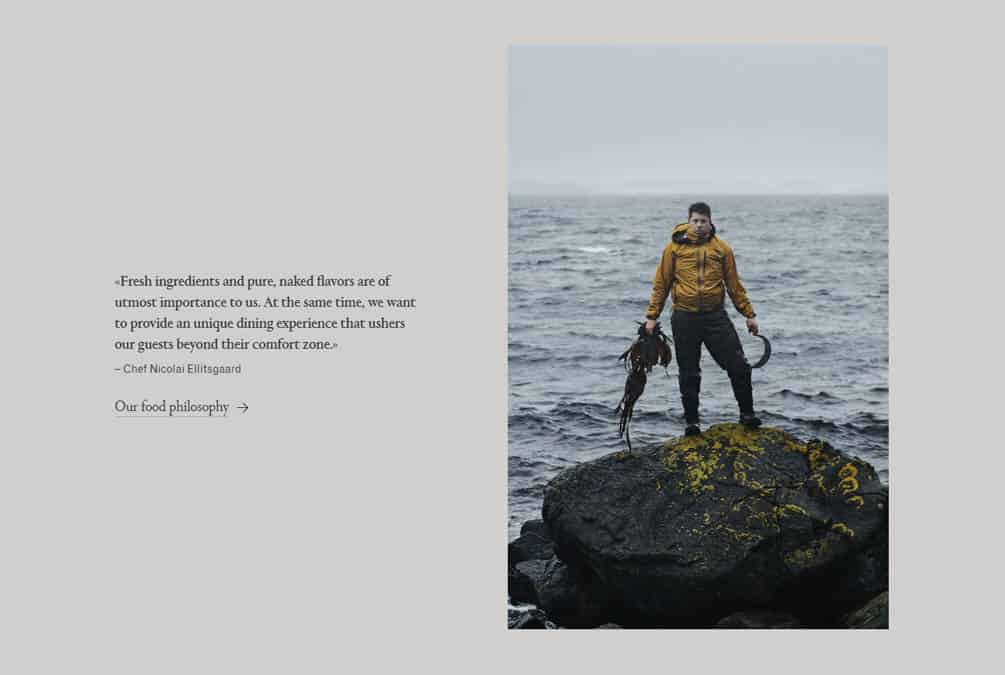 Under is the world's largest underwater restaurant located on the southern tip of Norway. Under is a one-star Michelin restaurant, and serves creative, original seafood dishes from the surrounding ocean.
Snøhetta, the famed Norwegian architecture firm, designed Under and also its creative identity and website.
Conclusion
That's it. 57 beautiful, original, or interesting restaurant website design examples representing different types of categories in many different countries. I hope you found some inspiration to create your own website or to improve an existing one.
As a next step, you might also be interested in our article 7 Best Restaurant Website Builders.