Are you searching for a powerful, comprehensive restaurant POS system to streamline your operations?
Then you will want to read my Lightspeed Restaurant POS review.
As one of my top-rated all-in-one restaurant POS systems on the market, Lightspeed Restaurant offers a wide range of features and capabilities to help fully manage your restaurant.
This review will analyze the features and capabilities of Lightspeed Restaurant, as well as its advantages and disadvantages. By the end, you'll have all the information you need to make an informed decision about whether Lightspeed is the right POS system for your business.
So, let's dive into the review.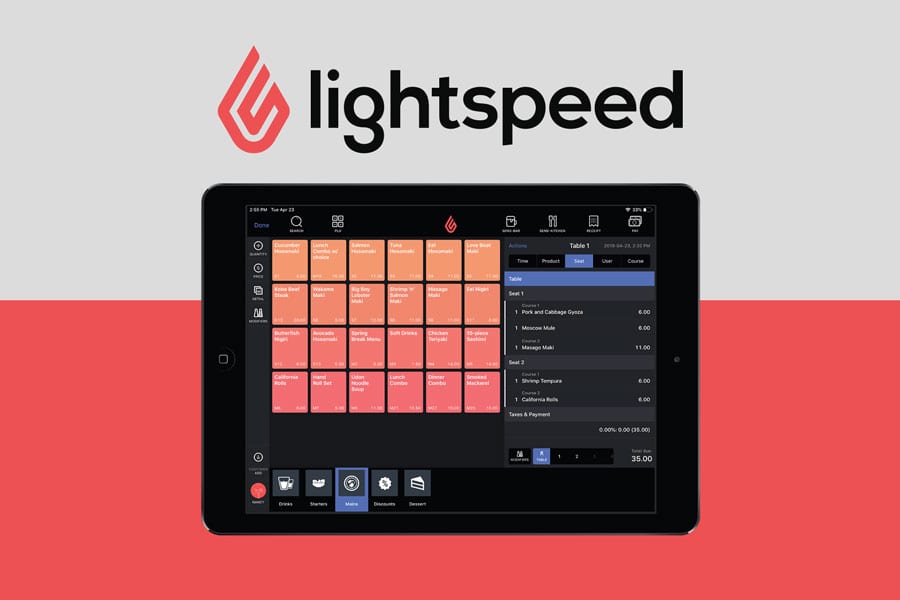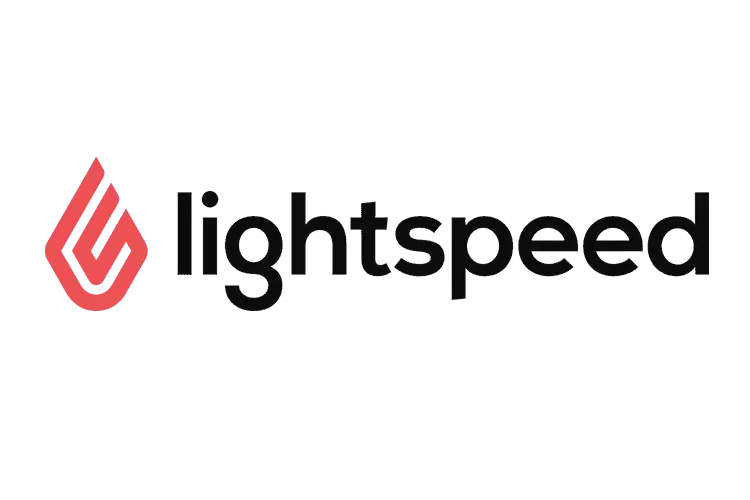 Lightspeed Restaurant
Cleverly crafted POS with exceptional design
Best for upscale eateries seeking powerful data insights, retail features, and extensive integration possibilities.
Pros:
Ease of use & interface design

Reporting & analytics

E-commerce capabilities
Cons:
Limited offline functionality

Not the cheapest option
Free Trial
Lightspeed Restaurant POS: An Overview
Lightspeed Restaurant is a powerful, cloud-based POS system designed specifically for the restaurant industry. Whether you own a small café or a bustling, multi-location establishment, Lightspeed Restaurant offers a comprehensive suite of features tailored to your unique needs.
Thousands of restaurants worldwide trust Lightspeed to power their operations because of its seamless e-commerce capabilities, user-friendly interface, and robust reporting and analytical features.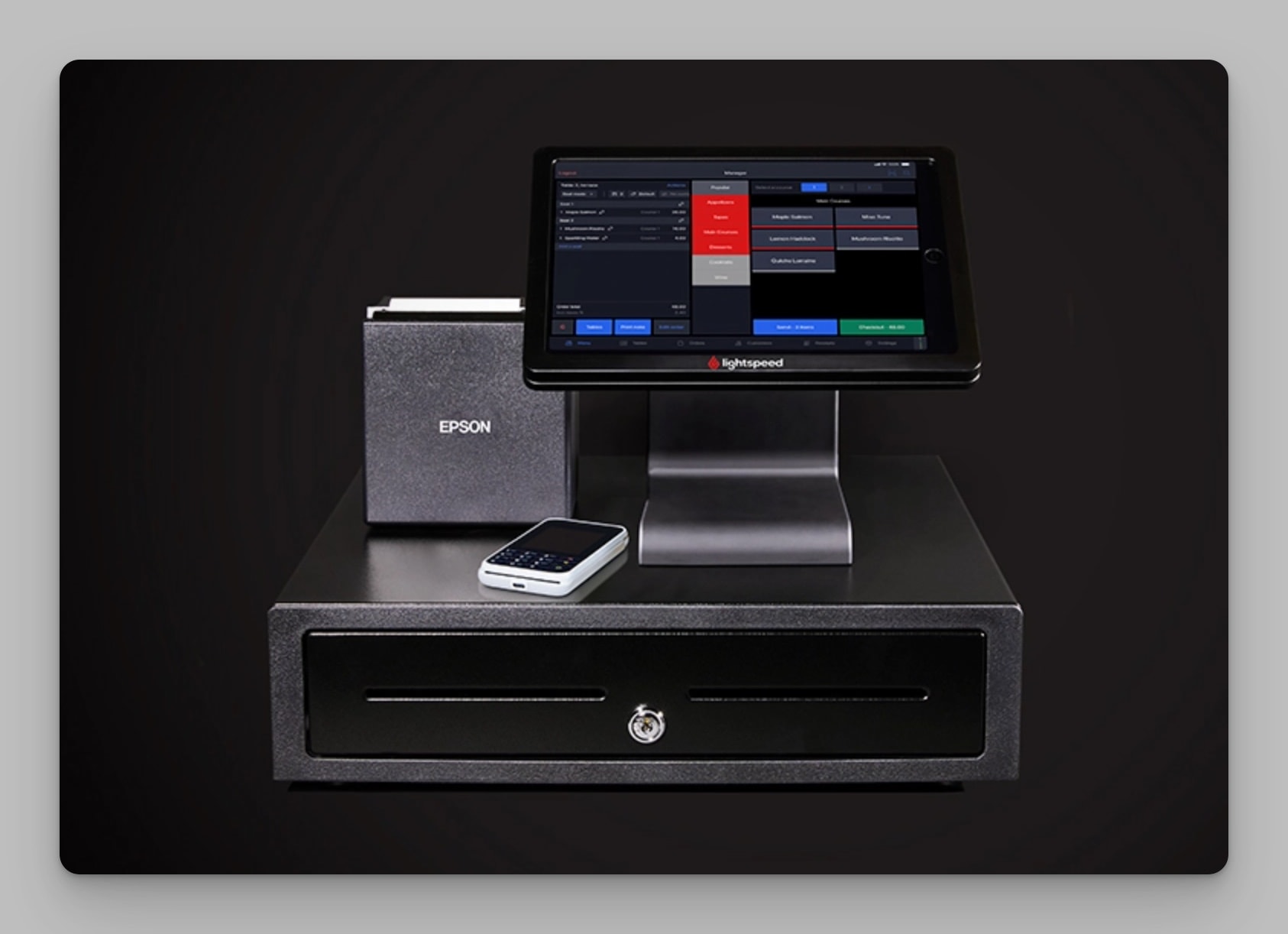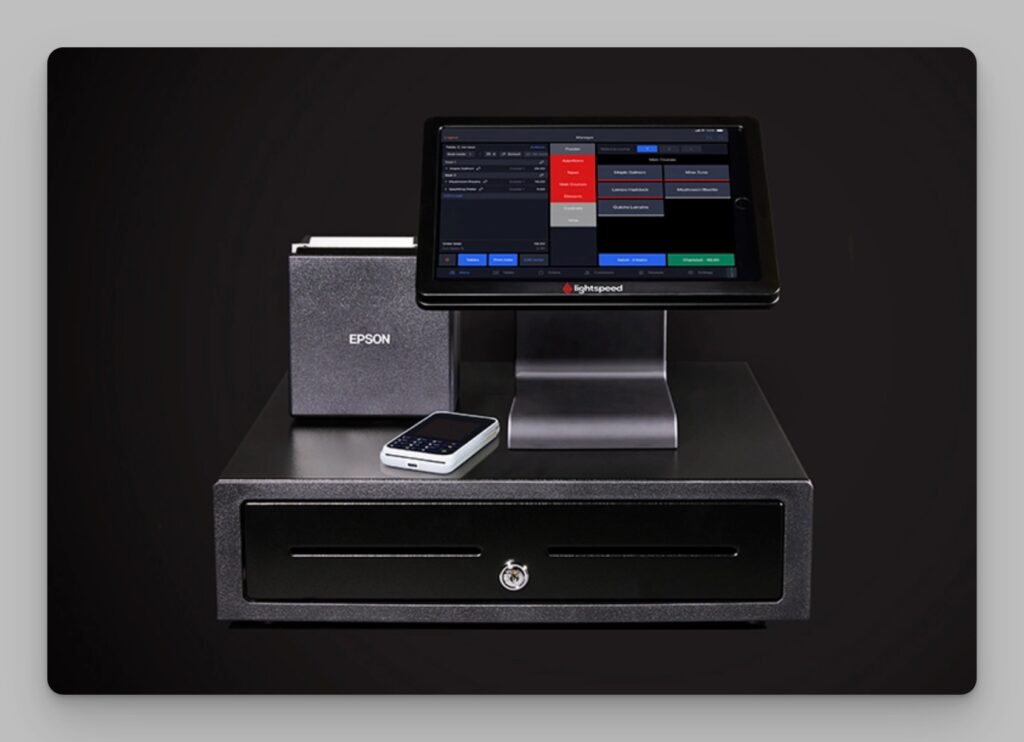 Where Lightspeed Restaurant Stands Out
These are the features I think make Lightspeed stand out compared to competitors.
Reporting and analytics: Lightspeed Restaurant offers advanced reporting and analytics tools that help you gain deep insights into your business's performance. The acquisition of Upserve 2020 has taken Lightspeeds analytics to the next level. This includes detailed sales data, employee performance metrics, and inventory management information.
Advanced insights: The insights optimizes server and menu performance, time optimization, and a virtual logbook that improves communication among restaurant staff across different shifts.
Ease of use: With its intuitive interface and customizable layout, Lightspeed Restaurant is designed to be user-friendly for both experienced and novice users. The straightforward navigation and simple order entry process help to turn tables faster and make it easy for your staff to get up and running quickly, reducing training time and ensuring a smooth transition.
E-commerce capabilities: With the Lightspeed eCom feature you can build a website with retail capabilities that allow you to sell branded products or gift cards to your customers, helping you to attract new customers and increase your revenue. You can also link your website to delivery platforms such as UberEats or Doordash, and connect to OpenTable to take reservations.
Customer Support: According to G2's 2021 Grid Report on restaurant POS systems, Lightspeed was rated highest in quality of support and ease of use among other competitors in the industry.
Where Lightspeed Falls Short
While Lightspeed is a highly regarded system, there are some areas for improvement and potential drawbacks to consider.
Price: Lightspeed Restaurant POS is more expensive than some other POS systems on the market. While the system offers a range of features and benefits, the cost may be a barrier for some restaurant owners, especially those who are just starting out.
Limited Customization: While Lightspeed's interface is user-friendly, it may not offer as much customization as some restaurant owners would like. For example, some users have reported that it's difficult to customize the layout of the order screen, which can impact efficiency during peak hours.
Key Features of Lightspeed Restaurant
Reporting and Analytics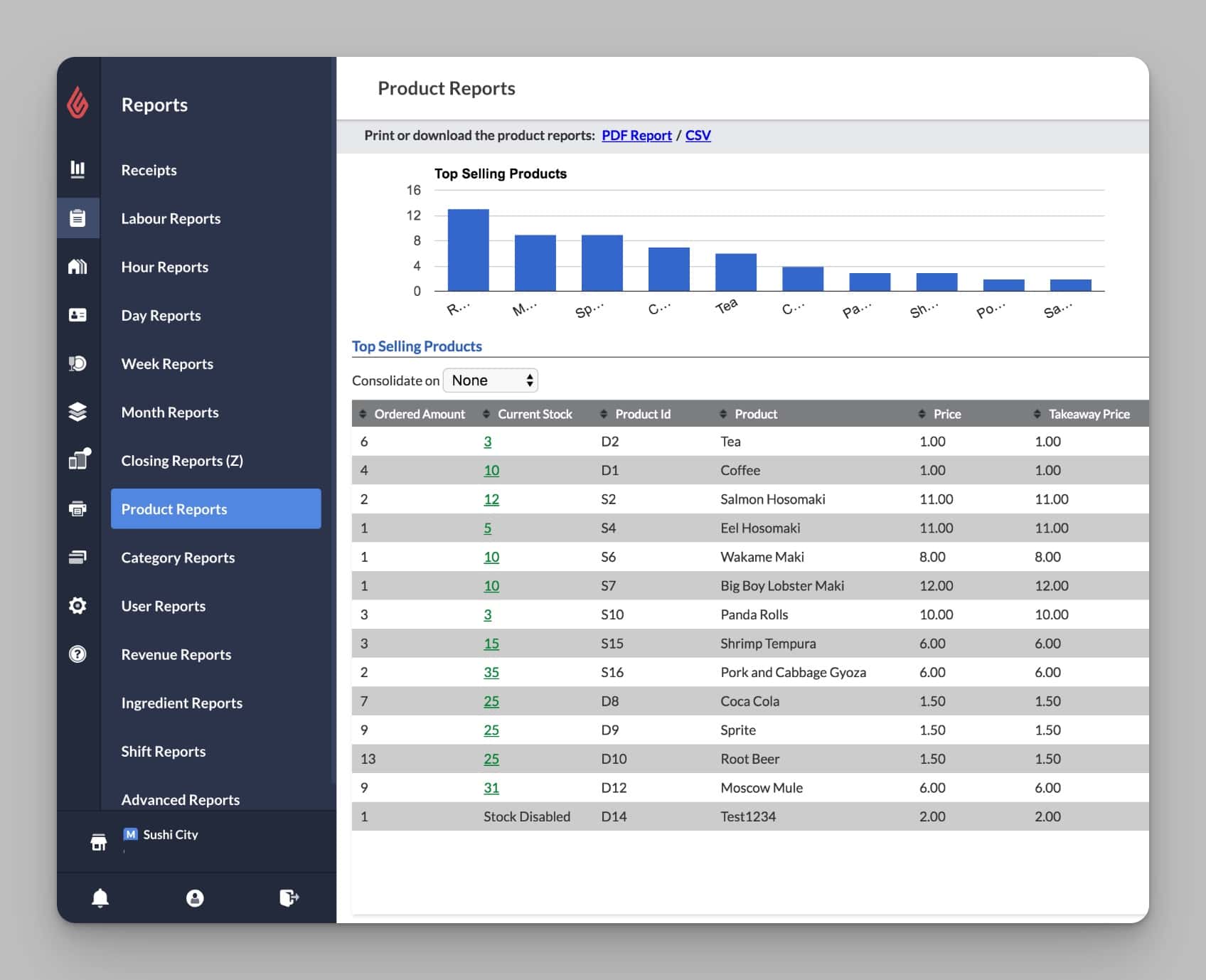 Lightspeed offers a range of advanced insights and analytics features that empower you to make data-driven decisions for your business. Some of the key features include:
Custom Reporting: Lightspeed provides customizable reports that allow users to analyze their sales data, staff performance, inventory levels, and other essential metrics. This feature helps restaurant owners identify trends and areas of improvement.
Dashboard Overview: The dashboard displays real-time data and key performance indicators (KPIs) such as total sales, average order value, and table turnover rate. This enables users to monitor their restaurant's performance at a glance.
Sales Analysis: Lightspeed's sales analysis tool allows users to view sales data by various metrics, including by product, category, or employee. This can help restaurant owners identify top-selling items and develop targeted promotions to boost revenue.
Inventory Management: The system tracks inventory levels and provides alerts when stock is running low, helping restaurant owners maintain optimal inventory levels and minimize waste.
Employee Management: Lightspeed Restaurant POS enables users to track employee hours, performance, and sales, helping restaurant owners optimize staffing and improve team efficiency.
User Interface and Ease of Use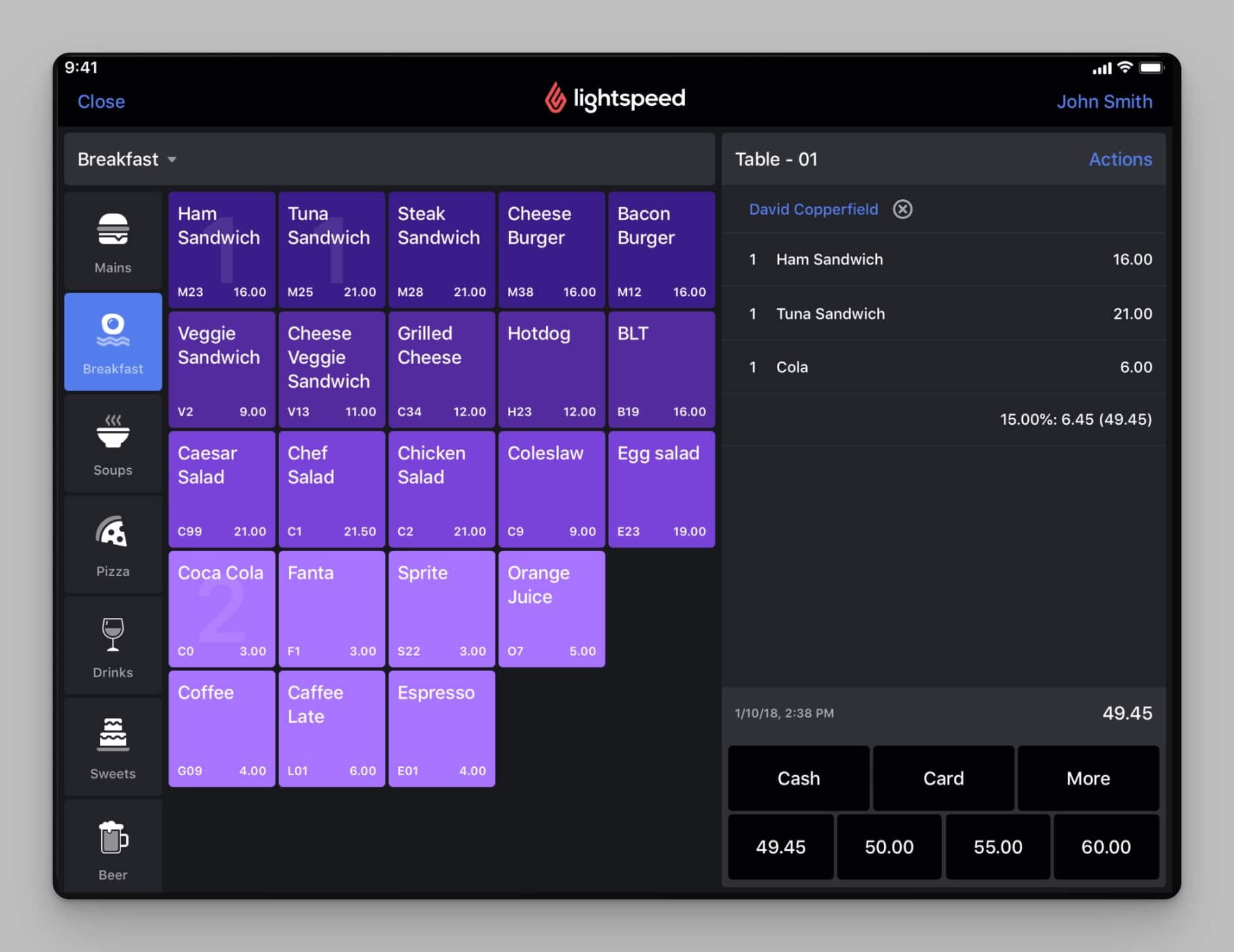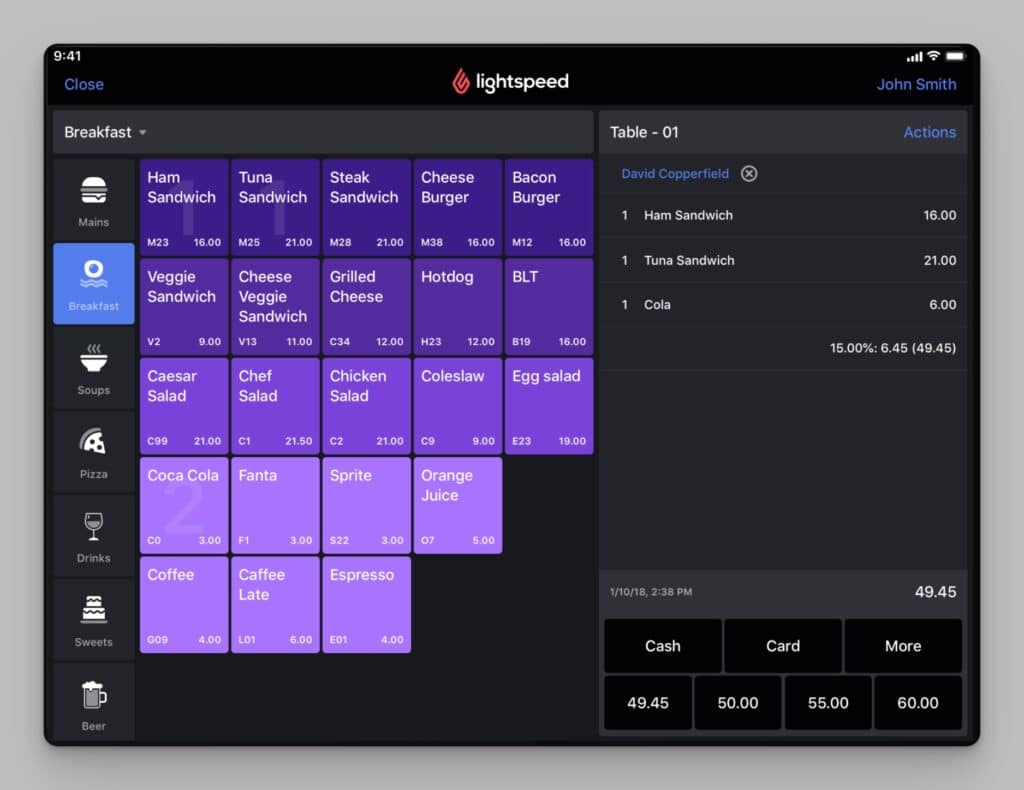 The user interface (UI) of a restaurant's point-of-sale system is an important factor to consider when selecting the right POS system for your business. Lightspeed has a modern, intuitive UI that makes it easy for your staff and management to use in a fast-paced environment.
The dashboard provides an overview of all transactions in real-time, making it easy to spot opportunities or issues with sales.
Additionally, the menu layout is designed for speed and efficiency. You can easily navigate between different sections with just a few clicks. This helps reduce wait times for customers and improves overall service quality.
The menu layout is also well organized; items are grouped by category so you can quickly find what they need without having to search through multiple menus or screens.
By providing quick access to items on the menu as well as payment processing options, customers are able to enjoy faster service times which leads to higher satisfaction levels and more repeat visits from loyal patrons.
Lightspeed Menu Management
As a restaurant owner, you understand the importance of having a comprehensive menu management system in place. With Lightspeed, you can create and edit menus, add item modifiers and variants, and adjust menus for seasonal or event-based changes.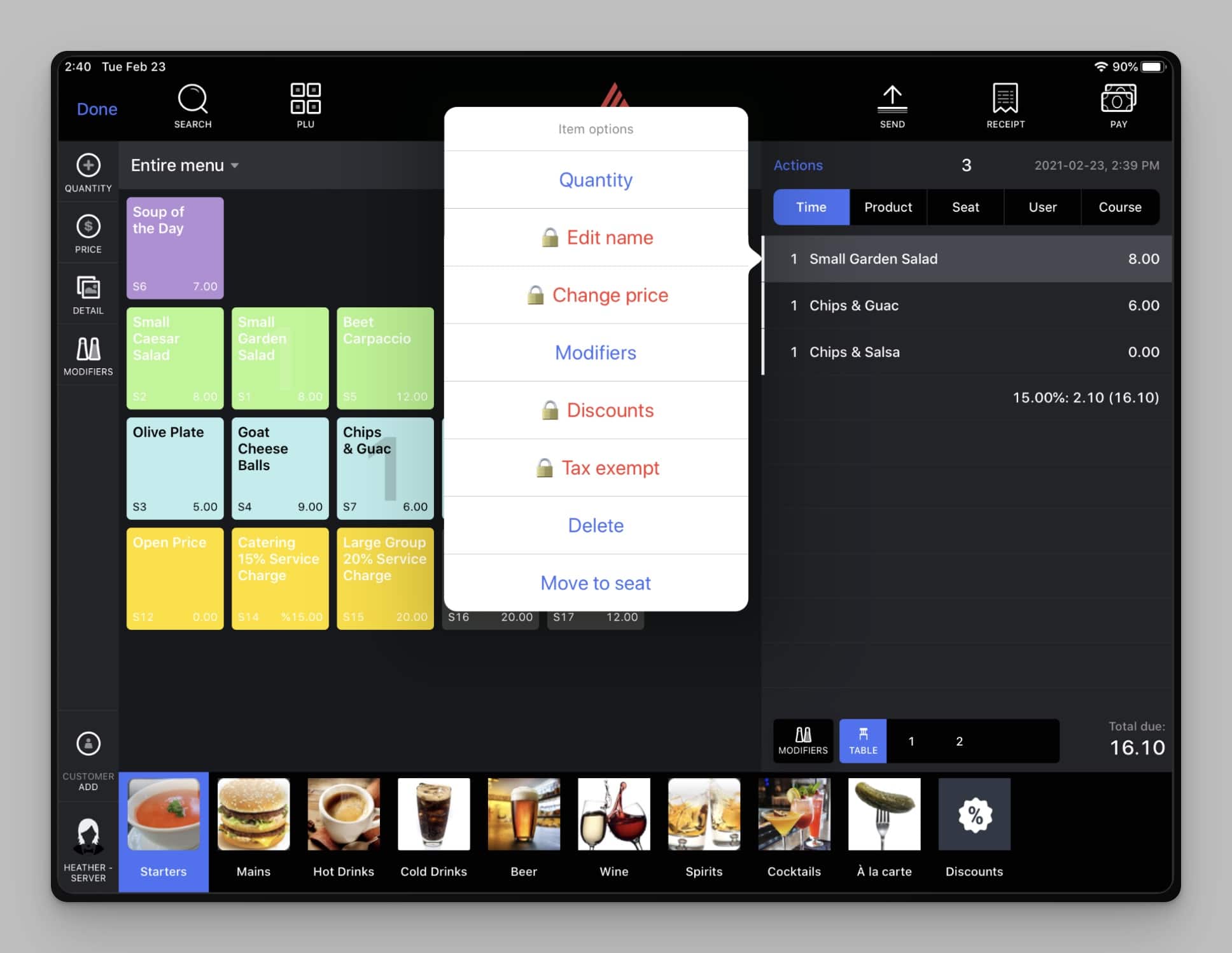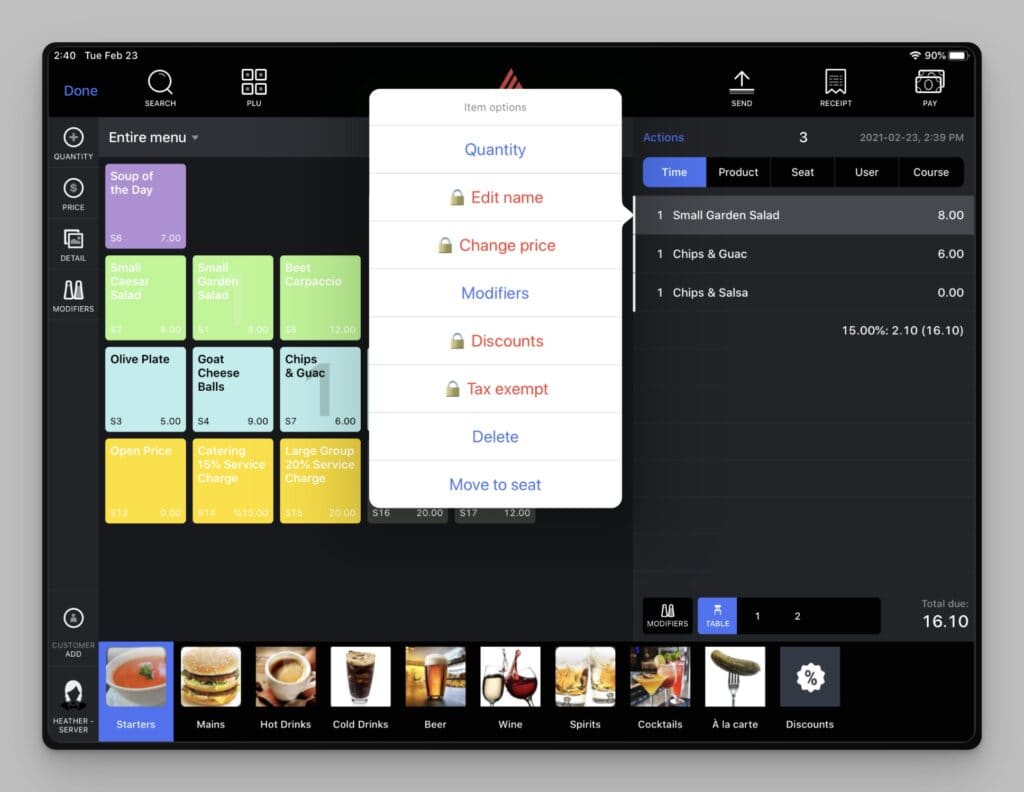 Menu creation & editing
Lightspeed allows you to easily create and edit menus with ease. You can list featured dishes, add descriptions for each dish, and assign prices to each item. You can customize the look of your menu with images or videos that showcase your dishes in their best light.Item modifiers & variants
The system also allows you to add modifiers and variants to items on your menu. Modifiers allow customers to customize their order by adding extra ingredients or toppings while variants give them the option to choose between different sizes or styles of the same dish.
This makes it easier for customers to get exactly what they want without having to explain it in detail when placing their order.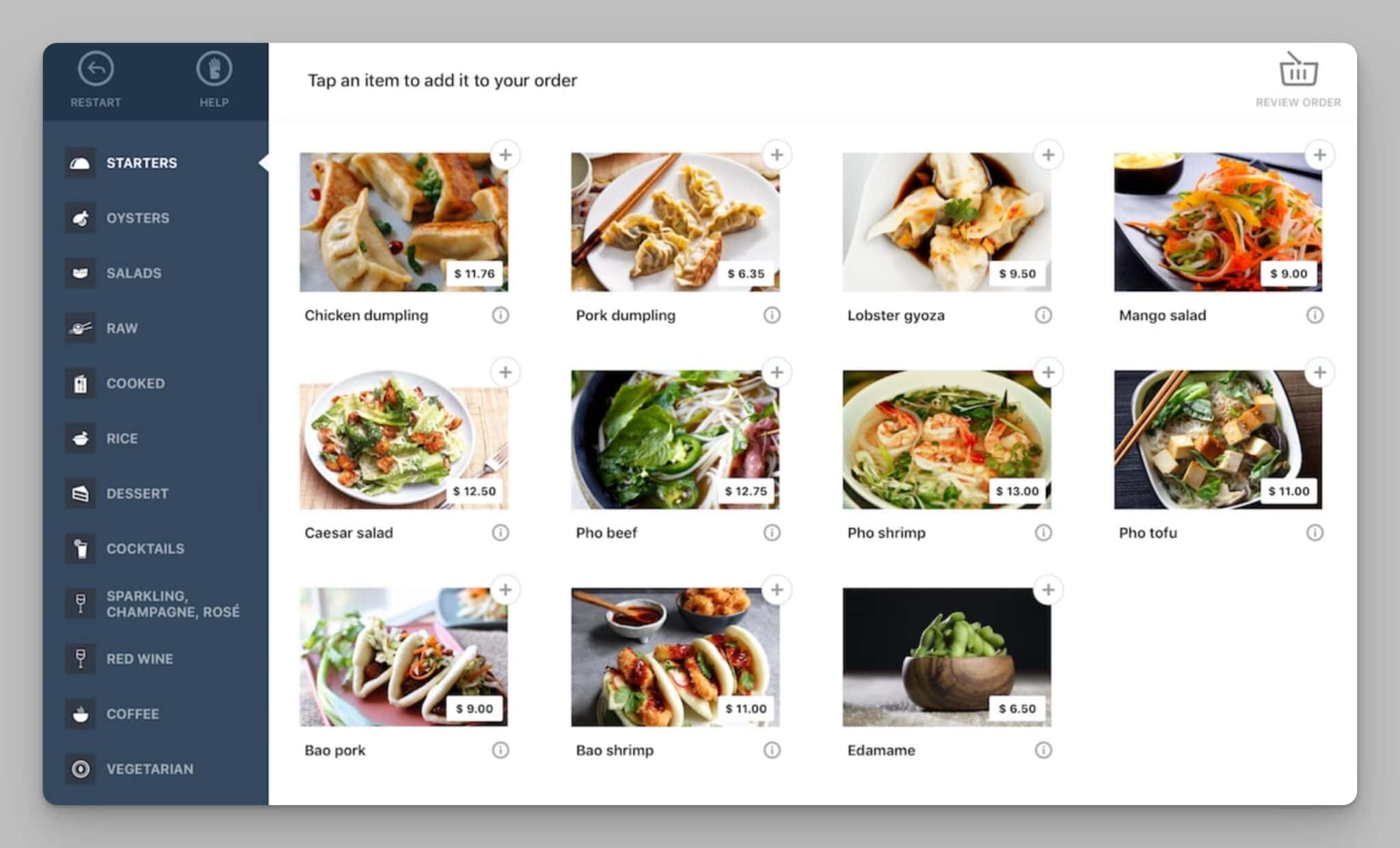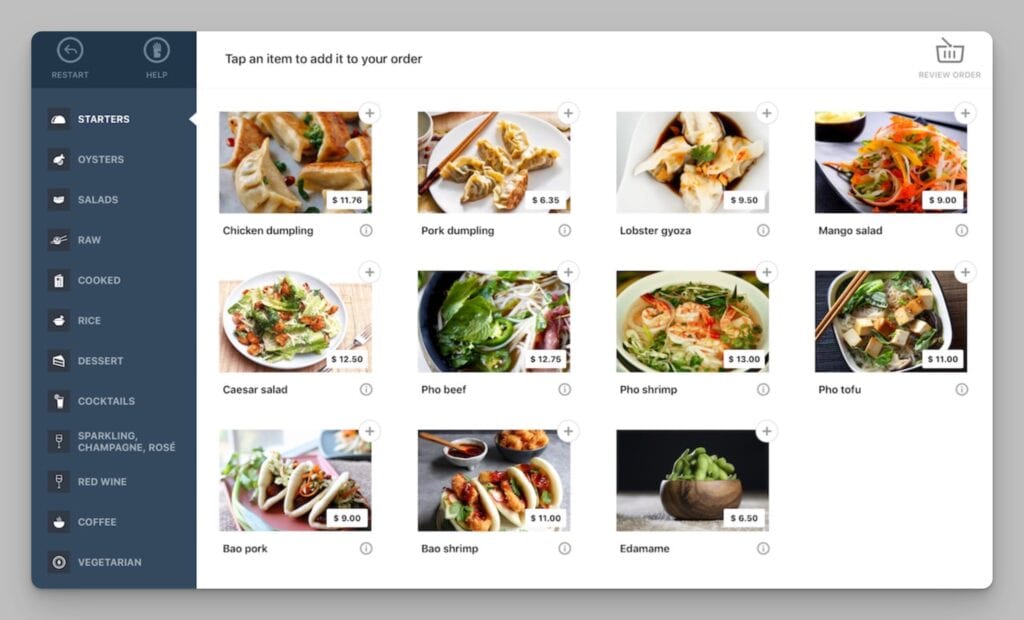 Seasonal & event-based menu adjustments
Finally, you can make seasonal or event-based adjustments quickly and easily. This means that if you have a special promotion going on during certain times of the year or for specific events such as holidays, you can update your menu accordingly.
This keeps your menu fresh and up-to-date so customers always have something new to try out when they visit your restaurant.
Overall, the Lightspeed Restaurant POS Menu Management System is an invaluable tool for restaurant owners who want to provide an engaging customer experience while keeping their menus up-to-date with seasonal changes and promotions.
Table Management and Reservations
Order Management makes it easy to enter and modify orders quickly. You can add or delete items, split or transfer checks, and easily adjust prices.
The feature also includes Table Management and Reservations tools that allow your staff to keep track of which tables are occupied, reserved, or ready to be reset.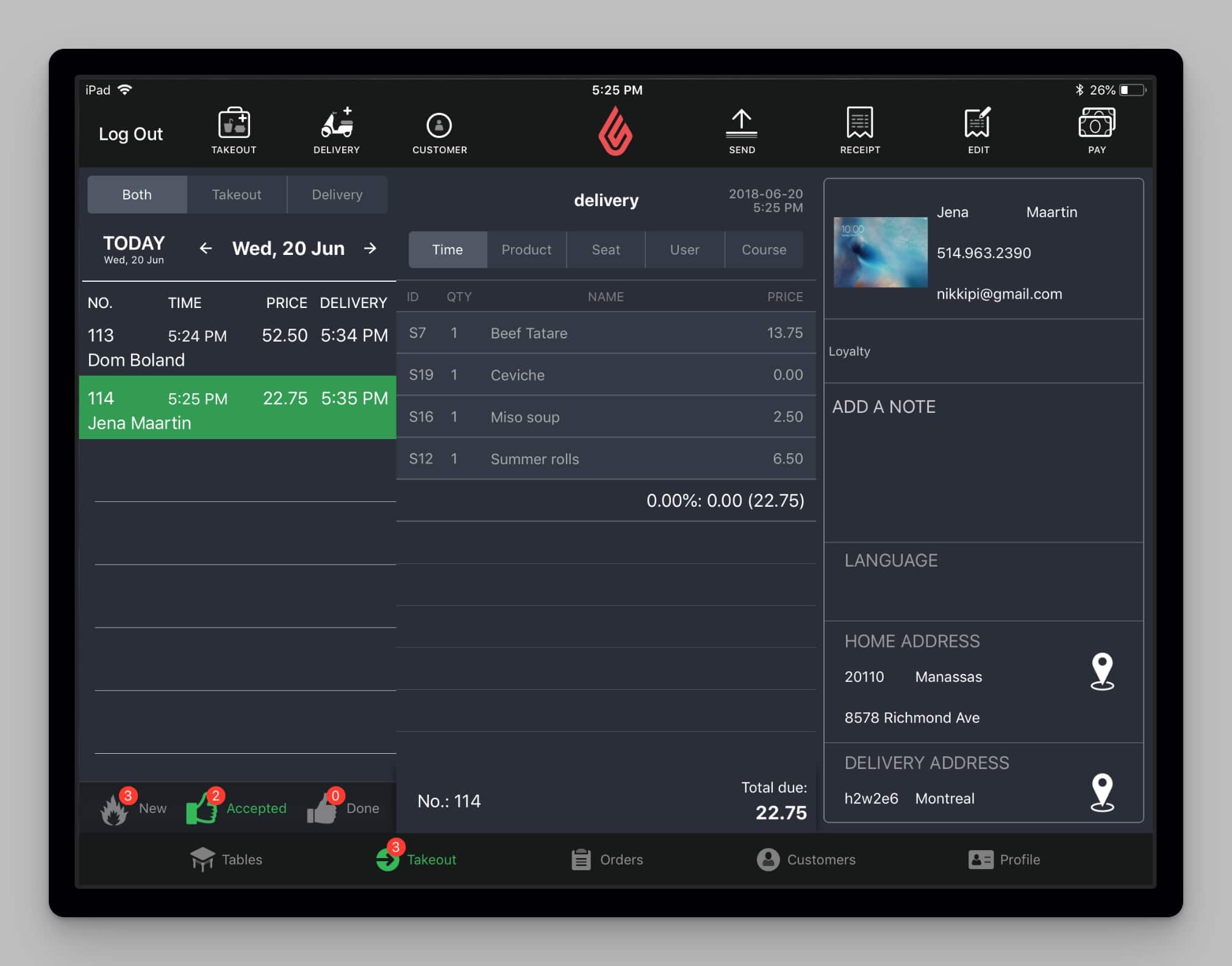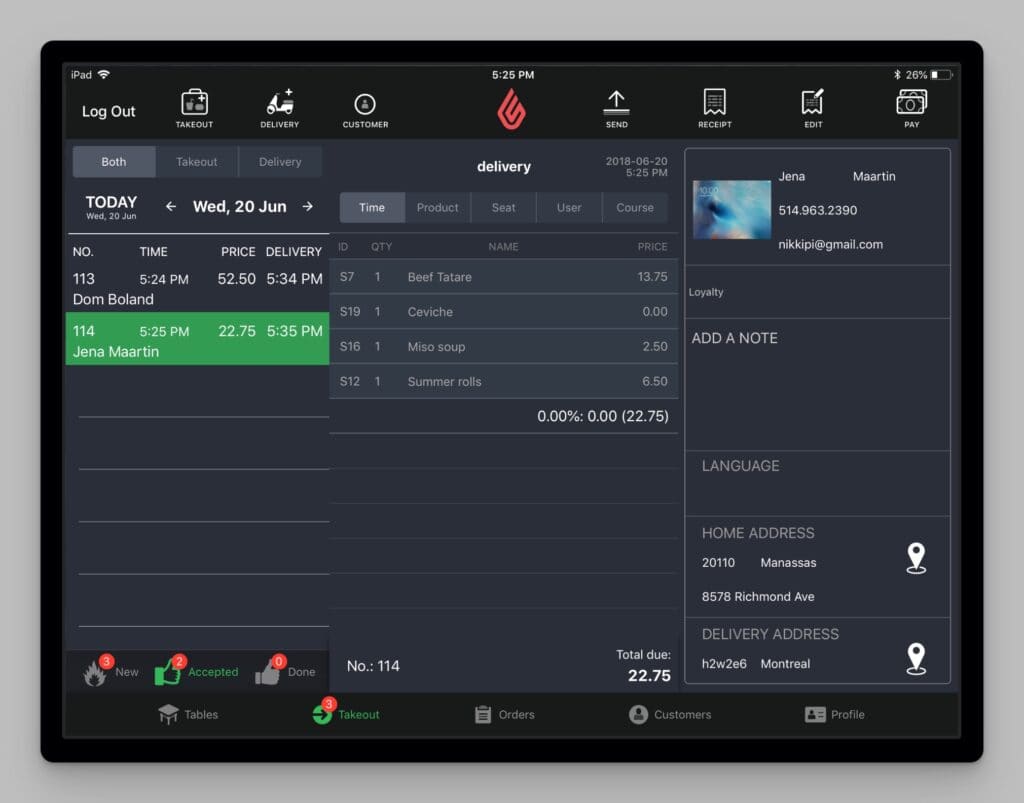 The Order Management feature also supports takeout and delivery options. Customers can order online directly through Lightspeed's platform, or through popular delivery services like Uber Eats or DoorDash. This allows you to offer customers more convenient ordering options while still managing all their orders in one place.
Overall, Lightspeed's Order Management feature provides an efficient way for restaurants to manage orders while offering customers more ways to order their favorite dishes.
Lightspeed Payment Processing
Lightspeed Payment supports a wide range of payment methods, including credit and debit cards, mobile payments, and gift cards. The system is also EMV-compliant, which means that it can process chip-enabled credit and debit cards, ensuring that transactions are secure and protected against fraud.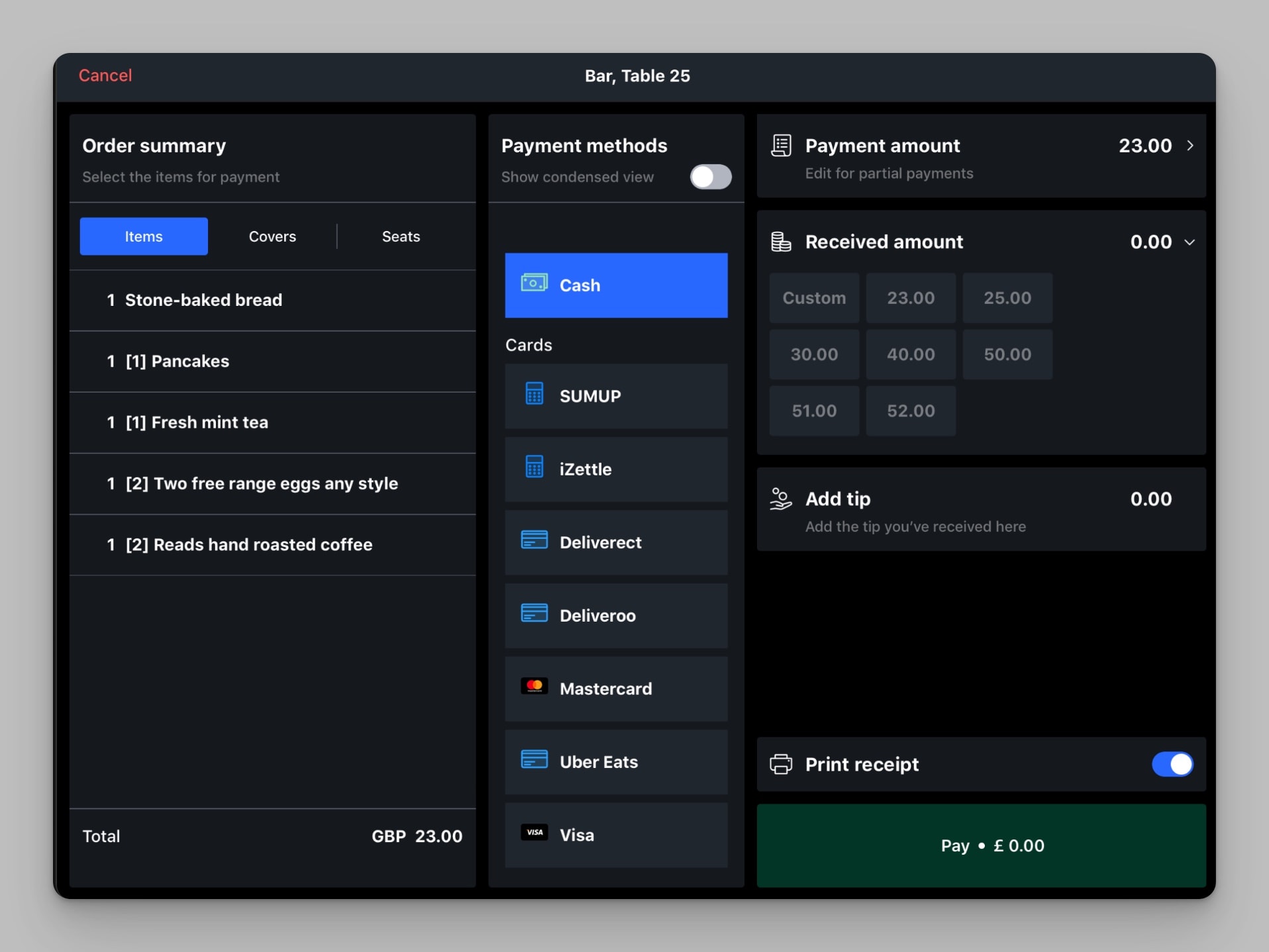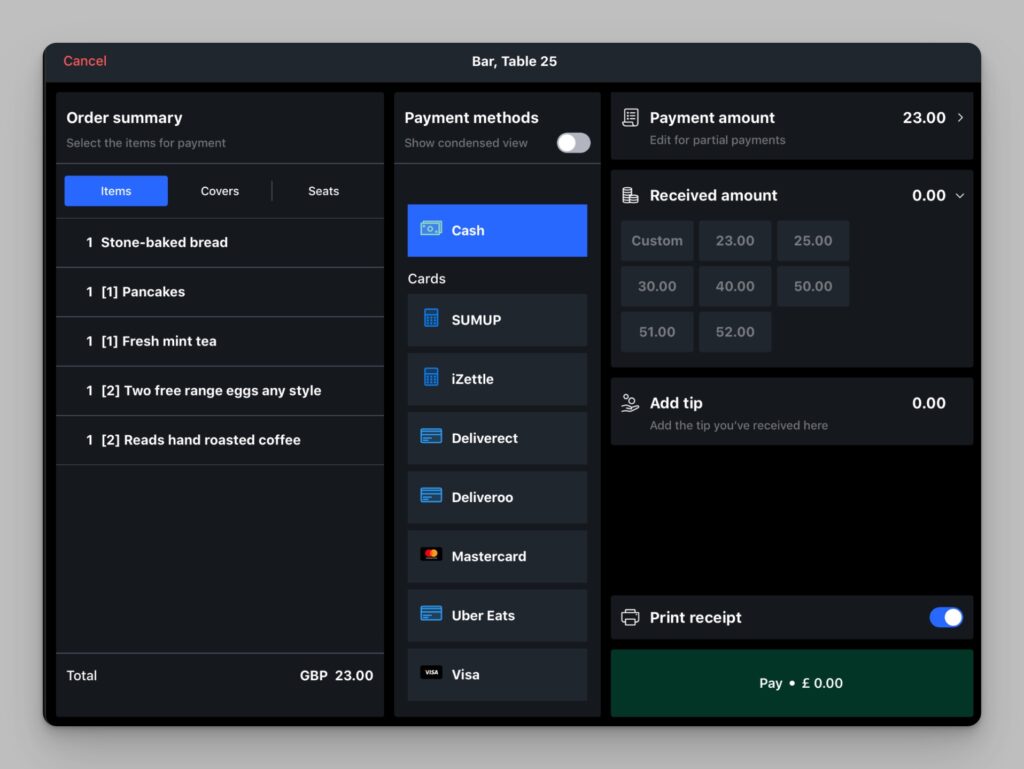 Credit card processing: Lightspeed Payment provides seamless credit card processing, allowing your customers to pay using their preferred method. The system supports multiple payment providers, giving you the flexibility to choose the best fit for your business.
Card payments: In addition to credit cards, Lightspeed Restaurant accepts a variety of card payments, including debit cards and contactless payment options. This ensures your customers have a convenient and secure way to pay for their meals.
Cash drawer: For customers who prefer to pay with cash, Lightspeed Restaurant POS easily integrates with cash drawers to ensure accurate and secure cash handling.
Supported payment methods
Split Payments and Tipping: With this feature, customers can split the bill among multiple payment methods or split items among different guests at the table. The system also allows customers to add tips directly on the payment screen, making it easier for your servers to manage tips and ensure that they are distributed fairly.
Integration with Accounting Software: Lightspeed also integrates with popular accounting software programs like QuickBooks and Xero. The system can also automatically import financial data from Lightspeed into the accounting software, simplifying the accounting process and saving time and effort.
Employee Management
Lightspeed offers several employee management tools, including scheduling, time tracking, and performance evaluations. These features help you optimize labor costs, identify top-performing employees, and ensure your staff is working efficiently.
And, Lightspeed's built-in permissions and user access controls allow you to maintain security and protect sensitive data.
Staff roles & permissions: This allows you to assign staff roles and permissions based on their job duties. This ensures that each employee has access to only the information they need while preventing them from accessing sensitive data or making unauthorized changes.
Restaurants can also set up different levels of permissions for different staff members, allowing managers to have more control over the system than regular employees.
Time tracking and payroll: Lightspeed also offers robust time tracking and payroll capabilities. The system allows your staff members to clock in and out directly from the POS terminal, making it easy for you to track hours worked and calculate payroll.
The system can also automatically calculate overtime and other pay rates, helping to reduce the risk of errors and save time on payroll processing.
Performance evaluation and feedback: This feature allows you to set goals and targets for their staff members, and track their progress over time. It also allows managers to provide feedback and coaching to employees, helping them to improve their performance and develop their skills.
This feature can help to increase employee engagement and satisfaction, ultimately leading to better customer service and improved business results.
With features like staff roles and permissions, time tracking and payroll, and performance evaluation and feedback, you can improve security, reduce errors, and foster a more engaged and motivated workforce.
Inventory Management
Lightspeed Restaurant simplifies inventory management by providing real-time tracking of your ingredients and supplies. This helps you optimize ordering, reduce waste, and maintain appropriate stock levels. The system also allows you to set up low-stock alerts, ensuring you never run out of essential items.
Supplier management and purchase orders are also key components. The software makes it easy to manage suppliers and create purchase orders quickly and accurately. This ensures that you always have the right amount of supplies on hand when needed.
Finally, waste reduction and cost control are essential for any restaurant business. With Lightspeed's Restaurant system, you can reduce waste by monitoring your stock levels in real-time, ensuring that only the necessary amount of ingredients are used in each dish or recipe. This helps to keep costs down while still providing quality food to customers.
Customer loyalty and engagement
Building customer loyalty and engagement is vital for the success of your restaurant. By implementing a well-structured loyalty program and offering gift cards, you can create lasting relationships with your customers and encourage repeat business.
Customer profiles and preferences: Lightspeed comes with a built-in CRM feature that allows restaurant owners to create customer profiles and track their preferences. You can track customer contact information, order history, preferences, birthdays, anniversaries, or favorite dishes.
This information can be used to personalize communication and marketing efforts, as well as create targeted promotions and loyalty programs.
Loyalty programs and promotions: With the built-in loyalty program feature, you can reward customers for their loyalty with discounts, free items, or exclusive promotions. You can also create targeted promotions based on customer preferences, order history, or special occasions. These promotions can be delivered via email or SMS and can include personalized messages and offers.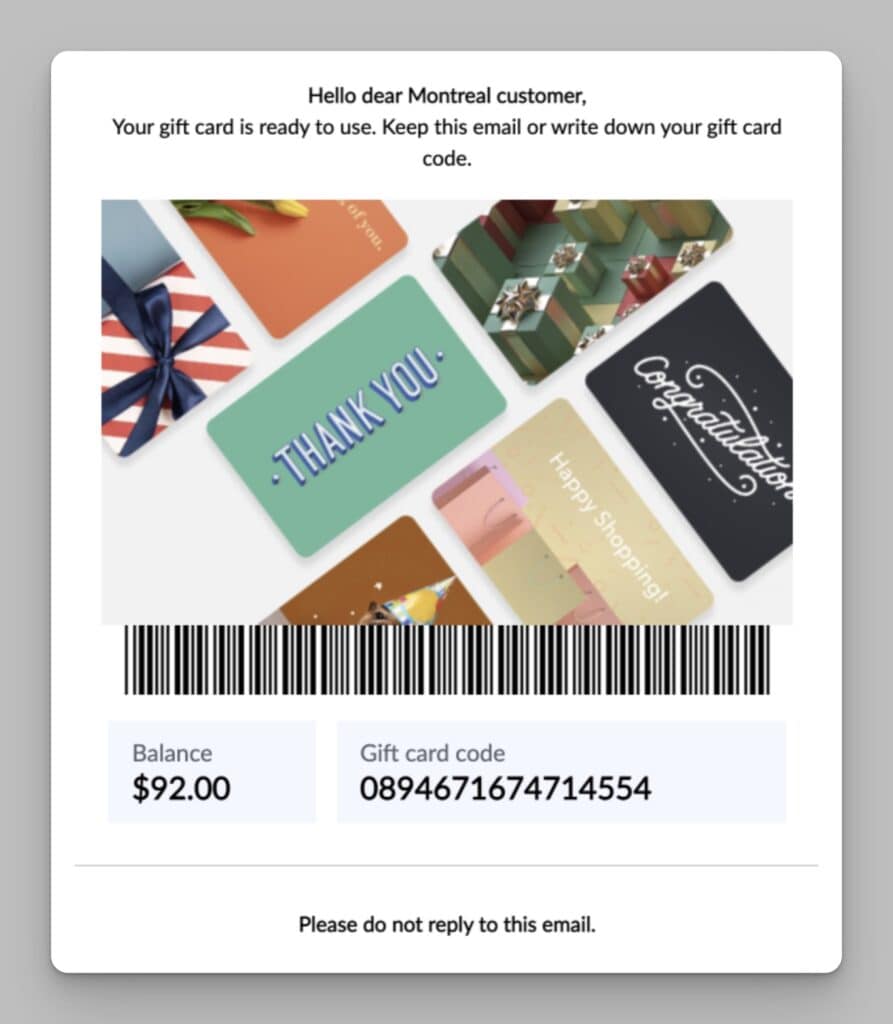 Gift Cards: Offering gift cards is an excellent way to boost customer loyalty and engagement. Gift cards not only encourage repeat business but also serve as a form of word-of-mouth marketing when gifted to potential new customers.
Lightspeed Restaurant Integrations
Lightspeed has over 200 integrations that can be useful for restaurant owners. Some of the most important integrations include:
Lightspeed Delivery: This integration allows restaurant owners to take their menu on the road and sync with major food delivery apps such as UberEats, and DoorDash. Orders from these apps are sent directly to the restaurant POS software, allowing owners to maximize their delivery zone and reach more customers.
Third-party payment integrations: Lightspeed integrates with third-party payment processors, including Square, Authorize.net, and PayPal.
Accounting integrations: Lightspeed integrates with QuickBooks, Xero, and Sage.
Loyalty program integrations: Lightspeed integrates with several loyalty program providers, including Loyalzoo and FiveStars. These integrations allow you to set up and manage your own loyalty programs, helping to increase customer retention and drive repeat business.
Build a Webstore with Lightspeed eCom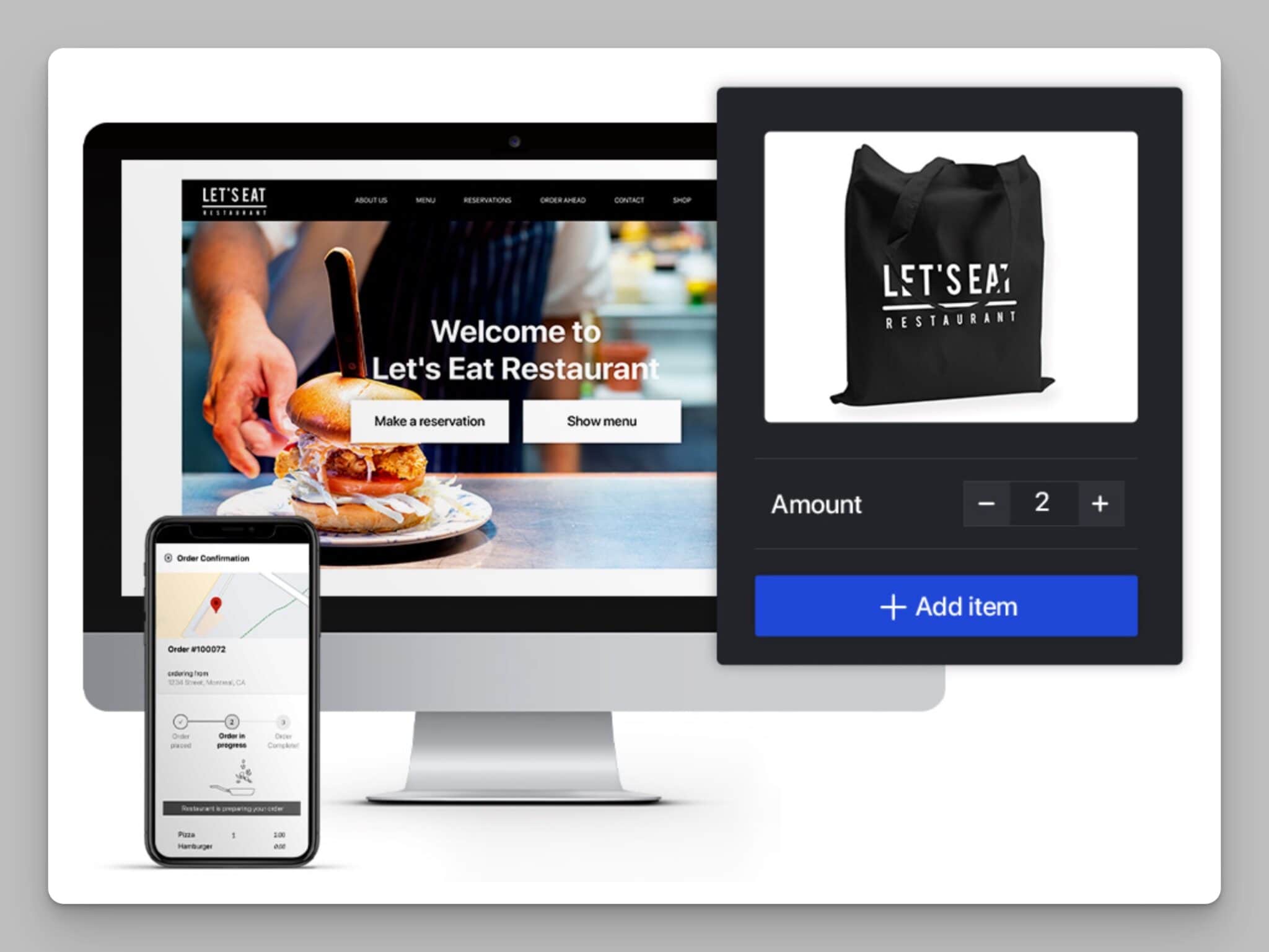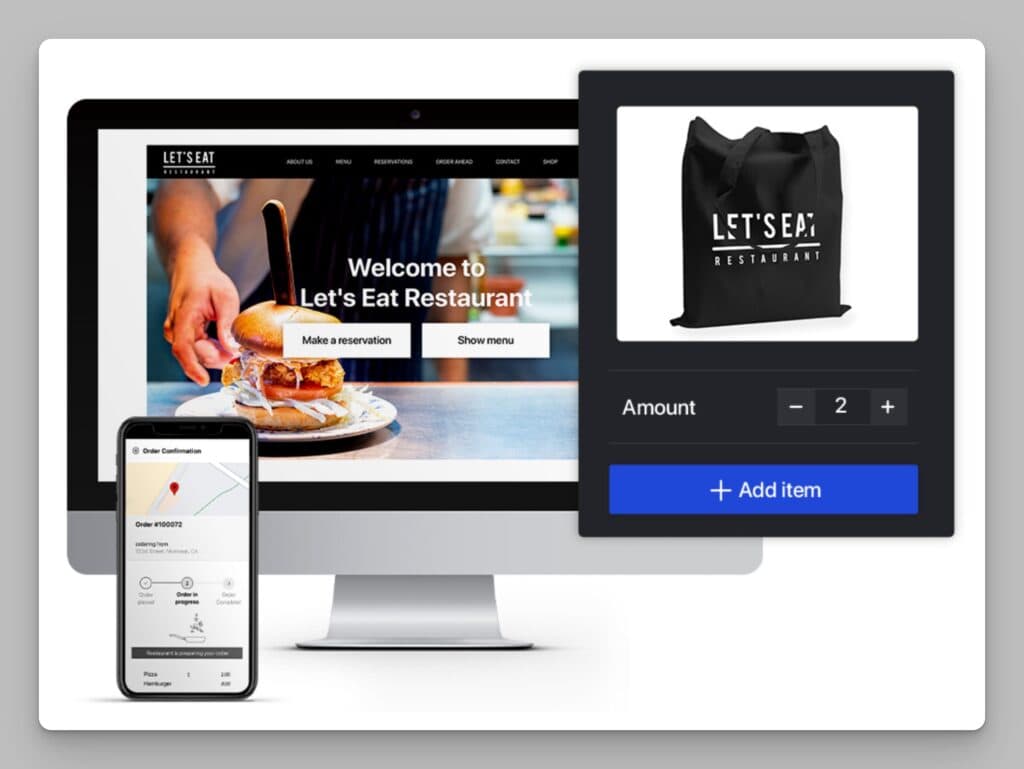 The Lightspeed Restaurant eCom feature is designed to help you create a new revenue stream by selling your products online and growing your brand where your customers browse.
The eCom platform is integrated with its point-of-sale system, allowing you to manage online orders and inventory from one central location.
Online ordering and menu display are key features of the Lightspeed restaurant eCom platform. Restaurants can showcase their menus online, allowing customers to place orders for delivery or pickup. The platform also allows you to manage your inventory, ensuring that you have the right products in stock to fulfill online orders.
It also includes an online reservation system, which allows customers to book tables directly through the restaurant's website. The system is designed to be easy to use and helps you manage reservations more efficiently.
In-store pickup and curbside services are also supported. You can offer customers the option to order online and pick up their orders in-store or have them delivered curbside.
Promotional tools and discount codes: You can create and manage discount codes, which can be used to offer special promotions to customers. The platform also includes tools for managing digital gift cards, which can be sold online and redeemed in-store.
Inventory synchronization keeps inventory levels in sync between the restaurant and the online store. This helps to ensure that the restaurant always has the right products in stock to fulfill online orders, and helps to prevent overstocking or understocking of inventory.
eCom for Restaurant also allows you to be available for all kinds of hungry diners. You can easily link your website to delivery platforms such as UberEats or Doordash, and connect to OpenTable to take reservations.
Having a well-built, tailored e-commerce site gives you the power to showcase your brand's personality far beyond what social media can do alone.
The Lightspeed Kitchen Display System (KDS)
This system is a software solution that displays orders on a separate iPad to show kitchen staff the items they need to make.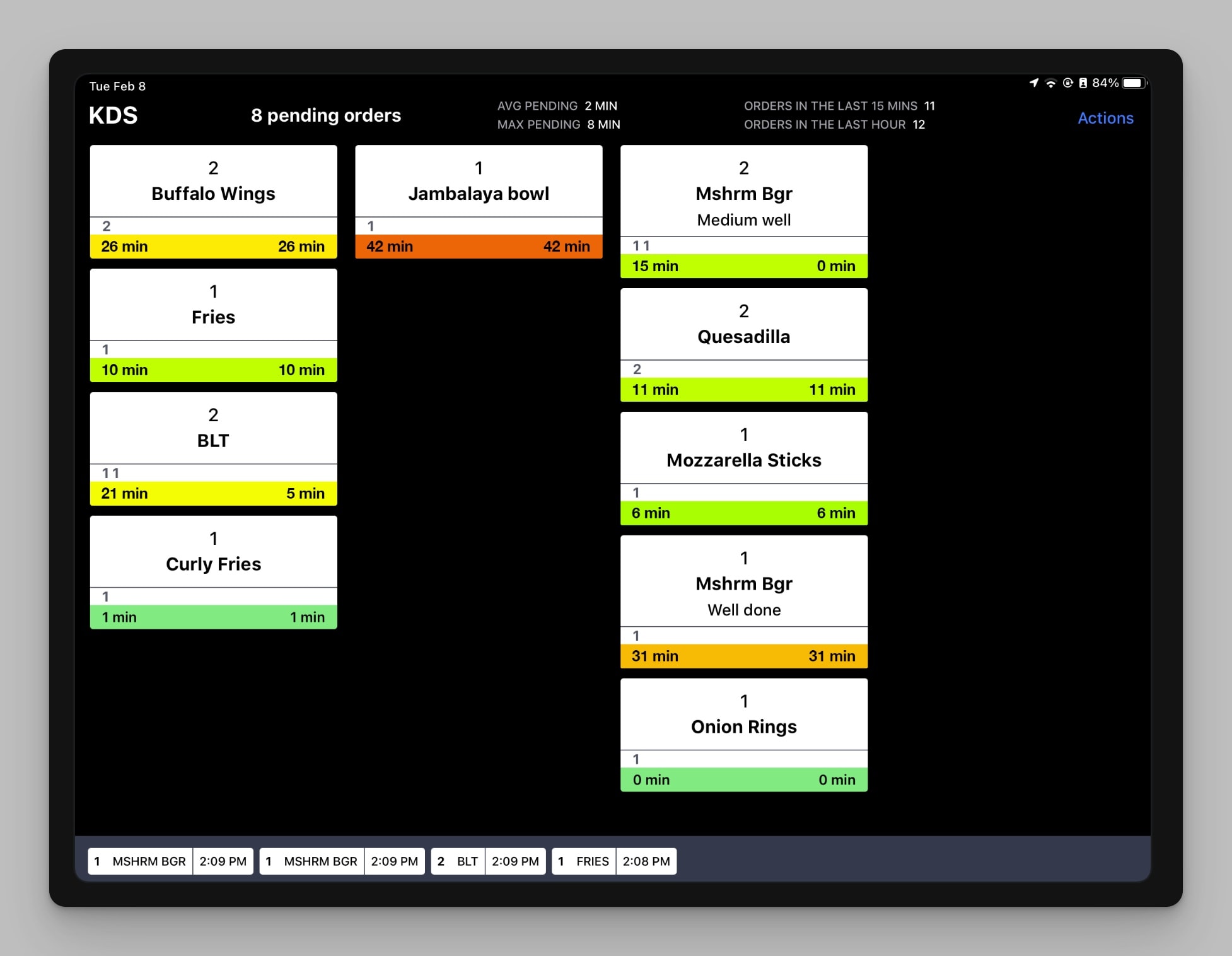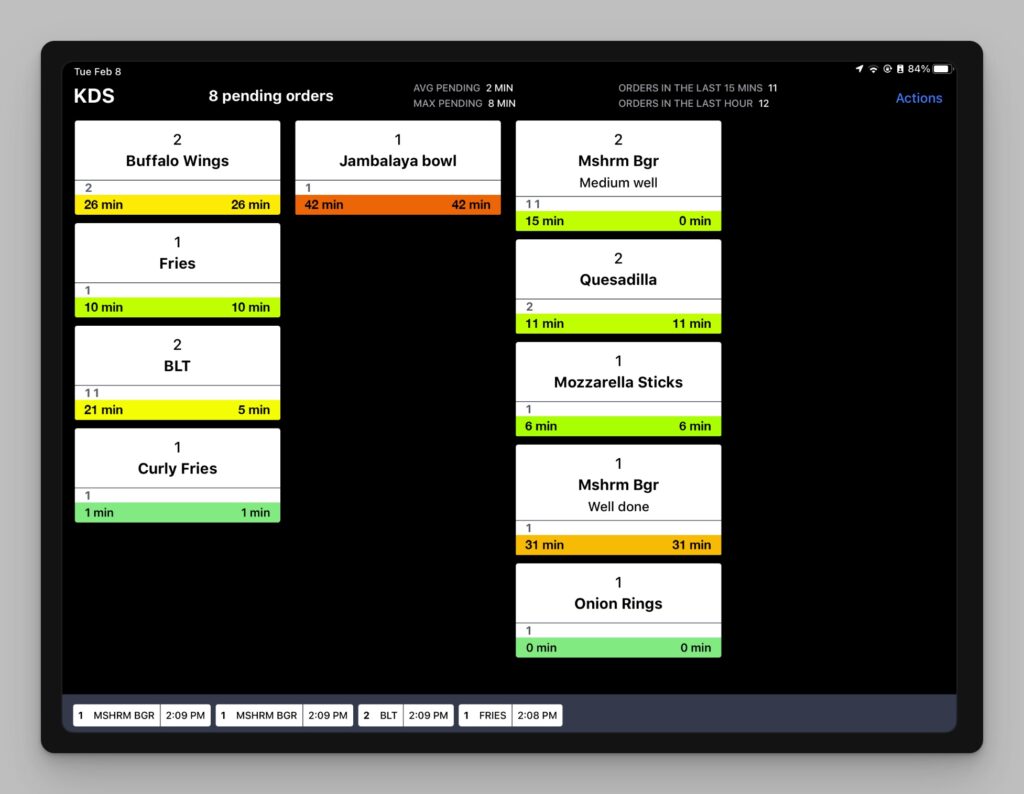 The KDS replaces a kitchen printer, saving paper and enabling you to track the time it takes to prepare items. Staff can interact with the KDS to mark orders or items ready, remove them from the screen, and alert front-of-house staff by automatically printing a chit when orders or items are complete.
The Lightspeed KDS is also designed to be easy to use and customizable. Staff can choose from a variety of display options to suit their preferences, and the system can be easily configured to meet the needs of different types of restaurants and kitchens.
Scan and Pay, Access to Capital, & Advanced Insights
Here are three key new features for restaurant owners:
1. Improved Payment and Ordering Process: Lightspeed now includes functionalities such as Pay at Table, Tap to Pay, and Scan and Pay which are designed to speed up the ordering and payment process, reduce waiting times for guests, and increase table turns. The platform also has a reliable offline mode that allows business operations to continue even without internet access. The Tip Management feature assists servers in maximizing their earnings through intelligent tip suggestions and reports.
2. Access to Capital: Lightspeed has introduced a Self-serve Capital feature to assist qualified restaurant owners in securing funds through Lightspeed's merchant cash advances via in-app functionalities. This feature aims to support restaurants in funding their next stage of growth amidst the current difficult economic climate.
3. Advanced Insights: The insights cover various aspects such as server and menu performance, time optimization, and a virtual logbook that facilitates communication among restaurant staff across different shifts. The purpose of these features is to provide staff with feedback, enhance services, use data for staffing decisions, and gain a better understanding of customer preferences.
Lightspeed Restaurant Alternatives
When choosing a restaurant POS system, it's essential to consider how it stacks up against the competition. Here's how Lightspeed Restaurant compares to other leading POS systems:
Lightspeed's comprehensive reporting and analytics tools outshine those of many competitors, providing deeper insights into your business's performance.
The ease of use and user-friendly interface of Lightspeed Restaurant sets it apart from more complicated systems, making it a great choice for businesses of all sizes and experience levels.
Lightspeed's e-commerce capabilities allow you to grow your restaurant's online presence, whereas some competitors lack this feature or require additional third-party integrations.
The robust inventory management features in Lightspeed Restaurant are comparable to those of other top-tier POS systems, making it a strong contender in this category.
Toast, TouchBistro, and Square for Restaurants are all popular alternative restaurant POS solutions, each with its unique set of features and capabilities. Here is a brief comparison of these systems to help you understand how they stack up against each other.
Description:

The most innovative POS system on the market

Best for restaurants that want to get started with a free basic plan with the option to upgrade to many advanced features and integrations.

Description:

Designed by restaurant industry veterans

Best for independent full-service restaurants looking for a well designed, feature-rich and secure cloud/server-based POS system.

Description:

Cleverly crafted POS with exceptional design

Best for upscale eateries seeking powerful data insights, retail features, and extensive integration possibilities.

Description:

Best for small restaurants and coffee shops

A small business POS for establishments that need a subscription-free plan, smooth transactions and easy-to-operate retail features.

Description:

Excellent hardware options and no long term contracts

All-in-one POS solution with modern restaurant-specific features for fine-dining, QSRs, bars, and food trucks.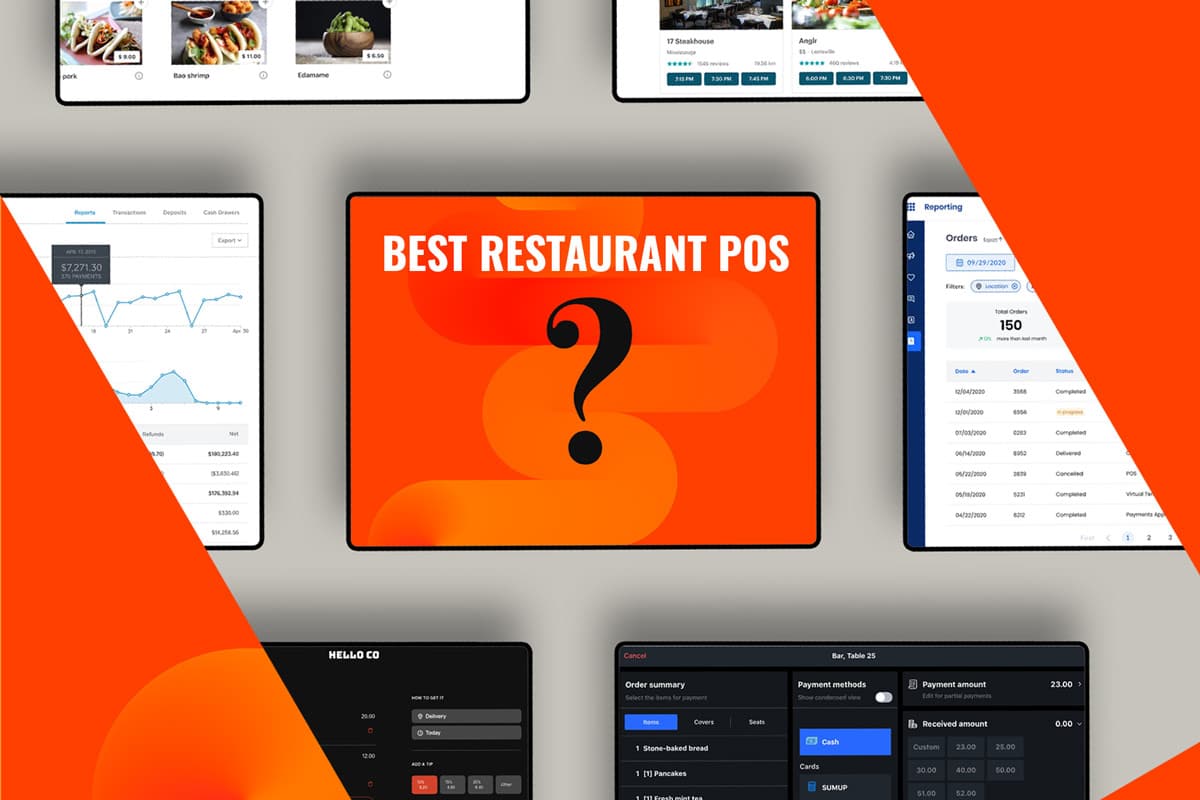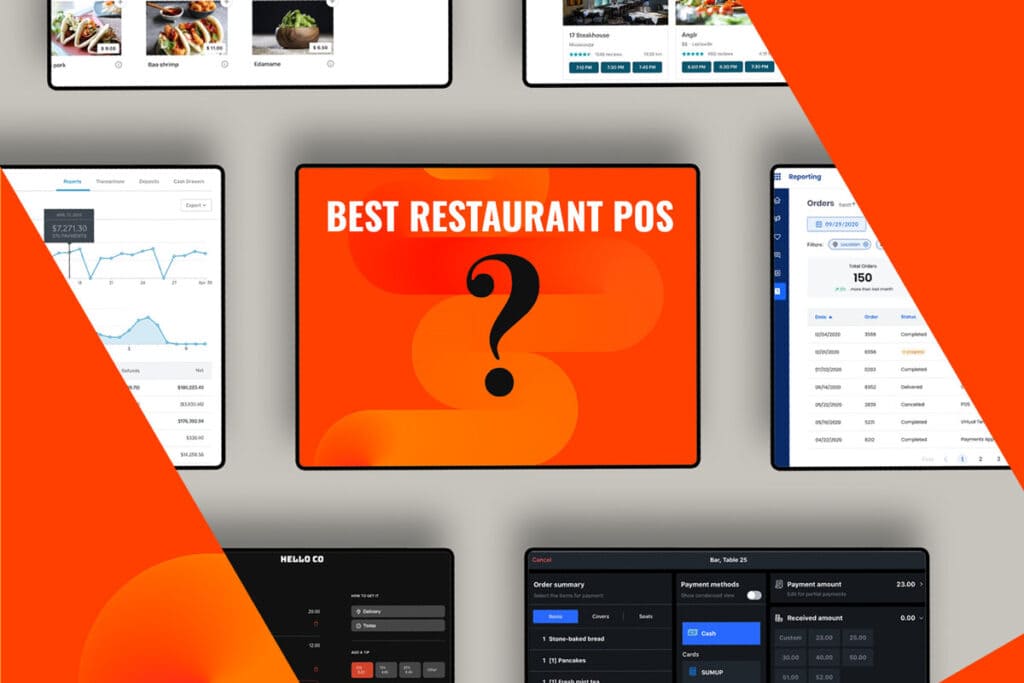 For a comprehensive comparison see my review of the Best Restaurant POS Systems.
Toast POS
Designed specifically for the restaurant industry
Offers built-in online ordering and delivery features
Includes a strong inventory management system
Android-based, requiring proprietary Toast hardware
TouchBistro
iPad-based POS solution catering to the food service industry
Offers a visually appealing table management feature
Provides a solid set of core restaurant management features
Square for Restaurants
Known for its straightforward and competitive flat-rate pricing
Offers a free plan for smaller establishments with basic features
Strong payment processing capabilities, as it is an extension of the Square ecosystem
May not be as feature-rich as other dedicated restaurant POS systems
In conclusion, each POS system has its advantages and drawbacks. Lightspeed POS is a versatile and comprehensive solution with a wide range of features and integrations, making it suitable for various restaurant types.
Toast offers robust features, especially for full-service restaurants, but requires proprietary hardware.
TouchBistro is an iPad-based solution with a strong focus on the user experience.
Square for Restaurants is an excellent choice for smaller establishments due to its simple pricing and strong payment processing capabilities but may lack some advanced features found in other dedicated restaurant POS systems.
Conclusion: Should You Try Lightspeed Restaurant POS
After this Lightspeed POS review, it's clear that it offers a comprehensive set of features tailored to the unique needs of restaurant owners and aspiring restaurateurs.
With its advanced reporting and analytics, user-friendly interface, and seamless e-commerce capabilities, Lightspeed Restaurant is an excellent choice for any restaurant looking to streamline operations, increase revenue, and enhance the overall customer experience.
By considering the pros and cons, and comparing Lightspeed Restaurant to other leading POS systems, we hope you now have the information needed to make an informed decision.
I encourage you to try Lightspeed Restaurant POS and experience firsthand the benefits it can bring to your business. With its extensive feature set, exceptional customer support, and scalable solution, Lightspeed Restaurant is poised to become an essential partner in your restaurant's success.
Additional Resources
FAQs
Is Lightspeed Restaurant suitable for all types of restaurants?
Lightspeed supports full-service restaurants, quick-service restaurants, bars, and cafes, and can handle tables, in-house, and takeout orders, as well as delivery and contactless online ordering.
Is Lightspeed Restaurant POS available globally?
Lightspeed is available in the United States and Canada, with offices in Montreal, New York, Ottawa, and Toronto. The company has a strong presence in these markets, with thousands of restaurants using Lightspeed Restaurant.
Lightspeed also has a presence in several European countries, including the United Kingdom, Germany, Switzerland, and the Netherlands. The company has acquired several European POS providers, including iKentoo and Gastrofix, to accelerate its growth strategy in the region.
Australia is the only country in the Asia-Pacific where Lightspeed is available. However, the company has stated its intention to expand globally and may consider entering this market in the future.
Lightspeed does not currently have a presence in Latin America. However, the company has partnered with several Latin American payment processors, including Conekta and MercadoPago, to expand its payment processing capabilities in the region.
How secure is the data stored in Lightspeed Restaurant POS?
Lightspeed employs various measures to ensure the security of the data stored on its system. Lightspeed's integrated payment system provides end-to-end encryption for every transaction at the point of sale and tokenizes data the second it reaches their servers.
The company is also PCI compliant and adheres to the Payment Card Industry Data Security Standards. Additionally, Lightspeed's system is guarded by measures like authentication, advanced firewalls, intrusion detection, event logging, internal firewalls, access control, and encryption. The company also provides a guide on how to protect your business and data from hackers and fraudsters.
Overall, Lightspeed Restaurant POS takes data security seriously and has implemented various measures to ensure the safety of its customers' data.
Is Lightspeed POS compatible with iPads?
Yes, Lightspeed POS offers a fully functional iPad app, allowing you to access the system from anywhere in your restaurant.
Can I use Lightspeed POS for multiple restaurant locations?
Yes, Lightspeed POS supports multi-location management in its Advanced and Enterprise plans.
Can I import my existing customer data into Lightspeed POS?
Yes, Lightspeed POS allows you to import your existing customer data using a CSV file format.
Can I customize the appearance of my Lightspeed POS interface?
Yes, Lightspeed POS offers various customization options, including customizing the appearance of the interface and creating custom themes to match your restaurant's branding.