Are you looking for an all-in-one POS and restaurant management system that makes running a restaurant easier?
Then this is most likely not the first time you've heard about TouchBistro.
TouchBistro is a top-rated restaurant software with comprehensive support for running your business. I like how they were able to fit so many features into such a user-friendly platform while keeping costs low.
In this TouchBistro software evaluation, I'll explain what is most important to know about this platform, from its features and benefits to strengths, limitations, and pricing.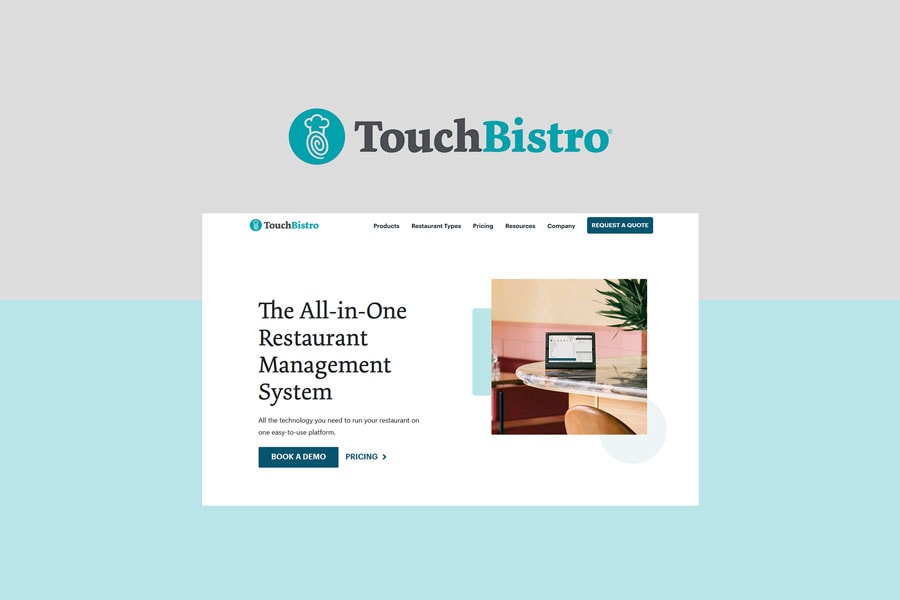 TouchBistro Overview & Description
Touchbistro is an excellent solution for small restaurants that want an affordable and secure cloud server-based point of sale (POS) system. It's modern and easy to use, and its interface looks great too.
Touchbistro is an iPad POS and Restaurant Management System that helps restaurants manage their business while providing guests with a better dining experience.
It offers many features, including inventory control, table reservations, online ordering, point of sale, menu creation, loyalty programs, payment processing, and much more.
You will be able to manage your orders, customers, employees, and sales all in one place. It's intuitive, easy to use, and very affordable. The software is designed for restaurants and works well for other food businesses such as bakeries, coffee shops, bars, etc.
Software Type
Restaurant POS & management app
Works on an Apple iPad
TouchBistro Pricing
I like the modularity of the TouchBistro pricing structure. You get a good deal at a low price and can choose from the selection of add-on options as your business grows.
Here's a quick pricing overview, so you know exactly what you're paying before considering signing up.
Monthly subscription fee: Starts at $69/month for up to two setups
Add-on pricing starting at:

Online ordering: $50/month
Reservations: $229/month
Gift cards: $25/month
Loyalty: $99/month
Digital menu board: $20/month
Payment processing fees depend on if you use TouchBistro Payments or one of the available payment processing partners. You'll be able to use different payment processors depending on which one offers the lowest rate.
For example, Square charges the following: 2.6% +10¢ per transaction
TouchBistro Feature Ratings
Ease of Use (5.0)
Pricing (4.5)
Features (4.5)
iOS iPad App (5.0)
Add-ons & integration (4.5)
Payment processing (4.0)
Customer Service (4.0)
Review Summary
TouchBistro is a great POS solution for any restaurant owner wanting to automate time-consuming operations at a reasonable price, with a simple user interface, several integration choices, and a flexible pricing plan.
TouchBistro's online ordering extension and optional connections to popular takeaway platforms are also available. The self-serve kiosk is another rare POS system option for ordering with physical distancing at an actual location.
The Reservations add-on can be a game-changer for restaurant management systems, as is the Customer Loyalty module. However, the cost of these add-ons, in addition to iPads, licenses, and an iMac Mini for offline capabilities, can make a TouchBistro system more expensive than some other systems.
TouchBistro is ideal for businesses with spotty internet connectivity, which also want to use a system stored locally rather than one entirely dependent on the internet. However, you may be disappointed that Android devices and PC computers are incompatible.
Pros
Excellent User Interface
iOS app for iPad
Easy to use
Affordable monthly cost
Offline mode
Customizable feature set
Cons
Inconsistent customer support
Somewhat limited integrations
Add-ons can get pricey
TouchBistro Review Table of Contents
1). Who is TouchBistro POS for?
Touchbistro was explicitly designed for the restaurant industry. Restaurant owners, managers, cooks, and staff will find TouchBistro a handy iPad POS system.
Touchbistro makes it easy for many types of restaurants to connect, communicate and collaborate in a single unified platform that keeps track of all orders, sales, customer information, and more.
TouchBistro fits small to medium single location restaurants, QSRs, bars, coffee shops, bakeries, a food truck, and all who need a great KDS will love Touchbistro.
Who is TouchBistro POS NOT for?
Touchbistro is not for large chain restaurants, hotels, or other enterprise-level businesses requiring multiple locations, sub-vendors, employees, and complex financials.
2 Essential Posts when Growing a Restaurant Business
As you are reading this article, also check out the two articles below!
2).TouchBistro Features Overview
The primary distinction between restaurant management applications is the quality of features supplied with the platform. Before we get into more detail about TouchBistro, let's have a quick look at some of the critical elements that make this iPad POS system an excellent solution for restaurants:
Table Management – You can create the restaurant's floor plan and table management within the iPad app to keep track of bookings and orders – this helps to minimize confusion for staff while also enhancing efficiency in the kitchen and on the floor.
Kitchen Display System (KDS) – The KDS integrates with TouchBistro to provide an overview of what is going on in the kitchen so that orders don't get missed and food comes out fresh.
Inventory Management keeps track of goods and prevents menu shortages, so you won't be let down by running out of items.
Employee management – Track staff hours and measure FOH and BOH employee performance and efficiency.
Integration partners like Chase, Worldpay, 7Shifts, Xero, and Quickbooks add to your payment and management choices.
Customer Facing Display in the restaurant is another way to draw in customers and see and confirm orders in real-time, reducing costly mistakes.
TouchBistro Online Ordering combines the POS to take orders from your website with no additional costs.
Tableside ordering allows employees to submit orders directly from the customers' table, which may enhance service speed and minimize costly mistakes.
Menu management – Quickly create menus, send orders to the kitchen, and make on-the-fly adjustments to tickets to ensure that your consumers get what they want. Using the platform, you may set up tabs and effortlessly split purchases.
Reservations – A comprehensive reservation and guest management system helps restaurants personalize each customer encounter while maintaining efficiency.
Sales reporting – This allows you to access your sales data and employee information from anywhere, which is a fantastic way to stay on top of things. It can assist you in enhancing your company's strategy and increasing revenue.
TouchBistro Self-Service Kiosk – This is a great way to let guests order and pay for their food without having to wait in line. It also functions as an additional POS terminal and integrates into the KDS and payment processor.
Digital Menu Board – This is an interactive way to show your guests the menu, and it can be updated in real-time.
Gift Cards – Allows you to create and sell physical and digital gift cards to help develop restaurant awareness, increase cash flow, and keep guests returning.
Contactless ordering – Customers may order food using their personal phones and pay for it without touching a payment device.
Customer support – A support team with industry knowledge, is accessible 24/7/365.
Now let's take a look at the features in more detail:
3). TouchBistro User Interface & Ease of Use
TouchBistro is one of the easiest to use POS systems out there today. It is intuitive and speedy, and easy to use. TouchBistro is great in terms of ease of use and intuitiveness. It is perhaps the quickest and easiest restaurant POS to use.
Anyone who has used an iPhone can figure out how to use it with little training. This tool saves time and money for new employees as they learn the ropes quickly. You also have total control over your menus and restaurant interface, which can help you streamline your processes for speed and efficiency.
The app is simple enough to navigate and aesthetically pleasing. Simplicity and aesthetics are essential; the app can be used as a POS and digital menu, with full-color, high-res images of every menu item. You need to make everything your customers interact with look good.
TouchBistro is highly customizable, with perfect modifiers for your business. You can customize the look of your menus, buttons on the screen, and the forced modifiers that pop up during order taking.
4). Hardware & OS Requirements
TouchBistro supports iPads, iPad Pro, or the iPad Mini and runs best on devices from 2018 or later. These tablets are used to take orders and process payments table-side. This reduces the need for waitstaff to interact with customers, which speeds up wait times and decreases costs.
A TouchBistro setup is simple with an iPad, stand, receipt printer, card reader, router, and modem. To use more than one iPad, you'll need a Mac computer to act as a server.
TouchBistro is a hybrid POS system, which means it has in-house operating software and cloud storage. If your connection is down, you can still process transactions locally. This way, your business is never down when the internet goes out.
TouchBistro also offers peripherals as add-ons. Including a Self-service Kiosk, Customer Facing Display, KDS, and Digital Menu Boards. TouchBistro can also use third-party hardware, such as cash drawers, card readers, and receipt printers.
Comprehensive online tutorials are available to help you with the various hardware configurations.
5). Tableside Ordering
The product of TouchBistro was built with servers in mind, and it shows. The check-splitting feature is simple to use, requiring just a few clicks to organize things by individual consumers or groups of customers. When the order is completed for tableside ordering, servers may browse the menu, fill in items and modifiers, and send the ticket to the kitchen.
The system has a feature that reminds servers to point out other items and split or combine bills at the customer's request. You may also add "card not present" transactions, and the tax and gratuity will be calculated automatically at checkout.
Additional functions when taking payments:
Divide payments among numerous clients and designate them different payment options.
Process cash, card, check, and gift card payments.
Quickly email bills and receipts to customers.
Add a personalized message to the bill and guest checks.
Add a Tip Guide to bills and guest checks at the bottom.
The "Fast Bar" feature can process payments and close orders fast.
You can split and close it by a group of seats/tables or by the seat.
The app has easy-to-use options for signing and tipping.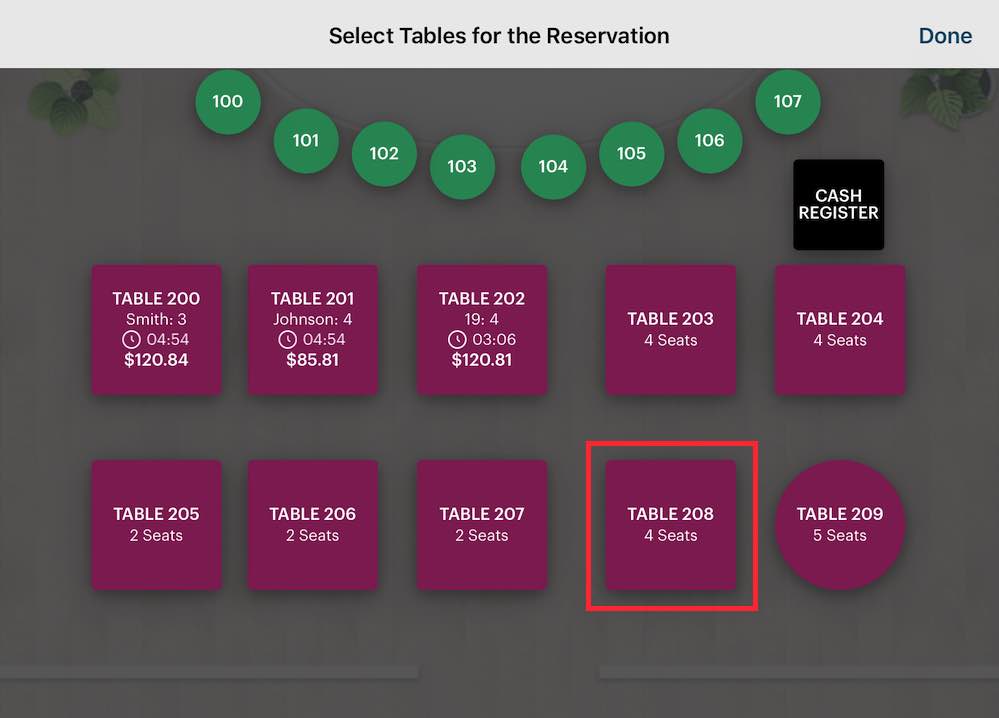 6). Floor Plan & Table Management
During a hectic night, TouchBistro makes it simple to maintain the floor. Drag-and-drop table-management tools make it easy to generate a floor plan similar to your existing restaurant's layout.
TouchBistro offers a wide range of tools to help you plan your entire dining room layout, assign staff to sections, and track availability. This allows you to manage tables and seats to be consistently full, and waiting times are short.
You can change your floor plan at any time and make simple table changes if customers want to move tables.
When someone calls to make a reservation, you may link a particular table at a specific time slot with the request.
Robust analytics provide information on how frequently tables are replaced, allowing you to evaluate the effectiveness of the staff.
7). Staff Management
TouchBistro has a simple and easy-to-use staff management system. One of our favorite features of TouchBistro is the unlimited number of users you can add to your TouchBistro account. It allows you to add your team member's name, photo (if you want), set their position with the restaurant, and view staff performance reports about each member of your team. If they're not doing well in one area, it's easy to provide feedback or coaching to improve.
To help you keep track of how much time your team is spending on the job, you can use the clock-in/clock-out function. You may establish accounts for each person and grant them permissions based on their responsibilities. Employee payroll information is maintained and reports that show data on overtime hours and labor costs to assist you with calculating pay rates.
Additional staff management features:
Each shift is logged in and out by staff members.
To track activity, set security settings (low/medium/high) to assist.
Assign each employee a specific portion of the restaurant or bar to run.
In-app messaging for communicating with your employees.
Set up breaks for your team so that they no longer have to clock out and in for their rest breaks.
View real-time wage rates: Daily reports on staff attendance, sales performance, and suggestions are available.
TouchBistro Cloud allows you to easily manage paydays and tax season by keeping employee-specific payroll details in the cloud.
If a server switches off because they are on break and still have open tables, TouchBistro will display a popup window asking your staff to either close their open tables or pass them on to another server.
Basic scheduling capabilities: If you want to handle advanced shift scheduling and pay processes, you'll need to install one of TouchBistro's integration partners, such as 7shifts. It's free if you have one location with 10 or fewer employees; paid subscriptions begin at $17.99 per site for up to 20 people.
8). Payment Processing
TouchBistro Payments, powered by Chase, is only available to clients in the United States and allows you to take debit and credit card payments as well as Apple Pay, Google Pay, and Samsung Pay transactions. Square, Barclaycard, EVO, Moneris, Worldpay, and many other processors are also available. You'll have to pay fees to the payment processor you choose, and your money will be deposited in your account as soon as possible.
TouchBistro provides two payment processing alternatives. If you want to compare rates and find the lowest rate, you may select from various popular payment processors, as mentioned above.
TouchBistro Payments' processing charges are determined by your company type, credit card mix, and sales volume. You'll have to obtain a personalized quote from TouchBistro.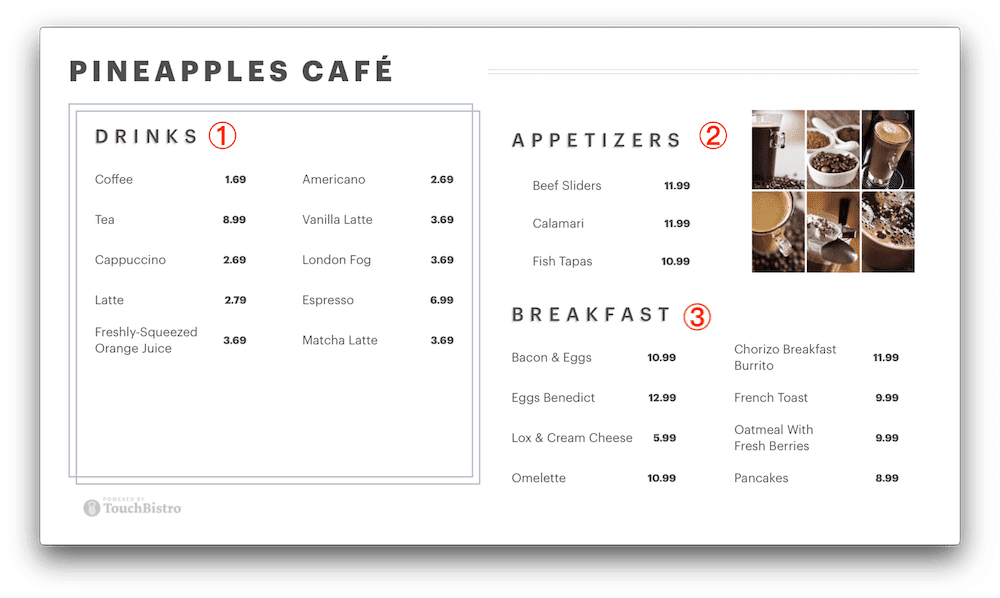 9). TouchBistro Menu Management
Creating and adjusting your menu can be done with the POS. You can customize your menus with photos and details of items, schedule specials or seasonal changes by cloning your existing menus, and help servers answer any questions your guests may have.
Design your own menu. Create separate categories (e.g., appetizers, entrées, desserts, etc.) and upload or take photos of each menu item. The full-screen image will pair with a short description of the dish.
Let's take a look at some other menu options. For example, you can assign additional charges to unique items or order additions. The "duplicate feature" is also helpful in building your menu more quickly. You can flip between breakfast, lunch, and dinner menus.
10). Inventory Management
The inventory management system in TouchBistro is excellent. It allows employees to keep track of inventory all the way down to the ingredients used in their meals. When you run low on a particular ingredient or item, it can alert you and automatically remove it from the menu.
You may scan a barcode to add items or type them in manually.
We love seeing how much each dish costs based on its ingredients. That really aids in your selection process by allowing you to see how much everything costs.
TouchBistro's inventory management system makes it easy to keep track of your stock. You can keep track of orders at the ingredient level, ensuring you never run out of popular menu items. It can aid in managing your recipes, flagging ingredients that are running low in supply, and removing dishes from the menu when available.
TouchBistro does not allow you to reorder items, but it provides barcode scanning and manual stock entry.
11). Reporting
TouchBistro provides regular reports that any eatery needs to maintain an eye on day-to-day operations.
TouchBistro's more than 50 detailed reports are organized into five categories for fast access: sales, accounting, menu, finances, and labor.
These reports inform you where your money is going and which business areas are generating the most income.
Reports are accessible via the POS's admin menu, Reports To Go App for smartphones, or an online cloud reporting dashboard. TouchBistro offers several reporting statistics due to its built-in inventory and time tracking capabilities.
TouchBistro allows users to track both standard and non-standard sales, discounts, voids, and comps in real-time. In addition to recording typical sales, costs, voids, and comps, TouchBistrosend users a detailed look at food and labor expenses in real-time. The reports include graphs as well as other visual elements for quick comprehension.
These reports inform you where your money is going and which business areas are generating the most income.
Some of the many reporting features include:
Sales, menu, payments, accounting, and labor reports
Menu items, categories, and promotion sales
Staff shifts, activities, and tips
Discounts, deletions, and voids
Statistical summaries of payments and payment types
Shifts, staff tips, and activity
Auto-schedule email reports to management
Reports on customer behavior
Taxes and accounting
Inventory tracking (by ingredient)
Export data as a CSV file
12). Integrations with Software Partners
TouchBistro can be used as a fully functional point of sale, or it can integrate with other software to become part of your entire business management system. This includes partners that provide accounting, inventory management, online ordering, analytics, staff scheduling, and payroll software.
Accounting software: Quickbooks, Xero, Sage
Business Insights & Analytics: Avero, Shogo
Inventory Management: MarginEdge, WISK.ai, MarketMan, Craftable, Wisk, FreePour, Bevchek
Mobile Payments & Loyalty: SmoothPay
Online Ordering & Delivery: Ordermark, Checkmate, Delivered
Staff Scheduling: Push Operations, 7shifts
13). Add-Ons (Reservations, Loyalty, Gift Cards & Online Ordering)
Gift Cards
TouchBistro enables you to design, order, and sell physical and digital gift cards for your restaurant.
This $25 per month add-on allows you to sell your restaurant's branded, personalized gift certificates. These cards may be tracked using your POS and used at any of your locations.
The gift cards can be purchased in-store, on your website, or through a customized consumer web app.
Online Ordering
TouchBistro supports online ordering or integrations with third-party platforms.
TouchBistro lets you integrate third-party solutions to order online or use the built-in module to create an in-house solution. The built-in module costs $50 per month.
Customers can place orders via an "order now" widget on your website that redirects them to your online menu at TBDine.com with the built-in module. You may also provide this link to customers through email and include it in your social media postings.
Or integrate with a partnered software service such as Checkmate or Ordermark to connect with third-party food delivery services like Uber Eats and DoorDash.
TouchBistro Reservations
The $229/month add-on, which includes a complete reservation and guest management system, allows you to take reservations over the phone, in-person, through your website, TouchBistro's web and mobile discovery apps, or Google Reservations. Guest records, floor plans, and SMS and email reservation alerts are also included in the add-on.
The TouchBistro POS's reservation system is connected to the POS, keeping track and reporting on customer data. The sync with the POS displays your front desk staff the status of each table as they progress through courses and pay their bills after they have been seated.
TouchBistro Reservations can modify your floor plan's layout and provide controls to block tables, and set maximum cover counts that can be adjusted by period. TouchBistro also enables in-app SMS messaging so that your staff may confirm online reservations via text message, as well as allowing consumers to send you a text.
The reservation module, like the POS, allows you to restrict access to specific capabilities for particular employees.
This booking system may be used by any size restaurant. There are no additional booking expenses since this is a flat monthly fee. By restricting reservations to particular dates, you may control the availability of online bookings. Reservations are confirmed to guests via email, and they have the option to modify their selections through the site.
Loyalty & Customer relationship management (CRM)
TouchBistro Loyalty is an add-on module and integrates with other POS functions to create customized promotions and various reward options to enhance the guest experience.
The loyalty add-on analyzes data about your customers and offers branded loyalty and gift cards, as well as other incentives. With a customer loyalty program that encourages repeat business, you can turn first-time visitors into regulars and loyal customers into promoters.
TouchBistro's Loyalty and Rewards modules make it simple for consumers to join up. You don't have to worry about tracking unique loyalty numbers or handing out cards since loyalty profiles are recorded via phone or email addresses.
The TouchBistro Loyalty add-on is $99/month, and the Premium plan is $179/month.
TouchBistro Loyalty includes:
Customer relationship management (CRM) platform
Digital loyalty accounts for all customers
Customer web app with your branding
Multiple reward options
Marketing tools for targeted email marketing promotions
Marketing and rewards reporting
Loyalty Premium also includes:
Customer feedback
Marketing automation
In-app messaging
14). KDS & Other Extra Hardware Peripherals
This section includes the following categories of TouchBistro hardware:
Digital Menu Board
Self-service Kiosk
Customer Facing Display
Kitchen Display System (KDS)
TouchBistro Digital Menu Board
With this contemporary alternative to physical menus, you may change descriptions, add items, alter pricing, and modify specials in minutes.
An additional $20 per month gets you a digital menu board, which allows you to project your menu items onto a wall-mounted screen for customer convenience. You'll find descriptions, ingredients, and pricing for the dishes on the board.
TouchBistro Self-Serve Kiosk
For $69 per month, you may have a self-ordering kiosk in which customers place their orders without the help of a worker. This iPad-based system boasts a configurable menu and notifies clients about special offers. Orders are immediately sent to the POS system via wireless technology.
The TouchBistro system is highly user-friendly for staff and customers using self-service kiosks. It resembles a smartphone in appearance, feel, and operation. Employees usually pick up the system quickly, saving time during training. With tap and swipe navigation, Self-order kiosks and KDS displays are easy to use.
Customers can purchase food and beverages online at TouchBistro through the TouchBistro Self-Serve Kiosk, which keeps lines moving and lowers labor expenses. The simple structure has easy tabs along the top for customers to browse the entire menu or items beneath various categories such as breakfast, lunch, and drinks.
Customers are guided through add-ons, leaving employees' hands off the process. Menus may be customized to display information on pairings, portion sizes, or nutritional facts. It accepts cash or card payments.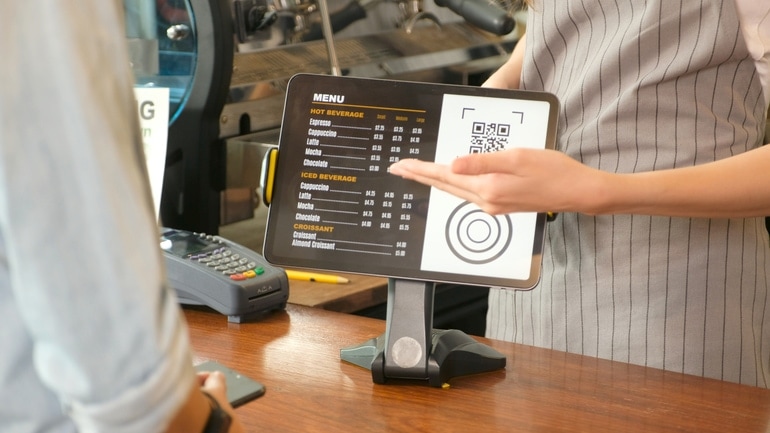 TouchBistro Customer Facing Display
Assign this POS companion product to your QSR, increase client satisfaction, shorten queues, and prevent costly mistakes. Call TouchBistro for a price quote.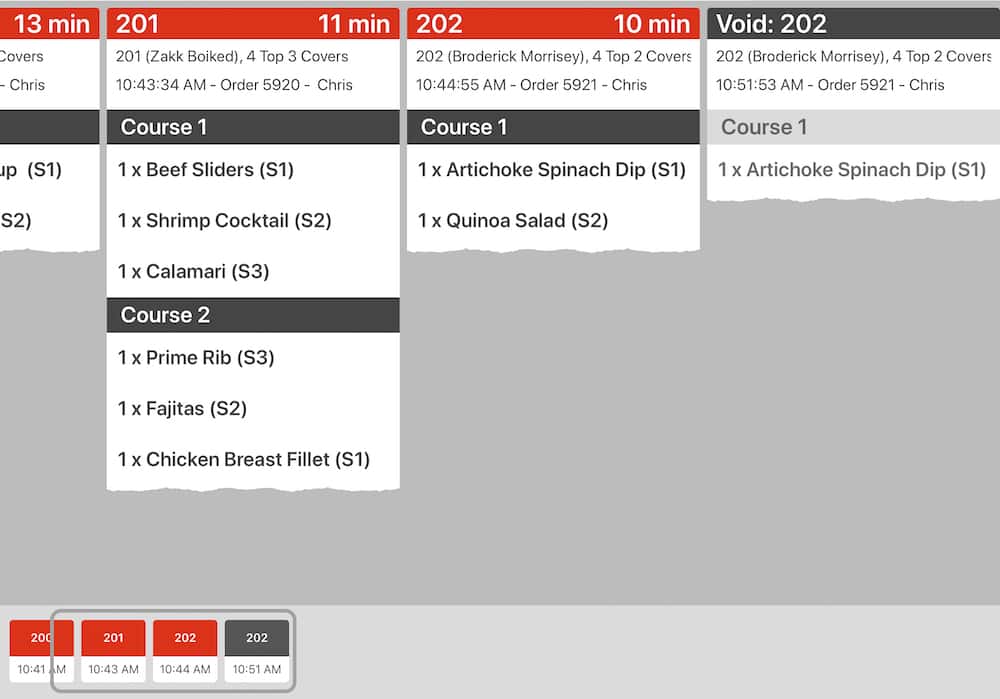 TouchBistro Kitchen Display System
With a kitchen display system that works seamlessly with your restaurant POS system, you can streamline communication between your FOH and BOH. Individual item cook times, ticket history, ticket priority, and more may be sorted and tracked. Call TouchBistro for a price quote.
15). Cloud-Based & Local Hosting
TouchBistro is a cloud-based point of sale system that functions as a server. Outside of the initial download and software updates, a locally installed program does not need access to Wi-Fi or the internet. An offline mode can be a lifesaver if you have an unreliable internet connection.
If your restaurant is solely one register, all you need is a single iPad that can run and manage the whole place. To operate two or more iPads, you'll need a Mac Mini to function as the central database for your business. It will communicate with all of them to sync with one another.
TouchBistro also provides cloud-based services for viewing reports and other vital restaurant information, as well as an online ordering system. For credit card payment processing, you'll also need access to an internet connection.
16). Customer Service
The TouchBistro customer service is accessible by phone, chat, and email to answer consumer questions 24 hours a day, seven days a week.
TouchBistro provides remote installation experts and comprehensive training to get you up and running. A staff member can use remote access to take control of your POS to diagnose problems, which is another advantage.
The TouchBistro website offers a comprehensive video training library that will guide you through the installation and configuration of all hardware and everything from setting up the menu to installing new software.
17). TouchBistro Pricing
TouchBistro POS pricing starts at $69 per month. This does not include hardware or other costs, such as payment processing fees. Add-on features are available for an extra fee. The actual price of your system will be specified in the quote from TouchBistro.
TouchBistro is one of the most cost-effective restaurant POS systems around, with a starting price range of $69 per month for one register configuration. When you need more than one license, TouchBistro recommends requesting a quotation.
TouchBistro provides the following features at all price levels: customer service, menu management, table management, cloud reporting and analytics, limitless integrations, and unlimited users (staff members who are not licensed). To experience TouchBistro before purchasing a plan, contact them for a free demonstration.
Pricing Summary:
TouchBistro POS – From $69/month*
Online Ordering – From $50/month
Reservations – $229/month*
Gift Cards – From $25/month*
Loyalty – $99/month Loyalty Premium $179/month
Self Serve Kiosk – From $69/month*
Digital Menu Boards – From $20/month*
*Additional fees may apply for more licenses and other hardware use. Contact ToucBistro for a quote.
18). User Reviews & Awards
General user reviews of TouchBistro are mainly very positive, with users giving excellent to good ratings for the ease of use, value for money, and functionality. Customer support generally received lower scores.
Capterra: 4.1 stars out of 5.
G2: 4.5 stars out of 5.
Software Advice: 4.12 out of 5
Awards
The Interactive Customer Experience Association named TouchBistro the winner of the 2020 Best Restaurant ICX Elevate Award for its integrated restaurant reservation and guest management platform. . They did this because they liked TouchBistro's integrated reservation and guest management platform helps customers get a better experience.
The ICX Association's Elevate Awards is a prestigious creative and innovative technology award. This award is given to restaurants that use interactive technology well. It is given to the best restaurant in the ICX category, which recognizes restaurants that have a great brand experience when they use interactive technology in their business.
2 Essential Posts when Growing a Restaurant Business
As you are reading this article, also check out the two articles below!
19). TouchBistro Alternatives
TouchBistro is not the only option out there. Here are four excellent alternatives to TouchBistro you might want to consider. You can also read more in my review of the 5 best restaurant POS systems.
Square for Restaurant POS – A great restaurant POS that's easy to use and has a free plan that covers the essential needs of smaller restaurants. Read my full review on Square for Restaurants.
Lightspeed Restaurant POS – Recommended for full-service restaurant owners wanting a feature-rich, reasonably priced all-in-one iPad POS system with over 200 third-party integration tools.
Toast POS – Good for restaurants that want to get started with a free basic POS plan. Upgrade for advanced digital ordering and inventory management features. See my full review of Toast.
Upserve by Lightspeed – Great for small restaurants that want a user-friendly, easy-to-install system with personalized onboarding.
20). TouchBistro Review Conclusion
If you're looking for a POS system specifically designed for restaurants, TouchBistro is an excellent option. It has all the features you need to run your business effectively, plus a simple and easy-to-use interface that front-of-house staff will love.
Whether you're looking for a new POS system or are just curious about TouchBistro, I highly recommend giving it a try. You won't be disappointed!