Are you in the market for a comprehensive restaurant POS system to power your restaurant, ghost kitchen, or cafe?
Then, chances are you have already heard of Toast before.
Toast is a top-rated Point of Sale system and provides complete support to fully manage your restaurant. They've managed to incorporate numerous features while still keeping prices affordable, which is truly amazing.
Toast is also in my top five list of the best restaurant POS in 2023.
In this review of Toast, I will provide an extensive overview of the platform's features and capabilities as well as its pricing structure. So you can make a fully informed decision about how it could work for your business.
Now, let's get started with our Toast POS review!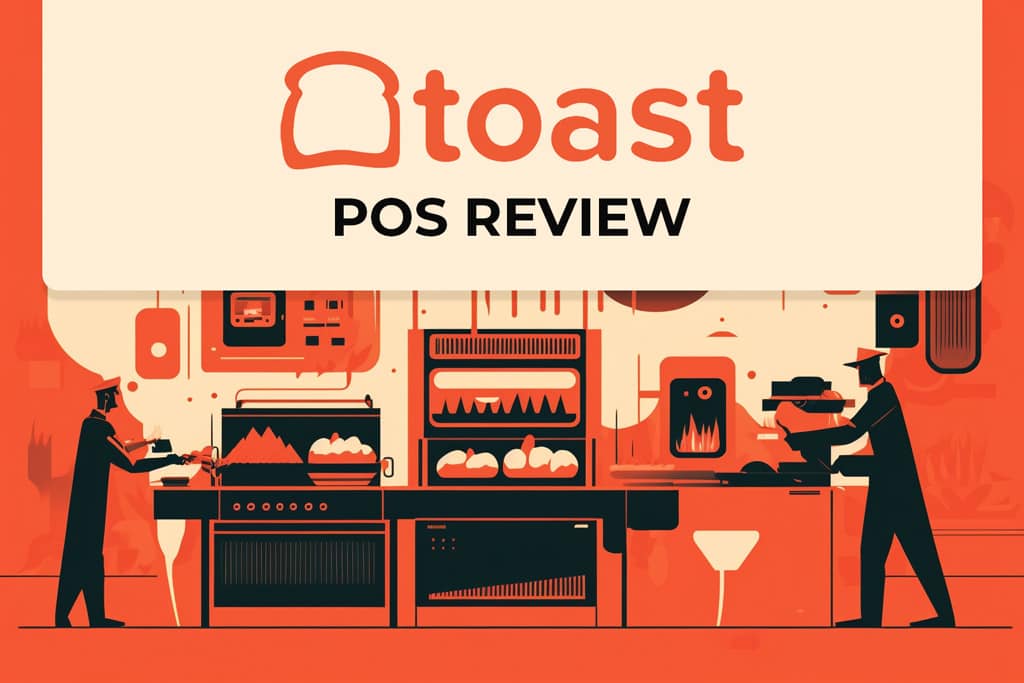 Toast POS at a Glance
Toast is a complete operating system for restaurants, ghost kitchens, coffee shops, and bakeries.
Toast has been named one of the most innovative companies of 2023 by Fast Company (Source). It's also one of the most feature-rich platforms on the market and comes with payment processing, inventory & menu management, marketing and customer loyalty programs, employee management, labor & food cost control, business reporting, and much more.
With all the amazing features that come with it, they are keeping their pricing reasonable. This makes them one of my favorite restaurant management systems on the current market.
Toast POS Pricing Overview*
Toast has a free plan that is great for getting started. Later you can choose which add-on features you want to activate at an additional fee.
To get an accurate pricing estimate you need to have a call with Toast and they will give you a quote based on your type and size of business and what hardware you will need. Still, it would be helpful if Toast could be more open with its software fees.
Below is a summary of the basic software and payment processing costs you can expect with Toast so you can plan out what the total cost would come to for you.
Pay as you go free basic plan
Essentials add-on: From $165/month
Growth add-on: From $272/month
Credit card processing fees: 2.69% per card-present transaction.
Toast offers a range of hardware options to meet the needs of different types of food service businesses. The hardware options include tablets, terminals, kitchen display systems, and handheld devices. Hardware costs depend on what configuration you want and some devices are included in certain plans.
*Pricing at the time of publishing this guide. For the most current pricing, contact Toast.
Toast Capital
This is a fairly new venture from Toast that might be of interest to some restaurateurs.
Toast Capital is a financial partner that offers eligible Toast customers loans from $5,000 to $300,000. The loans have a fixed loan fee with no compounding interest or hidden fees. The target repayment terms range from 90 days to 360 days, with a maximum repayment term of 60 days after the target repayment term. The loans are repaid as a fixed percentage of daily credit card sales.
The funds can be used for a variety of purposes, such as expanding operations, purchasing equipment, or hiring additional staff.
Feature Rating
Ease of Use (4.5)
Design (4.5)
Product Innovation (5.0)
Ordering & Menu Management (5.0)
Training Resources (5.0)
Customer Data Management (5.0)
Point of Sale/ Check-out (4.5)
Customer Service (4.0)
Inventory Management (4.0)
Marketing Support (5.0)
Analytics & Business Reporting (4.0)
Team Management & Payroll (4.5)
Mobile Apps (4.0)
Pricing (3.5)
Toast is consistently rated highly for its features, making it an excellent choice.
Toast's clear, user-friendly interface makes it simple to learn. Nevertheless, its bountiful features and customization alternatives may create a somewhat steeper learning curve than other options. Fortunately, they provide access to exceptional online educational resources which can help you get up to speed quickly.
Need more information to decide if Toast is the right restaurant POS system for you? Compare its features with other options in my restaurant POS comparison.
Review Summary
When I researched Toast, my initial reaction was one of awe due to the sheer number of features available in a single platform.
It's clear that since Toast's inception in 2011, they have quickly developed and are always integrating new features into the platform. I've been striving to pinpoint any missing features without avail.
Every feature you would anticipate from a restaurant POS is included, or available as an add-on or integration, and ready to deploy.
And, of course, a marketplace that is integrated with Google that allows your customers to order directly from Google's search results page.
I would be surprised if you encountered any feature limitations. The number of features and customization capabilities makes the learning curve slightly steeper compared to more limited POS systems.
I strongly believe that the features Toast offers are more than enough for most businesses.
Although I found the website builder initially lacking, it is still a great way to quickly create a site utilizing the data stored in Toast.
To make it simple, I recommend that restaurants use a website builder such as Squarespace or Shopify to sell products online.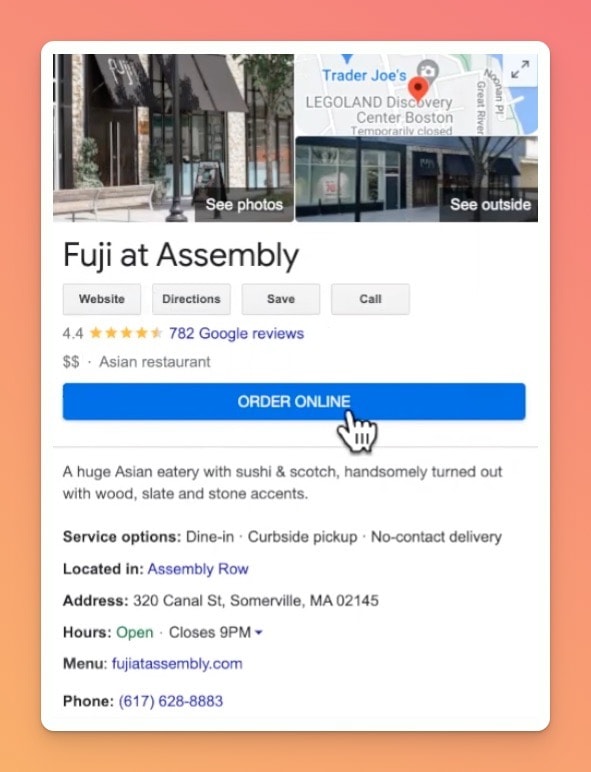 However, as mentioned above, the new integration with Google is very easy to use and might be enough for many smaller restaurants or coffee shops.
Pros
A complete restaurant management system
Rapid development of new features
Built for restaurants
Excellent business analytics & reporting
Online and contactless ordering
Online ordering through Google
Cons
Android only
Locked into Toast payment processing
Add-ons can get expensive
Not very transparent pricing
Only available in a few English-speaking countries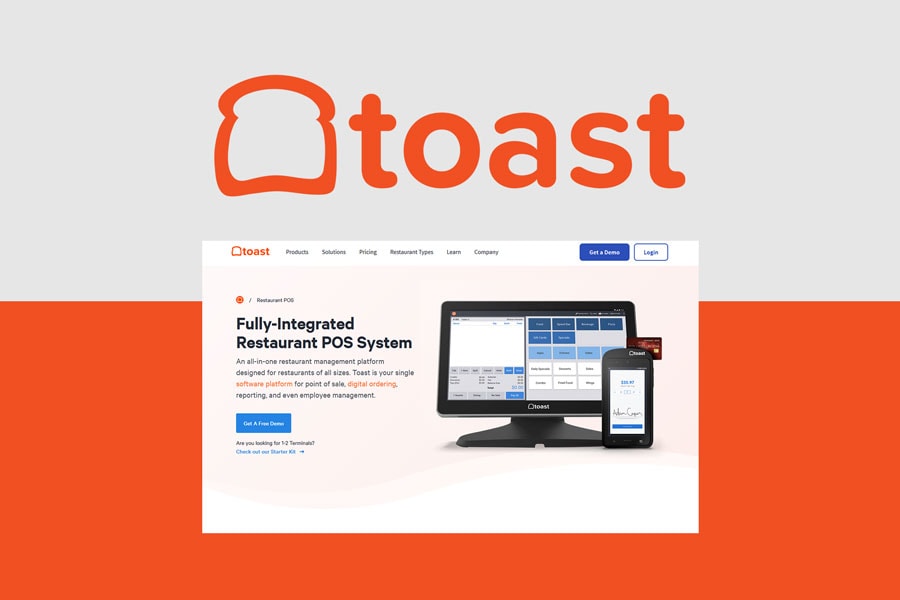 Who is Toast For?
Toast is a great solution for you if you are a small or medium-sized restaurant or coffee shop.
Toast's goal of becoming a total restaurant management platform benefits restaurants by providing them with similar technology and tools that larger chains have access to but at a fraction of the cost of big enterprise systems.
This allows you to compete with larger chains in terms of restaurant technology adoption, as well as providing you with the ability to increase your revenue and customer satisfaction.
According to a study conducted by Toast, independent restaurants running on their all-in-one platform outperformed peers by up to 30% during the pandemic. This was attributed to investments in digital ordering and contactless payments technology, which allowed restaurants to provide a safe and convenient ordering experience for their customers.
Toast's delivery and takeout features are especially beneficial for smaller restaurants. Toast's Order & Pay feature allows customers to order and pay for their meals online, reducing wait times and increasing efficiency.
Small or medium-sized restaurants can also use Toast's delivery services to offer low-cost delivery options, allowing them to compete with larger chains that have their own delivery fleets.
Benefits of Using Toast POS
Increased Efficiency and Productivity. By automating many of the tasks involved in your restaurant operations, Toast POS can help to increase efficiency and productivity. With features such as menu management, online ordering, and employee scheduling, restaurants can save time and streamline their operations, allowing staff to focus on providing excellent customer service.
Improved Customer Experience. With its online ordering and delivery integration, loyalty program support, and payment processing capabilities, Toast POS can help to improve the overall customer experience. Customers can easily place orders online or through a mobile app, earn rewards through loyalty programs, and enjoy a seamless payment process.
Better Data Insights and Decision Making. Toast POS provides detailed reporting and analytics, giving you access to real-time data on sales, inventory, and labor costs. This can help to inform strategic decision-making, such as menu changes, pricing adjustments, and staffing decisions, leading to better business outcomes.
Increased Revenue and Cost Savings. By improving efficiency, streamlining operations, and providing better data insights, Toast POS can ultimately help restaurants to increase revenue and save costs. With features such as loyalty program integration and online ordering, restaurants can attract and retain customers while reducing the need for additional staff.
Scalability and Flexibility. Toast is a highly scalable and flexible solution, making it suitable for restaurants of all sizes and types. Whether a restaurant operates a single location or a chain of locations, Toast POS can be customized to meet the unique needs of your business.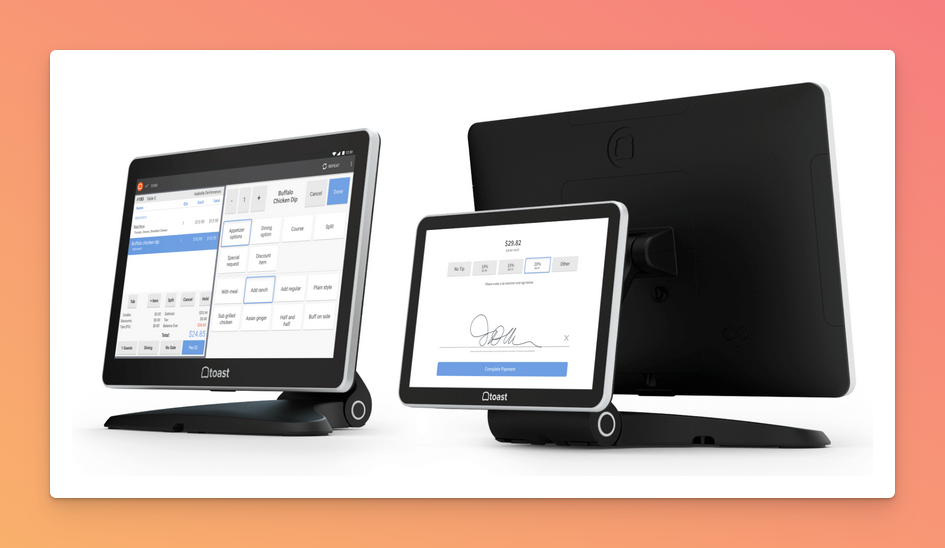 About Toast
In recent years, Toast has emerged as a major player in the restaurant technology industry. Toast has experienced rapid growth and has made headlines with a series of high-profile acquisitions. With a goal of becoming a total restaurant operating system, Toast is positioning itself as a one-stop shop for restaurant owners and operators.
Since its founding in 2011, Toast has grown from a startup with a handful of employees to a company with over 2,000 employees and a market cap of close to $10 billion in 2023 (Source).
In recent years, Toast has made several strategic acquisitions, including the restaurant management platform, Stratex, and the digital inventory and recipe costing platform, xtraCHEF. These acquisitions have allowed Toast to expand its offerings and better serve the needs of its customers.
With its focus on providing a comprehensive suite of tools and services for restaurant owners and operators, Toast is poised to continue its rapid growth in the coming years. The company's goal of becoming a total restaurant operating system is an ambitious one, but if Toast's recent success is any indication, they are well on its way to achieving it.
Which Countries is Toast Available In?
Toast is available in the US, Canada, the UK, and Ireland.
This is not very impressive in 2023. But, on the other hand you could say there is plenty of opportunity for growth in the future.
Customer Support and Technical Assistance
One of the most critical aspects of any point-of-sale system is the level of customer support and technical assistance that is available for you.
Toast POS offers 24/7 customer support, including phone and email support options. The company also offers live chat support, which is a convenient way to get help quickly without having to wait on hold.
Toast also offers on-site support and training.
On-site support and training can be particularly helpful for businesses that are just getting started with the system or are experiencing more complex issues. The Toast POS team can come to your location and provide personalized support and training to help you get the most out of the system.
In addition, Toast POS has a team of technical support specialists who are available to help.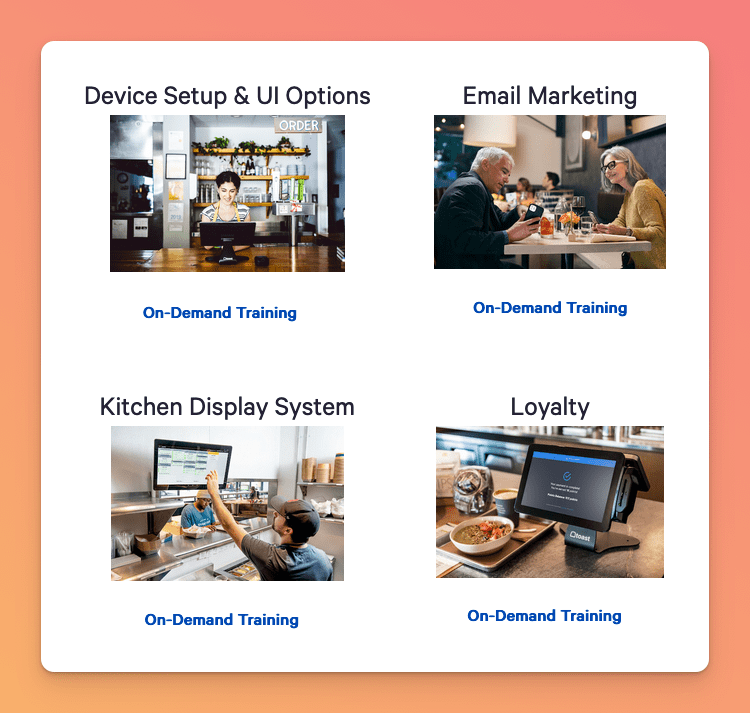 Online resources and knowledge base
I like how Toast provides a wealth of online resources and a comprehensive knowledge base that can help you troubleshoot issues and learn more about the system. This includes videos, webinars, detailed articles, and tutorials on all aspects of the system, including setup, configuration, and troubleshooting.
In addition, Toast POS offers a user community where you can connect with other users and share tips, best practices, and insights. This can be a valuable resource for businesses that are looking to get the most out of the system and learn from the experiences of other users.
There are also excellent online video tutorials covering many topics on restaurant management.
2 Essential Posts when Growing a Restaurant Business
As you are reading this article, also check out the two articles below!
Key Features of Toast POS
Now, let's dive deep and explore the inner workings of Toast.
But, before I review the key features, it is important to note that usability is essential. So I will begin this section by covering ease of use.
Ease of Use: User-friendly interface
One of the key features of Toast is its user-friendly interface. I find that the system has a modern, intuitive design with easy-to-use navigation tools that make it simple for staff to perform a wide range of tasks quickly and efficiently.
The interface is customizable, allowing you to set up the system to match the specific needs of your business.
Intuitive navigation and design
Toast has a clear and intuitive layout both on the web interface and on its POS hardware. The system is organized logically and straightforwardly, with all the key functions accessible from the main screen.
The design is clean and modern, with a simple color scheme that is easy on the eyes. This helps to reduce eye strain and fatigue, making it easier for you to work for extended periods without feeling overwhelmed.
Staff training and onboarding
Toast comes with a range of training and onboarding tools to help you get up to speed quickly. As I said above, one of my favorite features of Toast is that includes so many well-produced training videos and a detailed knowledge base, and online tutorials that cover all aspects of the system.
In addition, Toast offers in-person training and support to help staff members become familiar with the system and learn how to use it effectively. This includes on-site training, webinars, and live chat support.
POS Hardware and Software Integration
The Toast POS system for restaurants integrates hardware and software for easy transactions, real-time order and payment management, and efficient restaurant operations.
The hardware includes handheld devices for tableside orders and payments, while the software is customizable with features for managing orders, payments, and inventory.
You can access the POS using Toast hardware, a web browser, or an Android device.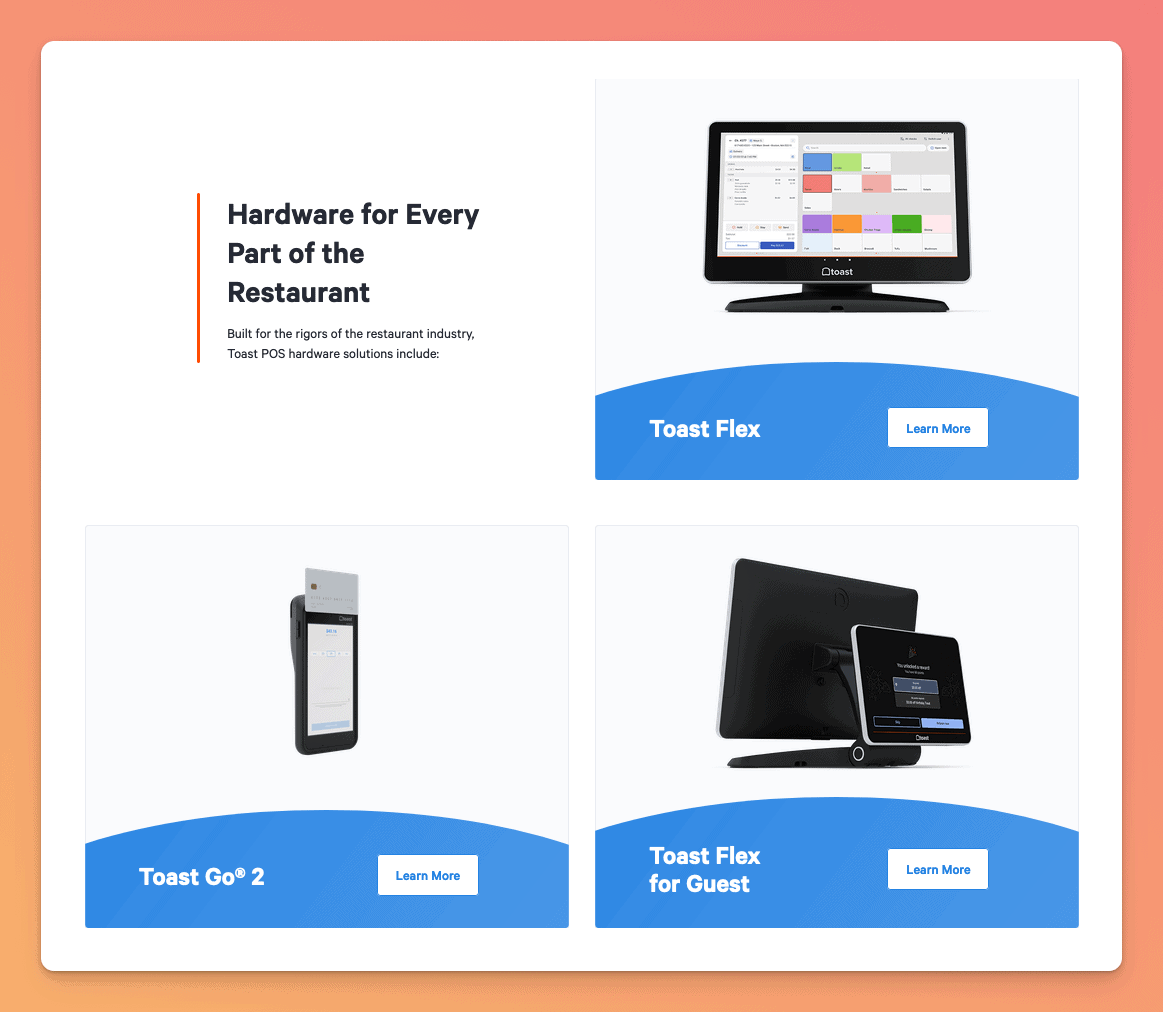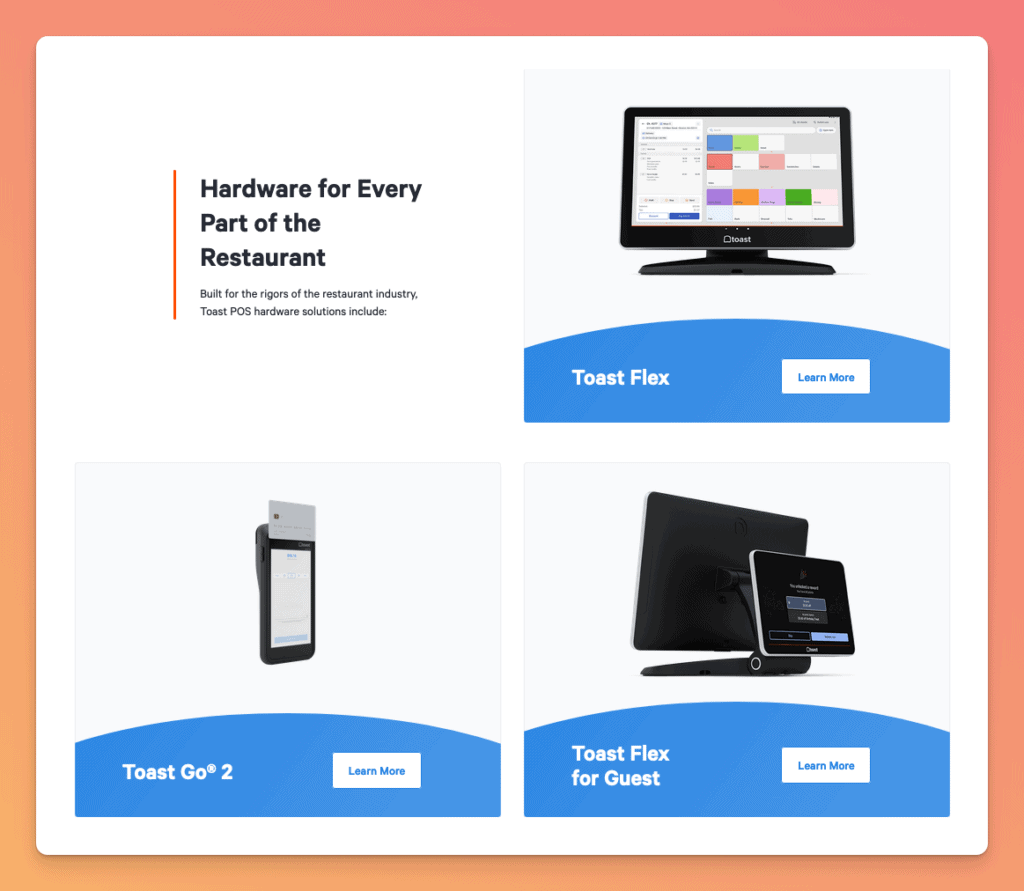 Toast Hardware
Toast Flex is a handheld device to quickly take orders and process payments. Spill-resistant and accepting contactless payment types such as swipe, dip, or tap.
Toast Go is a handheld device for small establishments with limited counter space, such as coffee shops and restaurants. It offers an all-in-one solution that includes taking orders, processing payments, and printing receipts.
Toast Kiosk is a self-ordering kiosk that allows customers to choose what they want to eat on a large touchscreen display. This helps to reduce wait times and improve customer experience in quick service restaurants.
Toast Terminal is an all-inclusive countertop setup complete with a touchscreen display, card reader, cash drawer, and receipt printer.
Toast Display is a customer-facing display that is designed to help restaurants manage their orders. It allows restaurants to view orders in real-time and manage their inventory.
Integration with Third-Party Apps and Services
You want to have a POS software that has integrations with a wide range of third-party apps and services, allowing you to customize your POS system to meet your unique needs.
What I like about Toast is its open API, so restaurants can integrate with popular apps and services such as online ordering platforms, loyalty programs, accounting software, and more.
For example, Toast integrates with popular online ordering platforms like Grubhub and Uber Eats, allowing restaurants to manage their online orders directly from their Toast POS system.
Toast also integrates with loyalty programs like LevelUp and Paytronix, allowing restaurants to easily track and manage their customer rewards programs.
In addition to these popular integrations, Toast's open API allows for custom integrations with other third-party apps and services. Restaurants can even work with Toast's development team to create custom integrations that meet their unique needs, whether it's integrating with a specialized inventory management system or a custom reporting tool.
You will appreciate Toast's robust integration options.
Menu Management Features and Customization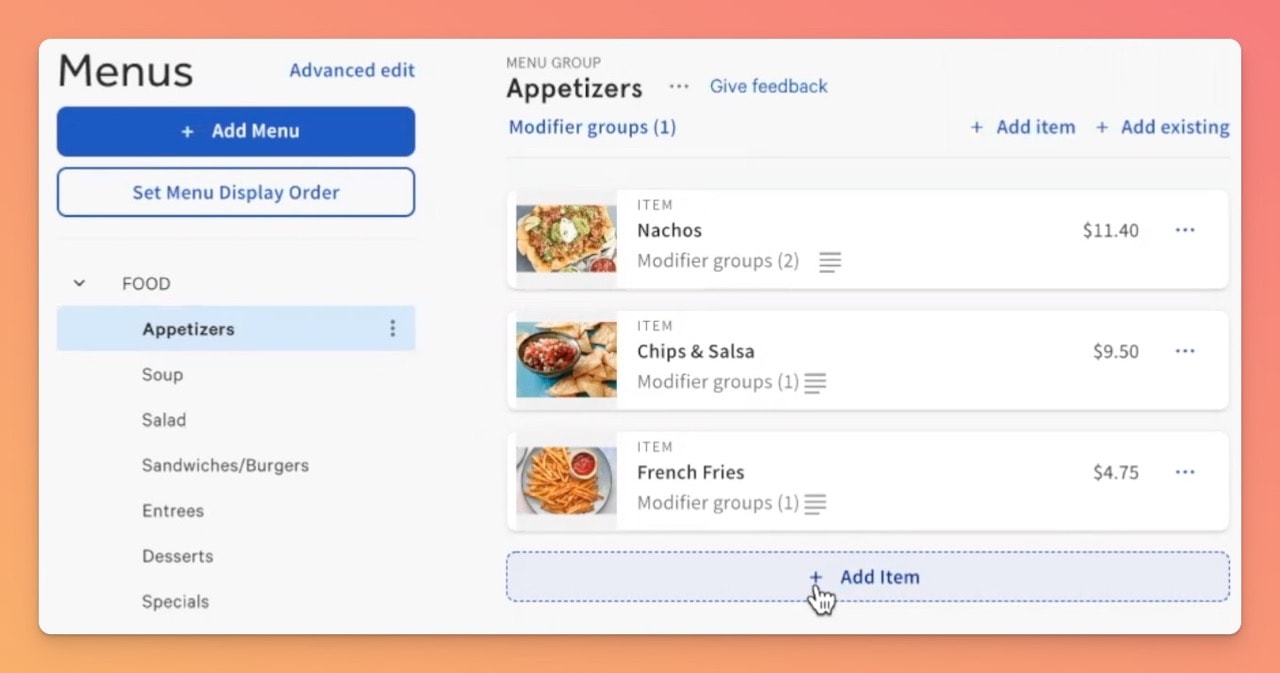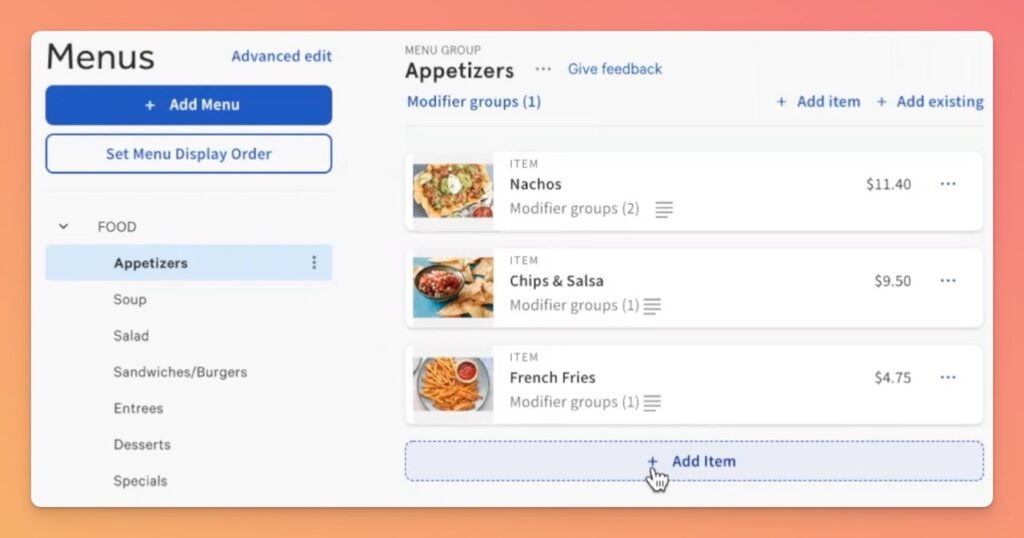 Restaurant owners can easily create and customize menus, add or remove items, and adjust pricing as needed. The system also allows for easy menu changes and updates, which is particularly useful for seasonal or rotating menus.
Table Management with Toast Tables
Toast Tables is a table management solution for restaurants that offer an integrated waitlist and reservation system.
It is designed to simplify table management and enhance hospitality by providing an easy-to-use platform that runs on an independent mobile device.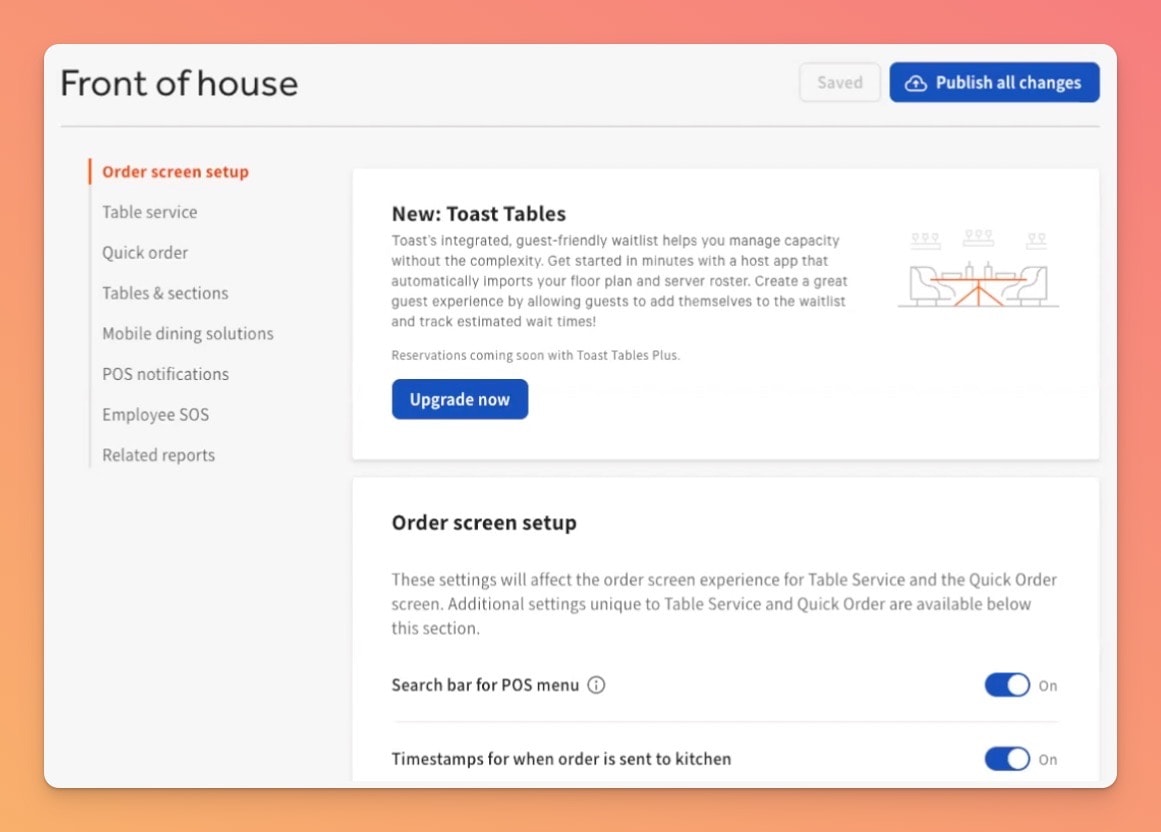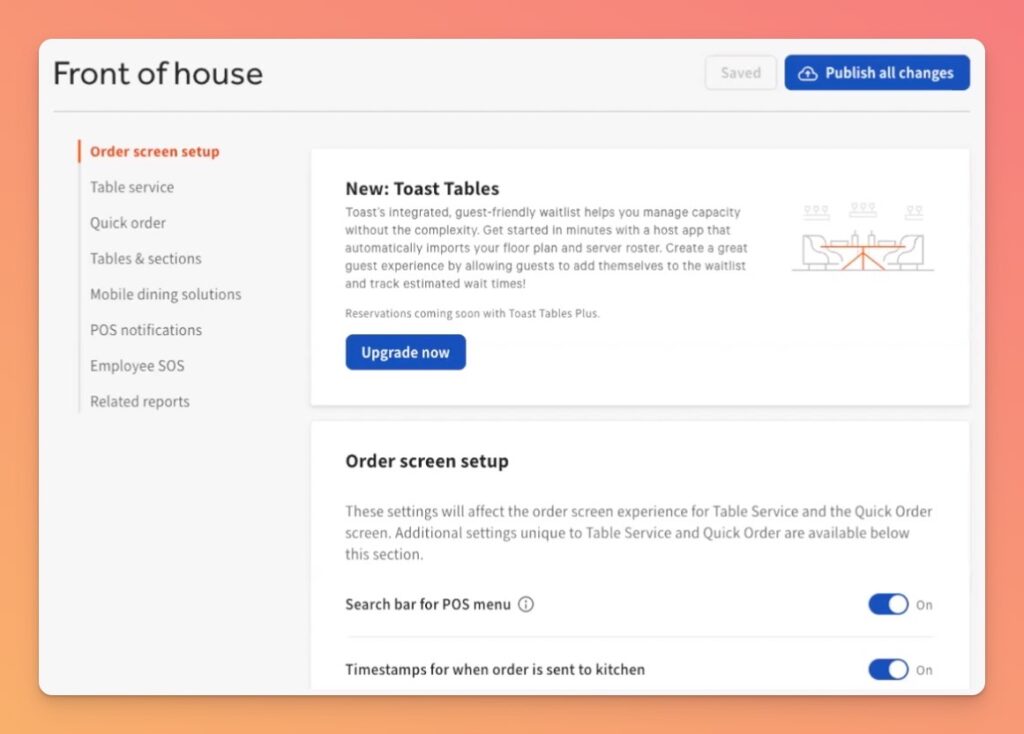 The app allows restaurant staff to manage their tables from anywhere in the restaurant using their handheld devices enabling them to see who's waiting for a table, add them to the queue as they arrive at the door, assign them seats when they arrive at the restaurant, monitor their progress through their meal, collect payment from each guest, and keep track of how many tables are occupied versus how many remain empty throughout each shift.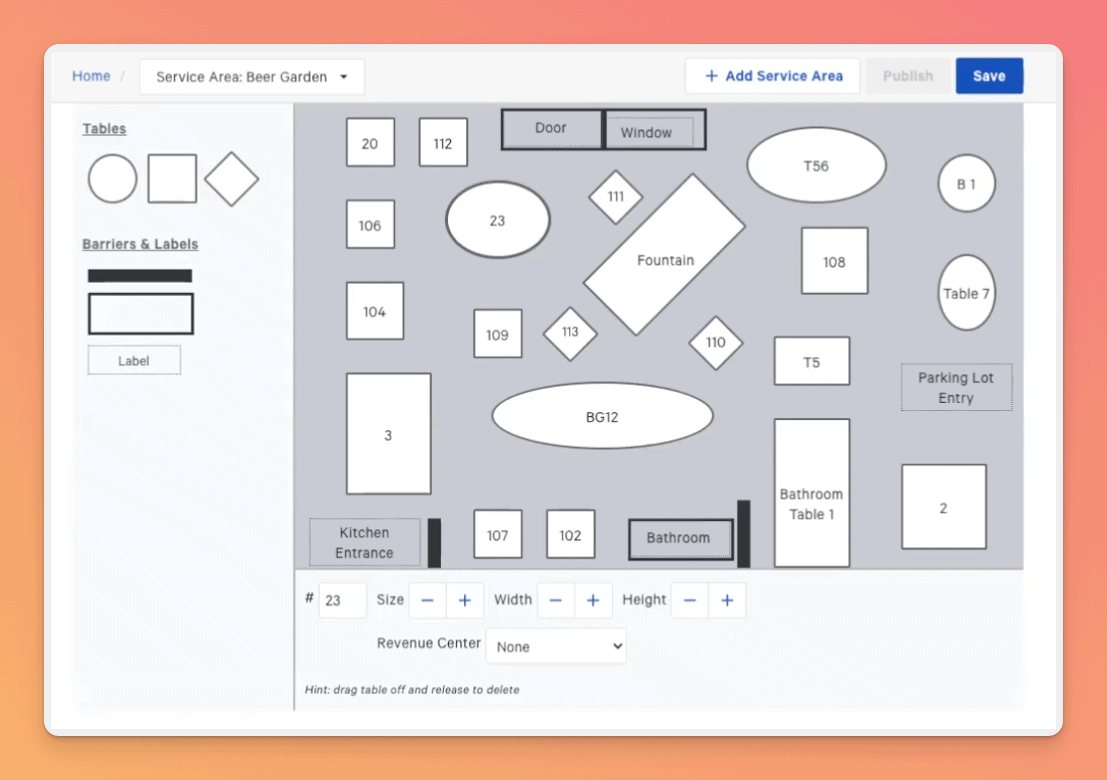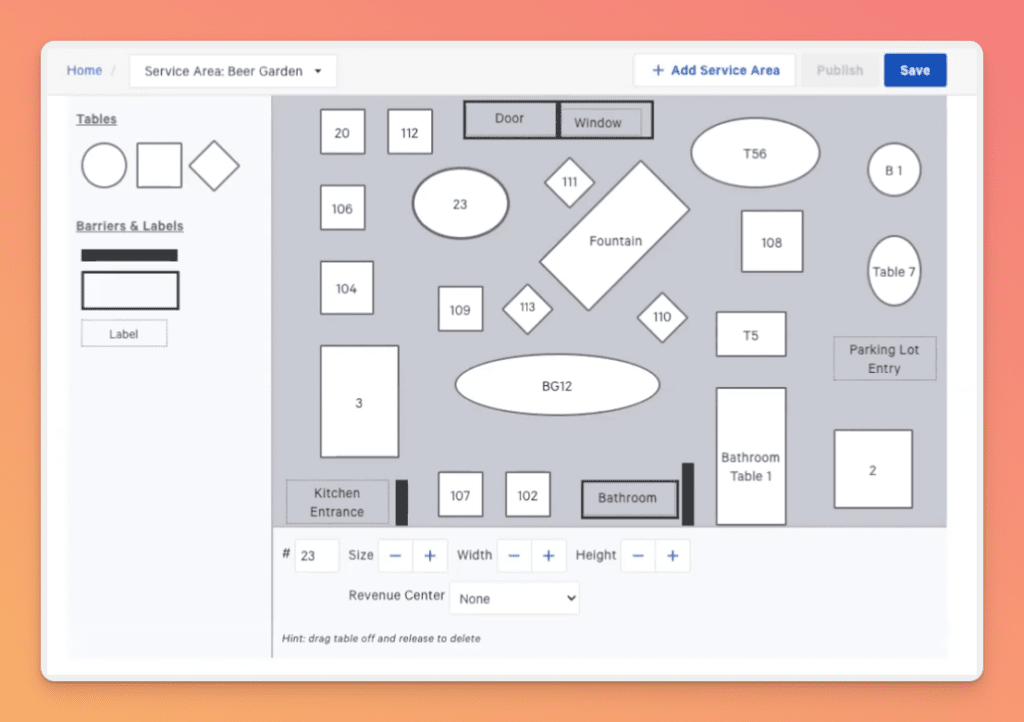 Toast Tables Plus is a reservation management solution designed for restaurants that take reservations online or over the phone. It can manage unlimited reservations per month and has automated table status updates to estimate availability and turn tables quickly.
I am a big believer in using the data that a good POS provides. And, another benefit of Toast Tables is that it gives you insight into what customers want. Restaurants can use the data they collect to improve their offerings over time, such as adding new dishes based on customer feedback. This can help increase your customer's satisfaction and loyalty, leading to more repeat business.
Toast Tableside Ordering and Payments
Tableside ordering and payments are becoming increasingly popular in the restaurant industry, and Toast POS offers a solution for both. With Toast's tableside ordering feature, servers can take orders directly from the table using a handheld device.
This allows for faster and more accurate order entry, as well as the ability to customize orders on the spot. Additionally, the tableside ordering feature can integrate with the kitchen display system, allowing orders to be sent directly to the kitchen for preparation.
Toast's tableside payment feature allows for a seamless and secure payment process at the table. Guests can split the check, add tips, and pay with a credit card or mobile wallet all from the convenience of their table. This feature not only improves the guest experience but also increases table turnover and reduces wait times.
To use tableside ordering and payments, restaurants must have a compatible POS hardware bundle that includes a handheld device and a card reader. [1]
Customizable Menu Options
One of the most important aspects of running a successful restaurant is having a menu that appeals to a wide range of customers.
Toast offers customizable menu options, allowing businesses to tailor their offerings to the specific needs and preferences of their customers.
The software includes tools for menu customization, allowing businesses to offer a variety of options for customers with different dietary needs or preferences.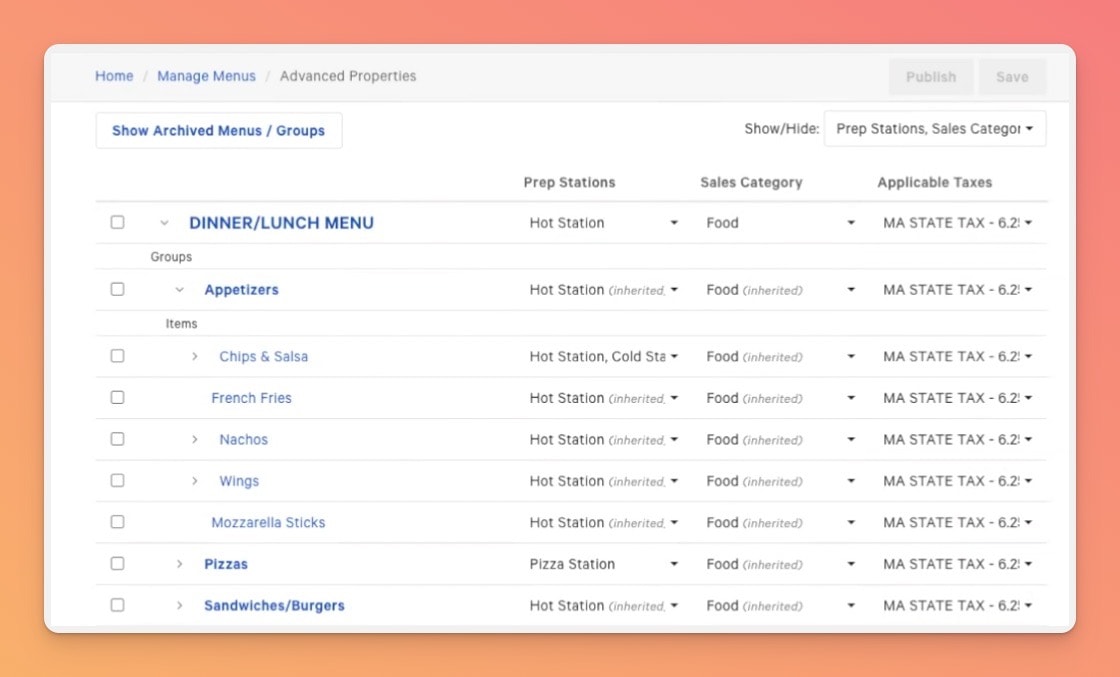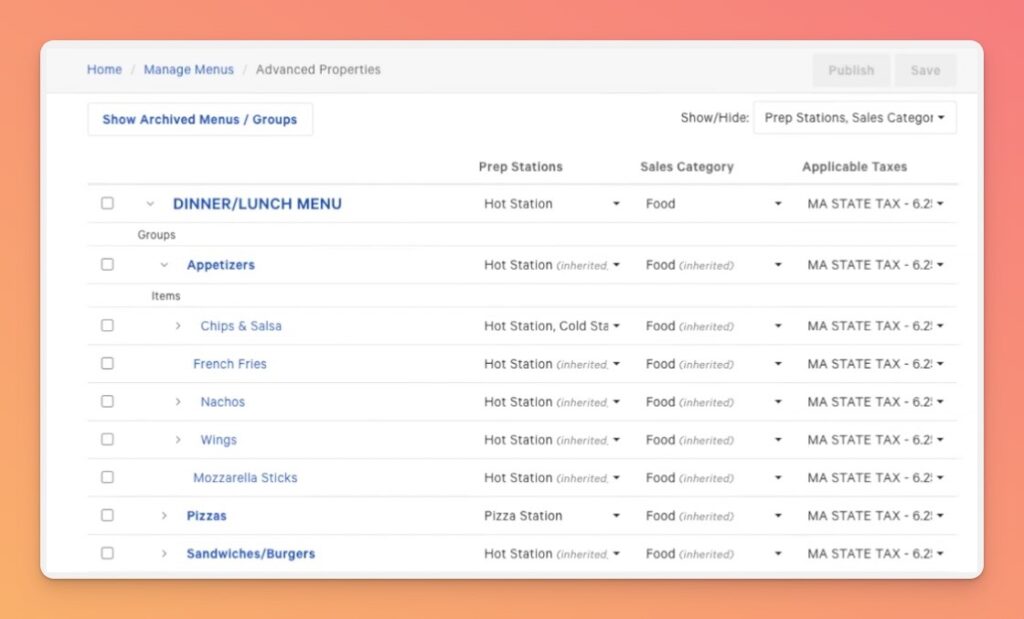 Toast POS software provides tools for menu customization, including the ability to add or remove items, modify descriptions and pricing, and create special menus for events or promotions.
The system also provides valuable data and analytics that can help businesses make informed decisions about their menu offerings.
The software tracks sales data and customer feedback, allowing businesses to identify popular items and trends and make adjustments to their menu accordingly.
Customizable menu options allow businesses to streamline operations and reduce waste.
By tracking sales data and inventory levels, businesses can ensure that they are ordering the right amount of ingredients and reducing waste from unused or spoiled items.
Toast Ordering & Payment Features
Payment Processing
Toast POS has a payment processor, with support for multiple payment types including credit cards, Apple Pay, and Google Pay. The system also allows for the easy splitting of checks and tips, helping to streamline the payment process for customers and staff alike.
However, Toast is the only payment processor available and Toast charges a percentage fee for each transaction. Selected payment methods may come with varying transaction fees, so be sure to review your options before making a decision. See the pricing section above.
Toast Online Ordering and Delivery Management
As you know, in today's digital age, many customers prefer to order food online and have it delivered directly to their doorstep.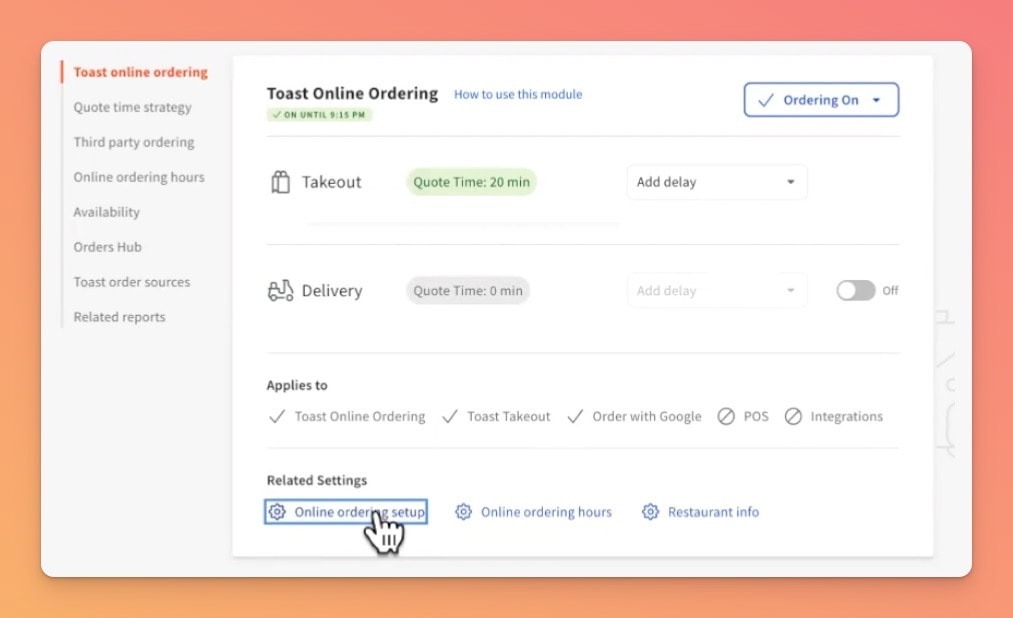 A key feature of Toast POS for restaurants is its online ordering and delivery management capabilities, which allow businesses to easily manage online orders and deliveries.
This is one of Toast's strong points and also partly explains the huge growth of Toast as a platform in recent years.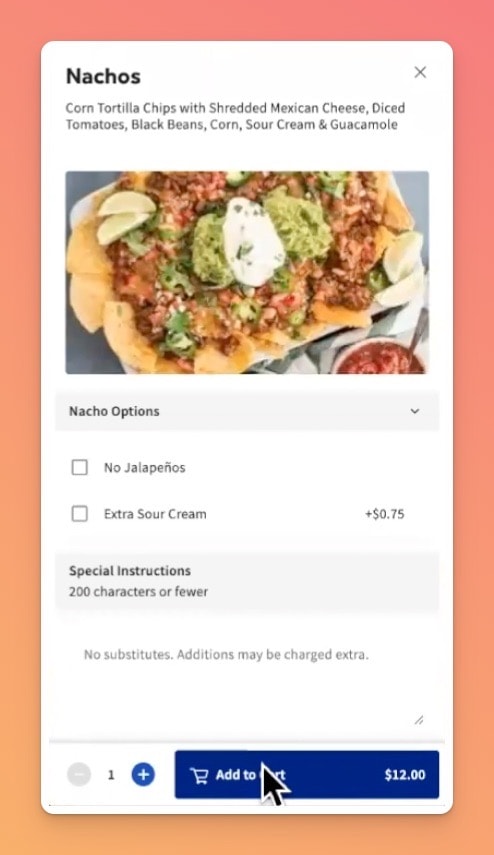 Customers can place orders online and pay directly through the platform, with orders automatically sent to the kitchen display system for preparation.
The delivery management feature of Toast POS allows businesses to manage deliveries in real time, with the ability to track orders, assign drivers, and provide delivery status updates to customers.
This feature helps your business to streamline its delivery operations, reducing the risk of errors or delays and providing a better experience for customers.
Toast Mobile and Pay
Toast Mobile Order & Pay offers a convenient, all-inclusive mobile ordering and payment solution. Your guests can simply scan the QR code to explore your favorite menu items, place an order and pay right on their phone.
This feature is designed to help restaurants cover more tables with reduced staff and increase revenue by allowing guests to order and pay from their phones.
According to Toast restaurants that add Toast Mobile Order & Pay typically see an average increase between 10% and 12% in Toast processing volume.
Toast Contactless Payments
In the wake of the pandemic, contactless payments have become increasingly important in the restaurant industry. With Toast's contactless payment feature, your guests can pay for their meals without having to touch a shared credit card machine or exchange cash. Toast offers several contactless payment options, including Apple Pay, Google Pay, and tap-to-pay credit cards.
Toast's card reader is also EMV-compliant, meaning it meets the latest security standards for credit card transactions.
Toast's contactless payment feature is fully integrated with the Toast POS system, allowing for seamless payment processing and real-time reporting.
Contactless payments not only provide a safer and more hygienic payment option for guests, but they also allow for faster table turnover and reduced wait times.
Toast Online Ordering with Google
Toast recently announced the launch of its Order with Google integration, which allows restaurants using Toast Online Ordering to unlock a new channel for more orders.
This is a really smooth ordering process for any potential customer searching for restaurants near them. They can then right in the search results page order from your restaurant.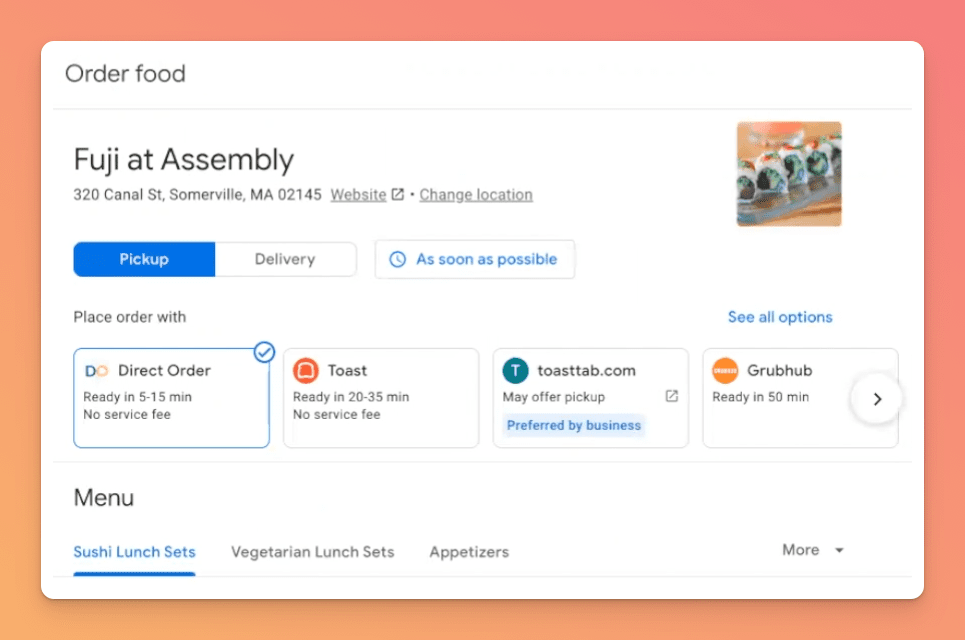 The integration will also allow your restaurant to take control of takeout and delivery by unlocking new ordering channels, such as Toast Online Ordering, Toast Takeout App, and Order with Google.
BOH Features
Toast Inventory Management
With Toast, you can track inventory levels automatically, with the system updating inventory levels in real-time as orders are placed and products are sold. This feature helps you to avoid stockouts and overstocking, reducing waste and optimizing inventory levels for maximum profitability.
The inventory management feature of Toast POS also includes tools for order management, with the ability to create purchase orders, receive inventory, and manage stock transfers between locations. These tools help you to streamline their ordering and stock management processes, reducing errors and improving efficiency.
In addition to tracking inventory levels, Toast POS provides valuable analytics and reporting tools that can help businesses optimize their inventory management. The system tracks inventory usage and waste, allowing businesses to identify trends and make informed decisions about their ordering and stock management.
Another key benefit of the inventory management feature is the ability to streamline operations and reduce labor costs. By automating inventory tracking and order management, businesses can reduce the time and resources required to manage inventory manually, freeing up staff to focus on other important tasks.
Toast Employee Management and Scheduling
Toast POS offers a comprehensive employee management and scheduling solution that allows your restaurant to save time and control labor costs.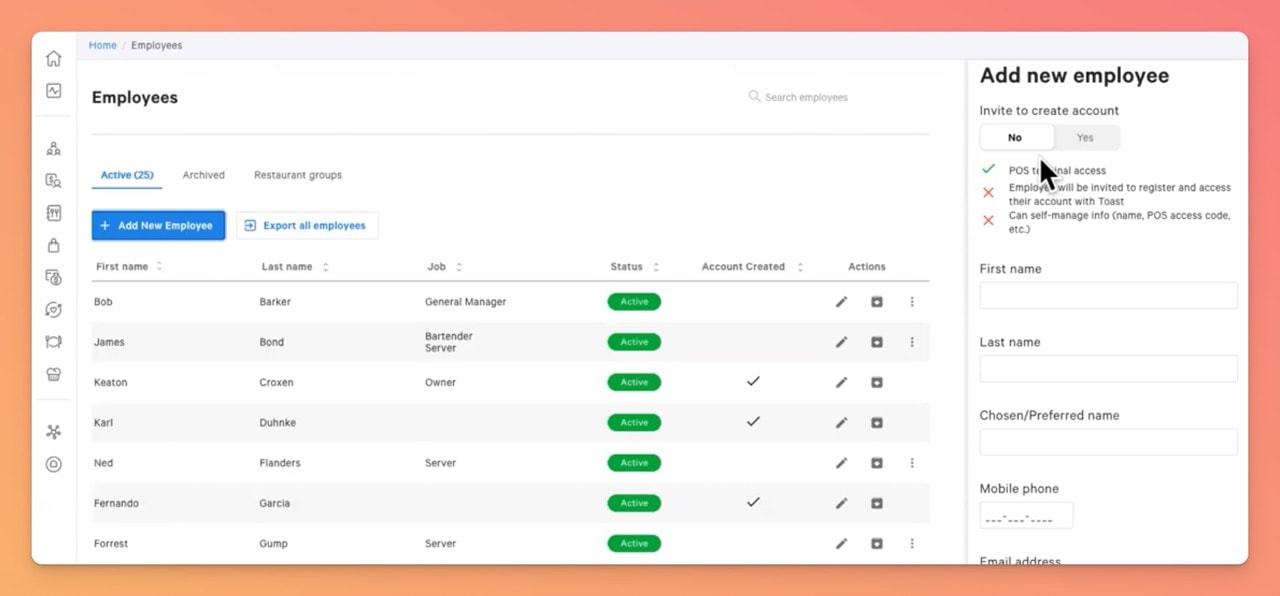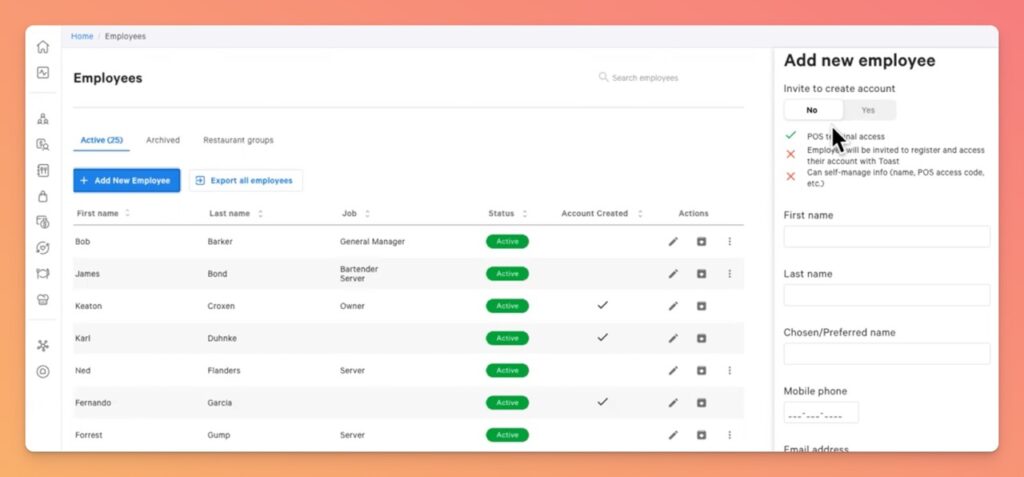 The solution integrates with Sling, a leading employee scheduling platform, to provide real-time notifications, automated scheduling, and integrated tip pooling.
Restaurants can customize the window of time for clocking in and out, as well as access labor data synced with their schedules to help control labor costs.
Toast Reporting and Analytics
Reporting and analytics are essential components of any business, and Toast POS provides a comprehensive solution for you to track and analyze their performance.
With Toast, you can access real-time data on their sales, labor costs, inventory, and other key performance indicators, enabling you to make informed decisions and optimize their operations for maximum profitability.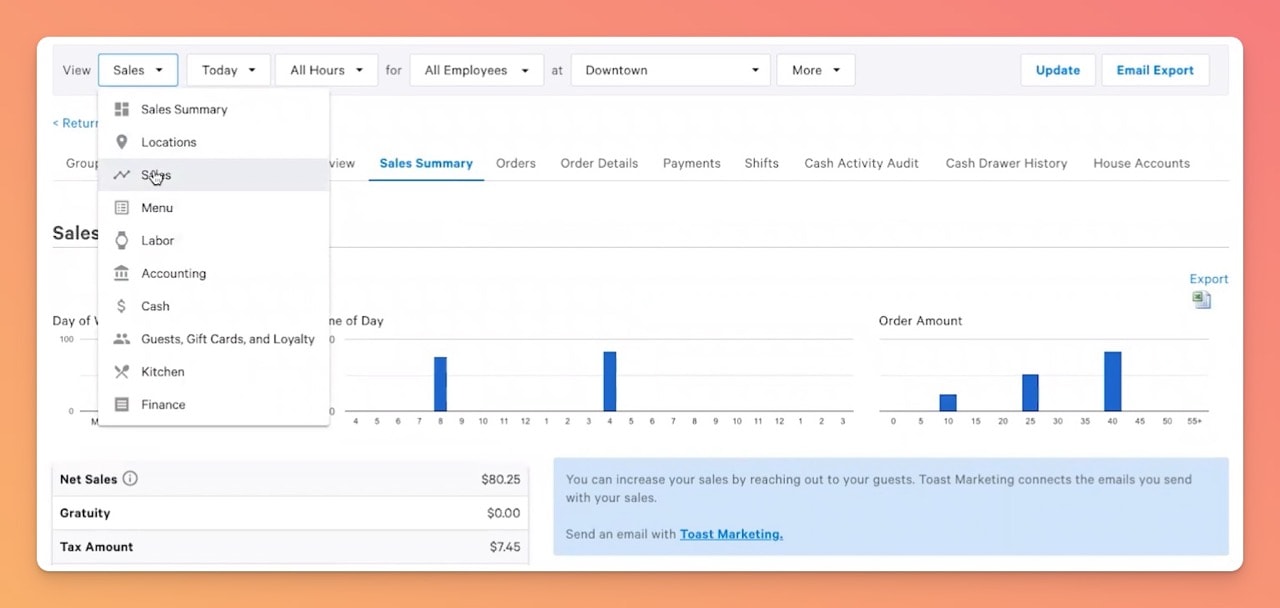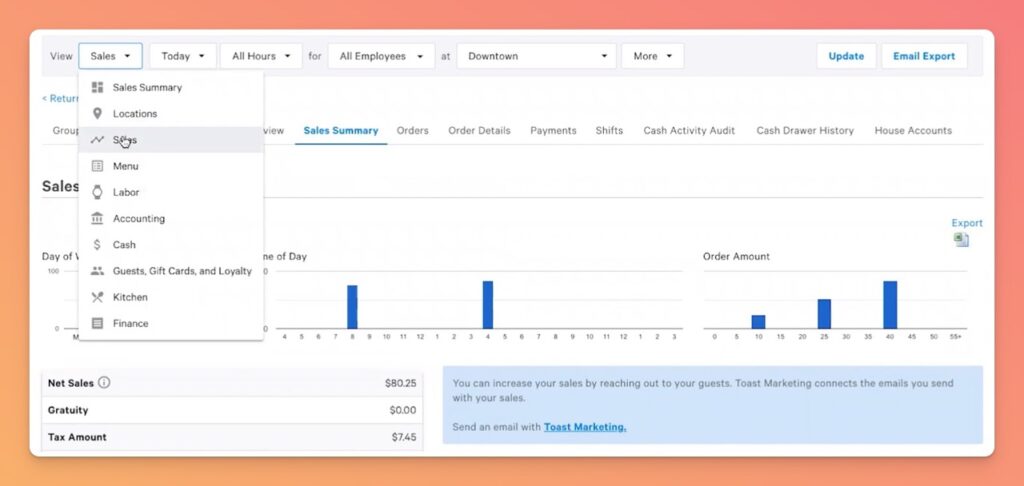 One of the key features of the reporting and analytics tools is real-time data tracking. As transactions are processed, the system updates sales data in real time, providing you with an up-to-date picture of their performance.
This feature allows you to identify trends and make informed decisions about their operations in real time, enabling you to respond quickly to changes in market conditions or customer demand.
In addition to real-time data tracking, Toast POS provides a range of reporting and analytics tools that enable businesses to dive deeper into their performance data. The system provides customizable dashboards that allow users to view key performance indicators at a glance, as well as detailed reports that provide deep insights into sales trends, labor costs, and inventory management.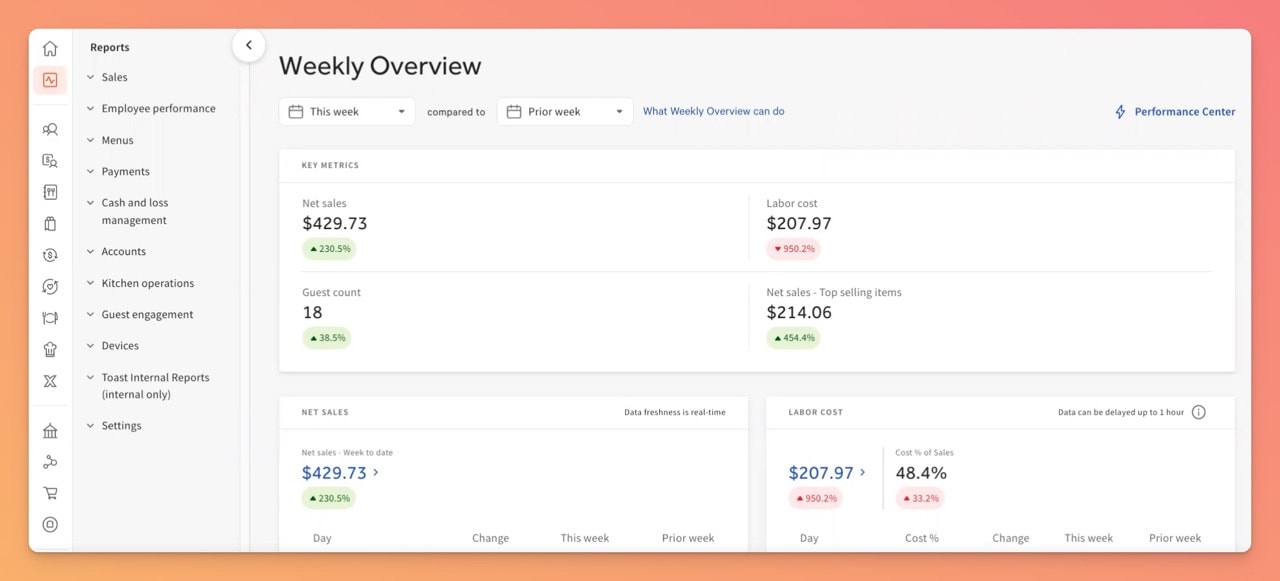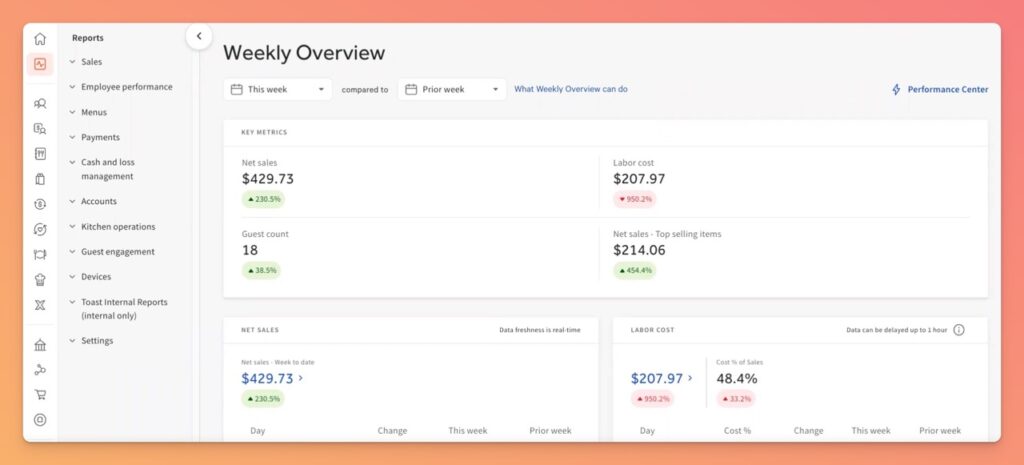 Toast's reporting and analytics tools also provide valuable insights into your customers behavior. The system tracks customer orders and preferences, enabling you to identify trends and customize their offerings to meet customer demand.
This feature helps you to improve customer satisfaction and increase sales by tailoring your offerings to meet the needs of your customers.
Another key benefit of Toast POS's reporting and analytics tools is the ability to track labor costs. The system tracks employee hours and wages, enabling you to optimize your scheduling and labor costs for maximum profitability. This helps your business to reduce labor costs while maintaining optimal staffing levels, improving overall efficiency and profitability.
Finally, Toast POS's reporting and analytics tools integrate with several popular accounting and business intelligence software solutions, including QuickBooks, Xero, and Tableau. This enables you to seamlessly sync your data with their existing software solutions.
Toast KDS (Kitchen Display System)
The KDS is a critical component of any restaurant's POS system, and Toast offers a comprehensive KDS solution. With Toast's KDS, orders are displayed in real-time as they come in, allowing for increased efficiency and accuracy in the kitchen. Additionally, the Kitchen Display Screens can display orders by course, allowing the kitchen to prioritize orders based on when they need to be served.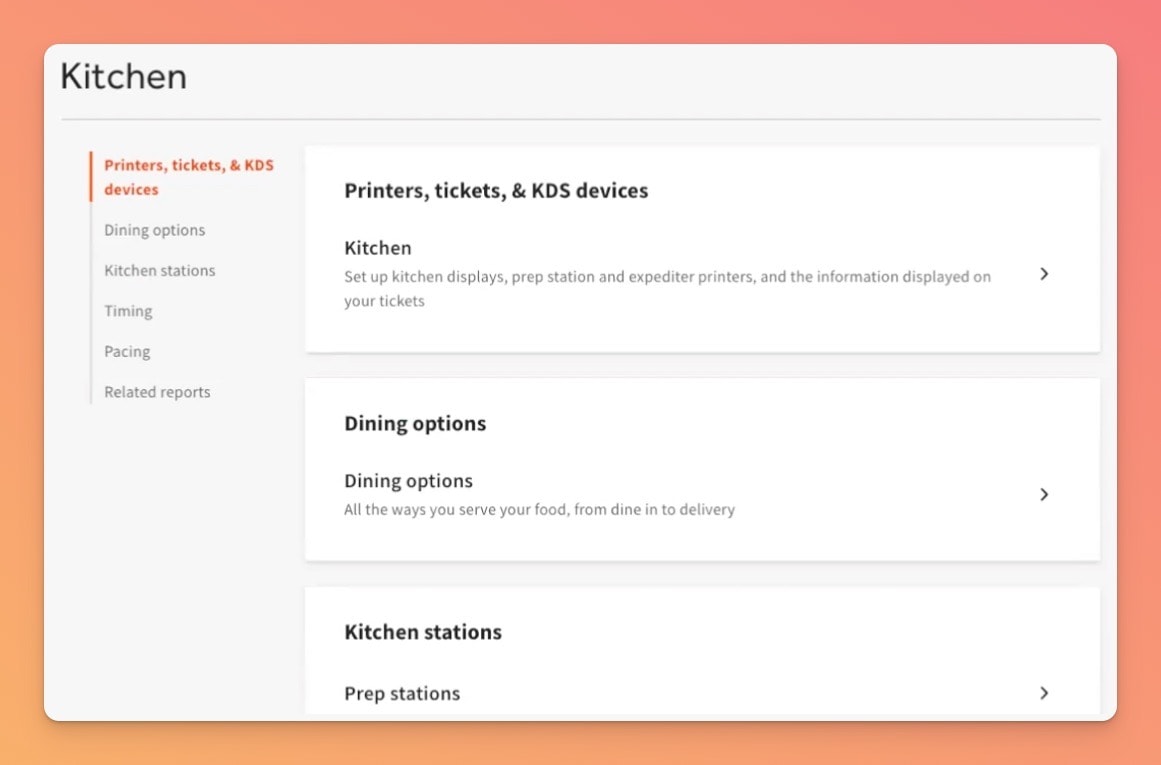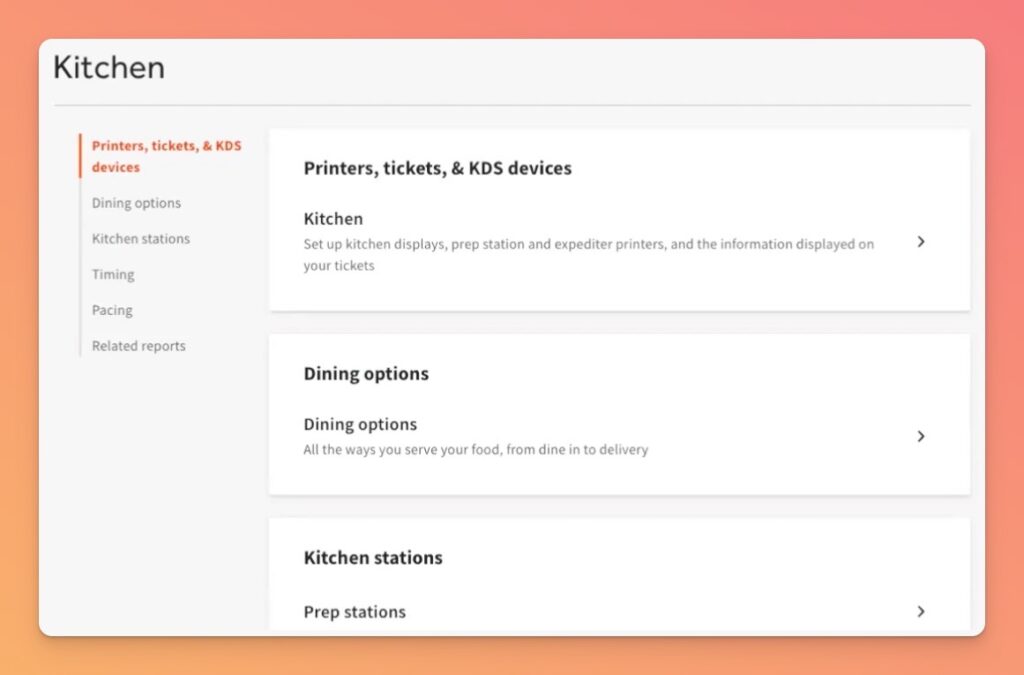 Toast's KDS also offers customization options, allowing you to tailor the display to your specific needs. For example, restaurants can choose to display cooking instructions or allergen information on the KDS so that kitchen staff can easily see specific dietary requirements for each dish.
To use Toast's KDS, restaurants must have compatible hardware, including a display screen, a controller, and a printer. The KDS can integrate with Toast's tableside ordering feature, allowing orders to be sent directly from the table to the kitchen display.
Additionally, the KDS can be used in conjunction with Toast's reporting and analytics features, allowing restaurants to track kitchen performance and make data-driven decisions to improve efficiency.
xtraCHEF by Toast
xtraCHEF is a suite of back-office tools for restaurants, including accounts payable automation and inventory management. It offers powerful and cost-efficient features and tools that simplify restaurant operation, mobile capture functionality, real-time data extraction, customizable categories and auto-GL coding tool.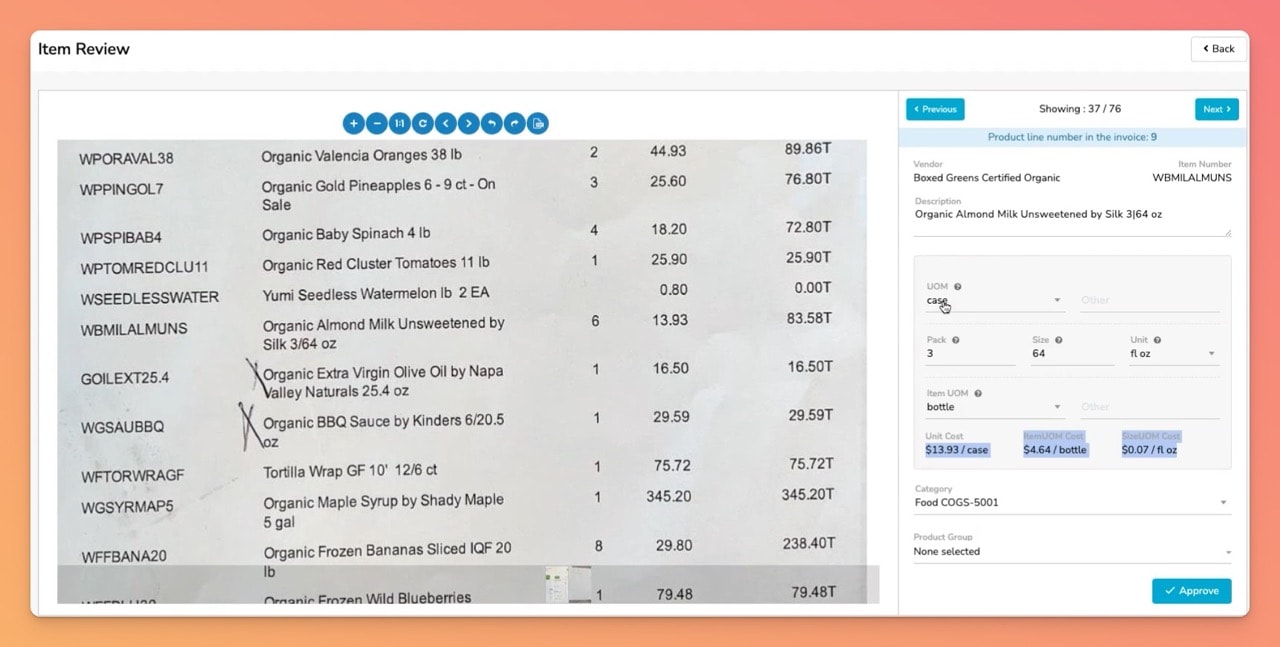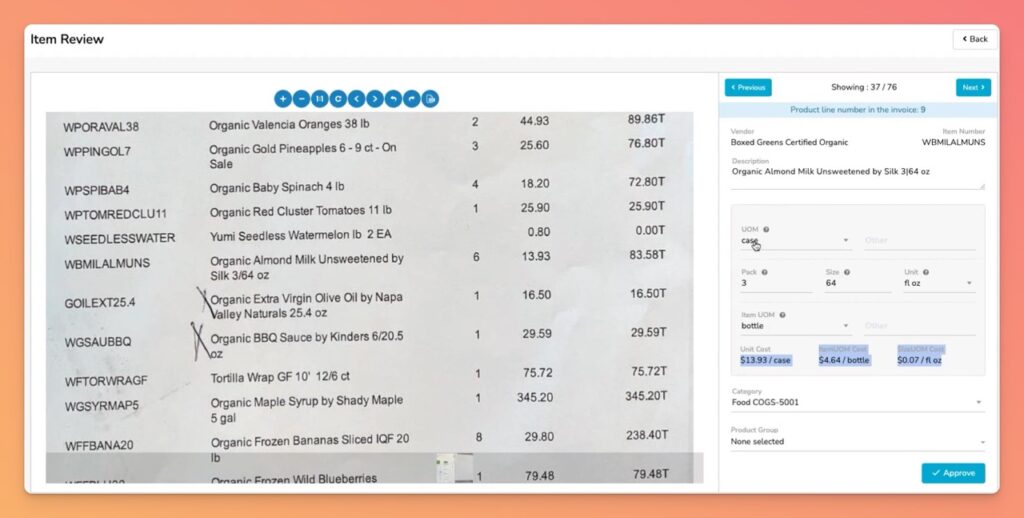 In addition, this software can be easily integrated with popular restaurant management programs and accounting systems to make the most of its Invoice Automation capabilities.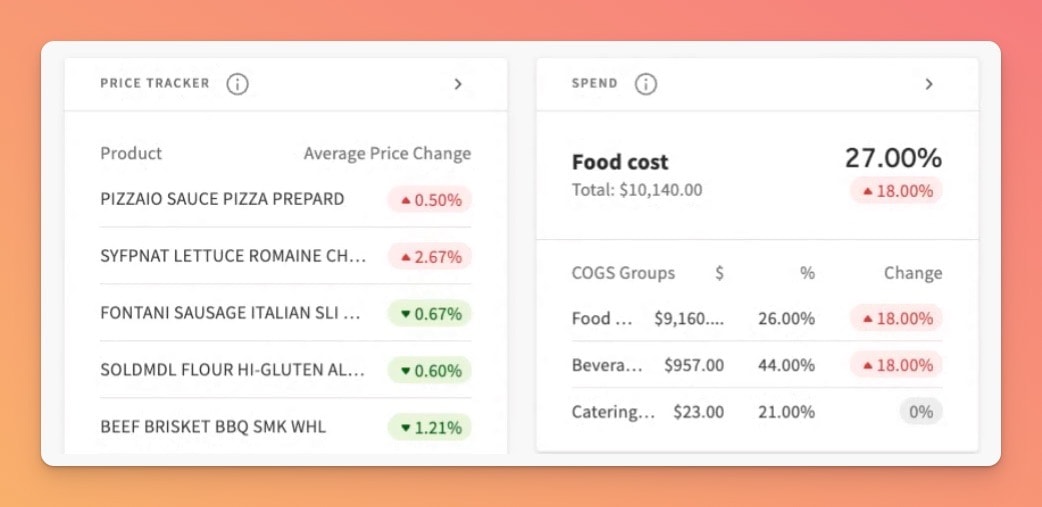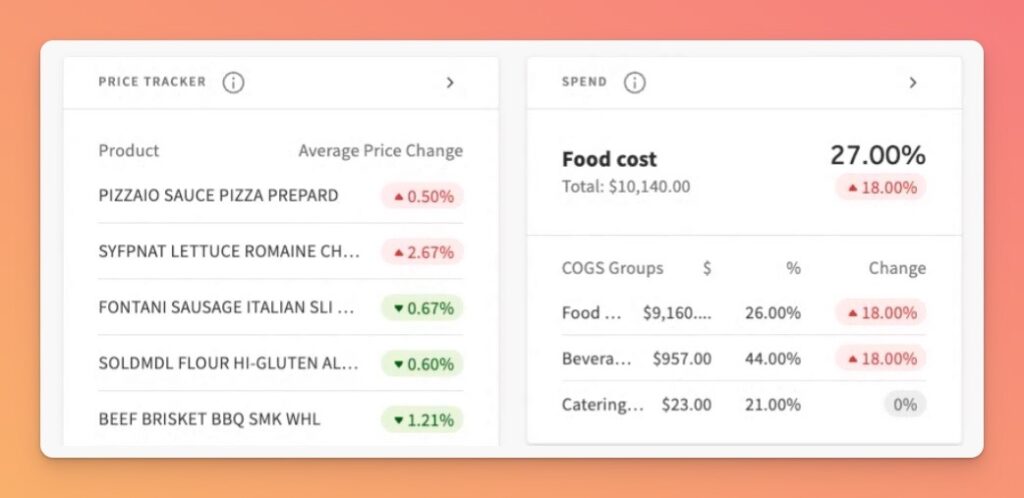 With xtraCHEF you can streamline time-consuming labor management and reduce manual workflows and costs associated with it, you can access info from any location without having to manually input data multiple times. Moreover, it acts as a centralized hub for all financial records so that no redundant entry is needed.
Marketing Features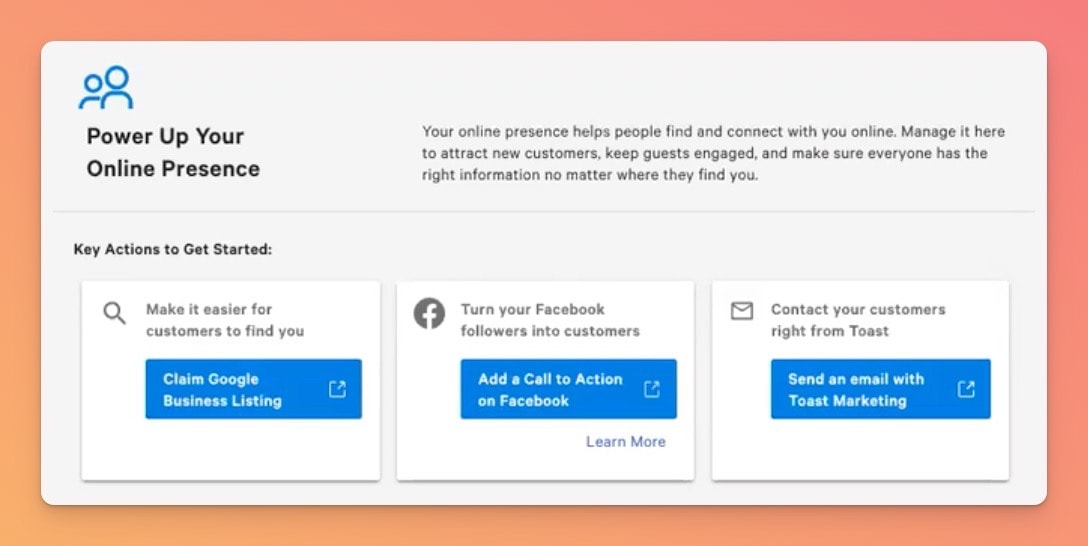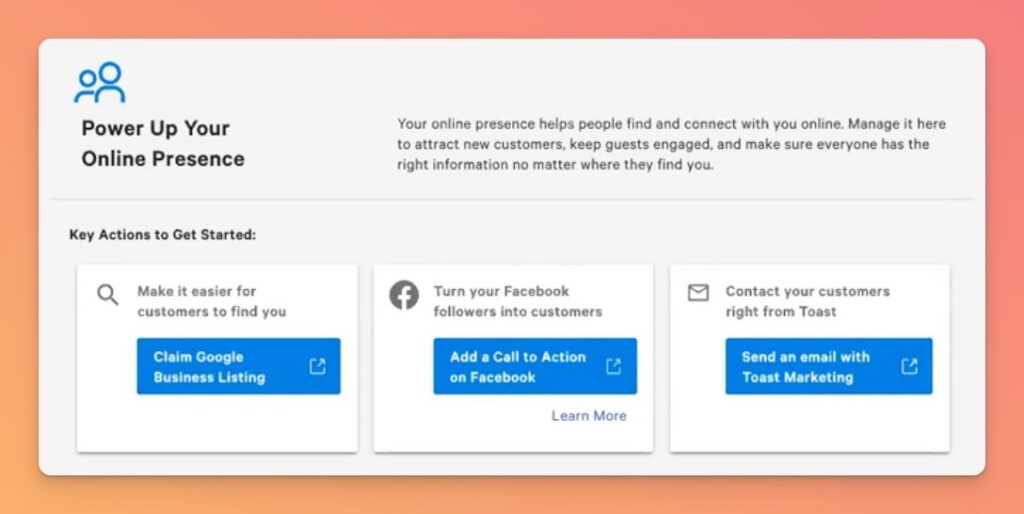 Toast Customer Loyalty Program
As a part of their marketing tools, Toast has a very good customer loyalty program that allows restaurant owners to increase customer frequency and reward their guests. The program is simple and well-integrated and provides guests with a seamless experience.
Guests can enroll in the loyalty program by providing their email address or phone number at the point of purchase, or by signing up through a link posted on your restaurant's website or when placing an online order.
The loyalty program is also compatible with credit card-linked rewards programs, which allow restaurants to tap into the power of their existing customers while attracting new ones. Additionally, the Toast loyalty integration API can be used to integrate other loyalty programs with the Toast platform.
Toast Gift Card Management
Gift cards are an important feature of any POS system, and Toast POS offers a comprehensive solution for managing gift cards. Toast's gift card module allows you to easily sell physical and eGift cards both online and on the POS.
Your guests can easily manage their own gift cards, and restaurants can analyze gift card sales by day, week, month, or more and see detailed order history on each gift card transaction.
Additionally, Toast offers a Gift Card Portal through eCard Systems, which allows restaurants to easily order and reorder gift cards for their Toast POS system.
If a restaurant is switching to Toast Gift Cards from another POS or gift card provider, they must import their Gift Card Liability Report to use them with the Toast system. To obtain the report, the restaurant must contact their previous gift card provider.
Toast Email Marketing
Toast's email marketing feature allows you to easily create and send email campaigns to your customers directly from the POS system. With this feature, you can create customized email campaigns that promote special offers, events, and menu items to your customers.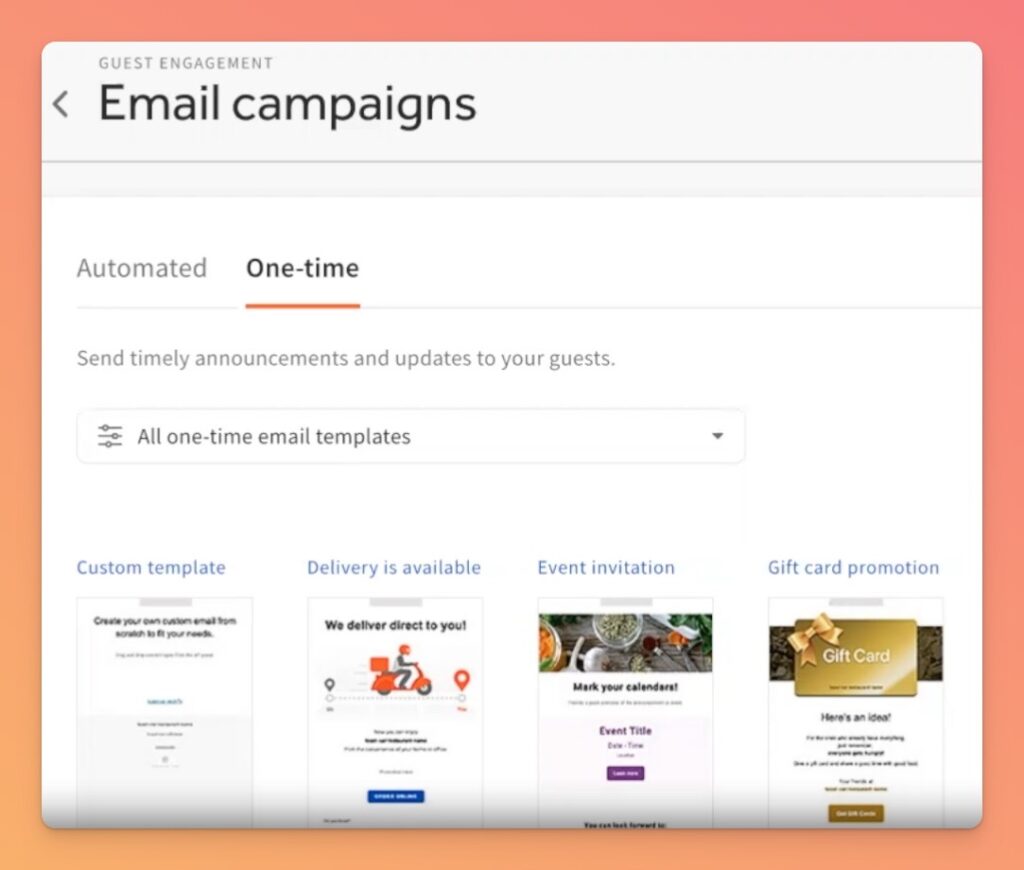 The email marketing feature includes a variety of pre-built templates that restaurants can use to quickly create professional-looking emails. Restaurants can also customize these templates by adding their own branding, images, and messaging.
The email marketing feature also allows you to segment your customer list based on criteria such as spending habits or order history. This allows you to target specific customer groups with email campaigns.
In addition to creating and sending email campaigns, the email marketing feature also includes analytics that allows restaurants to track the success of their campaigns.
Restaurants can track metrics such as open rates, click-through rates, and conversion rates to see how their email campaigns are performing and make adjustments as needed.
I like how easy-to-use and powerful the email marketing feature is. This allows you to reach your customers more effectively and drive more business.
2 Essential Posts when Growing a Restaurant Business
As you are reading this article, also check out the two articles below!
Conclusion
I hope this review of the Toast POS software was useful to you. As you can see, Toast is a robust POS system specifically designed for restaurants, ghost kitchens and cafes.
Toast's powerful features, paired with having a free starter plan and being overall affordable, give it the edge over all other competitors.
If you want to compare Toast to other alternatives, I recommend you review my list of the best restaurant POS in 2023.
Key Takeaways
Toast is an all-in-one POS system designed for small to medium-sized restaurants
Toast offers many innovative technology features to help smaller restaurants compete with larger chains
Toast has a free plan that is great for getting started