As a ghost or cloud kitchen operator, your business model primarily focuses on preparing food for takeout and delivery, accepting orders digitally, and partnering with third-party delivery services.
In this unique setting, a comprehensive Point of Sale (POS) system can significantly enhance your operations.
The right ghost kitchen POS system not only coordinates all your orders from various platforms into a single interface but also tracks ingredients, manages drivers, and provides valuable data analytics.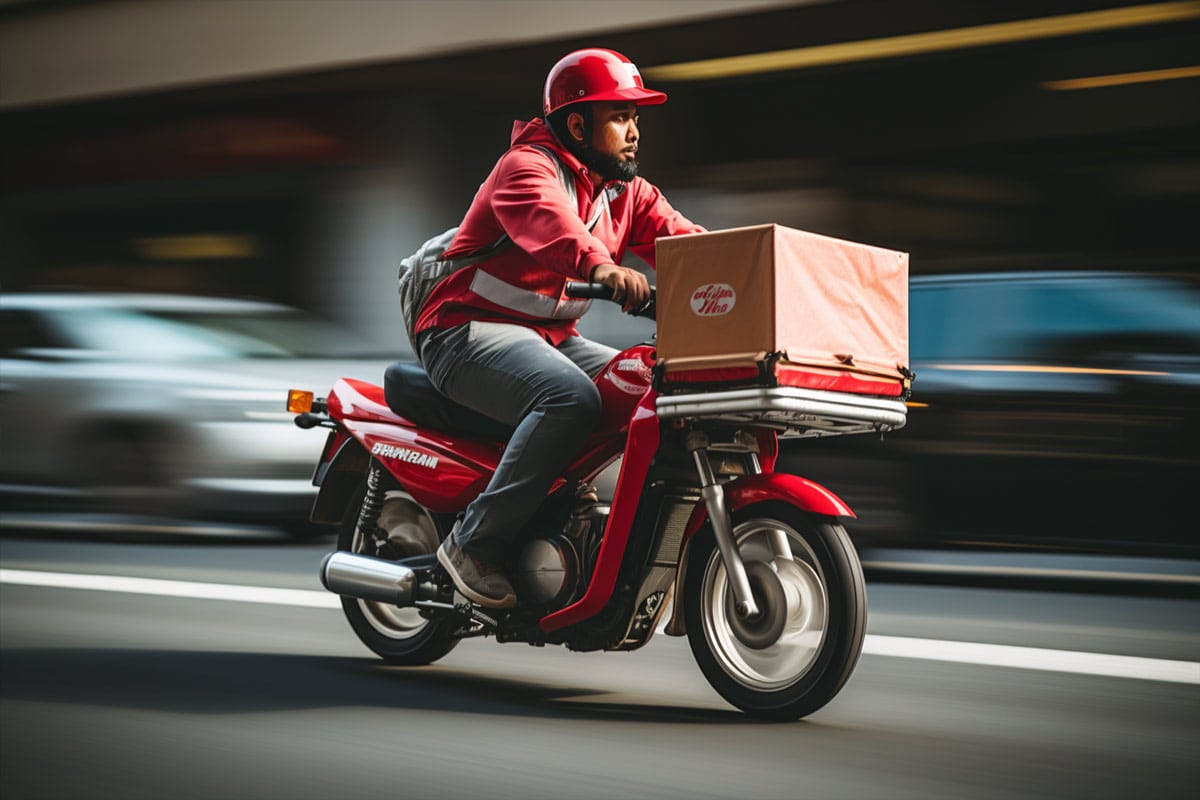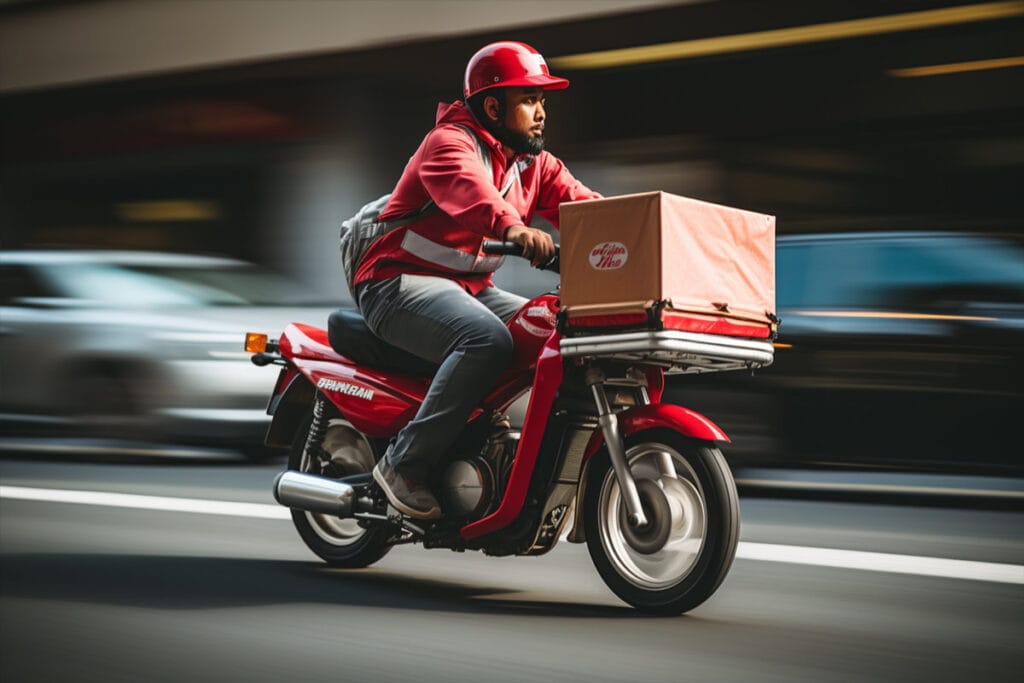 We researched all the major restaurant POS systems to find the ones best suited for ghost or cloud kitchens. Here they are:
The Top 7 Ghost Kitchen POS Systems In 2023
Square – Best overall all-in-one ghost kitchen POS
GoTab – Best flexible and commission-free ordering solution
Toast – Best online ordering and delivery system
Lightspeed – Best advanced analytics feature
SpotOn – Best marketing automation and website creation tools
TouchBistro – Best integrated loyalty features
Truffle Systems – Best pickup features for ghost kitchens
Why use a Ghost Kitchen POS?
A Ghost Kitchen Point of Sale (POS) system is a crucial tool for ghost kitchen businesses, streamlining order management across platforms like Uber Eats, DoorDash, and Grubhub. This all-in-one solution enhances operational efficiency, inventory management, and order processing.
Additionally, these modern cloud-based point-of-sale systems provide valuable data analytics and reporting to guide strategic business decisions. With its intelligent customer management and integrated marketing tools, a Ghost Kitchen POS effectively aids in building a loyal customer base and promoting business growth.
---
Square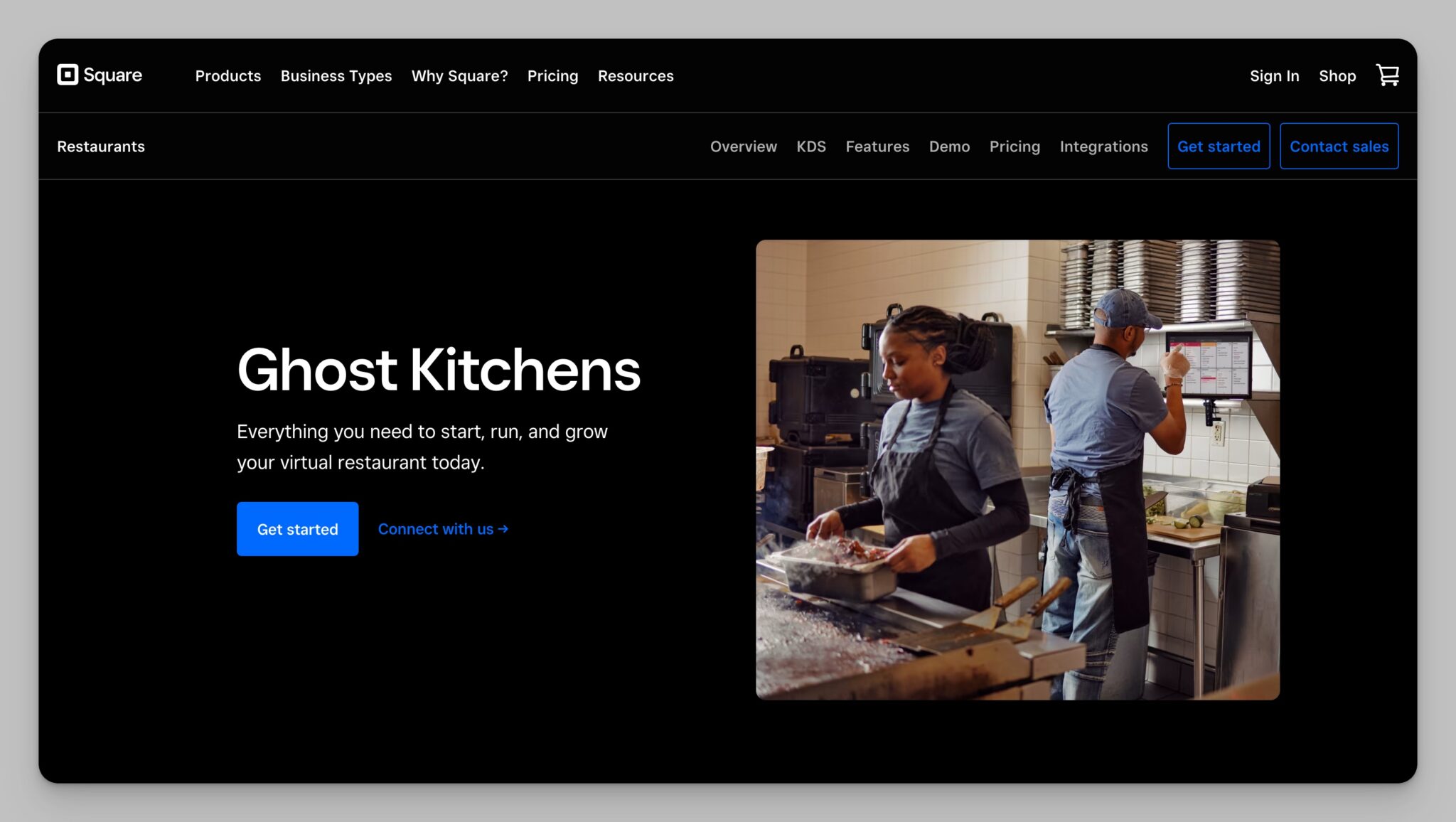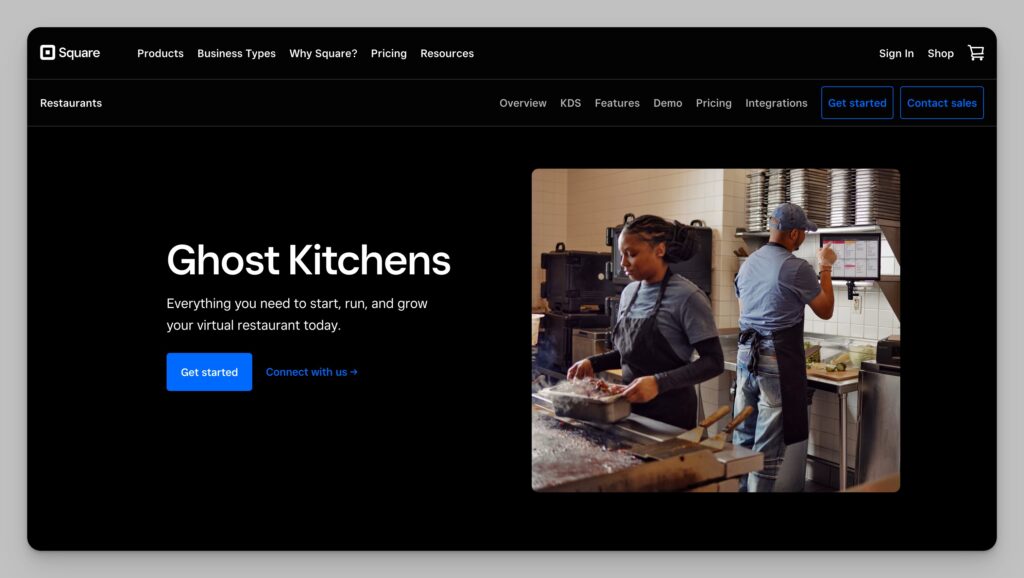 Square for Restaurants: The Comprehensive Ghost Kitchen POS Solution
Square for Restaurants provides a tailor-made POS solution for ghost kitchens, facilitating every aspect of running and expanding your virtual restaurant venture.
With Square Online, you can accept orders on your free personalized website and manage them seamlessly using the Kitchen Display System (KDS), enabling curbside pickup and delivery.
You can simultaneously manage multiple virtual restaurants under one cloud kitchen, unifying operations, payroll, and staffing. And, benefit from the intelligent routing and reporting capabilities to enhance order accuracy and minimize errors.
One notable feature is Square's integrations with applications for inventory management, delivery, and restaurant administration, including Chowly, Postmates, Quickbooks, Marketman, Homebase, and BentoBox.
Furthermore, Square offers marketing tools to connect with customers and heighten sales. Effortlessly design, send, and monitor email and social media campaigns while implementing a loyalty program to reward your regulars.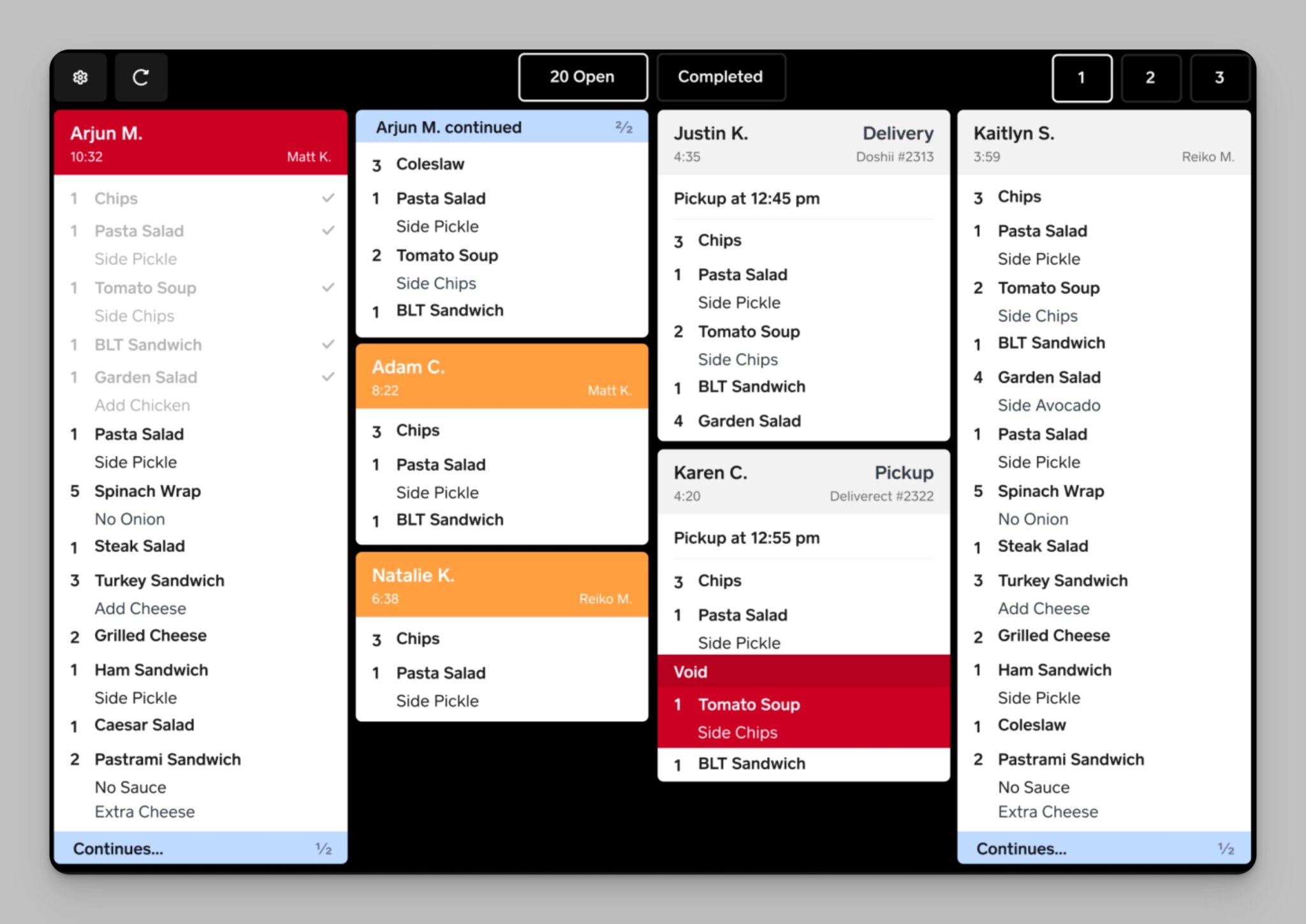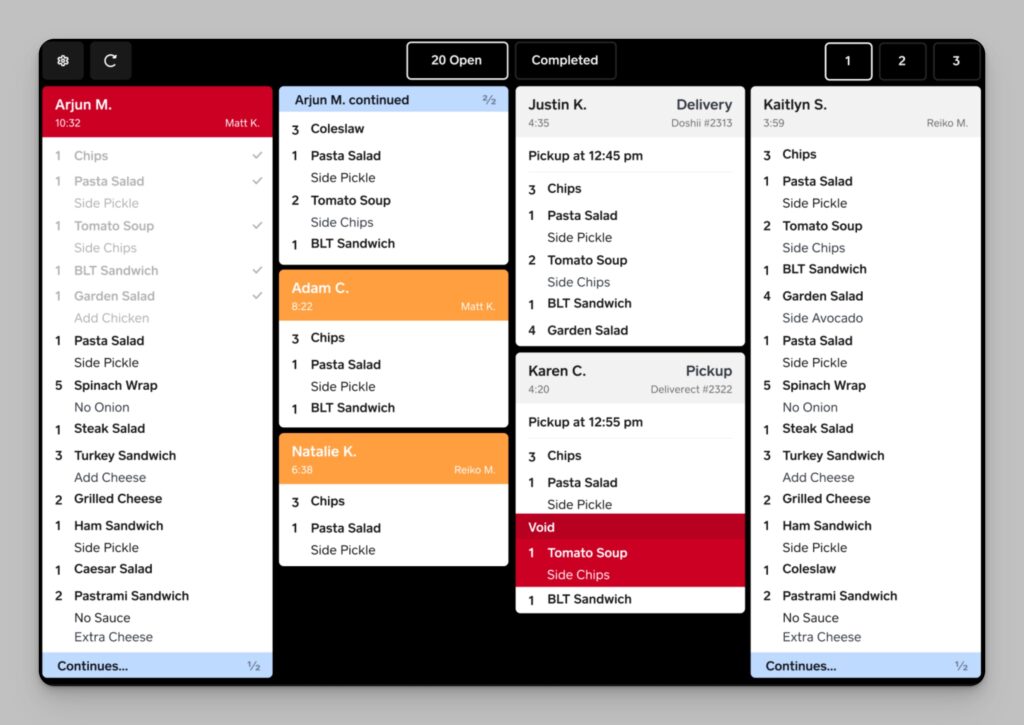 The Square KDS allows you to manage orders from anywhere with a single screen, offering detailed ticket views, timers, and alerts to prioritize and organize orders. This feature is engineered to optimize order accuracy and maximize efficiency in your kitchen.
Additionally, Square's POS system encompasses payroll functionalities, letting you compensate your team from any location and automating tax filings. This feature is a boon for ghost kitchens with staff dispersed across various sites or working at different schedules.
Square Pricing & Hardware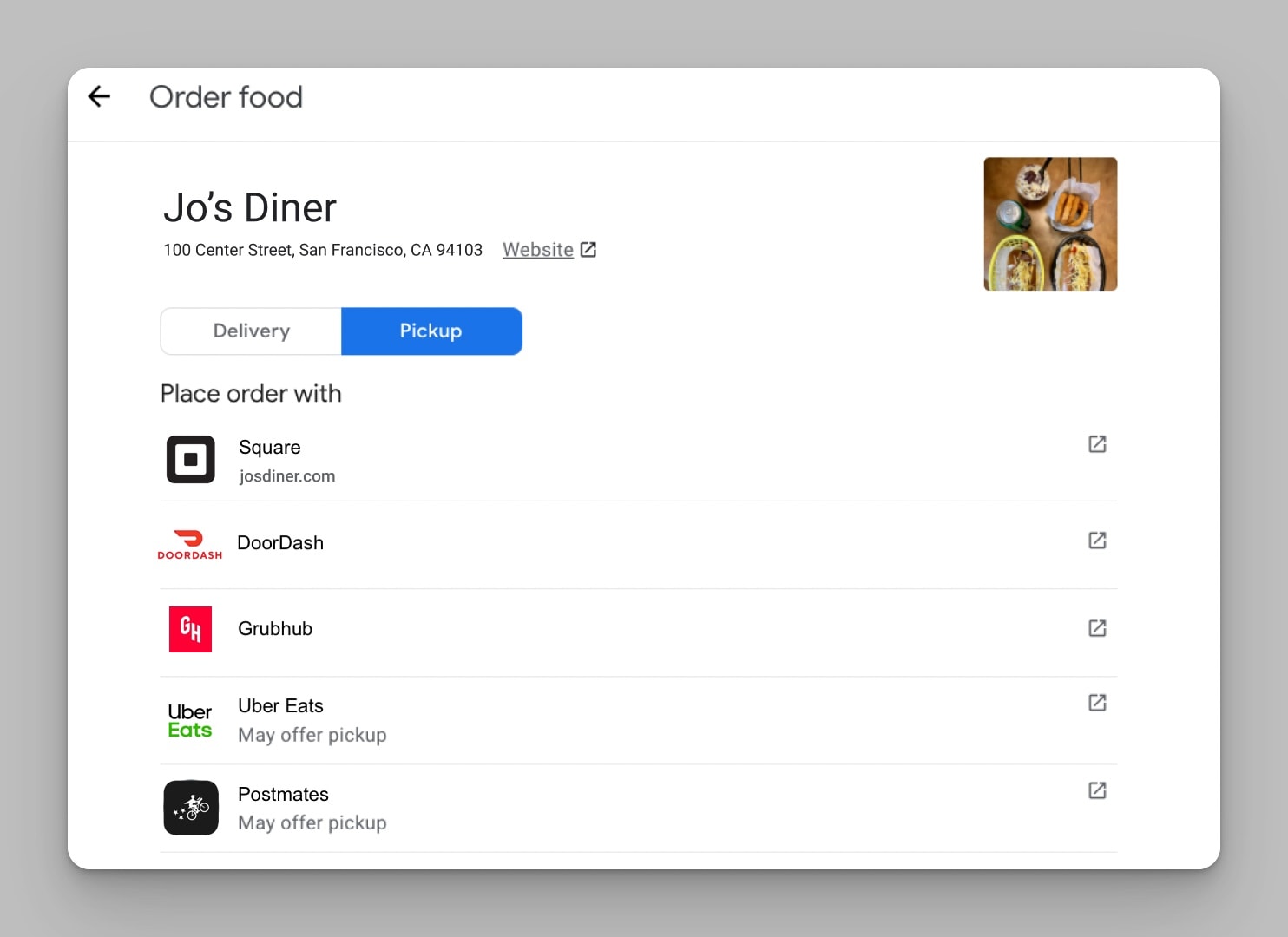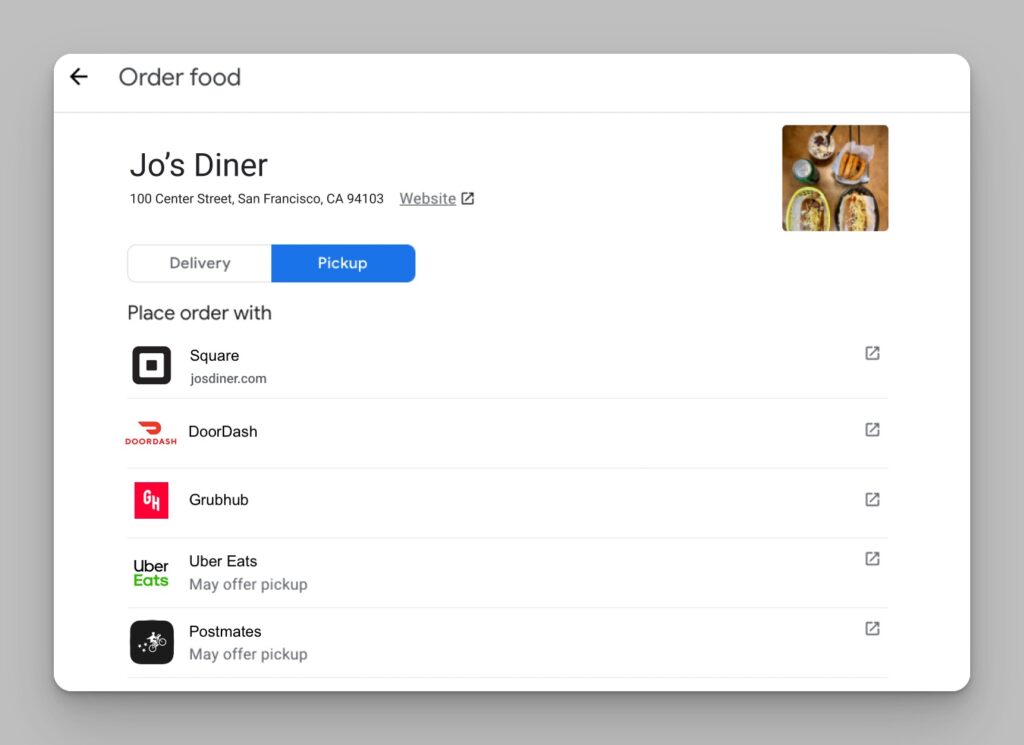 Where Square Stands Out
Ease of Use: Square has a modern and familiar user interface design that simplifies learning and operation. The system is easy to set up and doesn't require much training. This means your staff can focus on guests rather than learning the system.
Affordable Pricing: The Free plan includes fundamental services, such as online ordering and POS. The Plus plan costs $60 per month and includes advanced features like coursing as well as 24/7 support. For in-person payments, all plans include a processing rate of 2.6% plus 10 cents.
No long-term contract: Getting started with Square for Restaurants is simple because there are no installation fees or long-term commitments required. Additionally, you have the flexibility to upgrade, downgrade, or terminate your plan whenever necessary.
CRM Capabilities: The system has CRM features that allow for customer profiles, order history tracking, and integration with Square Loyalty and Marketing. This creates a complete solution for managing customers.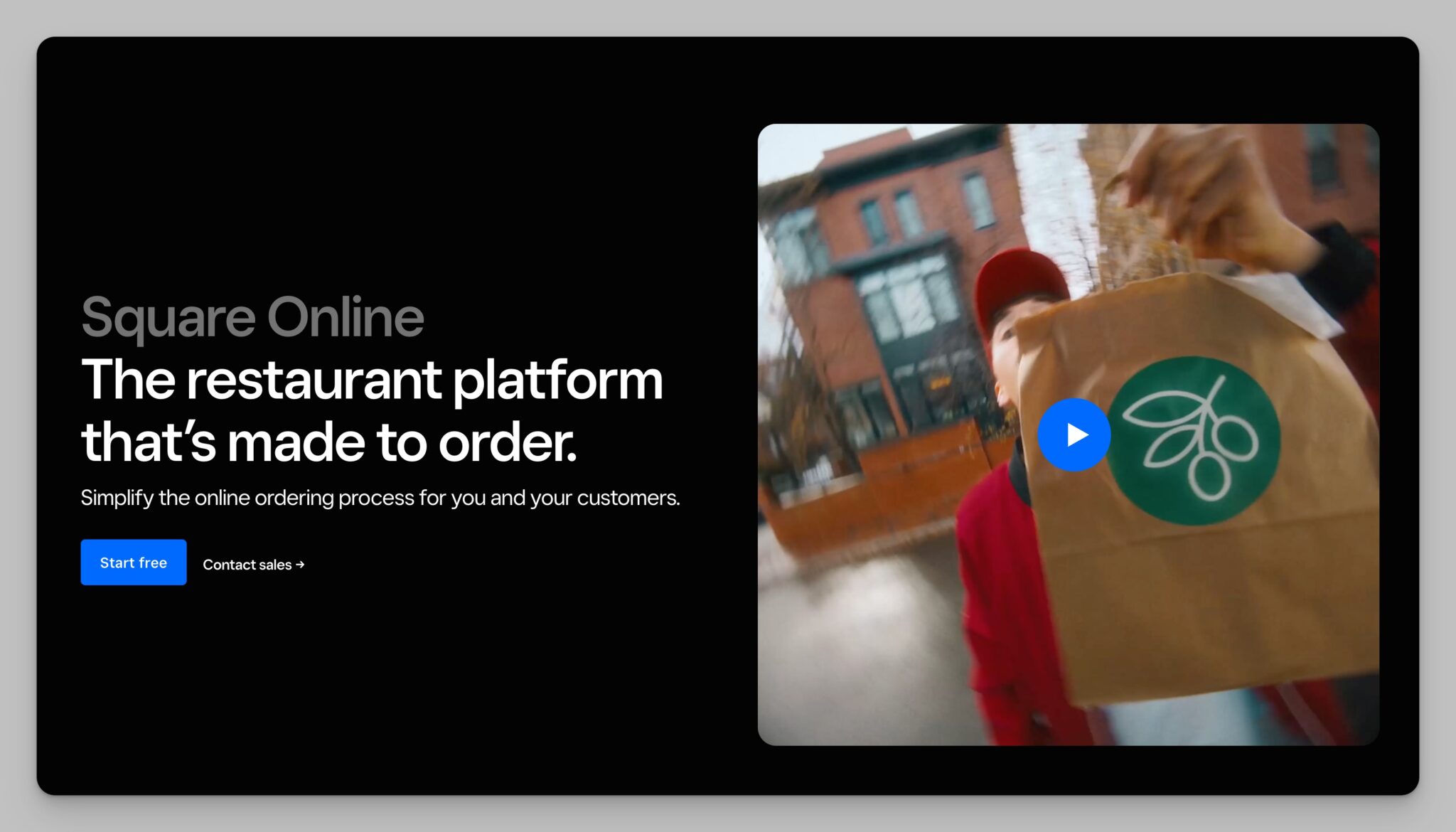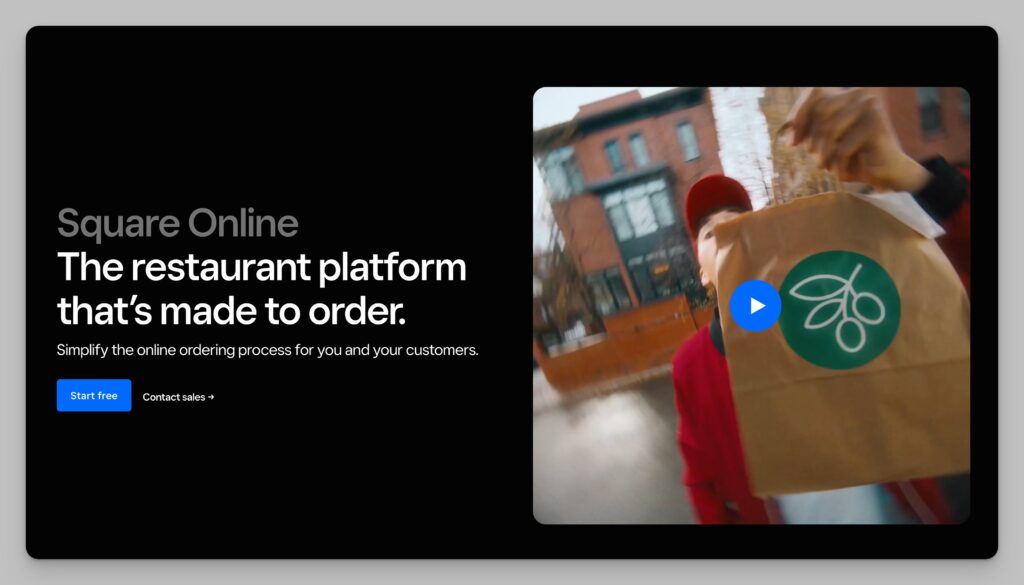 Square Online is a free add-on that allows cloud kitchens to build and design their own websites for online ordering.
Square Online integrates with Order with Google so when a customer searches for the restaurant on Google Search or Maps, they will see an ordering button on the search result that they can select to choose an ordering channel.
Square Online also has e-commerce capabilities for restaurants that want to sell products online.
Integration with the Square Ecosystem: Square for Restaurants is part of a larger ecosystem of Square products, which means it can integrate with other Square services. This includes Square Payroll and Team Management for handling permissions, schedules, timecards, and tips, and Square KDS.
Where Square Can Improve
Limited Advanced Features: Square for Restaurants may lack some advanced features offered by other POS systems, such as in-depth inventory management and comprehensive reporting tools
Complex Reporting: The reporting features are causing concerns because they lack sufficient detail and are complex, making it difficult to search for specific information. Additionally, the process of reconciling sales to receivables is lengthy.
Lack of On-Site Support: Square for Restaurants does not provide on-site support, which may not be suitable for businesses that rely on in-person assistance.
Limited Support for Complex Menus: For restaurants with frequently changing or complex menus, Square for Restaurants might not be the best choice. Making changes to the menu can be slower than other systems.
Description:

Best for ghost kitchens looking for an all-in-one system

Take orders on a free Square Online website and manage them directly from the Square KDS while organizing curbside pickup and delivery.

Pros:

Subscription free plan

No long term contracts

Integrates with the Square ecosystem

Cons:

Lacks some advanced features

No on-site support

Includes free plan. Plus plan starts at $60/month
Description:
Best for ghost kitchens looking for an all-in-one system
Take orders on a free Square Online website and manage them directly from the Square KDS while organizing curbside pickup and delivery.
Pros:
Subscription free plan

No long term contracts

Integrates with the Square ecosystem
Cons:
Lacks some advanced features

No on-site support
Includes free plan. Plus plan starts at $60/month
---
GoTab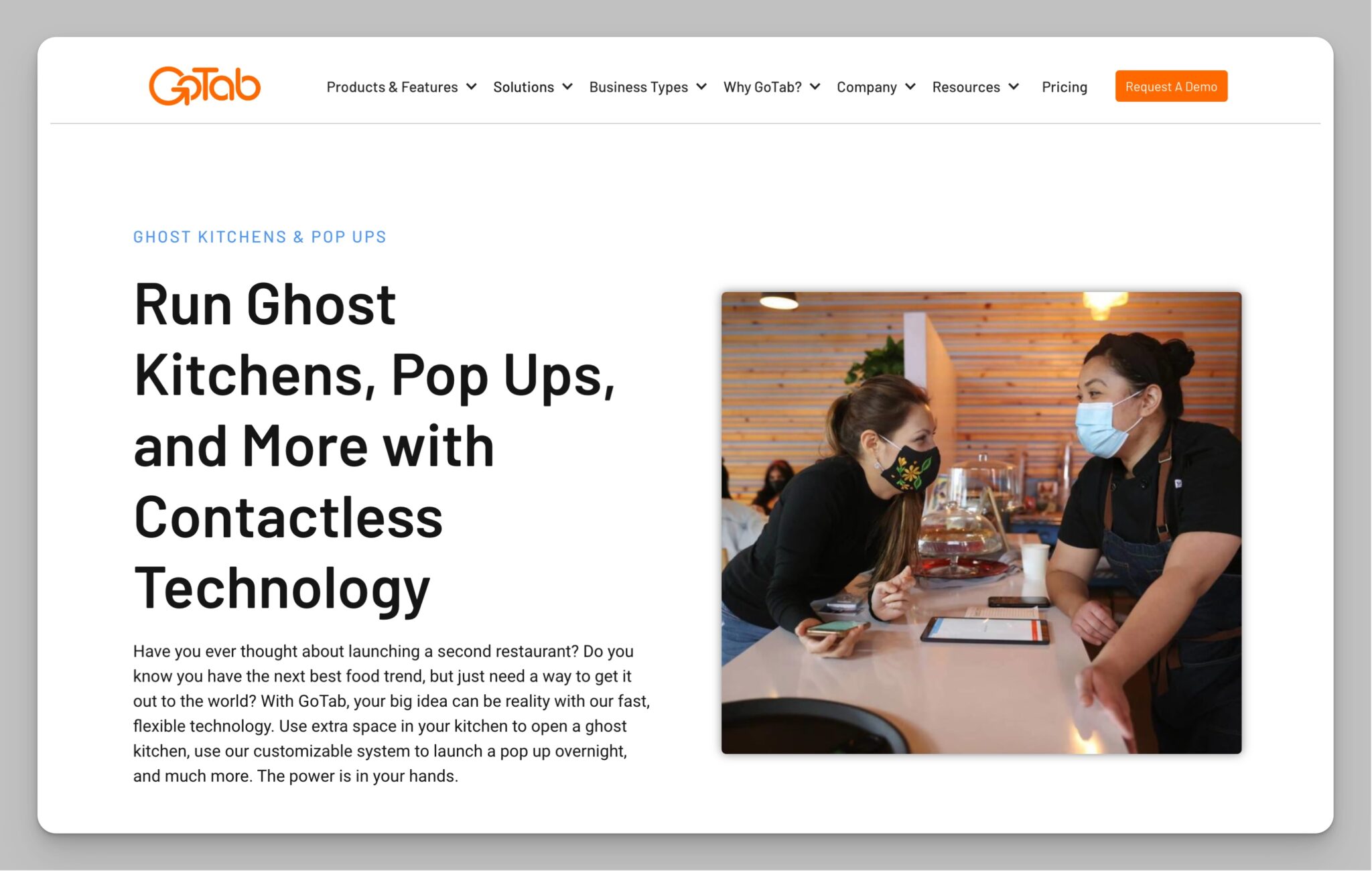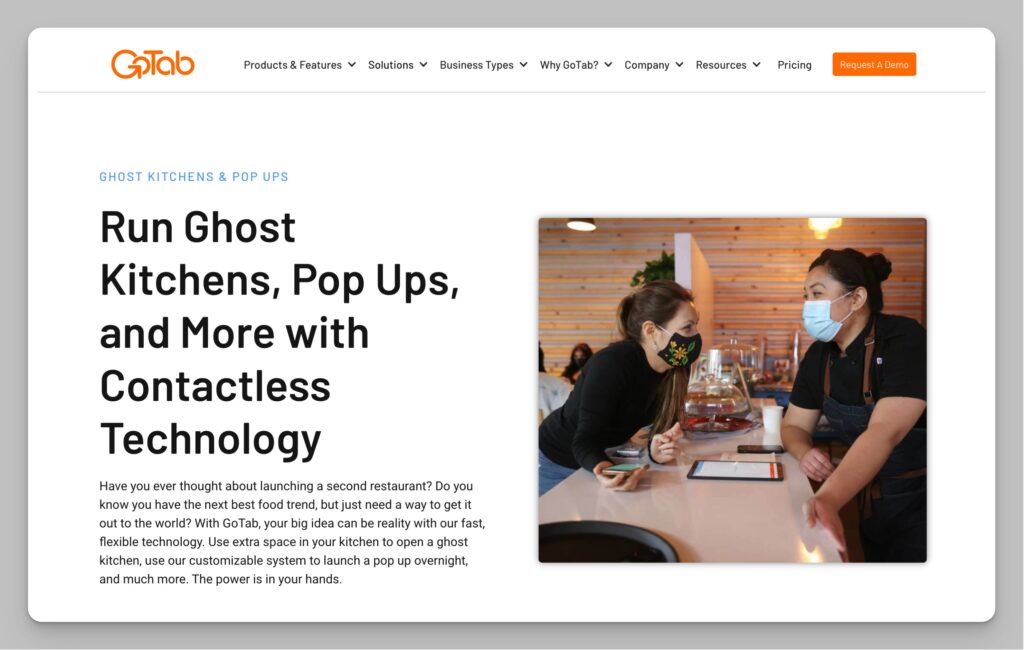 GoTab, founded in 2016, is an adaptable and innovative restaurant POS and commerce platform specifically designed to enhance the operation and service of food service businesses through technology.
GoTab is compatible with almost any web-enabled mobile device, which allows you to utilize your existing hardware and save costs.
GoTab is primarily geared towards contactless service, mobile ordering, payment, and efficient communication.
Its intuitive interface, compatibility with various systems, and real-time analytics provide ghost kitchen operators with the necessary tools to modernize their operations, enhance efficiency, and stimulate growth.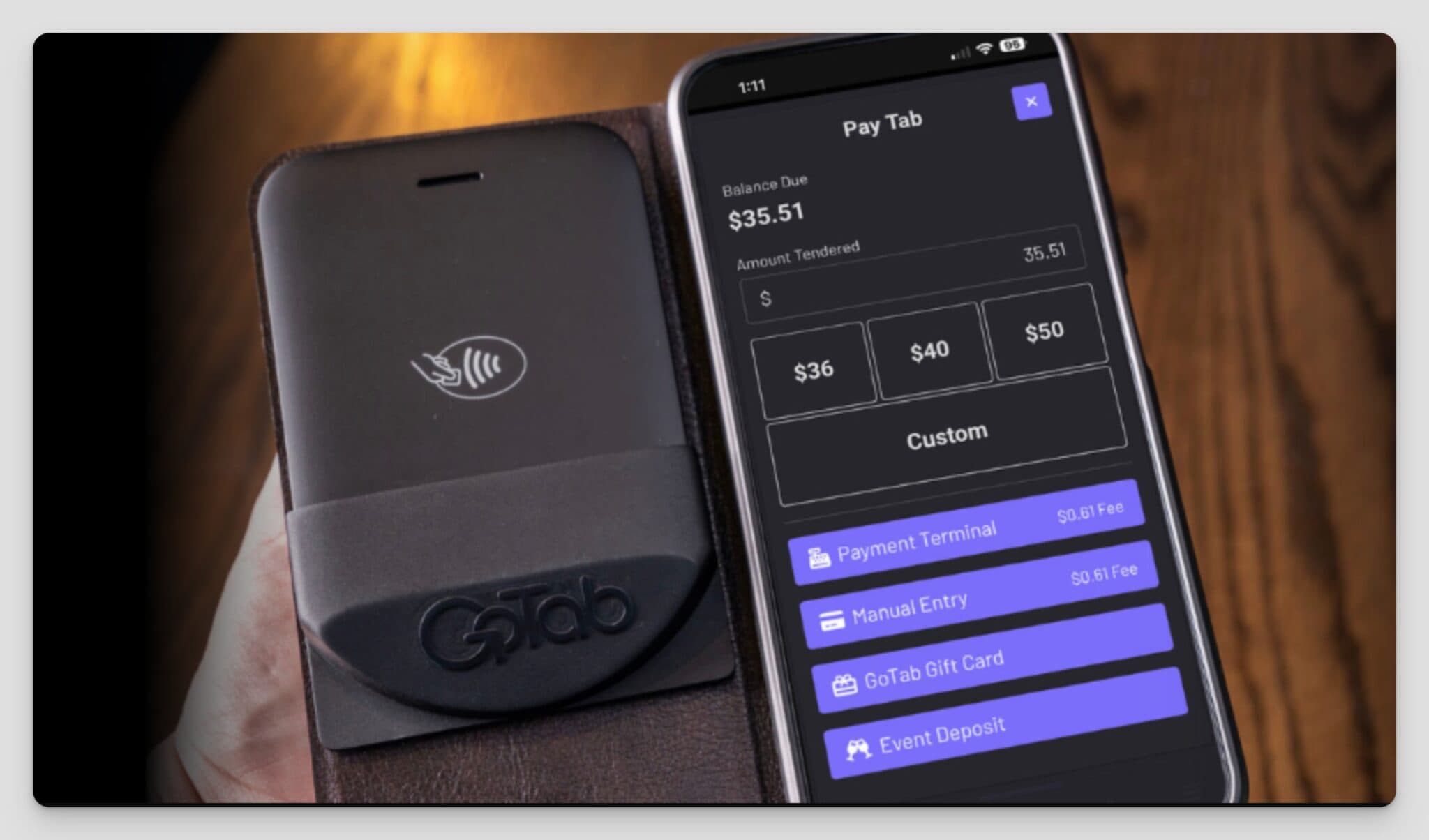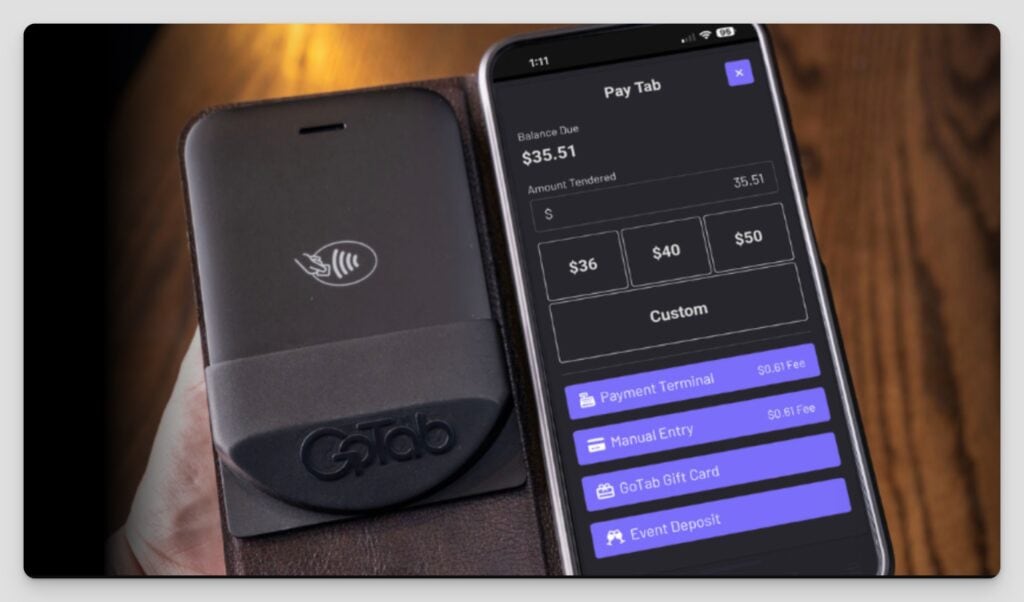 GoTab offers simple-to-use and easy-to-integrate technology with features like order management, centralized menu management, kitchen display system (KDS) function, as well as the capability to integrate with other POS systems and more.
GoTab also offers flexible service model capabilities, allowing operators to adjust their service models on the go.
For instance, in the event of an unexpected staff shortage, operators can activate QR ordering, or extend ordering to non-traditional service areas like a patio or waiting area, making it a versatile solution suited for large, medium, and small venue formats.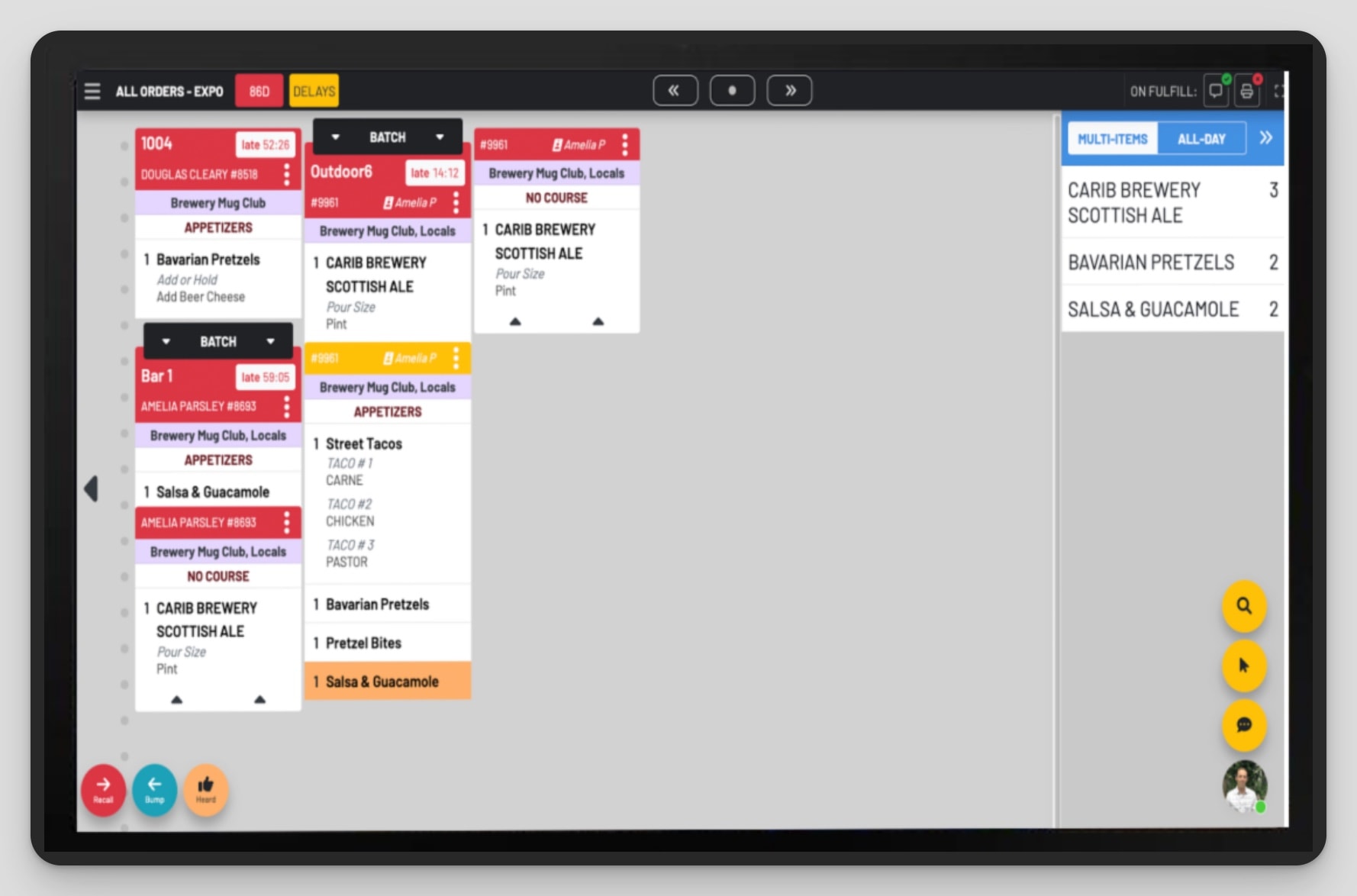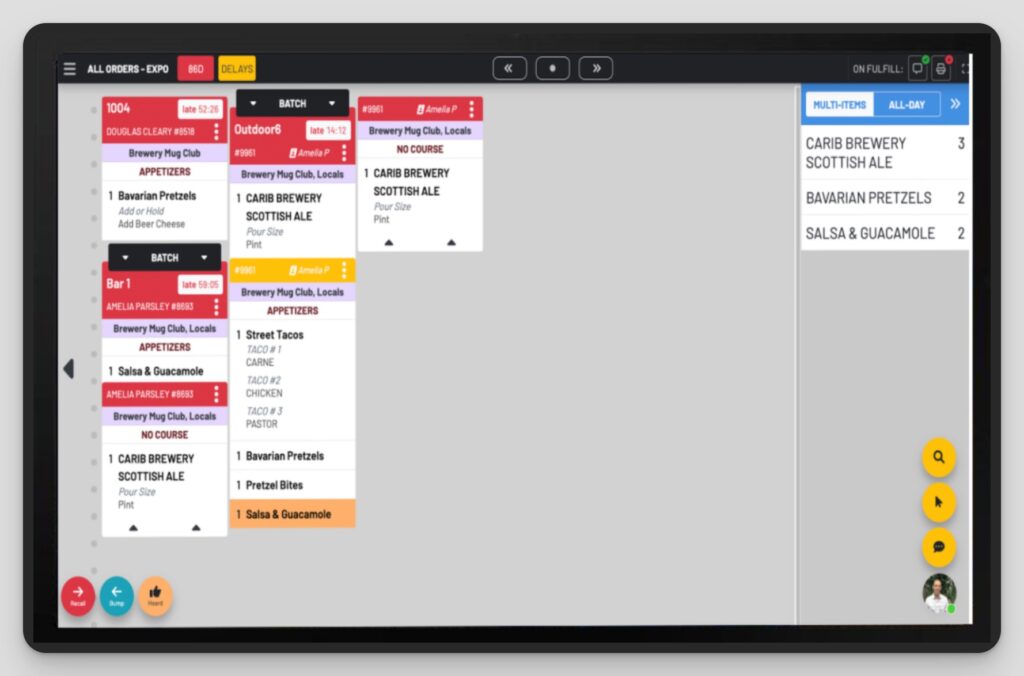 GoTab's KDS feature also enables operators and managers to maintain direct communication with customers through text, providing transparency and unmatched hospitality, like notifying a customer if an order's delivery is delayed.
Lastly, GoTab's 100% cloud-based platform offers flexible hardware options, eliminating barriers for ghost kitchens wanting to transition to more advanced technology without having to make a costly initial investment.
The transitions to new technologies and the operational adoption of new systems are seamless, unlike traditional, complex, and confusing transitions in hospitality technology.
GoTab Pricing & Hardware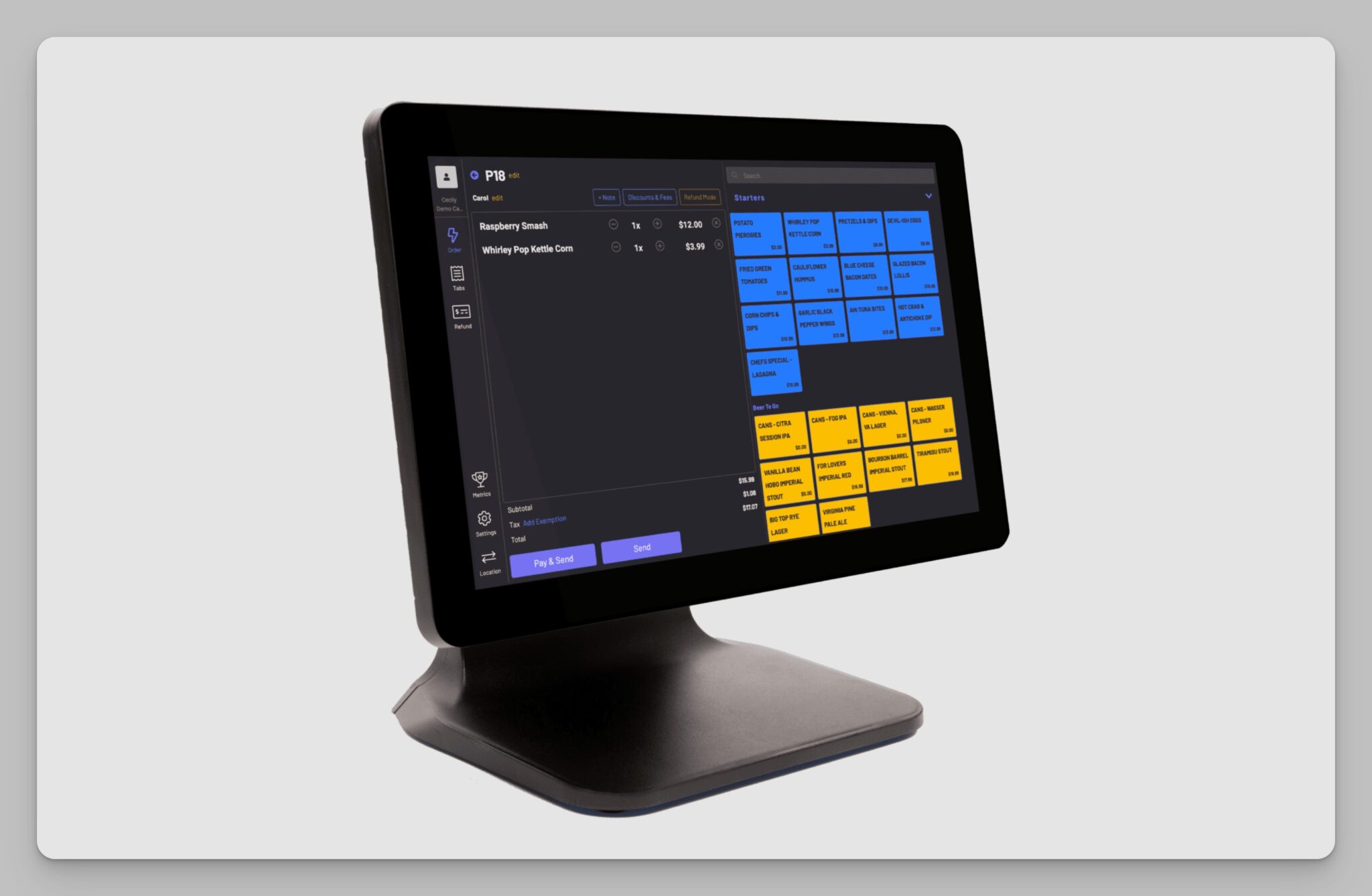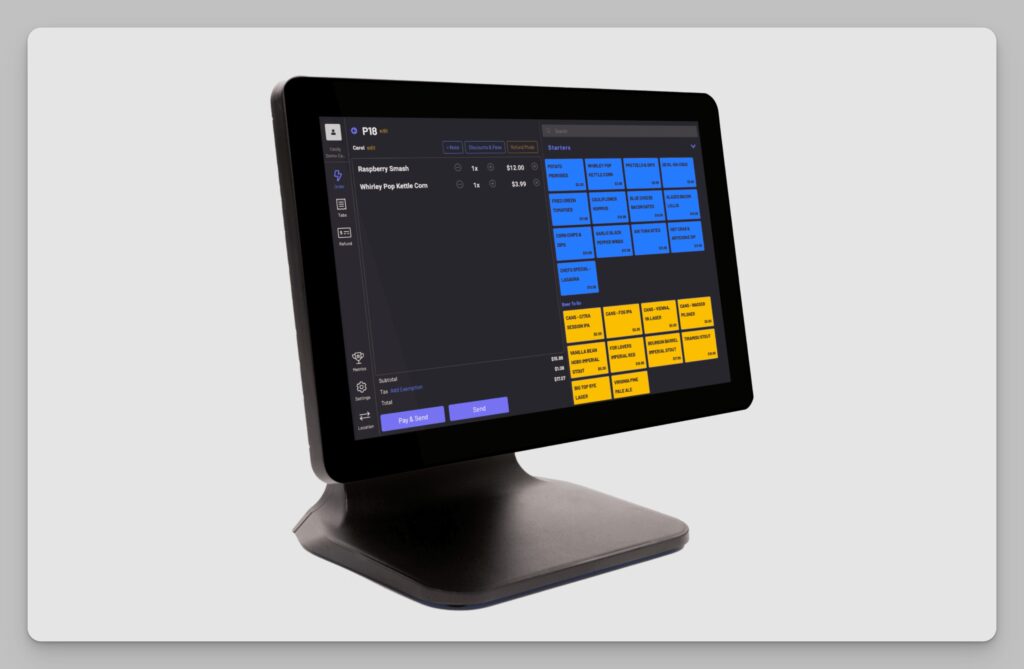 GoTab: A Versatile POS Solution for Ghost Kitchens and Pop-Ups
GoTab offers a flexible and streamlined Point of Sale (POS) solution, perfect for ghost kitchens and pop-up eateries. This system is designed to ease the launching and handling of your virtual eatery, letting you dedicate your efforts to making and delivering meals.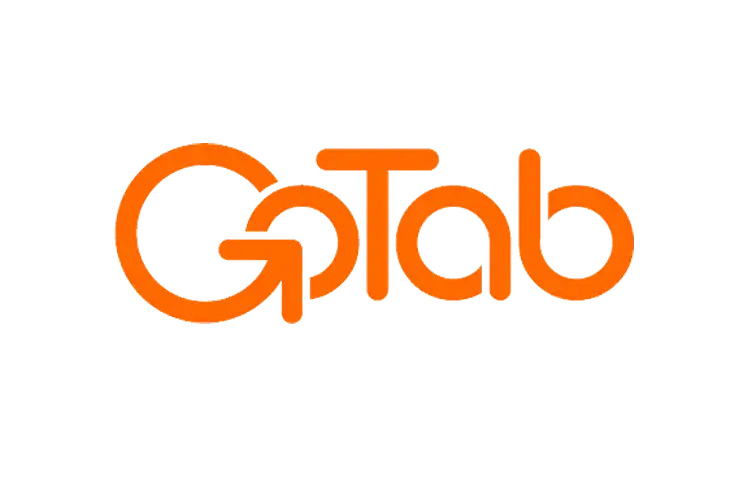 GoTab Restaurant POS
Easy-to-use mobile POS with a focus on eCommerce and contactless ordering and payment features. Card present processing fees: 2.40% + $0.15.
Pros:
Use your iPad or GoTab-branded hardware

Excellent mobile order & payment solutions

Free starting plan & no long-term contracts
Cons:
Complex Reporting Functionality

Only available in the US & Canada
Try Now
Our Review
---
Toast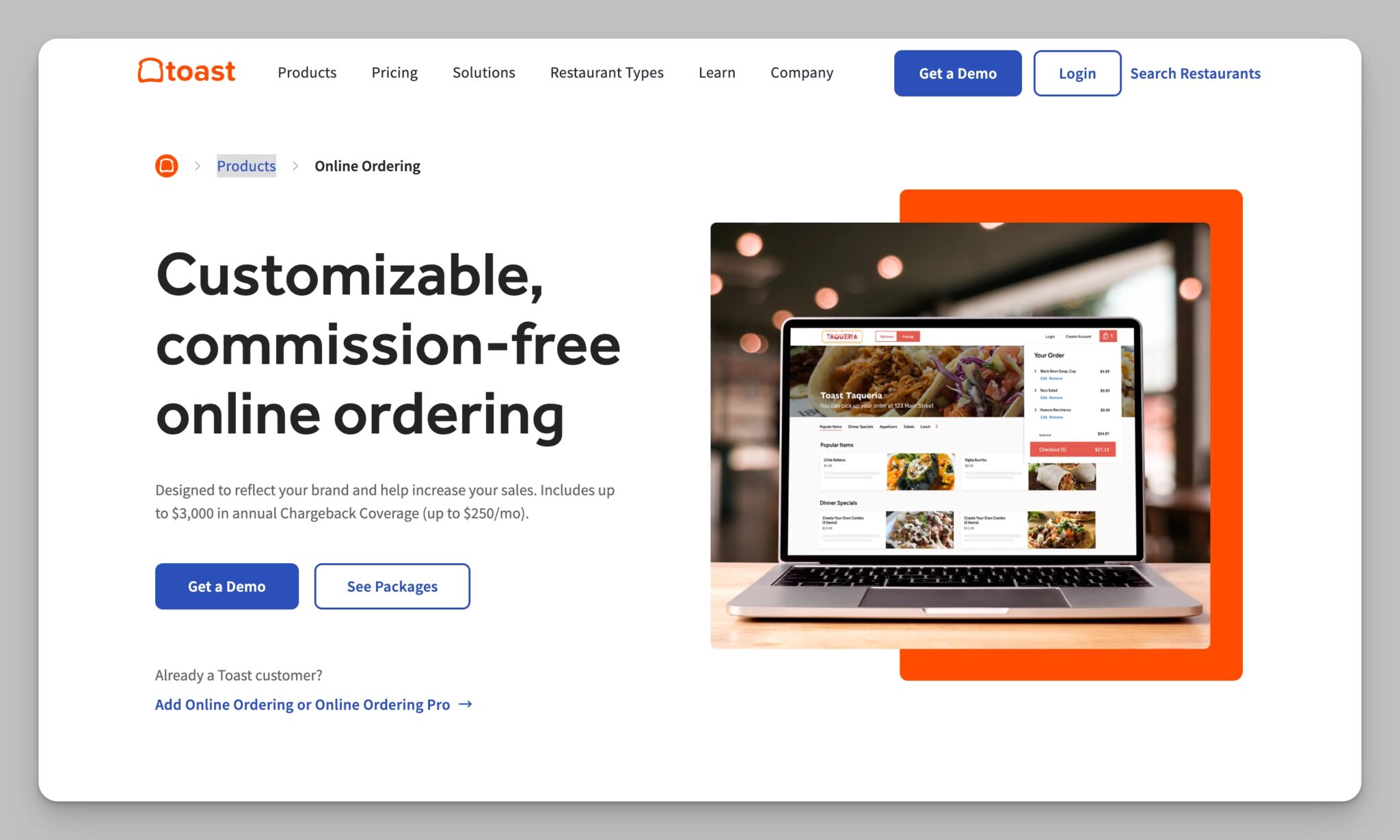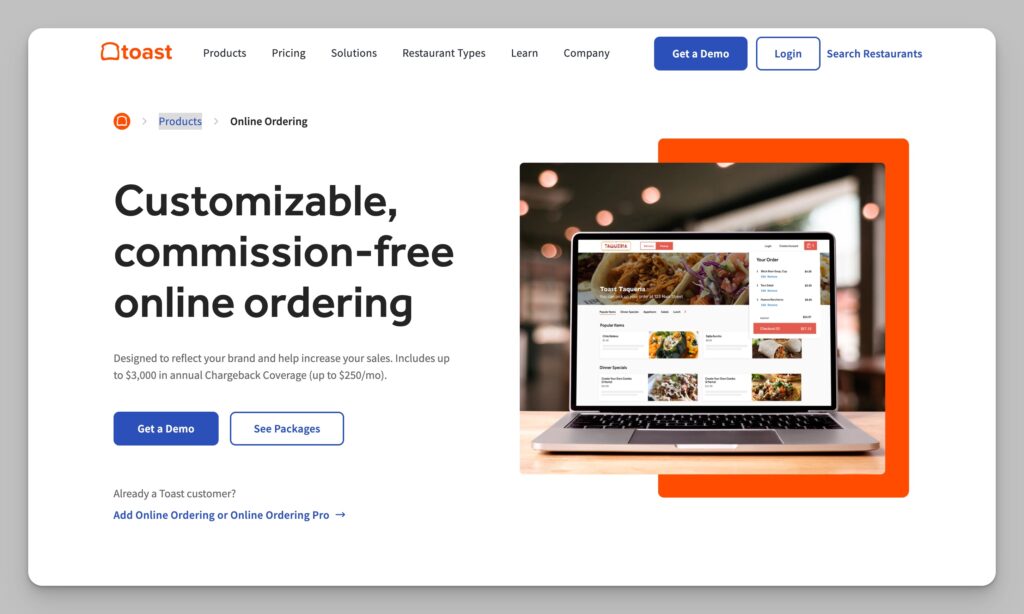 In recent years, Toast has emerged as a significant player in the restaurant commerce industry, experiencing rapid growth and gaining attention through several notable acquisitions.
Named one of the most innovative companies of 2023 by Fast Company (Source), Toast offers a feature-rich platform that covers a wide range of functionalities.
These include payment processing, inventory and menu management, marketing and customer loyalty programs, employee management, labor and food cost control, and business reporting, among others.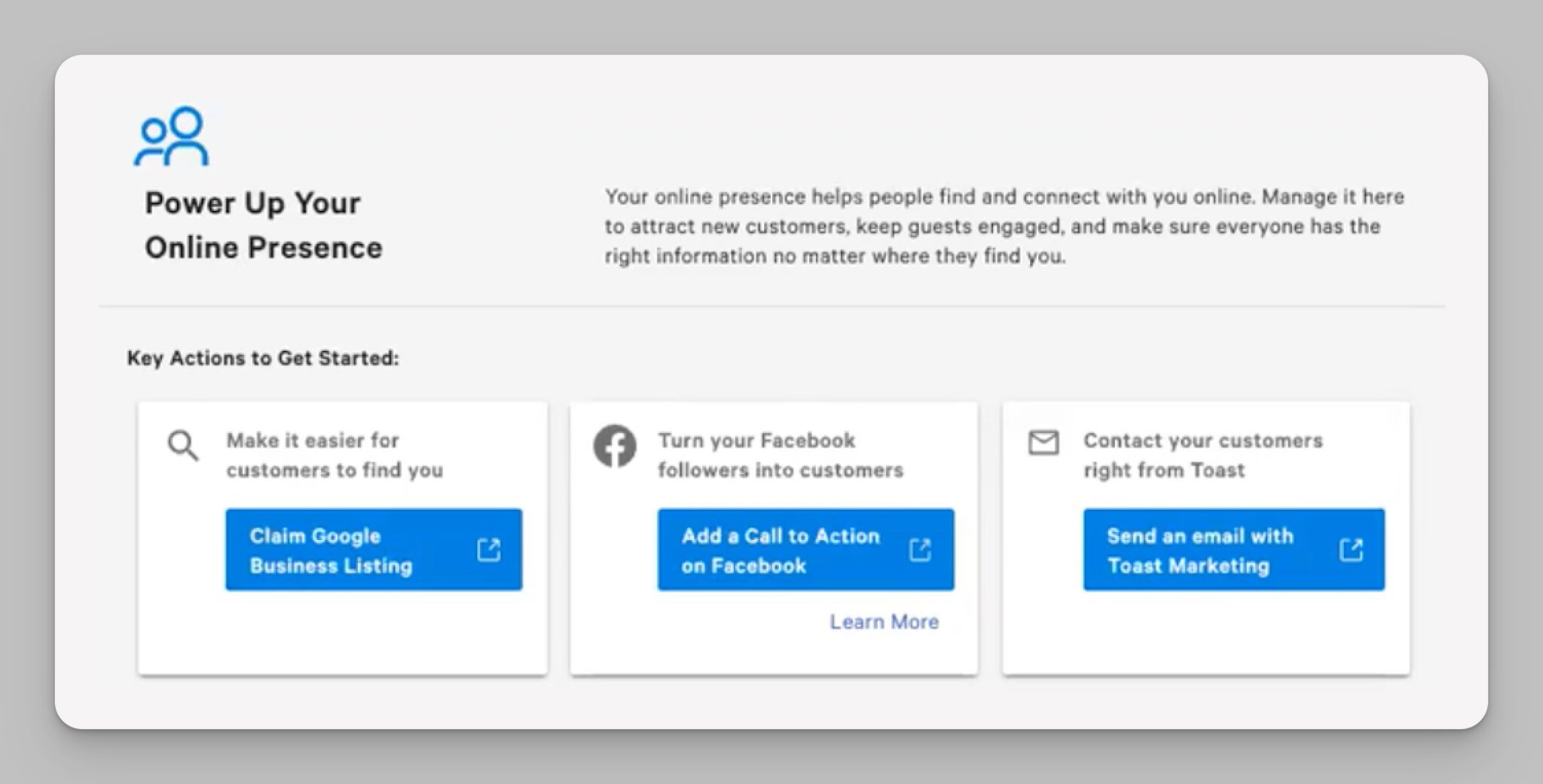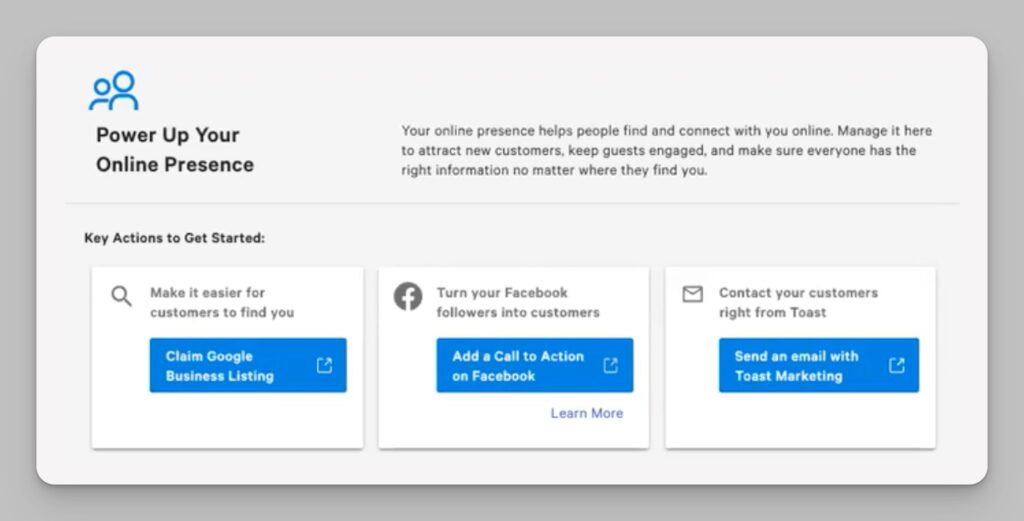 Aiming to become a comprehensive restaurant commerce system, Toast also positions itself as a one-stop shop for ghost and cloud kitchens.
Despite offering an extensive array of features, Toast maintains reasonable pricing, making it one of the top Point of Sale (POS) systems for ghost kitchens available.
Toast Pricing & Hardware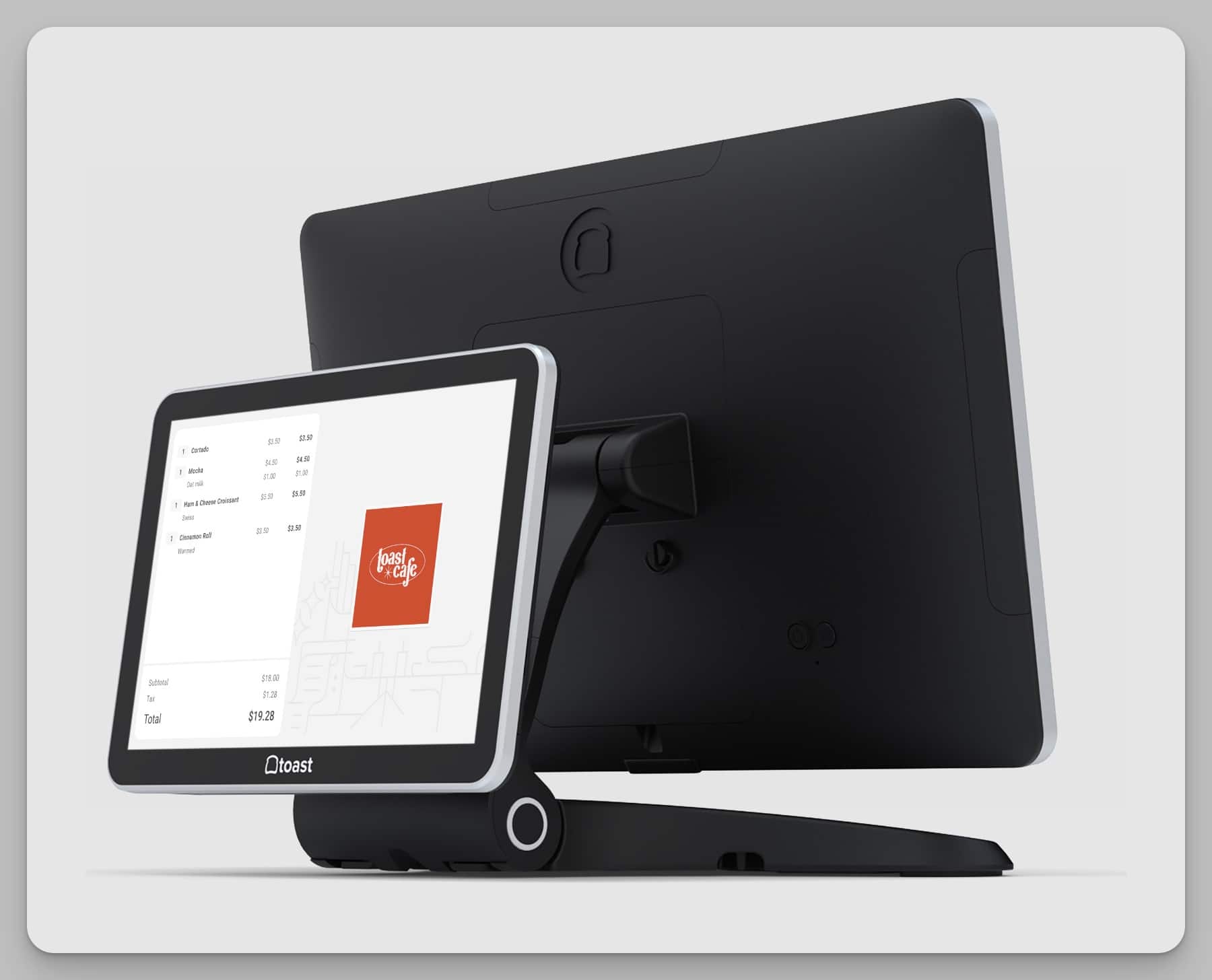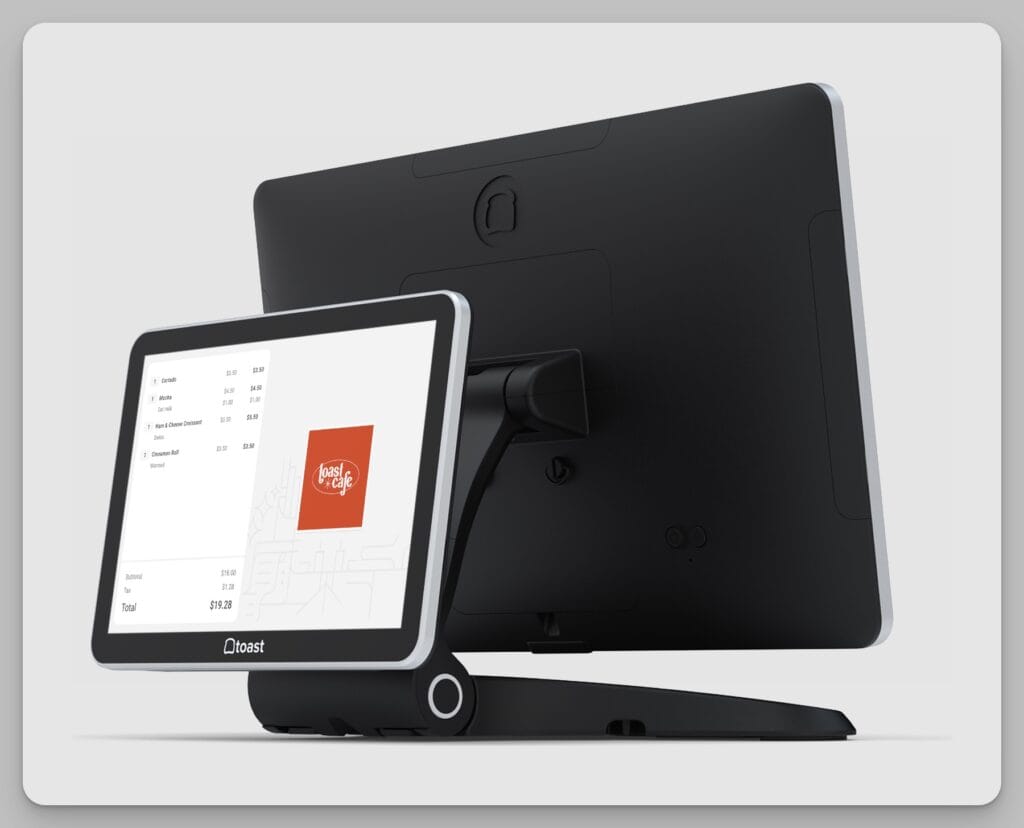 Toast: Simplifying Operations for Ghost Kitchens
Toast offers a comprehensive Point of Sale (POS) system designed to handle the unique needs of ghost kitchens. This means fewer administrative hassles for you, freeing you to focus on preparing delicious meals for delivery and takeout.
Efficient Operations Management
One of Toast's key features is its efficient operations management capability. It makes it possible for you to manage offsite delivery even during peak hours without disturbing seated diners.
Additionally, Toast helps you create an efficiently managed labor force, including chefs, dishwashers, managers, and delivery drivers.
Maximizes Sales and Savings
Toast's online ordering system is designed to boost sales while also saving you money. It comes with integrated, commission-free ordering channels, which means more profits for your kitchen.
The system also features built-in tools for upselling your meals and turning first-time diners into regular patrons.
Comprehensive Digital Ordering System
Toast's robust digital ordering system enables online ordering and delivery and provides a profile on their own ordering app. The system can handle order management during rush hours, listing on the commission-free Toast TakeOut app, and link you to a growing network of food lovers.
Advanced Kitchen Display System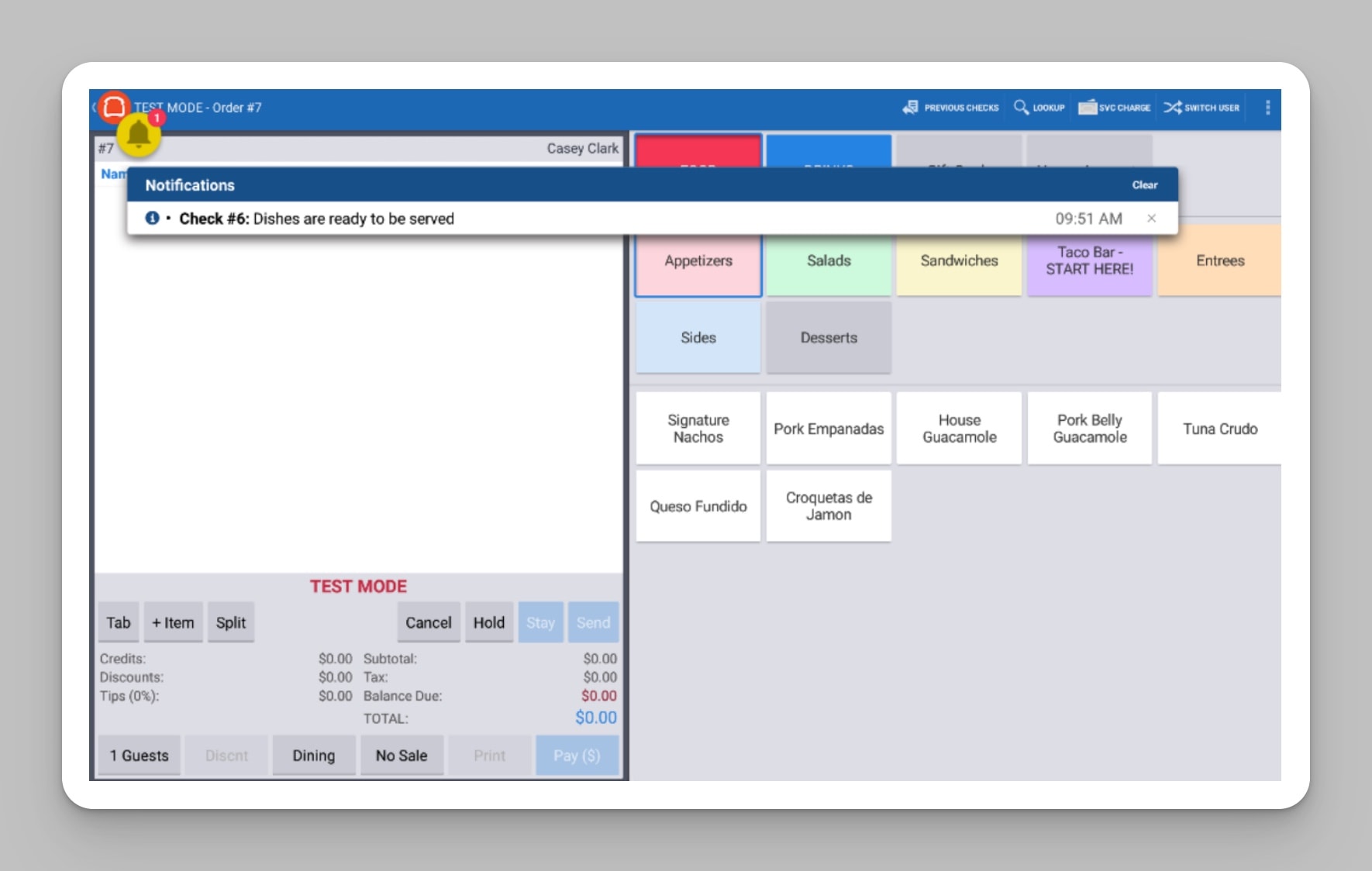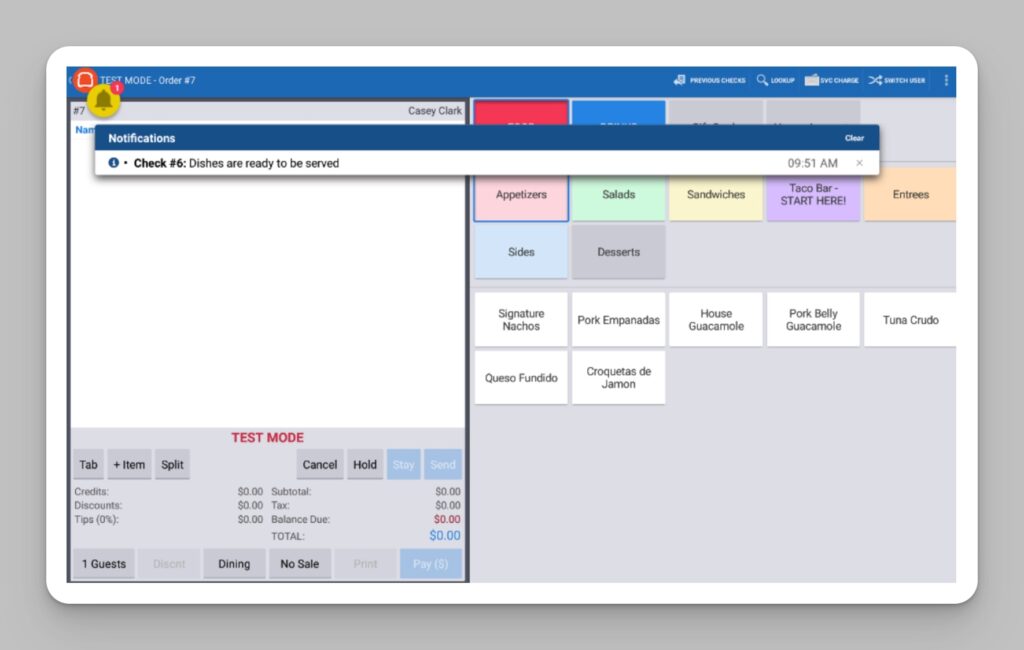 Another notable feature of Toast is the Kitchen Display System (KDS). It fits different screen sizes and integrates with Toast Go. The KDS also combines orders from all sources (kiosks, online, third-party platforms) and has features for alerts, auto-firing by prep time, and color-coded modifications for allergens.
Customer-centric Features
Lastly, Toast's technology offers customer-focused capabilities. The integrated Customer Relationship Management (CRM) system allows for outreach through email marketing, loyalty, and gift cards.
It offers restaurant-specific templates and automated campaigns based on guest history. Conveniently manage loyalty points and sell gift cards both online and offline, ensuring improved customer engagement.
To conclude, Toast offers an all-in-one solution to managing a ghost kitchen – from taking orders to food preparation and delivery. With numerous tools designed to attract and retain customers, Toast paves the way for increased sales and continuous growth.
What Makes Toast Stand Out
A complete restaurant management system
Rapid development of new features
Built for restaurants
Excellent business analytics & reporting
Online and contactless ordering
Online ordering through Google
Where Toast Falls Short
Locked into Toast payment processing
Add-ons can get expensive
Not very transparent pricing
Only available in a few English-speaking countries
Description:

The most innovative POS system on the market

Best for cloud kitchens that want to get started with a free basic plan with the option to upgrade to advanced online ordering and delivery features.

Pros:

Rapid development of new features

Robust online ordering system

Includes a free starter plan

Cons:

Android only

Locked into Toast payment processing
Description:
The most innovative POS system on the market
Best for cloud kitchens that want to get started with a free basic plan with the option to upgrade to advanced online ordering and delivery features.
Pros:
Rapid development of new features

Robust online ordering system

Includes a free starter plan
Cons:
Android only

Locked into Toast payment processing
---
Lightspeed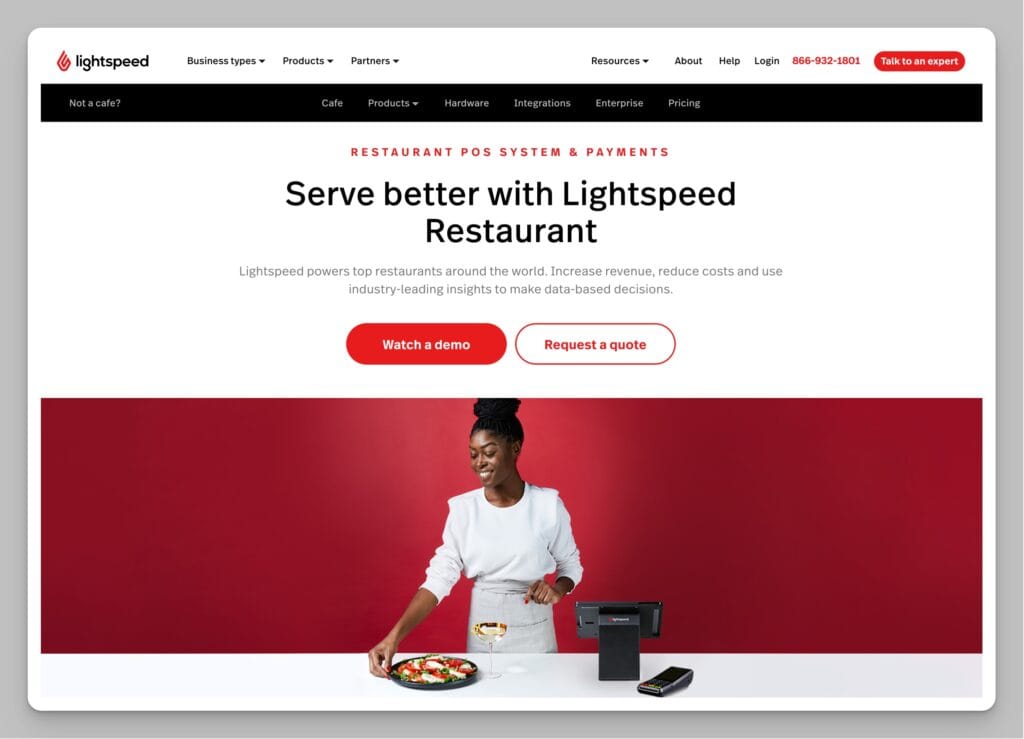 Lightspeed Restaurant: In the context of choosing a Point of Sale (POS) system for ghost kitchen operations, Lightspeed often comes up as a compelling option.
Established in 2005, Lightspeed has evolved into a prominent international supplier of cloud-based POS and e-commerce solutions, catering to businesses in over 100 countries spanning North America, Europe, and Asia Pacific.
Lightspeed concentrates its efforts on creating commerce platforms for independent food service businesses. Its comprehensive hospitality platform caters to the unique requirements of food and beverage providers, including ghost kitchens.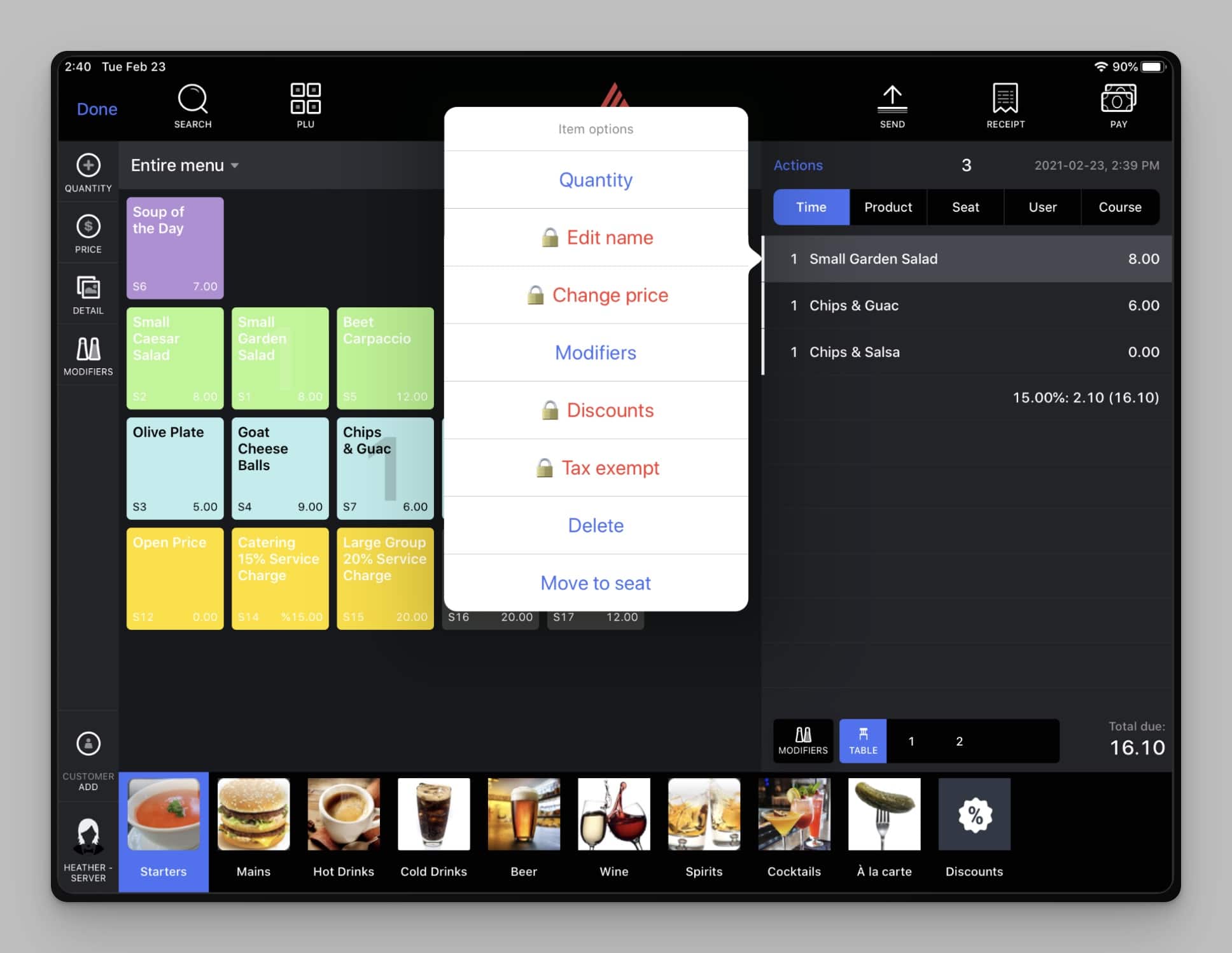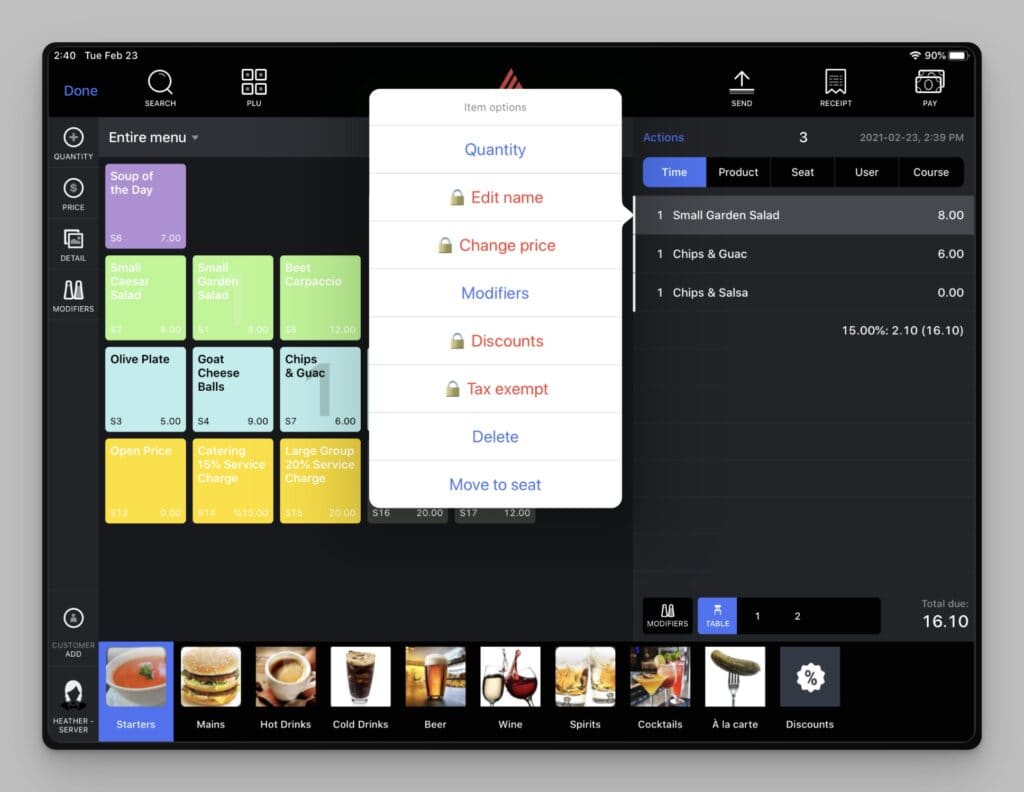 This all-in-one platform incorporates point-of-sale functions, integrated payments, inventory management, team management tools, and delivers valuable reporting insights.
A remarkable feature of Lightspeed is the integration of sophisticated technological elements. These include a blockchain-based technology platform, real-time analytics, tailored workflows, and various integrations, all within an easy-to-use iOS-based UI.
Lightspeed regularly updates its platform by incorporating cutting-edge attributes like machine learning-driven analytics, specifically designed for the needs of food service businesses.
In summary, Lightspeed Restaurant is a powerful, cloud-based POS system designed specifically for the restaurant industry and its strong online ordering and e-commerce features make it a great choice for ghost kitchens.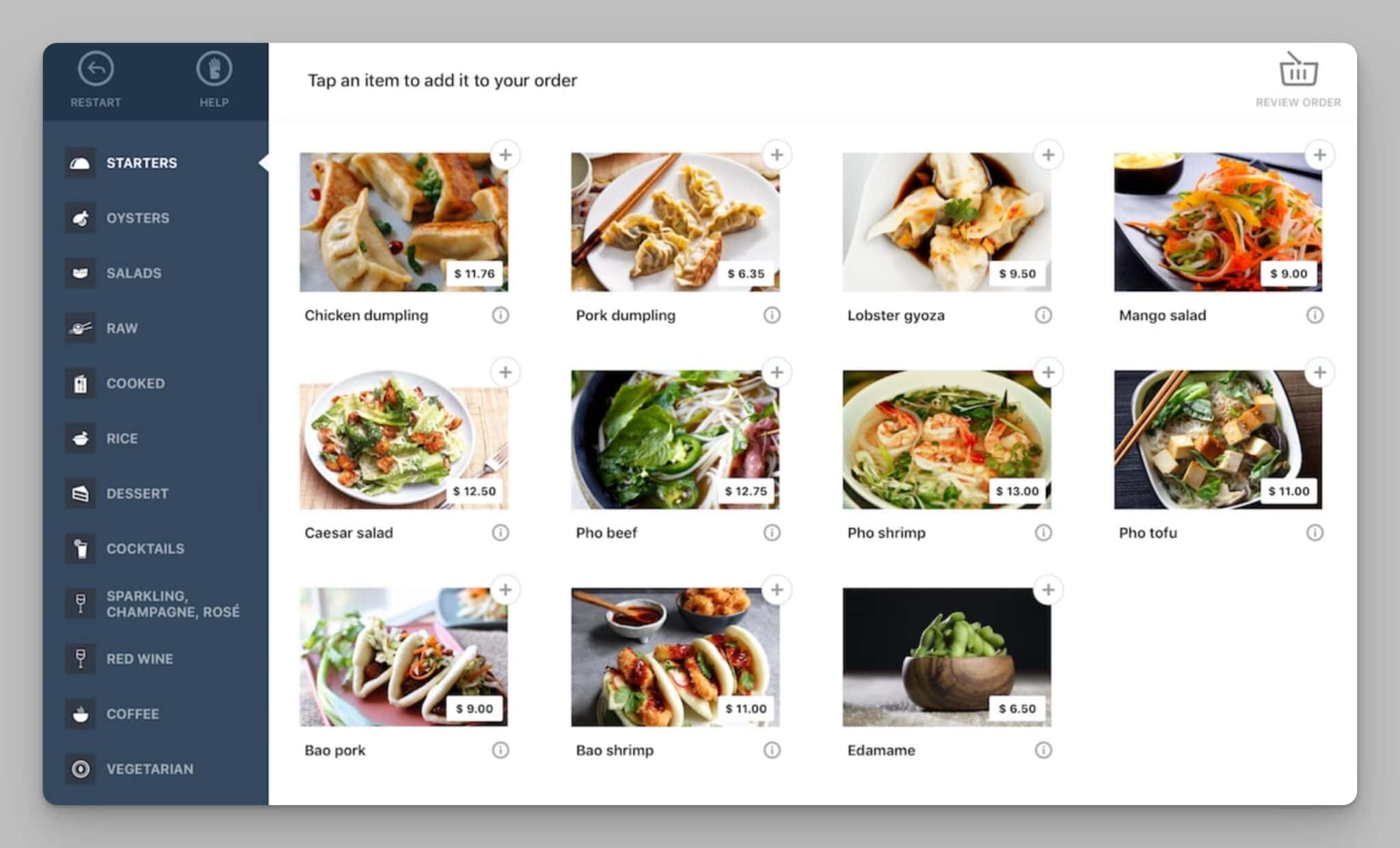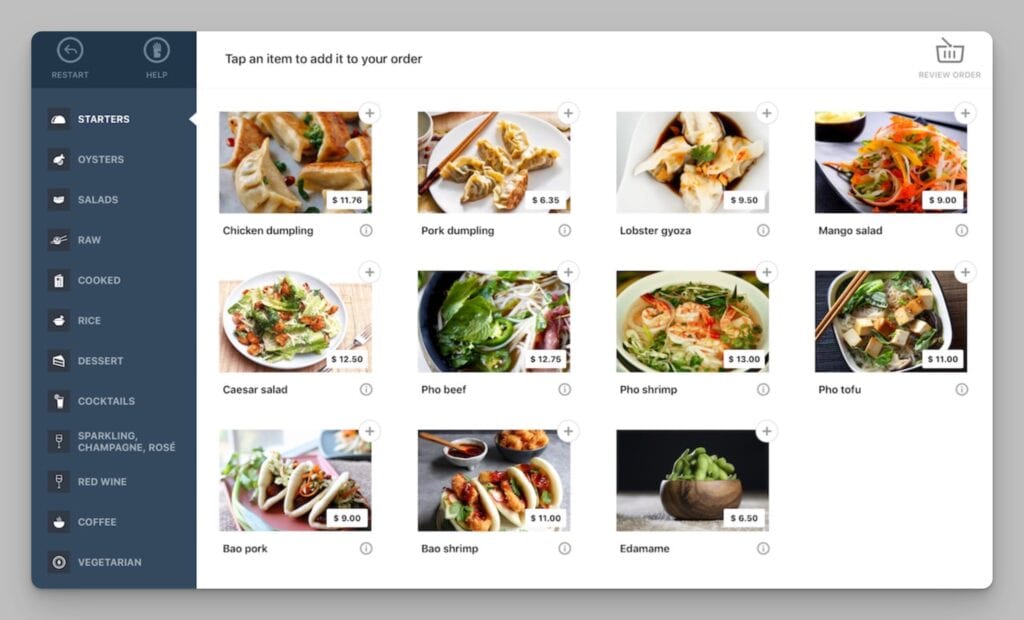 Where Lightspeed Restaurant Stands Out for Cloud Kitchens
Contact-Free Ordering and Payment: The unique Order Anywhere feature of Lightspeed facilitates customers to place orders straight from their phones, make payments via QR codes, and even schedule pick-up times. This leads to a smooth, secure service without any third-party commission fees, ensuring a pleasant experience whether dining in or picking up.
Customizable Online Ordering Experience: Lightspeed gives you the freedom to customize your online ordering experience to align with your brand, providing customers with greater command over their orders. A professionally designed digital layout showcases your menus online, lets you fashion profitable combo menus, highlight your star products, and offers customers the flexibility to personalize their order.
Lightspeed's delivery integration, powered by Deliverect, synchronizes your menu with leading food delivery apps. It consolidates online orders on a single screen and seamlessly integrates orders from platforms like UberEats or DoorDash directly into your POS. It also equips you with tools to expand your delivery zone and engage customers with promotional discounts.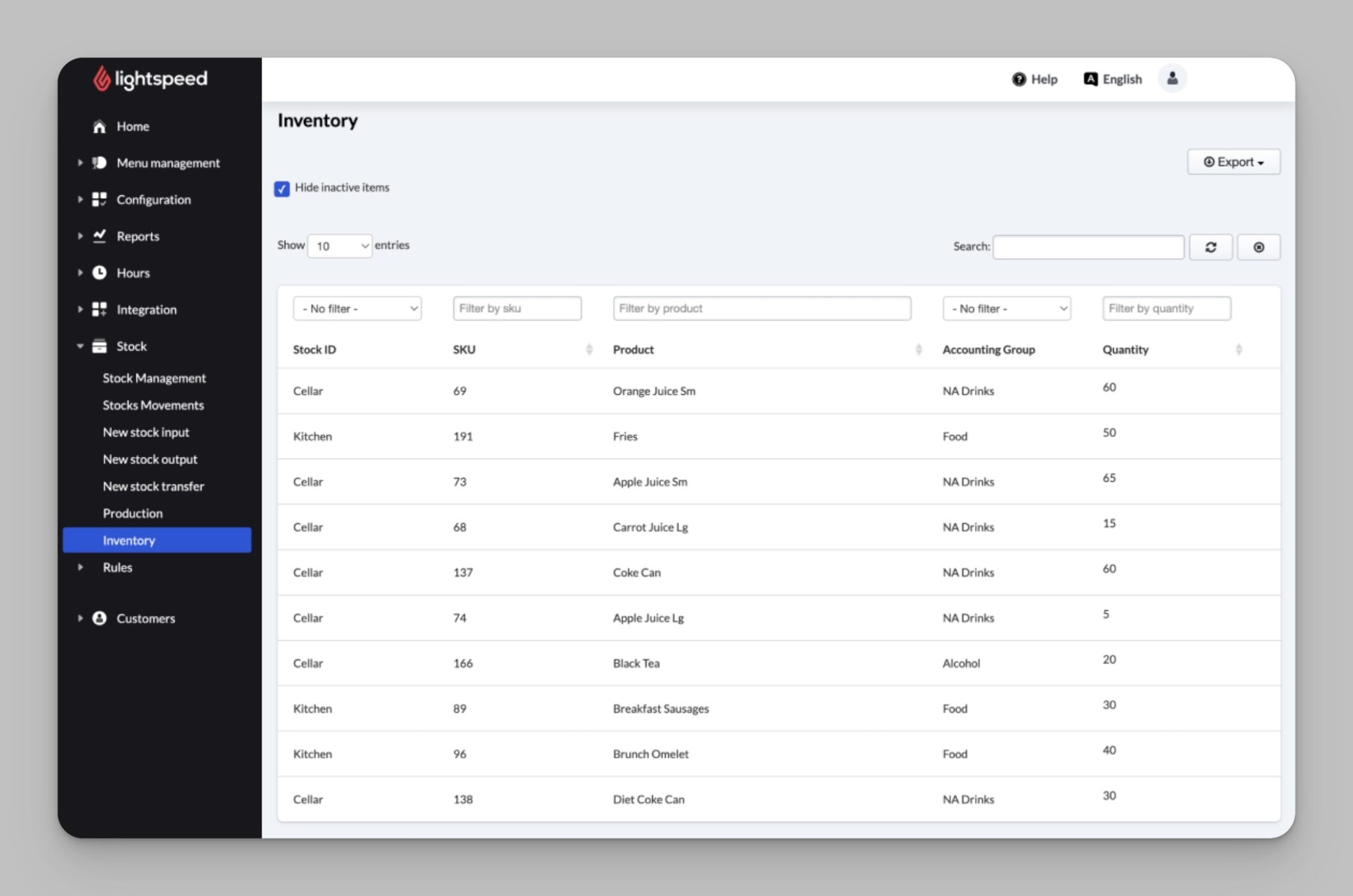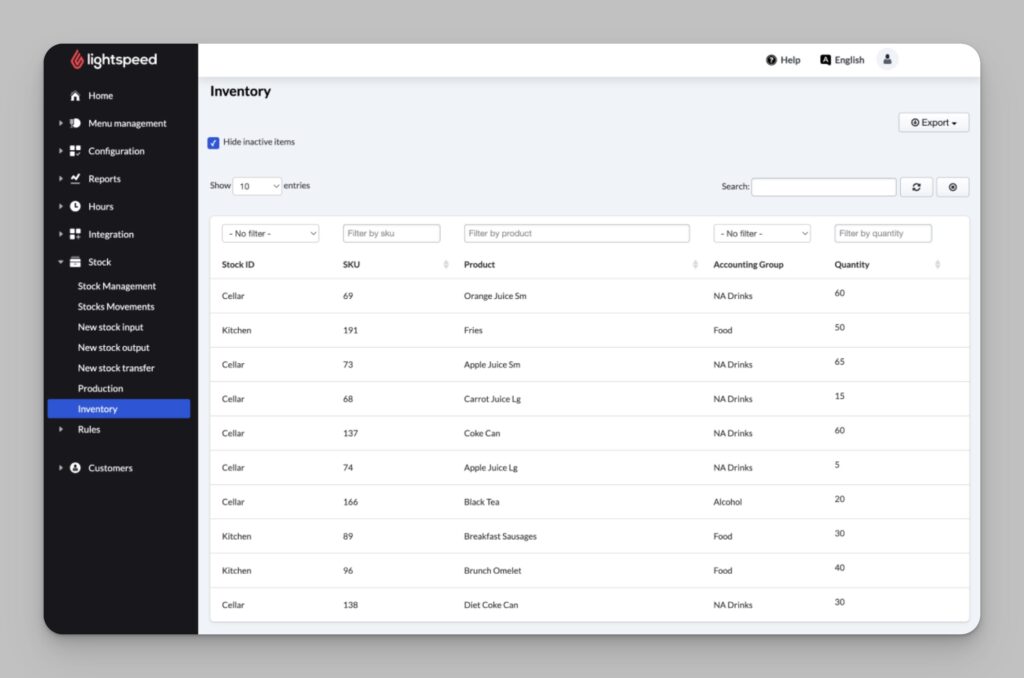 The Inventory Management feature by Lightspeed optimizes ingredient usage via real-time stock tracking. It removes the need for manual stock calculation and spreadsheets, simplifying inventory management with automatic deductions as items are sold, and automatic replenishment upon stock arrival.
Lightspeed Payments: Payment processing that integrates AI and blockchain technology for a single, universal sign-on at any point of purchase globally. Each transaction is recorded on a private blockchain, potentially enhancing security and traceability.
The Advanced Insights feature goes beyond basic sales data, converting them into actionable strategies. It integrates customer, operational, and payment processing information for a full view of your business.
Automatic analytics help you identify trends early, understand profitable menu items, and provide guests with personalized deals and promotions to foster repeat patronage. Your restaurant operations can be managed remotely via your computer, phone, or tablet. You also receive a daily digest email every morning with a brief overview of the previous day's sales.
Where Lightspeed Falls Short
While Lightspeed Restaurant POS is a highly regarded system, there are some areas for improvement and potential drawbacks to consider.
Price: Lightspeed Restaurant POS is more expensive than some other POS systems on the market. While the system offers a range of features and benefits, the cost may be a barrier for some restaurant owners, especially those who are just starting out.
Limited Customization: While Lightspeed's interface is user-friendly, it may not offer as much customization as some restaurant owners would like. For example, some users have reported that it's difficult to customize the layout of the order screen, which can impact efficiency during peak hours.
To summarize, Lightspeed Restaurant delivers a powerful POS solution along with features that manage delivery, inventory, and offer advanced insights into your business. These features render it as an all-inclusive solution for ghost kitchens.
Description:

Cleverly crafted POS with exceptional design

Best for cloud kitchens seeking powerful inventory, data insights, and retail features.

Pros:

Ease of use & interface design

Reporting & analytics

E-commerce capabilities

Cons:

Limited offline functionality

Not the cheapest option
Description:
Cleverly crafted POS with exceptional design
Best for cloud kitchens seeking powerful inventory, data insights, and retail features.
Pros:
Ease of use & interface design

Reporting & analytics

E-commerce capabilities
Cons:
Limited offline functionality

Not the cheapest option
---
SpotOn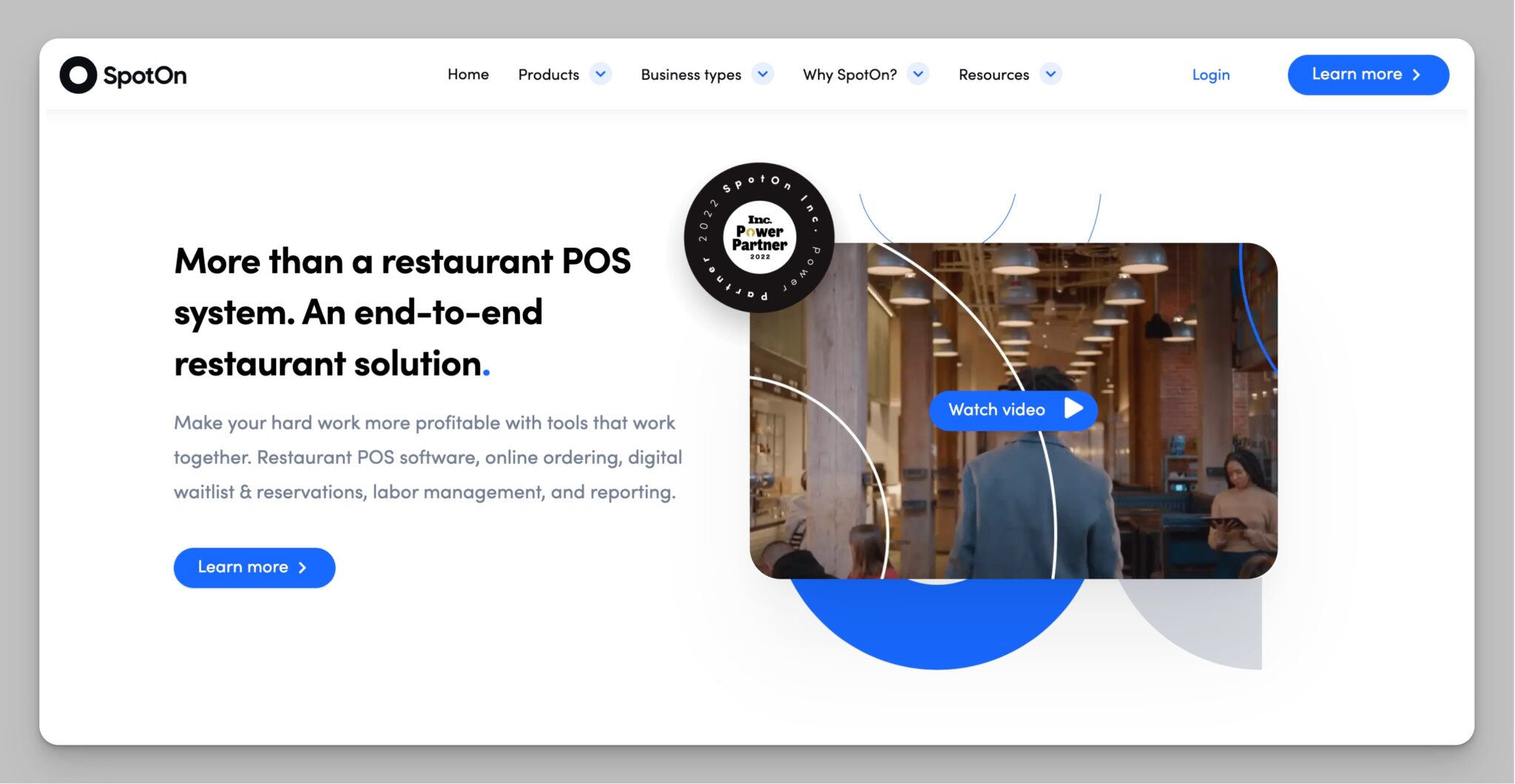 Choosing the ideal Point of Sale (POS) system for a ghost kitchen operation can be a complex process, given the multitude of options such as Toast, TouchBistro, Lightspeed, Square, and legacy systems such as NCR and Oracle.
Among these possibilities, SpotOn has begun to draw attention within the ghost kitchen sector.
Introduced in 2017, SpotOn, originating from San Francisco, is a relatively new addition to the POS landscape. Despite its newcomer status, SpotOn has quickly asserted its market presence through its adaptive solutions.
SpotOn is a cloud-based restaurant POS system that focuses on enhancing sales and efficiency for ghost kitchen owners. The system comes with POS and handheld devices designed for user-friendliness, keeping in mind the fast-paced environment of a ghost kitchen.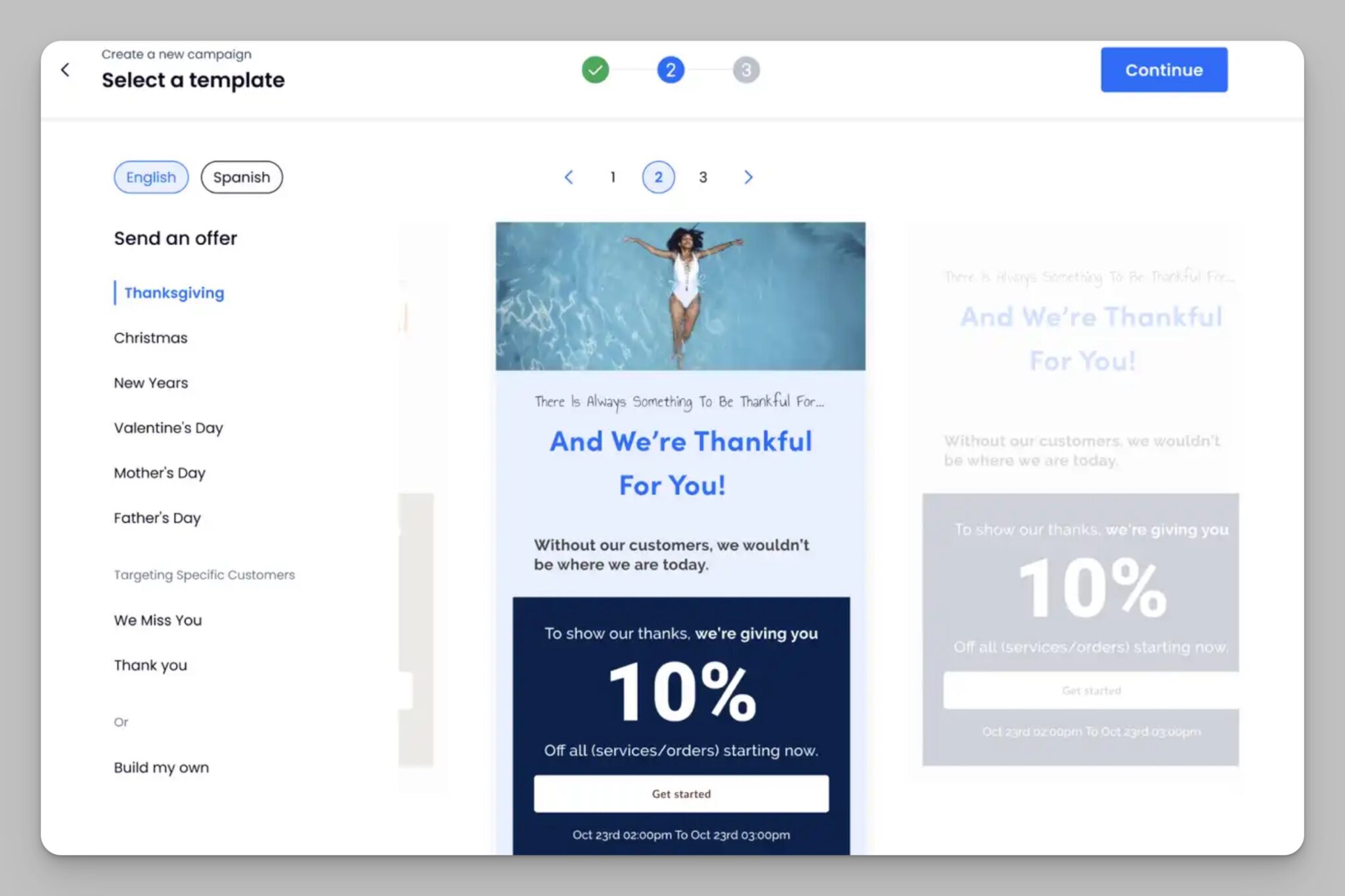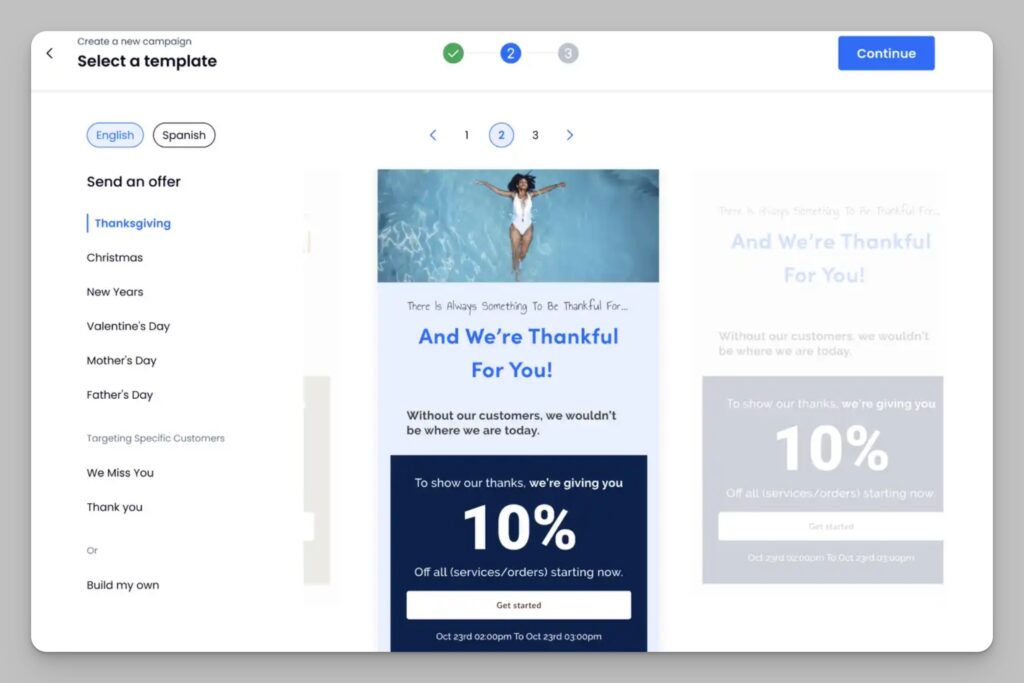 One feature that sets SpotOn apart from several of its competitors is the incorporation of promotional tools directly within the POS. This integration enables easier management of promotions and deals, potentially fostering customer loyalty and encouraging repeat orders for the ghost kitchen.
SpotOn Pricing & Hardware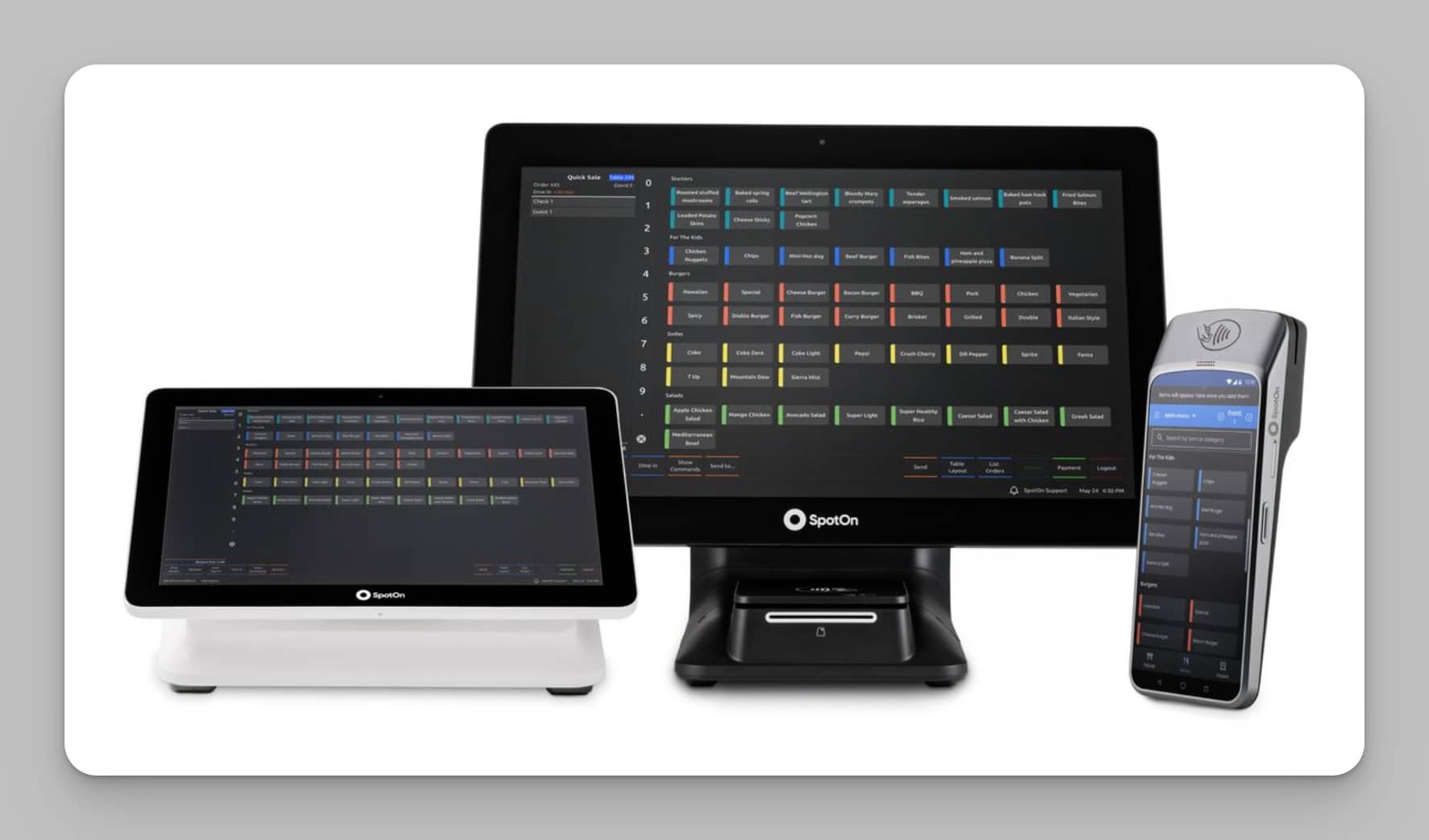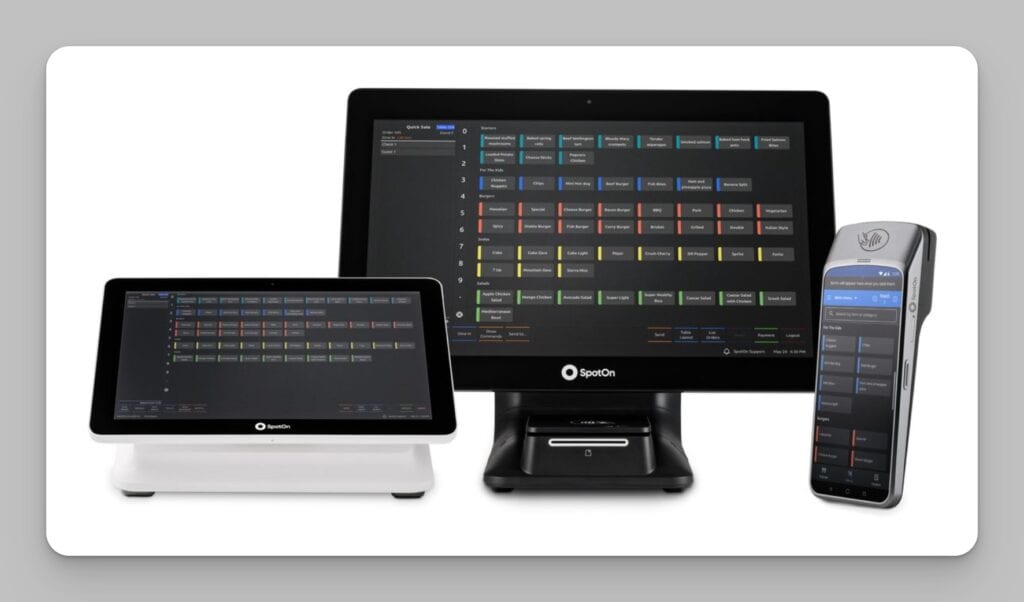 Where SpotOn Stands Out for Ghost Kitchens
Online Ordering and Delivery
The online ordering system by SpotOn bypasses commission fees, enabling direct order access for your customers. It promotes an effortless digital journey, saving both time and money for you and your customers.
Streamlined Operations
SpotOn collaborates with you to design your online menu and link it seamlessly to your point-of-sale. This creates an uninterrupted pickup and delivery routine for your clients, which not only reduces mistakes but also accelerates the service speed.
Ownership of Customer Data
In stark contrast with third-party delivery services, SpotOn lets you retain your customer data. This facilitates easy customer retargeting to drive repeat visits, boosting your revenue.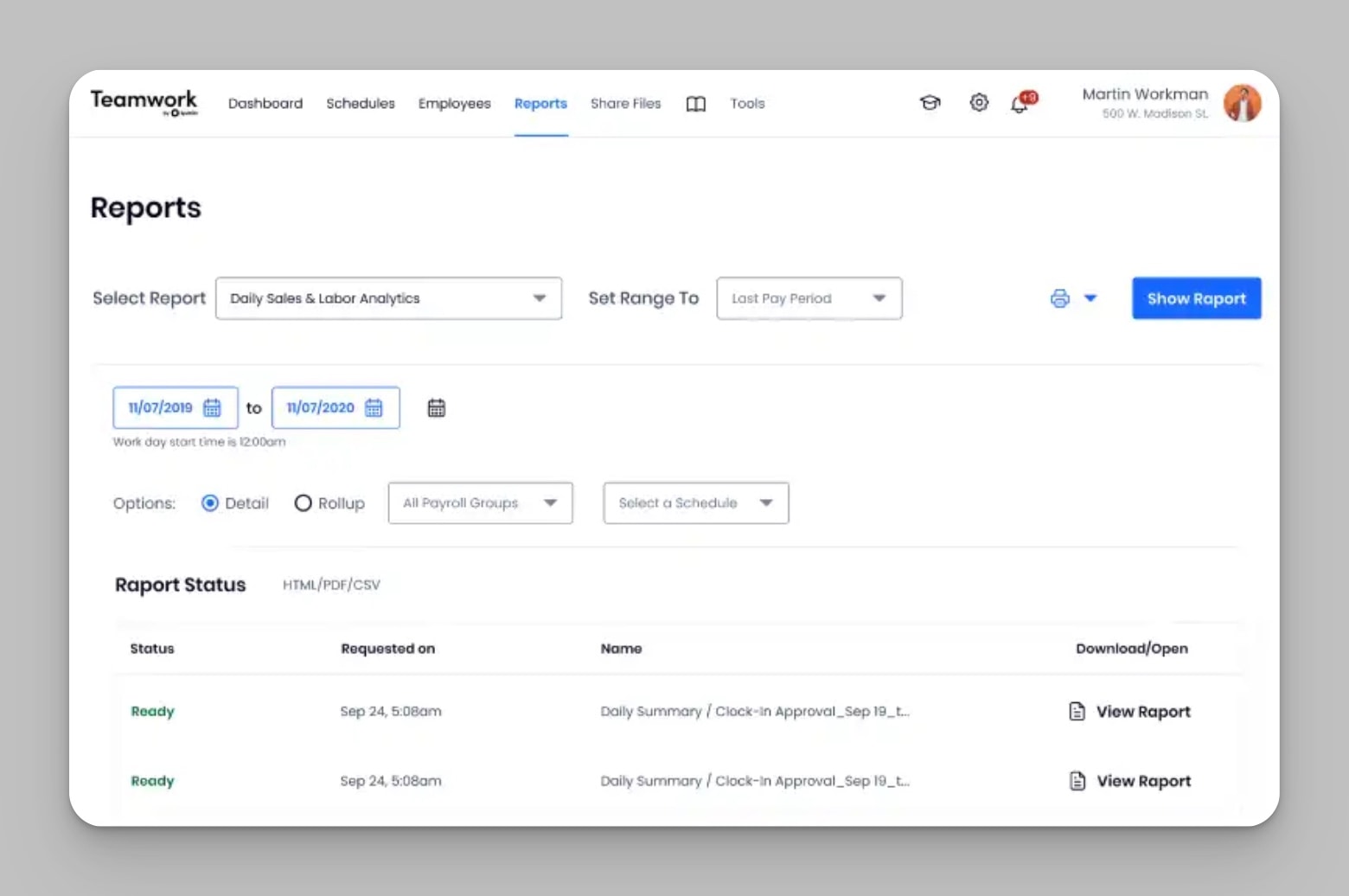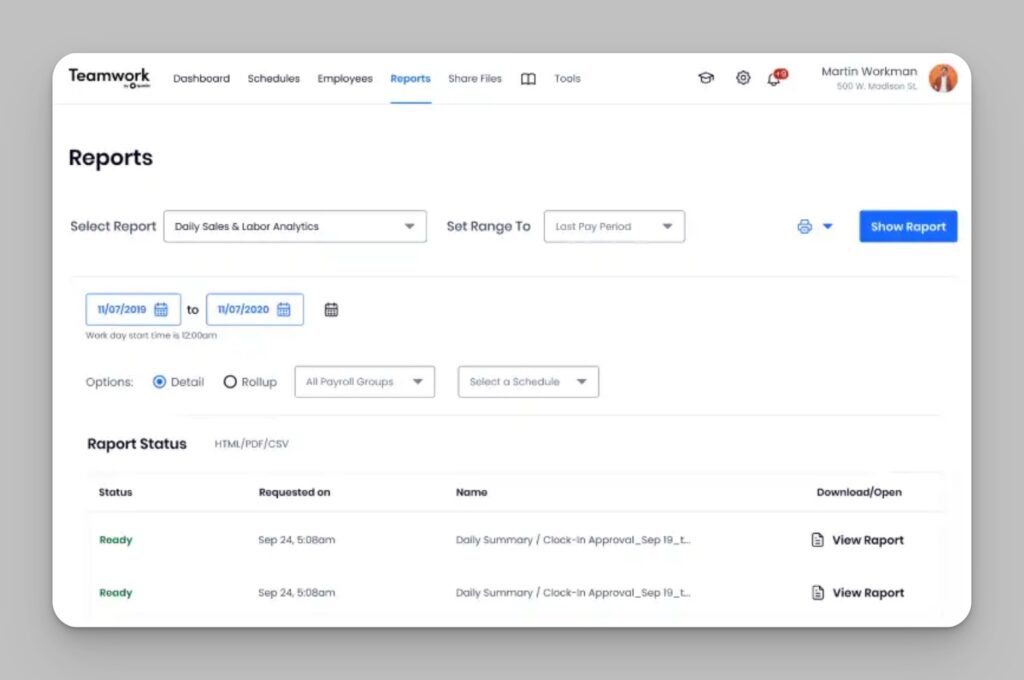 SpotOn Teamwork
This feature helps employee onboarding, management, and compliance with instant two-way sync for data updates. Additionally, with SpotOn Reserve's VIP tag sync, restaurant staff can swiftly identify VIPs and access their preference notes upon arrival.
Local Delivery
SpotOn Delivery, the hassle-free local delivery solution, leverages the DoorDash delivery network at a lower cost, while you retain ownership of your customer data. This safeguards your profit margins for delivery services without necessitating your own delivery staff.
Website Creation
SpotOn's website tool lets businesses establish a professional, mobile-friendly online presence. This is indispensable for ghost kitchens as a fine-tuned website can draw more customers and simplify online orders.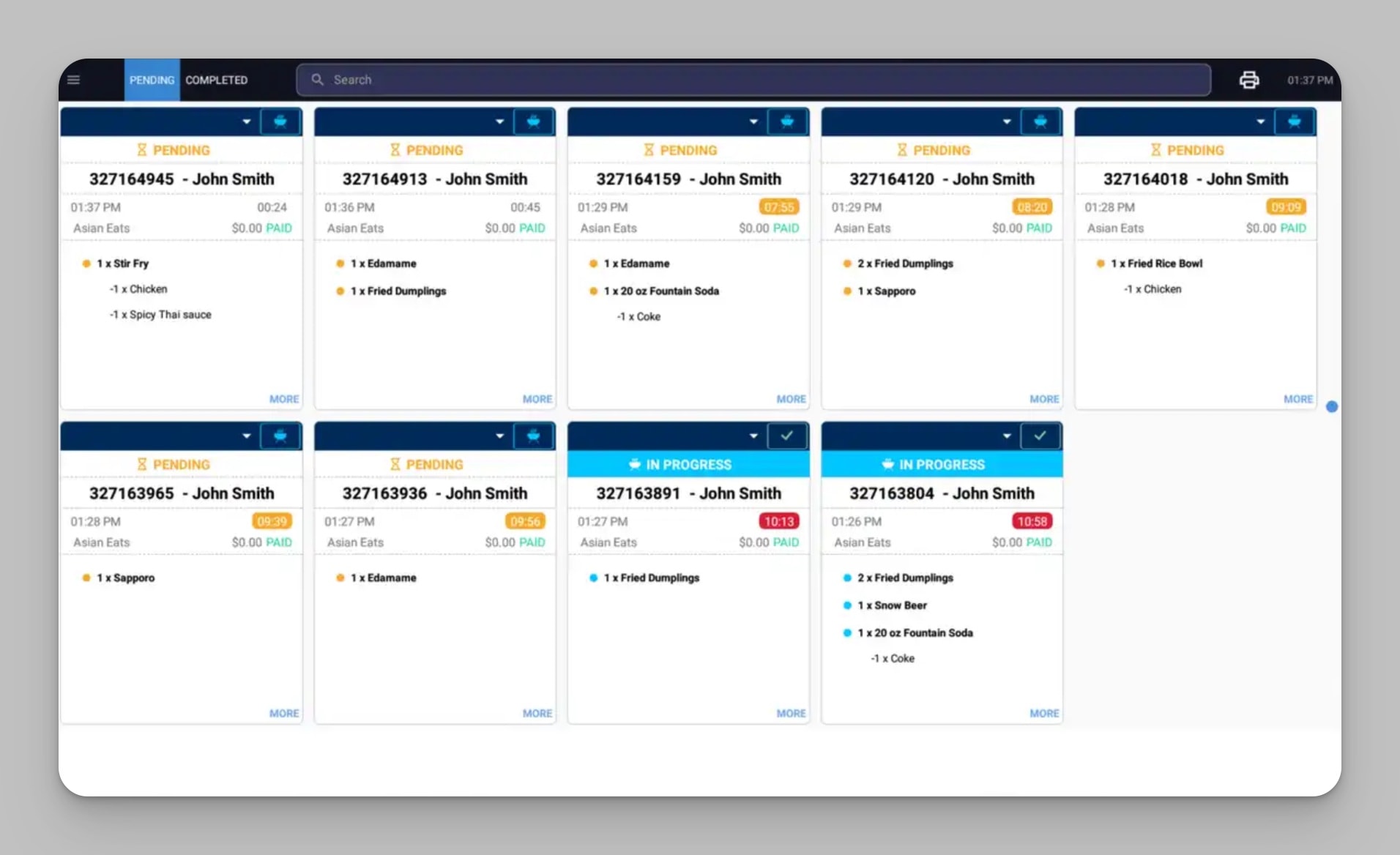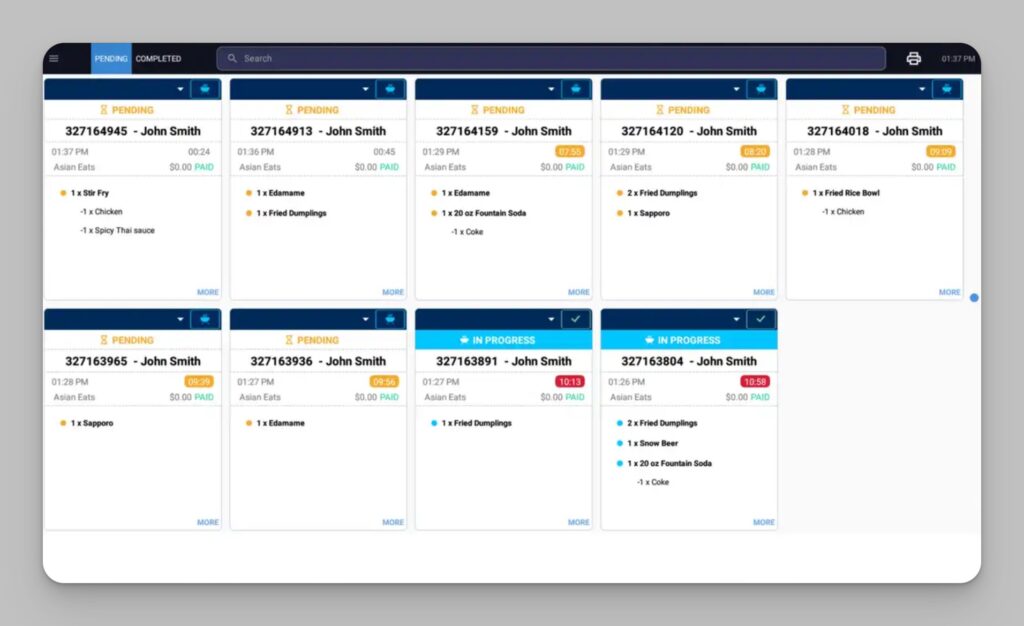 Kitchen Display System (KDS)
SpotOn's KDS efficiently organizes kitchen processes. It offers comprehensive, real-time order tracking for increased efficiency and expedited service delivery.
The KDS also provides advanced routing options for entire orders or individual items to specific stations, improving your kitchen's workflow and increasing order fulfillment capacity.
Designed for easy staff onboarding, the system supports photo-based menu items highlighting ingredients, preparation instructions, and more.
The KDS feature enables on-the-move order completion, especially handy for curbside pickups.
Marketing Tools
SpotOn offers an array of automated marketing tools that can enhance your customer base and ensure repeated visits.
Initiate and send marketing campaigns via their user-friendly drag-and-drop editor, which include email marketing, time-bound deals, and Facebook campaigns.
The platform presents automated campaign instruments and an intuitive dashboard for efficient workflow.
It simplifies the collection of customer contact information for consistent communication and encouragement of repeated business.
The marketing tools are designed for ease of use, requiring no prior marketing expertise for effective customer engagement.
Where SpotOn Falls Short
It only works with SpotOn's hardware, which could disadvantage businesses that have already invested in other POS hardware or prefer a different hardware provider.
Using payment processing services other than SpotOn's can be expensive. SpotOn charges a commission of 1.99% + $0.25 for regular transactions, which is quite low, but 2.99% + $0.25 for reward, corporate, international, and keyed-in card transactions.
The POS system of SpotOn is dependent on the cloud and the offline functionality is not as robust as for example that of TouchBistro
SpotOn offers various add-on features such as loyalty programs and website building, these add-ons can make the overall cost of the system high.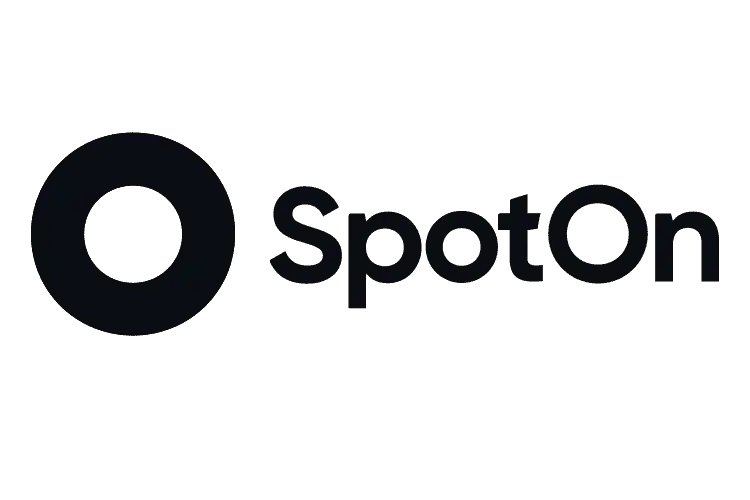 SpotOn Restaurant
Excellent hardware options and no long term contracts
All-in-one POS solution with modern restaurant-specific features for fine-dining, QSRs, cloud kitchens, bars, and food trucks.
Pros:
Very feature rich

Robust hardware devices

Low credit-card processing fees*
Cons:
Requires SpotOn devices

*Requires SpotOn Payment for low fees
Try Now
Our Review
---
TouchBistro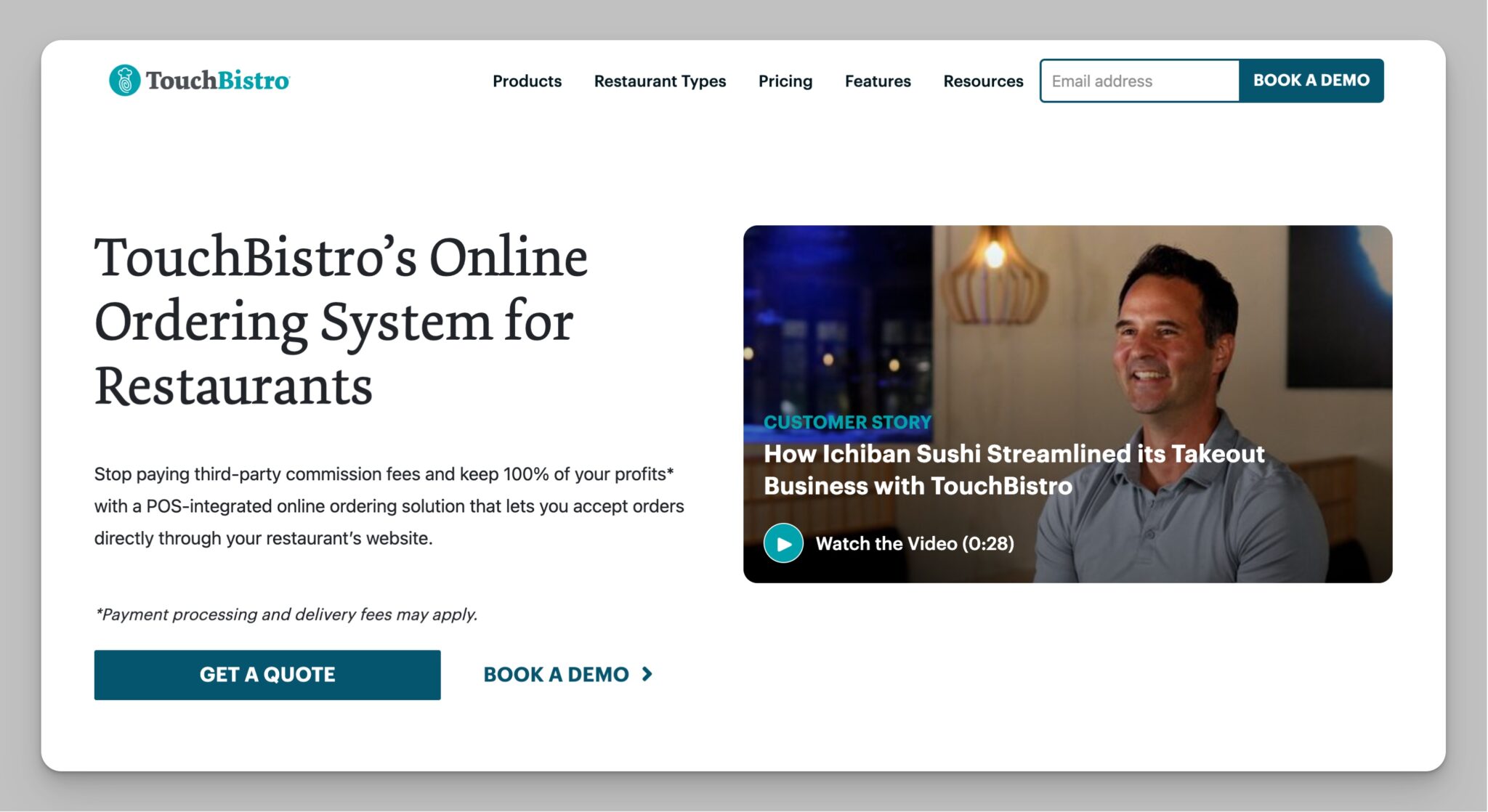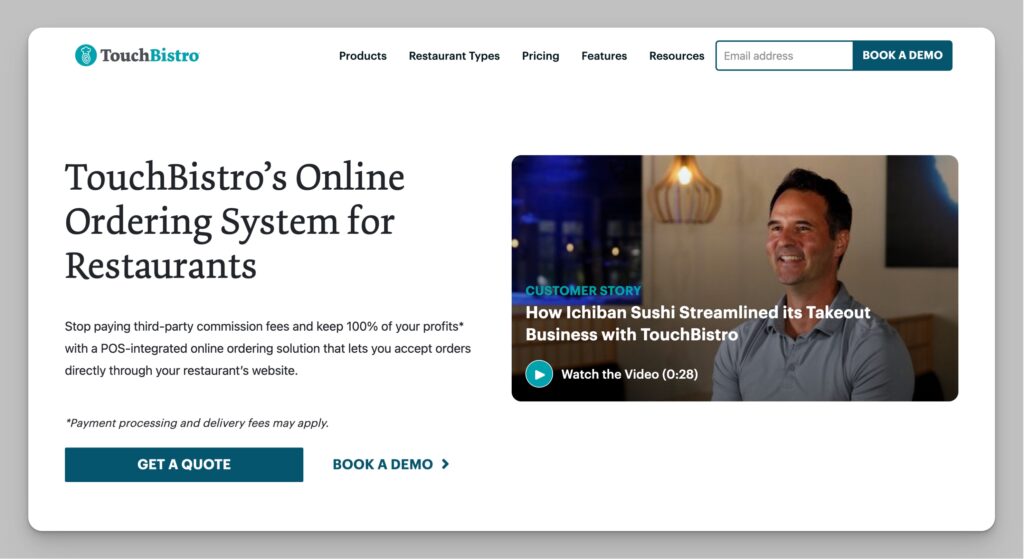 TouchBistro is crafted to suit the fast-paced environment of ghost kitchen operations.
A crucial component of TouchBistro is its integrated marketing platform. This feature enables you to devise personalized promotions, automatically initiate targeted marketing campaigns, and manage customer data with an inbuilt Customer Relationship Management (CRM) system.
With its emphasis on incorporating various customer interaction technologies, TouchBistro fosters improved communication and understanding of customer behaviors and trends.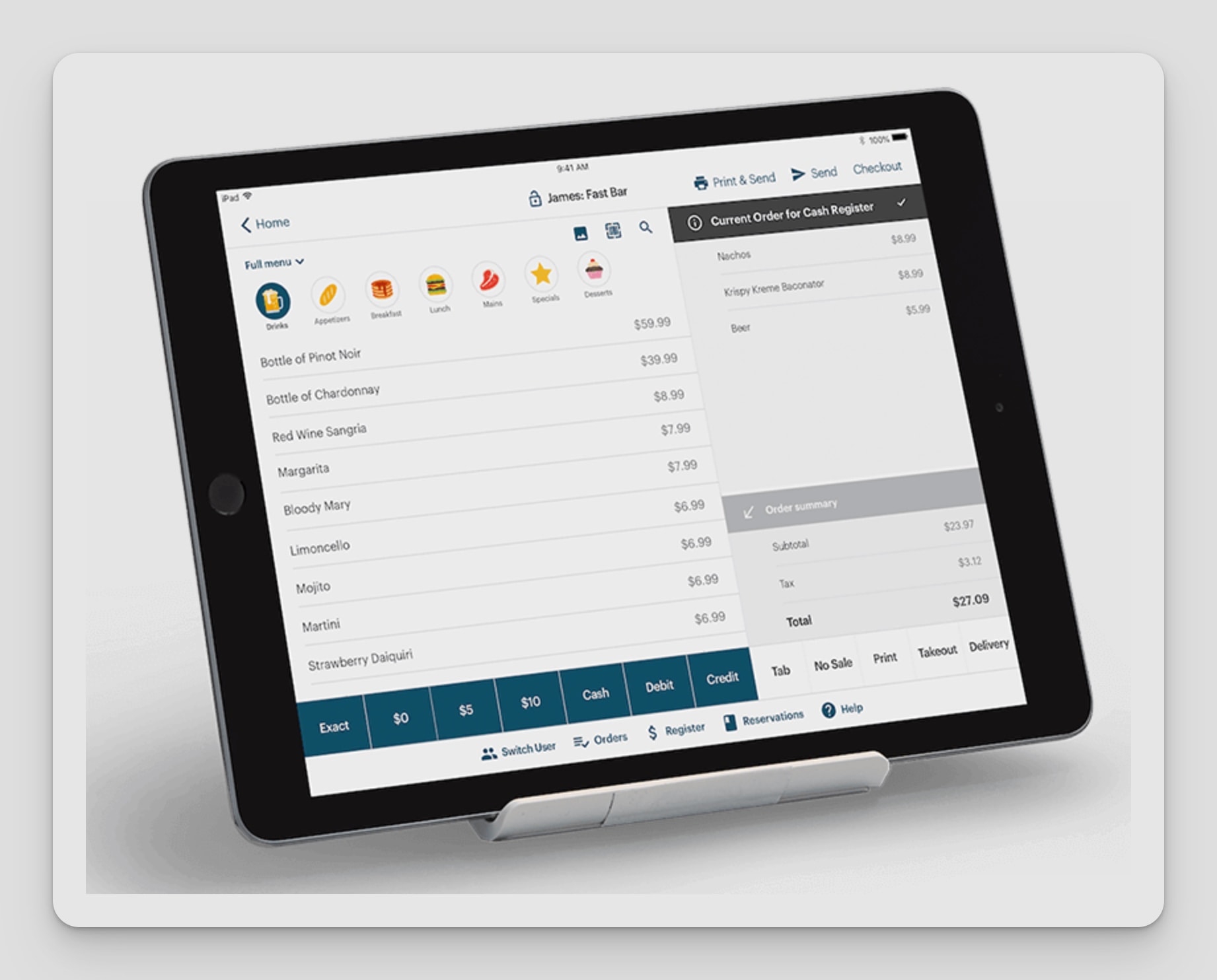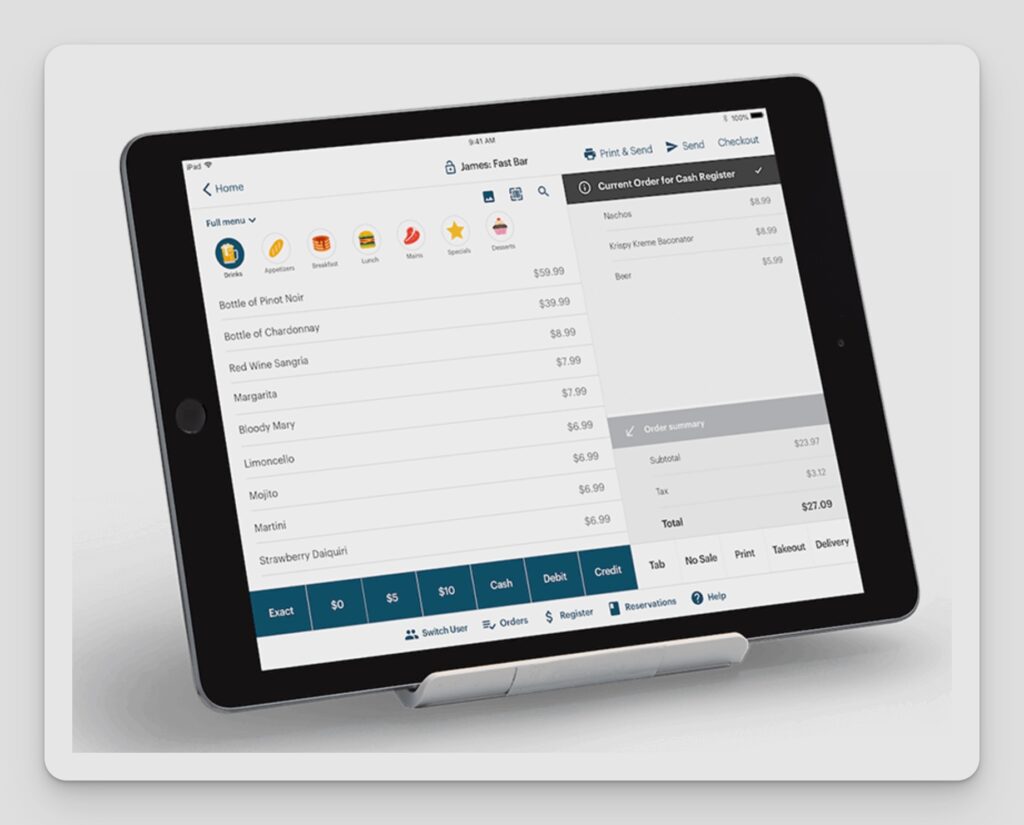 With an aesthetically pleasing, logically organized design, TouchBistro comes packed with various features. To ensure data availability and security, it functions using a hybrid model that combines both cloud and server systems.
Thanks to its intuitive design, mastering TouchBistro is simple, making it a valuable choice for ghost kitchens in need of an uncomplicated, easy-to-learn system.
If you're familiar with the iOS ecosystem, you'll likely catch on to TouchBistro even quicker. Additionally, the system allows you to customize menus and interfaces to your liking, improving long-term efficiency and potentially saving time.
TouchBistro Pricing & Hardware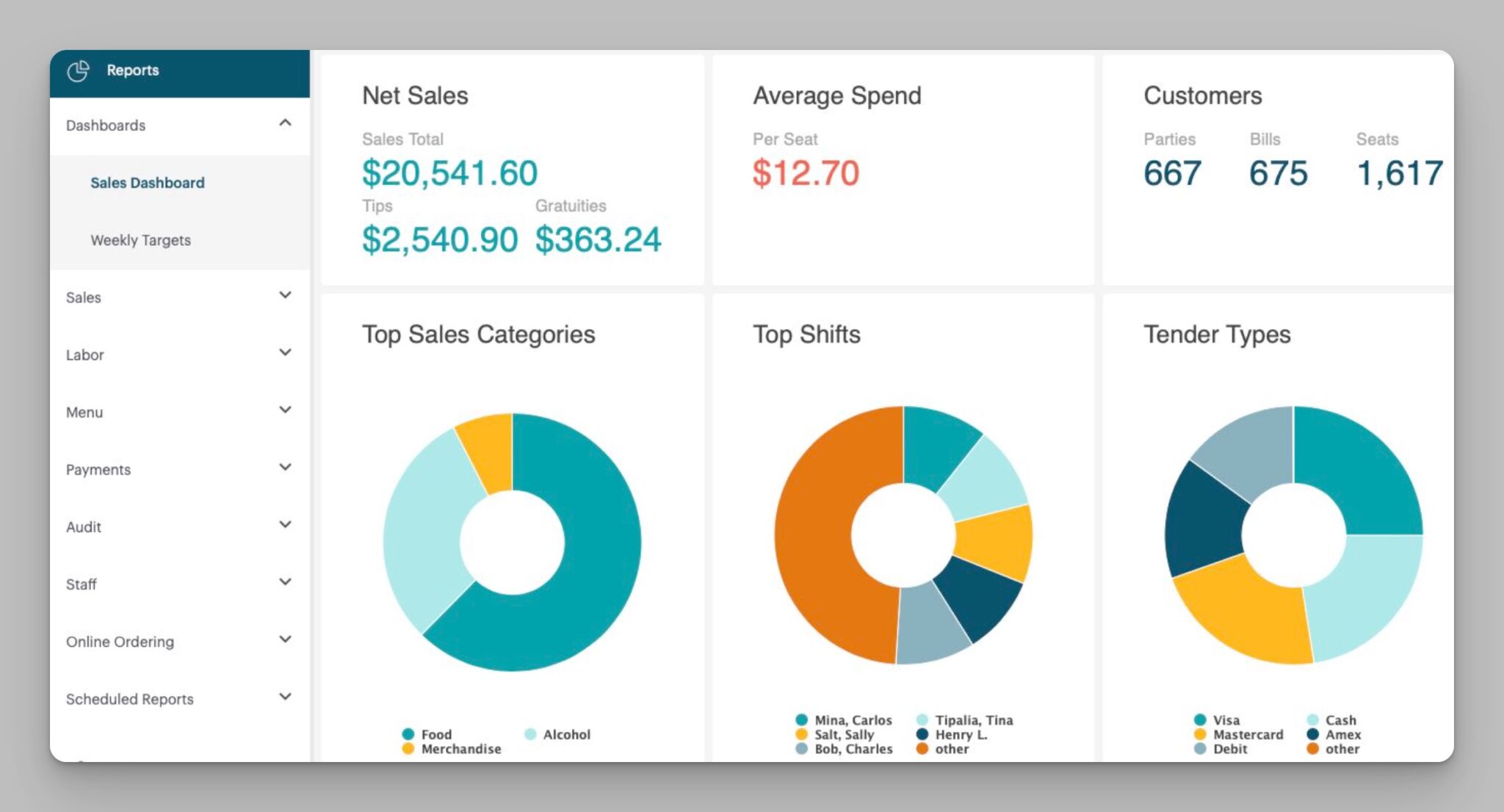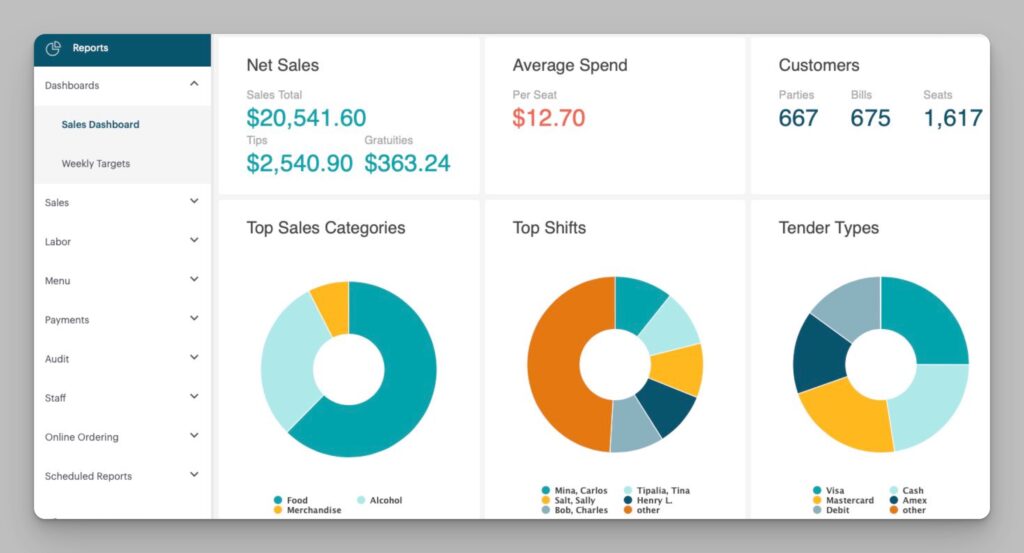 Where TouchBistro Stands Out for Cloud Kitchens
Online Ordering and Delivery
TouchBistro's online ordering system enables you to receive orders directly from your restaurant's website, bypassing third-party commission fees. This initiative is focused on boosting revenue by accepting orders for pickup and delivery via various avenues, including your website, social media channels, and more. Additionally, TouchBistro Marketing integration allows timely delivery of targeted online promotions to your customers.
Menu Management
TouchBistro provides easy management and updates for your online menu from any location. This ensures your menu stays current and aligned with your latest offerings.
Integrated Loyalty Program
Designed to attract online-ordering customers and encourage repeat business, TouchBistro's loyalty program allows customers to place orders, accumulate points, and redeem rewards from any location.
POS System Integration
TouchBistro's online ordering system connects with its POS system, ensuring that you receive immediate notifications of customer orders on your POS system for prompt acceptance.
Commission-Free Delivery Integration
Integrated with DoorDash Drive, TouchBistro offers a commission-free delivery solution—helping to move your orders from door-to-door without requiring separate delivery staff.
Digital Gift Card Integration
TouchBistro enhances the customer experience and drives additional revenue by allowing customers to pay for online orders using digital gift cards. It also enables them to purchase digital gift cards directly from your online ordering page.
Where TouchBistro Falls Short
While it is a highly regarded system, there are some areas for improvement and potential drawbacks to consider.
Limited integrations: While TouchBistro has some integrations available, it may not have as many options as other POS systems. This could be a limiting factor for businesses that require more extensive integrations with other software and platforms.
Limited reporting: There are certain areas where the reporting features need improvement to generate more useful sales, employee performance, and inventory reports.
Description:

Designed by restaurant industry veterans

Best for cloud and ghost kitchens looking for a well designed, feature-rich, fast and secure cloud/server-based POS system.

Pros:

Fast & easy-to-use

Integrated loyalty and delivery features

Excellent offline functionality

Cons:

Fewer integrations than competition

Somewhat limited reporting features

Price starts at $69/month
Description:
Designed by restaurant industry veterans
Best for cloud and ghost kitchens looking for a well designed, feature-rich, fast and secure cloud/server-based POS system.
Pros:
Fast & easy-to-use

Integrated loyalty and delivery features

Excellent offline functionality
Cons:
Fewer integrations than competition

Somewhat limited reporting features
Price starts at $69/month
---
Truffle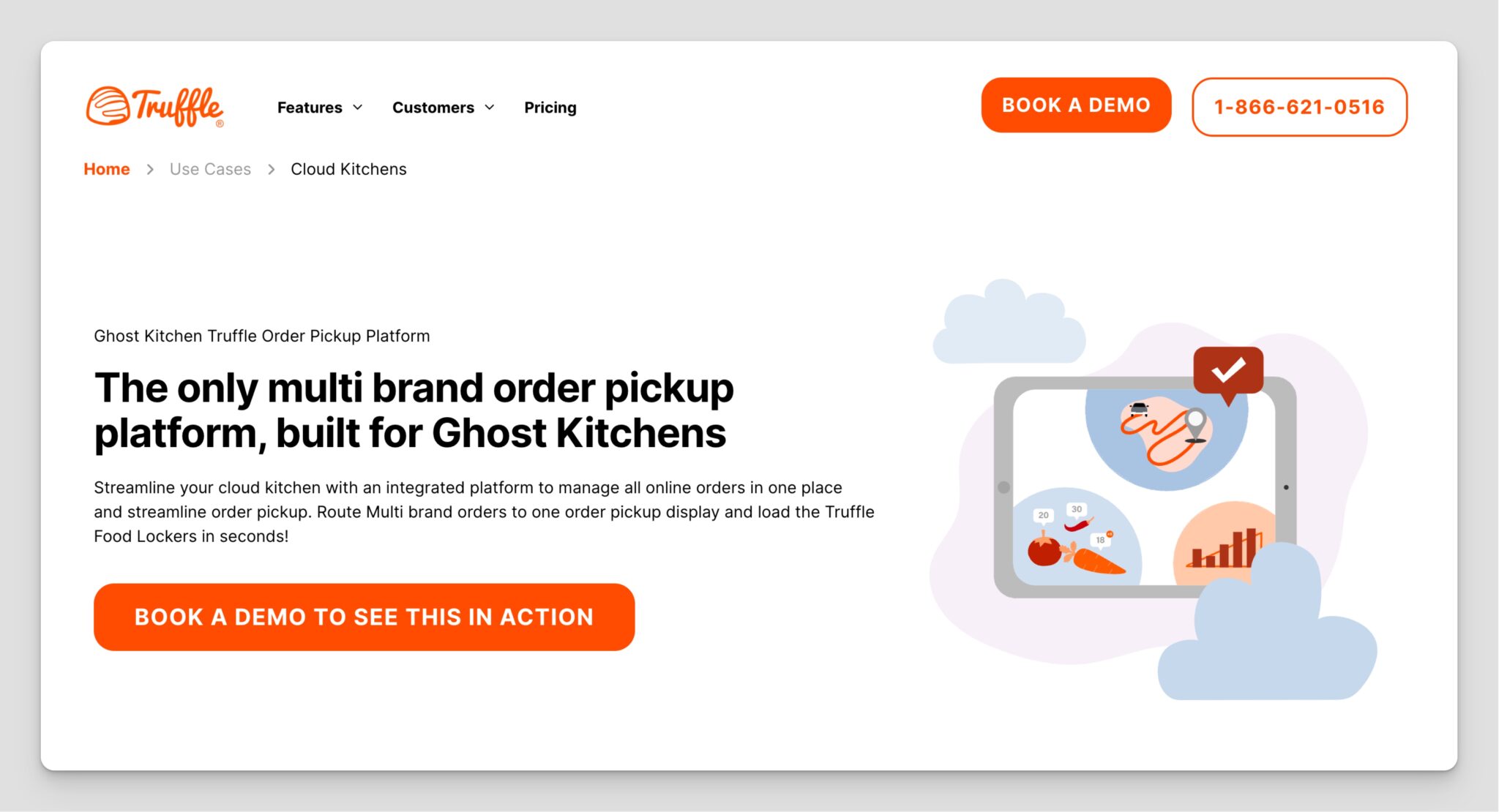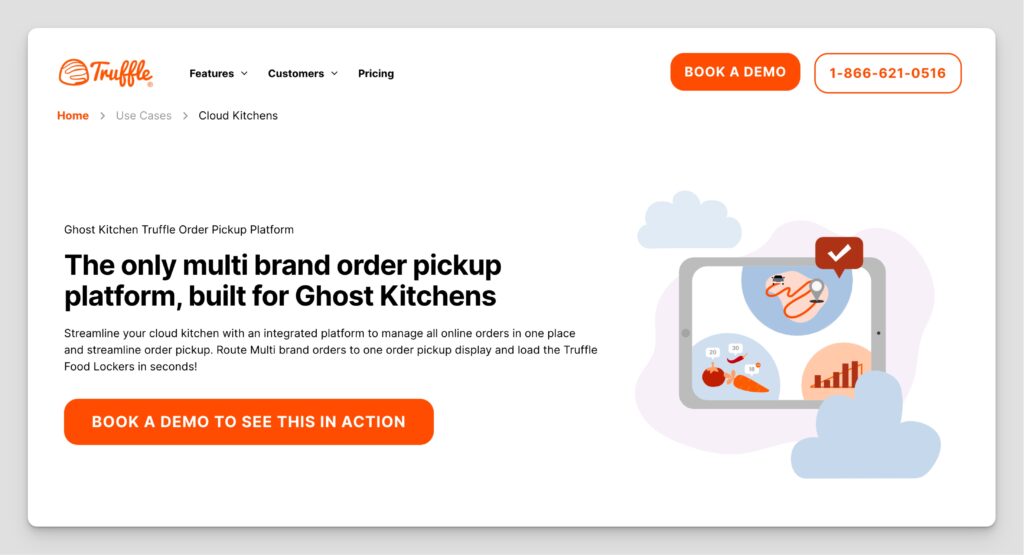 Truffle Systems is a company specializing in food service point-of-sale systems. Established in 2010, Truffle has its headquarters in Canada. They have solutions tailored for various quick-service food and beverage establishments, including ghost kitchens.
One of Truffle's standout offerings that may interest you is the "GoBox," a contactless food locker system that simplifies the pickup process for your customers and drivers. This feature helps in reducing crowding in front-of-house areas and prevents confusion during deliveries.
Truffle's platform also offers you a unified dashboard, giving you control over operations ranging from front-of-house to back-office. This includes ordering, fulfillment, pickup, delivery, inventory management, and customer loyalty programs.
Why You Should Choose Truffle POS for Your Ghost Kitchen
Truffle's Point of Sale (POS) system is uniquely tailored to meet the specific needs of cloud kitchens. It offers a unique blend of innovation, custom solutions, and ground-breaking features. Here's why:
Innovation and Efficiency
Efficient Management: With Truffle's system, you can efficiently manage multiple locations and franchises, saving precious time when generating reports.
Timely Delivery: Using a mobile driver app, Truffle ensures on-time delivery of your orders, enhancing customer satisfaction.
Larger Online Orders: Truffle's platform encourages your customers to place larger online orders, compared to traditional over-the-phone orders.
Labor Savings: Truffle significantly reduces labor costs through streamlined kitchen and order management.
Tailored Solutions for Growth
Customized for Ghost Kitchens: Truffle has solutions that simplify the scaling of your pizza shop, whether it's a single-location or multi-location operation.
Empowering Local Businesses: Unlike commission-driven platforms, Truffle focuses on empowering local cloud kitchen like yours with sustainable, affordable tools that yield tangible results.
Revolutionary Features
GoBox: Truffle's GoBox is a game-changer, offering a scan, grab & go system that streamlines the pickup process, enhancing guest experience, and freeing up your staff.
Driver App: The driver management tools provide a comprehensive view of your delivery force, complete with live order tracking for customers.
Real-Time Reporting: Truffle's single dashboard with real-time data illustrates the success of your business, a vital tool for attracting potential franchisees.
In summary, Truffle POS stands out for ghost kitchens by offering a specialized, comprehensive solution that combines efficiency, customization, and cutting-edge features, all aimed at enhancing your operations and growth.
Where Truffle Falls Short
Pricing Structure: While Truffle Systems is affordable, their pricing model is dependent on a variety of factors which might make it less predictable and potentially more expensive for some businesses.
Integration Challenges: The system may face difficulties in sharing information with other systems such as inventory management, complicating the accounting process.
Software Complexity: As a multi-platform software that allows customization of restaurant layout, menu, etc., users may find it complex and challenging to use without proper training.
Truffle Payment Processing and Pricing
Truffle works with major payment processors such as Stripe, Global Payments, and Moneris, and also offers recommended hardware configurations that work seamlessly with their POS software.
Truffle POS's pricing model is based on the size of the business. The pricing plans start at $79.99 and can vary depending on the specific needs of the business.
Key takeaways:
Truffle POS offers innovative and efficient tools for managing your ghost kitchen.
It provides tailored solutions to help you grow your business.
Its revolutionary features, such as GoBox and the Driver App, streamline operations and enhance customer experience.
Truffle POS focuses on empowering local pizzerias with sustainable, affordable tools.
Truffle's all-in-one management software includes menu management, customer loyalty programs, real-time reporting, and more.

Truffle Systems
Truffle POS enhances eateries with innovative tools like GoBox and the Driver App.
This all-in-one software empowers local restaurants with menu management, customer loyalty programs, and real-time reporting.
Pros:
All-in-One Management Software

Fast pickup process

Includes driver management app
Cons:
Limited integrations

Sparse help section on website
Try Now
---
Summary: Choosing the Right POS System
Opting for the right POS system is a pivotal business decision for any ghost kitchen. A well-suited system can refine operations, bolster efficiency, elevate the customer experience, and thereby, propel business growth and success.
Square for Restaurants, Toast, GoTab, Lightspeed, SpotOn, and TouchBistro each bring to the table robust solutions tailored to cater to the specific needs of ghost kitchens. All these systems equip you with features such as online ordering, delivery integration, inventory administration, and advanced analytics. Yet, each of them carves out a unique niche.
(Click the links below for my full review of each system).
Square stands out with its exhaustive suite of features and seamless integration with other Square products. Toast sets the standard with its robust online ordering system and customer-facing technology, designed to nurture repeat clientele. GoTab distinguishes itself with a flexible, commission-free solution that's straightforward to implement and operate.
Lightspeed shines with its customizable online ordering experience and advanced insights feature. SpotOn captivates with its marketing automation tools and website creation element. Lastly, TouchBistro impresses with its integrated loyalty program and delivery integration feature, aimed at enhancing the customer experience and catalyzing additional revenue.
Choosing the perfect POS system for your ghost kitchen invariably hinges on your specific requirements and context. Consider crucial factors such as your budget, the scope of operations, desired integration platforms, and features of paramount importance to your business.
By meticulously scrutinizing each offering, and aligning it with your business objectives, you're well-positioned to select the POS system best suited to your ghost kitchen's needs.
You might also like:
How to Start a Ghost Kitchen Business: A Step-by-Step Guide
How to Write a Ghost Kitchen Business Plan (With Examples)
How to Choose The Best Ghost Kitchen Business Model
What Is a Ghost Kitchen? A Guide to Virtual Restaurants
FAQ