If you're on the hunt for the best pizza shop POS, then you've come to the right place.
For pizza shops, a top-tier POS system is no longer just a nice-to-have, but an essential tool for success. These systems can simplify operations, improve customer interaction, and provide data-driven insights to propel your business forward.
In this guide, I'll explore the standout features, benefits, and potential drawbacks of our top-rated POS systems in 2023.
However, the best POS system for your pizzeria isn't simply about the latest features or the biggest brand names. It's about finding a solution that fits your shop's unique requirements and budget.
We researched all the major food service and restaurant POS systems to find the ones best suited for pizza shops. Here they are:
The Top 7 Pizzeria POS Systems In 2023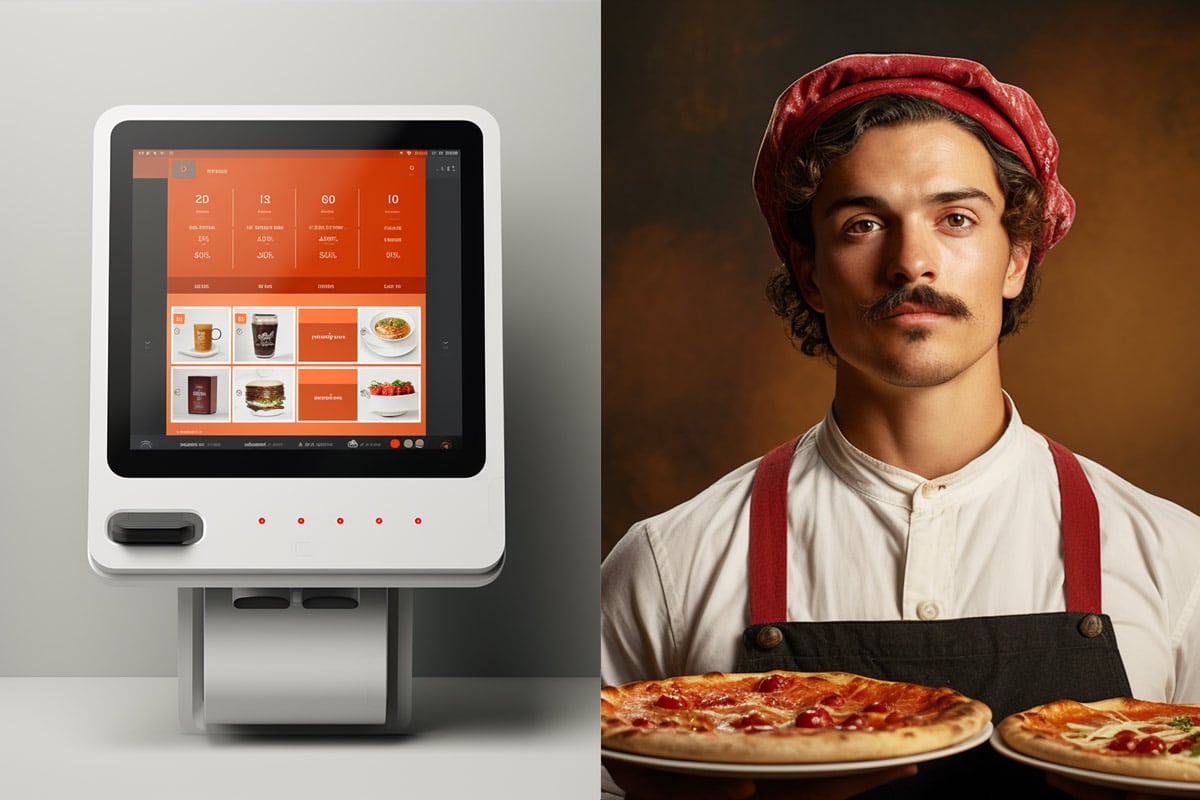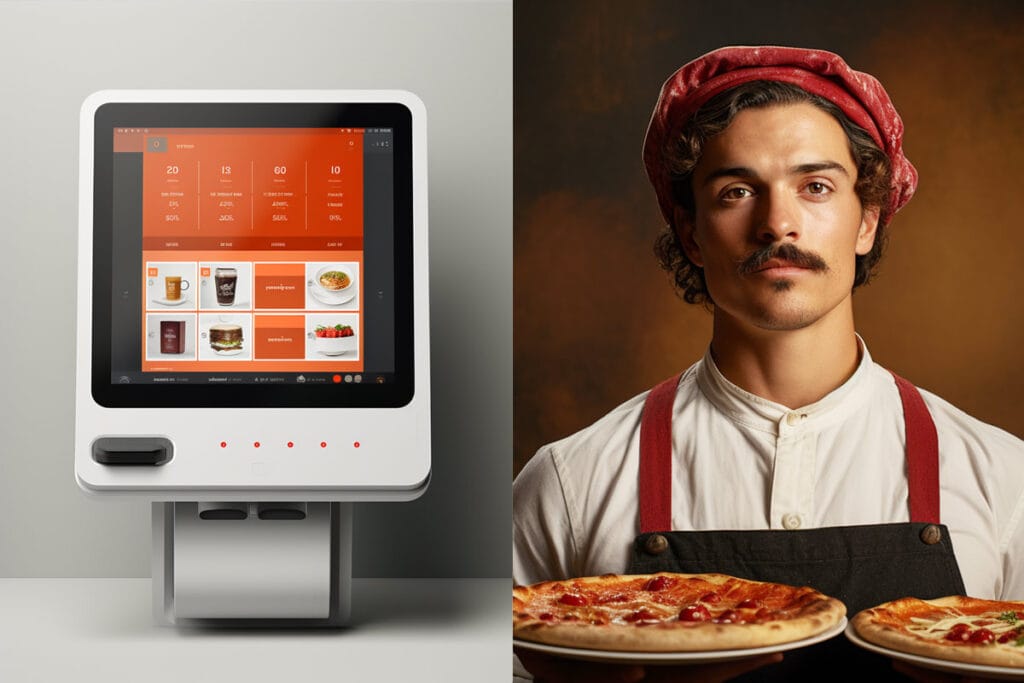 What is a Pizza POS System?
As a pizzeria owner, you know that running a successful restaurant involves more than just making delicious pizza. That's where a Pizza Point of Sale (POS) system comes in. A Pizza POS is a complete software system designed to help manage all aspects of your pizzeria operations, from order taking, delivery tracking, marketing, and everything in between.
The POS system acts as the central hub for your business, integrating various functions such as sales tracking, inventory management, customer relationship management, and financial reporting. It's essentially your one-stop solution for managing the various aspects of your pizzeria.
But why do you need a specialized Pizza POS? Well, pizzerias have unique requirements that some restaurant POS systems may not adequately cater to. Here are some of these special needs:
Customizable Menu Options: Pizzas are highly customizable – different sizes, crusts, toppings, and sauces. A good Pizza POS should allow for easy customization of menu items to accurately capture customer orders.
Delivery Management: Many pizzerias offer delivery services. Therefore, a Pizza POS should include features like driver assignment, delivery tracking, and mapping routes to ensure efficient and timely deliveries.
Split Payments and Checks: Pizzerias often cater to groups who may want to split bills or pay separately. Your POS system should be able to handle this with ease.
Loyalty Programs: A built-in loyalty program can help encourage repeat business. Your Pizza POS should allow you to easily set up and manage customer loyalty programs.
Online and Mobile Ordering: With the rise of online food ordering, your POS system should be able to seamlessly integrate with online and mobile ordering platforms.
Real-Time Reporting: You need to keep track of your sales, inventory, and other key metrics. A Pizza POS should provide real-time reports to help you make data-driven decisions.
Inventory and Recipe Costing: With the right POS software, you can automatically calculate the profitability of each menu item and adjust prices based on fluctuating ingredient costs. This enables you to design a menu that highlights the most profitable items, helping you stay profitable.
In summary, a modern cloud-based POS is an essential tool for pizzerias. Be sure to choose a system that caters to your specific needs and budget. That way, you can be sure of getting the most out of your POS system for years to come.
Slice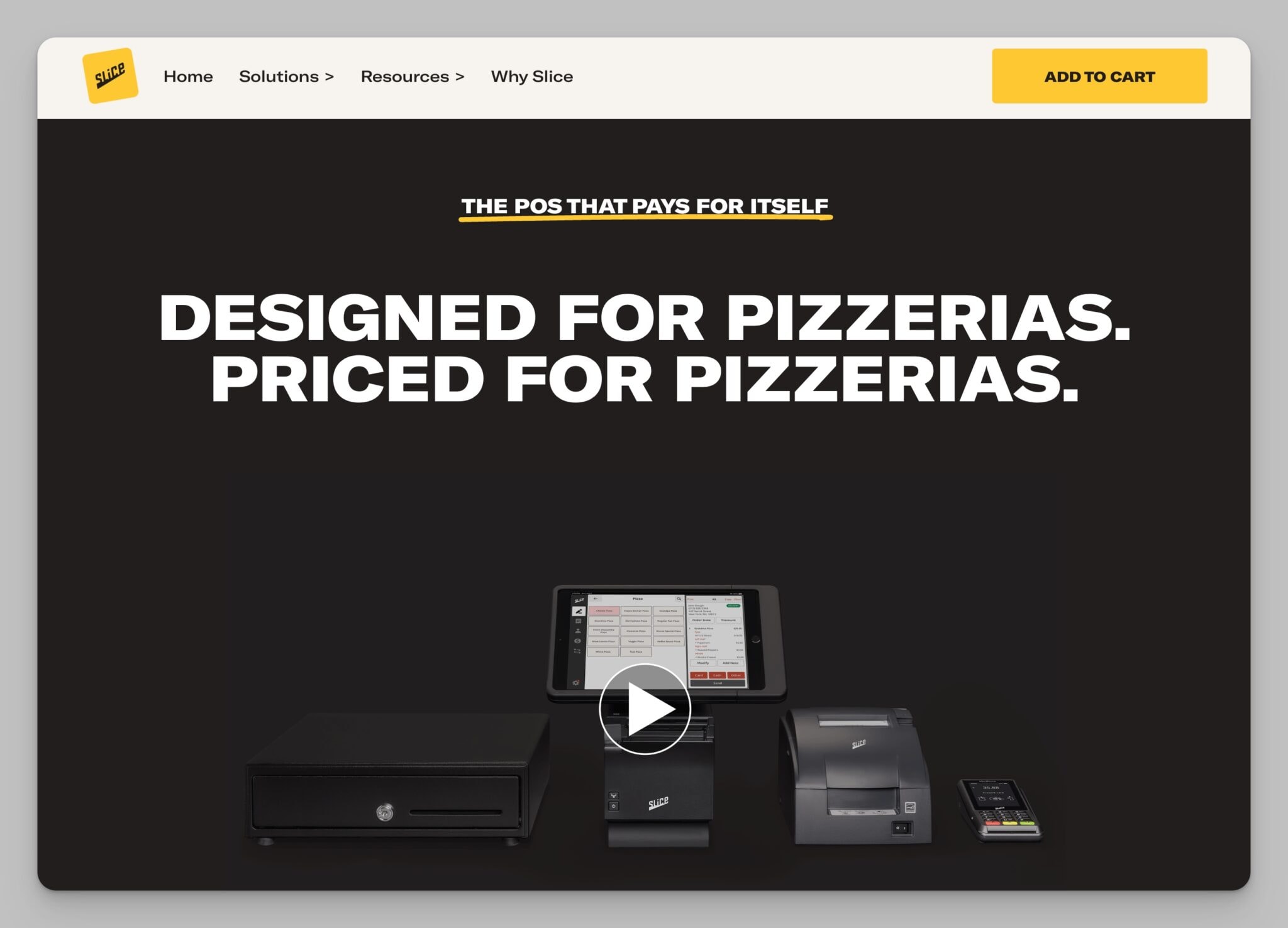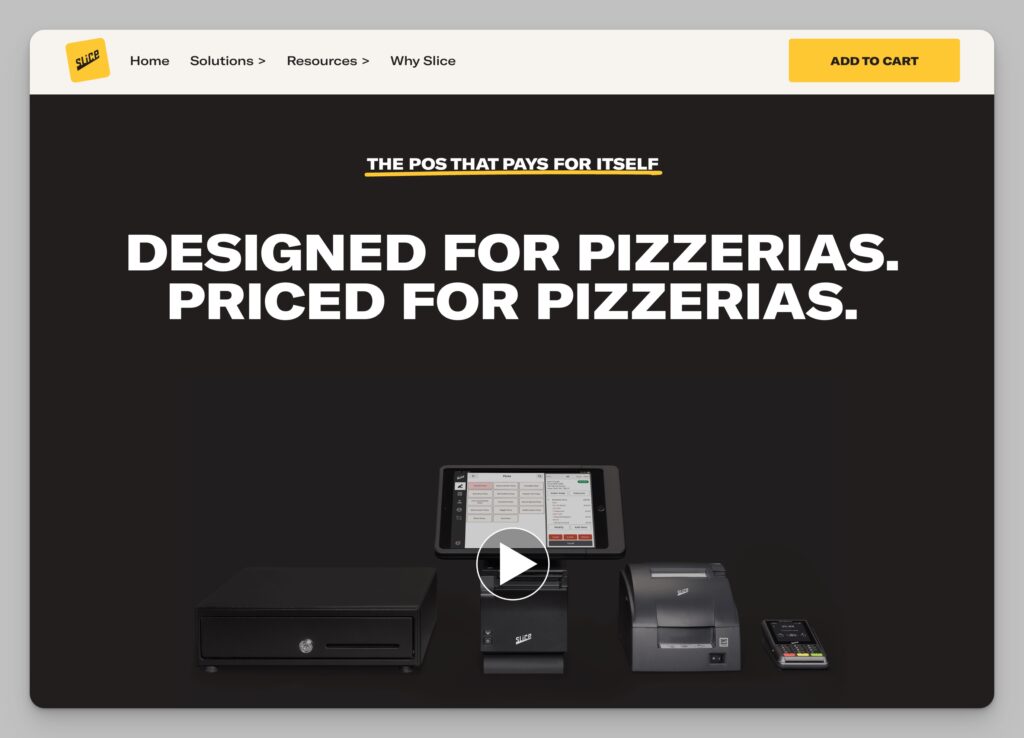 Slice Register is a Point of Sale (POS) system founded on the belief that local pizzerias should enjoy the advantages of big chains without losing their independence.
Established in 2015 in New York City, Slice has grown to partner with restaurants in over 3,000 cities across all 50 states. It forms the nation's largest community of independent pizzerias.
Slice wants to empower pizzerias through specialized technology, data insights, targeted marketing, and collective buying power.
This approach enables pizzerias to cater to digitally-minded customers and build successful local businesses.
Why You Should Choose Slice Register as Your Pizza Shop POS
Slice Register is specifically designed to cater to the unique needs of pizzerias. It stands out as an excellent POS solution for numerous reasons.
Tailor-Made for Pizzerias
Slice Register is specially designed in collaboration with food service businesses, specifically for pizzerias. It gets pizzeria business like no other, effortlessly managing those customary pizza orders, for instance, a "complete salami pizza with pineapples on half and jalapenos on the remaining".
Easy-to-use and Employee Friendly
The system is built around an intuitive iPad-based interface, making it simple for your staff to learn and use. Its quick menu features are designed to be user-friendly and easy to master, allowing your employees to serve customers more effectively.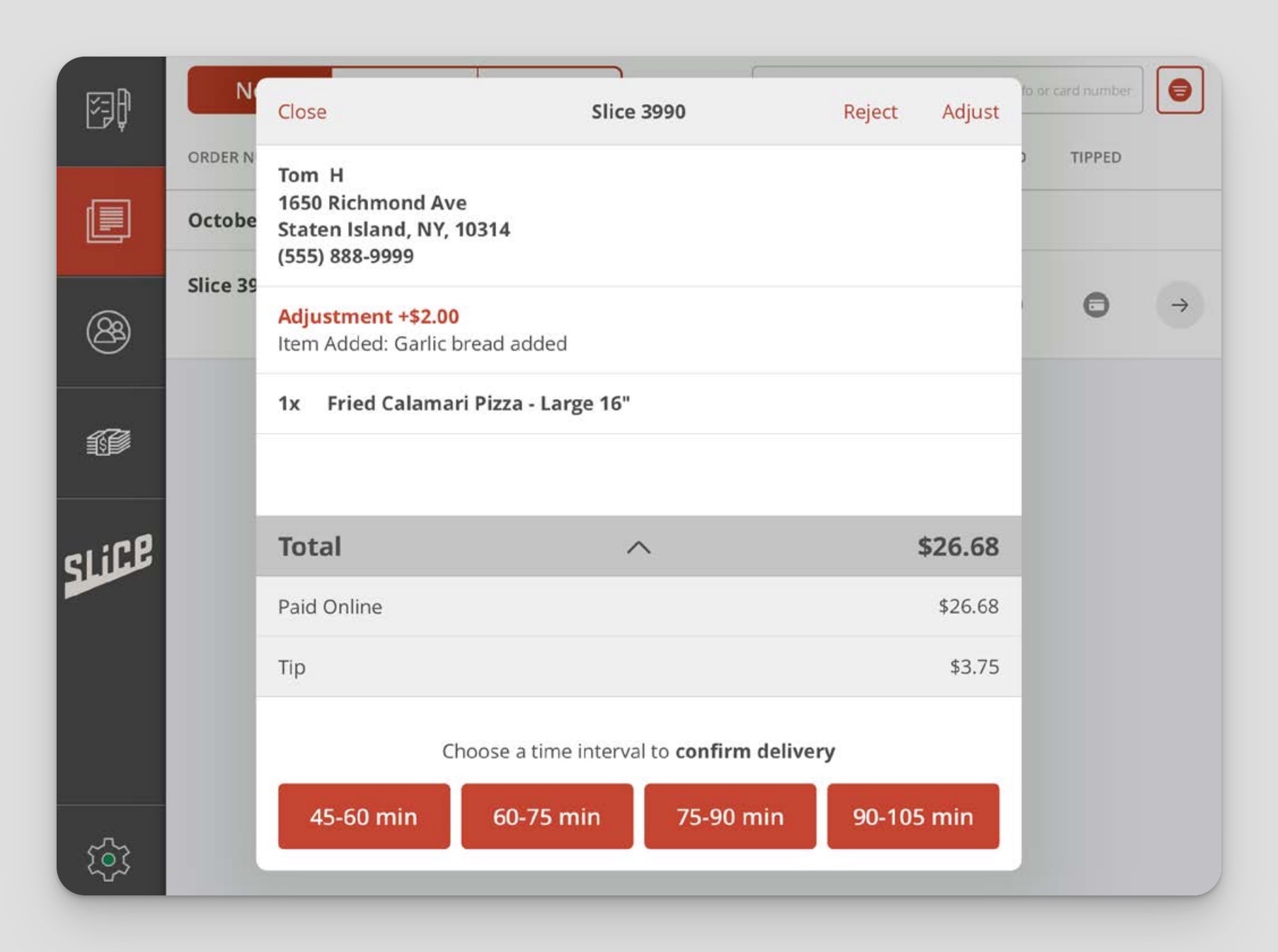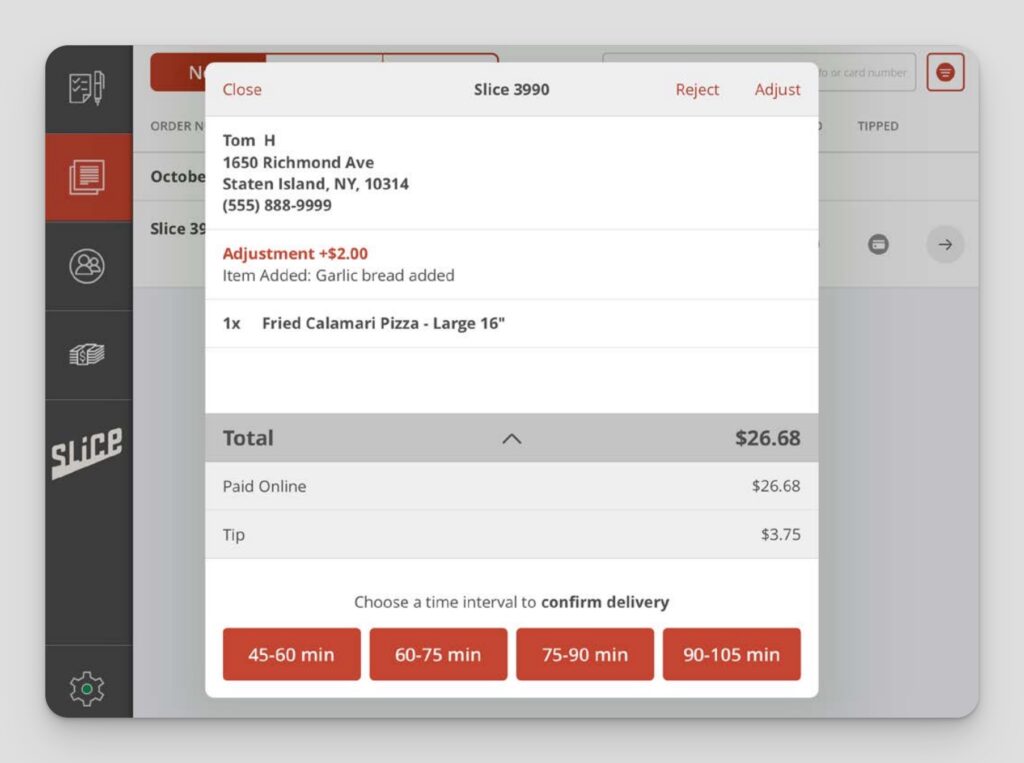 Centralized Online Orders
Slice allows you to integrate every major online ordering platform (including Grubhub, DoorDash, Uber Eats, and 30+ more) directly into your POS system, centralizing all your online orders and reducing order management complexity.
Effective Customer Relationship Management
With a built-in caller ID, Slice Register lets you see a customer's entire order history the second they call, enabling quick and easy reorders. This feature enhances relationships with returning clientele and saves time while strengthening your customer base.
Streamlined Operations
Slice Register eliminates slow, handwritten orders, and the need to manually walk tickets from the counter to the kitchen. Plus, you can control your menu across all platforms from within a single system, and access instant daily, weekly, or monthly sales reports with just a few clicks.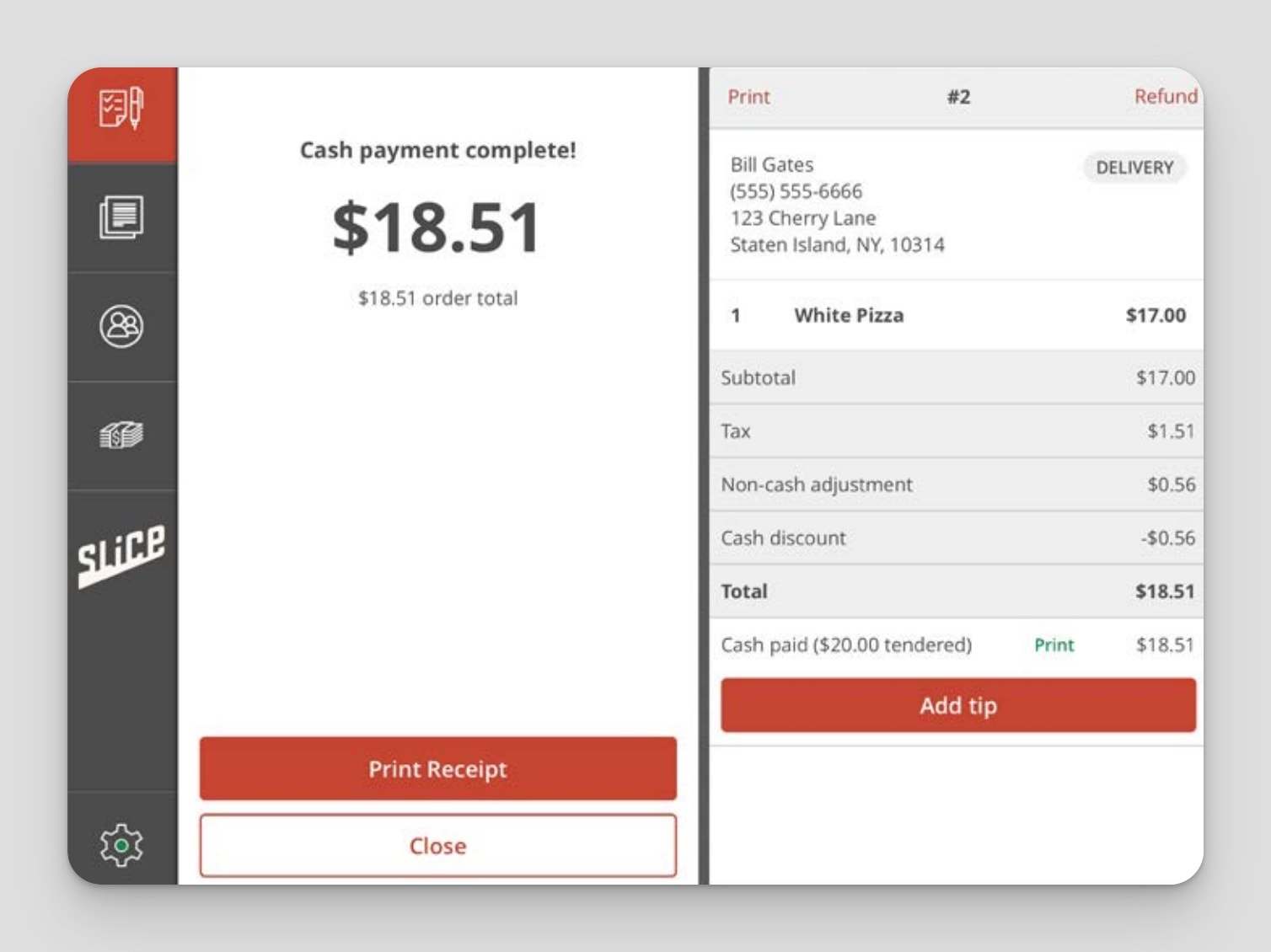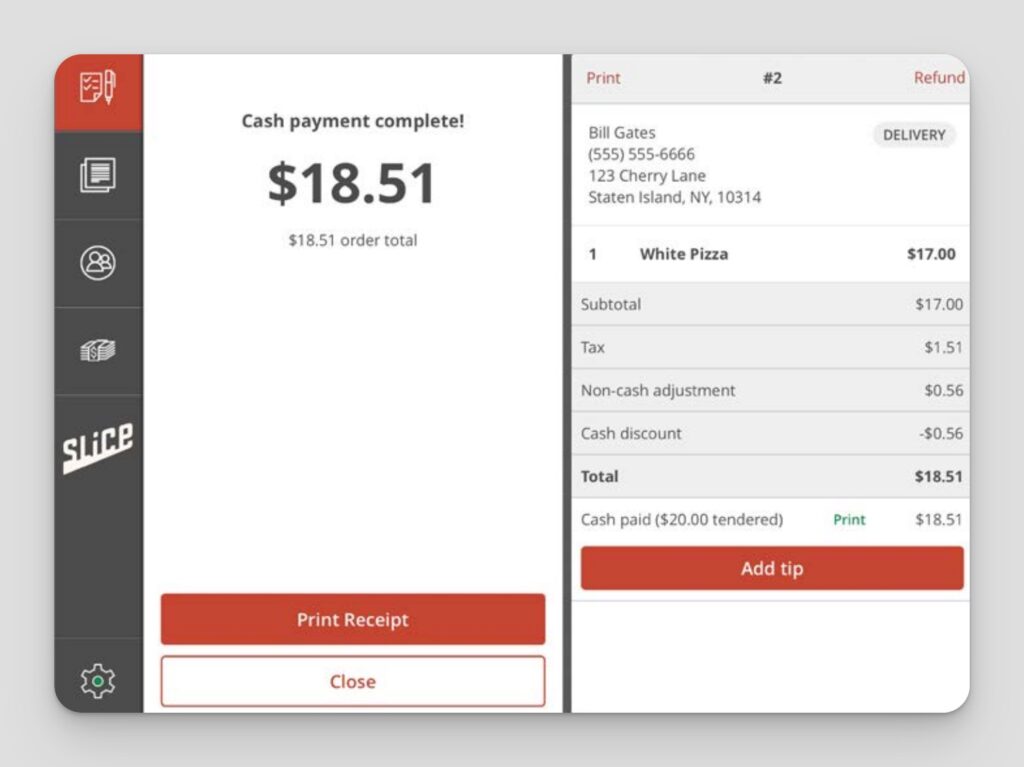 Increased Order Size
Digitizing orders via Slice Register not only saves you time but also grows your order size. Digital orders are, typically, twice the size of phone and walk-in orders. Additionally, the system supports an optional built-in rewards program that can lead to an increase in repeat customers.
Labor Optimization and Cost Savings
Using Slice Register can help both size your staffing needs and improve employee efficiency. It helps prevent lost orders and reduces order mistakes, and the system has been shown to increase tips.
Pizzeria Marketplace by Slice
With Slice's Pizzeria Marketplace, you can connect with pizza lovers locally. This platform boosts your visibility, increases orders, and encourages customer loyalty, all at industry-leading rates. You'll be discoverable on popular platforms like TripAdvisor, Apple Maps, and Google Food Ordering.
Where Slice Falls Short
While Slice POS offers a range of benefits for pizzerias, there are some areas where it falls short. Here are some potential weaknesses based on the search results:
Compatibility Issues: Some users have reported compatibility issues with their existing POS systems, which can create extra work. This may require users to adapt their current operations to fully utilize the Slice system.
Lack of Integration: Users have mentioned a lack of integration as a drawback. This could potentially limit the effectiveness of the system if it cannot be seamlessly integrated with other platforms or systems that a pizzeria might be using.
Toast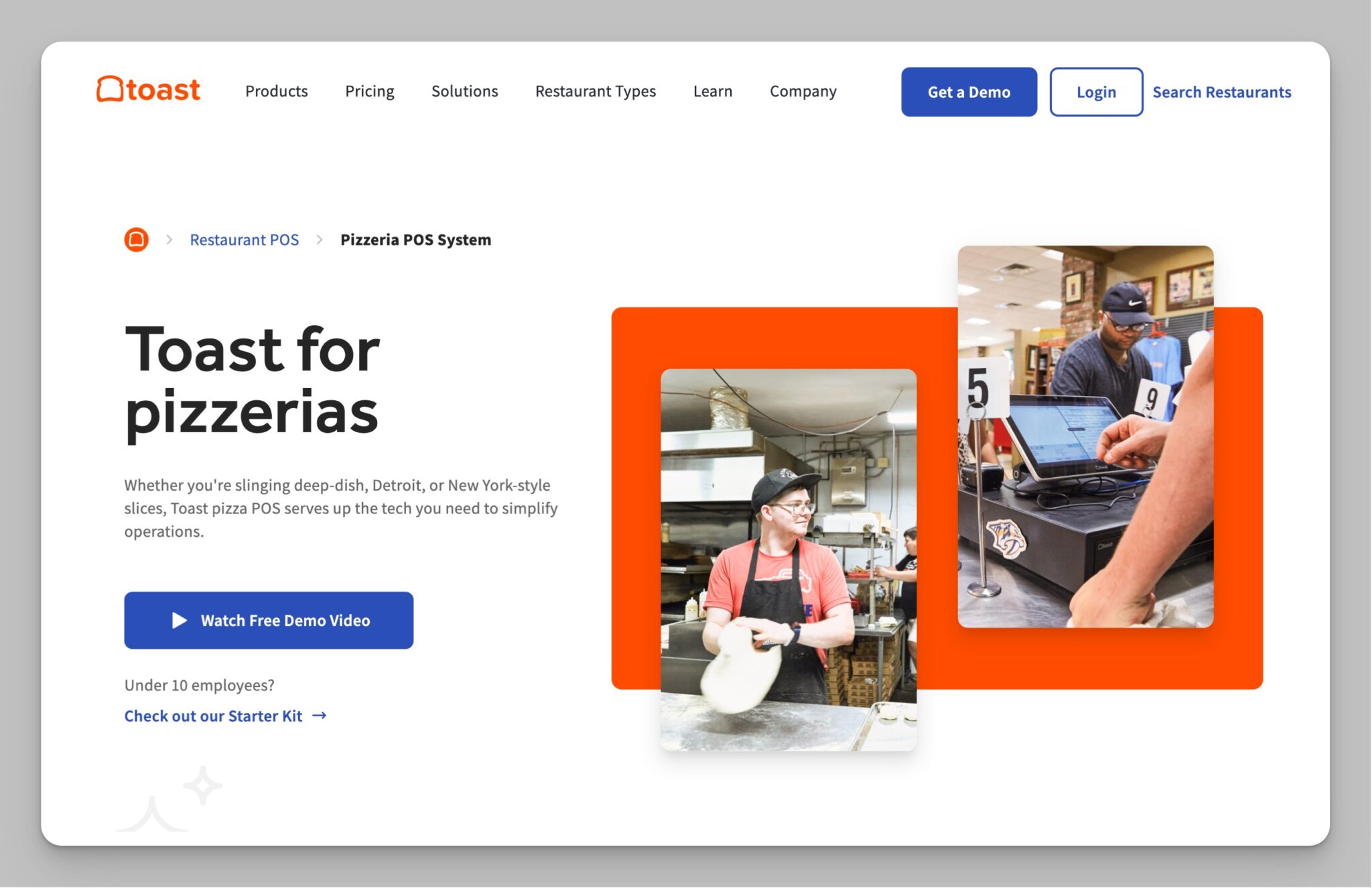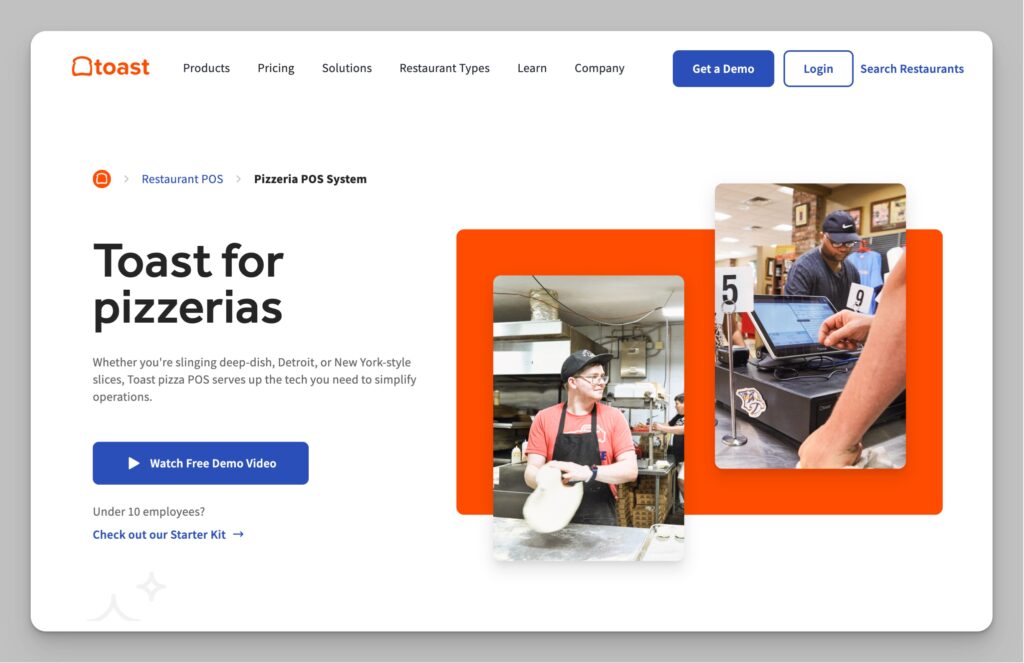 Toast is available in the US, Canada, UK, and Ireland.
Over recent years, Toast has risen as a significant contender in the restaurant commerce industry, expanding rapidly and making waves with notable acquisitions. Indeed, one might argue that Toast has become a game-changer in the world of restaurants. As such, it comes as no surprise that they've been recognized as one of the most innovative companies of 2023 by Fast Company (Source).
What sets Toast apart from many other POS systems is its extensive feature set. These functionalities encompass payment processing, online pizza ordering, ingredient inventory and menu management, marketing, and customer loyalty programs, employee management, labor and food cost control, and business reporting, among others.
Toast's goal is to evolve into a comprehensive commerce system for food service and hospitality businesses.
One of the impressive aspects of Toast is that despite offering a multitude of excellent features, it still maintains a fair pricing structure. Undoubtedly, it's one of the top Point of Sale (POS) systems for pizza restaurants available on the market today.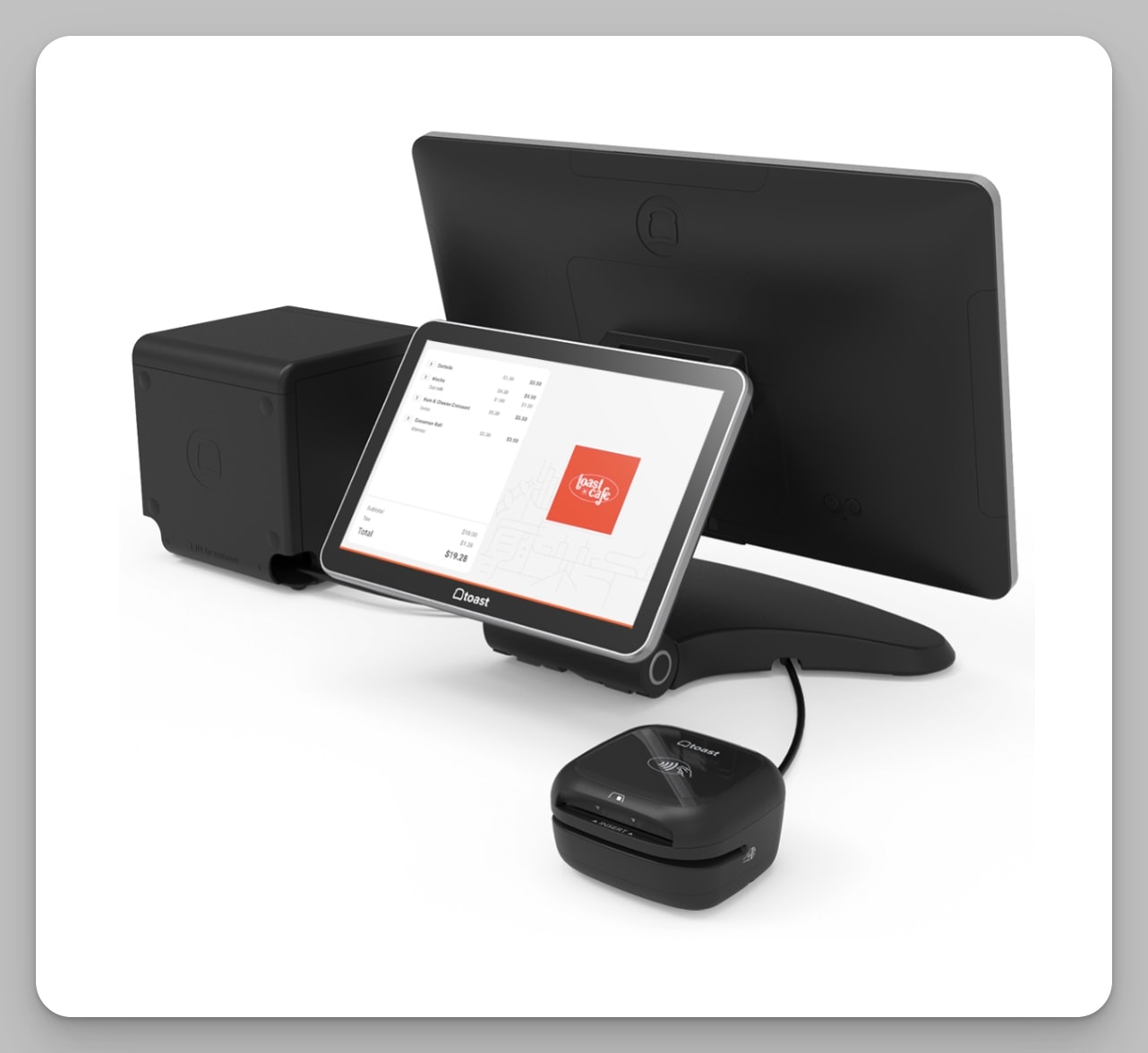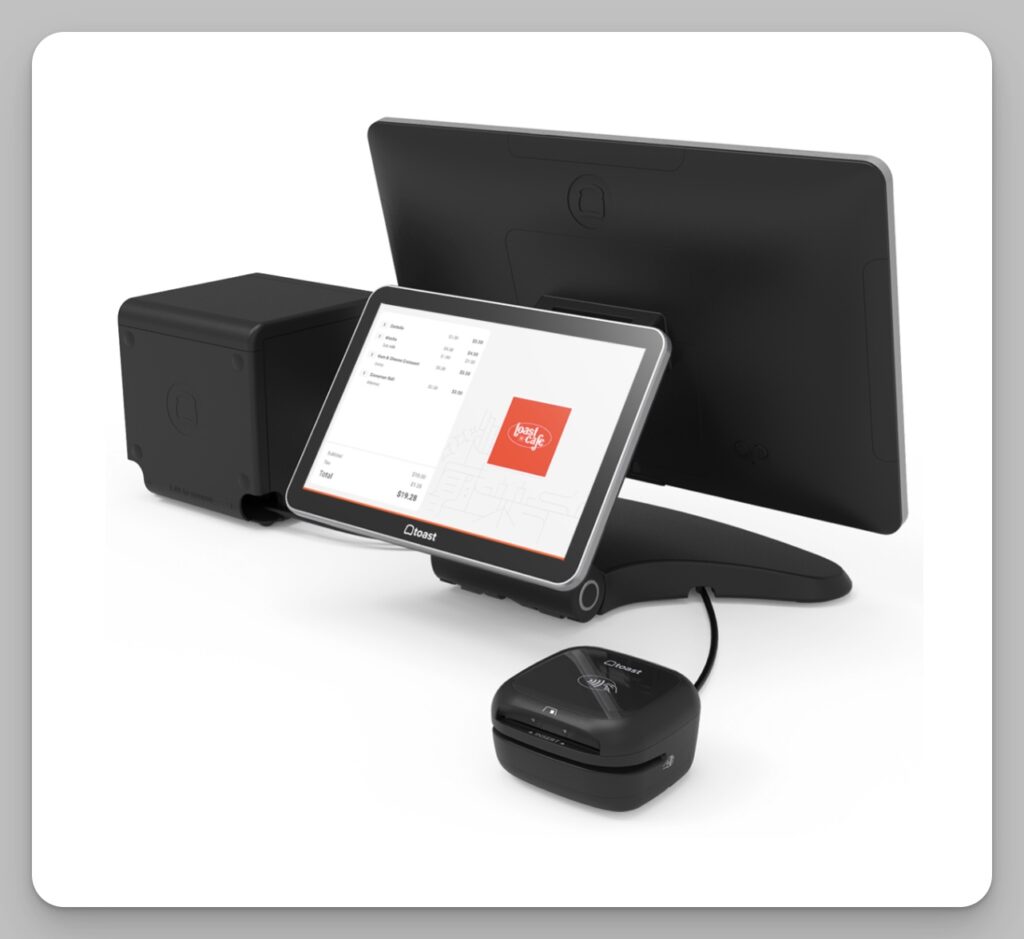 Where Toast Shines for Pizza Shops
Integrated Online Ordering System: A standout feature of Toast is its Online Pizza Ordering system. This feature enables you to set up online pizza ordering systems, driving increased revenue by letting customers order at their convenience.
Toast also enhances order accuracy and minimizes ingredient waste. Most importantly, it's commission-free for your pizzeria, making it a cost-effective solution for diversifying your sales channels. It's easy to configure and fully integrated with your Toast POS, ensuring that online orders smoothly fit into your workflow.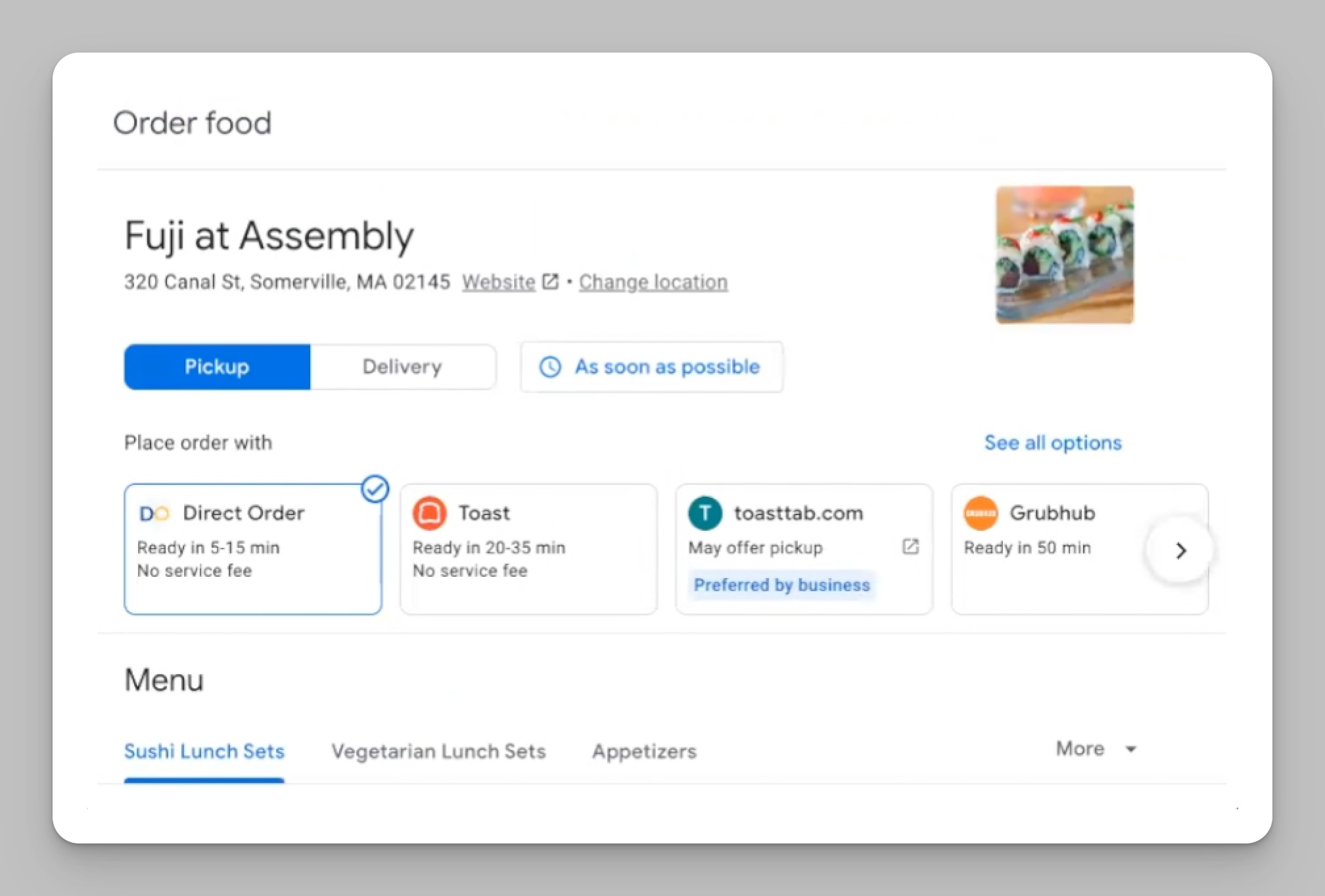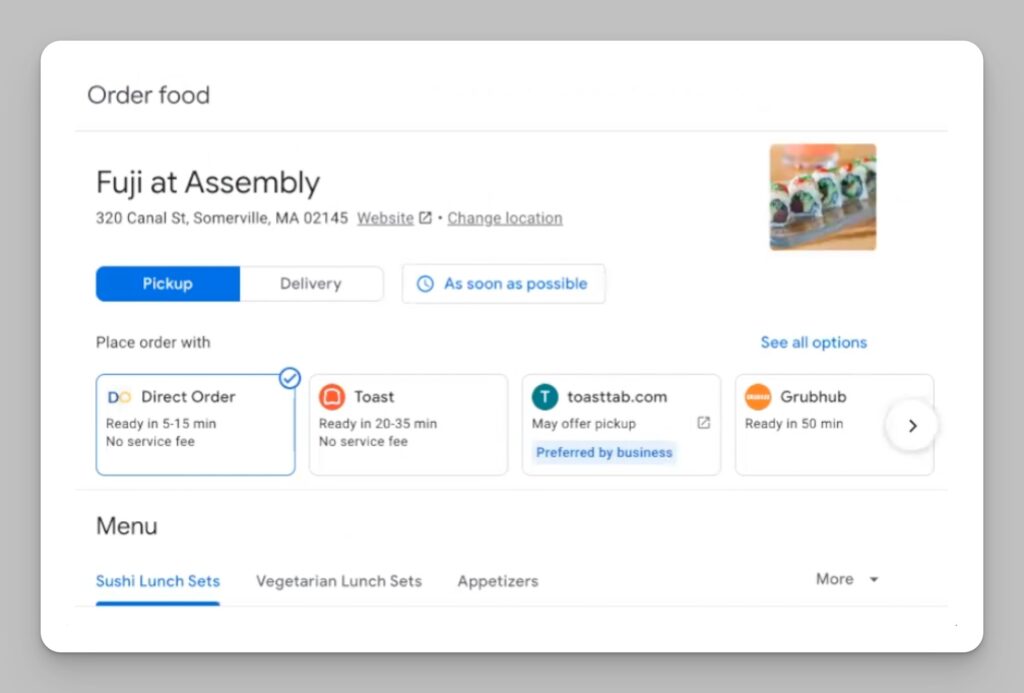 Robust Touchscreen POS Terminals: At the core of Toast POS are the robust touchscreen POS terminals. These terminals are designed to withstand the bustling environment of a pizzeria. They accommodate various payment methods, including credit card and mobile payments, ensuring a smooth transaction process for your customers.
Self-Service Kiosks: Toast provides self-service kiosks that simplify the customer experience by allowing them to personalize their pizza orders. These kiosks streamline front-of-house operations by freeing up staff to handle other tasks, enhancing overall efficiency.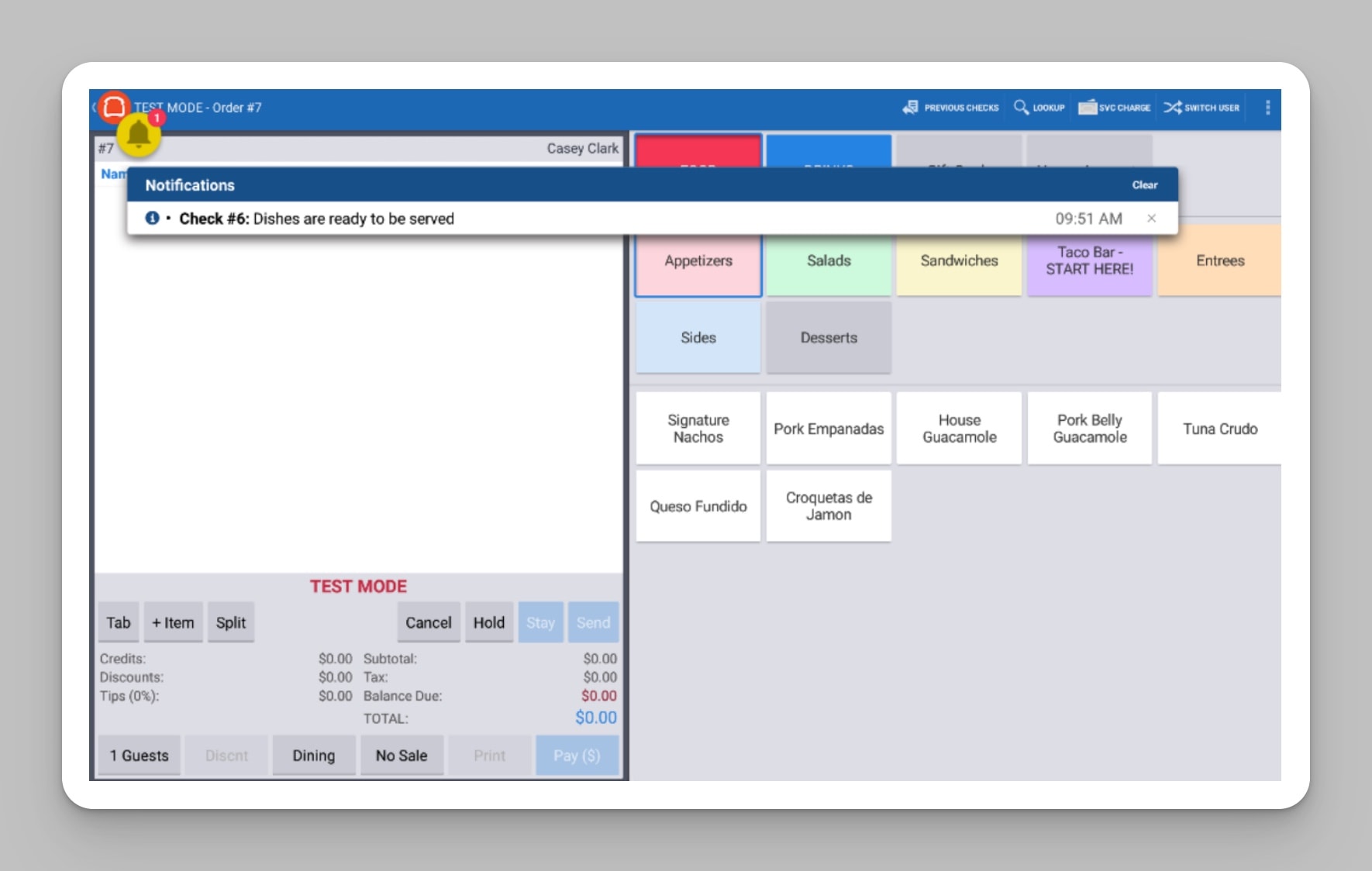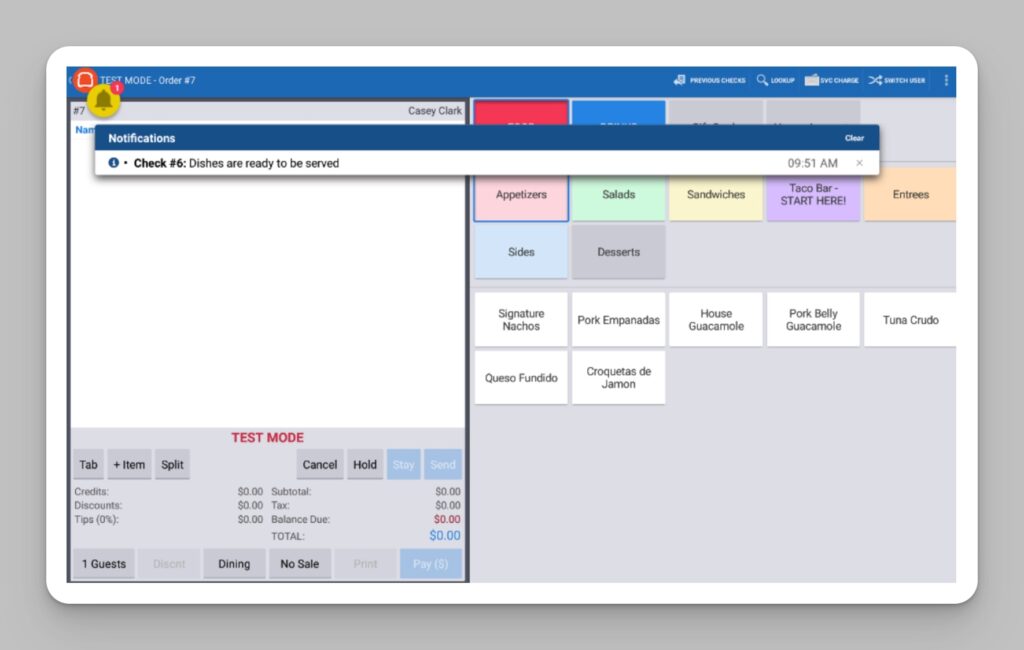 Kitchen Display System (KDS): The KDS is a vital component of Toast. Engineered to withstand the heat and pace of a pizzeria kitchen, the KDS integrates with Toast Go, ensuring that items are sent directly to the KDS as soon as the customer orders.
This means your kitchen can start preparing pizzas seconds later, improving efficiency. The KDS also consolidates all orders from kiosks, online ordering, and third-party channels, providing a unified view of all incoming orders.
Mobile Dining Solutions: Toast Mobile Order and Pay This feature allows your customers to browse the menu, order their favorite pizzas, and pay directly from their mobile devices. With a custom QR code, customers can scan and order, offering a contactless and convenient dining experience.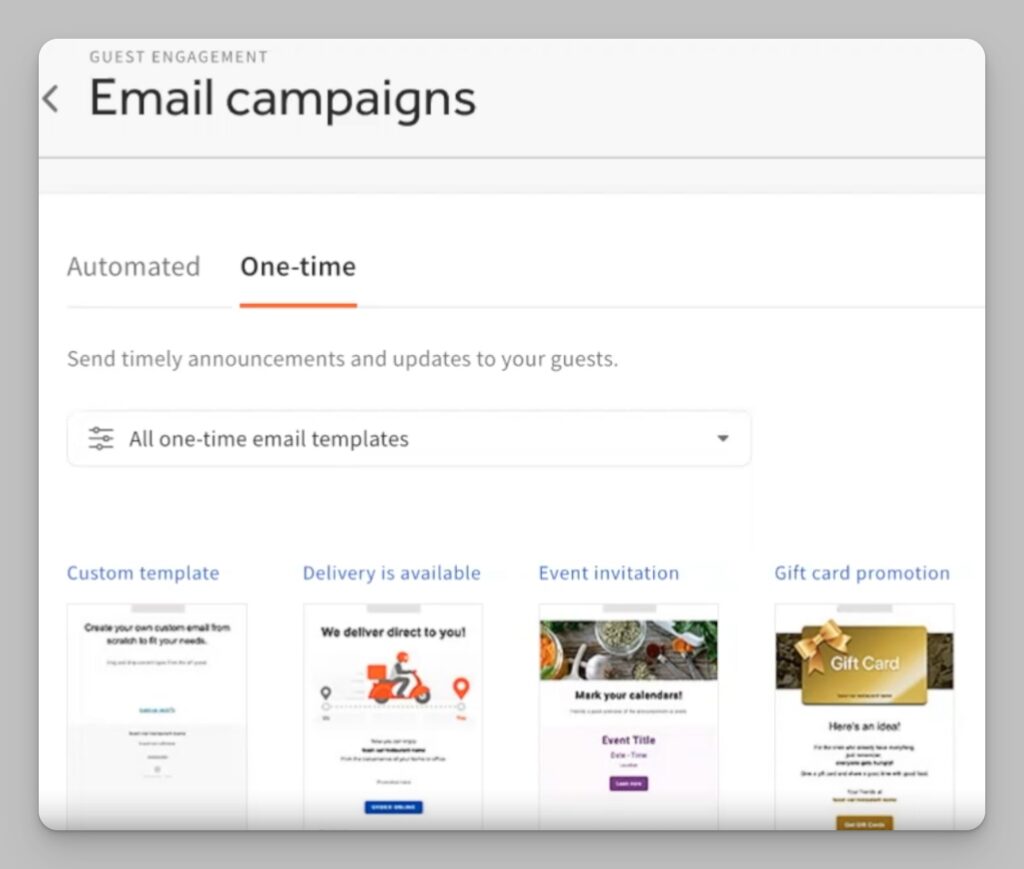 Integrated Loyalty Programs, Email Marketing, and Reporting: The integrated loyalty programs let customers accumulate points with each swipe of their card. Toast also supports email marketing directly integrated with the POS, encouraging customer engagement.
Additionally, the system offers integrated reporting and analytics, enabling you to monitor your performance in real-time and make informed decisions about your pizza offerings.
Where Toast Falls Short
Locked into Toast payment processing
Add-ons can get expensive
Not very transparent pricing
Only available in a few English-speaking countries
Toast Pricing Overview
Toast has a free plan that is great for getting started. However, most ghost kitchens will want to upgrade to the growth plan with the included online ordering and delivery features.
To get an accurate pricing estimate you need to have a call with Toast and they will give you a quote based on your type and size of business and what hardware you will need.
Here is the pricing plan for the Quick Start Bundle, Core, and Growth plan:
Quick Start Bundle: Starting at $0/month
A great match for startup pizzerias, this shop-and-go option includes initial hardware and basic POS software. Features include cloud-based point of sale and hardware setup including one terminal (additional charges apply for subsequent devices).
Core Plan: Subscription starting at $69/month
Ideal for any restaurant looking for flexible options to meet your specific needs. This package includes powerful cloud-based point of sale with reporting and analytics, simple, flat rate payment processing with real-time fraud monitoring, mobile dining solutions, including digital menus and mobile payments, and 24/7/365 customer care, with installation support.
Growth Plan: Subscription starting at $165/month
This is the plan most pizza shops will want as it includes online ordering and delivery software. This plan includes everything in Core, plus Toast Online Ordering, Toast Delivery Services, and Toast TakeOut App.
Please note that additional features and software are available for each plan, and you can pair each plan with a hardware setup of your choosing.
Credit card processing fees: You cannot opt to use a third-party payment processor as Toast will handle all credit and debit card transactions for you.
Toast believes that customers should receive more than just transaction reports from their card processors. To achieve this goal, they combine their card processing service with technology that engages with customers.
The information gathered from customers can then be used by pizza restaurants to understand them better and create more targeted marketing campaigns.
As for the fees, Toast customizes the rates for processing card transactions based on the specific needs of your restaurant.
Toast hardware
The hardware options include tablets, terminals, kitchen display systems, and handheld devices. Hardware costs depend on what configuration you want and some devices are included in certain plans.
In conclusion, Toast is a comprehensive solution that not only allows you to implement online ordering but also provides a range of features to streamline your operations, drive more revenue, improve order accuracy, and reduce inventory waste. It's a powerful tool that enhances the dining experience for your guests and provides you with valuable insights and growth opportunities.
Truffle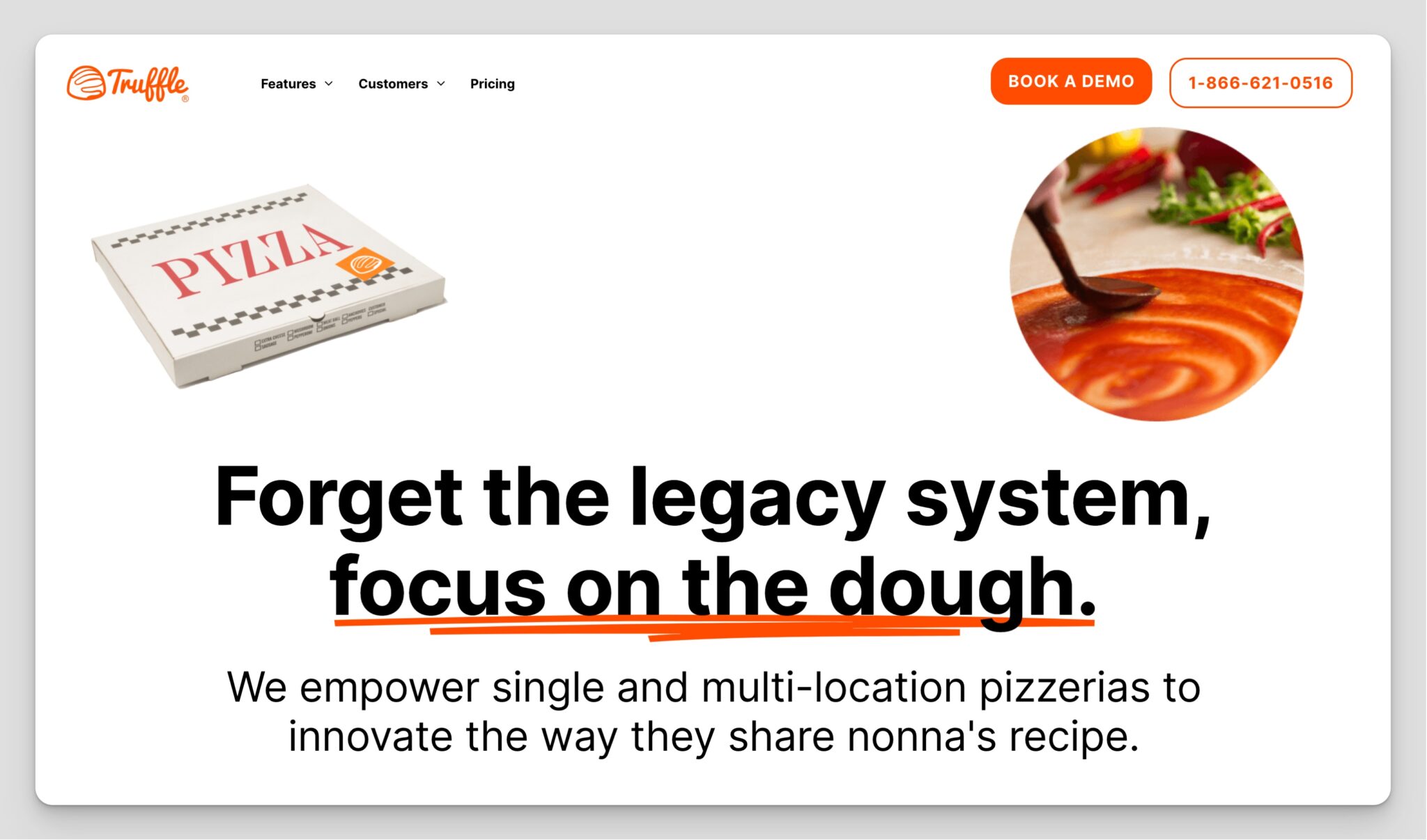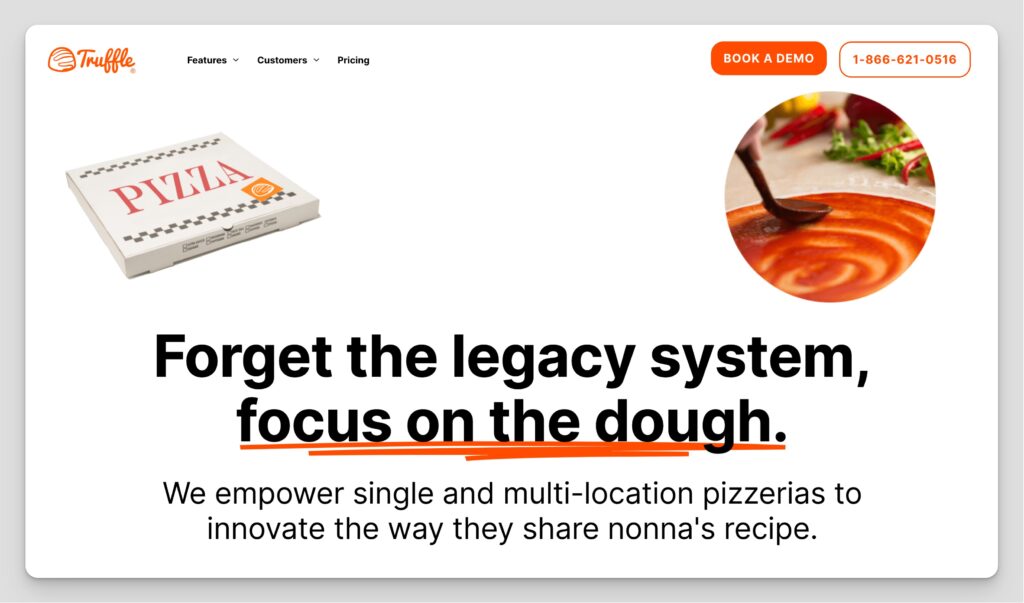 Truffle Systems is a company specializing in food service point-of-sale systems. Established in 2010, Truffle has its headquarters in Canada. They have solutions tailored for various food and beverage establishments, ranging from restaurants and cafes to pizzerias, bars, and nightclubs.
One of Truffle's standout offerings that may interest you is the "GoBox," a contactless food locker system that simplifies the pickup process for your customers and drivers. This feature helps in reducing crowding in front-of-house areas and prevents confusion during deliveries.
Truffle's platform also offers you a unified dashboard, giving you control over operations ranging from front-of-house to back-office. This includes ordering, fulfillment, pickup, delivery, inventory management, and customer loyalty programs.
Why You Should Choose Truffle POS for Your Pizza Shop
Truffle's Point of Sale (POS) system is uniquely tailored to meet the specific needs of pizza shops. It offers a unique blend of innovation, custom solutions, and ground-breaking features. Here's why:
Innovation and Efficiency
Efficient Management: With Truffle's system, you can efficiently manage multiple locations and franchises, saving precious time when generating reports.
Timely Delivery: Using a mobile driver app, Truffle ensures on-time delivery of your orders, enhancing customer satisfaction.
Larger Online Orders: Truffle's platform encourages your customers to place larger online orders, compared to traditional over-the-phone orders.
Labor Savings: Truffle significantly reduces labor costs through streamlined kitchen and order management.
Tailored Solutions for Growth
Customized for Pizzerias: Truffle has solutions that simplify the scaling of your pizza shop, whether it's a single-location or multi-location operation.
Empowering Local Businesses: Unlike commission-driven platforms, Truffle focuses on empowering local pizzerias like yours with sustainable, affordable tools that yield tangible results.
Revolutionary Features
GoBox: Truffle's GoBox is a game-changer, offering a scan, grab & go system that streamlines the pickup process, enhancing guest experience, and freeing up your staff.
Driver App: The driver management tools provide a comprehensive view of your delivery force, complete with live order tracking for customers.
Real-Time Reporting: Truffle's single dashboard with real-time data illustrates the success of your pizzeria, a vital tool for attracting potential franchisees.
In summary, Truffle POS stands out for pizza shops by offering a specialized, comprehensive solution that combines efficiency, customization, and cutting-edge features, all aimed at enhancing your operations and growth.
Where Truffle Falls Short
While Truffle Systems POS offers a range of features designed for pizzerias, there are some potential areas where it may have weaknesses:
Pricing Structure: While Truffle Systems is affordable, their pricing model is dependent on a variety of factors which might make it less predictable and potentially more expensive for some businesses.
Integration Challenges: The system may face difficulties in sharing information with other systems such as inventory management, complicating the accounting process.
Software Complexity: As a multi-platform software that allows customization of restaurant layout, menu, etc., users may find it complex and challenging to use without proper training.
Truffle Pricing
Truffle POS's pricing model is based on the size of the business. The pricing plans start at $79.99 and can vary depending on the specific needs of the business.
Appetizer: Priced at $79.99 per month. Features include:
1 POS License
Menu Management
Modifiers
QSR Mode
Pizza Mode
Real-Time Reporting
Customer Support (Online & Email)
Optional Add-Ons
In addition to these monthly fees, there may be add-on costs depending on the specific needs of your business.
Grow & Engage Add-on for $19.99/month
Features include:
Online Ordering
Mobile Ordering App
QR Self Ordering
Customer Display
Gift Cards
Loyalty Programs
Customer Management
Marketing
Table Reservations & Waitlist
Do More With Less Add-on for $19.99/month
Features include:
Food Pickup Locker
Kitchen Display System
QR Self Ordering
QR Order & Pay
Driver App
Driver Management
Payment Processing
Truffle works with major payment processors such as Stripe, Global Payments, and Moneris, and also offers recommended hardware configurations that work seamlessly with their POS software.
Key takeaways:
Truffle POS offers innovative and efficient tools for managing your pizza shop.
It provides tailored solutions to help you grow your business.
Its revolutionary features, such as GoBox and the Driver App, streamline operations and enhance customer experience.
Truffle POS focuses on empowering local pizzerias with sustainable, affordable tools.
Truffle's all-in-one management software includes menu management, customer loyalty programs, real-time reporting, and more.
Truffle is a top choice for pizza shops looking to take their operations to the next level. Whether you own a single store or multiple franchises, Truffle's features and customizable solutions can help you reach your goals.
Lightspeed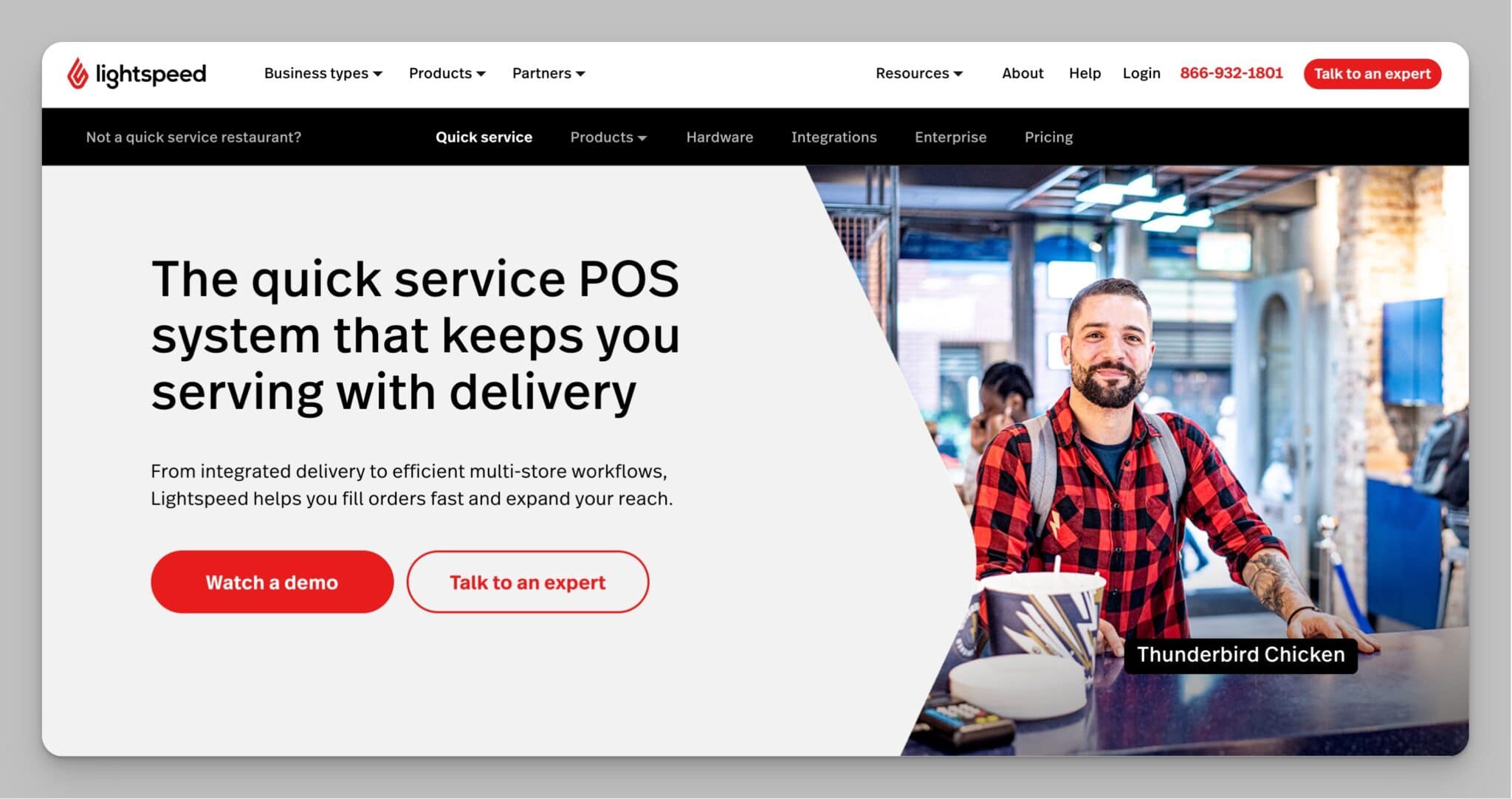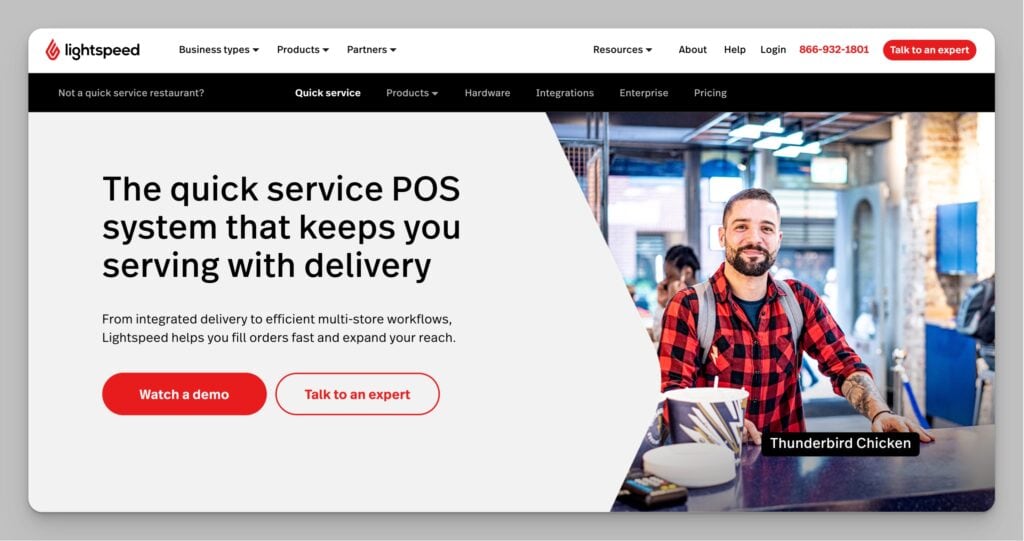 Lightspeed Restaurant POS is currently available in the US, Canada, UK, Ireland, Germany, France, Belgium, The Netherlands, Spain, Italy, and Australia.
Lightspeed Restaurant is a powerful, cloud-based POS system designed specifically for the restaurant industry, and its speed, strong online ordering, delivery, and e-commerce features make it a great choice for pizza restaurants.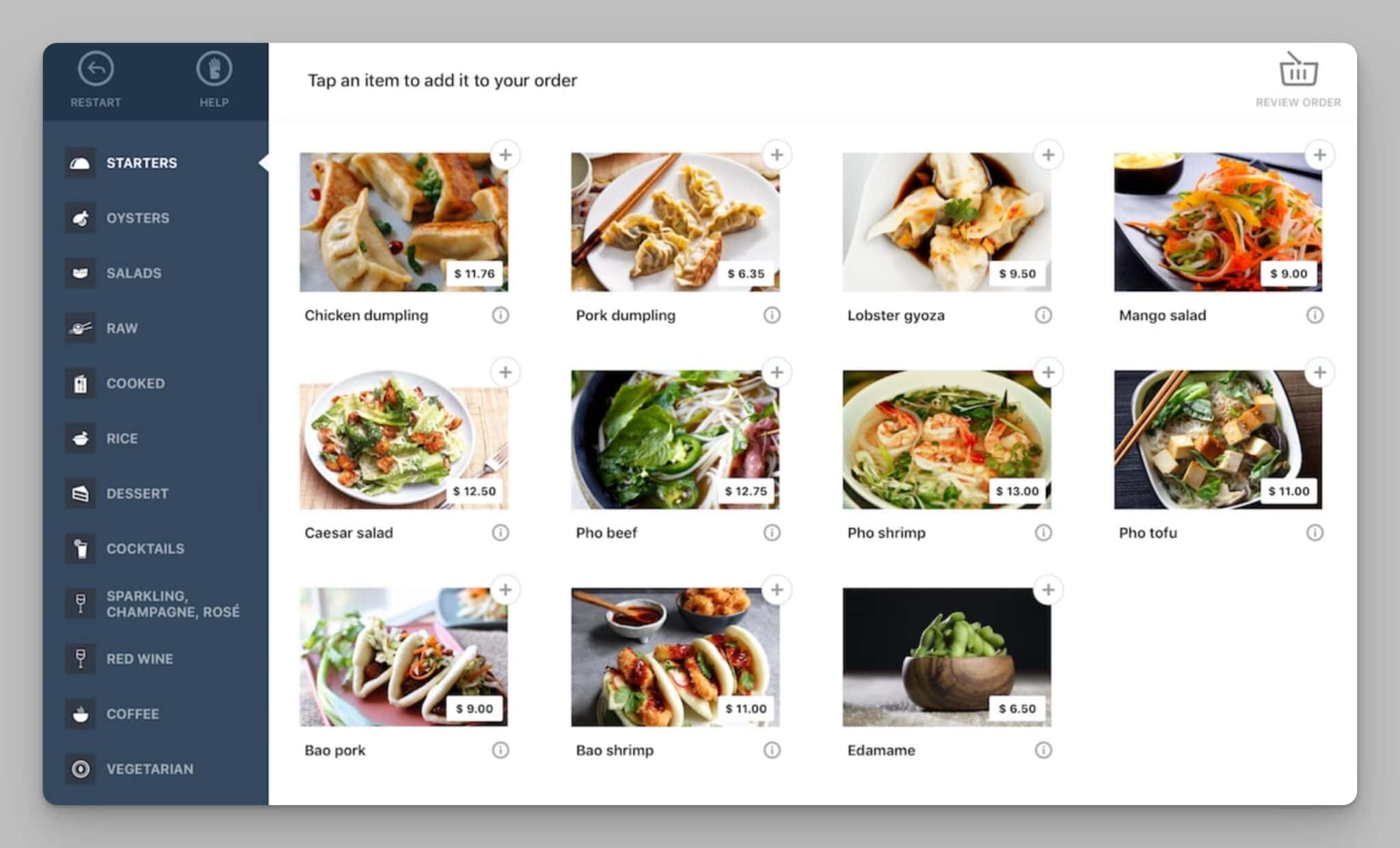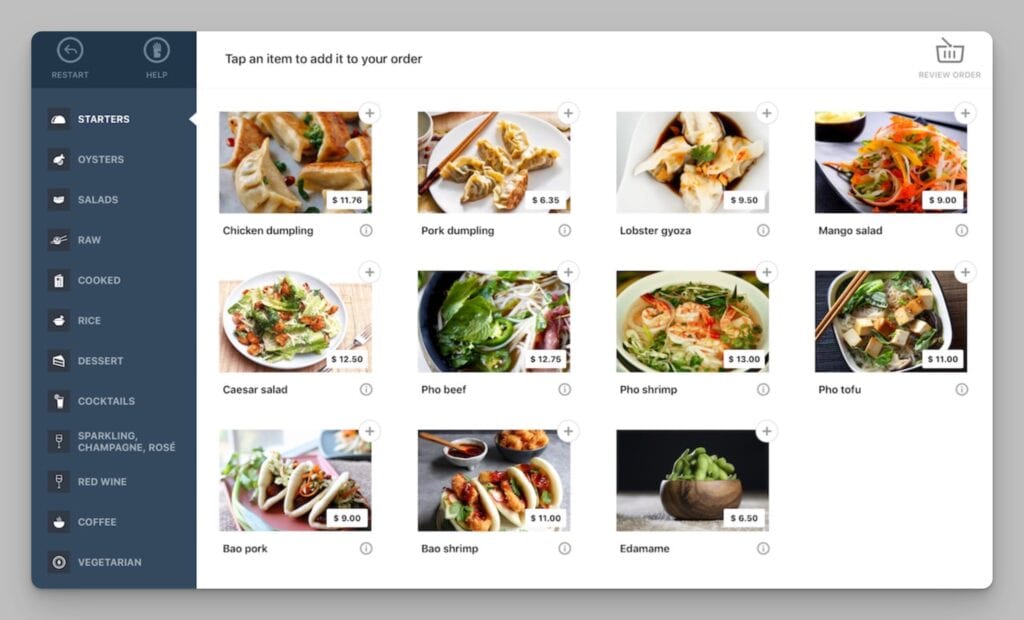 Where Lightspeed Shines for Pizza Restaurants
Customizable and Adaptable System: Lightspeed is a comprehensive solution designed specifically for pizza restaurants and pizzerias. With its customizable features, you can tailor your menus, screens, and floor plans to fit your unique workflows perfectly.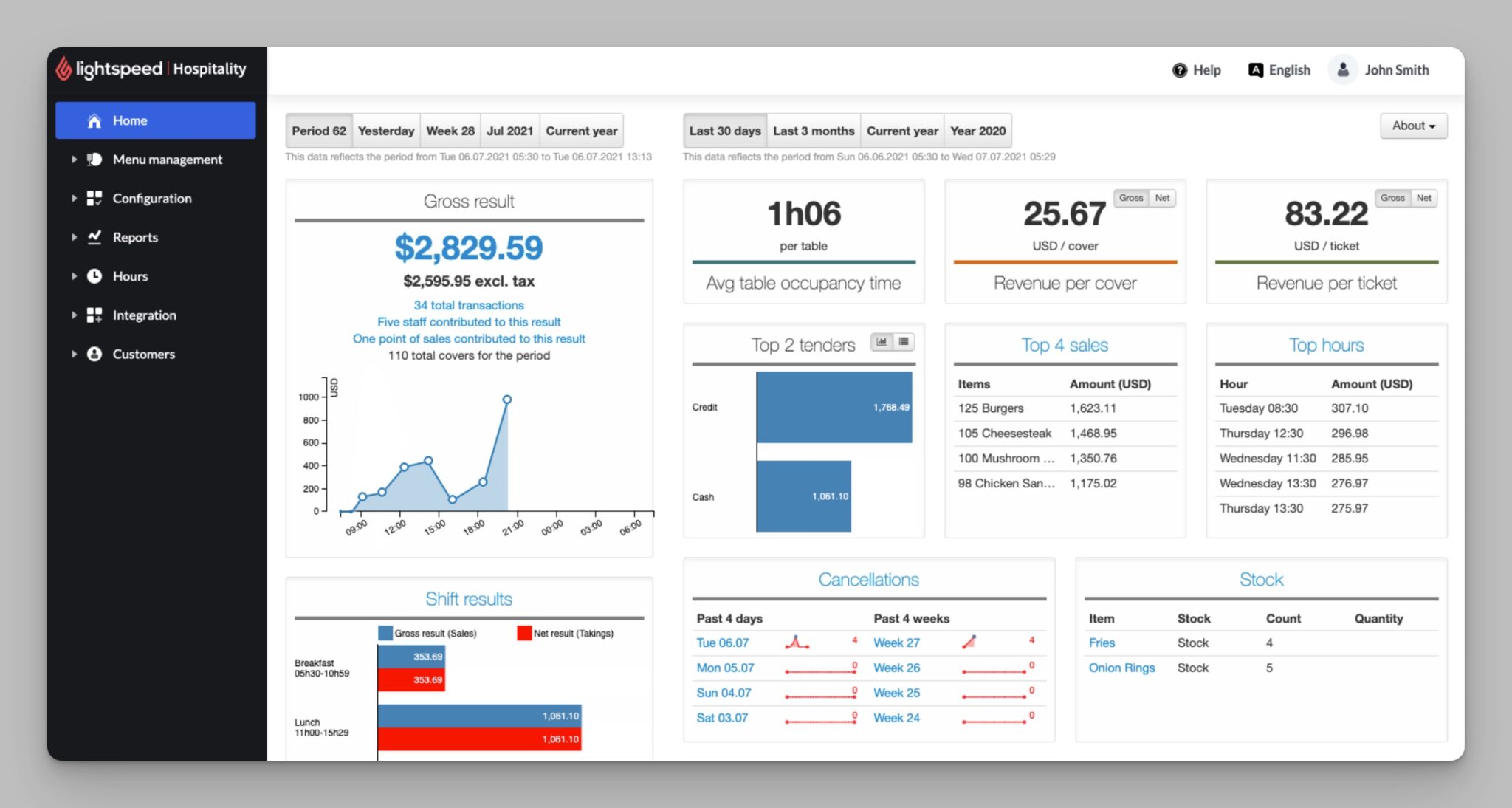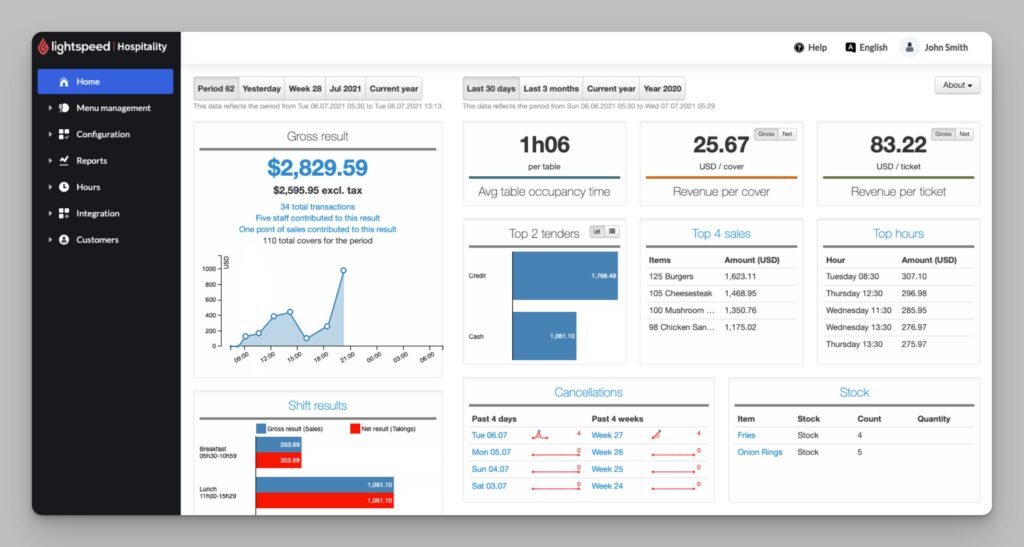 Real-Time Insights for Informed Decisions: Lightspeed provides real-time insights with every integrated transaction, enabling you to make quicker, data-driven decisions. You can optimize your pizza menu, track customer preferences, and identify top-performing staff members.
Multiple Ordering Options: Lightspeed offers numerous ordering options, providing more convenience for your customers and opening up additional revenue channels. Whether it's online ordering, tableside ordering, or QR code ordering, these options allow guests to order in the way that suits them best, enhancing their overall dining experience.
Centralized Management for Multiple Locations: If you operate multiple pizzerias, Lightspeed enables you to manage all of them from a single platform. You can easily track guest data and reports across locations and make changes to all menus simultaneously. Lightspeed POS ensures centralized control and real-time visibility across all your pizzerias.
Self-Order Menu and Kiosks: With Lightspeed, you can introduce a Self-Order Menu feature, allowing customers to place their own orders. This feature can increase order size and improve customer service. It can be utilized at tables or as a self-ordering kiosk, and integrating it with your existing Lightspeed Restaurant menu is a breeze.
Customer Facing Display (CFD): Lightspeed includes a Customer Facing Display (CFD) feature, offering transparency to your customers during the checkout process. The CFD visually presents the full breakdown of their order, ensuring that guests can be confident they are paying for the right order. It displays item details, subtotal price, tax percentage and total, and order number for takeaway mode.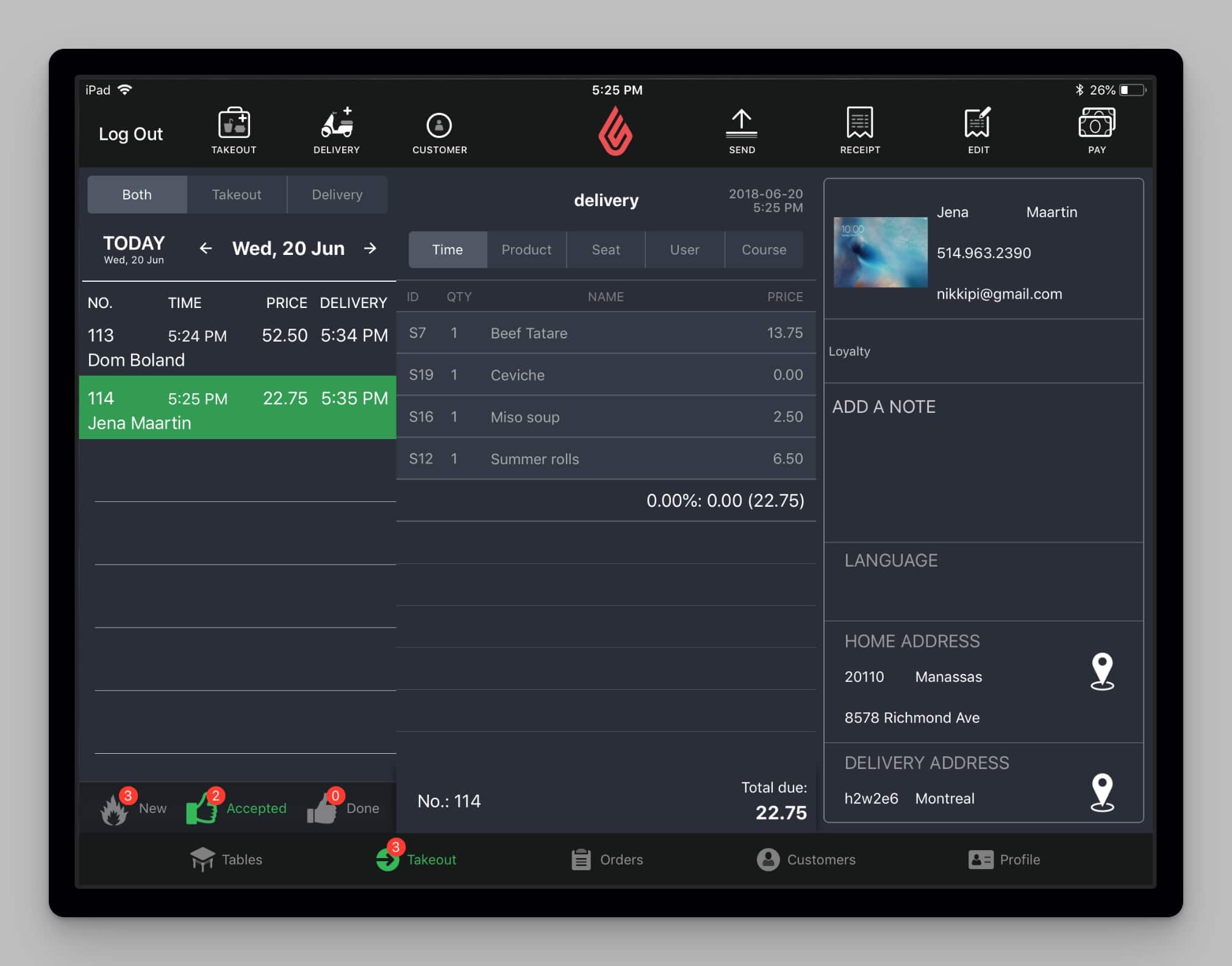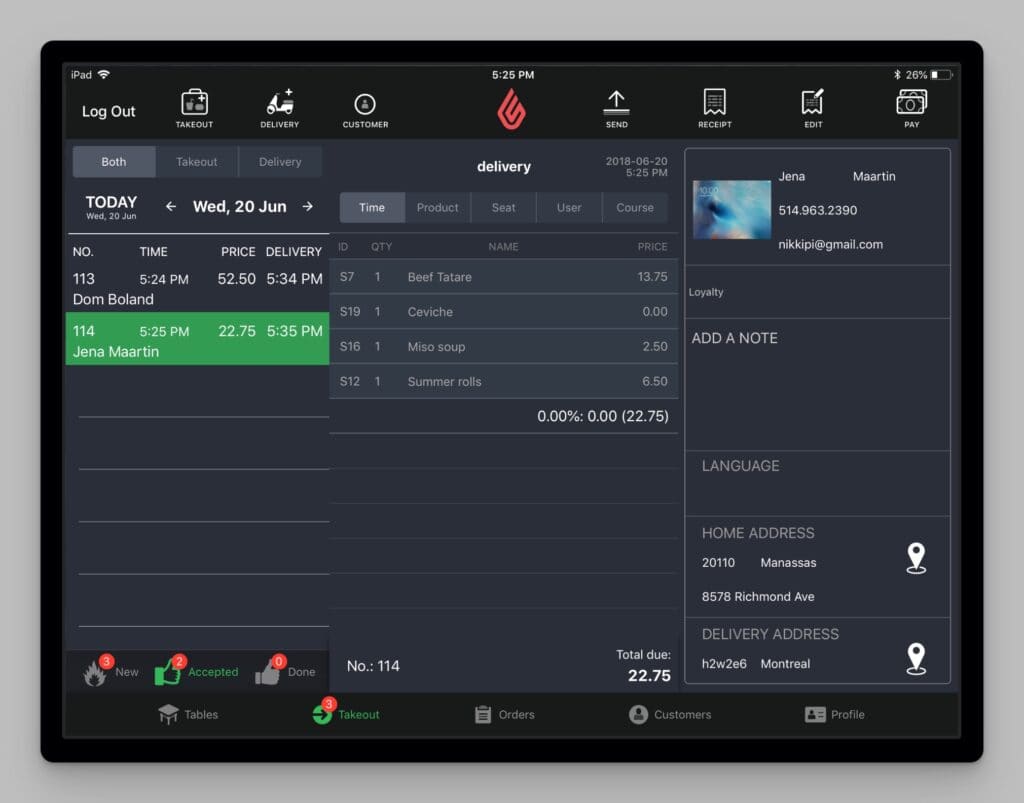 Delivery Feature: Lightspeed comes with a delivery feature designed specifically for pizza restaurants. With the rise of food delivery apps, Lightspeed allows you to adapt to the changing behavior of customers. The delivery service consolidates online orders from platforms like UberEats, Skip The Dishes, or DoorDash onto one screen, simplifying order management and delivery.
Order Anywhere Feature: Lightspeed's Order Anywhere feature provides a safe and streamlined service for pizza restaurants. Whether customers are dining in or ordering to go, this feature allows guests to pay via QR code, eliminating wait times for the bill and the need to download apps. Customers can order straight from their phones, simplifying the ordering process for takeout.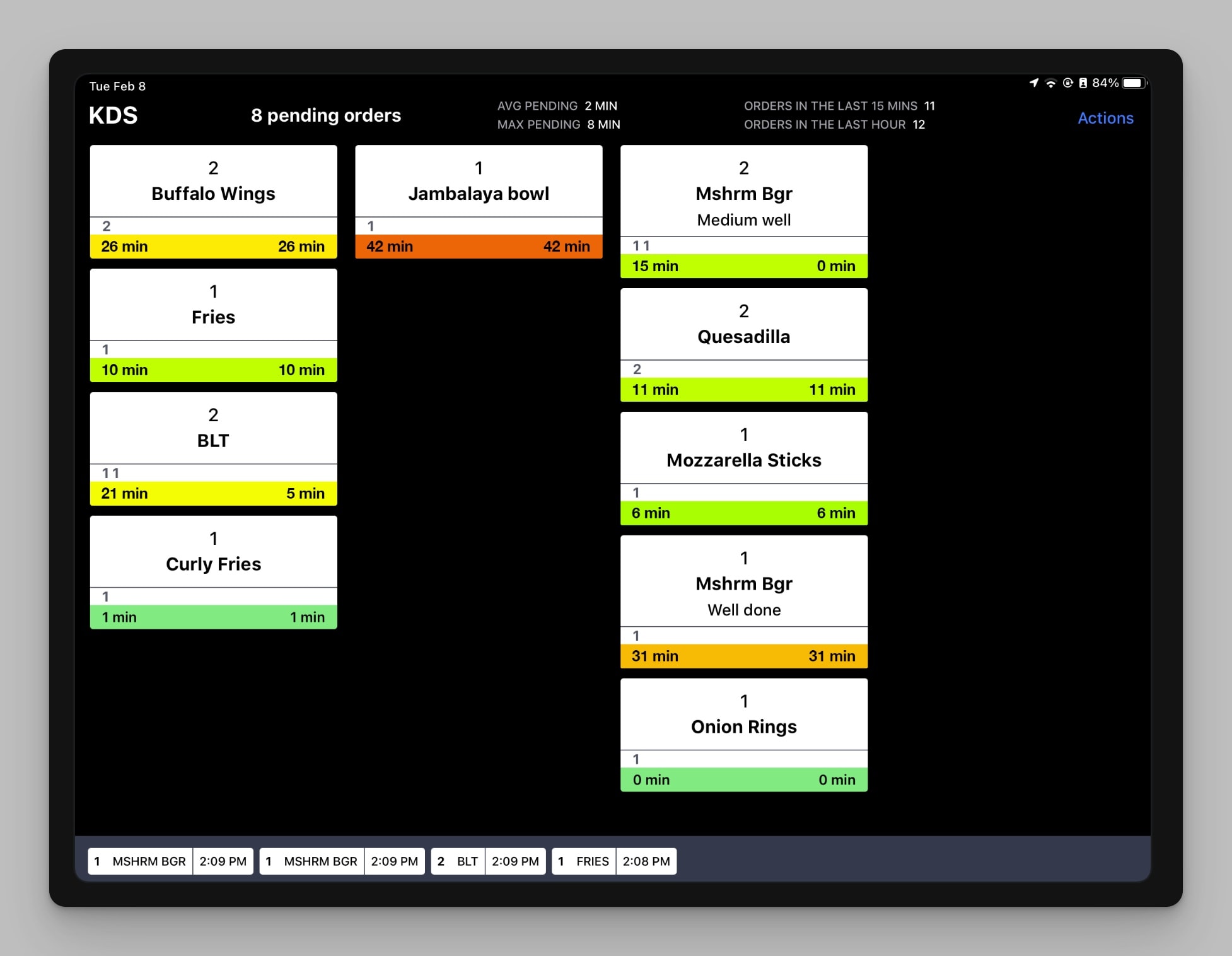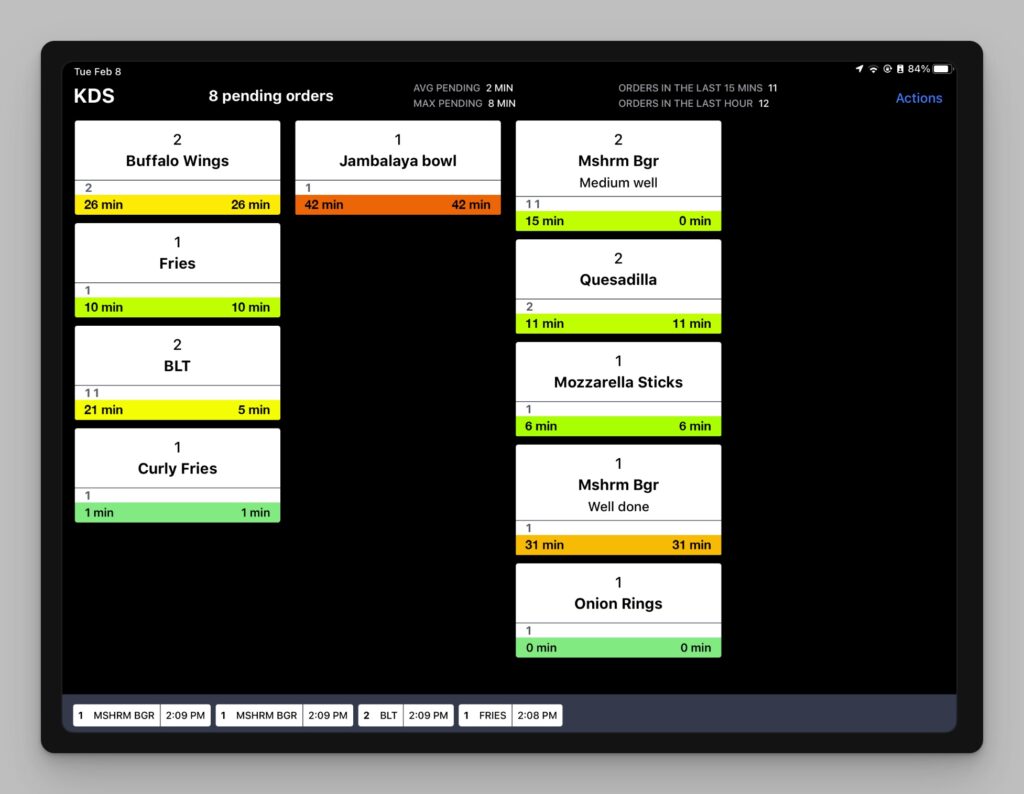 Kitchen Display System (KDS): Lightspeed's Kitchen Display System (KDS) enhances staff communication and streamlines your workflow. The KDS displays ticket times, color-coded orders, and real-time updates to keep track of turnaround and ensure a seamless workflow. It digitizes your production centers, reducing mistakes and gathering data on production times. The KDS brings clarity and efficiency to your kitchen operations.
Where Lightspeed Falls Short
Price: Lightspeed Restaurant POS is more expensive than some other POS systems on the market. While the system offers a range of features and benefits, the cost may be a barrier for some pizza restaurant owners, especially those who are just starting out.
Pricing Overview
Starts at $69/month
Additional registers +$34/mo
Add-on pricing starts at $12/per month
Premium add-ons start at $39/per month
Transaction fees: 2.6% plus 10 cents per card-present transaction with Lightspeed Payments. Third-party payment processors are also available.
Lightspeed Restaurant Essentials: $90/month (annual plan $69/month)
Features include: Menu manager, Mobile access, Takeout and delivery orders, Integrated payment processing, Reporting and analytics, Inventory, 24/7 support, Dedicated account management, Table Mode. 1 register.
Lightspeed Restaurant Plus: $246/month (annual plan $189/month)
All Essentials features, Loyalty program, Gift cards.
In conclusion, Lightspeed Restaurant is a powerful tool that enhances the ordering experience for your guests and provides you with valuable insights and growth opportunities. With its customizable features, real-time data insights, and streamlined ordering options, Lightspeed can help your pizzeria thrive.
Square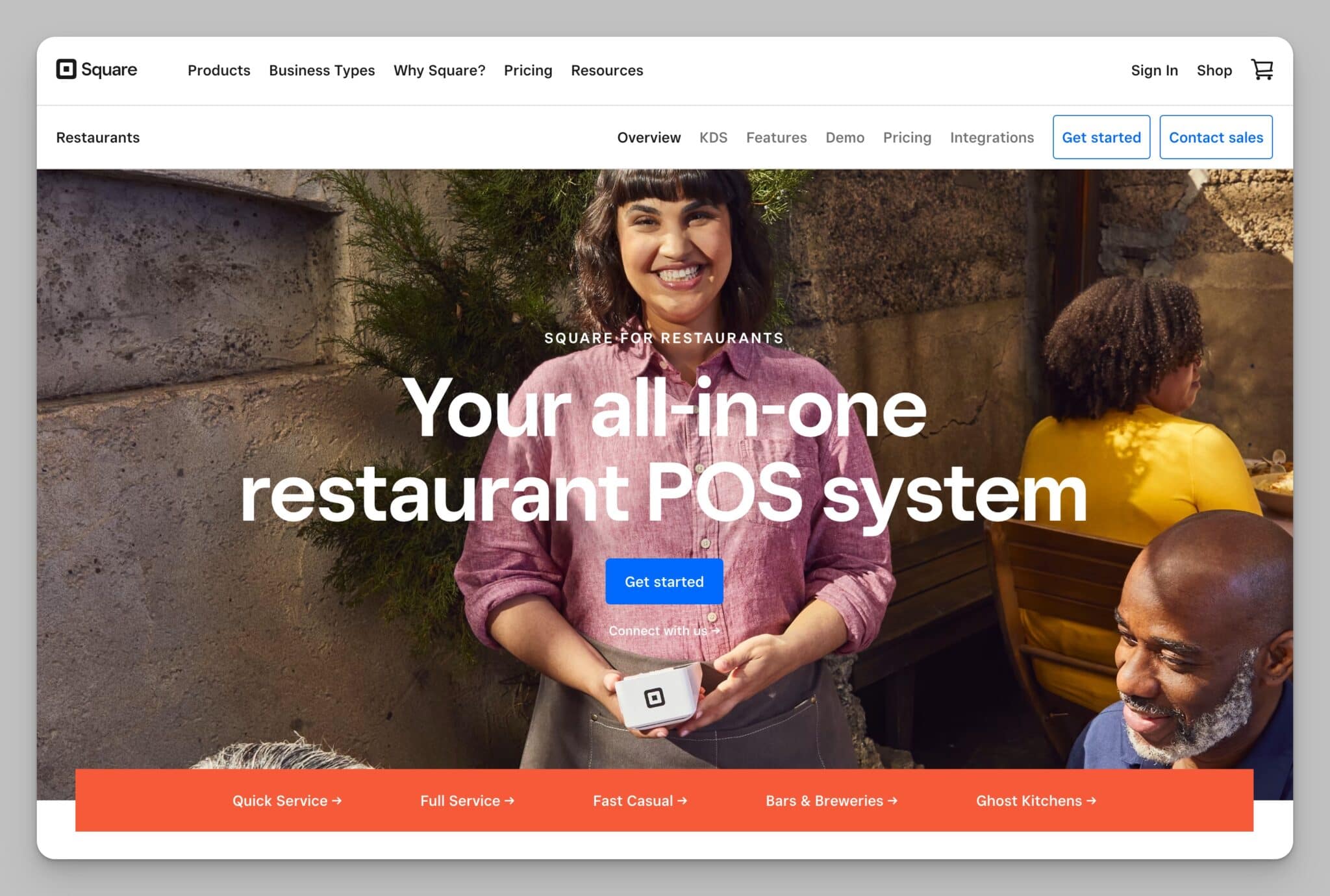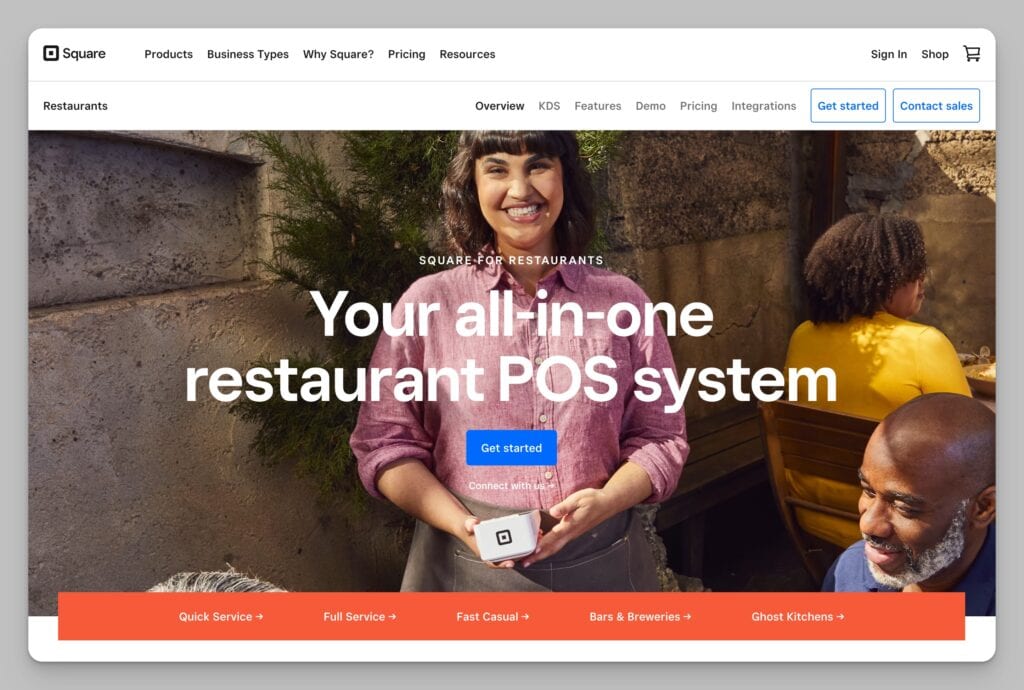 The Square app is available worldwide. Card payment acceptance is available in the US, Canada, Australia, Japan, the United Kingdom, Republic of Ireland, France and Spain (Source).
Square for Restaurants provides a POS solution specifically designed for restaurants and pizzerias, streamlining every aspect of managing and growing your business.
Square Online Website For Pizzerias: With Square Online, you can take orders on your complimentary personalized website and manage them efficiently using the Kitchen Display System (KDS), enabling options for curbside pickup and delivery of pizzas.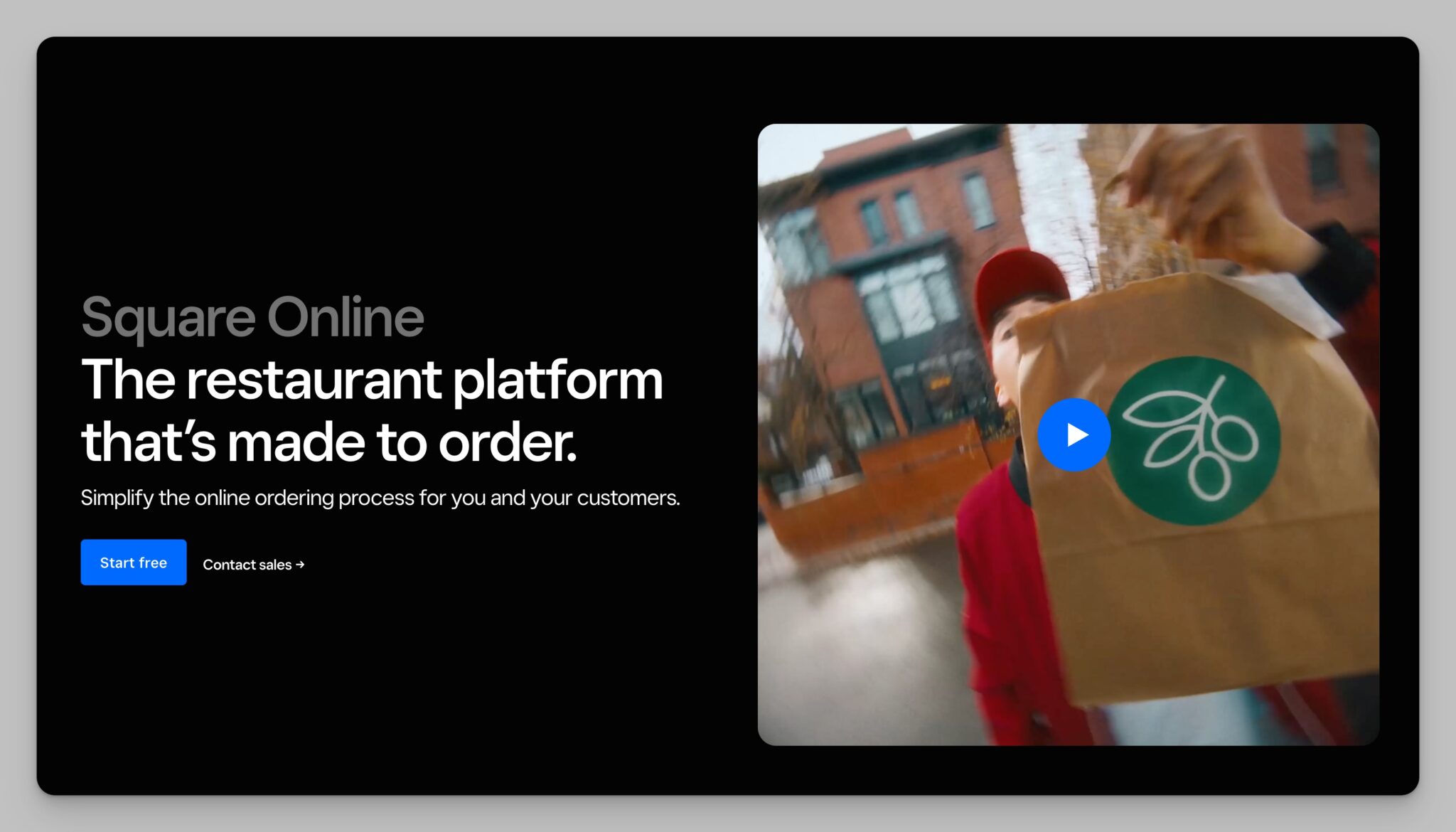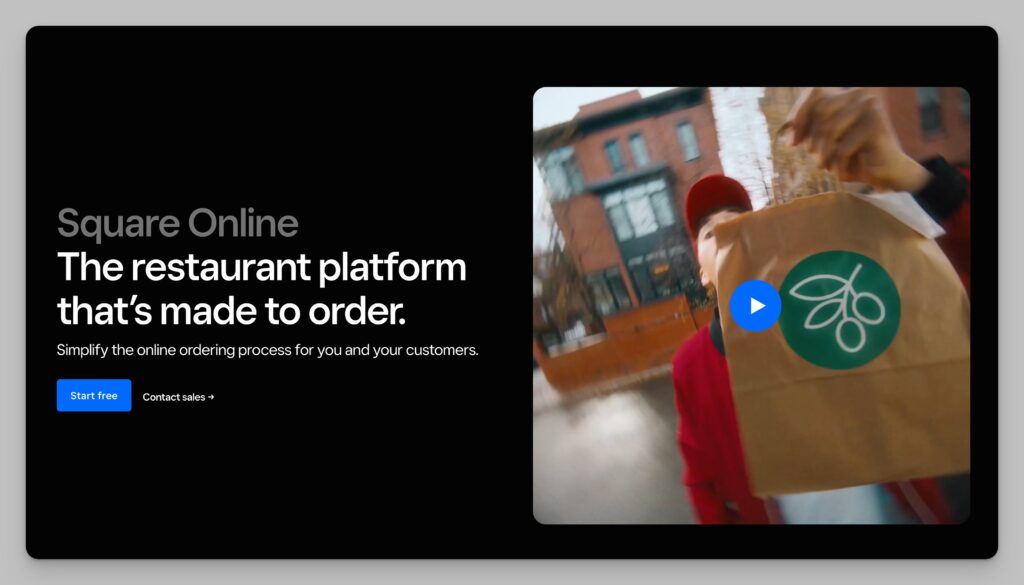 You have the capability to manage multiple pizza restaurants or pizzerias simultaneously, unifying operations, payroll, and staffing. Plus, you can leverage the intelligent routing and reporting capabilities to enhance order accuracy and minimize errors in your pizza orders.
Additionally, Square provides marketing tools tailored for pizzerias to connect with customers and boost sales. Effortlessly design, send, and monitor email and social media campaigns targeted at your pizza-loving audience while implementing a loyalty program to reward your regular patrons.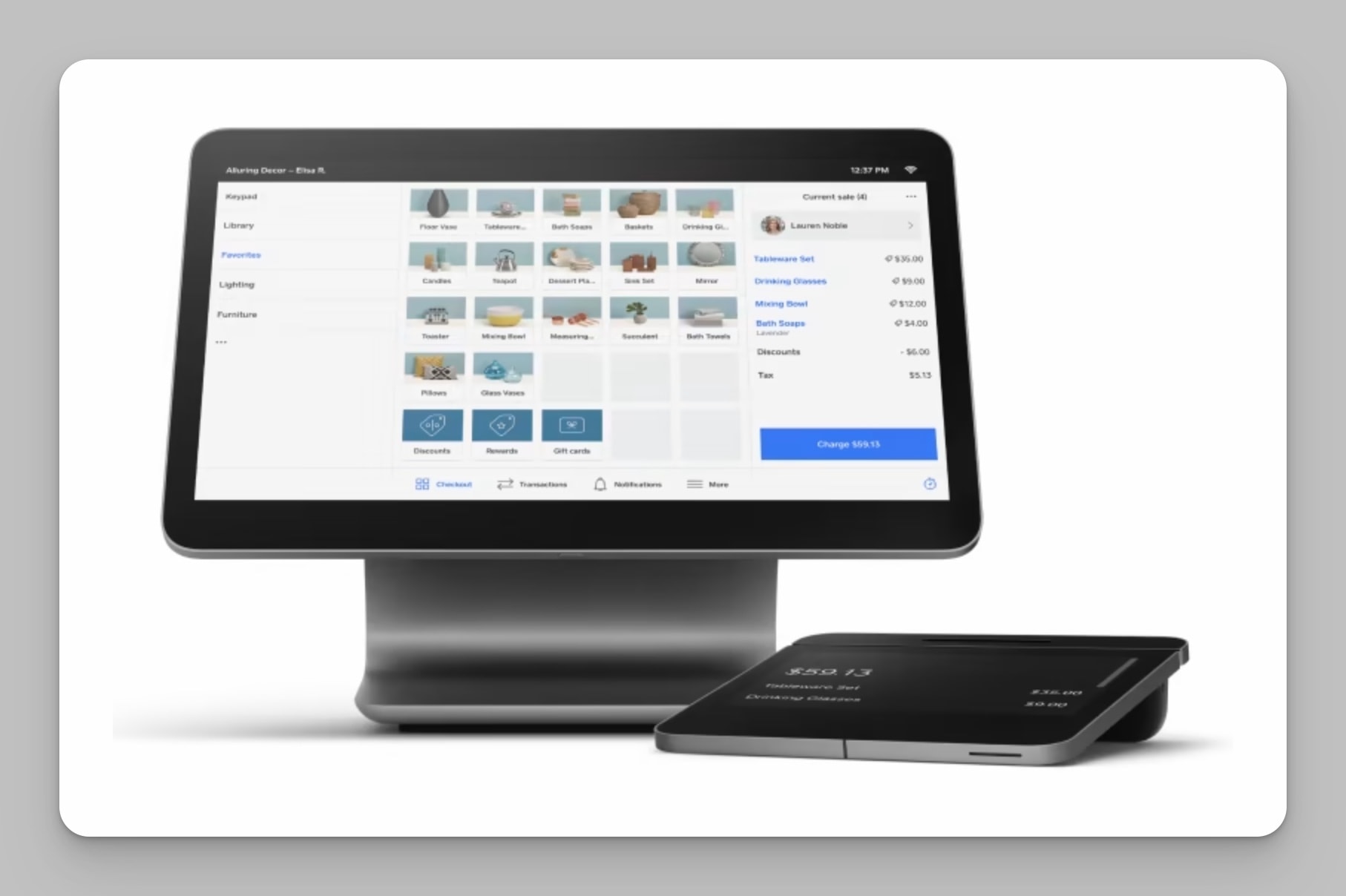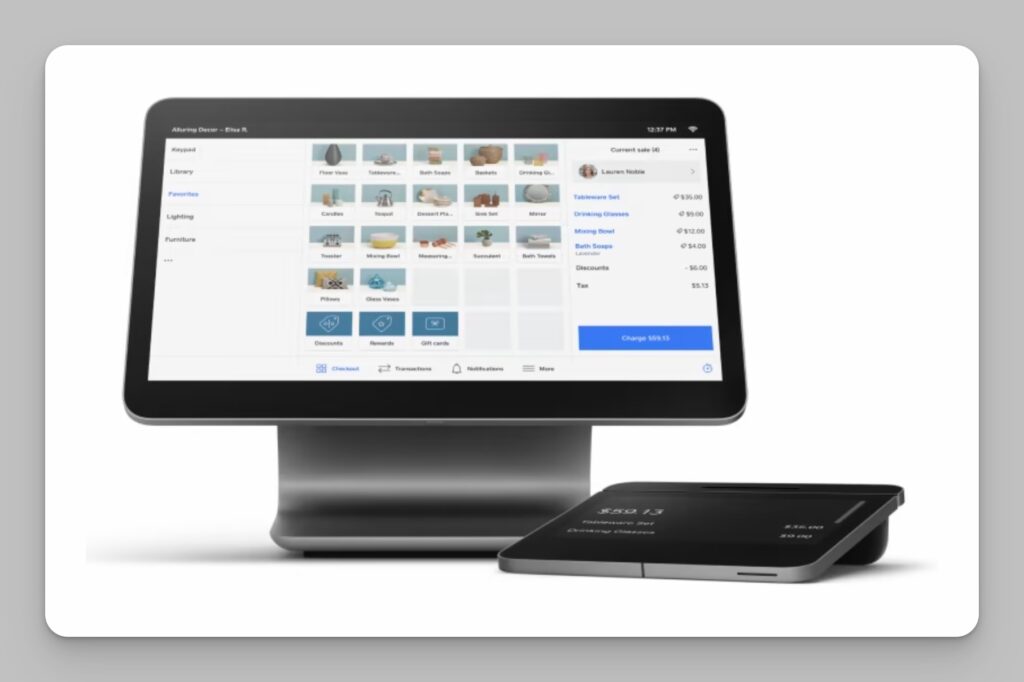 Where Square Shines for Pizza Restaurants
Square for Restaurants provides a fast and efficient Point of Sale system, suitable for pizza shops like yours. With conversational modifiers and real-time menu updates, you can swiftly enter orders and keep up with the demands of a bustling pizzeria. Repeat orders are just a few taps away, ensuring your service runs smoothly even during peak hours.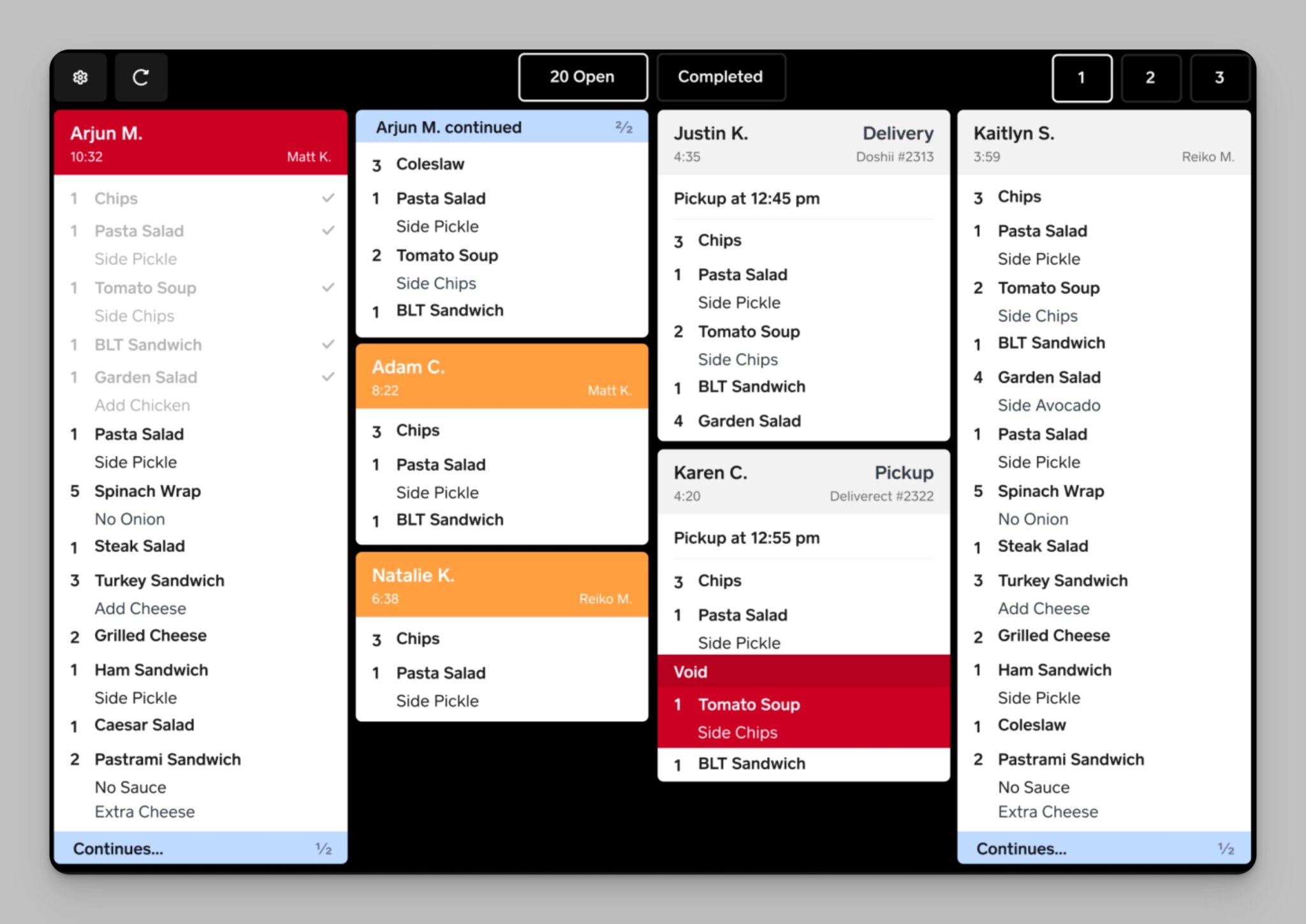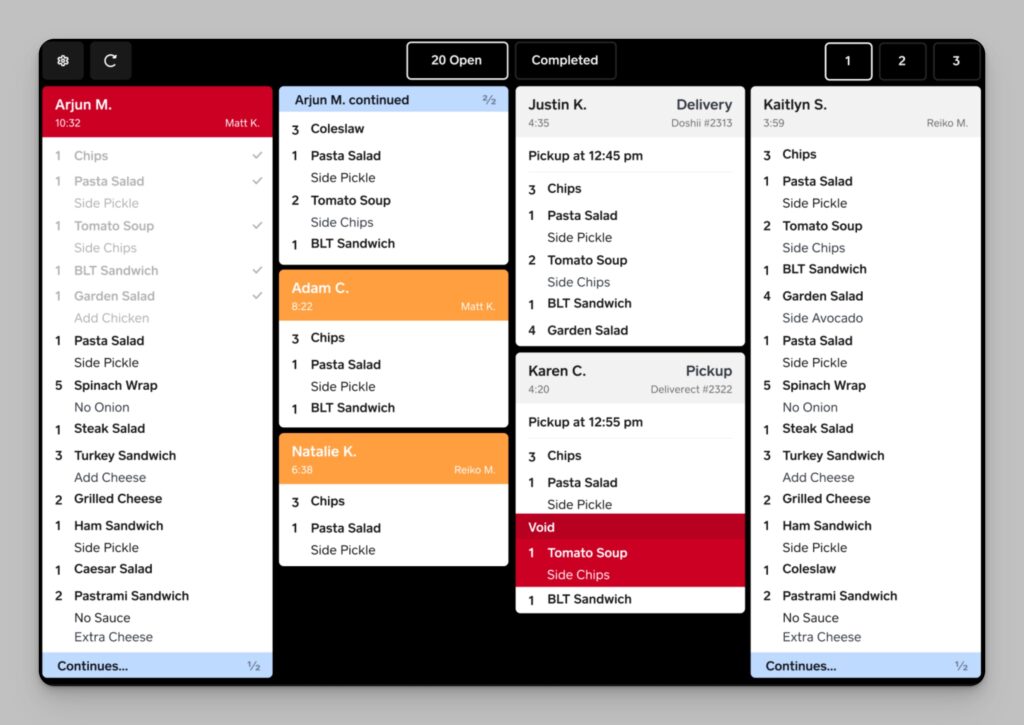 Synchronizing Front and Back of the House with Square KDS: The Square Kitchen Display System (KDS) keeps your entire pizzeria in sync, managing the rush and reducing costs with digital tickets. It allows you to handle all your pizza orders from one screen, ensuring that pizzas are prepared and packaged correctly. By minimizing unnecessary communication between the table and the kitchen, your staff can focus more on delivering excellent customer service.
Multiple Ordering Options for Enhanced Convenience: Square offers various ordering options to enhance convenience for both you and your customers. With integrated online ordering, you can accept orders through your pizzeria's website without paying commissions.
The system supports delivery, curbside pickup, and self-serve ordering, seamlessly integrating with the restaurant POS and Square KDS. These options simplify the pizza ordering process and open up additional revenue streams for your business.
Efficient Order Management with Order Manager: Square for Restaurants features the Order Manager tool, which consolidates all your online and mobile pizza orders in one place. It eliminates the need to swipe through multiple tablets to organize your orders manually, saving time and reducing errors. Whether orders come through your Square Online site or third-party delivery partners, they are pushed directly to your POS and KDS, ensuring smooth order management.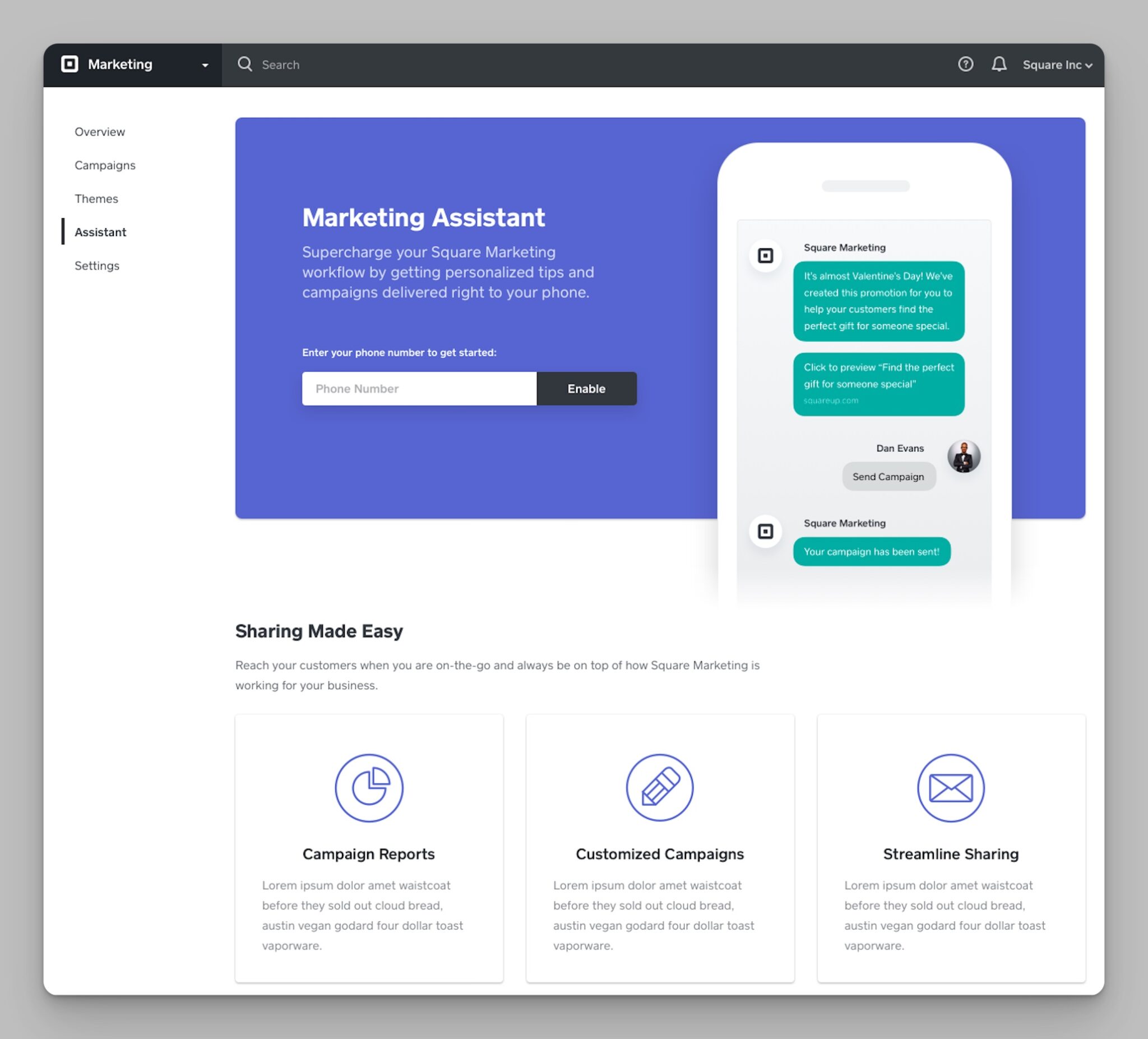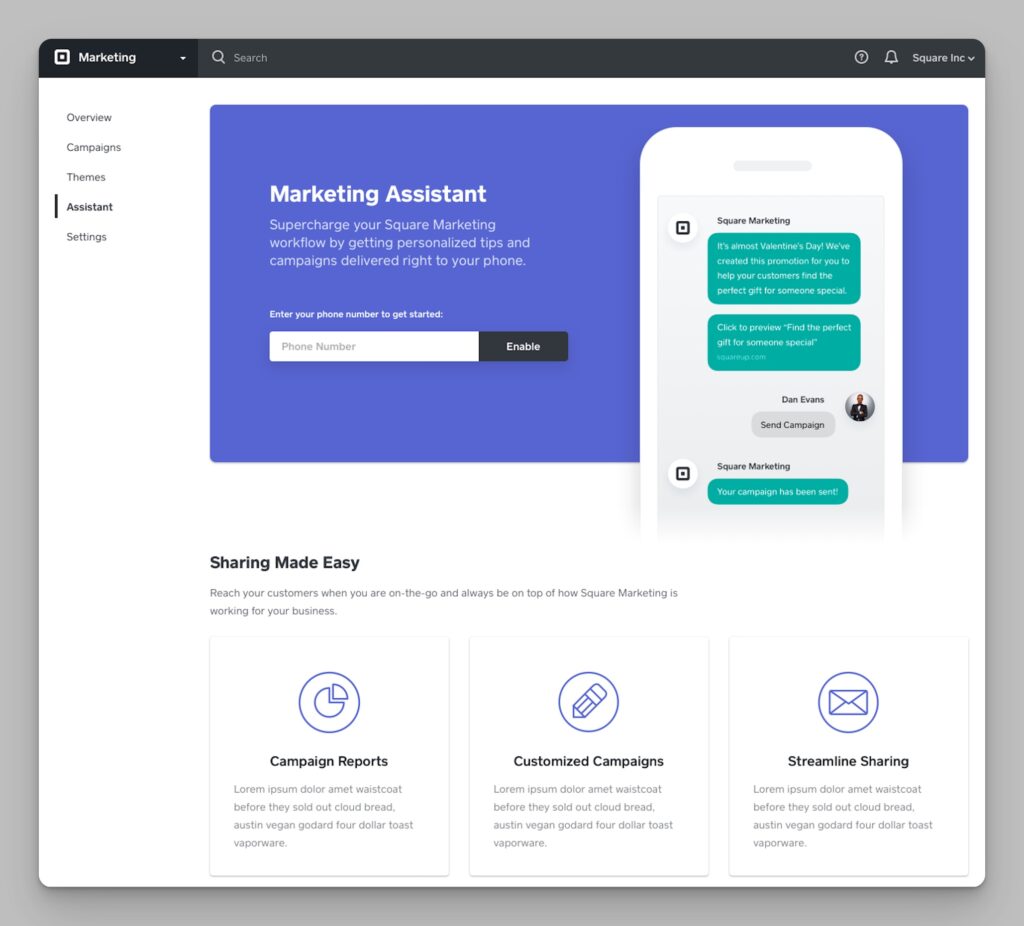 Marketing Tools for Engaging Pizza Lovers: Square offers excellent marketing tools to help you engage with your customers and promote your pizza offerings. Create, send, and track email and social media campaigns, tailor messaging to target specific groups and get real-time reports to gauge the performance of your promotions. These tools can drive traffic to your online and physical stores and build a loyal base of pizza lovers.
In-depth Data and Custom Reports for Informed Decision-making: Data reports are available to help you understand all aspects of your pizzeria business. View real-time sales on your POS, run reports based on various metrics, and receive alerts when inventory is low. These insights allow you to identify trends, address potential issues proactively, and make informed decisions about your pizzeria operations.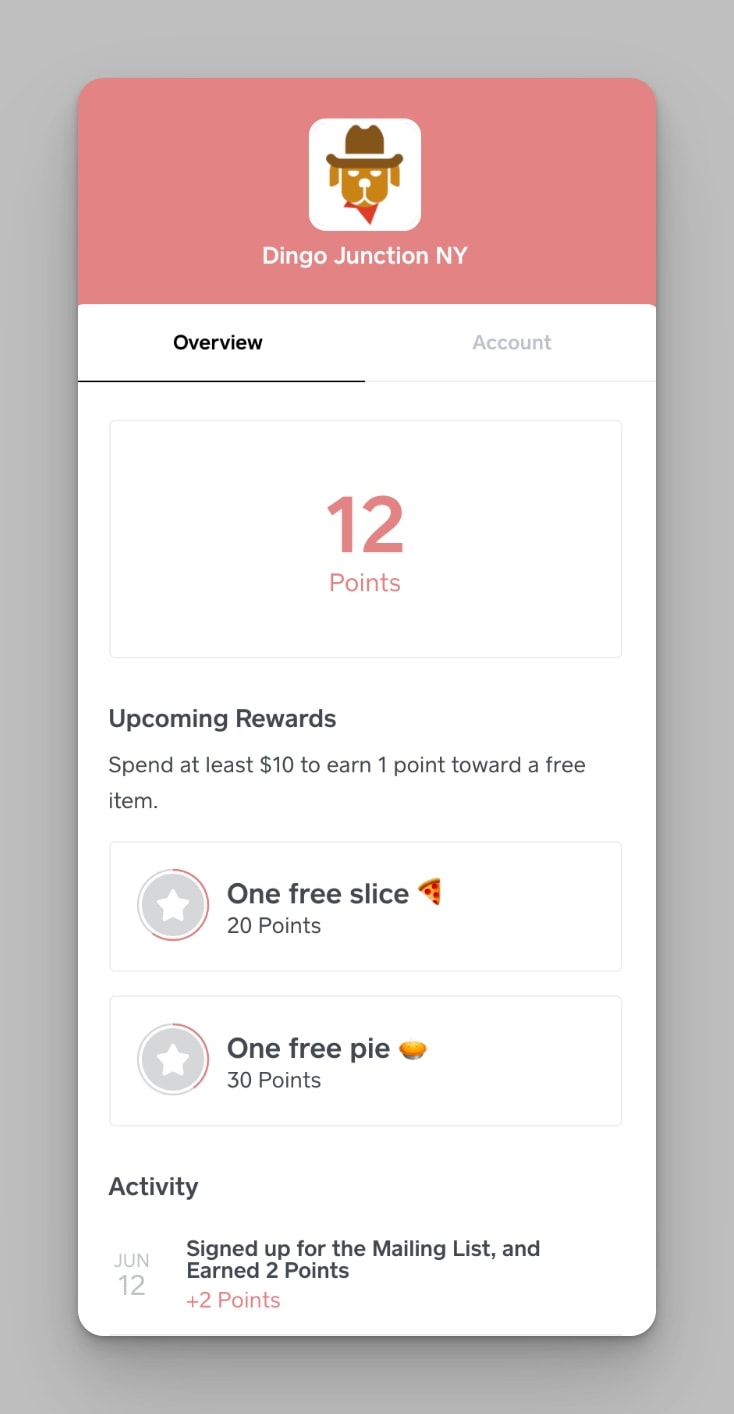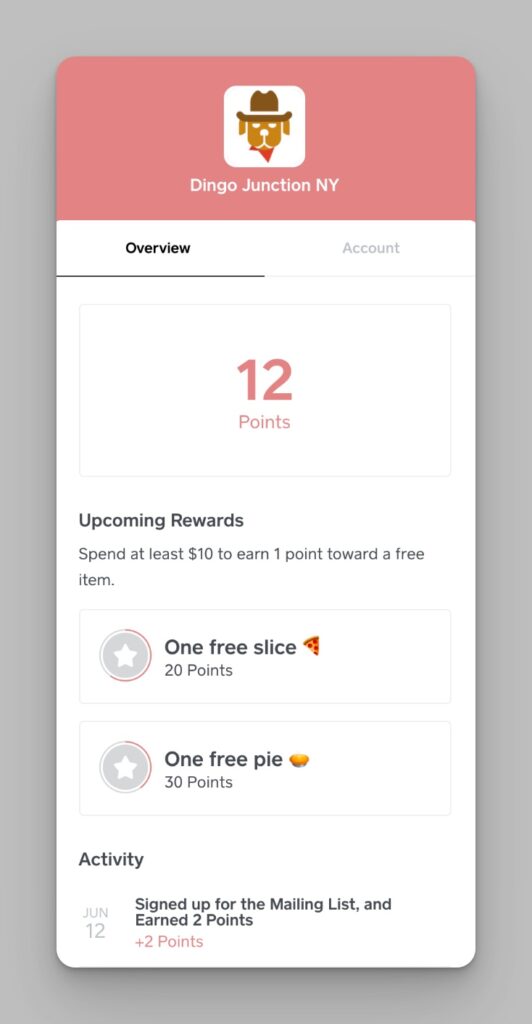 Loyalty Program to Boost Sales: The loyalty program can reward repeat customers and increase sales. Customers can easily sign up at checkout, and you can track and compare loyalty and non-loyalty sales. The system also allows for the use of Square Gift Cards to boost sales and attract new customers. Reward levels can be set based on items purchased, visits, or the amount spent, providing an incentive for customers to return for more pizzas.
Integrated Payroll for Efficient Staff Management: Square for Restaurants provides full-service payroll integration with your Square POS. This allows you to track hours and tips, automate payroll tax filings and withholdings, and offer employee benefits like health insurance. With this integrated system, you can effectively manage your pizzeria staff and ensure accurate and timely payments.
Where Square Can Improve
Limited Advanced Features: Square for Restaurants may lack some advanced features offered by other POS systems, such as in-depth inventory management and comprehensive reporting tools
Complex Reporting: The reporting features are causing concerns because they lack sufficient detail and are complex, making it difficult to search for specific information. Additionally, the process of reconciling sales to receivables is lengthy.
Lack of On-Site Support: Square for Restaurants does not provide on-site support, which may not be suitable for businesses that rely on in-person assistance.
Square Pricing
Free plan: There's no monthly fee, but there is a transaction fee for each in-person sale. 2.6% + 10¢ for swiped or tapped card transactions. 3.5% + 15¢ when the card number is keyed in. Online payment: 2.9% + 30¢ per transaction.
Plus: Includes more advanced features designed specifically for restaurants. $60/month for one device per location. +$40/month per added countertop POS device. (+ processing fees).
Premium subscribers get everything in the Plus subscription and custom pricing for add-ons like Square Payroll, Square Marketing, and Square Loyalty.
Example pricing of some add-ons:
Square Payroll +$35/mo then $5/mo per employee
Square Loyalty From $45/mo per location
Square Marketing From $15/mo per location
(Hardware is not included in the subscription. See hardware costs in the section below).
Contract length
A key advantage of Square's payment processing is the absence of long-term subscriptions, providing flexibility in the usage of its services. You can opt for month-to-month payments and easily cancel your subscription anytime without penalties.
As a result, you can experiment with different business strategies while staying agile and adaptable to changing market conditions.
In conclusion, Square for Restaurants is a great solution for fast-paced pizza shops. With its efficient POS system, syncing of the front and back of the house, multiple ordering options, marketing tools, detailed data and reporting, loyalty program, and integrated payroll, Square provides many necessary tools to help your business succeed.
SpotOn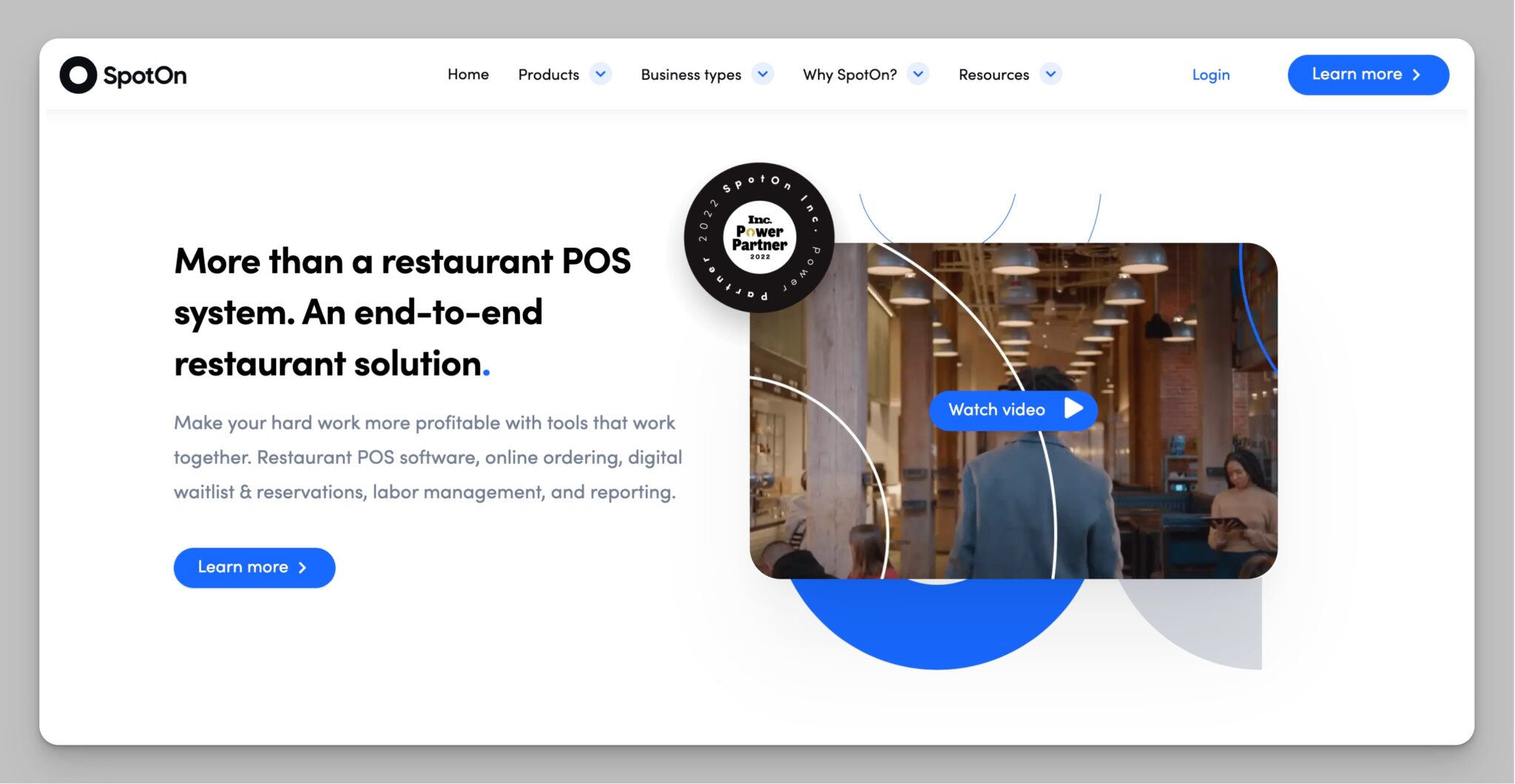 SpotOn is only available in the US.
SpotOn is rapidly becoming one of the top cloud-based Point of Sale (POS) systems for restaurants and pizzerias.
It includes all the essential POS features and hardware devices that a pizzeria would need, along with many advanced features and add-ons tailored to this specific industry.
What's particularly impressive is the extensive range of features and hardware options SpotOn provides, especially considering it's a relatively new player in the restaurant POS landscape.
Customer support is a cornerstone for SpotOn, and they offer setup and training specifically tailored to your pizzeria's needs. Their team provides on-site installation and training, and offers round-the-clock support.
Founded in 2017 and based in San Francisco, SpotOn serves various markets including the restaurant, sports, entertainment, and retail sectors. However, its primary focus is on the restaurant and sports/entertainment industries, making it an excellent fit for pizza restaurants and pizzerias that often feature sports and entertainment.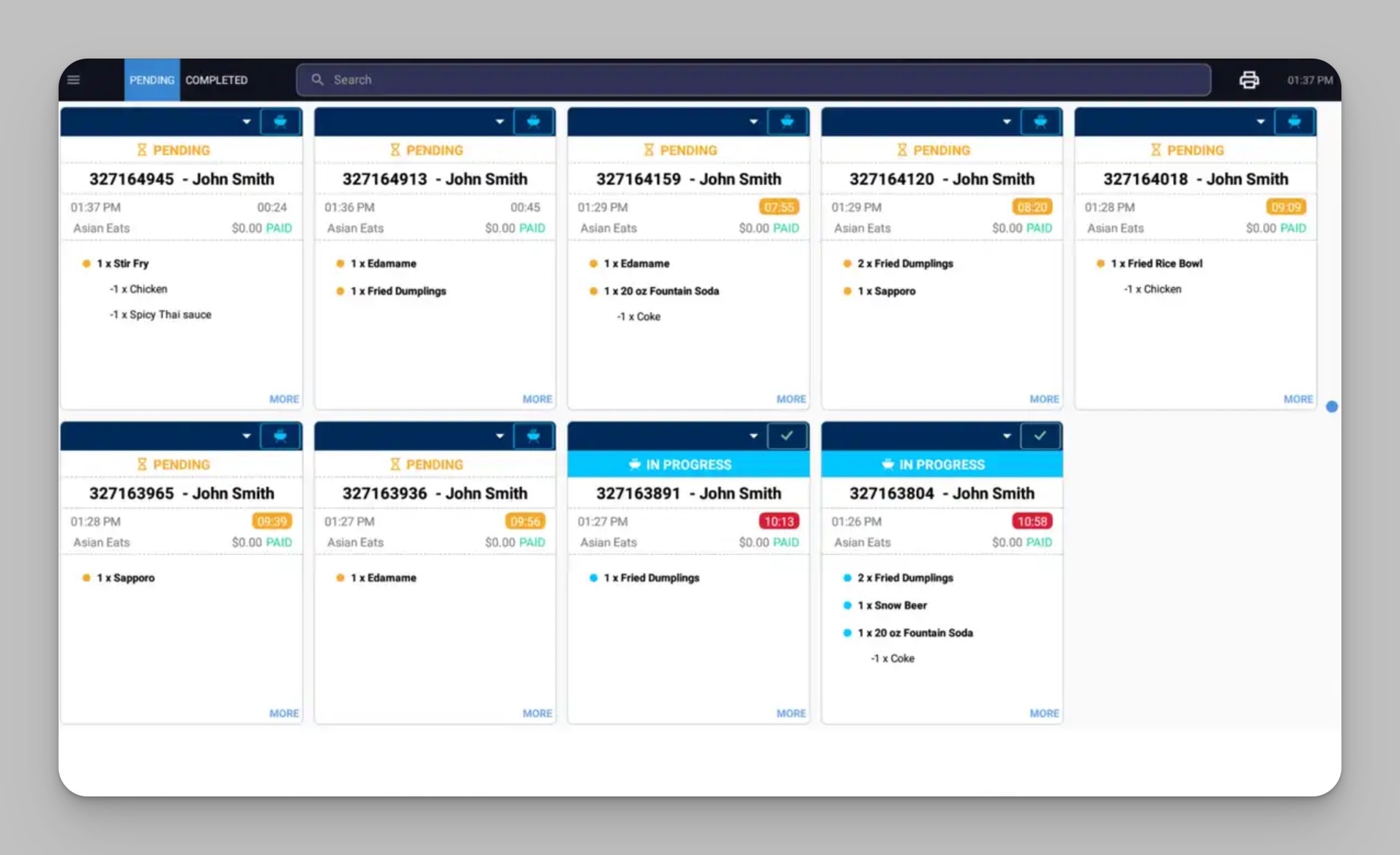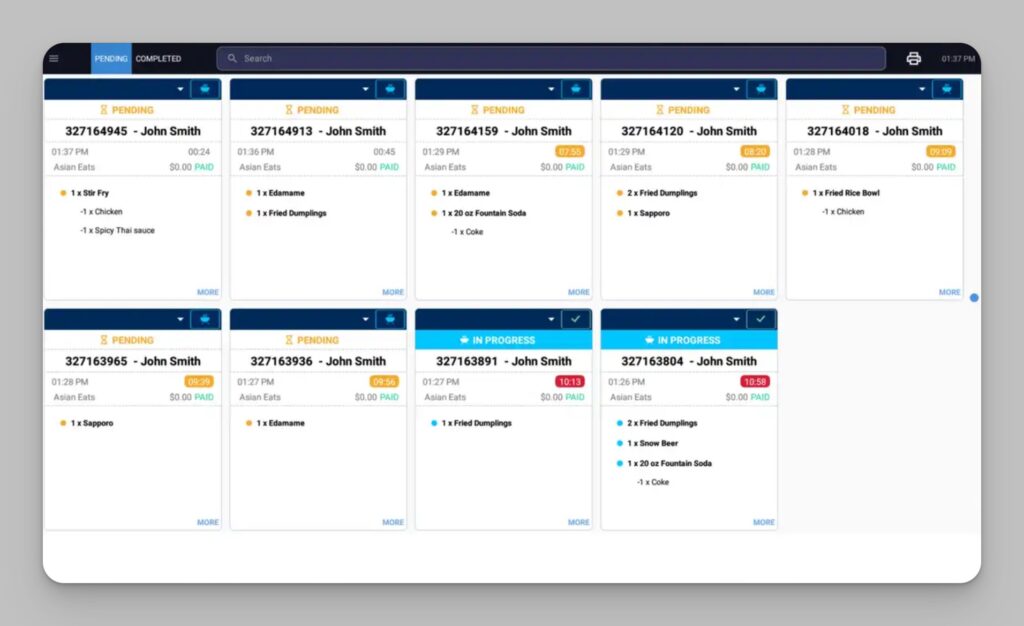 Where SpotOn Shines for Pizza Restaurants
Online Ordering and Delivery Services: For pizza restaurants and pizzerias aiming to boost their online visibility, SpotOn presents an online ordering system that bypasses expensive commissions from third-party apps. With SpotOn Delivery, powered by DoorDash, you gain access to the extensive DoorDash delivery network for a minimal flat fee, empowering you to offer delivery services without the hassle of managing your own drivers.
Integrated Digital Loyalty Rewards Program: SpotOn's POS system includes an integrated digital loyalty rewards program designed to encourage repeat visits and amplify sales. By offering loyalty rewards, you can incentivize your customers to frequent your pizzeria more often, fostering a loyal and enduring customer base.
In-depth Reporting: SpotOn offers in-depth reporting with over 90 fully interactive reports. These reports provide comprehensive data on sales and labor by hour, product mix, employee sales, station sales, and transactions. This vital information enables you to make intelligent, data-driven decisions for your pizzeria business.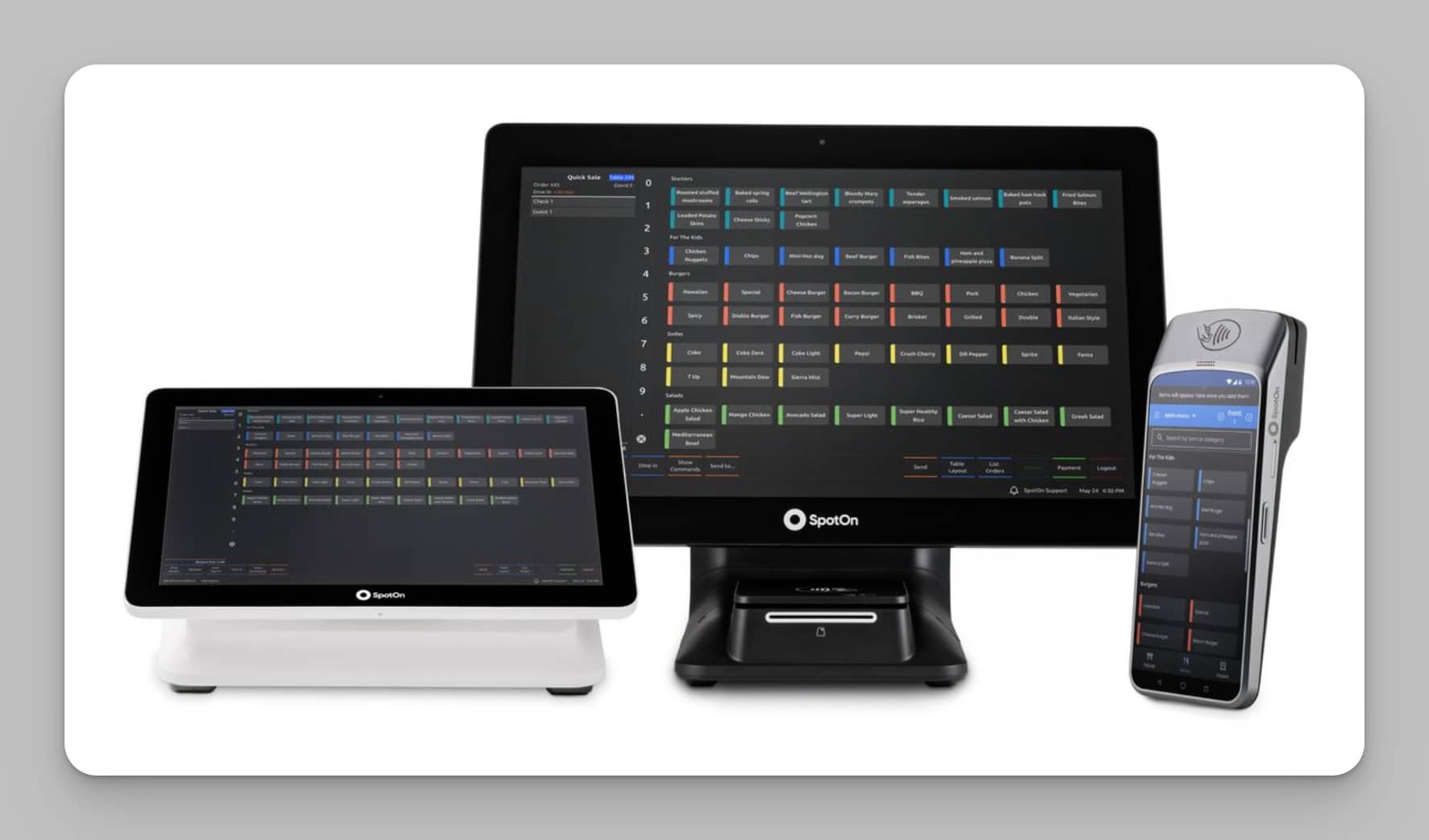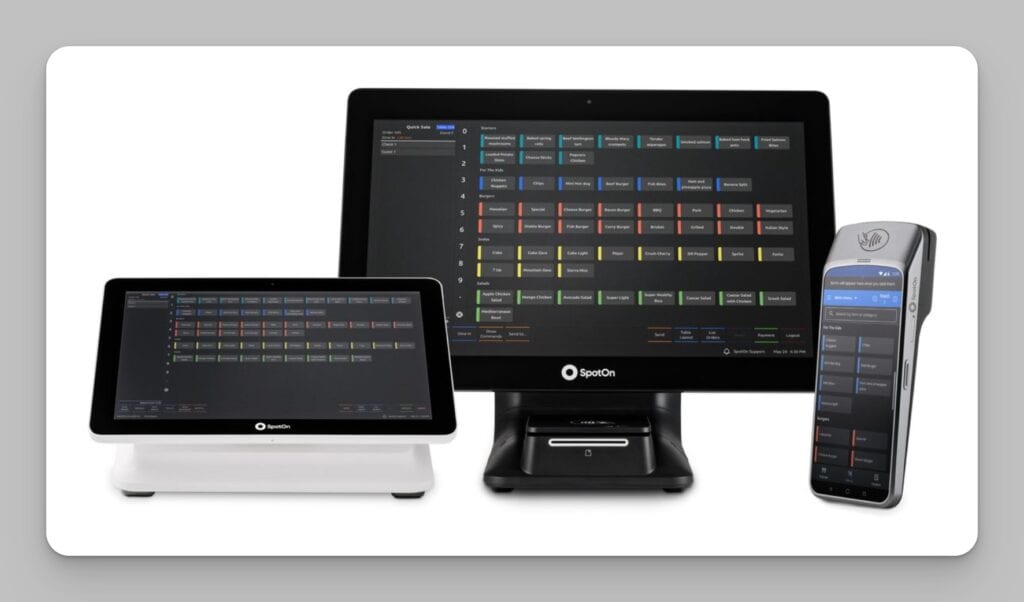 SpotOn POS Hardware Devices
SpotOn POS Hardware Devices: SpotOn provides a wide array of hardware options tailored to the needs of pizza restaurants and pizzerias. These include touchscreen stations, handheld devices, customer-facing displays, self-service kiosks, and kitchen display systems. The hardware is built to be sturdy and reliable in a busy pizzeria environment.
SpotOn Serve is a handheld POS device that can be utilized to take orders curbside, tableside, or anywhere else you want to engage with customers. It sends orders to the kitchen in real-time and accepts payments immediately with an EMV, Apple Pay, and Android Pay card reader.
SpotOn's Kitchen Display System (KDS) enhances kitchen productivity by channeling orders from your POS stations directly to your KDS. It features real-time order tracking and efficient order routing, increasing the number of orders your kitchen can handle and improving your kitchen's workflow.
SpotOn also offers self-service kiosks that eliminate queues, serve more customers, and maximize labor efficiency. These kiosks deliver a highly customizable and intuitive ordering experience, making the process of ordering pizzas quick and easy for your customers.
Where SpotOn Falls Short
SpotOn has some limitations that may make it less attractive to specific businesses.
It only works with SpotOn's hardware, which could disadvantage businesses that have already invested in other POS hardware or prefer a different hardware provider.
Using payment processing services other than SpotOn's can be expensive. SpotOn charges a commission of 1.99% + $0.25 for regular transactions, which is quite low, but 2.99% + $0.25 for reward, corporate, international, and keyed-in card transactions.
The POS system of SpotOn is dependent on the cloud and the offline functionality is not as robust as for example that of TouchBistro
SpotOn offers various add-on features such as loyalty programs and website building, these add-ons can make the overall cost of the system high.
SpotOn Pricing Overview
The system's price starts at $25 per month, but there are some conditions to consider. To take advantage of this low rate, customers must sign up for SpotOn's payment processing services. If you do not use their payment processing services then you will be charged $195 per month for access to the software.
SpotOn charges a commission of 1.99% + $0.25 for regular transactions, which is quite low, but 2.99% + $0.25 for reward, corporate, international, and keyed-in card transactions.
The pricing for SpotOn's POS system varies depending on the package and hardware and can include:
$25/month for the software (including payment processing)
$195/month for the software alone (without payment processing)
$65/month for SpotOn's restaurant-specific features
Some examples of add-on pricing:
$65/month for a customer loyalty add-on
$65/month for a website add-on
Other notable add-ons include marketing, payroll
Please note that the specific pricing for SpotOn can vary depending on the package and hardware. It's recommended to contact SpotOn directly for a custom quote based on your business's unique needs.
Hardware pricing varies by device and promotions may apply. Other prices may depend on what agreement you can reach with SpotOn depending on your requirements. Although SpotOn charges a setup fee, they do not openly display the cost on their website.
Considering all of the features offered by SpotOn POS, the price may still be worth it. SpotOn Payments has very low commission rates, so for some types of restaurants, this can be a good deal.
In conclusion, SpotOn offers a comprehensive suite of features designed to meet the unique needs of pizzerias. From personalized setup and training to integrated loyalty rewards, robust hardware and software solutions, online ordering and delivery services, efficient kitchen display systems, comprehensive reporting, handheld POS devices, and self-service kiosks.
TouchBistro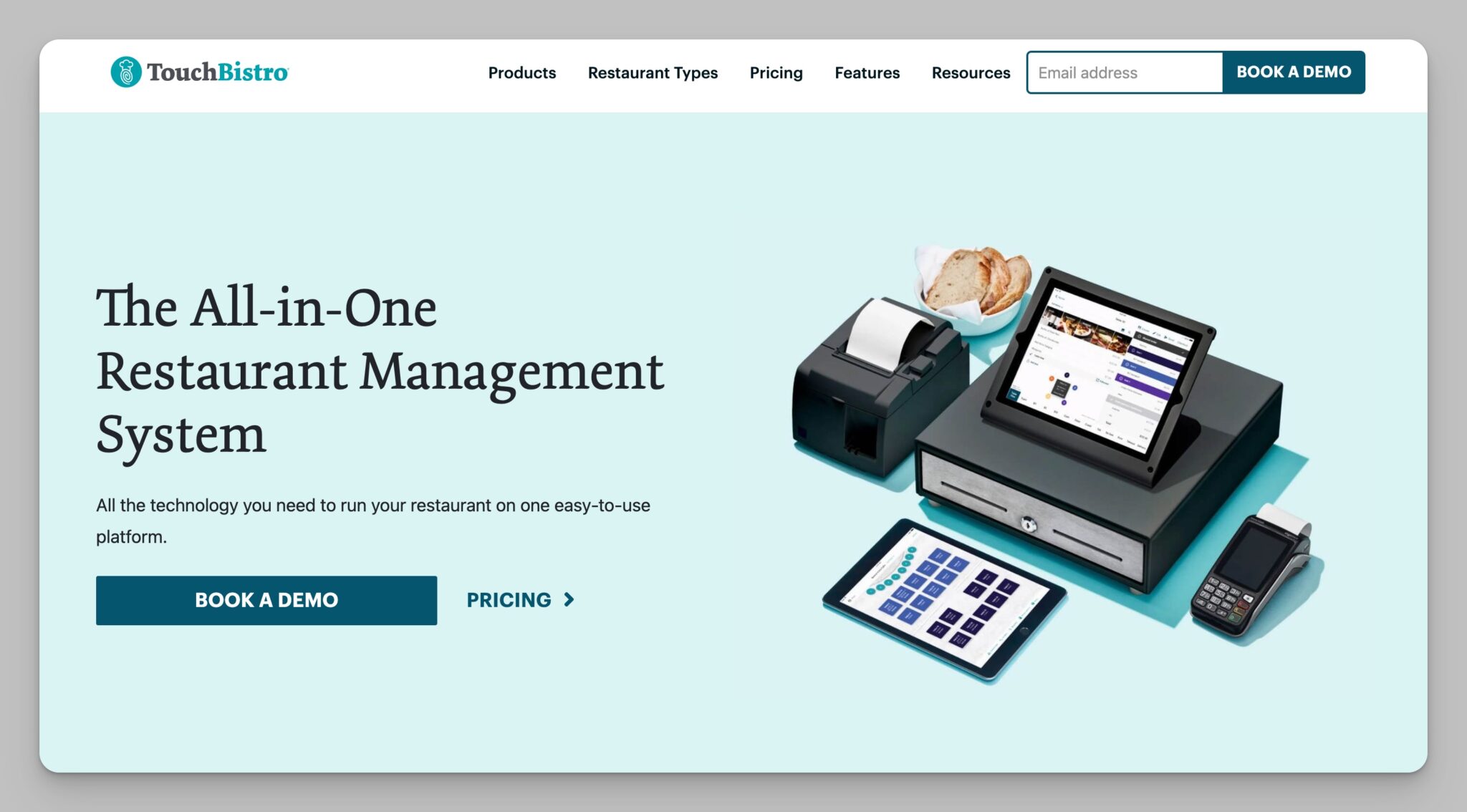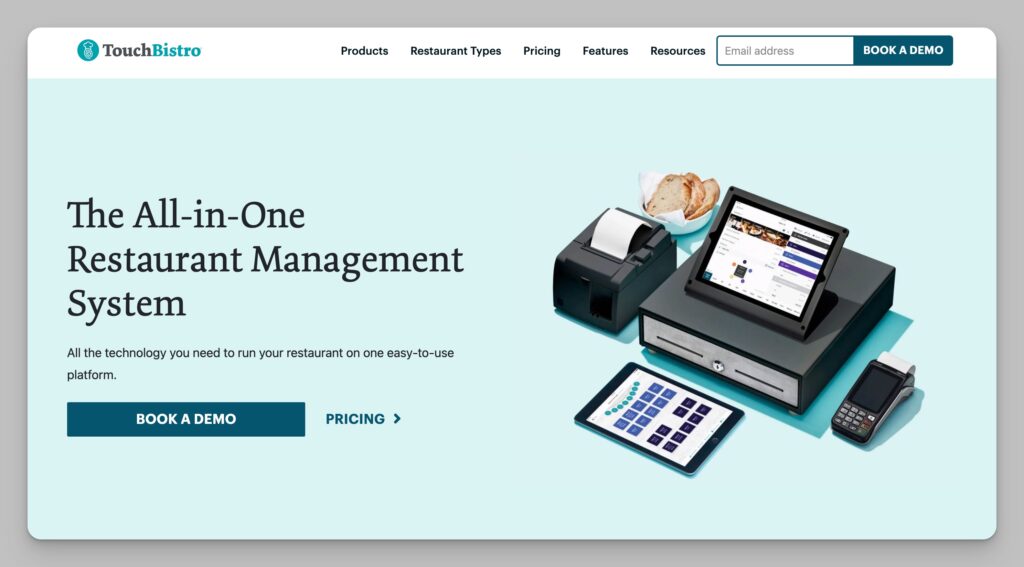 TouchBistro is available in the US, Canada, UK, Mexico, and over 100 other countries.
TouchBistro is a stellar choice not only for independent full-service restaurants but also has proven its effectiveness in helping pizza restaurants and pizzerias manage their operations.
Its visually striking and intuitive design is packed with abundant rich features, offering an exceptional user experience. TouchBistro also provides the convenience of a hybrid cloud/server system, ensuring your data is always accessible and secure, which is essential for the fast-paced environment of a pizzeria.
Ease of use: TouchBistro stands out as one of the most user-friendly POS systems on the market. It's straightforward to use, and you can become proficient in a short period. TouchBistro is ideal for those seeking a quick and easy-to-navigate system for their pizzeria.
New staff members won't need to spend valuable time on extensive tutorials – if they're familiar with an iPad, they'll quickly grasp TouchBistro. You can customize your pizza menus and interface with this tool, which will help streamline your processes in the long run.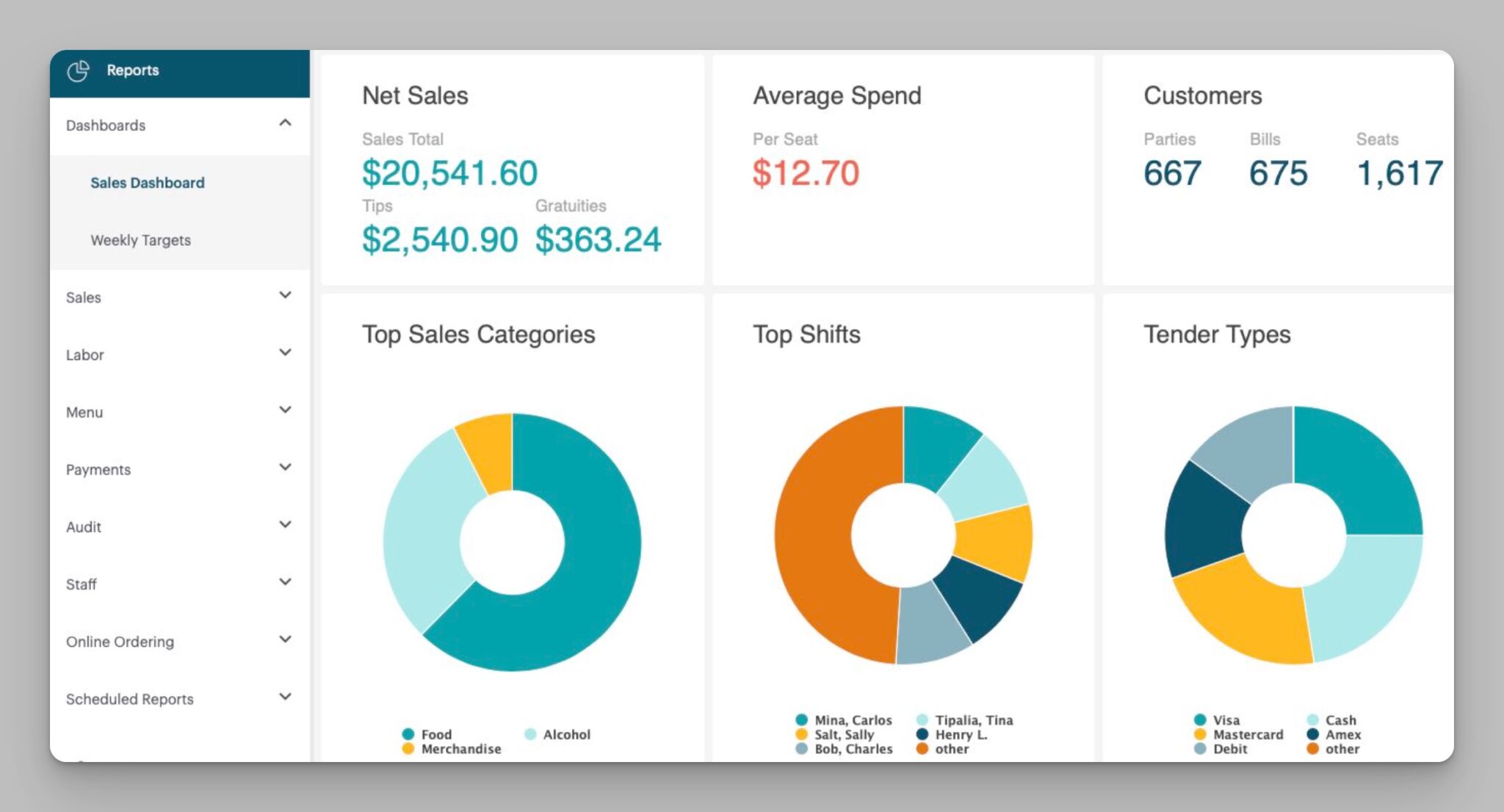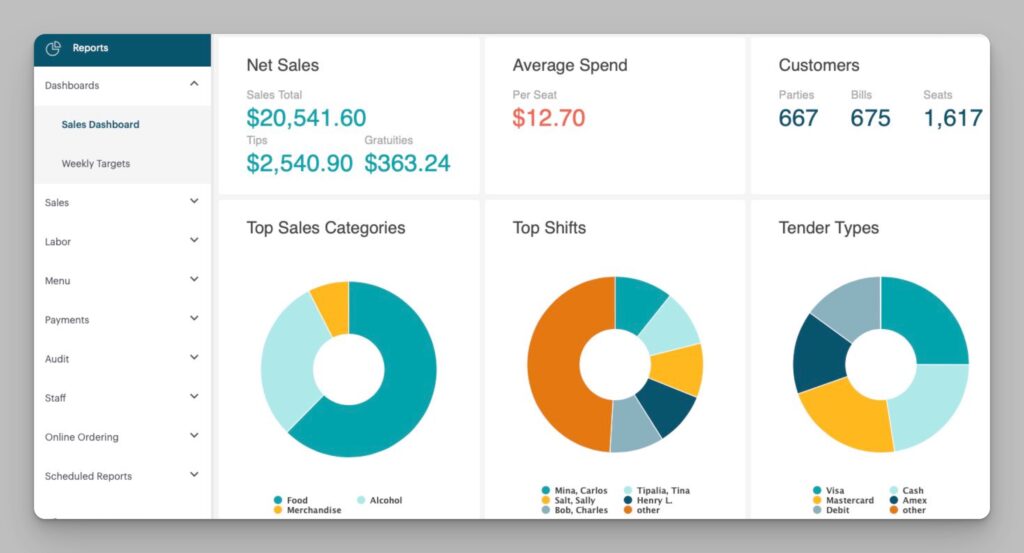 Where TouchBistro Excels for Pizzerias
Data Access and Analytics: TouchBistro's in-depth reporting and analytics tools allow you to delve into over 50 different cloud reports from any device. These reports offer crucial insights such as sales by specific pizza types, inventory management, and cost of ingredients sold. This can assist you in identifying and rectifying potential hidden operational issues within your pizzeria.
Online Ordering and Enhanced Customer Interaction: TouchBistro simplifies the task of accepting pickup and delivery orders with its Online Ordering System. You can take orders directly from your own website or order.tbdine.com without the stress of paying commission fees.
Orders are sent straight from your website to your POS in real-time, eliminating the need for manual order entry. The POS system alerts you instantly when an online order comes through, helping you process orders swiftly.
Marketing and Personalized Loyalty Programs: The integrated Marketing and Loyalty tool helps you create enticing, value-driven campaigns that motivate customers to return. This unified platform empowers you to utilize guest data for targeted online promotions and advanced email marketing.
Serving as a comprehensive customer relationship management (CRM) platform, the Loyalty Program collects valuable information such as visit frequency, average spending, order history, and birthdays. This data provides deeper insights into your customers' preferences, allowing for a more personalized dining experience at your pizzeria.
Customizable Customer Web App TouchBistro's adjustable Customer Web App allows your customers to earn, redeem, and track their rewards using their own devices. Furthermore, you can tailor your loyalty program based on customer spending habits and purchased items, aiding in the creation of a rewards system that aligns with your pizzeria's business model and customer base.
The system automatically assigns loyalty points and rewards based on purchase details. It also offers valuable insights via detailed reports on your rewards and loyalty programs, assisting you in making informed, data-driven decisions for your pizza restaurant.
Where TouchBistro Falls Short
While it is a highly regarded system, there are some areas for improvement and potential drawbacks to consider.
Limited integrations: While TouchBistro has some integrations available, it may not have as many options as other POS systems. This could be a limiting factor for businesses that require more extensive integrations with other software and platforms.
Limited reporting: There are certain areas where the reporting features need improvement to generate more useful sales, employee performance, and inventory reports.
TouchBistro Pricing Overview
I like the modularity of the TouchBistro pricing structure. You get a good deal at a low price and can choose from the selection of add-on options as your business grows.
Here is the pricing plan for TouchBistro and its add-ons:
Monthly subscription fee: Starts at $69/month for up to two setups
Add-on pricing (starting at):
Online ordering: $50/month
Reservations: $229/month
Gift cards: $25/month
Marketing: $99/month
Loyalty: $99/month
TouchBistro Payments (US only)is powered by Chase and provides pricing through an innovative cost plus pricing model. The solution supports all major credit and debit cards, as well as swipe, dip, tap, and digital wallet payments from Apple Pay, Google Pay, and Samsung Pay.
TouchBistro Payments also offers an offline payment mode, allowing you to continue taking payments even when their internet is down.
Payment processing fees depend on whether you use TouchBistro Payments (US only) or one of the available payment processing partners like Square. You'll be able to use different payment processors depending on which one offers the lowest rate.
For example, Square charges the following: 2.6% +10¢ per transaction.
Please note that hardware and additional fees may apply to these prices. It's recommended to contact TouchBistro directly for a custom quote.
Key Takeaways of the 7 Best Pizza POS Systems
Slice is designed specifically for pizzerias with features like centralized online ordering, CRM tools, and menu control. It aims to help independent shops compete using data insights and marketing. However, some users have reported compatibility and integration issues.
Toast excels at online ordering, robust terminals, kiosks, and kitchen display systems tailored for pizza restaurants. It provides strong reporting and aims to be an all-in-one solution.
Truffle offers efficient management across locations and timely delivery using its driver app. The GoBox locker system simplifies order pickup. But pricing may be less predictable and integration can be limited.
Lightspeed is highly customizable with real-time insights for data-driven decisions. It has multiple ordering options, centralized management, and features like self-order menus and customer-facing displays.
Square provides fast POS, order management, and marketing tools for engaging customers. It synchronizes operations with the Square KDS and offers loyalty programs and data reports.
SpotOn shines with its online ordering system, integrated loyalty rewards, robust reports, and hardware like the handheld Serve device and KDS.
TouchBistro excels in ease of use, online ordering, marketing tools, and loyalty programs. Its system also provides valuable customer insights.
You might also like: How to Open a Pizza Shop: A Step-by-Step Guide
How to Choose a Pizza POS System
Choosing the right point-of-sale (POS) system is one of the most important technology decisions a pizza shop owner can make.
The POS serves as the central hub connecting customer orders, kitchen operations, inventory management, staff management, and revenue reporting. It streamlines operations, provides critical insights, and ultimately drives business success.
Selecting the wrong POS system can negatively impact order accuracy, workflow efficiency, staff productivity, and profitability. Transitioning to a new system after making the wrong choice can also be extremely disruptive and costly.
Consider Your Specific Needs
Every pizza shop has unique requirements when it comes to a POS system. The specific combination of ordering channels, menu size and customization, shop layout, transaction volume, and integrations needed will vary for each business.
Carefully taking stock of your business model, peak periods, future plans, and operational pain points will enable you to select the POS that best fits your needs both now and in the future.
Start by making a list of the different ordering channels you want to support – dine-in, takeout, delivery, catering, online ordering, etc. Consider how customized your menu offerings are with various crusts, sizes, toppings, and specialty options that impact order complexity.
Factor in the number of POS terminals or kiosks needed for your space and busiest times. Assess current and future needs for table management, reservations, loyalty programs, inventory systems, and other integrations.
Don't just think of your current transaction volume, look a few years down the road. Perhaps you'll be adding more locations, new menu items or ordering channels, or experiences like beer and wine service.
Planning ahead ensures you choose a POS poised for growth with your business. No pizza shop owner wants to be saddled with a limited POS system that requires costly upgrades after just a few years.
Carefully analyzing your specific operational needs will help narrow down the POS options and avoid expensive mistakes. The time spent upfront will pay off with a tailored POS system that empowers staff and enables long-term business success.
Cloud vs. Legacy on Premise Systems
When evaluating POS systems, one of the biggest decisions is choosing between a cloud or on-premise solution. There are key differences between the two approaches that impact costs, IT needs, scalability, upgrades, accessibility, and customization.
In terms of hardware, cloud POS systems run on tablets or mobile devices, minimizing upfront hardware costs. On the other hand, on-premise POS requires purchasing servers, terminals, and other equipment which contributes to higher startup costs.
Licensing and infrastructure investments also add significantly to initial expenses for on-premise solutions.
For many pizza shops, the lower costs, automatic updates, and flexibility of cloud POS systems make them the better choice over on-premise solutions. However, shops with very high order volumes or specific security requirements may still prefer on-premise systems.
Don't Just Focus on Price
It's tempting to choose the POS system with the lowest upfront software and hardware costs. However, the cheapest option on the market may end up lacking critical features, scalability, or support that your business needs. This shortsighted decision can end up costing far more in disruptions and expensive upgrades down the road.
Instead, take a holistic view of the total costs involved when evaluating POS systems. Certainly, factor in the monthly software subscription fees and cost of hardware terminals or tablets.
But also consider expenses like integration with other software systems, setup and installation fees, payment processing rates, employee training costs, maintenance and support fees, and needs for future upgrades.
Robust POS systems with comprehensive features, strong technical support, and flexible scalability may have higher upfront costs but can save money over time. The right POS improves staff efficiency, minimizes order errors, reduces waste with inventory management, and provides data to optimize operations. Consider both short and long term advantages.
In addition, don't just default to the POS your competitor uses. Carefully weigh the options against your specific business needs. Custom order flows, menu variations, growth plans, and staffing models differ. More established brands may be locked into legacy POS contracts that emerging shops should avoid.
The POS decision deserves due diligence beyond just comparing price tags. Vetting the ongoing costs, inherent value, and long-term upside of the investment will pay dividends.
FAQs
What are the key features to look for in a pizza POS system?
Integration with Online Ordering Channels
The POS should seamlessly integrate with third-party delivery services like UberEats, DoorDash, etc. This allows orders from multiple channels to flow into one system.
APIs and tablet integration allow easy syncing with your own online ordering platforms.
This consolidation provides a single view of all orders and customers across channels.
Dynamic Menu Management
You'll want simple interfaces to add, remove, or update menu items and prices.
Modifier and topping options can be configured to accommodate custom orders.
Menu variations can be set up for separate locations or daypart offerings.
Robust Reporting
Sales reporting should provide insights by time period, location, menu categories, employees, and more.
Labor cost reporting can track payroll and schedule effectiveness.
Detailed ingredient-level reporting aids inventory management.
The ability to export reports provides customized analytics.
Inventory Management
Recipes specifying ingredient quantities per menu item facilitate order tracking.
Perpetual inventory management automatically updates stock levels.
Inventory alerts trigger notifications for low-stock items based on par levels.
Purchase order automation simplifies reordering.
Staff Management
Employee timecards, overtime warnings, and payroll integration improve compliance.
Labor forecasting and schedule optimization reduce costs.
Employee shift reminders and shift trade capabilities provide flexibility.
Granular staff permissions enhance security.
What are some common challenges pizza shop owners face when choosing a POS system?
Understanding their specific needs – It's easy to get overwhelmed by the sheer number of POS options and features. Clearly defining must-have capabilities vs. nice-to-have will help focus the search.
Balancing customization with ease of use – Many want robust customization but too much complexity can reduce employee adoption. Striking the right balance is key.
Future-proofing the technology – Shop owners want to avoid costly upgrades or migrations soon after implementing a POS. Evaluating scalability and flexibility is crucial.
Integrating with third-party platforms – Integrating with delivery services, loyalty programs, accounting software, etc. can get tricky. Vetting integration capabilities are important.
Finding the right POS expertise – Many general POS providers lack pizza-specific expertise. Seeking proven pizza experience is wise.
Navigating upfront costs – Cloud POS options have transformed costs but some still carry heavy hardware investments. Understanding total costs is vital.
Maintaining security and compliance – Shop owners must ensure POS providers have adequate security, encryption, and redundancy to protect customer data.
Getting buy-in across the organization – Careful change management and training are required for employee adoption across locations.