Are you trying to find the best point of sale system for your restaurant?
Then you've come to the right place.
When it comes to POS software, restaurants have specific requirements. Some of the best POS software providers understand this and have developed systems specifically for restaurants. Using a point of sale system that is specialized gives you access to powerful tools that can help you grow your business.
In this blog post, we'll explore the best POS software systems for restaurants to help you to understand what you really need from a point of sale system and what features are available in different systems.
Using restaurant-specific POS software can help you reduce the time needed to complete daily tasks, increase your profits and provide a better experience for your customers.
This is what you'll get in this article:
The 5 Top Picks for the Best Restaurant POS
How to Choose the Best POS System for Your Restaurant
A Feature Review of the Best POS Systems
What are the Important Features and Benefits of a POS System
What POS System is Right for Your Type of Restaurant
Conclusion and Final Verdict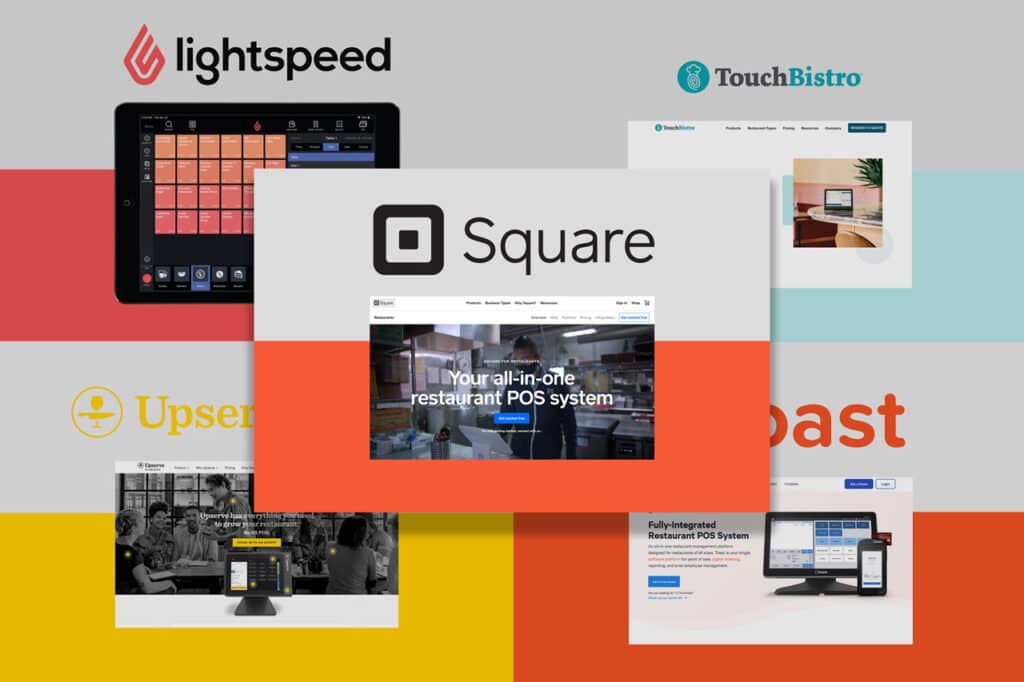 The 5 Top picks for the Best Restaurant POS
The restaurant software I recommend in this post is all cloud-based. All data can be accessed wherever you are and stored in the cloud. They all offer mobile apps that give you fast and easy access.  
1. Square for Restaurant POS – Best overall restaurant POS that's easy-to-use and has a free plan that covers the essential needs of smaller restaurants.
2. TouchBistro – Best for smaller restaurants looking for an affordable and secure cloud/server-based POS system.
3. Lightspeed Restaurant POS – Best for full-service restaurant owners wanting a feature-rich, reasonably priced all-in-one iPad POS system with over 200 third-party integration tools.
4. Toast POS – Best for restaurants that want to get started with a free basic POS plan. Upgrade for advanced digital ordering and inventory management features.
5. Upserve by Lightspeed – Best for small restaurants that want a user-friendly, easy-to-install system with personalized onboarding.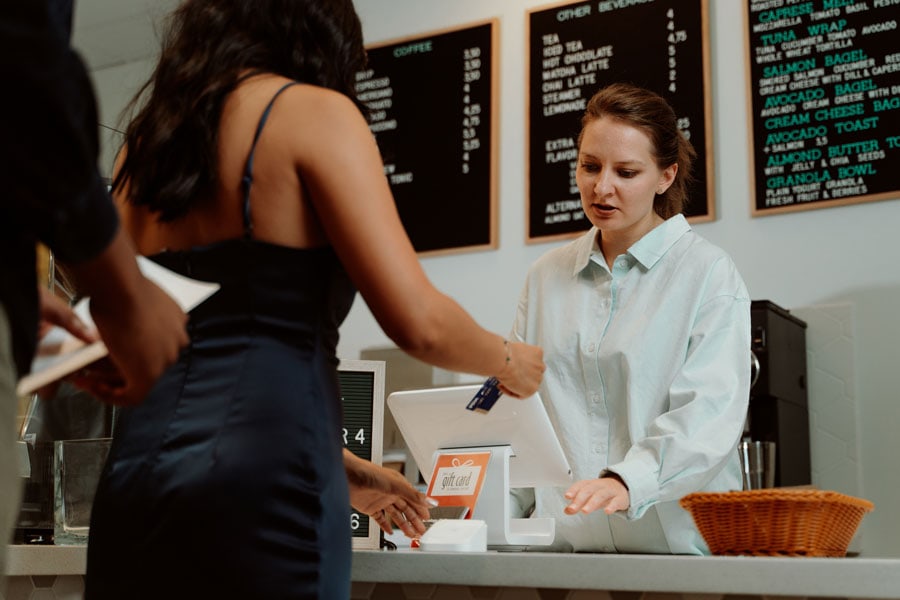 How to Choose the Best POS System for Your Restaurant
The modern restaurant environment is quite different from what it was even 10 or 20 years ago. One of the most critical pieces of your restaurant business is the point of sale software that you use to keep track of sales, inventory, orders, customer history, and more.
The right software can help you streamline back-of-house operations, efficiently manage front-of-house transactions, and act as a marketing and customer management hub.
All POS systems give restaurants the ability to simplify the checkout process, provide payment processing so you can accept credit and debit cards, and report and analytic information to make better business decisions. That's where most of the similarities end.
When it comes to choosing a POS system for their business, restaurants and retailers have different needs. That's why I recommend a point of sale solution designed for your industry if you operate a restaurant, cafe, or bar.
Increasing labor and food costs are some of the trends facing the restaurant industry. You need to take advantage of every opportunity to improve efficiency, customer service, reduce waste, and control costs to survive these changes.
You can make all of those things happen with the right restaurant POS system. This guide will help you identify critical factors and make an informed decision.

A Feature Overview of the 5 Best POS Systems for Restaurants
1. Square for Restaurants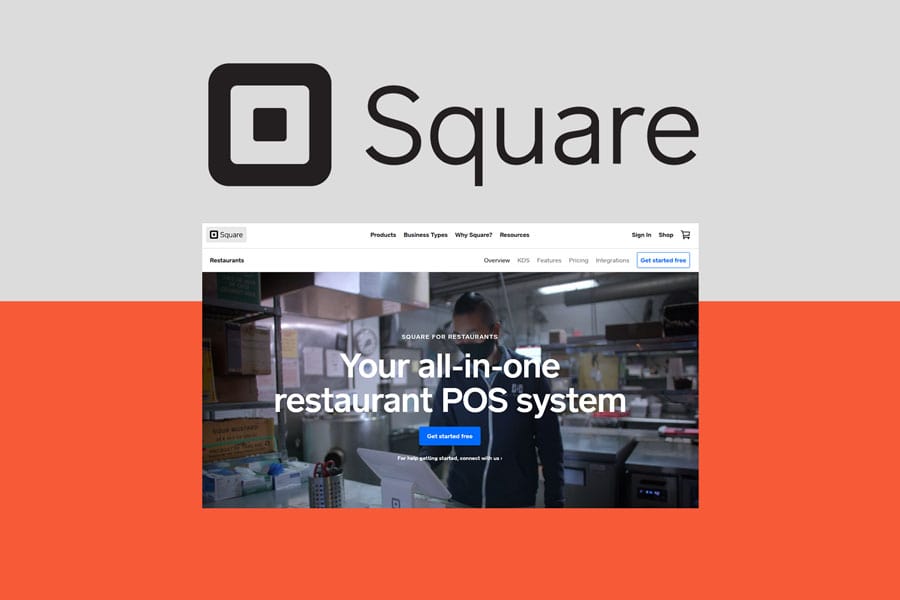 Square for Restaurant POS (Point Of Sale) is a management and payment system designed specifically for restaurants. It lets you accept payments through credit cards, debit cards, Apple Pay, Google Wallet, and PayPal. You can use it for any type of foodservice business, including restaurant chains, fast food places, bakery shops, cafés, and food trucks, etc.
Ease of use: I really like this application because it offers a free version and is intuitive and easy for beginners to use. The interface is modern and looks great on both iOS devices and Android smartphones and tablets.
Features: Square is a point-of-sale system designed particularly for small to medium-sized food service businesses. This means it's not simply another payment processing software; it's also a comprehensive restaurant management package. The following are only a few of the many things you can use the Square app for:
Accept credit cards on your iPhone, iPad, or Android device
Manage customers, orders, and table seating
Create custom menus
Organize your tables and group orders
Calculate tips and split bills
Track customer loyalty programs
View real-time analytics of business performance
Send out promotional offers via email
Integrate with existing systems such as QuickBooks
Manage online ordering, pickup, and delivery
Pricing: There's no monthly fee, but there is a transaction fee for each sale. 2.6% + 10¢ for swiped or tapped card transactions. 3.5% + 15¢ when the card number is keyed in.
Square for Restaurants Plus: $60/month for one device per location. +$40/month per added POS device.
Premium subscribers get everything in the Plus subscription and custom pricing for add-ons like Square Payroll, Square Marketing, and Square Loyalty.
Square Demo Video:
Pros
Very easy-to-use interface
Free to get started
Free online ordering
No long-term contracts
Easy to create a website for your restaurant
Cons
Restricted to Square's payment processing
Limited reporting
Square for Restaurants User Reviews
In terms of overall ratings, the majority of Square for Restaurants users are very pleased with the product, particularly with how simple it is to use and set up. Several customers also appreciate how easy it is to create a website for your restaurant using Square Online.
Capterra: 4.3 stars out of 5.
G2: 4 stars out of 5.
Software Advice: 4.27 out of 5
Our Verdict:
In the following three areas, different restaurant POS systems have their own advantages: simplicity of use, low cost, and high functionality. You will generally be able to discover a solution that fulfills two of the criteria, but seldom all of them.
I think that Square for Restaurants is the best POS system for small and medium-sized restaurants when it comes to these three criteria.
2. TouchBistro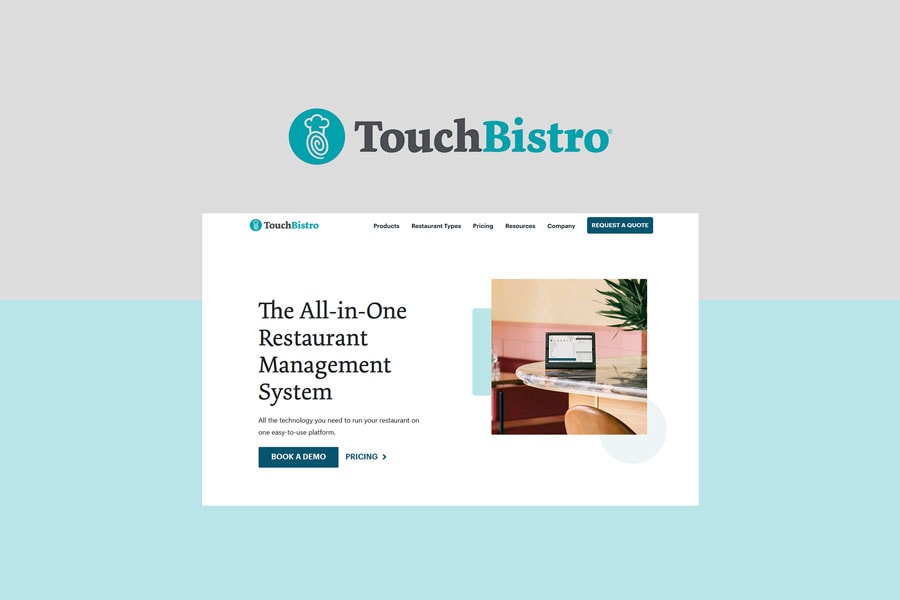 TouchBistro is an excellent option for smaller restaurants that need a cost-effective POS system. It has an intuitive interface, which makes it simple for beginners to get started quickly. It's designed specifically for restaurants but has been proven effective at helping any type of food serving business improve.
Ease of use: TouchBistro is one of the easiest POS systems to use. It is easy to use and you can learn it in a short time. TouchBistro is great for people who want something quick and easy to work with.
If you have an iPhone, you can learn to use it. This saves time for new employees and money too. You can customize your menus and interface with this tool which will help you speed up your processes in the long run.
Features: TouchBistro has many features, such as inventory management, restaurant reservation systems, online ordering, POS systems, menus, customer rewards programs, payments, etc.
Hardware: The TouchBistro iPad POS system is compatible with iPads, the iPad Pro, and the iPad Mini. It works best on devices running iOS 11 or later. Orders and payments may be taken table-side using these tablets. A TouchBistro setup can include an iPad stand, receipt printer, card reader, router, and modem.
TouchBistro also sells accessories, such as a Self-Service Kiosk, Customer Facing Display, KDS, and Digital Menu Boards. TouchBistro may also make use of third-party hardware such as cash drawers, card readers, and receipt printers.
TouchBistro price overview:
Starts at $69/month for up to two setups
Add-on pricing starting at:
        Online ordering: $50/month
        Reservations: $229/month
        Gift cards: $25/month
        Loyalty: $99/month
        Digital menu board: $20/month
Payment processing fees depend on if you use TouchBistro Payments or one of the available payment processing partners. You'll be able to use different payment processors depending on which one offers the lowest rate.
Demo video of TouchBistro Reservations:
Pros
Well-designed user interface
Easy to use
Affordable monthly cost
Excellent staff and inventory management
Hybrid POS that works offline too
Cons
Somewhat limited integrations
TouchBistro User Reviews
TouchBistro has a lot of positive user reviews, with consumers giving excellent to good ratings for simplicity of use, value for money, and features. Customer service was given lower marks on some occasions.
Capterra: 4.1 stars out of 5.
G2: 4.5 stars out of 5.
Software Advice: 4.12 out of 5
Our verdict:
If you're looking for a Point-of-Sale system that is exclusively tailored for restaurants, TouchBistro is one of the best. It has all the features you need to operate your restaurant efficiently, including an easy-to-use interface that will be loved by your front-of-house staff.
If you're looking for a new point-of-sale system or are just curious about TouchBistro, I highly recommend checking it out. You won't regret it!
3. Lightspeed Restaurant POS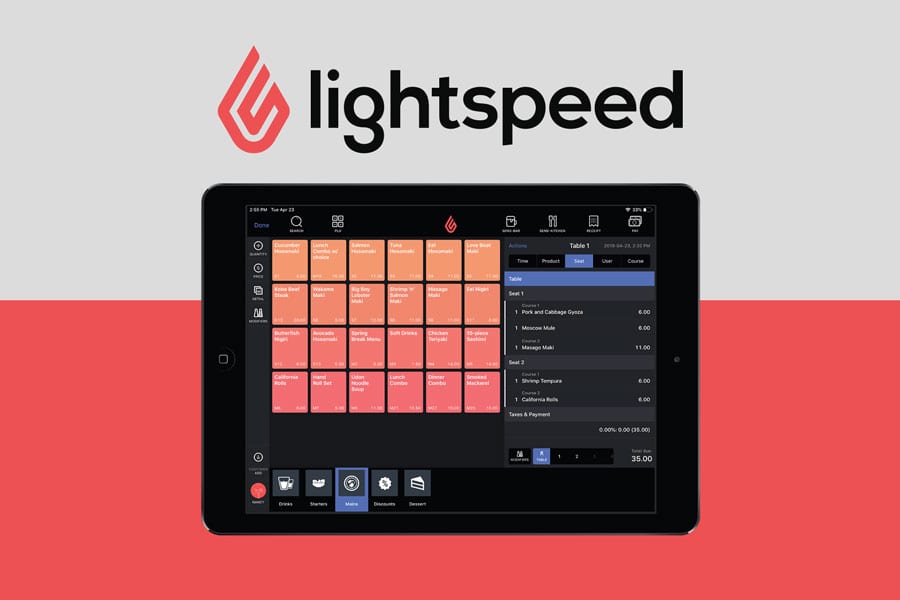 Lightspeed is a good choice for restaurants, bars, cafes because it is feature-rich and reasonably priced. It also has over 200 third-party integration tools, making it easy to connect to your favorite software programs.
Plus, there's a free trial so you can try before you buy. Lightspeed is available in 100+ countries, so it's perfect for businesses around the globe. Lightspeed is very easy to use, even for the non-tech crowd. Many users say it's easy to use, even simple to learn, and very intuitive.
Lightspeed pricing overview:
Starts at $69/month
Additional registers +$34/mo
Add-on pricing starting at $12/month
Premium add-ons starting at $39/month
Transaction fees: 2.6% plus 10 cents per card-present transaction with Lightspeed Payments. Third-party payment processors are also available.
Lightspeed Demo Video:
Pros
Well-designed user interface
Very flexible and customizable
Photos, descriptions & prices are included in the menu and floorplan
Available 100+ countries around the world
14-day free trial
Cons
There is a learning curve
Add-ons can make the monthly fee high
Lightspeed User Reviews
There are a lot of Lightspeed reviews, with consumers giving it many high ratings. It was given positive reviews for simplicity of use, affordability, and features. Customer service was a little lower-rated a few times.
Capterra: 4.5 stars out of 5.
Software Advice: 4.47 out of 5
Our verdict:
Lightspeed Restaurant is an innovative restaurant POS system that combines the affordability and ease-of-use of other well-known POS systems like TouchBistro and Square for Restaurants.
4. Toast POS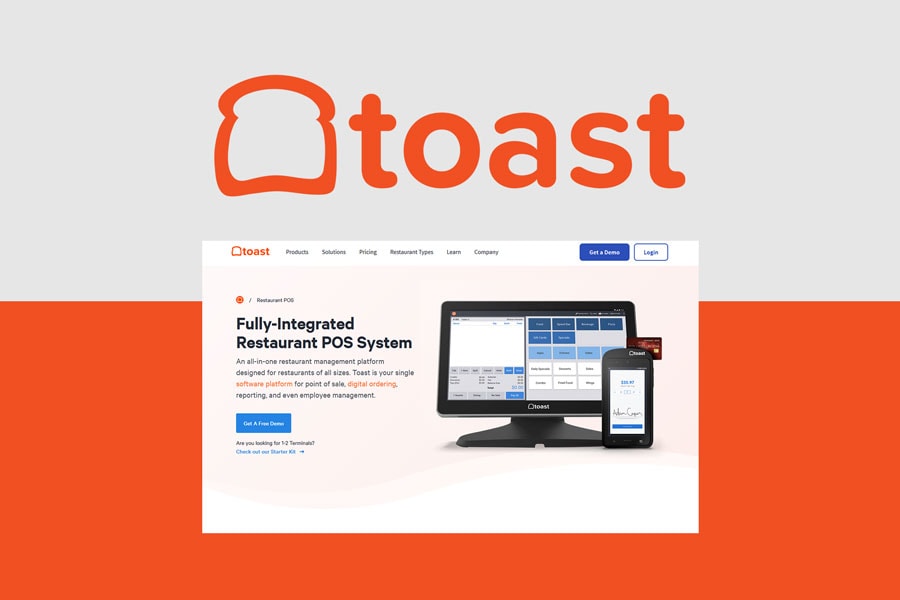 Toast is a good choice for restaurants that want to get started with a free basic POS plan. The free plan includes all the features you need to get started in an easy and affordable way. If you need online ordering, gift cards, loyalty, and marketing features there are add-on packages available.
Toast is only available on Android or if you purchase Toast's hardware (which is specifically designed for the restaurant business).
Toast pricing overview:
Pay as you go free basic plan
Essentials add-on: From $165/month
Growth add-on: From $272/month
Transaction fees: 2.69% per card-present transaction.
How Toast Works Video:
Pros
Advanced employee management
Good for Android users
Built for restaurants
Excellent reporting metrics
Online and contactless ordering
Cons
Locked into Toast payment processing
Add-ons can get expensive
No free trial
It doesn't work on iOS
Toast User Reviews
Capterra: 4.2 stars out of 5.
Software Advice: 4.16 out of 5
5. Upserve by Lightspeed
Upserve POS is ideal for restaurants that are transitioning from pen and paper systems to a computerized point of sale. Upserve is a user-friendly, easy-to-install system with a training mode so staff can learn the system without experimenting on live sales.
The mobile POS app works with both iOS and Android, and in addition, Upserve offers its own well-designed and rugged hardware like dedicated tablet hardware for servers who need to take orders from food-and-drink items tableside.
Advanced features like online ordering, inventory, and gift cards are available as add-ons. 
Upserve pricing overview:
Core plan: $59/month plus $60/terminal
Pro plan: $199/month plus $50/terminal
Pro Plus plan: $349/month plus $40/terminal
Upserve Video Demo
Pros
It was designed explicitly for restaurant employees
Online ordering
Strong reporting & analytics
iPad and Android
Highly customizable
Cons
No trial or free plan
Only US Based
Upserve User Reviews
Capterra: 4.3 stars out of 5.
Software Advice: 4.32 out of 5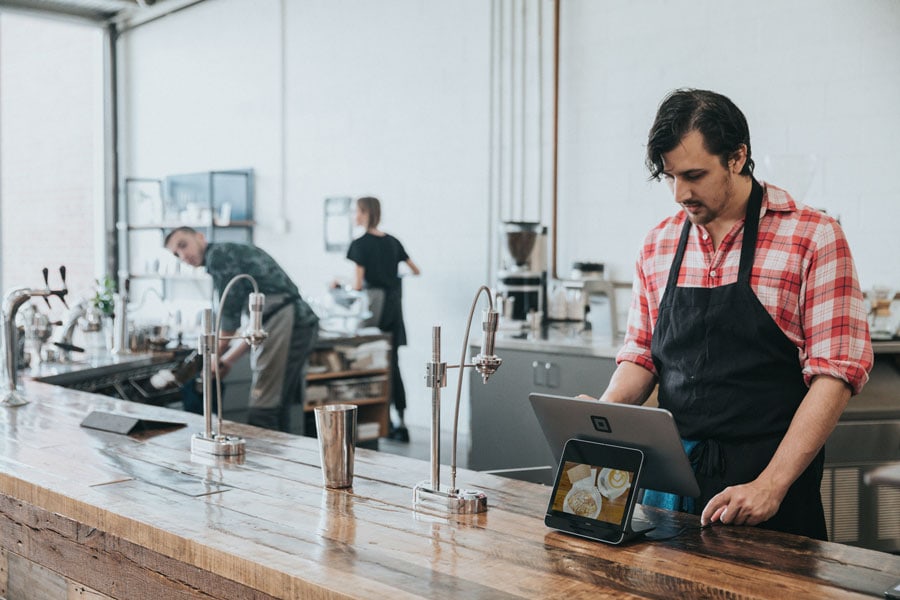 What are the Important Features and Benefits of a Point of Sale System
A point of sale system is what its name implies: a way to manage the sales occurring at your restaurant. These systems allow business owners to track inventory, sales, payments, and other information vital to any restaurant's success.
If you own or operate a restaurant, it's in your best interest to understand the benefits associated with a restaurant point of sale system before deciding whether or not to invest in one.
It's crucial to know what features you need most in a POS system and how each piece of software stacks up against the competition.

Square for Restaurants | The Complete Restaurant POS with a Subscription-Free Plan (US, Canada, Australia)
Square is the most adaptable and all-inclusive platform for restaurant owners. Read our Square review.
12 Significant Features of a POS System and How they Can Benefit Your Restaurant
Reporting and analytics features. These can vary a lot between systems, but some level of reporting is included in all of our reviewed restaurant POS systems. The reports can show metrics like your daily sales, the restaurant's busiest hours, staff performance, best-selling items, and more.
Online reservations are available in some advanced POS solutions, but most have integrations with apps like OpenTable for online reservations.
Menu management and creation are essential for restaurants with multiple locations, but being able to change the menu quickly is a feature most restaurants can benefit from.
Table management. Most POS software offers basic table management functions, but the more advanced systems can have detailed floor plans and seat management.
Kitchen Display Systems (KDS) can instantly transmit orders to the kitchen, eliminating the problem of misread or lost tickets. The system also assigns orders to specific food preparation sections, so all items are ready simultaneously and duplicates are eliminated.
Employee management. A POS system that tracks hours, sales, and shift performance will make it easy to manage employees while also letting them clock in and out with their ID on a POS terminal. The reporting feature will provide valuable insights into overall employee performance.
Inventory management. Some restaurant POS systems can help minimize waste and generate purchase orders when stock is low by monitoring expired dates. Low-stock alert, purchase order management, and the ability to track vendors are other useful inventory features.
Online ordering & delivery. Many restaurants want to be able to take orders online. If a system doesn't offer online ordering natively, it should integrate with an online ordering and delivery service.
Integration with third-party tools. Many POS systems support integration with other systems, including accounting software, payroll services, email marketing platforms, and CRM solutions. This allows businesses to use one solution instead of having to manage several separate pieces of technology.
Customer Relationship Management (CRM). You can use your POS to manage your customer database. Create targeted email campaigns with relevant offers and messaging. The CRM can be used to automatically send offers to customers who haven't visited your business in a while. Data analysis from your CRM will also give insight into which marketing campaigns are most effective.
Gift cards and loyalty rewards are a great way to increase brand awareness and revenue. It makes it easy for customers to earn and redeem their loyalty rewards with your restaurant POS. It is also possible to issue and accept gift cards to create more revenue.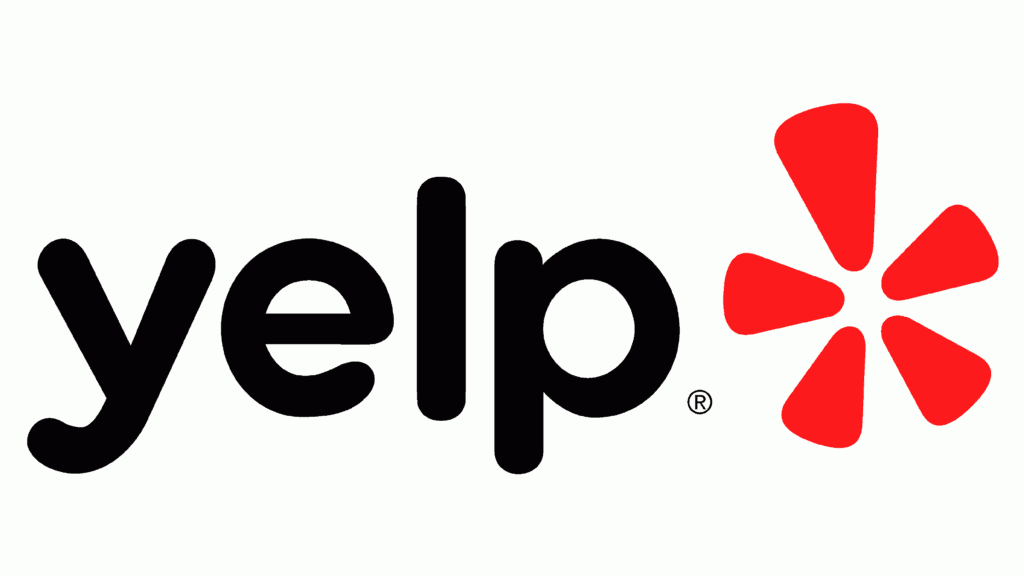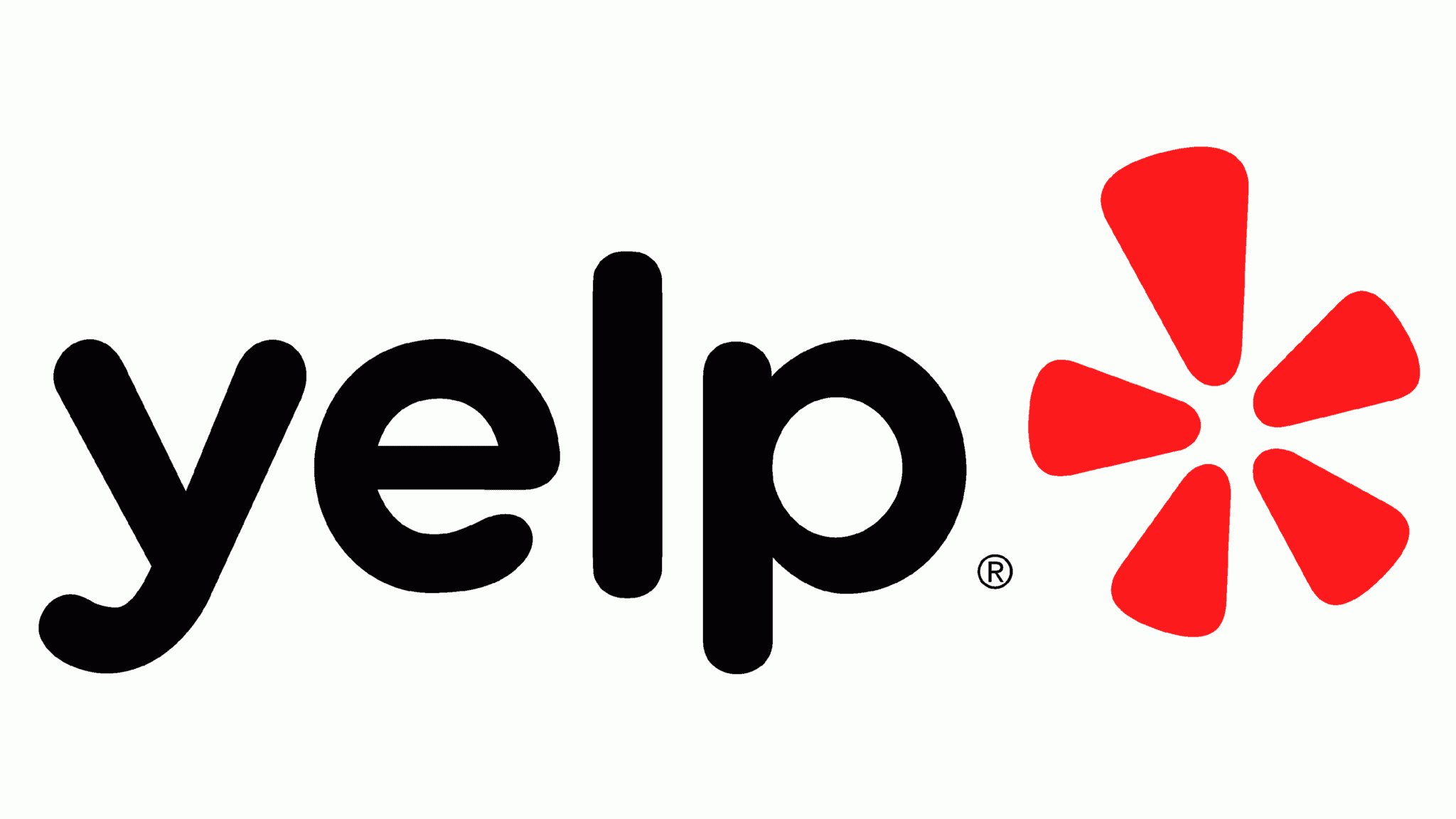 Yelp Ads | Get More Restaurant Customers Faster
Reach 3X more potential customers
Create your ad within minutes
Only pay when someone clicks your ad
Special Offer $300 in free credit when you buy Yelp Ads*. See offer terms.

What POS System is Right for Your Type of Restaurant
Identifying solutions for your specific type of restaurant is a good start in narrowing your choice.
Quick-Service Restaurants (QSR) need POS systems with enough speed and ease of use to quickly process orders and payments. A POS system designed for QSR should also include integration with digital menu boards so you can update menus and menu displays fast. Support for self-service kiosks is also an excellent way to keep customers moving.
Full-Service restaurants need POS features that allow customers to make reservations online or over the phone. If you want to seat guests quickly and turn tables fast, table management is a must. Wait staff can use tableside ordering with mobile Point of Sale units giving customers the convenience of paying at the table.
Fast-casual restaurants need a POS system with many of the same features as a full-service restaurant, but it's also vital to make ordering faster. Table kiosks for self-ordering menu items and pay-at-the-table functionality are easy ways to make this happen. A POS system can integrate online order information with your kitchen display system (KDS), so staff knows what to prepare. It can also print receipts and labels, making paperwork easy.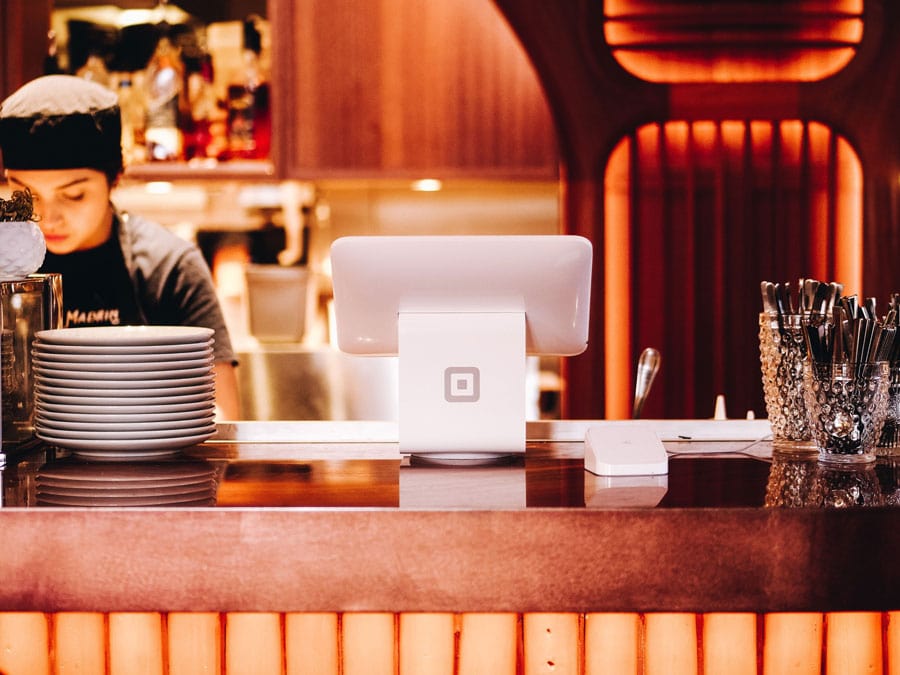 Conclusion (And the winner is Square for Restaurants)
Different restaurant POS systems all have their own strengths in the following three criteria: easy-to-use, low-cost, and high functionality. You can usually find a solution that meets two of the requirements, but rarely all of them.
I find that Square for Restaurants is the POS system that best fulfills these three criteria for small and medium-sized restaurants.
Square offers much more than a POS system. Square for Restaurants is just one of the many products in the Square family. They have a great website builder, the best payment processor, an eCommerce platform, and many marketing tools designed to help restaurants, food trucks, and coffee shops grow.
The best part is that all features work so well together. As a member of the Square family, you get full business support and access to specialized tools that integrate as if they were one product.
Even if Square is all you need, they also have a marketplace with integrations so that you can make it compatible with your existing systems, including accounting solutions like QuickBooks.
The main limitation with Square from a global perspective is the relatively few countries where the entire system is available.  However, Square is building a decentralized bitcoin exchange. This is good news and could open up for greater global accessibility as they hope bitcoin will be the currency of the internet. 
However, Lightspeed is a good alternative if you are looking for a solution available in a wide variety of countries. 
I hope this overview of restaurant POS systems has given you a better understanding of how the different tools work and why I recommend Square to most of you who want a feature-rich, easy-to-use, and free system to support your restaurant business.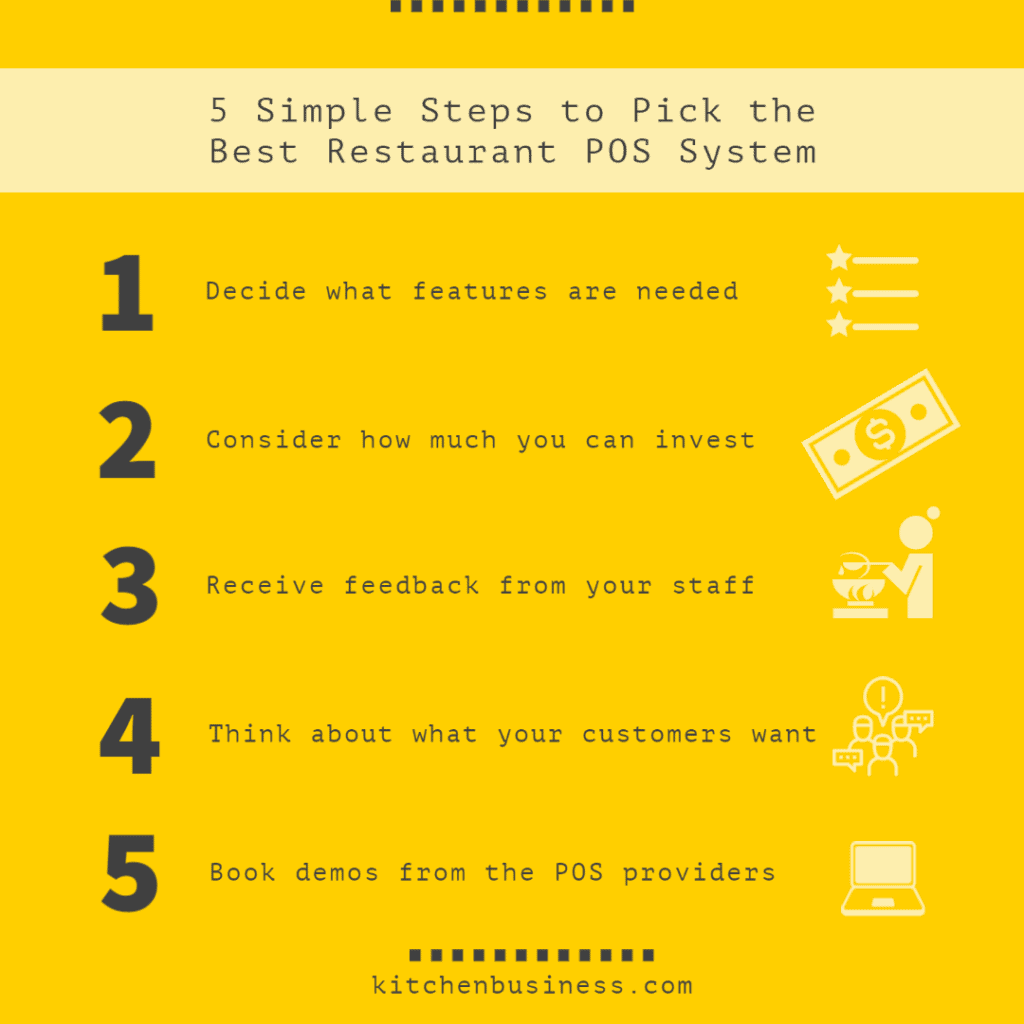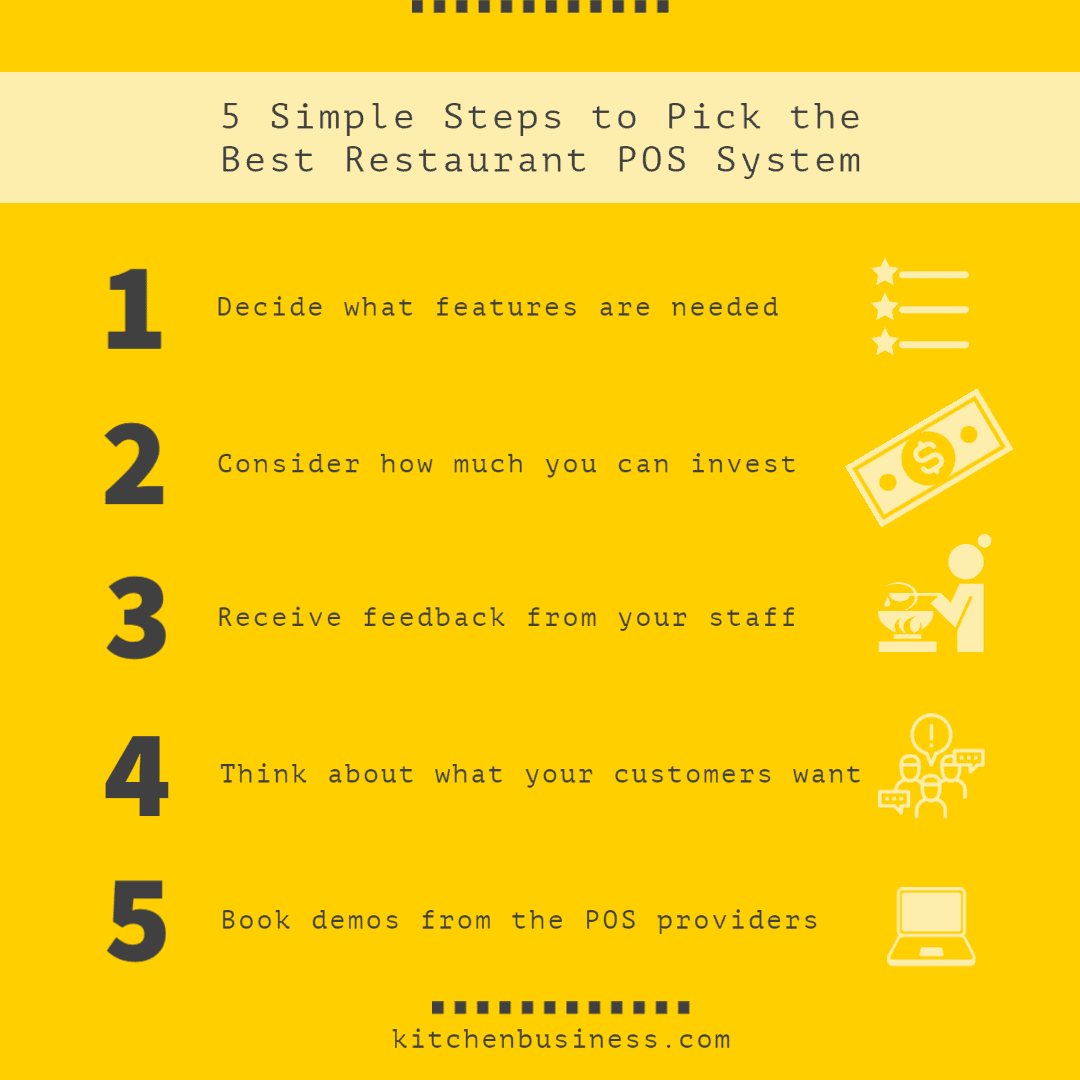 All the Point of Sale systems listed above will work well as your restaurant POS
But, if you don't know what solution is right for you, start a free Square account and try it out. Square is the most cost-effective point of sale system, there is no monthly fee as they only charge for transactions.
Additional reading: