When it comes to running a successful restaurant business, choosing the right POS system is critical.
But let's be honest – scouring those software reviews and comparison websites can leave you feeling more confused than informed.
I remember that sinking feeling when I first set out on my journey to find the best system – there are just so many tech options these days with thousands of apps and management systems competing for your attention.
So how do you get past all this noise? What truly makes one restaurant POS stand above the rest in terms of meeting YOUR needs?
With so many user-rating websites, manufacturer sites and varying opinions of what's good or bad for each business it's tough to make an informed choice.
After spending weeks researching numerous restaurant POS systems and reading through user ratings, manufacturer sites (which often gave an incomplete picture) and more, I compiled all of my findings into this comprehensive overview.
If you are looking for the best restaurant POS system in 2023, then this article is perfect for you!
This guide will include the following:
My top 5 recommended list of POS systems
Tips on how to select the POS solution that fits your restaurant's needs
12 essential features of a restaurant POS system
Let's get started!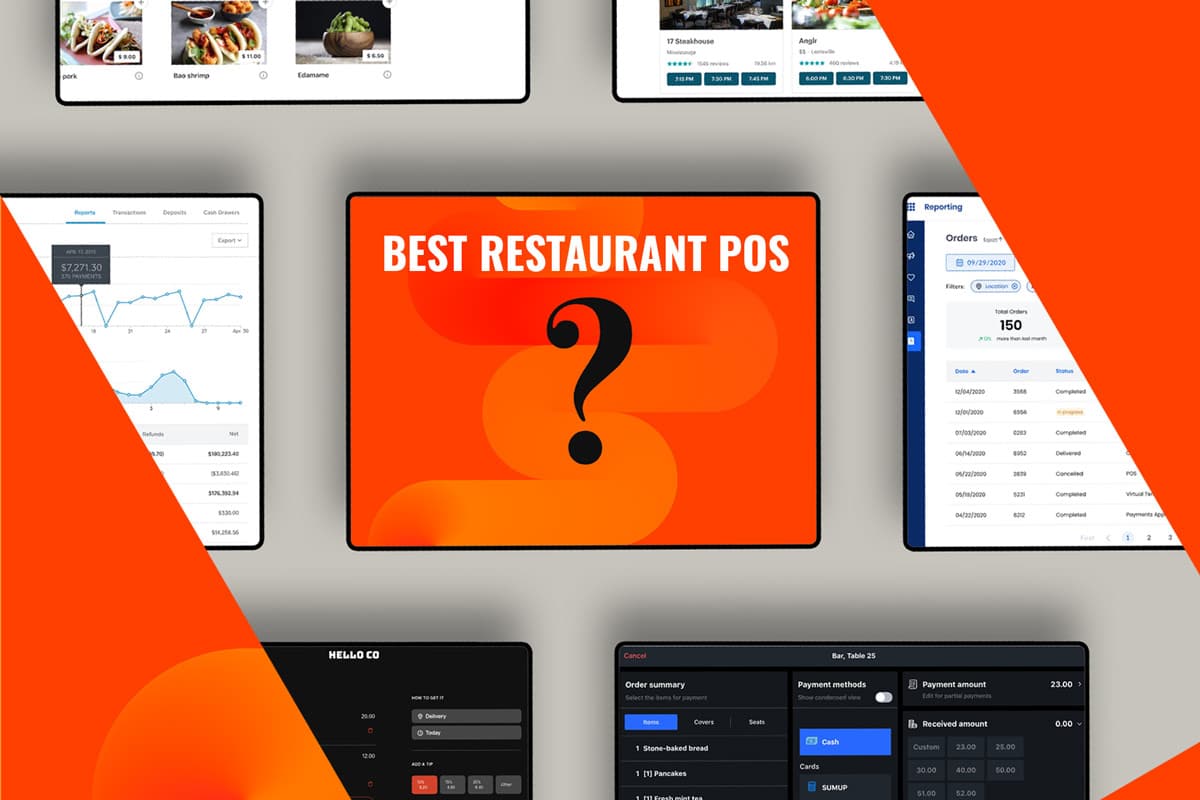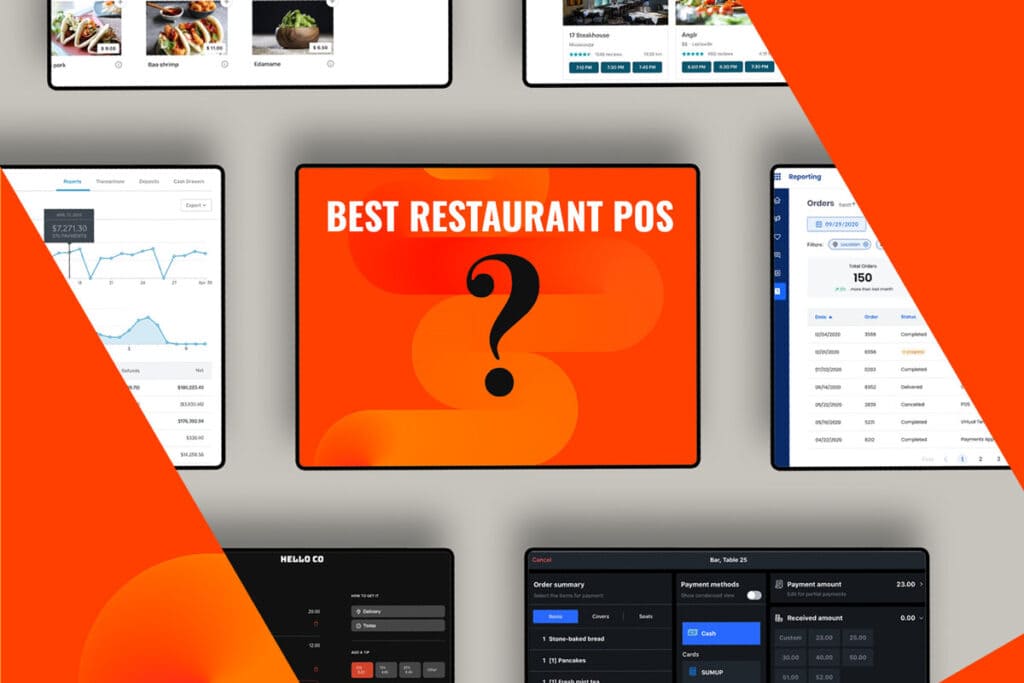 The Best POS Systems for Restaurants in 2023
A restaurant Point of Sale (POS) system is a combination of hardware and software that helps restaurants manage their business operations.
A POS will arm you with valuable insights to help your business succeed – It typically includes features such as inventory & menu management, marketing and customer loyalty programs, employee management, labour & food cost control, business reporting, and more.
With the right POS system in place, restaurants can streamline their operations and increase efficiency.
Investing in a restaurant POS is one of the most important decisions you'll make as an owner.
Consider a POS the "brains" of any restaurant.
Here's my list of the top 5 restaurant solutions that are available now and ready to take orders. With some unique features and benefits in each one, it's best to explore all five before deciding what works best for YOU.
---
My 5 Top picks for the Best Restaurant POS
1. Toast POS | Best for many types of restaurants that want to get started with a free basic plan with the option to upgrade to many advanced features and integrations.
2. TouchBistro | Best for independent full-service restaurants looking for a well designed, feature-rich and secure cloud/server-based POS system.
3. Lightspeed Restaurant POS | Best for food service businesses looking for excellent reporting and analytics tools, retail capabilities, and many integration options.
4. Square for Restaurant POS | Best for smaller restaurants looking for a POS that also has great retail features and a free plan.
5. Shopify for Restaurants | Best POS for startup restaurants that want a user-friendly, easy-to-install system with e-commerce capabilities.
---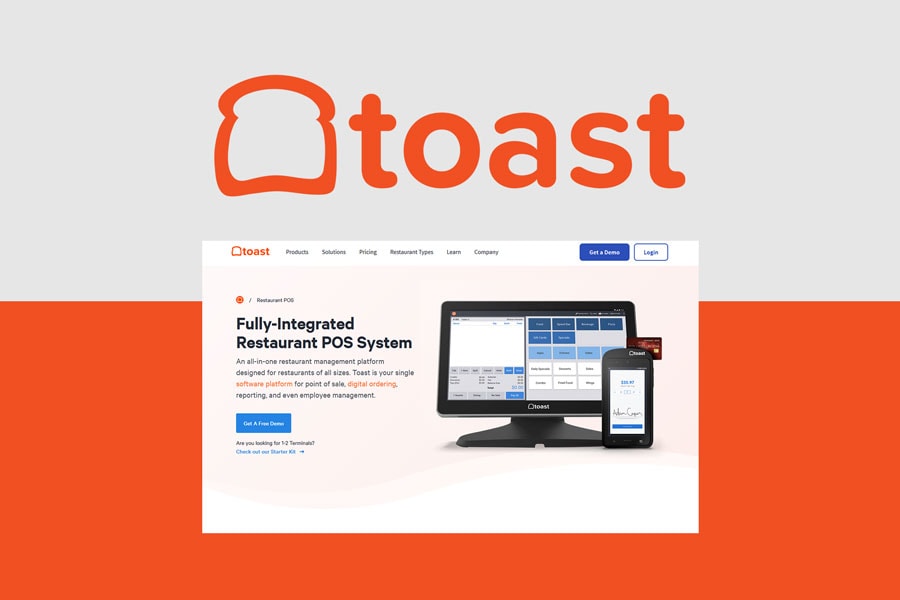 Toast is available in the US, Canada, UK, and Ireland.
Toast is the fastest-growing restaurant POS system on the market. According to a 2022 survey of over 800 independent restaurants Toast has grown from a 1.4% market share in 2017 to a whopping 30.6% in 2022. (Source).
Restaurants need technology solutions that simplify their operations, instead of becoming bogged down with multiple or legacy POS systems. Historically, restaurant owners have been late adopters of tech, which creates a great opportunity for the company that can get it right.
Toast saw the importance of the restaurant POS and responded by creating an all-encompassing solution tailored to the restaurant industry.
Toast is a great restaurant POS system if you want to want to start with something small. With Toast's free basic plan, restaurant owners can get up and running without breaking the bank.
You will also love the flexibility to upgrade whenever and however you want, offering a full range of features and integrations.
In these days of increasing food costs, xtraCHEF is an example of Toast's rapid development (or acquisition) of new tools.
xtraCHEF is an accounts-payable automation integration to easily monitor costs, and make better-informed purchasing decisions. The analytics that comes with xtraCHEF Pro allows you to track your food cost management reporting in much greater detail – ultimately translating into more money saved.
Restaurants that want to stay ahead of the competition should look no further than Toast. With its industry-leading tech, this POS system makes it easy and affordable for restaurants to meet their guests' needs in an ever-changing environment. From online orders to food cost control – Toast has you covered.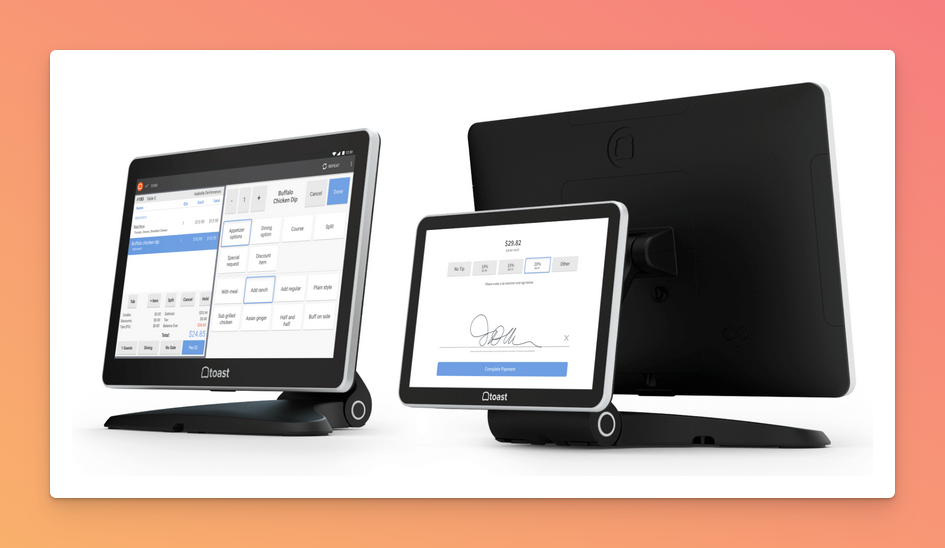 Toast is only available on Android or if you purchase Toast's hardware (which is specifically designed for the restaurant business).
Toast pricing overview*
Pay as you go free basic plan
Essentials add-on: From $165/month
Growth add-on: From $272/month
Transaction fees: 2.69% per card-present transaction.
*Pricing at the time of publishing this guide. For most current pricing, contact Toast.
How Toast Works Video:
Pros
Advanced employee management
Good for Android users
Built for restaurants
Excellent reporting metrics
Online and contactless ordering
Cons
Locked into Toast payment processing
Add-ons can get expensive
No free trial
It doesn't work on iOS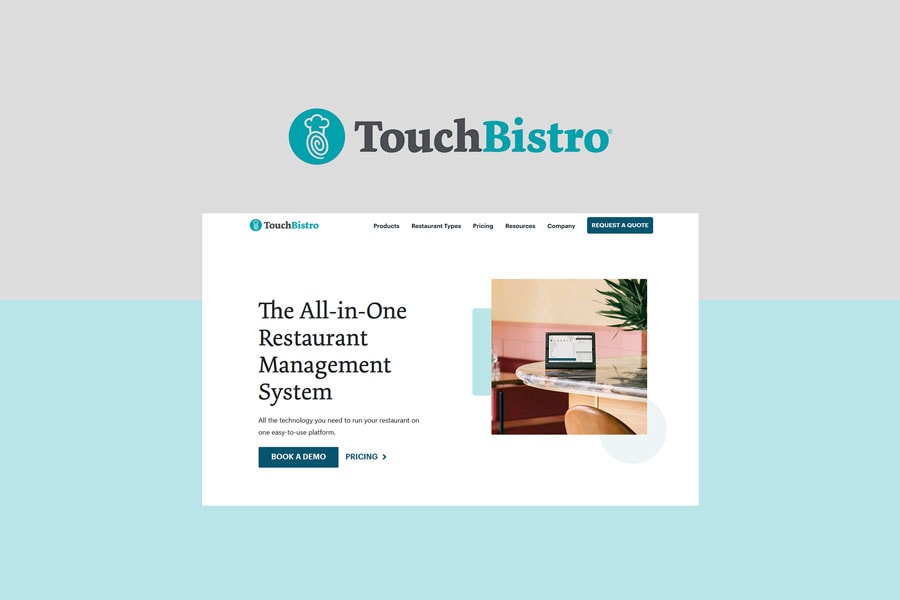 TouchBistro is available in the US, Canada, UK, Mexico, and over 100 other countries.
TouchBistro is an excellent choice for independent full-service restaurants but has also been proven effective at helping any type of eatery manage their business.
Not only does it offer a visually appealing and intuitive design, but also an abundance of rich features. It further offers the convenience of a hybrid cloud/server system, giving you peace of mind knowing that your data is always accessible and secure.
Ease of use: TouchBistro is one of the easiest POS systems to use. It is easy to use and you can learn it in a short time. TouchBistro is great for people who want something quick and easy to work with.
New employees don't have to waste precious time going through an extensive tutorial – if they are familiar with iPhones, then they can easily figure out TouchBistro. You can customize your menus and interface with this tool which will help you speed up your processes in the long run.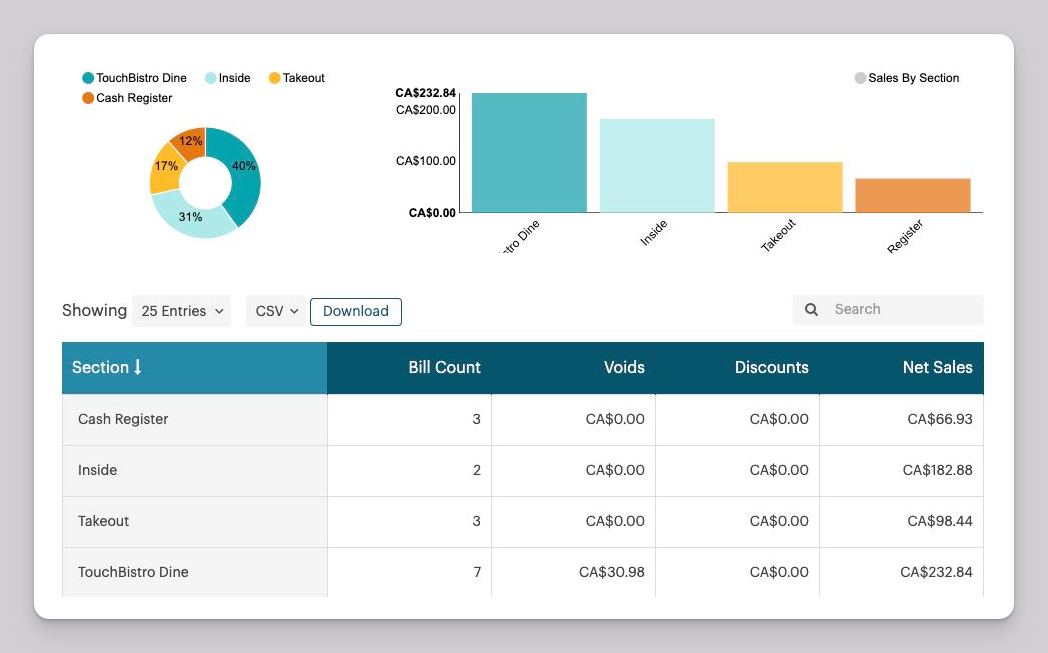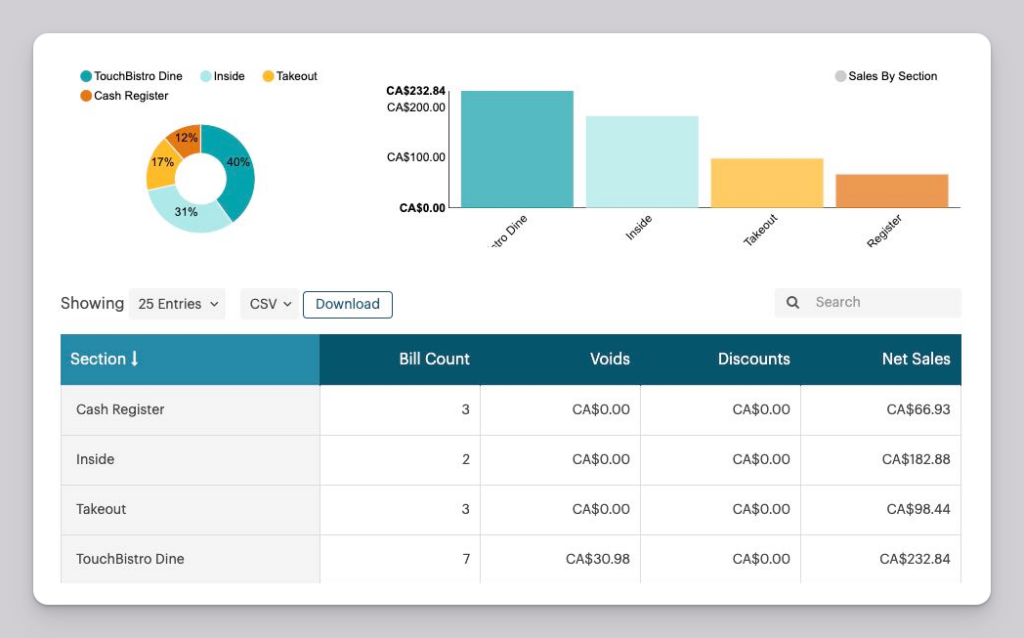 Features: TouchBistro has many features, such as inventory management, restaurant reservation systems, online ordering, POS systems, menus, customer rewards programs, payments, etc.
Hardware: The TouchBistro iPad POS system is compatible with iPads, the iPad Pro, and the iPad Mini. It works best on devices running iOS 11 or later. Orders and payments may be taken table-side using these tablets. A TouchBistro setup can include an iPad stand, receipt printer, card reader, router, and modem.
TouchBistro also sells accessories, such as a Self-Service Kiosk, Customer Facing Display, KDS, and Digital Menu Boards. TouchBistro may also make use of third-party hardware such as cash drawers, card readers, and receipt printers.
TouchBistro price overview*
Starts at $69/month for up to two setups
Add-on pricing starting at:
Online ordering: $50/month
Reservations: $229/month
Gift cards: $25/month
Loyalty: $99/month
Digital menu board: $20/month
*Pricing at the time of publishing this guide. For most current pricing, contact TouchBistro.
Payment processing fees depend on if you use TouchBistro Payments or one of the available payment processing partners. You'll be able to use different payment processors depending on which one offers the lowest rate.
Pros
Well-designed user interface
Easy to use
Affordable monthly cost
Excellent staff and inventory management
Hybrid POS that works offline too
Cons
Somewhat limited integrations
TouchBistro User Reviews
TouchBistro has a lot of positive user reviews, with consumers giving excellent to good ratings for simplicity of use, value for money, and features. Customer service was given lower marks on some occasions.
Our verdict:
If you're looking for a Point-of-Sale system that is exclusively tailored for restaurants, TouchBistro is one of the best. It has all the features you need to operate your restaurant efficiently, including an easy-to-use interface that will be loved by your FOH and BOH staff.
If you're looking for a new point-of-sale system or are just curious about TouchBistro, I highly recommend checking it out.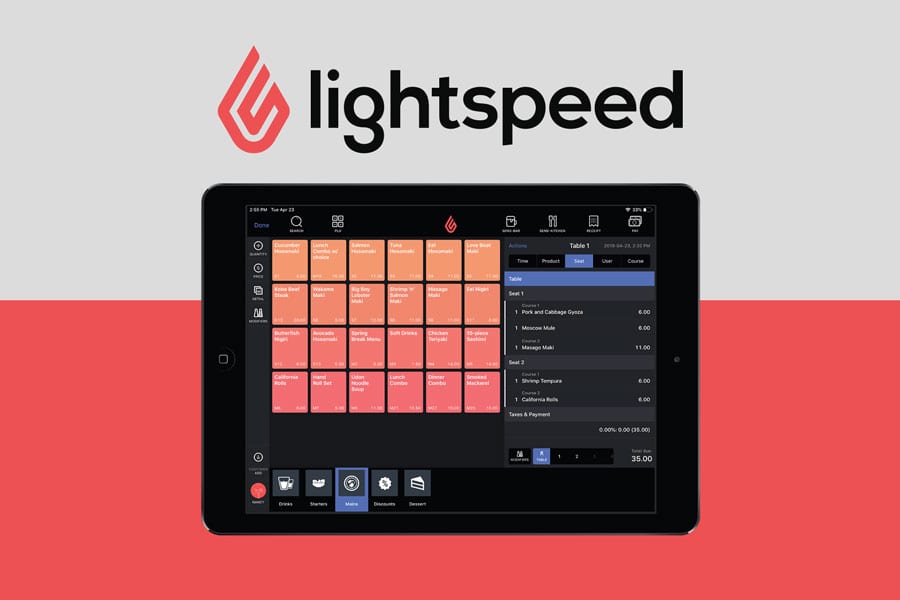 Lightspeed Restaurant POS is currently available in the US, Canada, UK, Ireland, Germany, France, Belgium, The Netherlands, Spain, Italy, and Australia.
Lightspeed Restaurant POS is the way to go if you have a restaurant business looking for sophisticated reporting and analytics tools with retail capabilities.
Lightspeed's acquisition of Upserve has been a game-changer. Now, restaurants can benefit from the powerful analytics and data tools that make Lightspeed one of the premier POS solutions available.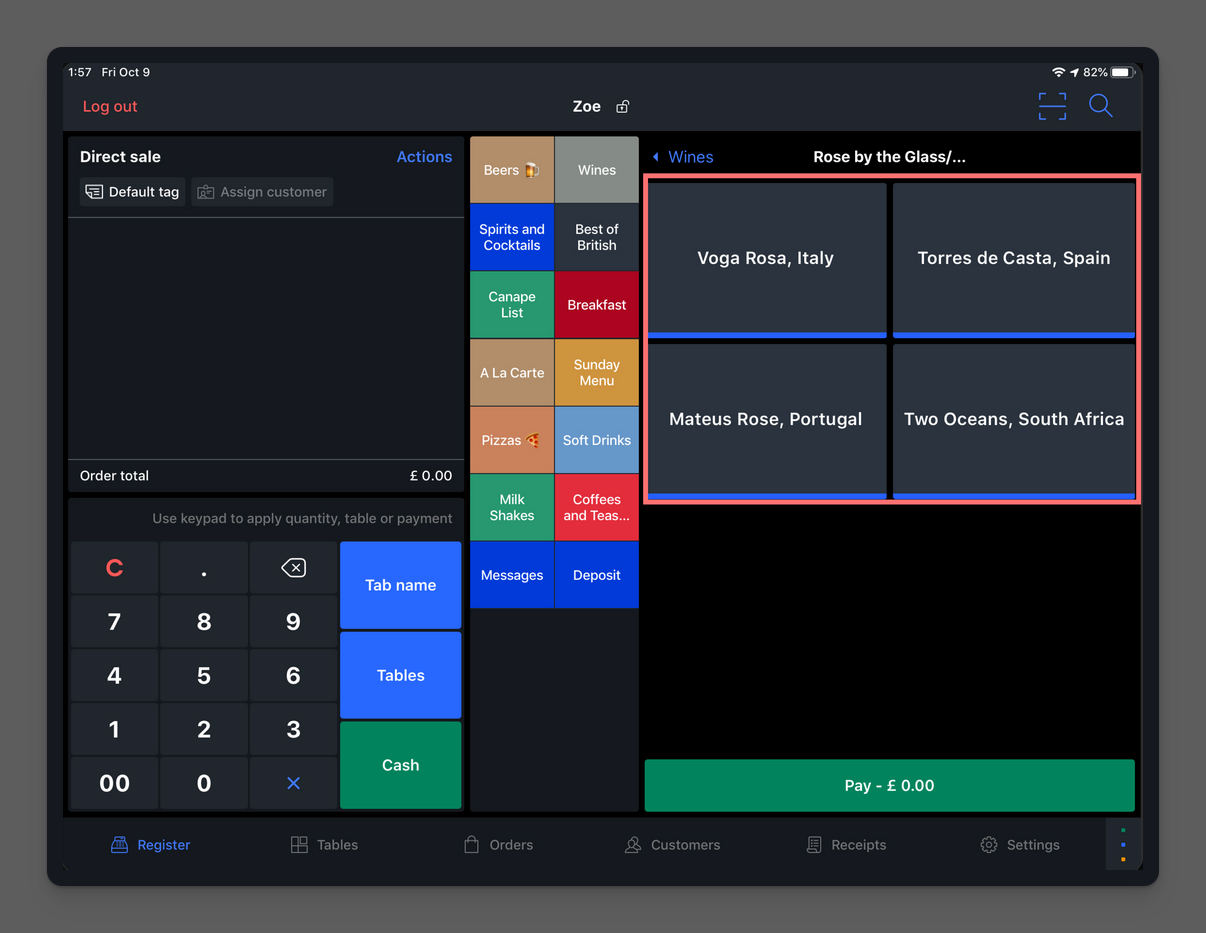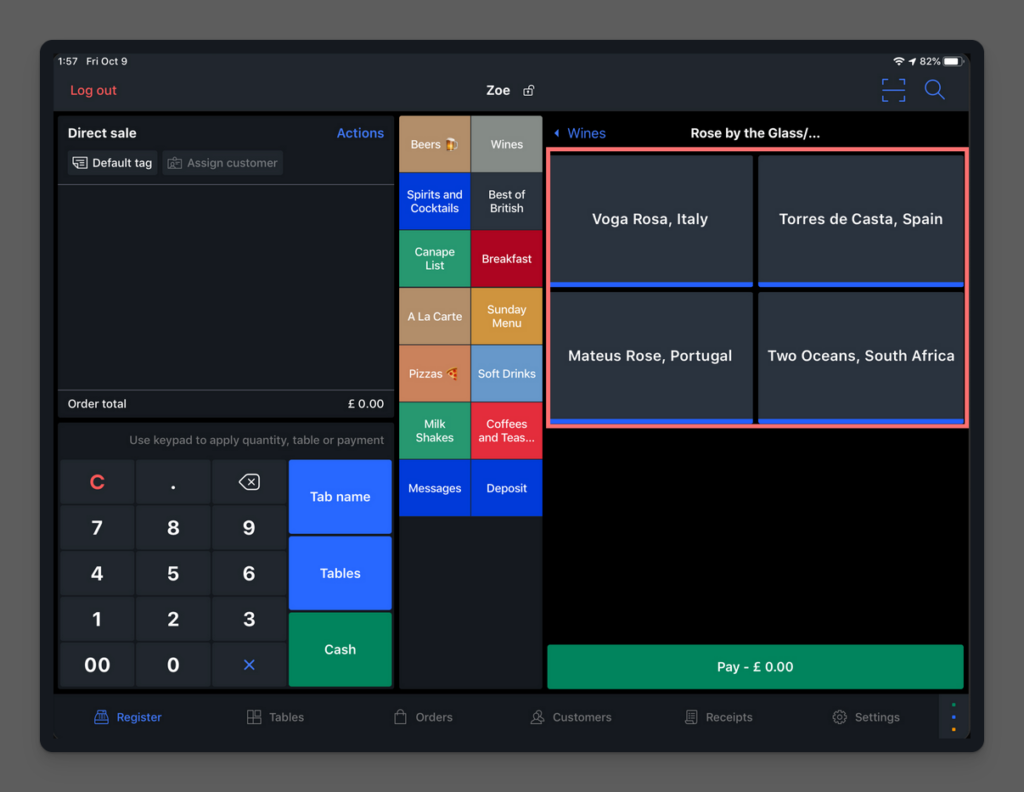 Lightspeed Restaurant POS offers restaurant owners the tools to easily understand and manage the way their restaurant works. With built-in data access and in-depth analytics, you can get a clearer picture of the restaurant without having to dig too deep.
From trending menu items and granular sales data to staff performance reports and more. Understanding which items are top performers, underachievers or hidden gems can be game-changing when it comes to optimizing your menu selection: with all of this valuable information you are practically sitting on a goldmine of potential insights.
Lightspeed offers 200+ integrations, so you can easily add additional features and services as your business grows.
If you're looking to take your restaurant in a new direction, using a restaurant POS that also has retail capabilities could be the key to unlocking success. With Lightspeed Restaurant POS, you can easily expand into selling merch, offering cooking classes and launching other retail operations.
Plus, there's a free trial so you can try before you buy. Lightspeed is available in 100+ countries, so it's perfect for businesses around the globe. Lightspeed is very easy to use, even for the non-tech crowd. Many users say it's easy to use, even simple to learn, and very intuitive.
Lightspeed pricing overview*
Starts at $69/month
Additional registers +$34/mo
Add-on pricing starting at $12/month
Premium add-ons starting at $39/month
Transaction fees: 2.6% plus 10 cents per card-present transaction with Lightspeed Payments. Third-party payment processors are also available.
*Pricing at the time of publishing this guide. For most current pricing, contact Lightspeed.
Lightspeed Video:
Pros
Well-designed user interface
Excellent reporting & analytics
Retail ready
Photos, descriptions & prices are included in the menu and floorplan
Available 100+ countries around the world
14-day free trial
Cons
There is a learning curve
Add-ons can make the monthly fee high
Our verdict:
Lightspeed Restaurant is an innovative restaurant POS system that combines the features and ease-of-use of other well-known POS systems like TouchBistro and Toast but with more advanced reporting and retail capabilities.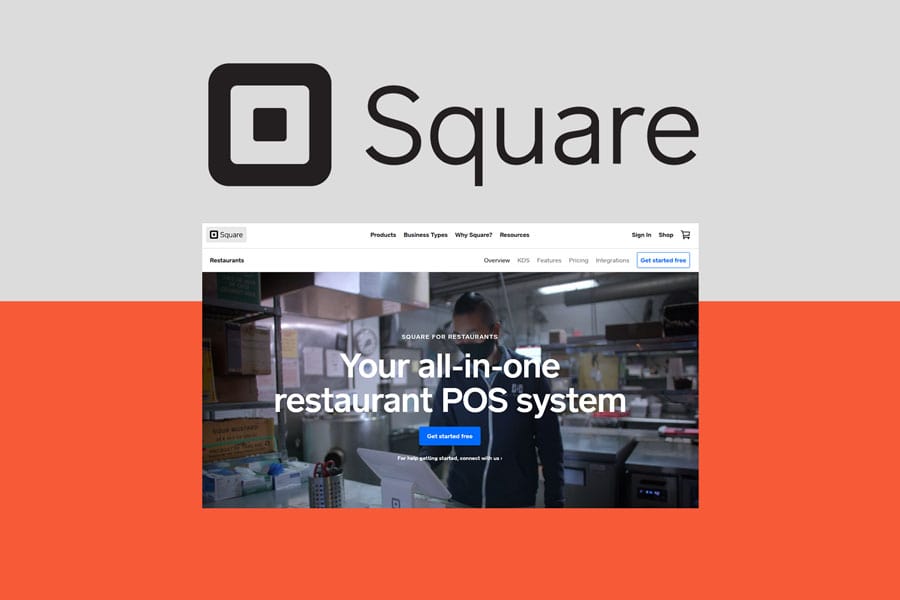 4. Square for Restaurants
The Square app is available worldwide. Card payment acceptance is available in the US, Canada, Australia, Japan, the United Kingdom, Republic of Ireland, France and Spain (Source).
Square for Restaurants is the perfect solution if you need a free plan, smooth restaurant transactions and easy-to-operate retail features.
They've also included the website builder Square Online so your restaurant can have an online presence. That's key to staying competitive in today's restaurant industry.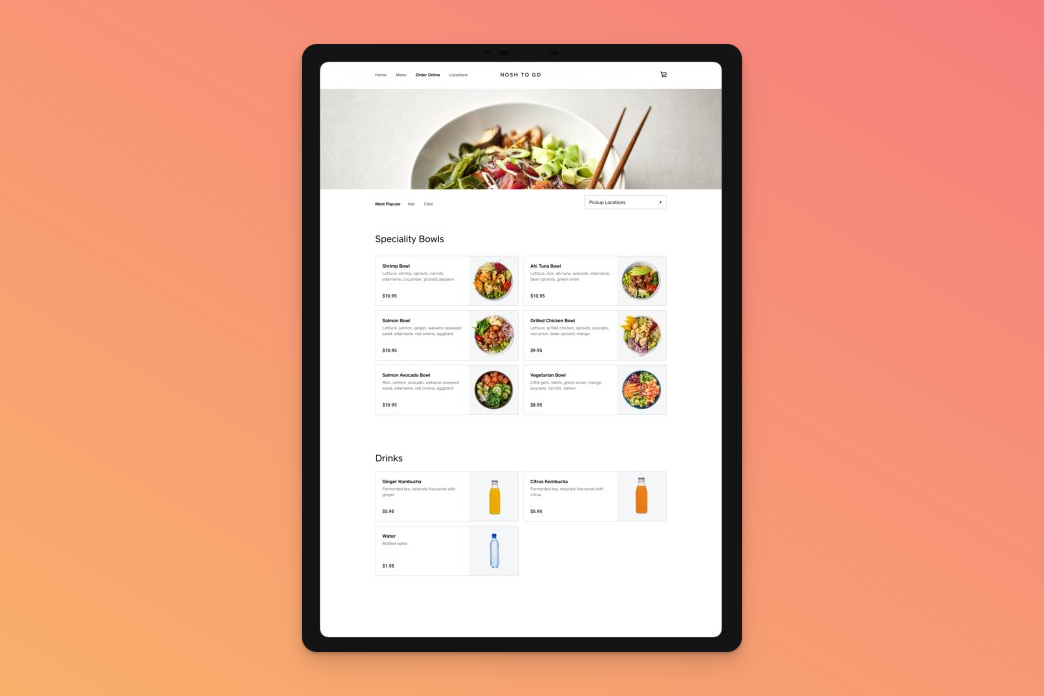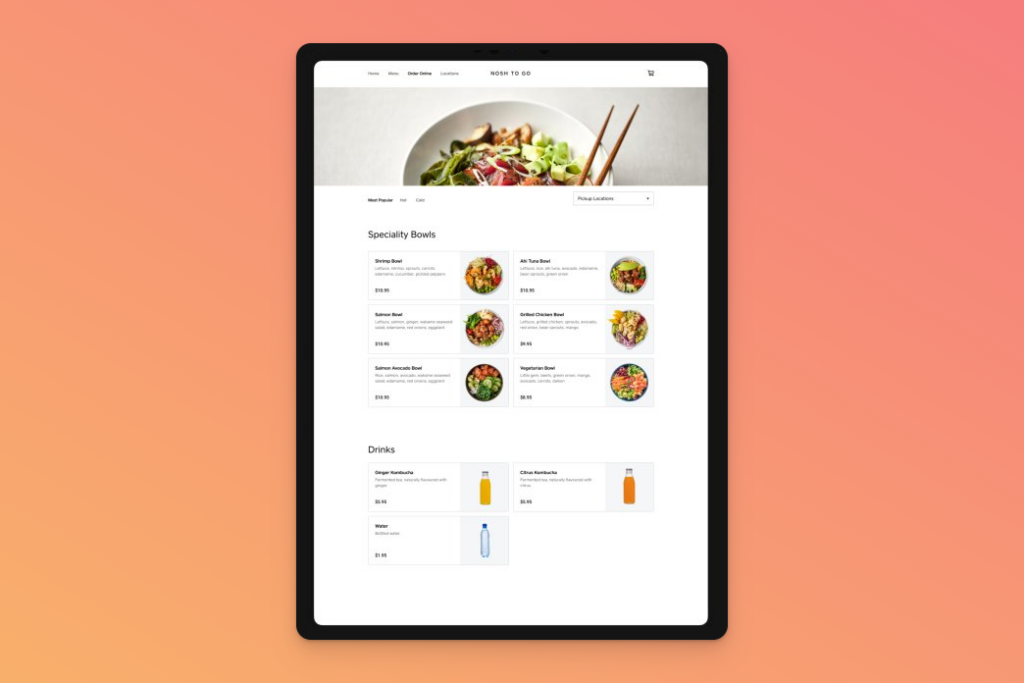 With Square, you get all the basic features such as sales reporting, payments, and employee management that are essential for restaurant operations – no matter the size of your restaurant.
You can use it for any type of foodservice business, including small restaurants, fast food places, bakery shops, cafés, and food trucks, etc.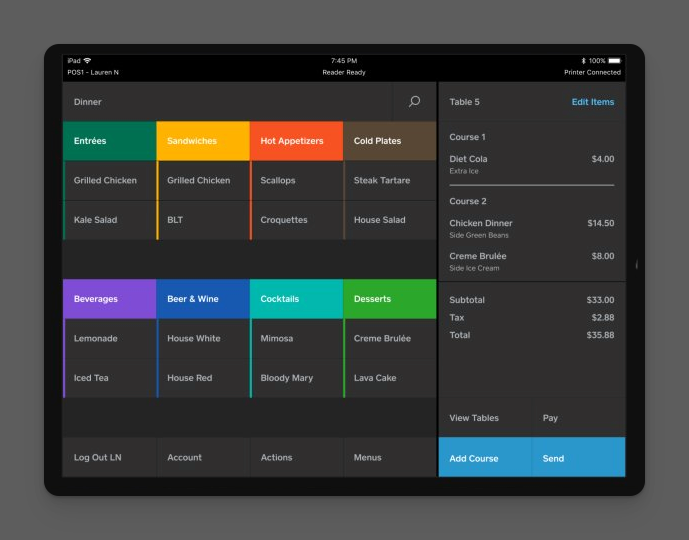 Ease of use: I really like this system because it is intuitive and easy for beginners to use. The interface is modern and looks great on both iOS devices and Android smartphones and tablets.
Features: Square is a point-of-sale system designed particularly for small to medium-sized food service businesses. This means it's not simply another payment processing software; it's also a comprehensive restaurant management package.
The following are only a few of the many things you can use the Square system for:
Accept credit cards on your iPhone, iPad, or Android device
Manage customers, orders, and table seating
Create custom menus
Organize your tables and group orders
Calculate tips and split bills
Track customer loyalty programs
View real-time analytics of business performance
Send out promotional offers via email
Integrate with existing systems such as QuickBooks
Manage online ordering, pickup, and delivery
Square pricing overview*
There's no monthly fee, but there is a transaction fee for each sale. 2.6% + 10¢ for swiped or tapped card transactions. 3.5% + 15¢ when the card number is keyed in.
Square for Restaurants Plus: $60/month for one device per location. +$40/month per added POS device.
Premium subscribers get everything in the Plus subscription and custom pricing for add-ons like Square Payroll, Square Marketing, and Square Loyalty.
*Pricing at the time of publishing this guide. For most current pricing, contact Square.
Square Demo Video:
Pros
Very easy-to-use interface
Free to get started
Free online ordering
No long-term contracts
Easy to create a website for your restaurant
Cons
Restricted to Square's payment processing
Limited reporting
Our Verdict:
Square has all the features and capabilities of a restaurant system – from restaurant-specific features, such as kitchen display systems integration, to retail features like loyalty programs.
Plus, Square also has a great website builder included in their free plan, allowing you to easily create or edit an online presence for your restaurant. Overall, their offering caters specifically to small restaurants.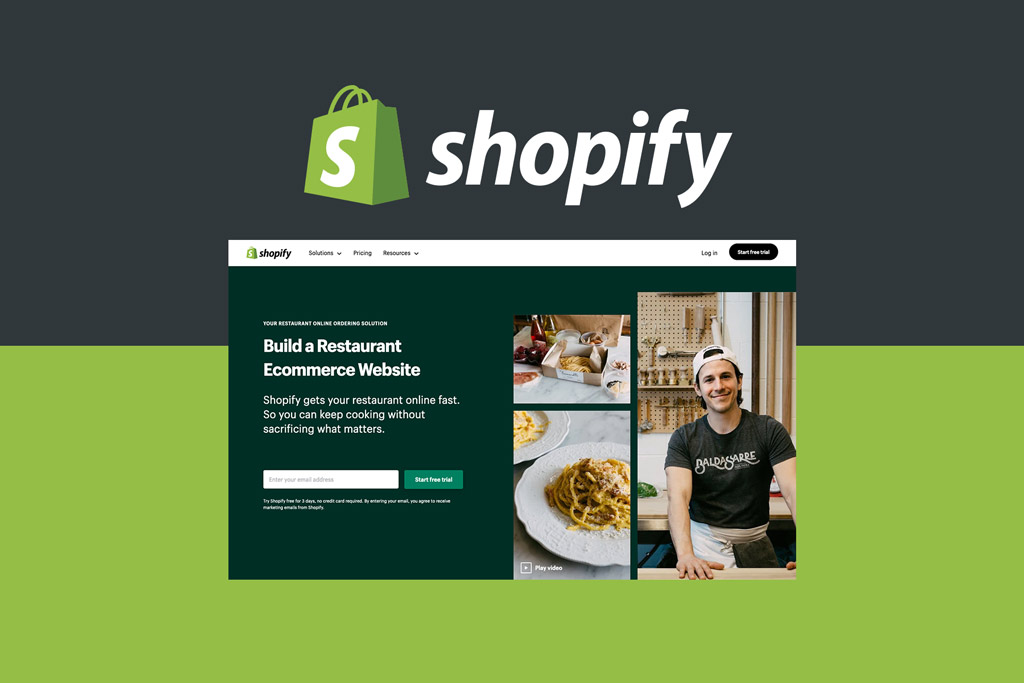 5. Shopify for Restaurants
Shopify POS is available in most countries where Shopify is available, including Canada, the US, the UK, Australia, New Zealand, Ireland, and many other countries.
Shopify is the go-to for restaurant owners who want to open up shop online or add retail to their income stream.
Offering a comprehensive e-commerce system tailored for businesses of all sizes, Shopify also has something special just for restaurants; a POS system that tracks orders and inventory, manage employees, and process payments quickly – it's great if your restaurant is small or just starting up.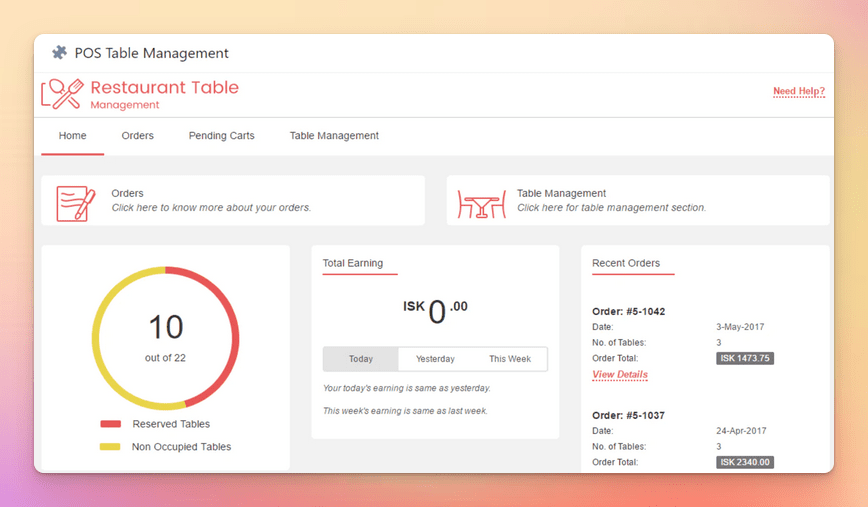 Plus, it's suitable even if you're serving customers from a restaurant kitchen – the point-of-sale system makes taking orders, tracking inventory and managing employees fairly simple.
Shopify for Restaurants is no doubt an attractive POS system with many features, but it also comes with a few drawbacks. Offline mode and customization options are not available – and in some cases, you need to invest in additional integrations as well.
Key tools such as variance reporting may be missing too so if that's important to your restaurant business then Shopify won't be the right choice for you.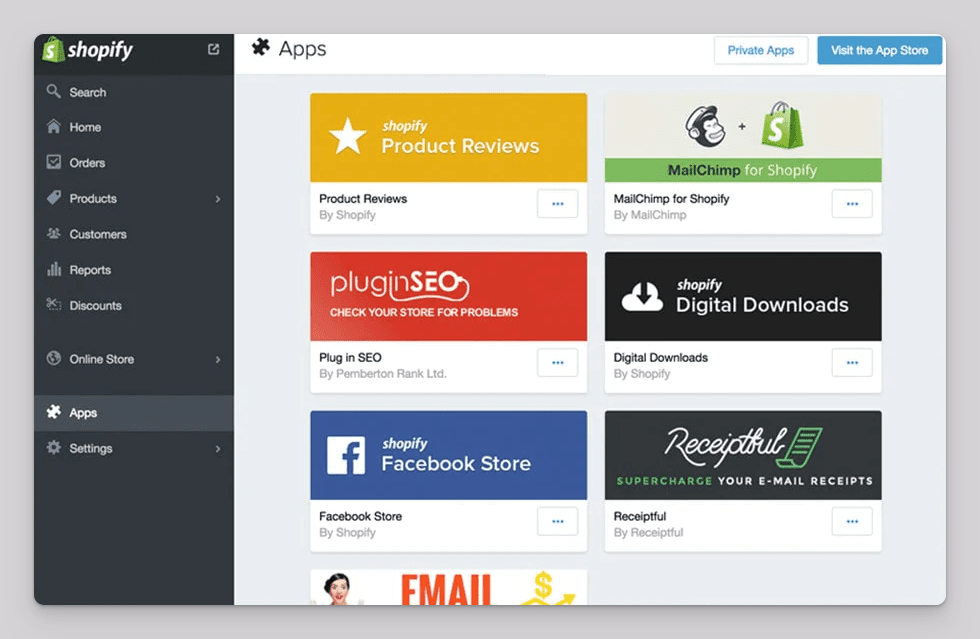 But don't discount this solution just yet; its positive aspects like ease of setting up an online store, versatile integrations and cost-effectiveness make up for these shortcomings. So give it some thought before deciding how best to serve your own restaurant needs.
Shopify has three pricing plans: Basic Shopify, Shopify, and Advanced Shopify.
The Basic Shopify plan starts at $29 per month and includes two staff accounts, unlimited products, 24/7 support, and fraud analysis.
The Shopify plan starts at $79 per month and includes five staff accounts, unlimited products, 24/7 support, and an advanced report builder.
The Advanced Shopify plan starts at $299 per month and includes 15 staff accounts, unlimited products, 24/7 support, and Advanced Shopify Plus.
Shopify POS Video Demo
Pros:
Easy to use: Shopify for restaurants is easy to use, even for those who are not tech-savvy
Numerous integrations, including payment gateways – Shopify for restaurants offers numerous integrations, including payment gateways, which make it easy to accept payments from customers
Modern UI – Shopify for restaurants has a modern UI that is easy to navigate
Flexible pricing – Shopify for restaurants offers flexible pricing, which means you can choose a plan that fits your budget
Cons
Lack of offline mode – Shopify for restaurants does not have an offline mode, which means you will need an internet connection to use it
No in-built loyalty program – Shopify for restaurants does not have an in-built loyalty program, which means you will need to use a third-party loyalty program or create your own
Limited customization – While Shopify for restaurants offers many features, it is not as customizable as some other POS systems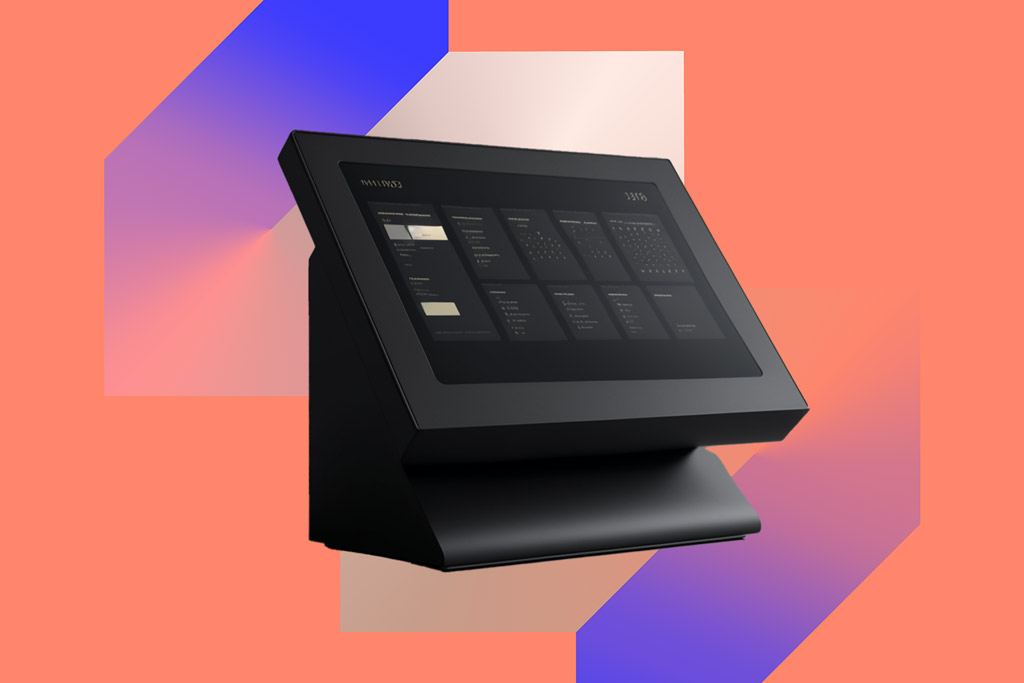 How to Find the Best POS System for Your Restaurant
That was my compilation of the top restaurant POS systems currently available.
After exploring the options above, you may still be asking yourself which one is ideal for your business. To answer that question, this guide will provide further insight to assist in determining the right fit for you.
Together, we'll explore the essential features of a restaurant POS system and compare them so that you can make an informed decision on which platform will best propel your business forward.
Moving forward, I'll be discussing the following topics:
What is a restaurant POS system?
6 key factors to consider when choosing your POS
Questions to ask when viewing an online demo
15 essential features of a restaurant POS system
What is a Restaurant POS System?
A restaurant Point of Sale system is an all-in-one management tool that can completely revolutionize the way a restaurant operates.
By streamlining payment processing, inventory management, menu customization and more through one integrated platform – restaurants can quickly become more efficient with minimal effort.
This article specifically focuses on modern cloud-based solutions that can support all aspects of restaurant management. By relying on these platforms, businesses will be able to run their restaurants effortlessly and with maximum efficiency.
Nevertheless, this isn't the only way to configure systems for supporting your business. Instead, you could opt for discrete systems that specialize in their respective areas and integrate them where needed.
Although this could add a lot of complexity and cost for food service companies, I advise that most should find one tool to support the majority of their needs. This will eliminate spending money on additional tools unless there is an evident business purpose behind it.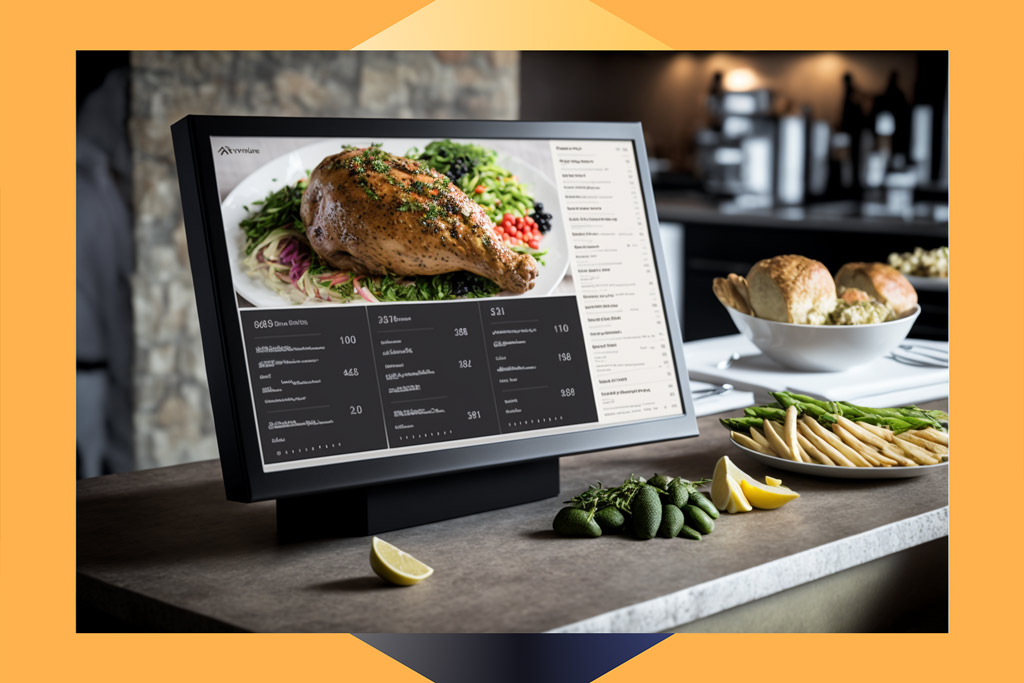 6 Key Factors to Consider When Choosing Your Restaurant POS
Choosing the perfect POS software for your restaurant is a big endeavor, and it's important to have all of the information you need before making an informed decision.
You've probably already identified some features that must be included in any POS system you consider. However, don't forget to take into account these essential points as well.
Support & Customer Service
Choosing the right restaurant POS system is an important decision for any business. Not only does it need to be reliable and efficient, but it should also provide excellent customer service and support.
Having a good customer service team to help you with any issues or questions you may have can make all the difference in how successful your business runs.
Look for a restaurant POS system that offers 24/7 customer service and technical assistance so any issues can be quickly resolved. Plus, don't forget about training- choosing a provider with tutorials and instructions will help your staff learn how to use the new technology swiftly.
Finally, make sure to read up on reviews from those who are already using the restaurant POS system you are considering. They'll let you know the level of customer service and how well issues get resolved. With the right support team in place, you can rest assured knowing that your restaurant POS system will be running smoothly at all times.
Ease-of-Use & User Experience Design
Although some people value features over design, I strongly believe that the design of a product is an essential factor.
There are two primary reasons why this is true:
1) Every element communicates your brand. Your restaurant's technology is often the first impression your customers have of you, so make it count! If they see an old and clunky reservation or online ordering system, that could send a message about not just their experience with your business but also how up-to-date and modernized you are. You don't want to miss out on creating a great initial connection with potential clients from the get-go, so give them something sleek and intuitive.
2) An intuitively designed system makes it a breeze for new team members to get up and running – so you don't have to waste precious time providing on-the-job training. This can ultimately save a ton of your energy, which is key when striving towards efficiency!
The systems I have listed here are all satisfactory in terms of design, but Toast is the one that stands out and pushes the limits in both design and usability. Despite the complexity of its features, this platform is remarkably user-friendly and intuitive.
Third-Party Integrations
If you're big on using specialized accounting software like Quickbooks or e-mail marketing services, then it's important to pay attention to how compatible the system is with other platforms.
Square for example has some awesome integration support and a team that will help you get set up – plus Lightspeed boasts an impressive list of partners so their integrations should be good too. Toast and TouchBistro are great options if you run a restaurant, they've got integrated partnerships with many popular tools.
Cost
A good POS system might seem pricey, but don't let that scare you off – it'll end up being an invaluable investment for the success of your business. A top-notch POS is like its own little brain keeping everything in check and pumping vital data around to make sure things keep ticking along smoothly!
The cost of a good POS system can be steep, but the investment is well worth it. After all, these systems are like the heart and brain of your business – they help you make more money.
The cost of software and hardware must be taken into account when deciding between systems. The price range listed here is varied, so it's important to consider the financial implications before committing.
POS systems have gone from hefty up-front costs to more monthly subscription models, making them easier on the wallet…but not in the long run. A recent RestaurantOwner.com survey showed that these fees can now be nearly three times higher than they were just a few years ago.
When you evaluate the subscription cost, it is essential to consider not only your staff numbers but also other associated costs (such as credit card processing and add-on fees). What's more, be sure to examine which features and customer service support are included in that price.
Nevertheless, take time to consider your business model carefully and determine which option works best for you.
Supported Countries
Unfortunately, some software platforms are confined to a few select countries due to the nuances of international taxes, payrolls, and payments. This is because there are unique regulations for each country that must be followed when dealing with these aspects of business. To guarantee reliable local support, many platforms prioritize a few countries to establish offices and presence.
Thankfully, Lightspeed, Touchbistro and Shopify are available to many nations across the globe – check out our overview at the start of this article for details on which countries they're supported in.
Features & Functionality
To conclude, double-check that all the features you need for your POS system are included. What those features entail will differ depending on what type of restaurant business you're running.
When deciding on the ideal POS system for your restaurant, take into account what features you will require and how straightforward each platform is to use for your team. Don't forget that a well-designed POS can make or break your restaurant's success.
You need a system that can quickly adapt to the ever-changing restaurant scene and give you up-to-date reports. Similarly, evaluate if each software offers integrations for extra hardware or external accessories your eatery may require.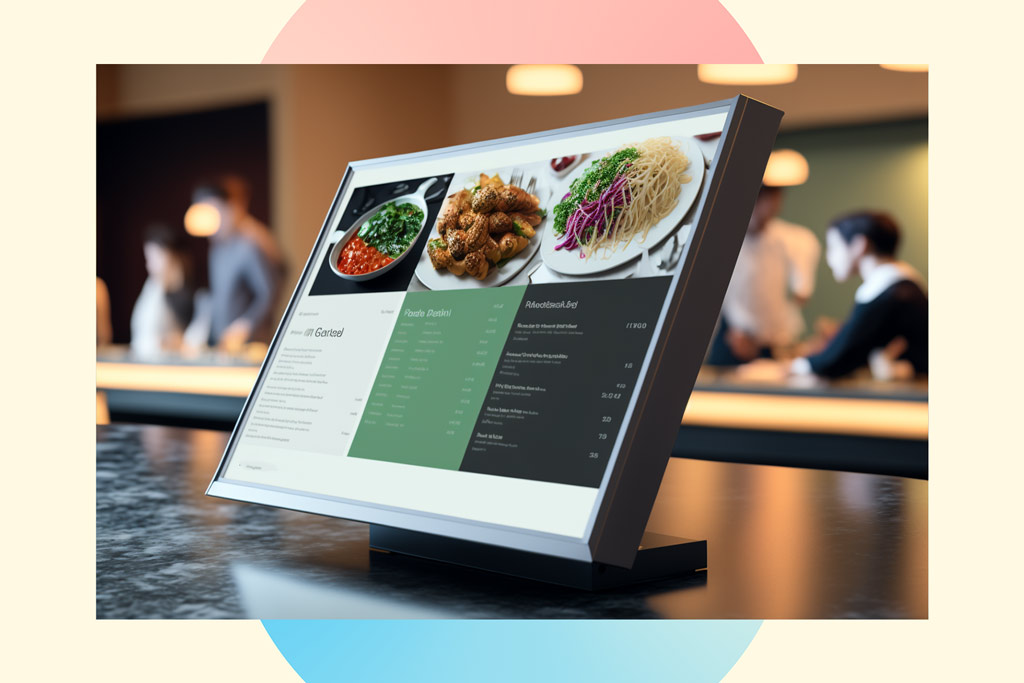 Schedule an Online Demo From 3 Providers on Your Shortlist
The best way to find what's right for your business is by scheduling a demo along with management staff so they can ask questions too.
It'll only take 20-30 minutes but it could save you tons of time in the long run – plus, screen sharing allows powerful visual learning opportunities where any questions will be answered.
When it comes to picking a POS system, you need more than just back-end analytics. Seeing what the systems can do in person is key – bring your management staff along and ask all the questions that come up! You'll be surprised how quickly you get an understanding of each one after just 20 or 30 minutes of demos – so make sure to use this time wisely by asking as many questions as possible for full comprehension of how everything works.
Start assessing a prospective POS from a firm foundation by asking key questions, such as whether the system works when the internet connection is down or if you can access it from anywhere.
Ask about online or onsite support and limitations that adopting the system may impose, such as upfront and monthly costs, report requirements and potential changes over time.
Determine what features you need and test them out to make sure they are effective and easy to use – be realistic with yourself while considering this step.
Consider what other systems the POS needs to interact with and ask for concrete examples of successful integration before committing.
Identify third-party delivery services that can be supported by the system, as well as existing inventory management or payroll systems.
Don't forget to think about how long you must retain the contract for, as well as how much training will be required for employees of your restaurant who need to use the tool.
Lastly, keep in mind that there's no sense paying extra for features or integrations that won't make your day-to-day operations easier – only buy the features you really need!
15 Essential Features of a POS System and How they Can Benefit Your Restaurant
1. Menu & Inventory Management: Change your menu items easily with this feature. You can also keep track of your inventory in real-time to know what needs to be replenished.
2. Staff Scheduling & Employee Management: With staff scheduling, you can quickly organize shifts for waiters, cooks and other employees and ensure that they're clocking in and out accurately. The reporting feature will provide valuable insights into overall employee performance.
3. Table Management: Assign guests to their tables quickly and easily, ensuring that all your customers are served efficiently. On-table QR codes free up your staff's time by allowing customers to seat themselves, to order themselves, and to pay their checks, all through their own devices. Some systems can have detailed floor plans and seat management.
4. Customer Relationship Management (CRM): You can use your POS to manage your customer database. Create targeted email campaigns with relevant offers and messaging. The CRM can be used to automatically send offers to customers who haven't visited your business in a while. Data analysis from your CRM will also give insight into which marketing campaigns are most effective.
5. Payment Processing: With payment processing, you can accept payments with ease, including credit cards and mobile wallets. Some systems also have Pay-at-the-table features.
6. Online Ordering & Delivery Management: Many restaurants want to be able to take orders online. If a system doesn't offer online ordering natively, it should integrate with an online ordering and delivery service.
7. Reporting & Analytics: With reporting and analytics, you can gain valuable insights into your business with sales metrics, best-selling products, customer loyalty programs, daily sales, the restaurant's busiest hours, staff performance and more.
8. Kitchen Display System (KDS): A KDS allows restaurant staff to monitor orders in real time, alert chefs when orders are ready, and check the progress of each order easily. The system also assigns orders to specific food preparation sections, so all items are ready simultaneously and duplicates are eliminated.
9. Split Checks: With split checks, you can easily divide orders between multiple people, ensuring each customer pays only for their own meal.
10. Loyalty Programs: With loyalty programs, you can reward loyal customers with discounts and other promotions that are tailored to each customer's needs. A POS makes it easy for customers to earn and redeem their loyalty rewards.
11. Mobile/Tablet POS: Equip your waitstaff with table-side ordering tools, allowing them to send orders directly from the customer to the kitchen with real-time alerts that provide visibility into product availability.
12. Cloud-Based Solution: With a cloud-based POS system, you can access your data from any device with an internet connection and keep it securely backed up.
13. Online Reservations: Available in some advanced POS solutions, but most have integrations with apps like OpenTable for online reservations.
14. Third-Party Integrations: Many POS systems support integration with other systems, including accounting software, payroll services, email marketing platforms, and CRM solutions.
15. Retail & Online Store Capabilities: Some POS systems have integrated tools for selling retail items and creating an online store. Restaurants that also sell retail products can enjoy many benefits, such as increased sales and a larger customer base. Retail items can also increase foot traffic and create more marketing opportunities for the restaurant.
What POS System is Right for Your Type of Restaurant
Identifying solutions for your specific type of restaurant is a good start in narrowing your choice.
Quick-Service Restaurants (QSR) need POS systems with enough speed and ease of use to quickly process orders and payments. A POS system designed for QSR should also include integration with digital menu boards so you can update menus and menu displays fast. Support for self-service kiosks is also an excellent way to keep customers moving.
Full-Service restaurants need POS features that allow customers to make reservations online or over the phone. If you want to seat guests quickly and turn tables fast, table management is a must. Wait staff can use table-side ordering with mobile Point of Sale units giving customers the convenience of paying at the table.
Fast-casual restaurants need a POS system with many of the same features as a full-service restaurant, but it's also vital to make ordering faster. Table kiosks for self-ordering menu items and pay-at-the-table functionality are easy ways to make this happen. A POS system can integrate online order information with your kitchen display system (KDS), so staff knows what to prepare. It can also print receipts and labels, making paperwork easy.
Conclusion
Different restaurant POS systems all have their own strengths in the following three criteria: easy-to-use, low-cost, and high functionality. You can usually find a solution that meets two of the requirements, but rarely all of them.
I find that Toast is the POS system that best fulfills these three criteria for small and medium-sized restaurants. (See my full review of Toast).
Toast offers much more than a POS system, it's just one of the many products they have available as add-ons or integrations. They have a great online ordering module, a great payment processor, and many marketing tools designed to help restaurants, food trucks, and coffee shops grow.
The best part is that all features work so well together. As a member of the Toast system, you get full business support and access to specialized tools that integrate as if they were one product.
Even if Toast is all you need, they also have plenty with integrations so that you can make it compatible with your existing systems, including accounting solutions like QuickBooks.
The main limitation with Toast from a global perspective is the relatively few countries where the entire system is available.
However, TouchBistro and Lightspeed are very good alternatives if you are looking for a solution available in a wider variety of countries.
I hope this overview of restaurant POS systems has given you a better understanding of how the different tools work and why I recommend Toast to most of you who want a feature-rich and easy-to-use system to support your restaurant business.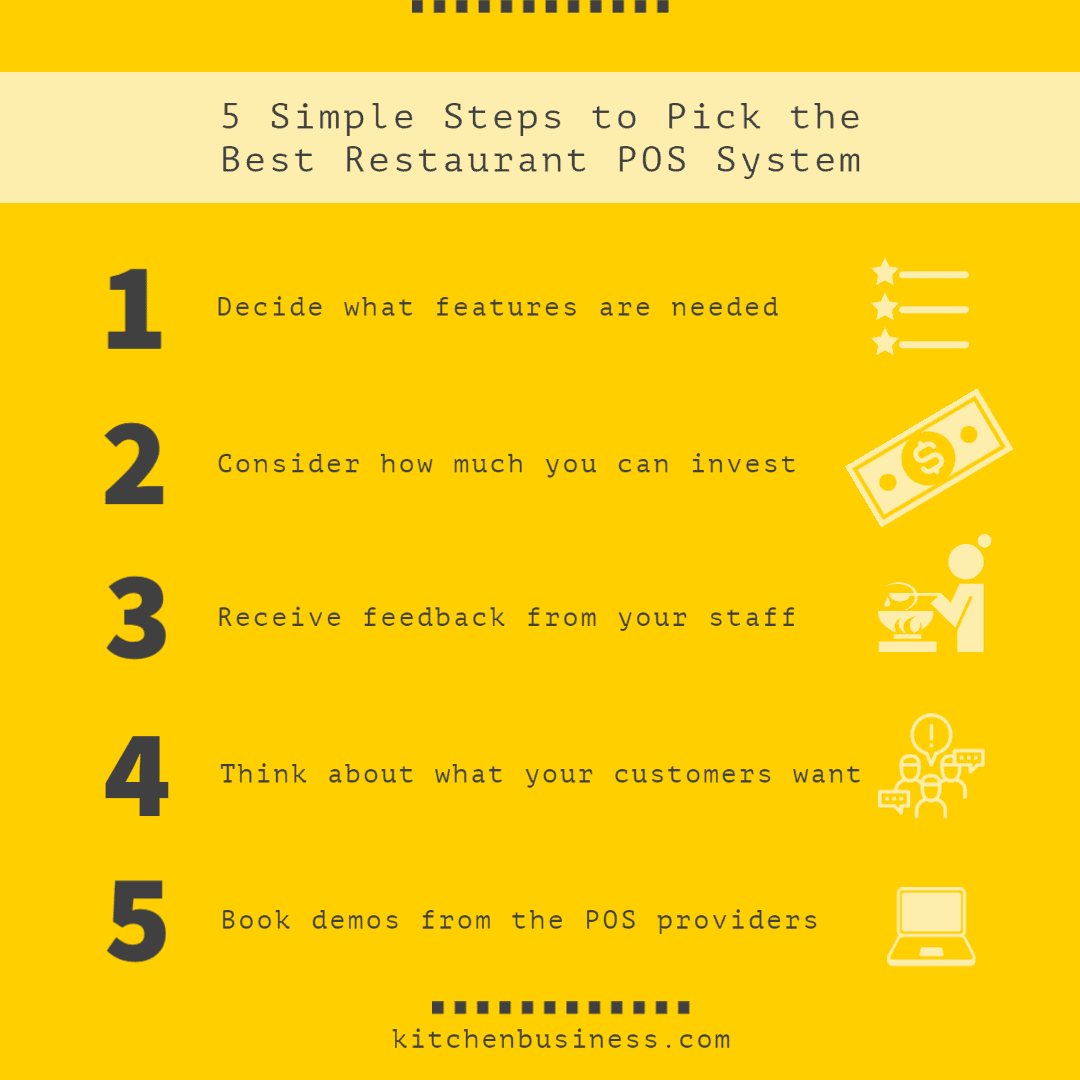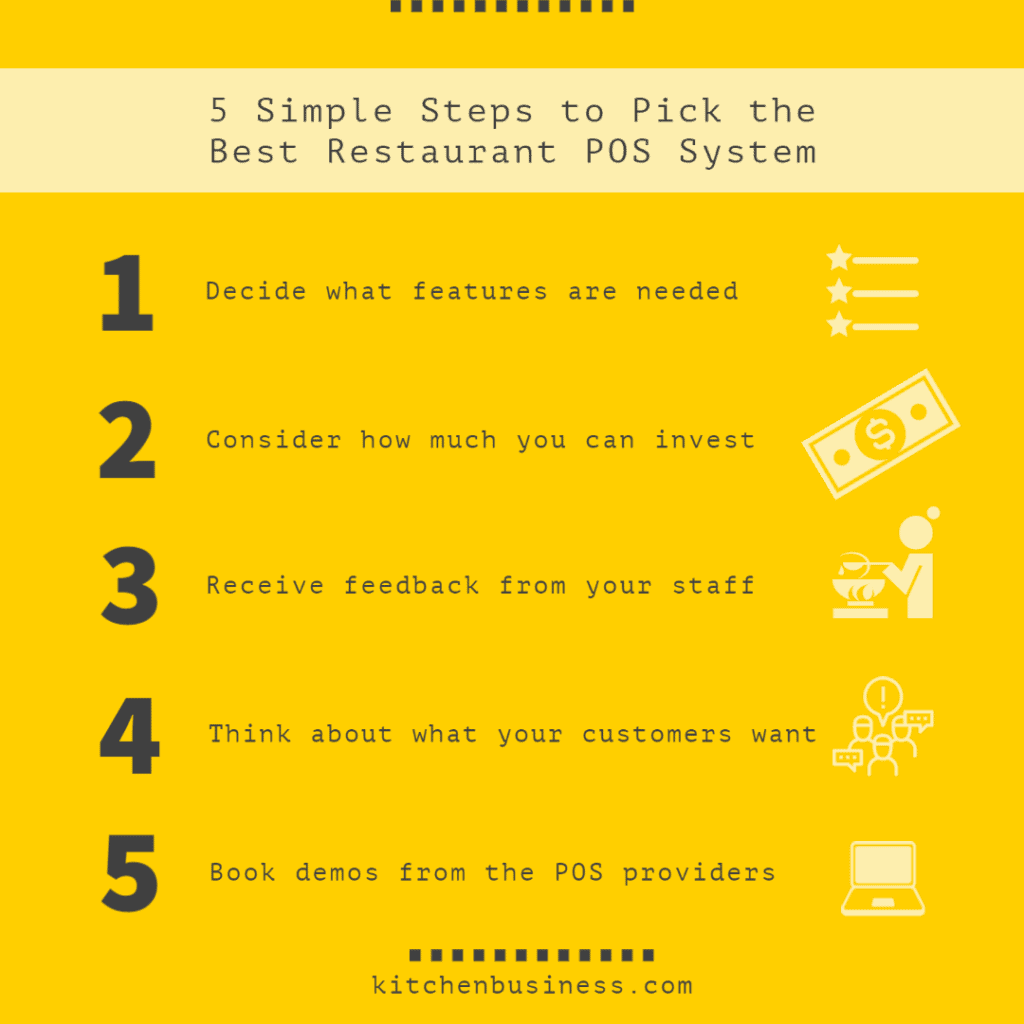 Additional POS resources: