Choosing the right restaurant POS system is crucial to the success of your restaurant business.
You're likely already aware of this fact and have undertaken some research on various software comparison and review websites.
But if you're anything like me when I first embarked on this journey, you're probably still feeling overwhelmed and confused by the sheer volume of options available.
The restaurant software market has grown exponentially in recent years, leading to hundreds of POS systems and restaurant management software options.
This growth, while beneficial in terms of choice, can make the decision process incredibly daunting. When I was researching this topic, I found myself more confused than enlightened, as what one user finds good or bad might not align with your specific needs.
And, while software companies will undoubtedly attempt to sell you their solution, they may not always present the complete picture.
To bring some clarity to this situation, I spent months reviewing all the restaurant POS systems with the highest user ratings and documenting their features, and now, I've compiled all this information into a simple, freshly updated overview for 2023.
This article will save you countless hours of research and testing by providing you with the following:
My top picks for the best restaurant POS systems in 2023
A guide to choosing a solution that suits your business
A detailed feature-by-feature review and comparison of the best restaurant management systems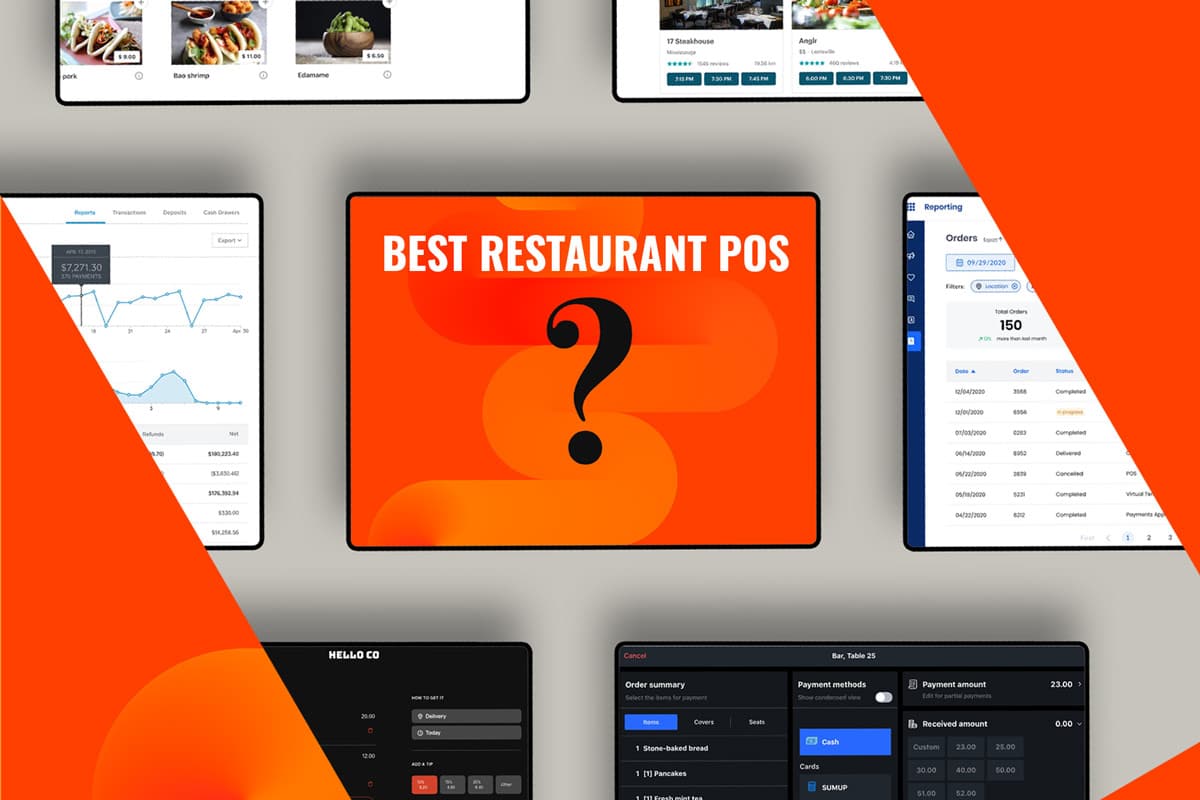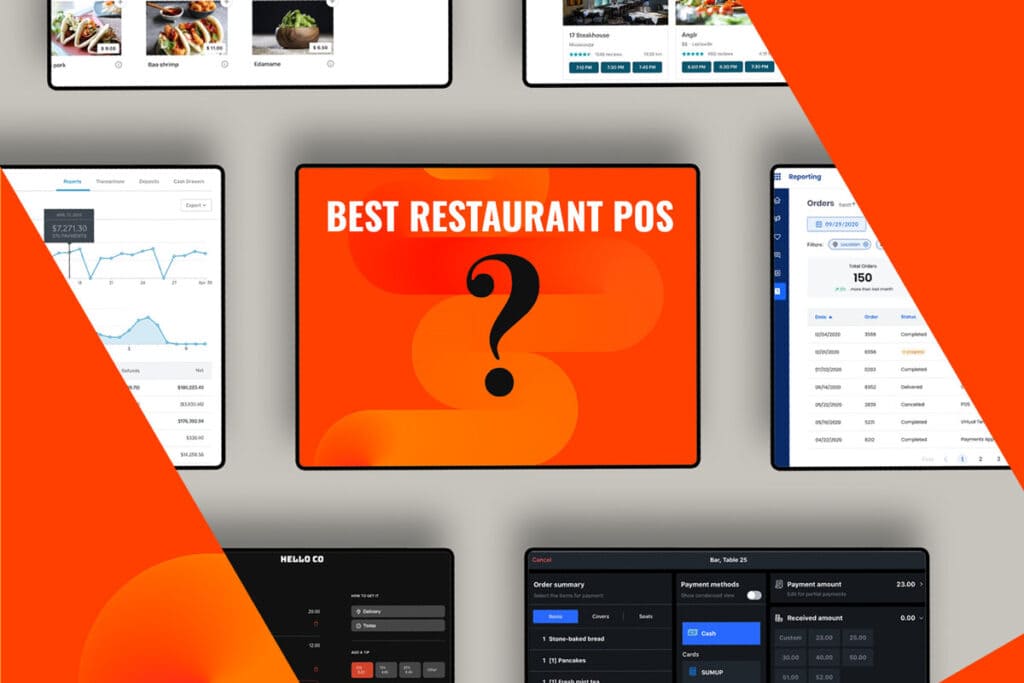 The Top 5 Restaurant POS Systems
Description:

The most innovative POS system on the market

Best for restaurants that want to get started with a free basic plan with the option to upgrade to many advanced features and integrations.

Description:

Designed by restaurant industry veterans

Best for independent full-service restaurants looking for a well designed, feature-rich and secure cloud/server-based POS system.

Description:

Cleverly crafted POS with exceptional design

Best for upscale eateries seeking powerful data insights, retail features, and extensive integration possibilities.

Description:

Best for small restaurants and coffee shops

A small business POS for establishments that need a subscription-free plan, smooth transactions and easy-to-operate retail features.

Description:

Excellent hardware options and no long term contracts

All-in-one POS solution with modern restaurant-specific features for fine-dining, QSRs, bars, and food trucks.
---
Toast POS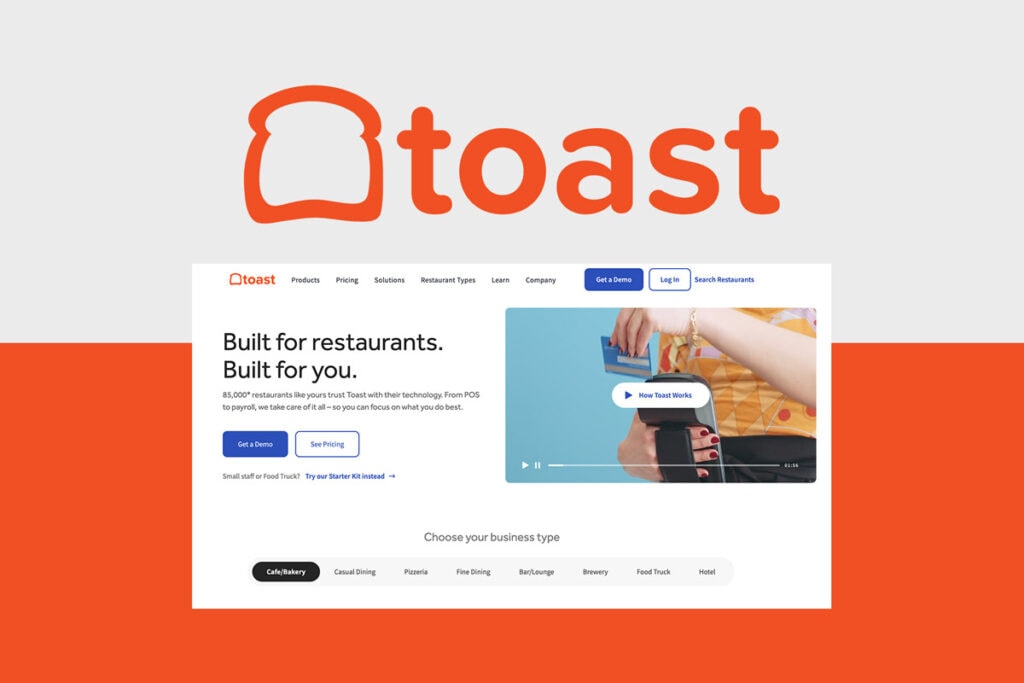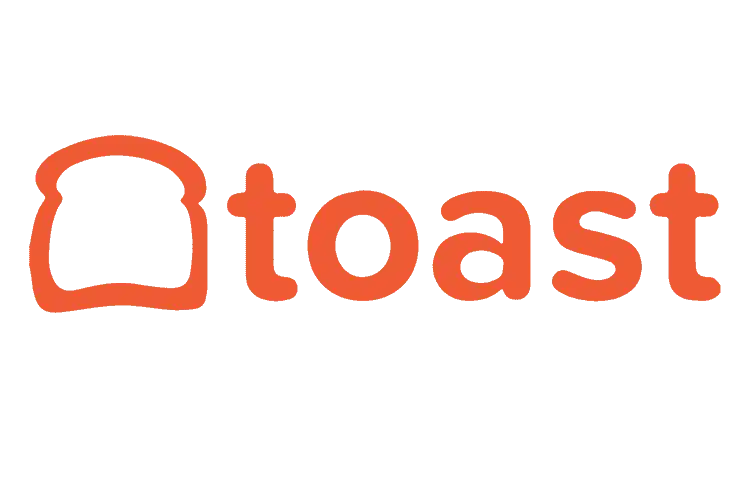 Toast
The most innovative POS system on the market
Best for all types of restaurants that want a complete restaurant management system.
Pros:
Rapid development of new features

Toast Tables Reservation system

Includes a free starter plan
Cons:
Android only

Locked into Toast payment processing
Start a Free Plan
Our Review
Toast is the fastest-growing restaurant POS system on the market. According to a 2022 survey of over 800 independent restaurants Toast has grown from a 1.4% market share in 2017 to a whopping 30.6% in 2022. (Source).
Restaurants need technology solutions that simplify their operations, instead of becoming bogged down with multiple or legacy POS systems. Historically, restaurant owners have been late adopters of tech, which creates a great opportunity for the company that can get it right.
Toast saw the importance of the restaurant POS and responded by creating an all-encompassing solution tailored to the restaurant industry.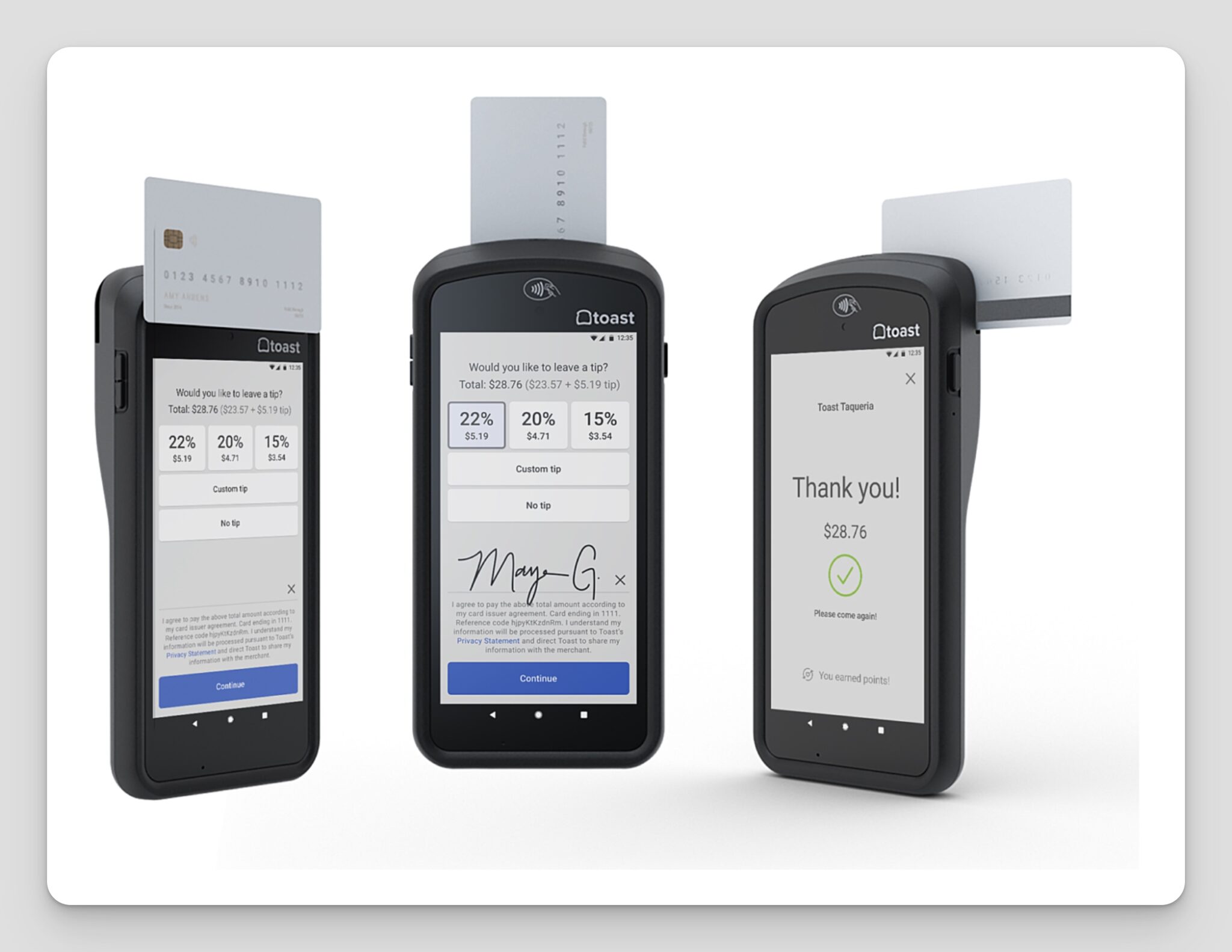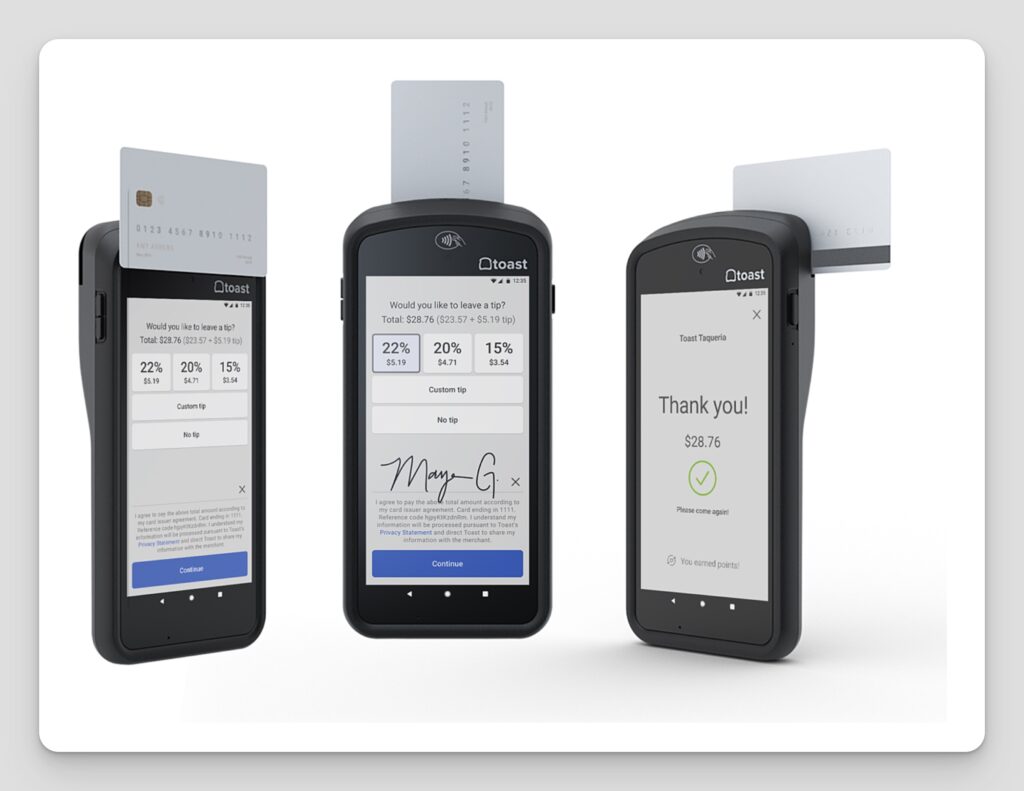 Toast is a great restaurant POS system if you want to want to start with something small. With Toast's free basic plan, restaurant owners can get up and running without breaking the bank.
You will also love the flexibility to upgrade whenever and however you want, offering a full range of features and integrations.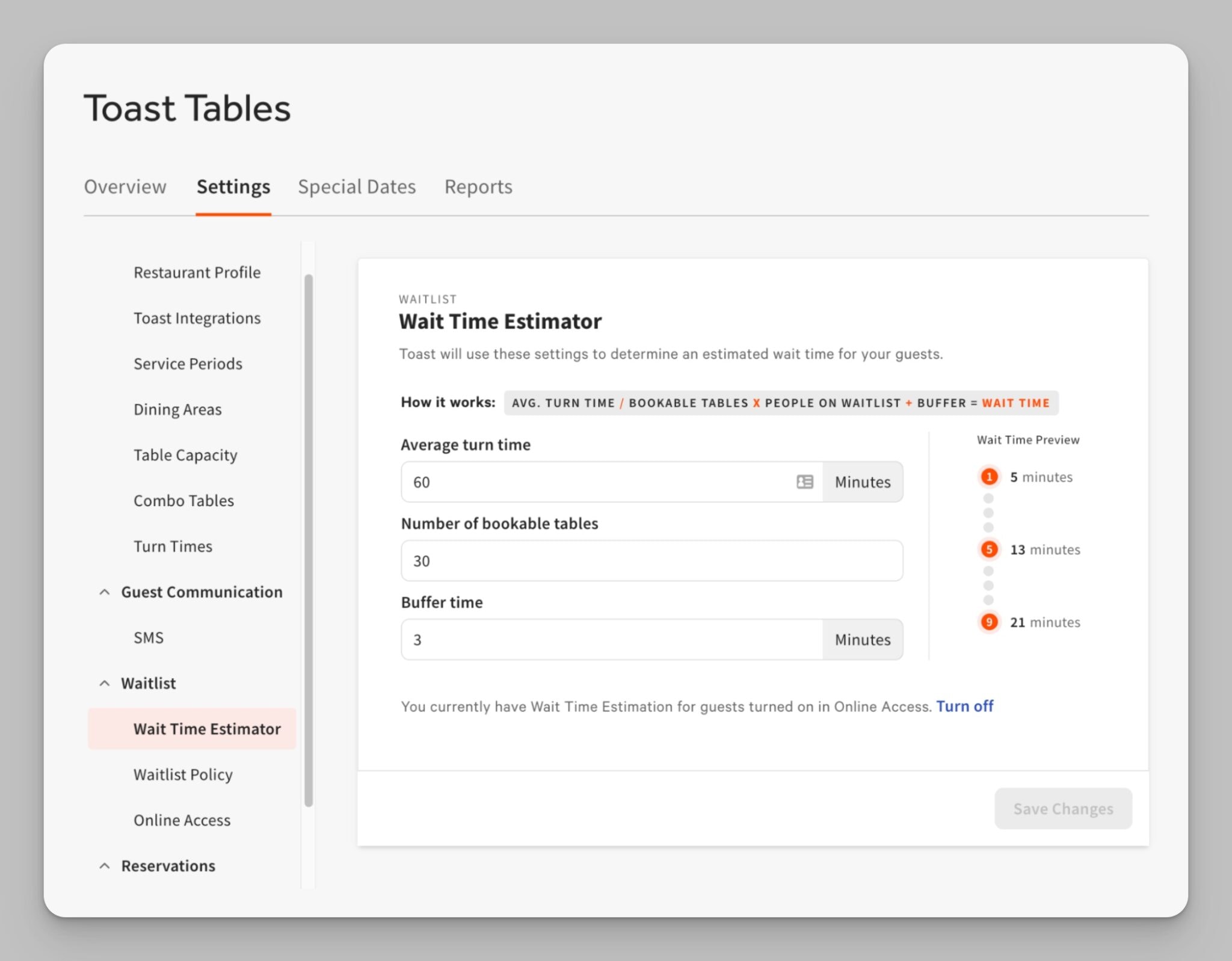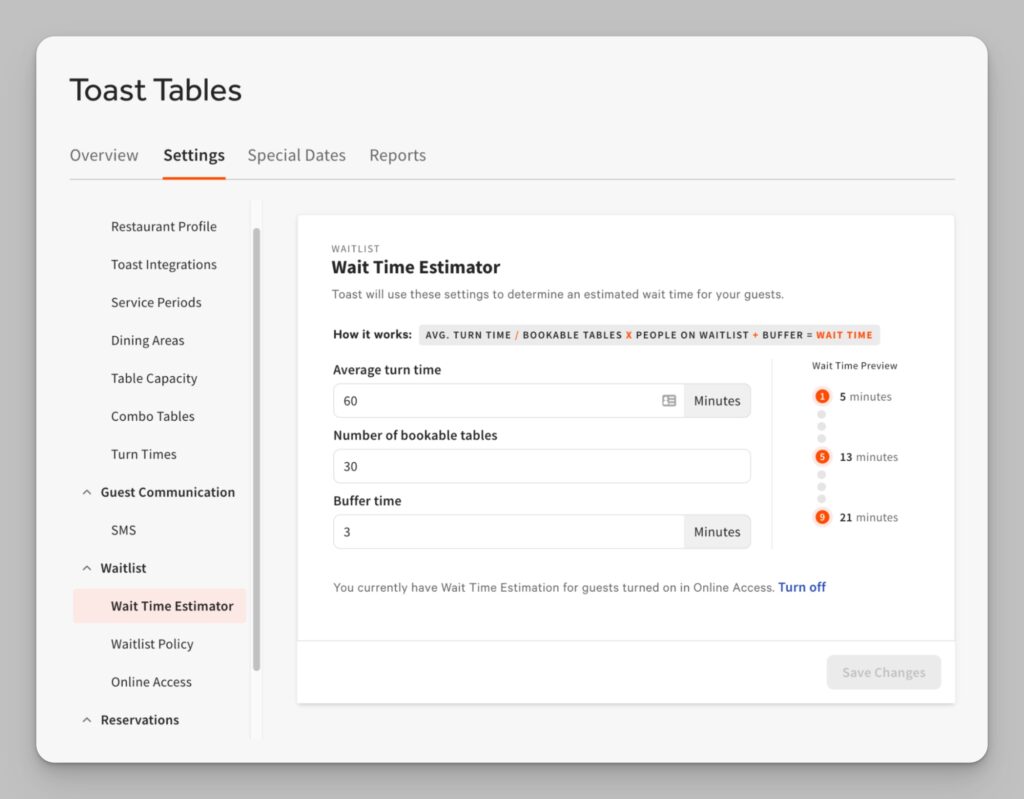 Noteworthy Features of Toast
For more details on all major features see my complete Toast review.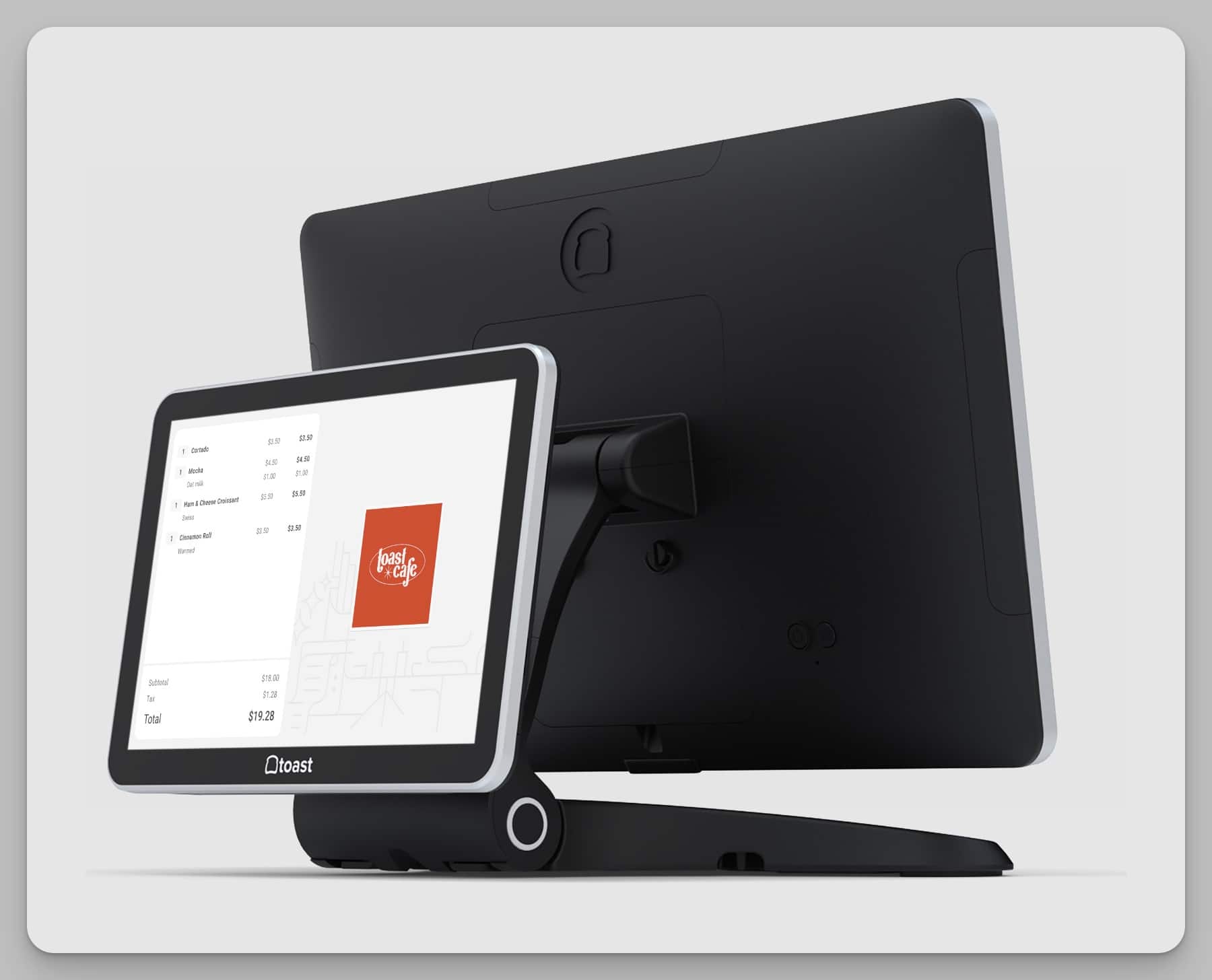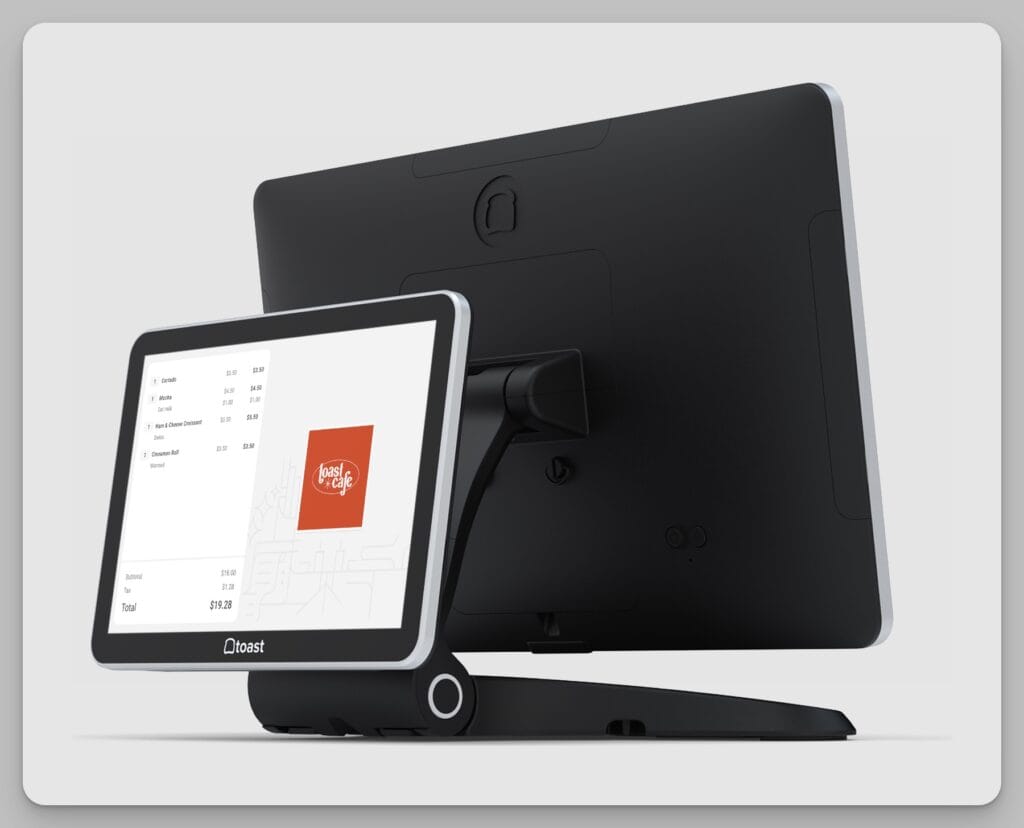 Toast Pros & Cons
A Complete and Scalable Restaurant Management System: This end-to-end platform ensures smooth operations between your front and back-of-house teams while catering to restaurants of all sizes. It allows you to expand your operations seamlessly as you grow.
Rapid Development of New Features: Toast constantly introduces new features to help your business adapt to the latest consumer trends and preferences. This not only increases efficiency but also ensures you can keep up with the evolving restaurant industry.
Built for Restaurants: Toast boasts features catered to different types of restaurants, like fast food chains, fine dining, and casual eateries. Their focus on the industry enables you to adopt a POS system that understands your needs.
Omnichannel Service and Online Ordering: Toast helps you operate seamlessly across mobile, online, and in-person ordering channels. This supports online, pick-up, and delivery options to not only cater to evolving customer preferences but also enhance convenience while increasing sales through digital channels.
Locked into Toast Payment Processing: Users are required to use Toast's in-house credit card processing solution, restricting their ability to shop around for potentially better or more affordable alternatives.
Add-ons Can Get Expensive: While Toast POS offers a range of valuable add-ons to help restaurants enhance their operations, these extra features often come with additional costs. These expenses might be prohibitive, especially for small or start-up establishments looking to maintain a low-budget operation.
Not Very Transparent Pricing: Another downside of Toast POS is the lack of transparent pricing information on the website, including the various hardware bundles and add-on features. This can make it difficult for potential clients to compare Toast POS with other providers.
Only Available in a Few English-speaking Countries: Toast is only available in a select few English-speaking countries, limiting access for restaurants operating outside these markets. This geographical restriction may make Toast POS less desirable for global or multi-national brands looking for a comprehensive solution across all their locations.
Toast POS Review Summary
Toast offers an awe-inspiring number of features and capabilities in a single platform. Since its start in 2011, Toast has rapidly expanded its offerings through constant new feature development and integration. Their platform delivers almost every tool a restaurant could need.
Highlights include full order, inventory, labor, CRM, and analytics management alongside innovations like Toast Tables with reservations and waitlist management with integrated Google ordering. The extensive customization does mean a steeper learning curve than basic POS systems. However, Toast provides more than enough features and flexibility to meet most restaurants' needs.
Toast is ideal for small to medium-sized restaurants and coffee shops seeking an affordable all-in-one management platform. Integrations like online ordering and delivery provide small businesses with the capabilities to compete with larger chains.
More information on Toast:
My detailed Toast Review provides an even more in-depth look into this restaurant POS system.
And finally, to try Toast out, head over to pos.toasttab.com
---
TouchBistro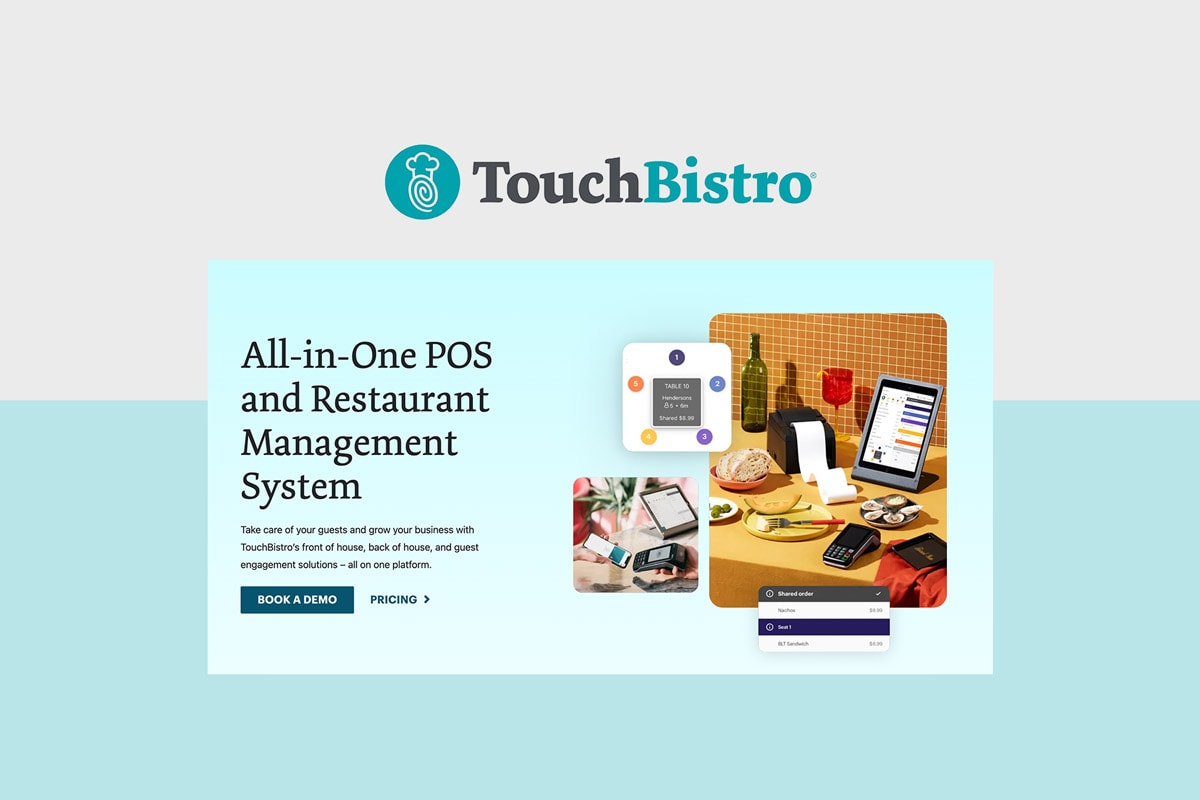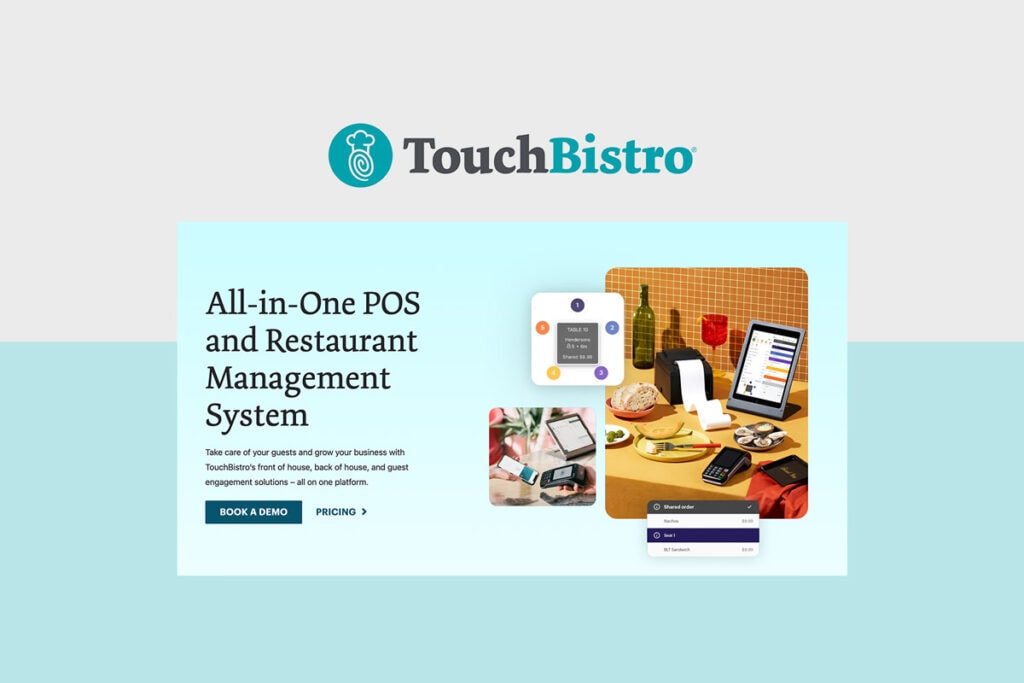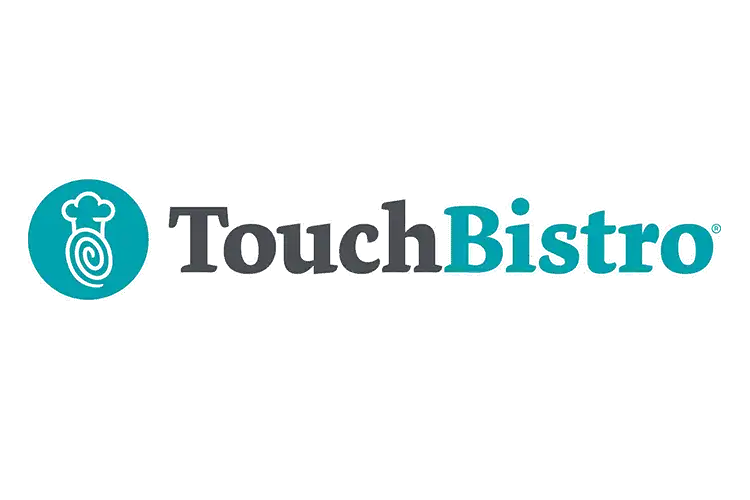 TouchBistro POS
Designed by restaurant industry veterans
Best for independent full-service restaurants looking for a well designed, feature-rich and secure cloud/server-based POS system.
Pros:
Speedy & easy to use

Commission-free reservations

Excellent offline functionality
Cons:
Fewer integrations than competition

Somewhat limited reporting features
Try Now
Our Review
TouchBistro is an excellent choice for independent full-service restaurants but has also been proven effective at helping any type of eatery manage its business.
Not only does it offer a visually appealing and intuitive design, but it also has an abundance of rich features. It further offers the convenience of a hybrid cloud/server system, giving you peace of mind knowing that your data is always accessible and secure.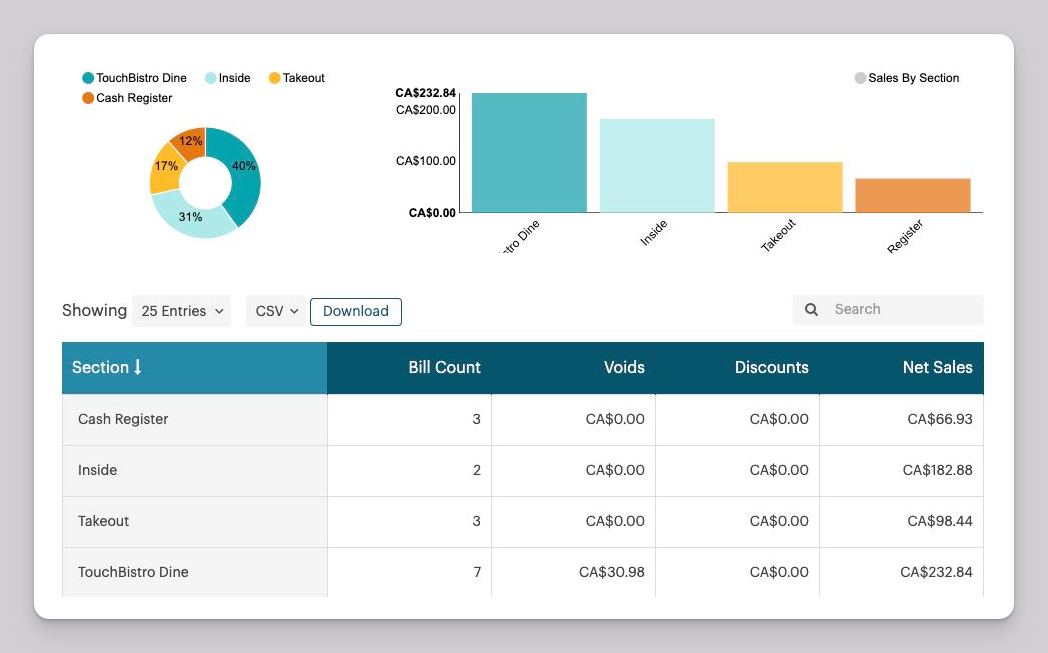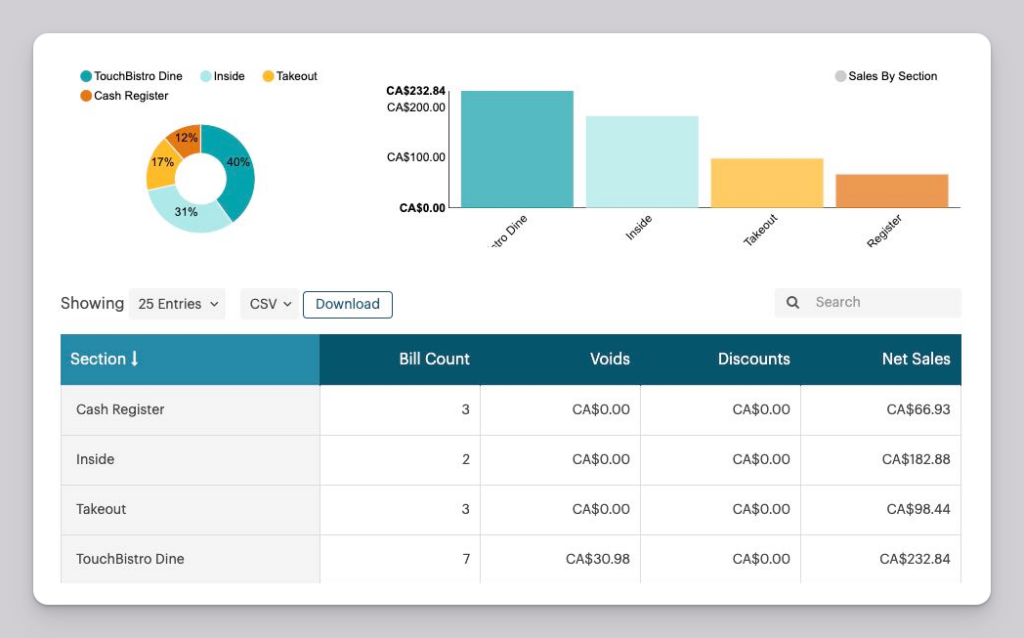 Ease of use: TouchBistro is one of the easiest POS systems to use. It is easy to use and you can learn it in a short time. TouchBistro is great for restaurants that want something quick and easy to work with.
New employees don't have to waste precious time going through an extensive tutorial – if they are familiar with iPhones, then they can easily figure out TouchBistro. You can customize your menus and interface with this tool which will help you speed up your processes in the long run.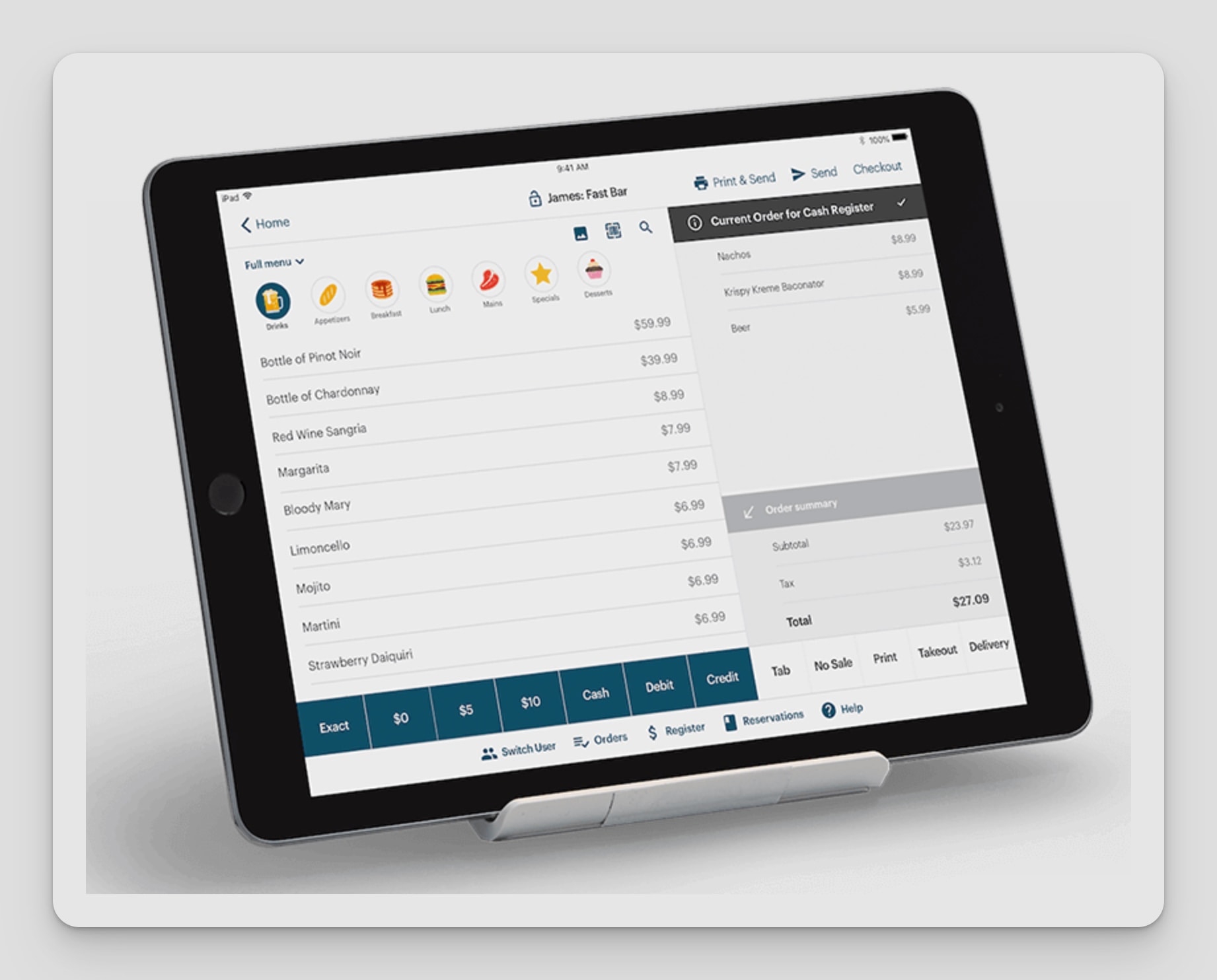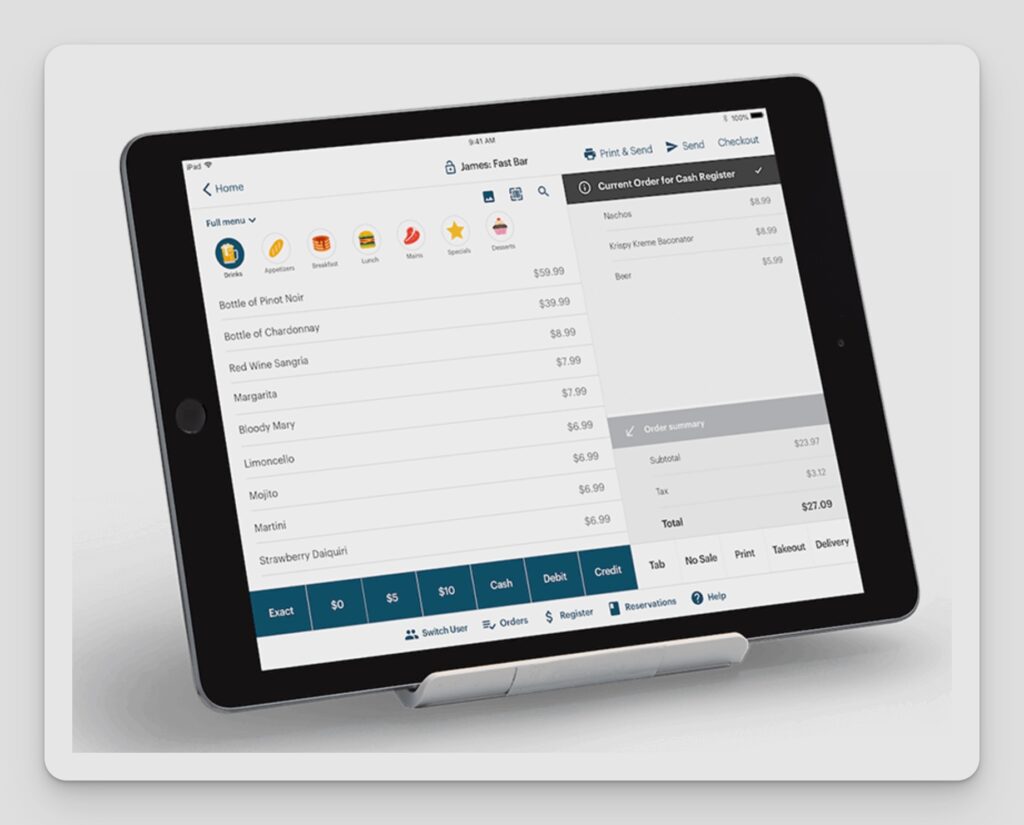 Noteworthy Features of TouchBistro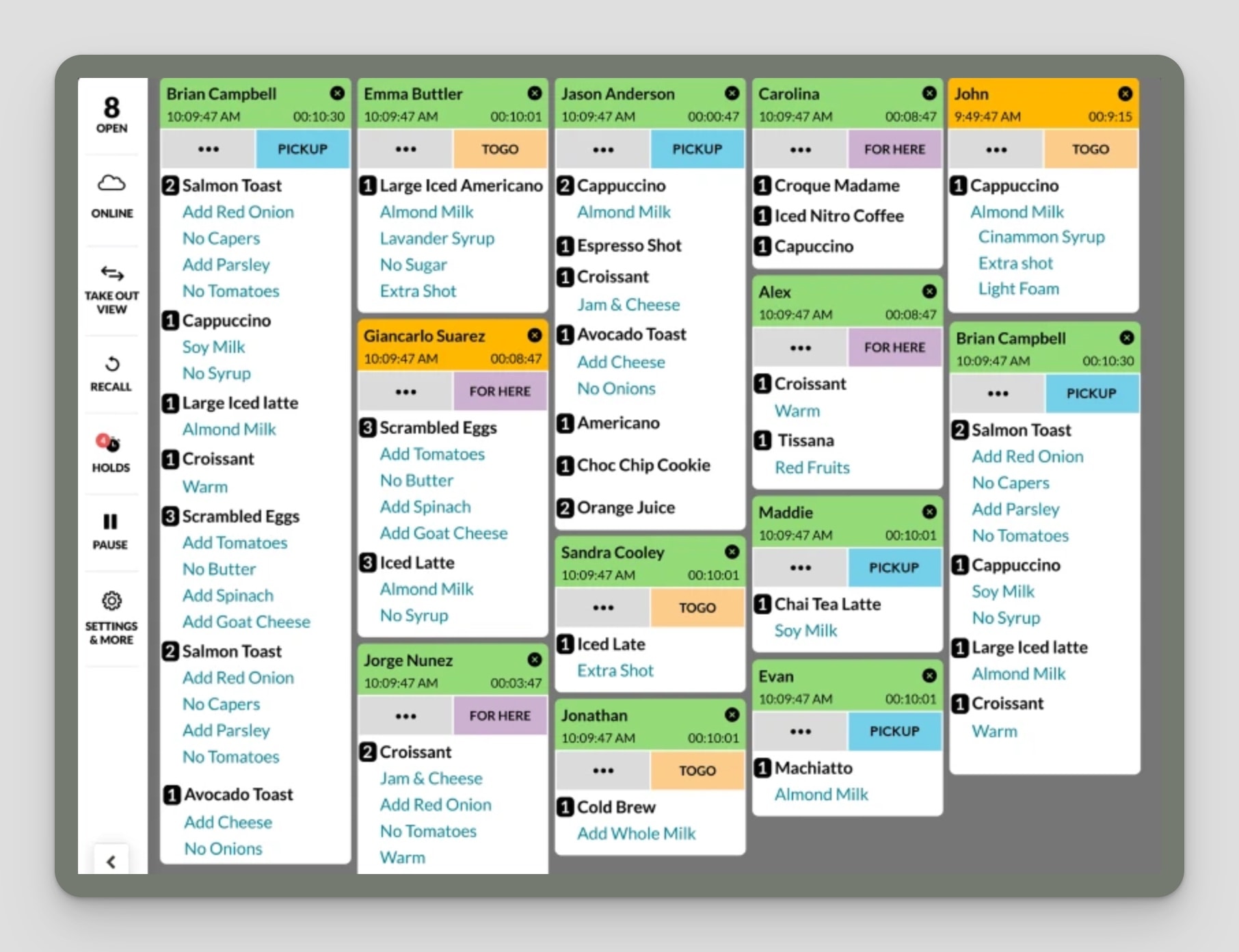 Pros and Cons of TouchBistro
Reservations: TouchBistro's commission-free reservation tool helps restaurants manage bookings effectively and learn about diner preferences for an exceptional hospitality experience.
Ease of Use: The POS system is fast, reliable, and easy to use. Staff familiar with iPhones can easily operate TouchBistro without extensive training.
Payment Processing Options: Users can choose between TouchBistro Payments or a third-party processor like Square, an option not commonly available in other POS systems.
TouchBistro Profit Management: Their partnership with MarginEdge integrates inventory and cost management with interactive sales reports for improved financial optimization, waste reduction, pricing adjustment, and strategic planning.
Offline Functionality: The POS system continues to process payments even during internet outages, ensuring uninterrupted service.
Limited Integrations: Although there are some software integrations available, they may not be as extensive as others provided by competing POS systems.
Online Ordering: TouchBistro relies on integration with Deliverect to connect with delivery services other than DoorDash Drive.
TouchBistro Review Summary
If you're looking for a Point-of-Sale system that is exclusively tailored for restaurants, TouchBistro is one of the best. It has all the features you need to operate your restaurant efficiently, including an easy-to-use interface that will be loved by your FOH and BOH staff.
If you're looking for a new point-of-sale system or are just curious about TouchBistro, I highly recommend checking it out.
More information on TouchBistro:
My detailed TouchBistro Review provides an even more in-depth look into this restaurant POS system.
And finally, to try TouchBistro out, head over to touchbistro.com
---
Lightspeed Restaurant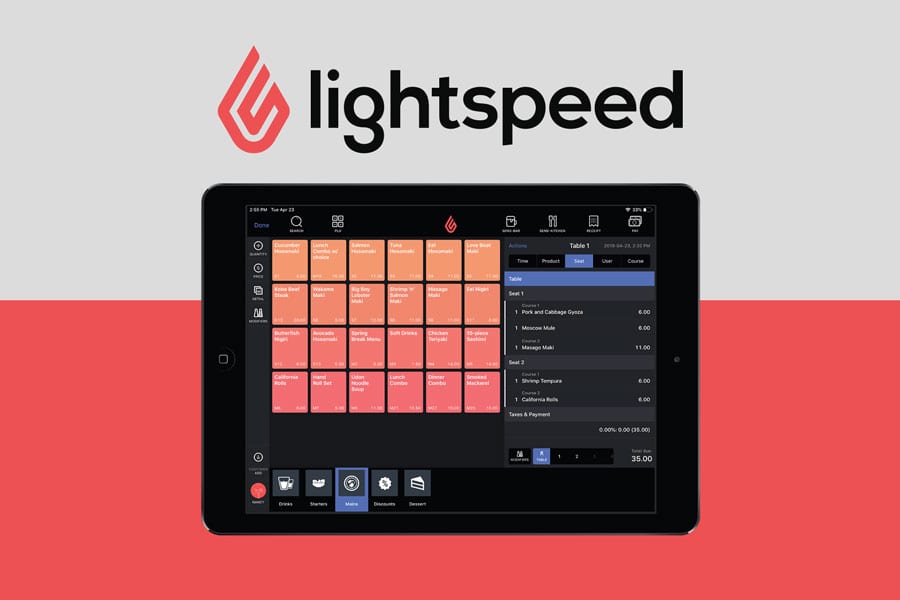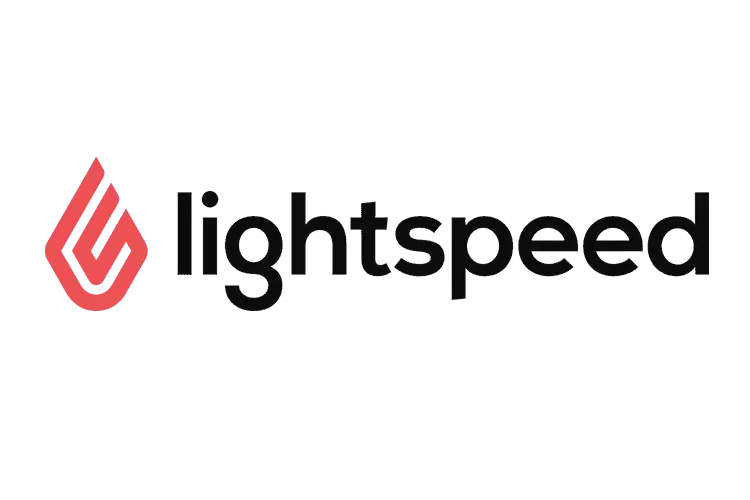 Lightspeed Restaurant
Cleverly crafted POS with exceptional design
Best for upscale eateries seeking powerful data insights, retail features, and extensive integration possibilities.
Pros:
Ease of use & interface design

Reporting & analytics

E-commerce capabilities
Cons:
Limited offline functionality

Not the cheapest option
Free Trial
Our Review
Lightspeed is the way to go if you have a restaurant business looking for sophisticated reporting and analytics tools with retail capabilities.
Lightspeed's acquisition of Upserve has been a game-changer. Now, restaurants can benefit from the powerful analytics and data tools that make Lightspeed one of the premier POS solutions available.
Lightspeed offers restaurant owners the tools to easily understand and manage the way their restaurant works. With built-in data access and in-depth analytics, you can get a clearer picture of the restaurant without having to dig too deep.
From trending menu items and granular sales data to staff performance reports and more. Understanding which items are top performers, underachievers, or hidden gems can be game-changing when it comes to optimizing your menu selection. With all of this valuable information, you are practically sitting on a goldmine of potential insights.
Lightspeed offers 200+ integrations, so you can easily add additional features and services as your business grows.
If you're looking to take your restaurant in a new direction, using a restaurant POS that also has retail capabilities could be the key to unlocking success. With Lightspeed Restaurant POS, you can easily expand into selling merch, offering cooking classes, and launching other retail operations.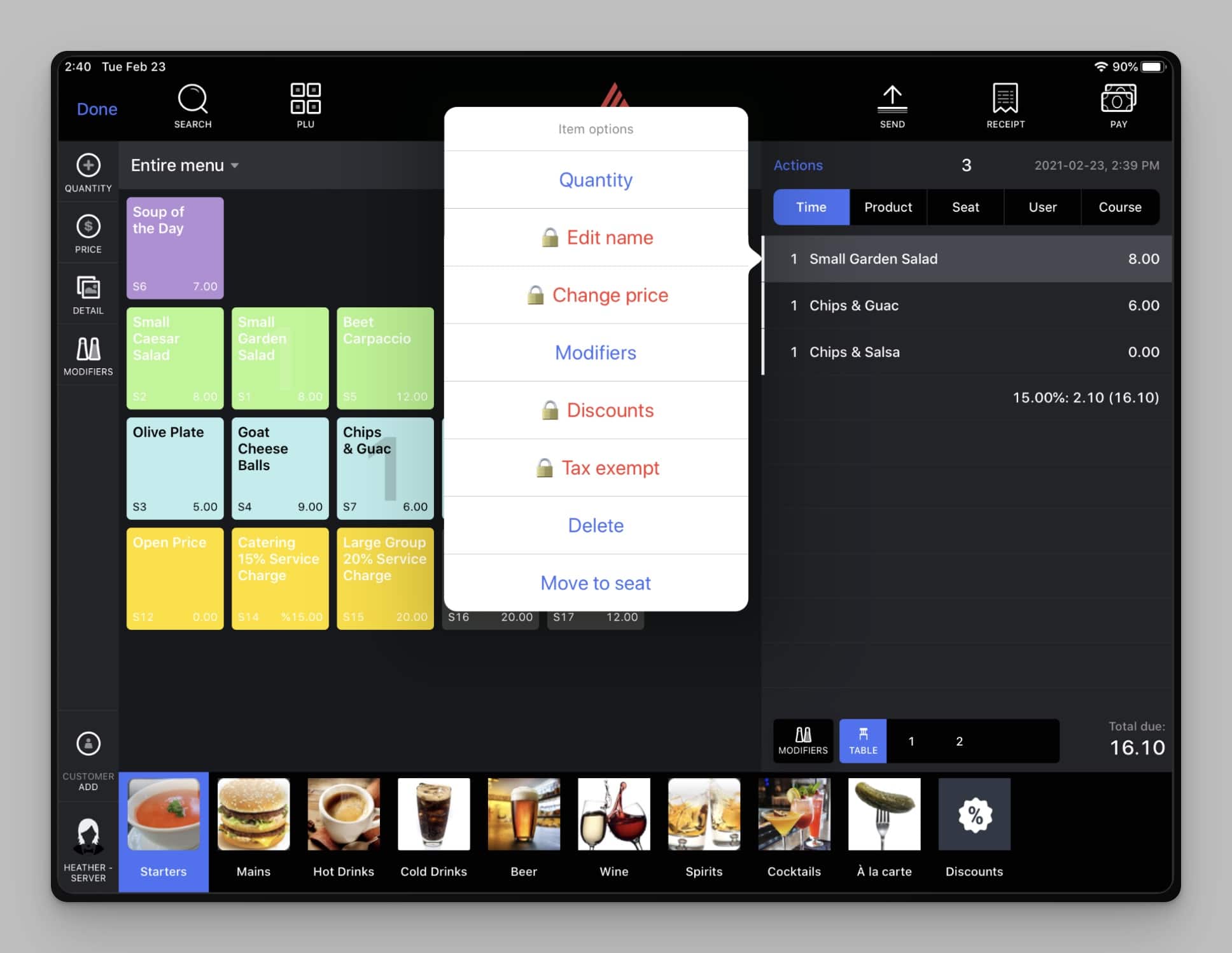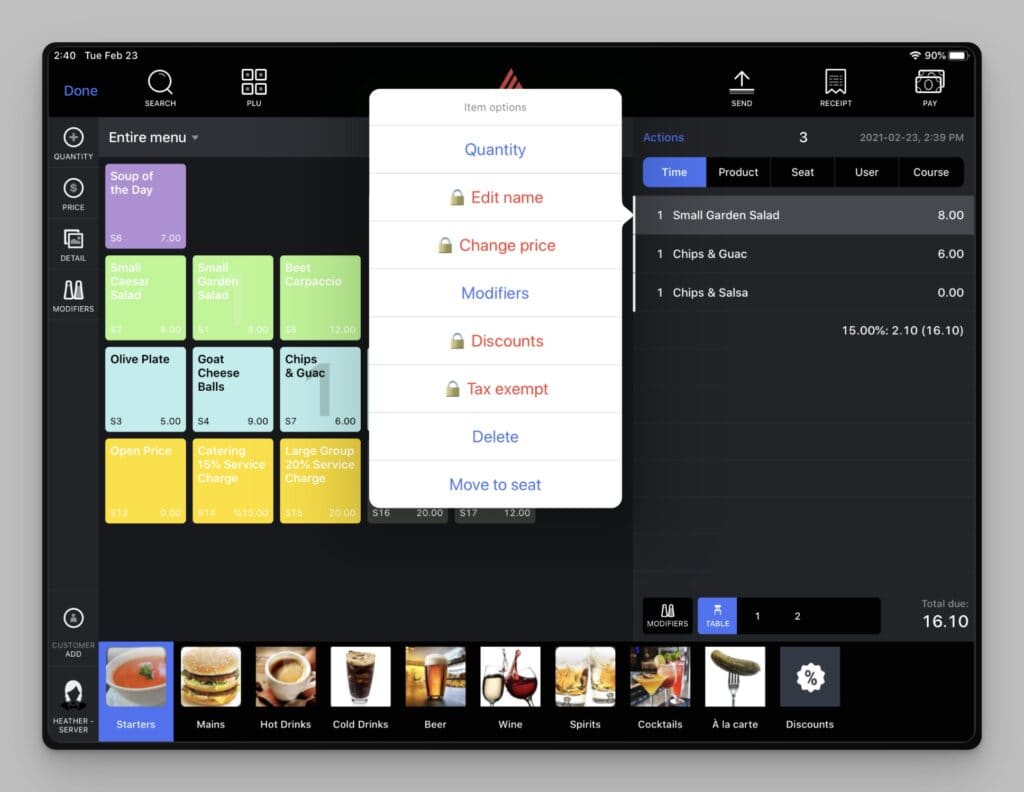 Noteworthy Features of Lightspeed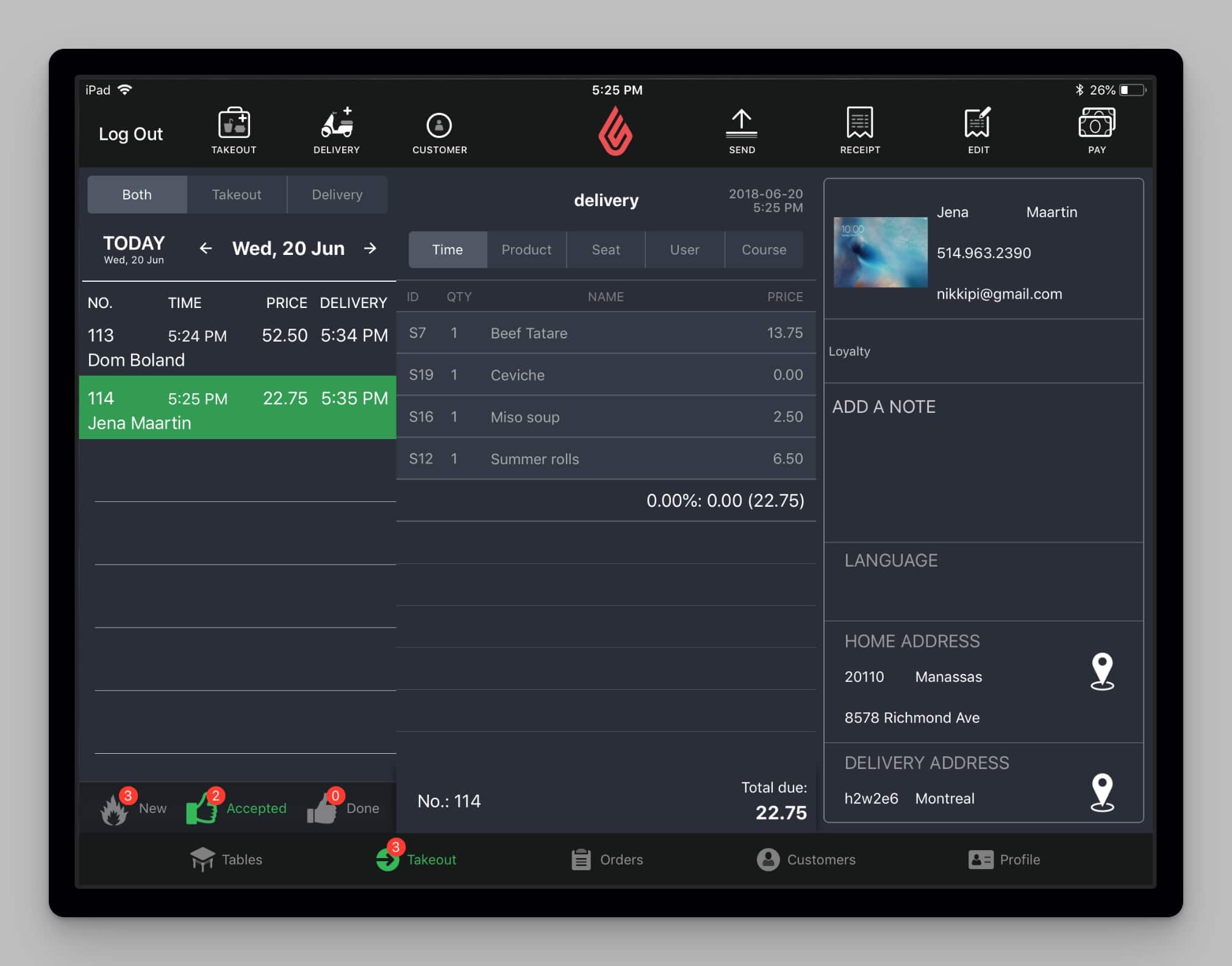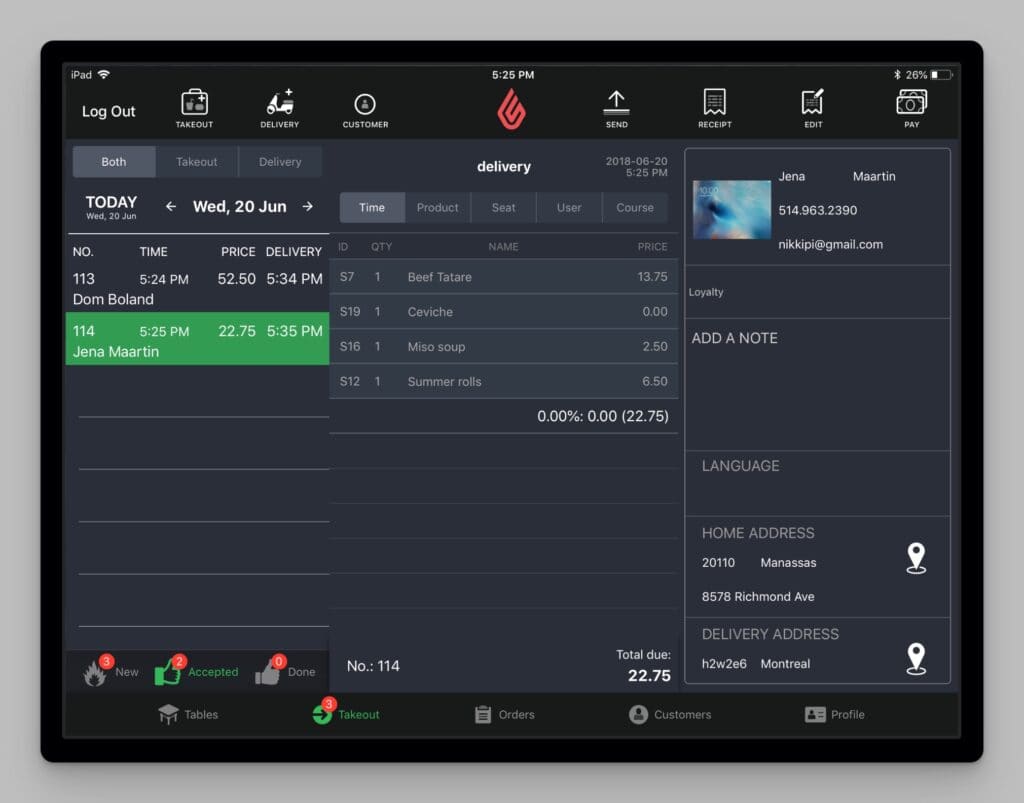 Pros and Cons of Lightspeed Restaurant
Reporting and Analytics: Lightspeed Restaurant boasts advanced reporting and analytics tools, enabling you to gather in-depth insights into your business's performance. The 2020 acquisition of Upserve upgraded Lightspeed's analytics with detailed sales data, employee performance metrics, and inventory management information.
Advanced Insights: The system provides enhanced insights to optimize server and menu performance, and time management, and fosters better communication among restaurant staff across various shifts through a virtual logbook.
Ease of Use: The intuitive interface and customizable layout of Lightspeed Restaurant cater to both experienced and novice users. The system's uncomplicated navigation and simple order entry process facilitate faster table turnover, easier staff integration, and a smoother transition with reduced training time.
E-commerce Capabilities: With the Lightspeed ecom feature, you can create a website equipped with retail capabilities to sell branded products or gift cards to your customers, thereby attracting new clients and boosting revenue. You can link your website to delivery platforms such as UberEats or DoorDash and connect with OpenTable for reservations.
Customer Support: In the 2021 G2 Grid Report on restaurant POS systems, Lightspeed earned top marks for its quality of support and ease of use among its competitors in the industry.
Price: Lightspeed is a bit pricier than some other POS systems in the market. While the system boasts several features and benefits, the cost might deter some restaurant owners, particularly those in the early stages of their business.
Limited Customization: Despite Lightspeed's user-friendly interface, it might not deliver the desired customization level for some restaurant owners. For instance, some users reported that customizing the order screen layout is challenging, which could hamper efficiency during busy periods.
Lightspeed Review Summary
Lightspeed Restaurant is an innovative restaurant POS system that combines the features and ease of use of other well-known POS systems like TouchBistro and Toast but with more advanced reporting and retail capabilities.
Plus, there's a free trial so you can try before you buy. Lightspeed is available in 100+ countries, so it's perfect for businesses around the globe. Lightspeed is very easy to use, even for the non-tech crowd. Many users say it's easy to use, even simple to learn, and very intuitive.
More information on Lightspeed:
My detailed Lightspeed Review provides an even more in-depth look into this restaurant POS system.
And finally, to try Lightspeed for free, head over to lightspeedhq.com
---
Square for Restaurants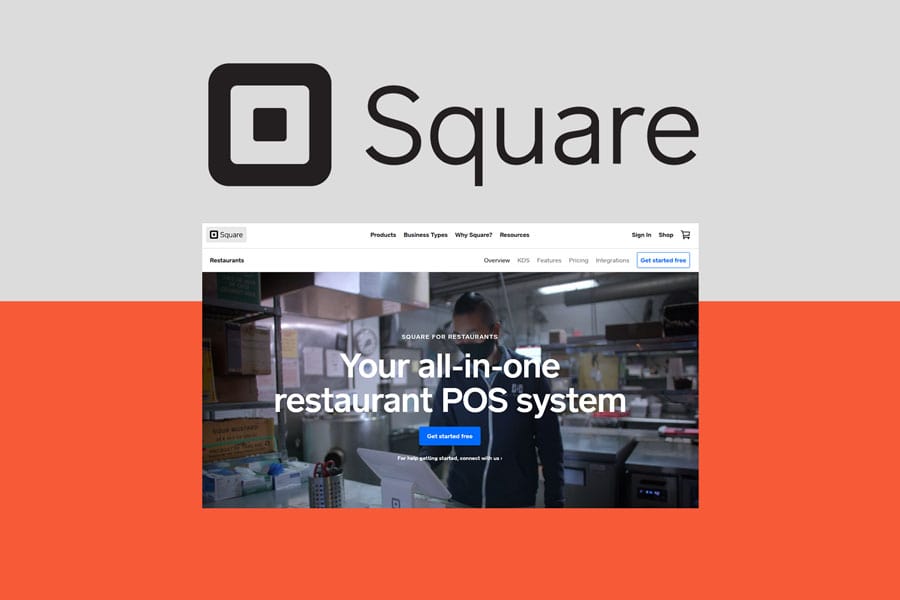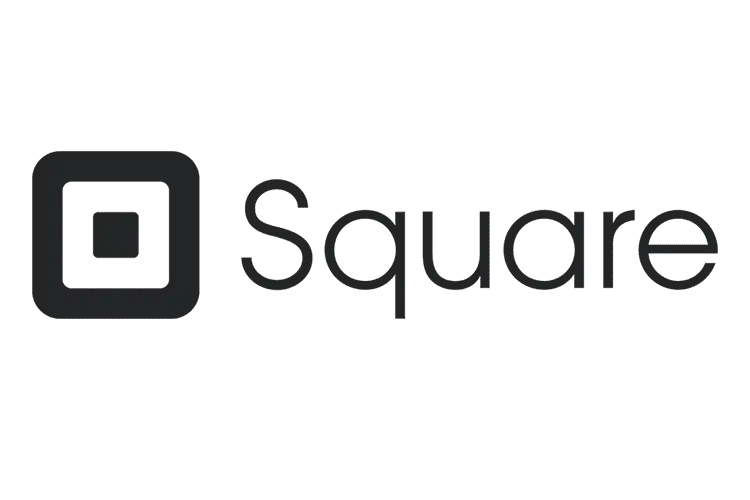 Square for Restaurants
Includes free plan. Plus plan starts at $60/month
Best for small restaurants and coffee shops
A small business POS for eateries that need a subscription-free plan, smooth transactions and easy-to-operate retail features.
Pros:
Subscription free plan

No long term contracts

Integrates with the Square ecosystem
Cons:
Lacks some advanced features

No on-site support
Try Now
Our Review
Square for Restaurants is the perfect solution if you need a free plan, smooth restaurant transactions, and easy-to-operate retail features.
I really like this system because it is intuitive and easy for beginners to use. The interface is modern and looks great on both iOS devices and Android smartphones and tablets.
Square is a point-of-sale system designed particularly for small to medium-sized food service businesses. This means it's not simply another payment processing software; it's also a comprehensive restaurant management package.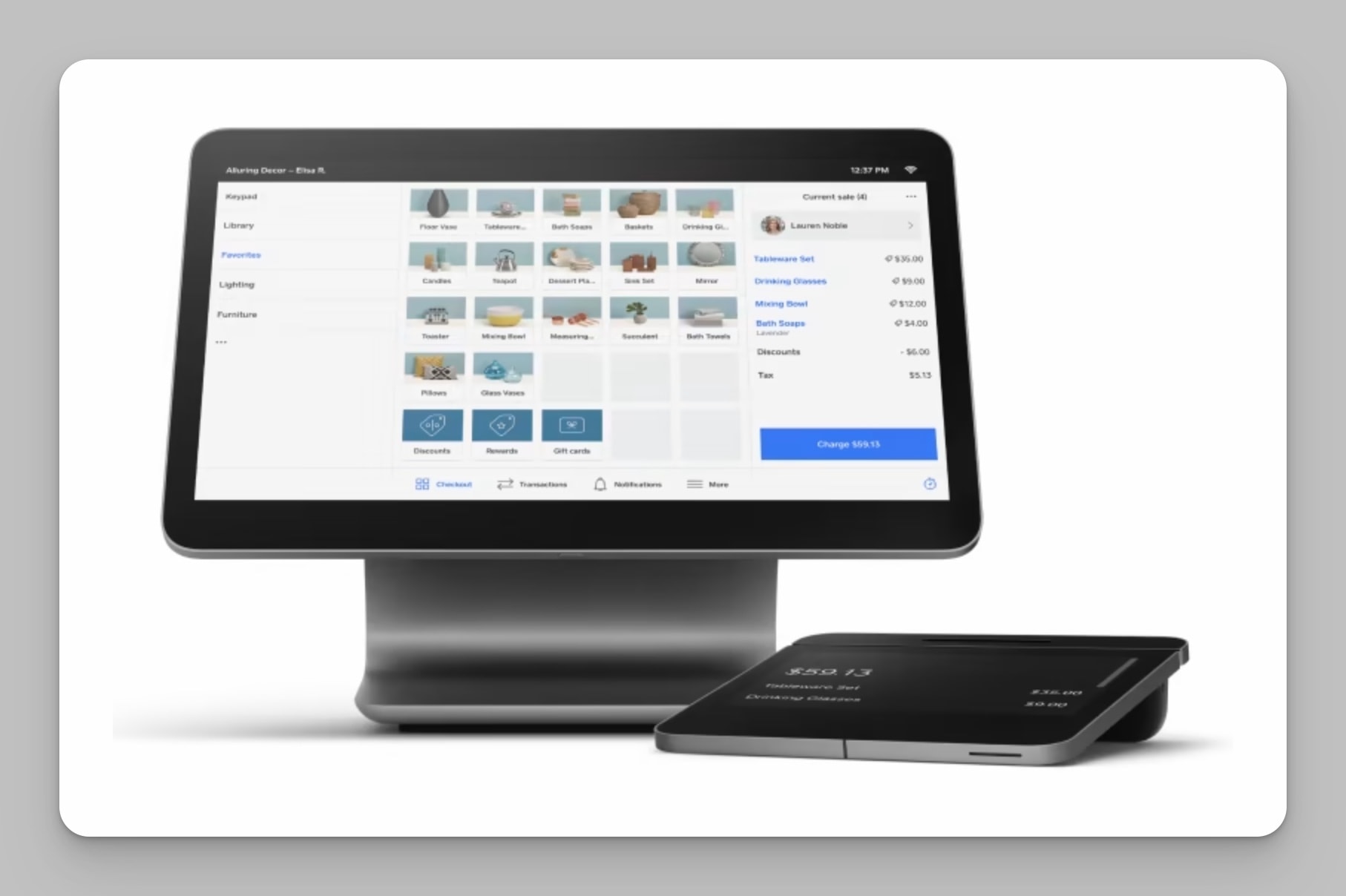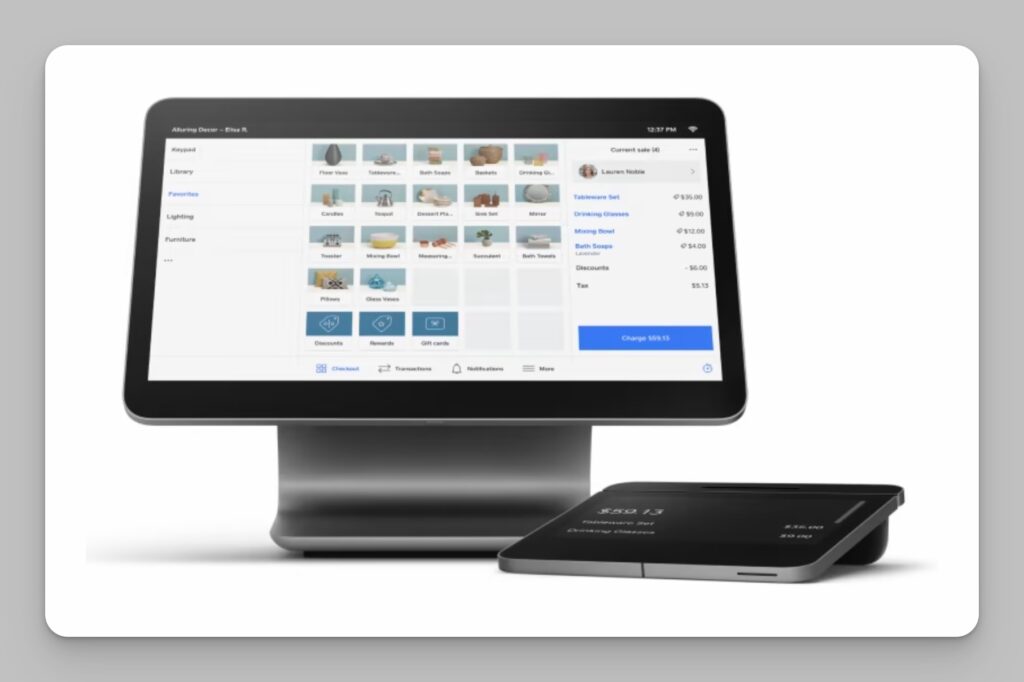 They've also included the website builder Square Online so your restaurant can have an online presence. That's key to staying competitive in today's restaurant industry.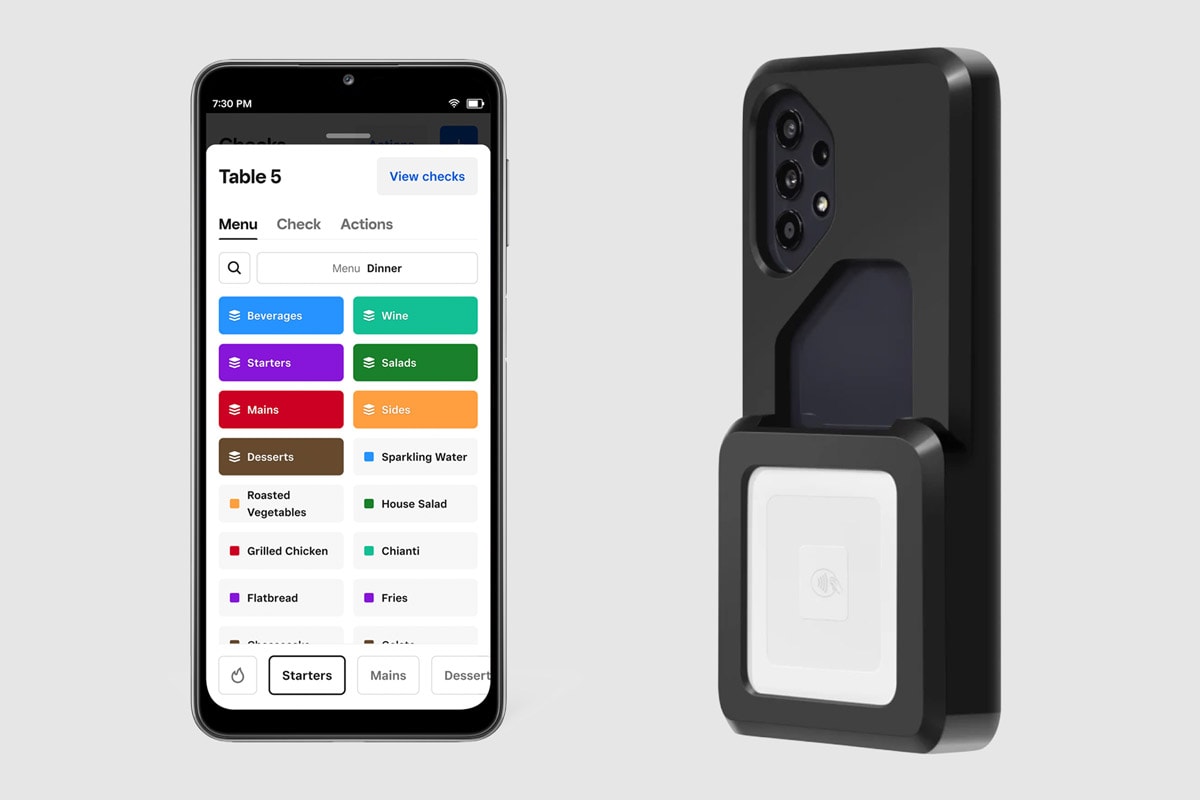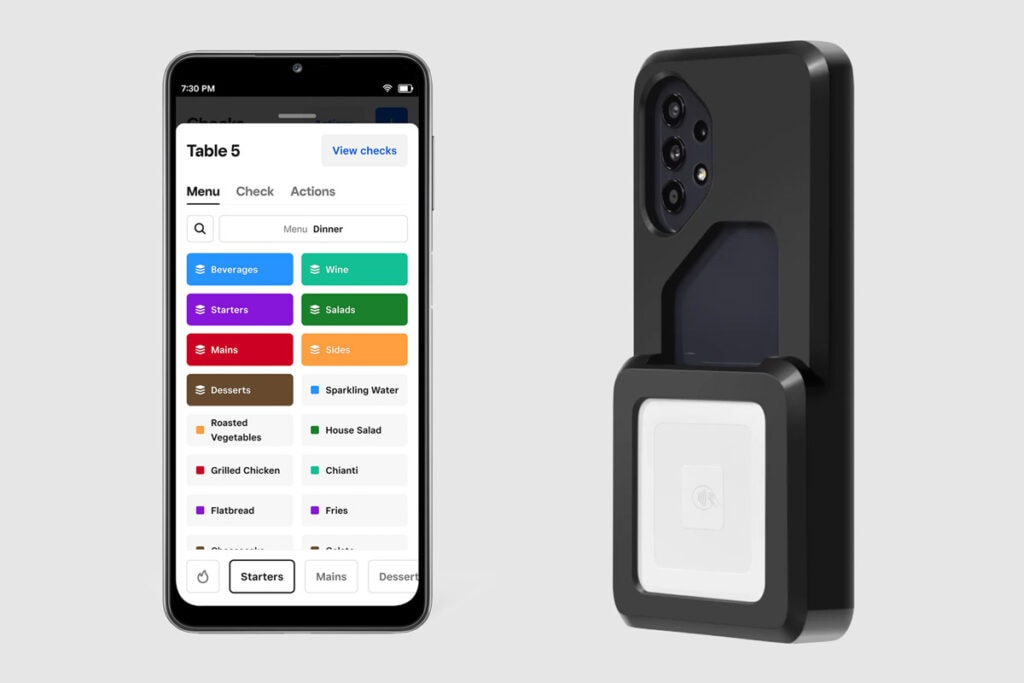 Noteworthy Features of Square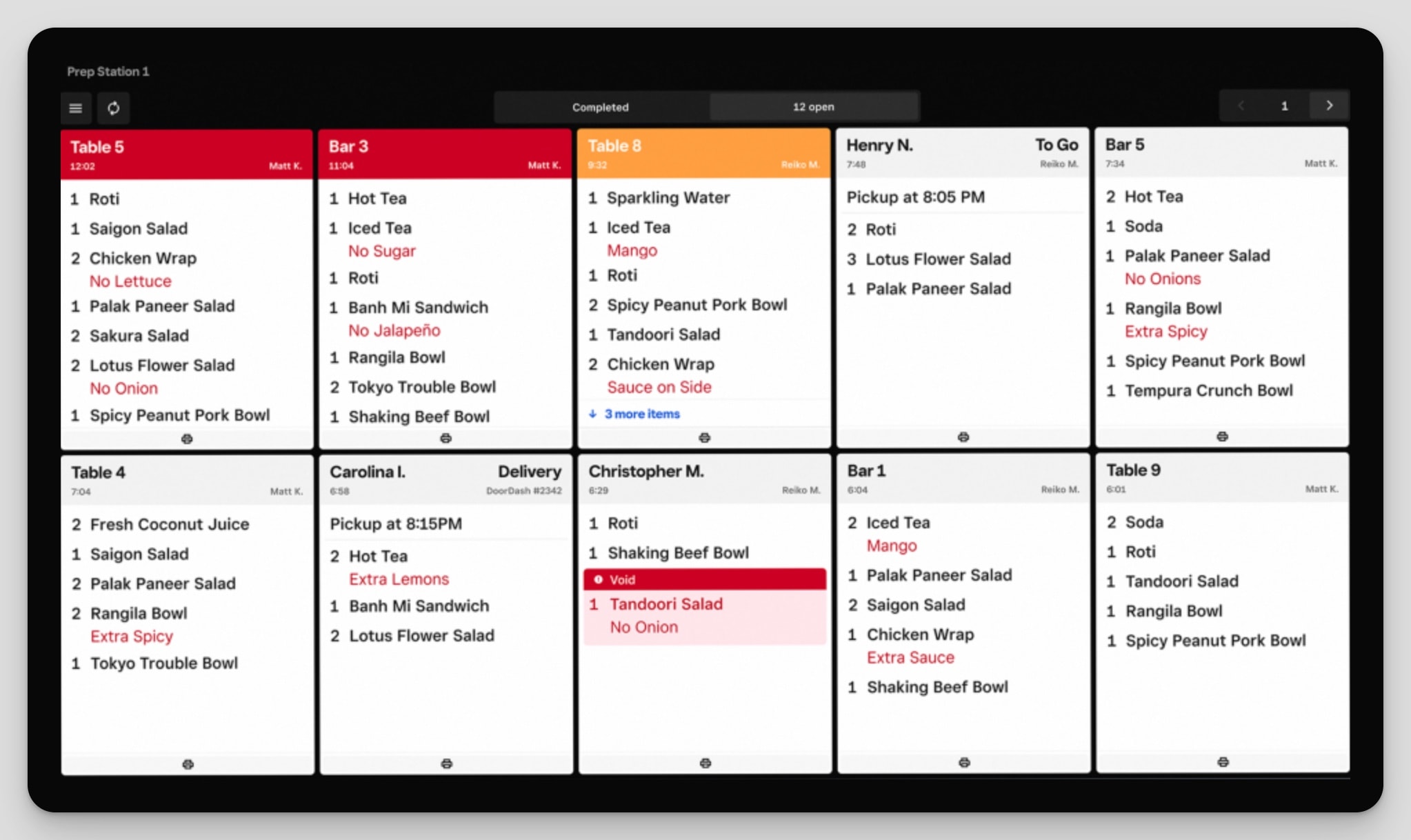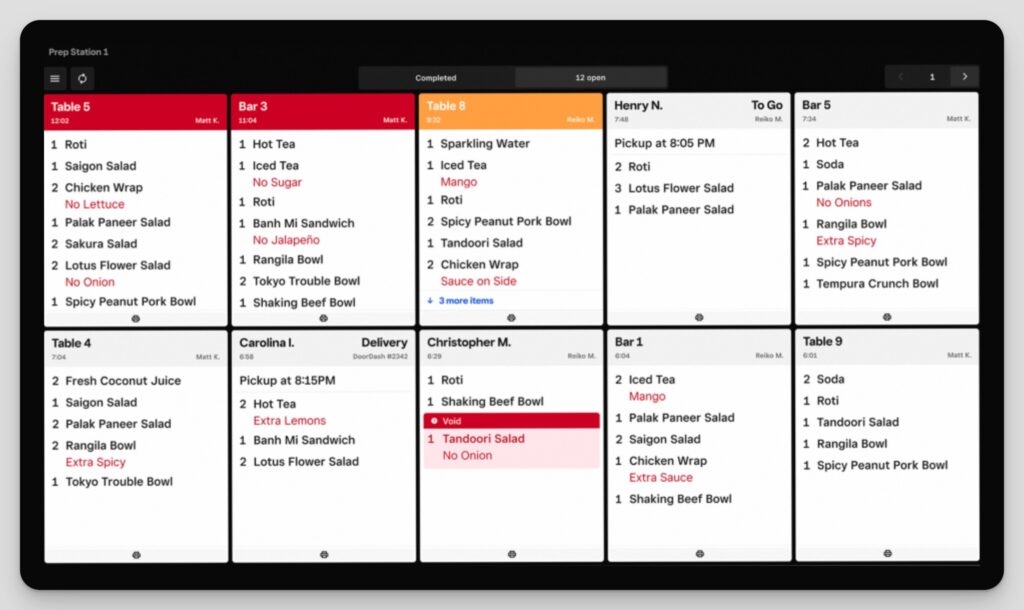 Pros and Cons of Square for Restaurants
Ease of Use: Square's modern, user-friendly interface ensures minimal training is required, allowing staff to focus on guests.
Affordable Pricing: With a free basic plan and a comprehensive Plus plan for $60 per month, Square offers value for money. All plans have a transaction fee of 2.6% plus 10 cents.
Flexibility: No installation fees or long-term commitments make it easy to start using Square. Plans can be upgraded, downgraded, or terminated according to need.
CRM Capabilities: Customer profiles, order history tracking, and integration with Square Loyalty and Marketing create a complete customer management solution.
Square Online: A free add-on that allows restaurants to design their own websites for online ordering, integrating with Google for easier accessibility, and providing e-commerce capabilities.
Integration with Square Ecosystem: Square for Restaurants integrates with other Square services like Square Payroll, Team Management, and Square KDS.
Limited Advanced Features: Square may not provide some advanced features like in-depth inventory management and comprehensive reporting tools.
Complex Reporting: The reporting feature can be complicated to use and lacks sufficient detail, making it difficult to find specific information.
Lack of On-Site Support: Square does not offer on-site support, which may be inconvenient for businesses that need in-person assistance.
Limited Support for Complex Menus: Restaurants with frequently changing or complex menus may find making changes on Square slower than other systems.
Square Review Summary:
Square has all the features and capabilities of a restaurant system – from restaurant-specific features, such as kitchen display systems integration, to retail features like loyalty programs.
Plus, Square also has a great website builder included in their free plan, allowing you to easily create or edit an online presence for your restaurant. Overall, their offering caters specifically to small restaurants.
More information on Square:
My detailed Square for Restaurants Review provides an even more in-depth look into this restaurant POS system.
And finally, to try Square out, head over to squareup.com
---
SpotOn Restaurant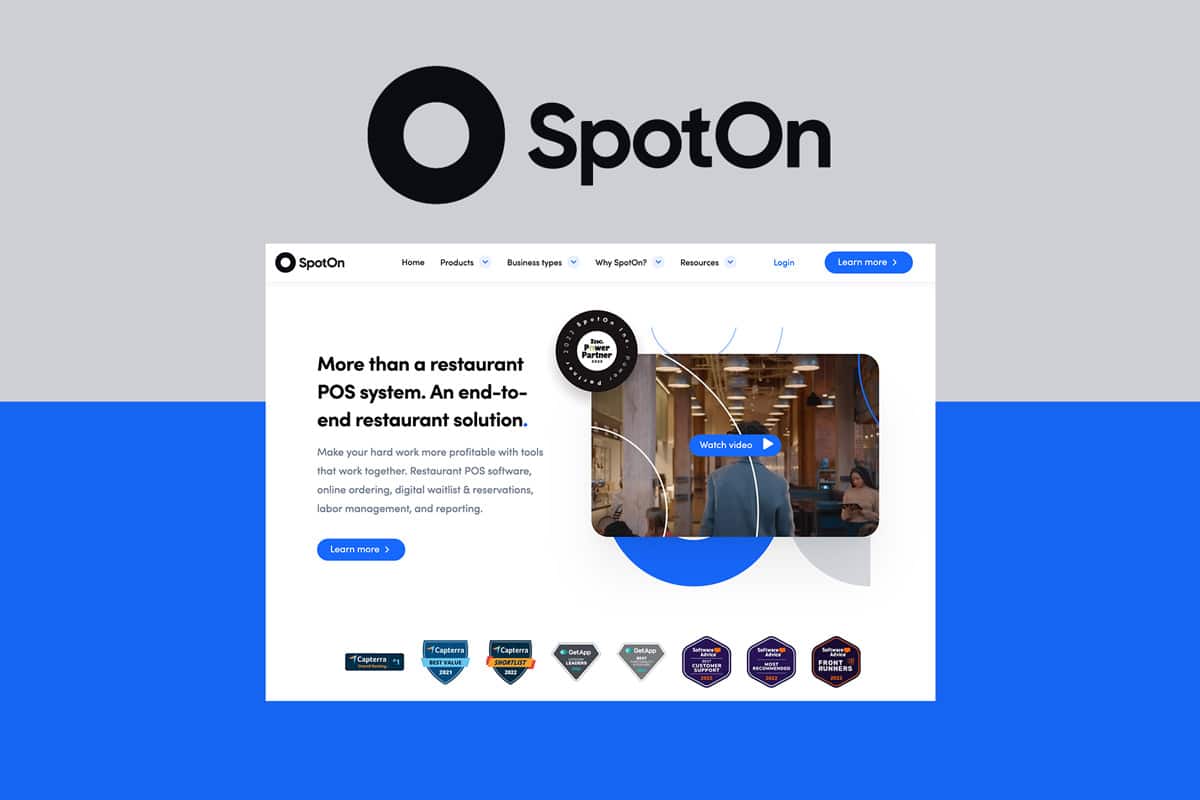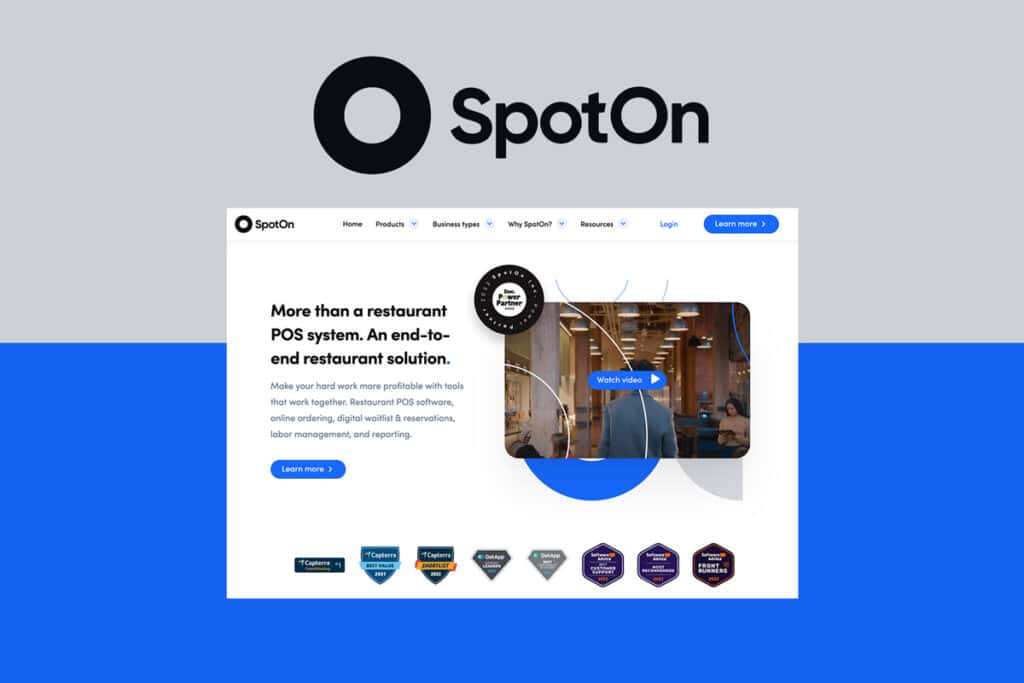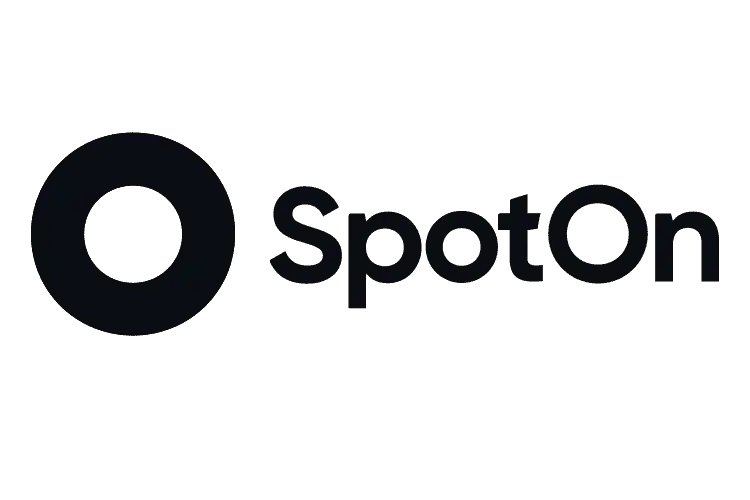 SpotOn Restaurant
Excellent hardware options and no long term contracts
All-in-one POS solution with modern restaurant-specific features for fine-dining, QSRs, cloud kitchens, bars, and food trucks.
Pros:
Very feature rich

Robust hardware devices

Low credit-card processing fees*
Cons:
Limited offline functionality

Requires SpotOn devices

*Requires SpotOn Payment for low fees
Try Now
Our Review
Did you know that SpotOn is one of the top contenders when it comes to cloud-based restaurant POS systems? Along with rivals Toast, TouchBistro, Lightspeed, and Square, modern POS systems like these are replacing legacy ones such as NCR and Oracle.
SpotOn is especially great for a diverse range of restaurants, from upscale establishments to chill dining spots, bars and on-the-go food trucks.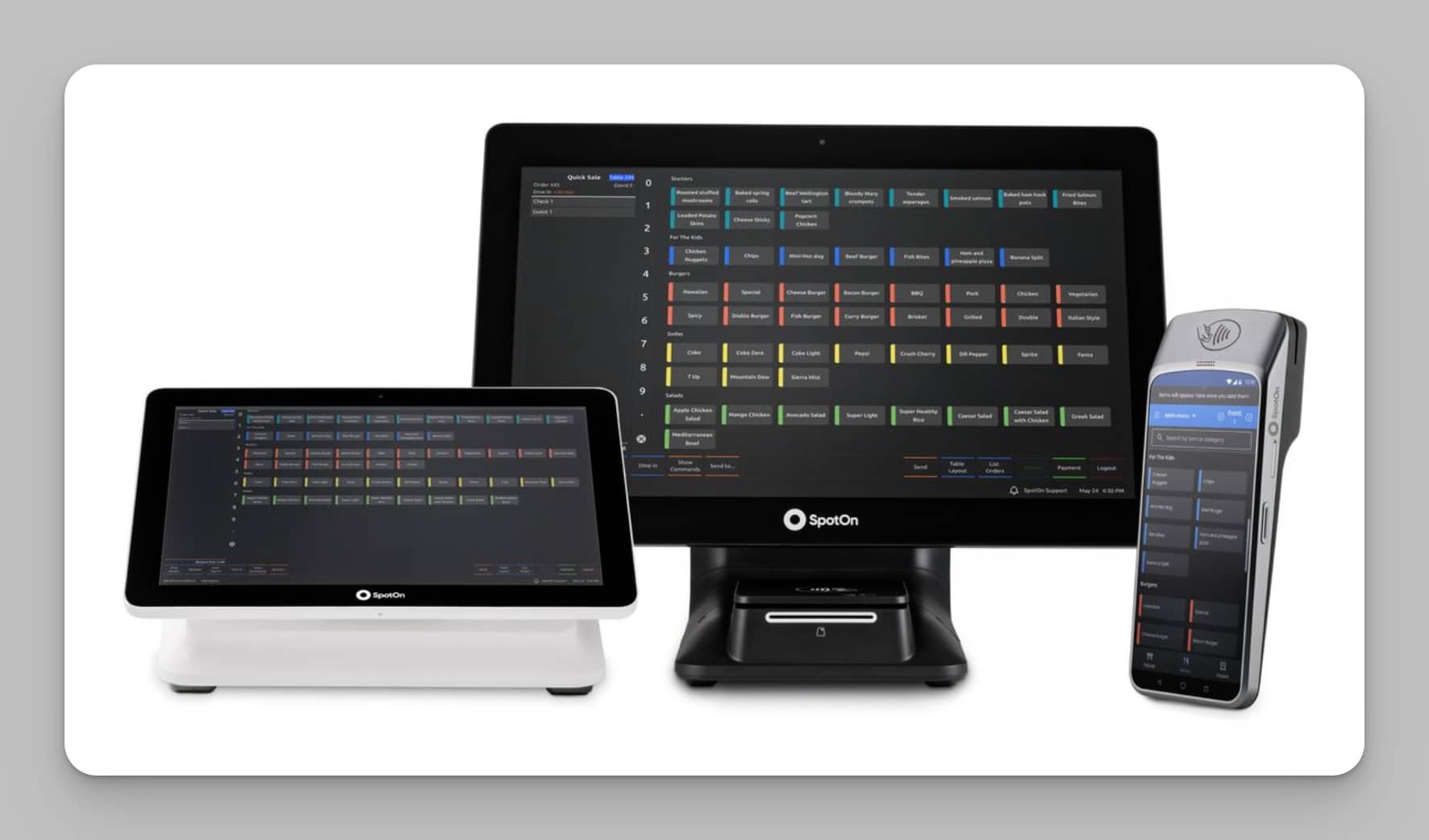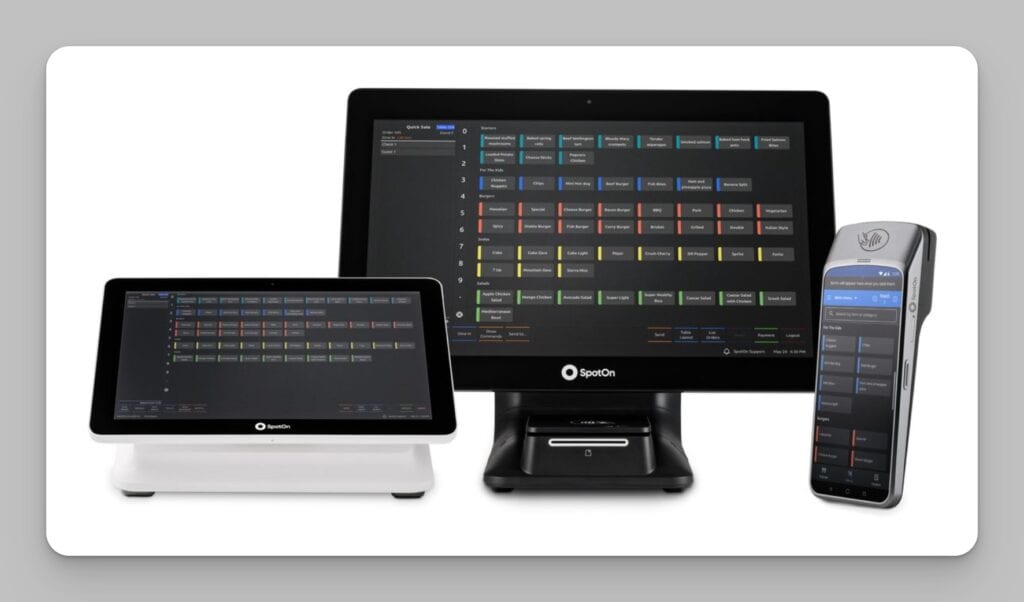 Not only does SpotOn offer all the essential POS features and hardware devices, but it also boasts various advanced features and add-ons to enhance your restaurant's functions.
SpotOn is a new player in the restaurant point-of-sale game but don't be fooled by its young age. Founded in 2017 and based in San Francisco, SpotOn has already impressed with its array of features and hardware options.
The company caters to the restaurant, sports, entertainment, and retail industries but has a particularly strong focus on the restaurant and sports/entertainment sectors.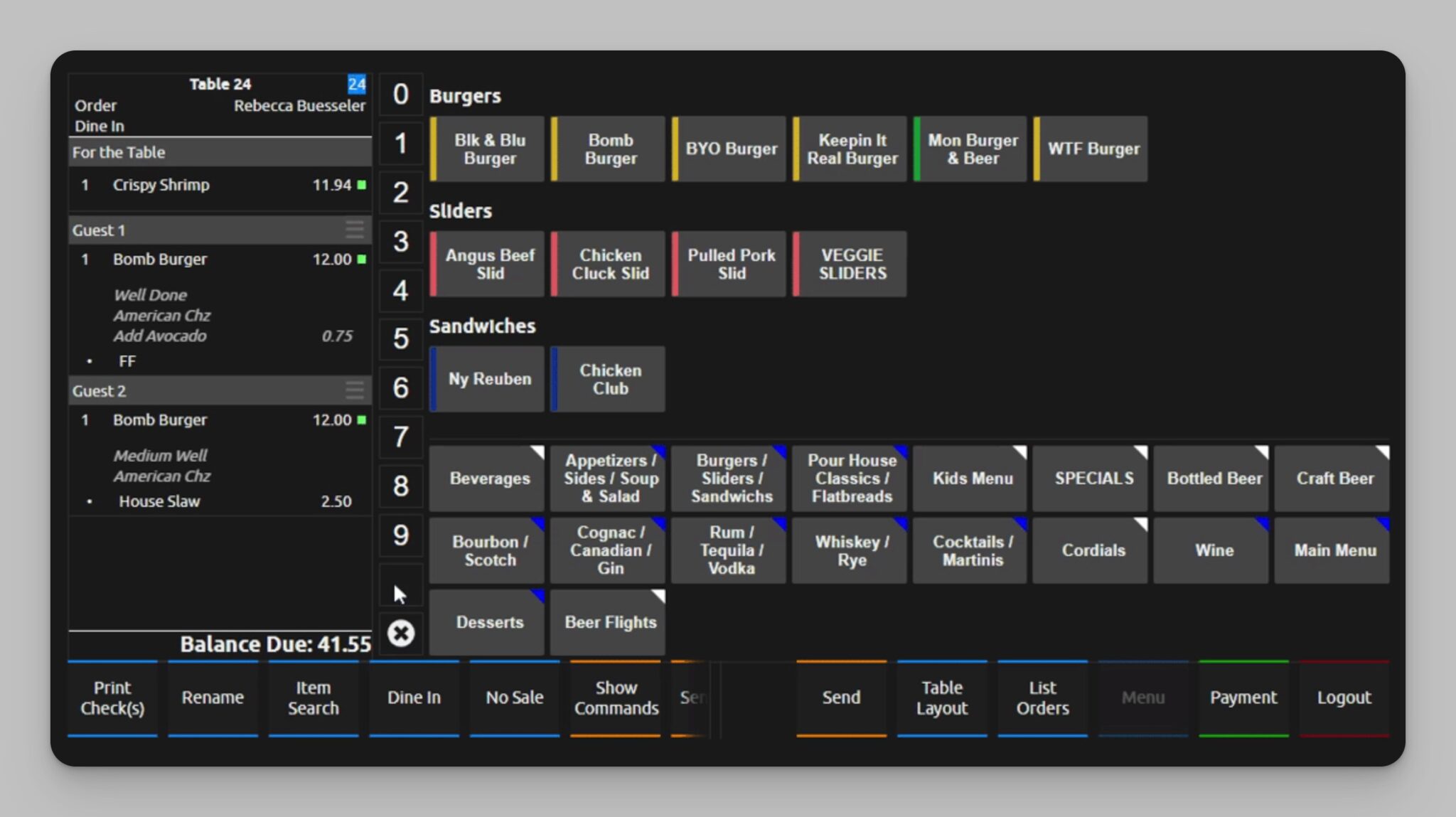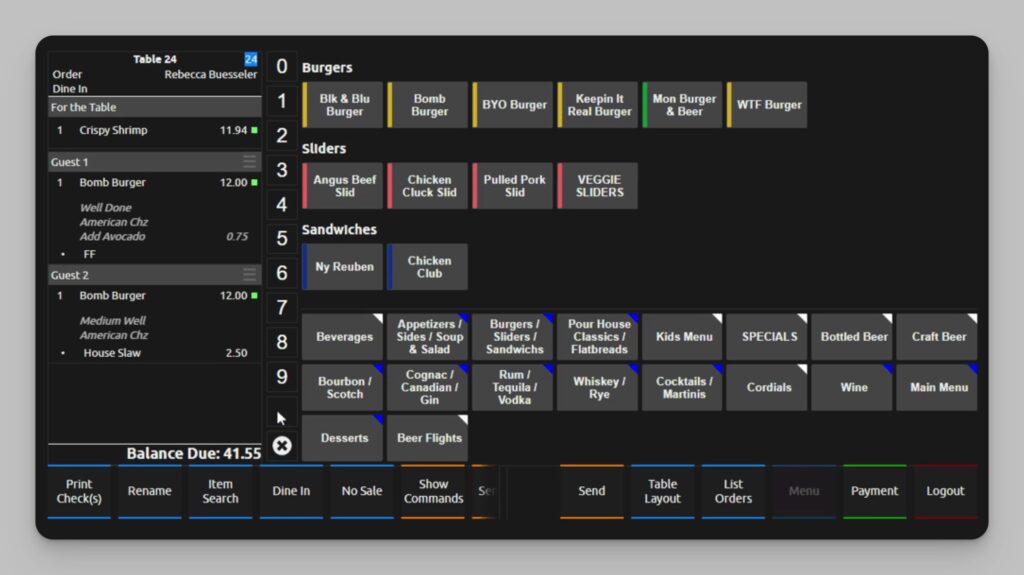 Noteworthy Features of SpotOn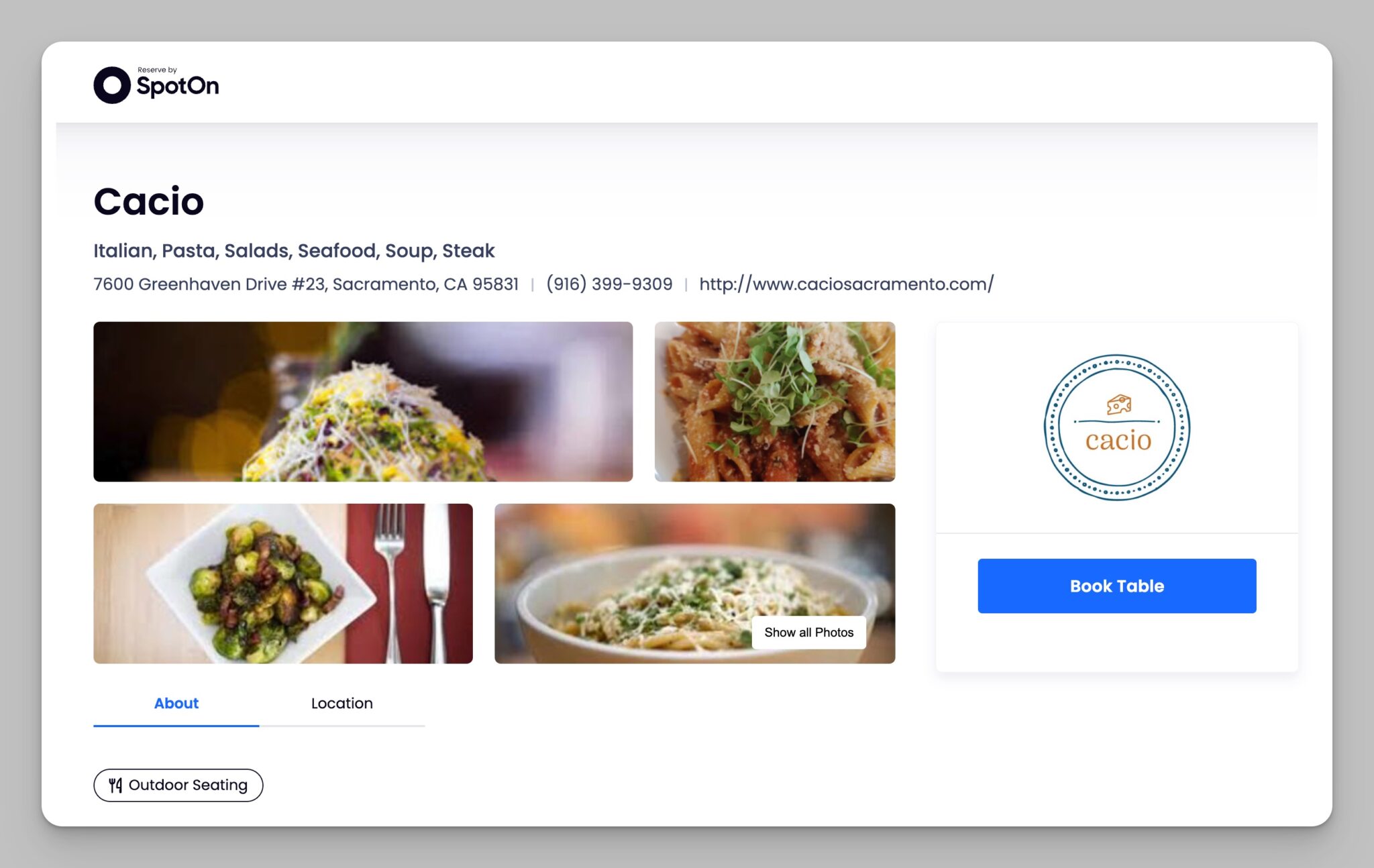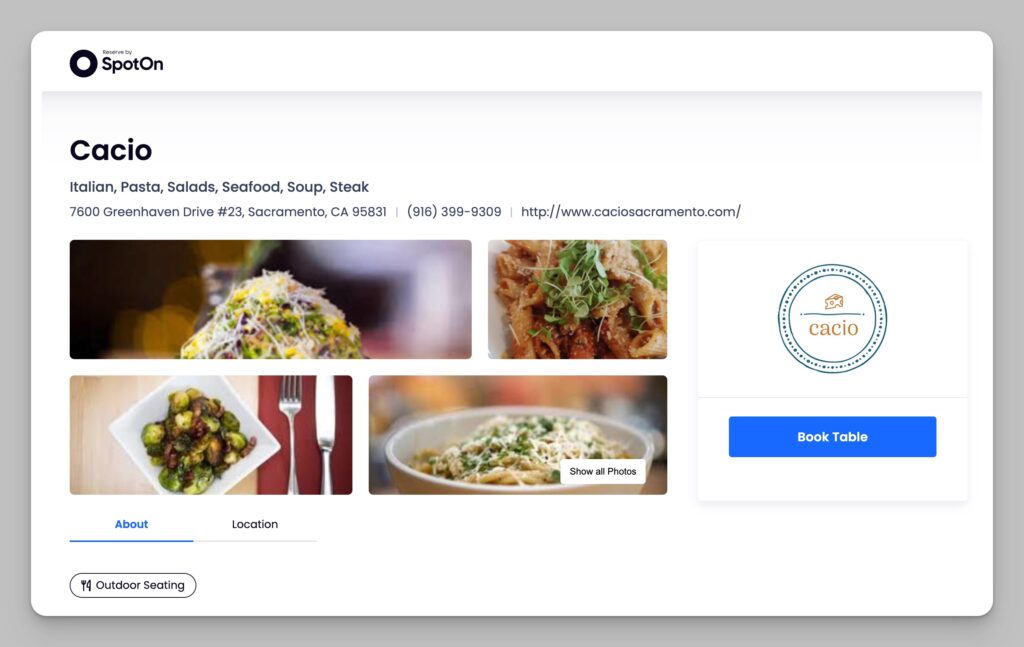 Pros and Cons of SpotOn for Restaurants
Excellent hardware devices: Robust and reliable options such as touchscreen stations, handheld devices, customer-facing displays, self-service kiosks, and kitchen display systems.
Modern restaurant-specific features: Online ordering, Google ordering, digital waitlisting, reservations, labor management, reporting, and easy integration with existing technology.
SpotOn Reserve: This lets you handle your online reservations and digital waitlist in a single location. The new feature Seat & Send allows guests to pre-order food and drinks while waiting for seats.
No long-term contracts: Flexible month-to-month POS system without long-term commitment requirements.
Low credit card processing fees: Competitive rates as low as 1.99% + $0.25 per transaction when using SpotOn's payment processing.
Flat rate delivery cost: Integrated delivery service powered by DoorDash, offering a lower flat rate compared to third-party delivery app commissions.
Limited hardware compatibility: Only works with SpotOn's hardware, potentially disadvantaging businesses with existing POS hardware or different preferences.
Higher fees for non-SpotOn payment processing: Charges 2.99% + $0.25 for reward, corporate, international, and keyed-in card transactions.
Dependence on cloud: Less robust offline functionality compared to competitors like TouchBistro.
Expensive add-ons: Additional features like loyalty programs and website building can increase the overall system cost.
Other User Reviews of SpotOn
SpotOn Summary
SpotOn Restaurant POS is a comprehensive solution catering to various restaurant types, offering excellent hospitality hardware, industry-specific features, and flexible terms without long-term contracts.
Competitive credit card processing fees and low flat-rate delivery costs add to its appeal. However, limitations like reliance on SpotOn hardware and payment processing, weaker offline capabilities, and potentially costly optional features should be considered.
Despite these drawbacks, SpotOn remains a versatile, user-friendly platform that can boost operational efficiency. If you seek a POS system that simplifies work, adapts to your needs, and supports growth, consider trying SpotOn.
More information on SpotOn:
My detailed SpotOn Review provides an even more in-depth look into this restaurant POS system.
And finally, to try SpotOn out, head over to spoton.com
---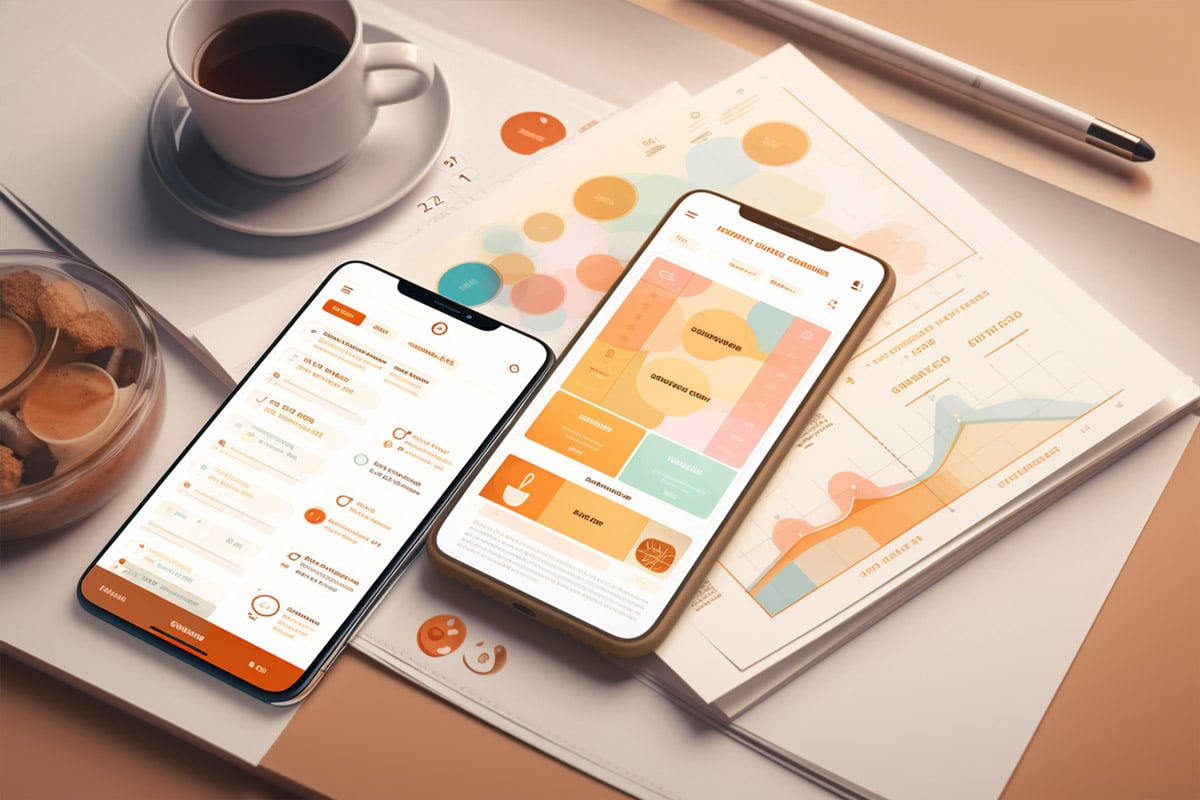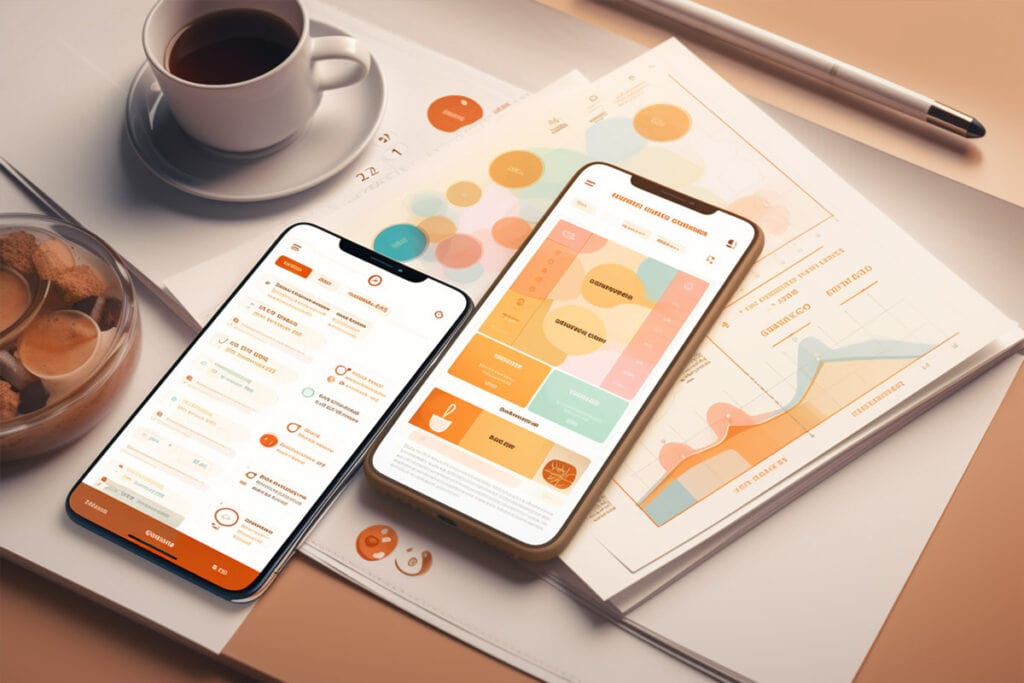 How to Find the Best POS System for Your Restaurant
That was my compilation of the 5 best restaurant POS systems currently available.
After exploring the options above, you may still be asking yourself which one is ideal for your business.
Selecting the right point-of-sale (POS) system is one of the most important technology decisions you will make. The POS system impacts day-to-day operations and directly influences the guest experience. This guide will examine key factors to consider when choosing a POS system for your restaurant.
Key Selection Criteria
When evaluating restaurant POS systems, start by outlining your unique business requirements. Consider details like your service style, menu options, payment methods, and reporting needs. Some key criteria to evaluate include:
Ease of Use – An intuitive interface with flexible menu setup and easy order taking is vital for servers and bartenders. Look for systems designed specifically for restaurants.
Hardware – Handheld devices, kiosks, receipt printers, and cash drawers should integrate seamlessly. Ensure durability and portability for high-volume restaurant environments.
Integration – Choose a POS with seamless integration to accounting software, inventory systems, loyalty programs, and staff management platforms you already use.
Cost – Balance software subscription fees with hardware expenses. Factor in payment processing fees, maintenance, and employee training costs.
Features – Match core features like order management, payment processing, and reporting to your restaurant's priorities. Additional features like online ordering and reservations may benefit your brand.
Customer Support – Look for responsive and experienced customer support in case technical issues arise during busy shifts.
Comparing Top Contenders
With your restaurant's needs in mind, compare leading POS systems like Toast, Touchbistro, and Square. Contrast hardware options, plan pricing, and add-ons for each. Narrow down top choices by requesting demos.
To evaluate if a certain POS meets your requirements, you can either check the overall conclusion at the end of this article or continue to explore the feature-by-feature comparison for detailed insight into specific features.
Feature by Feature Comparison Review
Part 1: Core Restaurant POS Features
Payment and Credit Card Processing
Understanding payment processing fees can be a difficult task for restaurant owners, as they might end up paying more than necessary, negatively impacting their profits.
Factors such as lack of transparency, intricate fee structures, and difficulties in comparing POS systems contribute to this confusion, leaving owners feeling overwhelmed and uncertain about navigating this crucial business aspect.
Restaurant POS companies primarily profit from payment and credit card processing by charging transaction fees. They encourage customers to utilize their payment processing services to ensure revenue generation, simplified support and troubleshooting, integrated reporting, and gain a competitive edge.
Although opting for a single company for both POS and payment processing offers convenience to restaurant owners, it is vital to compare fees and secure the best deal possible.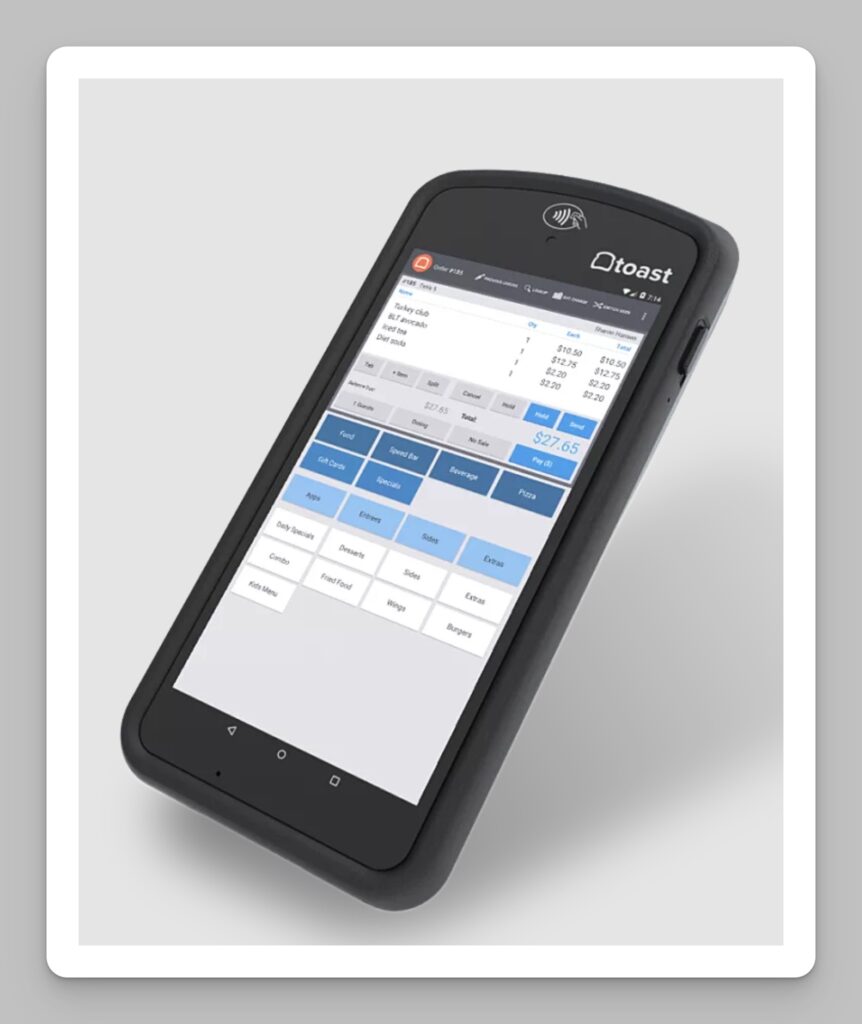 Toast includes a built-in payment processing system called Toast Payments and doesn't allow for any third-party payment integration. It operates on a flat-rate model and you need to get a custom quote from Toast.
Toast Payments is a required, integrated part of the Toast POS system.
Be aware of the long-term contract, potential fee increases, and early termination fees.
Understand the difference between card-present and card-not-present transactions and their associated fees.
Carefully compare fees and terms before committing to Toast Payments to ensure the best deal for your business.
TouchBistro includes an integrated payment processing solution called TouchBistro Payments, powered by Chase. TouchBistro also supports integration with third-party payment processors, offering flexibility in choosing a payment solution that fits your needs and budget.
TouchBistro Payments is an integrated solution that accepts a wide variety of payment types.
Key features include offline payment processing and tableside contactless payments
Be aware of potential fee increases during the contract and understand the terms of your agreement.
TouchBistro supports integration with third-party payment processors.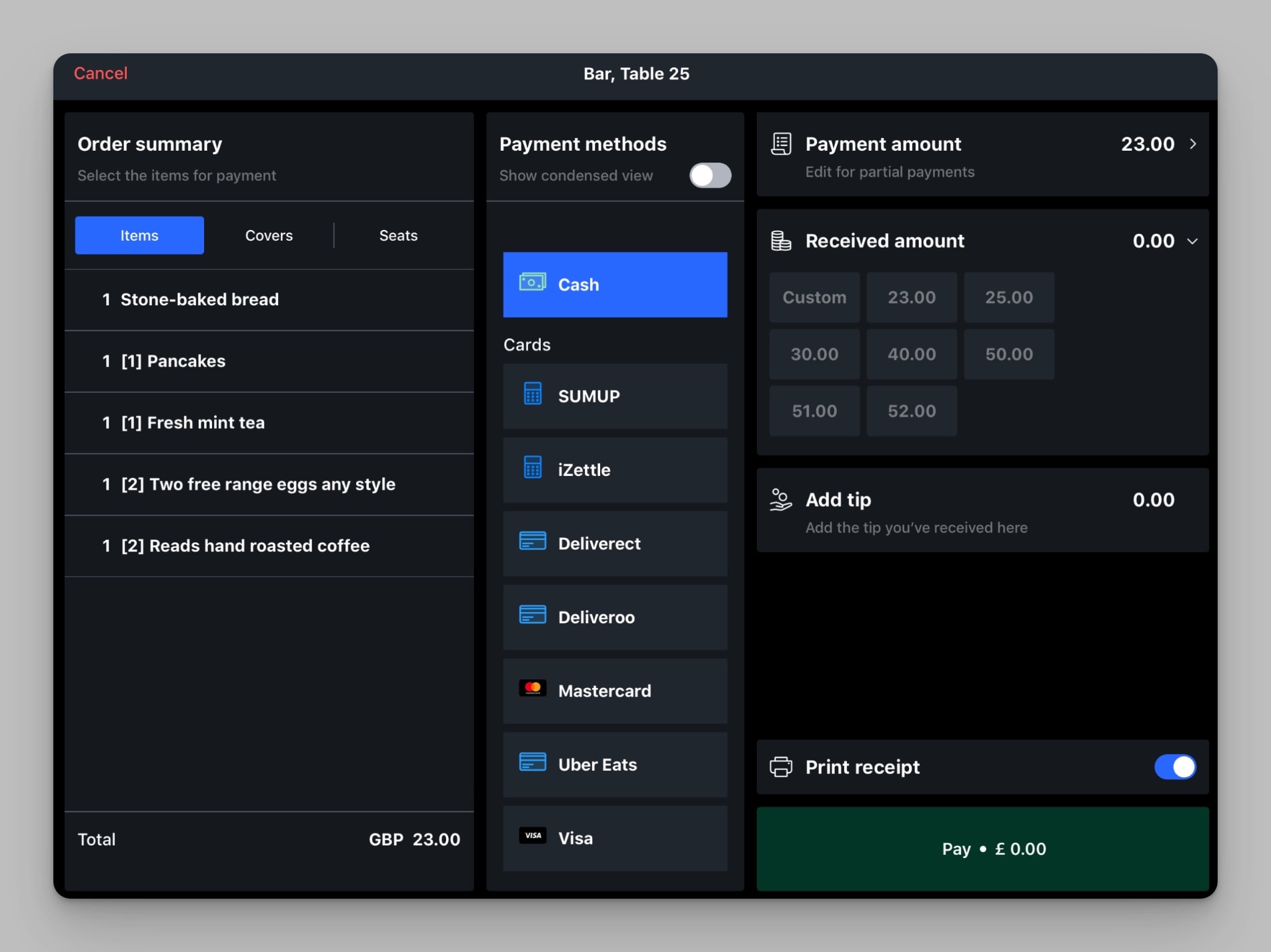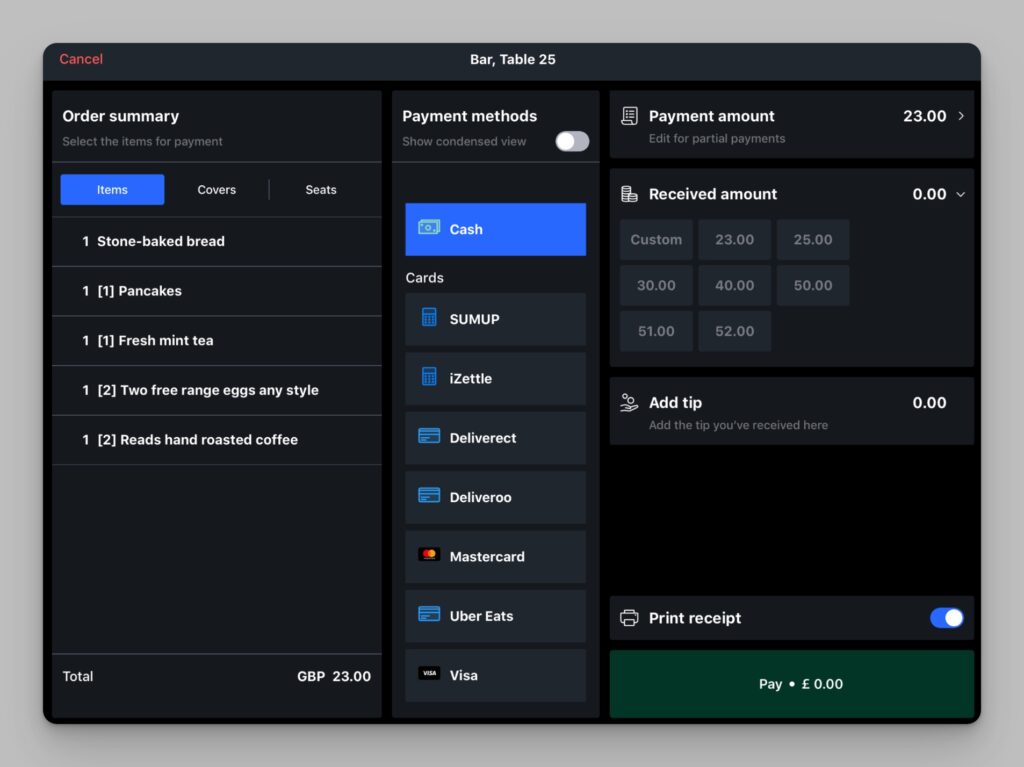 Lightspeed has an integrated payment processing solution called Lightspeed Payments. It uses a flat-rate pricing model, and customized quotes are available for businesses processing over $50K. Third-party payment processor integration is available.
Lightspeed Payments is an integrated solution that offers a seamless, secure checkout experience.
The system accepts various payment types and card brands, including mobile payments and international cards.
Key features include quick, secure processing with no monthly transaction limit, built-in PCI Compliance, and clear payment reports.
Flat-rate pricing starts at 2.6% +10c, with customized quotes available for businesses processing over $50K.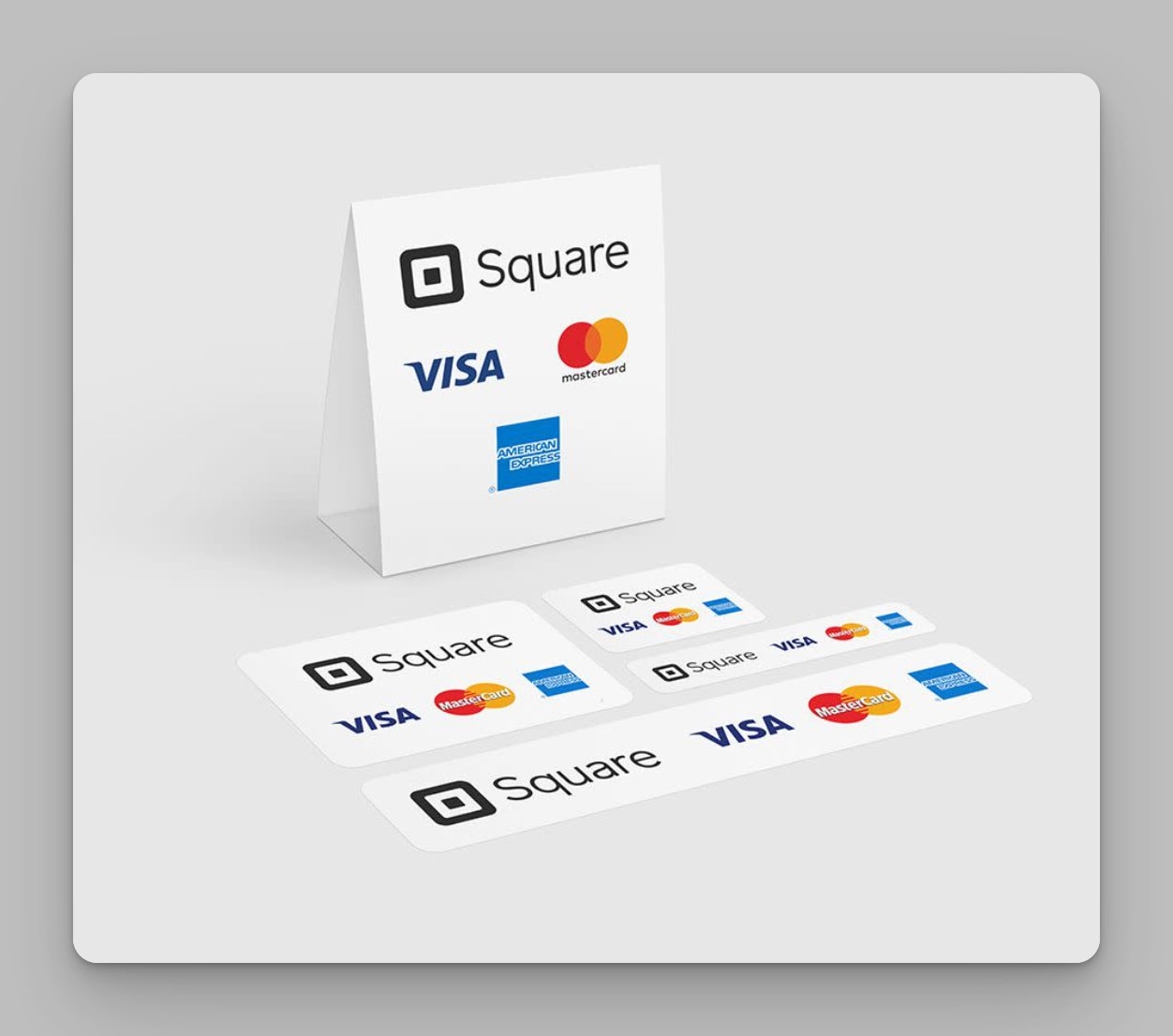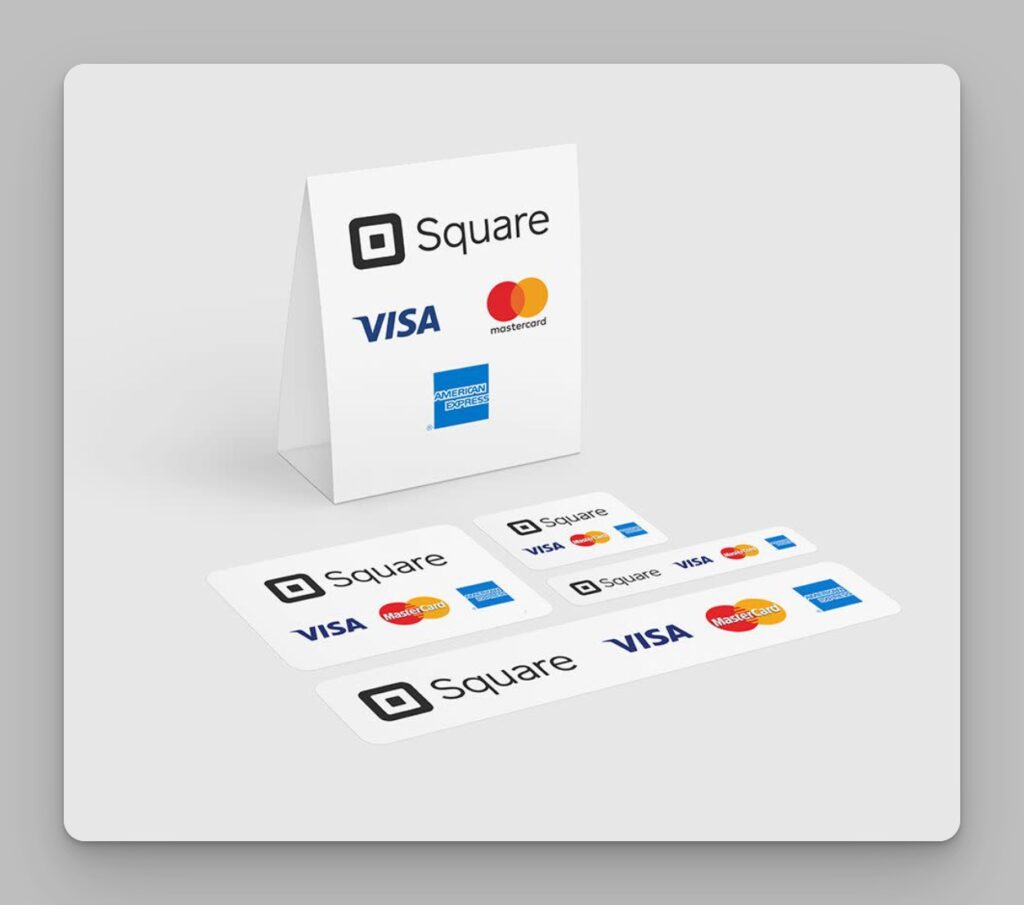 Square is a popular payment processing solution known for its simplicity and ease of use, offering in-person, online, and remote payment processing options. The processing fees vary depending on the transaction type, with transparent pricing and no hidden fees. Square also provides custom pricing for businesses processing over $250,000 per year.
Square offers various payment processing options, including in-person, online, and remote transactions.
Transparent pricing model with processing fees depending on transaction type:
In-person: 2.6% + 10 cents per transaction. Online: 2.9% + 30 cents per transaction. Remote: 3.5% + 15 cents per transaction
Buy Now, Pay Later: 6% + 30 cents per transaction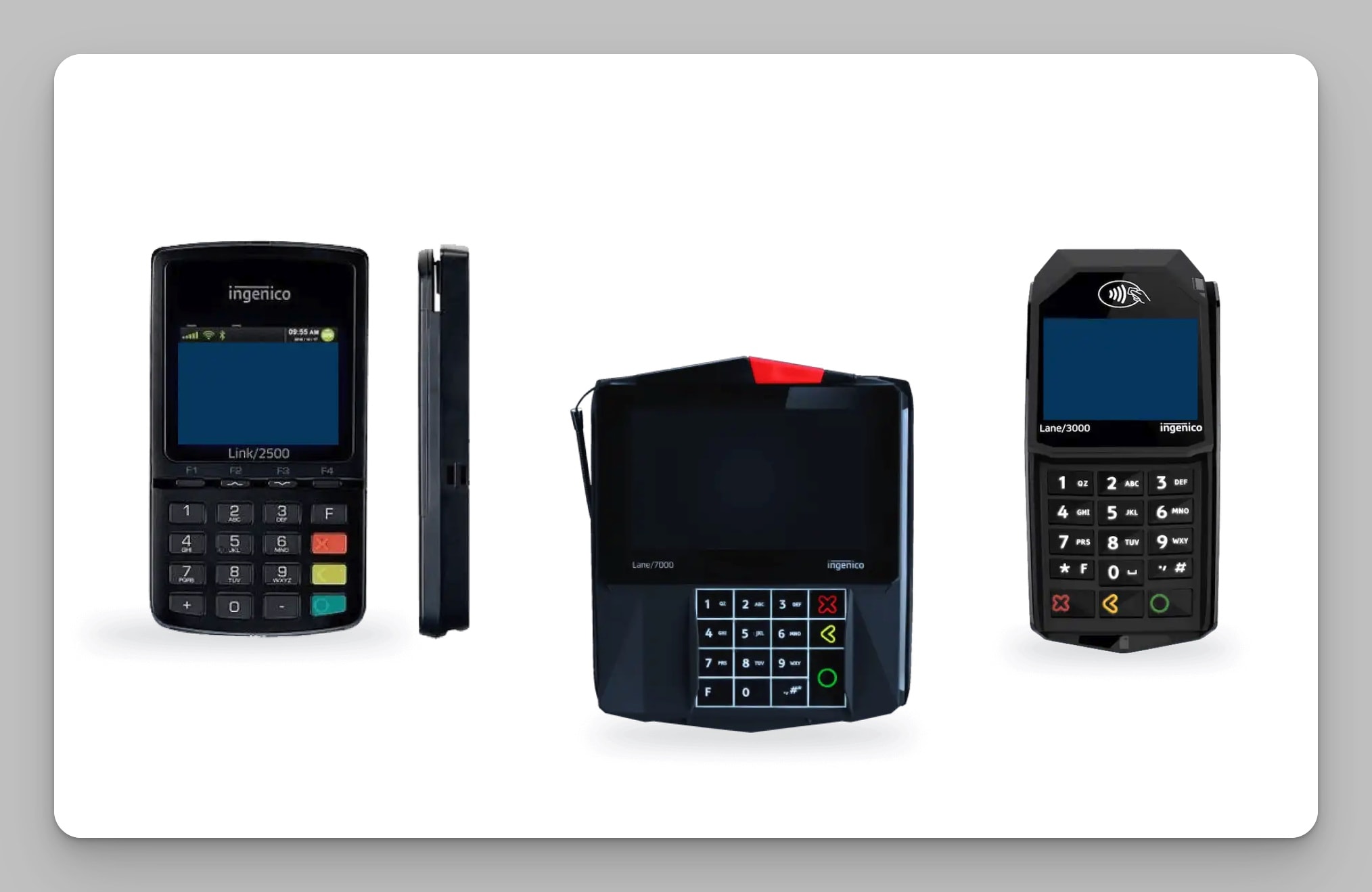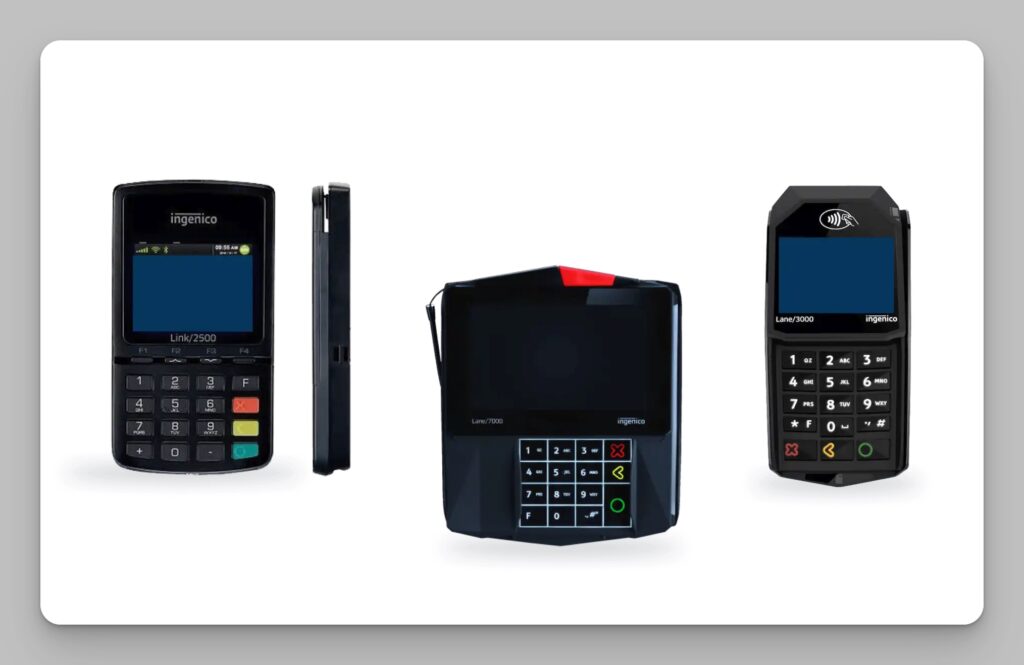 SpotOn has its own payment processing solution for a seamless and secure checkout experience. The system features a transparent, flat-rate pricing model, making it easier to predict processing costs and manage budgets.
Third-party payment processor integration is available, but if you do not use their payment processing services then you will be charged $195/month instead $25/month for access to the software.
SpotOn's payment processing solution accepts a wide variety of payment types and card brands, catering to a diverse customer base.
SpotOn charges a commission of 1.99% + $0.25 for regular transactions, which is quite low, but 2.99% + $0.25 for reward, corporate, international, and keyed-in card transactions.
Third-party payment processor integration is available but at a premium cost.
Order Management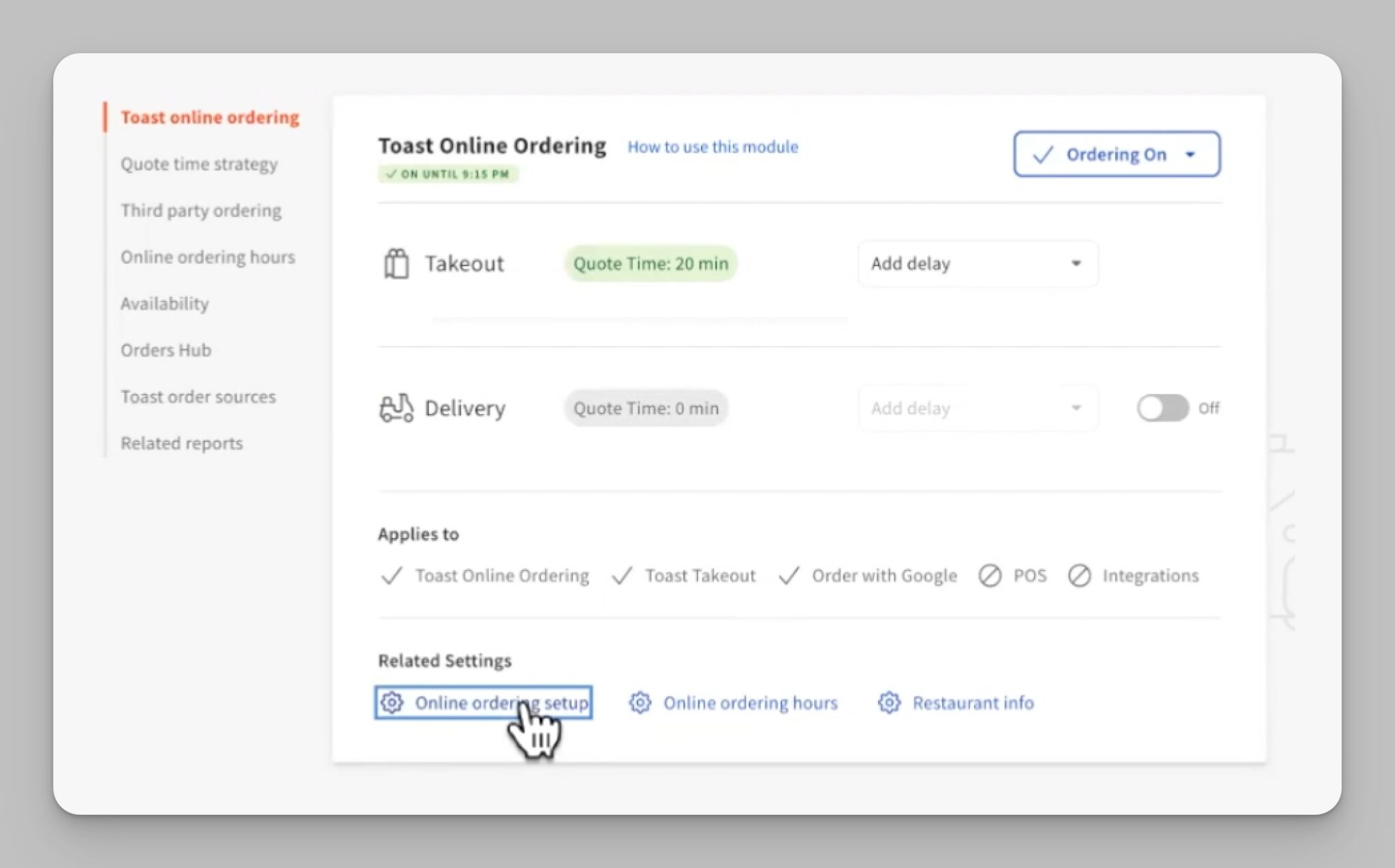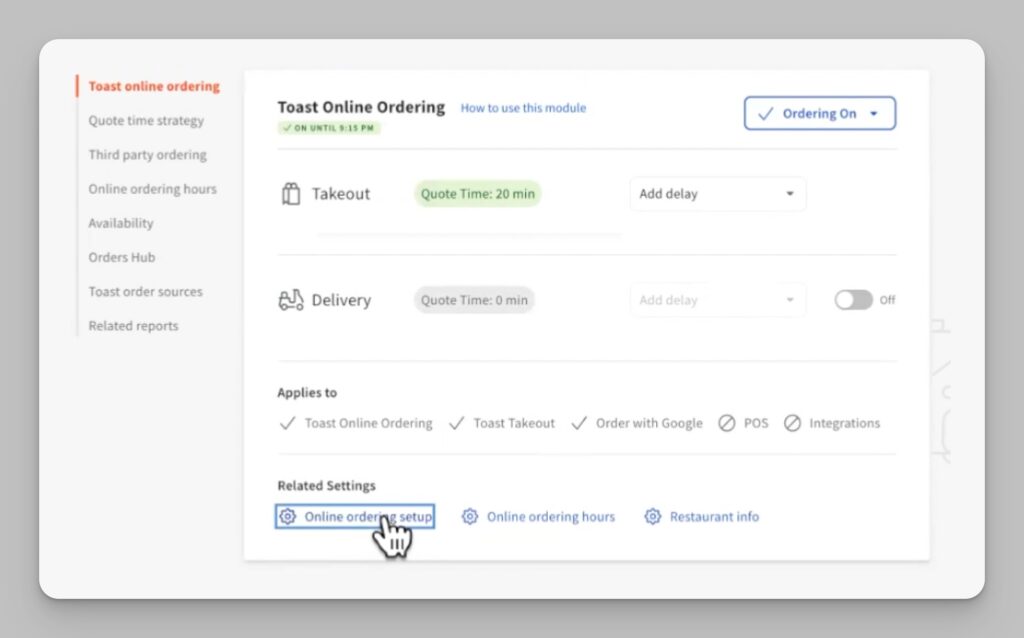 Toast's order management capabilities include:
Tableside Ordering and Payments: Servers can take orders and accept payments directly at the table using handheld devices, allowing faster, more accurate order entry and customization. Orders can be sent directly to the kitchen display system, and guests can split checks, tip, and pay with credit cards or mobile wallets.
Online Ordering and Delivery Management: Toast POS enables easy management of online orders and deliveries, with customers placing orders and paying through the platform. Orders are automatically sent to the kitchen, while delivery management allows real-time tracking, driver assignment, and status updates.
Toast Mobile Order & Pay: Guests can scan a QR code to view the menu, order, and pay on their phones, helping restaurants serve more tables with reduced staff and increasing revenue.
Contactless Payments: Toast offers contactless payment options such as Apple Pay, Google Pay, and tap-to-pay credit cards, providing a safer payment experience amid the pandemic.
Toast Online Ordering with Google: The Order with Google integration unlocks a new channel for restaurants using Toast Online Ordering to receive more orders.
TouchBistro's order management features include:
Tableside Ordering: Servers can take orders directly from customers at their tables using iPads, reducing time spent at the POS system and enabling easy bill splitting and upselling prompts to boost revenue.
Online Ordering: Restaurants can accept orders through their website, TouchBistro Dine, social media, and other platforms without paying third-party commission fees. However, they must use their own drivers or DoorDash Drive for delivery, or pay applicable fees for other platforms via Deliverect integration.
Menu Management: Restaurant owners can easily add, clone, and organize menu items, syncing changes to both in-venue and online ordering menus. Takeout and delivery orders can be viewed separately from dine-in orders for streamlined operations.
Floor Plan & Table Management: TouchBistro offers tools for planning dining room layouts, assigning staff to sections, and tracking table availability, allowing for efficient table and seat management and reduced waiting times.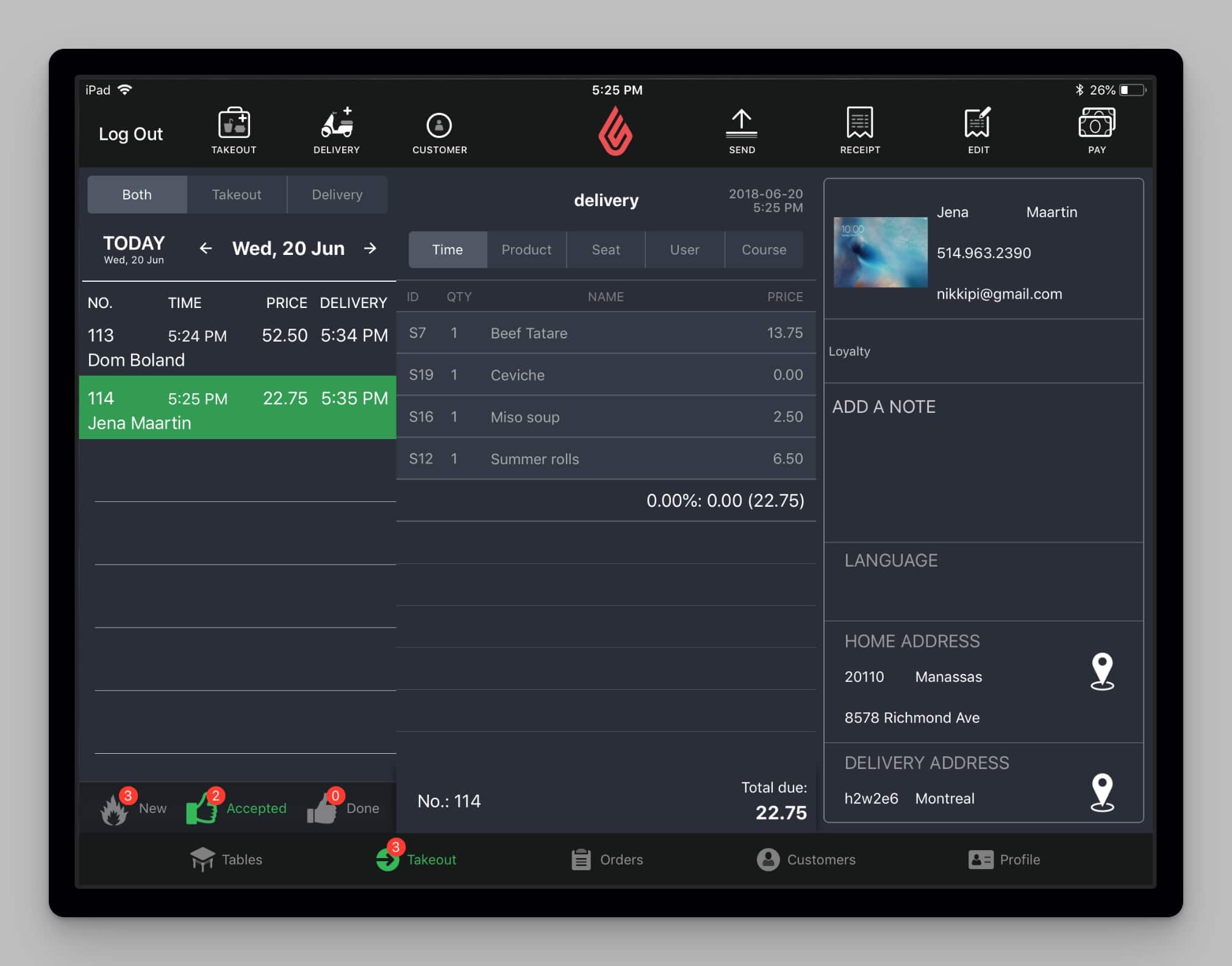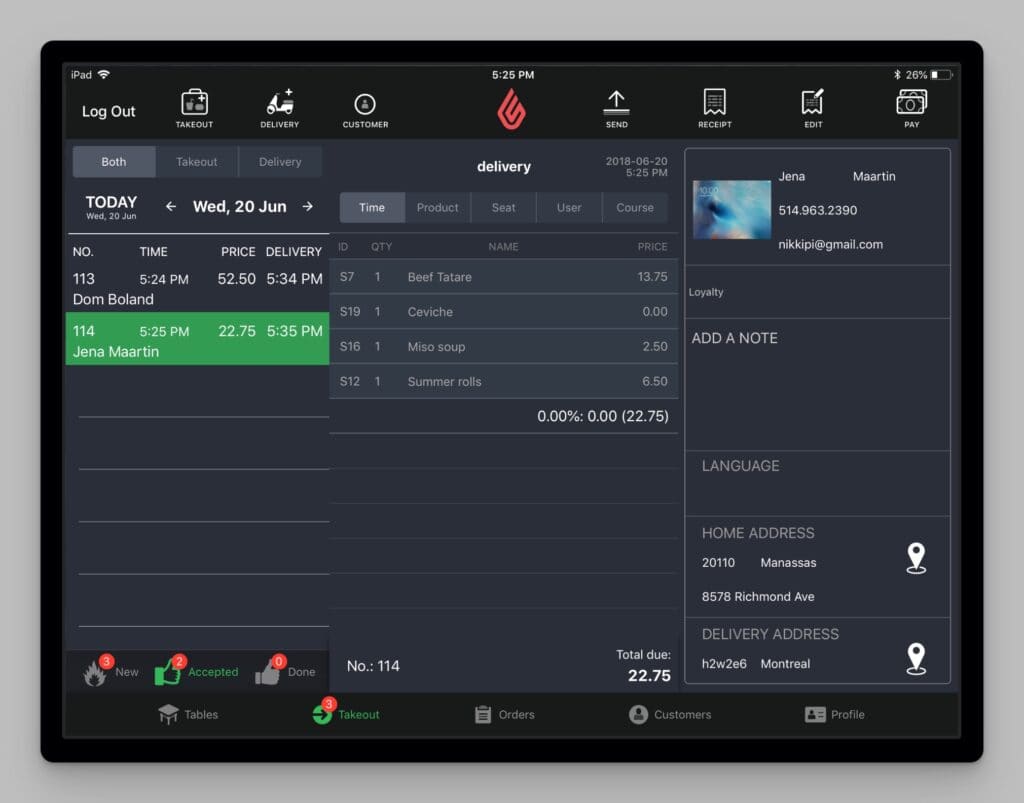 Lightspeed's order management features include:
Table Management and Reservations: Staff can track table statuses for efficient floor management and improved customer service.
Online Ordering and Delivery: Customers can order online through Lightspeed's platform or popular delivery services, consolidating order management in one place.
Payment Processing: Lightspeed supports various payment methods, including credit/debit cards, mobile payments, and gift cards, and is EMV-compliant for secure transactions.
Order Entry and Modification: Easy order entry, modification, and check management provide a seamless ordering experience.
Integration with Delivery Platforms: Integrations with major food delivery apps, such as UberEats and DoorDash, send orders directly to the POS software, expanding delivery zones and customer reach.
Overall, Lightspeed offers efficient order management and diverse ordering options for customers.
Square for Restaurants' order management features include:
Table Management and Reservations: Create floor plans and efficiently organize layouts within the Square dashboard, optimizing space and minimizing errors with tableside ordering.
Online Ordering and Delivery: The free Square Online add-on enables mobile-optimized websites for online ordering, with orders appearing on the Square POS and kitchen systems. Offer curbside pickup, staff delivery, or courier delivery to avoid commissions.
Payment Processing: Square accepts various payment methods, including Apple Pay, Android Pay, Samsung Pay, Google Wallet, and major credit/debit cards. Process contactless transactions and tableside payments with the Square Terminal.
Integration with Delivery Platforms: Square offers delivery options with on-demand DoorDash or Uber couriers, without marketplace commissions, or staff-handled deliveries.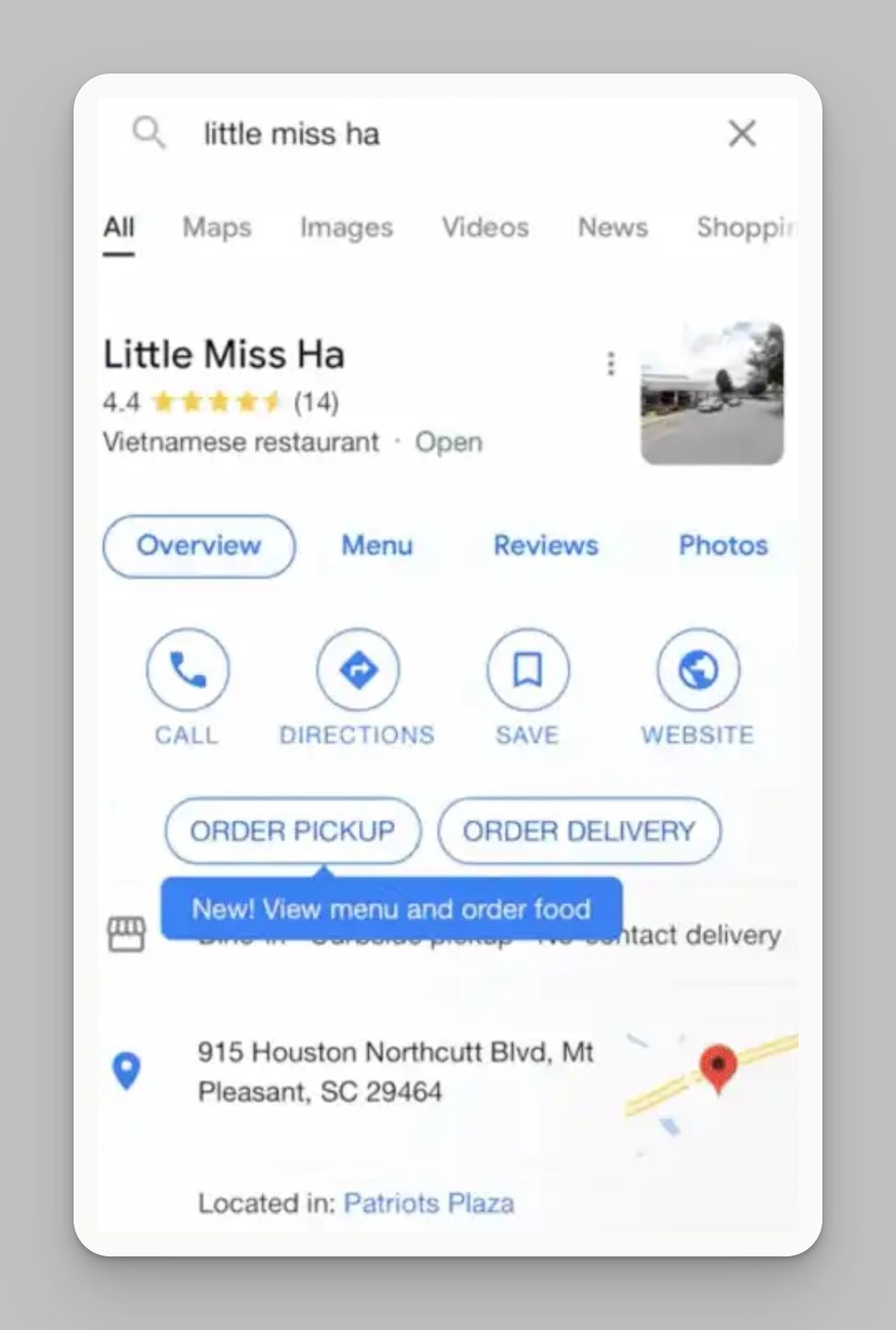 SpotOn's order management features include:
Direct Integration with POS System: Develop an online menu with orders transmitted directly to your point-of-sale system, streamlining pickup and delivery experiences.
Take-Out and Delivery: Customers can order from your website, Facebook, and Google pages, with adjustable pacing and guest information storage for targeted marketing and repeat business. Delivery service is powered by DoorDash.
QR Code Ordering and Payment: Enable tableside ordering and payment or contactless payment through QR code scanning. Group ordering allows guests to order individually and split checks by amount.
Integration with Order with Google: Customers can find your restaurant on Google and place orders directly from your Business Profile.
In summary, all five systems offer robust order management features, including tableside ordering, online ordering, and delivery. However, they differ in their delivery integrations and additional features.
Toast and SpotOn stand out with their direct integration with delivery platforms, while TouchBistro requires third-party integration. Square and Lightspeed offer comprehensive features similar to Toast and SpotOn.
All systems provide real-time updates and detailed reports, helping restaurants manage their operations effectively.
Inventory Management
Toast allows for real-time tracking of inventory levels, helping to reduce waste from unused or spoiled items. It also provides valuable data and analytics that can help businesses make informed decisions about their menu offerings.
The system tracks sales data and customer feedback, allowing businesses to identify popular items and trends and make adjustments to their menu accordingly.
Toast's inventory management feature is integrated with its other features. For example, when a customer places an order, the system automatically updates the inventory levels, ensuring accurate tracking of stock.
TouchBistro lets restaurants to keep track of their stock levels, reduce food waste, and increase profit margins. It provides real-time reports on stock levels, helping restaurant owners to maintain optimal inventory levels and make informed decisions on ordering from vendors.
A notable feature is its recipe-logging functionality. With recipe logging, restaurant staff can record ingredient details such as costs and quantities, and build recipes directly in the POS system.
The menu items that contain the newly arrived inventory ingredients are updated automatically, saving staff time and minimizing the possibility of errors.
Additionally, customizable pop-up alerts can inform servers when an item is running low, reducing the likelihood of guests ordering items that are out of stock.
However, compared to its competitor, Toast, TouchBistro's inventory management feature is considered to be more basic. Toast offers more advanced inventory management features, such as the ability to track ingredient costs and margins, view inventory levels by location, and set up automatic purchase orders.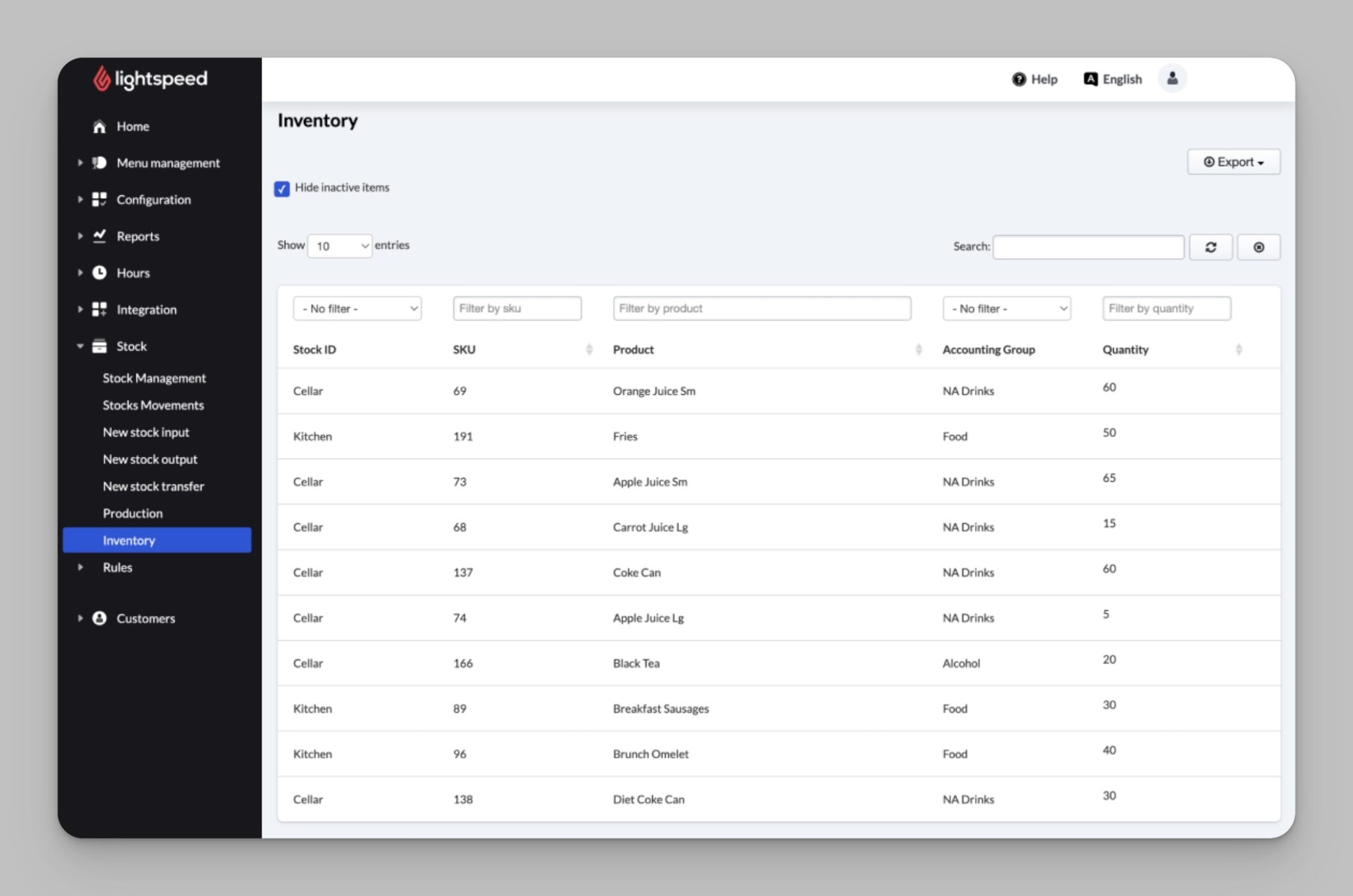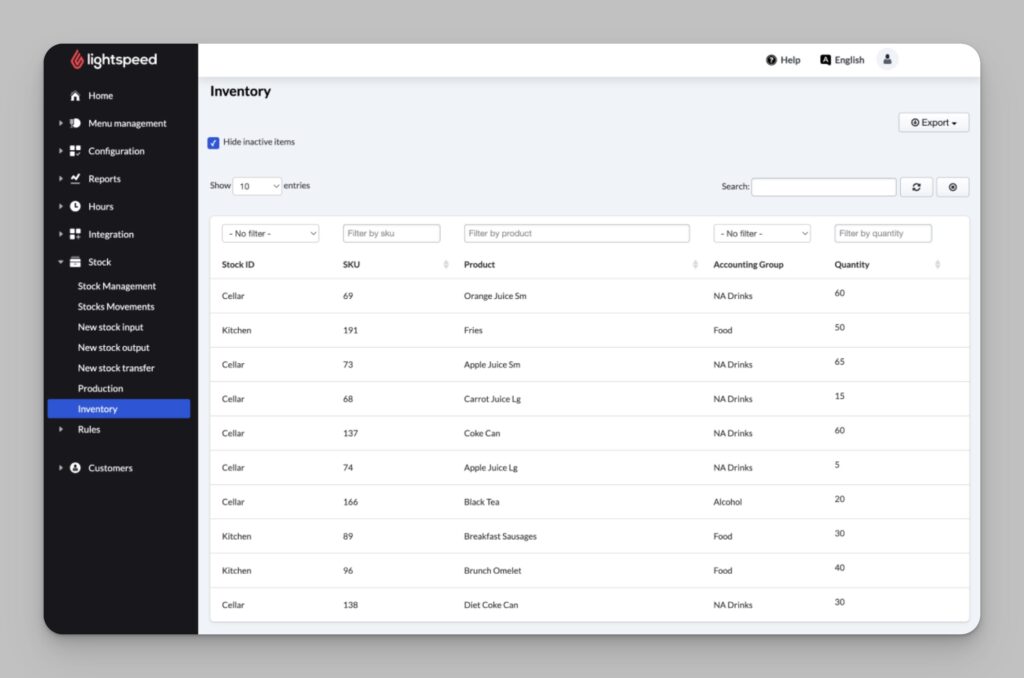 Lightspeed Restaurant tracks inventory levels in real-time and provides alerts when stock is running low. This helps restaurant owners maintain optimal inventory levels and minimize waste.
The system also allows for supplier management and the creation of purchase orders, ensuring that the right amount of supplies is always on hand.
One of the standout features of Lightspeed's inventory management system is its waste reduction and cost control capabilities. By monitoring stock levels in real-time, the system ensures that only the necessary amount of ingredients are used in each dish or recipe, helping to reduce waste and keep costs down.
Square for Restaurants allows restaurants to monitor their inventory levels in real-time. As menu items are sold, the system automatically updates inventory levels, helping restaurants avoid out-of-stock situations.
This feature is integrated with the menu management system, allowing for the creation and customization of menu items, incorporation of modifiers, and assignment of individual prices for each offering.
However, Square for Restaurants may lack some advanced features offered by other POS systems, such as in-depth inventory management and comprehensive reporting tools.
The reporting features have been noted for their complexity and lack of sufficient detail, making it difficult to search for specific information. Additionally, the process of reconciling sales to receivables is lengthy.
SpotOn also provides real-time inventory control, allowing you to manage your inventory from anywhere with updates, alerts, and front-of-house countdowns. This helps ensure that your staff never sells menu items that have run out.
It also offers hierarchical controls to manage your inventory either for an entire enterprise or for a particular location. With this feature, you can modify menu assignments, pricing, and permissions, and implement changes across devices or locations.
Summary: The five systems all provide real-time tracking of inventory levels and aim to reduce waste, but differ in their advanced features and user-friendliness.
Employee Management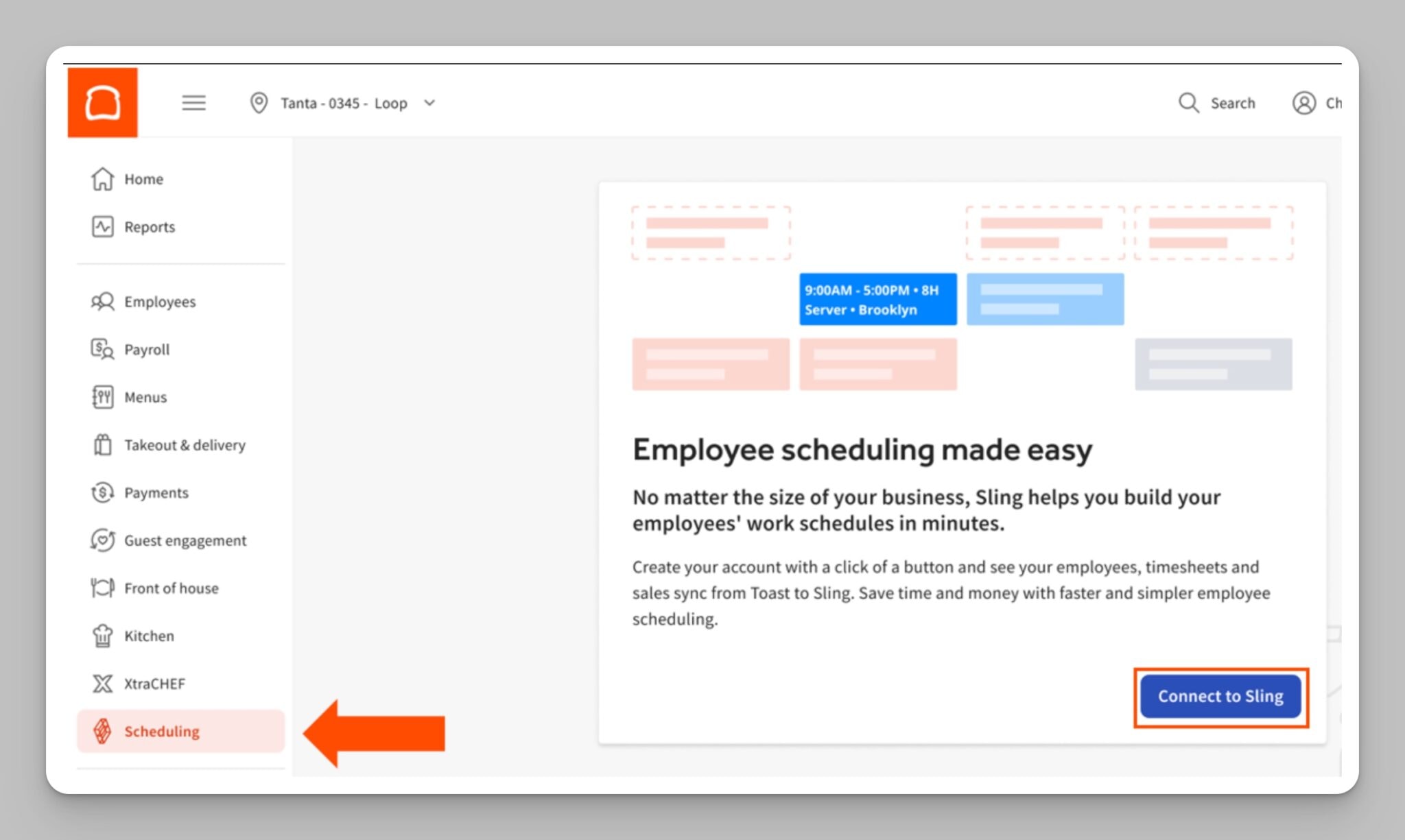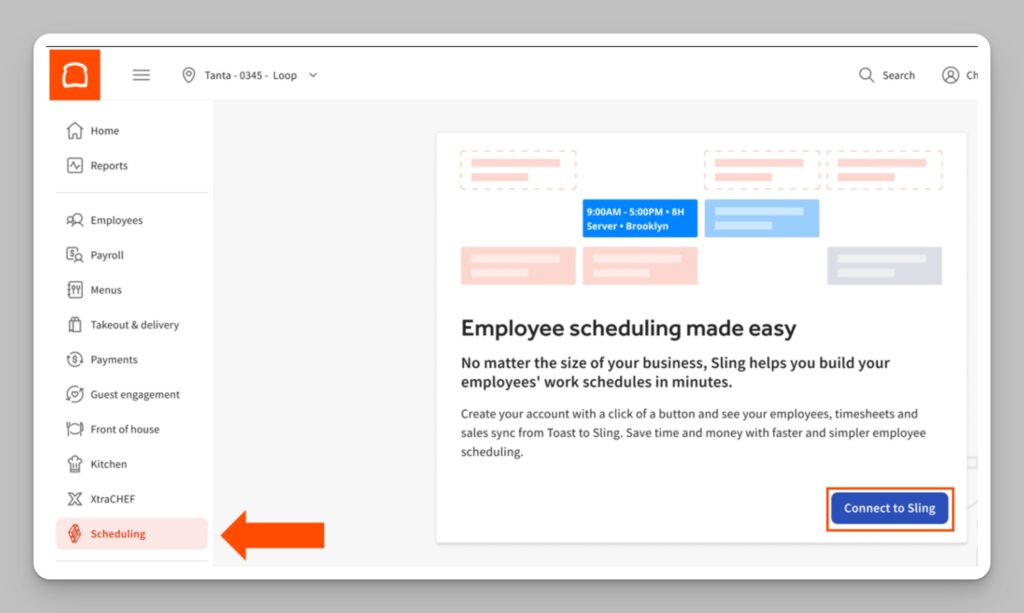 Toast: Offers comprehensive employee management tools, including scheduling, time tracking, job roles assignment, and payroll integration.
TouchBistro: Provides a basic staff management system, allowing unlimited users and designed to manage labor costs. However, its features are more basic compared to other POS systems.
Lightspeed Restaurant: Includes scheduling, time tracking, performance evaluations, permissions, and user access controls. Robust time tracking and payroll capabilities allow for efficient labor cost optimization.
Square for Restaurants: Handles scheduling, managing, and paying employees directly from the POS system. Integrated with Square Payroll, it offers automated tax filings, employee benefits, customizable pay schedules, and accounting integration with QuickBooks.
SpotOn Restaurant: Features SpotOn Teamwork, a comprehensive employee management tool with scheduling, time tracking, job roles, and payroll management. The SpotOn Teamwork App improves employee engagement by providing a single platform for staff to manage schedules, access tips, and receive communications.
In summary, all five systems offer employee management tools, each with unique features.
Toast excels in cost control and team management with a high user rating.
TouchBistro, while user-friendly, is more basic in comparison to the rest.
Lightspeed Restaurant prioritizes robust time tracking, payroll calculation, and data security.
Square for Restaurants integrates employee management with its POS system and payroll service, emphasizing real-time reporting and payment automation.
SpotOn Restaurant stands out with its SpotOn Teamwork, focusing on schedule management, payroll accuracy, and employee engagement.
Reporting & Analytics
Toast POS: Picture yourself having a clear, real-time snapshot of your restaurant's performance, including sales, staffing, and menu success. That's what Toast POS offers you. It's like having a personal data assistant who crunches numbers and gives you valuable information to make your restaurant more profitable.
TouchBistro: Now imagine you have an assistant who sends you over 50 straightforward, real-time reports on sales, menu choices, payments, and staffing that you can read from your smartphone.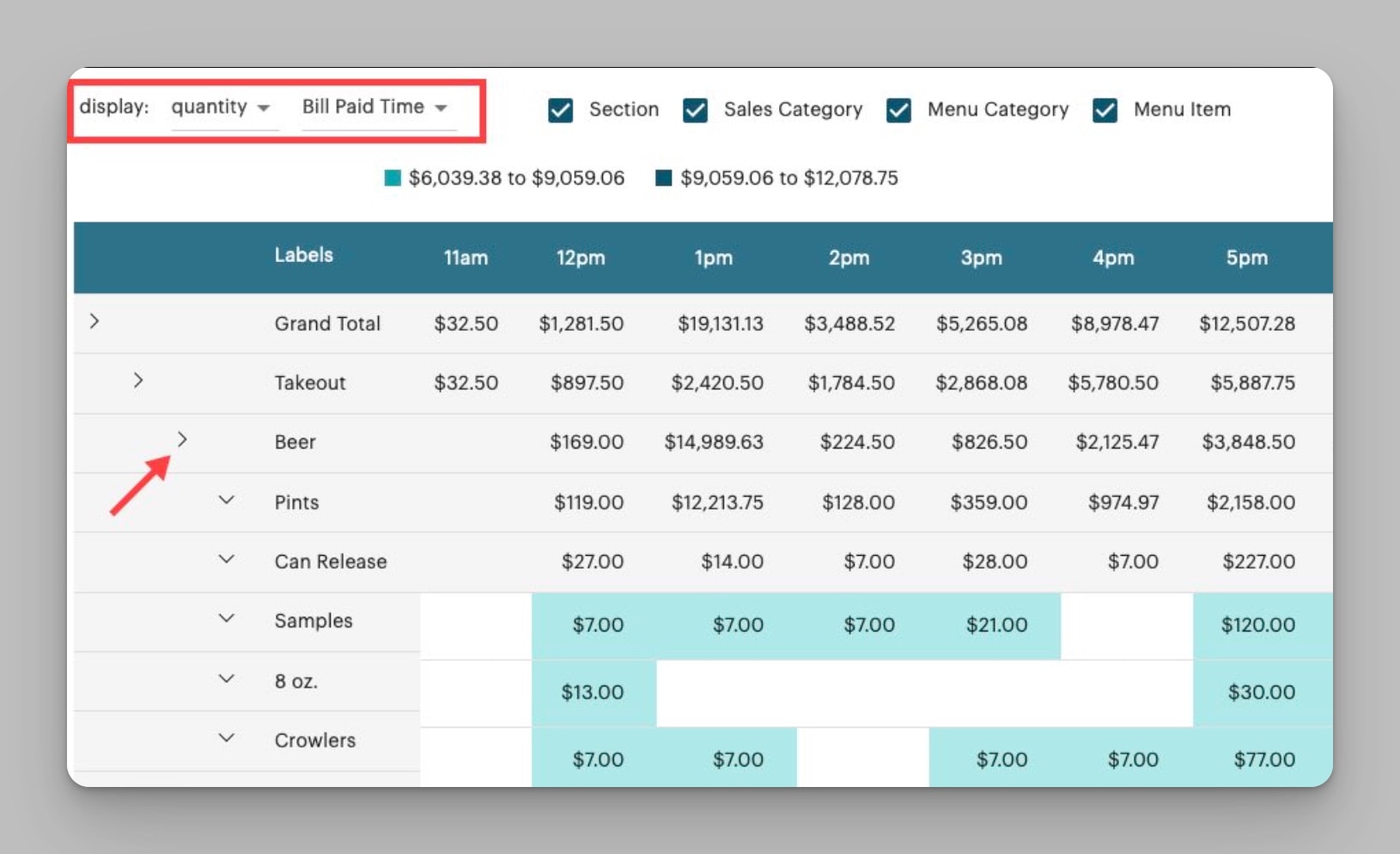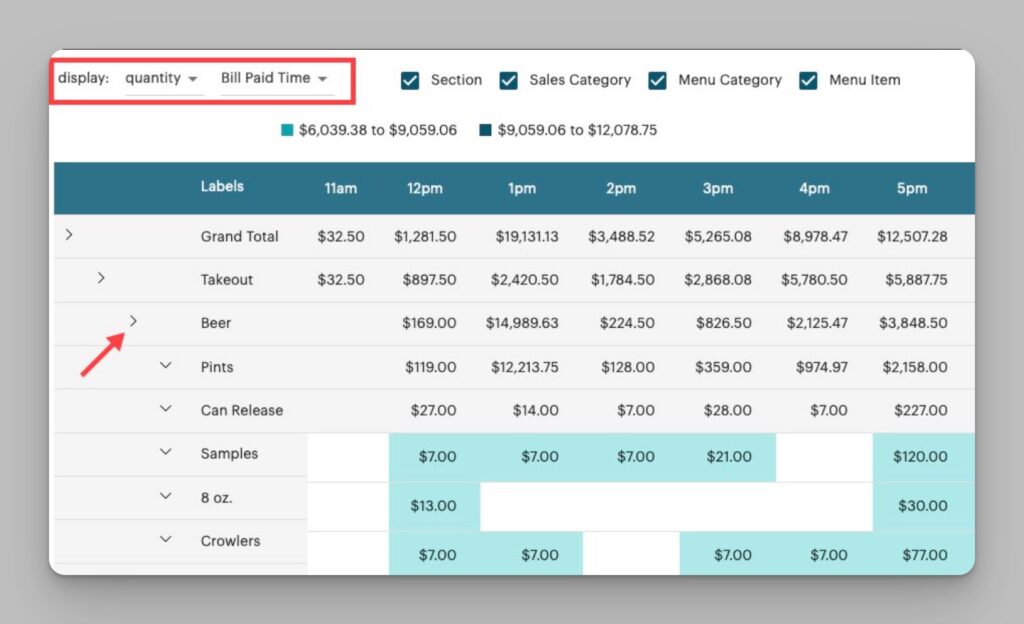 TouchBistro does just that. But, fair warning, if you're looking for deep dives into sales, employee performance, and inventory, you might find it a bit basic.
Lightspeed: Lightspeed is like a personal business coach. It provides you with a customized view of your business performance. You can peek at real-time data on sales, inventory, and staffing right from your dashboard. Want to know who your top-selling employee is, or which menu item is a hit? Lightspeed has you covered.
Square for Restaurants: With Square, you're getting a system that keeps an eye on your restaurant's top-selling items, how your employees are doing with their sales, and how your business is performing in real-time. It's all neatly organized in your Square Dashboard. But keep in mind, the reporting tools can be a bit hard to navigate, and you might find yourself spending extra time reconciling sales to receivables.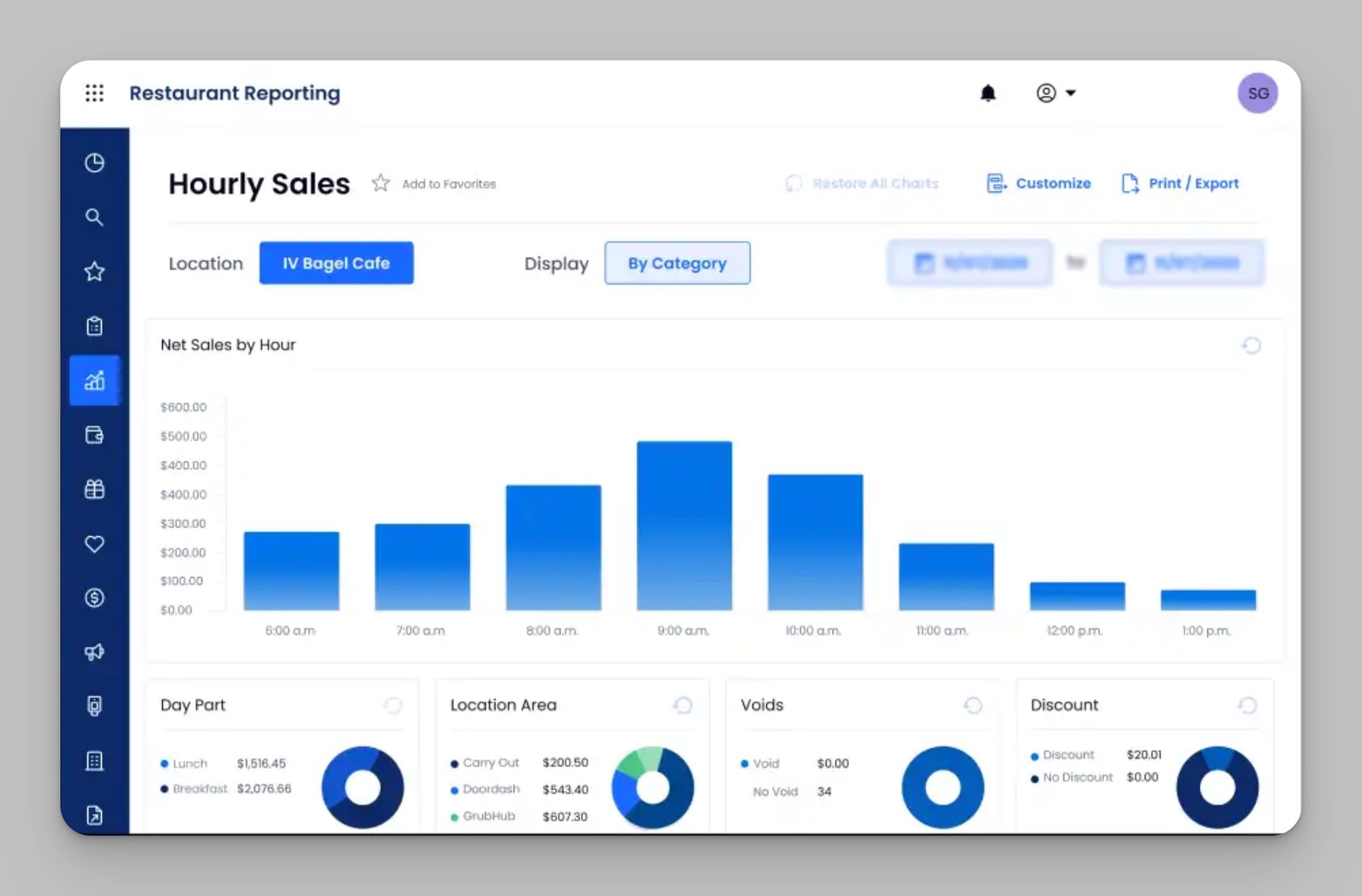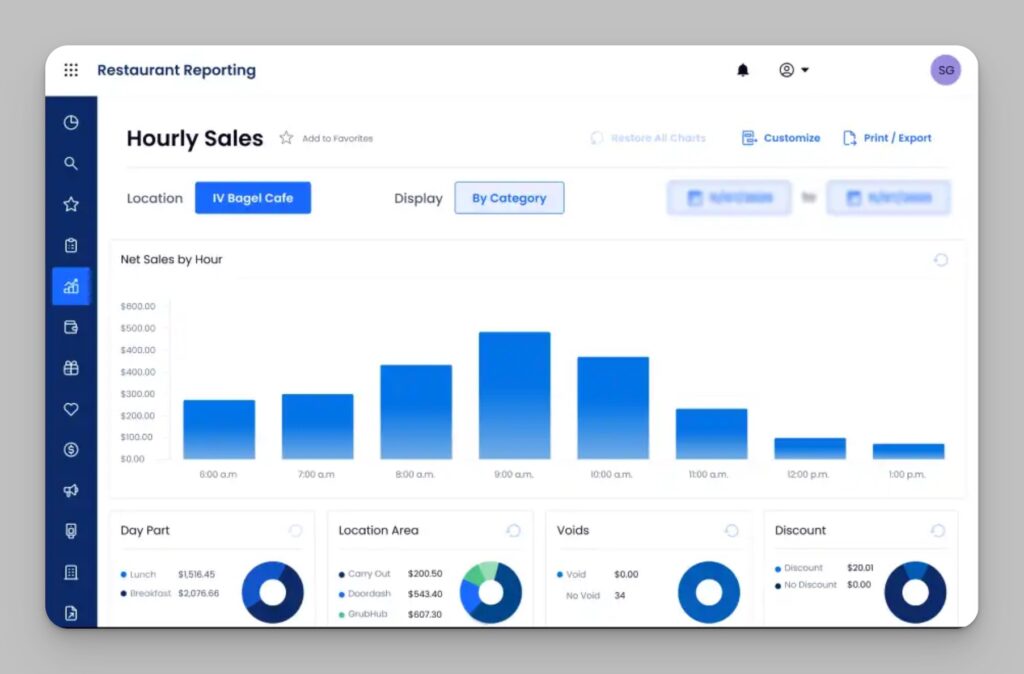 SpotOn POS: SpotOn provides you with detailed reports on your restaurant's operations. Everything from end-of-day summaries to daily sales recaps is included. However, it might not be as good as some others in spotting long-term trends, and some tasks like reconciling deposits still need a hands-on approach.
In summary, Toast POS is like having an eagle-eyed data assistant; TouchBistro is handy and uncomplicated but may lack some depth; Lightspeed is your personal business coach, while Square for Restaurants could make your life easier, but might be a bit tricky to navigate. And SpotOn POS, it's like a co-pilot, although it may not see as far ahead as some others.
Table Management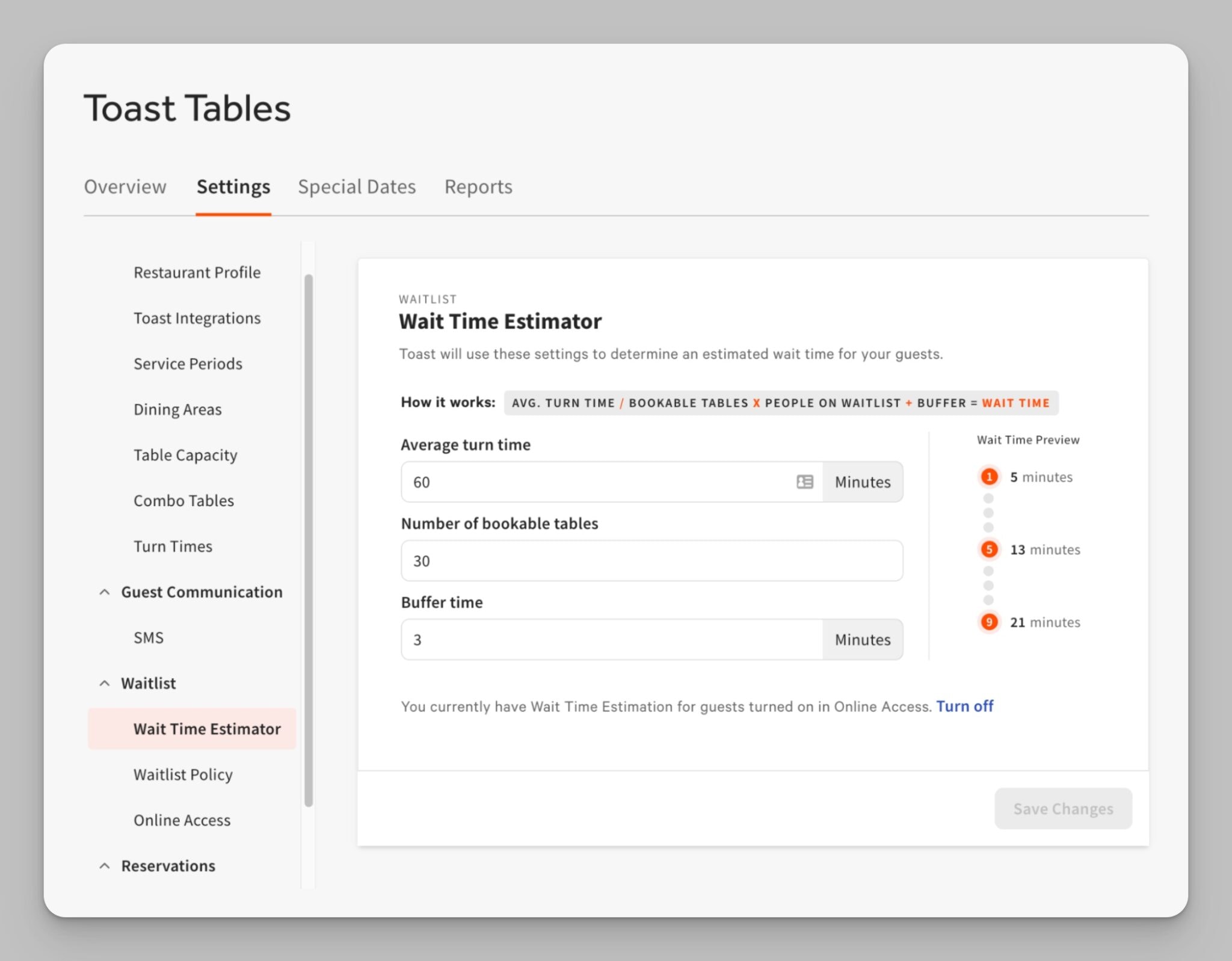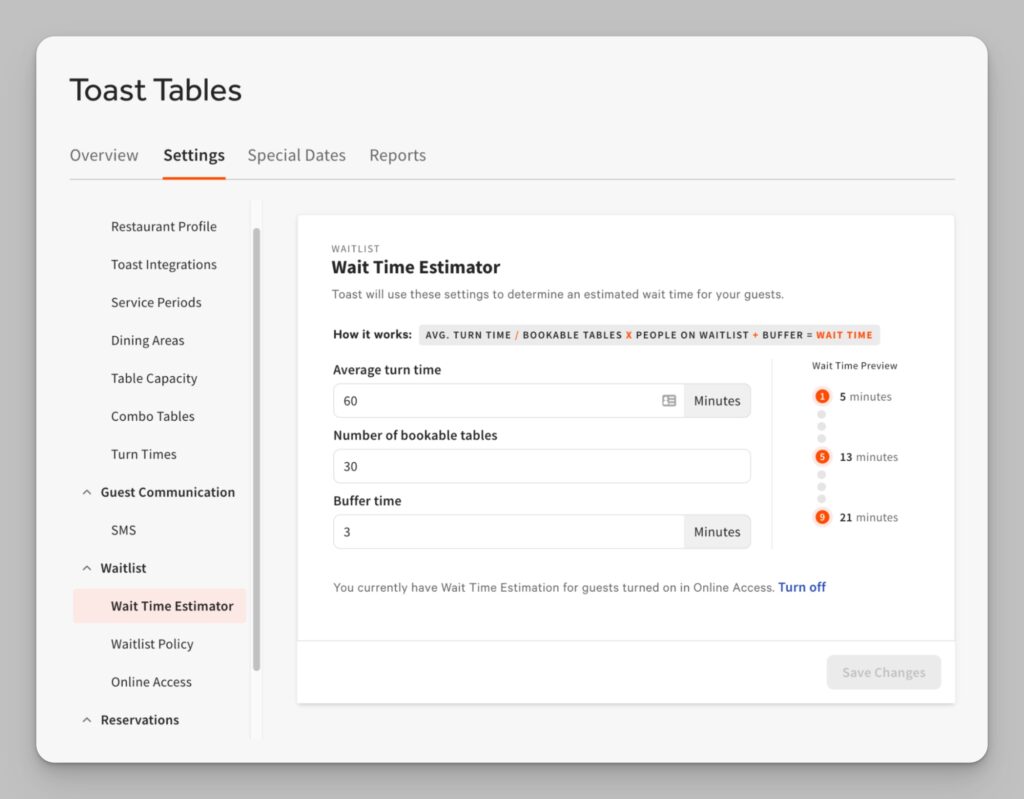 Toast POS: "Toast Tables" is your virtual maître d'. It's linked to Google, so customers can make reservations straight from Google search. As an owner, it gives you a bird's-eye view of reservations, waitlists, and orders. And guess what, it's personalized, so it knows your customers and their preferences.
TouchBistro: It's like having a digital blueprint of your restaurant in your pocket. Drag and drop tables to reflect your layout, assign staff sections, and link tables to specific reservations. You even get analytics on table turnover to see how your staff is doing. It's a simple, effective way to manage your restaurant floor during busy times.
Lightspeed: Imagine your ordering process is a well-oiled machine. Lightspeed does just that by integrating table management into its Order Management system. It keeps tabs on occupied and reserved tables, takes and modifies orders, and provides real-time updates. All from one platform!
Square for Restaurants: Square is your smart interior decorator. It lets you organize your restaurant layout digitally. Track how long your customers occupy a table, assign servers, and monitor available tables. And exciting news for 2023, they have integrated with OpenTable to help seat more guests and improve turn times.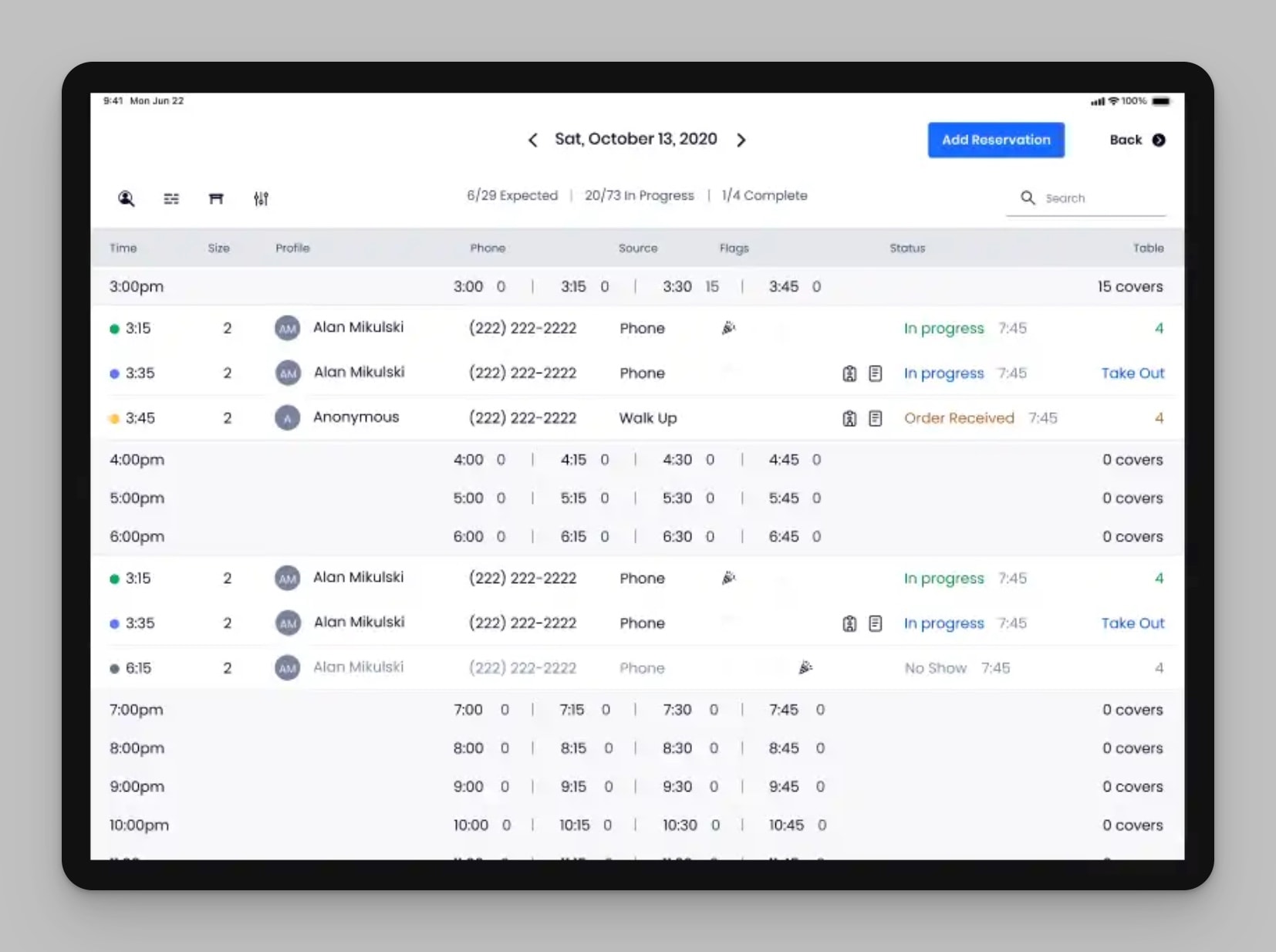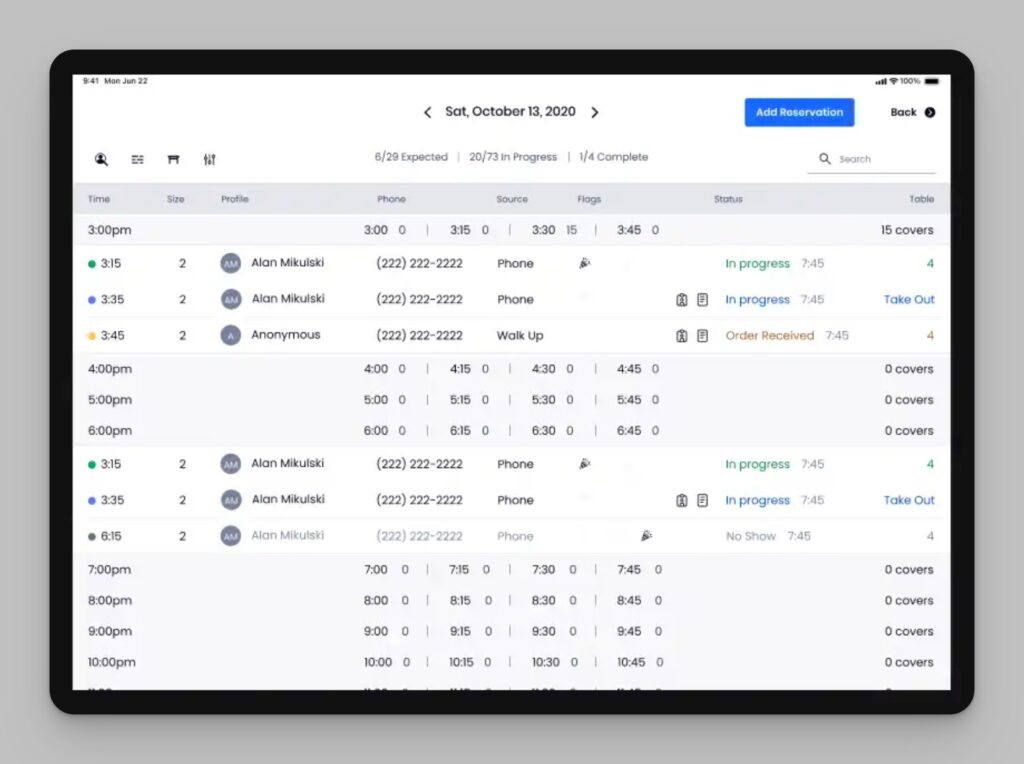 SpotOn POS: SpotOn is like your digital restaurant manager. Design your table layout, send orders to the kitchen from a handheld device, and use SpotOn Reserve for smoother online reservations. A comprehensive tool to boost efficiency and communication in your restaurant.
In summary, all these POS systems have features to manage your restaurant's flow, but each with its unique strength.
Toast POS focuses on integrating with Google and personalizing customer experiences.
TouchBistro emphasizes managing your floor plan and staff sections
Lightspeed's strength is in integrating table management with order management.
Square is about optimizing your restaurant space and has new OpenTable integration.
SpotOn POS stands out with its handheld device for instant order placing and payment collection.
Menu Management
Toast POS makes menu management easy. Customize your menu, tweak pricing, and track sales data to spot hot sellers. Plus, it's linked with other features like online ordering, inventory, and reporting.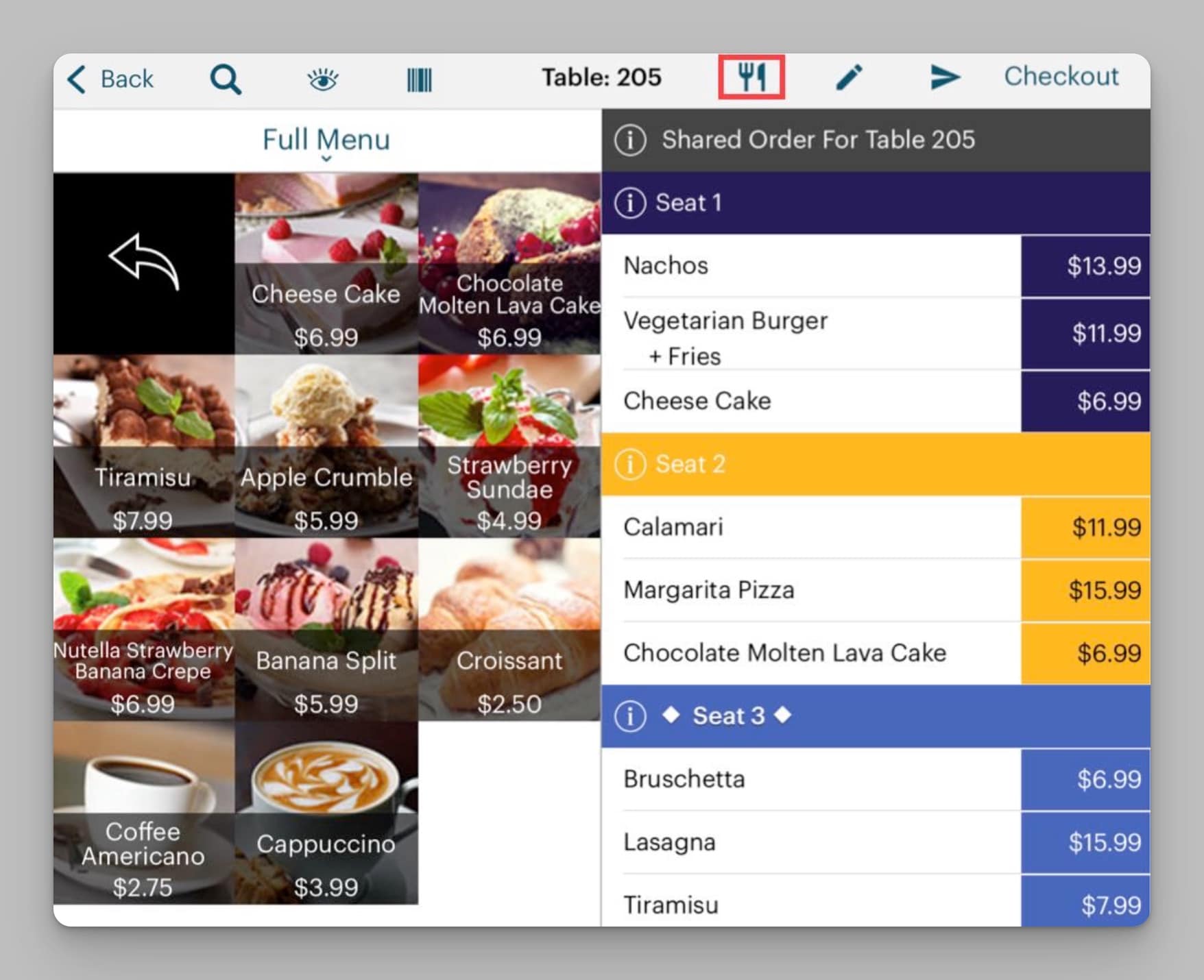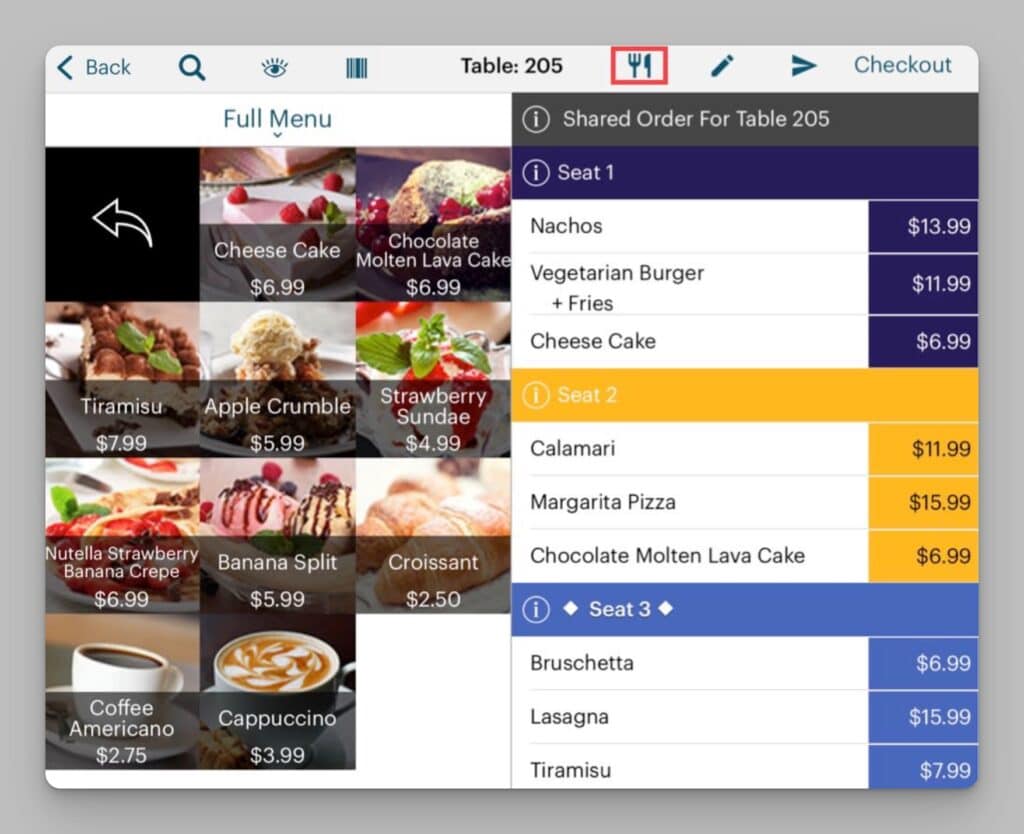 TouchBistro streamlines your menu changes and organizes items with just a few clicks. It offers upselling tools, handles takeout orders, and personalizes menus to enhance guest experience.
Lightspeed Restaurant is all about user-friendly efficiency. Feature your star dishes, add dish descriptions, and manage price tags. Customers can customize their orders easily with modifiers and variants. Seasonal or event-based menu changes? No problem.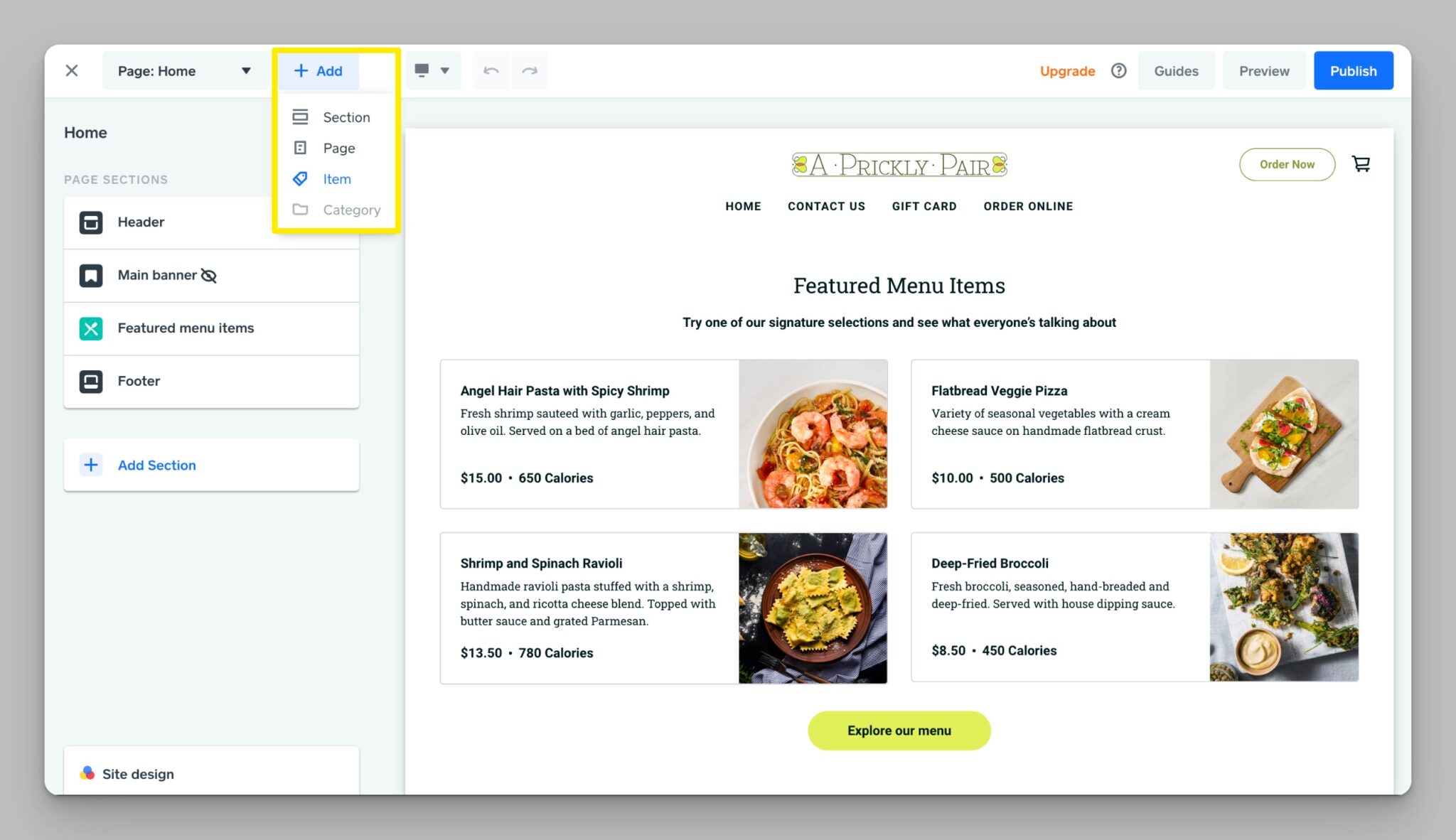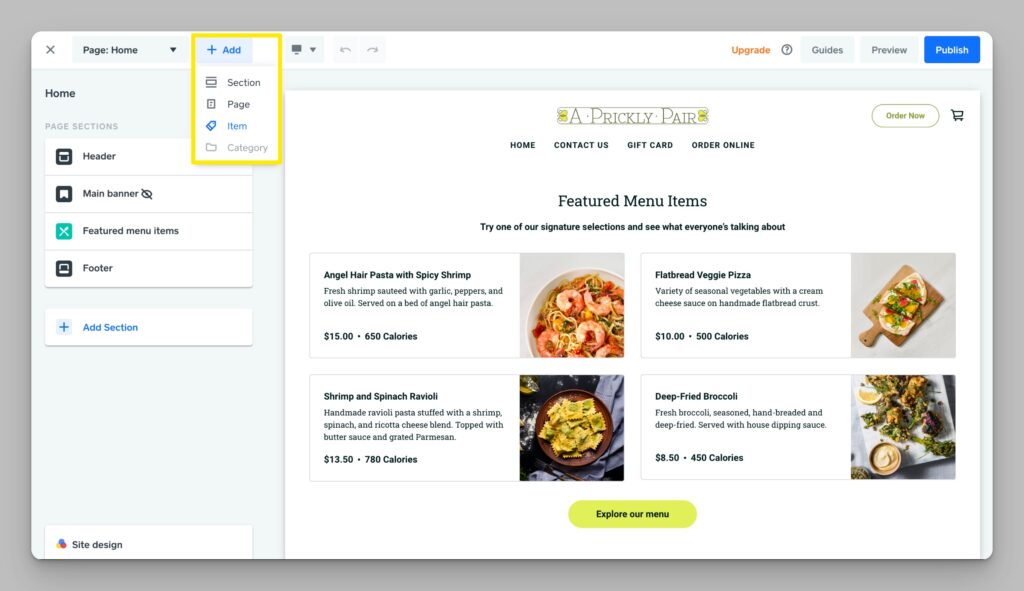 Square for Restaurants is versatile. Manage menu items, inventory, and pricing in one place. Customize menus for different times of day or special events. Its inventory management updates in real-time as you sell items. But, be warned, if your menu changes often or is complex, Square might not be as quick to update as other systems.
SpotOn centralizes menu management across all your sales channels. It ensures consistency and accuracy and integrates with other SpotOn features, simplifying a typically complex process.
In summary, all five systems offer robust menu management features.
Toast POS shines with its data tracking for sales and inventory.
TouchBistro excels in upselling and personalization.
Lightspeed stands out for its user-friendly design and efficient handling of modifiers and variants.
Square offers solid features but might lag behind for complex, frequently changing menus.
SpotOn scores high for centralizing menu info across all your sales channels. Choose the one that fits your restaurant's specific needs.
Part 2: Advanced Restaurant POS Features
Marketing and Loyalty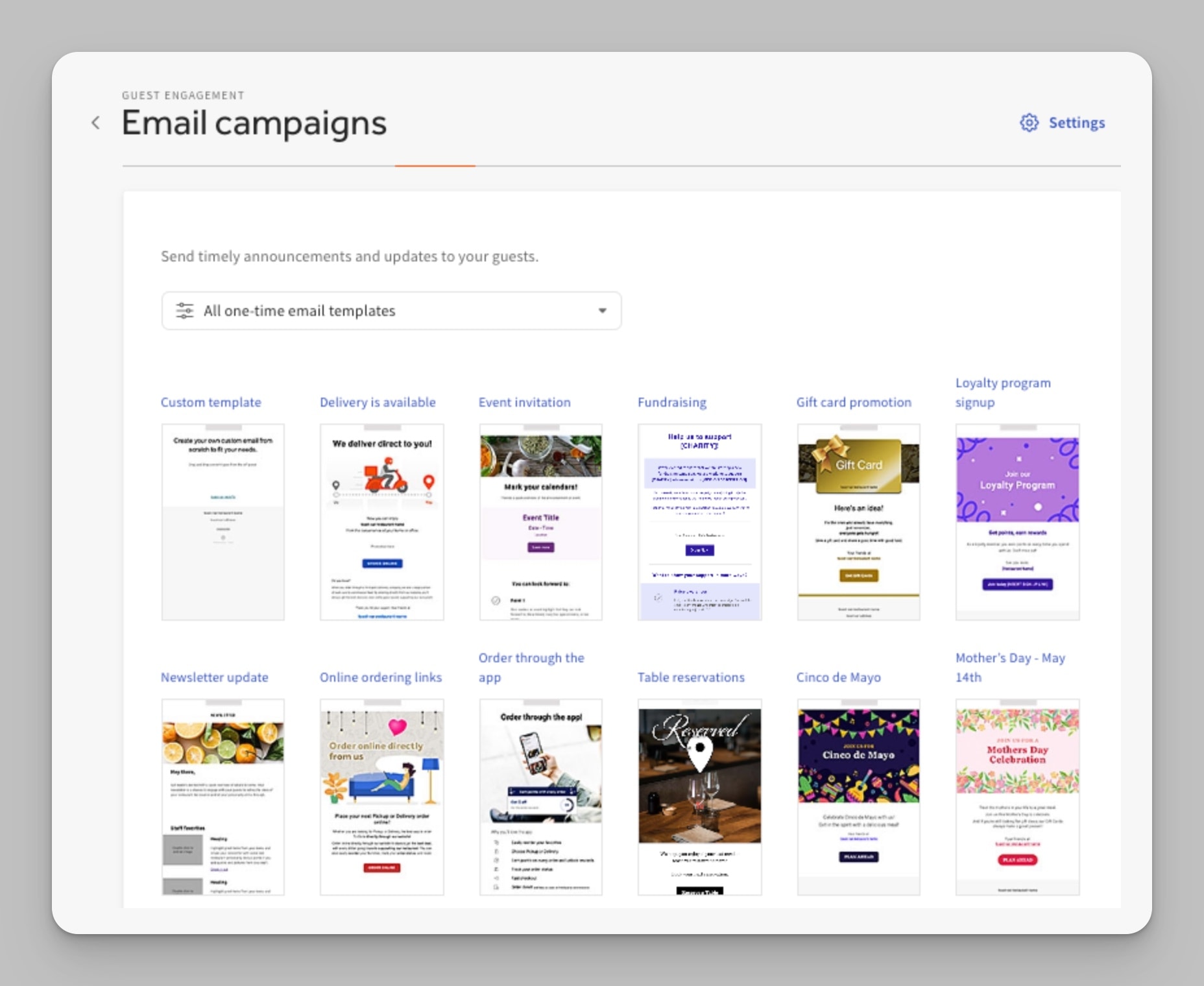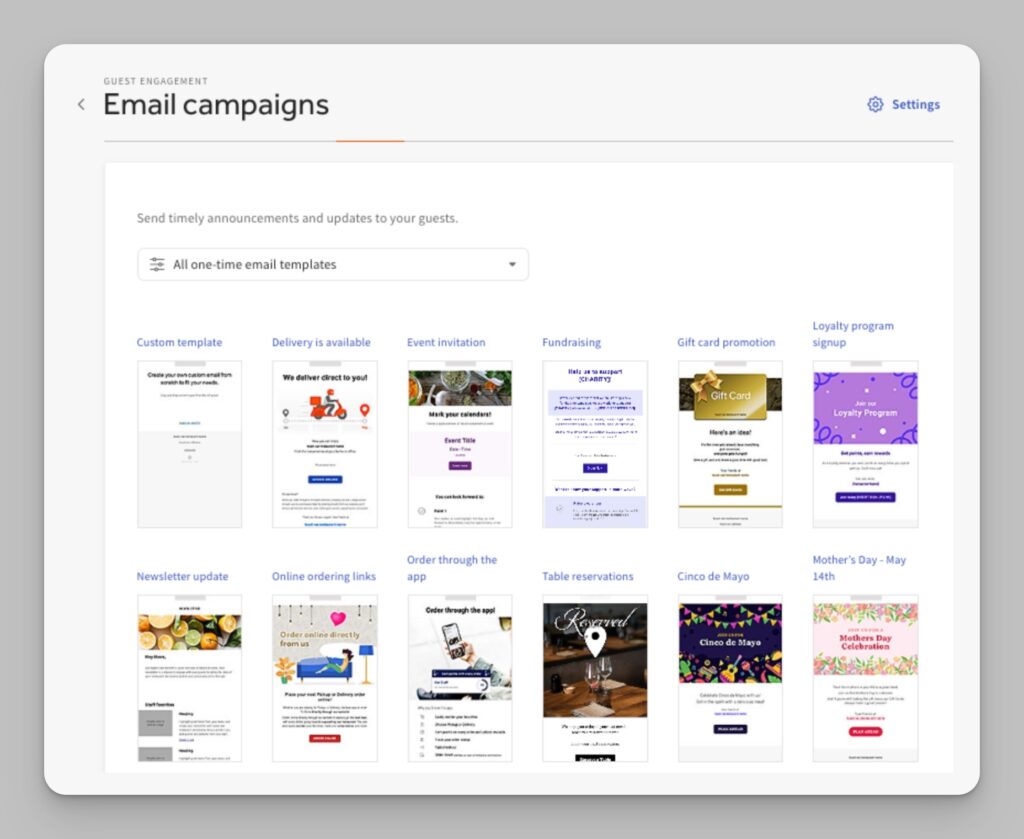 Toast has marketing and loyalty add-ons integrated right into its payment system. Leverage data from transactions for focused marketing and keep those customers coming back for more.
The Toast Loyalty program is an easy way for regulars to get rewarded and it's simple for them to join either in-store, online, or on their devices.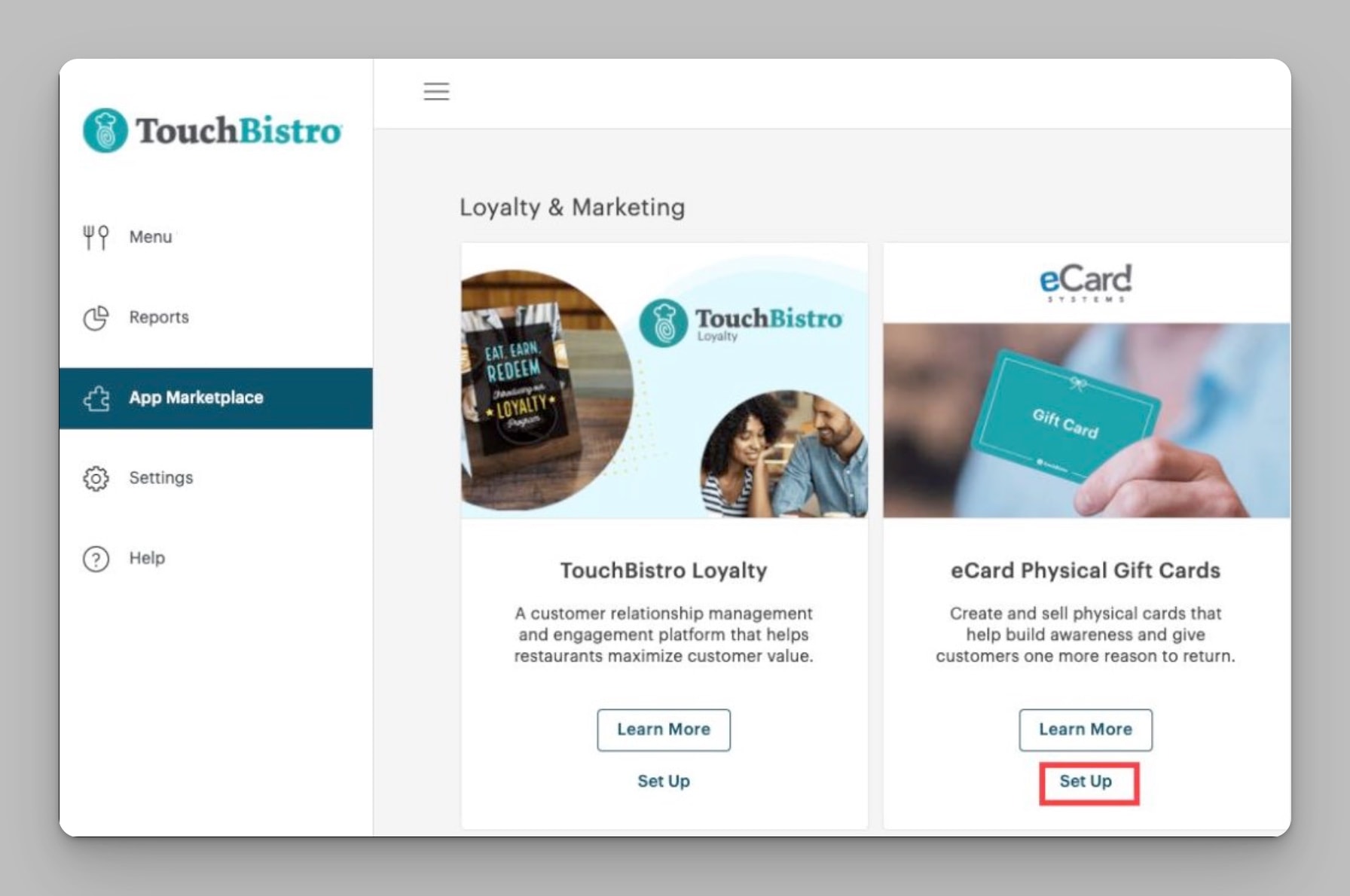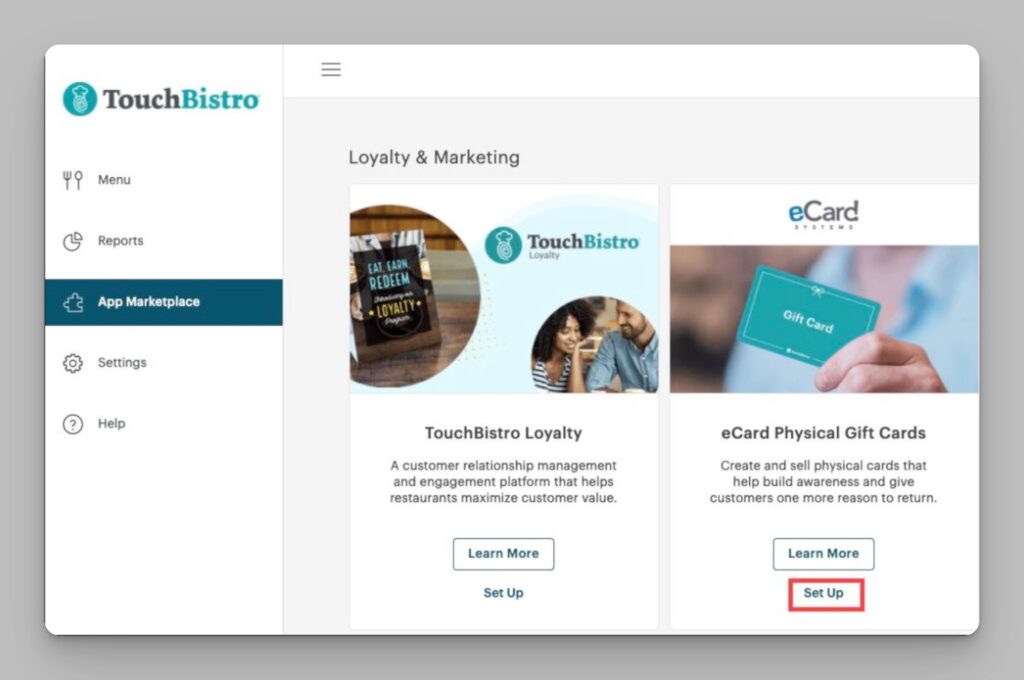 TouchBistro caters to your marketing needs with TouchBistro Marketing – a tool specifically designed to ramp up customer engagement and revenues. Build your own web app, get feedback, send out updates, and flaunt those special promotions. Plus, you can craft beautiful emails using easy templates.
Their customer loyalty program, TouchBistro Loyalty, rewards customers based on their spending, and can be integrated with TouchBistro Marketing for a seamless approach to customer data and communication.
Lightspeed Restaurant offers a CRM feature for tailoring your marketing efforts to your customers' preferences.
Reward your regulars with discounts or exclusive deals. Even offer gift cards to drive repeat business and encourage new diners. Overall, Lightspeed is all about fostering customer loyalty and engagement.
Square comes with Square Marketing – a tool that helps you manage your marketing, sales, and customer service. Launch personalized email and text campaigns, and even connect with your audience on social media.
Square Loyalty allows you to reward regulars and can be managed directly from the POS, allowing you to track sales and measure the impact of your loyalty program all in one place.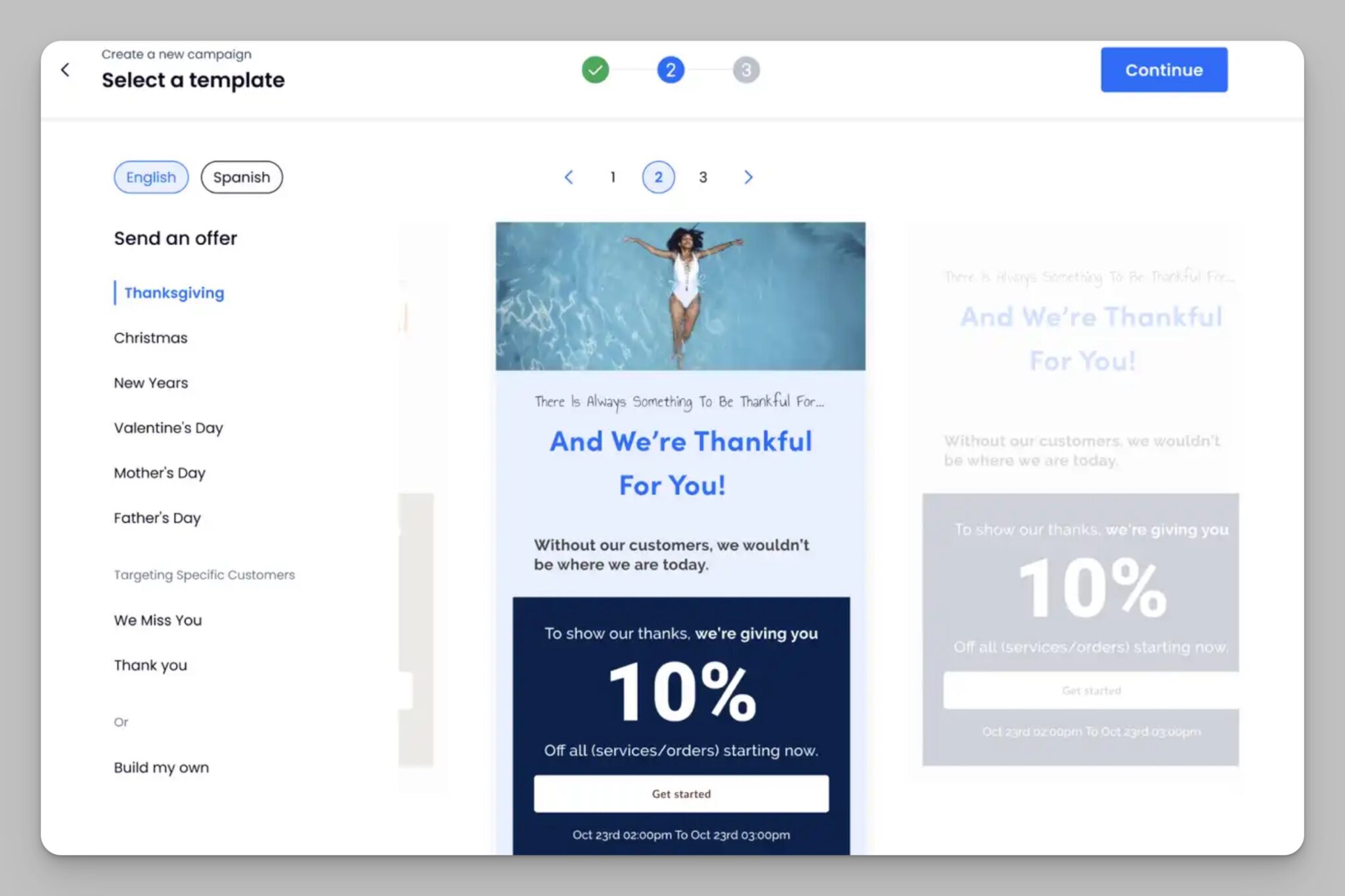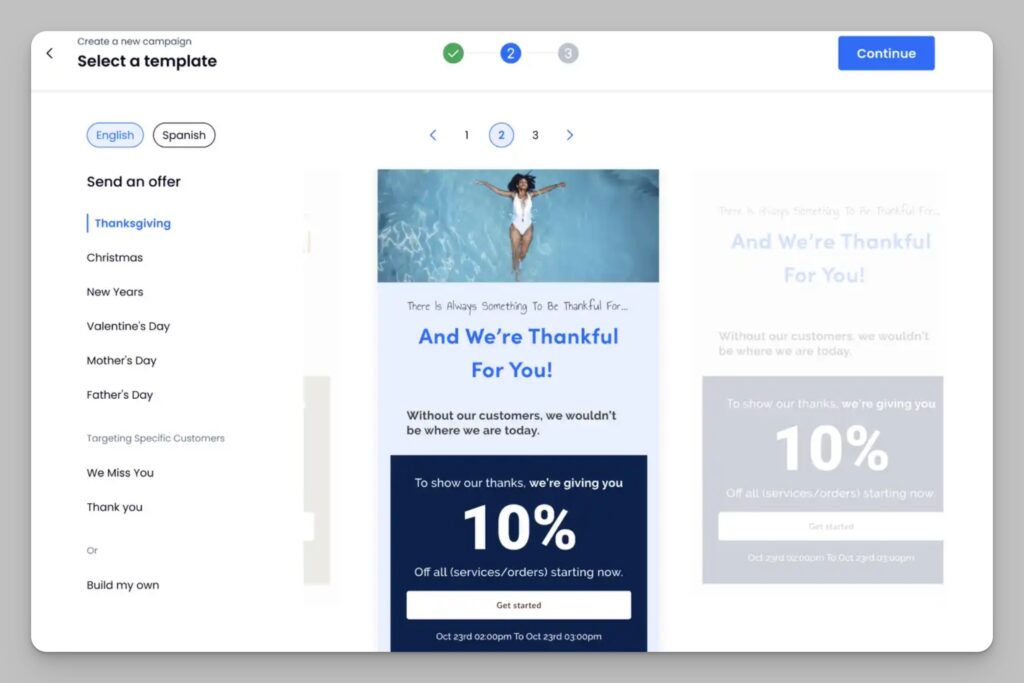 SpotOn packs in a bunch of features to enhance your operations and customer engagement. Its marketing automation tools include email campaigns, SMS marketing, social media integration, and detailed analytics and reporting.
SpotOn also has a loyalty add-on for rewarding customers, encouraging repeat visits, and enticing customers to try new things. With SpotOn, enrolling in the loyalty program and redeeming rewards is a breeze.
In short, all these systems offer great marketing and loyalty features.
Toast POS excels in integrated payment processing and easy customer sign-up.
TouchBistro stands out for its seamless integration of marketing and loyalty, and its easy-to-use email templates.
Lightspeed is all about personalized communication and a built-in loyalty program.
Square offers personalized campaigns and social media integration, with comprehensive loyalty program management.
SpotOn is an all-rounder with a strong focus on marketing automation and an easy-to-use loyalty program. Pick the one that suits your restaurant's needs.
Reservation and Waitlist Management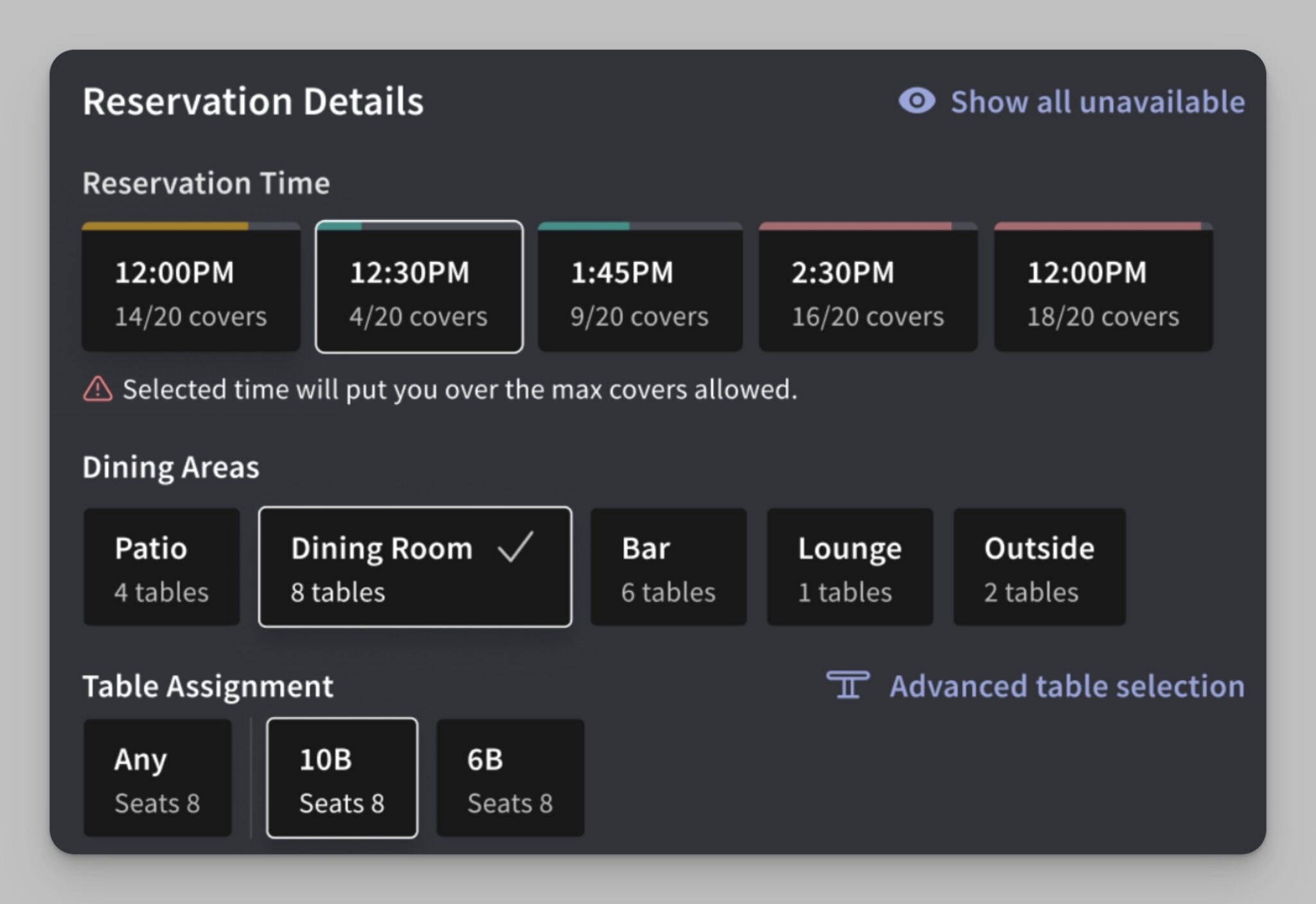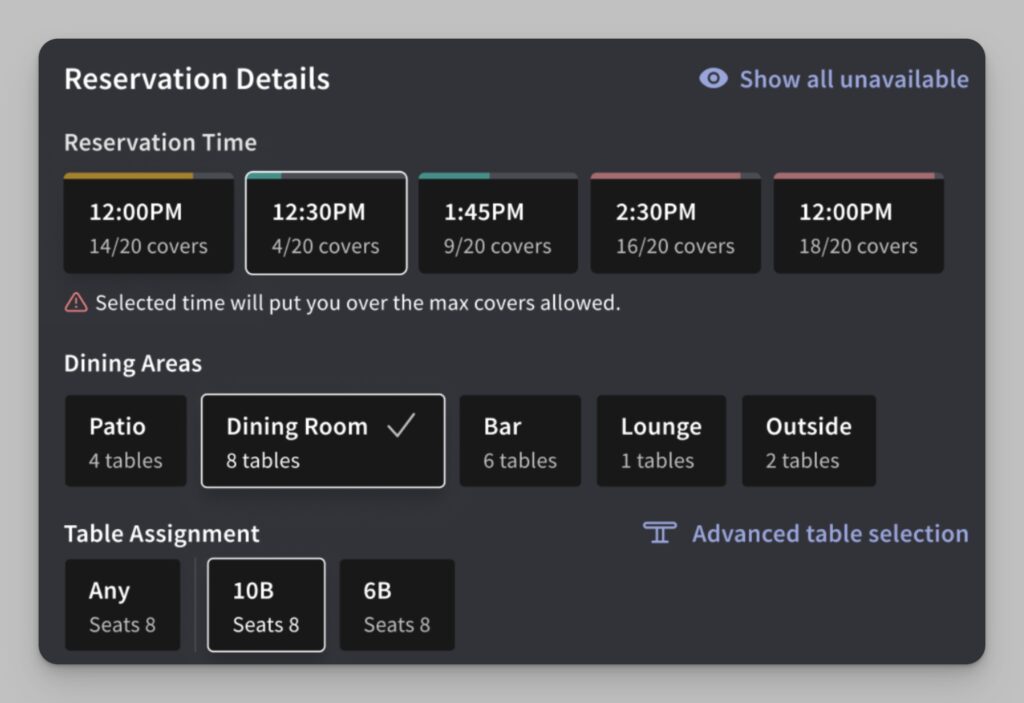 Toast has a cool platform called Toast Tables, making it super easy to manage reservations and waitlists. It's all part of the Toast family, so it works perfectly with other Toast POS and Kitchen Display Systems.
You can keep track of reservations, waitlists, and orders all in one spot. You also get real-time updates on tables, guest profiles, and even collaboration with Google for direct reservations.
Plus, it's cost-effective and has neat features for capacity management and loyalty program integration.
And, Toast Tables has teamed up with Google so your customers can make reservations directly from your Google Business Profile.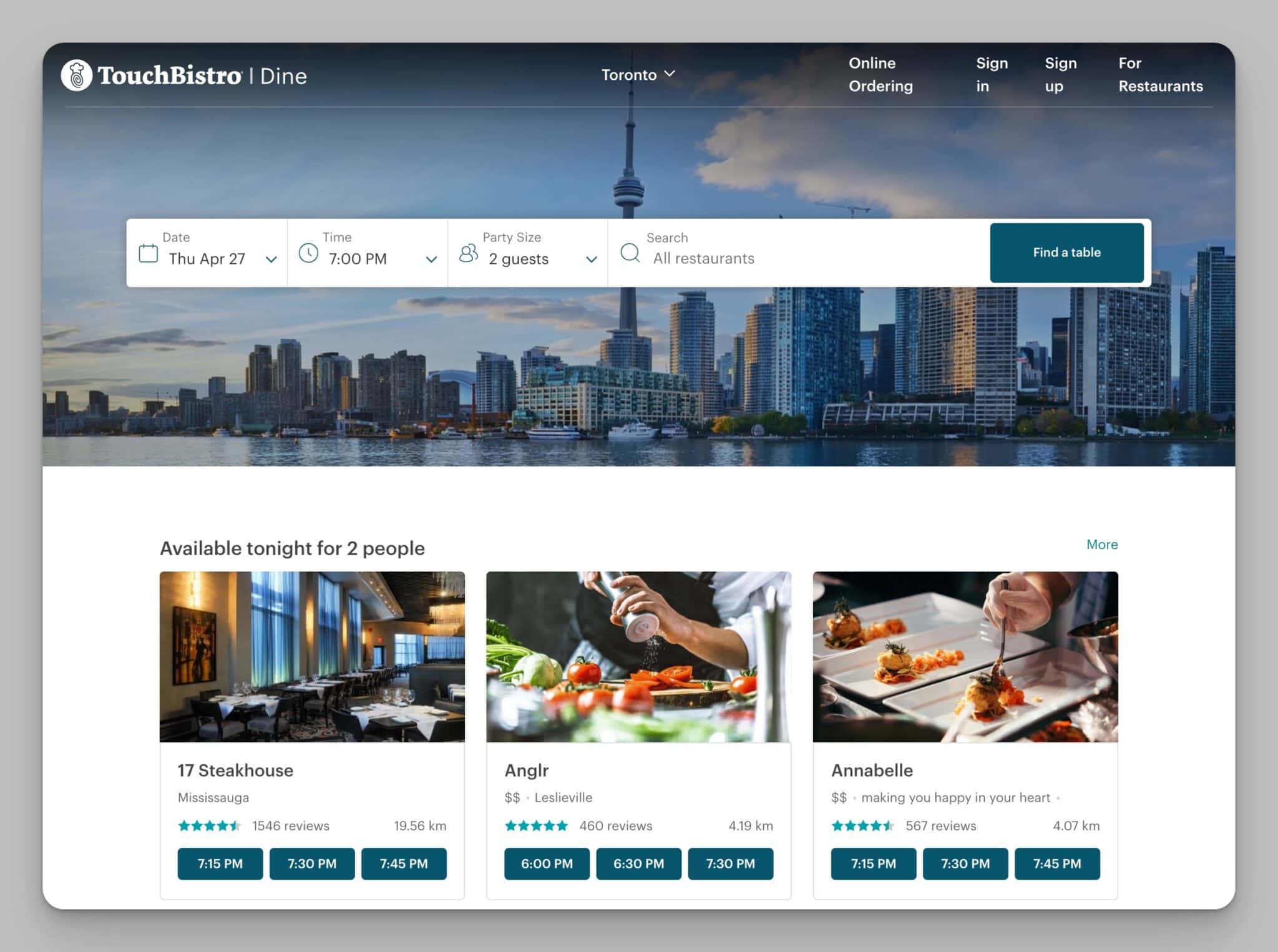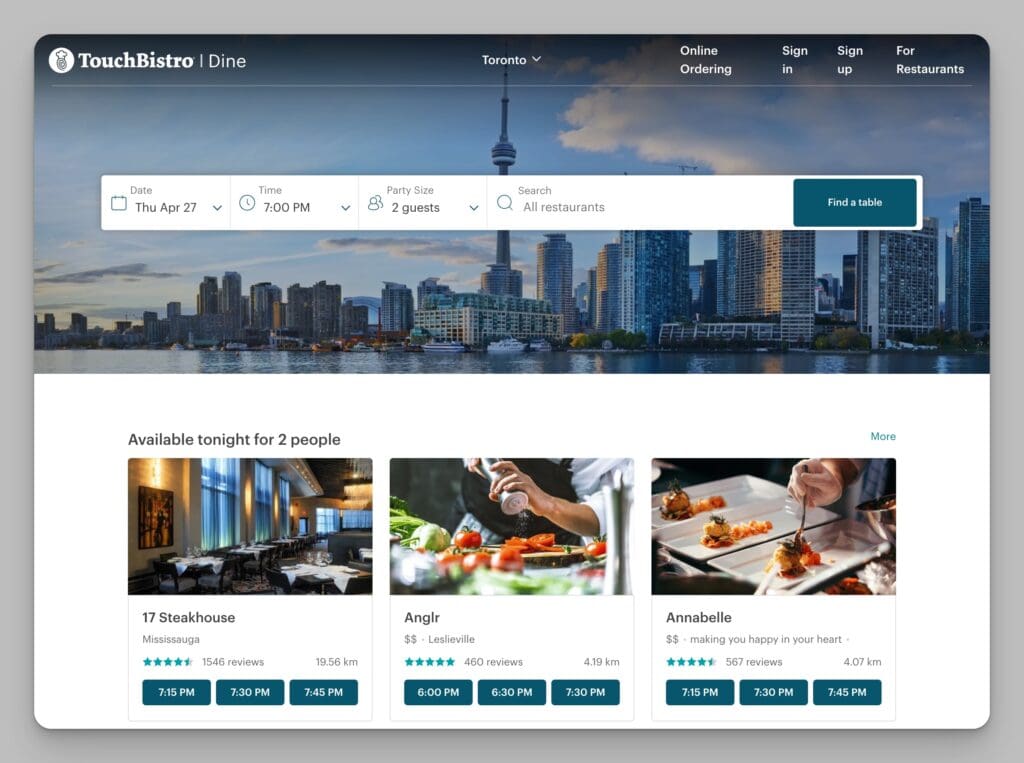 TouchBistro brings you a commission-free reservations tool, so you can manage reservations without breaking the bank. It gives you insight into what your diners love, which is key to delivering amazing service.
The tool is part of the TouchBistro POS system, which means managing reservations and orders is easy and user-friendly. With the TouchBistro Reservations add-on, your customers can book their tables online and you get to manage reservations and customer data with ease.
Lightspeed's comprehensive order management feature includes handy table management and reservations tools. This lets your staff keep track of which tables are busy, reserved, or ready to be reset.
The system also links with popular delivery services and OpenTable, so you can manage all your reservations and delivery orders in one place, making things super easy for you and your customers.
While Square for Restaurants doesn't have a dedicated reservation and waitlist feature, it does offer table management capabilities. You can create floor plans, manage the flow of meals, and take orders directly at the table.
They've also teamed up with OpenTable, so you can get real-time alerts on table status and give personalized service using reservation data.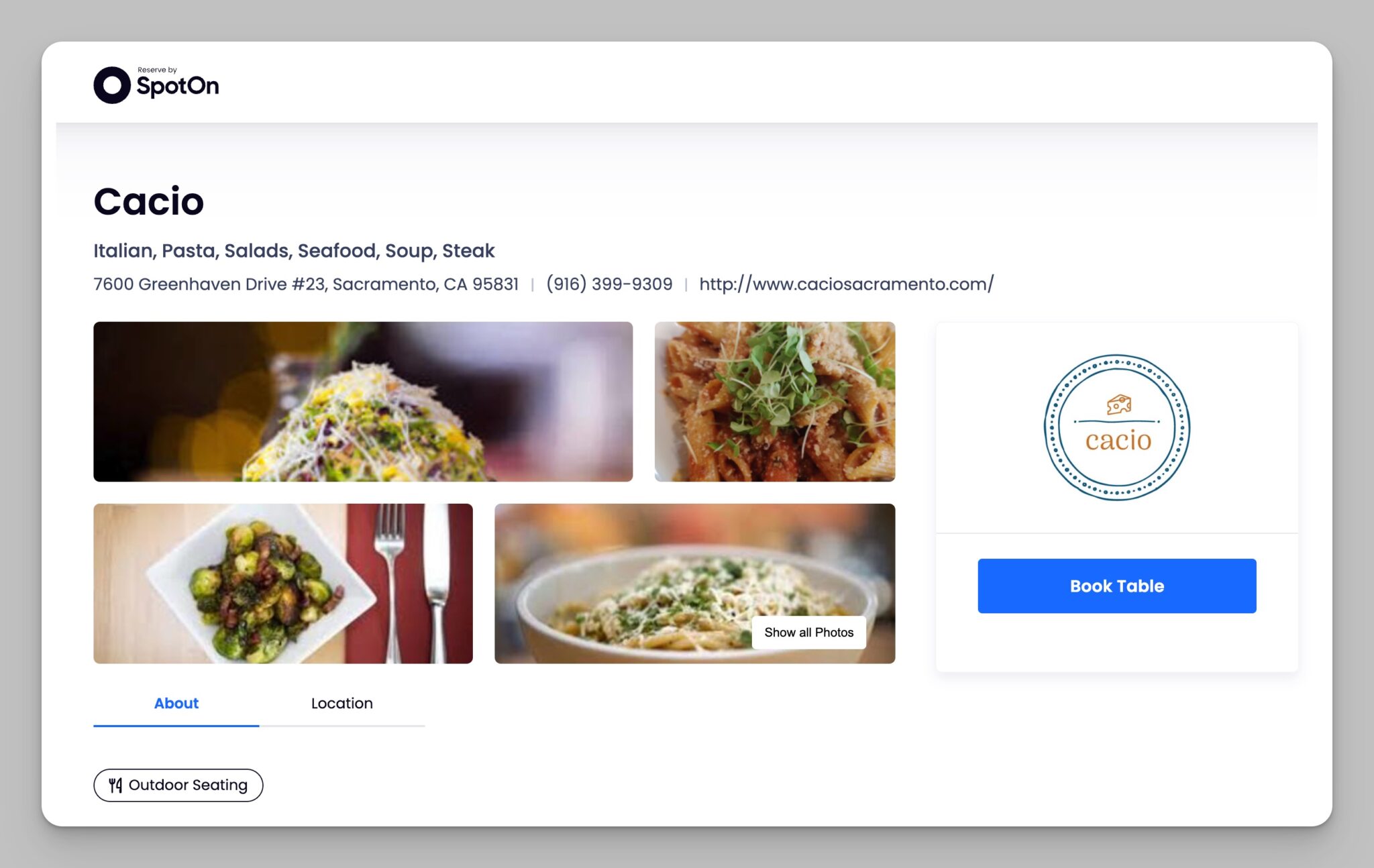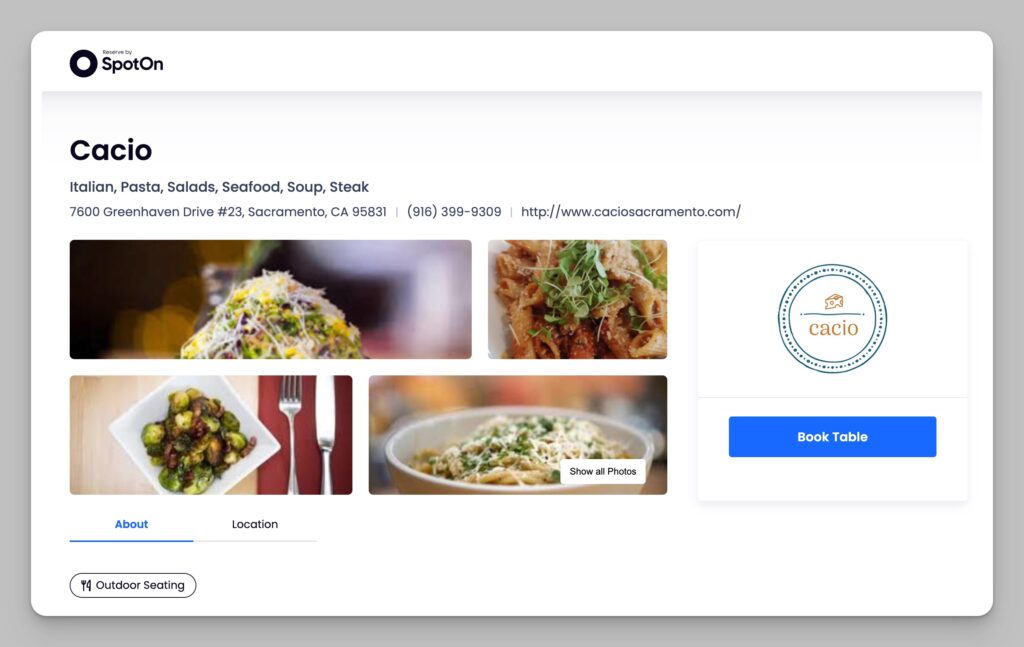 SpotOn offers a full-featured reservation and waitlist management tool called SpotOn Reserve. This includes online reservations, digital waitlisting, contact tracing, and automated SMS confirmations.
It all works together with the SpotOn POS system, making it easy to manage reservations, waitlists, and orders.
In summary, all five systems offer robust reservation and waitlist management features, each with its unique strengths.
Toast and TouchBistro stand out for their integrated systems that allow for seamless management of reservations and orders.
Lightspeed and Square offer comprehensive table management features, with Square integrating with OpenTable for reservation management.
SpotOn stands out for its comprehensive reservation and waitlist management feature that includes contact tracing and automated SMS confirmations.
Retail and E-commerce Management
In the context of modern cloud-based POS systems, the focus is no longer only on transaction processing. POS systems are transforming and adding features that are designed to enhance commerce and customer interactions.
A rising trend among restaurants is the exploration of new income streams through the selling of retail products.
This could be branded merchandise, pre-packaged food items, or even gift cards, all contributing to an enriched customer experience and increased revenue.
In the following section, I will take a look at how the 5 POS systems cater to this expanding need for retail and e-commerce capabilities.
Toast: Its strong points lie in a comprehensive online ordering and delivery management system. It offers real-time tracking, efficient driver assignments, and customer updates.
Toast's Mobile Order & Pay, along with its contactless payment options, make it a breeze for customers to order and pay, and the integration with Google gives your restaurant extra visibility.
TouchBistro: This system shines with its multi-touchpoint ordering system. Not only can customers order through your website or TouchBistro Dine, but they can also use social media platforms.
The integration with TouchBistro Marketing lets you target promotions at your diners, making it an interesting choice if you're keen on effective marketing campaigns.
Lightspeed: If you're thinking of expanding your restaurant's reach online, Lightspeed's eCom system has got you covered. This includes everything from online reservations and curbside pickup to inventory management and promotions.
A unique feature is its ability to build a retail-capable website, perfect if you're interested in selling branded products or gift cards.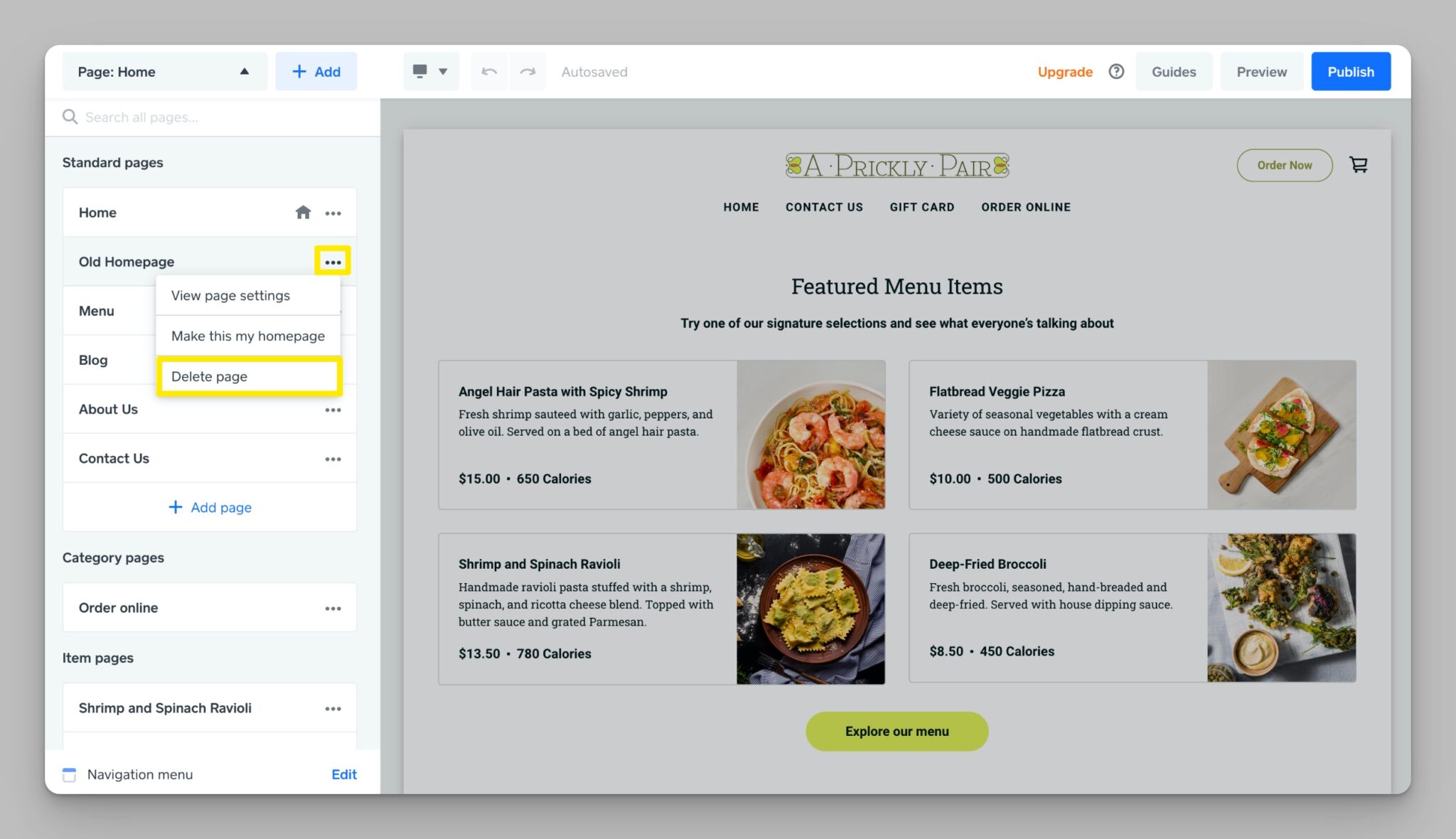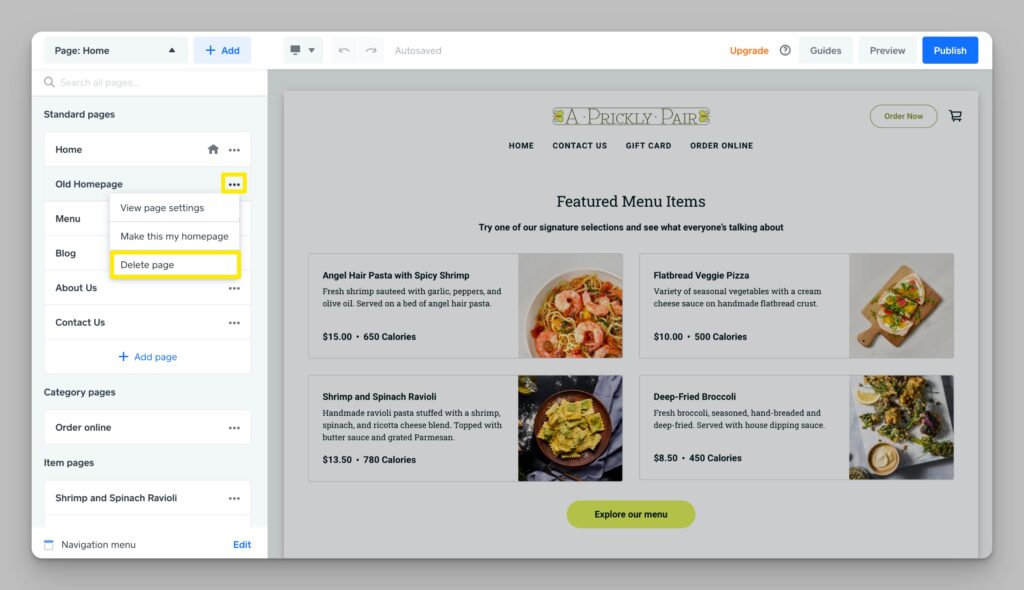 Square: Square Online stands out with its free add-on that allows restaurants to build and design their own websites for online ordering. Its Google integration is also a great plus, making your restaurant easily discoverable.
Like Lightspeed, it allows you to build a website with retail capabilities, allowing for an extra revenue stream.
SpotOn: SpotOn provides a more customizable solution, offering flexibility in menu building and table layouts. It keeps the customer's experience smooth with Google integration, online ordering, curbside pickup, and more.
Similar to Lightspeed and Square, it also offers website building with retail capabilities.
In summary, all five systems offer robust e-commerce platforms that support online ordering and delivery services. However, there are differences in their capabilities when it comes to reservations and selling retail items online.
Toast does not offer built-in retail systems, while TouchBistro does not support selling retail items online. Lightspeed offers both but requires a separate subscription for its e-commerce platform. Square offers a comprehensive retail solution, but its reservation system is not as robust as some of the other systems. SpotOn has website-building capabilities for a webshop with products.
Best Restaurant POS – My Conclusion
As you've seen, there are a lot of great cloud-based restaurant POS systems out there. When reviewing the top systems, Toast stands out as a leader in the market. With its scalable software, customizable features, and integration capabilities, Toast is able to accommodate restaurants of all sizes and needs.
This flexibility, combined with its comprehensive restaurant management tools for order, inventory, labor, CRM, and more, makes Toast a dominant force in the restaurant software market.
Other top systems like Lightspeed, TouchBistro, SpotOn, and Square offer their own strengths as well, so it depends on your restaurant's specific requirements. But, if you need omnichannel order management, excellent data insights, and seamless growth capabilities as your business expands, Toast has the solution.
Though Toast's availability is limited in many countries, TouchBistro and Lightspeed serve as excellent alternatives for those seeking a more widely accessible solution.
FAQ