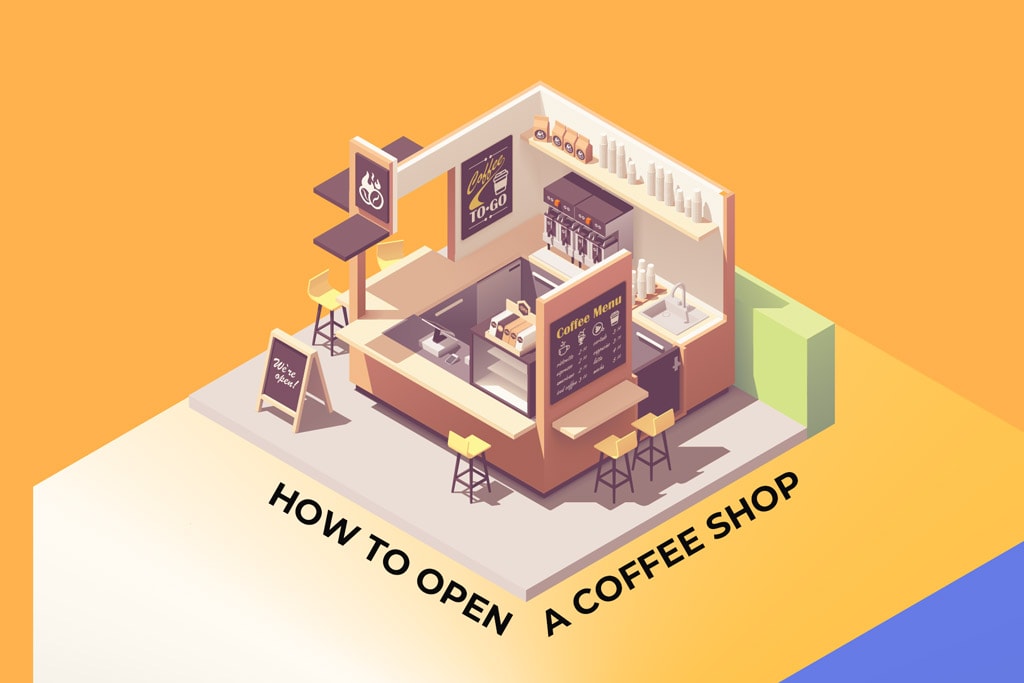 Are you ready to start the journey of becoming a coffee shop owner? Are you looking for a step-by-step guide that will help you along the way?
Then you have come to the right place.
In this 6 part guide I'll cover everything from finding your idea and coming up with a business plan, to marketing strategies and setting up the space itself.
What are the first steps?
Friends and family regard you as a real coffee lover, and now you want to know how to open your own coffee shop. You know everything there is to know about coffee; you think, sleep and dream of coffee but have never owned a business.
If you are serious about opening your coffee shop but are a business newbie, this will be an essential read for you.
First, a word of caution. In a survey conducted in the United States on 250 independent coffee shops, 50% to 70% closed down within the first five years of operations.
The main reason for these failures was a lack of planning. The second reason was undercapitalization, meaning a business does not have sufficient money in the bank to cover the cost of day-to-day business operations.
Undercapitalization can also cause a company to be unable to pay its creditors.
How much does it cost to open a coffee shop?
The total costs will vary depending on the kind of coffee shop you're opening, the location of your business, and other factors.
With that in mind, an average coffee shop with a physical location can cost anywhere from $25,000 to $300,000 to open. Small coffee shops like mobile coffee carts and coffee stand usually require between $16,000-$25,000 to get started. (Source).
Failing to plan means planning to fail
Opening a business requires planning, which begins with putting your thoughts and ideas down on paper.
If you are serious about opening your coffee shop, you need a business plan. Consider your business plan the road map to your success.
Once you mentally commit to opening the coffee shop of your dreams, then it is time to begin your business plan. Here you have two choices.
You can hire someone to write the business plan for you, or you can write it yourself with the help of a template. Having someone write your plan for you can vary with cost depending on your plan's complexity.
Using your business plan to raise capital must be very comprehensive and require much financial information if you present your project to a bank or an investor.
Let us presume that you have been making notes and scribbles through the dreaming and thinking stage, so get your mind ready to start your coffee shop or cafe.
Here we go!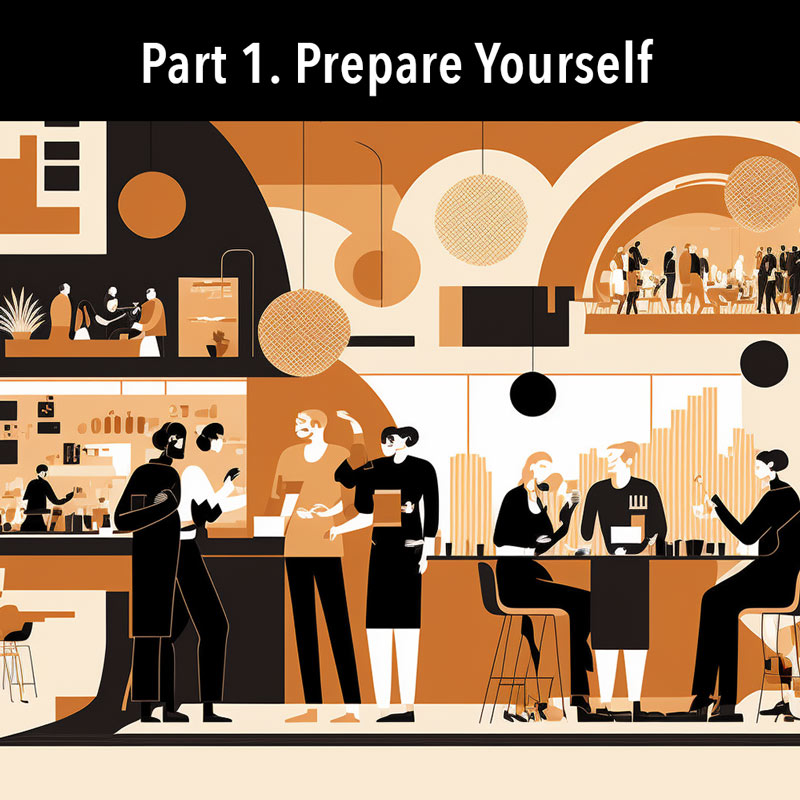 Part 1. Prepare Yourself to Start a Coffee Shop
Learn everything you need to know about running a successful coffee shop business
To succeed in any business venture, gaining as many practical skills as possible is essential.
If you are starting a coffee shop, this article presumes you have several years of experience as a server, barista, and possibly a manager. As a result of that experience, you are very confident in your ability to create the coffee shop of your dreams and make it a roaring success.
One of your many skills is being good at dealing with people, both above and below you, in the staff pecking order.
It pays to learn everything you can about best small business practices. Many websites can provide small business tips, and your local library is a good source, providing books such as Small Business for Dummies.
Though it might appear to be an uphill task, outlining your vision on paper will help to clarify many issues and obstacles. Seeing it on paper will open your mind to issues and possible obstacles.
Writing down the ideas buzzing around in your head will also generate enthusiasm and build up a head of steam.
Though the more you write down seems to bring more issues, this is a good thing. You should identify issues and obstacles in the beginning stages.
Outlining your strategy ahead of time will help you tackle challenges as they come and will help you smooth the path toward your goals.
For this reason, this guide is very comprehensive and covers most of the points you need to know about opening a coffee shop, helping to transform your inkling of an idea into a full-blown business venture.
Find a mentor to guide you
Ideally, you have those years in the coffee shop business as a barista, a server, or a manager. You have developed a number of contacts and experience in the coffee shop business. Make a short list of people who may be willing to mentor you.
The best individual to act as your mentor is someone who has already traveled the same small business journey you are about to undertake. The ideal person could be found outside your workplace, in a small business association, or even in your extended family. Ask around amongst your friends if you are still waiting for someone to come to mind.
A great mentor can make the difference between failure and success, not just in the beginning stages but as a guide for when your coffee shop is up and running.
Define your goals and aspirations for your coffee shop business. What do you want it to achieve?
Be clear in your mind on what a successful coffee shop business means to you. Visualization is a great tool. If, in your travels, you have come across a coffee shop that impressed you and kick-started your dream, get a picture of it and place it on the wall above your desk.
This is your goal. Someone once said that if you can dream it, you can become it. In your case, it is becoming the owner of that successful coffee shop.
Know precisely what the cafe interior looks like, the brands of coffee you will sell, the patio design, the type of staff you will hire, how many, and how much money you will make each year. Keep in mind money should not be the primary goal.
Decide if you want to start your own cafe, join a franchise, or buy an established business
When starting a coffee shop, you usually have three ways. You could start from scratch and open a new shop; you could open a coffee shop franchise or buy an existing coffee shop for sale.
This guide will mainly cover how to start your own cafe.
If you're interested in opening your coffee shop, you'll need to decide whether to complete the process or hire someone else to do it for you.
If you choose to do it yourself, you'll need to determine where you want to locate your store, how much capital you have available, and what equipment you'll need.
If you choose to hire someone else, you'll need to figure out how much money you're willing to spend, who you want to hire, and how much experience they have running a successful coffee shop.
You can also opt to open a coffee shop franchise. This gives you access to a well-established brand name, clientele base, and proven systems. But you'll still need to find a franchise offering the specific features you want in a coffee shop.
Once you've found a suitable franchise, you'll need to negotiate the contract terms and sign a lease. Then you'll need to ensure you meet the franchisor's requirements for ownership and management of the location. Finally, you'll need to apply for approval to become a franchisee.
Finally, you can purchase an existing coffee shop that is for sale. This is often referred to as buying a "turnkey operation," meaning the owner wants to sell their business rather than continue operating it.
To purchase an existing coffee shop, you'll likely need to invest some money upfront in paying off outstanding debts and cover ongoing expenses. You'll also need to consider how long the current owners plan to remain in business, whether they intend to continue making changes to the menu and operations, and whether they'll continue providing support to help you succeed.
Who is your ideal coffee shop customer?
Your first job starting on the road to a successful coffee shop is determining exactly what type of coffee shop it will be.
Will it cater to morning workers requiring their caffeine hit before starting the day? Or do you see it catering to office workers and the lunch crowd? Will it be in a business area or out in the burbs?
Maybe you have seen a need in the area you live in for a coffee shop for local business owners and moms out exercising with babies in strollers.
This relates to the previous item in deciding where you plan on opening your cafe. Obviously, the customer in a suburban coffee shop will be different than the customer in a downtown coffee shop.
Determining where you plan on opening your coffee shop will determine the type of customer you will draw. Remember, no business can be all things to all clients or customers, so planning your location is very important.
Once you have determined your ideal customer, it's time to plan for marketing your cafe business.
Make sure your pricing is competitive. Keep in mind that underpricing could send the wrong message. A low price per cup could mean your customers are thinking low quality.
From day one, initiate a loyalty card. This is a very cost-effective marketing tactic and will keep customers coming back if the reward is sufficient. Remember, when you are giving away drinks, it is affecting your bottom line or profit.
If you begin with a loyalty card program from day one, build the cost of the drink giveaways into your marketing budget. Remember, there are cheaters in customer land, so make sure you use a distinctive hole punch to punch the card.
Make sure you are active on social media and consider starting a blog on coffee or your shop. Instagram, Facebook, and Twitter are great for building brand awareness, as well as Reddit and Yelp.
Talk to your suppliers about marketing materials for your shop. You can even hit them up for freebies. Ask the wholesalers for some advertising support if you plan on selling some brand-name products. Don't be shy. If you don't ask, you won't receive.
An old saying goes like this: "Build a better mousetrap, and the world will beat a path to your door." My response is; the world has to know you have the better mousetrap. That is where a good marketing plan comes into the picture.
Don't regard "build it and they will come" as a believable marketing slogan. If you want to build up your customer base and create loyalty, it requires a lot of thought and good marketing. The marketing plan will be one of the cornerstones of your business plan.
Research your coffee shop's competition
Learn all you can about your competition. There might be two or three competing coffee shops in a given location, and the common thread of selling coffee joins all.
However, they are differentiated by a number of factors such as opening hours, being part of a chain, being a stand-alone, or even the type of food they sell.
Do some background study by checking their websites and viewing comments on such websites as Reddit or Yelp. You could also politely and unobtrusively ask customers who have exited the coffee shops what they like about the shop they chose.
In addition to finding out what is different between the existing shops, a great way to gain insight into customer preferences and what works in the local area is to ask some potential customers.
You could get their opinion by conducting an online survey or talking to them when you are out and about. (The internet is an excellent resource for studying the competition.)
Researching the competition will also help you to determine the pricing that works in your location.
Finally, check out what type of promotions and offers the competition is running. Are there any special deals or discounts? You can use this information to create similar offers for your customers. Doing this will help you to differentiate yourself from the competition.
Once you have researched your competition and customer preferences, you will have a clearer picture of what your coffee shop needs to offer to stand out.
This is extremely important as it will help you focus your marketing plan and create an individual identity for your business that resonates with customers.
By researching the competition, understanding customer preferences, and creating an individual identity, you will be well-placed to start a coffee shop that stands out from the crowd and creates loyal customers.
How to choose the right concept for your coffee shop
When deciding on the concept for your coffee shop, there are several factors to consider. Creating a unique atmosphere that aligns with your brand and resonates with customers is essential. Here are some tips to help you choose the right concept for your coffee shop:
As mentioned above, research what other successful coffee shops in your area are doing. Take note of their ambiance, menu selection, and services to get an idea of what makes them successful. Use these ideas as a starting point for your concept but make sure to add unique touches that set you apart from the competition.
Second, think about the types of regular customers you want to attract. Consider what types of food, drinks, and services they would be most likely to enjoy. It would be best if you also considered the pricing structure best fits your target market.
Third, look into local trends in coffee culture and incorporate them into your concept. Consider the latest brewing techniques, specialty coffee beans, and innovative menu items that are popular with customers.
Finally, remember aesthetics. Pay attention to the details of your coffee shop's design and decor to create a cohesive atmosphere that customers will love.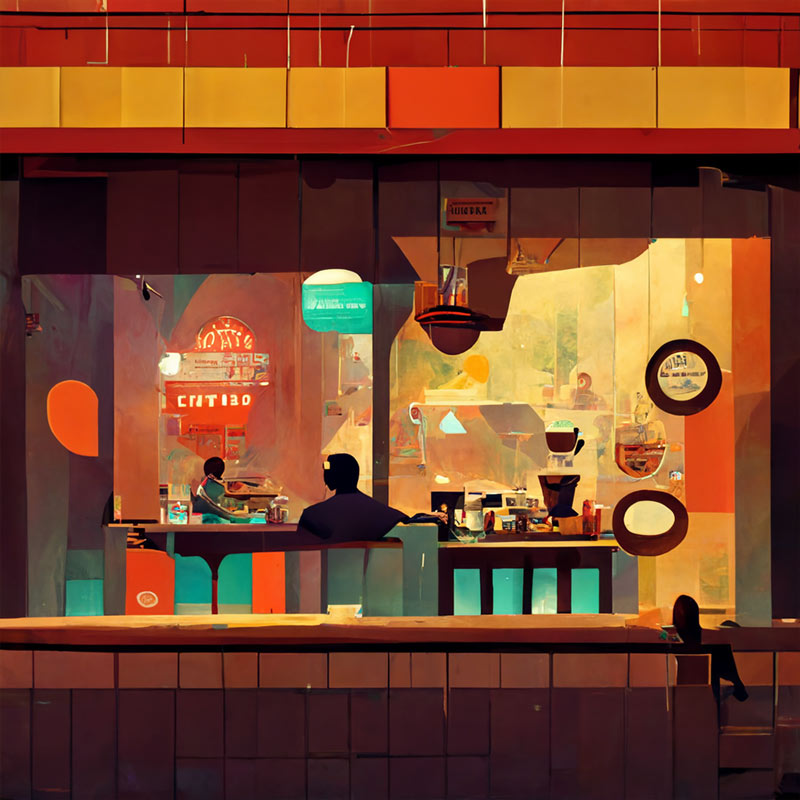 Examples of different types of coffee shop concepts
Choosing the right concept for your coffee shop is an important step toward success. By following these tips, you can ensure that your shop stands out from the competition.
Artisanal Coffee Bar: An artisanal coffee bar offers freshly roasted, single-origin coffees and hand-crafted espresso drinks prepared by experienced baristas. It features a curated selection of specialty coffees from around the world, such as Ethiopian Yirgacheffe or Kenyan AA. Customers can enjoy unique flavor profiles and select their own beans to take home.
Coffeehouse: A coffeehouse is a traditional coffee shop offering regular coffees, teas, and pastries. This type of shop is usually relaxed and cozy, with comfortable seating areas for customers to linger.
Roastery: A roastery that specializes in freshly roasted coffee beans sourced from around the world. They may also feature brewing equipment such as espresso machines, Chemex brewers, and Aeropress brewers, as well as cuppings, classes, and tastings.
Micro-Roastery: A micro-roastery is a smaller version of a traditional roasting facility focusing on small batch production and unique flavor profiles. The coffee beans are sourced from local farms and specialty importers, and the shop may also feature hand-crafted espresso drinks.
Gourmet Coffee Shop: A coffee shop featuring premium coffees, teas, and pastries made with high-end ingredients. These shops often have a more sophisticated atmosphere than traditional coffeehouses and may include other items, such as craft beers or wine.
Coffee Lab: A coffee lab focuses on educating customers about the science and technology behind making a great cup of coffee. They often feature high-end espresso machines, detailed brewing tutorials, and cuppings that allow customers to experiment with different origins and roasts.
Tea House: A tea house specializes in various loose-leaf teas from around the world and unique blends and flavored teas. These shops often have a peaceful atmosphere with comfortable seating and may include pastries and other snacks.
Read more: Types of Coffee Shops & Cafes: 10 Profitable Examples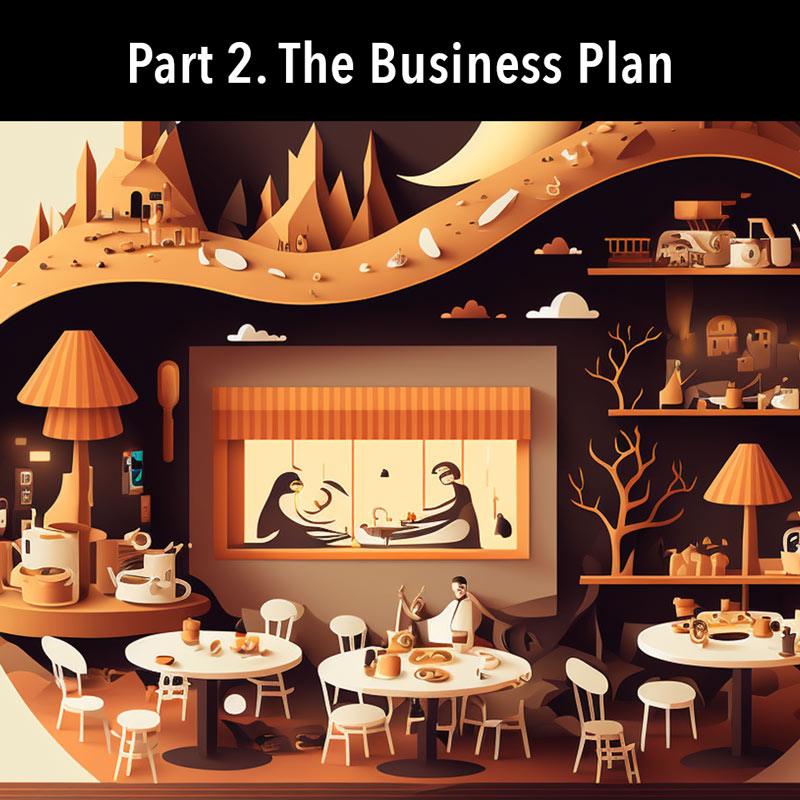 Part 2. How to Plan and Setup Your Cafe Business
It's time to start writing your coffee shop business plan
Ideas pop up at any time. Make it a habit to carry a small notebook with you or use the notes app on your cell phone and record or make notes of them as ideas come to you. These will be the basis of your coffee shop design and plan for the future.
You might be driving down a street and spot a coffee shop that stands out. If you have the time, stop in and have a coffee. Chat with the servers and make mental notes of the design and layout. There may be an aspect to this particular shop that fits in with what you have in mind in your chosen area.
It's now time to write that business plan. There are ten critical parts to a solid business plan.
The Executive Summary: An executive summary is a condensed business plan. It provides the reader with an overview of your new business plan without reading through the whole document. Keep in mind it has to be well-written and intriguing enough that the investor will want to read the entire plan.
Customer problems: What are the issues your prospective or future customers face? You might have identified a location with many prospective customers, but no local coffee shop or the existing coffee shop does not attract customers.
The solution: How you fill the customer's needs. If you have an innovative idea for a great coffee shop, then write it down in detail.
Your goals: How are you going to achieve them? What roadway do you plan to take to meet your goals?
The value: What are the core factors of your new business that sets it apart from the standard?
Financial and Pricing: How much capital do you need? How will it be spent, and if you are seeking investors, how long until they see a return on their investment?
Your business message: A compelling and clear message to the reader that explains why your plan for an innovative coffee shop is worth buying into.
Go-to-market: What are your plans to bring customers to your shop? Lay your marketing plan out in detail and tie the cost into your startup budget. You don't have to have the doors open before you begin marketing. Let everyone know it's coming and build excitement.
The investment opportunity: Exactly how much money you need and how it will be spent. This is where you need to spend some time on spreadsheets with projections for at least the next three years. Your financials should include some additional financing for the unexpected. Remember that the first two to three years are critical, and it always pays to have a financial cushion.
Plan for growth: Lay out your vision clearly. It's how you will grow the business. Do you plan on just one coffee shop, or do you have a vision for a chain?
Your business plan is your map to success. Remember that it is a fluid document that can change over time. However, it is your starting point, and if you are raising capital for your shop, your business plan must be comprehensive and in-depth.
How much money do you need to start your coffee shop?
Your startup budget will cover the cost of designing and building your coffee shop and running it for the first 12 months, possibly longer. You will need to know exactly how much money needs to be invested, and, in doing so, you should also budget in a cushion for unexpected expenses.
It is always better to have more money on hand than not enough, as one of the main causes of business failure is insufficient working capital.
Look for financing options to fund your coffee shop
How are you going to finance your coffee shop? You may have a rich uncle or some family members who are prepared to back you, but regardless of the source of your startup capital, you will need that business plan.
If you plan on applying for a loan from your neighborhood bank, rest assured they will need to see a watertight business plan and will require some collateral. If you do not have collateral, they may require someone of substance to act as a co-signer on the loan.
Whatever your source of financing, make sure you add some padding for any rainy-day problems.
How to Create a Catchy Name for Your Coffee Shop
As you begin to think of possible names for your cafe, here are four questions to help guide your brainstorming process.
Does the name of your coffee shop reflect what kind of business you have?
The name of your cafe says a lot about what your cafe is all about. Therefore, consider how you want your business to be seen and what sets it apart from other cafes. This can include the type of services you offer or the reasoning behind why your coffee shop exists in general.
Is the name of the coffee shop easy to understand and remember?
Because you will use your cafe's name in all future marketing activities, it is essential that the name accurately represents who you are as a business.
Having a name that's easy to understand is essential because people will quickly lose interest if they need help figuring out what your business is. So, if you've chosen a more obscure but cooler-sounding name, consider adding "coffee shop", "cafe", or "bar" to make it clear what you do.
Can you find an available domain name for your website?
Creating a website for your cafe and configuring business email addresses is simple once you have decided on your cafe name. All you need is a domain name.
With more and more businesses moving online, the pool of available domain names is getting smaller. Check now to see if your desired name is still available or whether you need to adjust it slightly.
The simplest method of completing this is by using Namecheap. They enable you to look up names and come up with more concepts. If the name you want is taken, try appending "coffee shop", "cafe", or your city instead.
How will the name look as a coffee shop logo?
It's not enough for your cafe name to sound good. It also needs to look good.
Although you don't need to have your logo fully designed, playing around with some drafts is beneficial. This will give you a feel for what works and what doesn't, which may impact your final decision on the business name.
You can easily do this test with Canva, and they also offer a free trial of their paid plan. This gives you access to excellent logo resources that you can use to generate your logo ideas.
Start Brainstorming Cafe Name Ideas
The more cafe name ideas you have now, the better. To help with your brainstorming, I've created a list of coffee shop names for you to browse through, categorized by type.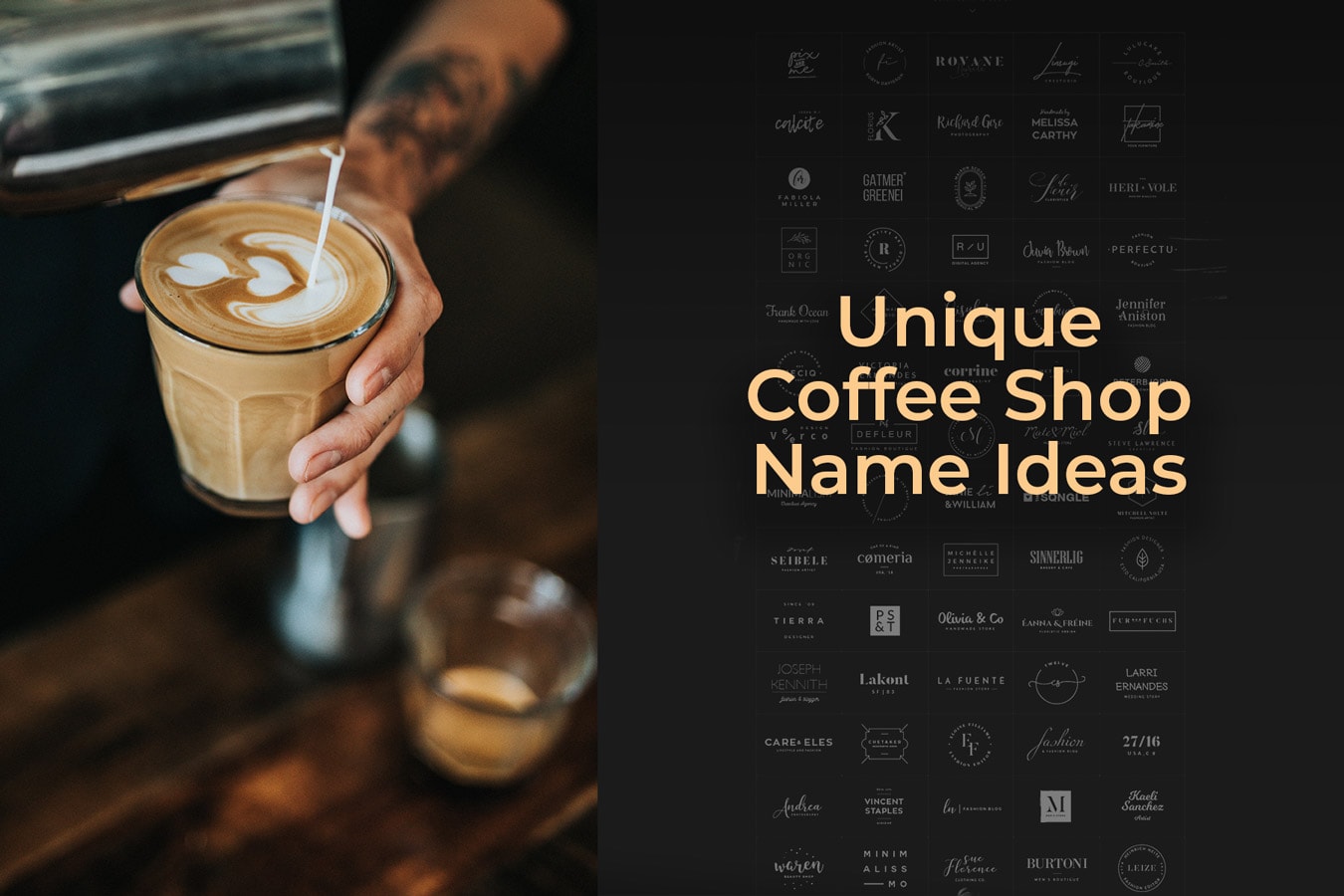 Read more: 375 Unique Coffee Shop & Cafe Names
Figure out what business model you want your coffee shop to have
An excellent resource for any budding entrepreneur is a good small business accountant. They can provide sound advice on how you set up your business structure.
If your coffee plan is for a small boutique outlet with just yourself and one employee with you providing the financing, you may want to open up as a Sole Proprietorship. This structure eliminates the cost of incorporation and reduces accounting fees.
However, if you are courting investors to back your business, you will need to incorporate the business as the investors will require shares in return for their investment.
A good small business accountant can advise you on the structure and how it can positively or negatively impact taxes. Keep in mind a corporate structure such as an LLC or a Co. or Ltd designation can protect you against some liabilities as a business owner.
Get your coffee shop business registered
Once you have decided to take the plunge, you need to register your business, whether you are a sole proprietor or a corporation. You will need to open a business account at your local bank, and the bank will need to see your registration or incorporation documents.
If you have decided on a name, conduct an online search to see if it is available. Remember that a name that is available as a sole proprietorship may not be available as a corporation, so it pays to search for both.
You may start your business as a sole proprietor, but if the business is showing growth, you may need to incorporate it.
To open a coffee shop, you must obtain the proper licenses and permits.
Once you have decided to open your coffee shop and work on your business plan, you need to begin making a list of all permits and required licenses in place before opening your doors.
A short list is as follows, but remember, this can change depending on the jurisdiction.
Local business license
Local health board certificate
Tax numbers (Federal and state)
Retail Food Service License
Resale License for Sales Tax
Sign Permit
Coffee Shop Insurance
Food Handler's Permit
Building Health Permit
Live Entertainment License (If this applies)
Liquor License (If catering to evening crowd)
State workers coverage
This is just a general list; some may not apply where you live. You can check online with your local government.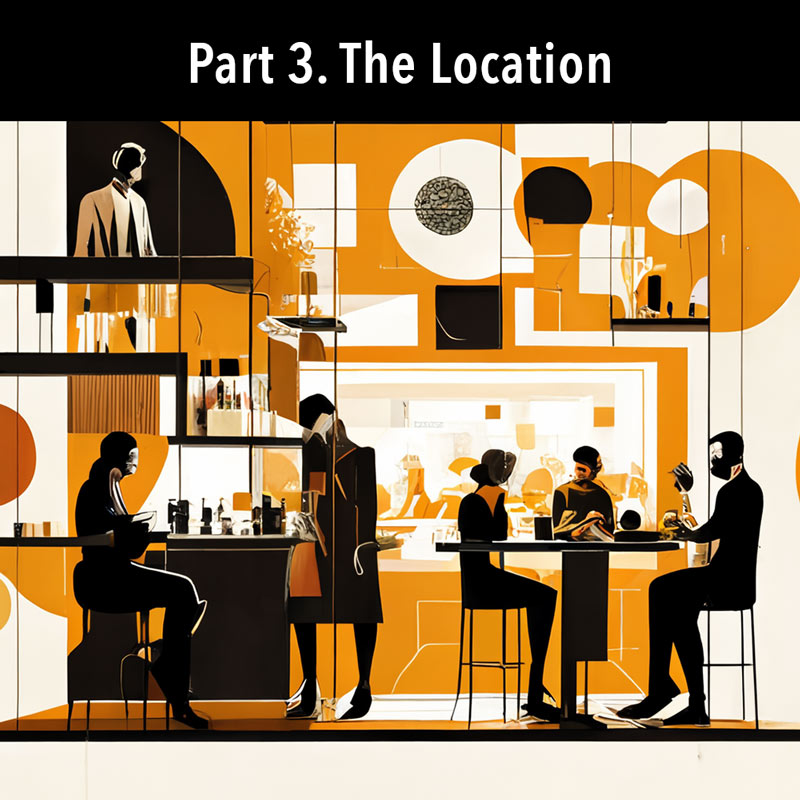 Part 3. Creating Your Ideal Coffee Shop Space
Selecting the right coffee shop location
If you haven't already, write down Location, Location, Location. Believe it or not, sometimes the best location for a coffee shop is kitty-corner to an existing coffee shop.
A crucial point in choosing the location is what type of customer you wish to cater to.
Your location should provide both visibility and ease of access. Choosing the right physical space is critical for a brick-and-mortar business. Think about why you find many coffee shops, cafes, and restaurants in high-traffic areas.
Only let the cost of rent affect your decision on a commercial space if you are on a very tight budget. A low-rent, poor location might be a tough sell to prospective customers unless you have a brilliant coffee shop concept and a great marketing plan.
Keep your business and yourself safe with the proper insurance
Understandably, you may want to save money when opening a coffee shop, but your insurance should not be where you do so.
This could cost you a lot of money if you're not careful. Some insurance is also required in most states, so make sure you're familiar with the laws in your area.
If you plan on hiring anyone for your business, finding a reputable insurance provider to discuss the different insurance policies you need is essential.
If you need to take out a bank loan, they will ask for evidence that you have the proper insurance coverage. This includes protection from fire and flooding as well as business interruption cover.
However, food service insurance doesn't have to be expensive. Hiscox is an insurance provider that covers food and beverage businesses, among other industries.
Their website also provides a simple questionnaire to check how much insurance for your coffee shop would cost.
Get an insurance quote for your cafe to budget appropriately for the future. It's free and easy to do!
Creating your coffee shop's floor plan
Again, this is where research comes into play. Visit as many coffee shops as you need to get an idea of the optimum use of space. Take photos where you can and, later, sit down with a large sketchbook and layout your shop.
Get inspiration from furnishing and design magazines. Look for the top ten lists in the coffee shop industry. You'll find plenty of ideas to get you started.
Read more: 10 Low Budget Small Restaurant Design Examples
Once you have a general idea of your cafe's layout and determined the location for your coffee shop, it is time to plan out the layout of your space. This includes where you will place seating, items like a barista station and cash register, restrooms, and other elements necessary for daily operations. One way to approach this task is by creating a floor plan.
A floor plan is a drawing that details the placement of all elements within your coffee shop. It should also consider customer flow, traffic patterns, and placement of your coffee shop POS (Point of sale) system.
Read more: How to Design a Restaurant Floor Plan (+ Layout Examples)
It would be best if you also took this opportunity to consider how you'll decorate your space. Everything needs to work together, from paint, furniture, lighting, and artwork, to create a cohesive atmosphere for your customers. Focusing on the small details here can bring your space to life.
A good interior design agency can help you if you have the budget.
Read more: Discover the secrets to transforming your home into a cozy coffee shop.
Get the coffee shop equipment and tools you need
It's also important to consider all of the necessary tools you'll need, like grinders, espresso machines, and other coffee-making items. This includes the basics, like takeaway cups and lids, napkins, teaspoons, and sugar containers.
As you are researching different coffee shops, take notes on what they have that you could use in your cafe.
One of the most important steps is finding a good local coffee roaster to source quality beans from. You'll start by researching online, talking with friends and family members, and getting recommendations from others in the industry.
Once you have narrowed it down, visit each roaster, sample their coffee, and note the strengths and weaknesses of each one. Finally, take advantage of helpful resources to help you explore local coffee roasters and find the best beans for your shop.
Most towns and cities have used restaurant equipment stores. If you have limited funds, these places are ideal. Many of them will also offer limited service deals in case of equipment failure or breakdowns.
Make a list of what you need and shop around. For a coffee shop, you can pick up chairs and tables on an online service like Craig's List to save money.
If you are creative and a handyman or handywoman, do your own painting and decorating. Get friends and family to help. This can save you a bundle.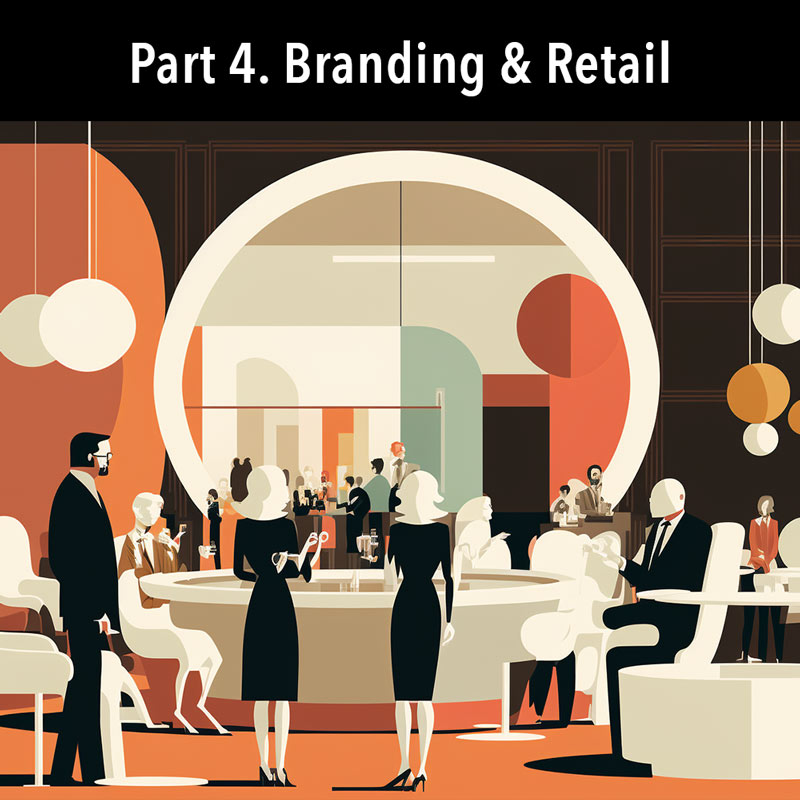 Part 4. Develop a Coffee Shop Brand and Retail Offer
Now that you have picked your coffee shop location and met all the legal requirements to open a business, it is time to ask yourself what sets your cafe brand apart from others?
Design a Cafe Logo
Your logo is one of the most important aspects of your cafe brand. You'll use it on everything, from social media to your website to business cards. So you want to make sure you get it right.
When designing the logo for your coffee shop, it is vital to capture the essence of your unique identity.
Keeping it simple will ensure that your customers remember you and help them identify your coffee house from the competition.
Consider using colors, shapes, and illustrations that evoke a positive feeling surrounding your coffee shop's retail products.
There are three ways that you can go about creating your logo. Either hire a marketing agency, find a logo designer on a marketplace like Fiverr, or do it yourself.
Using a marketing agency will cost you a bit more but ensures you get a perfect result. However, you don't need to be a graphics guru today to create a professional logo.
Using their online service, you can use Canva to generate a logo for you in just a few minutes.
It's super easy to use, and you get to see the result before you buy, so you know what you get.
A powerful logo and tagline have the potential to draw more people into your coffee house, so take time to create something unique.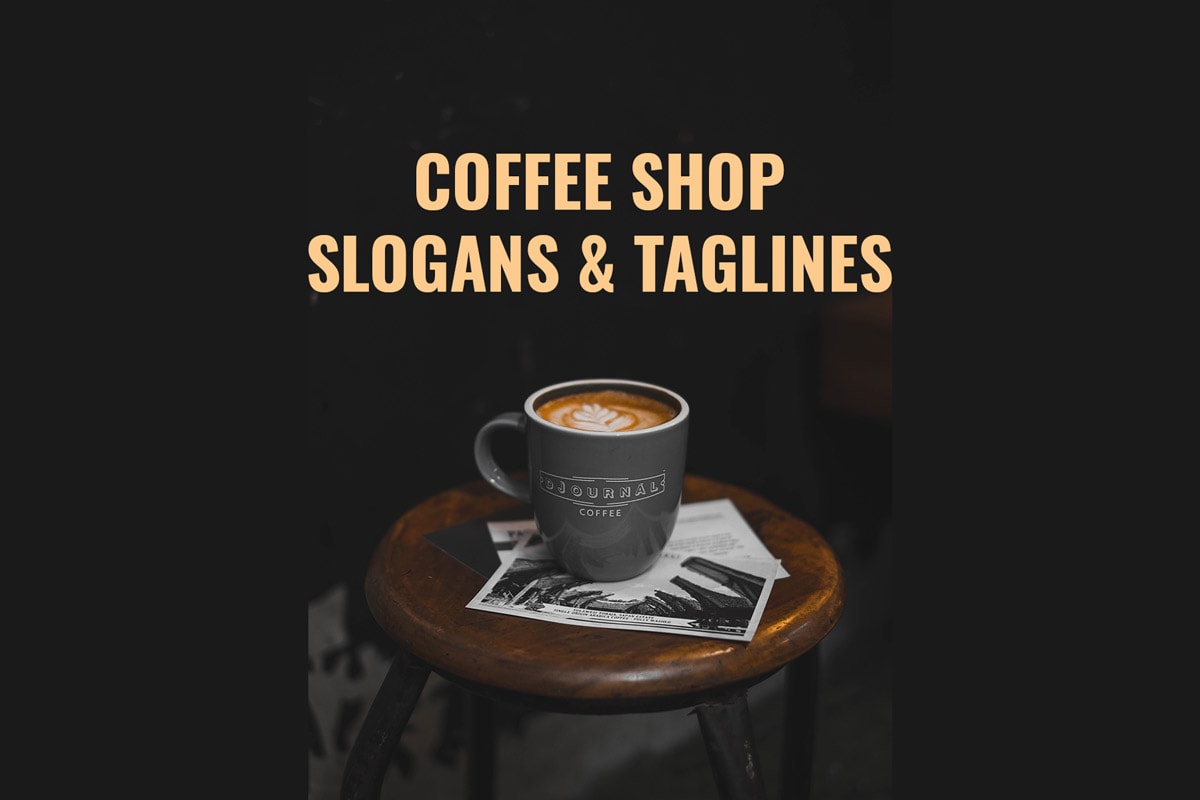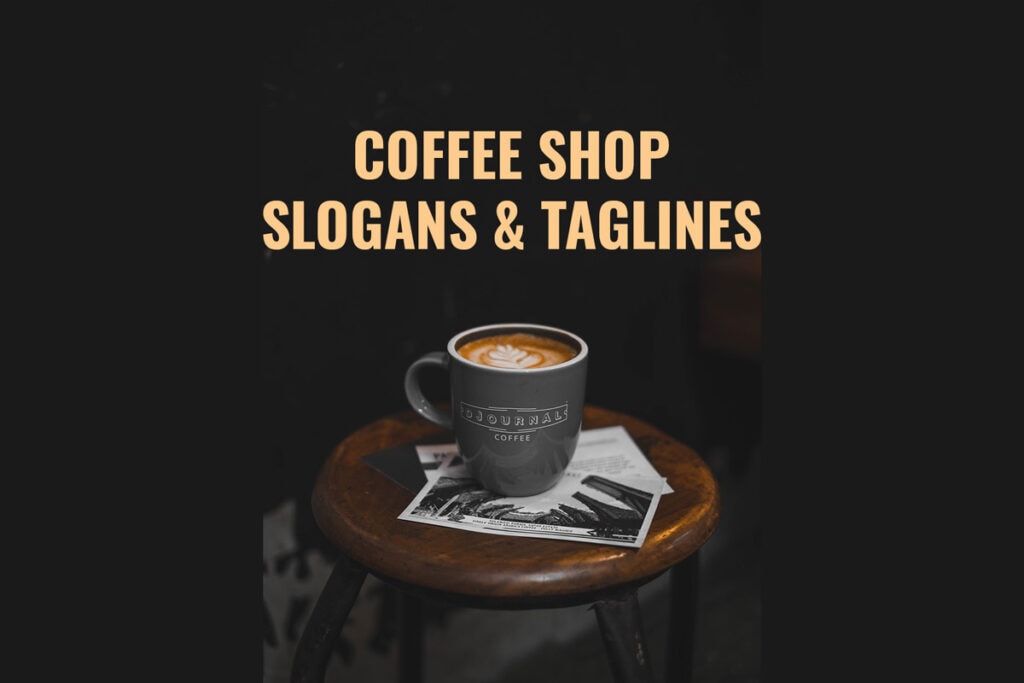 Read more: 175 Catchy & Unique Coffee Shop Slogans
Create a Visual Identity
Your coffee shop brand is much more than just your logo; creating a unique, visually compelling identity for your coffee shop should be an integral part of your overall business strategy.
Think about the colors, fonts, and visual language you want to use – how do they express the personality of your coffee shop?
Consider how each element of your coffee shop's identity will fit and interact with one another; how might customers recognize aspects of your coffee shop retail products in different places?
Utilizing consistent visuals and messaging across all touch points ensures that customers have a memorable, positive experience when they shop or visit your coffee shop.
Assembling your brand messaging is a delicate task that must be handled carefully. How you communicate your message will determine whether or not it resonates with those who matter most – your target customers.
If you're looking to attract an older crowd to your cafe, using bright neon colors and rap music probably isn't the way to go. You'll have more success if you stick with traditional, muted colors.
It would be best if you were always representing your brand in the same manner, whether through the colors of your coffee shop or how you communicate online.
People should feel connected to your cafe even if they don't see your name or logo.
Your guests should feel strongly connected to you through your visual identity.
I suggest you hire a marketing agency to form a visual profile for your coffee shop brand.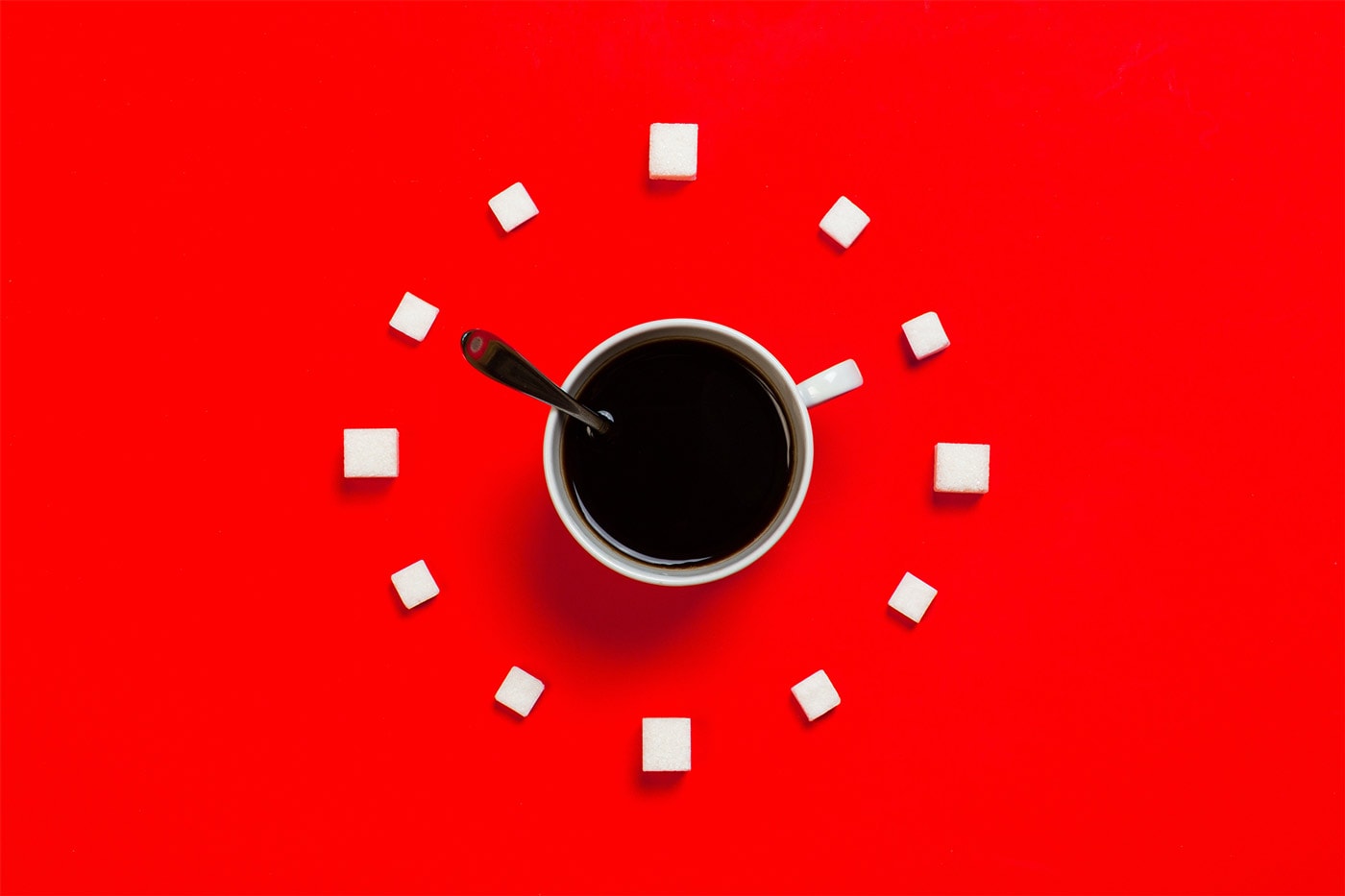 Read more: 18 Unique Cafe Design & Branding Examples for Inspiration
Create a profitable cafe menu
Creating a successful cafe menu is key to generating profits. Research the local demand for cafe dishes and drinks, and think of creative ways to combine ingredients.
Different coffee shop menus can vary significantly in their offerings and pricing strategies, so carefully analyzing each item for profitability is a must.
To ensure the coffee shop menu offers a good selection, it should focus on things that customers value most, such as organic coffee beans and popular coffee drinks.
Additionally, coffee shops should regularly evaluate each item's effectiveness in boosting sales and profits by carefully monitoring average ticket sales values. Creative pricing strategies can also help coffee shops increase profit margins without deterring customers from purchasing.
With the proper coffee shop menu selection, businesses have great potential to initiate and sustain success even in a highly competitive market.
Read more: 55 Examples of Restaurant Menu Designs for Inspiration
Decide on your coffee shop retail products
Offering coffee shop retail products to customers is an excellent way to increase value, create customer loyalty and generate more revenue. A coffee shop can provide coffee beans, coffee maker accessories, mugs, t-shirts, or even locally sourced items connected to the cafe's theme, history, or location.
This provides customers with unique souvenirs and options they might not be able to find otherwise. Retail offerings can also help branding efforts while providing a fantastic experience to customers that they won't get elsewhere, making the coffee shop stand out from competitors.
With the right strategy, having coffee shop retail products in your coffee shop can be a great way to expand your business growth further and create an engaging atmosphere for patrons to enjoy.
Think outside the box. I know it's a clichéd saying, but it works if you create a coffee shop that is unique and that your customers want to keep coming back to.
Do you plan on scaling up into take-outs?
If you plan on scaling your cafe's business into take-outs, ensure you have the right equipment and tools. This includes a robust POS system that can manage orders, inventory tracking, and customer service features for customers who place orders online or via phone.
You should also invest in quality disposables such as takeaway cups, lids, and containers for food.
Sell specialty coffee online
A specialty coffee shop can use the internet to sell its specialty coffee online, creating an entirely new market for its product. To do this, you can create an online store that offers customers the option to purchase specialty coffee beans and specialty brews directly from the comfort of their homes.
The shop might also consider partnering with existing e-commerce platforms such as Amazon or Etsy, allowing them to expand their reach even further.
Additionally, investing in social media marketing strategies can be an excellent way for specialty coffee shops to promote their products and ensure potential customers know about their specialty coffees.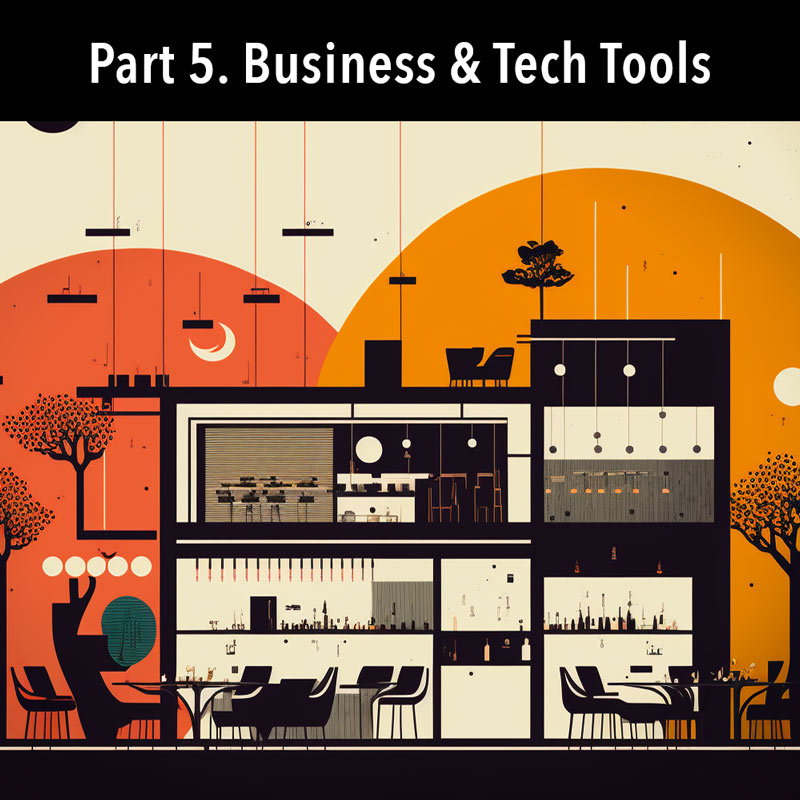 Part 5. Get Your Business and Technology Tools Set Up
Get a system that helps you take mobile payments, manage finances, inventory and staff, and business reporting.
Invest in a top-notch coffee shop POS system
Investing in a POS system can benefit coffee shop owners and their customers. Not only can it improve customer experience with its quick checkout process, but it can also allow coffee shops to manage their inventory more effectively.
With the help of these POS systems, coffee shop owners can track sales data and employee performance. Furthermore, there are features such as loyalty programs that can increase coffee shop revenue by encouraging returning customers to purchase more from their store.
From improving order accuracy to streamlining the checkout process, POS systems are designed to minimize mistakes, reduce labor costs, and improve customer service.
POS systems can also generate detailed reports that give coffee shop owners valuable insights into their businesses performance and enable them to make informed decisions.
With more efficient methods of managing inventory, accepting payments, and tracking sales trends, coffee shop owners can stay on top of their operations and increase profits over time.
---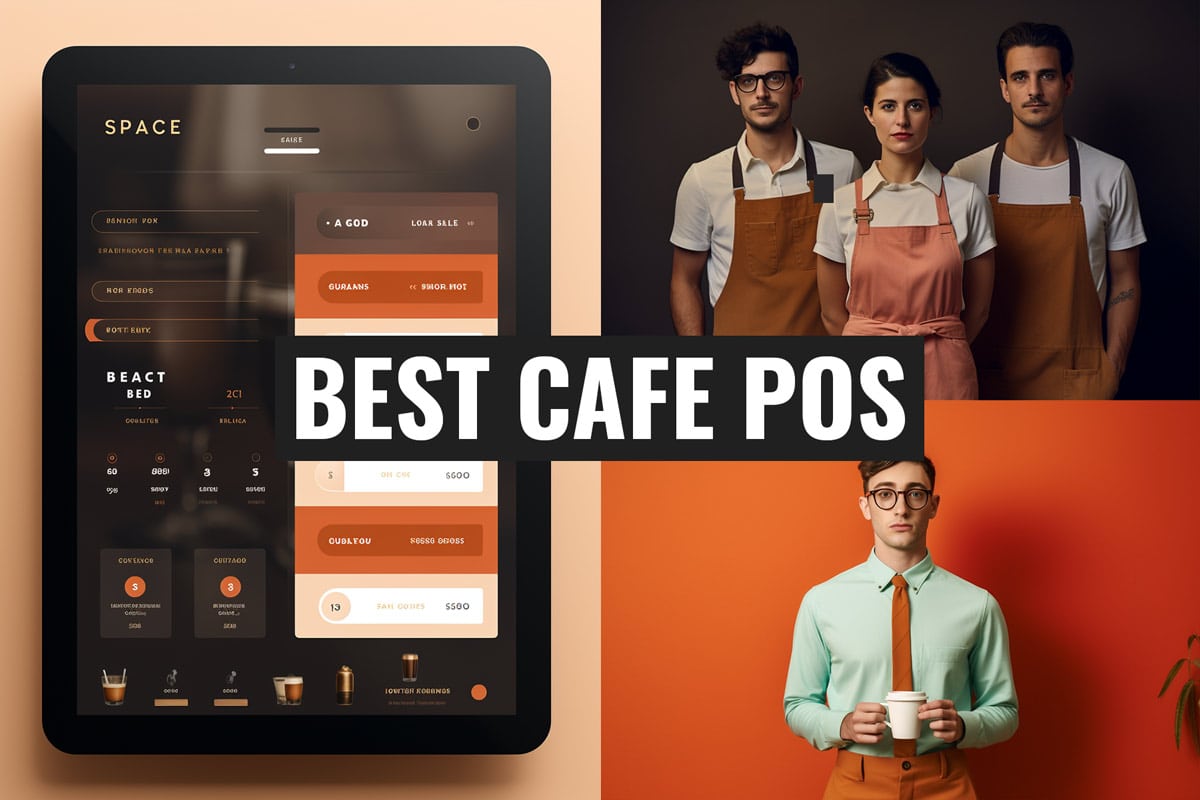 Read our guide to choosing the Best Cafe Point-of-Sale (POS) System.
---
You first need to register a domain name to have a professional email.
Creating a domain name and email address is one of the best steps to creating a professional image, no matter your industry.
Even if you are operating a small coffee shop or starting out, investing in a custom domain and email address is essential for adding polish and professionalism to your digital presence.
With a professionally branded domain and email, customers can easily find and remember your coffee shop and contact information – critical components for any successful business.
Establish your cafe website and email address
Whether you are just starting or have been in business for years, an effective coffee shop website can help attract and inform potential customers about your products, services, and events.
With the correct information, such as descriptions and images of the coffee you serve, contact information, location details, and more, your coffee shop website will act as an online hub and help establish your coffee shop's presence on the web.
Furthermore, having a website allows you to interact with customers in a whole new way through features like payment processing, customer feedback, and social media integration.
With a bit of guidance and effort, creating a coffee shop website could be the best investment you make in providing a better customer experience.
You have two choices when it comes to creating your cafe's website:
You can either create your website using a website builder or hire an agency to do it for you.
It's not difficult to create a website today. You don't need to know any coding to do so. So if you're on a small budget, I recommend you do it yourself.
See my review of the best website builders for food service businesses.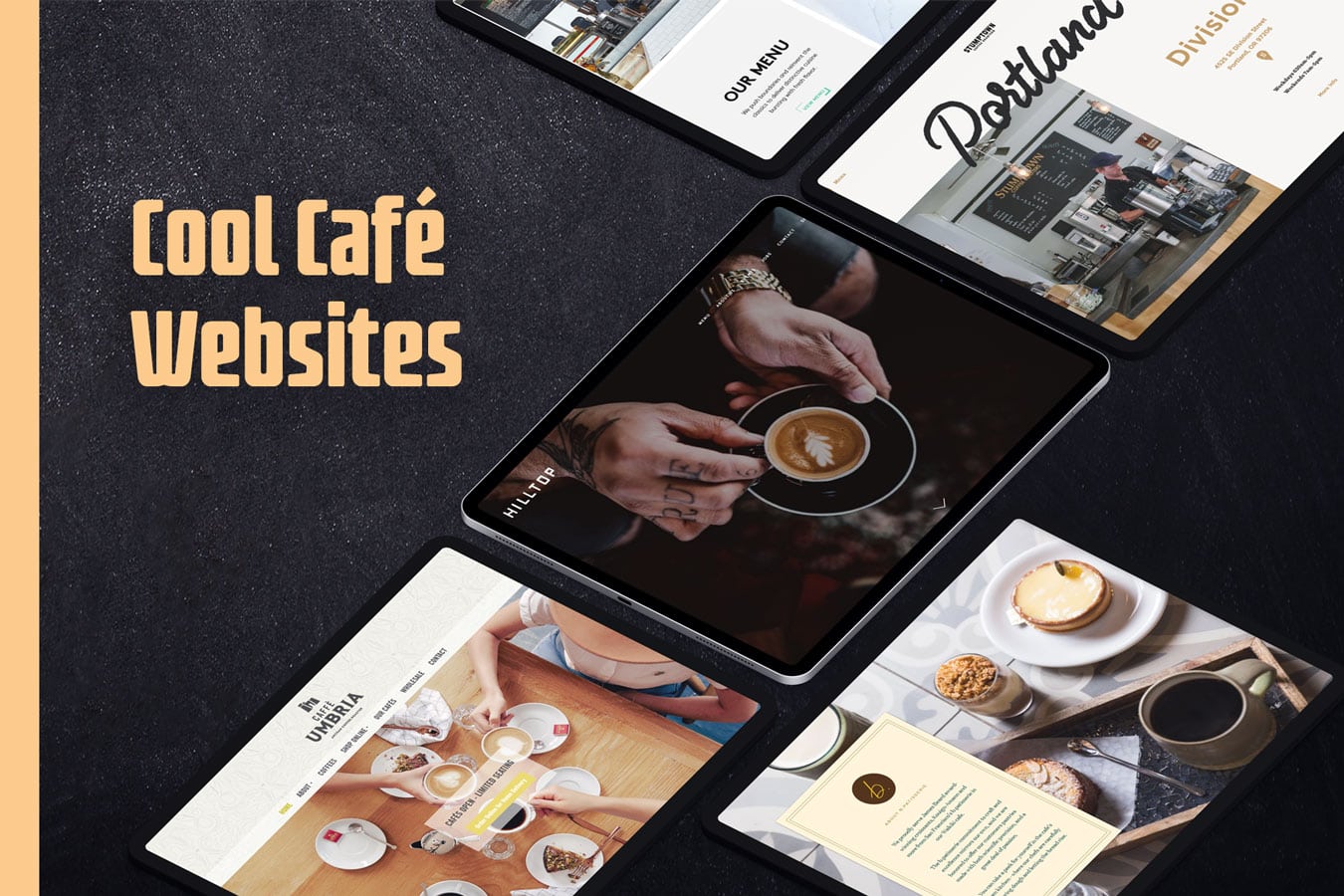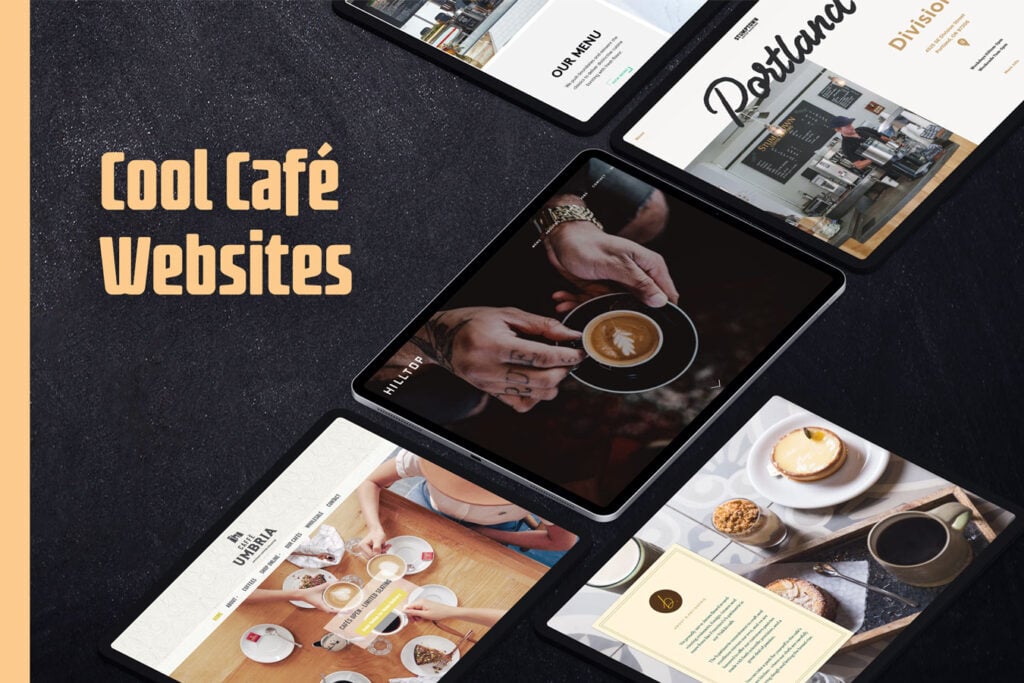 Read more: Best Coffee Shop & Cafe Websites For Design Inspiration
Getting your coffee shop's social media up and running
A coffee shop can use social media to get more customers by showing off the innovative and delicious coffee drinks they offer and giving their followers exclusive offers they may not find anywhere else.
By interacting with customers, coffee shops can cost-effectively increase their customer base.
Additionally, coffee shops that engage with customers and answer questions on social media create a better customer experience and will boost consumer confidence when visiting the coffee shop in person.
These strategies provide coffee shops an excellent opportunity to build relationships with their customers, establish loyalty, and use the power of social networks.
It's no mystery that social media is essential for any business, including a new cafe.
You need to start promoting your new coffee shop on social media immediately if you want it to be successful. This is where your potential customers are, and this is how you can get visibility for your business.
But where should you start? I understand that feeling overwhelmed is common, but social media does not have to be daunting.
It's easy to spend hours on social media platforms and never gain any new paying customers.
I've put together a complete guide to social media for food service businesses so you can take advantage of this marketing tool.
Get your cafe's name and logo on everything from business cards to coffee cups
A coffee shop's branding is essential for a successful business. The branded material, business cards, stationary, marketing material, and coffee shop staff clothing should all be designed with care and remain consistent with the coffee shop's overall brand image.
Business cards with clarity in design and messaging can create great first impressions with potential customers.
The stationery should feature the coffee shop logo or design, providing a subtle reminder of your coffee shop's offerings.
Branding materials like flyers, posters, and banners can help spread awareness of your coffee shop while also reinforcing its brand identity.
And finally, coffee shop staff clothing must always complement the coffee house's brand and ensure that any customer interactions are both memorable and positively reflect your coffee house's image.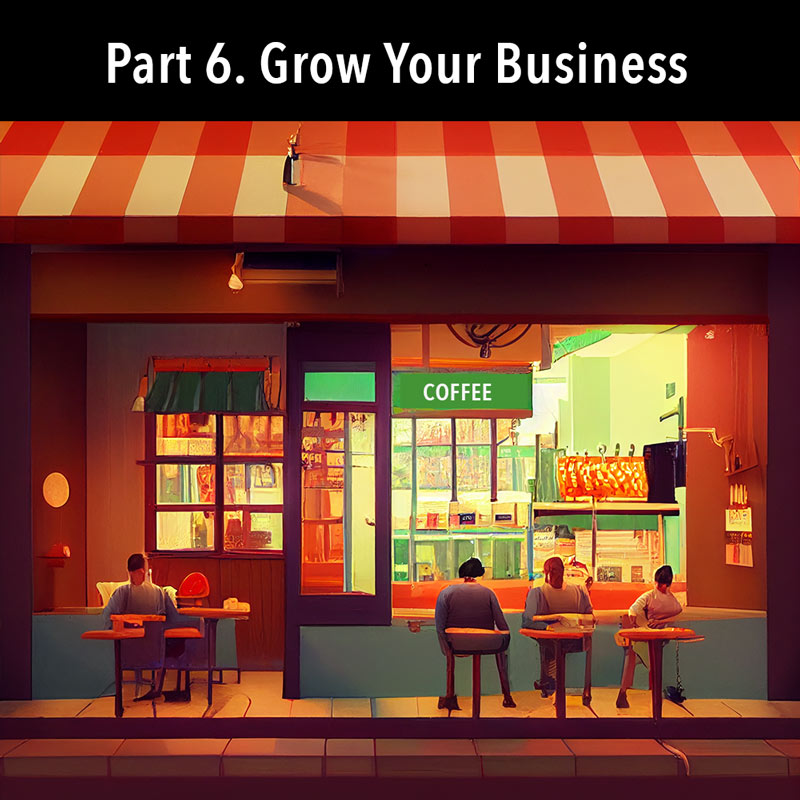 Part 6. Get More Customers in Your Cafe
Create a coffee shop marketing plan
Creating an effective coffee shop marketing plan can be vital to growing your business. A good plan will attract new customers, build and encourage loyalty from existing ones, and maximize revenue by offering promotions and other incentives.
The marketing plan should consider budget constraints, target customer needs, preferences, and local competition to create a successful strategy.
An effective coffee shop marketing plan should include targeted digital marketing campaigns emphasizing customer engagement, participation in local events, online reviews management, and rewards programs to reward loyal customers.
Focusing on these strategies can help coffee shop owners create an innovative marketing plan that adds value for both their customers and their businesses.
Since you have your coffee shop up and running, it's time to start growing it. You'll need more customers through the doors, and you need each customer to spend more money with you.
There are seven methods you can take to grow your cafe business:
Get more new customers
Get your patrons to visit your coffee shop more often
Sell more products per visit
Sell higher value products during each visit
Reduce your cafe operation costs
Find ways to bring in revenue from other sources.
Scale up your coffee shop business
No one but you can decide what will work best for your business. It all comes down to the unique challenges that your cafe faces.
I've created a list of the most successful cafe marketing ideas to help you get started. Review the list and focus on implementing a few critical strategies over the next few months.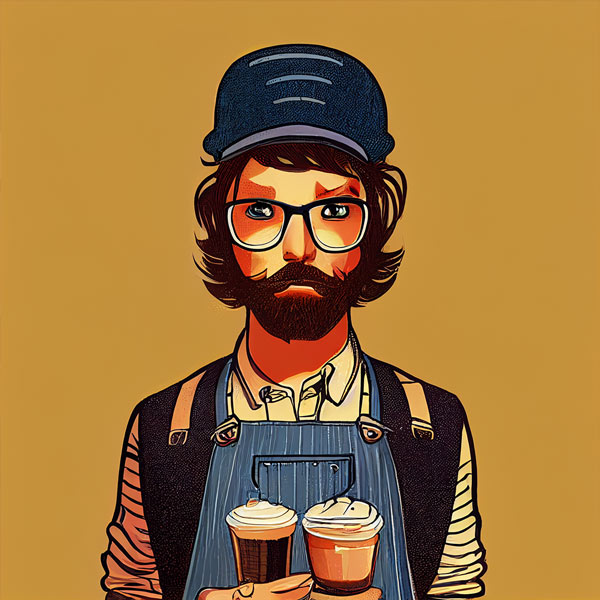 How to Hire and Motivate Staff for Your Coffee Shop
Operating a coffee shop requires the right team to represent your business values and deliver fantastic customer service. Hiring coffee shop staff comes with challenges, given the fast-paced and hectic environment.
To ensure you're hiring team members who will act as ambassadors for your coffee shop, create a clear job description that outlines expected tasks and responsibilities, qualifications, and requirements.
Once you've found the best people to add to your coffee shop family, create an ongoing training program, so they stay updated on product knowledge, changes in coffee trends, or customer service best practices.
Furthermore, incentivize your staff by offering rewards such as discounts, performance-based bonuses, or free items when goals are achieved.
By providing proper learning tools and incentives, coffee shop employees will be motivated to perform at their highest level, resulting in a positive customer experience.
The importance of hiring amazing baristas cannot be overstated. A well-trained barista can make or break a coffee shop. Suppose you want to establish yourself as a serious player in the coffee world. In that case, hiring talented people who will work hard and deliver exceptional customer experiences every day is essential.
While there are many ways to train baristas, some of the most effective methods include formal training programs, apprenticeships, and continuing education.
These approaches ensure that your baristas learn about the craft of making espresso drinks, how to serve customers, and how to manage the entire coffee operation.
The coffee shop industry is fast-paced and competitive, so the key to success lies in having a great and motivated staff. When recruiting coffee shop staff, find people with excellent customer service skills and motivate them with quality training and open communication.
Read more: 5 Best Online Barista Training Programs
This can be done by creating an environment where employees feel valued, respected, and heard. Offer performance rewards for excellent service and establish development programs for coffee shop staff to keep their skills sharp.
Additionally, take the time to build relationships with the coffee shop staff, so they understand how important they are to your coffee shop's success. Incorporating these practices will ensure you'll have happy and committed coffee shop staff that will stay motivated long-term.
Create an employee handbook. There are many online that you can use. Ensure you have a training procedure and that your employees know and understand the terms of their employment.
Reevaluate and update your coffee business plan.
When your coffee business has taken off, you must reassess and modify your coffee shop business plan regularly. This will ensure that it remains accurate and up-to-date as your business grows.
Your coffee shop business plan should be a guideline that takes you from the startup to success. Among all the aspects of the coffee shop business plan, financial projections are especially crucial – review them monthly to ensure your margins and expenses keep working on track.
Routinely reevaluating helps you stay ahead of the curve no matter where your coffee journey takes you.
Helpful Tools and Services for Coffee Business Owners
Here I've compiled a list of resources you'll need to open a coffee shop, saving you both time and money.
Free Amazon Business Account
Amazon Business offers competitive prices and exclusive business support. Create a free account now to take advantage of these deals the next time you need to order supplies for your cafe.
Setup your free Amazon Business Account now.
Hiscox Insurance
Before you launch your cafe, be sure to get Hiscox insurance. They specialize in small business owners and will give you a free cost estimate.
Get a free insurance cost quote now.
LivePlan Coffee Shop Business Plan Tool
LivePlan makes it easy for you to create your coffee shop business plan. You'll get help at every step through the process and a beautiful plan that is easy to maintain.
Choose the Best Website Builder for your Cafe.
You can use a website builder to create your cafe's new website. The type of builder you select depends on how much artistic control vs. technical know-how you want to have.
Read more: 7 Best Restaurant Website Builders
For more tools and services that can help accelerate your salon business, check out my recommended tools page.
Conclusion
You did it! You made it to the end of this guide. Great job!
I hope you found this article helpful and informative. Please share it with your friends using the social buttons on the page.
Starting a coffee shop is no easy feat, but with the right planning and execution, it can be a successful endeavor.
The journey ahead is unknown, but you don't have to go at it alone. This guide here for you every step of the way.
Here is the table of contents again if you need to jump back to a certain section:
How can I learn more about coffee?
If you want to learn more about coffee and open your own coffee shop, many excellent resources are available. Researching the basics of coffee is essential for understanding what makes a good cup, from selecting quality beans to finding the ideal brewing method.
One valuable source of information is trade publications specializing in the coffee business. These publications provide extensive coverage of the industry and its trends. The National Coffee Association also offers monthly webinars to keep you up-to-date on the latest developments in the industry.
Many online courses focus on coffee, from basic brewing techniques to business-related topics like opening a coffee shop. Many of these are free and provide an in-depth look at the industry from a business and technical perspective.
Additionally, attending coffee events can be invaluable for learning more about the industry. Coffee conventions and festivals happen worldwide, featuring speakers, competitions, and exhibitions that provide education on various coffee-related topics.
Finally, remember the people who make up your local coffee community. Talking to baristas and cafe owners can help you better understand the industry and give you firsthand insight into how to open a successful coffee shop. The more knowledgeable you become, the easier it will be for you to make educated decisions when getting your business underway.
Good luck on your journey to opening a coffee shop! With the right resources and dedication, success is within reach.
Coffee Shop Business Resources:
National Coffee Association Training and Webinars
5 Best Online Barista Training Programs