Restaurants are in an interesting position when it comes to marketing. Diners are rushing back into establishments but aren't always finding what they need.
Marketing your restaurant on Yelp ensures that potential customers will find you when they're ready to grab some grub.
Your restaurant needs to know the Yelp for restaurants basics to stand out from the crowd.
Here's how you can get started!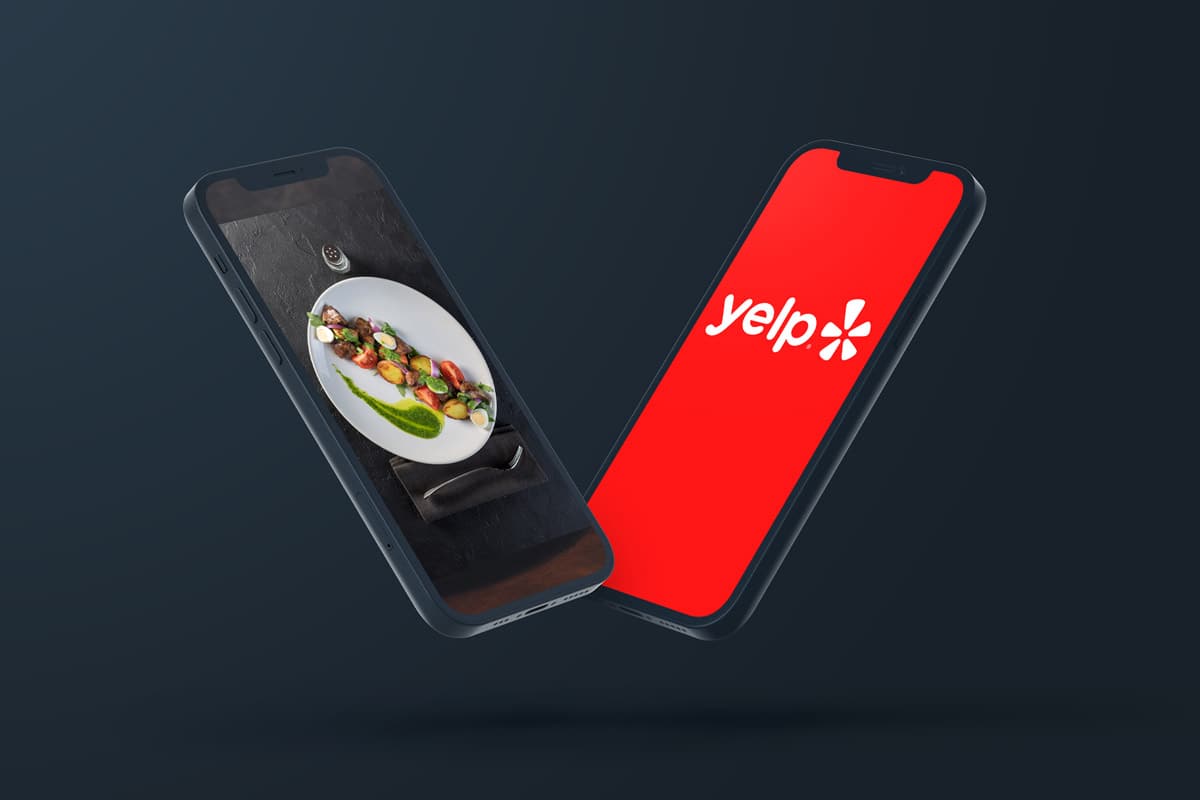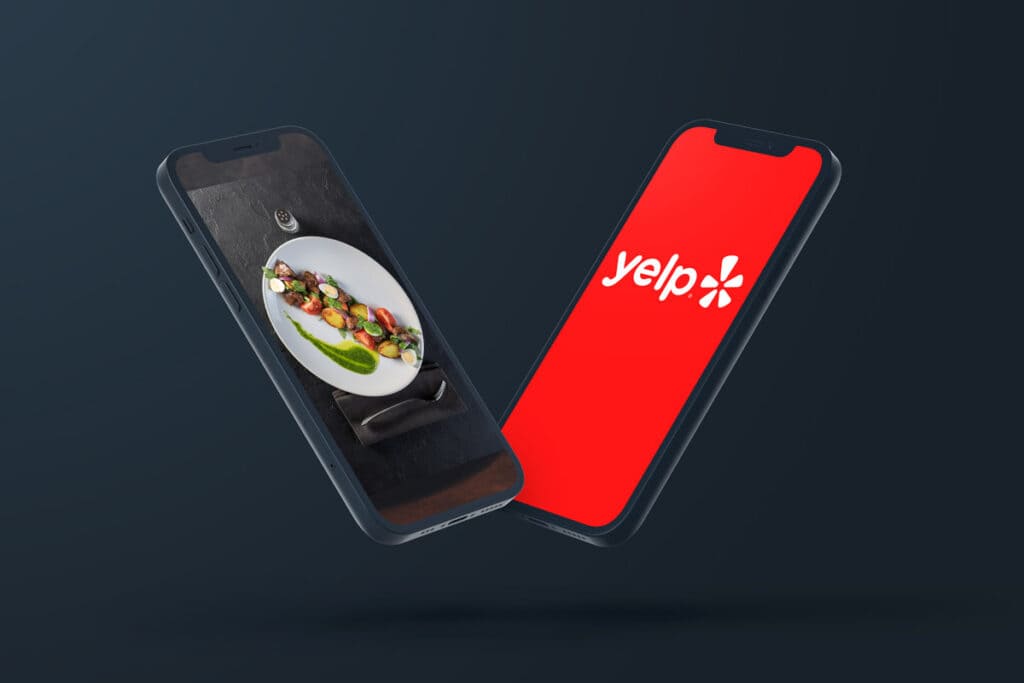 What is Yelp for Restaurants, Anyway?
At its core, Yelp is an online listing of local businesses that started as a customer reviews platform in the early days of the internet.
Yelp is the 44th most visited website in the US and has 178 million unique visitors monthly.
Businesses that use Yelp see an average of 9% increase in revenue for every Yelp star they earn. And 34% of diners eat at restaurants after checking out their page on Yelp.
Marketing your restaurant on Yelp has become an important part of online marketing for restaurants of all sizes, markets, and budgets.
Start by Claiming Your Business Page
The first thing you need to do is to sign up for a free Yelp business listing. This is a vital step for any business, even if you're not yet ready to consider one of Yelp's paid features.
The good news is that this is very simple. All you need to do is visit the Yelp business sign up page and follow the on-screen prompts to get started.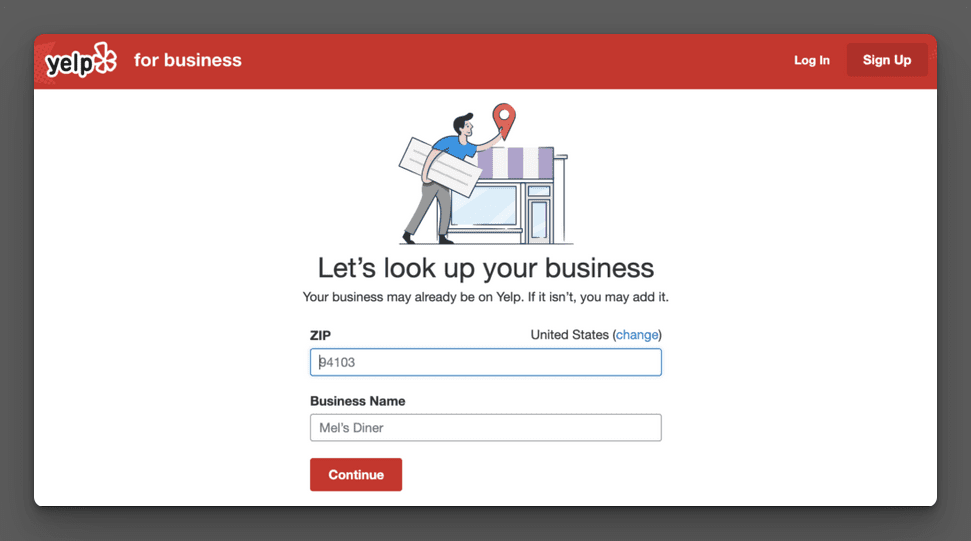 As a restaurant owner, claiming your Yelp profile puts you in control of how it appears. You'll be able to add a few pictures and update basic information without signing up for any paid plans.
At the very least, you should claim your Yelp business page and update it to make sure your customers see a business that's open and updated.
2 Essential Posts when Growing a Restaurant Business
As you are reading this article, also check out the two articles below!
Update Your Yelp Page
Things are changing rapidly for restaurants. Diners are back to looking for reservations with a 107% increase in searches for reservations from Q1 2022 to Q1 2021.
If your Yelp page does not look up-to-date, diners might take their meal plans elsewhere.
We've all visited a restaurant's webpage only to find that their information looks outdated. Your customers are picking up on this, which could take their business elsewhere.
The first thing you want to do is make sure that your basic information is up-to-date. This includes your exact address, operating hours, and contact information.
These basics must be in place before moving on to the rest.
Naturally, you need to ensure that your menu reflects what you currently have for sale. An outdated menu is a major source of bad reviews.
You should also take the time to add true value for your diners. Fill out the Meet the Owner section and add some pictures of your restaurants so your diners get a feel for what they're in for.
Accurate, well-presented, and inviting information will bring in new diners.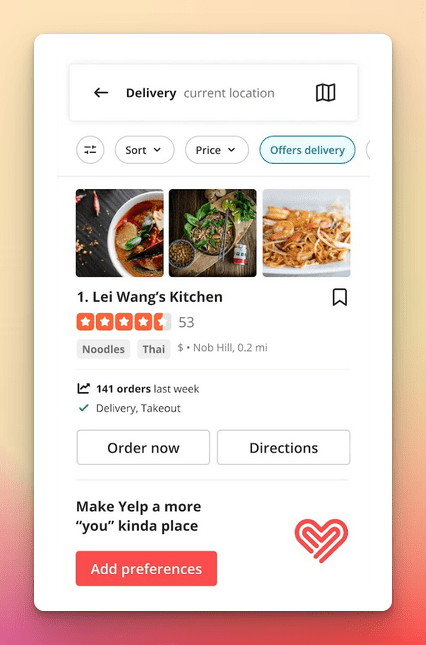 Refine Your Restaurant SEO
SEO is king whether you're marketing your restaurant on Yelp or any other online platform.
Search Engine Optimization uses keywords and key phrases to help your business reach your target audience. Yelp has some fairly advanced tools when it comes to SEO.
You can do the basics, such as having your restaurant pop up for keywords your diners are looking for, like vegan, American, or sushi. You also have some advanced tools, including blocking certain search results.
This can be especially useful if you want to focus your marketing. A good example would be a pub excluding the search result for "sports bar."
Your restaurant SEO also includes backlinks. These links that other businesses make back to your company help improve your search results.
Yelp has built-in tools for business recommendations that allow you to create organic backlinks that draw in new diners.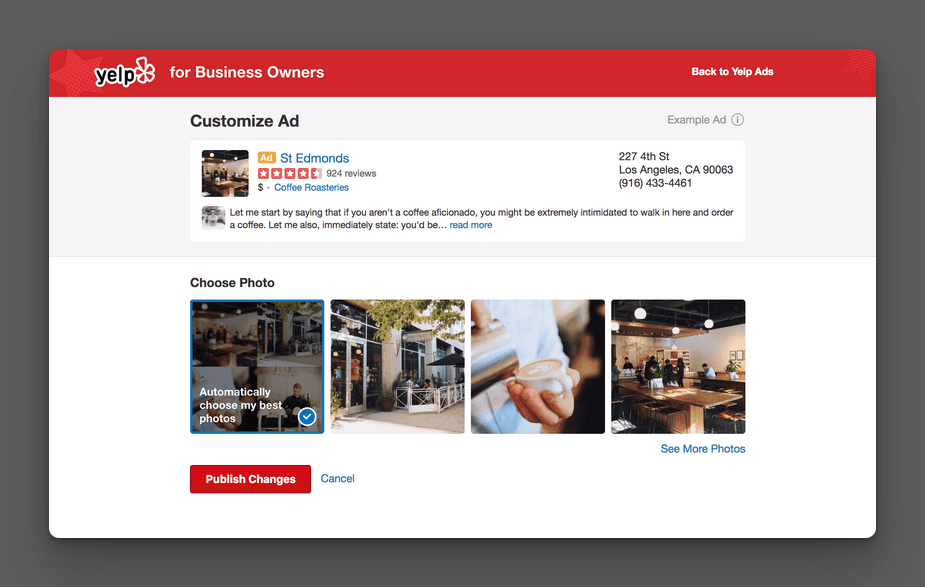 Paid Advertising on Yelp
Paid advertising on Yelp offers plenty of benefits for your business.
One of the biggest benefits of joining one of Yelp's paid plans is removing the advertisements for competitors from your page.
This means that your diners will be focused on your business rather than being distracted by ads for the competition.
Paid advertising on Yelp also helps improve your search results. You'll be moved up higher in the search results, meaning that customers will notice your business quicker than they notice others.
Yelp also removes the limit of pictures you can upload for paid accounts. You'll also be able to upload high-quality videos showing your restaurant in the best light.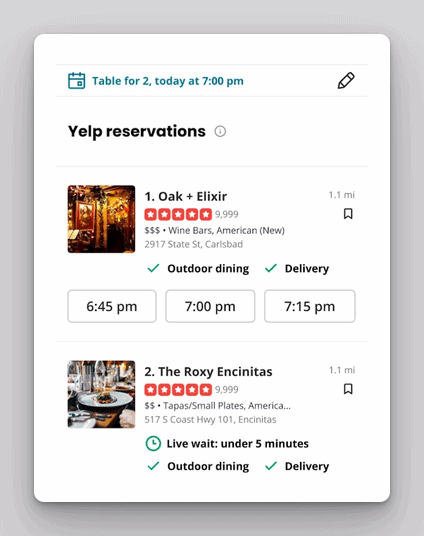 How to Approach Yelp Reviews
Restaurants tend to be afraid of reviews on Yelp. It's easy when you're getting a flood of positive customer ratings, but negative reviews are also an opportunity to help advertise your business.
We've seen a massive increase of 229% of diners making negative comments about short staffing and a nearly 1/4th rise in comments about long waits.
How do you handle those comments?
The key is to realize that your comments on reviews are a marketing opportunity. You want to present your business in the best possible light by being kind, courteous, and responsive to the customer's complaints.
Even if the review seems hostile, inaccurate, or overly negative, you want to make sure that you walk away looking like the kind and inviting restaurant that you are.
Potential diners are picking up both on the reviews and how your company responds to its harshest criticism.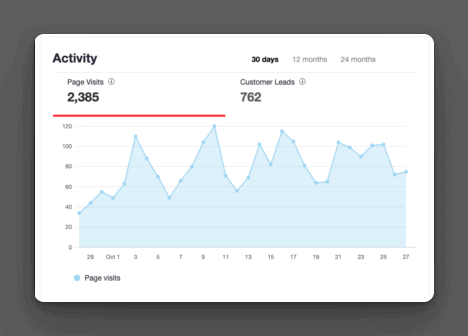 Use Those Yelp Metrics
Open up your Yelp business page and head over to the activity tab. This is where you'll be able to see all the important metrics for how your diners find your business.
This gives you important insight into how your customers contact your company. This shows you information like whether or not they're using mobile devices while searching for you and important information about demographics.
These are powerful tools that you can use to refine your restaurant marketing. Essentially, these metrics from Yelp are giving you instructions about how to advertise your company better to reach the people finding you.
You can also take things in the opposite direction. You can adjust your marketing to reach more customers if you notice missing key demographics.
Businesses are now in the information age and this includes increasing use of technology in restaurants.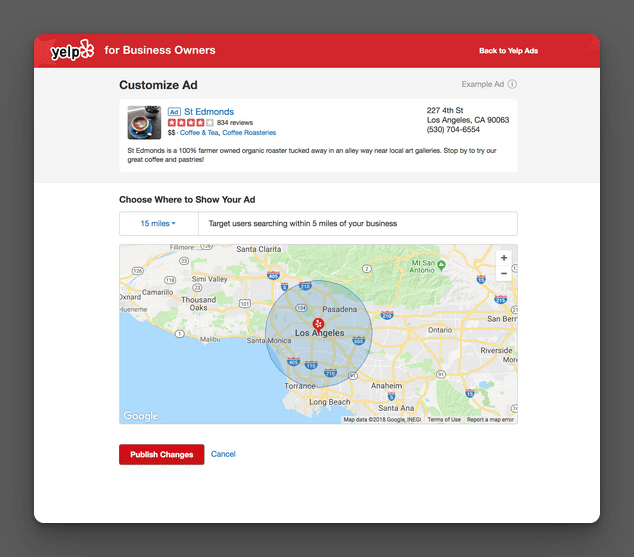 How Yelp Ads Can Boost Your Reach
Yelp ads are a great way to reach new customers.
You want to ensure that you start by setting up a great Yelp ad. You should have compelling ad copy and an enticing picture, and your ad should be situated in a larger marketing strategy.
Yelp offers plenty of tools when it comes to advertising. These include filtering reviews as well as targeting advertisements by location.
Yelp may have a smaller audience than Google, but this audience is much more focused on making reservations at a restaurant rather than just general searches.
Keep in mind that setting up a basic business profile on Yelp should be considered mandatory for any restaurant marketing strategy, but the additional features offered by paid advertising are powerful line control in new diners.
Yelp Pros and Cons
When marketing your restaurant on Yelp, not everything is sunny. Here are the biggest pros and cons of advertising your business on Yelp.
Pros
Reach an active, local audience of diners ready to eat
Built-in tools make it easy for diners to find your business
Larger reach than OpenTable or Resy
A paid plan for Yelp Guest Manager has restaurant POS integration, Kiosk, and reservation management
Cons
Yelp still has a reputation for being somewhat less supportive of businesses that don't pay for premium services
Positive Yelp reviews can be tricky and are occasionally astroturfed
You need to consider where Yelp fits into your current marketing strategy
Yelp vs OpenTable and Resy
We need to take a closer look at Yelp versus OpenTable and Resy. These are Yelp's two biggest competitors. Does either of these services offer something that Yelp doesn't?
OpenTable does not offer a kiosk service and only offers waitlisting with its core plan. It also has a much smaller reach of 3.4% of the US population compared to the 29.1% reached by Yelp.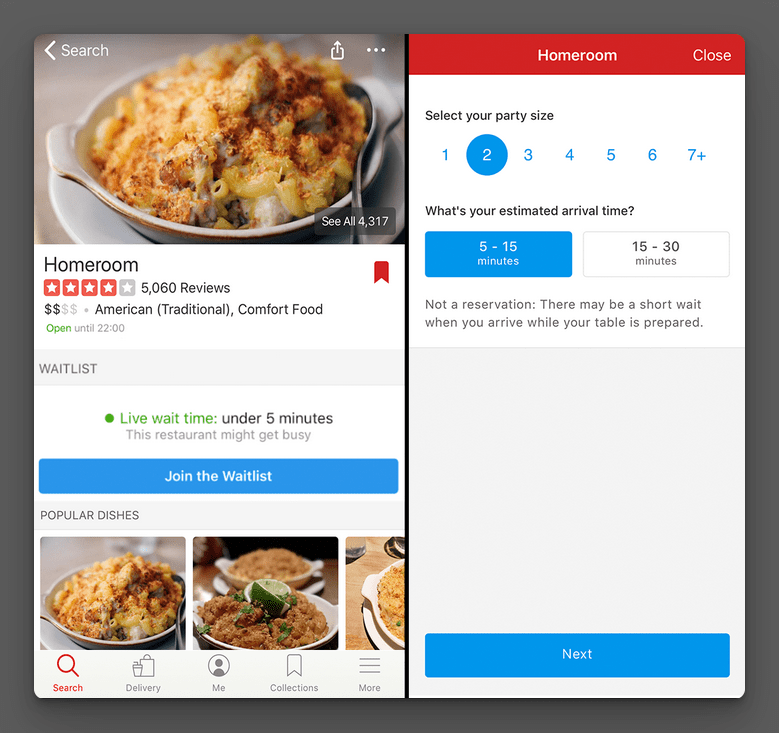 Pricing for Yelp Guest Manager do start higher at $99 per month, but that does include a many extra features that aren't covered in the $39 price point of OpenTable. That said, OpenTable has a much higher top-end cost of $449.
Resy is much smaller than Yelp, with an audience of only 0.4% of the US population. Their plans are also much more expensive, starting at a minimum cost of $249. Resy does offer most of the features of Yelp, but, like OpenTable, Resy does not have a Kiosk service.
Neither Resy nor Yelp charge cover fees, but OpenTable does have some cover fees based on your plan.
2 Essential Posts when Growing a Restaurant Business
As you are reading this article, also check out the two articles below!
Marketing on Yelp for Restaurants—Key Takeaways
Now that you're ready to start marketing your restaurant on Yelp, here are the key takeaways you should keep in mind.
Claim your Yelp business page today
Clean up the basic information and pictures even if you don't go for a paid plan
Be courteous and kind in all review comments—especially negative reviews!
Yelp's paid ads can boost your presence in search results
Yelp outperforms both OpenTable and Resy
Signing up for Yelp is free but they now have a special offer of $300 in free credit when you buy Yelp Ads*. See offer terms.
Finally, don't miss our review of Yelp Guest Manager.