If you're opening a new restaurant or want to revamp your old one, it's important to design a floor plan that will maximize efficiency and sales.
A well-designed floor plan will help streamline your workflow and make your restaurant run more smoothly.
It will also help customers navigate your space more easily, which can lead to more sales.
In this blog post, I'll show you how to design a restaurant floor plan that works for you.
A good design for your restaurant layout is also the basis for your interior design. And an inviting and attractive restaurant decor will help your restaurant stand apart from the competition.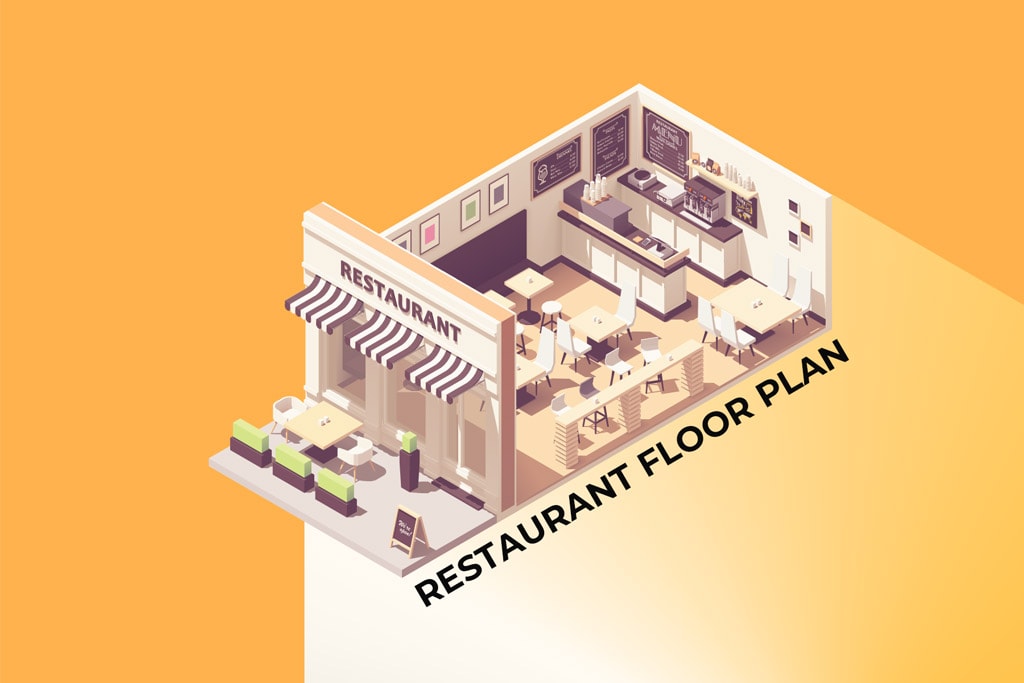 What is a Restaurant Floor Plan?
A restaurant floor plan is a blueprint depicting your establishment's whole layout. It indicates the different areas, tables, waiting spaces, payment kiosks, and more. The floor plan also points out the locations of things like furnaces, doors, electrical outlets, and water heaters.
A restaurant floor plan is vital for servers, bartenders, bussers, barbacks, and managers to do their job well. It also helps new employees understand where everything is located in the restaurant, from the kitchen storage to the dishwasher and the restrooms to the bar.
Why is a Restaurant Floor Plan Important?
Combining a good chef, great branding, and technology should automatically equal success, right? But, unfortunately, it's not always that easy.
With the cost of a food service entity anywhere between $100-800 per square foot, many food service brands focus on getting the maximum revenue per square foot. And the easiest way to do that is with an efficient floor plan.
An efficient floor plan allows servers to move around easily, tend to customers quickly, and turn tables faster. In short, a well-designed restaurant floor plan can increase your profit margins.
However, designing an efficient floor plan is much more than just maximizing the number of tables in your space.
Can I Design My Own Restaurant Floor Plan?
Hiring a professional architect and interior designer with knowledge of the restaurant industry is a good idea to avoid costly mistakes. There are many critical items to consider (more on that below!), and a professional architect and designer can safely implement your restaurant design vision.
However, there are times when hiring a professional may be outside your budget. In that case, there are software options for designing your restaurant floor plan.
Also, some restaurant POS software allows for easy floor plan design. For example, there are options for adding walls, sections, tables, and chairs, all with just a few clicks.
2 Essential Posts When Growing a Restaurant Business
As you are reading this article, also check out the two articles below!
Things to Consider When Designing Your Floor Layout
The primary objective of a restaurant's floor plan is to organize the space most efficiently. While there are several must-haves for your restaurant floor plan, it's essential to consider these factors before designing the layout.
Budget
While the budget may seem obvious, it still needs to be mentioned. For example, how many tables and chairs can you afford? How many tables will each server have? How many servers will you be able to have on staff? Do you want lights at each table? Do you want any booths?
Building Codes
Whether building a new restaurant or renovating an existing space, you'll have to consider your state's building codes. There may also be local or county codes. These codes can include the number of exits, accessibility, restrooms, and kitchen requirements. In addition, local building codes will usually have a maximum occupancy for your space.
Efficiency and Flow
One important consideration is the efficiency and flow of your layout. For example, can your servers easily access the tables? Is there space to set down a tray with food? Is there a clear path to other parts of the restaurant, like the restroom, bar, and kitchen? Will the customer have enough space to get in and out of their chair at each table?
Utilities
The last thing to consider, but equally important, is the electricity, lighting, water, and air conditioning outputs. Is there electricity where you need your technology platforms, lighting, fans, and other appliances? Where do you need water access?
What to Include in a Dining Room Floor Plan
Since customers spend almost their entire time in the dining area, making it comfortable and aesthetically pleasing is imperative.
The dining area is usually about 60% of a restaurant's total square footage and includes the waiting area, to-go space, bar, Point of Sale (POS) terminals, and seating area.
Waiting Area
When designing restaurants, the waiting room is frequently forgotten. Yet, as the first area customers see, it's essential to have a comfortable and welcoming entrance with plenty of chairs for waiting.
Seating Area
Your seating area will depend on the type of food service establishment you are opening. For example, the dining area for a fine dining restaurant should be roughly 18-20 square feet, while a full-service restaurant's seating area should be 12-15 square feet.
However, a fast food establishment only needs about 11-14 square feet of dining space, while a counter-service restaurant needs between 18-20.
If you plan on seating all-sized parties, then you'll need to have seating space with multiple-sized tables. It's usually best to have three different table sizes; 2-tops, 4-tops, and 6-tops.
Your focus should be to have as many tables as possible in your dining room, with a suitable distance between each one.
Most restaurants place the 2-tops against the window areas, while the middle of the dining room is suitable for tables of three or more guests.
A distance of 3-4 feet is the minimum requirement between tables for customers and servers, although some restaurants prefer more space.
Billing and Point of Sale Area
To maximize efficiency, place your Point-of-Sale registers near your customers, so employees don't have to run back and forth to place orders and charge credit cards.
Over the last few years, cloud-based POS software has blown up, with many table management features included. For example, today's POS systems allow you to assign tables and sections, monitor tables to maximize occupancy, transfer tables, and take orders and payments by the table.
Table Management Features in Restaurant POS Software
As mentioned above, many POS software companies now offer table management features, including adjustable floor plans, inventory management, customizable menus, tableside ordering and payments, and flexible billing.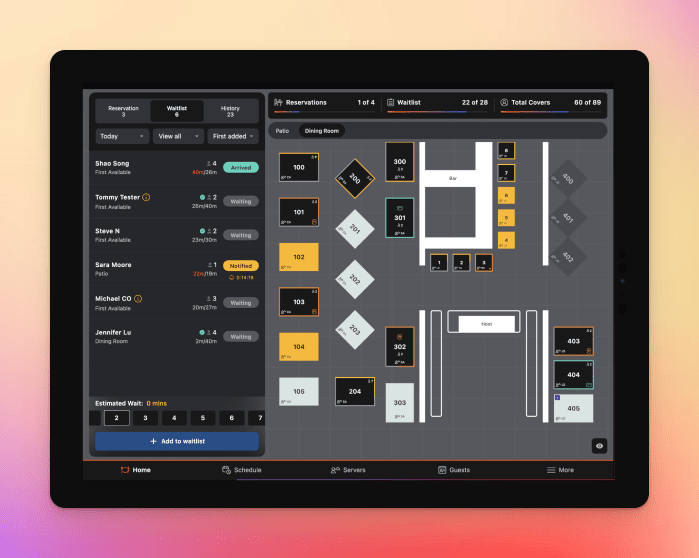 With these technological advances, servers can order food faster and with fewer errors, and the kitchen receives it immediately. Servers are notified immediately if any menu items are out of stock, avoiding lost time going to the bar or the kitchen.
Managers or owners can also easily adjust the floor plans, space between tables, and menu items. For example, if outdoor seating is closed for the winter, that section can be closed for the season.
How to Create a Restaurant Floor Plan Yourself
Whether you're DIYing your restaurant layout or working with a professional interior designer, there are several things you'll want to consider when creating your floor plans.
1. Keep it Simple
If you're doing your own floor planning, keep everything simple. You don't necessarily need CAD software to do it, either. Many easy-to-use online tools and software can help you do this, including SmartDraw and ConceptDraw.
2. Use Templates or a Grid System
Ready-made templates can be a great time saver and serve as inspiration. A grid system helps you organize everything on your floor plan into neat little boxes. This lets you see what's where, and it keeps things organized.
3. Don't Forget About Lighting
When drawing a floor plan, you should always think about lighting. It's essential to know how much light comes through windows, doors, skylights, etc., to depict them on your floor plan accurately.
And finally, you need to know whether any of these lights are coming from above or below. All of these factors affect how the room appears on your floor plan.
4. Know Where Doors Go
When drawing a floor plan, you have to know which door goes where. This means knowing in which direction each door opens and where its hinges are located. Your floor plan will look better if you remember to add these details.
5. Include Restaurant POS and other Tech Placement
Don't forget to include server stations with card readers or POS systems in your dining room layout, especially if you plan to offer table service. These devices are often placed near electrical outlets, ensuring enough power nearby.
Place multiple POS systems throughout the dining area to improve the guest experience and increase sales. This way, servers can quickly check out customers and take payments without walking long distances.
Finally, if you use a cloud POS system or an iPad POS system, you'll want to consider how many walls you're willing to put up around your POS terminals. You'll need to think about placement carefully because the more walls between your terminals and your Wi-FI router, the weaker your signals become.
Best Floor Plan Software with Restaurant Templates
SmartDraw
SmartDraw is a popular and affordable tool that is an excellent choice for beginners.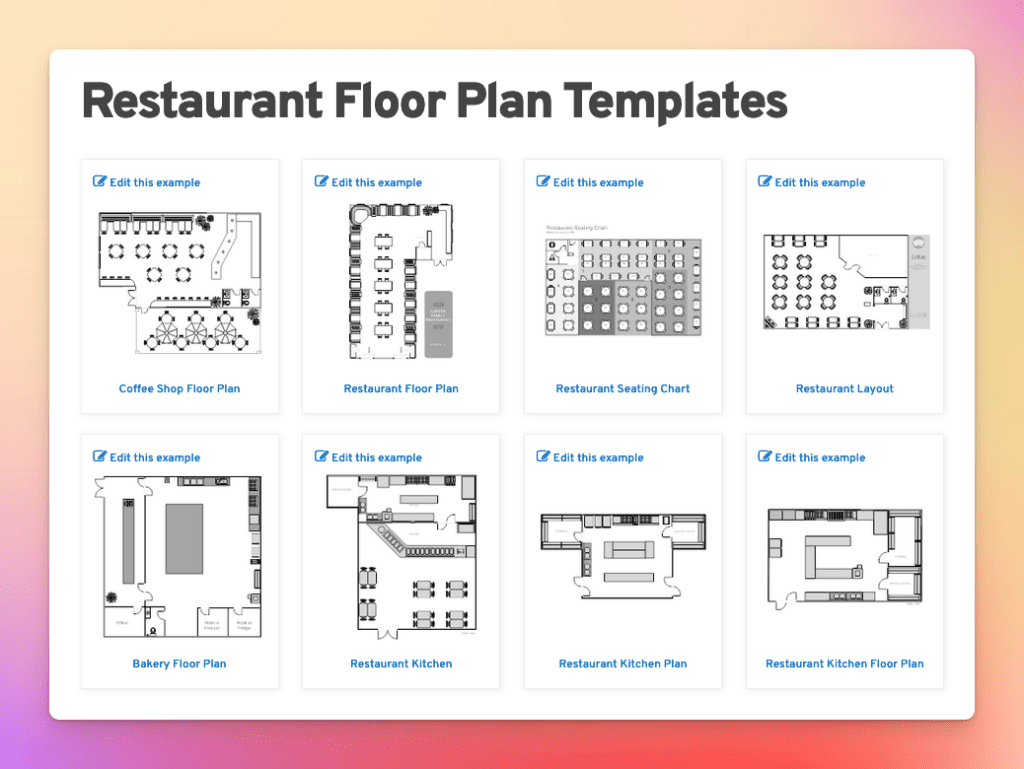 You can choose from several restaurant-specific floor plans and templates, including restaurant kitchen layouts, that you can customize yourself.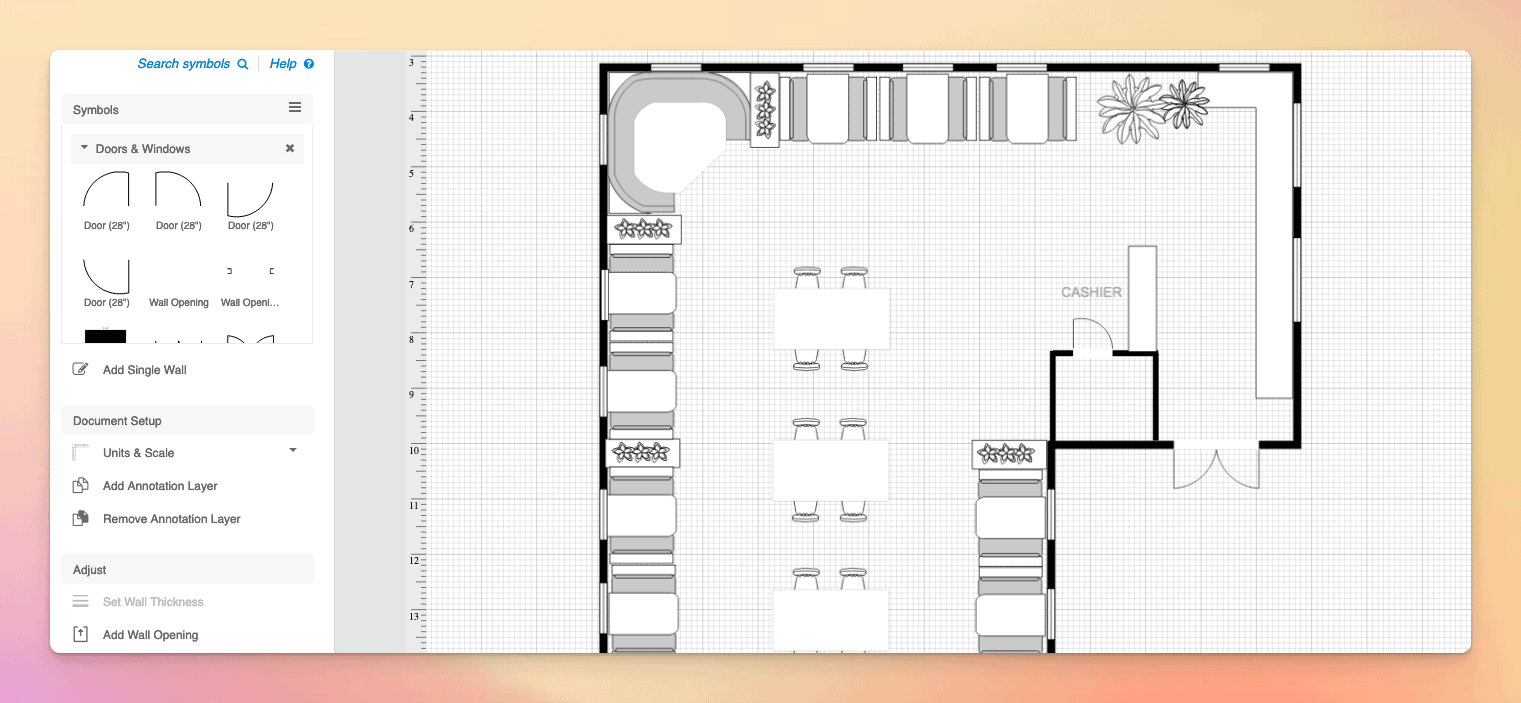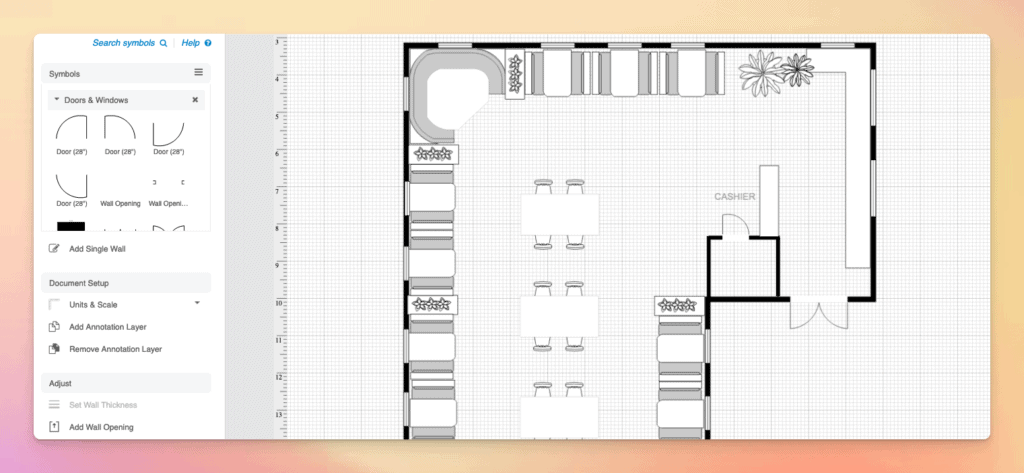 You don't need to download an app but can start designing in your web browser. SmartDraw has a free trial version.
ConceptDraw
ConceptDraw lets you quickly draw floor plans, rooms, and furniture. The Restaurant Floor Plan solution in ConceptDraw Diagram contains 20 examples and nine libraries having 298 vector graphics and icons of typical restaurant furnishings and appliances.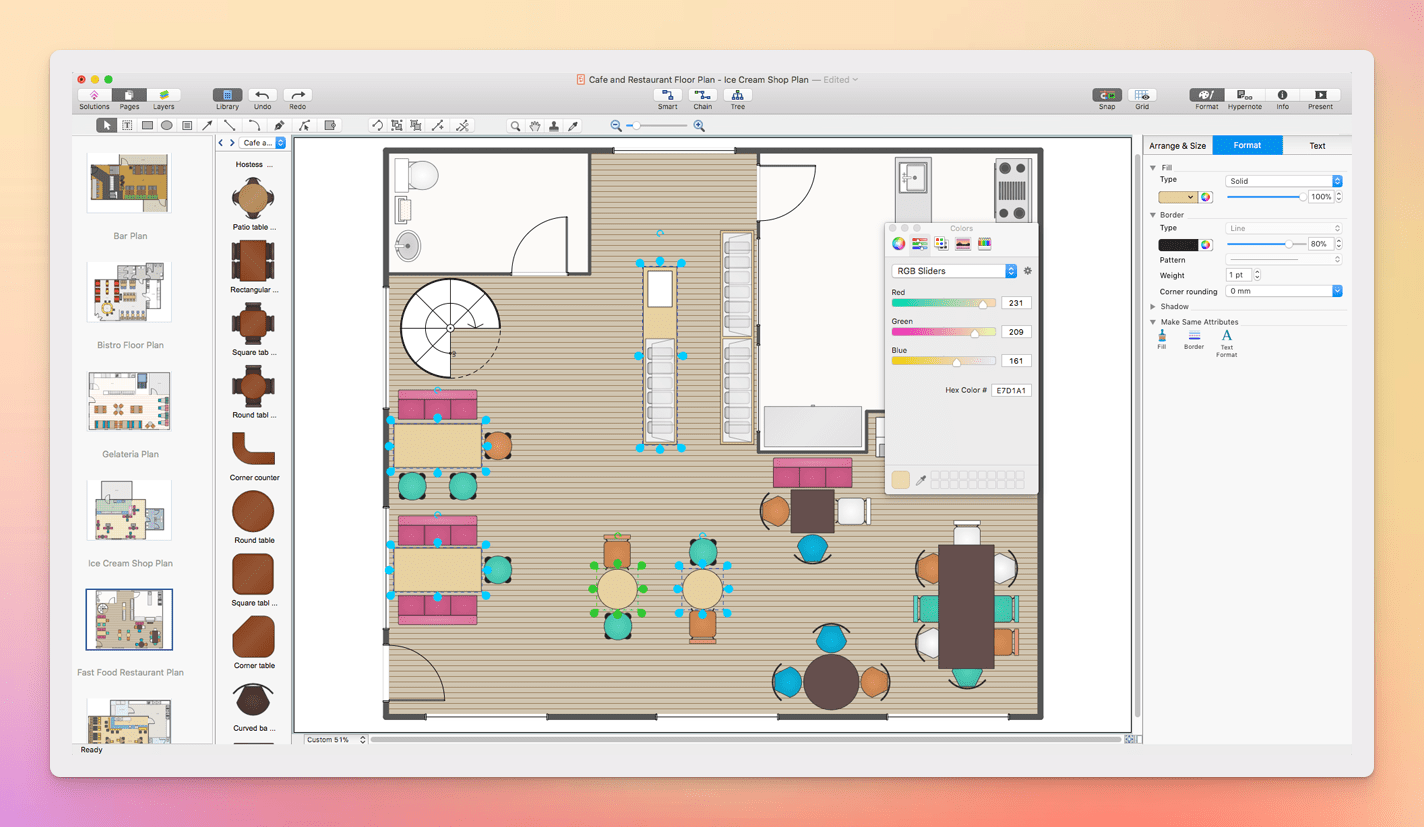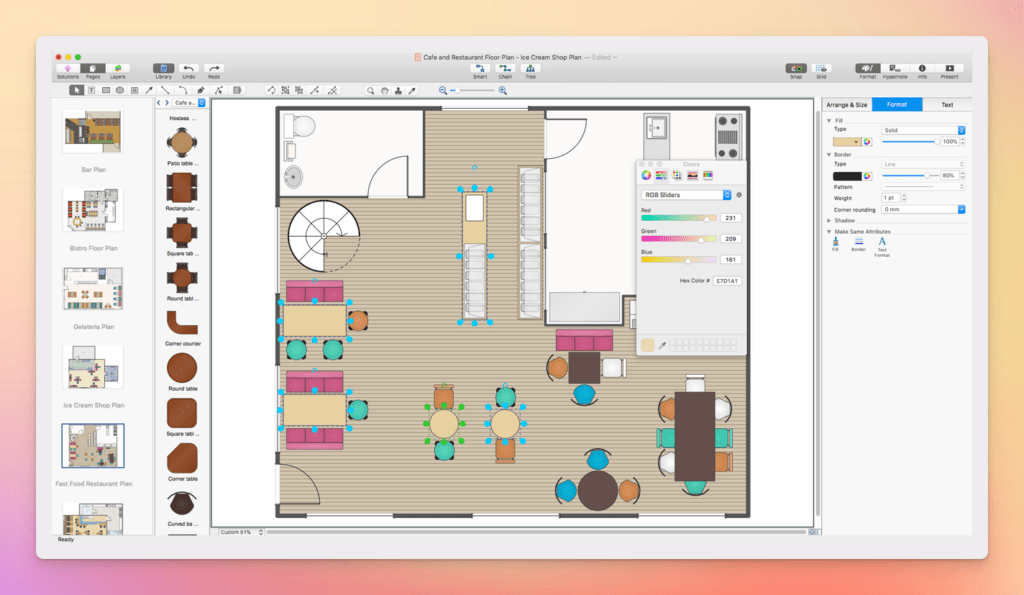 ConceptDraw Diagram is available for both macOS and Windows. There is also a free trial.
Foyr – Interior Design Software
Foyr is a more advanced tool intended for interior designers but also easy enough for restaurateurs.
With Foyr you can design high-quality 2D or 3D interactive floor plans for your restaurant. Let the AI help complete the floor plan into a full 3d model. You don't need any previous CAD experience. Free trial available.
Restaurant Floor Plan Examples
Example 1. Piatti Restaurant
The Piatti restaurant was designed to be a contemporary yet traditional Italian oasis in the heart of Montreal. After a fire damaged the original space, owners chose to renovate and update it with a green marble pizza oven, a sienna-toned banquette below a mirrored wall, custom lighting, stools at the bar, and a pendant light hanging in the corner of the bar.
The decor was inspired by traditional Italian design, with textures, materials, and colors reflecting the Mediterranean. Recessed lighting was used to highlight the original stone walls in the evening. All of these elements create an inviting atmosphere for customers, old and new.
Example 2. Seven Easy Restaurant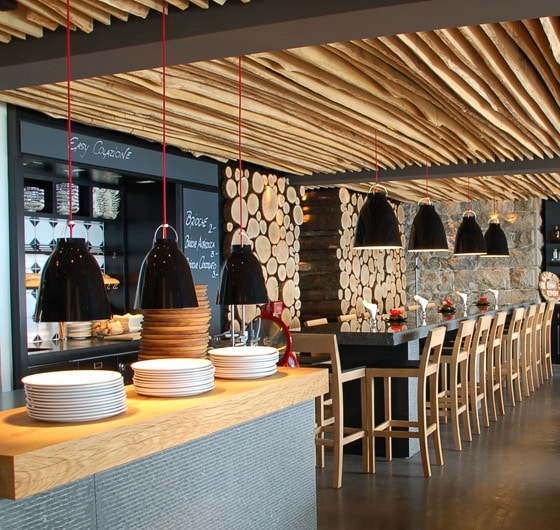 The interior design of the Seven Easy restaurant in Ascona is open and inviting and features solid wood tables, wall paneling made from sawn tree trunks, stacked wine crates, blackboard walls, and a ceiling with rows of suspended, roughly sawn wooden planks.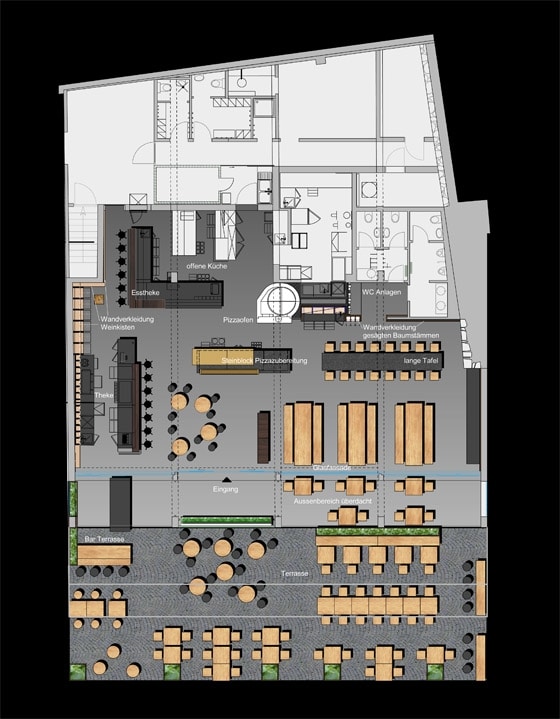 The restaurant floor plan is based on an open kitchen concept, allowing guests to dine at long wooden tables or at wood-trunk tables directly in front of the cooking area. Illumination comes solely from suspended lamps and lights over the standing tables.
Example 3. Vesta Pizza Restaurant
The Vesta pizza restaurant was designed by studio Ménard Dworkind, who sought to create a space that recalled the spirit of Italian family restaurants in North America during the 1970s.
The restaurant's walls are half covered in white pine paneling, and the other half painted a dark green color, while slimmer oak bands are laid against the surface to form a linear, geometric pattern.
A custom-made illuminated wine display case and furniture pieces such as a beige powder-coated steel bar and marble dining tables add to the restaurant's atmosphere.
An open kitchen allows patrons to view food preparation, while graphic yellow pizza boxes are stacked along a 20-foot (six-metre-long) white rack that extends over the counter. The space also features a Lambert & Fils dot lamp and vintage cans of tomato sauce along the oak shelf for an extra touch of traditional Italian style.
2 Essential Posts When Growing a Restaurant Business
As you are reading this article, also check out the two articles below!
Conclusion – Benefits of a Restaurant Floor Plan
The proper layout of your dining room, kitchen, and bar have an incredible impact on your employee and guest experiences. If you provide front-of-the-house and back-of-the-house employees with an efficient, comfortable, and safe workspace, they're more likely to work hard and make more money.
A well-designed restaurant layout has many benefits, including the following:
Better Customer Experience
The second your customer walks in the door, they should feel comfortable and welcome, and this should continue whether they are at the bar, the dining room, or the waiting area. With a proper layout, your customers will have a better experience overall, leading to return visits.
More Efficient Workflow
When your restaurant's floor plan is designed well, your staff can get from the kitchen to the seating area and bar efficiently. They can also move between tables, delivering drinks and food without interrupting other guests. This more efficient flow of traffic benefits everyone, from staff to guests.
Maximized Space
A restaurant with a well-designed floor plan maximizes its space, allowing for the best return on investment.
Higher Profits
You will likely increase your revenue if you have an efficient workflow, maximized space, and a fantastic dining experience. You can obtain all of these things with a well-planned restaurant layout.
More Restaurant Interior Design Resources: