The interior design of your restaurant can be almost as important as the food you serve.
Your choice of decorations and interior communicates what your restaurant stands for and plays a major role in attracting the right type of customer.
No wonder restaurant owners spend so much time on interior design and decor.
In this article, we've compiled some of the most creative restaurant interior designs we have seen in order to help you find inspiration for your upcoming restaurant design project.
You'll find pictures and two videos with restaurant ideas, you'll see how interior designers use lighting, wall decor, furniture, and color schemes to create incredible designs.
But remember, even though many of the following examples use very eye-catching decorations, some of the best restaurant designs can be done on a low budget. Still, they focus on creating an environment that doesn't distract from the food and the conversation between your guests.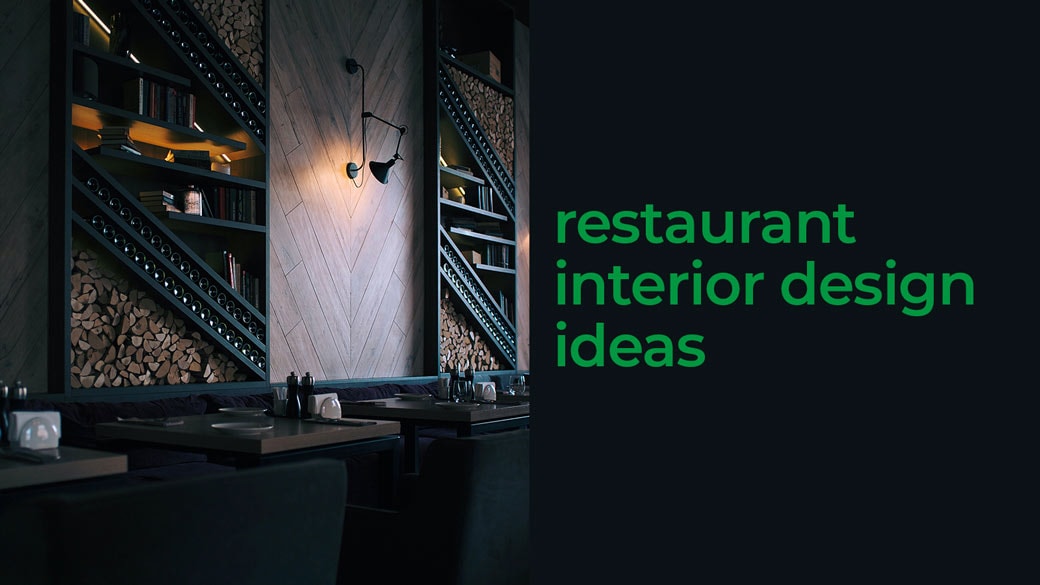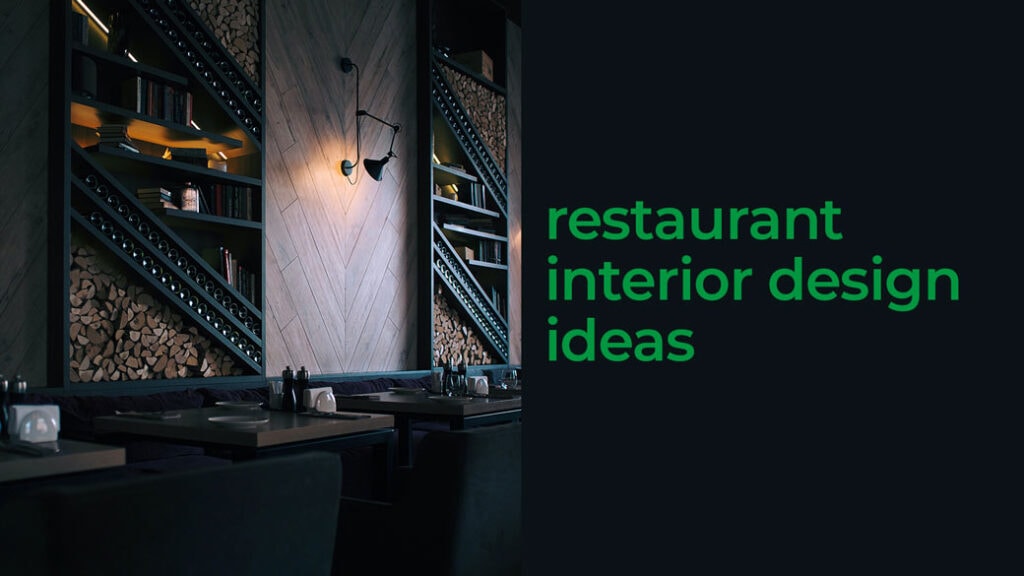 Now, let's take a look at the designs!
Casa Cook Kos by Lambs and Lions Berlin
The first restaurant interior design in this list was designed by Lambs and Lions – an interior architecture and design studio in Berlin.
We really like the colors and relaxing feeling of this design and how well it fits with the surrounding nature.
Situated within a serene stretch of rural beachside on the Greek island of Kos, Casa Cook's second retreat was designed with a sense of community and slow-living in mind. Akin to a historic Greek village and its labyrinth of cubist houses, a village-like feel was developed with a mix of one and two-story houses grouped around Mediterranean gardens and patios.
—Lambs and Lions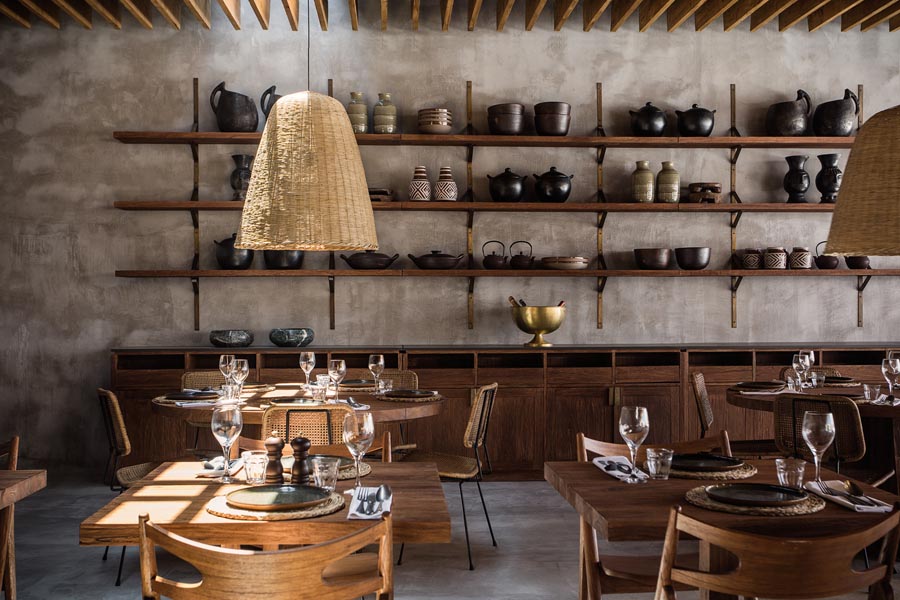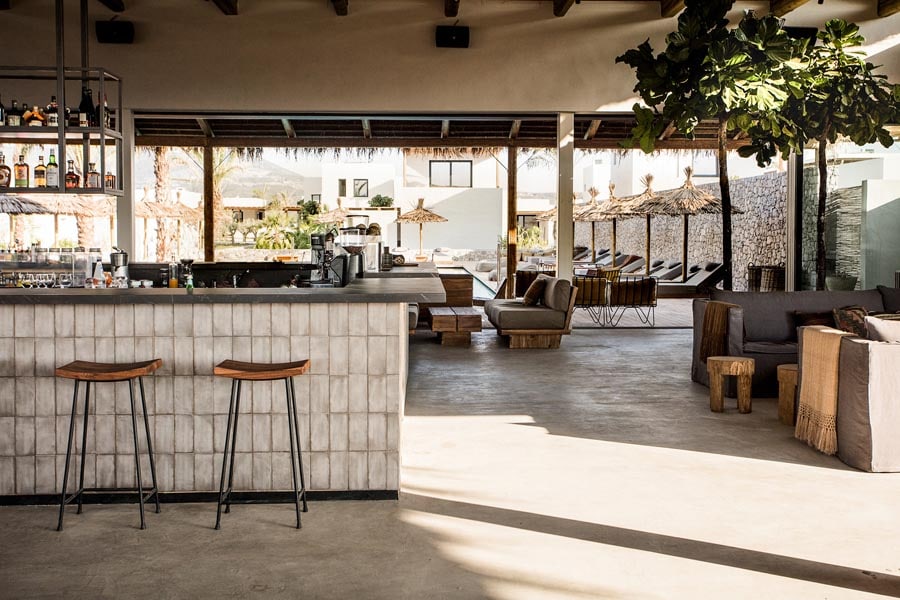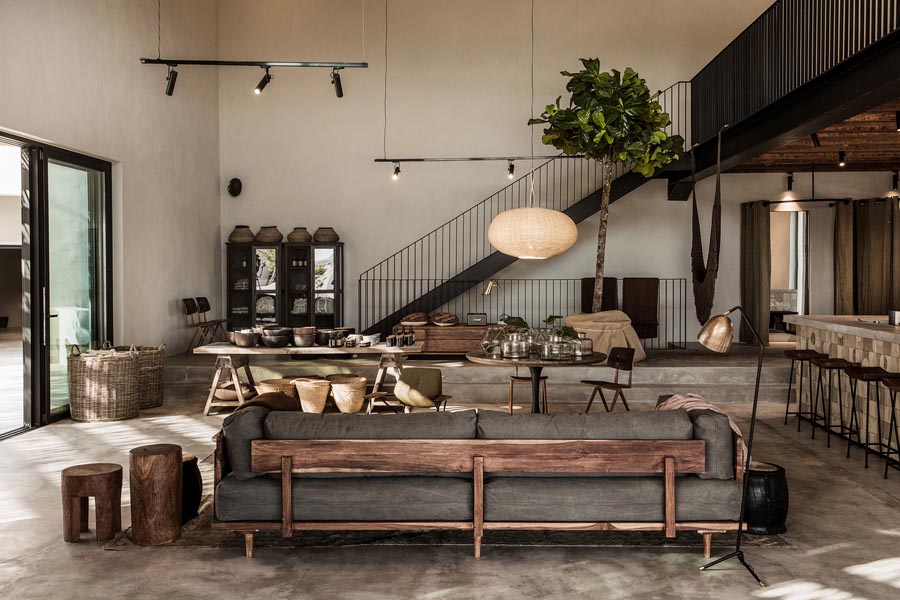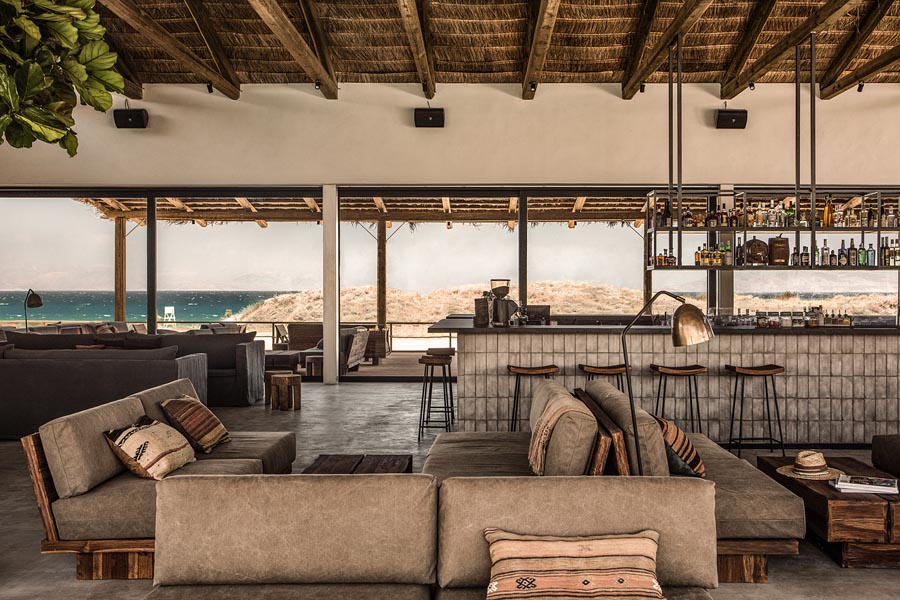 Japanese Lounge at Base Anfu by Red Design
This is an amazing high-end, Japanese private dining and lounge located in the French Concession in Shanghai, China. Designed by Mike McGirr for Red Design Shanghai.
The design is a minimal and refined concept based on traditional Japanese design principles and techniques to form a simple, modern, and respectful interior space. Following Wabi-Sabi principles, raw natural materials such as stone and rich wood play off subtle, elegant fabrics to create a timeless interior experience rooted in Japanese traditions.
—Mike McGirr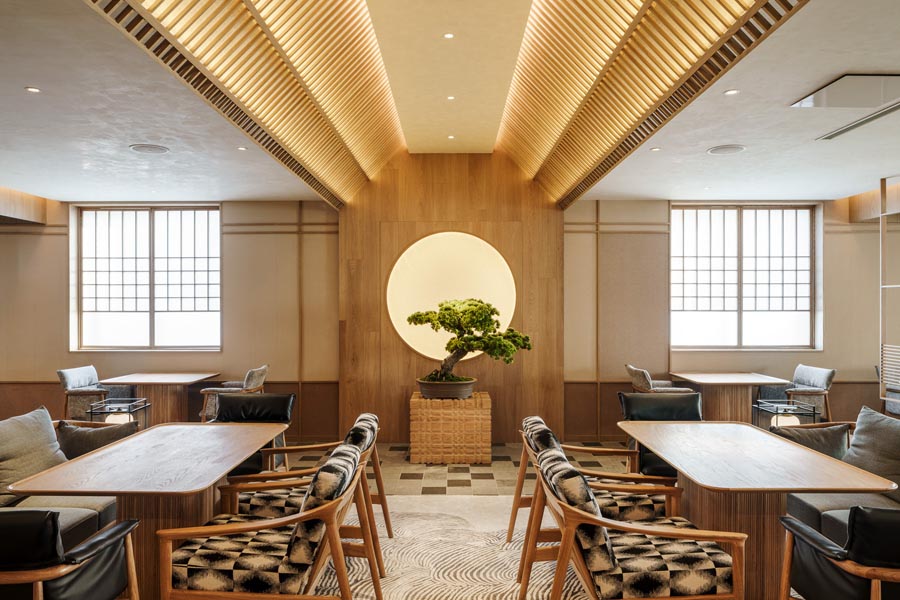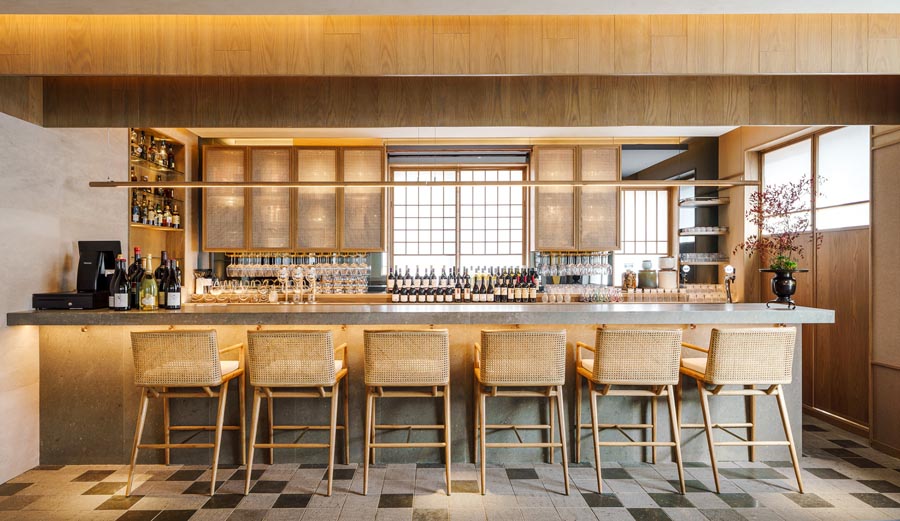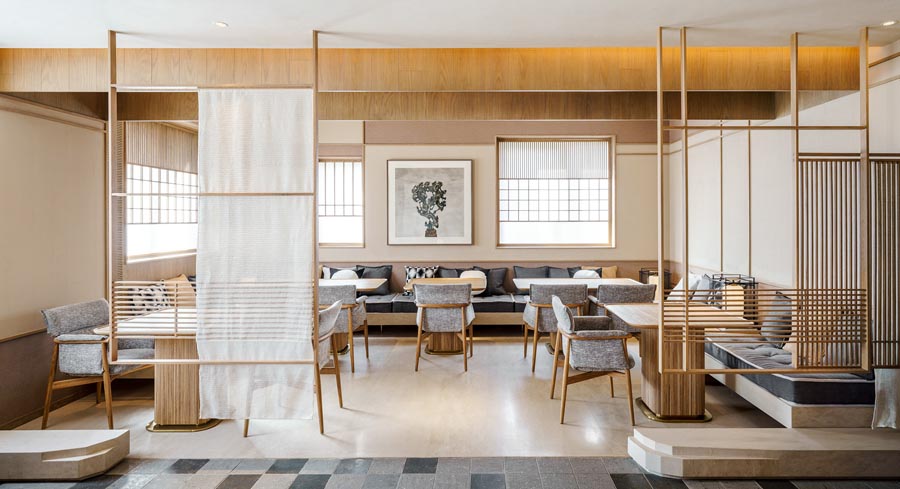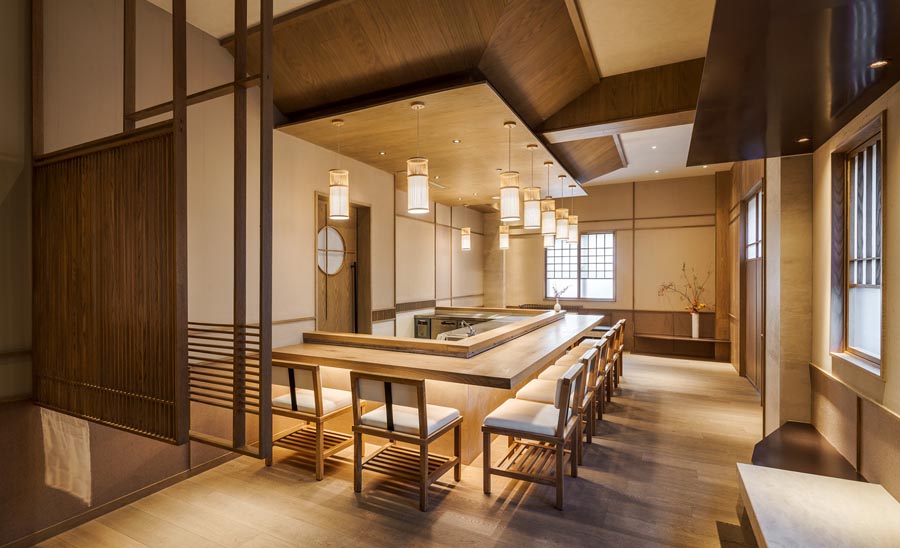 La Colmada by Ultramarina Studio and Bauz Studio
La Colmada is located in Malasaña, Madrid and designed by Ultramarina Studio and Bauz Studio.
This is a very successful combination of a neighborhood store with a space for eating. I like the bold colors that create a modern and energetic feeling.
La Colmada is a gastro-space in the heart of Malasaña, Madrid. Half store half bar, half bar half store, La Colmada tries to recover and update the concept of the old neighborhood grocery store. A restyling of the typical identity of those premises, with a rejuvenated aesthetic, adapted to the public and the location of this new place.
—Bauz Studio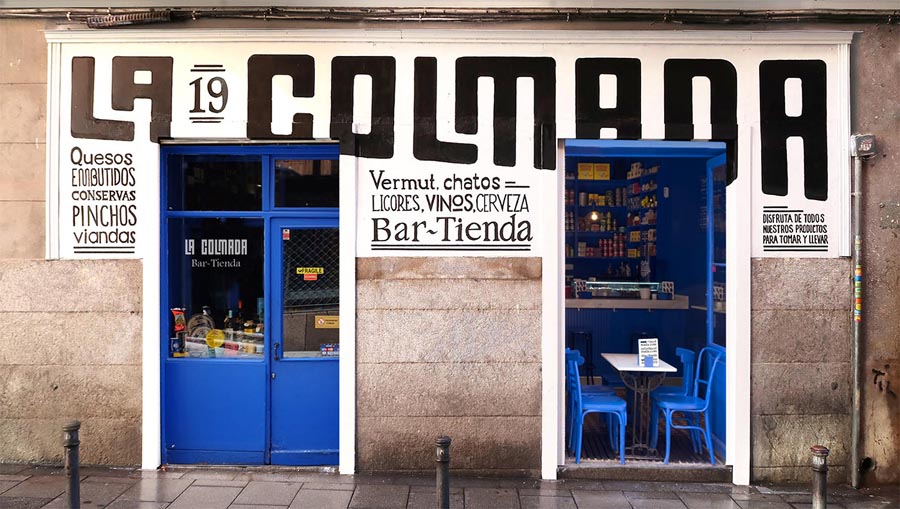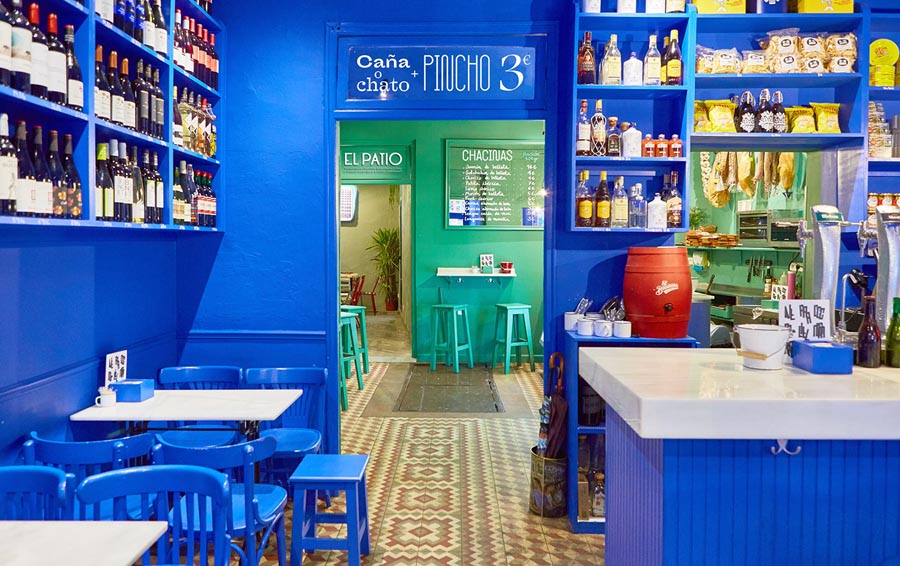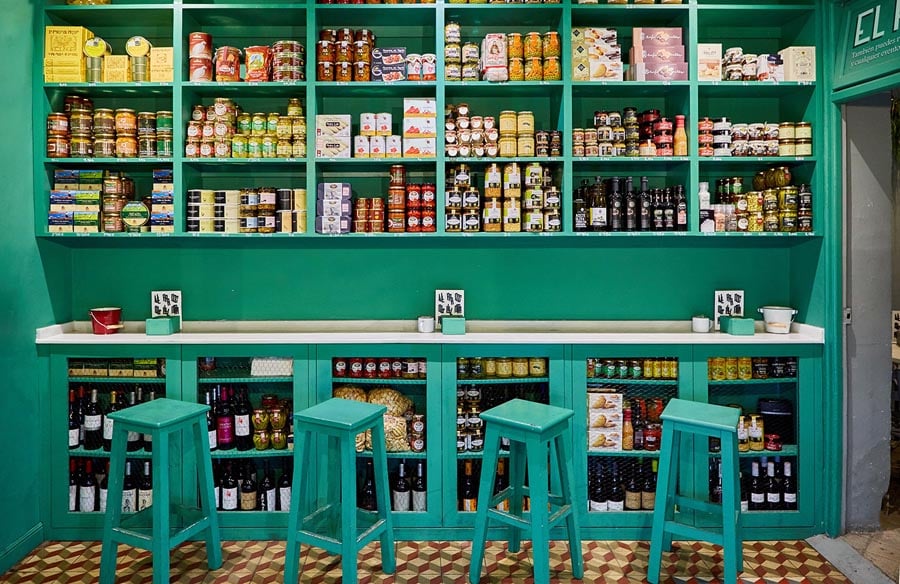 Hungry Beast by Savvy Studio
Hungry Beast is a nice small restaurant in Mexico City designed by Savvy Studio – a branding and architecture studio based in New York and México.
The concept for this health-conscious restaurant and juice bar was to connect the natural flow of the street to the interiors.

In this multi-use spaced, there is a feeling of comfort, efficiency and offers an ambiance that feels organic and modern. The materials such as stucco, the volcanic stone floor and solid woods with a natural finish and with a warm tone were chosen in order to contrast with metallic materials and dark colors.

The design offer another contrast from having various plants and having open design in order to allow the natural light from the city into the space.
—Savvy Studio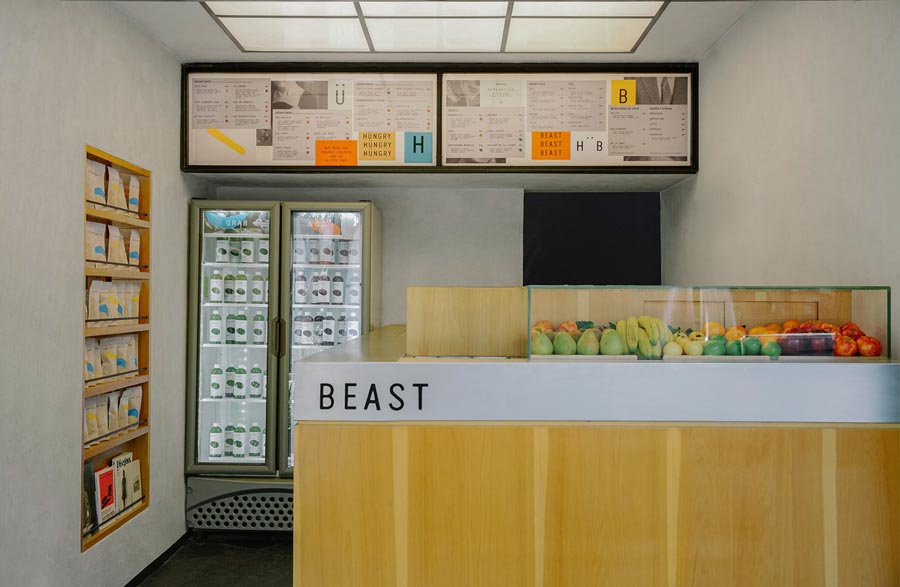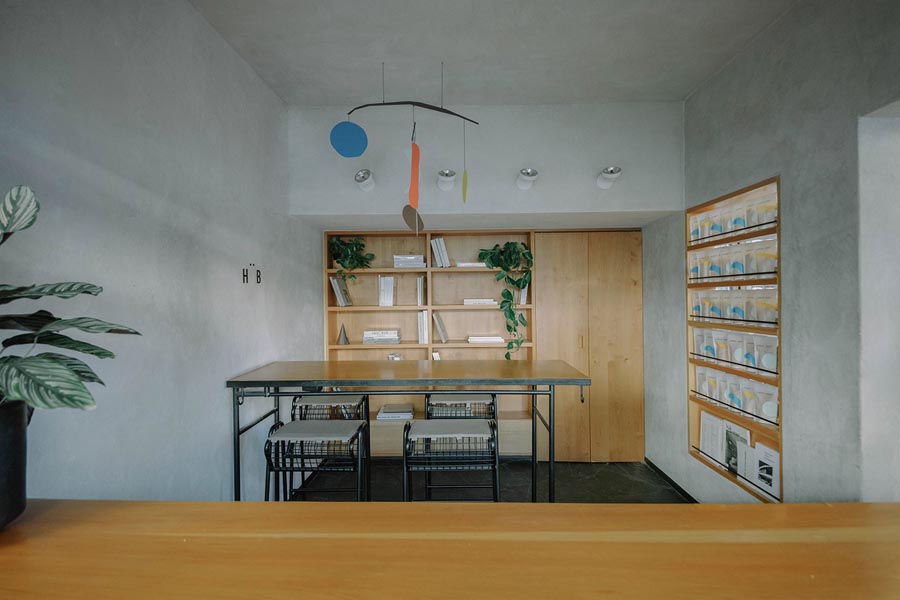 Obed Bufet by Asthetique Russia
Obed Bufet is a restaurant on Arbat street in Moscow, Russia. It was designed by Asthetique Russia who specializes in creating interiors for public spaces such as restaurants, bars, and cafes.
There is an incredible amount of interesting decoration that could threaten to overwhelm, but it's so skillfully executed that it works out very well.
The huge space was designed with an attention to detail you would expect in a much more confined space. The glass veranda in the back will brighten anyone's day by creating a relaxed environment that feels a bit like summer any time of year.

A blue vintage truck has been converted to a dessert and donut station to foster a warm and playful atmosphere. The cupboards, furniture, lighting, cans, and painted wooden panels, concrete hung with colored wooden spoons and awash with warm-colored tiles all emphasize the inspiration behind the project – to serve meals that feel personal to an unlimited number of customers on a limited budget.
—Aesthetique Russia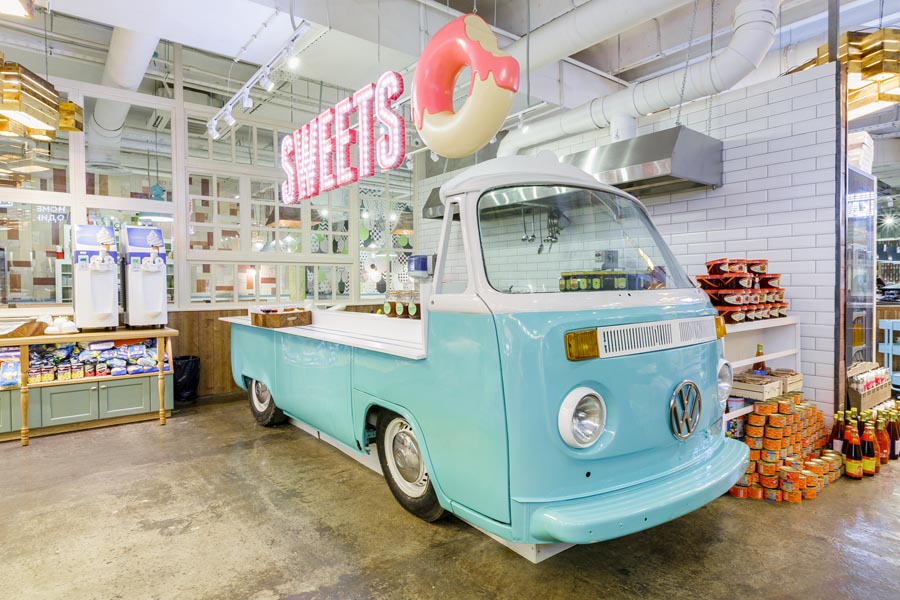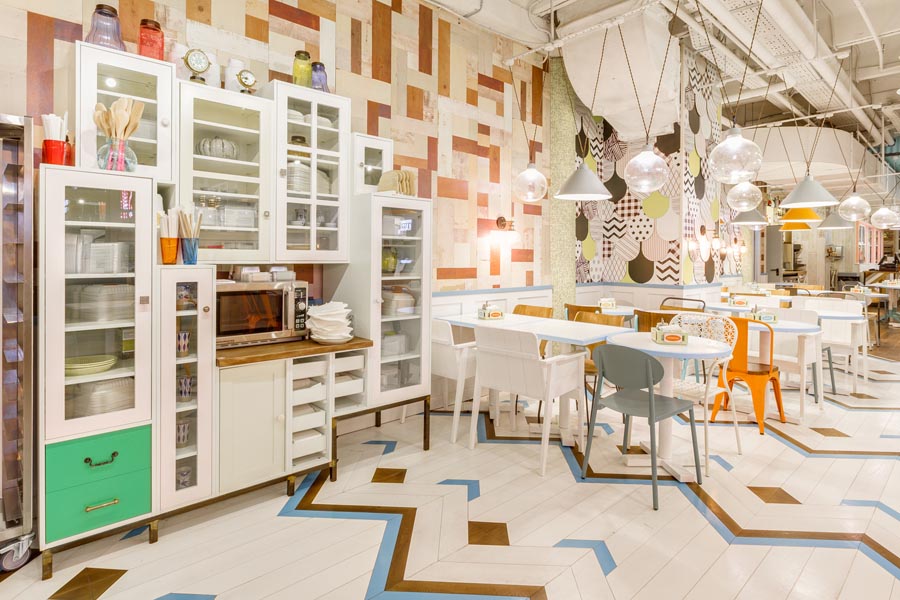 Souva by Brandon Archibald
Fast service restaurant Souva serves Greek food in Seoul, South Korea. They position themselves as a democratic place with a modern look at the classic Greek kitchen. The branding and interior design are by Brandon Archibald – a studio from Odessa, Ukraine.
The task was to develop a logo and brand identity along with interior design. The owner already had a picture of an atmosphere and mood of the future restaurant, so our mission was to understand his idea and to show it through the design. The main rule was to avoid the usual and cliche way to show Greek style. The Souva restaurant's mood had to be expressive and catchy, with a bit rough street spirit.
—Brandon Archibald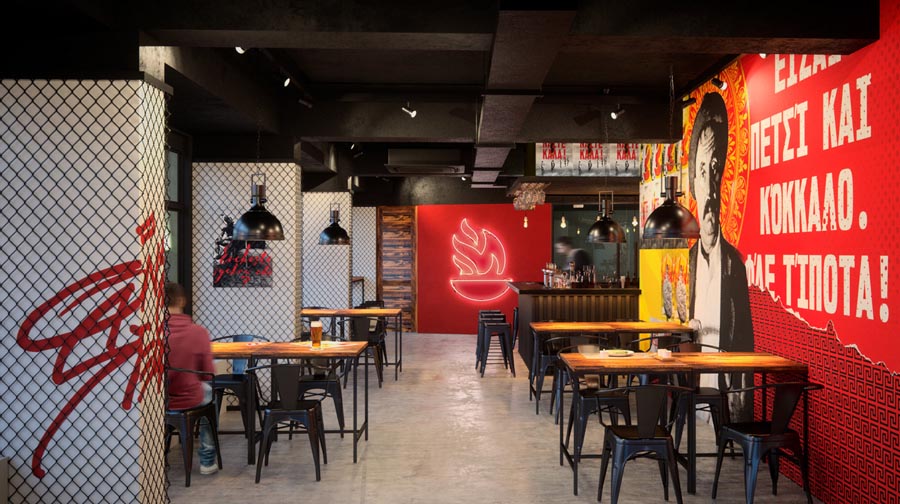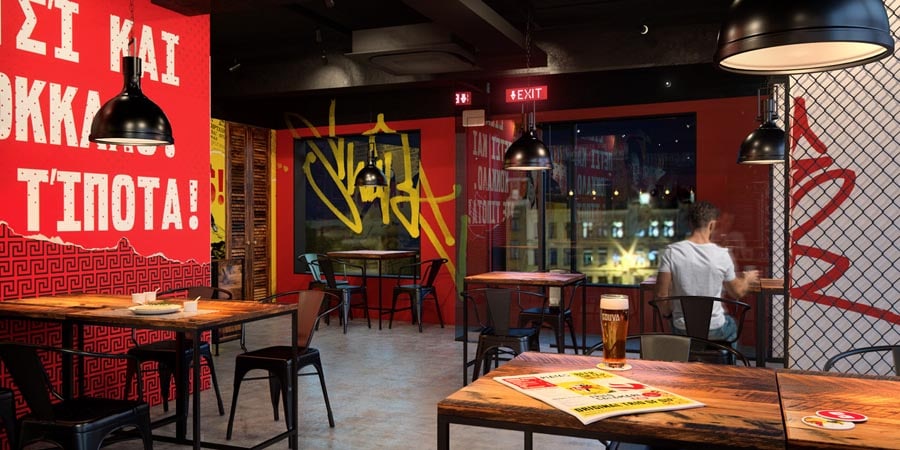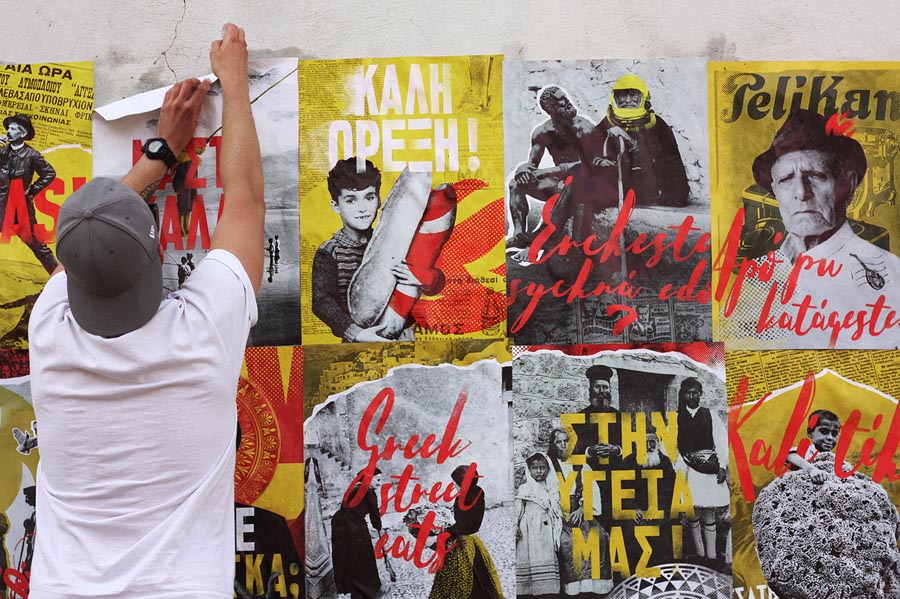 Wom Cafe Restaurant by Kraf&Co Design Studio
Kraf & Co is a design studio specialized in graphic design and interior architecture in Ankara, Turkey.
Here we see a creative interior design project along with brand development and corporate identity design for Wom Italian Cafe Restaurant. I like how there are many spaces with different looks to explore within the same restaurant.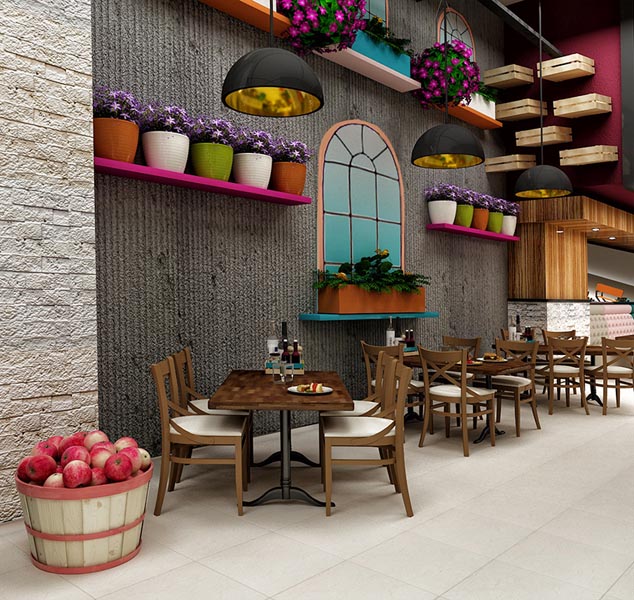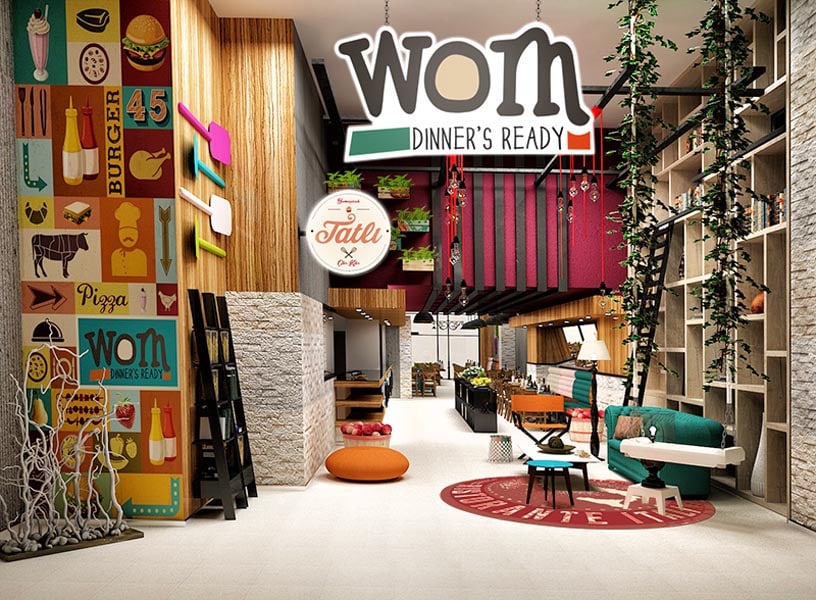 Zizzi Italian by Red Design
Here is another great interior design by Red Design that has a beautiful warm and welcoming color theme well suited to an Italian restaurant.
UK-based restaurant brand Zizzi made a move in late 2018 to venture into the China market. Red Design was charged with integrating Zizzi's rich brand identity throughout the interior with the trademark autumn trees creating a fun and whimsical restaurant space.
—Mike McGirr
Designed by Mike McGirr for Red Design Shanghai.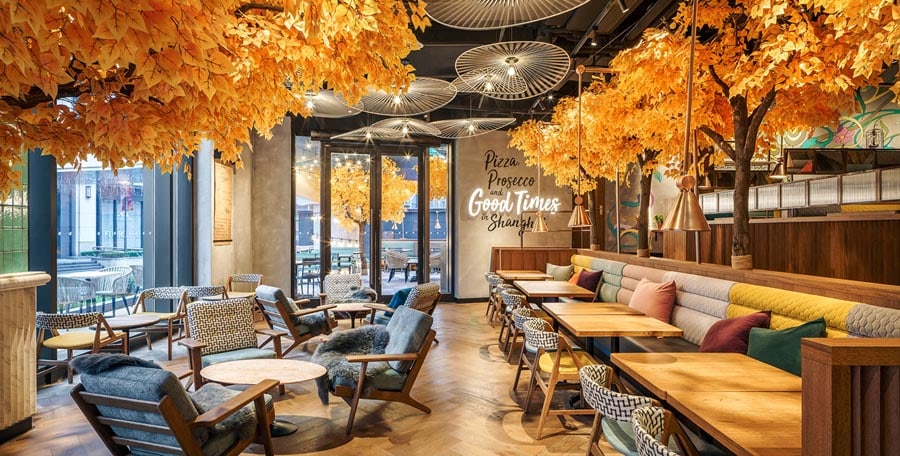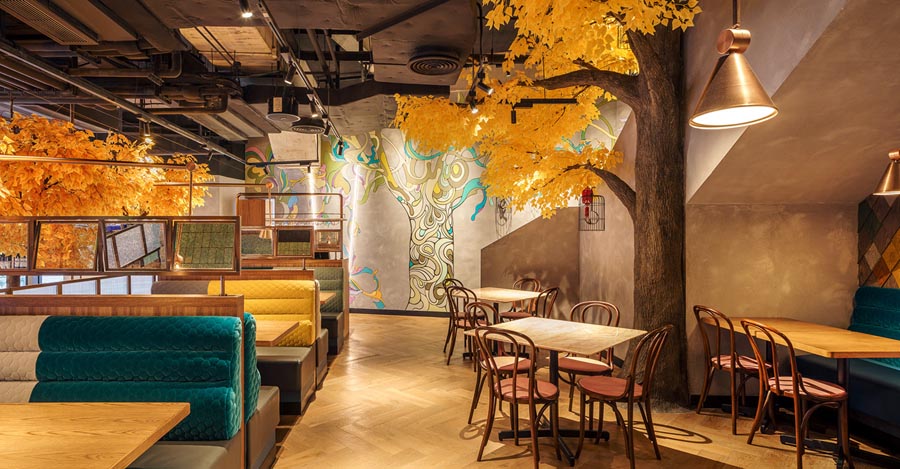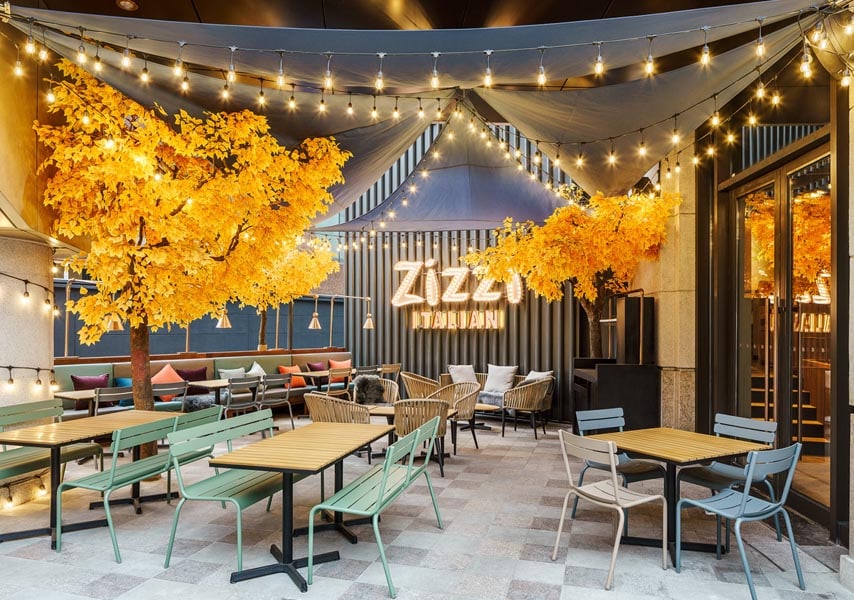 Salat Bar by Aesthetique Russia
Salat Bar was designed by Asthetique Russia who specializes in creating interiors for public spaces such as restaurants, bars, and cafes.
The younger brother of Obed Bufet, SALAT BAR is a project that has its own personality: convenient and delicious food at affordable prices in a captivating interior. As always, a lot of interesting ideas and details ensure guests find new surprises every time they come and never stop smiling until they leave.
—Aesthetique Russia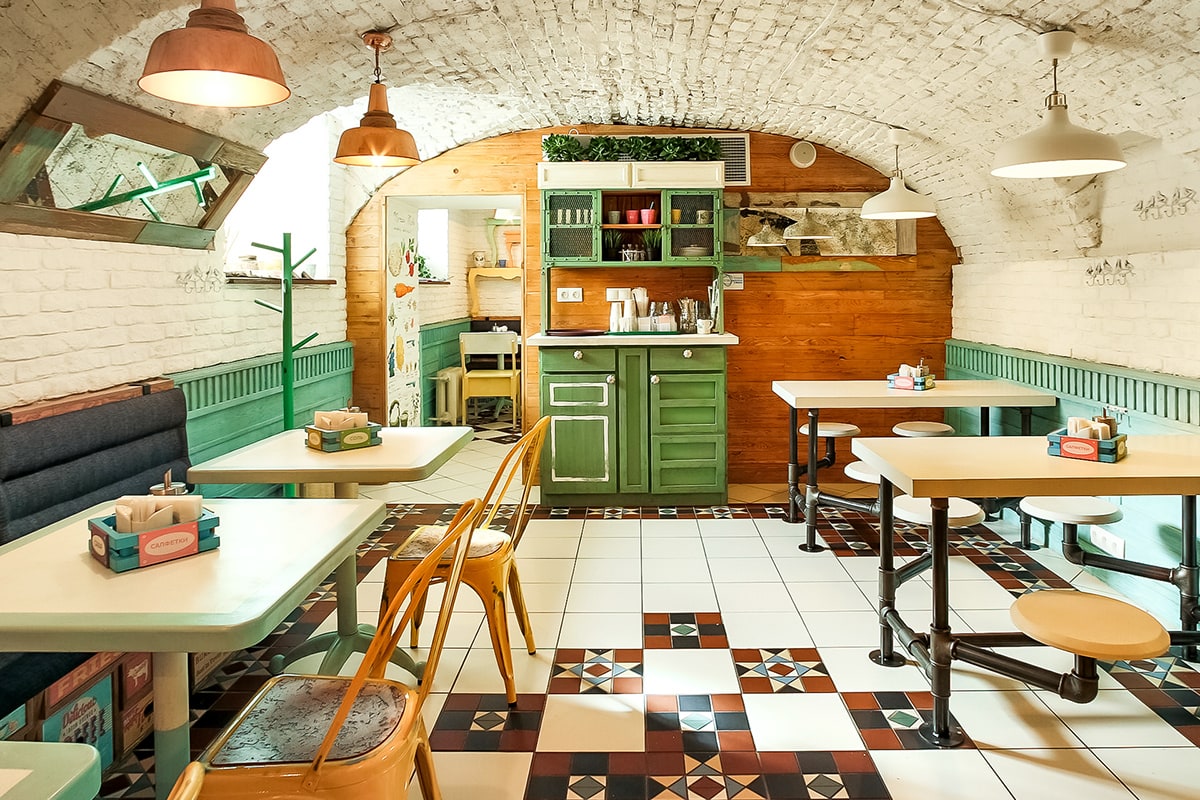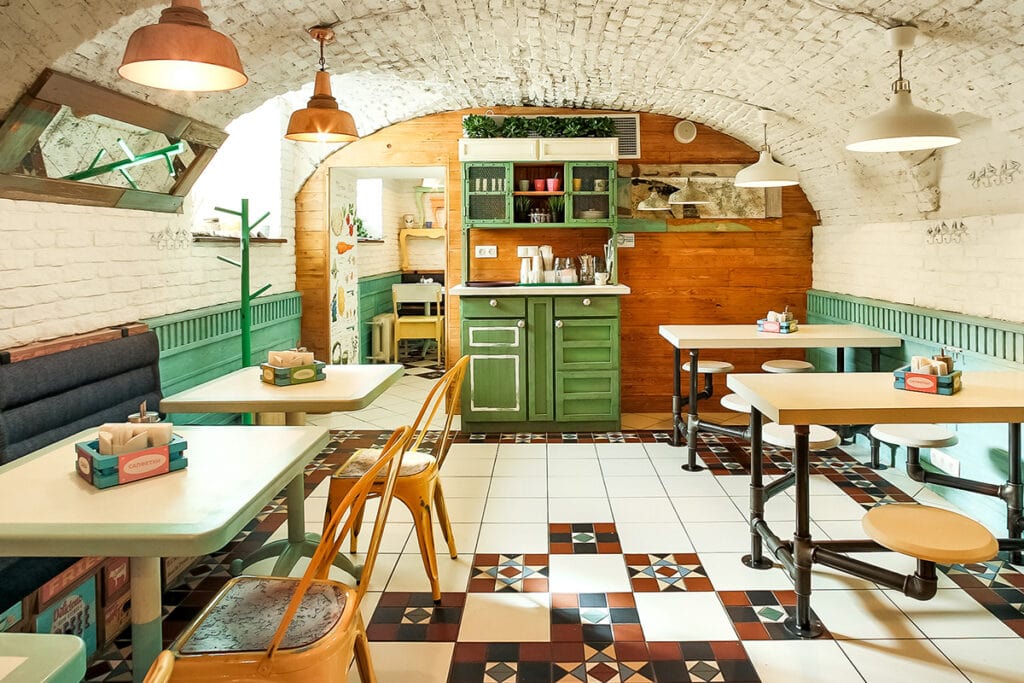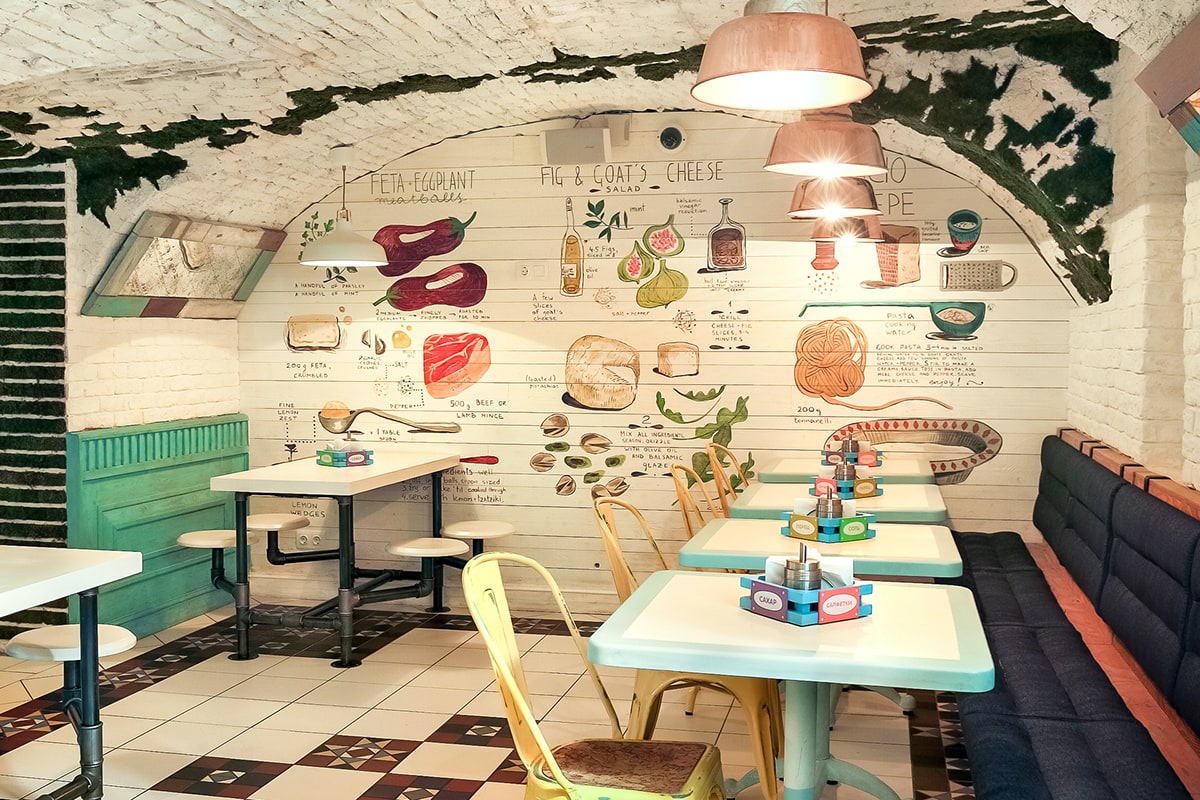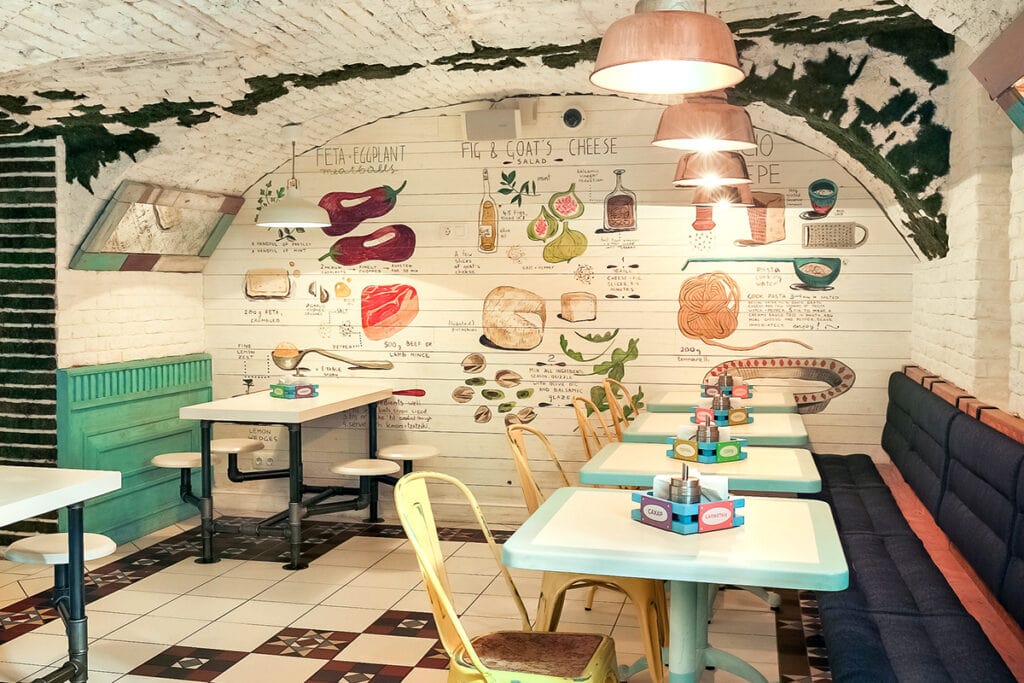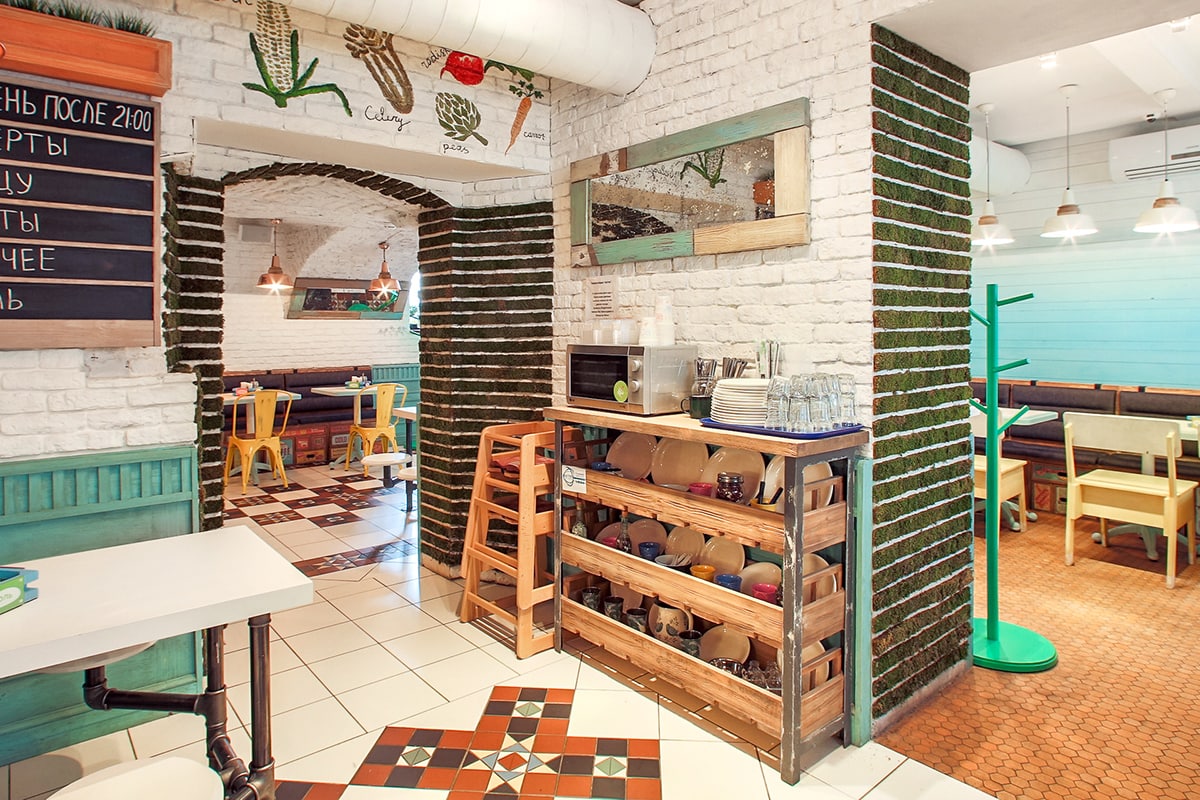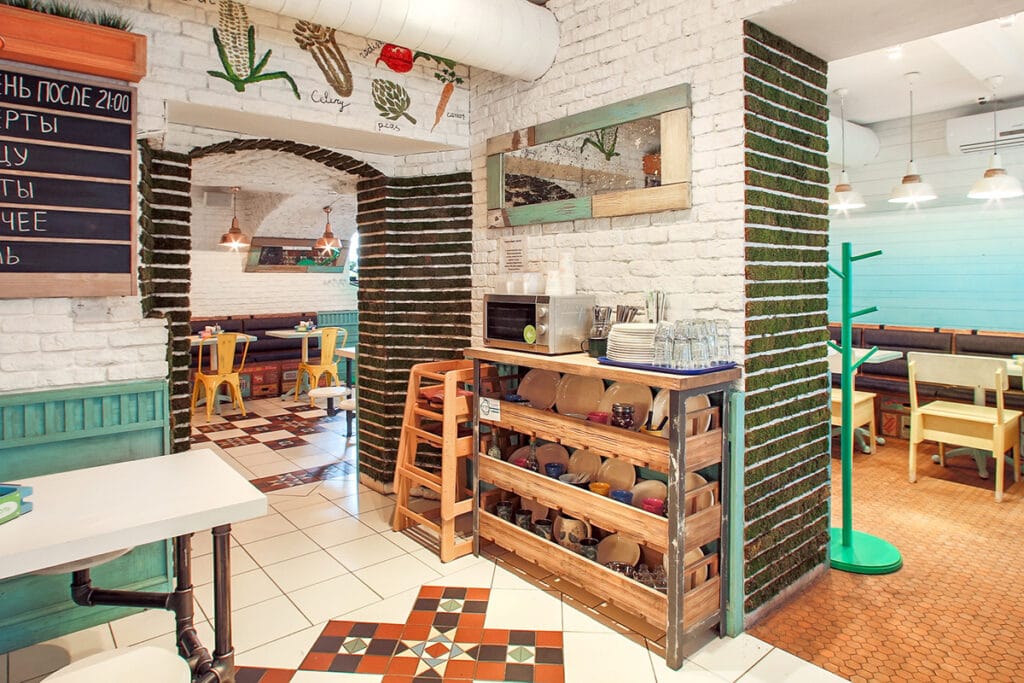 The Box 99 pizza by Misto Zmistu
Misto Zmistu is a design bureau dedicated to making inspiring & unique spaces. They are located in Kiew, Ukraine.
Pizzeria with a brutal interior where the concept is built on the use of sea containers with a symbolic name The Box. The room is The Box. The container inside the room is also The Box. We created a chain of recursion. And inside the blue container on the wall are located boxes of pizza.
—Misto Zmistu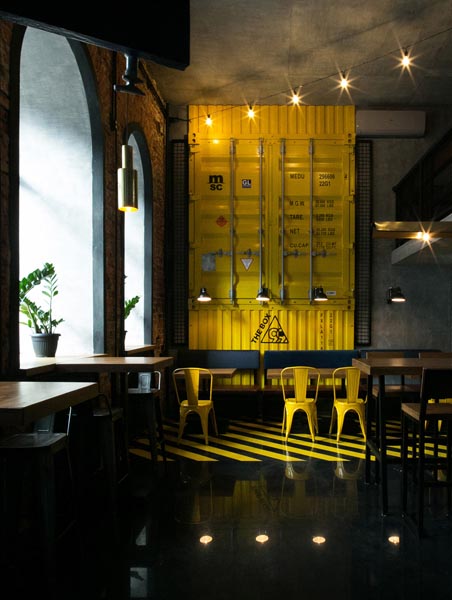 Cafe Marcel by The Lab Saigon
Cafe Marcel is a casual all-day French restaurant and breakfast spot in Ho Chi Minh City, Vietnam. The interior design, branding, and graphic design are by The Lab Saigon.
This is a great modern take on French design from the '60s. Check out the whole restaurant interior design and branding process here.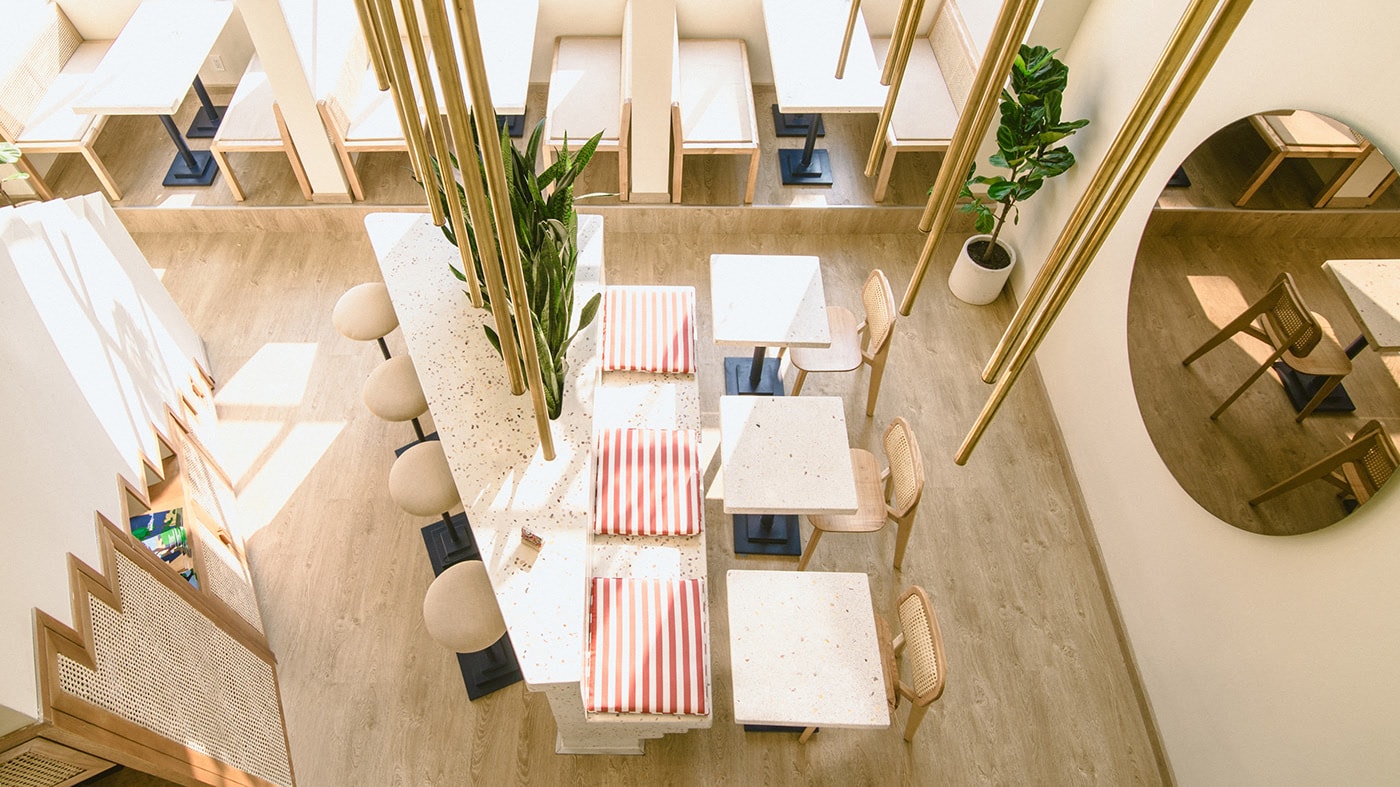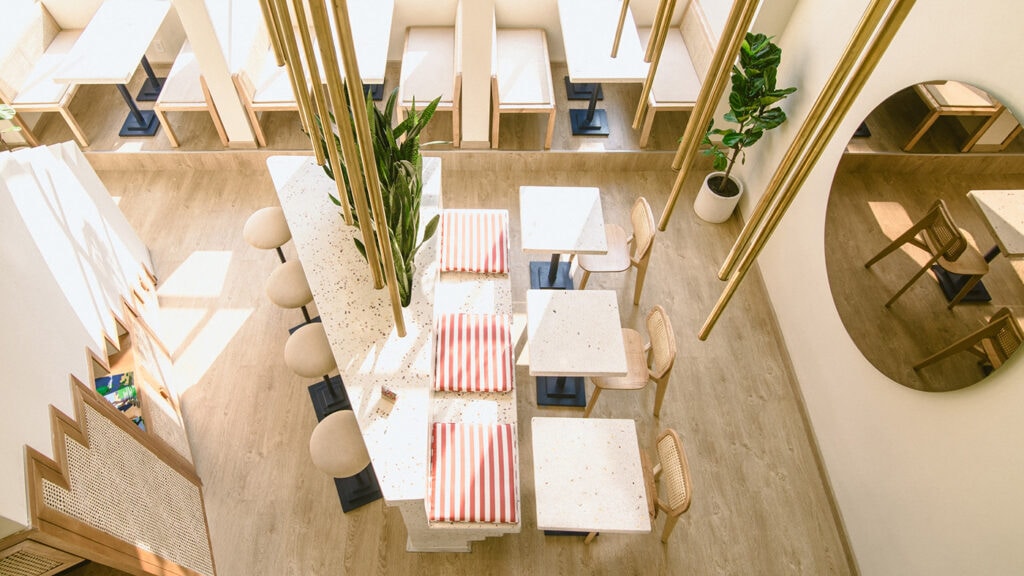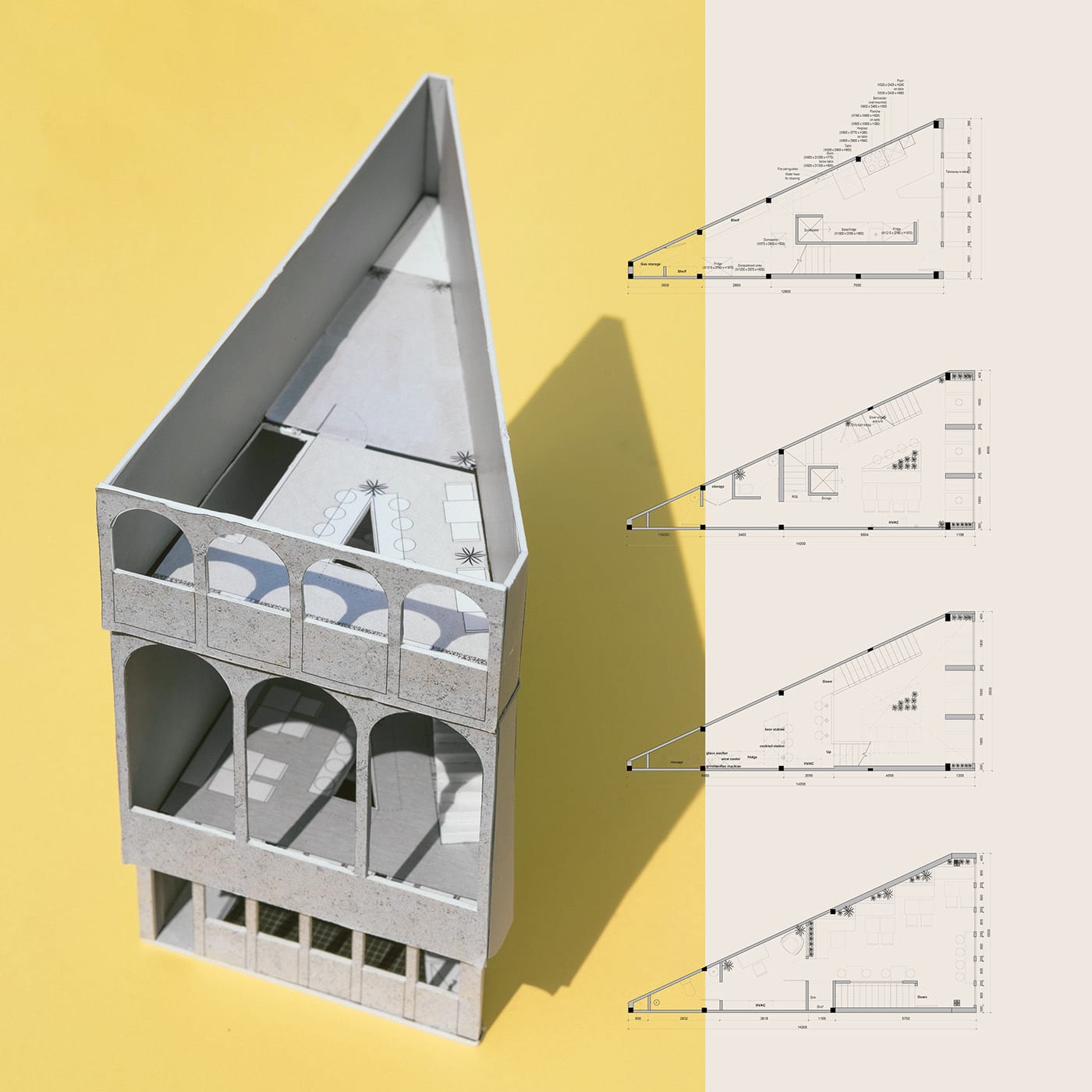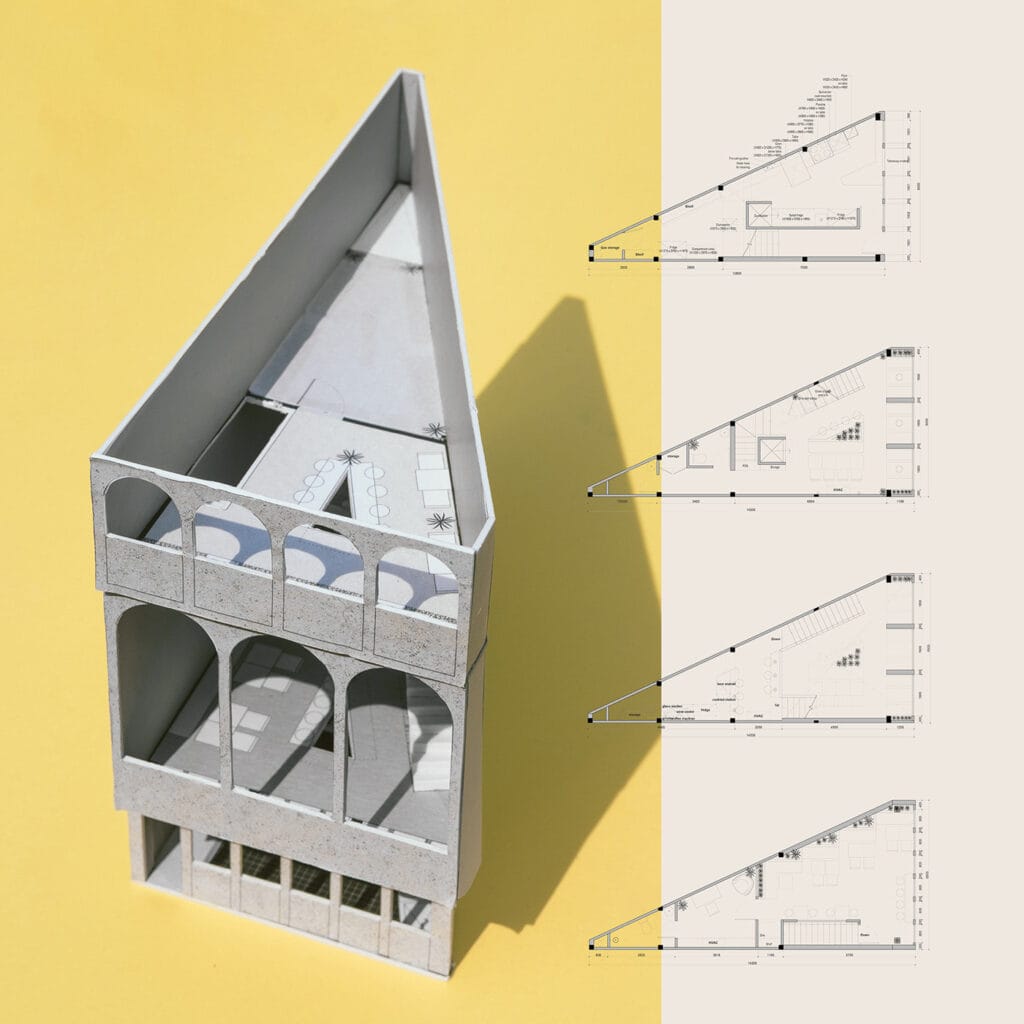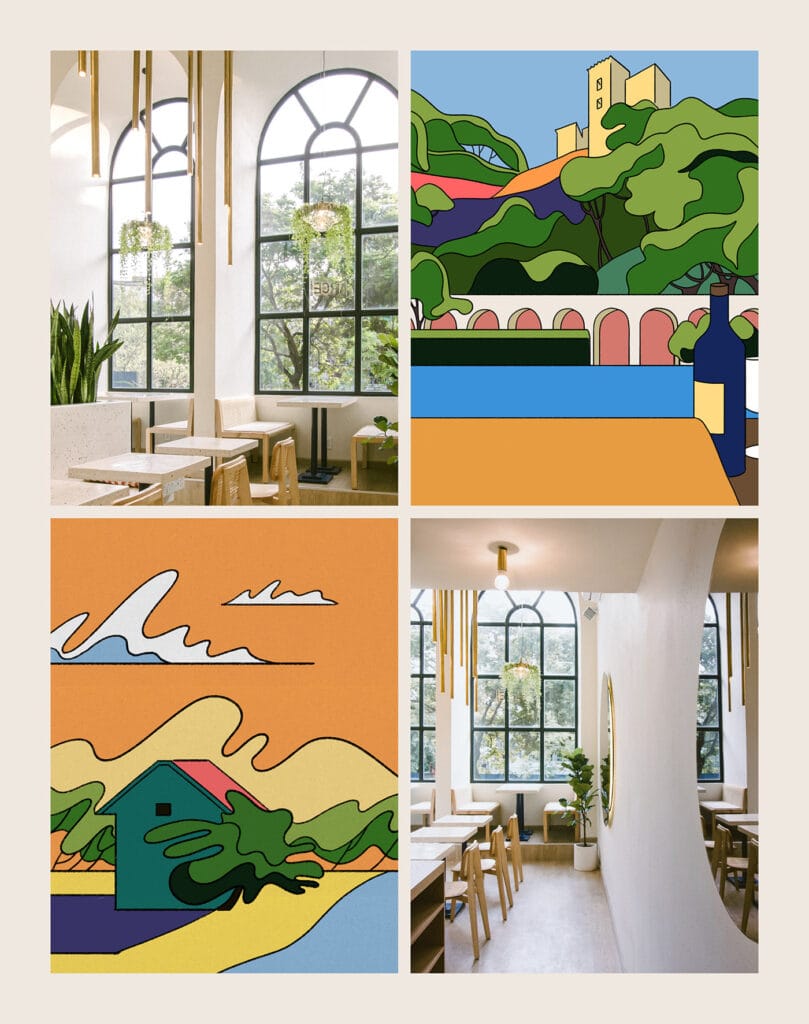 The largest underwater restaurant in the world – BBC Travel Show
The BBC Travel Show visits the world's largest underwater restaurant in Norway as it prepares to open to the public for the first time. Thanks to its innovative design and architecture we find out how it merges with the environment to provide a unique experience.
Food Meets Art at Restaurant LYST in Vejle, Denmark
LYST is located in Vejle, Denmark, a two-hour train ride from Copenhagen. The restaurant is located inside the spectacular Fjordenhus right on the harbor.
Conclusion
I hope you feel inspired after seeing these restaurant interior designs.
Your interior design plays a central part in building your brand and effectively marketing your restaurant. The design theme should fit your restaurant's website, social media, and all other communication.
Next, I recommend you take a look at:
10 Smart Small Restaurant Design Examples (On a Low Budget)
How to Design a Restaurant Floor Plan (+ Layout Examples)