Are you trying to come up with a memorable slogan for your cafe?
Then you've come to the right place.
Here is a collection of 175 coffee shop slogans and taglines to help you create your unique slogan that can accompany your coffee shop name and brand.
I'll also show examples of great slogans from existing types of cafes. These examples will give you more ideas on how to establish your business brand.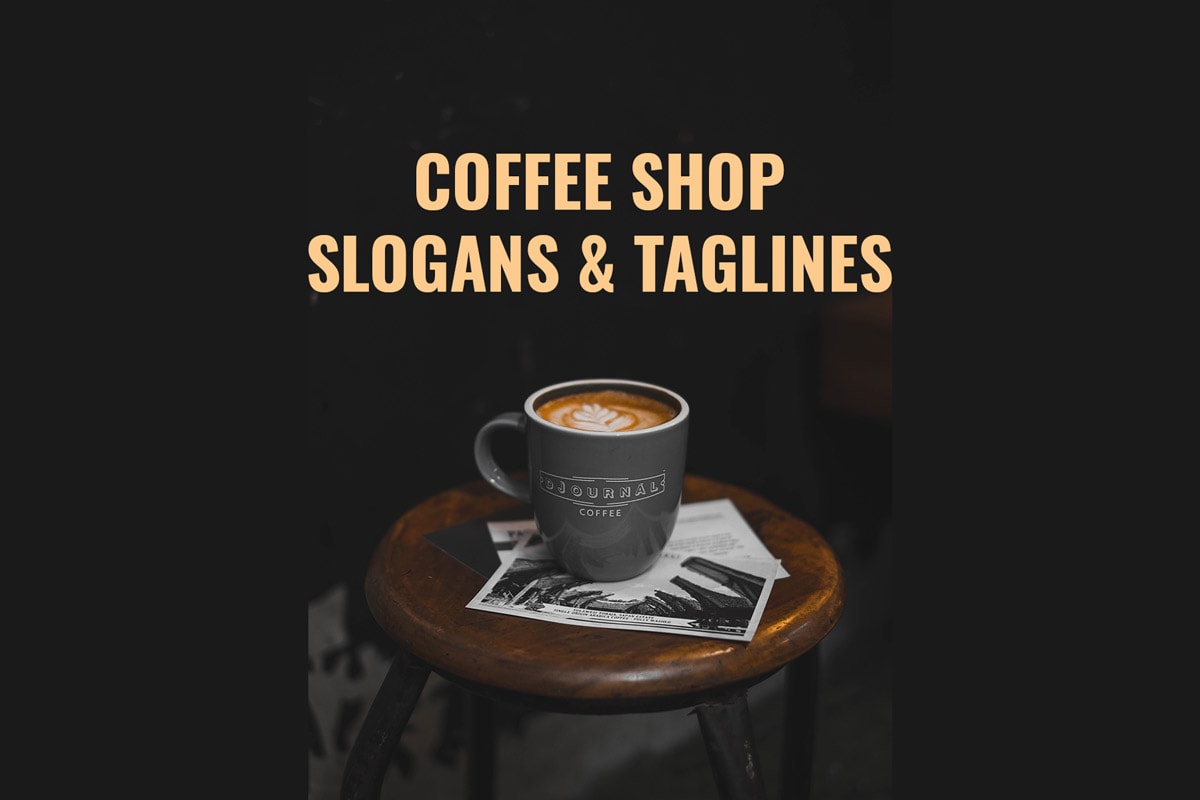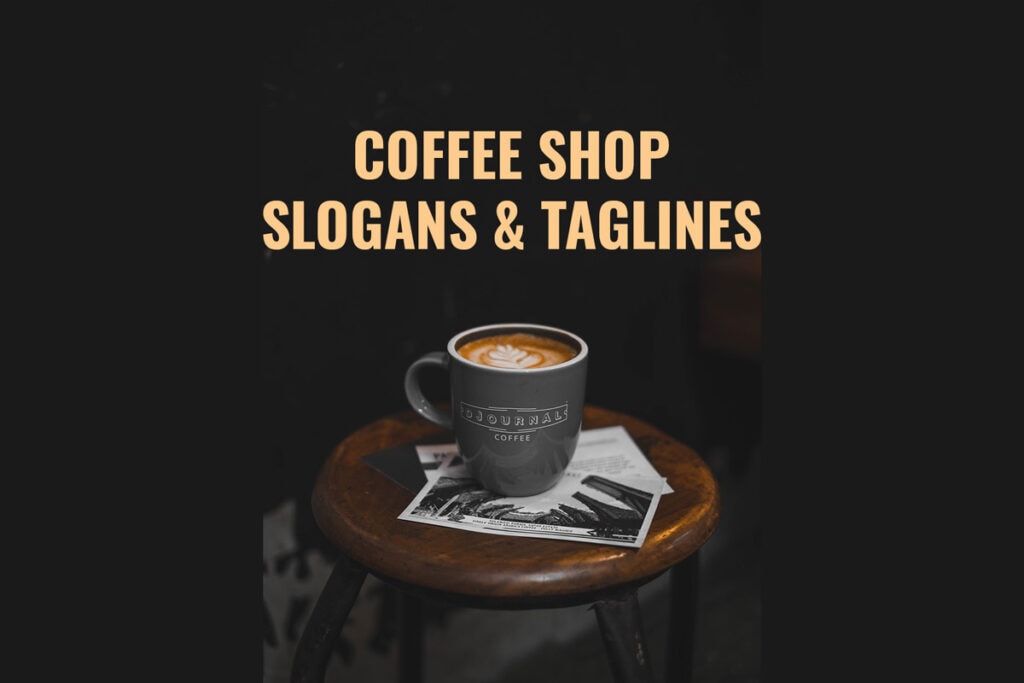 Successful coffee shop owners know that it takes more than just a strong product and delicious drinks to attract new customers. If you're looking to open a coffee shop, or if you're already in the business, then you need to do all you can to draw attention to your brand.
A great tagline will convey your value to customers, give them a descriptive summary of your brand, and differentiate you from competitors.
At the end of the article, we discuss the difference between a mission statement and a slogan or tagline. Then we take a look at some examples of mission statements from three coffee shops.
Finally, we end the post with five simple tips to help you create a slogan for your cafe.
Now, let's take a look at the slogan ideas:
Catchy Coffee Shop Slogan Ideas
Creative Coffee Shop Taglines
Clever Coffee Shop Slogans
Cute Cafe Tagline Ideas
Organic & Local Coffee Slogans
Italian Style Café Tagline Ideas
French Style Café Slogans
Hipster Coffee Shop Slogans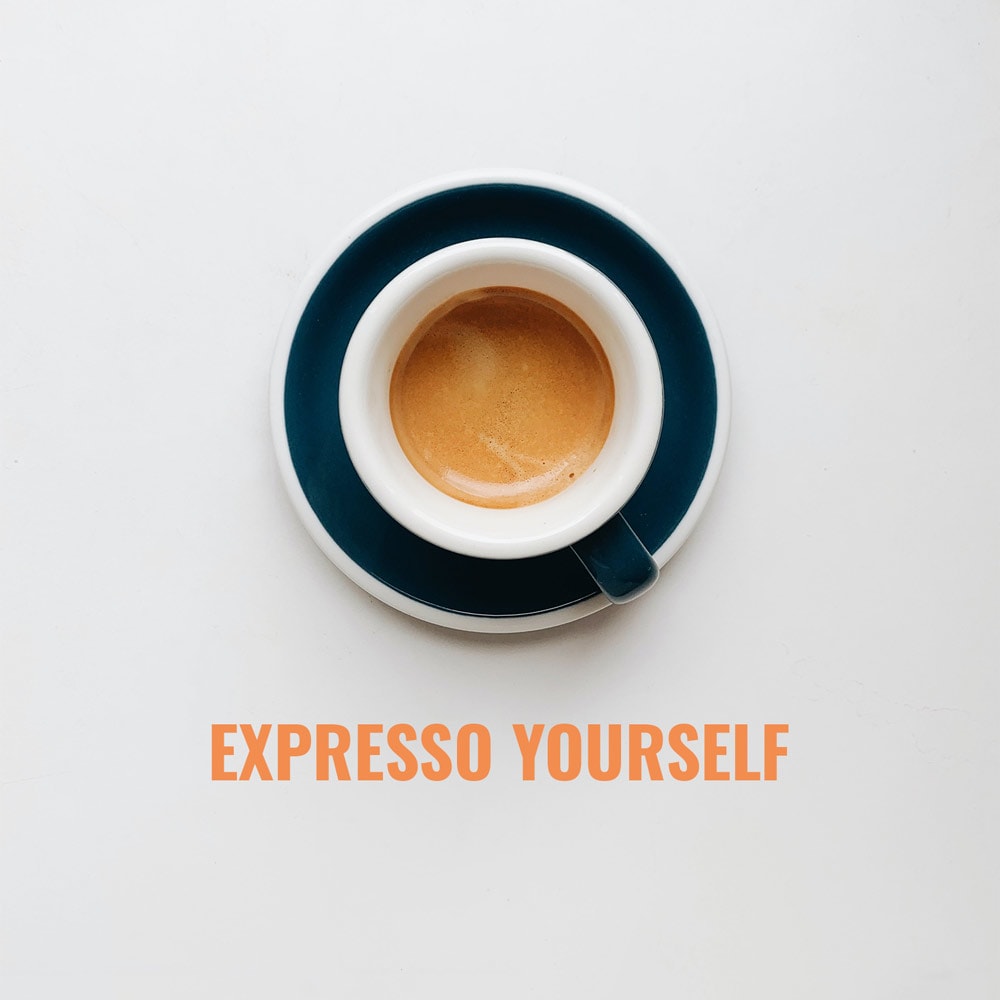 Catchy Coffee Shop Slogan Ideas
We don't make your coffee. We make your day.
Expresso Yourself.
Work hard. Drink coffee.
Come as you are. Leave as a friend.
Coffee – we've got your morning covered.
Your Coffee. Your Way.
A moment of joy.
Coffee for life.
Where mornings are brighter.
Because you can never have too much coffee in your life.
Wake Up.
Coffee with character.
Live your best coffee life.
Pure coffee. Pure community. Pure experience.
Where a cup of coffee is a moment to share.
Good Friends. Good Coffee. Good Times.
Life is a great cafe!
Start your day right.
There's Always Room for Coffee.
It's not just coffee, it's an experience.
Life is better with coffee.
Don't you wish every day was a coffee day?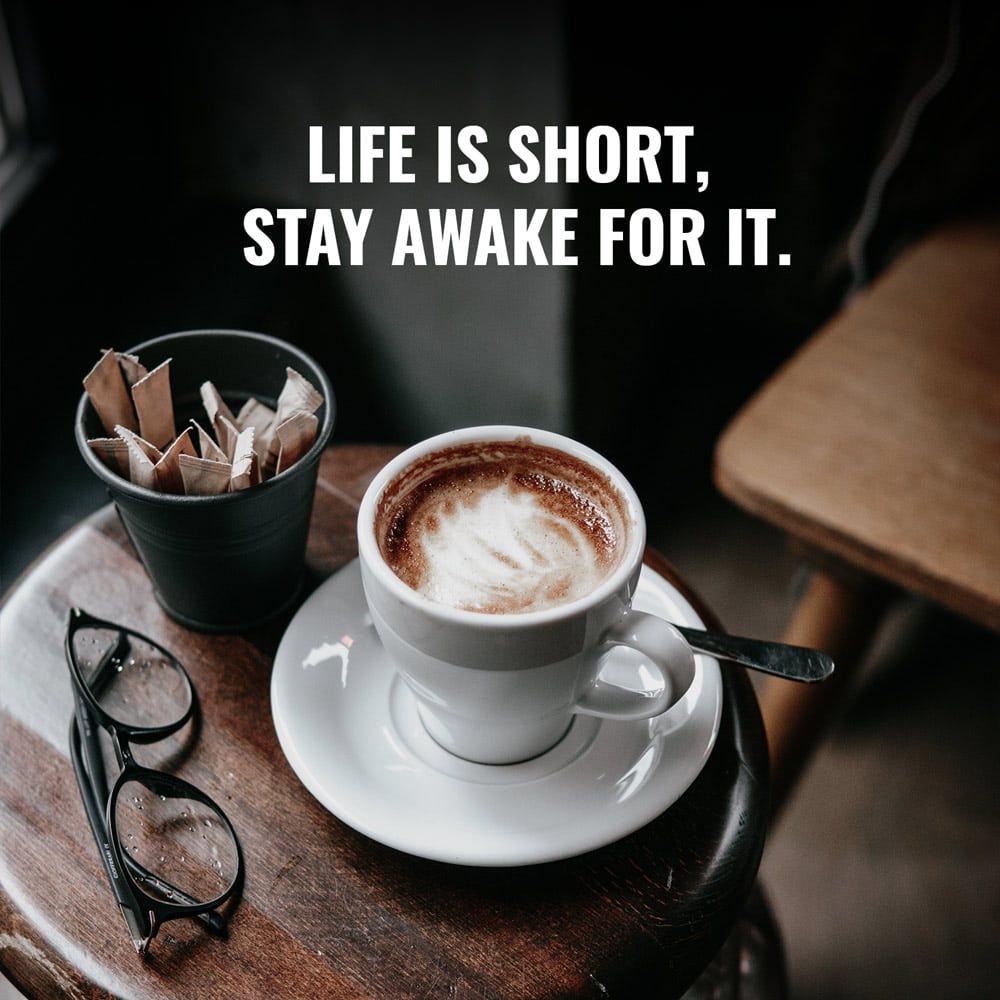 Creative Coffee Shop Taglines
Coffee that fuels your dreams.
Life is short, stay awake for it.
Coffee, Art, and Vintage.
Fuel for your creativity.
Coffee for the creative mind
A neighborhood spot for people who would rather do something great today.
A place for friends, art, and more.
The Art and Science of Great Coffee
Where coffee is art.
Stop settling for less, have an affair with our café.
Coffee, tea, and conversation since 1983.
It's not just a coffee.
The Art of Drinking Coffee.
Where Creatives Get Connected.
A cup of coffee for every mood.
You can't blend in when you stand out.
Coffee so good, it might as well be magic.
A global awakening.
Coffee so good it changes your life.
Artisan Espresso -The Spirit Of Coffee.
Passion in a cup.
Coffee. Culture. Community.
2 Essential Posts when Growing a Restaurant Business
As you are reading this article, also check out the two articles below!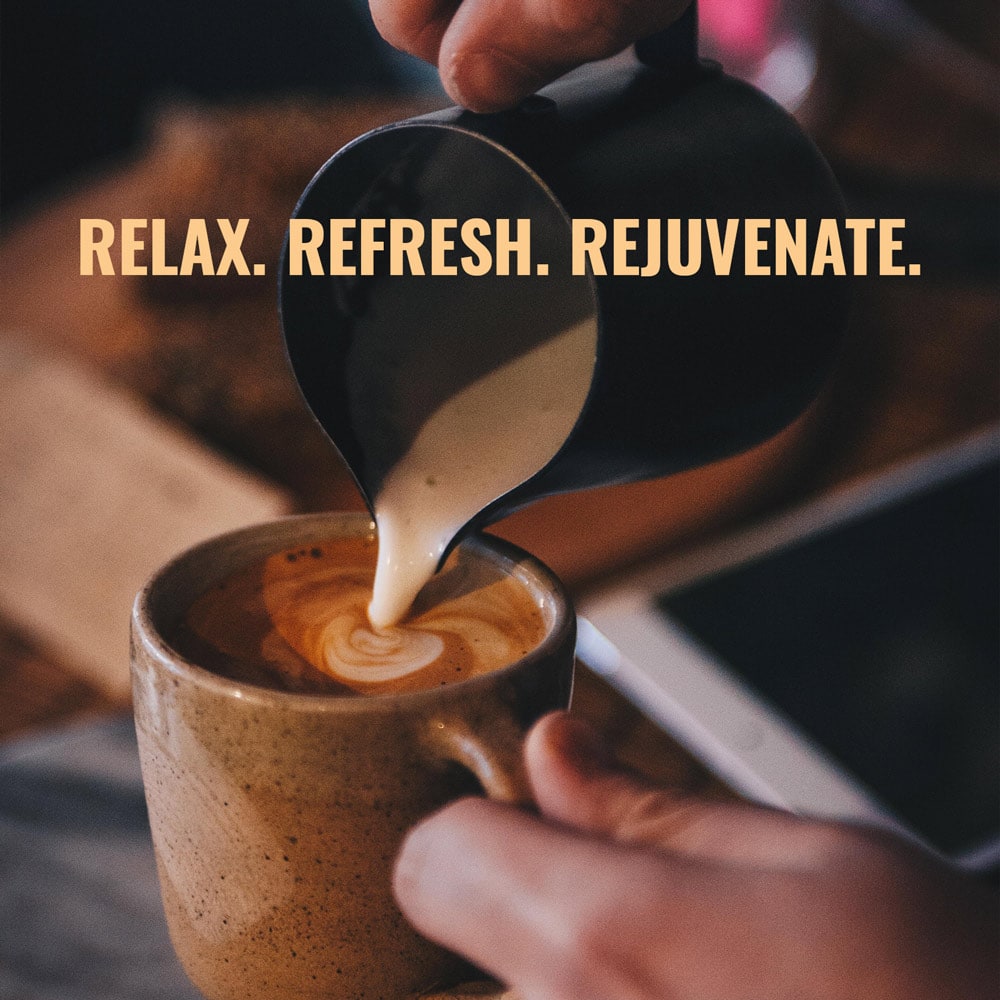 Clever Coffee Shop Slogans
Get in. Get a coffee. Get going.
Where all roads meet.
Cafe culture with a modern twist.
Life is short; drink good coffee.
The best coffee is the one you like the most
Think Outside the Cup.
Coffee worth talking about…
Life's too short for bad coffee.
Our Coffee, Your Way.
Because coffee is a lifestyle.
Coffee so good, you'll never want to leave.
Relax. Refresh. Rejuvenate.
Coffee First Always.
Life is too short for bad coffee.
A coffee lover's coffee shop.
If you love coffee, this is where you belong.
Coffee the way it was meant to be.
Coffee worth talking about.
A cup of coffee, a moment of your time.
More than just coffee.
Bean There, Done That.
Coffee. The way nature intended.
The best coffee in town or it's on us.
We're all just looking for the same thing.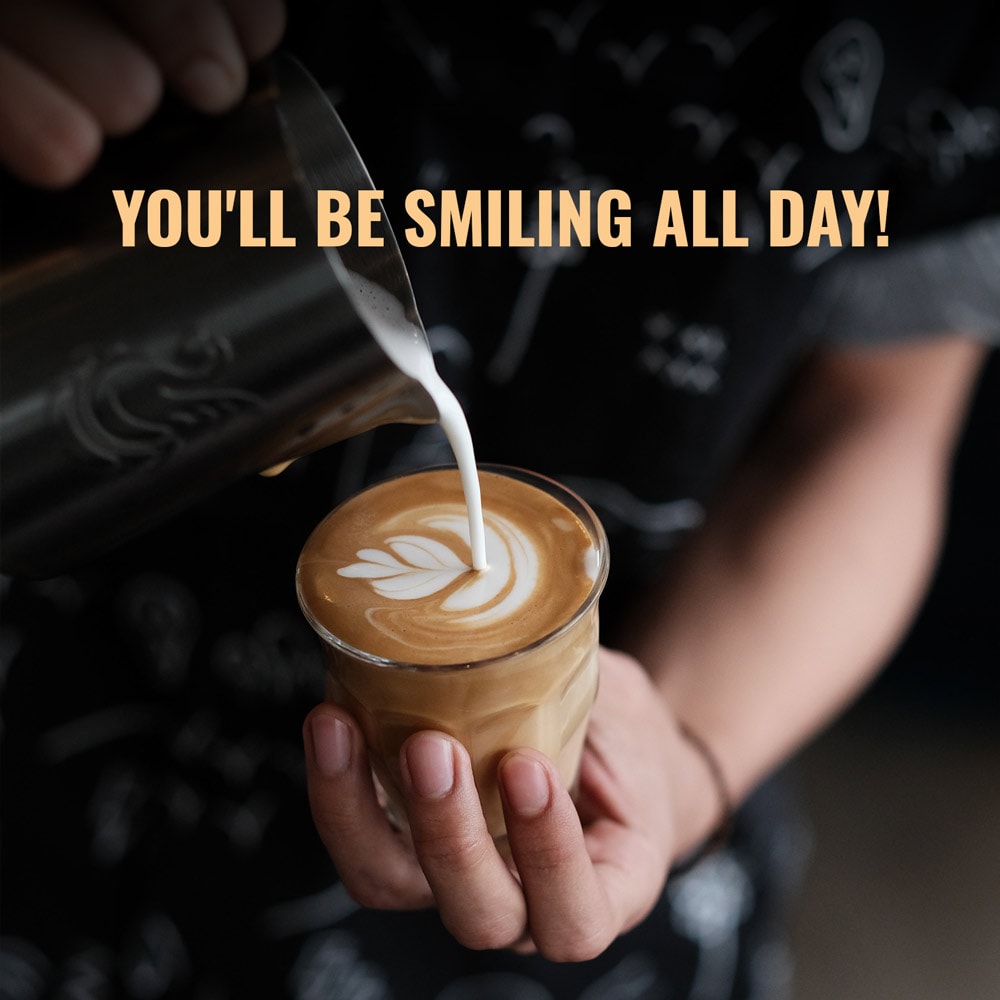 Cute Cafe Tagline Ideas
The little coffee shop on the corner of the street.
Dive into the world of comfort.
Your daily happiness.
Coffee is Your Friend.
Coffee so good, it's worth a selfie.
We like you, come on in.
A coffee shop for the rest of us.
You've got a friend in coffee.
You're here. You're good.
The best part of waking up is coffee.
Make coffee not war.
Home of the original latte art.
A cup of happiness.
Good coffee, Good times.
You'll be smiling all day!
Come in and stay awhile.
Coffee, Coffee, Coffee!
The coffee shop of your dreams.
Coffee is forever.
Living the dream!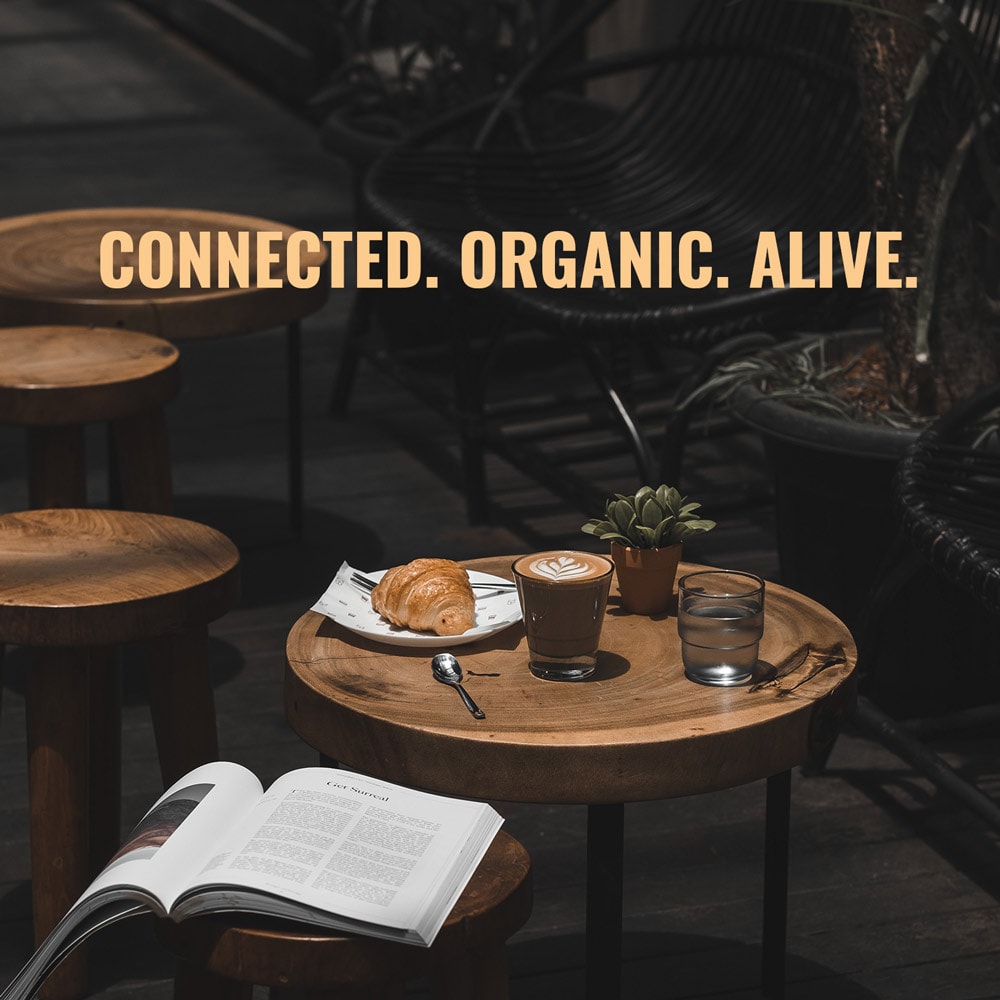 Organic & Local Coffee Slogans
Connected. Organic. Alive.
Peaceful, Natural, and Aromatic.
Coffee & Community.
We'd like to buy the world a cup of coffee.
A coffee shop with a conscience.
Life is better when it's local.
Where everybody knows your name.
We love coffee. We love you.
Let's go simple.
We're more than just coffee.
Good food, Good coffee, Good karma.
A Fresh Approach to Coffee and Tea.
It's the coffee that makes the neighborhood.
We're not just a cup of coffee. We're a lifestyle.
Smarter Coffee.
Serving up New York City's best organic coffee.
Coffee with meaning.
Coffee. Kitchen. Community.
A 100% plant-based cafe. Accept no substitutes.
A fine cup of coffee for all the good people.
Fair Trade. Fair Price.
Good coffee. Good people.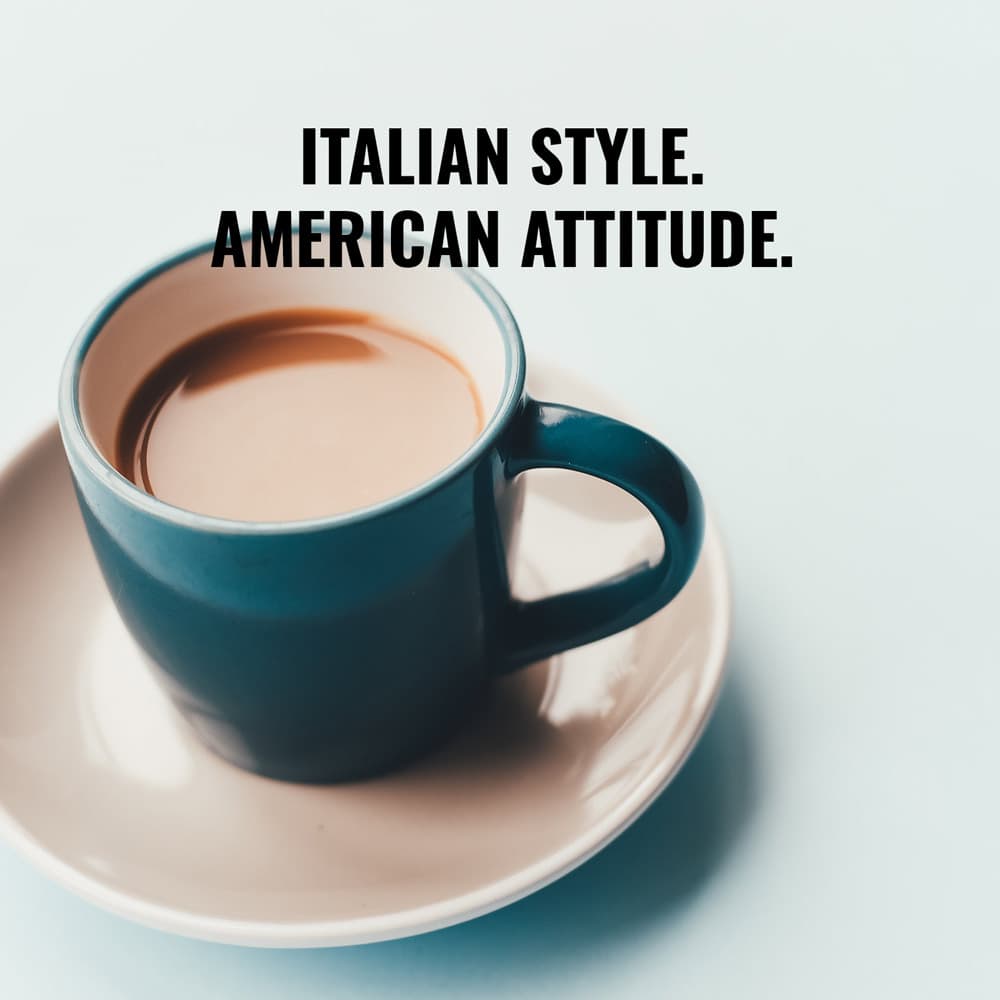 Italian Style Café Tagline Ideas
Sip, chat, share, relax.
Buongiorno!
Where coffee and community come together.
Our passion is in our coffee.
A Classic.
The Perfect Blend of a Historic Neighborhood and a Modern Coffee Shop.
Nostalgic coffee.
Italian style. American attitude.
Where friends meet, memories happen.
This is one of the most important things you do today.
Exchange cultural experiences over coffee.
The best espresso in the city.
Coffee, Inspiration, Passion.
A little bit of Italy in the heart of LA.
Taste the tradition.
La Dolce Vita.
Experience the Italian atmosphere.
Traditional charm with a modern twist.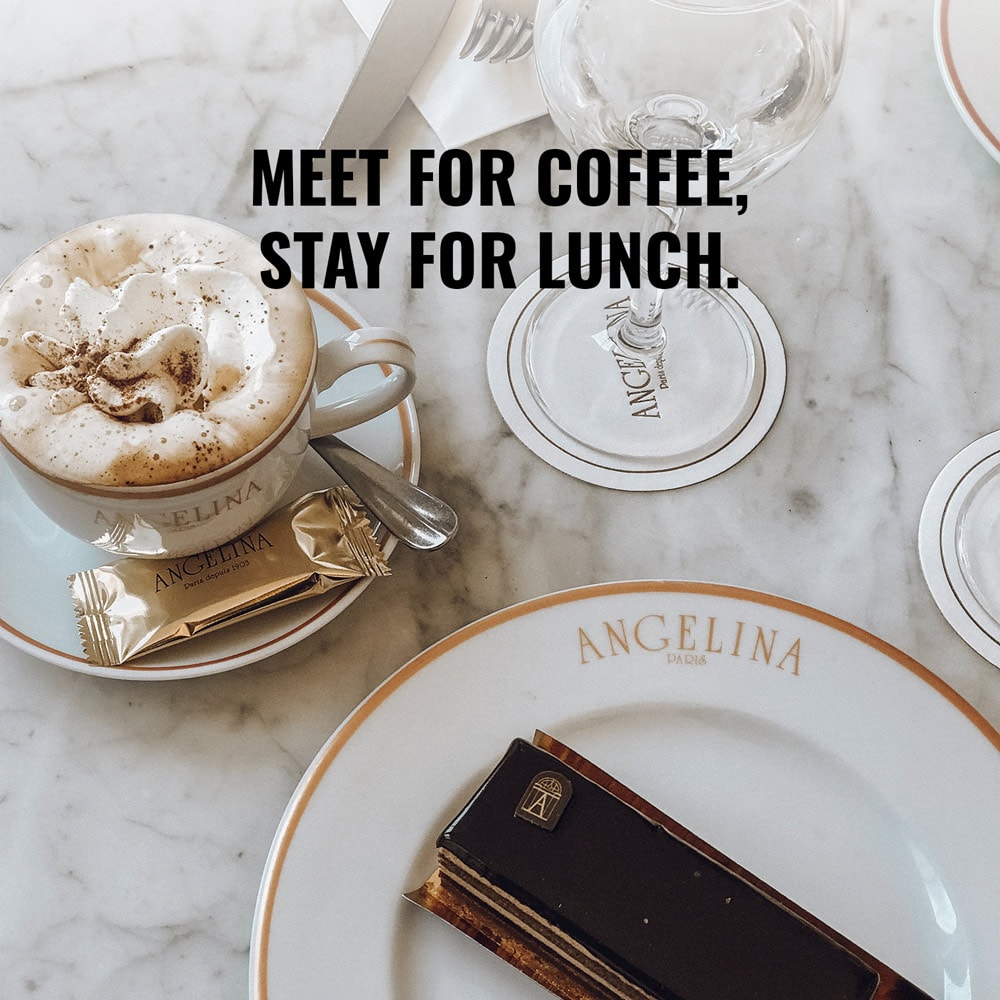 French Style Café Slogans
Meet for coffee, stay for lunch.
We make coffee more enjoyable.
Where coffee comes to life.
A great cup of coffee. And then another.
Coffee made with care.
Coffee so good you'll never want to leave.
The art of coffee.
French connections.
A touch of Paris.
Taste the French Dream.
Charming and Casual.
Coffee, Food, Stories.
Coffee. Revolutionized.
A taste of Paris.
A French twist to crêpes and coffee.
It's not just a café. It's a philosophy.
Say oui to something different.
Your little piece of Paris.
Fuel your passion.
French charm.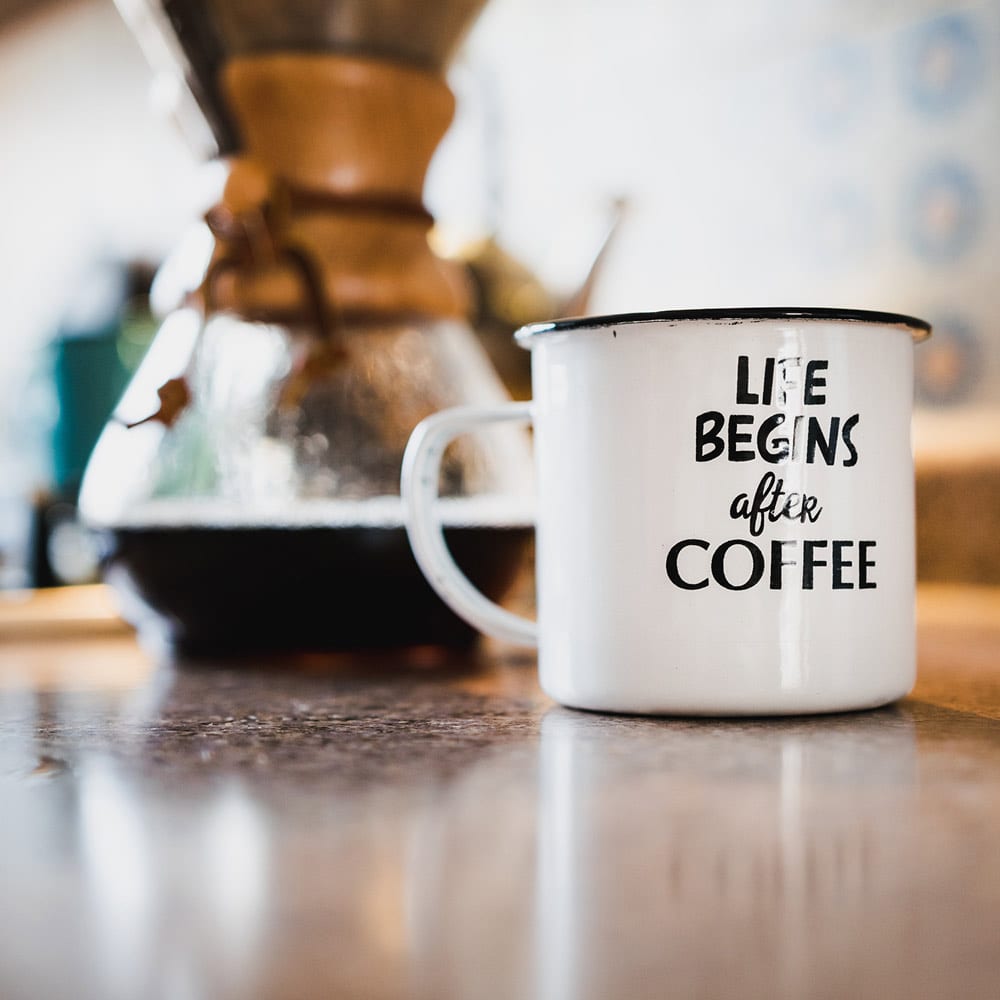 Hipster Coffee Shop Slogans
Life begins after coffee
Coffee with Passion
A modern coffee experience.
Food, Coffee, and Wifi for humans.
Smart. Sustainable. Stimulating.
Simplify.
The Coffee Bar for Real People.
Where drinking coffee is taken to the next level.
The World's Cafe.
Coffee for the modern world.
Slow Coffee. Fast WiFi.
It's the coffee, stupid.
Where the grinding is real.
Cafe of the future.
The best coffee on the planet.
Good Coffee and Good Food Have No Borders.
We're brewing up something good.
Grab a cup. Join the conversation.
Coffee. Redefined.
This is not a Starbucks.
Intelligentsia approved.
Good vibes, good coffee.
The best coffee in the world is here.
Shop Locally, Consume Globally.
7 Examples of Great Slogans from Real Coffee Shops
A cup of coffee lasts only a moment, but it is that moment that makes your day better.

– Mokarico Caffe Firenze
A café, coffee corner, lunch spot, pub, bar and eatery in one place with one of the most beautiful sun-drenched terraces in Amsterdam.

– Karavaan
Bonjour… Welcome to Cape Town's first authentic Parisian Crêperie

– Swan Café
Bold, Bad Ass Hospitalians

– Coffeebar
Coffee is our soul. Focusing on the minute; being meticulous over every detail. Everything we do is considered to give an unparalleled experience of simplicity with substance.

– Noc Coffee Co
Of the land, for the people. Only in Kona.

– Kona Coffee Purveyors
Let's point your day in the right direction

– Tamp Coffee
2 Essential Posts when Growing a Restaurant Business
As you are reading this article, also check out the two articles below!
What's the Difference Between a Mission Statement, Slogan & Tagline?
Coffee shops are a staple of any town or city. They are generally the gathering place for locals where they meet up with friends, have meetings, get some work done, or just have a casual chat. Coffee shop owners need to clearly understand what their coffee shop is all about and how they can position themselves to stand out in the crowd. This is where slogans and taglines come in handy.
Your restaurant's tagline, slogan, and mission statement are all vital components of your brand identity. Each can help your customers understand what makes your business different.
A company's mission statement and tagline are similar, but they're not interchangeable. A mission statement helps a company describe its business purpose and values. A tagline is a short phrase or sentence that allows the company to stand out in the minds of its customers. A slogan is a series of words, usually a catchphrase, which helps customers recall the company and buy its products.
To Summarize:
A mission statement explains a company's business purpose, values, or goals. The words are designed to appeal to consumers who want to understand why a company exists.
A slogan or tagline is a collection of words, often two to five words long to distinguish a restaurant from its competitors and give it a memorable identity.
If you want to see more examples of food business mission statements and how to write them, check out this article: 17 Truly Inspiring Restaurant Mission Statement Examples
6 Excellent Examples of Coffee Shop Mission Statements
Coffeebar is the fuel that propels you throughout your day. Inspired by the Italian coffeebar culture, we believe we are Hospitalians first, baristas and chefs second. Making people feel good is our M.O. Founded in Truckee, CA in 2010, Coffeebar was built off of over two decades of coffee industry knowledge. But at the end of the day, we're only as good as the next cup we make.

– Coffeebar
Crafted with a deep respect for the earth and its patterns, the people and their persistence, the beans and their energy. Where the sun, soil, altitude, cloud cover and volcano conspire to create a perfect cup of coffee.

– Kona Coffee Purveyors
At OCAFE we strive to make everything we do part of a holistically thoughtful and sustainable experience. From the products we bring you and where they come from, to our staff, to our relationship with our patrons and the community, we believe in creating a place that is like a second home.

– OCAFE NYC
The little cafe that could… Little Skips was founded in 2009 with the vision to foster a community that connects local artists, musicians and nomads. We provide a space for self-expression and individuality centered around ethically sourced coffee and playful food.

– Little Skips
We are the leading Instagrammable café and lifestyle brand. Everything that we make is irresistibly chic, pink perfection. Our products help our customers create that picture perfect moment – every time.

– EL&N London
Zinc is a business that provides our employees and customers a sense of place. Zinc has a beating heart. It is designed for people to connect to each other and to the community in which they live.
Zinc provides through aesthetics, food and emotions a special landscape for our customers to gather. Zinc is a retreat for our employees and customers. It provides a resting spot for regaining and sustaining our strengths, emotions and values through a caring, nurturing, thoughtful and artistic environment.
Great food, thoughtful people and a beautiful environment is what Zinc strives for every day of its life.

– Zinc Café
Conclusion and 5 Quick Steps for Crafting a Cafe Slogan
Slogans and taglines are often used by businesses to help them establish their identity. A slogan is a one- or two-word expression that characterizes a company's product or service.
Creating a slogan is frequently the first stage in marketing for small companies. A catchy phrase may attract consumers to your business, but it must be distinctive and make sense of what you do.
Slogans are often unique, memorable phrases that help customers to identify with a brand/business. Sloganes may also be used to foster an emotional bond between the firm and its consumers.
Step 1: How will you market yourself?
Before creating a slogan you should figure out your cafe marketing. What are your strengths, and what are some of your values? How will people feel when they come across your slogan?
Step 2: Research similar brands/companies
Search for coffee shops that sell similar products or goods as you do. Make a list of what separates your establishment from the rest. How are you different? Please make a list of slogans for each brand, and compare them to your slogan ideas.
For this part, try to find two or three businesses similar to the one you are creating a slogan for. This way, you can get an idea of what slogan ideas other people have thought of, and you can compare it to your slogan ideas.
Step 3: Brainstorm slogan ideas
Once you've decided on the company's slogan direction, brainstorm ideas that best fit their slogan goals.
Write a paragraph describing who you are as a business and what you do. Write down five to ten different short descriptions that you think best explain what your business is about.
Don't get too caught up in finding "the one" slogan idea; write down as many as you can think of.
Step 4: Editing
Now narrow them down to the most catchy two-five words that best describe your slogan.
Step 5: Get an outside evaluation
Try running it by staff and customers to see what they think of the slogan, also see if they can come up with their own slogan using this same phrase or one that's slightly modified.
What makes the slogan/tagline catchy?
1. The slogan or tagline should be fresh and straightforward, but at the same time, unique and not too familiar.
2. The slogan or tagline should have some value to it to be memorable.
3. Slogan/tagline needs to appeal to the brand's goal audience group, whether that is all ages, different genders, etc.
4. After picking your slogan, think about what goals your slogan will achieve in terms of making customers feel comfortable with your brand or product.
Other cafe marketing and design-related posts: