In this article, we've collected some of the most beautiful cafe interior designs we have seen to help you find inspiration for your upcoming design project.
This is where you'll find modern designs for cafes, coffee shops & bakeries, tea houses, ice cream parlors, and more.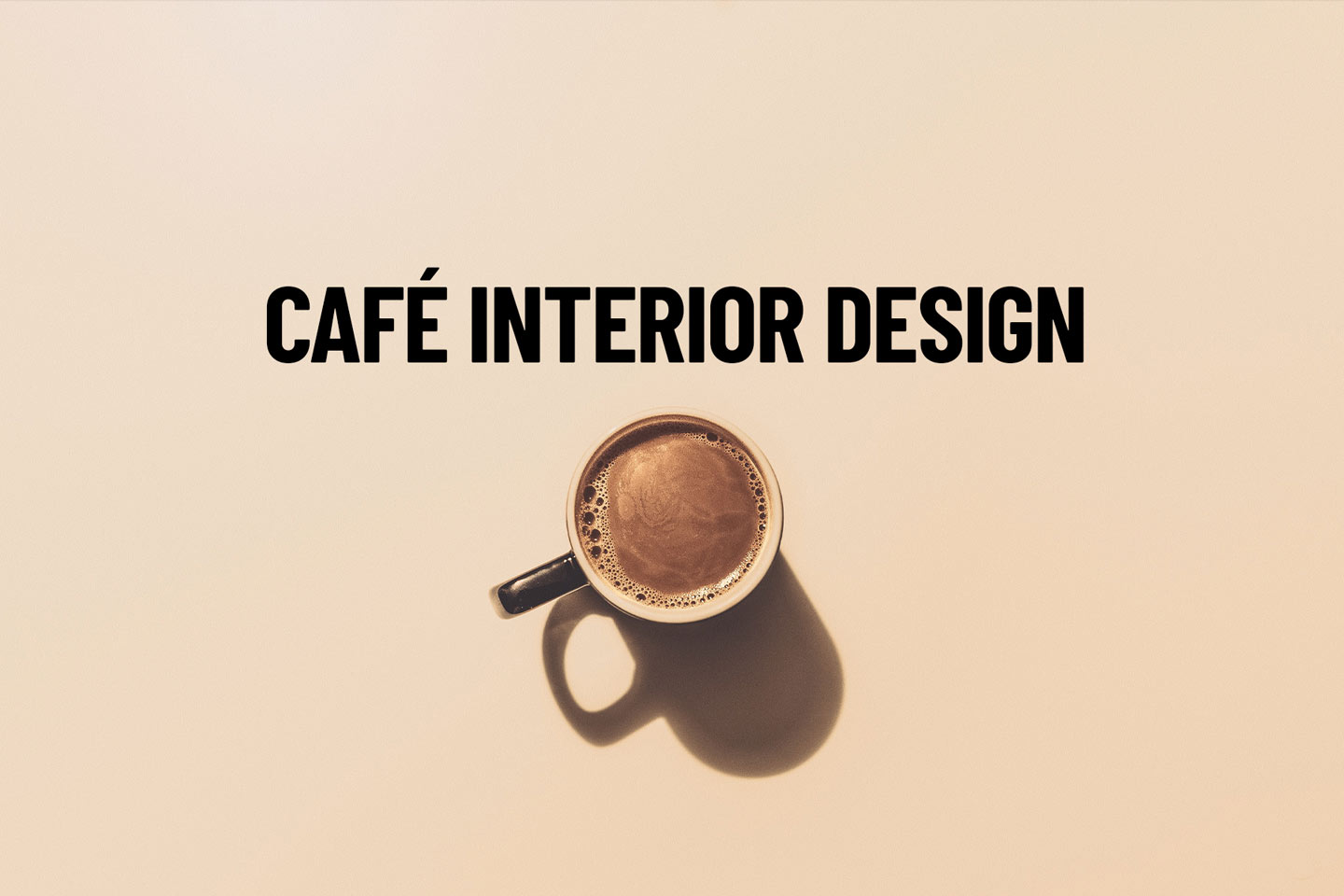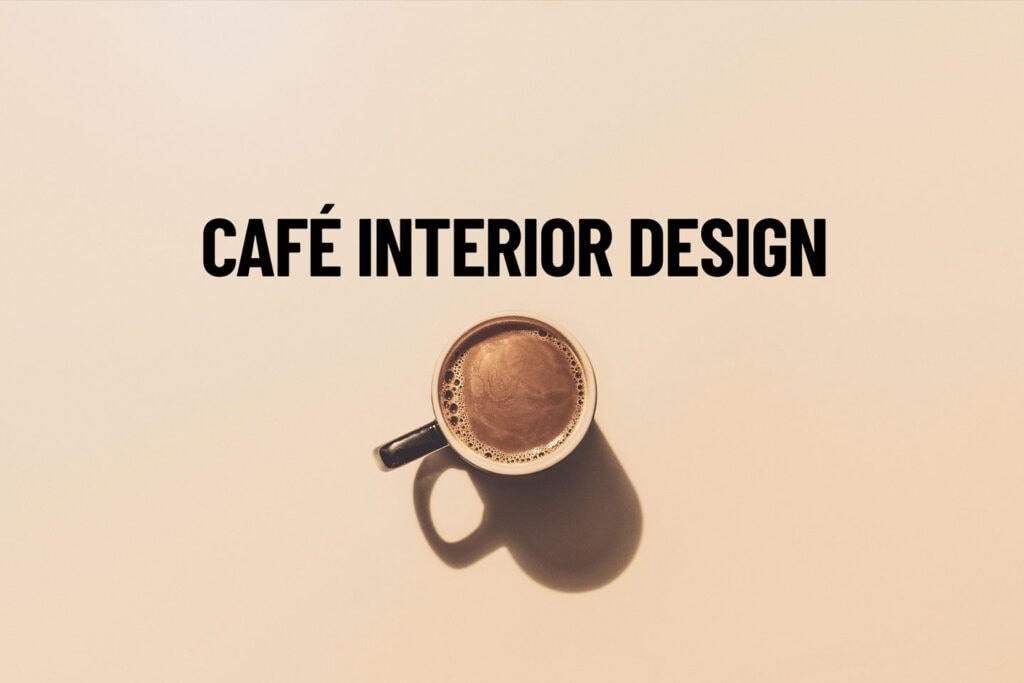 Your cafe's interior design should create an inviting atmosphere for customers and showcase the type of brand that you are. You want to display visual cues that make people want to buy your products and services, but you also want to make people feel comfortable entering your establishment.
If you are about to open a cafe this article will give you some ideas on creating the atmosphere you want for your cafe, and you'll see how interior designers use lighting, wall decor, furniture, and color schemes to create incredible designs.
Now, let's take a look at the designs!
Arie Op de Hoek Cafe by Studio Modijefsky
Arie is a cafe and bar located in Amsterdam. It has been designed by Studio Modijefsky an interior architecture studio that works with clients from hotels, houses, offices, museums, boutiques, and bars.
To recreate the atmosphere of these days Studio Modijefsky concentrated on the popular materials of the time: copper, terrazzo, tiles, fabrics, and wood. Darkened beech is used throughout, creating a strong contrast with the aged copper and red marbles of the front bar. Blue tiles in a variety of shades accentuate these contrasts and connect the yellow and red ceiling with the back of the bar…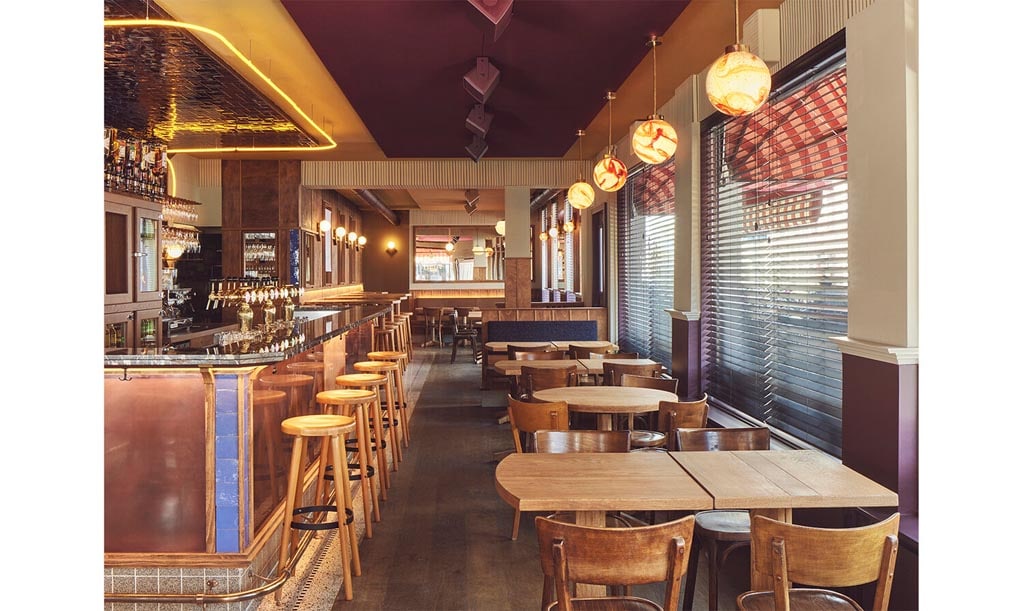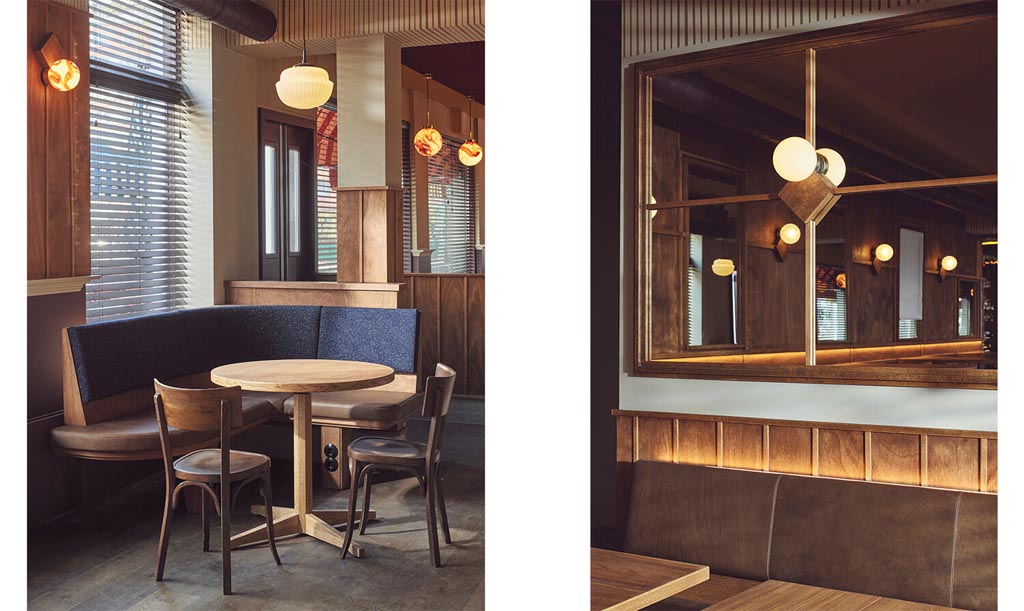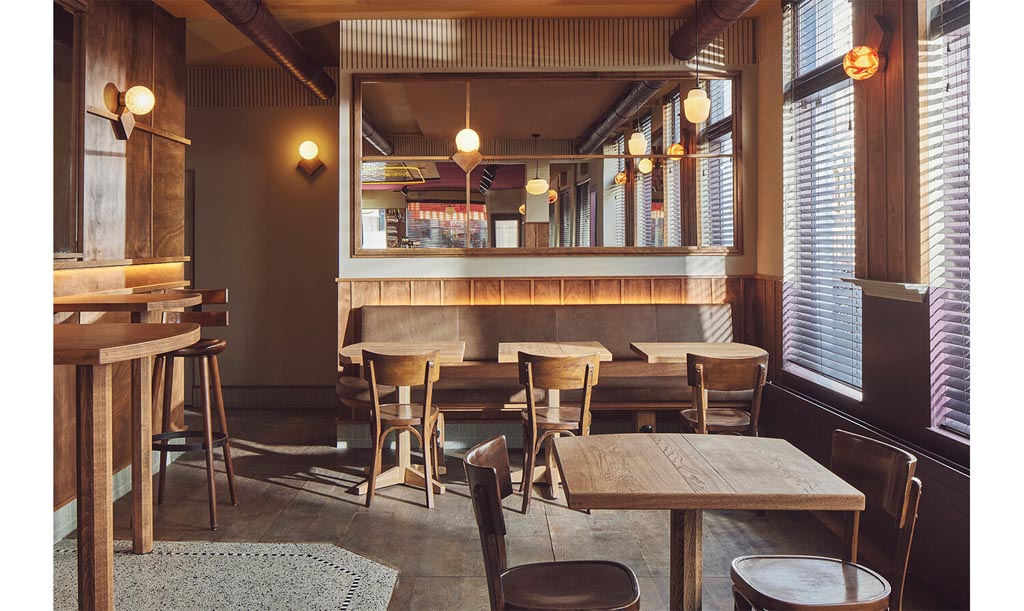 Dulwich Clock Café – Interior Design by Mizzi Studio
The café is located in Dulwich Park, London. Mizzi Studio is a design studio based in London that works with architecture, interior spaces and installations, product and industrial design.
We introduced texture and colour to enhance the building's inherent architectural qualities. The café's ceilings were punched open, exposing the building's authentic wooden rafts and bringing more light and air to the space. We also used reclaimed timber wall cladding, enriching its warm, textural qualities through a juxtaposition with a cascading composition of deep blue geometric tiles across the café floor.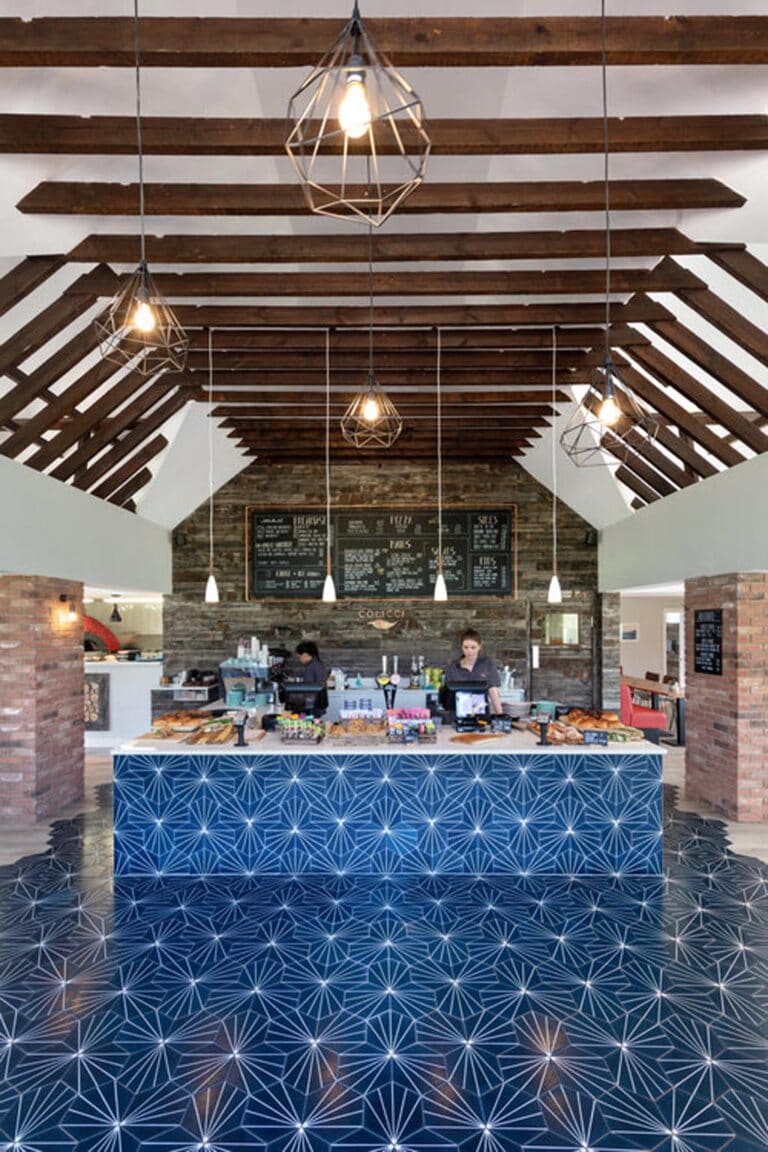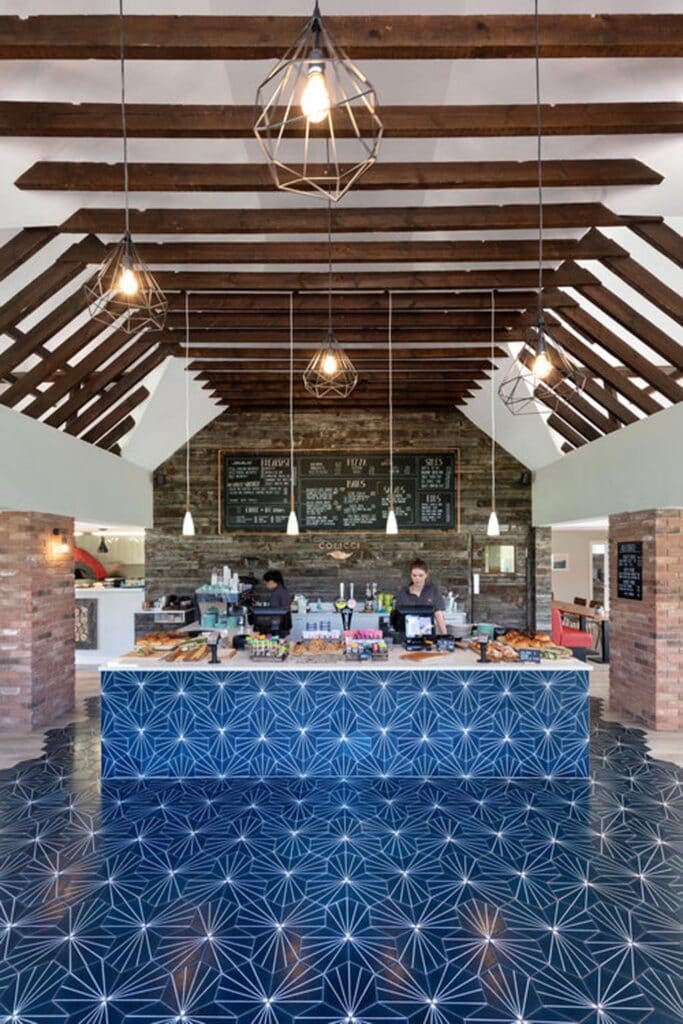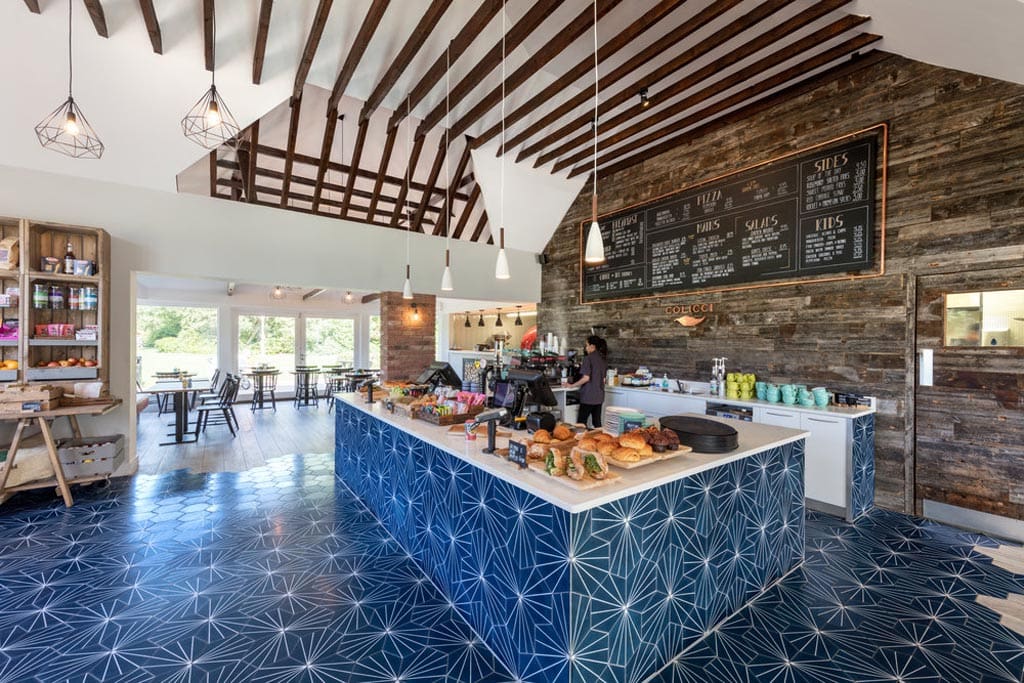 Breadblock Café and Bakery – Interiors Designed by Commune
Breadblock is located in Los Angeles, where they serve gluten-free bread. Commune is a Los Angeles-based design studio and community of like-minded architects, interior designers, graphic designers, consultants, artisans, and builders.
We've selected materials that can be left in their raw state and will age beautifully – warm alder wood for shelves and millwork, terracotta floors, plaster walls and textured limestone counters – equal parts Southern California and the client's native Provence. Like the product, the materials are timeless but the details are modern.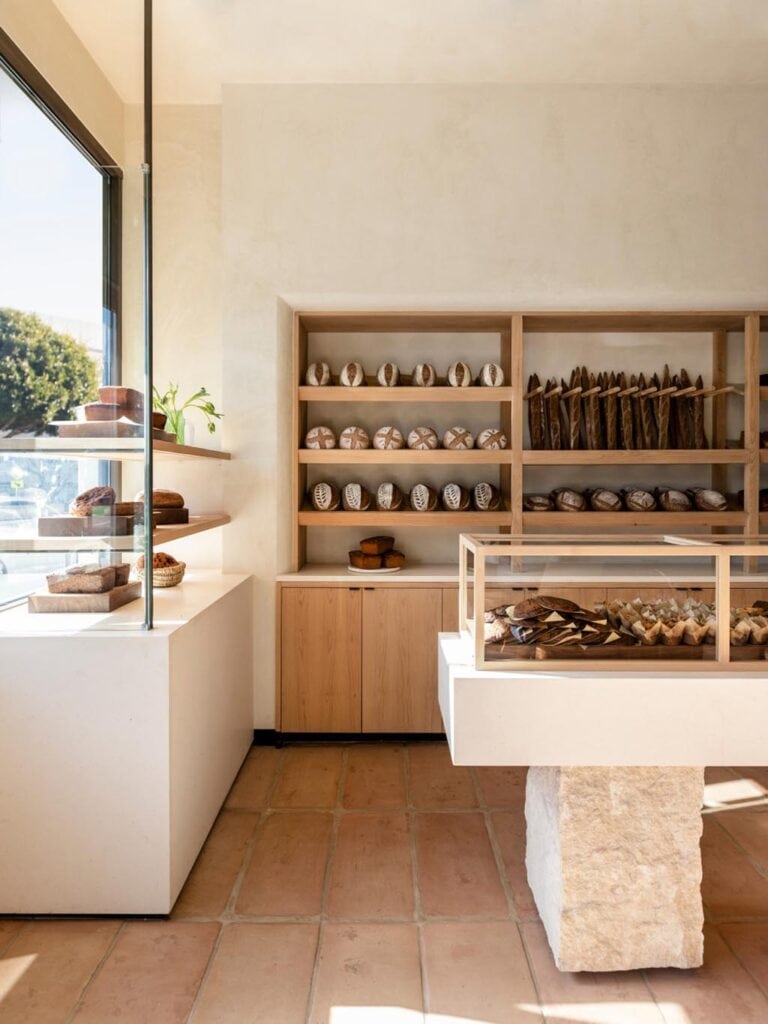 Cafe Coutume by Studio Joanna Laajisto
Cafe Coutume is part of the Institut Finlandais in Paris. The cafe is designed by Studio Joanna Laajisto, a Helsinki-based design agency that works with clients in retail, hospitality, and workplace design.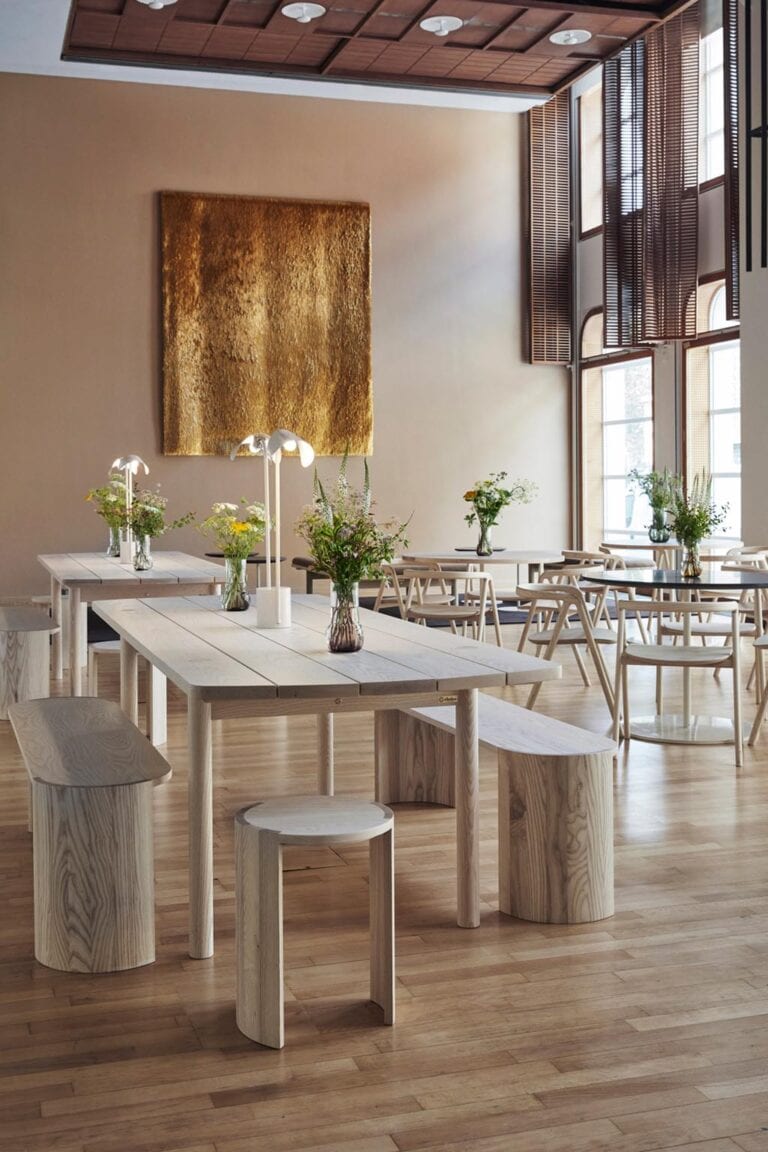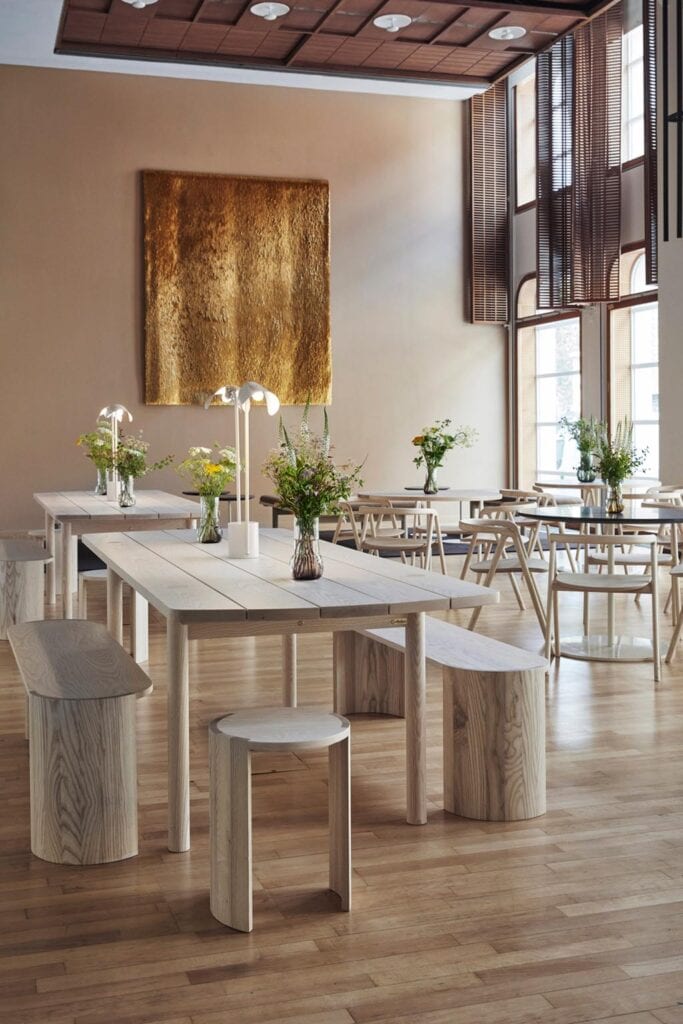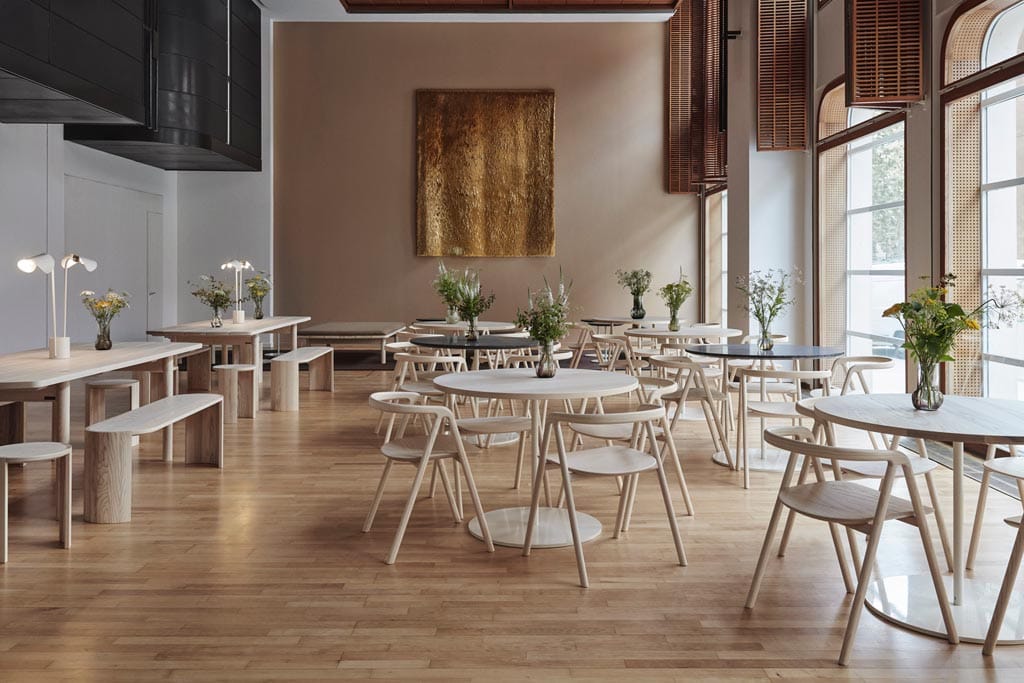 Gard Ann Patisserie by Miklós Kiss
The café is located in Kaposvár, Hungary. Designer and artist Miklós Kiss works within architecture, fine art, design, and graphic design.
The interior is a contemporary interpretation of the characteristic grand café feeling of the early 20th century. The counter was pastel green originally, so I chose the whole space to be painted with this colour. I think pastel colours bring patisseries with macarons and other French cakes to the consumers' mind, so I tried to create a good complementarity between the deep green, the golden tones and the pastels in the place. The whole interior is elegant in a lovely way with a little "French Bohemian" twist.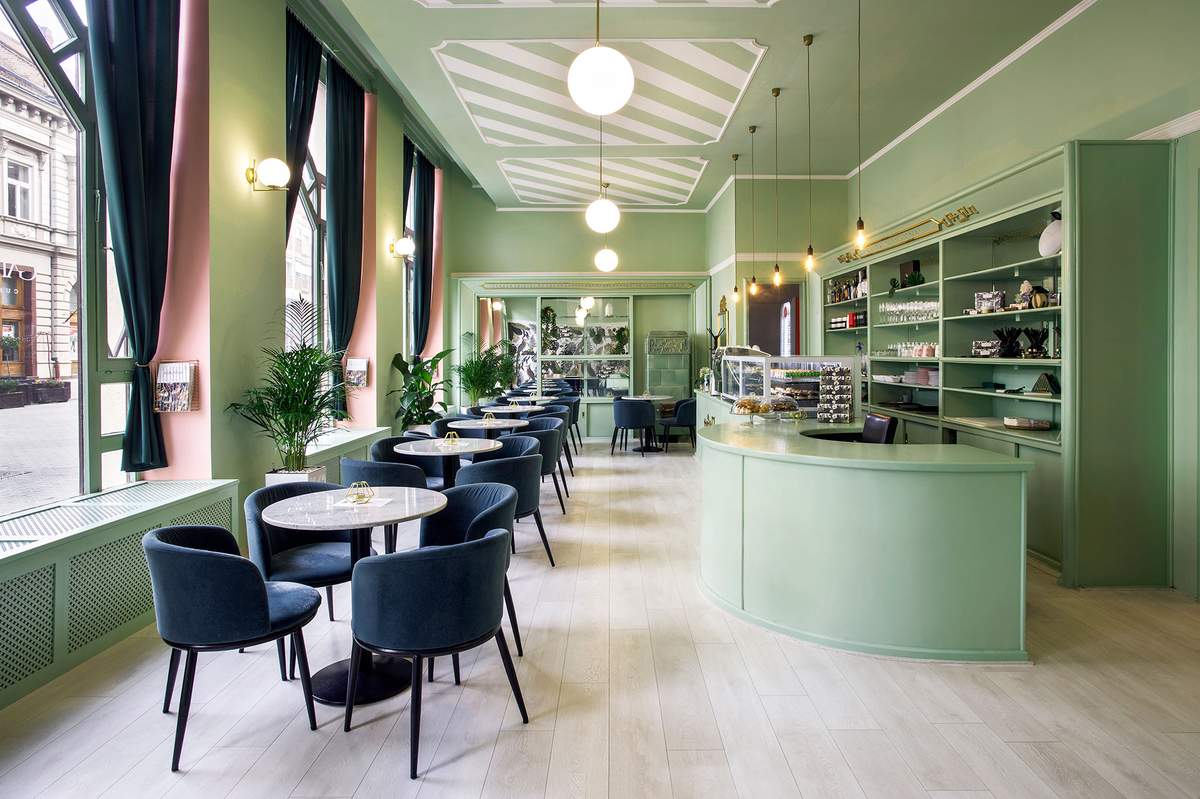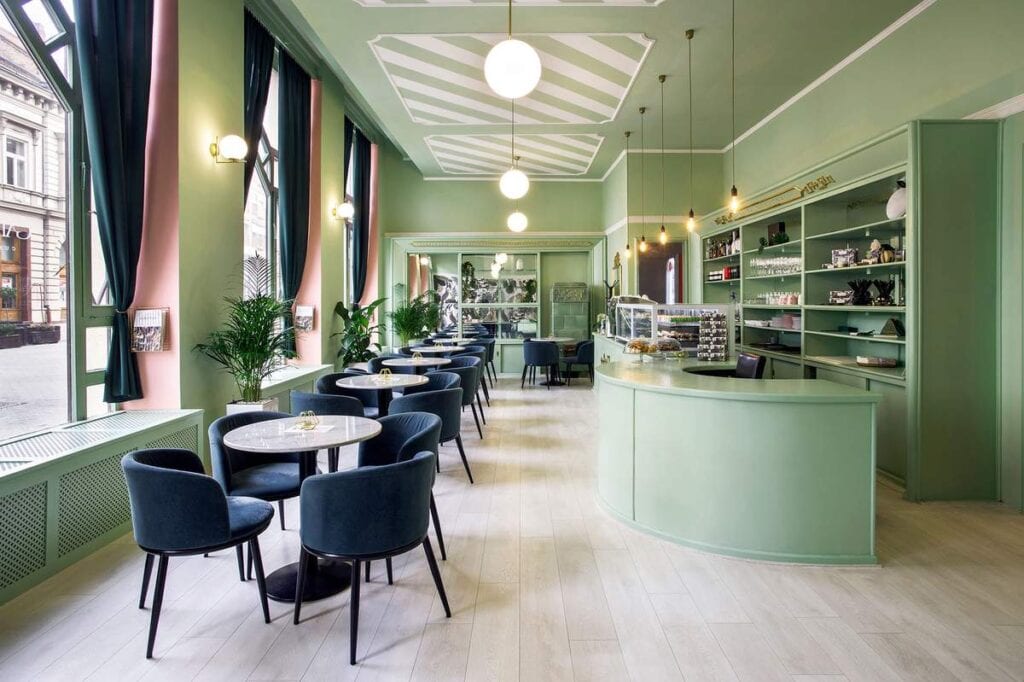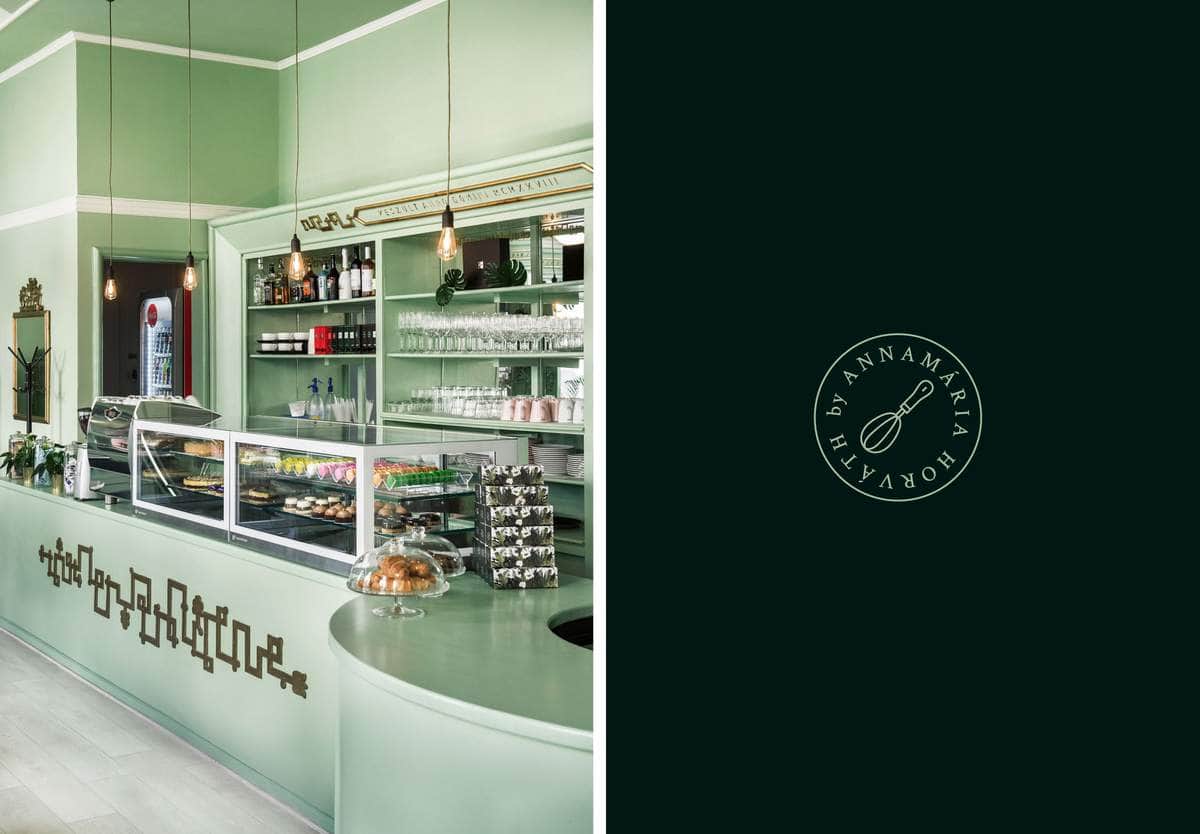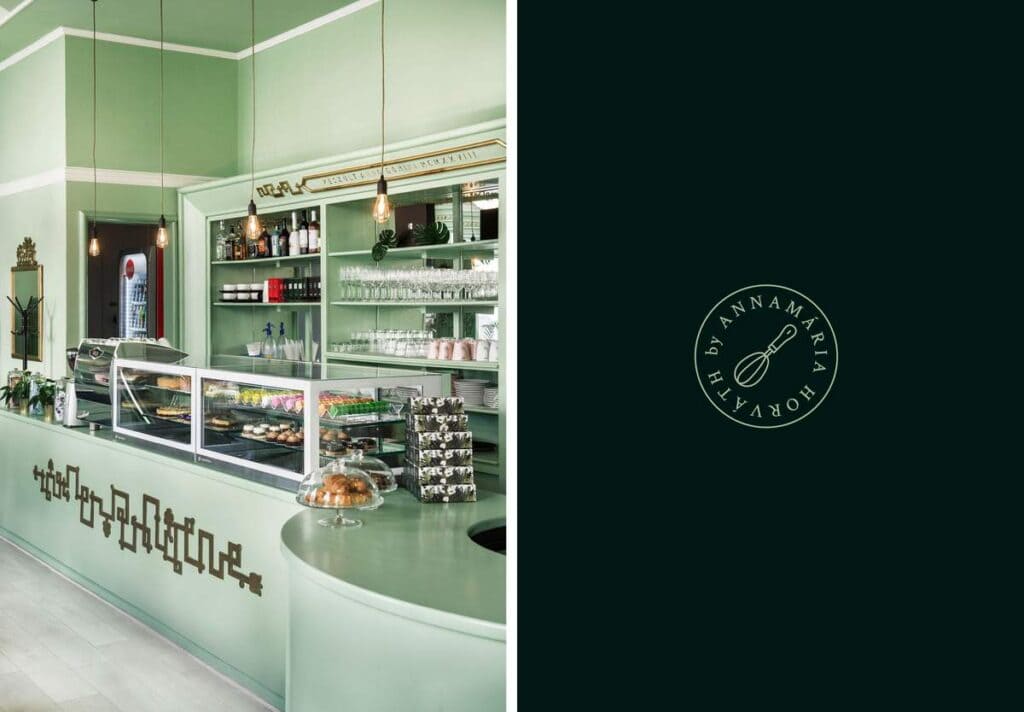 Karavaan Coffee Bar designed by Studio Modijefsky
Karavaan is a place in Amsterdam with many functions – a bar, a cafe, a spot for drinks, a neighborhood cafe for locals, a cocktail bar. It has been designed by the Dutch interior architecture studio Studio Modijefsky.
The interior is subtly divided into different landscapes: meadow, swamp, forest, mountain and desert, with each zone characterised by its own colour scheme, materials and design specifics, all unified by a trail that crosses the entire space.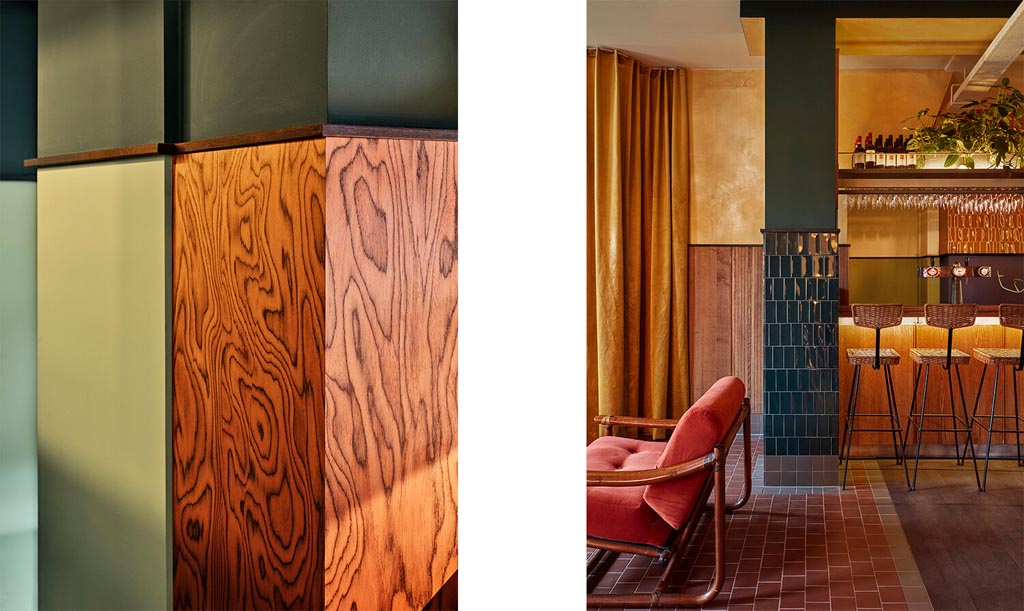 Milk Train Cafe – Interior Design by FormRoom
Milk Train is an ice cream cafe in London designed by FormRoom who works with clients in retail and hospitality.
FormRoom created a unique, dream-like landscape for the Milk Train customer. A predominately monochromatic palette is utilized to echo the Art Deco movement popularized amongst traditional train stations and platform iconography.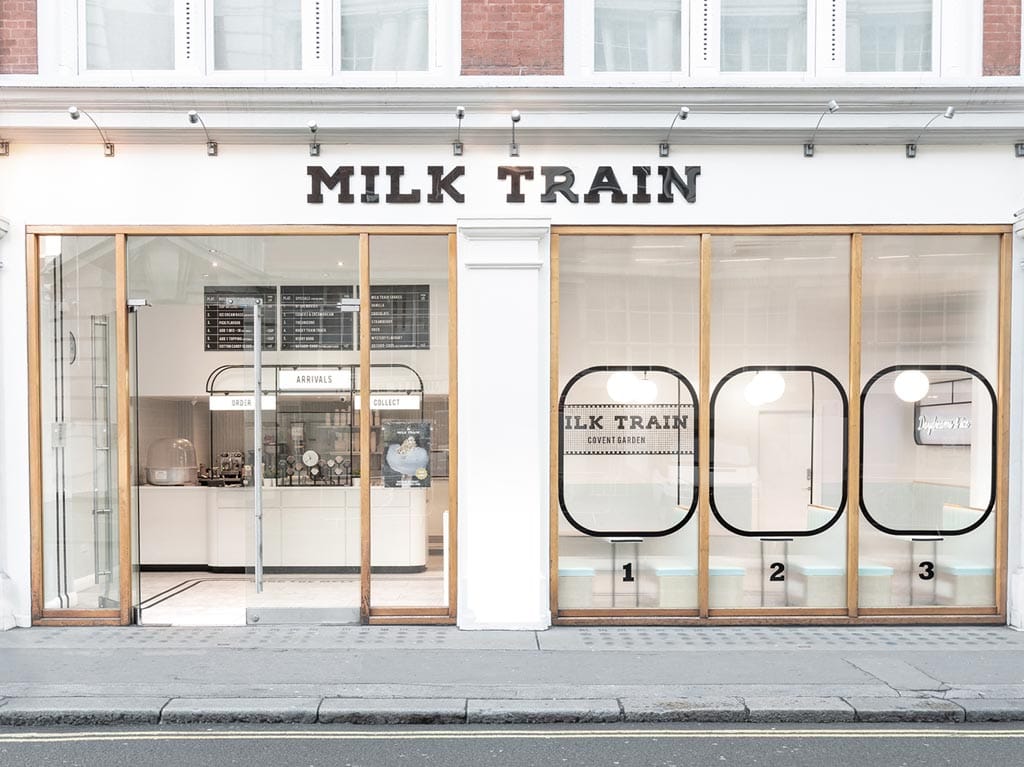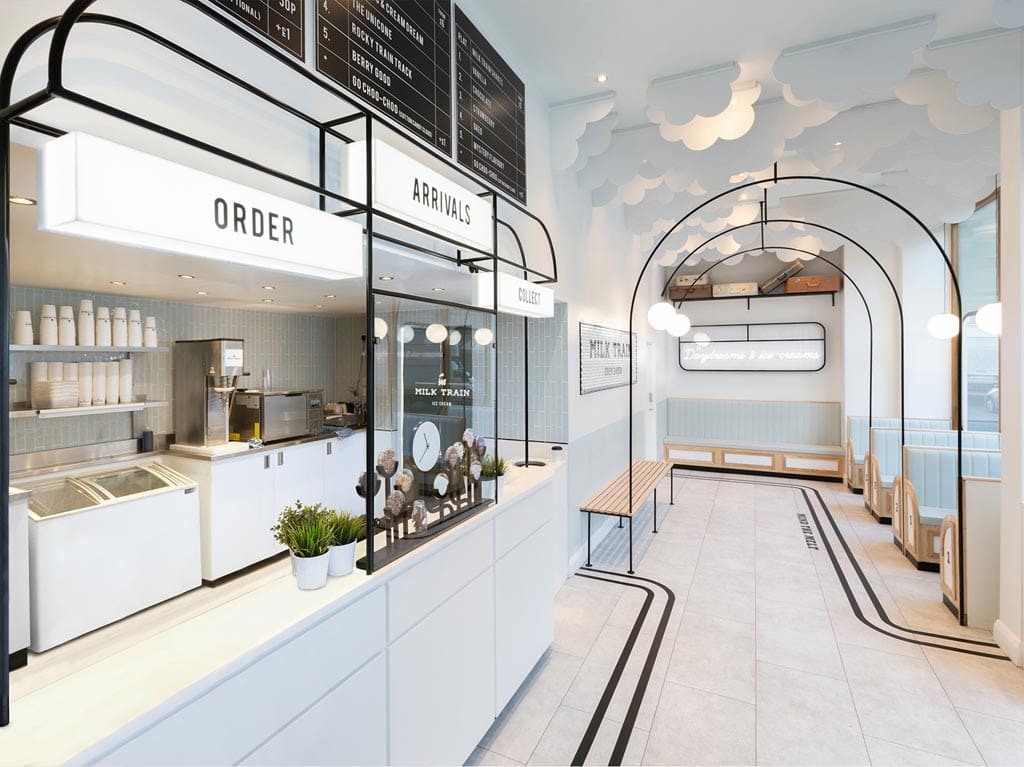 Feast of Merit by Design Studio Biasol
Feast of Merit is a charity serving ethically sustainable food in Richmond, Australia. Biasol is a design studio working with interior spaces, building typologies, products, and branded environments.
Our challenge was to convert a rundown café in Richmond into a flagship for the charity's new venture. A unique project where design professionals donated their time to create a venue that not only represented an amazing charity, but also a dining venue that encompasses the growing culinary stature of Richmond.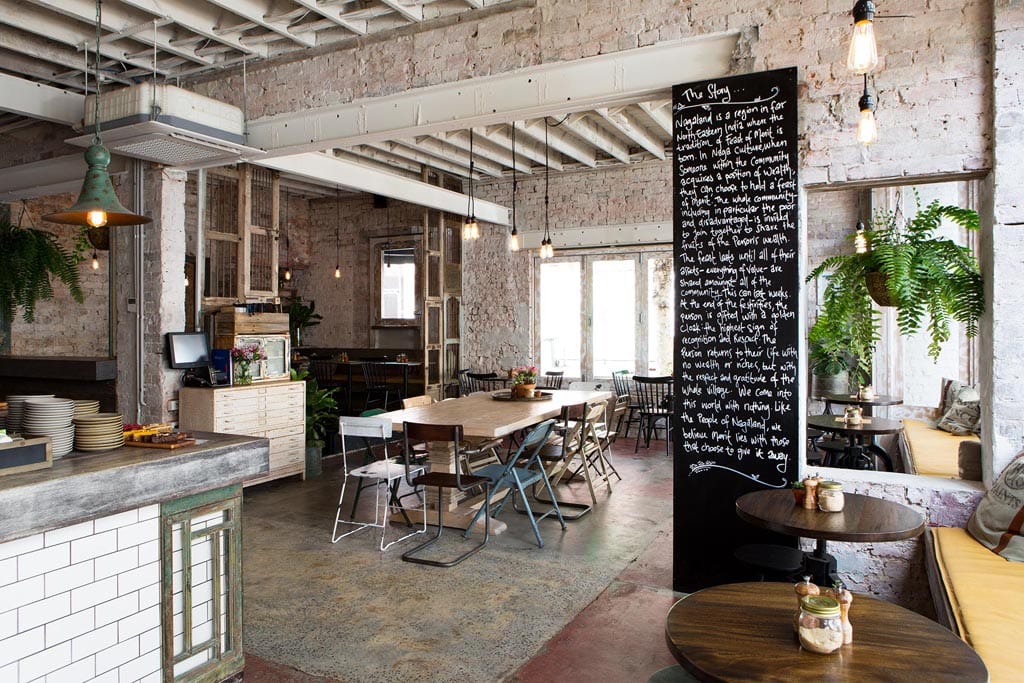 Kaikado Café – Design by OEO Studio
Kaikado is a more than 140-year-old family-run company that produces its own specialty roast. OEO Studio from Copenhagen has previously created the interior design for the Michelin-starred restaurants Inua in Tokyo and Kadeau in Copenhagen.
In the process of adapting the space, OEO Studio paid meticulous attention to preserving and enhancing the qualities of the original building, while infusing the project with Nordic sensibilities. The result is a bright and welcoming interior with partially exposed concrete walls, tempered by light oak furnishings and bespoke copper lamps.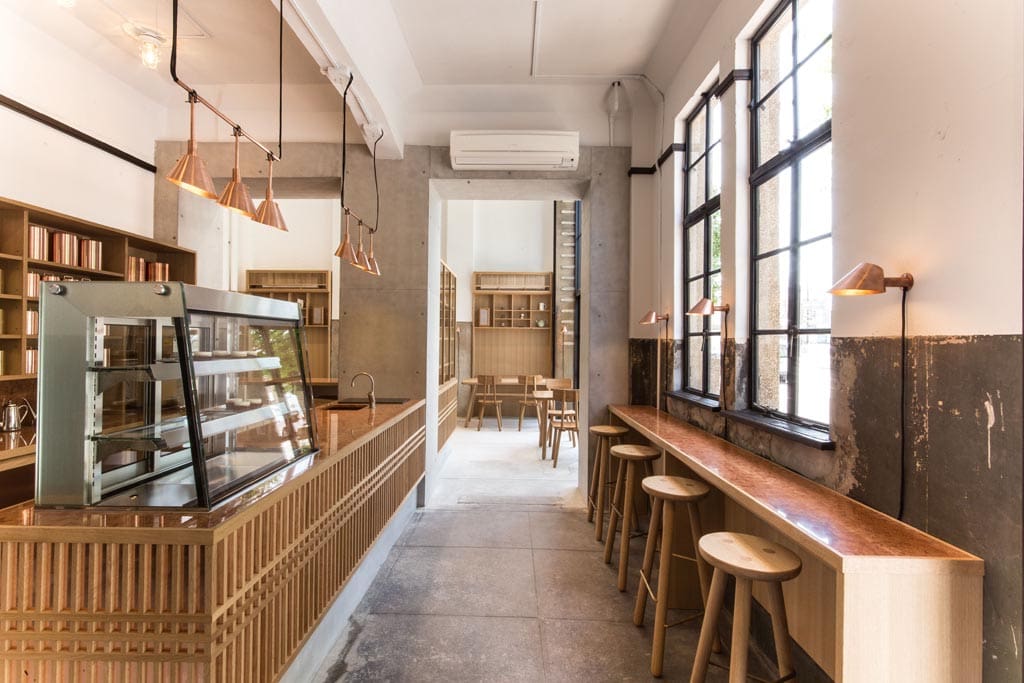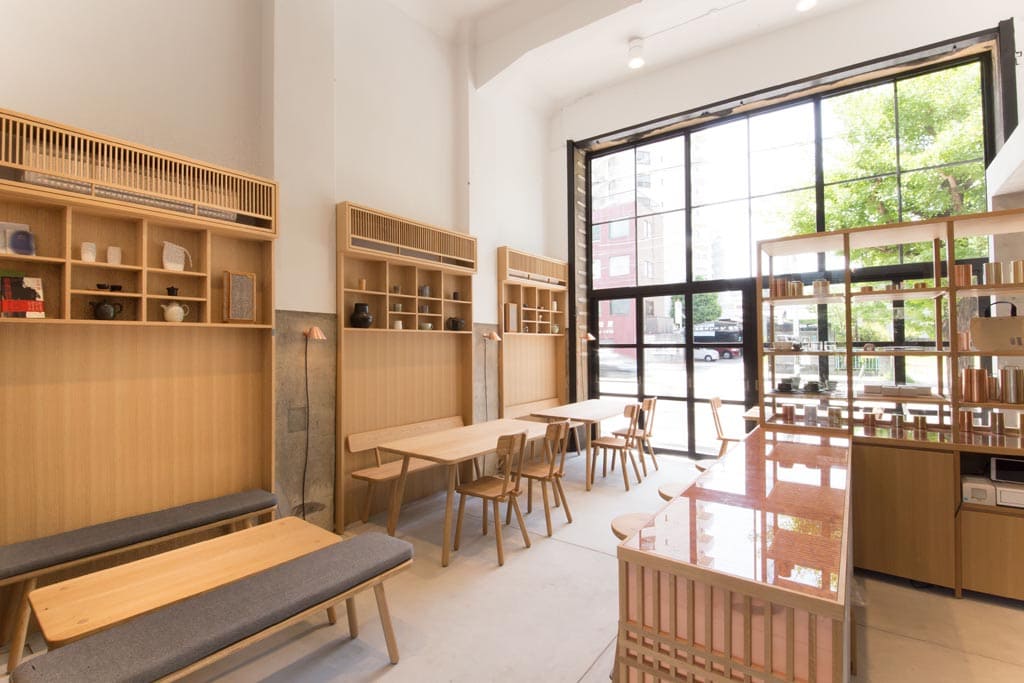 Wild Herb Cafe by Studio Joanna Laajisto
Wild Herb is located in Helsinki. The cafe is designed by the Helsinki-based design agency Studio Joanna Laajisto.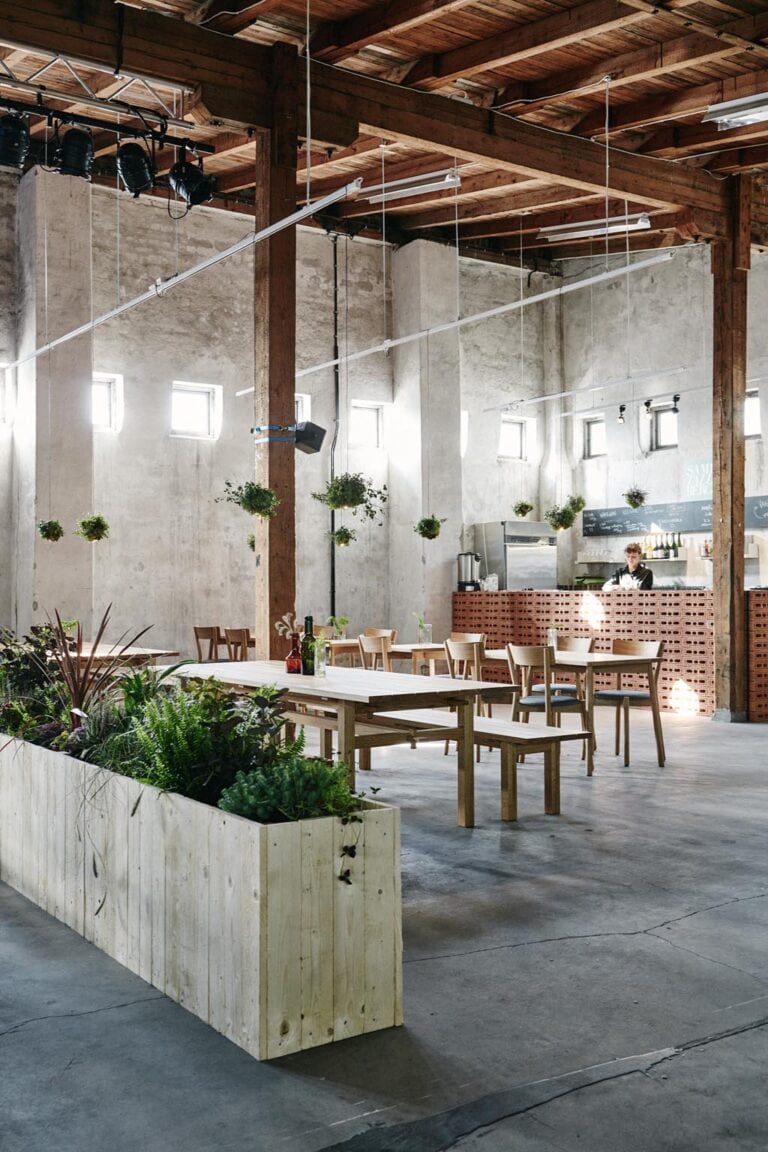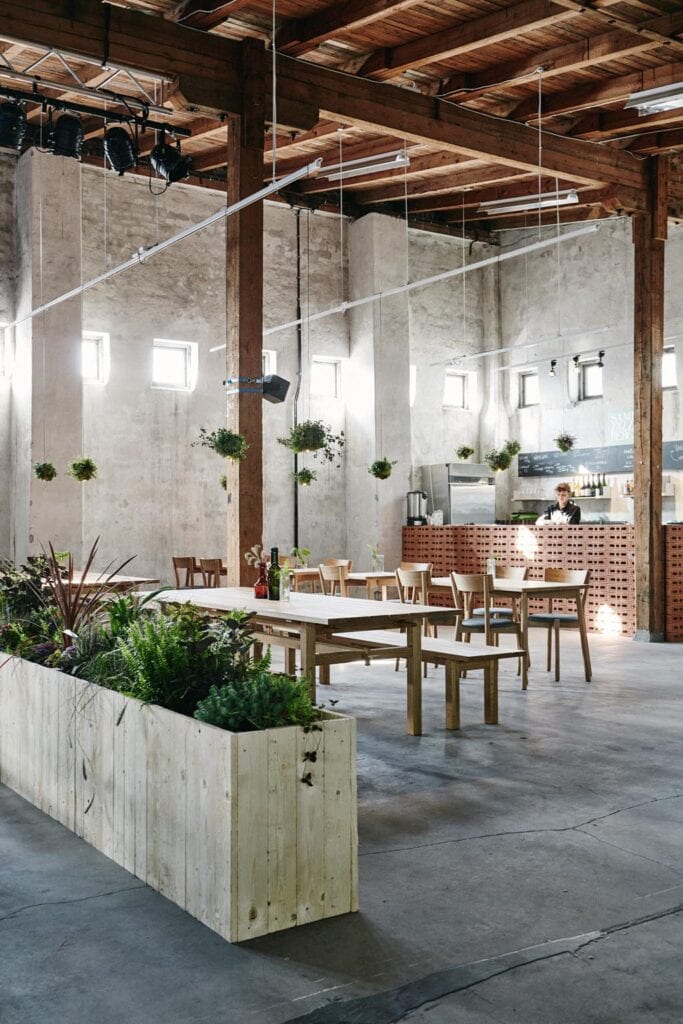 Blue Bottle Coffee Hong Kong Central Cafe by Schemata Architects
Blue Bottle Coffee is an American coffee roaster and retailer with a chain of coffee shops; this one is located in Hong Kong. Schemata Architects from Tokyo work with architectural, interior, and furniture design.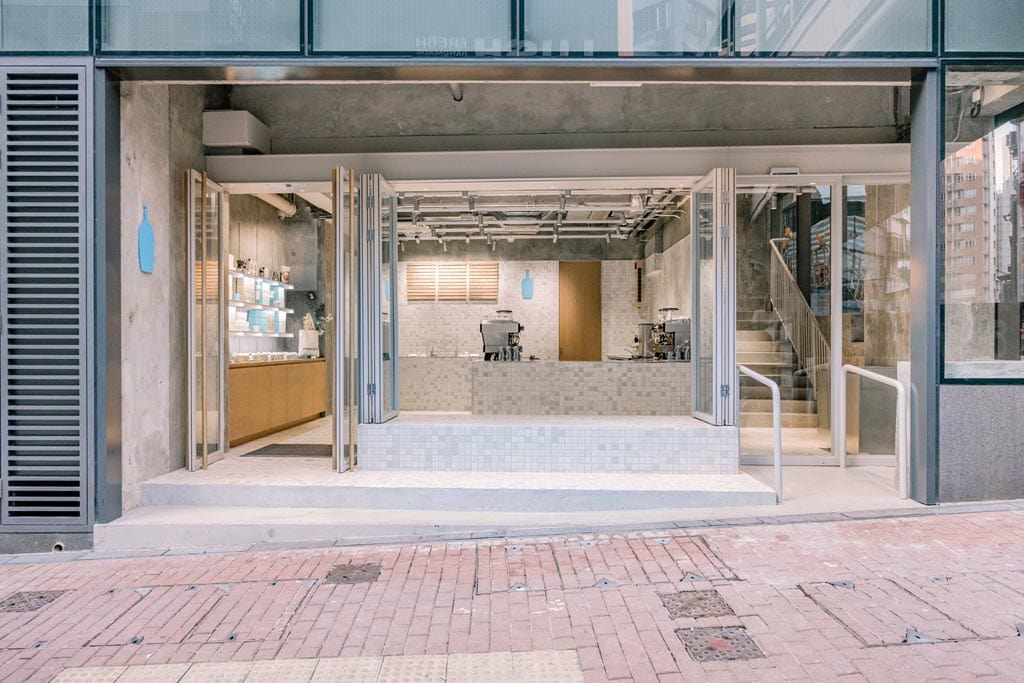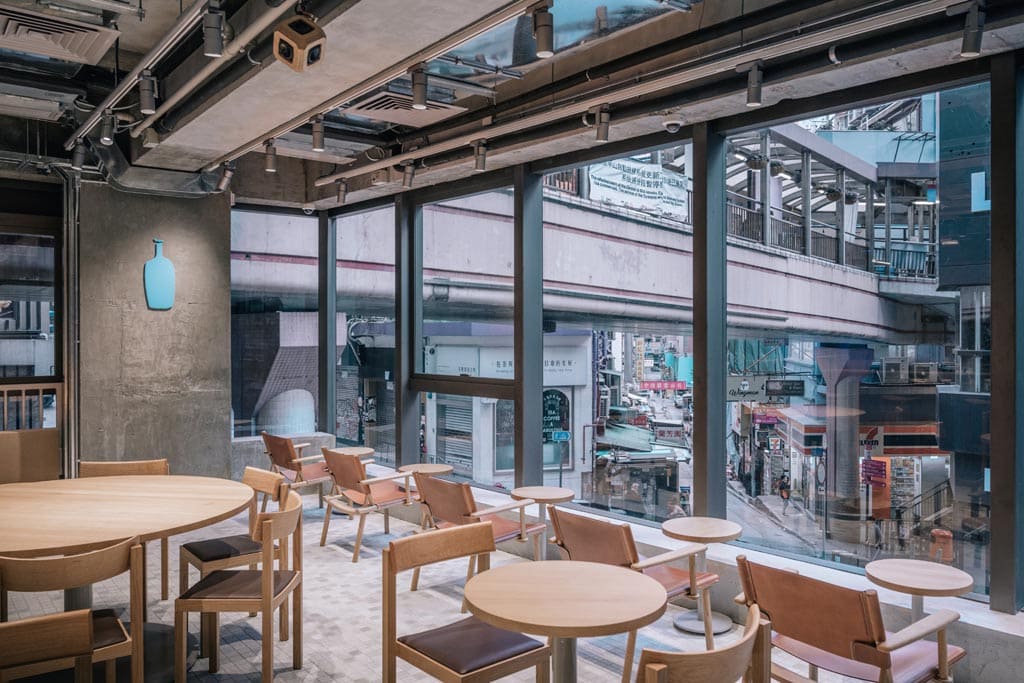 Voice of Coffee by Yusuke Seki
This coffee shop, located in Kobe, Japan, is housed in a former barbershop. Yusuke Seki is a design studio in Tokyo with simplicity and minimalism as guidelines.
Almost all of the structural elements were left as they were found during the demolition process. The wooden screen below the ceiling, for example, is the original timber frame that held up the suspended ceiling in the space's former life, rediscovered as workers removed the plaster that had hidden it for years. The walls, too, have been left as they were after the workers had removed the finish covering them.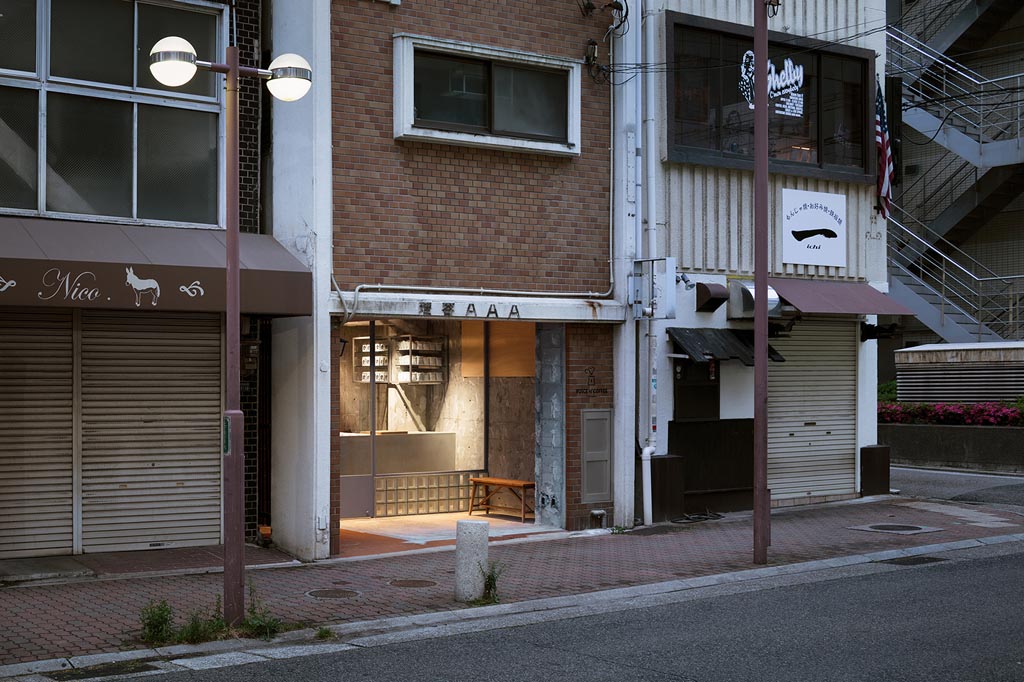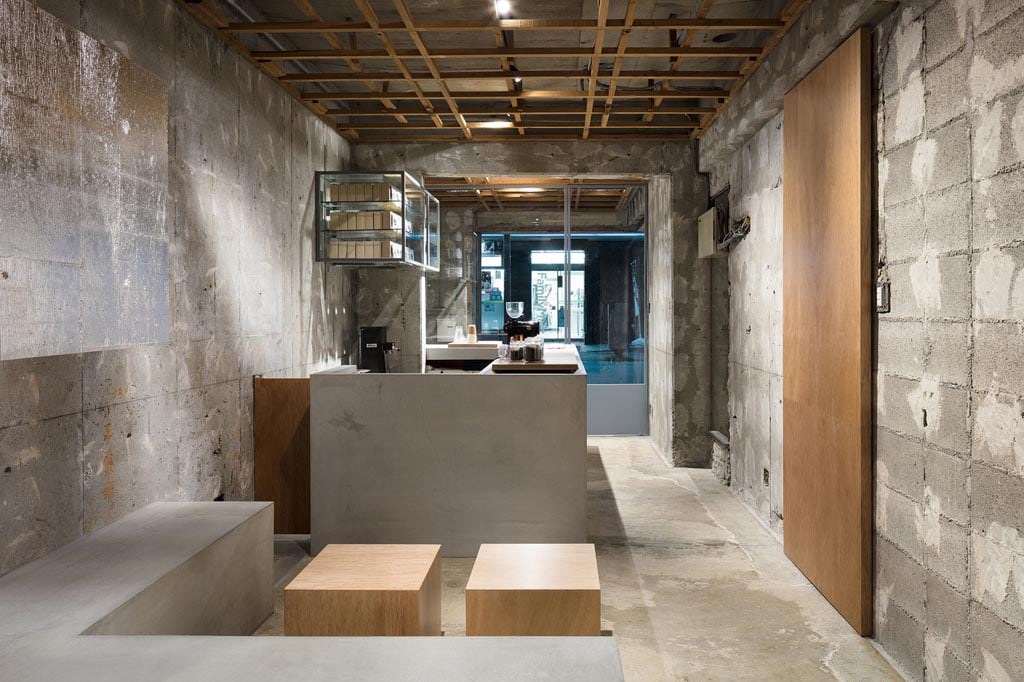 The Budapest Café – Interior Design by Biasol
Filmmaker Wes Anderson's visual style influenced the design of The Budapest Café in Melbourne. The Café was designed by Biasol, a design studio working with the design of interior spaces and branded environments.
Drawing on our appetite for modern abstract art, design and hospitality, we evolved the design experience to create an immersive, gallery-like experience… Bold, offbeat elements encourage patrons to engage with the design, and the natural earthy palette exudes warmth, texture and character and reflects the local design sensibility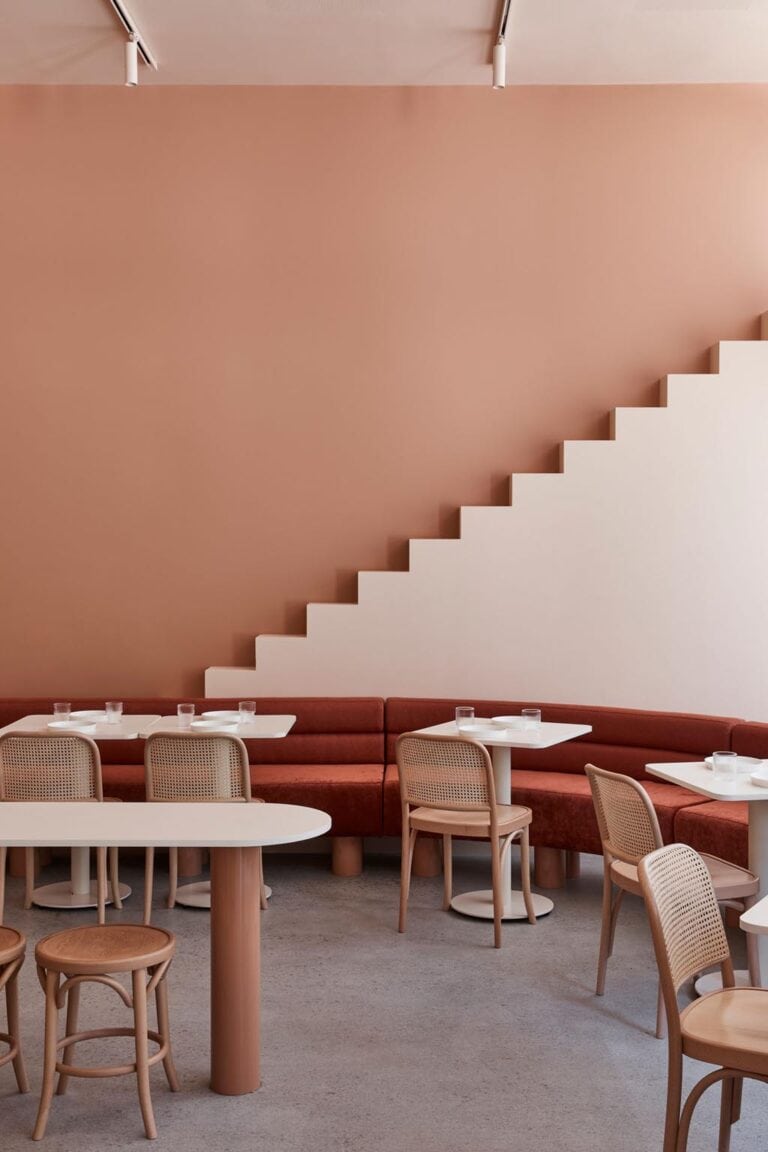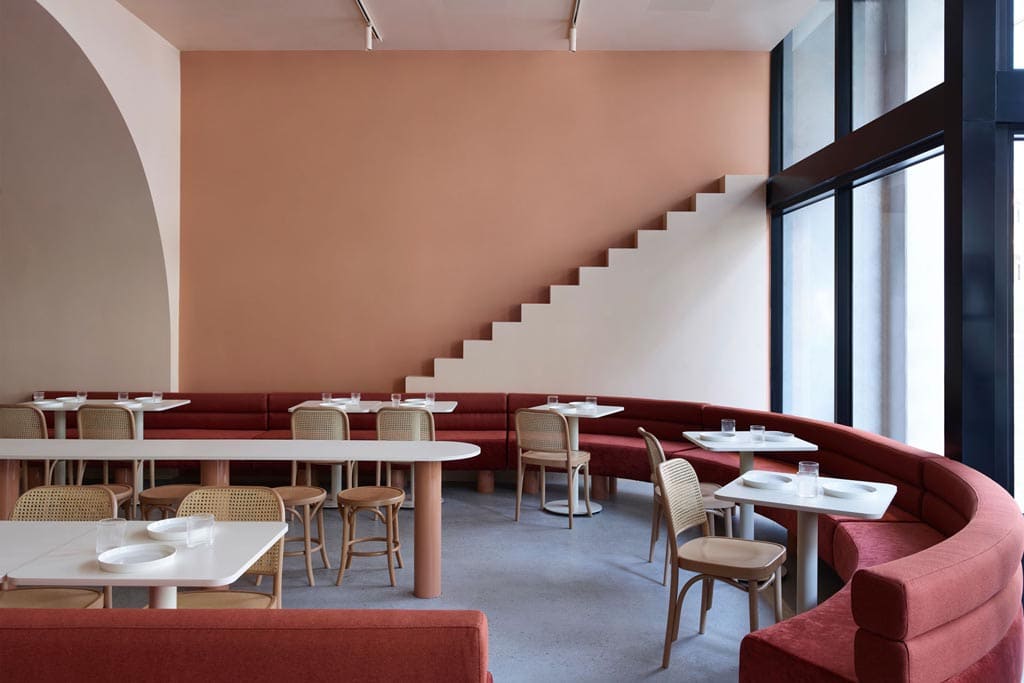 Tierra Garat Coffee Shop – Design by Esrawe Studio
Located in Mexico City, Tierra Garat is a coffee shop by the Mexican coffee brand Café Garat. Esrawe Studio is a multidisciplinary design studio that provides interior design and architectural solutions for hospitality, cultural and residential projects.
The materials, lighting, furnishings, tableware and accessories stem from a vernacular language that brings to the mind a simple but sophisticated, comfortable yet warm expression… The textures taken from embroidered leather, embossed hide, knits, and the earth comprise a language that allows the integration of elements in distinct applications, imprinting a particular personality to the brand.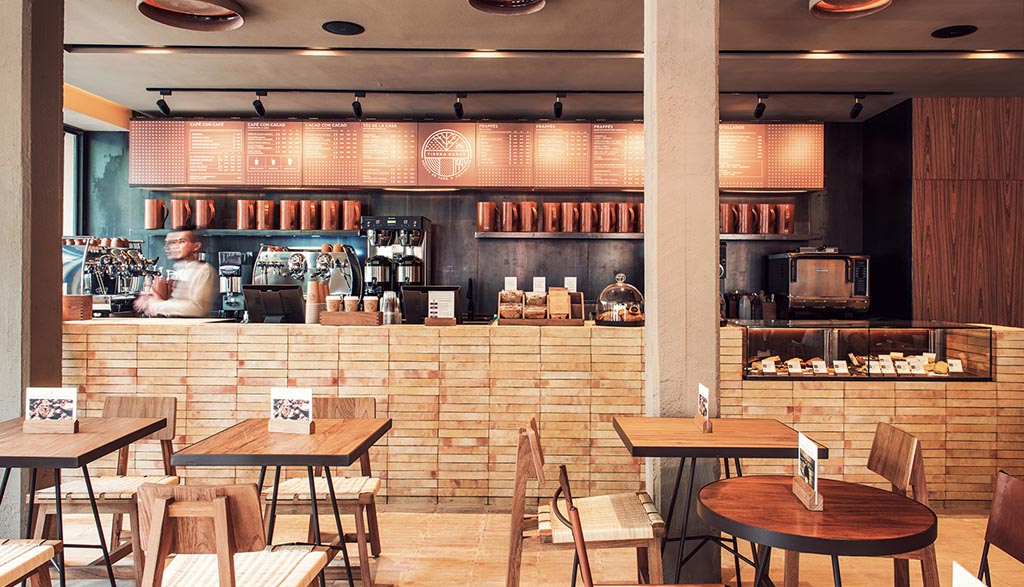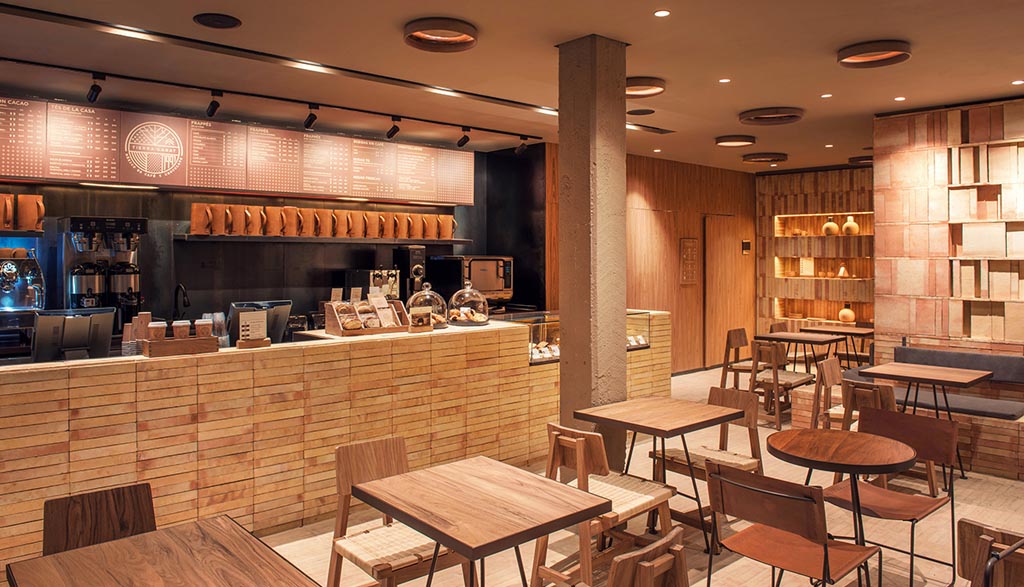 Omnibus Coffee – Interior by Design Studio Maoom
This coffee shop is located in Seoul, Korea. Maoom is a Korean design studio that focuses on creating interior spaces that bring happiness to people's everyday lives.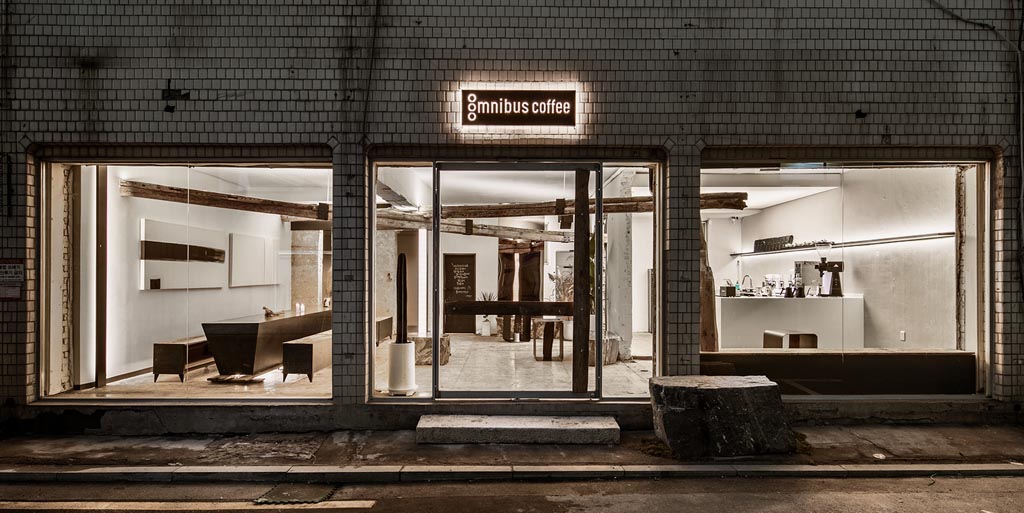 Flourist Bakery – Interiors by Ste. Marie
Flourist is an artisanal bakery and cafe in Vancouver designed by Ste. Marie Art Design, a strategy-led design studio and creative consultant.
Our client, Flourist, works to help ensure farming remains a family business in Canada. An industry dominated by opaque supply chains and mysterious origins, they work to re-connect people with the sources of their food. This notion of transparency carried into the design process. We began by turning to the guiding principles of 18th-Century Shaker communities: simplicity, utility and honesty.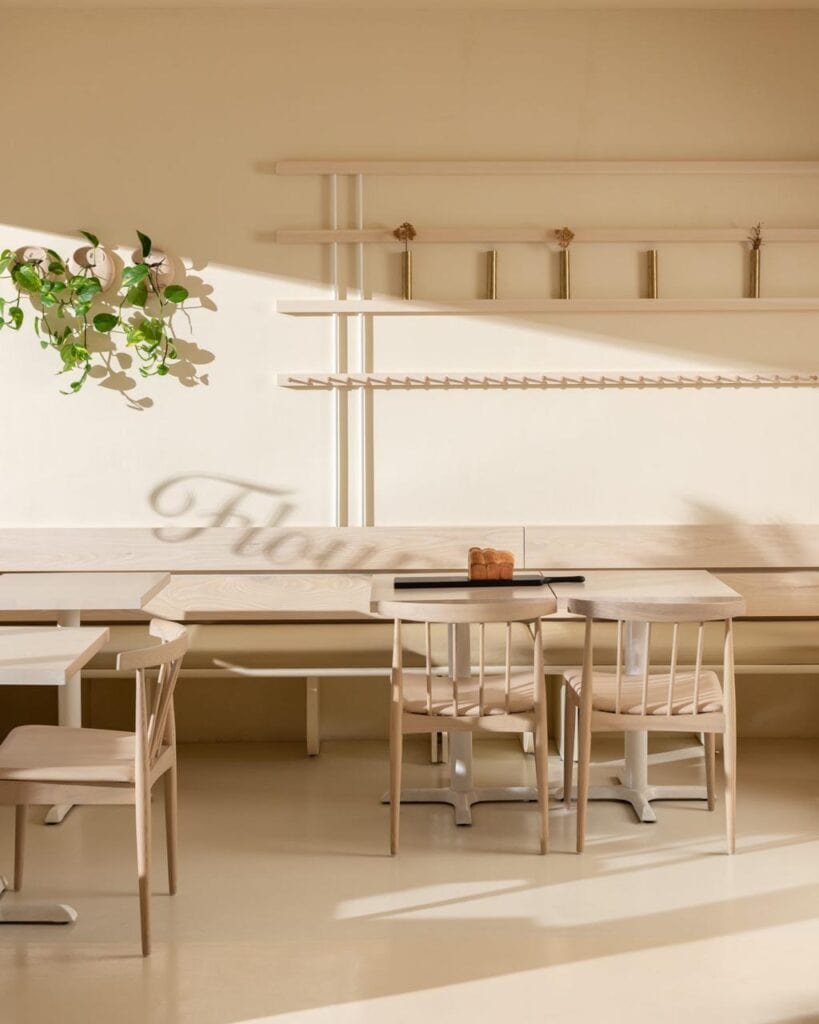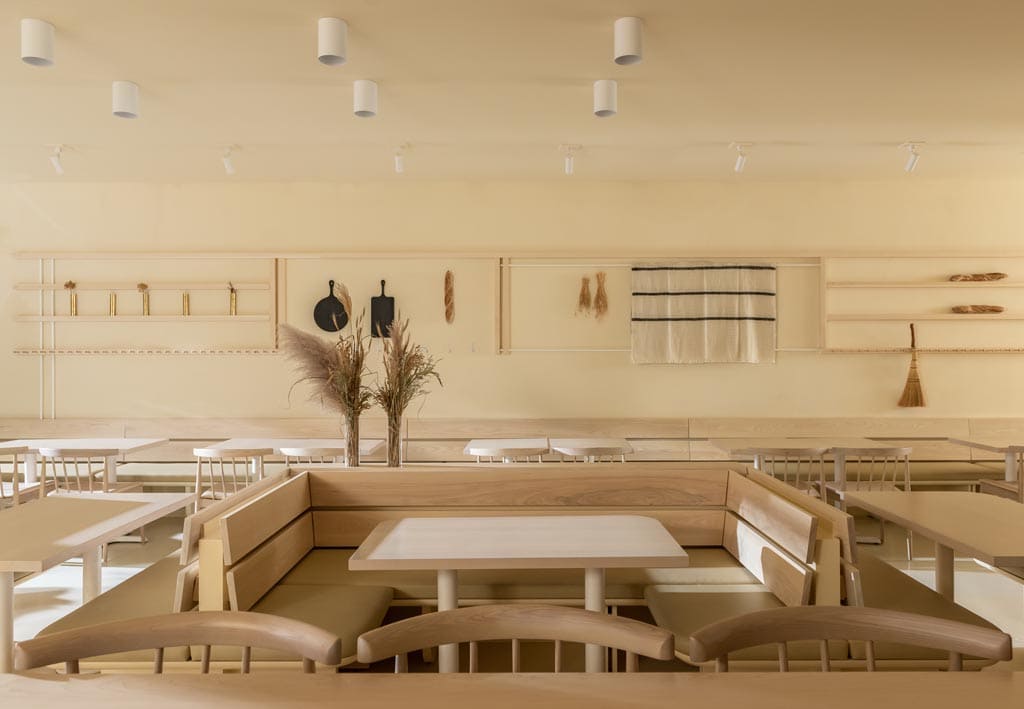 Etcetera Cafe by Jeonghwa Seo
Located in Seoul, Korea, the Etcetera Cafe was designed by Jeonghwa SEO. He is a Korean designer who works primarily in furniture manufacture. He is also known for mixing elements of eastern culture with western design.
While the shop sits atop a monumental stone plinth, the facade is realized entirely in glass in order to introduce a visual continuity between the interior and the street. this spatial continuity is exaggerated through seating, lighting, and stone elements divided by the glass facade. this illusionistic decision suggests the absence of the glazed wall entirely.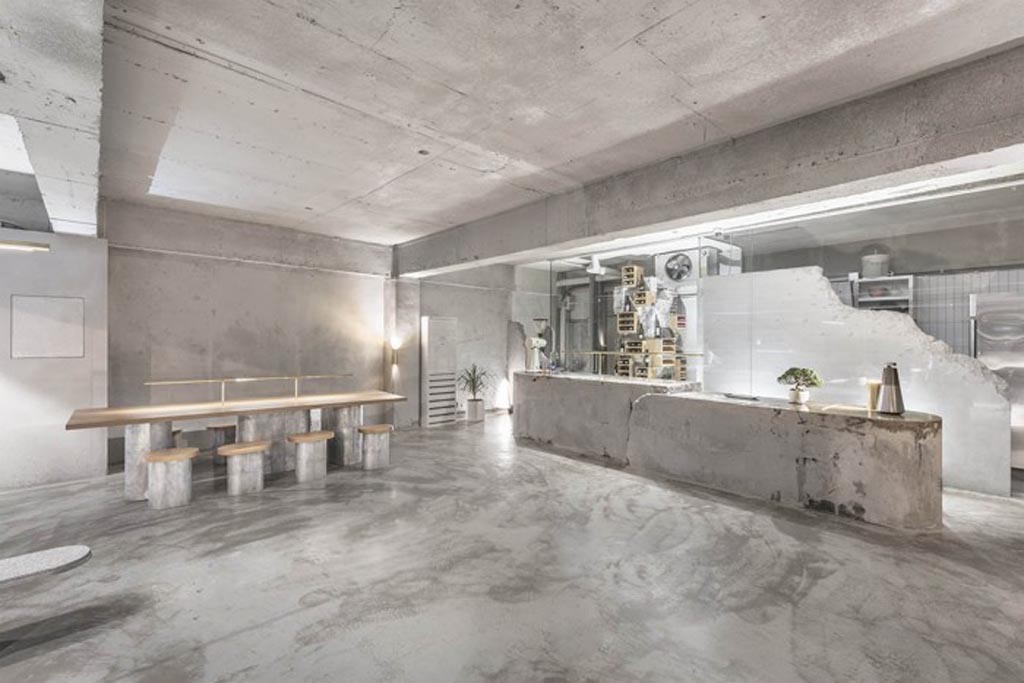 Mother Pearl Hong Kong Bubble Tea Bar designed by A Work of Substance
A Work of Substance is a collective of strategists, editors, graphic designers, architects, interior designers, and product designers. They have offices in Paris, Stockholm, and Hong Kong.
From the cloud of pearl-shaped lights floating above, to the dark olive green facade that opens a portal to a mystical universe, Mother Pearl expresses dimension through its organic materiality, drawing the consumer deeper into the sweetness of the present.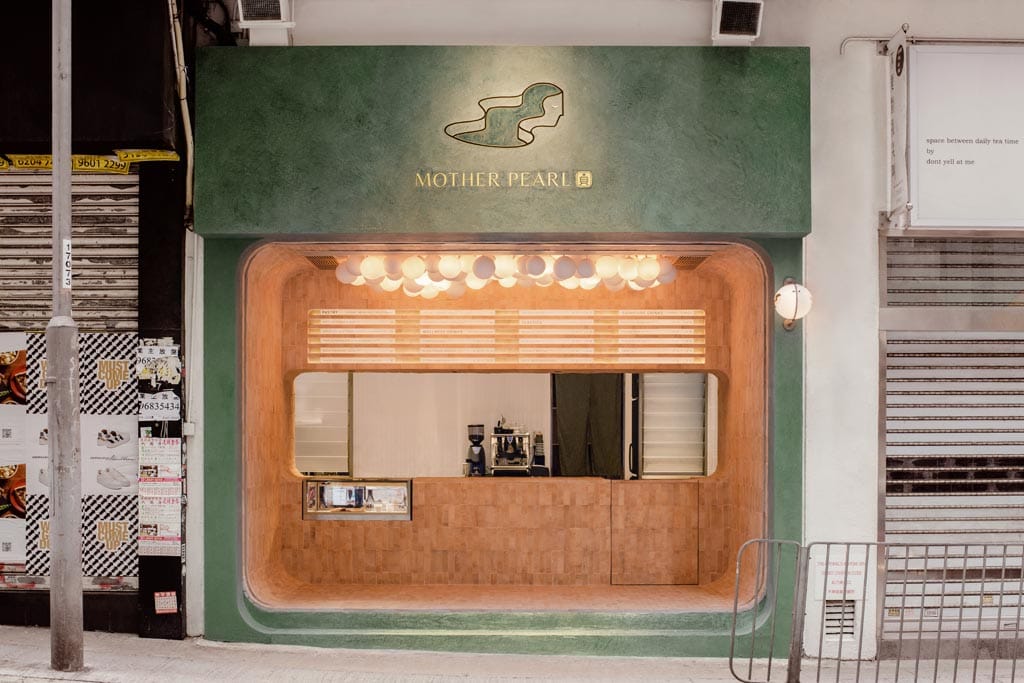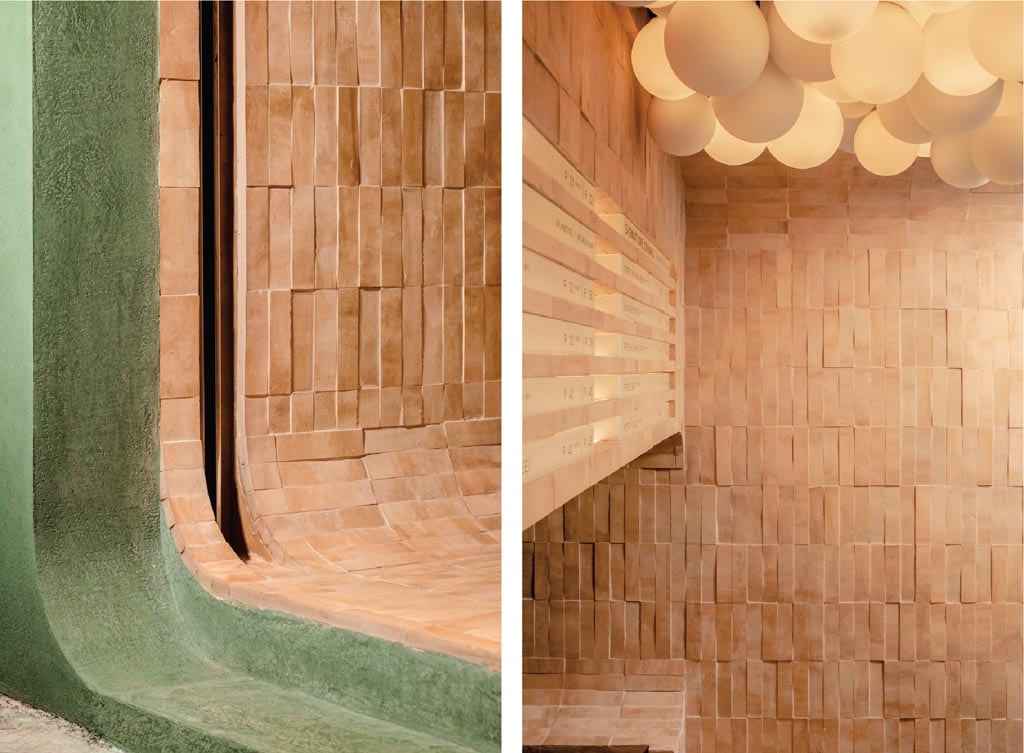 Conclusion – 3 Things to Consider When Designing Your Cafe
If you want to open a new coffee shop, interior design can help attract customers. Color schemes, lighting, and furniture can give coffee shops an ambiance and personality to attract new visitors.
Interior design is important for people who want to relax and have fun. Whether you're just starting or expanding your business, a successful interior can mean the difference between making money and losing it.
Your cafe's interior design is an important part of ensuring that your cafe brand is memorable and that your website, social media, and marketing materials are successful. The design theme must be consistent across all marketing efforts.
Additional reading:
Best Coffee Shop & Cafe Websites For Design Inspiration
10 Smart Small Restaurant Design Examples (On a Low Budget)
29 Quick Cafe Marketing Ideas to Attract More Customers
375 Unique Coffee Shop & Cafe Names