Running a successful restaurant requires more than a delicious menu and excellent customer service today.
To help your restaurant stand out, cultivating a lively social media presence is a must part of your overall restaurant marketing strategy.
The right social media presence is not only a way to attract more foot traffic to your restaurant, but it can also help spread the word about your business and all it has to offer throughout your local community.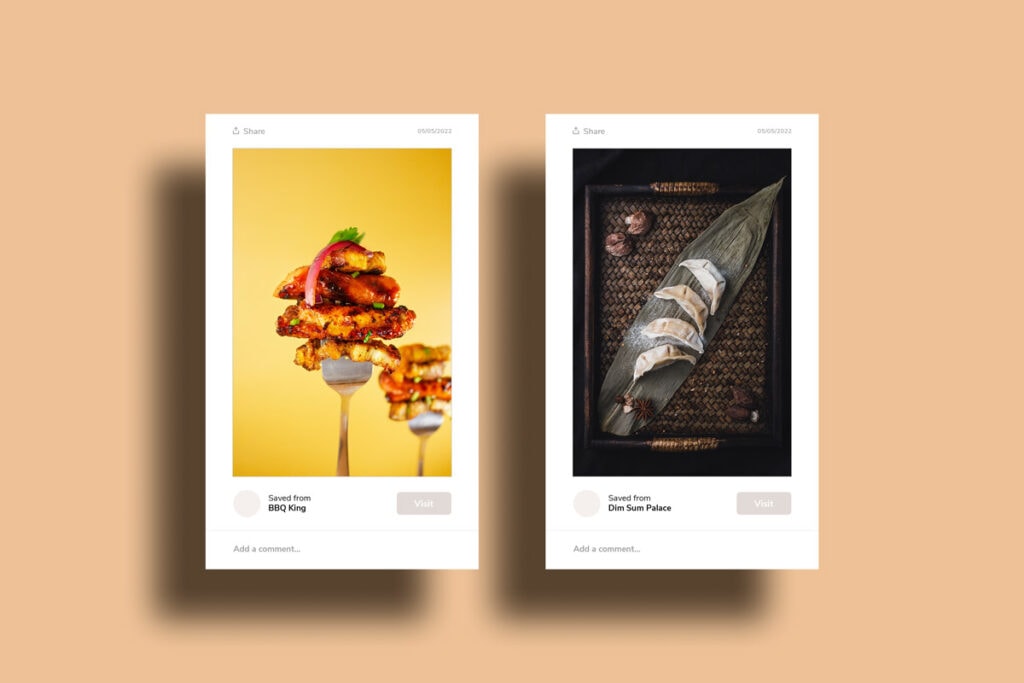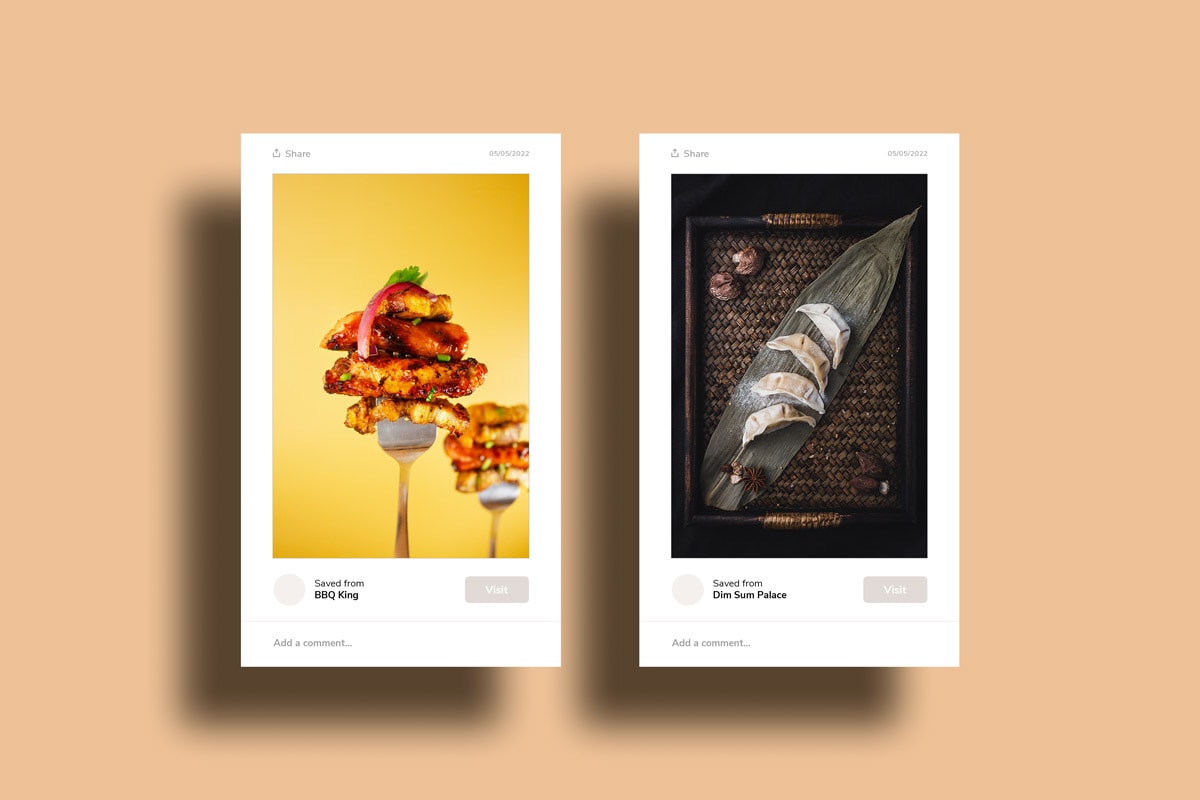 Creating a restaurant Instagram bio, or biography is one of the best places to begin if you are considering entering the world of social media to promote your restaurant.
Choosing Social Media Platforms
When you are working to create a social media presence for your restaurant, you will first need to select which social media platforms you will be using to target prospective customers and patrons.
While some social media platforms are skewed toward younger audiences (Snapchat and TikTok), others are suitable for an older audience and a wider range of audiences, such as Facebook.
Using Instagram is one of the best ways to connect with a visually-oriented audience and an audience that prides itself on imagery and high-quality designs.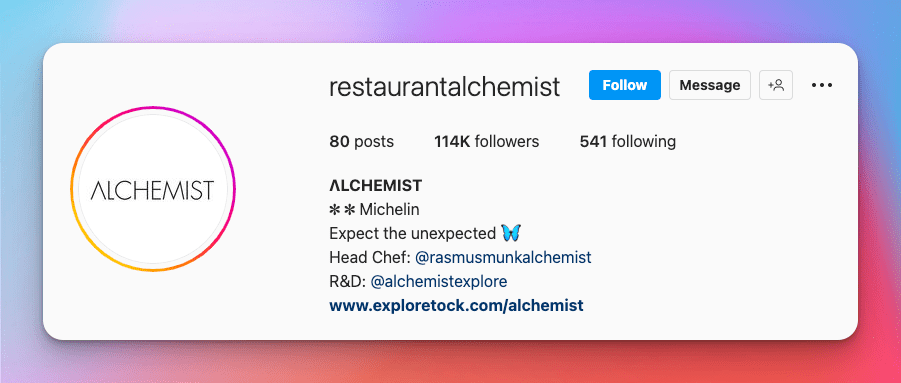 What is an Instagram Bio?
An Instagram bio, also known as an Instagram biography, is a section of an Instagram profile that is typically used to showcase personal websites, links, and specific information about an individual, business, or brand.
This section can be used to inform new visitors to a page of a product, service, or an online community that is represented by the Instagram account itself.
Taking advantage of your Instagram bio is highly advisable whenever you are cultivating a social media presence for a business, such as a restaurant.
Whether you are creating a traditional restaurant bio or a cafe Instagram bio in a highly-niche industry, there are many different ways to help your Instagram biography stand out from the rest.
How to Create a Restaurant Instagram Bio
First, before you begin crafting a restaurant biography for your location's Instagram page, there are a few questions to ask and answer, including:
What is the goal of building and promoting my restaurant's Instagram page? Am I trying to increase the foot traffic to my restaurant or simply share high-quality photos of the food and other creations we make for our customers?
Are there any other social media platforms I am using to promote my restaurant on social media? If so, which platforms am I using to help cross-promote my restaurant, and why?
Is there a specific audience I am trying to reach with my social media presence? What demographics am I targeting with my Instagram bio and the type of posts or updates I intend to share with my Instagram account?
What platforms are my patrons most likely to use on a regular basis? Is Instagram the best platform to promote my restaurant and everything it offers?
Once you have the basics down, you can begin crafting your restaurant Instagram bio while feeling confident in your direction.
Implementing Your Brand
One of the most important aspects of building an online social media presence is incorporating your existing restaurant brand elements into the social media pages themselves.
When using Instagram (or any other social media platform), be sure to upload and use a high-quality version of your restaurant's logo and relevant colors that work well with your restaurant's current logo or interior theme.
Social media provides the perfect opportunity to merge real-life with technology in real-time, especially when you do so with the use of proper color schemes and professionally designed logos.
When taking and sharing photos of your restaurant online, consider the look, aesthetic, and overall feel you create with the type of pictures you take and any editing tools you use.
Branding goes a long way in developing your social media presence for any restaurant using Instagram.
Compare Restaurant Bios
One way to truly familiarize yourself with the process of creating a bio of your own on your restaurant's Instagram page is to spend a bit of time comparing restaurant bios in your local area or community.
Research and compare the bios of popular restaurants in the same niche as you to gain valuable insight into the type of bios that works best based on the number of followers each restaurant has near you.
Using the bios of other restaurants can also help you to find a format that works for you based on the branding and image you envision for your restaurant.
Choose a Bio Style
Because the bio for Instagram is fairly limited (currently to 160 characters in total), it is important to say what is most important as quickly and as efficiently as possible.
However, because you are also in the process of promoting your restaurant, it is also imperative to do so in a manner that is most likely to resonate with your local and target audiences.
Some bio styles to consider when creating your Instagram biography for the first time might include:
Emoji-themed bios: Using various emoji icons can be a great way to connect with an audience, especially if you target a younger or hip crowd with your restaurant. Adding various emojis such as 👇, 👉, or 🎉 can help you to draw attention to special links or promotions you are trying to highlight. Using emoji icons can also assist in redirecting users to your restaurant's official website or online ordering menu.
Short and sweet: Using a short and sweet Instagram bio is highly advisable for upper-class restaurants and bistros unless you have a specific branding theme in mind. Short and sweet intros get to the point and quickly redirect users to official websites or live menus.
Traditional taglines: For some corporate entities, including restaurants, a traditional corporate slogan or tagline is all that is necessary for your Instagram bio. In addition to the tagline, you can also include an official link to your restaurant's website to help drive traffic.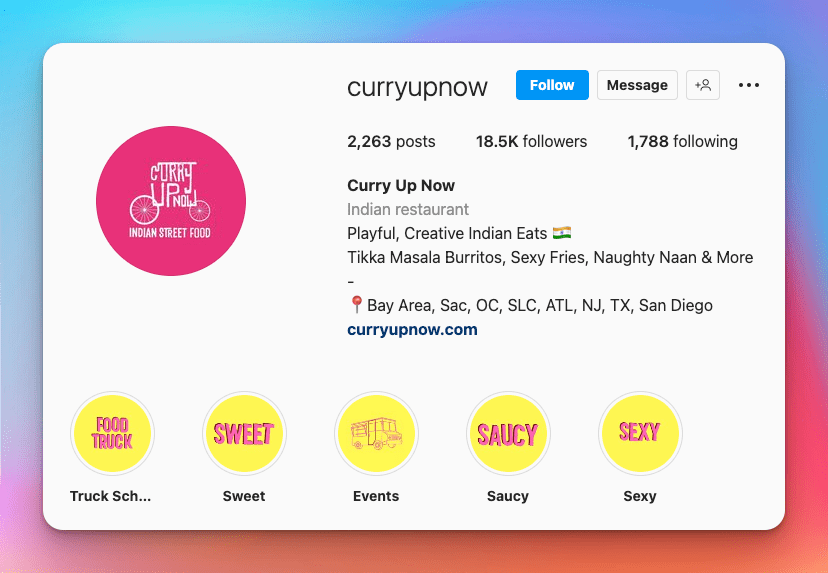 Tips to Help Create a Restaurant Instagram Bio
Creating the right restaurant Instagram bio is not always possible immediately, but it can be done with a bit of brainstorming and by implementing a few of the tips below in your creative process.
Use Hashtags
If you are familiar with hashtags, then you already understand the benefits they provide, especially when it comes to using social media and search functions on the web.
Choose hashtags that are unique to your restaurant and current location to help to connect to others who are also in your area.
Research various hashtags that are most relevant to those in your community to help attract new visitors and potential followers with each new update you share.
You can also use specific hashtags in your Instagram bio to help with boosting your overall visibility on the platform.
White Space Matters
I know what you're thinking. If you are limited to only 160 characters in total, how can white space be incorporated into the bio of an Instagram page?
Well, you can use white space by implementing line breaks and with the use of proper spacing. Avoid pasting all of the text you want to include in your Instagram bio in one small section.
Breaking it apart with spaces and line breaks will go a long way in the overall attractiveness of your Instagram page.
Fonts
With an Instagram bio, you can display the text you create and share using different fonts. With traditional Instagram accounts, there is no changing of fonts or of text.
However, with third-party tools, such as IGFonts, you can choose between an array of fonts that may better represent your restaurant.
Note: Only use a font that is highly legible with the use of both desktop web browsers as well as mobile smartphones. Any text that is unreadable will cause visitors to seek out a different location to find the food or drinks they are interested in.
Avoid using a font that is too difficult to read or irrelevant to the demographics or audiences you are trying to reach with your social media presence.
Use a CTA
Using a CTA, or call-to-action in your Instagram bio is also highly recommended for any restaurant with an official website or live menu. A call-to-action can include lines such as:
Are you hungry? Order now: www.RestaurantWebsite.com
In the mood for a burger? We're open 24/7. Order online: RestaurantWebsite.com
Tired of drooling over our pics? We get it. RestaurantWebsite.com
Conclusion
Your restaurant's Instagram bio is key to your Instagram account. You can use it to take the people who engage with your content and turn them into customers on your website, which will help grow your business.
Next, I recommend you read this post on how to write restaurant Instagram captions and how to use restaurant hashtags to get more followers on social media.