Did you know that QR codes can be used for more than just online menus?
Restaurants and cafes can use QR codes for various purposes, including marketing, reservations, customer loyalty programs, and food delivery.
In this blog post, I'll discuss ten ways restaurants and cafes can use QR codes to improve their business.
Read on to learn how this restaurant technology can benefit your establishment.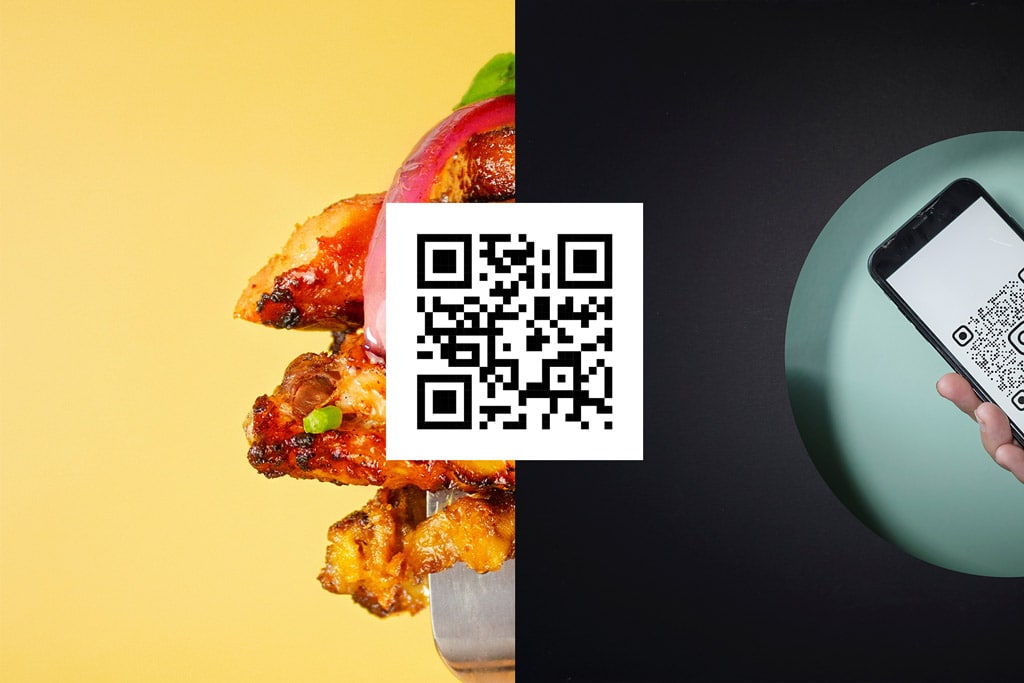 What is a QR Code?
QR Codes are short for Quick Response. Used on digital menus, they allow guests to scan a barcode with their smartphones and instantly receive information about the item. Restaurants began using QR codes to provide quick menus to customers.
The idea behind QR codes for restaurants was to eliminate paper menus and make it easier to navigate the dining experience. In addition, QR codes allowed restaurants to promote their brand digitally without spending money on advertising.
The technology caught on quickly among restaurateurs looking to provide sanitized dining options while maintaining customer convenience.
Online or Contactless Ordering
The pandemic played a significant role in online and contactless ordering for the restaurant industry.
Lately, supply chain fluctuations and inflation have forced many restaurant owners to switch to QR menus because of the cheaper production cost.
If you find yourself in that situation, you'll appreciate this restaurant technology's convenience. Especially if you must make continuous adjustments to your menu to fit the supply and cost situations.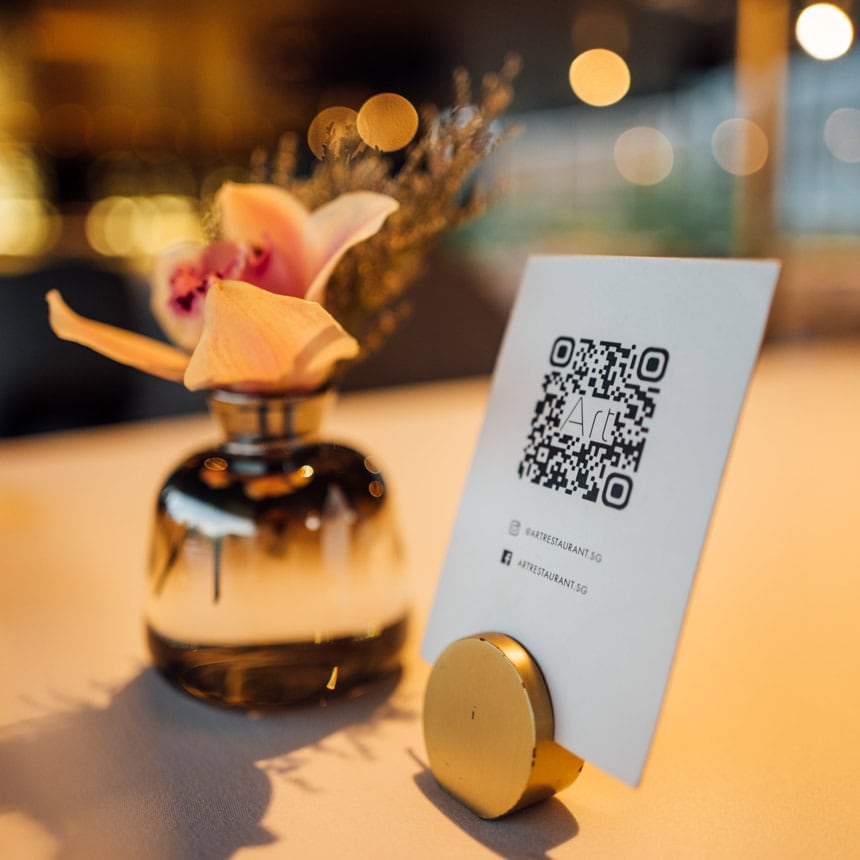 QR codes for restaurant menus offer the opportunity to customize your menus so that they are attractive to customers. They showcase the best dishes you offer and make it easy for your customers to order their food online.
That said, plenty of people value the traditional way of casual or fine dining. High-tech just doesn't appeal to them, and they would prefer to have a server available to answer any questions they may have. They may also need help replacing a dish that wasn't prepared to their liking or a dish that failed to arrive.
If you run a fine dining establishment, your customers will expect to have one-on-one service. Casual restaurants don't often require this service because customers prefer to order food and be left alone to enjoy their meals. Many like using restaurant technology and will appreciate the convenience of ordering online.
Restaurant POS systems like Square make it easy and cost-effective to edit a QR code-powered menu to reflect the updates in the services and foods you offer to guests.
If you're dealing with staffing challenges, a QR menu will also be beneficial because you can set it up with self-serve ordering capabilities. You won't need servers to take the orders.
2 Essential Posts When Growing a Restaurant Business
As you are reading this article, also check out the two articles below!
Share Takeout and Delivery Options with Customers
Offer a custom takeout QR code to make it easy for your customers to place a takeout or delivery order. They will love this convenience because they can enjoy delicious food in the comfort of their own home.
Post this code in your restaurant entryway and windows to encourage on-premise guests to use it for their home dining. Also, don't forget to share these codes in your restaurant marketing materials and newsletter campaigns.
Accept Online Reservations
Both new and regular customers will enjoy the convenience of using a QR code that will send them to a reservation link on your website. This allows them to book their dining reservation based on the availability you have for their preferred date and time.
Add this code to your physical and digital promotional materials and market this service everywhere you can catch a customer's attention.
Restaurant Social Media Marketing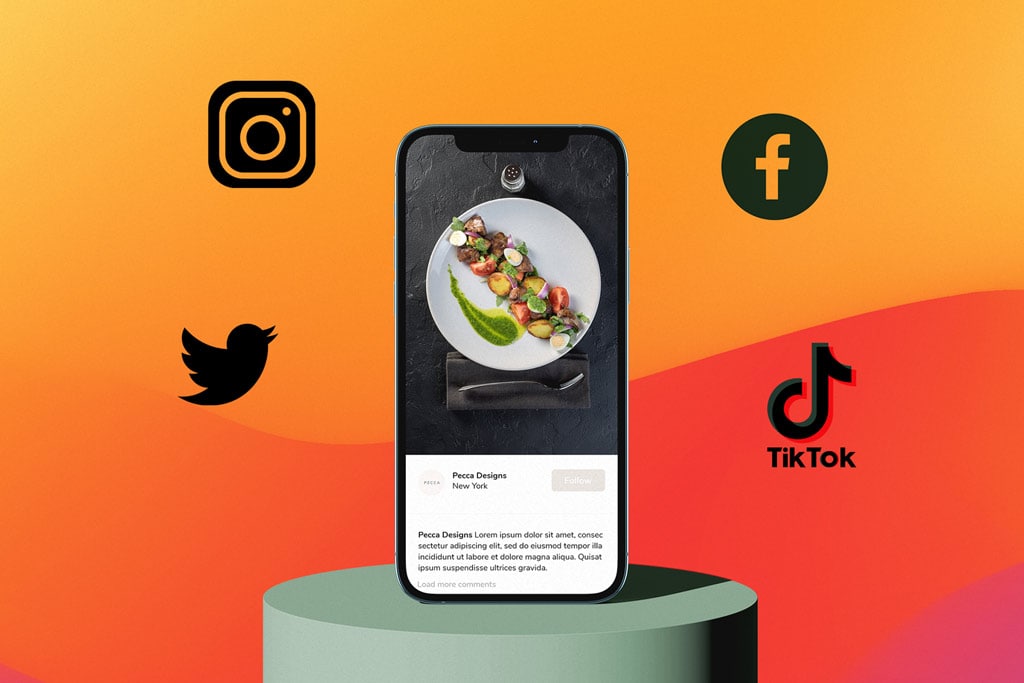 Restaurant QR codes aren't just for digital menus. Your marketing campaign will include a variety of media, including social media.
These codes are great for getting both new and established customers to join your restaurants social media follower list. Keep them informed by posting your latest promotions, happy hours, and event nights.
Make sure to add discount codes and coupons to your campaign to provide further incentives to keep following you.
You should also consider establishing a YouTube channel for your restaurant. Use it to guide viewers step-by-step on how to make their favorite dishes.
If you have an online store where you sell specialty tools and/or food ingredients, you can post a link to that store, plus the contact information for your restaurant.
Podcasts are also good marketing materials because they allow you to interview experts in your industry. You can also demonstrate your expertise by providing tips on various topics related to your business, both from the business owner's side and the customer's side.
When customers arrive, make sure to have your QR code in a noticeable and convenient spot. Once they scan the code, they will access your entire content library, including your YouTube channel, Instagram store, Facebook page, etc.
Manage Your Online Waitlist
You can implement the Yelp Waitlist to help increase sales for your restaurant. Customers can use this app to secure a table the moment one opens for them.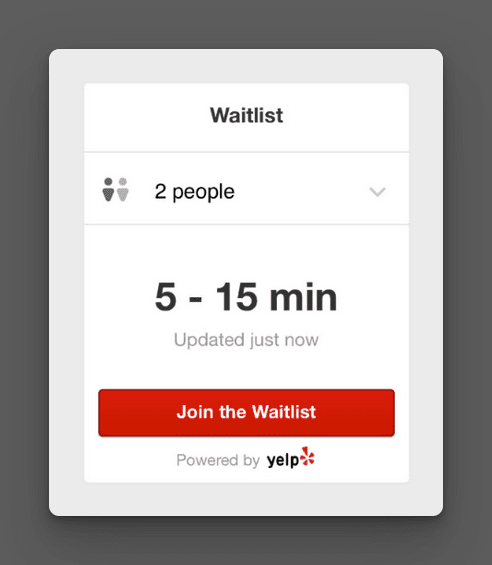 Before apps like this became available, customers would sit or stand in a crowded waiting area without guaranteeing they'll get a table.
Today, online waitlist services make for a more enjoyable dine-in experience. All a customer has to do is scan the code and enter his or her name on the waitlist. Then they can do something else until a table is ready.
Online waitlist services also help relieve stress for your front-of-house staff because they won't have to manage a crowd.
Loyalty and Rewards Programs
Restaurants embrace loyalty programs because they boost their sales and customer base. In addition, these programs can help improve your bottom line because they offer an incentive for new and returning customers.
You can offer discounts for meals when a customer returns a certain number of times or order a new dish you would like to promote. Establishing a referral program is an excellent way to gain new customers who have yet to try out your entrees.
They will love using coupons, limited-time offers, and special reward deals to enjoy their favorite meals or try the new specials you offer them.
You can also use these programs to educate your customers further. For example, send them to a link where they can listen to a podcast about the different wines and cocktails that you offer. The more they know, the more likely they are to buy!
Grow Your Mailing List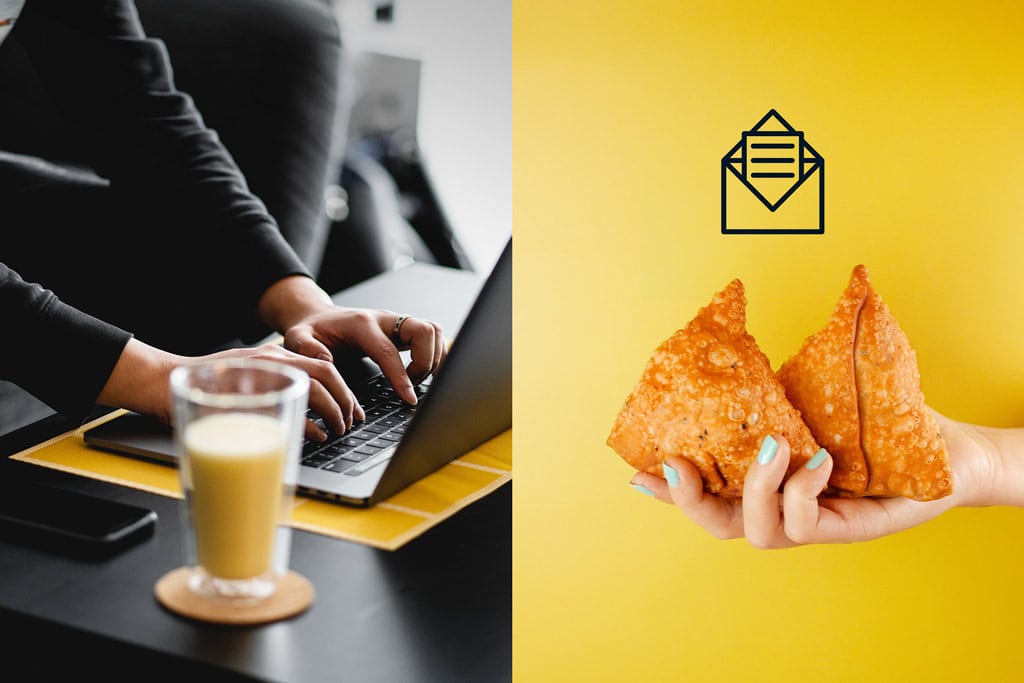 Restaurant email marketing still reigns king above all the other marketing venues, including video. Email allows you to build an ongoing relationship with your customers. You can use this medium to conduct surveys to determine exactly what your customers want from your restaurant.
For example, they might want certain types of beverages served with their meals or dishes that cater to people with special dietary requirements.
Customers will appreciate receiving discounts, coupons, special offers, new dish announcements, etc. Let them know that they will receive these offers when they join your mailing list.
Place your mailing list QR code in an accessible place where your customers can scan them and follow your links.
Get Guest Feedback Through a QR Code
Customer feedback is vital for any business, but it is especially important for restaurants because the quality of the food and service can make or break your business. Encourage guests to leave feedback by placing a QR code near every table.
Once they finish their meal, they can leave an online review of their dining experience. You'll find out what they liked and didn't about their meals, plus the quality of service they received from your staff.
This allows you to fix any problems that the customer didn't address while they were eating at your restaurant. If they left a glowing review, that will help attract new customers to try your dishes. The more positive reviews you receive, the better!
Offer Payment Options via QR Codes
Paying for meals is one of the biggest frustrations of dining out. Unfortunately, customers have accepted the reality of time loss as a price for enjoying a meal at a restaurant. A QR code for payments eliminates this frustration because the customers can pay for their tabs at their table as soon as they're finished eating. All they have to do is scan the code into their phone, pay the tab, and leave.
You can free up your checkout lines by offering QR code payments for your guests. They can help during rush hour because your staff won't feel overwhelmed by the number of tickets they have to process. They will also help if you are dealing with a staffing shortage.
Digital payments can also help you avoid the "dine' n dash" incidents that often occur when customers are forced to wait for a server to deliver or collect the bill. Of course, you'll have some unscrupulous customers who will pull that stunt anyway, but having the code available will force most people to be honorable and pay for the meal that they ate.
Provide Detailed Information About the Dish
Today's consumers are more ingredient-conscious than ever. They want to know exactly what they're eating so that they can have a safe dining experience while gaining the best nutritional value.
Some people are sensitive to certain types of ingredients. For example, they might have to avoid peanut oil or gluten. Reading the information about the ingredients you use for your dishes can help them make the best choice for their meal.
The more information you can provide about your menu items, the more confidence your customers will have when dining in your restaurant. You can provide this information with a QR code.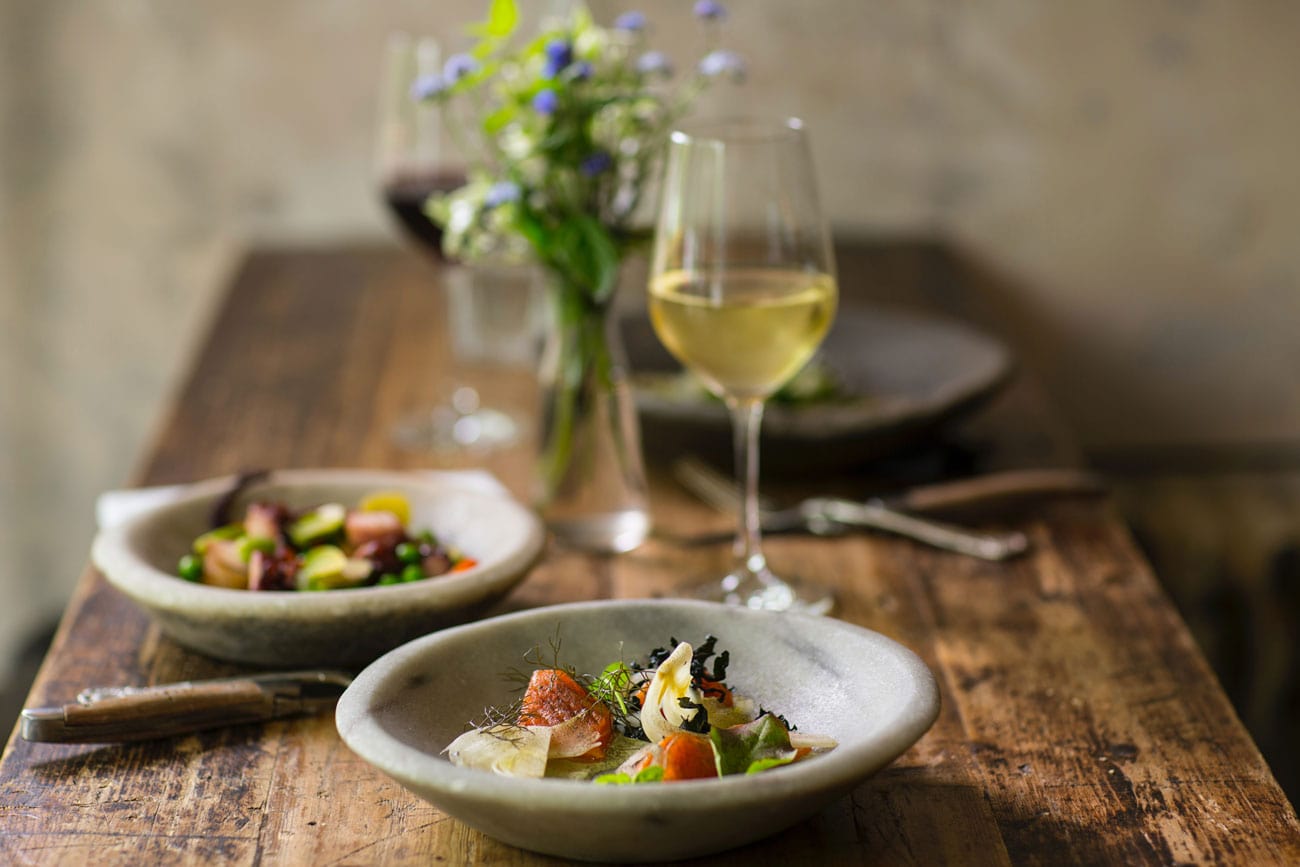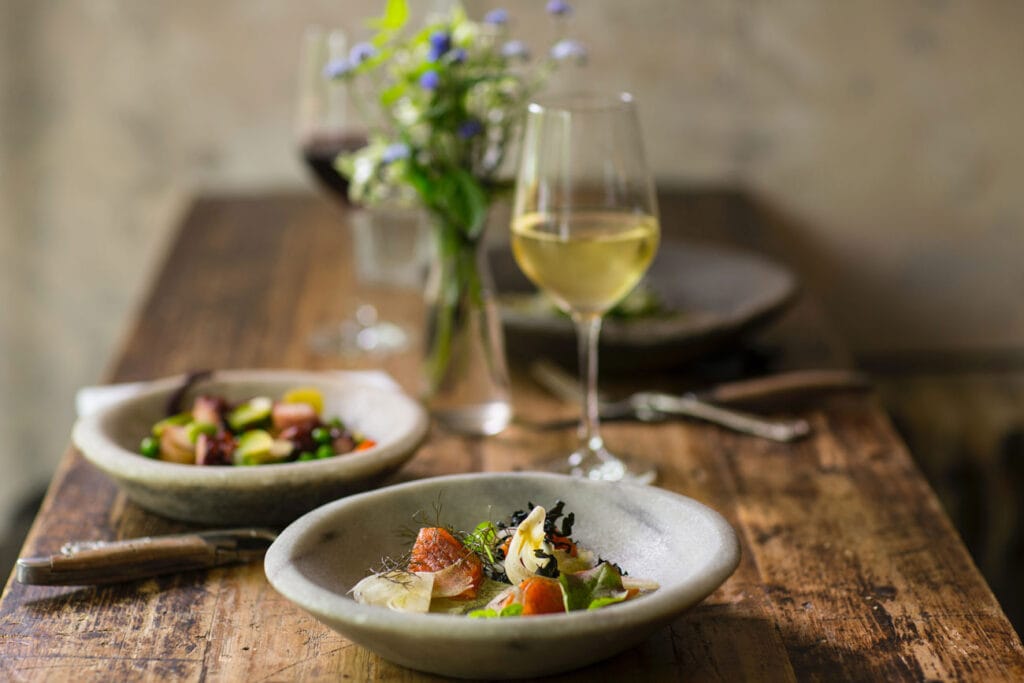 If you use local food sourcing, you can put a QR code on your takeout packaging or your digital menu that directs customers to some information about those businesses. The code will take them to a social media page where they can read about new product announcements and customer feedback for those businesses.
They can also watch videos showcasing the farm where the ingredients are produced and get a feel for how that business is run.
Connect to Restaurant WIFI
Scanning a QR code can give your customers instant Wi-Fi access without knowing your network's password. They just simply scan the code and enjoy the content that you have to offer them!
This can include fun and family-friendly online games they can play while they wait for their food to arrive. In addition, you may choose to implement subtle marketing by including a link to a game where they can build their own outlandish appetizer, meal, or dessert.
The game might motivate them to get an appetizer or dessert they hadn't planned to order before entering your restaurant. That means extra money (and an increased chance of a glowing review) for your business.
Share Menus with Restaurant Guests
QR codes help guests avoid contact with physical menus. Instead, you can place them on posters in your storefront, add them to your restaurant business card, or display them on table tents.
You don't have to limit yourself to using only one QR code. Companies like Toast allow you to set up QR codes for your food menu(s), wine list, and more.
2 Essential Posts When Growing a Restaurant Business
As you are reading this article, also check out the two articles below!
Key Takeaways
In conclusion, QR codes aren't just limited to menu items anymore. They can be used for a variety of purposes, from advertising to customer loyalty programs to food delivery.
So whether you want to promote your latest product launch, reward loyal customers, or deliver delicious meals straight to their doorsteps, QR codes is a restaurant technology that is here to stay.