If you're looking to promote your restaurant through influencer marketing, you'll want to check out this blog post.
I will walk you through everything you need to know to start your influencer marketing campaign and how to work with food bloggers, restaurant TikTok reviewers, and everyone in between.
I have included several outreach templates for connecting with influencers through DMs or email.
Influencer marketing is big business and is estimated to reach $16.4 Billion in 2022. Still, it's also one of the most cost-effective marketing strategies to get your brand recognized by your target audience.
Another of the benefits of influencer marketing is that it creates an element of trustworthiness and authority around your restaurant brand, as the endorsement comes from someone that followers trust and respect.
Whether you're looking to connect with young adults looking to party on the weekends or hard-working parents who want fast and healthy food for the family, there are influencers out there that can help you broaden your reach.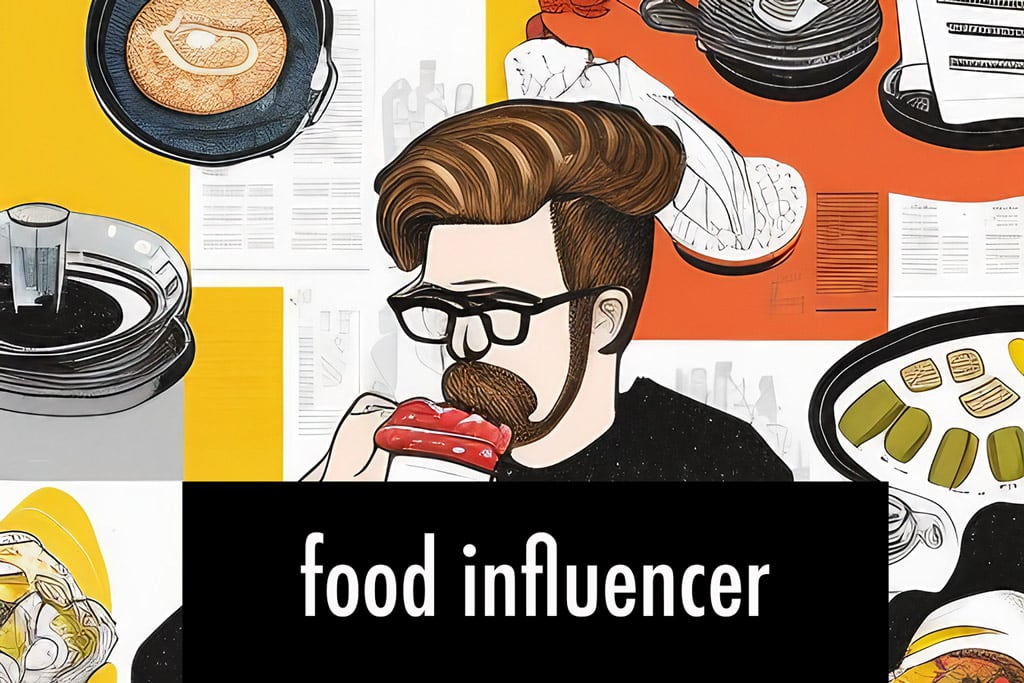 Social Media Influencer Marketing 101
If this is your first time considering working with a social media influencer, we should cover the basics first.
What is a Social Media Influencer?
A social media influencer operates an account on a social media platform and has a strong following that trusts their opinions and advice.
A social media influencer might have an account with millions of followers or an account with thousands of followers because they're focused on a much more concentrated niche. Follower count is less important than engagement.
Influencers make their money by connecting with brands and making promoted content. Remember that social media influencers are always looking to connect with new restaurants and food brands just like yours.
2 Essential Posts When Growing a Restaurant Business
As you are reading this article, also check out the two articles below!
How to Pick the Right Influencers
Some restaurant owners need to correct this regarding restaurant influencer marketing. They want to go after the accounts with millions of followers that often have the highest price tags associated with marketing costs. However, the key here is demographics rather than size.
You want to pick an influencer that connects organically with the audience that's in your target demographics. This involves thinking a little bit outside the box.
Makeup, sports, and gaming influencers might not immediately jump to mind when you think of restaurant influencer marketing. Still, if they're connecting with a demographic you're looking to target, they will be an excellent choice for your marketing campaign.
The best way to find social media influencers is to hop online to social platforms like TikTok or Instagram. Start following social media influencers and connecting with your target demographics accounts.
Read more: Get Started with TikTok Marketing for Restaurants
Deciding on Your Food Influencer Marketing Strategy
Building your food influencer marketing strategy is essential before you start reaching out to potential influencers.
Here's a list of five things you need to consider and outline before you start knocking on digital doors.
What content are you looking for?
Is this going to be a one-off promotion or a long-term relationship?
How does restaurant influencer marketing connect with your current marketing plan?
Think about how you want your brand represented when you work with an influencer
Set a budget before you reach out
Example Restaurant Influencer Marketing Outreach Templates
You've got two main routes when reaching out to your restaurant influencer. You can either connect to them over email or reach out to them on social media.
Influencers commonly receive these types of outreach messages on both platforms. Smaller influencers and micro-influencers might not have an email set up for their influencer account, so social media is often the way to go.
Connecting on Social Media
Cold outreach emails have a low response rate. One study found that only 1% to 5% of cold outreach emails get a reply! Social media is a much more responsive way of connecting with influencers.
Follow the influencer on the social media platforms you want to engage with
Check out their posts to see the types of content they create
Interact with them by liking and commenting on posts to establish a basic engagement
Send your DM!
It can be less anxiety-inducing than sliding into someone's DM. Here's a direct message template you can customize when connecting with a social media influencer through a DM.
---
Hey [Social Media Influencer],
I'm [Name] from [Restaurant/Brand].
We've been following your account and love what you post. We especially liked the [link to content] you did with [brand].
We're looking to collab with new content creators and spread the word about [Restaurant/Brand].
Are you interested?
Let me know, and we can start a call and discuss the details.
Thanks,
[Name] from [Restaurant/Brand]
---
Remember that your restaurant marketing influencer is a working professional, and they might need more time to get back to your message. If it's been a week, and you have not heard back, here's a quick follow-up template you can send in a DM.
---
Hey [Social Media Influencer],
I'm following up on the message I sent you last week. We're looking to collab with some new content creators, and we're very motivated to work with you.
Let me know if you're interested.
Thanks,
[Name] from [Restaurant/Brand]
---
Connecting by Email
You can also reach out to your social media influencer by email. This is often the best contact route if they have an official email on their social media or website. Email typically applies to social media influencers who are further along in their career and a bit more developed in their following.
The template for contacting a social media influencer by email will be very similar to sending them to DM. However, the email allows you to be more formal and include more information about your brand and goals.
This is a template that you can use for a quick email outreach.
---
Good Morning/Afternoon/Evening [Social Media Influencer],
I'm [Name] from [Restaurant/Brand]. We [a quick summary of your brand] and we are [what your restaurant or brand does].
We've been following your account and love what you post. We especially liked the [link to content] you did with [brand].
Your [link to content] on [topic related to yours] was very engaging, and we want to work with influencers who connect with our brand.
We're looking to collab with new content creators and spread the word about [Restaurant/Brand].
Are you interested?
Let me know, and we can start a call and discuss the details.
Thanks,
[Name] from [Restaurant/Brand]
---
Great Content Isn't Free
Restaurant influencer marketing comes with its costs. In general, you'll be paying more for every thousand followers that your social media influencer has. Let's take a look at a general cost breakdown so that you can expect it.
Nano Influencers (under 10k followers) – Under $100 per post
Micro Influencers (10k to 100k followers) – Under $500 per post
Mid (100k to 500k followers) – Under $5,000
Macro (500k to 1m followers) – Under $10,000
Mega (More than 1m followers) Rates are bespoke and can often involve significant contracts
These might vary depending on the type of influence who you're working with. Suppose they also happen to be a professional photographer or videographer. In that case, their cost might be higher as they're also making high-grade video and photos for your brand.
Build Relationships With Food Influencers
You want to build a good relationship with the restaurant marketing influencers you will be working with.
We recommend following a variety of influencers with your social media accounts. This will let your brand build some organic connections within the influencer community you're looking to target.
Liking, commenting, and sharing influencer posts is a great way to make your brand more recognizable to these audiences.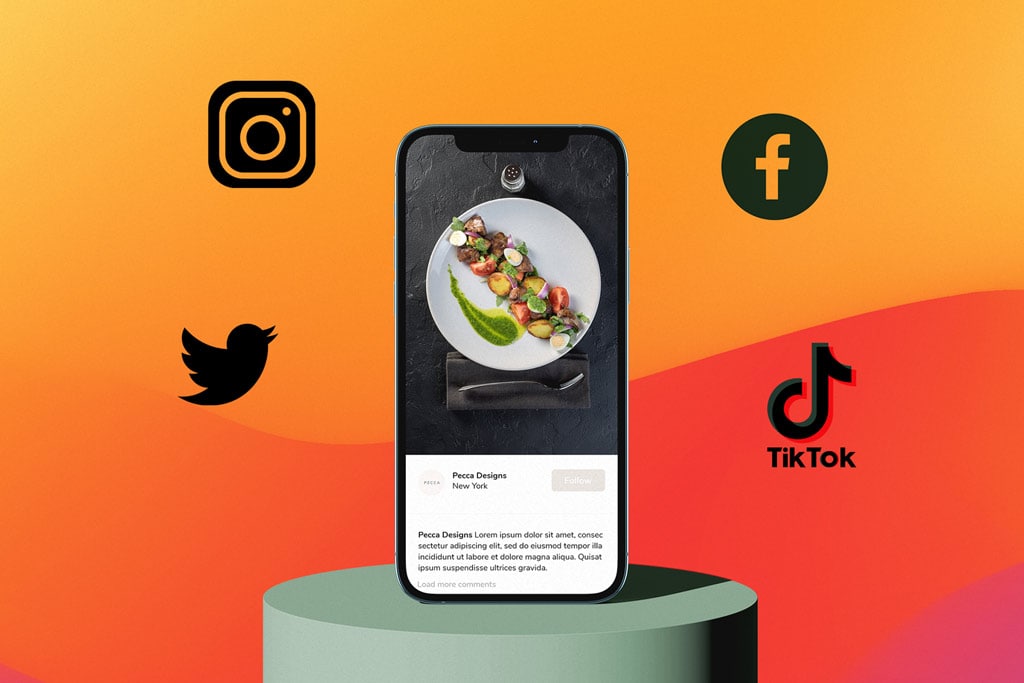 What Social Media Platforms Should You Aim For?
What platforms does your target audience use the most?
Which social media sites is your brand doing the best on?
How can you use influencer marketing to break out on a new platform?
How does this connect with your overall restaurant marketing strategy?
You've Found Your Influencers. What's Next?
Now that you've connected with your social media influencers, you need to send them a brand media brief. This is a short document that's going to give them everything they need to produce the content that you're looking for.
These are the four key points that you need to include in your media brief. This document should be short and to the point and give your social media influencer enough information to create with, but not burden them with too many details.
Information About Your Brand
The most important thing that you can give your social media influencer is information about your brand.
This should include a pronunciation guide even if your brand name uses common words. Nothing would be worse than connecting with a social media influencer that has thousands of followers only for them to accidentally misrepresent your brand.
Here are a few other things you should clarify besides the information section.
Logos and graphics
Links for your social media accounts
A quick description of your restaurant
Key Talking Points
You also need to include the key talking points that the social media influencer should touch on in their video, photographs, or other media they will be producing.
You want to keep these talking points direct. This will give the social media influencer enough space to organically weave them into the content while ensuring your brand's message gets across. These can be written as sample lines of dialogue (let your influencer change things up within reason) or simple key points.
Let's take a look at some example talking points that can get your creative juices flowing.
"Last weekend, I was out with my friends [name] and [name] and we found the trendiest tapas restaurant…"
Mention wanting a fast food option for the family but also needing something healthy
Highlight the craft beer selection and mention that our pub is the "perfect hangout for diehard baseball fans"
Media, Deliverables, and Submission
Your next step is to define the deliverables you want from your social media influencer.
The ideal restaurant marketing influencer relationship will have them publishing your content on their channel, which will have thousands of regular viewers. You should also get a copy of the content to post on your channels to promote your relationship with this influencer.
We recommend leaning into the unique branding angle of the influencer. They built their audience around a particular aesthetic, vibe, and unique voice. You can ask for raw footage or unedited clips, but it's sometimes better to let the content creator take the lead.
Always outline the specifics of your media deliverables. This should include the length of the piece of media, when and where it can be uploaded, and any other measurable deliverables, such as an uploading schedule if you're ordering more than one piece of content.
Examples and Direction
You want to give your content creator enough direction for them to go off of, but not so much that they're constrained. This is a partnership between your brand and their brand. You can benefit by blending your voices and point of view.
Here are a few things that you should include in your direction.
Camera angle and use of front-facing "selfie" shots
Use of music—this is important as you might not have the right licensing permission to use certain music and audio clips
Sample scenes—Consider this a prompt that your influencer can work with. Something like "A group of 20-somethings friends enjoying the pinball games and bar food at our pub" would work
Include a few mandatory shots, like a shot of the front of the restaurant, including your signage, and a variety of shots of the interior
If you're working with a food influencer, have them highlight a variety of items from your menu
Key Takeaways for Working With Food Influencers
Let's do some key takeaways for successful restaurant influencer marketing.
Research your social media influencers
Get your brand online and start engaging on social media
Create a marketing plan before you reach out
Use our templates to make your first contact
Start posting bespoke contact with restaurant influencers!
Top Influencer Marketing Software Tools
Fortunately, there are many different software tools that you can use to help you with your restaurant influencer marketing campaigns. Here are some of the most popular ones.
Platform marketplaces:
TikTok Creator Marketplace offers several marketing tools to help you achieve your business goals, such as finding and collaborating with creators based on your industry and budget. You can also manage campaigns and track their progress with reports.
Instagram's Creator Marketplace is a new tool for brands who want to connect with creators. In the Meta Business Suite you can filter creators by gender, age, number of followers, location and interests.
General social media marketing & management tools:
Hootsuite allows you to track all of your social media channels in one place and measure the performance of your influencer marketing campaigns. Hootsuite also has a hashtag tracker that allows you to research local hashtags for your food business.
Sprout Social is another tool that helps you track hashtags and measure your social media campaigns and identify and connect with potential influencers.
BuzzSumo – This tool allows you to see the most popular content on the internet and identify the most influential authors. Buzzsumo will also help you find and connect with hundreds of thousands of influencers. (30 day free trial available).
Specialized restaurant influencer marketing tools:
Nibble is a new restaurant influencer marketing platform that makes it easy and fast for restaurants to connect with local influencers and get more customers. (At the moment only available in the UK and Australia).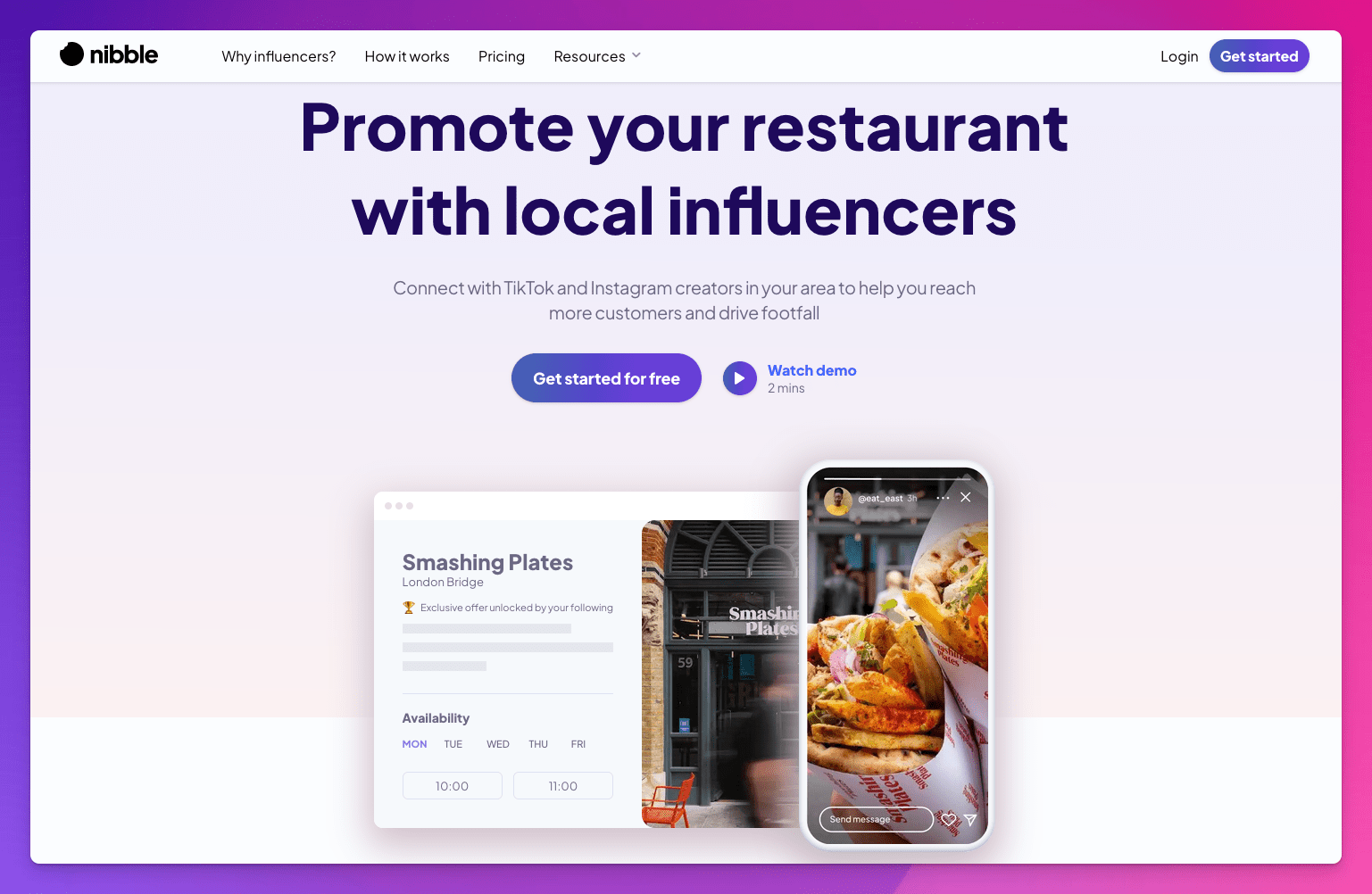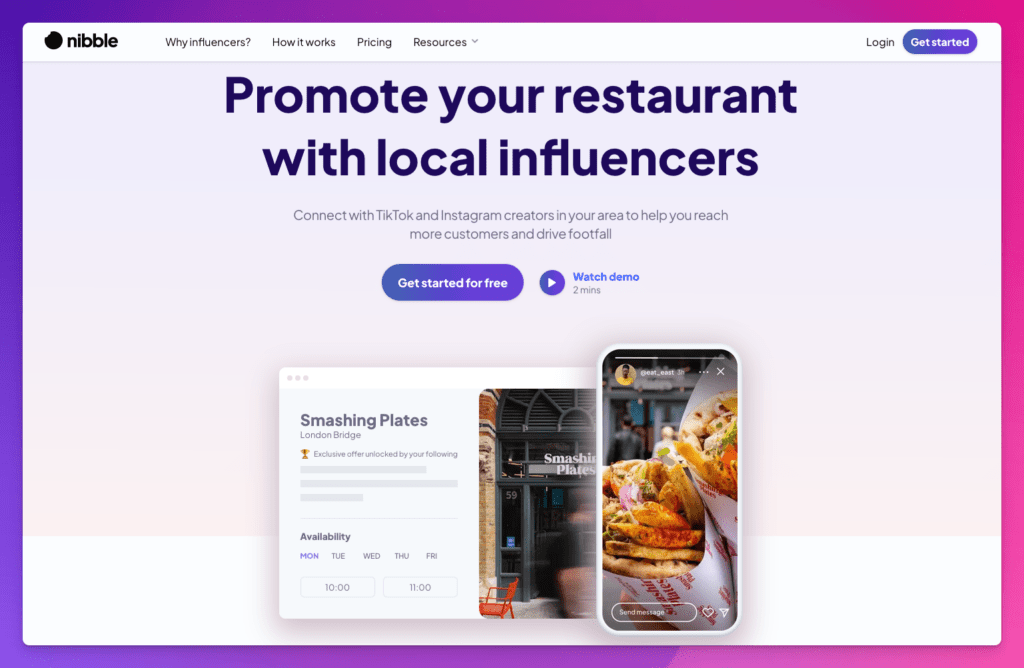 General influencer marketing software:
Upfluence allows brands to find influencers using multiple keywords and weight each keyword according to importance. In addition, Upfluence searches through all major social media platforms: Instagram, YouTube, Facebook, Twitter, Pinterest, Twitch, and TikTok.
Creator.co works as a medium for brands and creators to connect with one another. Its primary target audience is small-to-medium-sized businesses looking to collaborate with nano and micro-influencers.
Julius is an all-inclusive influencer marketing tool containing a database of nearly 120,000 influencers. With options for over 50 criteria- such as demographic and psychographic data for the influencer and their audience.
---
2 Essential Posts When Growing a Restaurant Business
As you are reading this article, also check out the two articles below!