Welcome to my ultimate list of food truck slogans that are sure to get your creative juices flowing!
This isn't just a list, though. I'm also serving up a comprehensive guide on how to craft your own catchy slogan, perfectly tailored to your unique food truck business.
Creating a memorable slogan is an art. It's about encapsulating the very essence of your business in a few well-chosen words. A great slogan is brief, relevant, simple, unique, and catchy. It communicates your vision, highlights what sets you apart, and leaves a lasting impression on your customers.
So whether you're launching a new food truck or looking to revamp your current branding, this post is for you.
A Guide to Crafting a Captivating Food Truck Slogan
What is a Slogan?
A slogan, also known as a tagline, is a concise and impactful phrase that encapsulates the essence of your business. Together with the food truck name a slogan acts as a mini-mission statement and marketing tool, designed to grab attention and highlight the benefits of your product or service. A well-crafted slogan can set your food truck apart from competitors, convey your food truck brand personality, and leave a lasting impression on your customers.
Key Elements of a Memorable and Effective Slogan
Brevity: The best slogans are short, usually around five to seven words. Brevity makes a slogan easier to remember. For example, Kogi BBQ's famous slogan "Korean BBQ Tacos on the Streets of LA" is brief yet communicates a fusion culinary experience.
Relevance: Your slogan should relate directly to your business, capturing its essence in a few words. For instance, "Always Fresh. Authentic Maine Seafood." succinctly conveys a commitment to fresh ingredients and authentic recipes.
Simplicity: Avoid industry jargon or complex words. Stick to simple language that your audience can easily understand. "Gourmet Melted Cheese Goodness" is a prime example of simplicity.
Uniqueness: Your slogan should highlight what sets you apart from your competitors. The Halal Guys, with its slogan "We Are Different," emphasizes its unique take on halal food.
Catchiness: Using rhyme, alliteration, or humor can make your slogan more memorable. Consider the catchy slogan of "Throw Sense Out The Window, Throw Diets Out The Window."
Crafting Your Slogan: Use of Language and Catchy Phrases
When crafting your slogan, consider your target audience and the message you wish to convey. Use positive and powerful words that evoke emotion and appeal to your customer's senses. Try to incorporate wordplay, puns, or metaphors to make your slogan catchier.
For example, Coolhaus's slogan "Architecturally-Inspired Gourmet Desserts" not only describes their product but also suggests a unique concept that differentiates them from other dessert trucks.
Showcasing Your Unique Selling Point (USP)
Your USP is what differentiates you from your competitors. It could be your unique recipes, superior service, a special ambiance, or sustainable practices. Your slogan should reflect this USP. For example, the slogan "Farm to Street" tells customers that a food truck on farm-fresh, high-quality ingredients.
Measuring Effectiveness and Making Modifications
Once you've crafted your slogan, it's crucial to measure its effectiveness. This can be done through customer feedback, social media engagement, or by tracking increases in sales or patronage after the slogan's implementation. If your slogan isn't resonating with your customers, don't be afraid to tweak it or even come up with a new one. Remember, your slogan should evolve as your business does.
In conclusion, a captivating slogan encapsulates the spirit of your food truck in a catchy and memorable phrase. It's simple, relevant, and highlights your unique selling point. With creativity and a deep understanding of your brand, you can craft a slogan that will leave a lasting impression on your customers.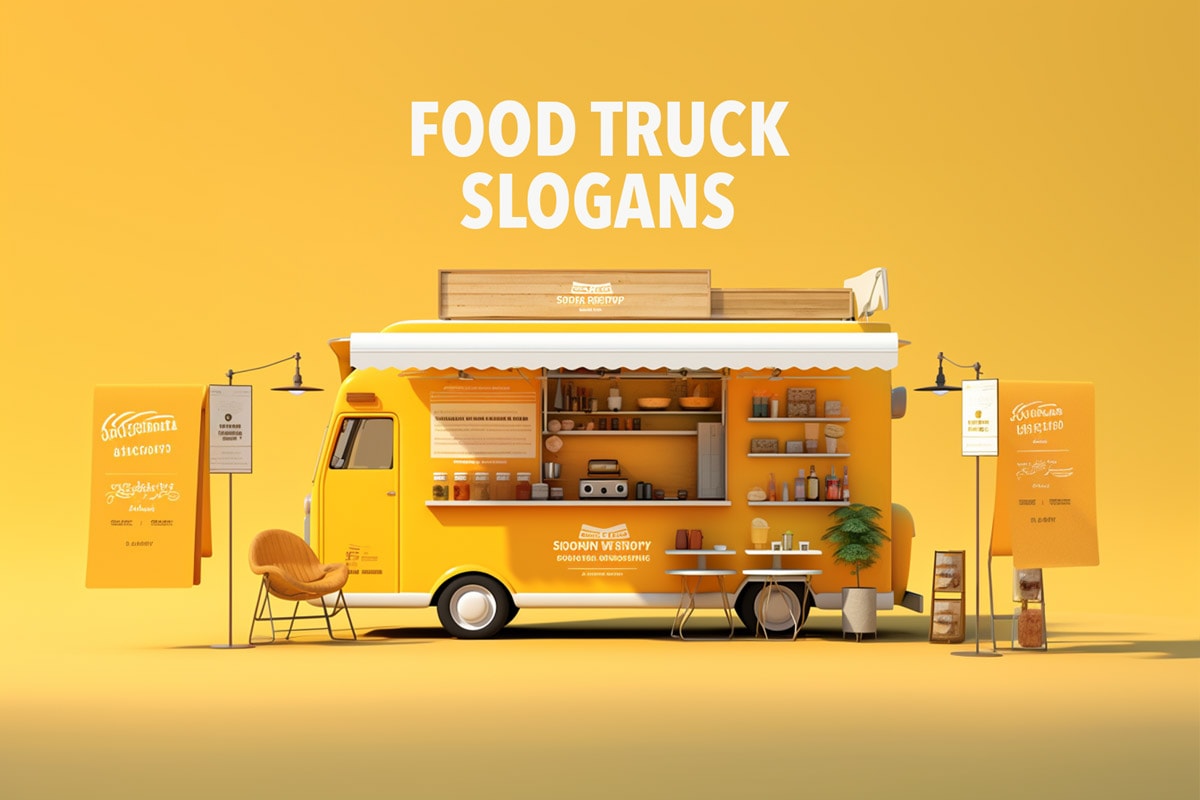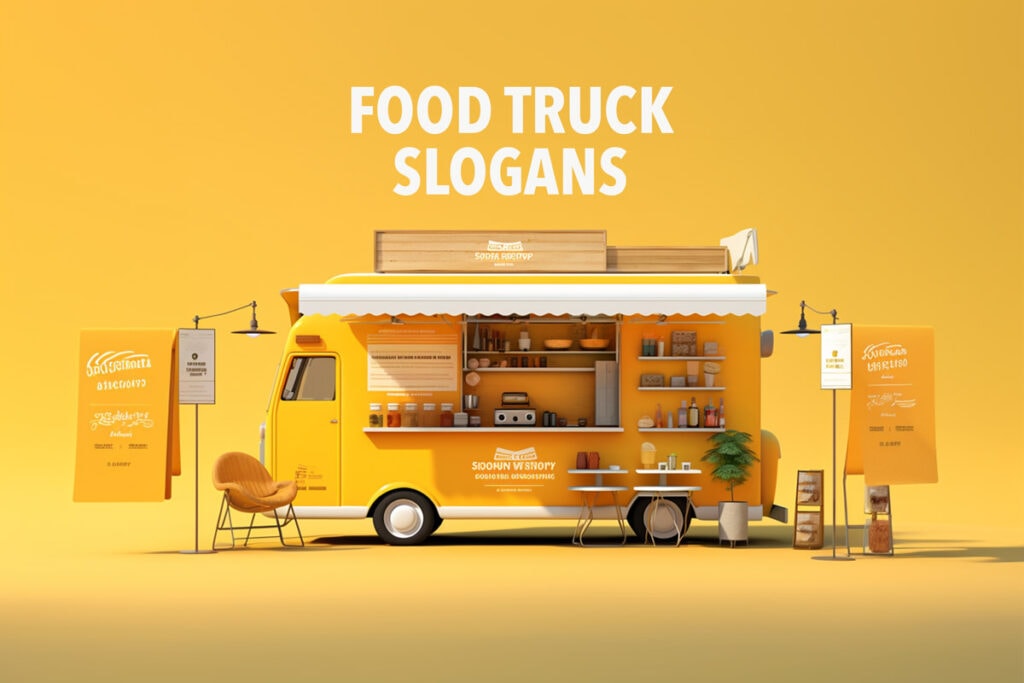 Food Truck Marketing Slogans
Rolling Out Flavors You'll Savor
Bites on Wheels, Meals that Heal
Drive-Thru Deliciousness
Fast Food, Slow-Cooked Taste
Hungry? Follow the Aroma!
Taste the Street-Side Retreat
Gourmet Grub on the Go
Wheeling in the Yum Factor
Cuisine That's Worth the Chase
Foodie Adventures on Four Wheels
Rev Up Your Appetite
Eat Well, Roll Better
Your Pit Stop for Top-Notch Tastes
Rolling Kitchen, Unrolling Delights
Catch Us If You're Hungry
Where Speed Meets Spices
Park, Purchase, Pleasure Your Palate
Fast Lane to Flavor Town
Wheel Love Our Menu
Drive, Dine, Delight!
Cool Food Truck Slogans
Rolling Flavors, That's How We Roll!
Navigate Your Palate, Drive into Deliciousness.
Fast, Fresh, Filling – Your Street Eat Retreat.
Culinary Journey on Wheels.
Park Your Hunger Here!
From Street to Eats: A Road Trip for Your Taste Buds!
Hunger Wheels, Tasty Meals.
On-the-Go Gourmet, Savory Starts Here.
Pick Up, Park, and Pork Out.
Taste Tracks – All Aboard the Flavor Truck!
Bite-Sized Delights, Big-Sized Satisfaction.
Savor the Street, Enjoy the Eats.
Parked & Served – Goodness on the Go.
Gourmet Grub on the Go – Grab a Bite!
Pavement to Plate: Street Eats that Can't Be Beat.
Curbside Cookery – Drive, Dine, Delight.
Rev Up Your Appetite – Culinary Delights on the Drive.
Roadside Rendezvous with Taste.
Maneuver the Menu, Drive Up the Delight.
Bump Up the Taste, Gear Up the Satisfaction!
Catchy Food Truck Slogans
Feast on Wheels, Satisfaction to Go
Where Taste Meets the Streets
Speedy Bites, Delightful Delights
Fresh on Four Wheels, Park Your Cravings
Drive-in Diner for Food Lovers
The Meal Mobile: A Culinary Adventure
Street Treats for Your Tasty Eats
Fast Lane Food: Satisfy Your Speedy Cravings
Roadside Delicacies, Made with Love
Meals on Wheels for Flavor Thrills
Pavement Eats: Hop on Flavor Street
Tasty Truck Treasures, the Mobile Gourmet
Wholesome on Wheels – Fueling Your Every Day
Street Side Soul Food, Savory Satisfaction Awaits
Park, Savor, Smile – Your Food Truck Haven
Quick Bites to Power Your Day
Satisfy Your Hunger, Discover Our Wonders
Deli on the Driveway: A Culinary Cruise
Flavor Express: Fast & Fabulous Food
Cruisin' Cuisine: Fuel Your Foodie Adventures
Unique Food Truck Slogans
Gourmet Galore, Right to Your Door
Savory Delights, In Traffic Lights
Gastronomy on the Go, Flavors that Flow
Pleasure on Wheels, Meals that Heal
Fast Food with Mood, Drive-thru Dude
Tasty Traveler: Your Global Grill on Wheels
Bumper Bites: Your Hunger's Roadside Companion
Flavorful Journey, Dreams in a Trolley
Snack Shack Attack, the Best Meal Track
Highways to Delicious, Your Roadside Dishes
Nomadic Niche, Moving Meals Enrich
Park, Pick, and Picnic: Your Mobile Bistro
Food Lane Feast, Savory Beats East & West
Hot Wheels, Hot Meals: Satisfy Your Feels
Culinary Caravan: A Taste Tour De Force
Dine and Dash: Your Roadside Comfort Bash
The Moveable Feast: Recipes for the Road
Street Chef Shuffle: Keeping Tummies Grumble-Free
Break Pad Bistro: Delicious to Go
Driveway Delights: Rolling Out Flavorful Bites
Creative Food Truck Slogans
Paving the Way to Great Taste
Meals on Wheels, Deals that Feel
Street Eats, Beats Beets
Wholesome Wheels of Wonder
Flavors in Motion
On-the-Go Gourmet Goodness
Curbside Comfort Cuisine
Quick Bites, Delightful Nights
Rolling Recipes, Unforgettable Experiences
Tasty Treats on Busy Streets
Fast Track to Snack Stack
Your Roadside Food Guide
Street Dining, Divine Timing
Delicious Destinations on Wheels
Speedy Service, Savory Satisfaction
Culinary Journey, No Hurry
Mobile Munchies, Major Crunchies
Tires and Tastebuds in Harmony
Roaming Relish, Ready to Relish
Quick Stop, Flavor Pop!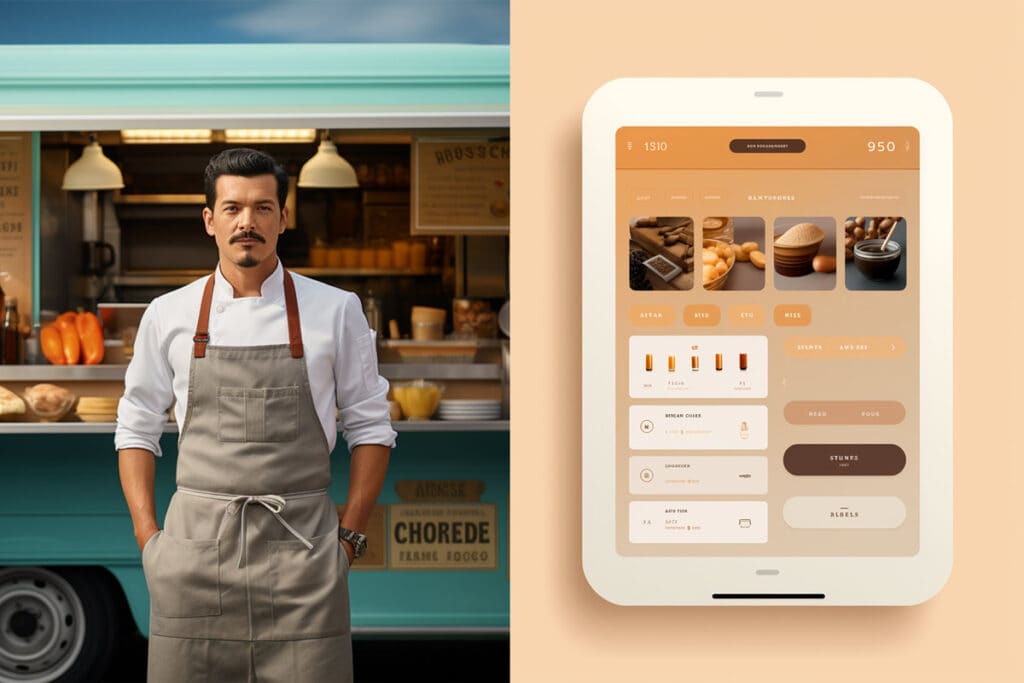 You might also like: 5 Best POS Systems for Food Trucks
Food Truck Slogans Ideas
Delicious Detours: Your Roadmap to Satisfaction
Joyride Meals: Your Curbside Comforts
Thrill Grill: Taste Adventure on Wheels
Urban Wheels: Your Metro Meal Stop
Taste the Journey: Street Eats On Track
Roadside Rations: Feast with Ease
Wheel Meals: Your Food Journey Awaits
Pave Your Path to Flavor: Curbside Cuisine
The Roving Gourmet: Tasty Treasures on Tour
Pavement Pickings: Delightful Dishes Delivered
Ride the Flavor Wave: Surfing Street Eats
Hop on the Flavor Bus: Gourmet on the Go
Grabbing Grub: The Rolling Restaurant
The Wandering Diner: Your Mobile Meal Ticket
Hunger Highway: Your Road to Satisfaction
Curbside Cravings: Quick Bites at Every Light
Freight of Flavor: Catch the Food Train
On the Go Grub: Your Tasty Travel Companion
Roaming Recipes: Taking Flavors for a Spin
Street Bites: Your Curbside Kitchen
Taco Truck Slogans
Tacos on the Roll, Satisfaction in Control
Hot Wheels, Spicy Meals
Tacos to Go, Happiness to Show
Rolling Tacos, Strolling Flavors
Tasty Tacos, Tempting Tracks
Spice up Your Life, One Taco at a Time
Wheeling Tacos, Winning Hearts
Speedy Tacos, Unbeatable Prices
Where Tacos Meet the Streets
Tacos on Demand, Flavors so Grand
Get Your Taco Fix on Route Six
Drive Up for a Taco Cup
Tacos on the Move, Groove to the Groove
Roll Up for Rolled Tacos
Street Tacos, Peak Delights
The Rolling Taco Haven
Fast Lane, Insane Taco Game
Tacos on Tour, Taste Du Jour
Stop, Pop, and Taco Drop
Revving Up the Taco Love
Ice Cream Truck Slogans
"Sweet Wheels: Flavorful Fun on the Run"
"Ice Cream Dream: Making Wishes Mobile"
"Chillin' on the Go: Sweet Treats in Your Street"
"Cool Cones: Your Rolling Refreshment Stop"
"Treat Street: Ice Cream Cravings Cruising to You"
"Scoops on the Loop: Your Neighborhood Bliss"
"Frosty Freeway: Catch the Cool Wave"
"Quick Licks: Fast Tracks to Flavor"
"Sundae Drive: A Sweet Voyage Awaits"
"Cream on Wheels: The Coolest Cul-de-Sac Stop"
"Ice Cream Express: Sweets at Super Speed"
"Cool Down Cruise: Drive-Thru Dessert Delights"
"Flavor Floats: Your Mobile Creamery"
"Icy Expeditions: The Chilled Adventure Begins Here"
"Sweets Street: Where Every Turn is a Treat"
"Cone Zone: Rushing Real Goodness to You"
"Roadside Chill: Catch the Frosty Fun"
"Frosty Flavors: Fast & Fresh To You"
"Sweet Treat Fleet: Rolling in with Happiness"
"Icy Intervals: A Refreshing Pit Stop on Your Route"
Asian Food Truck Slogans
Oriental on Wheels: Your Roadside Ramen
Asian Delights: Satisfy Your Street Food Cravings
Taste the East: Fast and Fresh Asian Cuisine
Wok in Motion: Stirring Up Flavor on the Go
Bahn Mi Boulevard: Your Mobile Asian Bistro
Street Sushi: Fresh Fish on the Fly
Dumpling Dash: Fast, Flavorful Asian Fare
Noodles Now: Deliciousness Delivered in a Dash
Express Asia: The Quick Pick for Asian Tastes
Emperor's Wagon: Serving up Imperial Tastes on the Go
Noodle Nomad: Asian Flavors on Demand
Asian Aroma Express: Fragrant Food to Fuel Your Day
Rolling Rice: Your Pit Stop for Asian Plates
Dragon's Dinners: Lighting up Streets with Asian Flavors
Quick Wonton: Tasty Tidbits to Go
Curry Cart: Spicing up Your Street Food Game
Chopstick Charge: Rev Up with Rapid Asian Bites
On-the-Go Gyoza: Fast and Filling Asian Pleasures
Teriyaki Trot: The Speedy Solution for Asian Cravings
Sizzling Saigon: Rushing Vietnamese Delights to Your Doorstep
Mexican Food Truck Slogans
Mexi-go: Spicing Up Your Street Food Life
Taco Takeoff: Launching Flavors Sky High
Burrito Bonanza: Rolling in with Mexican Delights
Speedy Salsa: Get Your Tasty Tex-Mex Fix
Fiesta on the Fly: Fast and Flavorful Mexican Grub
Zesty Zoom: The Mexican Food Truck with Pep
The Enchilada Express: Speeding Up Flavor to You
Sizzling Street Tacos: Where Taste Meets Pace
Loco for Tacos: Mexican Goodness on the Roll
Nacho Nomad: Your Mobile Mexican Fiesta
Quesadilla Cruise: Taste the Adventure of Flavor
Fajita on Wheels: Sizzling, Spicy, and Surprising
Guac 'N' Roll: Rock Your Taste Buds with a Mexican Twist
Burrito Buggy: Drive Fast, Eat Freshly-Made
Mex To-Go: Unwrap the Flavorful Temptations
Spice Racers: Bringing Mexican Zest to Your Street
Cactus Cart: Dive into Delicious Mexican Meals
Tacos in Transit: Flavorful Mexican on the Move
The Comida Cruiser: Roaming Recipes from Mexico
Street Tamale: Rolling the Tastiest Mexican Traditions
BBQ Food Truck Slogans
Smokin' Speed: Blazing BBQ on the Go
Grill Thrill: Where BBQ Meets Mobility
Fast & Fiery: Your Quick BBQ Fix
The Rib Rig: Rolling in Tasty & Tender
Barbecue Bullet: Speeding 'Q to You
Smokin' Sprint: Racing Great BBQ to Your Doorstep
Roadside Ribs: A Pit Stop for Smoky Perfection
Chariot of Char: Smoky BBQ on the Move
Brisket Break: Quick and Delicious BBQ Bites
Meat Fleet: Fast Track to a BBQ Feast
Tire-Smokin' BBQ: Rev Up with Us
Blazing Barbecue Brigade: Fast, Fresh, and Fiery
Flame on the Fly: Where Speed Meets Smoke
Wheels of Smoke: The BBQ on Your Block
Pork Pulled Perfection: Swiftly Smoky Satisfaction
Quick 'Q: Speeding Saucy Treats to Your Street
BBQ Blitz: Enjoy Flavor with Flair
The Smoke Stop: Fast Fuel for Hungry Souls
Grill & Zoom: Catch Us for BBQ Goodness
Burnout BBQ: Where Speed Sizzles with Taste
Gourmet Burger Food Truck
Burger Buggy: Where Fast Meets Gourmet
Swift Sizzler: Rushing Gourmet Burgers To You
Patty Palace: Dine Deluxe on the Drive
Gourmet Grill: Where Speed Aligns with Taste
Bistro on Wheels: Taking Street Food Up a Notch
Express Deluxe: The Fast Track to Fine Burgers
Gourmet on the Go: Mastering Mobile Luxe Burgers
Gourmet Gear: Quick and Savory Premium Burgers
Prime Patty: Where Fast Food Meets Fine Dining
Burger Boulevard: Cruise for Quality
Choice Chomp: Swiftly Servicing Savory Selections
Rapid Relish: Fancy Burgers at Fast Food Speed
Luxury on the Lane: High-End Burgers on the Move
Roadway to Richness: Where Quality and Speed Collide
Beefy Bonanza: Experience Opulence on the Go
Burger Banquet: Rolling Gourmet Right to You
Swift Savory: Serving Up Swiftness and Satisfaction
Quick Quisine: Accelerating Upscale Eats
Gourmet Gallop: Your Fast Fine Food Fix
Epic Eats: Speeding Quality to the Streets
Smoothie/Juice Trucks
Sip the Swift: Speedy Smoothies To-Go
Juice Caboose: Fresh Squeezes On The Go
Beat The Clock, Grab A Smoothie: The Healthy Hustle
Zesty Zippers: Whizzing Fresh Juices Your Way
Jiffy Juice: Your Quick Refreshment Station
Whirl-n-Swirl: Taking Smoothies on Tour
Juice Jaunt: Embarking on a Refreshing Journey
Quench Wagon: The Fast Track to Refreshment
Smoothie Cruise: Sail into Health Speedily
Swift Sips: Rushing Nutritious Refreshment Your Way
The Fast Fruit: Speedy and Satisfying Smoothies
Blender Bender: Turning Fruits into Fun On-the-Go
Juicy Journey: Navigating Nutrition at High Speed
Vitamin Velocity: Your Fruits Faster
Elixir Express: The Fast Lane to Feeling Good
Revving Refreshments: Your Quick Sip Stop
Speedy Squeeze: Your On-the-Go Oasis
Quick Quench: Smoothies in a Snap
Rolling Refresh: Making Hydration Convenient
Blitz & Bliss: Fast and Fresh Juices on Wheels
Pizza Food Truck Slogans
Pizza on Wheels, Deals that Feel
Slice Happiness in Every Bite
Pizza Perfection on Wheels
The Freshest, Most Flavorful Journey
Deliciousness Jumping onto the Street
Problems Come and Go, But Our Pizza is Forever
Serving Great Pizza from Our Family to Yours
Eat Unique, Feel Unique with Our Pizza
Eat What You Wish For, We Deliver
It's Pizza O'Clock Anytime, Anywhere
From Dough to Doorstep, We Deliver Delight
Your Roadside Pizzeria
Fast Track to Cheesy Goodness
Rolling Dough, Spreading Joy
Pizza Bar on Wheels, Gourmet Delight on Streets
Turning Miles into Smiles with Every Slice
Pizza Factory on the Move
Wheel Love Our Pizza
Drive, Dine, Delight in Our Pizza
Hot and Ready Pizza, Just a Stop Away