This post has collected the top examples of food truck design and branding that every mobile food entrepreneur should know.
Food trucks are some of the most beloved mobile businesses out there and for a good reason. Entrepreneurs can get up and running quickly with a small investment, take their business with them wherever they want to be, and work their way into the hearts of customers in every neighborhood. 
But even with all the benefits of owning a food truck, entrepreneurs can't afford to ignore one of the most important aspects of any business: branding.
Food truck design and branding is a tricky business. The trucks themselves must be unique, creative, and eye-catching, while the branding must communicate their identity quickly to potential customers. The food trucks need to make a statement and set themselves apart from the competition.
It's really tempting to choose a beautiful design and call it a day, but you really need to consider how your branding can help you succeed. Take these top food truck branding examples; each has a carefully crafted message that complements its beautifully unique design. They're all different in their own unique way, but they all have a strong marketing message at their core.
At the end of the article, you'll find five essential tips to help you design and brand your food truck.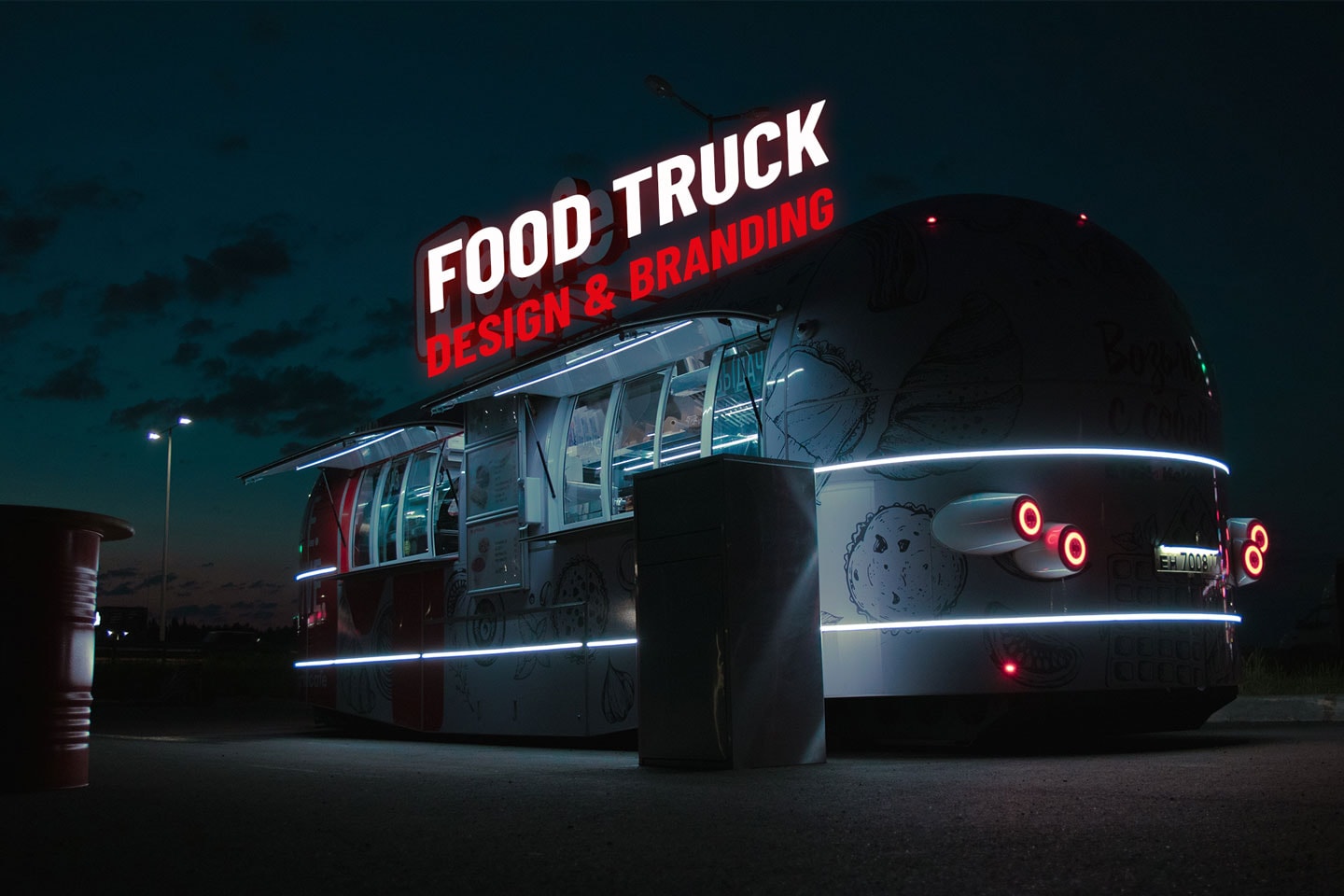 Now, let's take a look at the examples:
Burger Radio Food Truck
Restaurant branding and marketing agency Vigor Branding has helped Burger Radio position itself in the increasingly competitive "better burger movement" space. The design uses rebel-style imagery from bikers and gangsters to depict the food truck's brand identity.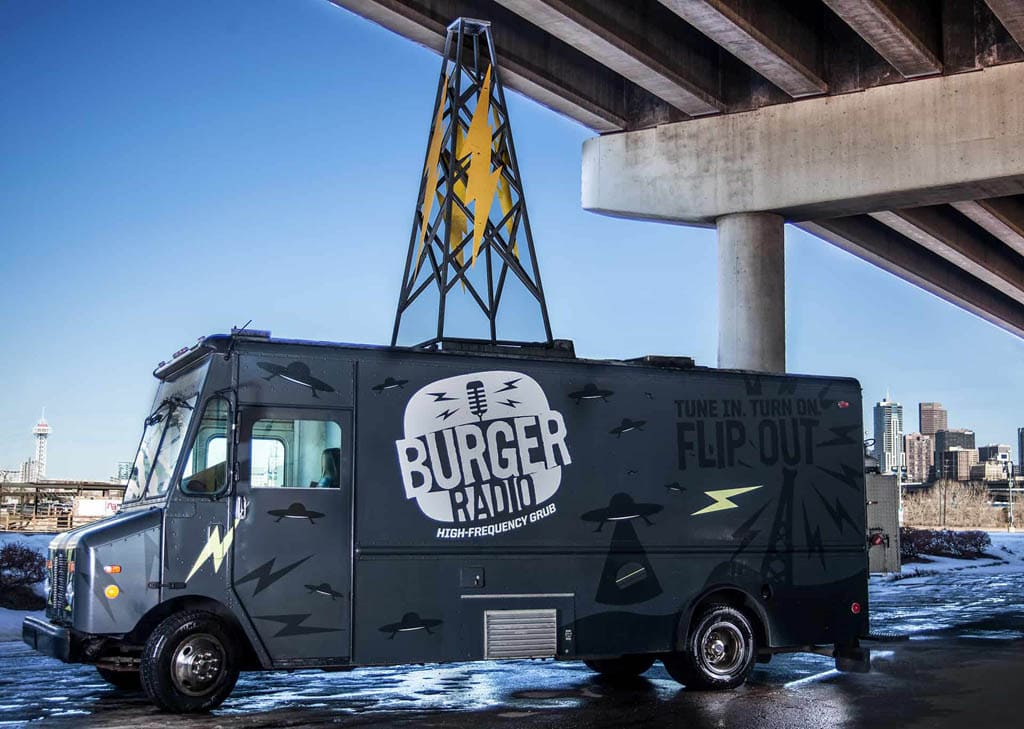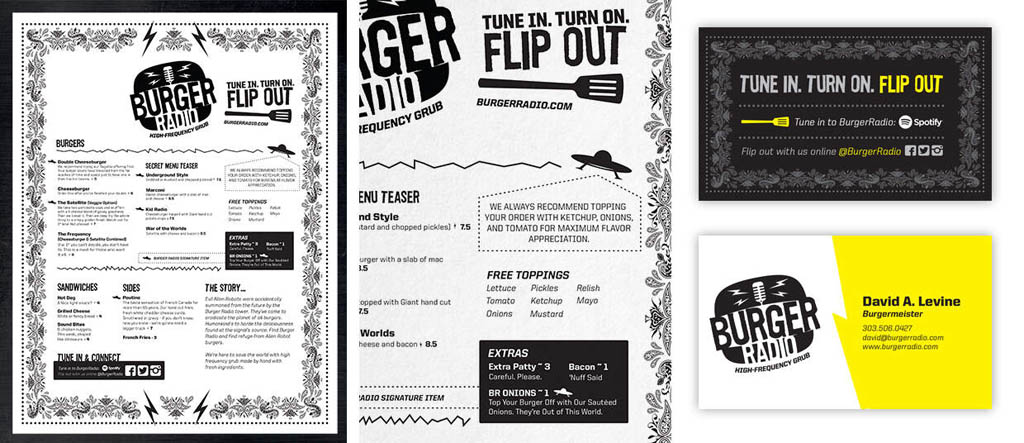 Combi Coffee Co. Truck
Combi Coffee reflects current trends on food trucks. The challenge for 327 creative studio was to turn it into a mobile coffee shop with strong branding and keep its vintage combi truck look. A simple color palette of black, white, and olive green and a manually constructed logo and icon set were the foundation for the design. 327 creative studio is an independent branding studio based in Porto, Portugal.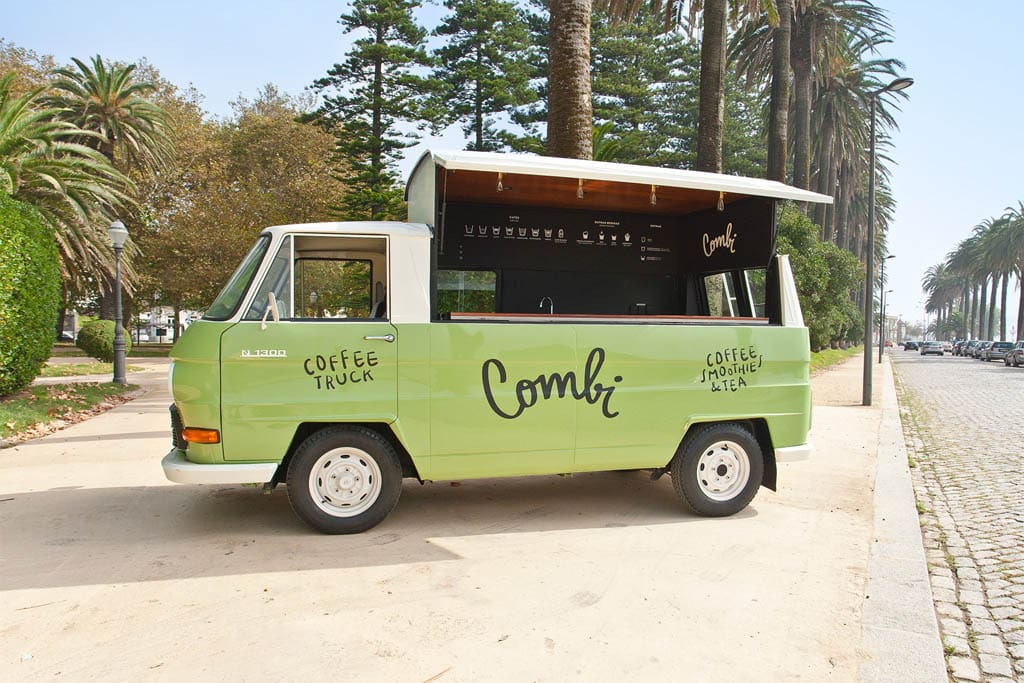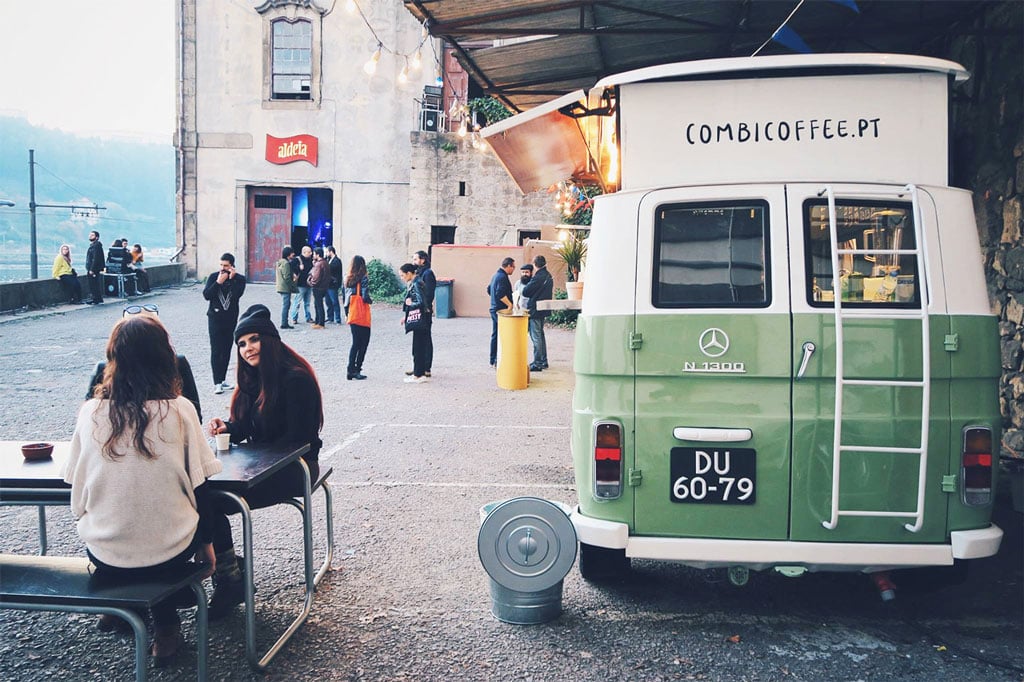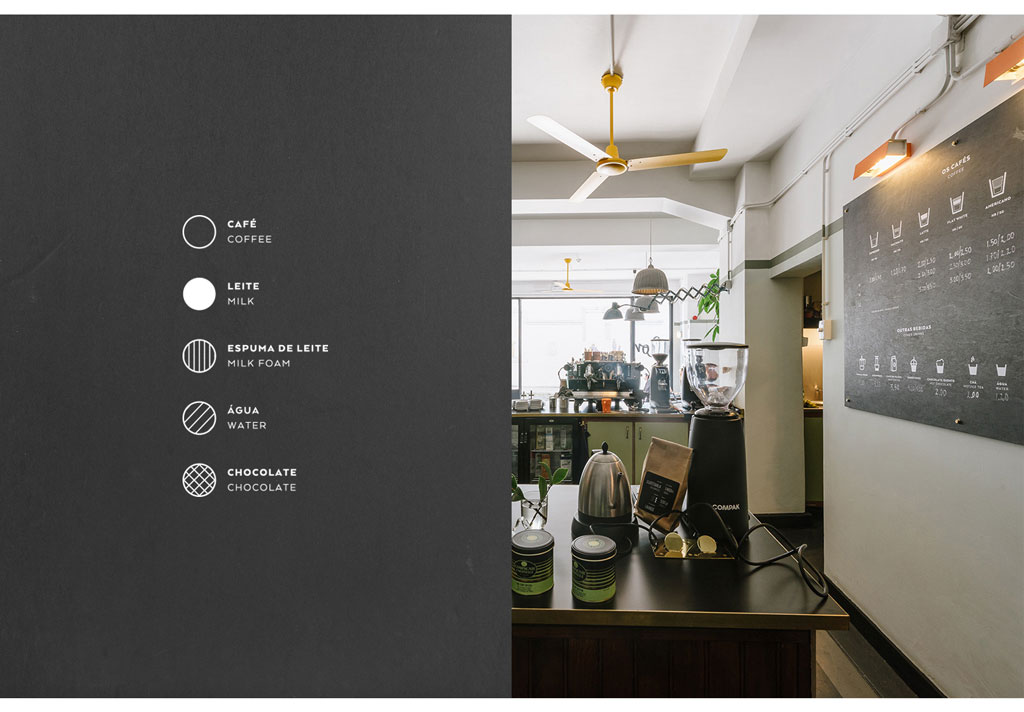 Curry Up Now – Indian Street Food
Curry Up Now serves Indian Street Food with a fusion twist in San Francisco. The creative agency Design Womb has successfully redefined the brand identity and logo design, which has helped Curry Up Now become the fastest-growing Indian fast-casual restaurant concept and franchisee in the US.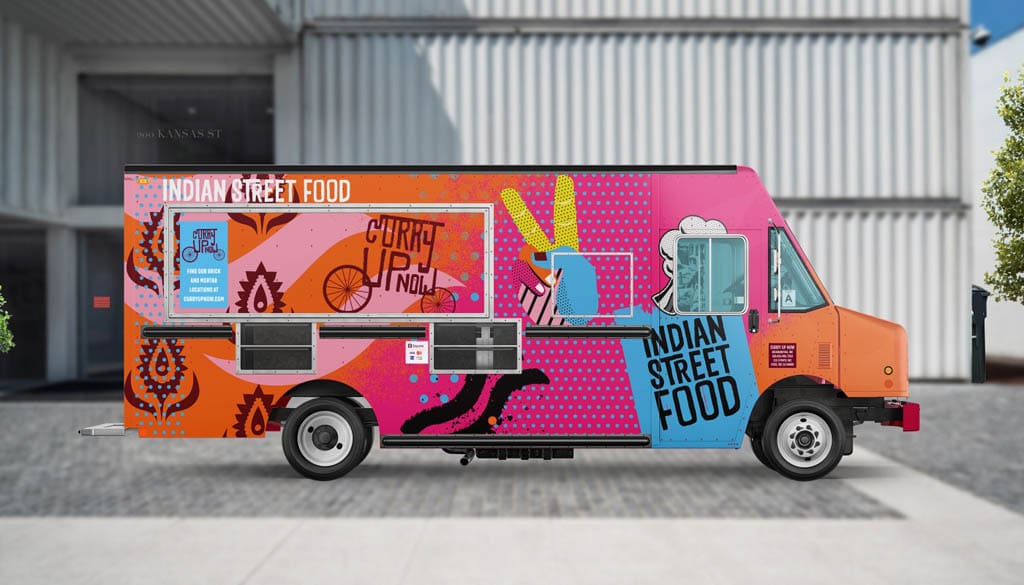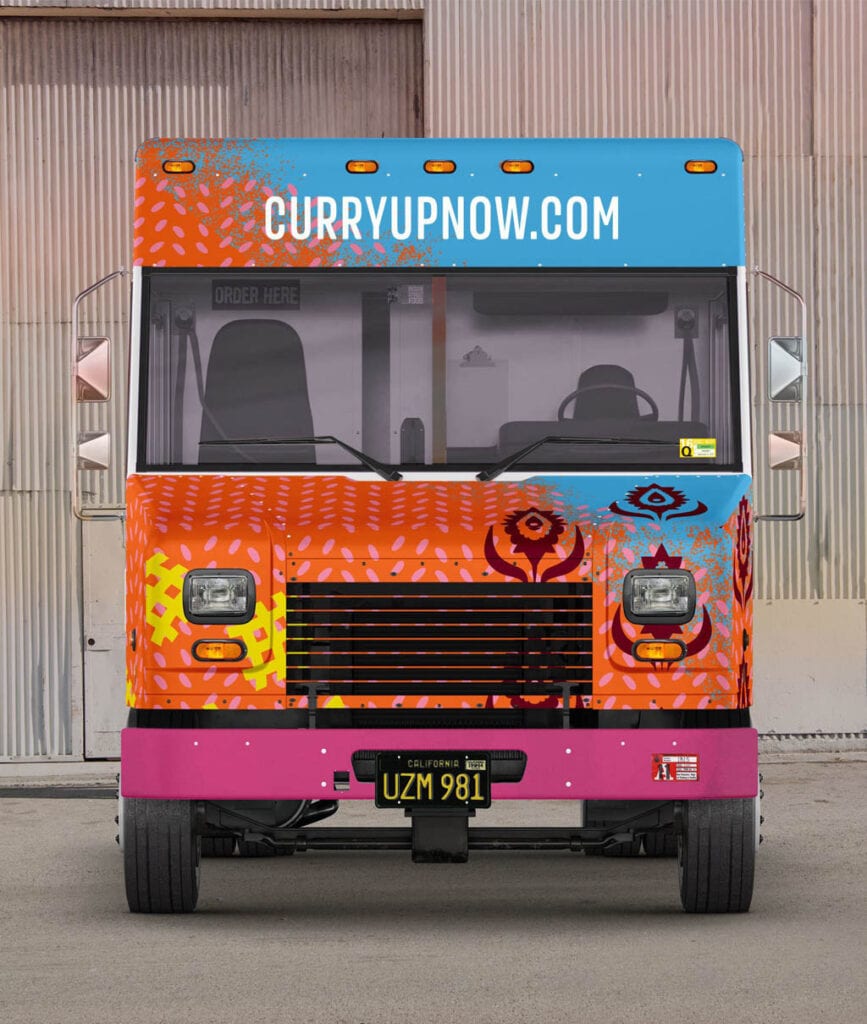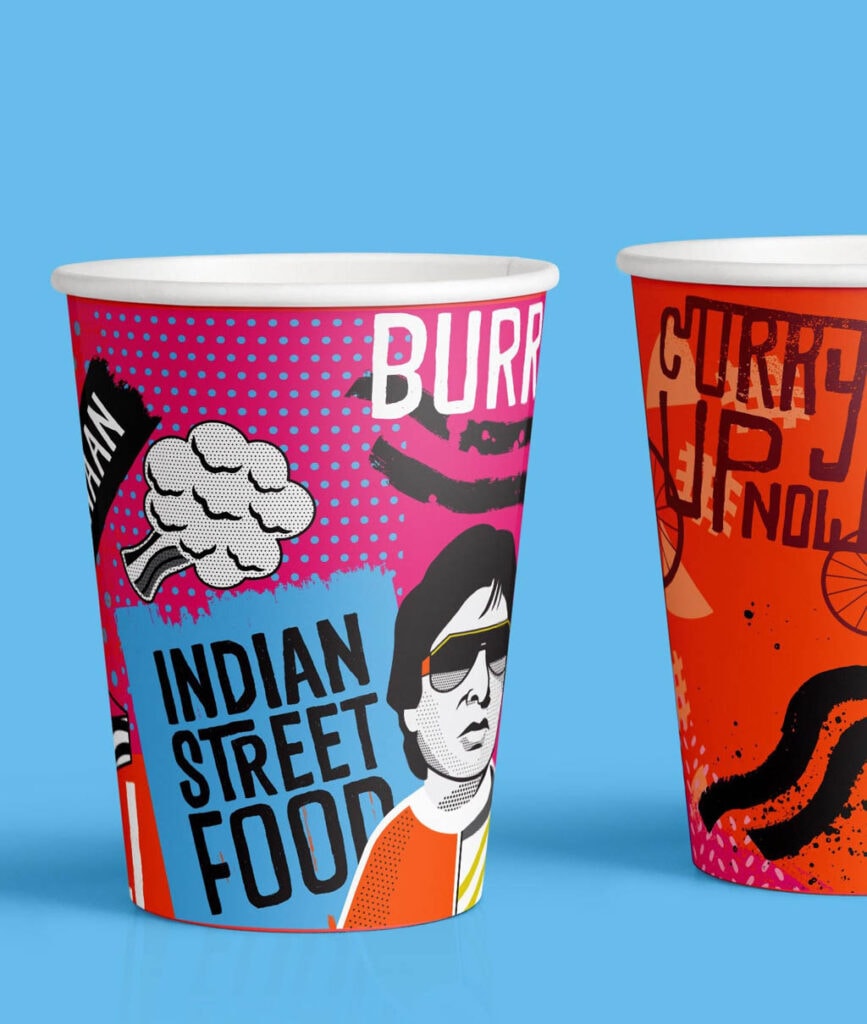 Falasophy Food Truck Design
This is another food truck designed by the creative agency Design Womb. Falasophy is a gourmet falafel and hummus bar in the shape of a food truck.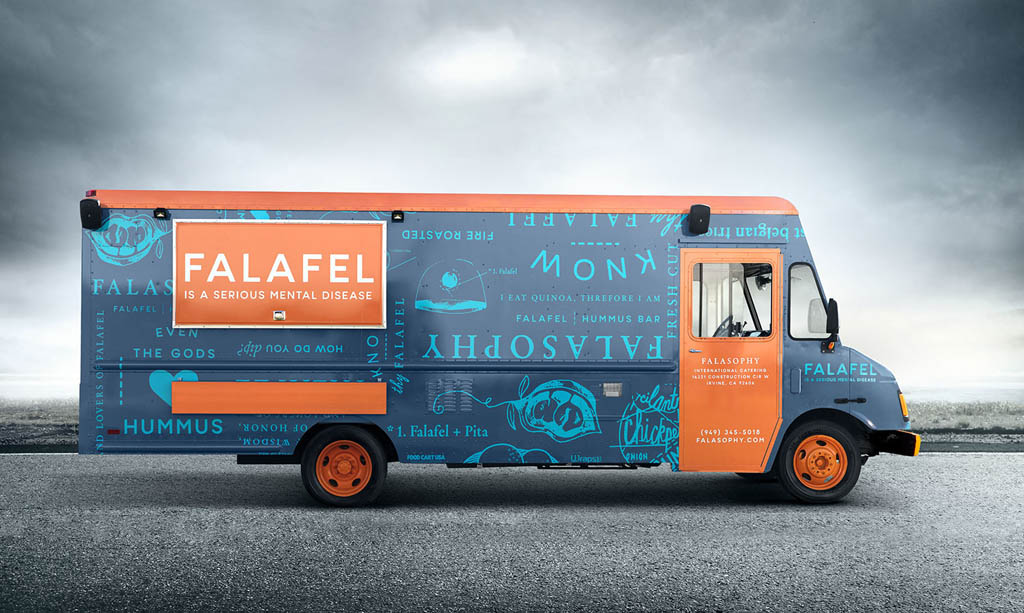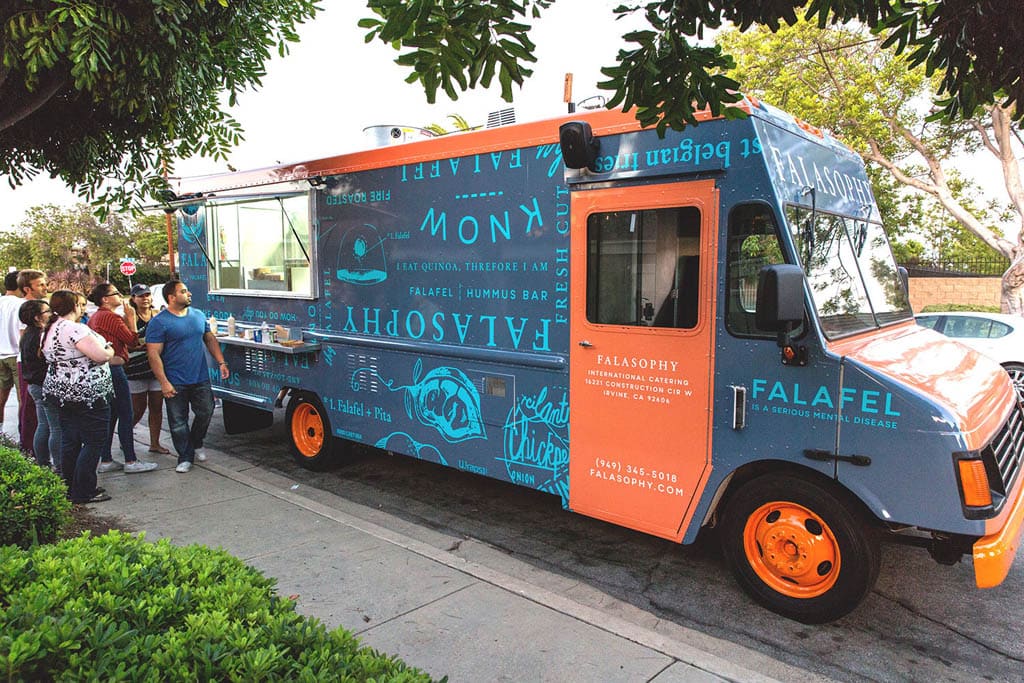 Feiner Herr – Pancake Moderne
The food truck Feiner Herr serves modern pancakes in Berlin. Branding & design by Sebastian Haus.
We were asked to translate the food-concept into the brand, naming and corporate design to create an integrated identity between philosophy, product and visuality. When tradition meets zeitgeist – through product and design.

Sebastian Haus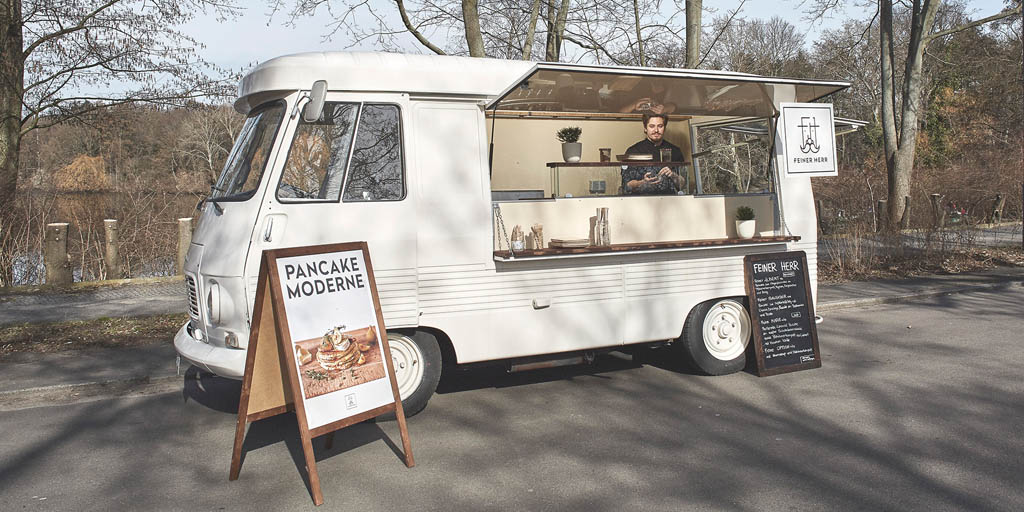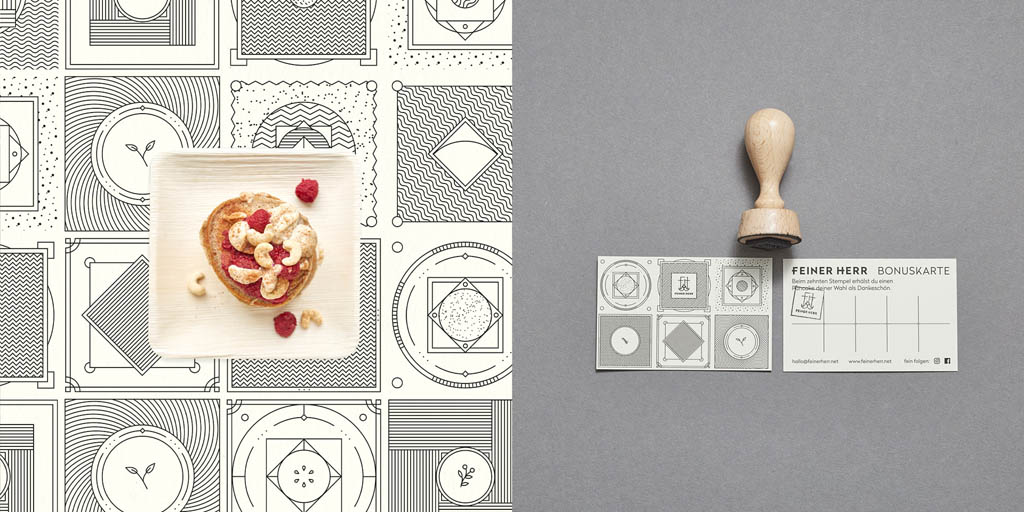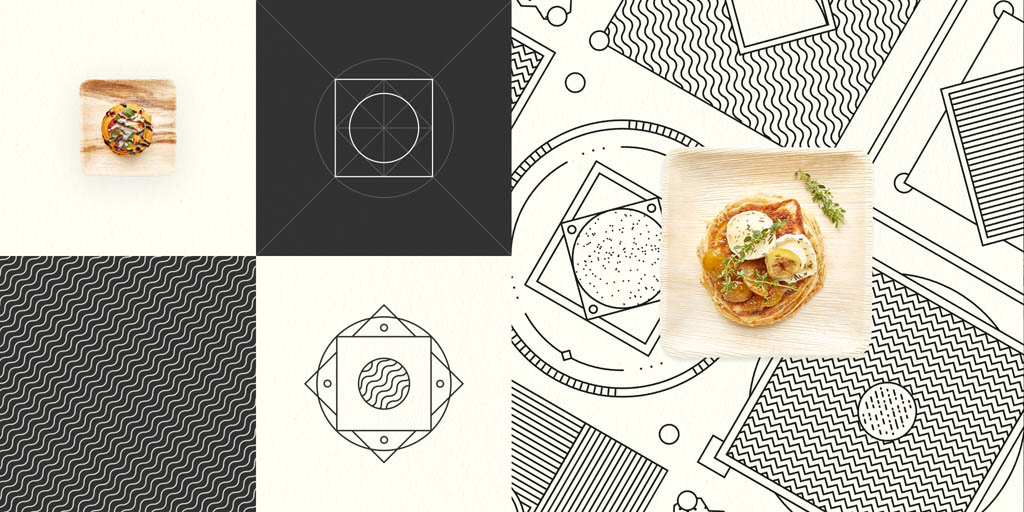 Franklin Juice Co. Truck Design
This design and by the Nice Branding Agency in Nashville is really cool. The style of the amazing vintage food truck is echoed in the overall design of the logo and icon. The infographic showing the juicing process is also noteworthy.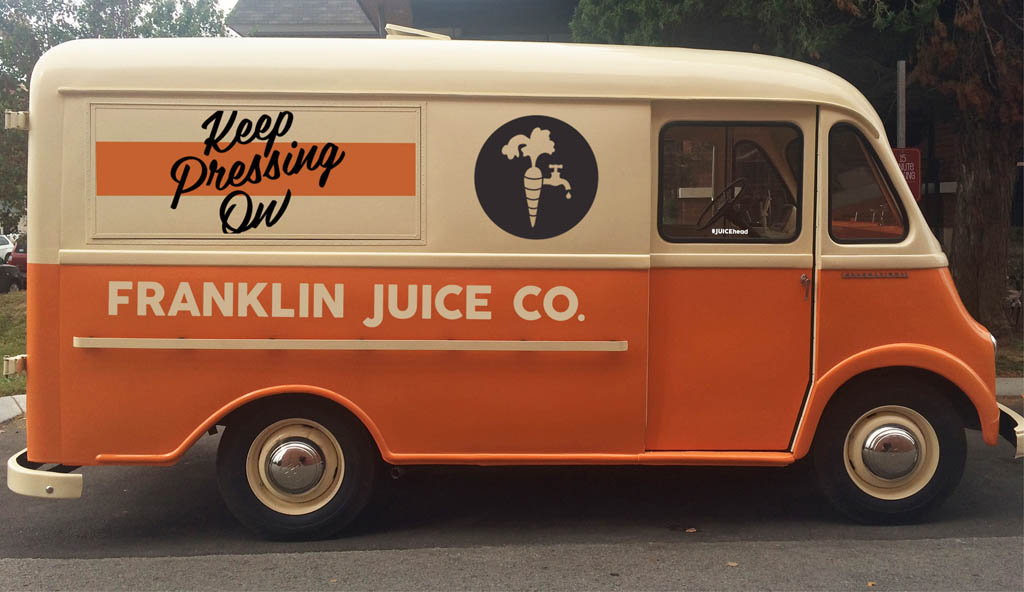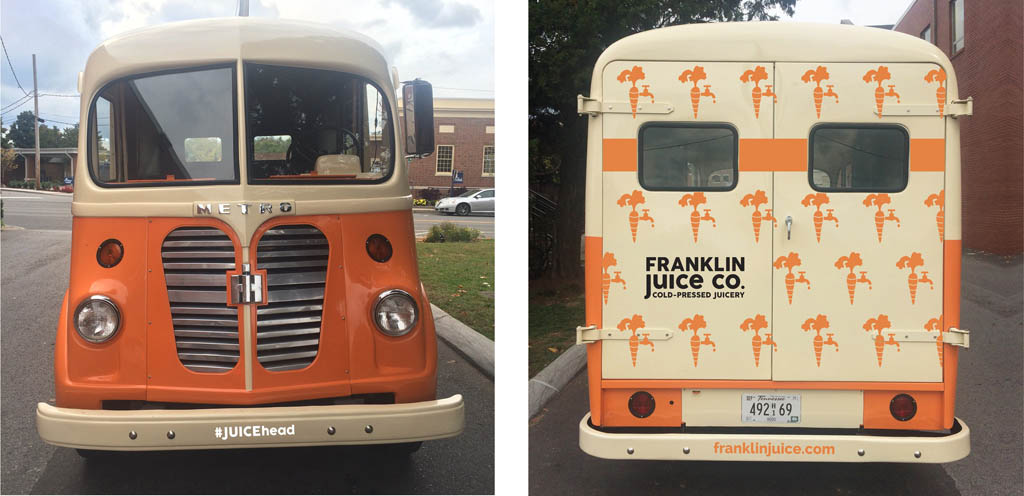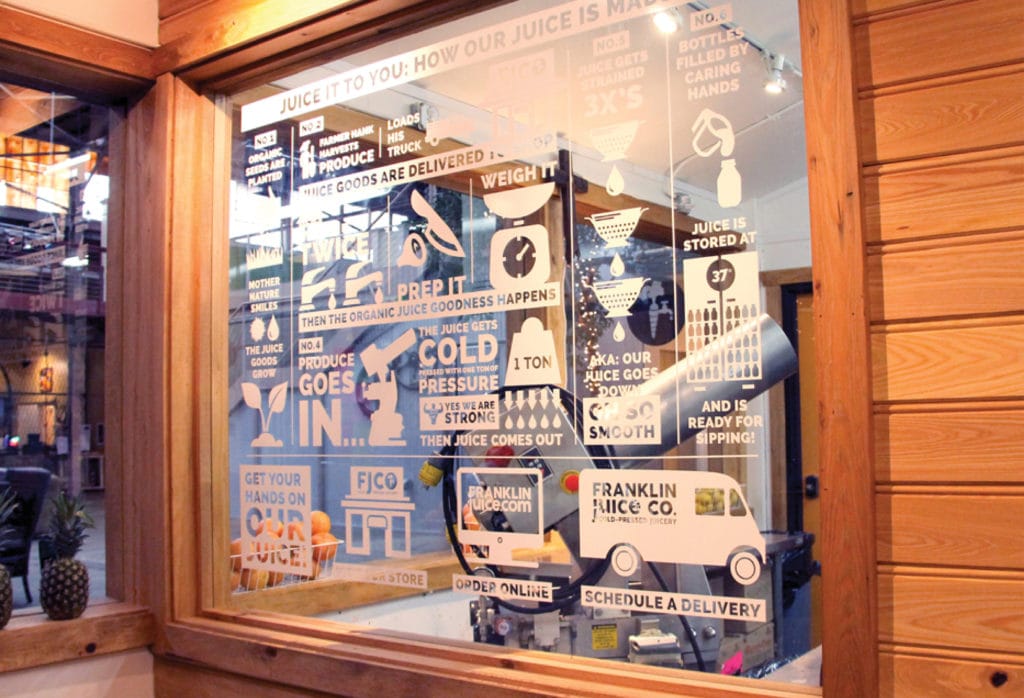 Papadums Indian Food Truck
Papadums is an authentic Indian food truck in Trinidad and Tobago. The design is by the design studio Whiskey in Kansas City.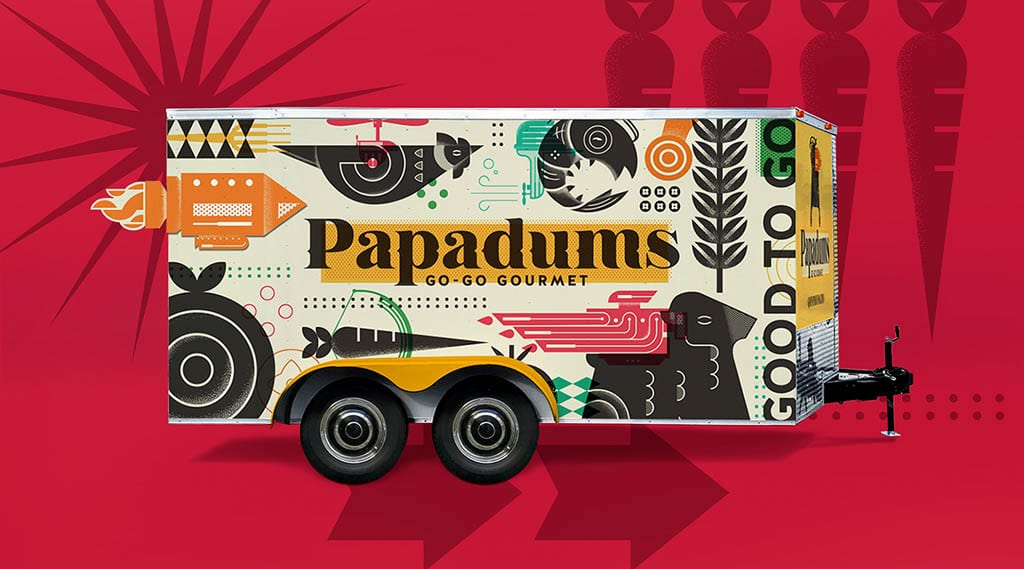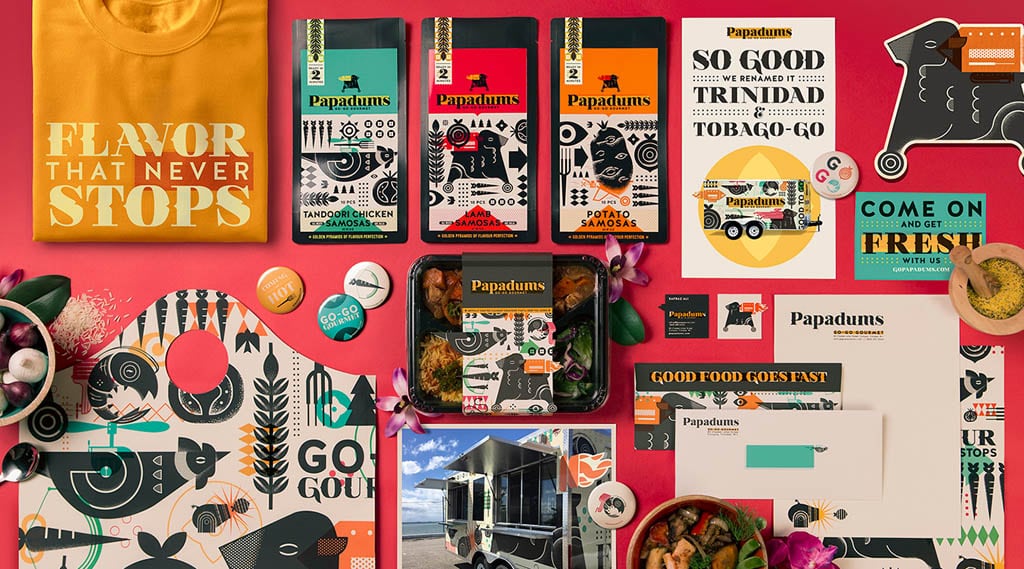 Pita For Good Food Truck
Pita For Good Serves Mediterranean food inspired by the cuisines of Greece, Lebanon, Turkey, and Marocco. They also have a great tagline: Feed Your Face – Fill Your Soul. The branding is by the award-winning design studio Whiskey in Kansas City.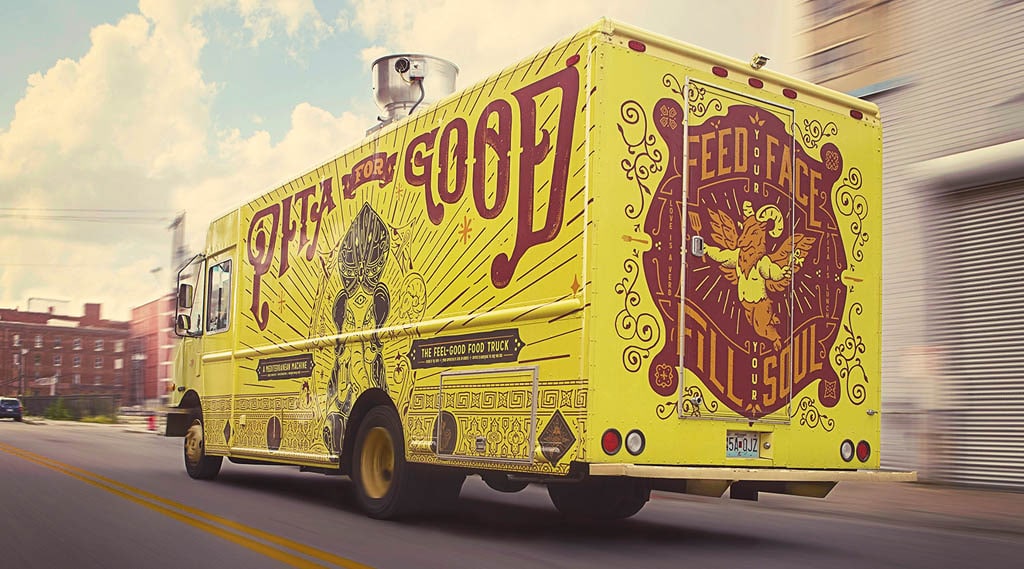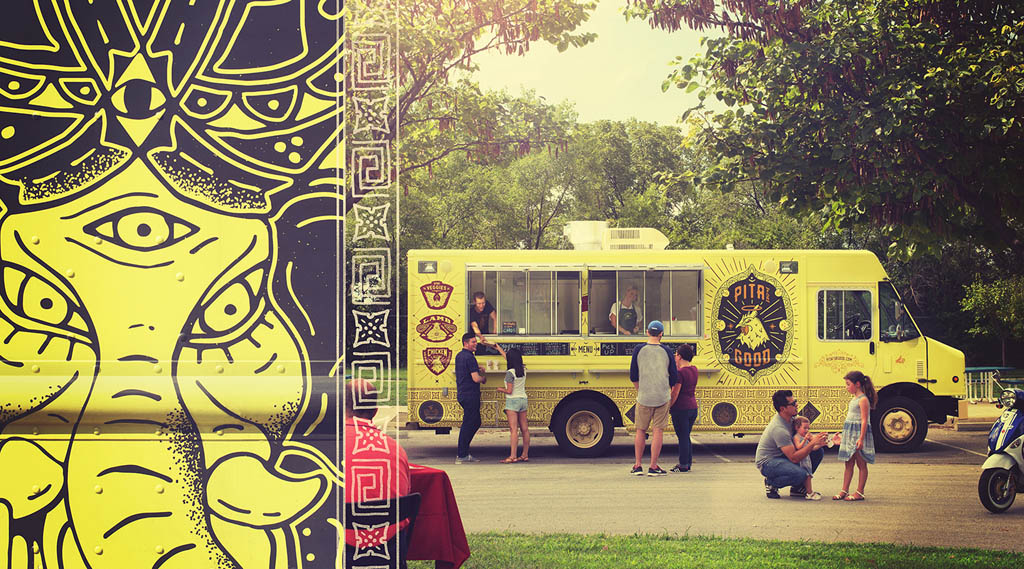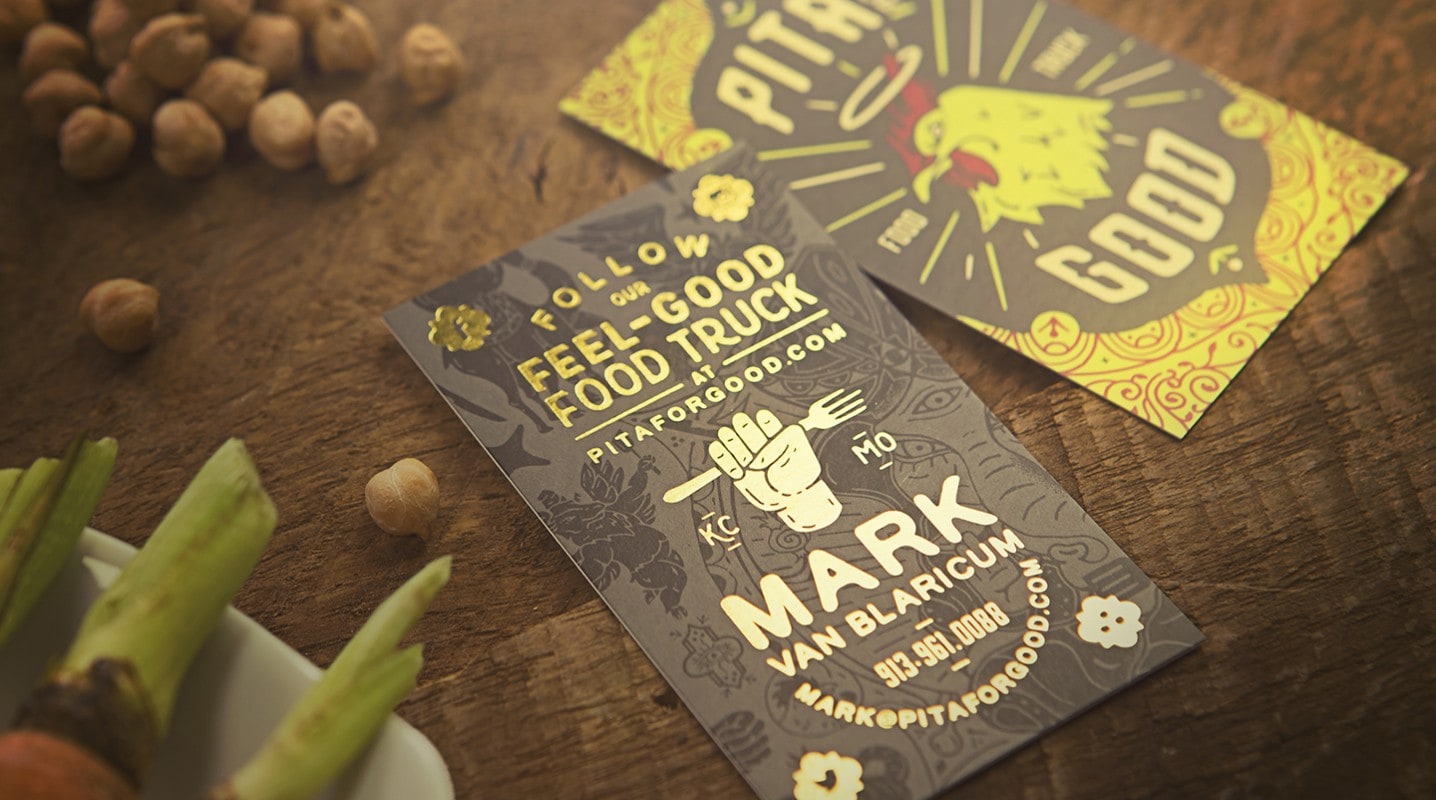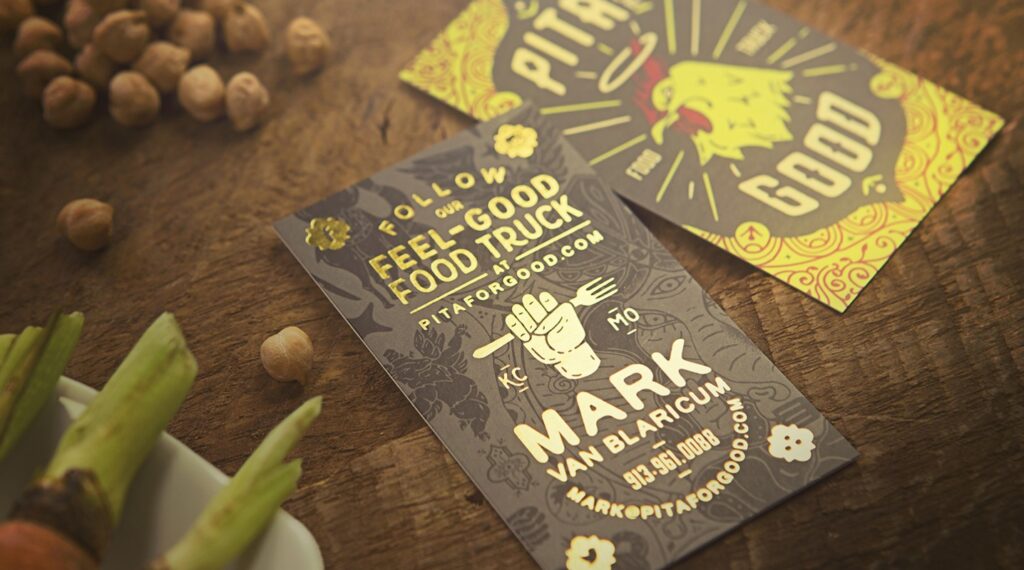 Revel Kitchen
Bright, bold colors characterize this vibrant food truck design by the branding and digital marketing agency Atomic Dust.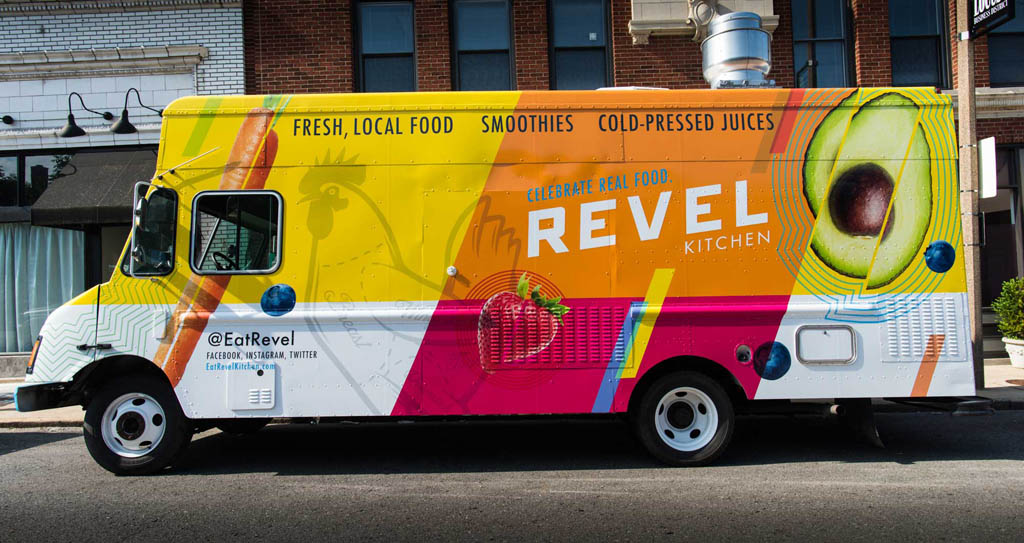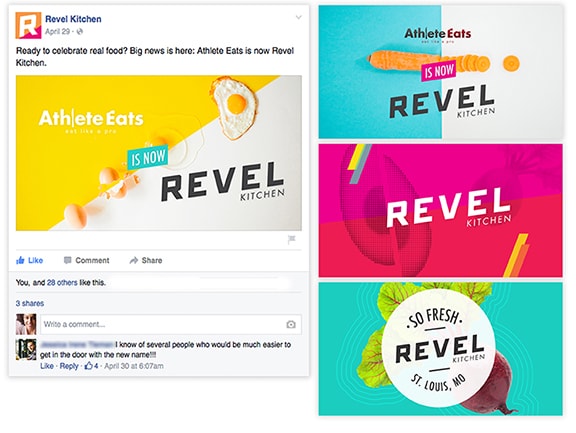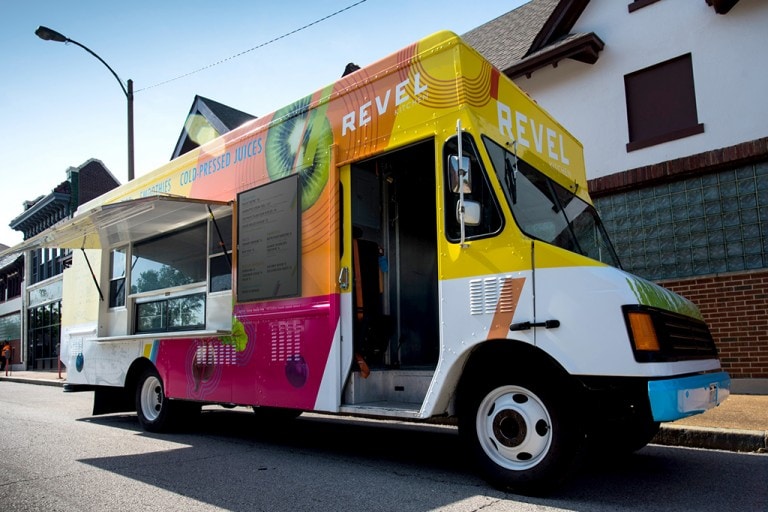 Santo Domingo Taco Truck
This great taco truck design is made by The Hungry, Campos D. Moisés Córdova in Mexico City, Mexico.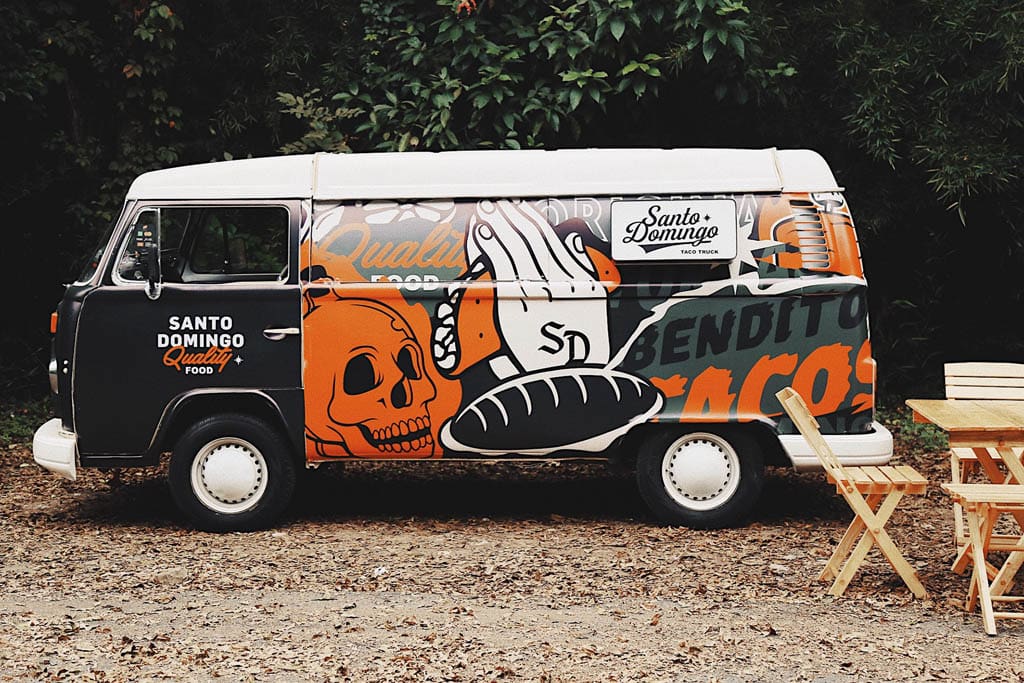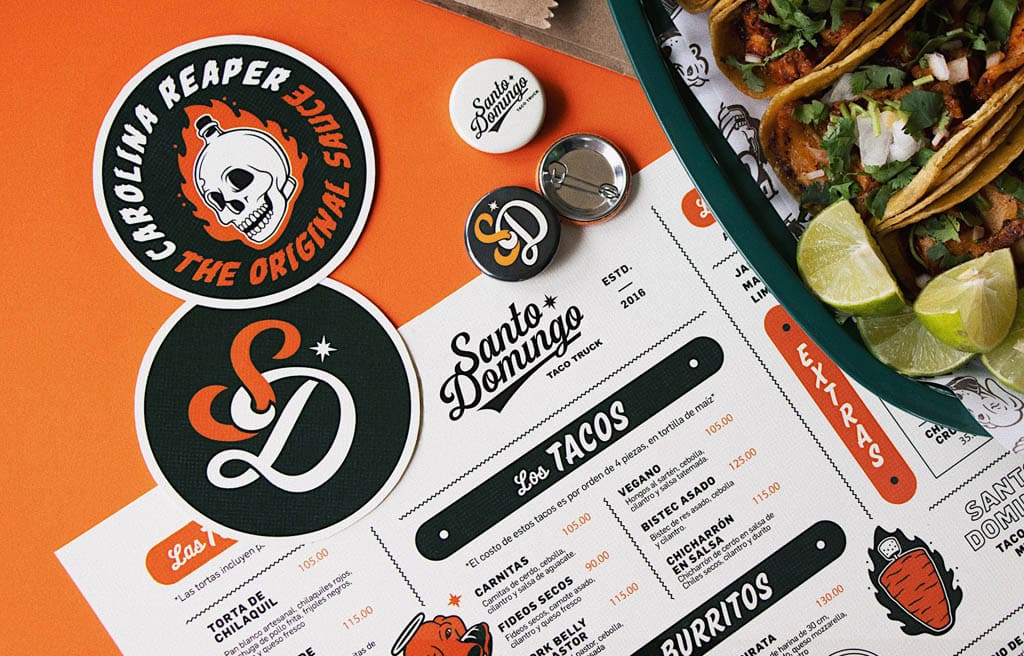 Spetoo Food Truck
This Brazilian food truck has a very well-executed and comprehensive branding system by André Morette.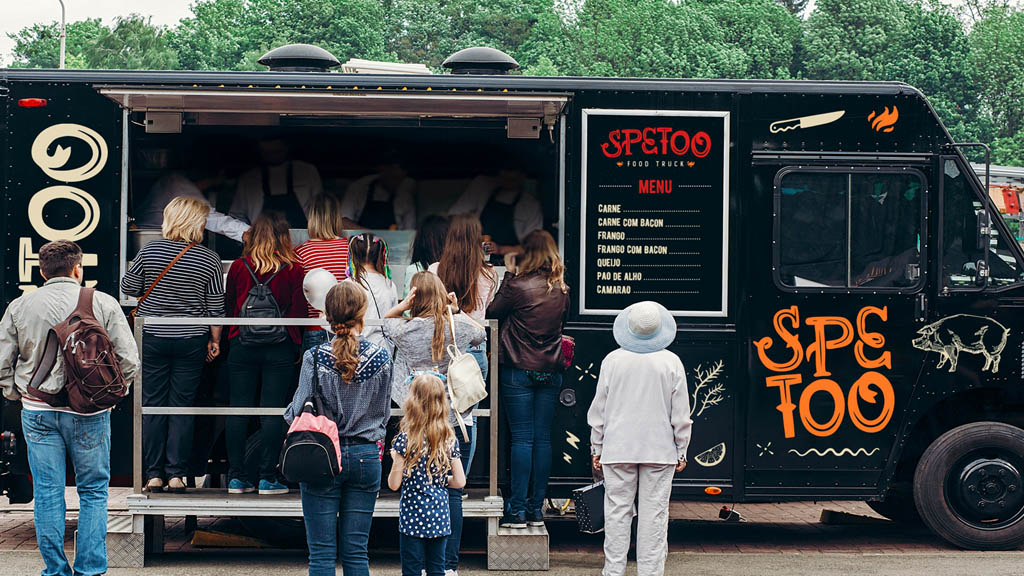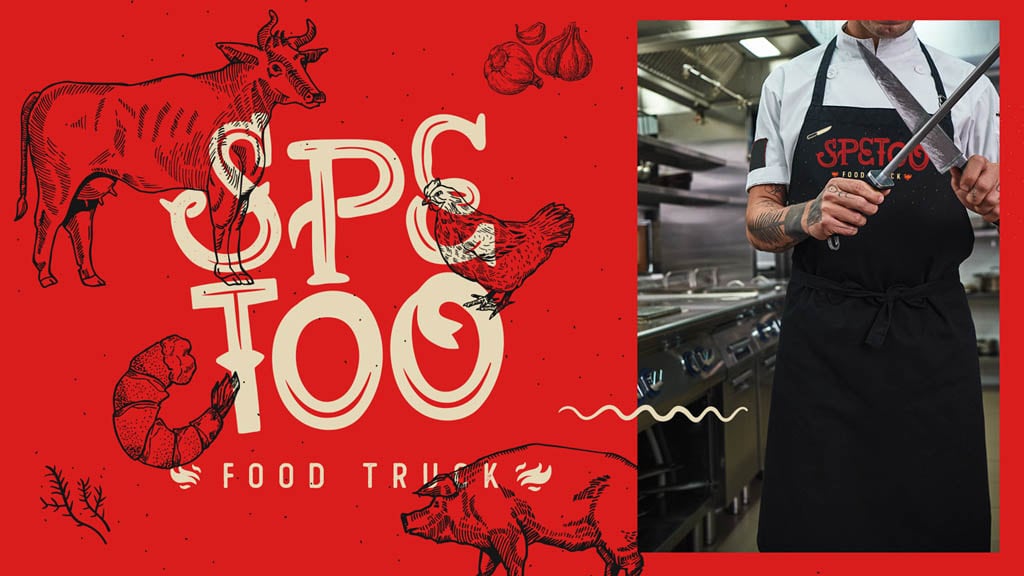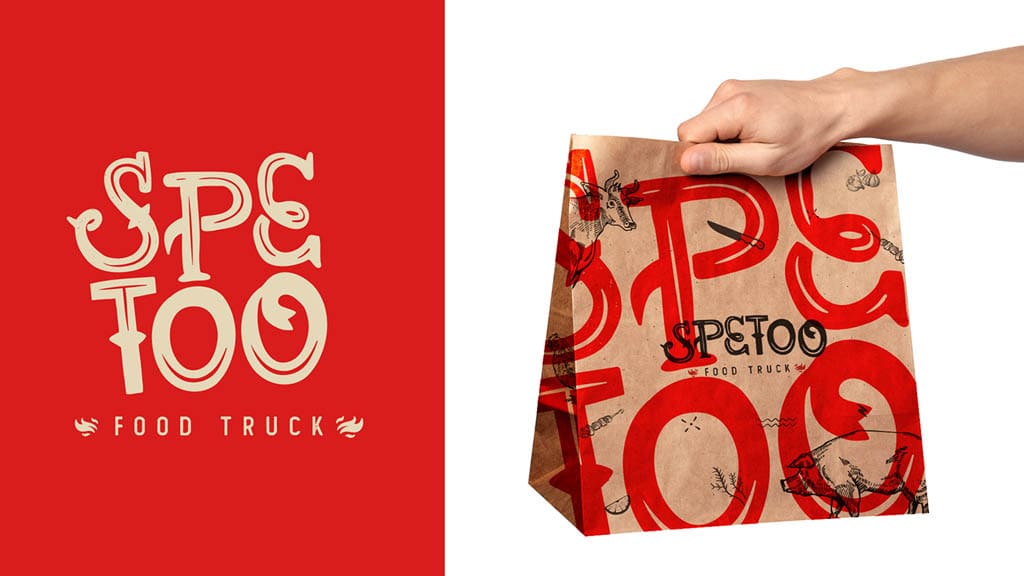 Bangkok Express
This is a visual identity of a new fictional Parisian food truck specialized in Thai street food designed by Morgane Perrot.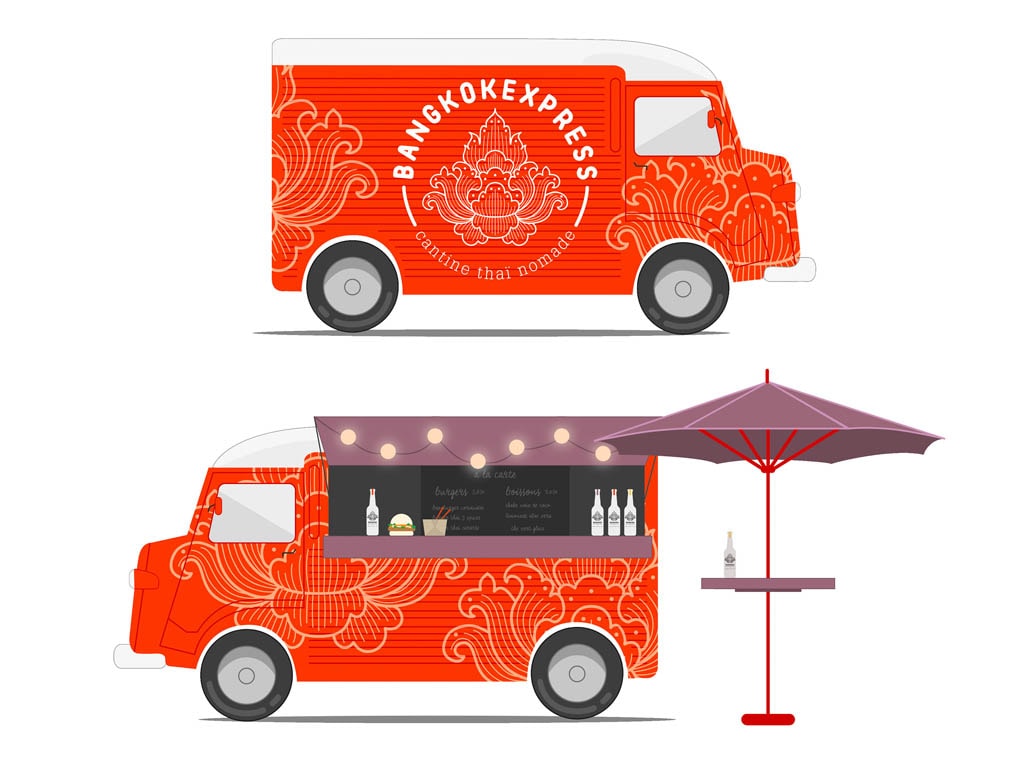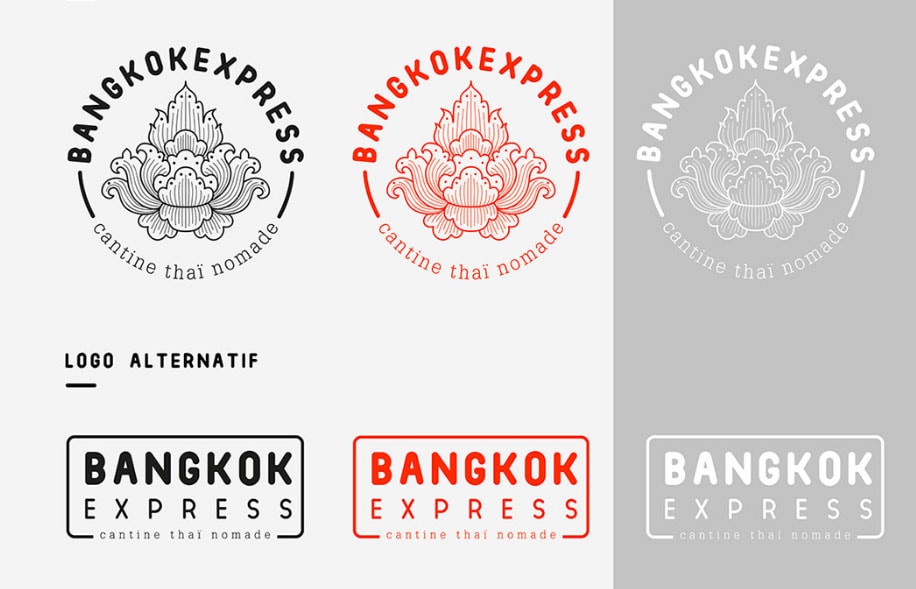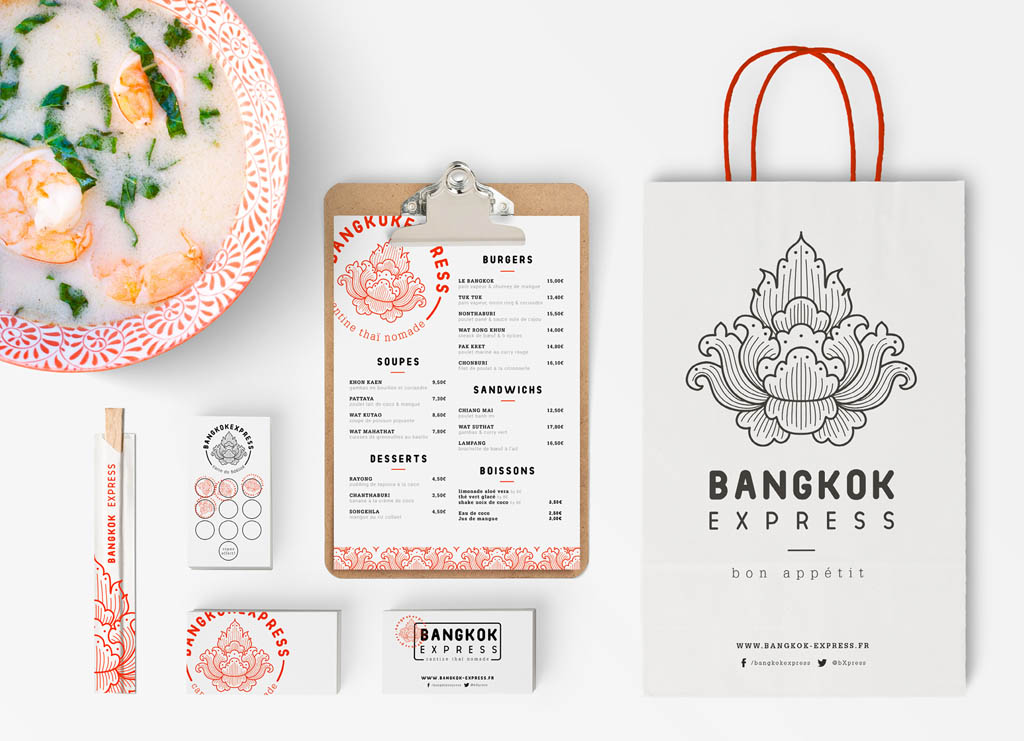 The Bumblebee Food Truck
The Bumblebee dessert truck is inspired by traditional French pastry and mid-century American style. The truck is an old 1962 Chevy P-30 Step-Van with a vintage charm that is very successfully carried over into the logo and design by the agency Creative Womb.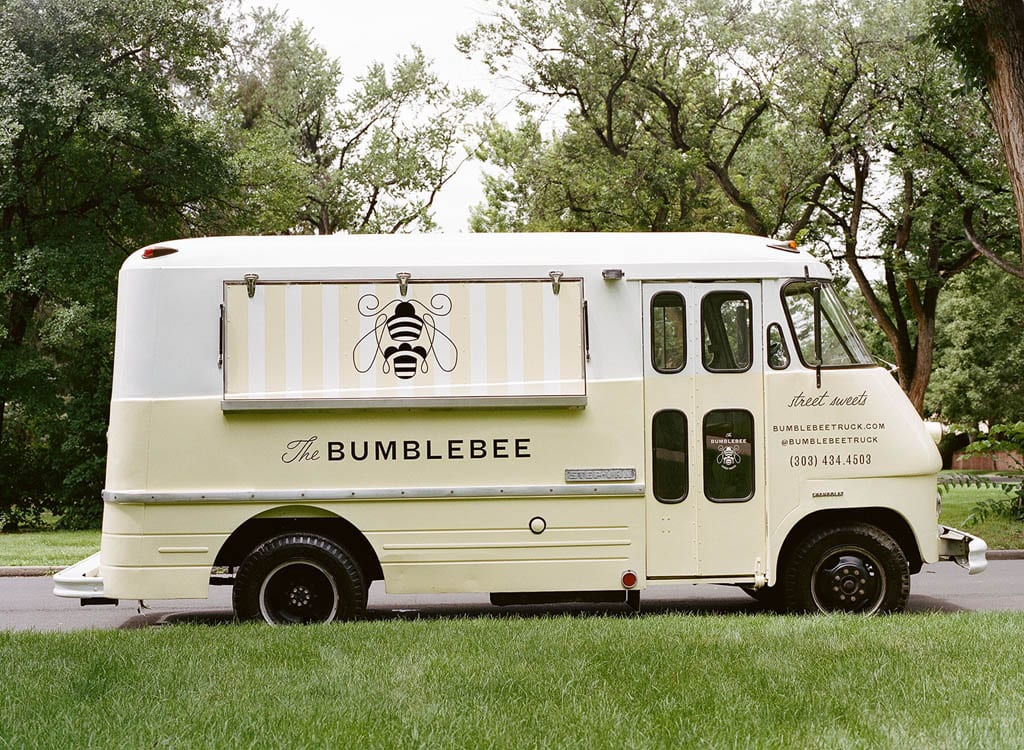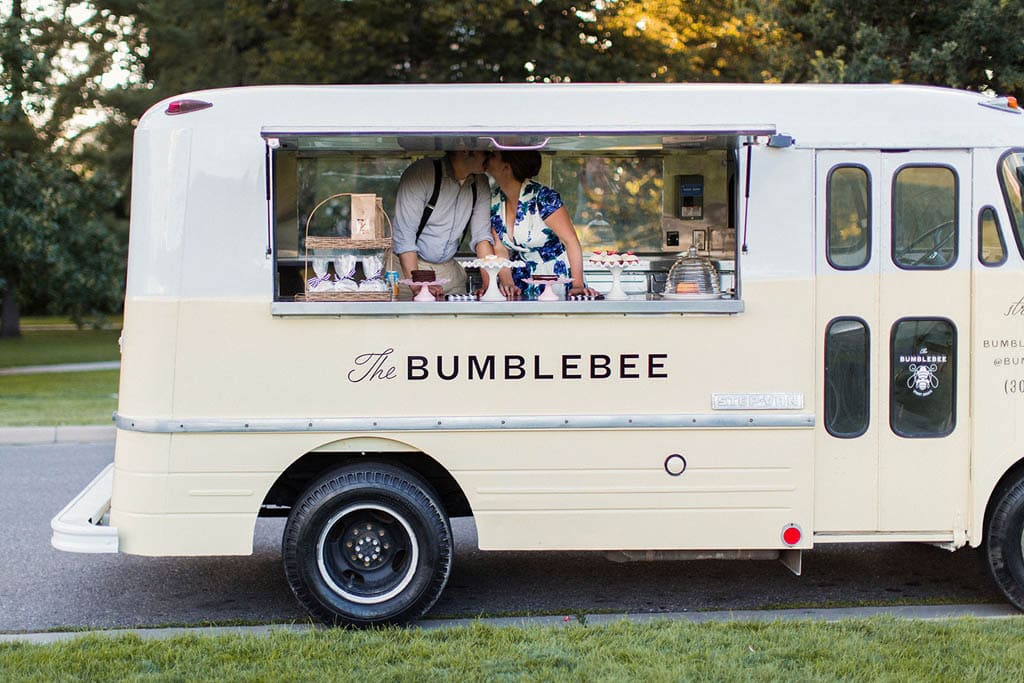 5 Essential Tips to Design & Brand a Food Truck
Now let's take a look at five tips for designing and branding food trucks. Learn how to change the way your truck looks to make it more appealing to potential customers.
1. Define Your Food truck Brand Before You Start Designing
The first key to success when creating branding for a food truck is to define your brand. The goal of a food truck brand is to make sure your customers know exactly what you are and what you do. What are the main things you want to be known for? What differentiates you from other food trucks? By answering these questions, a clear vision for your brand will emerge.
Define your brand using values that represent what you stand for. For example, define your brand by using the elements of your food style (local, organic, etc.), values (traditional, sustainable, etc.), and personality (fun, quirky, etc.). It's important to acknowledge that your food style (or other aspects of your brand) is what makes you unique.
2. Make Sure Your Food Truck Design is Recognizable From a Distance
Your food truck design should be instantly recognizable regardless of where your customers see it. So you want something that's going to be bold, something that will be memorable, something that's going to stand out from the crowd.
Creating a bold color palette and using large graphics and text will help potential customers spot your food truck from far away or across a crowded street.
However, choosing an overly detailed design will often make your brand, name, and message less prominent and memorable. While visual graphics are a great way to connect with potential customers, it's important to remember only to use images and text relevant to your brand and unique selling proposition.
3. Feature the Menu Prominently on Your Food Truck
Make sure that your menu is an important part of your Food Truck Design. Direct your customers' eyes toward the menu so that they can easily convert to customers. You can do this by making your menu stand out from the other design elements on the food truck with contrasting colors or lighting or by making your menu surrounded by neutral space.
4. Your Food Truck Business Should Have a Website and Social Media Presence
To grow your food truck business, you must have a social media presence. Start building relationships with your customers by posting daily menu updates and locations on Facebook and Twitter. Then, create a website that matches the branding of your mobile eatery.
Social media is a great tool for mobile food businesses. Use customer reviews and sharing on Facebook, Twitter, and Instagram to engage with customers.
5. Use Your Food Truck's Roof, Windows, and Wheels as Design Elements
Your food truck features many different parts, and these can be used as design elements. For example, the entire exterior of your food truck (from the wheels and windows to the roof) can be a fantastic design element. Intersecting lines along the curvature of your vehicle may also add visual interest.
All of your food truck's parts are potential design elements. Anything that you can do with the design of your vehicle, such as adding lines along with the corners or using it as a temporary canopy, is both functional and adds visual interest. Creative design is a major asset to your food truck business.
The hood, the windows, the bumper, the wheels, and the headlights can all be design elements on your food truck to add visual interest to your truck.

Conclusion
I hope this article has given you some tips and ideas for designing your food truck, which will be an important part of creating your brand.
And if you are looking for a slogan see this post: 240 Catchy & Unique Food Truck Slogans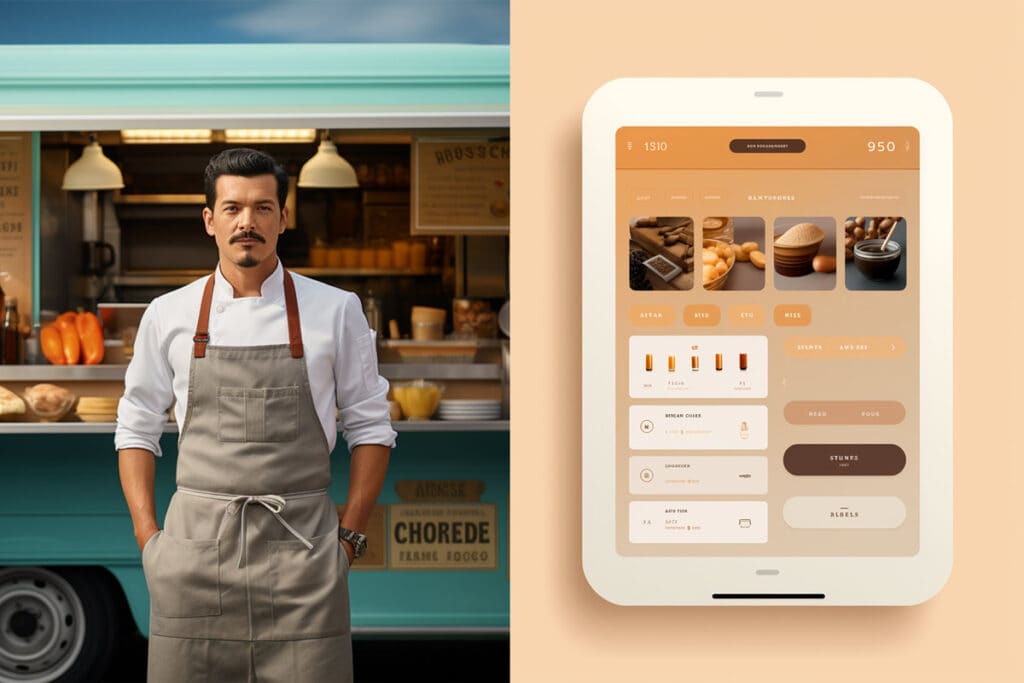 You might also like: 5 Best POS Systems for Food Trucks.