Becoming a sommelier used to require years of studying and working in the wine industry.
But now, thanks to the internet, several excellent online sommelier classes can help you learn everything you need about wine.
This blog post will list 10 of the best online wine courses and sommelier classes.
So, whether you're looking to become a professional sommelier or want to learn more about wine for your enjoyment, these online courses are a great place to start.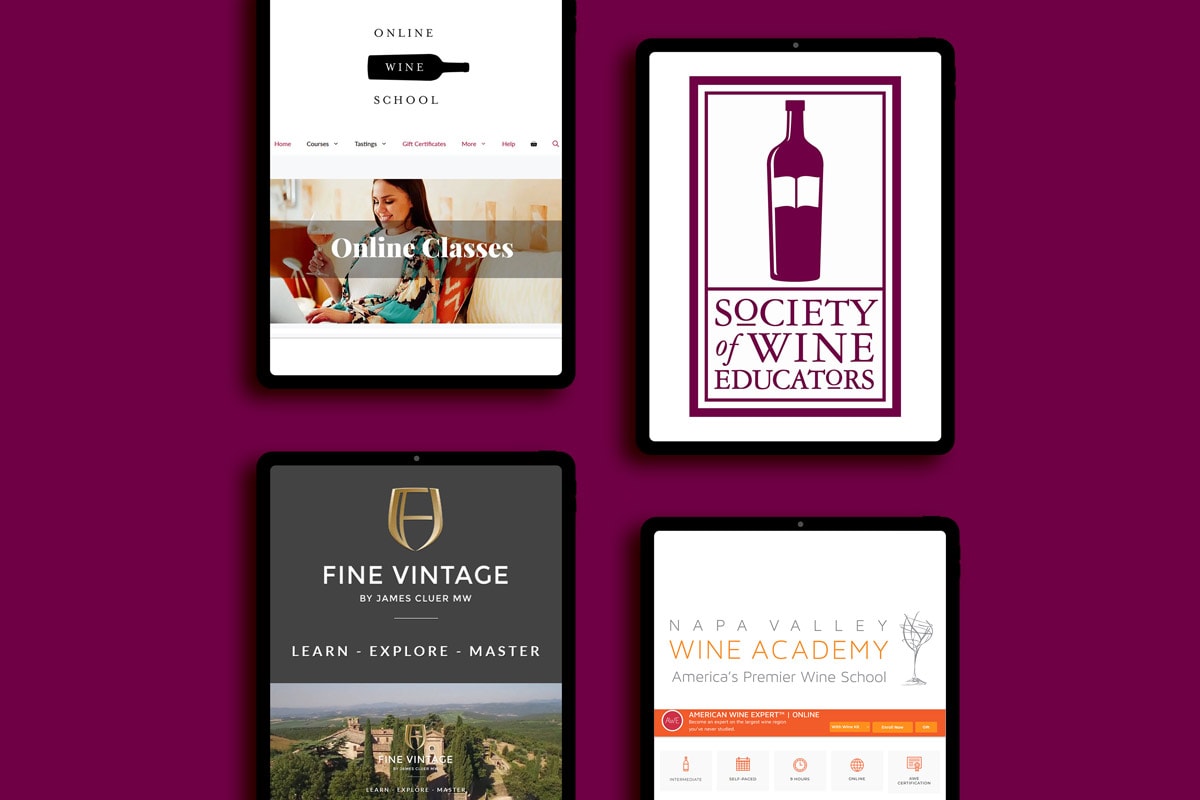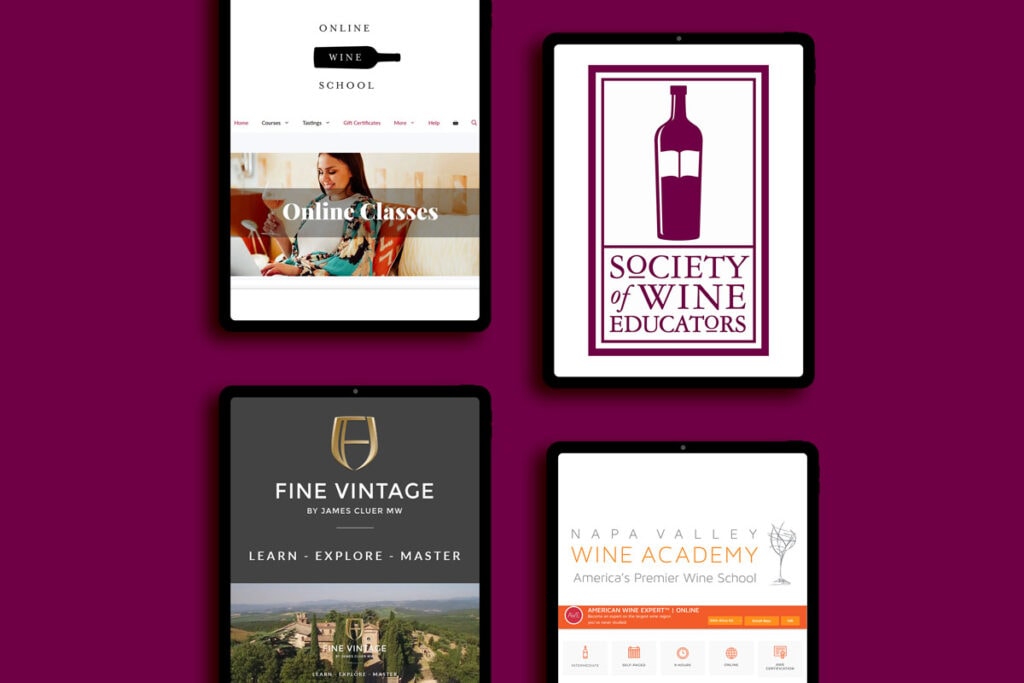 National Wine School Online Courses
Wine education has come a long way in recent years, and the National Wine School is at the forefront of this movement.
They offer sommelier certification programs for wine schools, colleges, and trade schools, as well as direct-to-student online sommelier certifications.
The courses range from beginner to master-level degrees by some of the top sommelier-instructors in the country.
The online courses are open to all students and include an Introductory Certificate, Wine Certificate, and Sommelier Pin & Certificate.
The advanced levels (4-5) are only available at the school.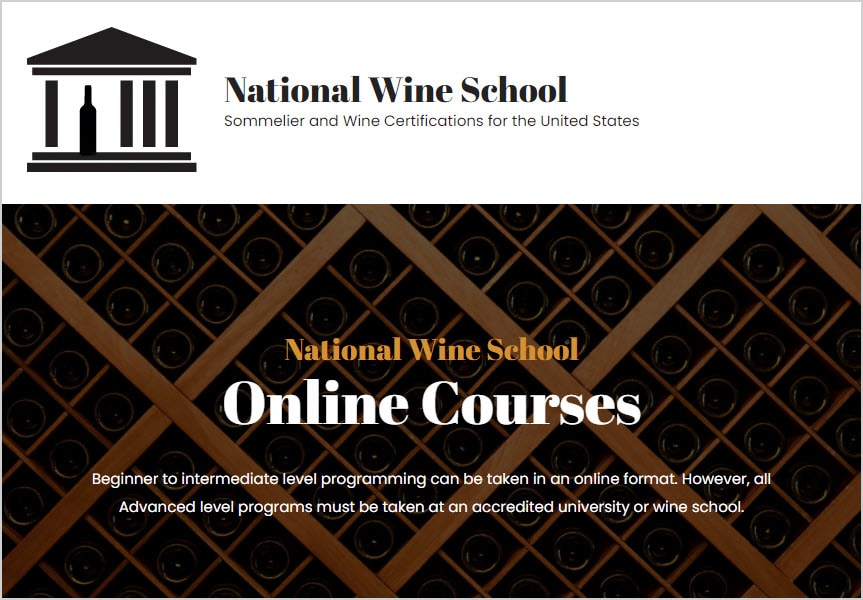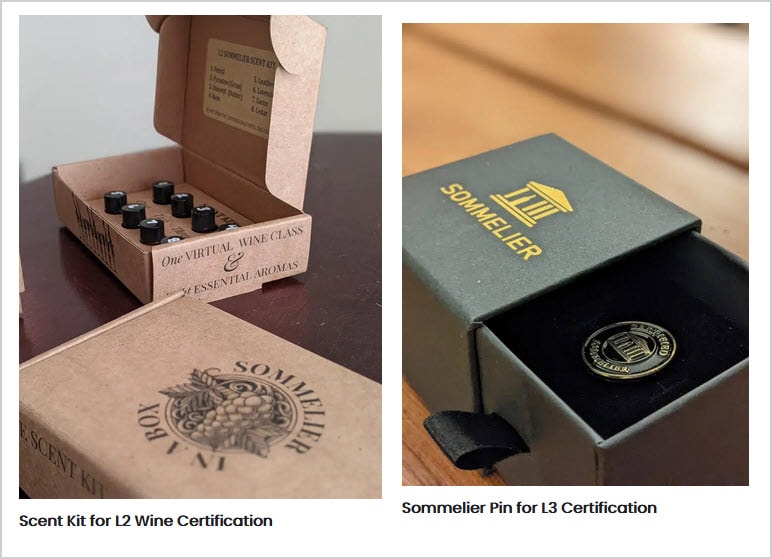 Best Features:
• NWS offers a high-quality wine education program, with three levels of courses that can be taken online
• Wine Certification from the National Wine School is one of the most respected and sought-after certifications in the US
• A wide variety of options allows students to customize their learning experience according to their needs and preferences.
• The use of scent kits takes gives students an immersive learning experience
• Conferences with instructors give students access to the latest information in the wine industry.
Enroll at the National Wine School here.

Wine School of Philadelphia
Wine School of Philadelphia is an affiliate of the National Wine School. You can take the NWS programs directly from their website, or you can take the program through one of their affiliated schools, in this case, the Wine School of Philadelphia.
Wine School of Philadelphia offers a complete wine education in a single semester at a discounted tuition price. The Online Core Wine Course combines the L1, L2, and L3 wine programs into a unified wine education experience.
Plus, taking the programs online at WSoP will save you a sizable amount of tuition.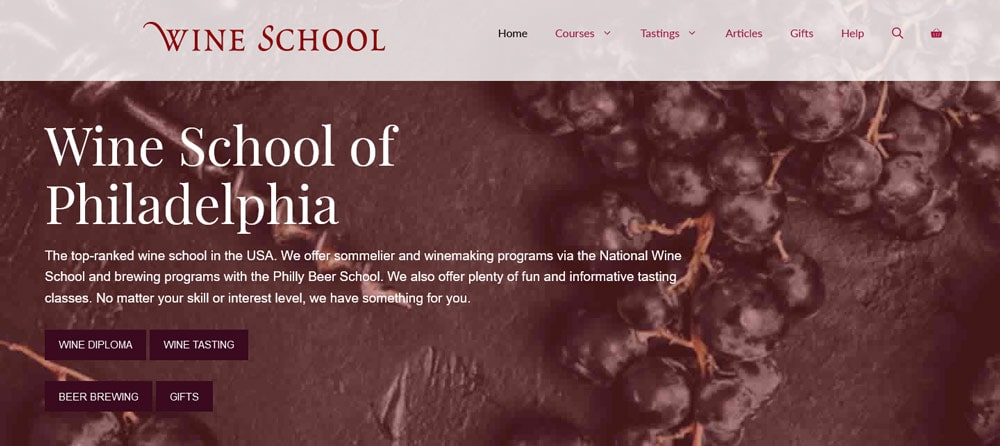 Best Features:
Learn about wine in a structured, step-by-step program
Affordable compared to similar alternatives
Master the art of blind tasting and identify major grape varietals
Gain a comprehensive knowledge of wine styles, climates, and varietals from around the world
Benefit from experienced wine educators with industry connections
No matter how you choose to learn about wine, Wine School of Philadelphia is an excellent option for anyone looking for quality education on the subject.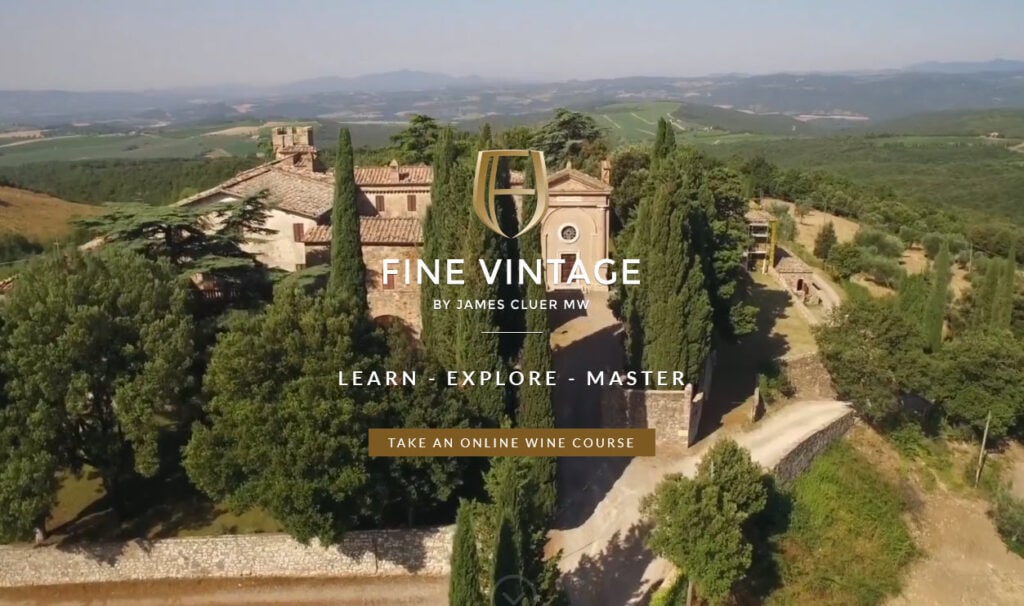 Fine Vintage LTD
Wine education is crucial to understanding and appreciating wine. Fine Vintage Ltd. is a Wine & Spirit Education Trust (WSET) affiliate that is quickly becoming one of the best online wine schools in America.
The WSET is an internationally recognized organization that provides qualifications in wine and spirits. Their qualifications are respected worldwide by employers in the industry.
Fine Vintage offers courses from level one to three that can be entirely completed online from the comfort of your home or office. They also provide specialized online food and wine pairing courses and a level one online class about spirits.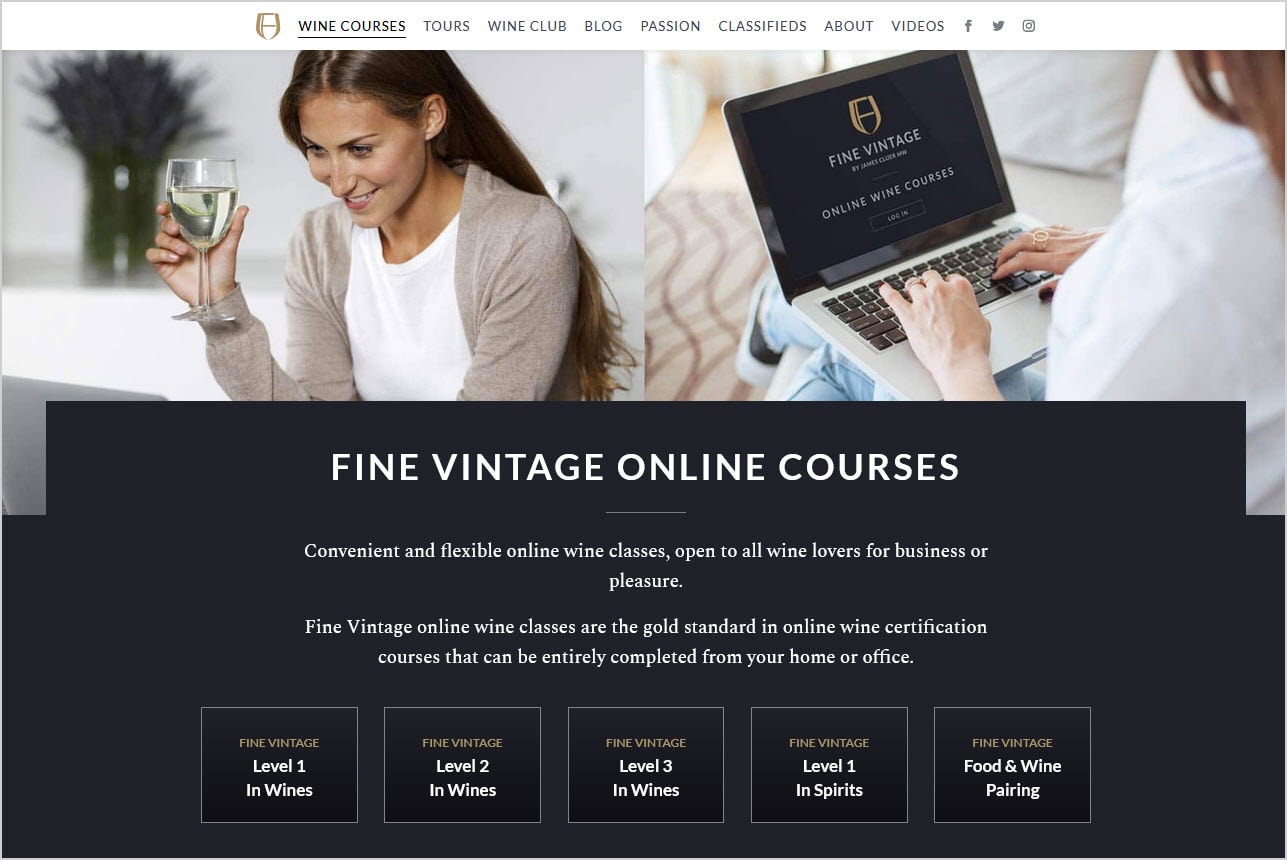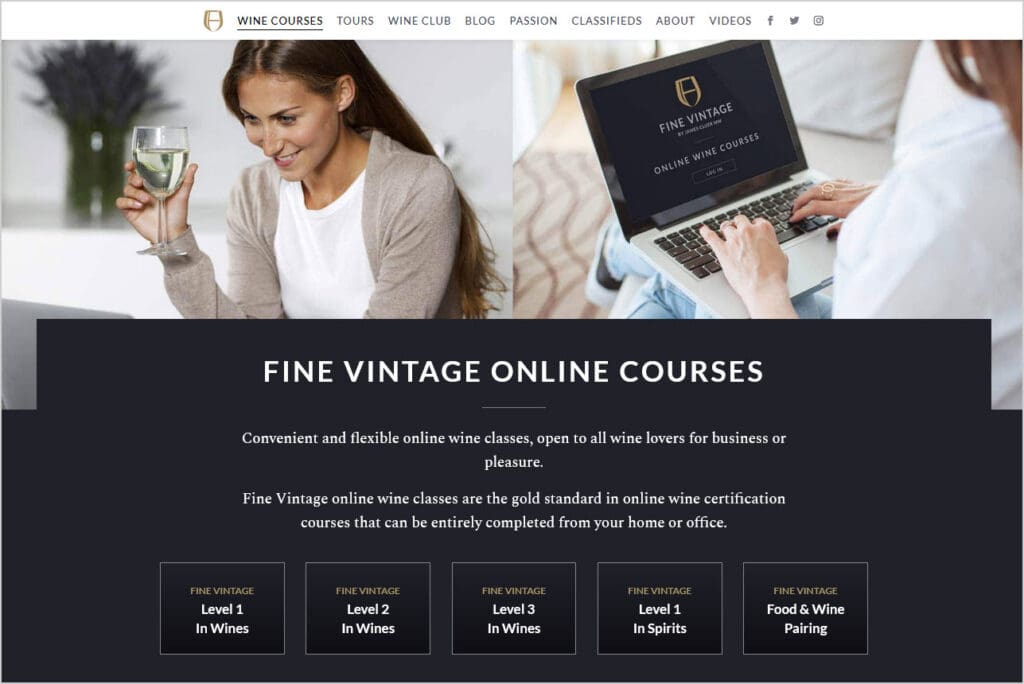 Best Features:
Written and designed by James Cluer MW & Philip Goodband MW, two of the world's most respected wine experts
Features videos from the most famous winemakers in the world, providing you with invaluable insights
Includes recommended wine lists so you can buy any samples for tasting
It gives you all the information you need to start understanding and enjoying fine wine today
Enroll at Fine Vintage today and start your journey into the wonderful world of wine.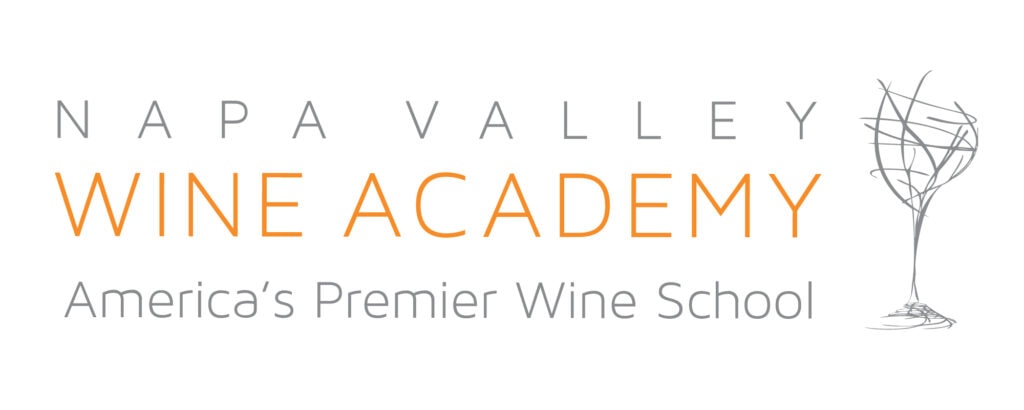 Napa Valley Wine Academy
The Napa Valley Wine Academy is a leading wine school based in Napa, California. It caters to individuals with varying levels of wine knowledge, from novices to professionals in the field.
For anyone interested in becoming a sommelier, it's an excellent alternative. The Wine 101 Foundation and advanced sommelier certifications are just two of the courses available on the internet.
The academy's curriculum has been developed by the Wine & Spirit Education Trust (WSET), so students may rest confident that they are receiving the best level of training possible.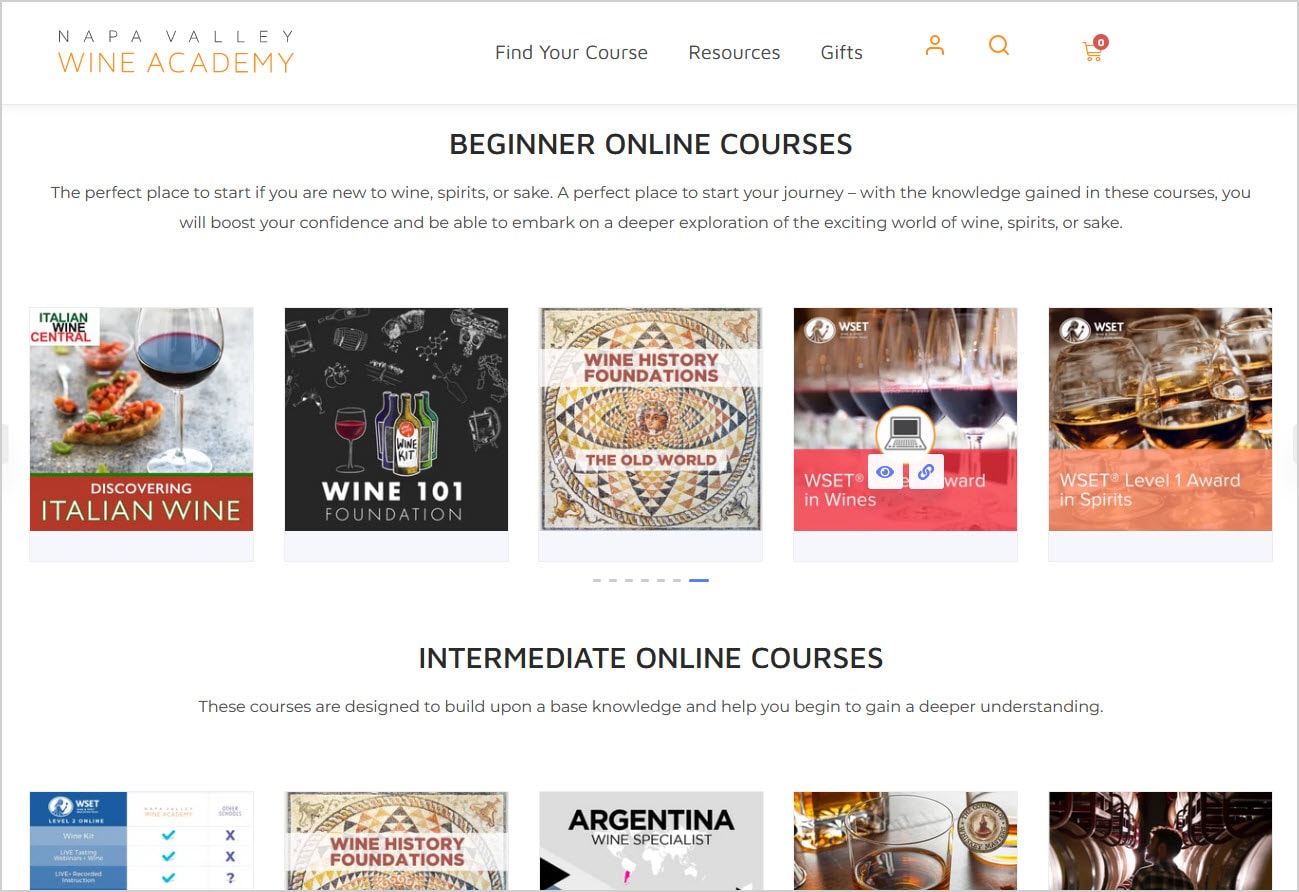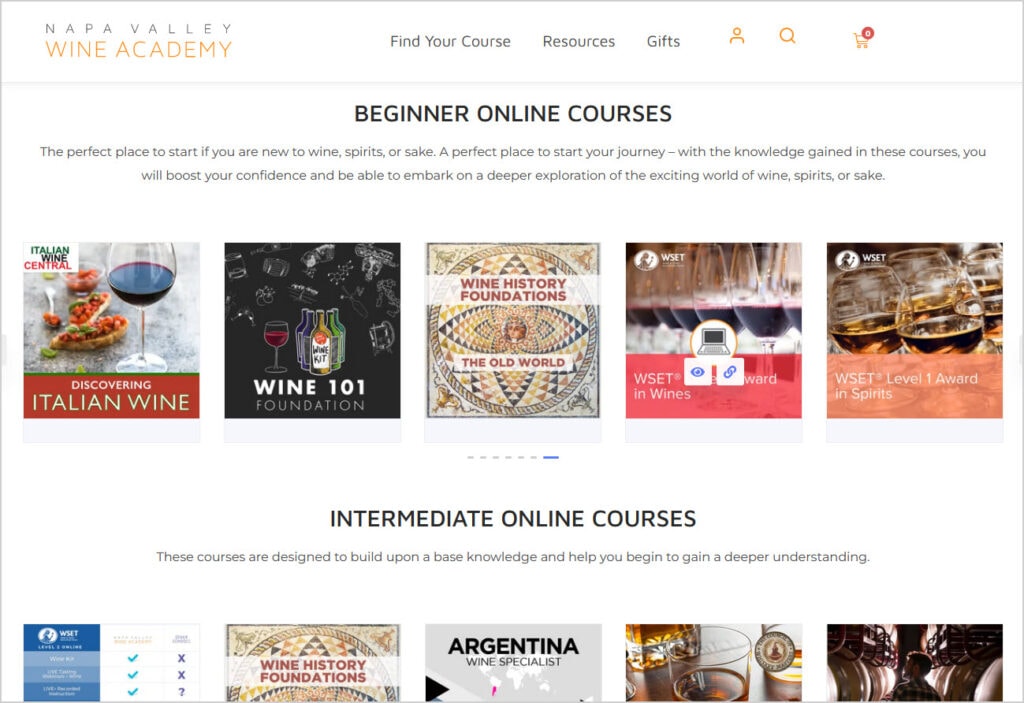 Best Features:
• Trained by the best wine experts in the world
• Offers a wide variety of courses to accommodate everyone's needs
• Approved provider of WSET, an internationally recognized wine education trust
• Reading materials designed by some of the world's top wine experts
• Courses available for specific wine regions, so you can learn about wines from the source
Whether you are looking to start a new career in the wine industry or want to brush up on your knowledge, Napa Valley Wine Academy is the perfect place for you.


Grape Experience
Grape Experience offers online versions of many Wine and Spirit Education Trust (WSET) courses, giving you the flexibility to study on your schedule.
Working professionals will appreciate the ability to participate in weekly discussions through a digital community with the support of an online tutor without having to be online at any specific time.
And while Level 3 and Diploma students are encouraged to attend an in-person introduction session, all Level 3 and Diploma exams must be taken in person.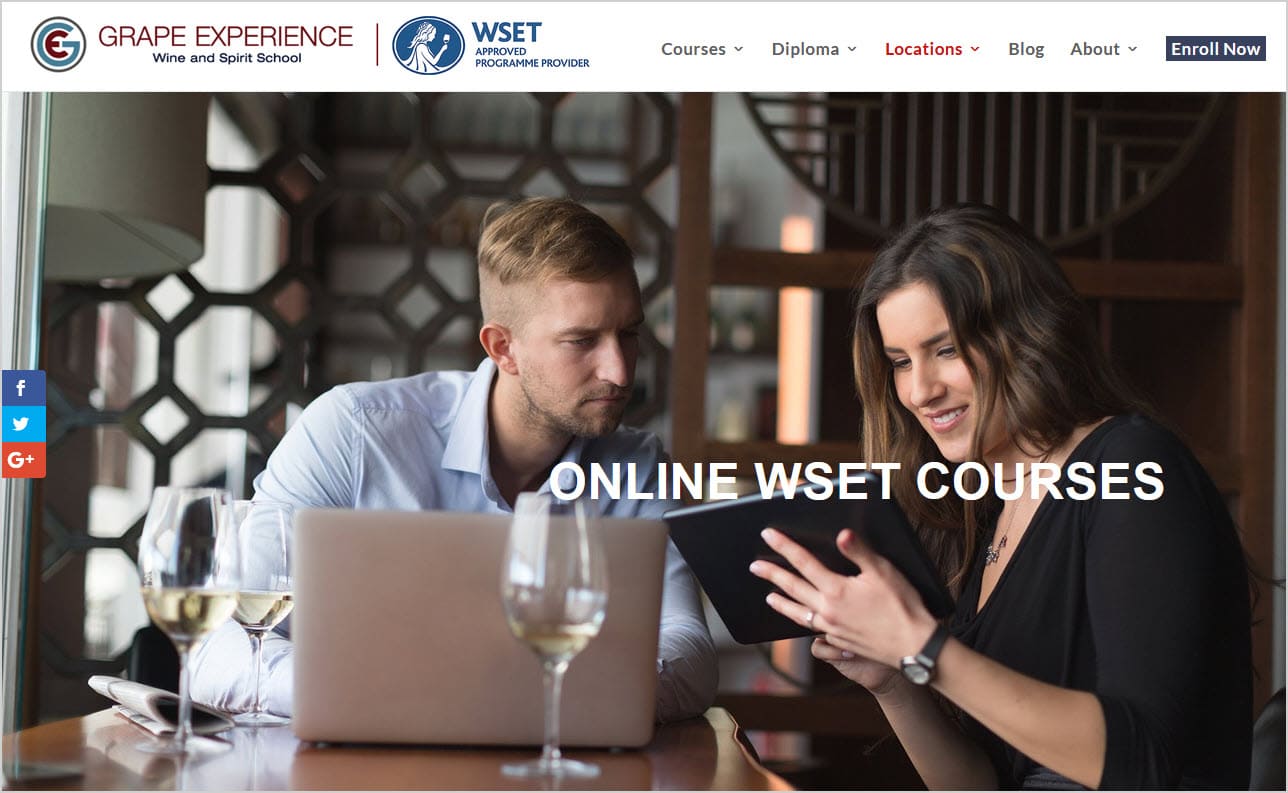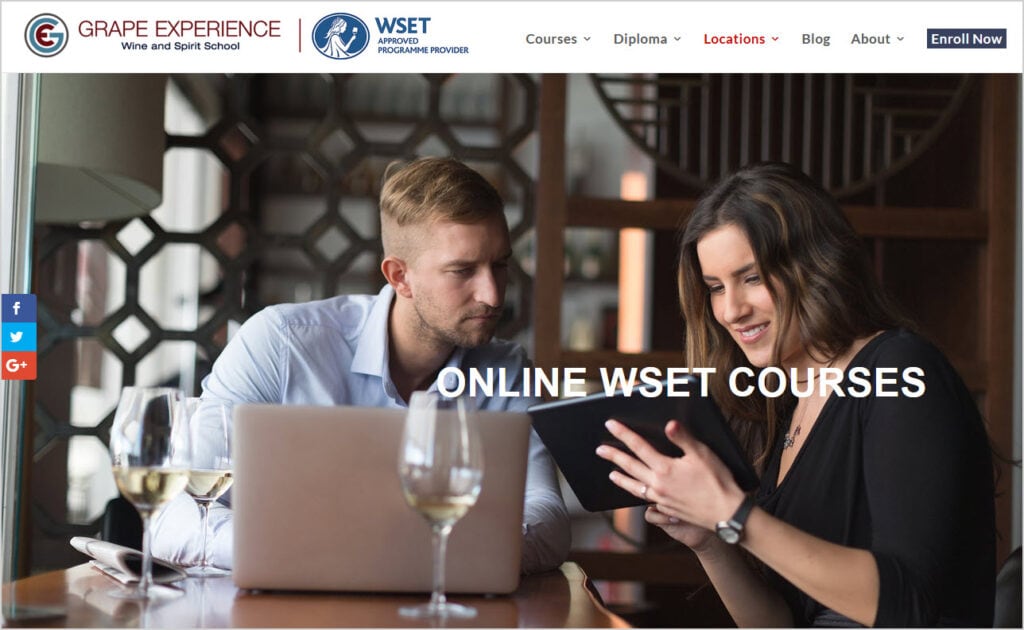 Best Features:
• Grape Experience is the only WSET vendor to offer asynchronous classes
• There are weekly online Zoom meetings with an instructor
• The Grape Experience team provides an excellent overall experience
Enroll at Grape Experience here.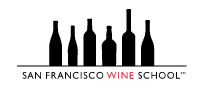 San Francisco Wine School
Wine enthusiasts looking to take their knowledge to the next level may be interested in the Certified Specialist of Wine Online program the San Francisco Wine School offers.
This 9-week course is designed to fully prepare students for the CSW exam, which is required for obtaining the Certified Wine Educator credential from the Society of Wine Educators.
Students will cover a new topic in the virtual classroom with an industry-leading instructor each week, network wit, and complete weekly tasting assignments.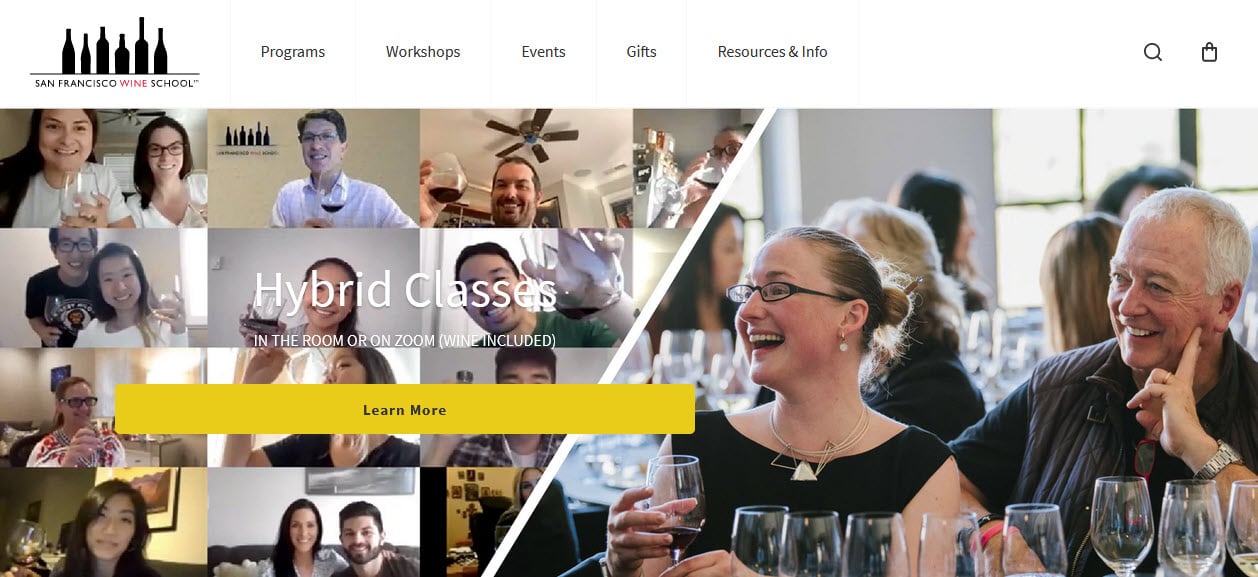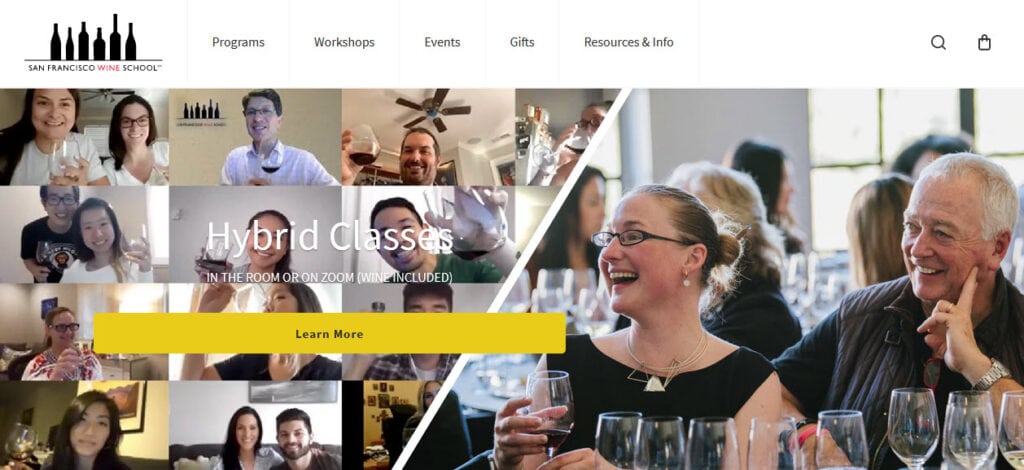 Best Features:
• The Certified Specialist of Wine credential is conferred by the Society of Wine Educators, an internationally recognized organization
• Demonstrates mastery of wines from around the globe
• Mandatory prerequisite for SWE's top credential, Certified Wine Educator
With a focus on wines from all over the world, this course from San Francisco Wine School is ideal for those looking to launch or further their career in the wine industry.

International Sommelier Guild
The International Sommelier Guild (ISG) is a respected and internationally recognized certification program that provides students with the opportunity to study online or in a classroom setting. Courses are available in many languages, making the ISG accessible to students worldwide.
The ISG curriculum is comprehensive and designed to give students a thorough understanding of the wine industry. Students are given books, live presentations, maps, audio instruction, powerpoints, and exams. Some online sommeliers conduct essay assessments for you. Students are required to complete a final exam to receive their certification.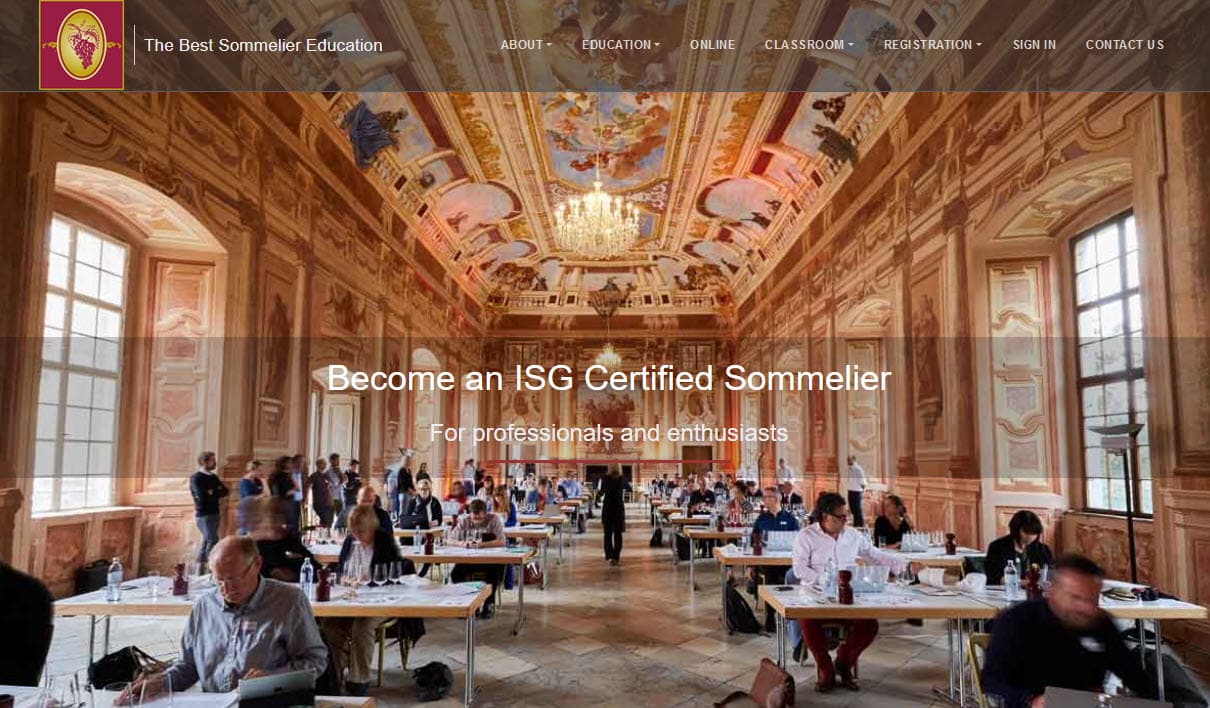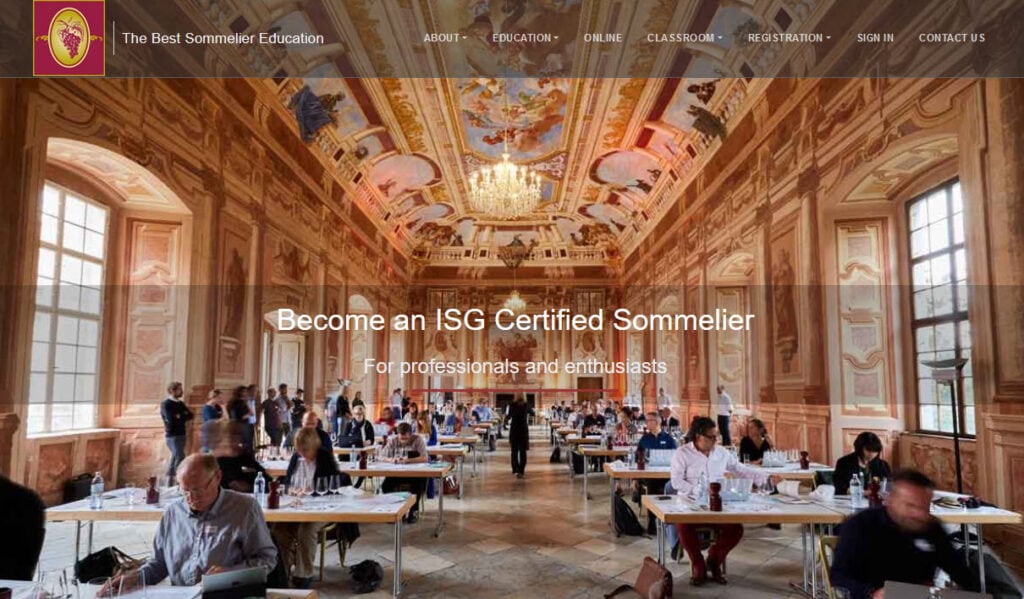 Best Features:
ISG is an international organization with a curriculum developed by wine and hospitality industry professionals and Ph.D. educators
All certified instructors are provided with standardized instructional manuals, textbooks, presentation material, and examinations to ensure consistent, high-quality education
The program is built for wine students of all commitments with the introductory Intermediate Wine Certificate (IWC), then progresses to the Advanced Wine Certificate (AWC), and the ISG Master Sommelier certification (ISGM)
• ISG courses are available in multiple languages
Whether you're a wine professional or enthusiast, the International Sommelier Guild is an excellent program for anyone who wants to gain wine knowledge. With online and in-classroom classes, the ISG makes it easy for students to get the education they need to become certified sommeliers.


UC Davis – Wine Tasting: Sensory Techniques for Wine Analysis
The UC Davis wine tasting class is an excellent option for those learning more about wine.
The course is comprehensive and well-organized and will help you take the first steps toward understanding the physiological process of wine tasting.
In the first module, you'll explore the types of wine and set up your tasting. You'll also learn to develop a sensory vocabulary.
In module 2, you'll review classic wine types of the world and set up flights of specific wines.
Later, you'll examine the various faults and defects that can appear in wine and how to prevent them. This course is a great way to start your study of wine and will help you build a foundation of knowledge you can apply to your tastings.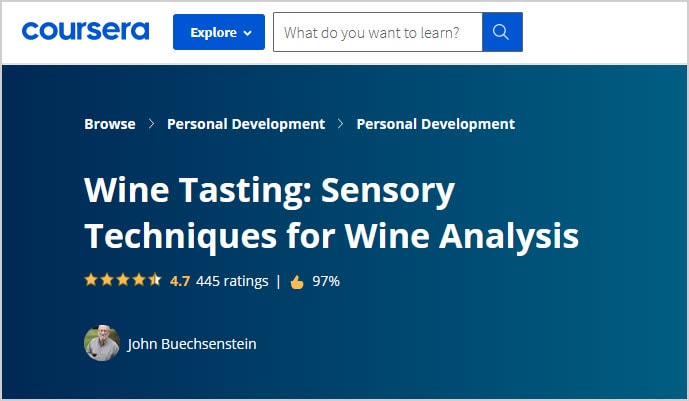 Best Features:
• Tasting wine is a skill that can be learned
• Learn about wine and its many varieties
• Understand how to taste wine and detect faults
• Course is designed for beginner wine enthusiasts

CIA Online Master's in Wine and Beverage Management
Wine and beverage management is a crucial part of any restaurant's success. A well-managed beverage program can drive profits, so it's no wonder that many professionals are looking to advance their careers in this field.
The Culinary Institute of America's online Wine and Beverage Management Master's degree is the perfect way to do that.
The program is unique in how it takes you from marketing to distribution and from restaurants to retail, emphasizes wine and food pairing, and explores the global wine and beverage business.
You'll also have the opportunity to participate in interactive tastings and sensory analyses to understand the synergies between food and wine.

Best Features:
• Interactive tastings and sensory analyses with samples delivered to your home
• Learn from some of the top wine and beverage authorities in the world
• Explore the synergies between wine, food, and distilled spirits
• Get unparalleled insights into inventory management, marketing, distribution, and retail
With the CIA's Wine and Beverage Management Master's degree, you'll be well on your way to a successful career in the hospitality industry.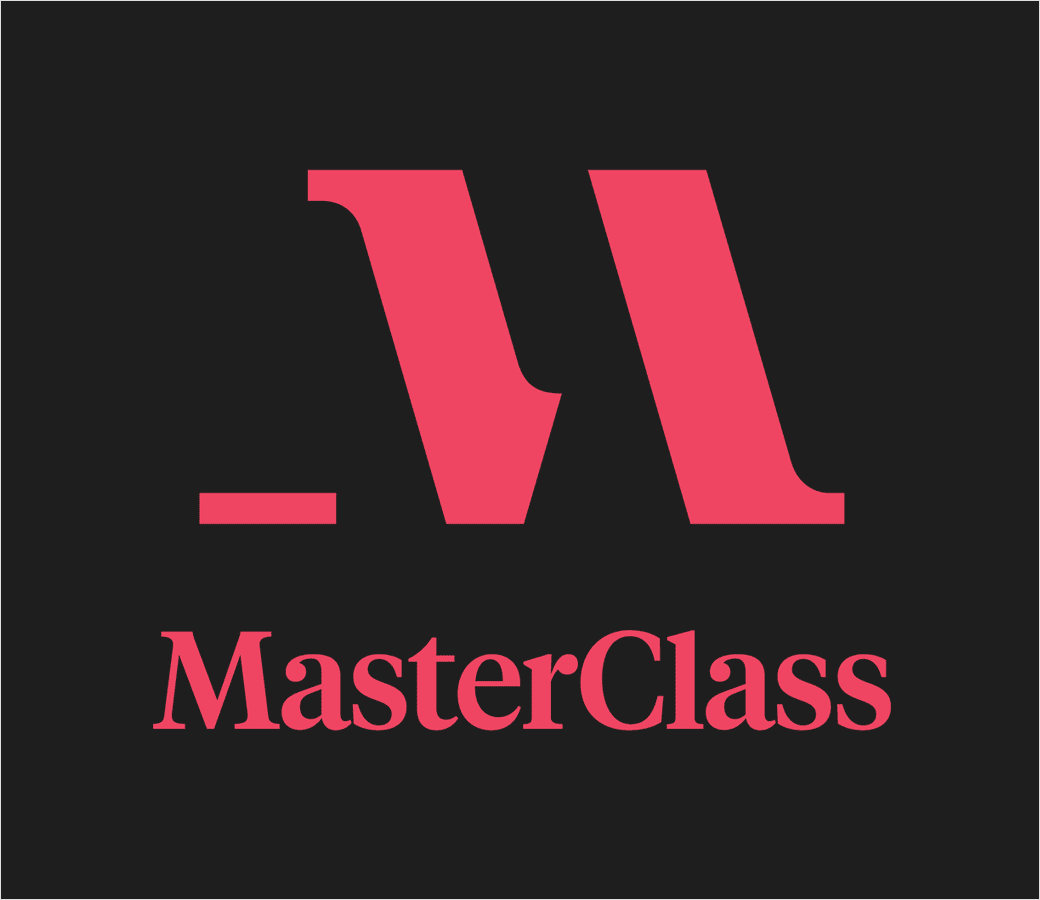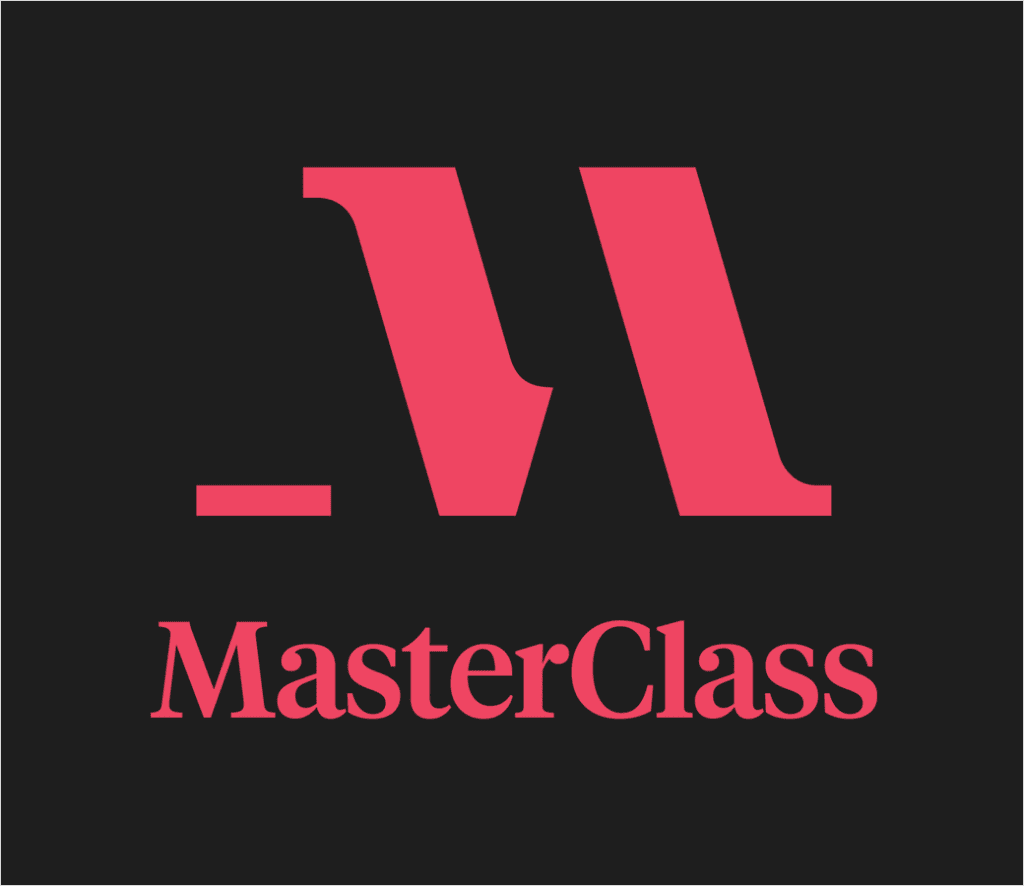 Masterclass – James Suckling Teaches Wine Appreciation
Wine is a complex beverage with many flavors, aromas, and structures. In his wine tasting MasterClass, James Suckling teaches you how to appreciate the stories in every bottle.
James has tasted more than 200,000 wines over the past 40 years, and he knows how to identify the different properties in each sip.
He also tours legendary Tuscan vineyards and teaches you about the history behind each Wine.
After taking this class, you'll be able to choose, order, and pair wines confidently. You'll also have a deeper understanding of each wine's different flavors, aromas, and structures.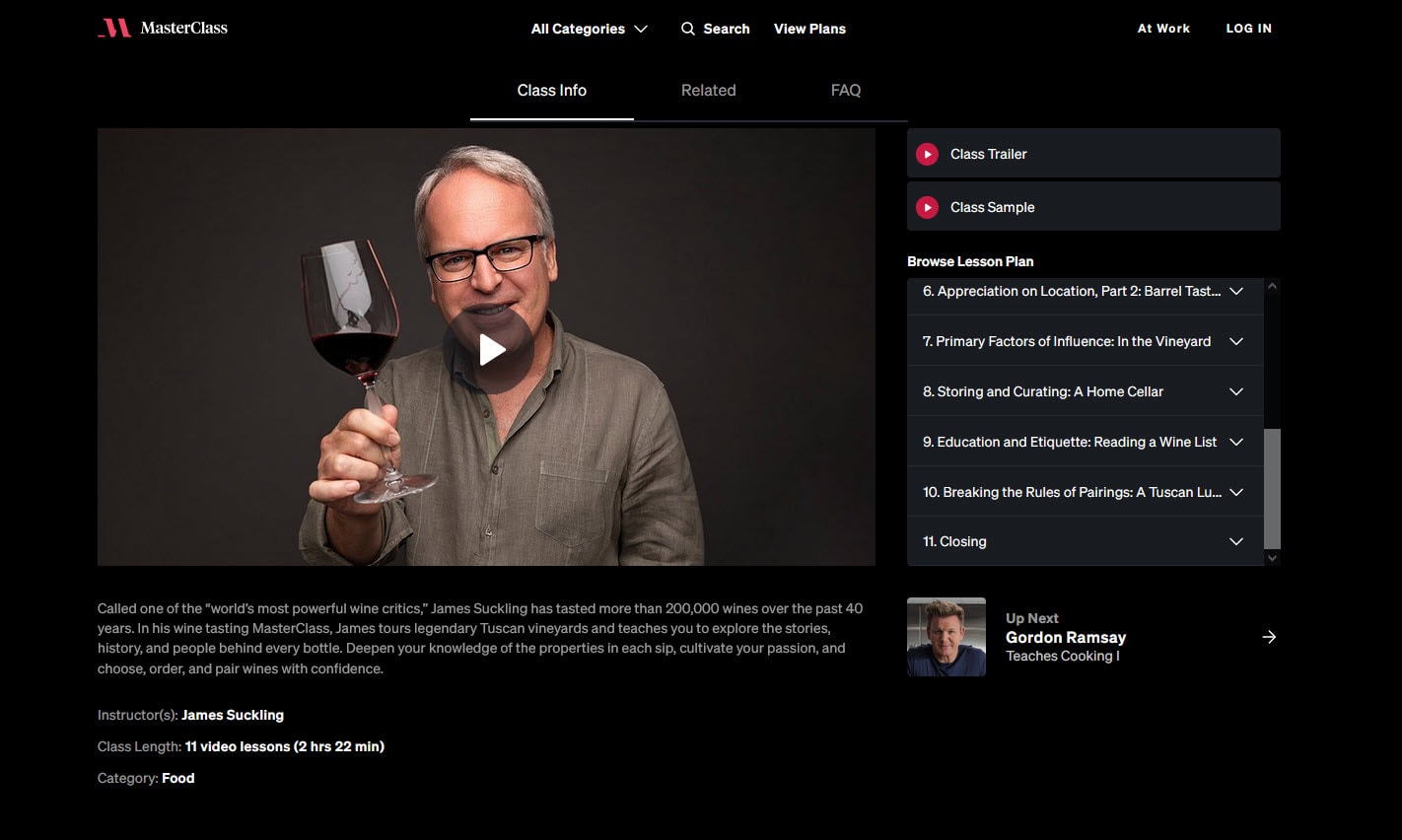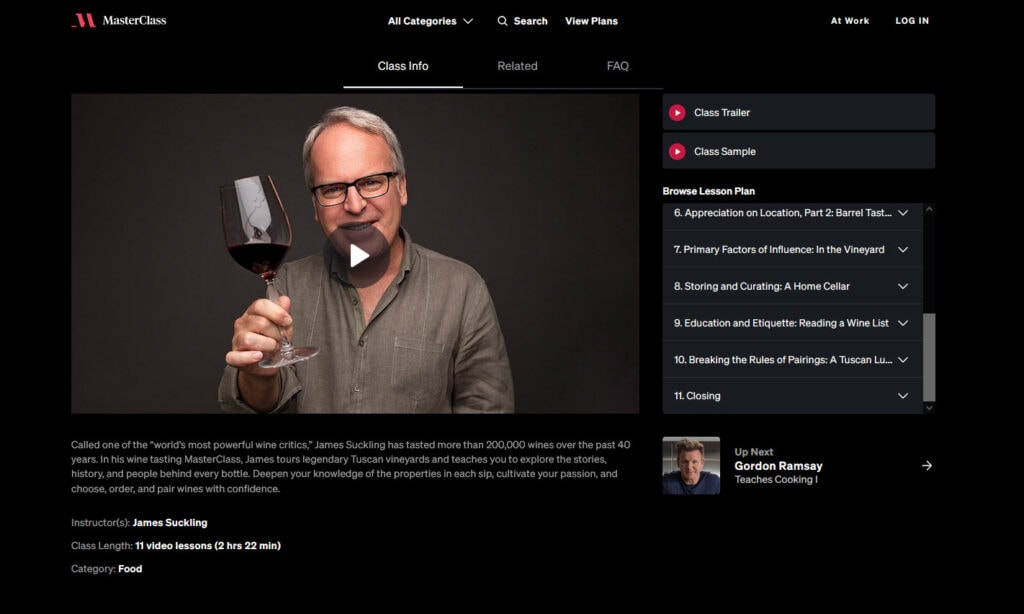 Best Features:
Learn from internationally-renowned wine critic James Suckling
Understand the 100-point scale and blind tasting
Appreciate wine through flavor, aroma, acidity, structure, texture, and balance
Learn how soil and climate play into winemaking
So if you want to learn more about Wine Appreciation, this is the class for you!
Conclusion
As the hospitality industry once again grows, so does the demand for knowledgeable and experienced sommeliers. If you're looking to build your career in wine service and management, then consider one of these best online sommelier classes. With interactive tastings and expert instruction, you'll be on your way to becoming a wine expert in no time.