Are you looking for a restaurant system that can sell products online and has AI tools to assist you? This is where using Shopify for restaurants can make a big difference. 
Shopify POS for restaurants also unlocks AI-powered tools like Shopify Magic that can revolutionize your customer experience.
I'll also evaluate potential drawbacks and examine whether Shopify is the right fit for your restaurant. Let's dive in!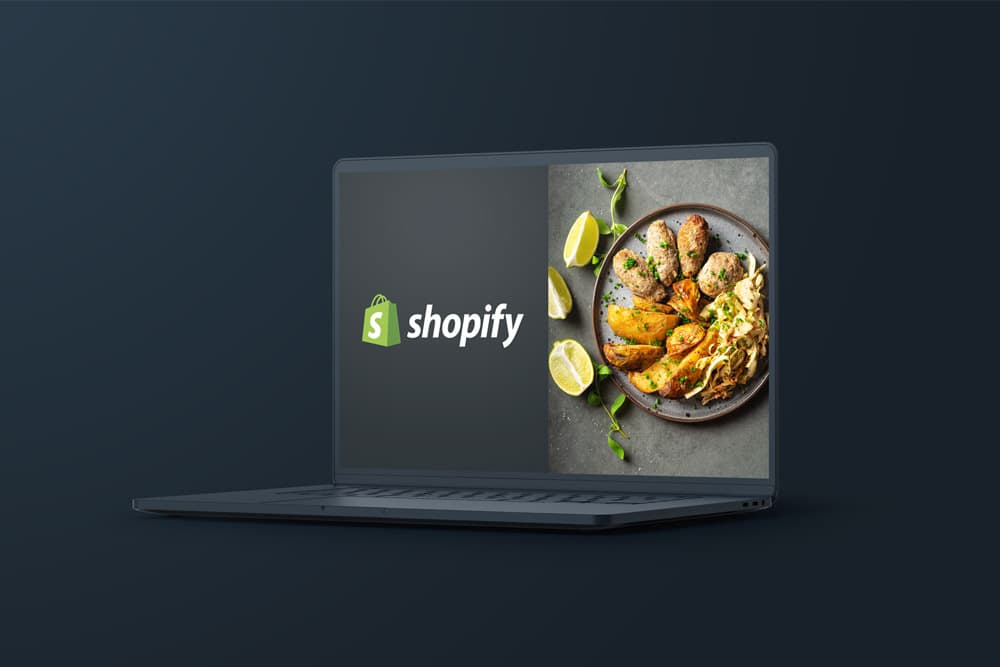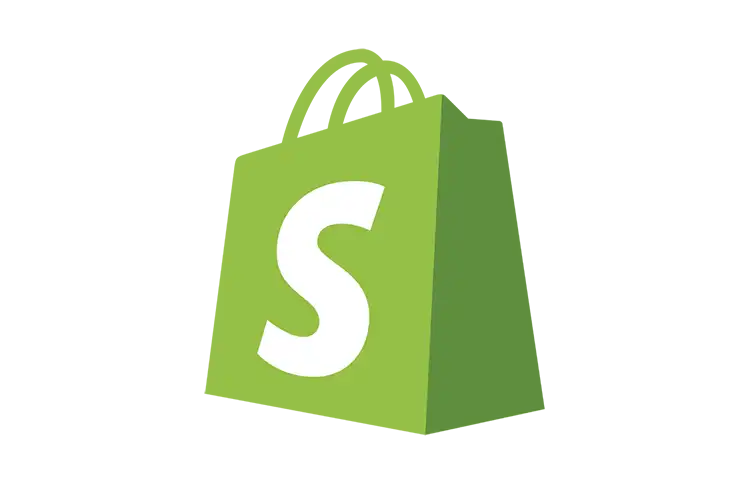 Shopify for Restaurants
Best for startup restaurants that want a user-friendly, easy-to-install system with online ordering and e-commerce capabilities.
Pros:
Powerful website builder

Many retail features

Online ordering
Cons:
The POS system lacks features
Try Now
What is Shopify For Restaurants?
Shopify is a cloud-based e-commerce platform that allows businesses of all sizes to create an online store. Shopify started in 2004 and has its headquarters in Ottawa, Canada. The company went public on the New York Stock Exchange in 2015.
Shopify for restaurants is a point-of-sale system that allows restaurants to take orders, track inventory, manage employees, and process payments. The system focuses on smaller restaurants, cafes, or bakeries.
The system is cloud-based, accessible from any internet-connected device. The system is also very user-friendly and is usable by employees with little to no training.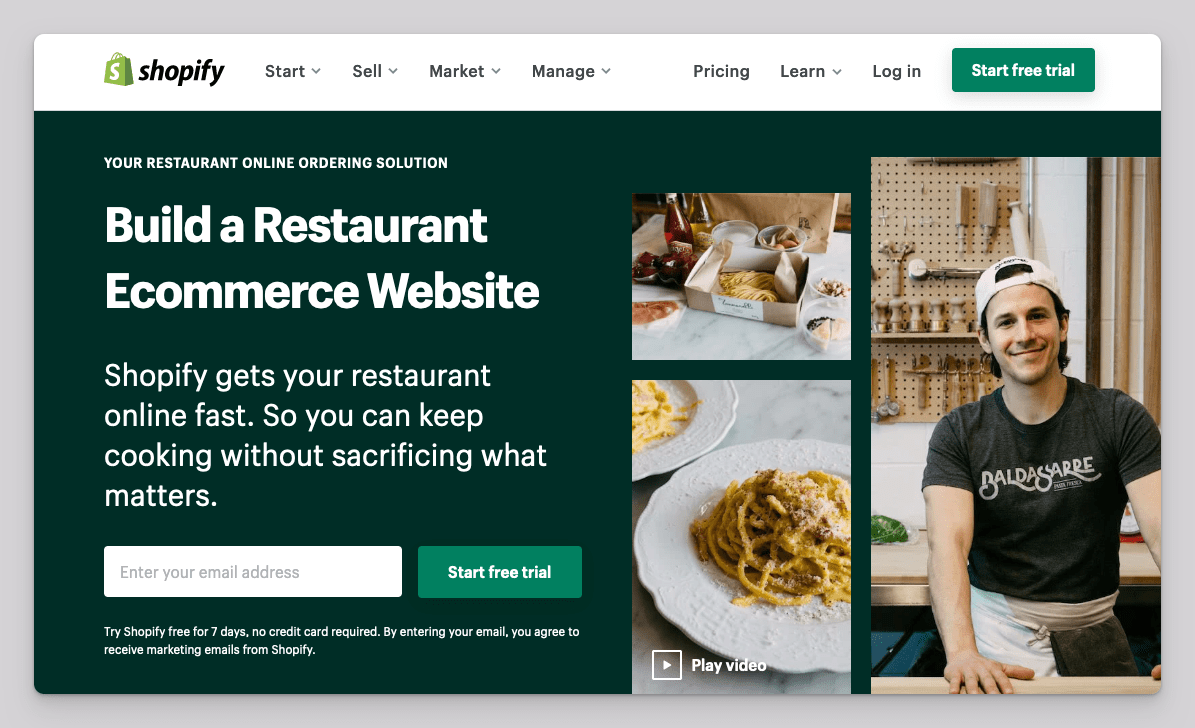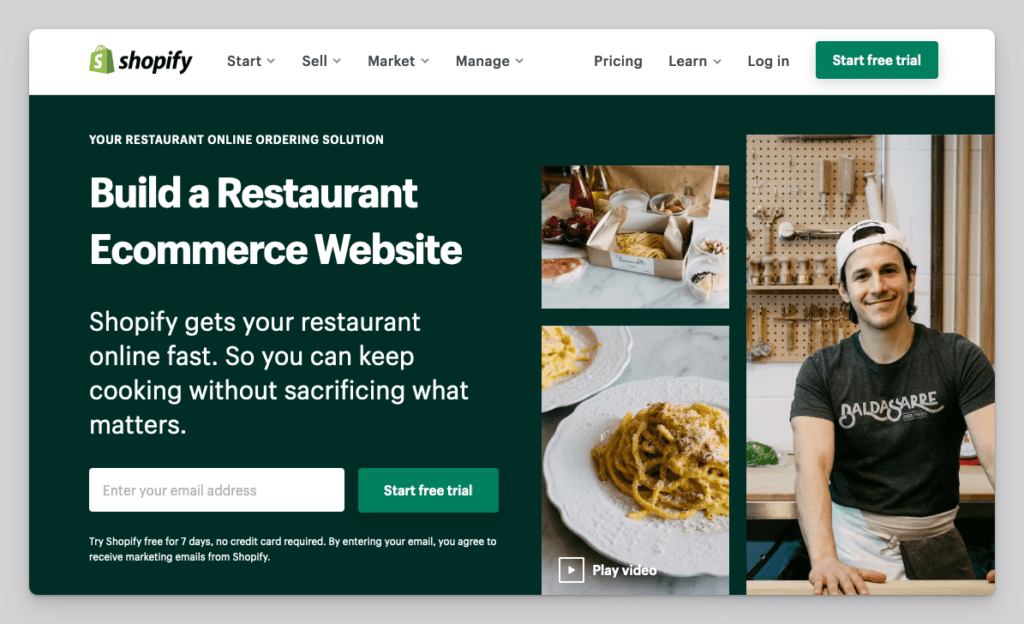 Where Shopify for Restaurants Stands Out
Easy to use: Shopify for restaurants is intuitive and easy to use, even for those with minimal technical skills. The interface is clean and simple to navigate.
Numerous integrations, including payment gateways: Shopify offers seamless integrations with 100+ payment gateways, making it easy to accept all forms of payments.
Modern UI: Shopify has a sleek, modern interface optimized for restaurants. Touchscreen point-of-sale, customizable menus, and easy order-taking improve customer experience.
Flexible pricing: With several pricing tiers, Shopify for restaurants can accommodate businesses of all sizes and budgets. Start with the basic plan and scale up as your business grows.
Powerful Website Builder and E-commerce: Shopify includes a robust website builder to create an online store. Sell gift cards, merchandise, cookbooks, and more through your site.
AI Capabilities: Shopify POS unlock tools like Shopify Magic which uses AI to simplify reservations, digitize menus with QR codes, generate chatbots for taking orders, and more. This future-proofs your restaurant.
Where Shopify Can Improve
Lack of offline mode: Shopify POS requires an internet connection to operate, lacking an offline mode. This can cause issues if connections are spotty.
No built-in loyalty program: Shopify doesn't have a native loyalty program. You'll need to use a third-party app or build your own system.
Limited customization: While Shopify is user-friendly, it provides less robust customization capabilities compared to some POS systems.
Shopify for Restaurants Pricing Overview
Shopify has three pricing plans: Basic Shopify, Shopify, and Advanced Shopify.
The Basic Shopify plan starts at $29 per month and includes two staff accounts, unlimited products, 24/7 support, and fraud analysis.
The Shopify plan starts at $79 per month and includes five staff accounts, unlimited products, 24/7 support, and an advanced report builder.
The Advanced Shopify plan starts at $299 per month and includes 15 staff accounts, unlimited products, 24/7 support, and Advanced Shopify Plus.
How Does Shopify For Restaurants Work?
Getting started with Shopify for restaurants is easy. All you need is an internet-connected device and a Shopify account.
The following are the major steps taken when using the Shopify for restaurants system:
Sign Up
The first step is to sign up for a Shopify account. You can sign up for a free 14-day trial or choose one of the paid plans.
All you need to sign up is an email address, password, and store name. You will then need to enter your restaurant's name, address, and contact information.
During the signup process, you will also need to select a temporary domain name through which potential customers will find your restaurant.
It is normally in the following format: nameofresaturant.myshopify.com.
If you already have a domain name for your restaurant, this can be directly pointed to your domain.
Setting Up the Menu
After completing the sign-up process, you will proceed to your Shopify admin.
The first thing you need to do is set up your menu.
To do this, go to the "Products" tab and click on "Add product." Enter the name of your dish, a description, and a photo. You can also enter the price, SKU (stock-keeping unit), and weight of the dish.
You can also create product variants, such as size (small, medium, large) or color (red, green, blue). To do this, click on the "variant" tab and enter the variant options.
2 Essential Posts When Growing a Restaurant Business
As you are reading this article, also check out the two articles below!
Building the Online Store
Once the menu is up, the next step is to build the online store.
To do this, go to the "Online Store" tab and click on "Themes."
Shopify has a wide range of themes to choose from, both free and paid. Once you have found a theme you like, click on the "Install theme" button.
After installing the theme, you can add your restaurant's logo, photos, and other branding elements.
You can also start adding pages like an "About" or "Contact" page.
It is also important to add your restaurant's opening hours, delivery information, and terms and conditions. This is under the "Settings" tab.
Finally, you need to add your payment methods.
Shopify Payments supports various payment methods, including credit cards, PayPal, and Apple Pay.
To add a payment method, go to the "Settings" tab and click on "Payment providers."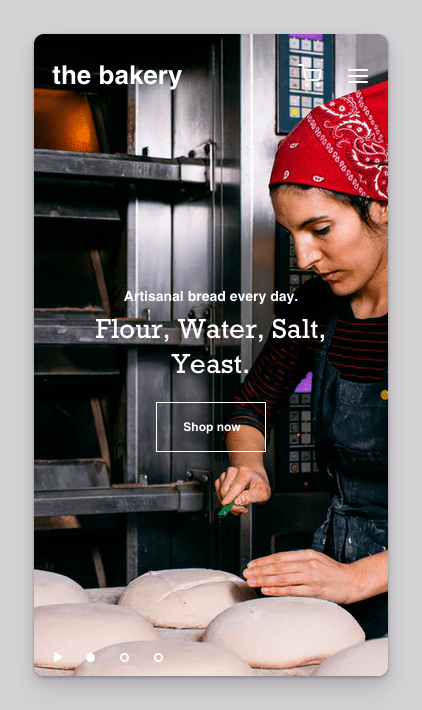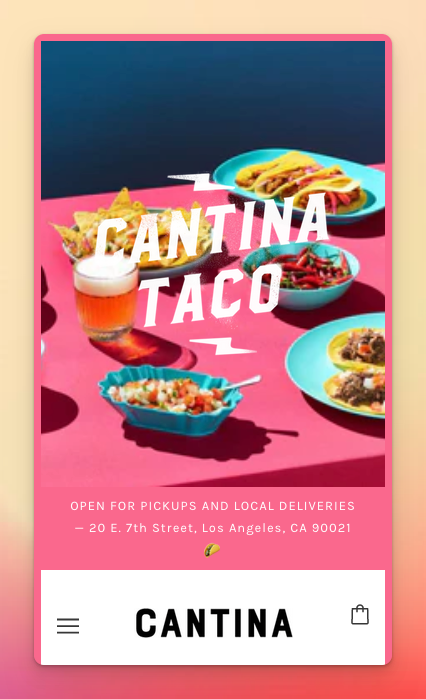 Shopify Themes and App Store
Shopify has a wide range of themes to choose from, both free and paid. Once you have found a theme you like, click on the "Install theme" button. After installing the theme, customize the store to fit your brand.
Shopify also has an app store, which offers a wide range of apps to help you run your business more efficiently. Themes and apps in Shopify help extend the functionality of your Shopify website.
Shopify for restaurants enables restaurant owners to start as quickly as possible.
It has positioned itself as a go-to platform for restaurant owners seeking to take their business online.
Riding on the success of the eCommerce platform, Shopify for restaurants has become one of the most popular platforms for online food businesses. However, as we will see below, it is not without its limitations.
Features
Shopify for restaurants includes several features that are specifically designed for restaurants, such as:
Menu Management
Through Shopify for restaurants, you can easily manage your restaurant's menu. You can add, edit, and delete items from your menu and set up price discounts and promotions.
It also lets you add photos of your dishes, so customers can see what they're ordering.
Inventory Management
Shopify for restaurants enables you to track your inventory in real-time. You can see what items are running low and need reordering. This feature is useful for restaurants for reordering.
Employee Management
Shopify for restaurants enables you to add and manage your employees. You can give employees different permissions, such as taking orders or accessing the POS system.
This feature helps track who is doing what and ensures that only authorized personnel can access certain features.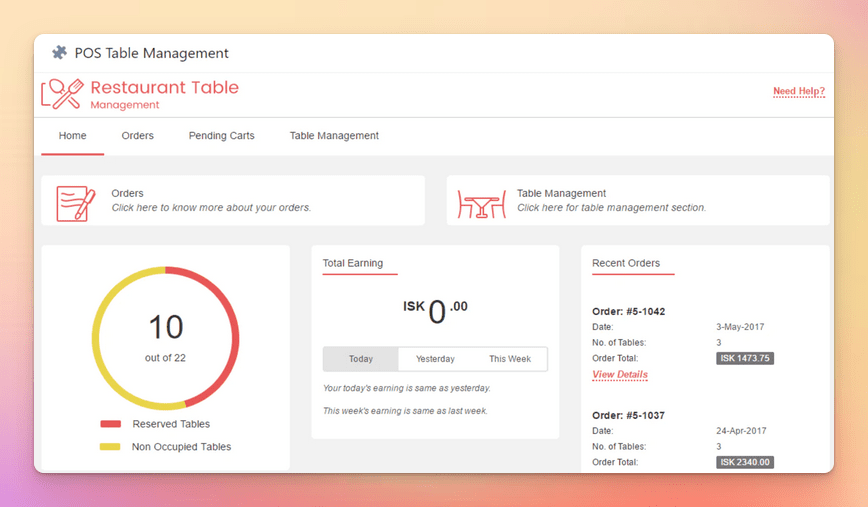 Order Management
Shopify for restaurants enables you to manage orders from start to finish. You can view all your restaurant's orders in one place and see paid, outstanding, and shipped orders.
This feature helps you keep track of your orders and ensure they're fulfilled correctly.
Marketing Automation
Restaurant owners can use Shopify's marketing automation features to send promotional emails to customers automatically.
Marketing automation is important for restaurants because it helps you stay in touch with your customers and promote your restaurant. It also has a marketing campaign feature that can send over 10,000 emails monthly.
The campaign option is also used for setting up targeted ads across major social media platforms. Furthermore, you can send SMS messages directly from your dashboard.
Reporting
Shopify for restaurants lets you generate reports on your sales, inventory, employees, and customers. This helps track your progress and identify areas that need improvement.
Website Builder
Shopify for restaurants includes a website builder that enables you to create a professional-looking website for your restaurant.
The website builder gives you access to themes and templates, so you can create a website that reflects your restaurant's brand.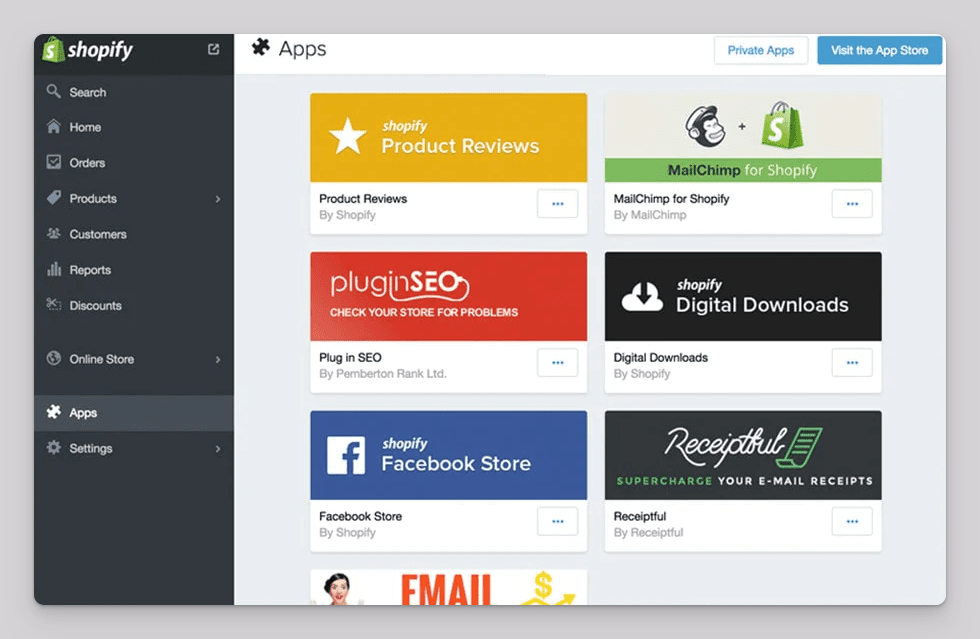 The website builder focuses primarily on commerce websites and has thousands of Shopify apps for restaurants in the app store to extend its functionality.
Mobile App
Shopify for restaurants includes a mobile app that allows you to manage your restaurant on the go. This feature allows you to stay connected to your business even when you're not in the restaurant.
The mobile app gives you access to all the features of Shopify for restaurants, so you can manage your menu, inventory, employees, orders, and customers from anywhere.
AI-Powered Tools With Shopify Magic
Restaurants using Shopify POS now have access to some amazing new AI tools that can really help streamline and improve your business operations.
Shopify Magic leverages artificial intelligence to fuel efficiencies and boost growth for your restaurant in several key ways. The smart reply and instant answer features enhance your customer service by reducing wait times and creating more sales opportunities.
It can also generate engaging menu item descriptions and email content to draw more customers to your online storefront. And it helps lighten your workload by handling tedious tasks so you and your staff can focus on high-priority items. Plus, having an on-demand Shopify expert provides invaluable commerce advice whenever you need it.
Then there's Shopify Sidekick, your new AI assistant designed specifically for Shopify POS users like you. It can help you efficiently update and manage your menu based on seasons, availability, and promotions. Sidekick understands prompts related to business decisions, so you can tap into its advice when planning holiday offerings or sales.
It can also create blog and social media posts to keep customers informed of new menu items and events. And it provides data-driven insights about your top-selling dishes to inform future moves. On top of that, Sidekick enhances your customer segmentation so you can better personalize marketing and communications.
This feature is available to merchants in core supported languages and included for free in their paid Shopify plan.
Shopify Benchmarks
Shopify Benchmarks is an interesting new feature for restaurant owners looking to add retail offerings as an additional income stream because it provides industry-specific metrics that establish a performance standard for businesses.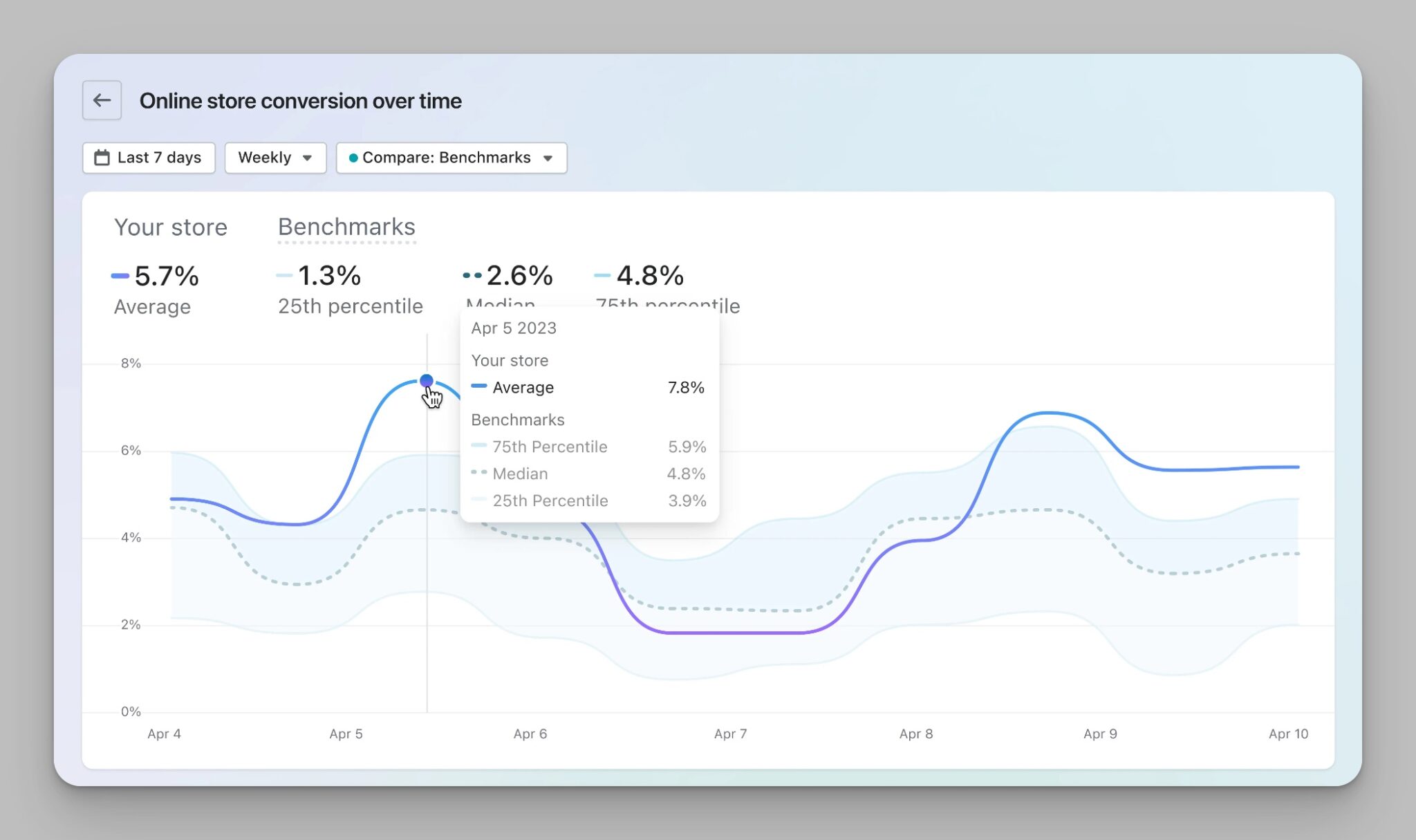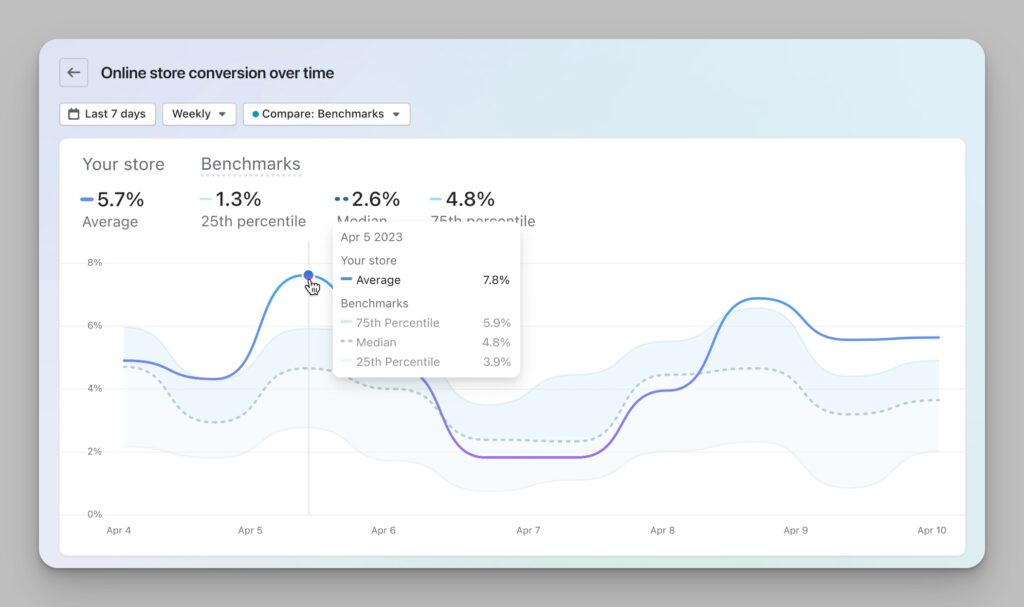 These benchmarks can help restaurant owners understand and analyze data and key metrics for their online store, allowing them to make informed decisions about where to focus their efforts and resources.
For example, the Benchmarks data available in Shopify includes online store conversion, average order value, retention rate, and time to fulfill, ship, and deliver.
By comparing their performance against similar stores, restaurant owners can gain insights into their online store's performance and identify areas for improvement, such as increasing conversion rates or improving fulfillment times. This can help them optimize their retail offerings and maximize their revenue potential.
Shopify Feature Updates in 2023
Shopify recently announced some great new updates that can also help restaurants like yours improve operations and increase sales.
One big update is that Shopify Flow is now available even on their Basic plan. This means all restaurants can now automate things like managing inventory and segmenting customers. Making it affordable for small restaurants is awesome.
Another cool update is Shopify Collective. This makes it super easy for restaurants to add retail products like branded merchandise to sell in their shops. It also automatically handles payments and inventory.
Restaurants can now also offer "buy now pay later" options right at the register using Shop Pay Installments. Giving customers flexible payments often results in higher sales and bigger orders.
Shop App Enhancements: The Shop app has evolved to provide merchants with new features, including:
Shop Store Customizations: Customizing your Shop Store with features like product collections, best sellers, and reviews can increase the number of items added to carts.
Shop Cash Campaigns: This new customer acquisition feature allows Shopify Plus merchants to send special deals and offers to their customers. This early access version of the app has seen up to a 43% increase in new customer growth for these businesses.
Sign in with Shop: This feature allows merchants to identify high-value consumers earlier in their purchase journey and streamline touchpoints with the Shop app or Shop Pay, increasing conversion.
New One-Page Checkout and Checkout Extensions: Shopify's checkout process is now streamlined into a single page. An all-new Checkout Editor provides Shopify Plus merchants with drag-and-drop simplicity and branding tools.
Shopify Fulfillment Network (SFN) Upgrades: Shopify has made its consumer-facing Shop Promise badge more effective, which in turn will improve conversion rates for merchants using the platform. The upgrade makes it easy for retailers to communicate reliable delivery times and have instant exchanges or credits available.
Alternatives to Shopify for Restaurants
Description:

The most innovative POS system on the market

Best for restaurants that want to get started with a free basic plan with the option to upgrade to many advanced features and integrations.

Description:

Designed by restaurant industry veterans

Best for independent full-service restaurants looking for a well designed, feature-rich and secure cloud/server-based POS system.

Description:

Cleverly crafted POS with exceptional design

Best for upscale eateries seeking powerful data insights, retail features, and extensive integration possibilities.

Description:

Best for small restaurants and coffee shops

A small business POS for establishments that need a subscription-free plan, smooth transactions and easy-to-operate retail features.

Description:

Excellent hardware options and no long term contracts

All-in-one POS solution with modern restaurant-specific features for fine-dining, QSRs, bars, and food trucks.
2 Essential Posts When Growing a Restaurant Business
As you are reading this article, also check out the two articles below!